This page may contain affiliate links, which means that we may earn from qualifying purchases at no additional cost to you.
The very best travel toys to keep 2 year olds entertained in cars, planes, hotel rooms, and more!
If you're planning a trip with a 2 year old, you'll want to make sure to bring some amazing travel toys to keep them entertained. The right toddler toys will keep your child engaged during travel so everyone can have a more enjoyable trip.
We've had many trips with our 2 year olds and we've come to find that having the right travel activities can make a world of a difference.
You'll feel confident going into your trip knowing that you're prepared to keep your toddler busy, and you're much more likely to have a successful trip with minimal meltdowns (because let's be honest, there will probably be a few tantrums no matter what you do…).
So if you're looking for some great travel toys for 2 year olds, keep reading for some awesome ideas!
And be sure to check out our ultimate list of toddler travel essentials!
Best travel toys for 2 year olds
Here are some of our favorite travel toys for 2 year olds! Obviously you're not going to want to bring all of these activities, but search through to find a few that stand out to you as something that your toddler would enjoy.
Be sure to save this post for later, because if you have another trip in the future you'll probably want a few new toys to keep the activities feeling fresh. We try to switch out at least some of our travel toys each trip so that our young children don't get tired of them.
This buckle toy is one of our go-to activities for traveling with toddlers. You'll find this toy on a lot of our lists of travel activities because it's such a great toy that our kids have enjoyed over various ages.
Toddlers love this toy because of all of the various kinds of buckles that can be fastened and unfastened over and over. The straps for each buckle are a different color, so there is also a color matching element as well.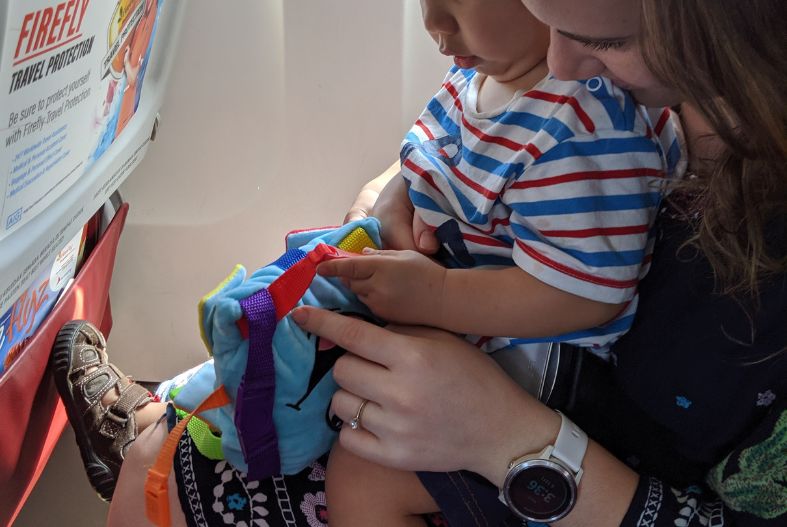 The top of the toy has a zippered pocket for storing small toys, which my 2 year olds also just like zipping and unzipping repeatedly. And on the back are numbered flaps that can be lifted to reveal various sea creatures.
I usually just clip this onto my diaper bag when we travel to keep it handy and it's one of the toys that my toddlers gravitate towards the most.
At this age, kids typically love looking at pictures of themselves and people that they know. One cute idea for keeping them entertained is to bring a little photo book filled with pictures of family, pets, and friends.
This little photo album can hold fifteen 4 x 6 photos of your toddler's loved ones. It is made of a soft, durable vinyl which is easy to wipe clean. The photos are very secure, making them difficult for a toddler to remove while they are playing with the book.
You can use this book both to keep your toddler entertained and also as a way to help your toddler feel connected to loved ones at home while you're traveling.
Spike the Fine Motor Hedgehog is a colorful hedgehog toy designed to help children develop their fine motor skills.
The toy comes with 12 quills that can be stuck into the holes on the hedgehog to give him his prickly exterior. The quills are different colors and can be used for color recognition and counting. It also includes an activity book with different ideas of how to use the toy.
This little hedgehog is lightweight and easy to wipe clean. When not in use, the quills can be kept inside the hedgehog for easy storage and transportation.
Melissa and Doug Water Wow! books are one of our favorite travel toys for 2 year olds because they are engaging for toddlers but mess free!
Water Wow books are a type of coloring book that are filled with black and white pages. They are designed to be used with water, and when a child paints over the pages with water, the images on the pages will appear in color.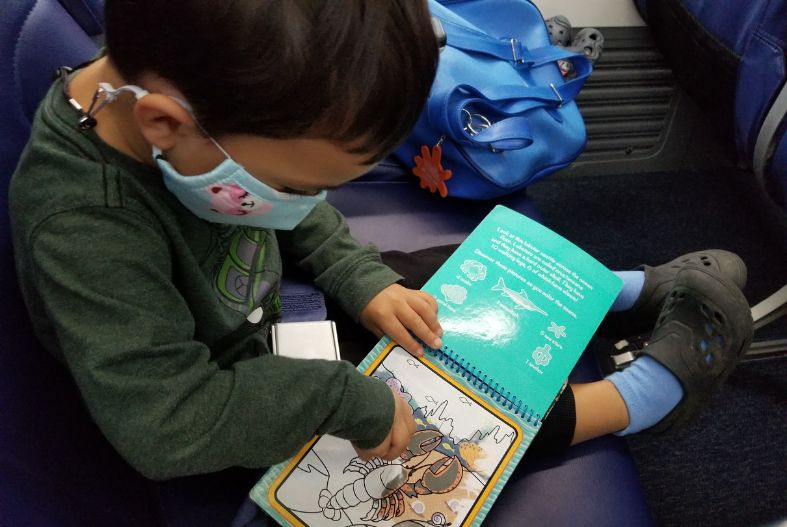 These books are good for toddlers because they are mess-free and easy to use. And since the images are only revealed when water is applied, your child can enjoy coloring the pages over and over again!
Water Wow books are also durable and easy to clean, making them perfect for travel or on-the-go activities. They can be a great distraction for a child during long car rides or waiting at a restaurant. They are also a great way for children to develop their fine motor skills and creativity.
Another awesome travel toy is the Melissa and Doug Take-Along Shape Sorter. This travel-friendly shape sorter has soft, padded sides that can squish down in a suitcase or diaper bag.
The set comes with nine textured blocks of different shapes and colors. The case can also be unzipped from the top for easy access to the blocks inside.
And on the back is a series of crinkly flaps that show pictures of everyday objects with the correlating shape hidden underneath.
This is a fun and engaging way for toddlers to learn about shapes, sizes, and matching on the go!
If you have a toddler who is into dinosaurs, they will love these Snap-n-Learn Matching Dinos from Learning Resources. The set comes with nine colorful dinosaurs of different species.
Each dinosaur is made up of two pieces that can be snapped together to form the dino. Toddlers can match the dinosaurs or mix-and-match to make fun multi-colored dinosaurs. This is a good toy for developing color recognition and matching as well as hand eye coordination and motor skills.
You can easily throw a couple of these dinos in your bag to pull out at any point during travel when you need something to keep your child occupied.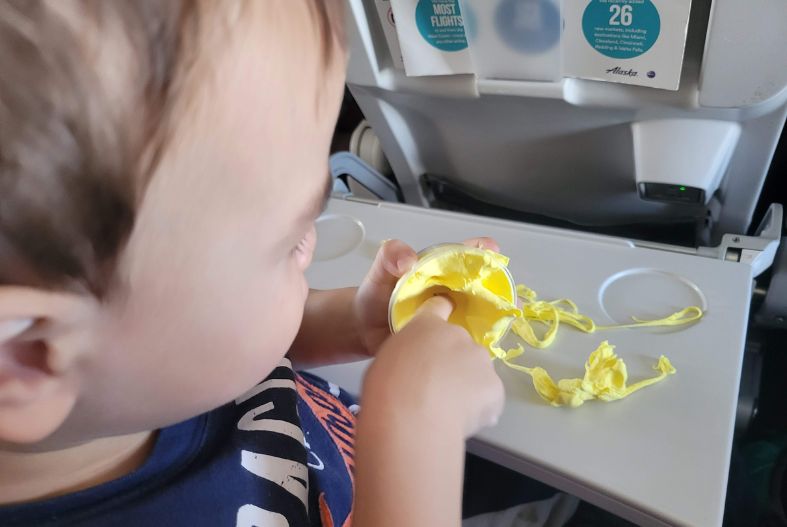 Air dry clay is a great sensory activity that will enthrall your 2 year old. My kids love this stuff.
Sometimes I see people recommending play dough for travel, which boggles my mind because I can barely handle the mess that is play dough when we're at home. But if your kids love play dough, this is an amazing alternative that is actually not messy at all.
The texture of modeling clay is more foamlike and it pulls apart in strings instead of breaking into a million tiny pieces to get squished into the carpet.
When you're done playing with it, you can put it back into an airtight container and then reuse it again later. If you leave it out, your creation will harden and you can keep it!
We love this set of light modeling clay because it comes with individual resealable containers that are the perfect size for travel. If you want a smaller amount you can get something like this set of Model Magic from Crayola.
For toddlers who love to draw, bring along some triangle crayons!
Because of their unique shape, triangle crayons are less likely to roll away and get lost, which is especially important when traveling since it can be difficult to find small items that have been misplaced.
This can be helpful for tray tables on airplanes and car seat trays on road trips so that you're not constantly tracking down crayons that have rolled all over the place.
For artsy 2 year olds (or just those who like to scribble…), bring a toddler coloring book so your child can express their creativity.
Toddler coloring books typically feature large, simple illustrations that are easy for young children to color. They also often have thicker pages to withstand the use of crayons or markers, which can be more age-appropriate for toddlers.
The My First Toddler Coloring Book has nearly 100 pages of simple coloring exercises, including illustrations with numbers, letters, shapes, and animals.
Another one of our most loved travel toys for 2 year olds is the Melissa and Doug Puffy Sticker sets. These little booklets come with a background scene and sheets of puffy stickers that can be placed on the page to make a picture.
And the stickers are reusable, so you can pull them off and make something new next time! We've had ours for years and shockingly the stickers are still going strong (although we've lost a few of the small stickers here and there).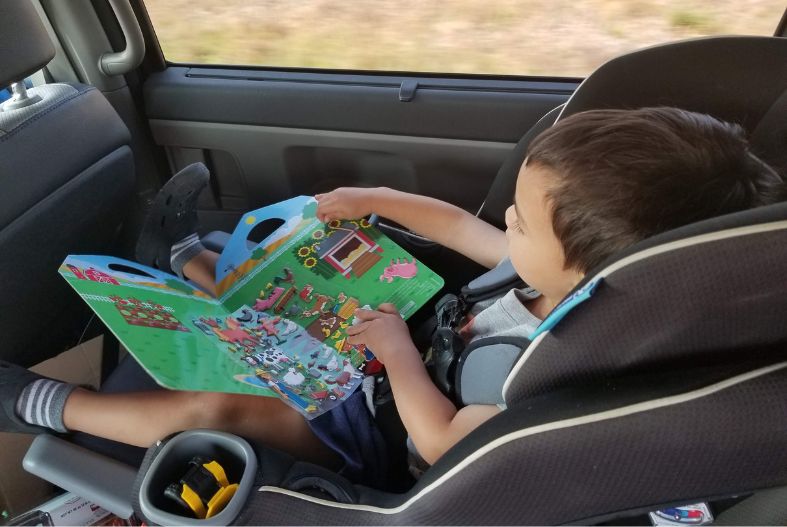 These are nice for toddlers because the puffy stickers are much easier for little hands to pull off and place than regular stickers.
There are also lots of different options, so you can find the perfect set that your toddler will love!
Toy animals or people
Small toy figures of animals or people can be a great avenue for creative play while traveling.
Toy figures are very versatile and there are many ways to play with them. Your toddler will likely come up with all sorts of things to do with their little toys over the course of your trip.
You can also pick toys that are directed towards the specific interest of your child, such as dinosaurs, farm animals, or characters from a beloved show or cartoon (like this adorable Bluey set!).
Tegu blocks are magnetic wooden blocks which come in a variety of shapes and colors. They are great for travel because they are small, lightweight and easy to pack.
Because they stick together, these blocks are less likely to get dropped and lost while they are being played with. The size is also perfect for little hands to manipulate.
The set also comes with a great little pouch for storing your blocks when you're traveling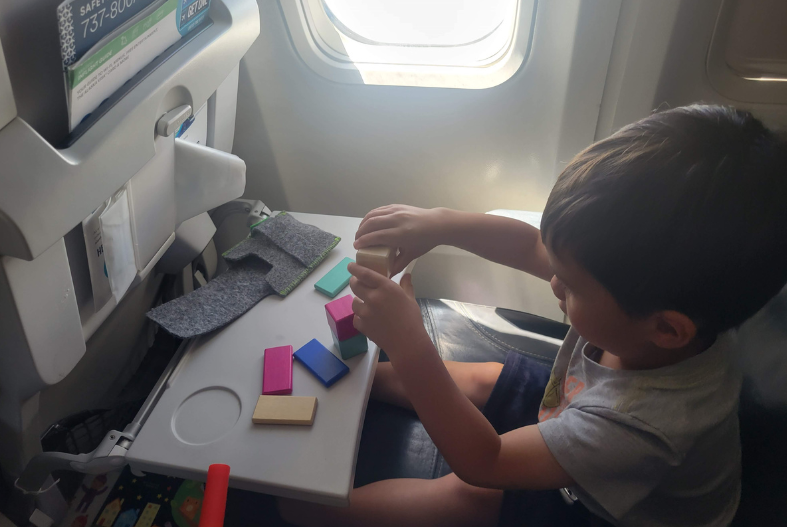 Honestly, I thought these seemed a bit basic when we first got them, but I was pleasantly surprised to see that my kids consistently love pulling them out and playing with them.
A writing tablet is a fun way for little kids to doodle and create on the go. When I first got our writing tablet, I was worried my two year old wouldn't be quite old enough for it, but he has enjoyed it from the start!
His favorite thing to do with the tablet is to draw designs and then push the button to see everything disappear.
Often at this age the tablet is more of an interactive toy, where my son will tell me what to draw and then he'll add his own touches to it before he erases it for us to start over.
And it's perfect for travel because it is lightweight, compact, and can be used over and over again.
Toy vehicles are a good travel toy for toddlers as they are small and easy to pack, and can provide lots of open-ended entertainment for children while on the go. My kids loooove little vehicle toys and we rarely travel without some sort of truck toy.
This set has six cute, chunky vehicles that are easy for toddlers to play with, including a garbage truck, airplane, forklift, police car, crane truck, and excavator.
The trucks can be pulled back to wind them up so they will drive on their own or just pushed around by hand.
The vehicles also come with a storage bag that doubles as a car track when opened, so it's easy to take them with you wherever you go!
Duplos are a great option for travel with toddlers because they are lightweight, easy to pack and play with, and durable.
They also have larger pieces that are easy for small hands to manipulate, making them great for young children who are just learning to build.
Our 2 year old loves using his Duplos to make towers and "trees" and then he especially loves taking them apart when he's done!
A set like this classic Duplo box has variety of different colors and shapes that can be used to build simple objects. If you're limited on space you won't want to bring the whole set, but you can place a small amount in a baggie for your child to play with while traveling.
A look and find book is an ideal travel activity for curious toddlers. Our very favorite toddler look and find book is the Usborne Very First Book of Things to Spot (along with the other books in the series).
The pictures are bright and vibrant and there are so many fun details for toddlers to find. On each page, there are prompts of things your child can look for, or you can make up your own questions.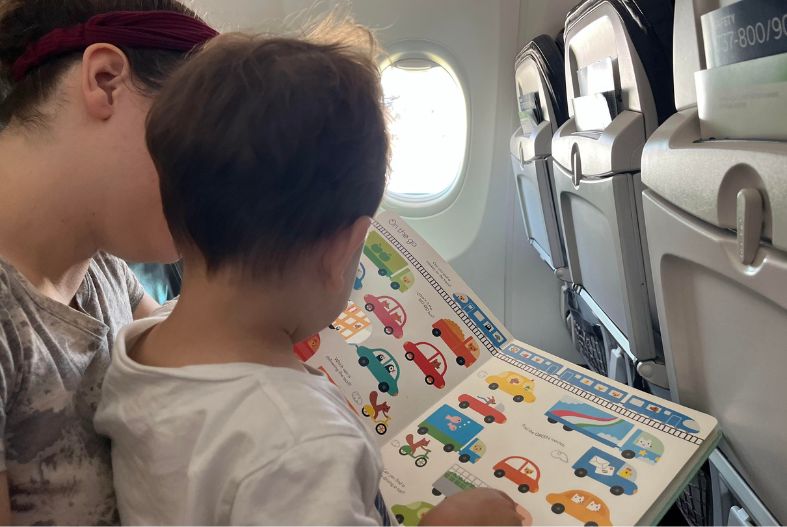 I'm always amazed at how long my toddler can spend searching through the pages with me. I do find that this activity lasts much longer if I'm actively looking through the book with my toddler.
And the books are sturdy enough for travel and frequent use by a toddler. Our Very First Book of Things to Spot has been on many, many trips with us and it's still in great condition!
Squigz are small, flexible building toys that can be used to create various shapes and structures. Each end is a suction cup that can be used to stick them to flat surfaces or each other.
These little toys are fun to use on planes or car rides. There are so many different ways to put them together and you can suction them to surfaces like the tray table and windows. Plus they are small so they won't take up a lot of space in your bag!
Busy board books have a variety of tactile elements to keep toddlers occupied during travel. They are designed to engage a child's sense of touch and curiosity, and can help to develop fine motor skills and hand-eye coordination.
Busy books are a great use of space while traveling because there are so many different activities included in one toy. For example, this cute busy book by Gijzmo has 21 different activities that children can manipulate and explore, such as buckles, zippers, gears, and counting beads.
Our 2 year olds absolutely love busy books and can spend a long time working their way through the various activities. And it's something that they will come back to over and over again!
Magnetic tiles are a great option for travel with kids, as they are lightweight, easy to pack, and provide hours of entertainment and learning.
Our toddlers have always been obsessed with magnetic tiles, so bringing along a couple of magnetic tiles is something that we can always count on to keep them entertained. We typically will not bring an entire set, as that can end up taking up a lot of room, but instead will bring just enough to build some small structures and shapes.
This is an activity that is great for hotel rooms, but can also be done on tray tables and car seat trays. Our favorite tiles for this age are the Discovery Kids Magnetic Tiles.
Toddlers often love pretend play revolving around food, so why not bring some play food along with you for your trip?
This felt sandwich set by Melissa and Doug is lightweight and compact, making it a perfect travel toy! The set comes with 33 pieces of pretend food that children can use to create all sorts of food creations.
And you don't have to bring the whole set with you. Pick some favorite items for your trip and pack them away in a small bag to pull out when your toddler needs something fun to do!
DIY stick jar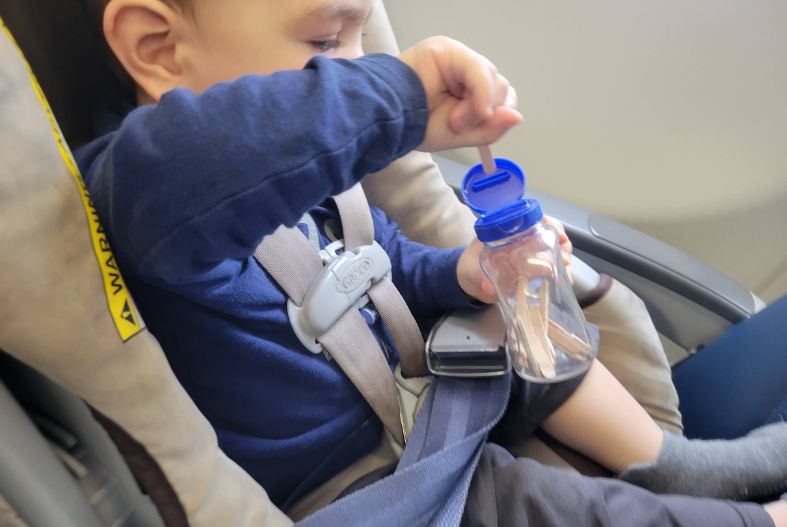 A stick jar is a fun DIY travel activity that is simple to prepare but so worth the effort!
All you need is a jar with a slotted lid (mayo or horseradish jars often have these slits) and some wooden craft sticks. Let your child place the sticks in the jar and voila! A travel activity your toddler won't be able to get enough of.
Trust me, our toddlers are SO entertained by the simple act of placing the sticks into the jar.
When they are younger, I just take the whole lid off so it's easier to get the stick in. As they get a little older they're able to fit it into the slot when the lid is on.
This is another activity that we hardly ever travel without because our kids get so much enjoyment out of it!
Tablet/headphones
We typically don't use screens much at home, but travel is one place where some screen time can definitely come in handy.
At 2 years old our toddlers have loved shows with music like Little Baby Bum and movies like Encanto and Moana. There are also some interactive apps that can be fun for toddlers as well.
Whatever you choose to have available for your toddler, be sure to download it in advance so that you can access it when you're in a place without wifi.
Of course, you'll need to bring along some toddler-sized headphones as well. Test them for fit before you leave because it is very frustrating for a toddler to have headphones that are constantly falling off or uncomfortable. We love this set of headphones because they are comfortable and sturdy and they can be used both with a cord and using Bluetooth. For more great options, be sure to check out our post on the best toddler headphones for plane travel!
Snacks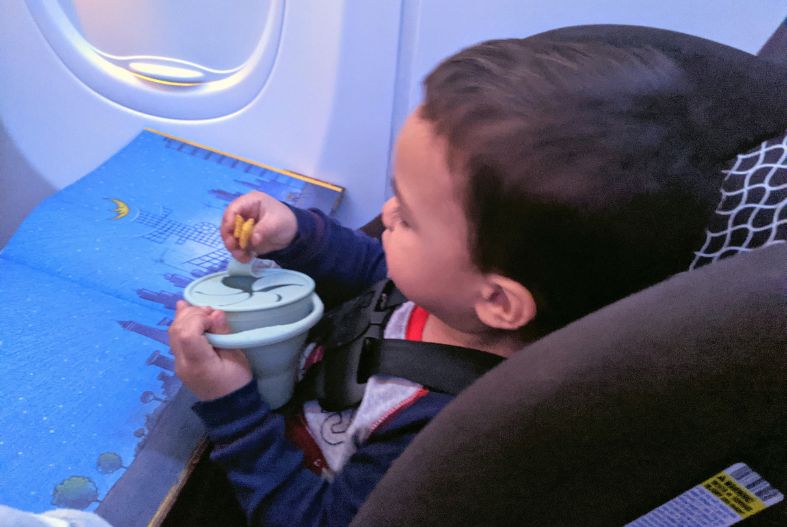 While snacks aren't technically a toy, they basically have the same effect while traveling. Snacks are a great way to keep children occupied while traveling, which is especially helpful for younger children who may not be able to sit still for long periods of time.
Bring a snack catcher along and let your toddler feed themselves and work on those fine motor skills. At this age, good snacks are one of the best things you can bring to entertain your child and help your trip go more smoothly.
And of course, it can help keep them from getting too hungry, which can lead to fussiness and meltdowns.
Be sure to check out our list of the best toddler snacks for airplanes.
Tips for picking travel toys for 2 year olds
Choose toys that are small and easy to pack. You already have enough to toddler gear to bring, minimize the size and amount of toys you pack if at all possible.
Look for toys that are versatile and can be used in different ways. That way you can get more bang for your buck with the toys that you do end up bringing.
Make sure your toys are durable and can withstand the wear and tear of travel (or pick cheap dollar store toys that you don't mind being broken or lost).
Look for toys that are easy for little hands to hold and play with.
Consider bringing a mix of familiar and new toys. It's nice to know you have some slam dunks by bringing a few favorite toys from home but there's also a novelty factor with new toys that shouldn't be discounted.
Try to bring a mix of quiet and interactive toys for the different situations you might encounter during your trip.
Think of a few simple games or songs that you can play or sing together with your toddler to keep them entertained when the toys aren't cutting it.
Final Thoughts
By bringing great travel toys for 2 year olds, you can help keep them occupied and entertained during long trips, such as on airplanes or road trips. It's also a good way to distract them if they are becoming fussy or restless.
Travel toys can also be used to teach and engage with children, helping to keep them learning and stimulated while they are on the go.
We've found that travel toys can be an absolute lifesaver on our trips with our 2 year olds!
Other posts you might be interested in:
The Best Travel Toys for 1 Year Olds!
25 Best Travel Toys for 3 Year Olds!
How to Have a Successful Road Trip with a Toddler
Ergobaby Omni 360 Review (A Carrier That Does It All!)