This page may contain affiliate links, which means that we may earn from qualifying purchases at no additional cost to you.
If you're reading this article, you're probably wondering if LEGOLAND is a good place to visit for toddlers. The answer is yes! LEGOLAND is a magical place for young children to visit, and that starts as young as the toddler years.
When we planned our recent trip to LEGOLAND San Diego as a family, we mostly considered it to be an experience for our 4 and 6 year olds, with our 2 year old along for the ride. Frankly, we were worried that there wouldn't be much for our toddler to do.
However, we were pleasantly surprised to find that there was plenty to keep him entertained during our trip. He had an absolutely amazing experience and still remembers and talks about LEGOLAND months later.
If you're taking a toddler to LEGOLAND you won't be disappointed! At the park you can find rides, play areas, shows, and more that cater perfectly to the toddler crowd.
In this article we'll break down everything you need to know about LEGOLAND for toddlers!
LEGOLAND for toddlers
Best rides at LEGOLAND for toddlers
One of the first things you might be wondering is which rides at LEGOLAND are good for toddlers.
Although it is true that toddlers can't go on all the rides at LEGOLAND, the good news is that there actually are quite a few rides that toddlers can go on (and really enjoy!) at the park.
Be sure to measure your child before you go so that you know which rides they will be able to go on. Our son was 35 inches, which was perfect because there were several rides with a minimum height requirement of 34 inches.
Do NOT count on the employees giving your child a pass if they are close to the minimum height, they are sticklers about height and check each kid before letting them on the ride. We saw more than one disappointed child turned away from a ride while we were there because they didn't meet the height requirement.
Here are the best rides at LEGOLAND for toddlers!
Coast cruise
No minimum height requirement if riding with an adult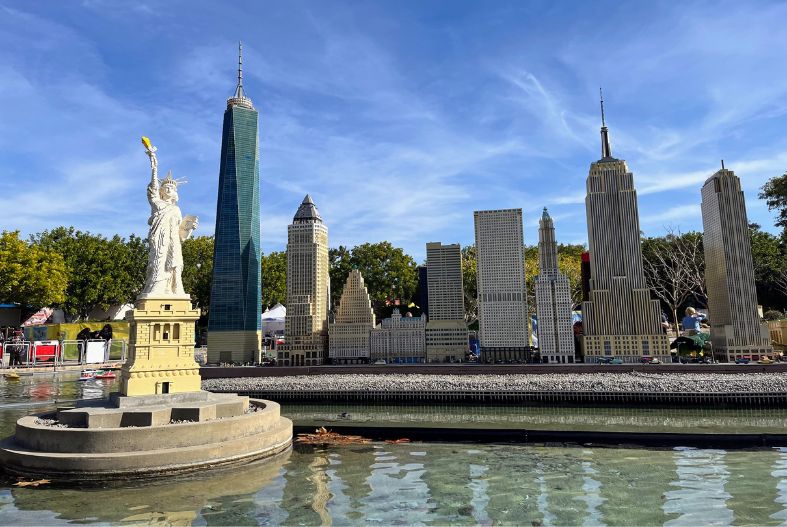 Coast Cruise is a laid-back boat cruise around the lake. It takes you past many large LEGO builds, including a great perspective on Miniland USA from the water.
This is a fun one that the whole family can enjoy together. And depending on how you feel about dad jokes, the boat operator will leave you either chuckling or groaning throughout the narrated trip as he tells you about the LEGO structures you see.
Cargo Ace
Under 36" must be accompanied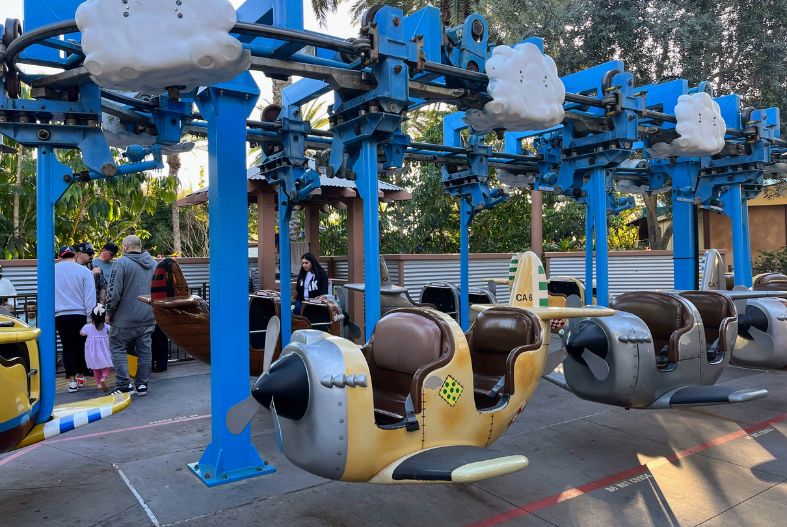 This sweet little plane ride is perfect for the youngest visitors. Little riders can feel like an airplane pilot as they soar around in their little plane.
The only requirement is that the child must be able to stand and be accompanied by someone over 14.
Fairytale Brook
Under 48" must be accompanied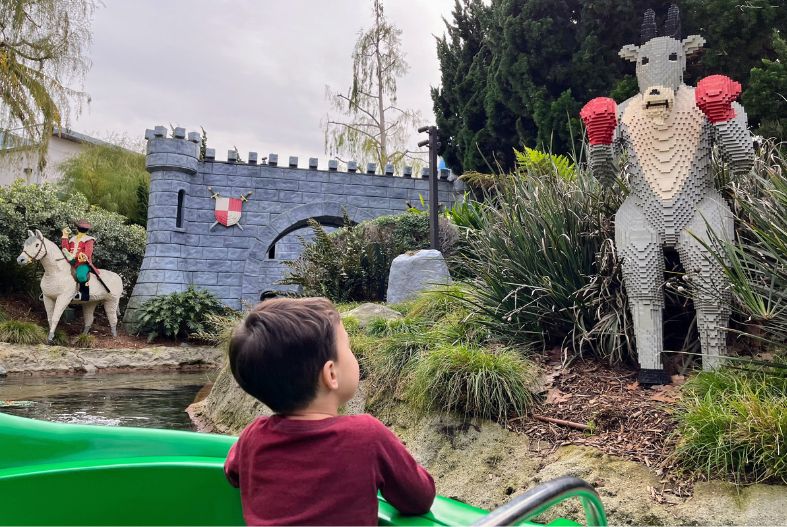 On this boat ride you can float past all your favorite fairy tales and see them come to life in LEGO form. This is a nice place to just relax and enjoy cruising along the stream, especially if you've been doing a lot of walking.
LEGO CITY: Deep Sea Adventure
Under 52" must be accompanied
On the Deep Sea Adventure you can board an actual submarine to see real sea creatures while completing an underwater scavenger hunt.
This was our toddler's favorite ride at LEGOLAND! And actually, it was up there as a favorite ride for the rest of us as well.
Our son loved spotting the fish, rays, and other sea life through the glass and he definitely loved pushing the buttons on the scavenger hunt screen!
We rode on this multiple times and every time he would immediately say, "Again! Again!" And to say he was sad when it was finally time to be done would be an understatement…
LEGOLAND EXPRESS
Under 36" must be accompanied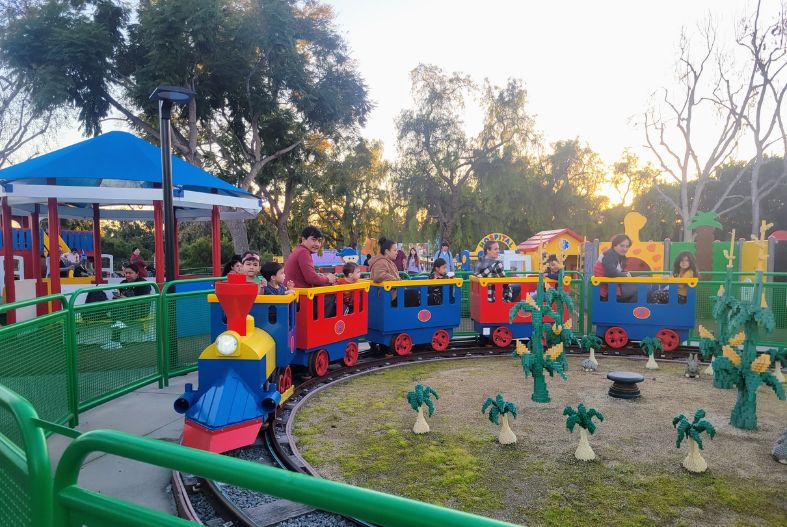 Train-lovers will enjoy chugging around the track on this little locomotive. The train is located near Duplo Playtown, where you'll find lots of other toddler-friendly activities as well.
Our toddler loved riding around on the choo choo train and this is a ride that he wanted to do over and over again.
There is no minimum height requirement for this ride, but children under 36 inches will need to be accompanied by an adult.
LEGO NINJAGO THE RIDE
Under 48" must be accompanied
On this ride you use your hands to control the elements and shoot fireballs and lightning at the enemy ninjas.
Although technically toddlers can go on this ride, it really isn't geared towards that age. We didn't take our toddler on this one and I wonder if he might have been a little scared by the visuals of attacking ninjas and a big scary snake.
However, if your toddler is used to that sort of thing they might enjoy it. And if you're riding with an older child you can bring your toddler with you.
Queen Watevra's Carousel
No minimum height requirement if riding with an adult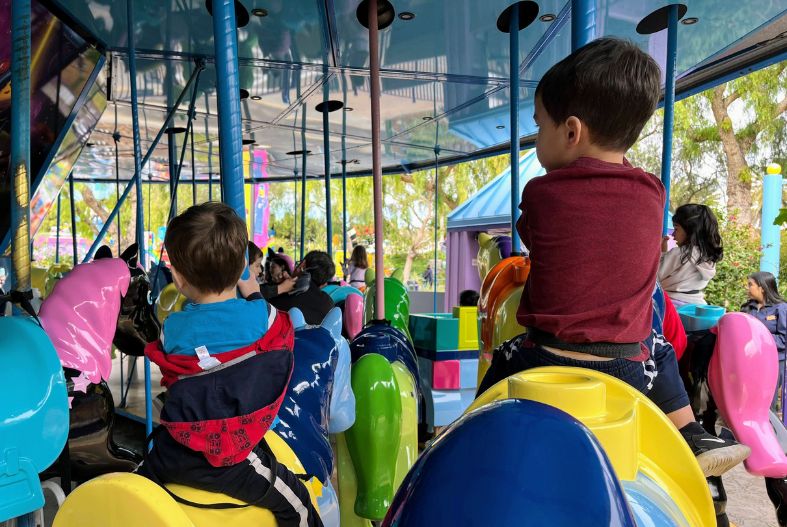 If your child loves carousels, they'll probably want to go on this ride over and over! Our son couldn't get enough of this classic ride. And it's a fun one that the whole family can go on together.
Safari Trek
Must be 34" to ride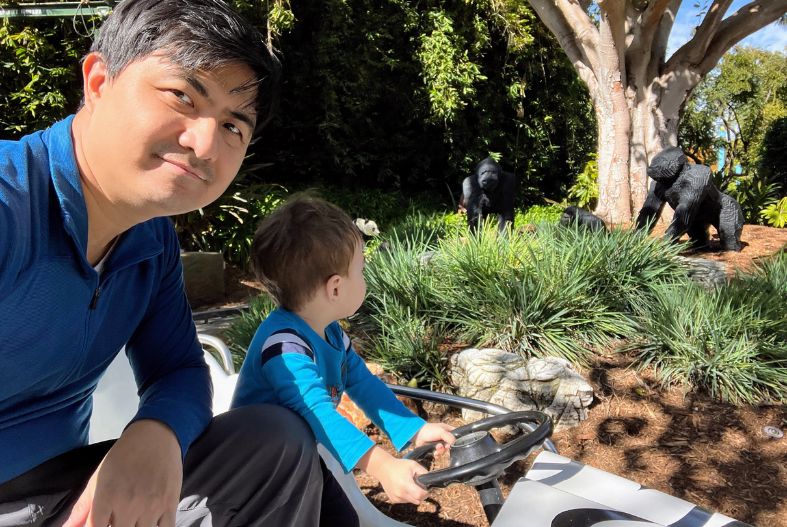 Toddlers (and older kids!) will love going on a safari ride to see some pretty impressive LEGO animals. Part of the fun is that they get to feel like they are driving their own car around the safari track.
Children must be at least 34 inches to ride and accompanied by an adult if they are under 48 inches.
Skipper School
Must be 34" to ride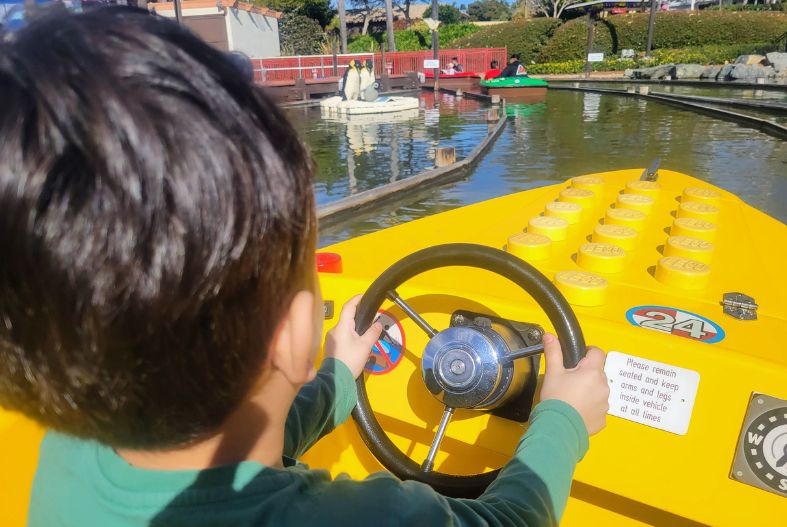 Skipper School is a fun opportunity for kids to ride on and steer their own boat through a water course.
Children have to be at least 34 inches to ride and must be accompanied by an adult if under 48 inches.
Our whole family loved this ride and we went on it multiple times. We really liked that two young children could ride with one adult, so our whole family could go at the same time in two separate boats.
Sky Patrol
Must be 34" to ride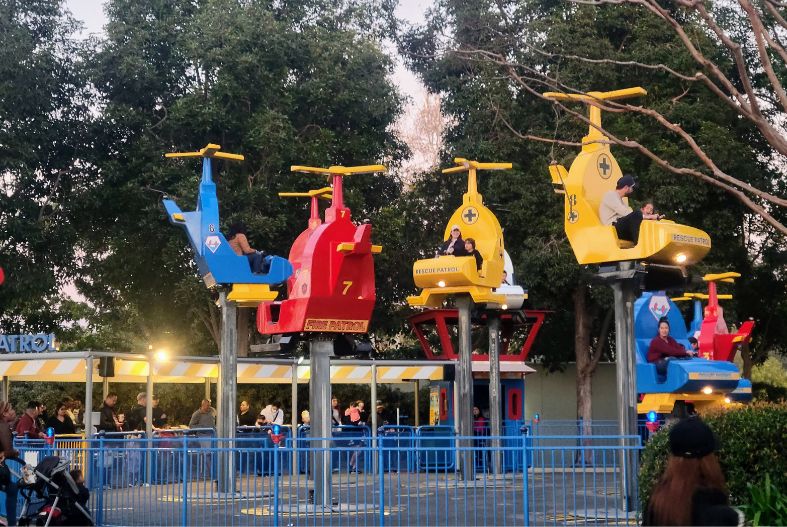 Toddlers will love taking a ride in their own helicopter on Sky Patrol! During the ride you can control if the helicopter goes up and down or left and right.
Riders must be at least 34 inches for this one.
Captain Cranky's Challenge
Must be 34" to ride
Board a swaying pirate ship that swings and rotates on a U-shaped track on Captain Cranky's Challenge!
This ride is a bit vigorous and I was actually a bit worried that our 2 year old was scared during the ride as he just sat frozen the whole time. But as soon as it ended he got a big smile and said, "again!". Whew.
You might want to watch this one in action before you board it to see if you think your toddler will be up to it. But if they are, it's a lot of fun!

Fun Town Police and Fire Academy
Must be 34" to ride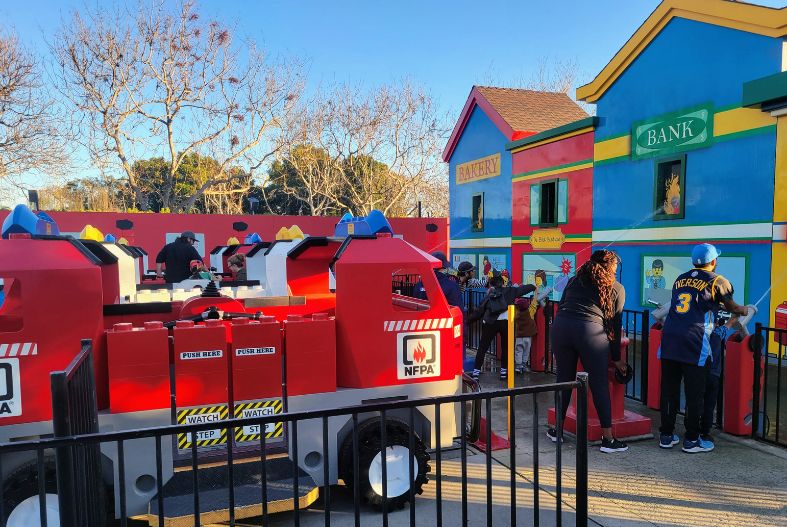 On this ride, you work together as a group (four or less), to move your vehicle from one end of the track to another and then pump and spray water to put out a fire. Race your vehicle back to see who makes it back to the start first!
While our toddler wasn't too much help with the competition part, he loved riding in the firetruck and helping us aim the water. This is a fun ride to do as a whole family.
Lost Kingdom Adventure
Must be 30" to ride
On this ride, you use blasters to shoot skeletons and mummies that you pass by. This is not necessarily geared toward toddlers, but if you have older kids you can also bring your toddler on this one as long as they are over 30 inches.
Playgrounds
In addition to rides, there are also some fun playgrounds that toddlers will love playing at (in fact you might have trouble dragging them away to go on the rides!).
Benny's Playship
Located in Bricksburg, this play structure has exciting enclosed slides that little kids will love going down over and over!
LEGO Ninjago Training Camp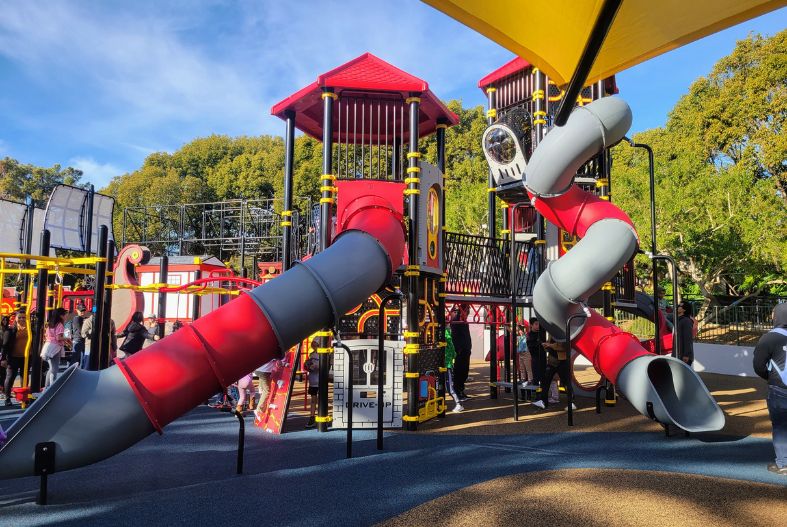 This massive play area has an abundance of slides, climbing areas, and tunnels for kids to explore. Our kids had the best time running all over this playground and did NOT want to leave when it was time to go!
Expect to have some difficulty coaxing your little kids away from this one- there is so much fun to be had here!
Hideaways
Hideaways is a large play structure consisting of nets to climb, tunnels to explore, and slides to experience.
Although it feels a bit more dated than the new Ninjago Training Camp, there are still a lot of exciting elements for adventurous kids, especially in the rope features!
Duplo Playtown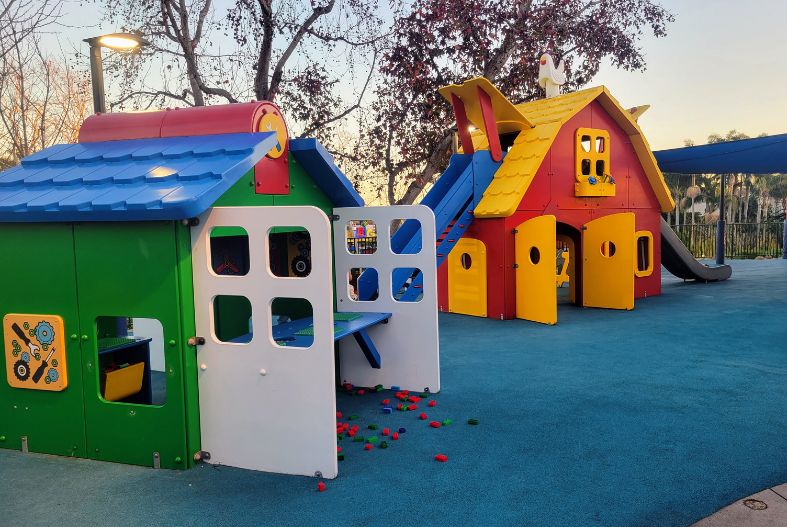 One of most toddler-friendly places in LEGOLAND is Duplo Play Town!
In Duplo Playtown you can find an interactive play area with themed buildings, such as a hospital, police station, a market, a building area, and more. In the small buildings kids can play with Duplos and other interactive elements.
Also in the area is the LEGOLAND Express, a small train ride, as well as slides and other playground structures.
Our toddler was delighted to find this area where everything was just his size!
Other fun LEGOLAND activities for toddlers
Sea Life Aquarium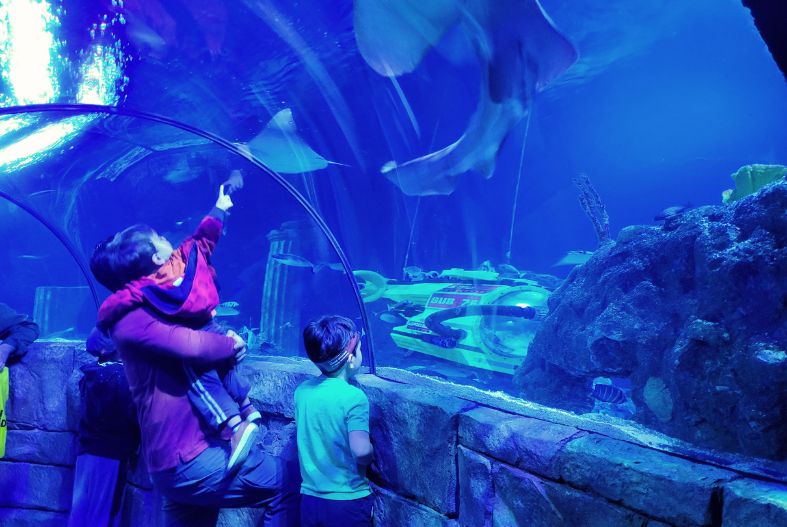 Located near the entrance of the park is the Sea Life Aquarium. In the aquarium you can get up close and personal with over 350 different species of sea creatures.
Two of the highlights of the aquarium for us were the ocean tunnel and the touch pool where we were able to touch starfish, sea anemones, and urchins.
We found the aquarium to be a very enjoyable interactive experience and would definitely recommend taking some time to visit while you're at LEGOLAND.
Plan one to two hours for your visit to Sea Life Aquarium. If you'd like to visit the aquarium, you can purchase a Sea Life Hopper ticket, which includes entrance to both LEGOLAND and Sea Life.
Waterpark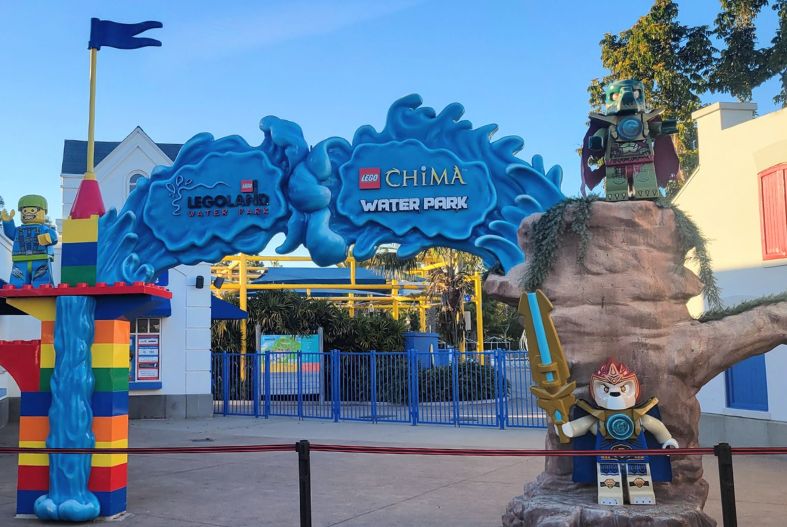 If you're visiting during the warmer months you can also head on over to the LEGOLAND Water Park for some water fun! In the water park you will find slides, a wave pool, a lazy river, and all sorts of exciting water activities.
Children ages three and younger are required to wear a swim diaper in the water park.
Cole's Rock Climb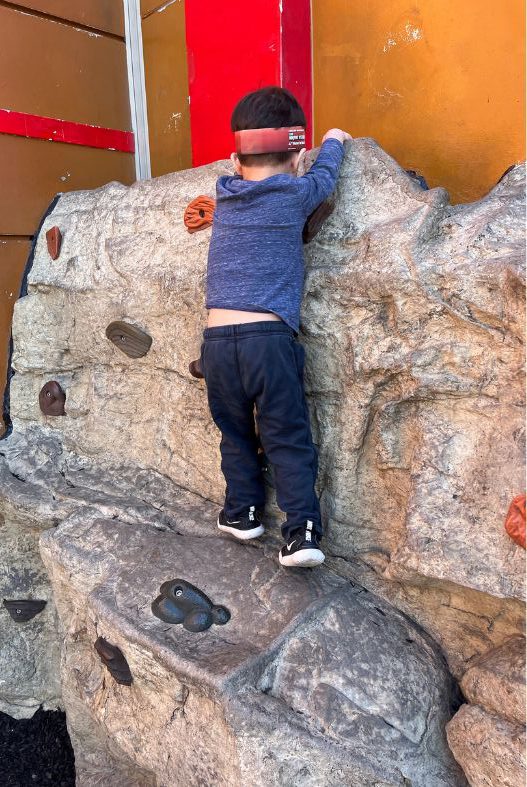 If you have a little climber on your hands, be sure to visit this small climbing wall! It's a perfect size for little kiddos to scramble around on with a little help from their parents.
Shows
Throughout the day at LEGOLAND, there is a selection of 4D shows that play on a rotating schedule. Our toddler really enjoyed watching the 4D shows (although our 4 year old found them to be a little intense, so you'll have to decide if it's a good fit for your individual child), especially wearing the 3D glasses!
You can find the schedule for the shows on the app.
There are also often other small shows or performances throughout the park during the day. While we were there we saw a drumming performance that our kids really enjoyed. You can find information about these smaller performances on the app as well.
When to visit Legoland with a toddler
The best time to visit LEGOLAND is between late August and February. During this time, most kids are in school so this is when the park is the least crowded and lines for rides are the shortest.
Summers and holidays (especially Christmas and spring break) are typically the most crowded.
The park is typically also usually a lot busier Friday through Sunday, so try to go earlier in the week if possible.
We went in February and found it to be a great time to be there. The weather was perfect and the park wasn't crowded. We found the park to be the least crowded when it first opened and in the couple of hours before it closed. During that time we could often just walk onto rides with no line at all.
Where to stay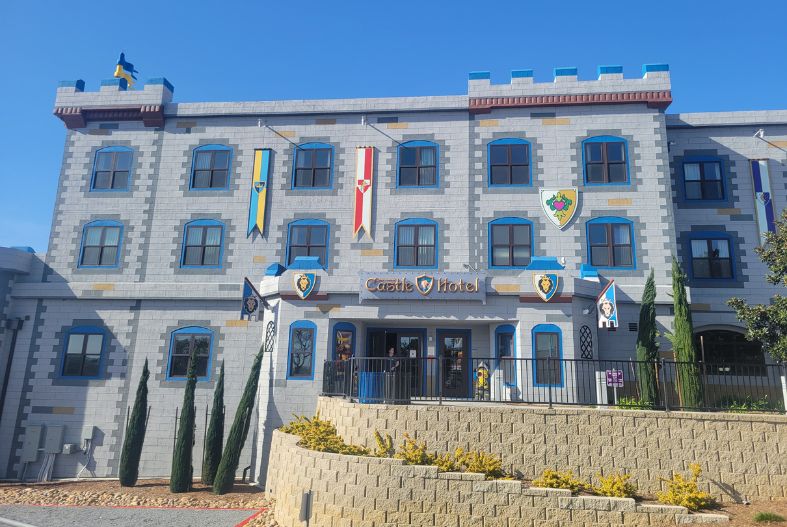 While there are many places to stay in the area around LEGOLAND, it's extremely convenient to stay on site at either the LEGOLAND Resort Hotel or the LEGOLAND Castle Hotel.
This is especially true if you're visiting with a toddler.
You won't have to rush in the morning to get to the park early, as you're already there! And after a long day, it's nice to get back to your hotel quickly.
You can even stop by for a nap in the afternoon and then easily head back to the park.
Plus, the hotel is part of the experience with themed rooms, entertainment, and LEGO features throughout. In this case, where you stay really can add a lot to the experience!
We've stayed both at the LEGOLAND hotel and at an offsite hotel about 15 minutes away and really loved the experience staying on site. It just makes things easier when visiting with young kids.
Cost
The cost for a day ticket to LEGOLAND is $89 for a day pass and $114 for a two-day pass if you buy it online (it costs more if you buy your ticket at the gate).
You can often find deals for LEGOLAND, so search around and see if you can find any discounts before booking your tickets.
You can also get a discount on tickets (for example, second day free) if you stay at one of the LEGOLAND hotels.
If you're going to LEGOLAND for more than two days, you might also want to consider an annual pass. The pass comes with additional perks, such as free parking and discounts on food at the park.
Tips for visiting LEGOLAND with a toddler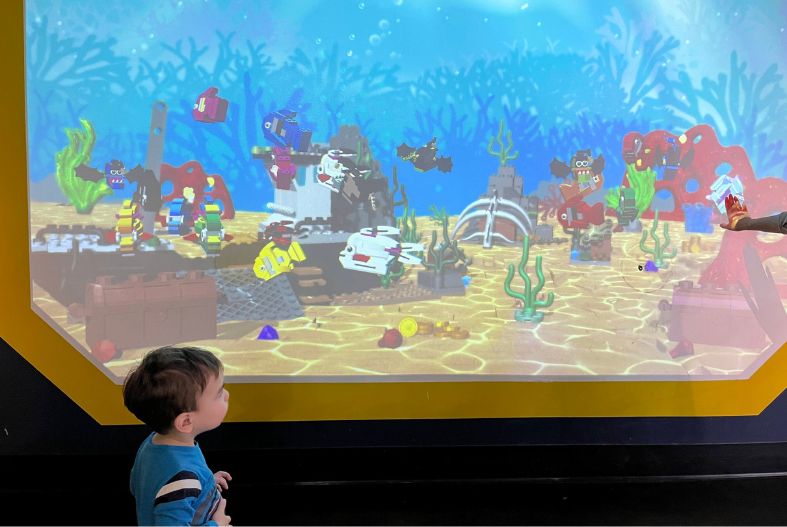 Reservations are required
Reservations for a specific day are required to enter the park.
If you've purchased a dated ticket, you don't have to worry about this. However, if you have an annual pass or an open-date ticket, you'll need to make a reservation for a specific date beforehand.
Use the app!
Download and use the LEGOLAND app during your visit for all sorts of useful park information.
On the app you can see showtimes, find out how long lines are for rides, and see where you are on the map to help you get around.
We found the app to be very useful for planning our day in LEGOLAND, especially for finding out where to go to find the shortest line (a huge help when visiting with an impatient toddler!).
LEGOLAND is cashless
The entire LEGOLAND resort is cashless, so make sure you're prepared to pay with a credit or debit card during your visit. This is true for the theme parks as well as the hotels.
There are a few cash-to-card kiosks where you can trade in your cash for a prepaid card that can be used in the parks, but it will save you some hassle if you just bring a card to use.
Bring some minifigures to trade
One fun activity to participate in at the park is trading minifigures.
Bring a few minifigures from home (or buy some at the park) and then be on the lookout for employees (Model Citizens) with minifigures on their lanyards. There are also some places throughout the park that will have a box of minifigures for trading as well.
Politely ask the employee to trade minifigures with you and then the new one is yours to keep or trade again.
It doesn't matter what condition the minifig you bring to trade is in, but it does have to be a complete minifigure (including head, torso, and legs).
Some toddlers might be a bit young for this, but older toddlers might get into the fun of picking out new minifigures to trade for.
What to bring to LEGOLAND for toddlers
When packing for LEGOLAND with a toddler, there are a few things that you'll want to be sure to bring to make the trip go more smoothly for everyone. Don't forget these essentials:
Water bottle
Stroller
Snacks
Also check out our comprehensive list of toddler travel essentials to be sure you're not forgetting anything important for your trip!
Common questions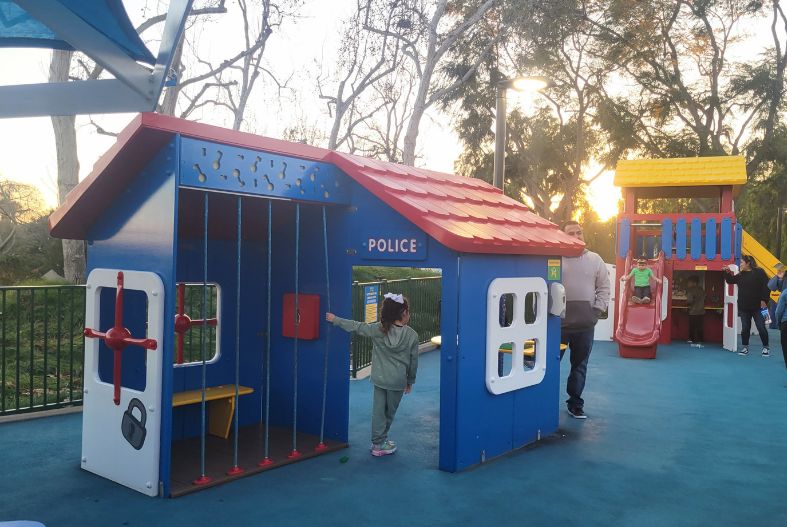 Is LEGOLAND worth it for a 2 year old?
If you're visiting LEGOLAND with a 2 year old, you'll find that there are a lot of things to keep them entertained! For a family trip with your older kids, your toddler will have plenty to do at the park.
That being said, I don't know if I would go to LEGOLAND specifically for my 2 year old. Given the cost of the ticket (for the adults) and the number of rides they won't be able to go on, I personally would probably just wait until they were a little older. Of course that would depend on how far we had to travel to get there, if we were in the area we might still take advantage of the opportunity.
We went with our 6 year old and 4 year old in addition to our 2 year old, so for us it was worth it to bring the whole family. And our 2 year old had a great time!
Do you have to pay for toddlers at LEGOLAND?
Children under 3 are free at LEGOLAND, so your toddler can enjoy the attractions for free of charge! To enter the waterpark however, it does cost $5 (plus tax) for each child under 3.
Can you bring snacks into LEGOLAND?
Water bottles and small snacks are permitted in LEGOLAND. You can also bring in a small cooler as long as it is sized 12"x 10" and under.
Can you bring a backpack to LEGOLAND?
Yes, you are permitted to bring a backpack or diaper bag into LEGOLAND (however, wheelie backpacks are not allowed). Your bag will need to be searched before entering the park.
There is not a place to store luggage of any sort (unless you're staying at one of the LEGOLAND hotels), so you'll need to make arrangements for your luggage during your visit.
Final Thoughts
LEGOLAND is an amazing place to visit with a toddler and you can be sure that they will have so much to do to keep them entertained! While they won't be able to go on all of the rides, there are a lot of rides, shows, and activities that are perfect for the youngest visitors.
Our toddler had such an amazing experience on our family trip to LEGOLAND and we wouldn't hesitate to bring a toddler again on another trip.
Other posts you might be interested in:
San Diego Zoo vs Safari Park: Which One Is Best For Your Trip?
LEGOLAND vs Disneyland: Which Is Best for Your Trip?
The Best Portable Bed Rails for Travel with Toddlers
21 Airplane Toys and Activities Your Toddler Will LOVE!