This page may contain affiliate links, which means that we may earn from qualifying purchases at no additional cost to you.
If you're planning a trip to Siem Reap, we have the perfect 3 day itinerary for you!
Siem Reap is an extraordinary destination with so much to offer visitors. With its proximity to the awe-inspiring Angkor Archaeological Park, Siem Reap offers a gateway to the wonders of the ancient Khmer Empire.
In addition to its world-famous temples, the city boasts a vibrant culinary scene, bustling markets, and a warm and welcoming local community.
In this article, we will be exploring Siem Reap's must-see attractions and practical tips for an unforgettable visit.
A visit to Siem Reap is truly an unforgettable experience. By the time we finished our visit to Siem Reap, it went down as one of our all-time favorite international destinations.
Whether you are an avid history buff, a nature enthusiast, or simply seeking an enriching cultural experience, Siem Reap is a destination that promises to leave a lasting impression.
If you're visiting as a family, check out our guide to visiting Siem Reap with kids!
What to Know before Visiting Angkor Wat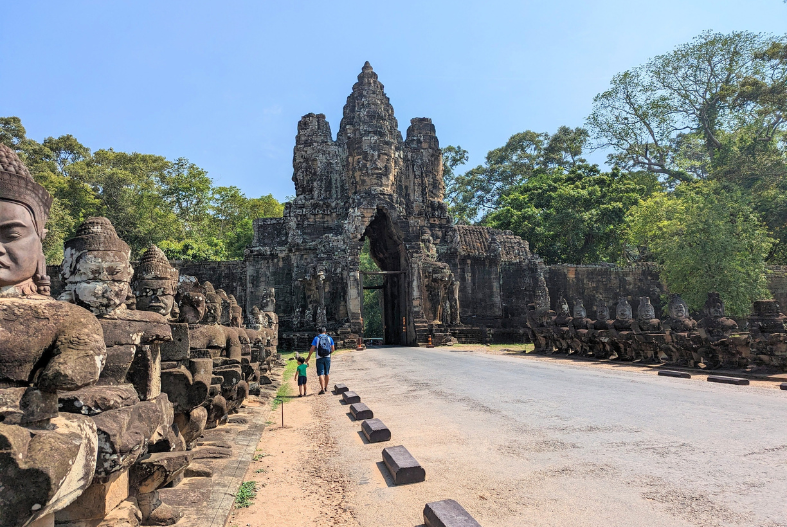 Typically the main reason people come to Siem Reap is for the opportunity to explore Angkor Archeological Park, the largest religious site in the world.
Before we jump into the meat of our 3 day Siem Reap itinerary, we'll go over a few things to know before visiting Angkor Wat so that the itinerary will have a bit more context.
Grand and Small Circuit
You can break up your visit to Angkor Wat in many ways, but one of the most common ways is to divide it into two loops known as the Grand (or Big) Circuit and the Small Circuit.
The Grand Circuit covers temples that are a bit further away from Siem Reap, whereas the Small Circuit includes temples that are located closer to the city and closer to each other.
Each circuit should be given a full day (or more) in order to do them justice. Both circuits are well worth a visit and should be a priority to anyone visiting Siem Reap. However, if you were to only pick one of the circuits, the small circuit contains more of the must-see sites.
Tickets
In order to enter the Angkor Wat Archeological Park, you will need to purchase a pass.
You can buy a 1-day, 3-day, or 7-day pass either online or at the ticket office in Siem Reap. For this itinerary you will need to purchase a 3-day pass.
Note that you don't have to use the passes on consecutive days, the 3-day pass can be used at any point during the 10 days after you first use it. For the 7-day pass you have 30 days to use it.
Cost
1-day pass: $37
3-day pass: $62
7-day pass: $72
Hours
Most of the temples: 7:30 am-5:30 pm
Angkor Wat: 5 am-5:30 pm (open at sunrise)
Phnom Bakheng and Pre Rup: 5am – 7pm (open at sunrise and sunset)
Attire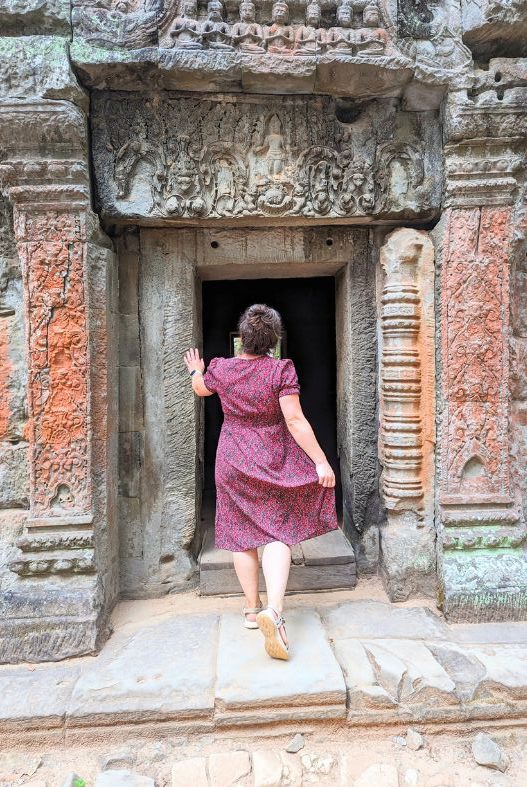 Angkor Wat is a sacred religious site, and as such there are dress requirements to visit. Both men and women should dress modestly and ensure that their shoulders and knees are covered when visiting the temples.
You should also plan on wearing shoes that are comfortable as you will be doing a LOT of walking!
Transportation
The most common way to explore Angkor Wat is to hire a driver for the day. For a very reasonable price (around $15 a day for the Small Circuit and $25 a day for the Grand Circuit) you can hire a tuk tuk driver for the day to take you to all of the temples. The driver will wait for you while you explore each temple and then transport you to your next stop.
Another option is to hire a driver with a private vehicle. While a bit more expensive (around $45 dollars for the day), this allows you to have a more comfortable ride and get some relief from the heat between each temple. This is more worth it on the Grand Circuit where there is a longer drive between the temples.
Siem Reap 3 Day Itinerary Overview
For this Siem Reap 3 day itinerary, we will spend two days exploring the ruins with a break day in between to see some of the other sights that Siem Reap has to offer. Below you will find an overview of the itinerary.
Day 1 (Grand Circuit)
Angkor Wat Outer Circuit
Land mine museum
Phnom Bakheng sunset hike
Day 2 (City Center)
Old Market
APOPO
National Museum
Day 3 (Small Circuit)
Sunrise at Angkor Wat
Angkor Wat Inner Circuit
Phare show in evening
Siem Reap 3 Day Itinerary
Day 1 (Grand Circuit)
Grand Circuit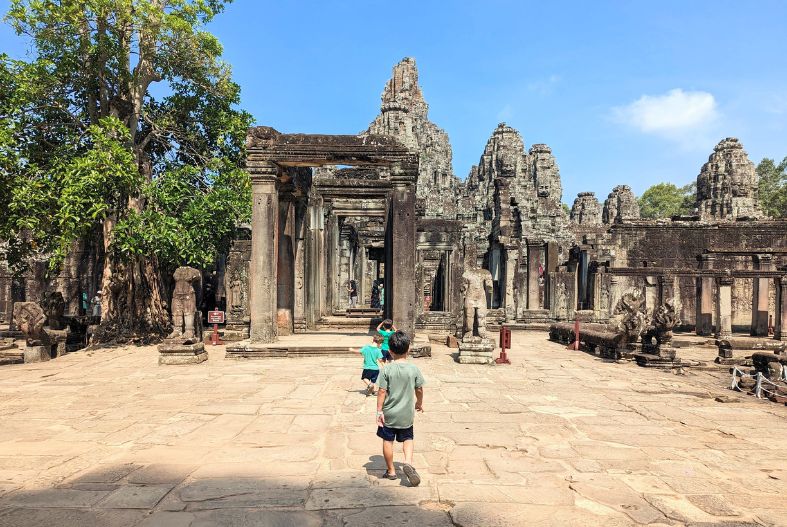 We'll start out the first day of our 3 day Siem Reap itinerary by beginning our exploration of Angkor Wat Archeological Park. Be sure to either purchase your tickets online the night before or let your driver know to take you to the ticket office in Siem Reap before you start your tour.
We've scheduled the Grand Circuit for the first day because we enjoyed ending with the larger, more iconic temples of the Small Circuit. It also means that you'll be doing your early sunrise visit to Angkor Wat on your last day when you're a little more settled (and have had a chance to purchase your pass in advance). However, you can easily swap these out and start with the Small Circuit if that is your preference.
The main temples that you'll want to make sure that you visit during your Grand Circuit tour include the following:
Southern Gate
Preah Khan
Neak Pean
Ta Som
East Mebon
Pre Rup
Banteay Srei– This temple isn't typically part of the Grand Circuit because it's located a little further out than the other temples. However, I would highly recommend talking to your tour guide about adding it to your itinerary for the day as it is well worth a visit.
For more information, see our detailed post on the Grand Circuit.
Land mine museum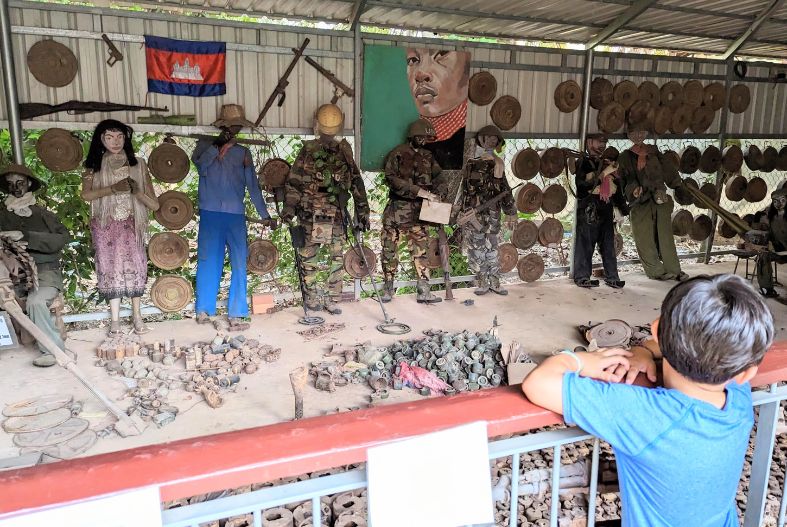 Along the way back from Banteay Srei, make a stop at the Land Mine Museum. This is a museum focused on raising awareness about the devastating effect of landmines in Cambodia.
The museum was created by a former child soldier who grew up during the reign of the Khmer Rouge. During the war he personally placed thousands of landmines. After defecting from the Khmer Rouge, he was trained as a deminer and dedicated his life to removing landmines.
The museum contains a lot of interesting information as well as deactivated landmines, bombs, and other remnants from the war. It's a small museum that can easily be covered in less than an hour.
While we were there we were able to speak with one of the employees who was a victim of a landmine in his youth and hear about his experience.
We found our visit to be both sobering and informative, an important opportunity to learn about a very impactful topic.
Phnom Bakheng Sunset Hike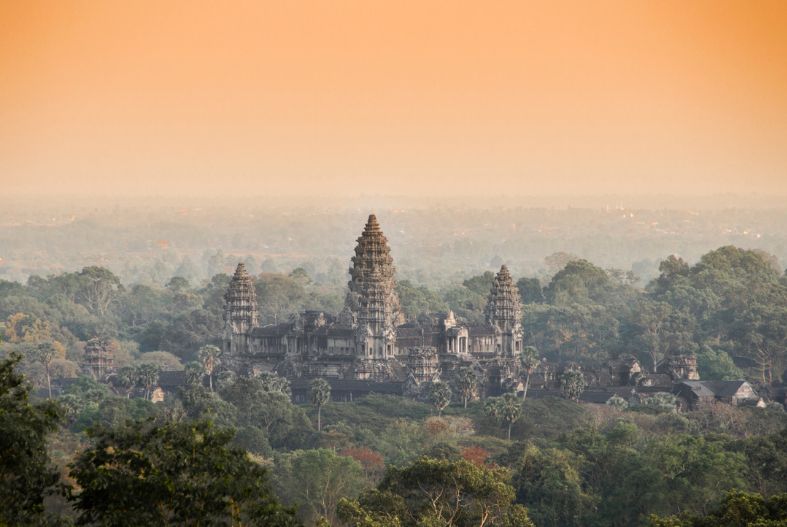 As you come back into Siem Reap, make a stop to see the sunset at Phnom Bakheng.
Located less than a mile northwest of Angkor Wat, Phnom Bakheng is an ancient temple mountain where you can enjoy the sunset while looking out over Angkor Wat.
The hike is relatively short and takes about 20 to 30 minutes. However, take into consideration that it is all uphill.
When you arrive at the top, you'll find a tower temple that you can climb to get the best vantage point.
You'll want to plan on arriving at the summit well before sunset so that you can secure a good spot with an unobstructed view.
Honestly, from the top of the hill Angkor Wat looked much smaller than we were anticipating, but it is still a lovely place to enjoy a sunset.
Day 2 (City Center)
On the second day of your 3 day Siem Reap itinerary, take a break from the temples and explore the historical town of Siem Reap.
Old Market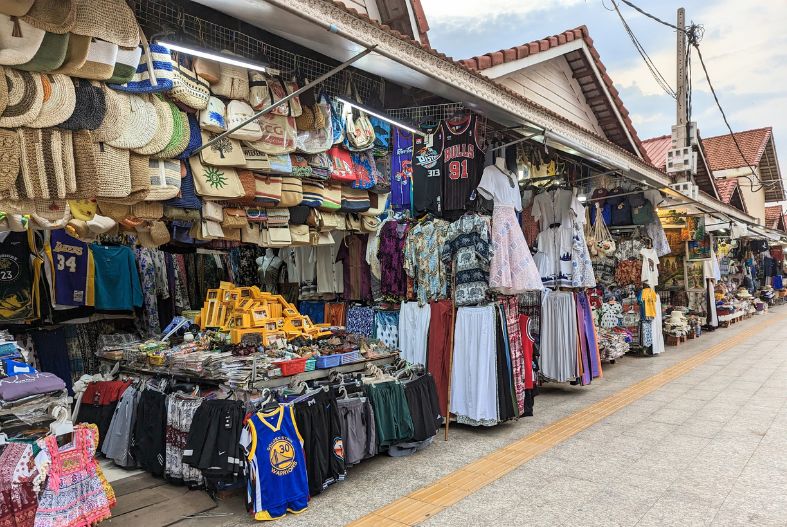 The Old Market is one of the oldest and most popular markets in the city, attracting both locals and tourists alike. The market offers a vibrant atmosphere and is a great place to immerse yourself in the local culture.
Within its narrow alleys and vibrant stalls, you can find a wide array of products, including fresh produce, meats, spices, souvenirs, clothing, jewelry, handicrafts, and artwork.
Exploring the Old Market allows you to engage with local vendors, practice your bargaining skills, and sample local street food. It is an excellent place to discover unique Cambodian products, taste traditional snacks, and experience the everyday life of the local community.
The morning is a great time to visit as the food is at its freshest and you can experience the bustle of the market being set up for the day.
APOPO
Next, pay a visit to the APOPO visitor center. APOPO is a nonprofit organization that trains giant African pouched rats to detect landmines.
The rats are faster and more efficient than traditional method of clearing landmines. Given that it is estimated that Cambodia still has between 4 and 6 million mines and other unexploded ordnance left over from the civil war, this is an essential and life-saving mission.
On a visit to the visitor center, you will learn about the history of landmines in Cambodia and the process of training the rats to clear the landmines. You will also see a demonstration with one of the rats and get a chance to hold a rat at the end.
Overall, it's a fascinating place to visit. We really enjoyed our tour at APOPO and would highly recommend it to anyone visiting Siem Reap.
Angkor National Museum
Next, pay a visit to Angkor National Museum. Here you will learn about the history and culture of the Khmer civilization.
The museum is divided into several galleries which cover different aspects of Khmer art and history. The exhibits provide insights into the artistic, religious, and historical significance of the Khmer civilization.
You can pay a little extra for an audio guide which provides greater context and insight into the displays at the museum.
This is a fantastic way to gain more context for your time spent exploring the temples (and get out of the heat for a little bit!). Plan on spending a couple of hours here to make your way through the museum.
That's the end of our second day in the Siem Reap 3 day itinerary! Be sure to get to bed early tonight because tomorrow you will be up much earlier than you'd like to catch the sunrise at Angkor Wat.
Day 3 (Small Circuit)
Sunrise at Angkor Wat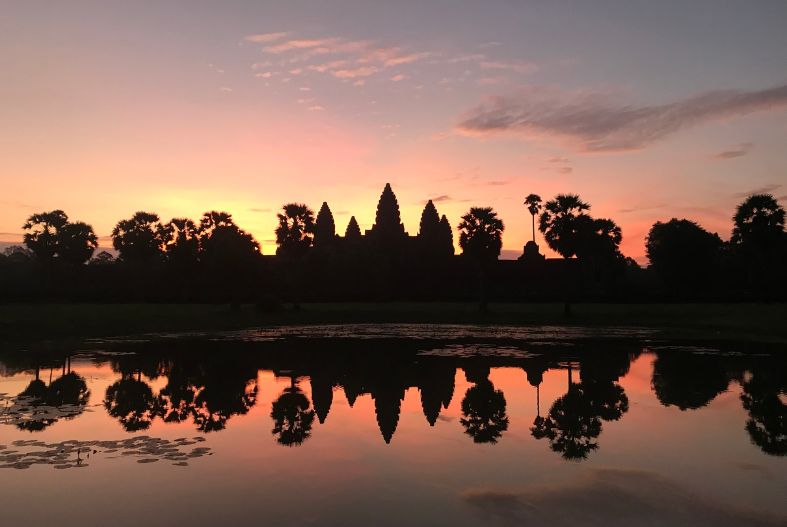 For the last day of your 3 day Siem Reap itinerary, you'll start off bright and early with a visit to Angkor Wat, the largest and most iconic of the temples, for sunrise.
For many, this is a highlight of their experience in Siem Reap. It's also extremely popular and you'll need to plan ahead to be sure you make the most of it.
To ensure that you get a good position for your pictures, plan on arriving well in advance of sunrise. Angkor Wat opens at 5 am and many people will be there right as the temple opens to secure their spot.
In order to get that classic shot of Angkor Wat, head to one of the ponds on the grounds in front of the temple. The north temple is the most popular because it's centered right in front of the temple, but it's also extremely crowded. The south pool is less crowded but still allows for some pretty spectacular reflection pictures of the temple.
Once you secure your spot, sit back and enjoy the view as the sun slowly illuminates the temple grounds.
Small circuit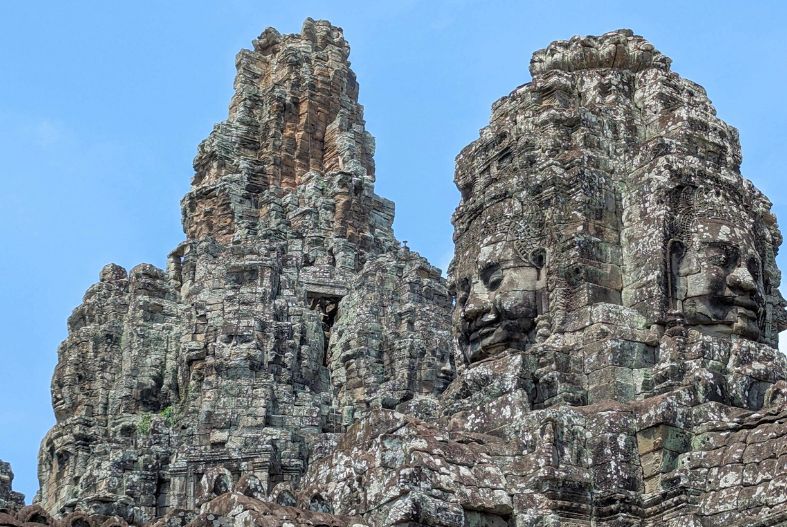 Up next is the Angkor Wat Small Circuit!
The Small Circuit is a shorter loop that focuses on the central area of the Angkor Archaeological Park. This route is the more popular of the two and includes some of the most iconic and frequently visited temples. The temples within the Small Circuit are generally closer to one another, making it easier to explore them on foot or by bicycle. The three iconic temples on this route are Angkor Wat, Angkor Thom, and Ta Prohm.
Since you're already at Angkor Wat, it is very convenient to start there. However, note that most of those people who were there viewing the sunrise will also be headed straight to Angkor Wat, so it does tend to be a crowded time to visit.
Instead, you might want to consider heading over to the nearby Bayon temple and saving Angkor Wat for the end of the day.
Here are the temples to make sure you visit on the small circuit:
Southern Gate
Angkor Thom

Bayon Temple
Baphuon temple
Phimeanakas
Terrace of the Elephants
Leper King Terrace

Ta Prohm
Banteay Kdei (smaller temple, skip if you're short on time)
Prasat Kravan (smaller temple, skip if you're short on time)
Angkor Wat
For more information, see our detailed post on the Small Circuit.
Phare Show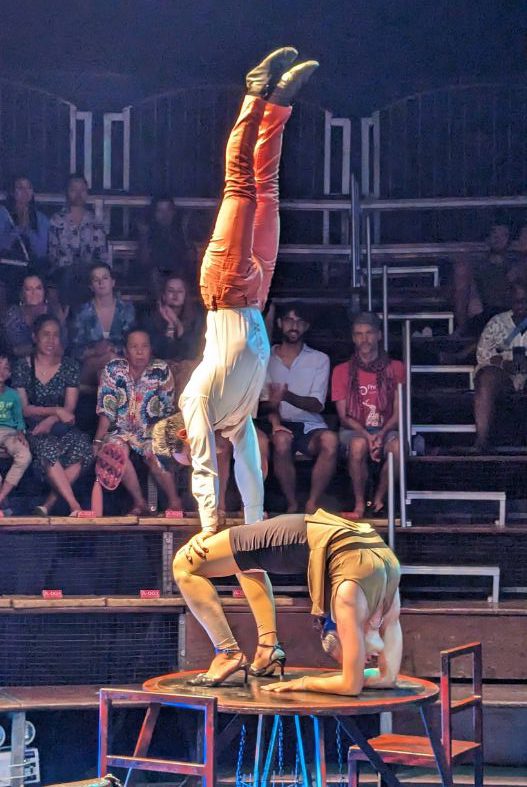 In the evening, get ready to be entertained by Phare, the Cambodian Circus. At the show you can see extraordinary feats of gymnastics combined with theater and dance.
The group performs a nightly 1 hour show at 8pm. There are a variety of show options, so check the schedule on the Phare website to determine which shows are playing during your visit.
We didn't know that there was a schedule of shows that changed depending on the day, so the night we went ended up being more adult-themed than we would have preferred given that we were visiting with our young children. Looking at their show list, I think we happened upon the only show where that would be the case.
But aside from that factor, we loved the performance! There were some extremely impressive displays of strength, balance, and creativity that left us in awe of the performers.
Other Itinerary Options
This is already a pretty packed 3 day itinerary, but if you find yourself with some extra time or want to trade out one of the suggestions above, here are a few other great things to do in Siem Reap.
Experience the nightlife at Pub street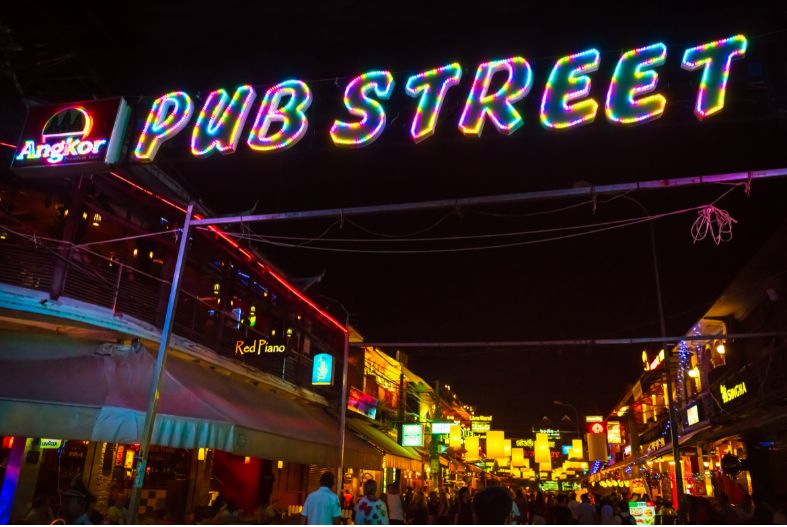 If you would like to experience the nightlife in Siem Reap, head down to Pub Street for the evening!
Located in the heart of the city, Pub Street is a pedestrian-friendly area lined with restaurants, bars, clubs, and street food vendors. It is a popular gathering place for locals and tourists, especially in the evenings and late nights.
In the evenings, the street comes alive with colorful lights, music, and a bustling crowd, creating an energetic and festive ambiance. Visitors can enjoy live music performances, watch traditional Apsara dance shows, or simply relax at one of the many open-air bars.
Pub Street is also a great place to sample local street food, from delicious Khmer barbecue to exotic fruits and desserts.
The street is conveniently located near popular attractions such as the Old Market and the Night Market, making it a central hub for dining, entertainment, and experiencing the vibrant nightlife of Siem Reap.
Visit a floating village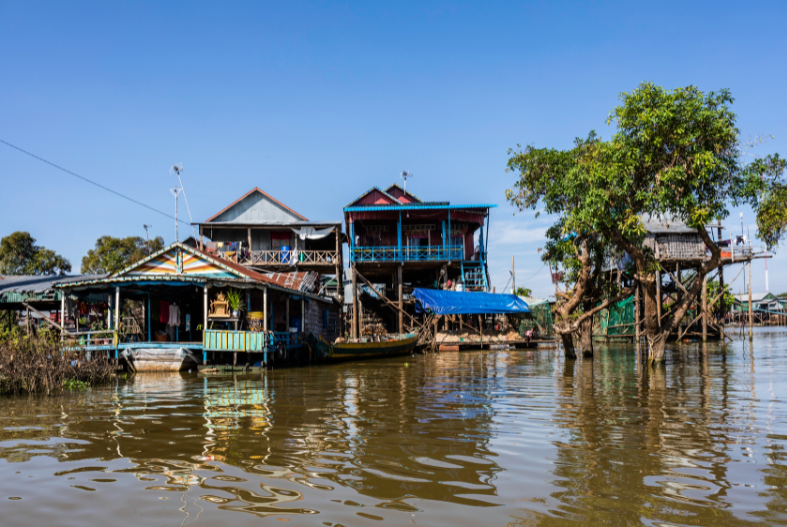 Located near Siem Reap are a number of floating villages, which are often a draw for tourists to the area. The claim is that you can get a glimpse of local life as you explore the area by boat.
We looked into doing this before our trip but heard enough negative reviews that we decided not to add it to our Siem Reap itinerary. The negative comments claim that the tours are exploitative and don't benefit the locals and that the lakes are dirty and littered with garbage.
Once again, we didn't take a tour so we can't speak to this personally, you'll have to do your own research and see if it is an experience you'd like to try.
I wanted to mention it because there's a good chance it might be pushed on you by drivers or guides and you'll want to know your preference going in.
Get a massage
While you're in Siem Reap you'll find places offering massages everywhere you go. From booths offering foot massages on the street to official massage parlors, there is an abundance of massage offerings in the city.
For a very affordable price you can get a relaxing massage to help you unwind. This is a perfect way to decompress after a long day of exploring the temples.
Take a cooking class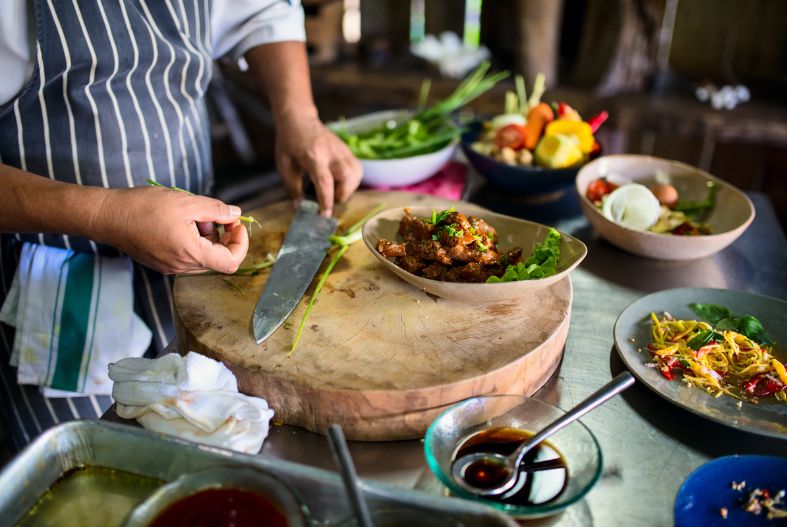 Another local experience to fit in if you have the time is a cooking class. Cooking classes provide a hands-on opportunity to learn from skilled local chefs who share their expertise on the flavors and techniques of traditional Khmer cuisine.
Many of these classes include a visit to the local market to pick out fresh ingredients for the dishes you will be preparing.
Whether you are a novice cook or a seasoned food enthusiast, a cooking class in Siem Reap is a fantastic opportunity to expand your culinary repertoire, gain cultural knowledge, and create lasting memories of your time in Cambodia.
Explore a night market
If you haven't had enough of Cambodian markets, consider visiting a night market during your stay! There are several different night markets to choose from, but the most famous is the Angkor Night Market.
Located in the heart of the city near Pub Street and the Old Market area, the Night Market offers a unique shopping experience for visitors. Open until late in the evening, this market is particularly popular among tourists looking for souvenirs, handicrafts, and local artwork.
The market is known for its lively atmosphere, colorful stalls, and a wide variety of goods on offer. Here, you can find an assortment of items such as clothing, jewelry, textiles, artwork, wood carvings, and traditional Cambodian handicrafts. Bargaining is a common practice, so be prepared to negotiate prices with the vendors.
In addition to shopping, you can also find food stalls offering an array of street food and local delicacies. It's a perfect opportunity to indulge in Cambodian cuisine while exploring the market's vibrant ambiance.
The Night Market in Siem Reap is a must-visit destination for those seeking a lively shopping experience and a taste of local culture in the evening hours.
When to visit Siem Reap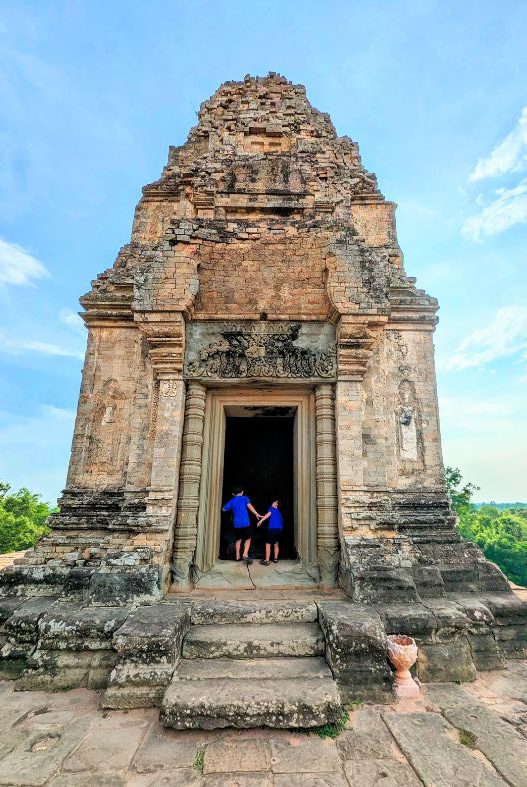 The best time to visit Siem Reap is during the dry season, which is from November to April. This period is characterized by warm temperatures, lower humidity, and minimal rainfall, providing comfortable conditions for exploring the temples and enjoying outdoor activities.
November to February is considered the peak tourist season in Siem Reap. The weather is pleasant with average temperatures ranging from 20°C (68°F) to 30°C (86°F). The skies are generally clear, making it ideal for temple visits and outdoor excursions. However, it does tend to get very crowded, so expect larger crowds at popular attractions.
The months of March and April mark the transition towards the hot season. Temperatures can soar above 95 degrees during the day, and it becomes increasingly humid. However, if you can handle the heat, this is a quieter period compared to the peak season and you can find better deals on accommodations.
We visited Siem Reap in May and found that there were very few tourists and we often had the temples to ourselves. However, it was EXTREMELY hot and humid, with temperatures over 100 degrees every day. We still had an amazing experience, but would probably try to come at a cooler time if we were to visit again.
How to get to Siem Reap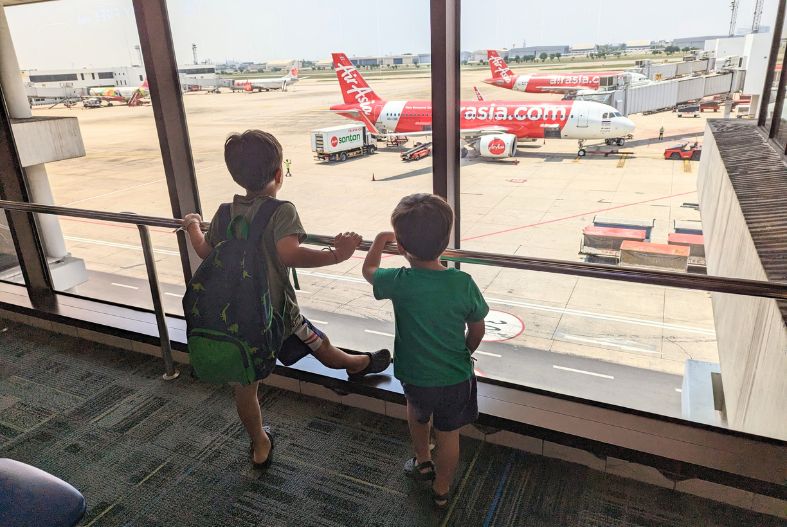 The best way to get to Siem Reap will depend on your budget and of course where you are coming from. Here are a few options.
By airplane
One of the fastest and easiest ways to get to Siem Reap is by direct flight to Siem Reap International Airport (REP). This airport has direct flights to other Southeast Asia destinations, such as Bangkok, Singapore, Kuala Lumpur, and Ho Chi Minh City.
After arriving at the airport, you can easily get a tuk tuk, taxi, or private transfer to your accommodations.
By bus
Perhaps the most cost-effective way to get to Siem Reap is by bus. The bus from Phnom Penh takes about 6 hours. You can also take buses from the other countries in the region, such as Thailand, Cambodia, and Laos.
Although it takes longer, it is a much more budget-friendly way to travel to Siem Reap than by plane.
By boat
If you're traveling from Phnom Penh or Battambang, you can consider taking a boat to Siem Reap. The boat journey can be a scenic experience, particularly during the wet season when the Tonle Sap Lake is full. However, it's important to note that boat schedules and availability may depend on the water levels, so it's recommended to check beforehand.
Getting around in Siem Reap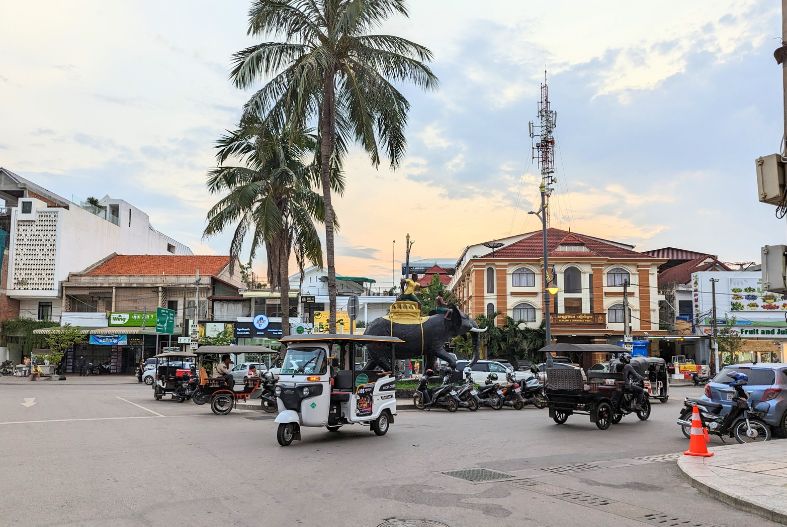 Getting around Siem Reap is relatively easy, and there are several transportation options available for you to explore the city and its surrounding areas.
Here are the most common ways to get around in Siem Reap.
Tuk-tuk
Tuk-tuks are a popular and convenient mode of transportation in Siem Reap. These motorized three-wheeled vehicles are widely available throughout the city. You can easily flag one down or find them parked near popular tourist areas, hotels, and markets.
Tuk-tuks are an affordable option for short distances or for exploring the Angkor temple complex. Remember to negotiate and agree on a fare before starting your journey.
Remorque
Remorque is a larger version of the tuk-tuk, which can accommodate more passengers. It's a motorized vehicle with a passenger carriage attached to a motorcycle.
Remorques are suitable for larger groups or when you have more luggage. You can find them at popular tourist areas, markets, and near hotels. You can also use GrabRemorque, which we found to be the best option, as it was typically cheaper than negotiating directly with a driver.
As a family of five, this was the most convenient way for us to get around the city.
Private vehicle
For tours of Angkor Wat Archeological Park, you can also book a private vehicle to take you around for the day. While a private car is more expensive than a tuk tuk, it does have the added benefit of air conditioning and additional comfort.
This is a good option if you're doing the grand circuit, as you'll be spending more time in transport.
It's also helpful if you're traveling with kids, especially due to the fact that you can likely use your car seats (the private vehicles we used did have seat belts).
Taxi
Metered taxis are not as common in Siem Reap as they are in larger cities, but you can still find taxi services. It's advisable to use reputable taxi companies or arrange for taxis through your hotel or guesthouse. Negotiate the fare in advance or ensure that the meter is used.
Walking
Siem Reap's city center is relatively compact, and many attractions, restaurants, and markets are within walking distance of each other. Walking can be a pleasant way to explore the city, especially in areas with heavy traffic or narrow streets.
Where to stay in Siem Reap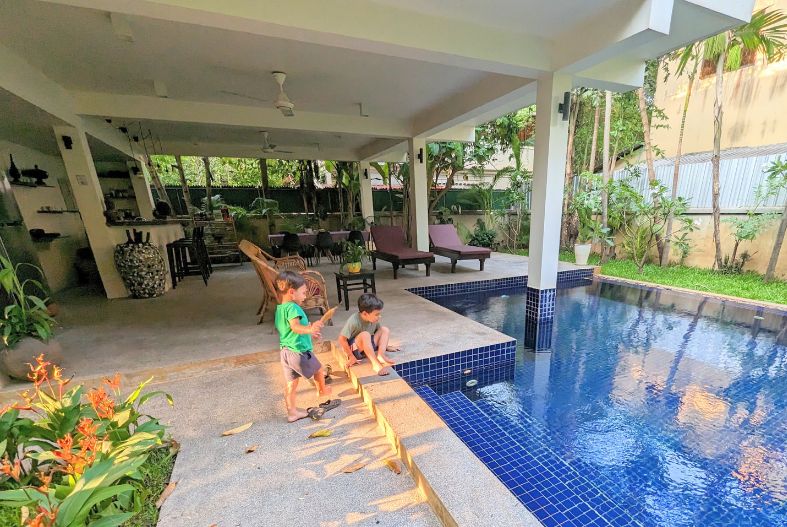 In Siem Reap you can find a wide range of accommodations depending on your budget and preferences. Here are a few popular areas to consider:
Old French Quarter
The Old French Quarter is an ideal place to stay for your first visit to Siem Reap. The area is centrally located, making it a convenient base for exploring the city and its attractions.
The Old French Quarter is steeped in history and boasts a unique architectural charm. The well-preserved colonial-era buildings, with their ornate details and classic facades, create an ambiance that harkens back to a bygone era. It is also located near the entrance to Angkor Wat and is a convenient jumping off point for visiting the temple.
Old Market
This is the central and most vibrant part of Siem Reap, known for its lively atmosphere, restaurants, bars, and night markets. Here you'll find Pub Street, the most popular place to go for bars and nightlife.
It's a great choice if you enjoy being in the heart of the action and want easy access to nightlife and shopping. You'll find a range of accommodations here, from budget guesthouses to luxury hotels.
Wat Bo Road
Situated a bit further away from the bustling Pub Street area, Wat Bo Road offers a quieter and more relaxed atmosphere. This area is known for its charming guesthouses, boutique hotels, and upscale resorts. It's a good choice if you prefer a more peaceful environment while still being within walking distance of restaurants and attractions.
Taphul Village
Taphul Village is a popular area for budget travelers, as it offers a wide range of affordable guesthouses, hostels, and budget hotels.
It's conveniently located near the Old Market and Pub Street with easy access to the city's main attractions. However, it's quieter and more peaceful, making it a perfect place for families.
Siem Reap Riverside
The Siem Reap Riverside area along the Siem Reap River is a picturesque location with beautiful views and a more tranquil ambiance. Here, you'll find a mix of boutique hotels and luxury resorts. It's a great option if you want a serene setting and a bit of a distance from the busier parts of the city.
Common questions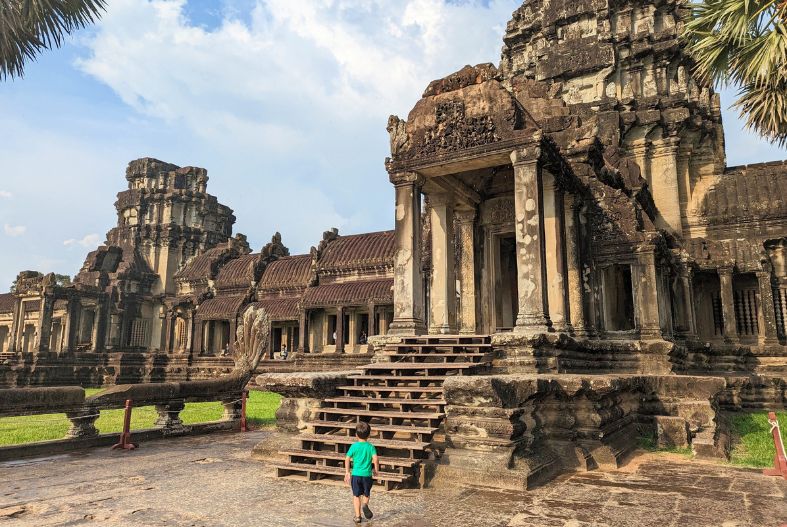 Is 3 days enough in Siem Reap?
Three days is the bare minimum you'll want to spend in Siem Reap. You can easily spend longer, especially if you want to spread out your temple visits more so you don't get temple fatigue.
However, in three days you can hit all of the highlights of Siem Reap and get a really good feel for the city.
How long do I need in Angkor Wat?
In order to make the most of your time in Angkor Wat, plan on spending at least two full days at the park. This will give you the opportunity to complete both the Grand Circuit and the Small Circuit.
Of course, you can definitely spend more time exploring the temples of Angkor Wat, but two days will give you enough time to see the major temples in the complex without getting burned out.
What is the currency in Siem Reap?
The currency in Cambodia is the Cambodia Riel. However, US dollars are widely used in Cambodia as well, to the point where you don't even need to exchange money if you have US dollars on hand.
When given change, you will often receive a combination of US dollars and riel, so you will likey end up with Cambodian Riel anyway.
Because US dollars are not the currency of Cambodia, vendors will only accept dollars that are in like-new condition with no tears or visible signs of wear.
Final Thoughts
Siem Reap is a destination that offers a perfect blend of rich history, breathtaking landscapes, and vibrant culture. It is someplace that everyone should experience at least once in their life. With this 3 day Siem Reap itinerary you will be able to experience the best that the city has to offer.
Our family's visit to Siem Reap was incredible. We'd highly recommend the destination to any traveler, whether they're visiting Siem Reap with kids, as a couple, with friends, or solo. This is one place you just don't want to miss!
Other posts you might be interested in:
Visiting Siem Reap with Kids (What you NEED to Know Before You Go!)
A Complete Guide to the Angkor Wat Grand Circuit