This page may contain affiliate links, which means that we may earn from qualifying purchases at no additional cost to you.
The Grand Circuit Tour of Angkor Wat is an experience that should not be missed when visiting Siem Reap!
While the first stop in Angkor Wat for most people is the Small Circuit, which includes the most iconic temples at Angkor Wat, the Grand Circuit also has so much to offer visitors.  
Visiting the Grand Circuit of Angkor Wat allows you to delve deeper into the wonders of the Angkor Archaeological Park, discover lesser-known temples, and enjoy a more off-the-beaten-path experience.
Honestly, some of our favorite experiences during our tour of Angkor Wat were during our tour of the Grand Circuit. There's something about exploring ancient ruins in relative solitude that really takes you back in time and creates a more immersive experience.
It is true that if you only have one day to visit the temples of Angkor Wat, you should probably plan on spending it touring the Small Circuit. The temples there are truly an experience you don't want to miss while in Siem Reap.
However, if at all possible try to arrange your schedule to include a second day for the Grand Circuit. These outer temples are really spectacular and will provide a very different experience and perspective on your time exploring Angkor Wat.
In this article we'll provide you with all the information you need to help you plan for your Grand Circuit Tour at Angkor Wat!
Also be sure to check out our detailed Siem Reap itinerary to make the most of your stay!
What to know before taking the Grand Circuit Tour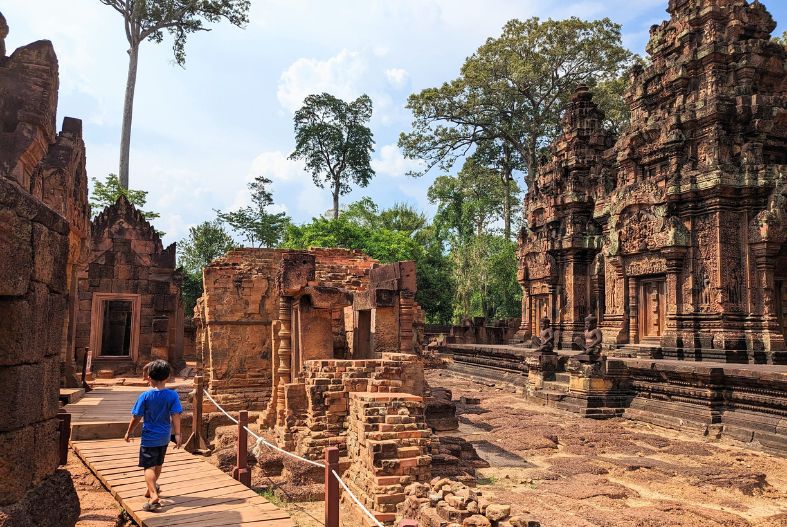 Why visit the Grand Circuit
If you're already planning to tour the Small Circuit, you might be wondering if the Grand Circuit has anything new to offer or if it's just more of the same. But there are several reasons why a Grand Circuit tour is a great addition to the Small Circuit tour at Angkor Wat.
First is the very fact that this is the less popular of the two tours. The main temples of the Small Circuit can get crowded; the Grand Circuit offers the opportunity to visit temples that are often less frequented by tourists. This allows for a more tranquil and immersive experience, giving you the chance to appreciate the temples in a serene atmosphere and take your time exploring without the crowds.
On our tour of the Grand Circuit we were delighted to find that we often had entire temples to ourselves and were able to tour the grounds in privacy. This is a much different experience to funneling through with a group of tourists, which can be the case in the more popular temples.
The temples on the Grand Circuit are also situated in more remote areas, often surrounded by picturesque landscapes. This allows you to enjoy the beauty of the Angkor temples in a natural setting, away from the bustling tourist areas.
So while you should definitely plan on visiting the Small Circuit, also make it a priority to spend some time exploring the temples of the Grand Circuit if at all possible.
Cost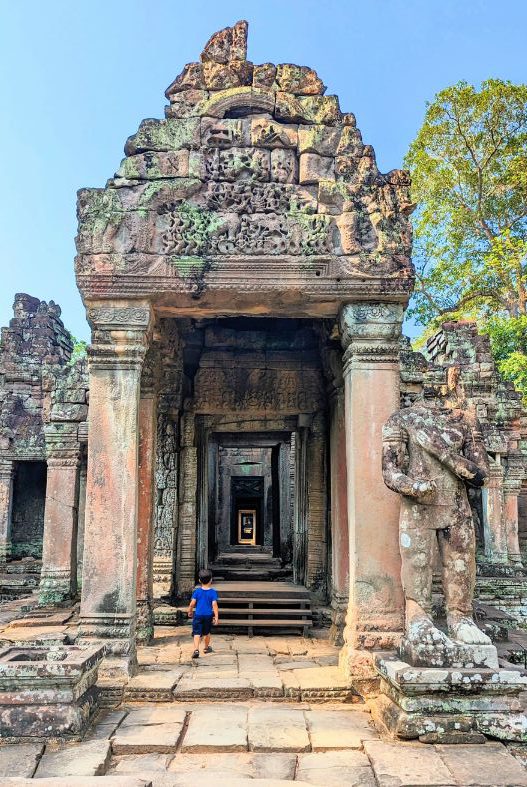 In order to enter Angkor Archeological Park, you will need to purchase a pass in advance. Depending on how long you want to spend exploring the park, you can choose between the 1-day, 3-day, or 7-day pass.
You do not need to visit the park on consecutive days with multi-day passes. For the 3-day pass you have a 10 day span to use your pass and for the 7-day pass you have 30 days.
You can purchase a pass online or at the ticket office in Siem Reap. The ticket office is open from 5am to 5:30pm every day.
Also note that if you purchase the pass from the ticket office at 5pm, you can actually use it that night to see the sunset in the park without it counting as one of the days on the pass. This is a great way to maximize the value of your ticket, especially if you are only purchasing a one-day pass.
1-day pass: $37
3-day pass: $62
7-day pass: $72
Temple hours
Most of the temples: 7:30 am-5:30 pm
Angkor Wat: 5 am-5:30 pm (open at sunrise)
Phnom Bakheng and Pre Rup: 5am – 7pm (open at sunrise and sunset)
Attire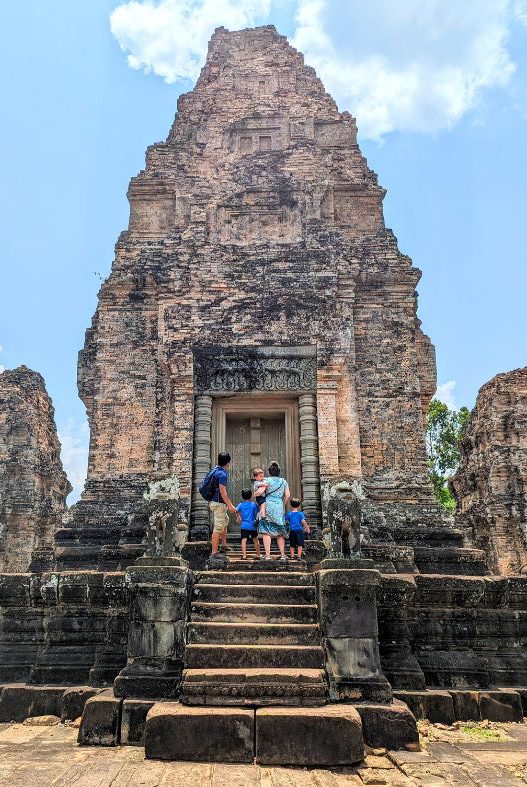 Angkor Wat is still an active religious site for many people, and as such has different dress standards than other tourist attractions. While visiting the temples of Angkor Wat, you should make sure to wear dress that is appropriate for the religious space you are entering.
More specifically this means that both men and women should wear clothes that keep their shoulders and knees covered.
For tops, this means no tank tops or spaghetti strap tops. I've heard that visitors are discouraged from even using a scarf to cover exposed shoulders, so you're better off just opting for a shirt or dress with sleeves.
You'll also need to wear shorts or skirts that come below the knee or opt for a long option like pants or a maxi skirt.
What is the difference between Angkor Wat small circuit and big circuit?
There are two main routes for visiting Angkor Wat: the small circuit and the grand circuit.
The small circuit at Angkor Wat focuses on the most iconic and popular temples in Angkor Wat Archaeological Park. These temples are in closer proximity to each other, making it more manageable to explore them within a day.
The grand circuit includes temples that are located further away from the center of the Angkor Wat complex. These temples are also located further away from each other and require more driving between temples.
Both circuits require at least one full day to do them justice.
How to get around the grand circuit
There are a couple of different ways to get around the grand circuit depending on your preference and budget. Here are a couple of options.
Tuk tuk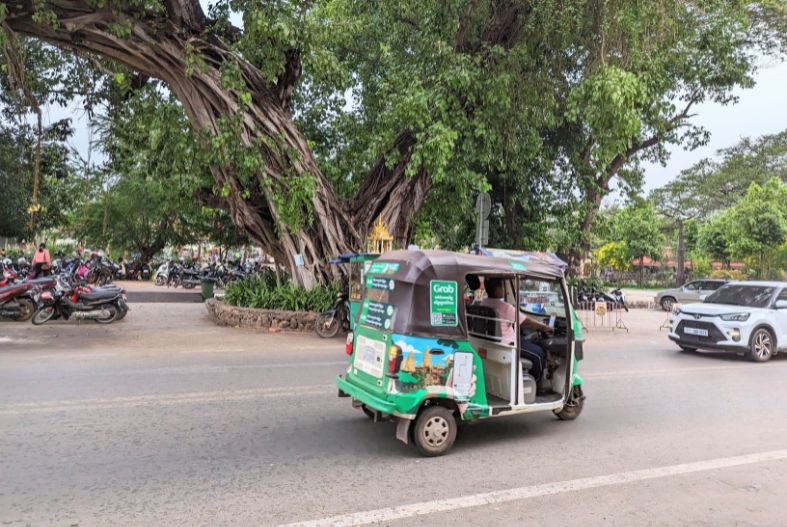 The first and probably most popular option for touring the Grand Circuit is to hire a tuk tuk for the day.
Often your hotel or Airbnb host will have recommendations on a good driver. However, be aware that drivers recommended through your hotel will often be slightly more expensive than a driver that you find yourself.
We found the best prices for tours by asking around as we were driven around to other places in Siem Reap.
If you have a little time in the city before you begin touring Angkor Wat, ask each driver you have to provide a quote for a day tour and get their contact information. Then when you're ready for your tour you can pick the driver who had the most competitive price and who you think will be the best guide for the day.
Once you decide on a driver, your driver will pick you up at your accommodations on the morning of your tour and take you to each temple along the grand circuit route, waiting for you while you explore each site.
If you need to stop at the ticket office to pick up your pass before starting the tour, you can also specify that with your driver in advance.
You can hire a tuk tuk for the grand circuit for around $25 dollars a day. This is a bit more expensive than the small circuit because it is a longer route and requires more driving.
Private vehicle
Alternatively, you can choose to hire a private vehicle for the day to transport you between temples. Private vehicles start from around $45 and up for the day.
For our tour of the Grand Circuit, we chose to hire a private vehicle and for us it was a good fit. We were traveling with our young kids and they really appreciated the air conditioning and comfortable environment on the drive between temples.
In between the temples our driver would provide us with cold towels and ice water, which we could enjoy in the cool car as we headed to the next site. This was hugely helpful for our tired and overheated little boys to be able to relax and cool off a little bit.
However, if it had just been my husband and I, I think we would have probably just chosen to go with a tuk tuk for the day for both the reduced cost and the experience of it.
Angkor Wat Grand Circuit
Preah Khan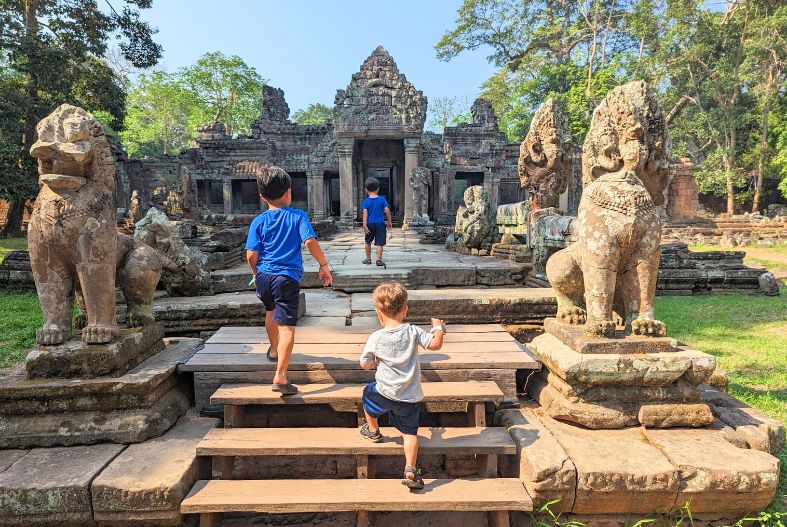 As you start your Grand Circuit tour, your first stop will likely be the impressive Preah Khan temple. The temple is known for its extensive layout, encompassing multiple enclosures, galleries, and courtyards.
The temple was built in the 12th century by King Jayavarman VII in honor of his father.
As you explore Preah Khan, you will encounter intricate stone carvings, beautiful towers, and numerous sanctuaries dedicated to Hindu and Buddhist deities.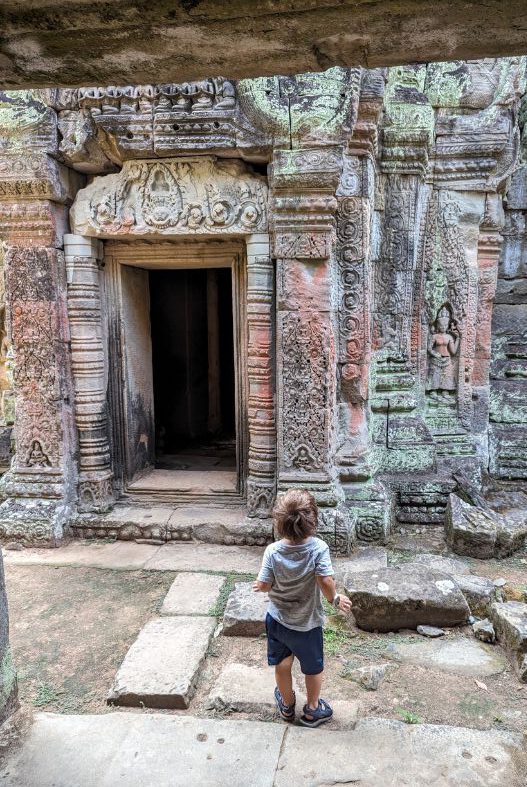 This temple was built on a single, sprawling level. As you explore this large site, be sure to branch out from the main path as many of the most impressive carvings and structures are located off the main corridor.
As we walked through this temple we kept thinking that we had seen it all when we would stumble across some new courtyard or hidden sanctuary. Make sure you poke into all the corners of this temple or you're bound to miss something.
We spent about an hour and a half exploring Preah Khan and really felt that we could have spent longer.
Neak Pean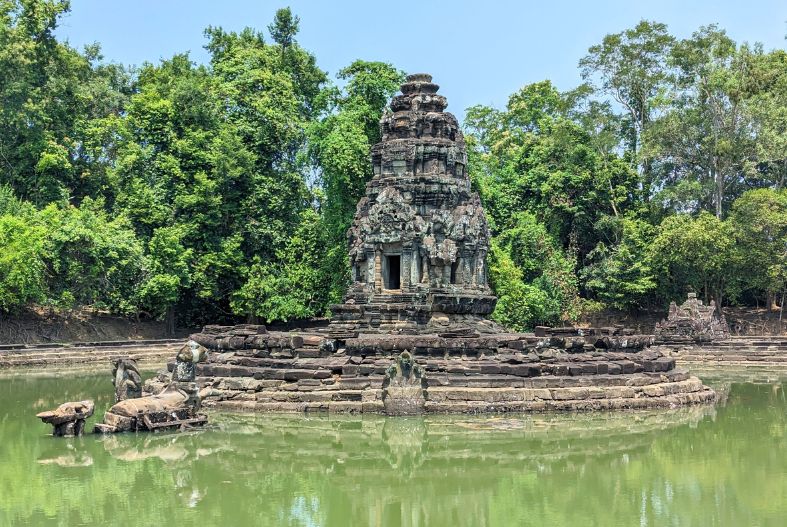 Up next is the island temple of Neak Pean.
Built by King Jayavarman VII in the 12th century, Neak Pean is a small but significant temple surrounded by a large square pool.
The central feature of Neak Pean is an elevated circular island accessed by four stone causeways, thought to represent the mythical Anavatapta Lake in the Himalayas.
Neak Pean is believed to have been a place of healing, with the water from the pool thought to have therapeutic properties.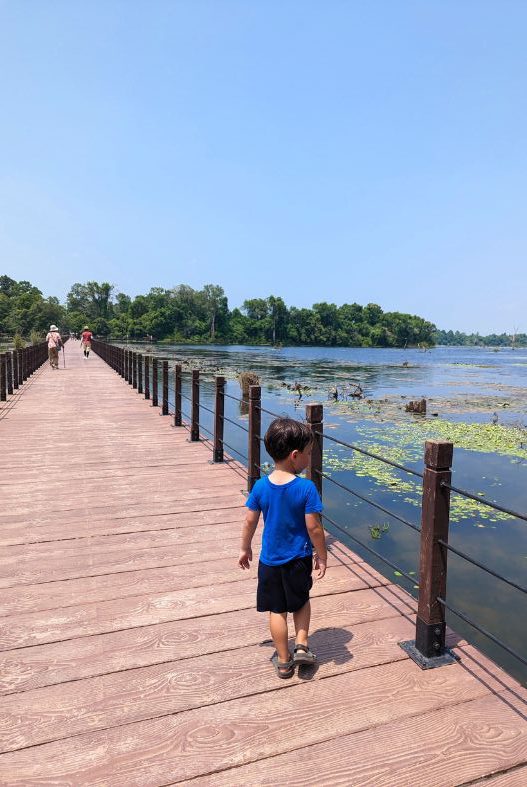 The site is quite small and it only takes a few minutes to see everything once you're there, but it's a bit of walk to get there.
The path to the temple takes you over across long wooden bridge spanning a tranquil lake. It's a peaceful walk and well worth the journey to reach the secluded temple.
We enjoyed the quiet nature of this temple on the water and were very interested to learn about its unique history.
Ta Som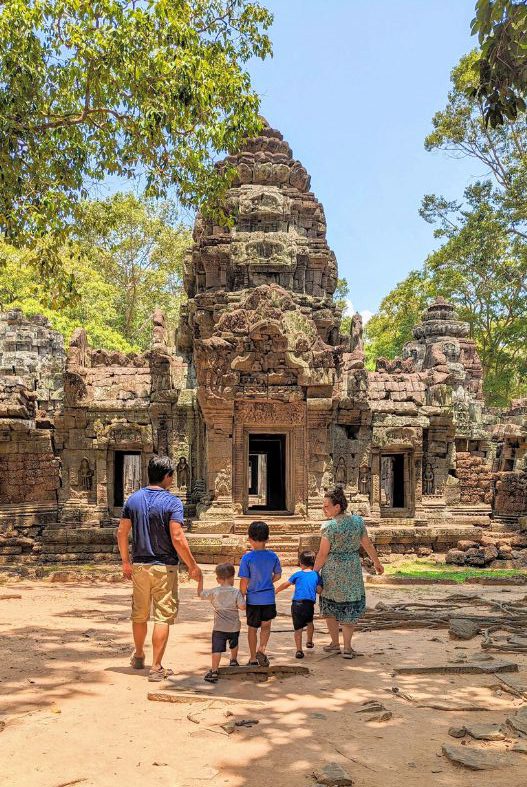 Located just next door to Neak Pean is Ta Som, a small temple built during the 12th century by King Jayavarman VII.
Ta Som consists of a central sanctuary surrounded by enclosing walls and four entry gates, each guarded by stone figures. The temple is adorned with intricate bas-reliefs depicting mythological scenes and historical events.
It's really lovely place to visit as it is quite secluded and surrounded by lush forest, some of which is even encroach on the temple itself. One of the temple's most iconic features is the eastern entrance where a giant fig tree entwines with the stone gate.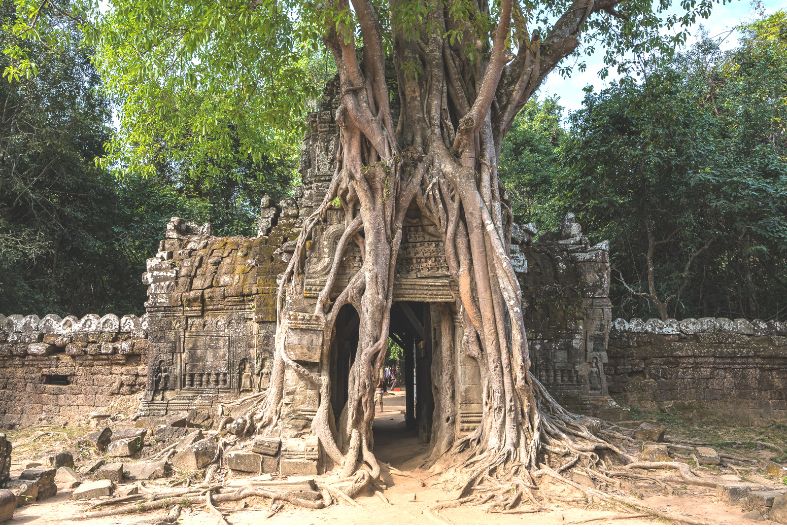 The temple is set back a bit from the road and it takes a couple of minutes walking a scenic, shaded path to get there.
We probably spent about 45 minutes exploring the grounds of this lovely temple.
East Mebon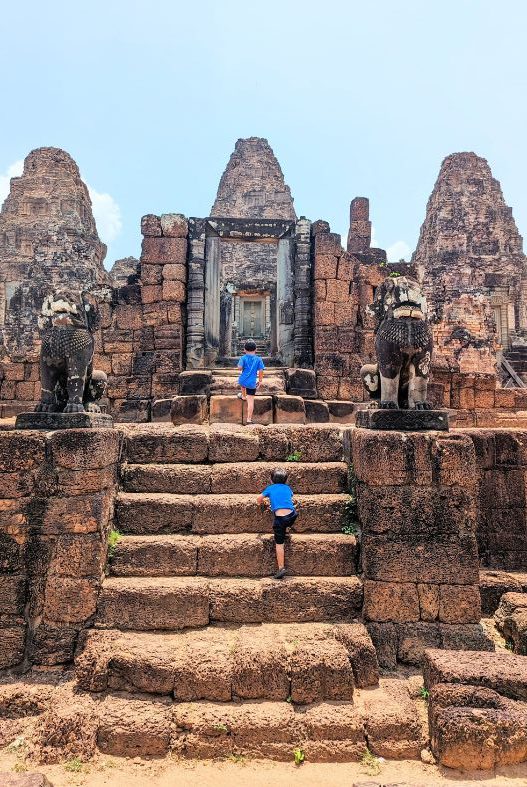 The next two temples, East Mebon and Pre Rup, actually quite similar. Both were built in the 10th century during the reign of King Rajendravarman II and dedicated to the Hindu god Shiva.
Plan on visiting East Mebon first, as it can be a little anticlimactic after seeing Pre Rup, which is more visually striking. However, East Mebon is notable for its well preserved carvings and lintels. One of the significant features is the gorgeous stone elephants standing at over 6 feet tall.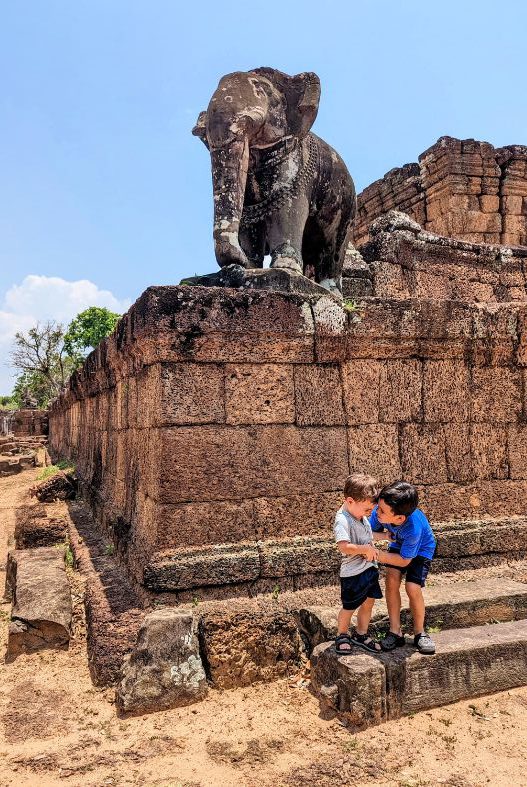 The temple is situated on a man-made island in the middle of the East Baray, a vast (now-dry) reservoir that once served as a water reservoir for irrigation and ceremonial purposes.
The structure of East Mebon consists of three tiered platforms topped by five stately towers. The temple grounds are not overly large and don't take long to explore.
Pre Rup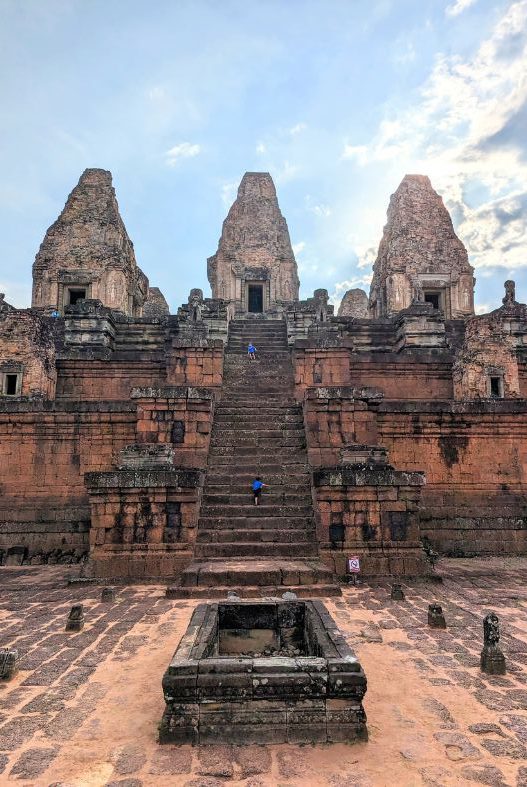 Located just south of East Mebon is its brother temple, Pre Rup.
This temple is renowned for its tall, pyramid-like structure, representing the mythical center of the universe in Hinduism, Mount Meru. Visitors can climb to the top of Pre Rup to enjoy panoramic views of the surrounding area.
The temple features intricate carvings and decorative motifs, depicting deities, guardian lions, and dancing figures.
The reddish hue of the bricks and laterite used in its construction adds to the temple's dramatic and striking appearance, especially during sunrise or sunset.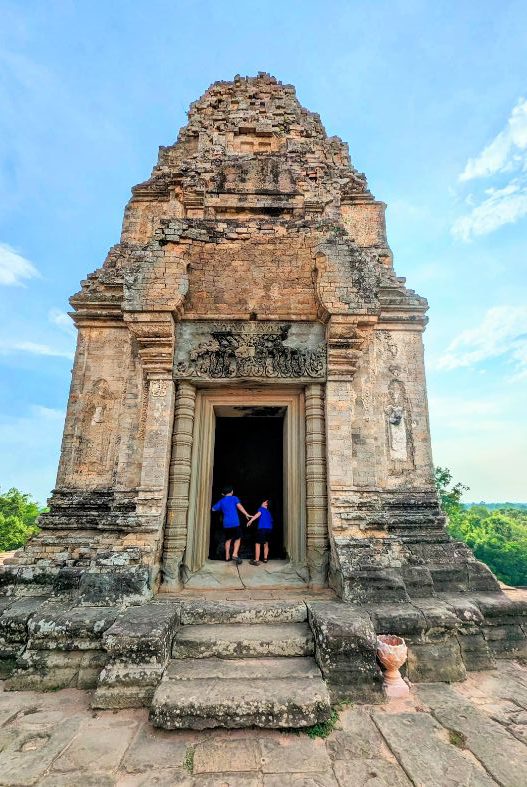 This temple is open earlier and later than most of the other temples, allowing for visitors to be there to capture sunrise and sunset.
We really enjoyed our time exploring this temple, especially viewing the surrounding areas from the heights of this historic ruin.
Banteay Srei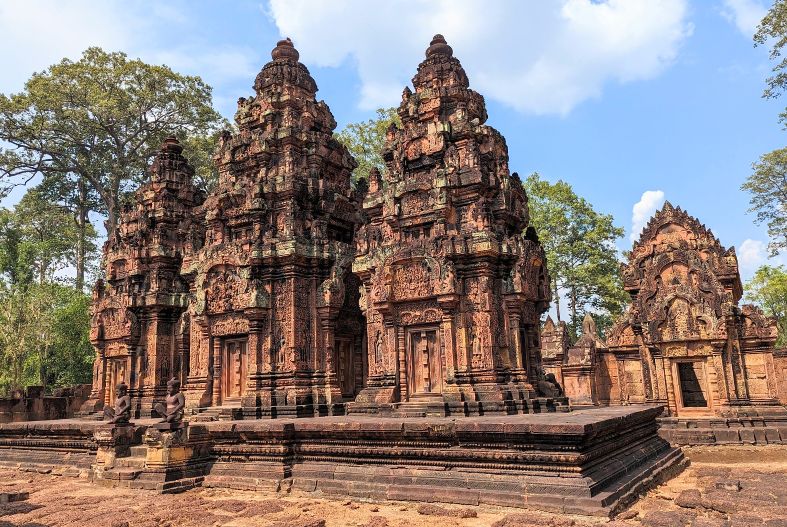 Okay, so this one typically isn't included in the Grand Circuit…buuut I would highly recommend adding it if you have time in your day.
Also known as the Lady Temple, Banteay Srei is one of the furthest temples from Siem Reap, but it is well worth the drive to get there.
Despite its smaller size compared to other temples, Banteay Srei stands out for the level of craftsmanship and attention to detail exhibited in its carvings. Built in the 10th century, Banteay Srei is dedicated to the Hindu god Shiva and is renowned for its remarkably detailed and well-preserved artwork.
The temple is made from pink sandstone instead of the gray sandstone used in the other temples, which gives it a very unique feel after a long day of temple hopping.
The temple's remote location, surrounded by lush vegetation, also adds to its charm and serenity. After you explore the temple (which will probably take less than half an hour due to its small size), the route to the car park will take you on a lovely nature walk past rice fields and grazing cows.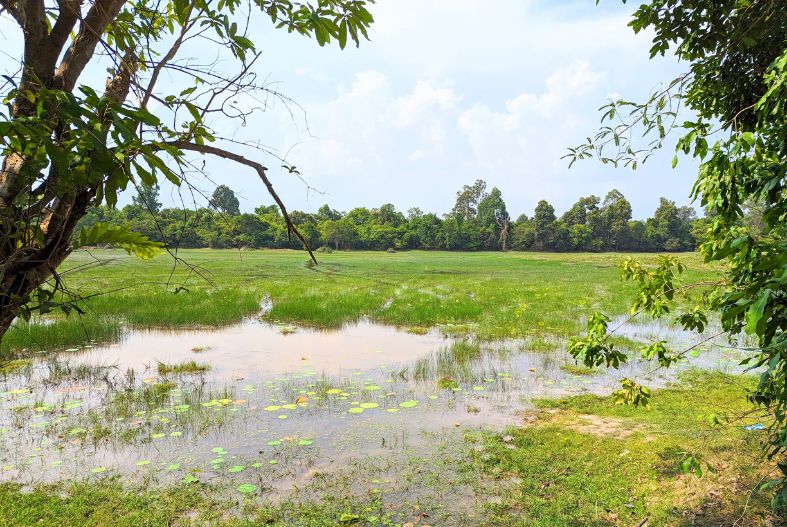 At the end of the walk you'll find a small museum describing the history and restoration of the Banteay Srei temple. The museum is small but very informative and provides a lot of context to the site you just walked through.
It is about an additional 30 minutes drive to get to this secluded temple, which might not be worth it for some people. However, we found that we really enjoyed the drive, which gave us the opportunity to see more of the rural countryside.
It also provides a nice opportunity to stop at the landmine museum, which is along the way.
Final Thoughts
The Grand Circuit of Angkor Wat should definitely be on your itinerary while you're in Siem Reap. This is an opportunity to see some truly breathtaking temples without the crowds.
Visiting the Grand Circuit helps to round out your Angkor Wat experience as you experience distinct architectural styles, unique features, and learn more of the fascinating history of the Khmer Empire.
We absolutely loved our time exploring the Grand Circuit on our tour and would highly recommend it to anyone visiting the area.
Don't just visit the Small Circuit and call it quits. This big circuit has so much to offer, you won't regret adding it to your visit!
Other posts you might be interested in:
A Complete Guide to the Angkor Wat Small Circuit
The Ultimate 3 Day Siem Reap Itinerary
Visiting Siem Reap with Kids (What you NEED to Know Before You Go!)