This page may contain affiliate links, which means that we may earn from qualifying purchases at no additional cost to you.
Best known for its famous temple complex, Angkor Archeological Park, Siem Reap is a wonderful destination to visit with kids. Along with the impressive historical sites, you will also find a fascinating culture, mouth watering food, and warm and welcoming people.
Our time in Siem Reap was one of our favorite parts of our Southeast Asia trip. We visited with our 6, 4, and 2 year olds and had an incredible family experience that we won't soon forget!
As we were planning our trip, we found it a little challenging to find all the information we were looking for about visiting Siem Reap with kids.
We've compiled this comprehensive guide with everything we learned in our research and travels so that you have all the information you need to prepare for your trip!
Be sure to check out our detailed 3 day Siem Reap itinerary!
Common questions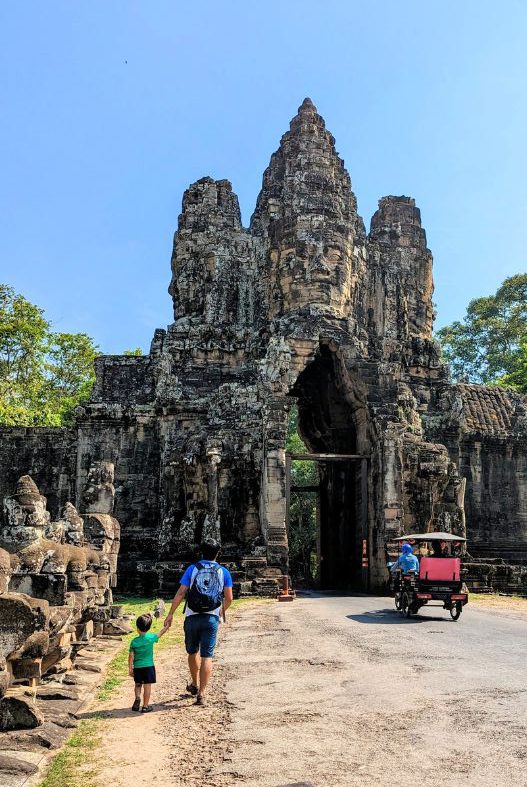 Is Cambodia family-friendly?
One of the most common questions we get asked is if Cambodia is a safe place to travel with kids.
Despite common concerns to the contrary, Cambodia is actually quite family-friendly. The people are very warm and welcoming and there are many kid-friendly activities to participate in.
We actually found it to be one of the most baby-accommodating places that we visited in Southeast Asia. As soon as anyone saw that we had a toddler, we were immediately bumped to the front of whatever line we were in. And everywhere we went, people would smile at and try to interact with our kids.
However, it is of course always important to exercise caution when traveling. Petty theft is common, so take necessary precautions to avoid becoming a victim of crime.
We never felt in danger in any way while we were visiting Siem Reap with our kids.
How many days should I spend in Siem Reap?
Plan on spending at least 3 days in Siem Reap to be able to see the main attractions of the city. In three days you can visit the main temples of Angkor Wat and also get a taste for the culture and history of the region.
If you want to make sure you have a little buffer time for your kids to relax and have a break from touring, plan on adding an extra day or two to your visit.
We felt that three days was a perfect amount of time to get a really good feel for the area and see the main sights that we wanted to see.
Be sure to also check out our Siem Reap 3 day itinerary!
Is Angkor Wat good for kids?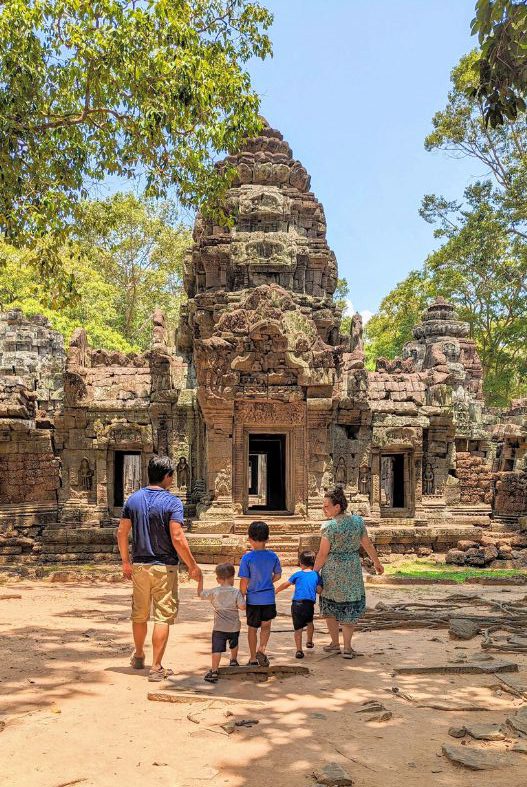 While you're in Siem Reap, you will likely want to visit the famous Angkor Wat. The good news is that Angkor Wat is a great destination to visit with kids. The ruins can be a fascinating place for kids to experience, with lots of opportunities for exploration.
That being said, you'll also want to come prepared and manage your expectations going in.
The Angkor Wat temple complex is huge and takes days or even weeks to explore fully. Understand going in that you might not be able to see everything you want to when visiting with kids.
Be sure to plan in breaks and go at a pace your kids can handle. It's also a good idea to pack lots of snacks and have a few walking games up your sleeve for if and when your child starts to get bored.
For younger kids you can bring a baby carrier, but older kids will have to walk as the ruins are in no way stroller friendly.
Also plan some other activities into your visit so that your whole trip isn't completely about temples. Our kids were starting to get templed out by the end, so we were glad to have some other activities to add to the mix.
Things to know before visiting Siem Reap with kids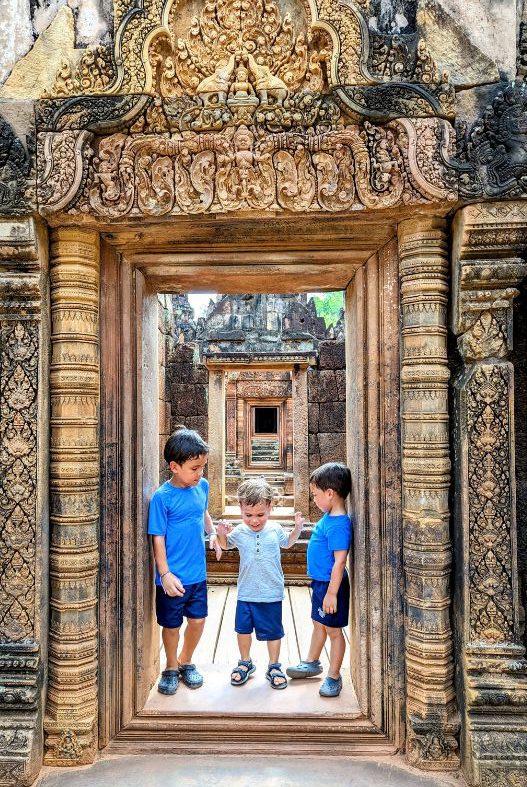 Money
The currency of Cambodia is the Cambodian Riel. However, the primary currency used for daily transactions, especially in popular tourist areas, is the US dollar.
So if you have US dollars you don't need to bother exchanging money as most places will accept US dollars.
However, it is important to note that because US dollars are not the official currency of Cambodia, bills will only be accepted if they are in near perfect condition. If they are deemed to be too old, too wrinkled, or have any sort of tear they will note be accepted. We had bills rejected several times when we were in Cambodia because they were seen as "too old looking".
Also be aware that only US bills are used, not coins, so change less than a dollar will be given in riel.
Many places will not accept credit cards, so be sure to have cash on hand (whether US dollars or riel).
Visa
A visa is required to enter Cambodia for tourists from most countries (including the US). You can either apply for an e-visa online at least 3 days before your arrival, or apply for a visa on arrival.
Everything we researched beforehand said that you needed a passport photo for visa on arrival, but we found that not to be the case. The visa process on arrival was very quick and easy and actually ended up being a little less expensive than the online visa ($30 vs $37).
So if you haven't gotten your e-visa, don't stress it. The process for getting a visa at the airport is very straightforward and easy.
Food Safety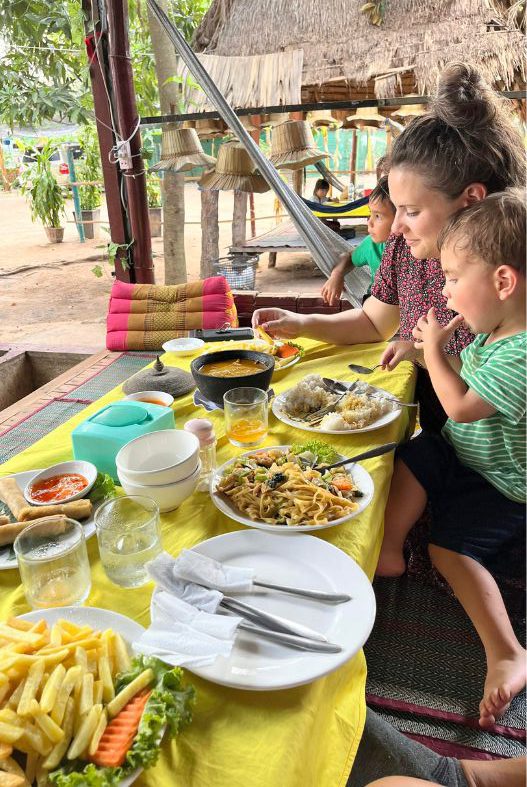 While food safety has improved in Cambodia in recent years, it is still important to take precautions to avoid sickness.
Eat at reputable eateries with good food practicing standards. When in doubt, look for places that are popular with the locals. Typically these places will have a higher turnover rate and fresher ingredients.
Eat food that is hot and thoroughly cooked to minimize your chances of getting food-borne illness. Also choose fruit with a peel over fruit where you cannot remove the outside part.
While street food is a delicious part of Cambodian cuisine, you'll want to be careful about what you eat. Look for places that cook the food in front of you (and do so hygienically), as well as places that have a lot of customers. Don't eat food that has been sitting out for a long time. If in doubt, you might want to avoid street food altogether.
Tap water in Cambodia is not safe to drink, be sure to consume only bottled and filtered water. Also be cautious of ice, as it is sometimes made with tap water.
Baby supplies
If you're traveling with a baby or toddler, rest assured that you can find basic baby supplies in Siem Reap. We were easily able to find diapers and wipes at the local convenience store.
Language
While Khmer is the primary language of Cambodia, English is widely spoken in tourist areas.
In Siem Reap we found that we typically didn't have trouble with basic communication in English. However, more detailed questions or conversations often benefitted from the help of an aid such as Google translate.
Things to do in Siem Reap with kids
Visit the temples of Angkor Archeological Park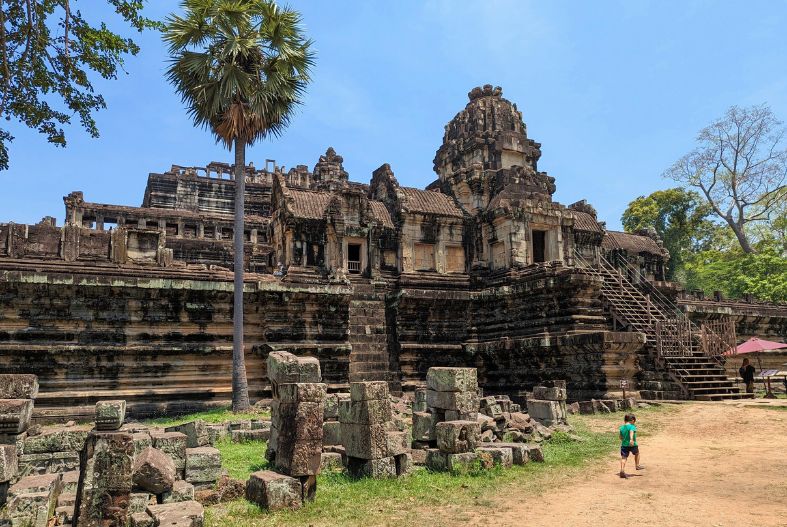 Obviously one of the best things to do in Siem Reap, with or without kids, is to visit the temple complex of Angkor Wat. Here are a few things to know about visiting this impressive temple site.
What to know before visiting Angkor Wat
In order to visit the temples, you will need to purchase either a 1, 3, or 7 day pass. You can either purchase your ticket online or have your driver take you to the ticket office before you start your tour. Entry is free for children under 12.
When planning your day, try to start in the early morning to avoid the hottest part of the day. And be sure to bring plenty of water to keep everyone hydrated while you explore!
There are two main routes for seeing the temples: the Small Circuit, which covers the main temples closer to the city, and the Grand Circuit, which covers the major temples that are a little further afield. All the drivers in the area will know what you are referring to if you mention the two circuits (or loops).
The easiest way to see the temples is to hire a driver for the day. You can choose to use either a tuk tuk or a private vehicle (see more about this below in the tips section).
Always visit the restroom before entering the temples, especially when visiting with young kids! The bathrooms are sometimes a bit of a walk from the temple itself and it can be a huge hassle to have to leave to find the restroom in the middle of a temple tour (trust me, I know…)
Best temples to visit with kids
There are a LOT of temples to choose from and all are incredible in their own way, but if you have a limited time, here are some of the most child-friendly temples in Siem Reap.
Ta Prohm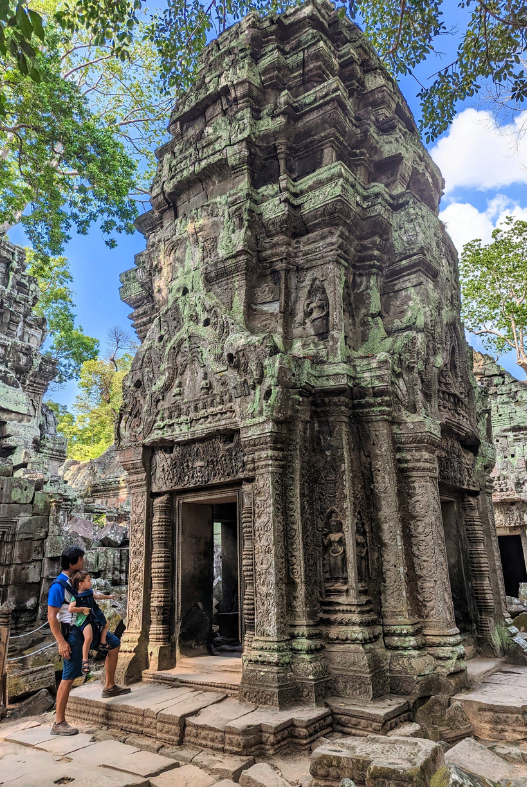 Ta Prohm is renowned for its atmospheric setting, with ancient trees intertwined among the temple ruins. This temple is often referred to as the "Tomb Raider" temple, as it was featured in the movie.
This might have been our favorite temple that we visited in Siem Reap. The tree roots and crumbling structures make it an exciting place for kids to explore and imagine themselves in an ancient adventure. And the majority of the temple is shaded, which made it feel a lot cooler than many of the other temples we visited.
Bayon Temple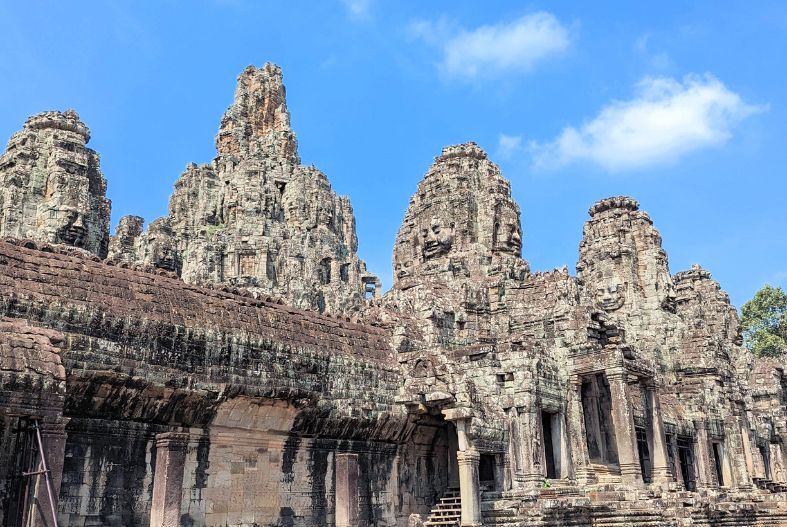 Bayon Temple, located in the Angkor Thom complex, is known for its impressive stone faces carved into the towers. Kids may find it fascinating to discover the various expressions and count how many faces they can find. The temple's labyrinthine layout can add an element of exploration and adventure.
Banteay Srei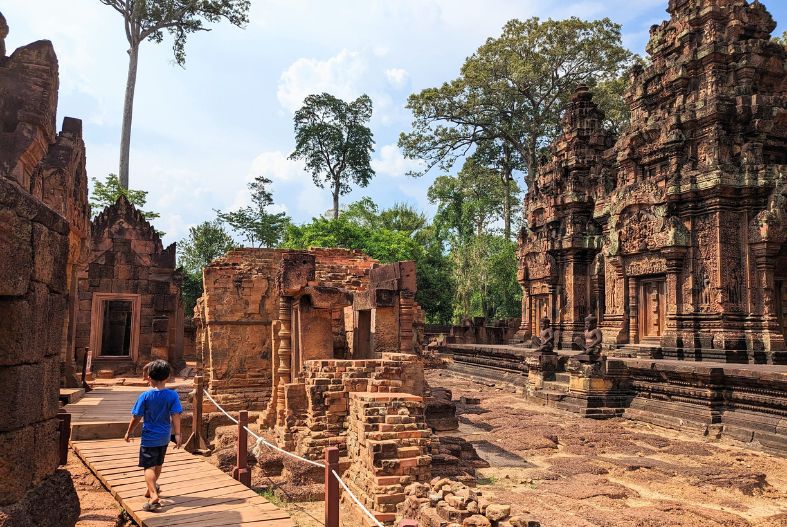 Banteay Srei is a smaller temple complex known for its intricate and well-preserved pink sandstone carvings. While it is a bit farther from the main Angkor area, it is well worth a visit to see the elaborately carved walls and pillars.
We found this to be one of the most impressive temples we visited and were glad we made the drive to see it. And the smaller size of the temple allows for an easier exploration with kids.
Preah Khan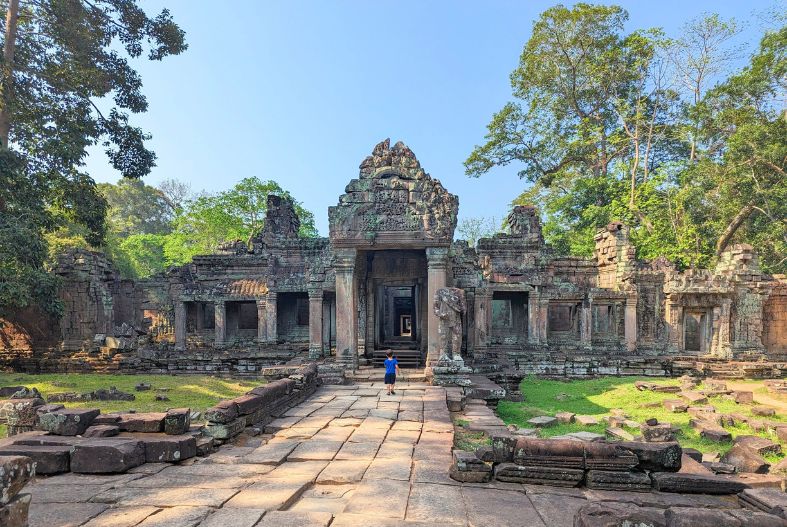 Preah Khan is a sprawling temple complex with many hidden corners to discover. It offers wide open spaces, atmospheric corridors, and interesting carvings. Kids can enjoy the sense of exploration and play hide-and-seek among the stone pillars and galleries.
Angkor Wat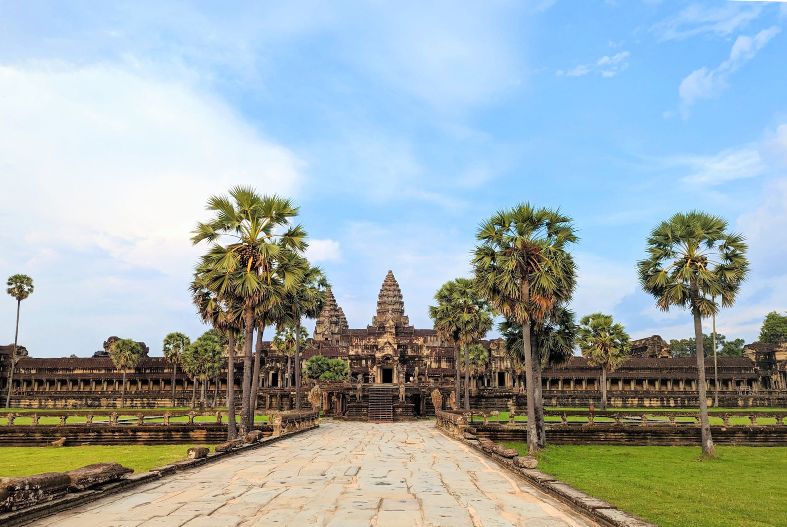 No trip to Siem Reap is complete without visiting Angkor Wat, the largest and most famous temple complex in Siem Reap. The expansive grounds provide plenty of space for children to roam around and admire the stunning architecture and intricate carvings.
While impressive, we didn't feel that this temple required quite as much dedicated time as some of the other temples listed above.
Spend some time at APOPO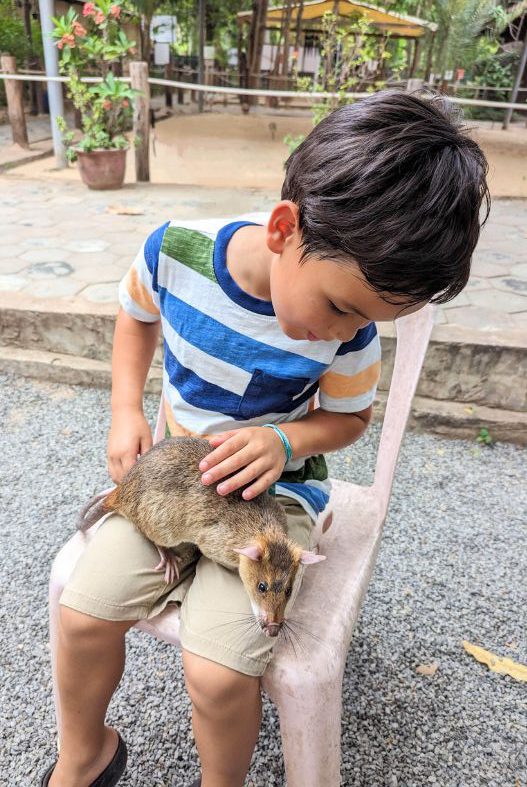 Probably our kids' favorite experience in Siem Reap was visiting APOPO, a nonprofit that uses rats to find and clear landmines.
Cambodia still has a shocking 4 to 6 million unexploded landmines leftover from the civil war which continue to kill and injure locals who come upon them.
The HeroRATs at APOPO are able to detect explosives more effectively and more quickly than traditional methods, making them invaluable to the landmine clearing efforts.
On a visit to APOPO in Siem Reap, you have the opportunity to learn about the history of landmines in Cambodia as well as the process of training the rats to detect mines.
The highlight of the visit is watching a demonstration of how they detect mines with one of the actual trained rats. Afterwards you have the opportunity to hold one of the rats, which our kids absolutely LOVED!
Overall it was an extremely informative and interesting experience that our whole family really enjoyed. This is an opportunity you don't want to miss when visiting Siem Reap!
Watch a Phare performance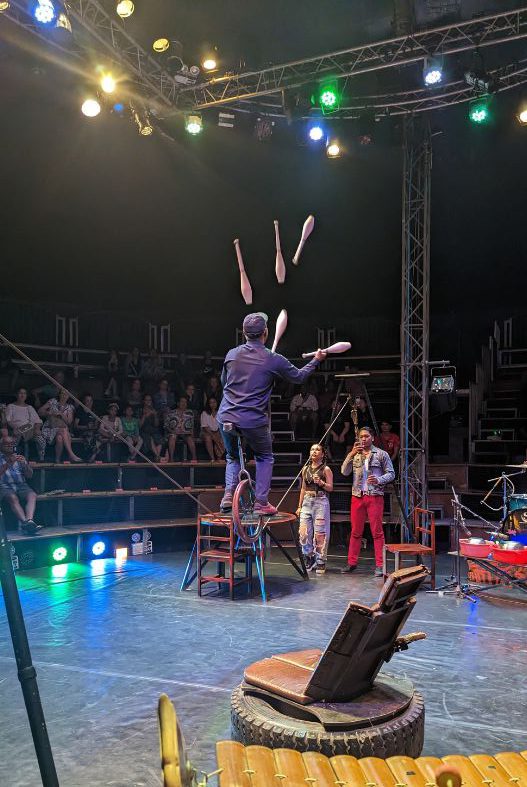 For a fun evening that the whole family will enjoy, pay a visit to Phare, the Cambodian Circus.
Phare showcases captivating circus performances that combine acrobatics, theater, dance, and music. The shows are known for their high-energy performances, creative storytelling, and the skills of the talented young artists. The performances often incorporate elements of Cambodian culture and history.
Besides the fun of the performances, you can feel good knowing that your money is going to a good cause. Phare's mission goes beyond entertainment as it also provides training and employment opportunities to disadvantaged youth from underprivileged backgrounds.
One note I would make here is to check the show schedule before going. We did not know that they had different performances on different days and found ourselves at a show that was more adult-themed than we would have liked when visiting with our young children.
We loved the acrobatics, but would have preferred a different storyline for our kids. So check ahead of time, as they have some really great cultural performances that are appropriate for all ages.
Go swimming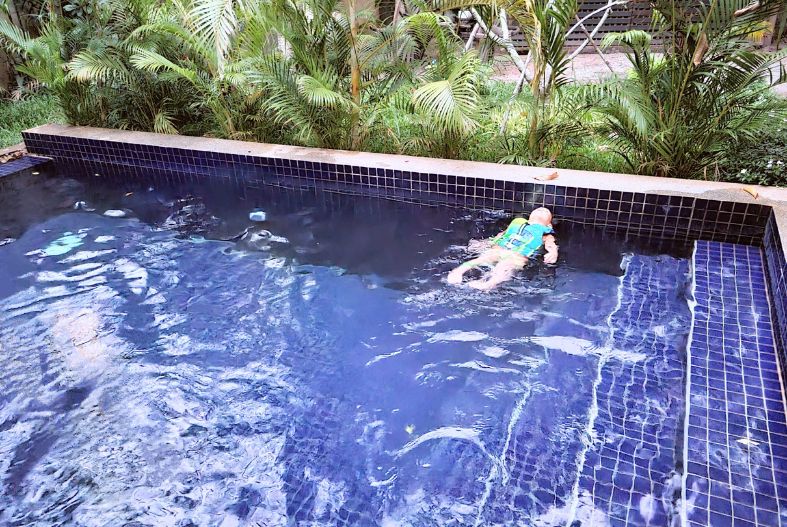 When you're booking your accommodations, try to find a place that has a pool. After a long day of exploring temples, there's nothing quite like a relaxing swim in the pool to cool off and unwind.
We found swimming to be a great way to combat the heat and provide an opportunity for our kids to have some downtime.
Visit Old Market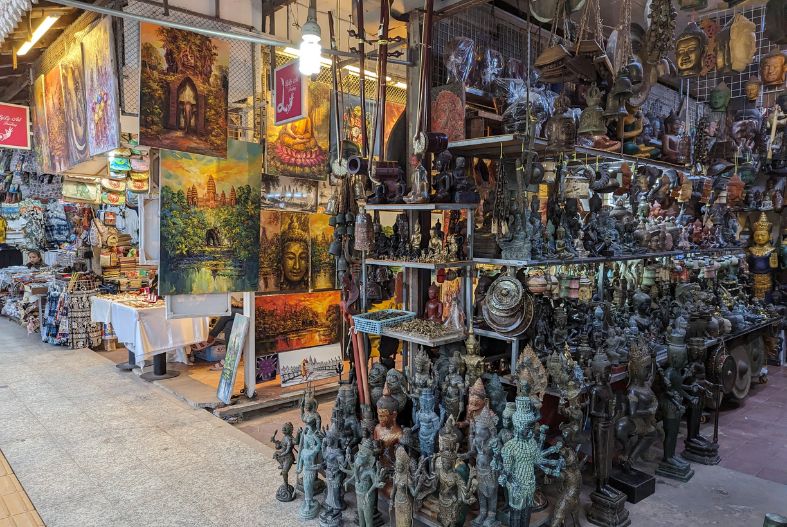 Located in the center of Siem Reap, Old Market is a unique cultural experience that you don't want to miss.
The Old Market offers a glimpse into everyday life in Cambodia. It's a bustling marketplace where locals and tourists come together to shop, eat, and socialize.
This is a great place to grab a bite to eat. At the market you can find delicious street food, traditional Khmer dishes, and fresh produce from local vendors.
You can also find a wide range of products, including clothing, textiles, jewelry, handicrafts, spices, and artwork. At the market you can shop for unique Cambodian items, support local artisans, and bring home memorable souvenirs.
What to bring when visiting Siem Reap with kids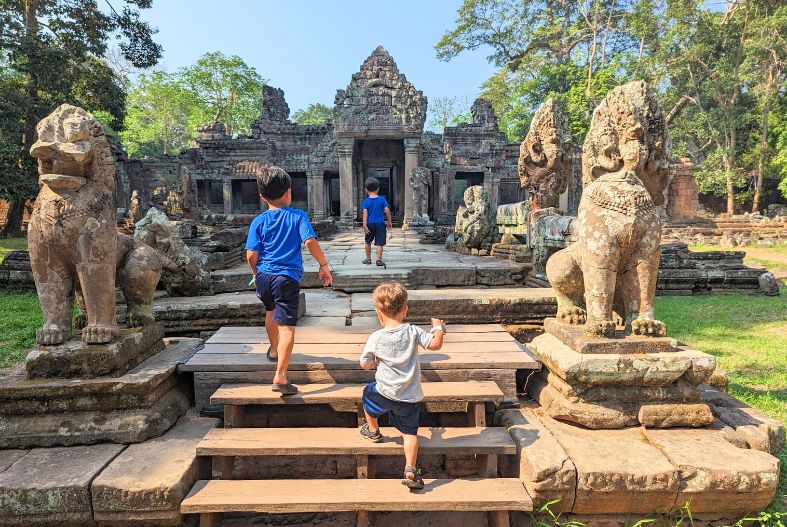 There are a few essentials that you don't want to forget when visiting Siem Reap with kids! Check out this list to make sure you don't miss anything important.
Bug spray- This is an area where we saw a LOT of mosquitoes, so don't forget to pack your insect repellent! We like to bring bug spray wipes as well. These are easy to keep on hand and allow you to apply sunscreen without it spraying in everyone's faces.
Water bottle + Hydration multiplier- If you're planning on spending time touring the ruins, you'll be out a lot in the heat. It's easy to get dehydrated, so be sure to bring plenty of water. We were shocked at how much we drank each day. Also consider bringing a hydration multiplier (we were so glad we brought some Liquid IV) to help replace electrolytes and keep everyone hydrated.
Sunscreen- Many of the temples in Angkor Wat do not have a lot of shade, so a good sunscreen is a must. We like Blue Lizard sunscreen for our children because it doesn't have a lot of the chemicals found in other sunscreens.
Sun hat and sunglasses- In addition to sunscreen, a sun hat and sunglasses are helpful for keeping the sun out of your child's face in the heat of the day.
Cooling towel- Cooling towels are a great way to combat the oppressive heat. Wrapping the wet towel around your neck immediately makes the heat feel more tolerable. This is a good way to help cool down children and make sure they don't overheat.
Good walking shoes- You'll likely be doing a lot of walking while visiting the ruins, so make sure that everyone has comfortable shoes. And break them in before your trip so that you don't end up with blisters.
A baby/toddler carrier- If you have a baby or toddler, definitely bring a carrier along with you. It will save you a lot of hassle to be able to quickly and easily carry your child when you are out and about.
Ideas for walking games and activities- For long days exploring the ruins, it helps to come prepared with some games and activities you can do while walking. While as adults we found the temples endlessly interesting, after a while they all started to look the same to our children. That's when we would resort to walking games to keep them entertained!
Where to stay in Siem Reap with kids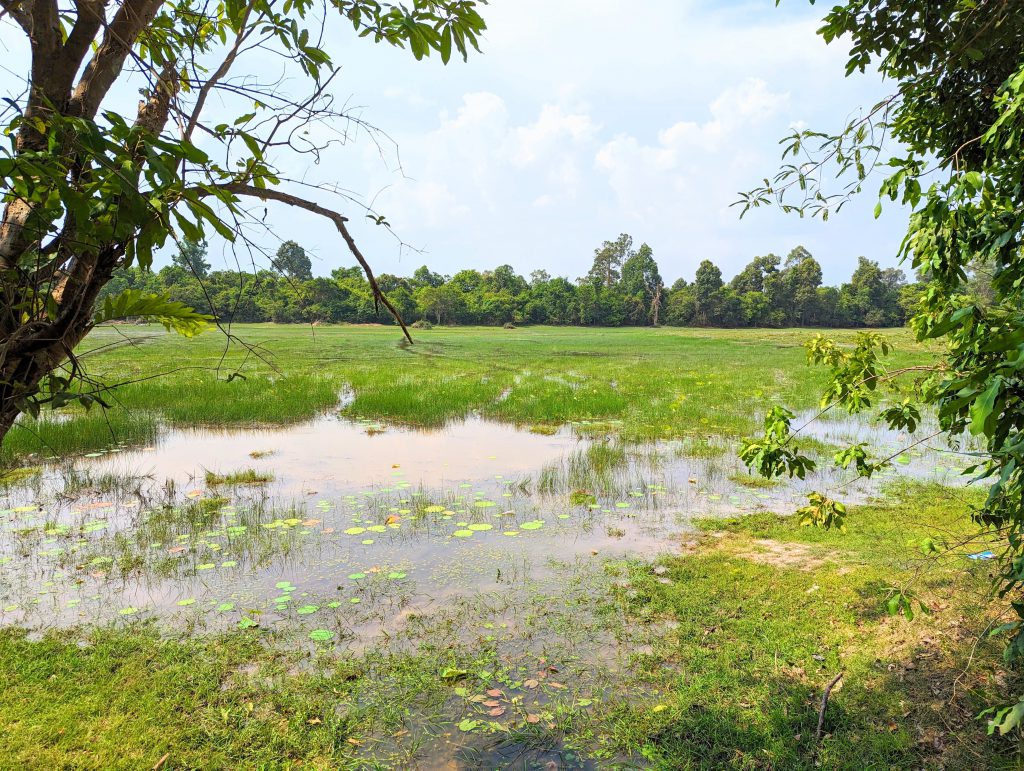 In Siem Reap you can find a wide range of accommodations depending on your budget and preferences.
We ended up going with an Airbnb during our stay in Siem Reap and had a very positive experience.
For a very affordable price we were able to rent an entire house with three bedrooms, three bathrooms, and a swimming pool. It was so nice to have plenty of space for our family of five during our stay. And we loved coming back to enjoy the swimming pool after a day out in the heat!
There are a few different areas to choose from when planning where to stay in Siem Reap.
While Old Market is one of the most popular areas for those looking for bars and nightlife, it's not exactly the best place to stay when visiting with a family.
Instead, look at accommodations in the Old French Quarter, Wat Bo Road, or Taphul Village. These areas are still centrally located and within easy reach of the main attractions in the city, but they tend to be a bit more peaceful and family-friendly.
Tips for visiting Siem Reap with kids
Use Grab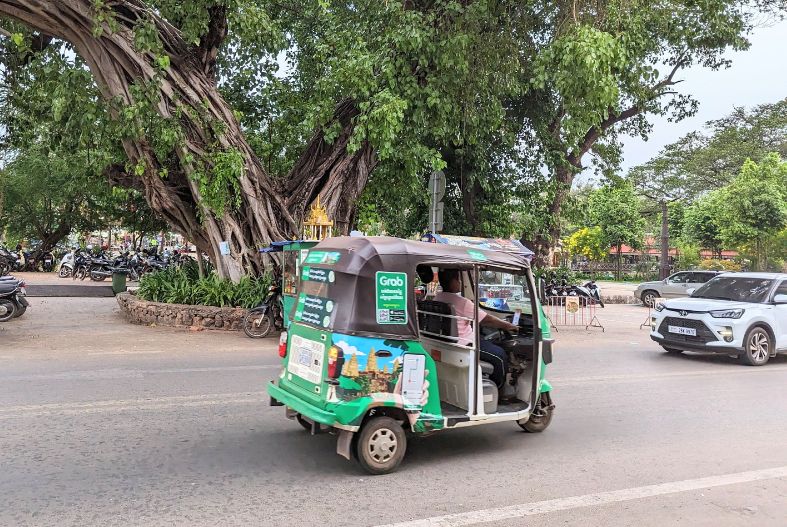 Grabis basically Southeast Asia's version of Uber. We found this to be a great resource in Siem Reap for both food and transportation.
GrabFood is a convenient and affordable way to order food online and have it delivered right to your hotel or Airbnb. This both allows you to eat in the comfort of our own accommodations, which is sometimes preferable with kids and helps to alleviate the language barrier as you can just order from the online menu. Of course the downside is that you don't get the ambiance of eating out. But we found it was nice to have a mix of Grab delivered food and eating out during our stay.
GrabRemorque is another helpful feature which actually allows you to hail a tuk tuk from the app. We experimented with both using the app and hailing remorques on the street and we consistently found the rates on Grab to be cheaper. It's also convenient because it charges your credit card automatically so that you don't have to worry about having cash on hand for rides.
Prepare for the heat
Siem Reap can get EXTREMELY hot, so prepare accordingly! We visited in May and the best way to describe the heat was oppressive.
Make sure that you bring plenty of water when you go out and always have your sunscreen on hand. Plan for frequent breaks during the day and watch for signs of heat exhaustion.
I would also highly recommend getting a hotel with a pool so that you can cool off during the hottest part of the day.
Consider booking a private tour vehicle
The Angkor Wat temple complex is very spread out, so you'll need some form of transportation to get between the temples.
You have a couple of options for transportation when you're touring Angkor Wat. Usually the best route to go is to hire a driver for the day and have them drop you off at each temple, wait for you, and then take you to the next temple when you are done. You can negotiate a day rate, which will vary depending on what type of of transportation you are using.
One of the most common ways to get around is to use a tuk tuk, which is a small cart pulled by a motorcycle. This is the most cost-effective option, with an average day rate (8 hours) of about $15 for the small loop and $25 for the grand loop.
Alternatively, you can opt for a private vehicle, which is a little more expensive but offers more in the way of comfort. One of the best features of a private vehicle is air conditioning. We found it to be very helpful for our kids to have that break from the heat between the temples.
The other benefit of the private vehicle is that you can use car seats if you have younger kids. Double check that the car you are hiring has seat belts, but we were surprised to find that all of the vehicles we road in while we were in Cambodia did have seat belts (which often isn't the case in Southeast Asia).
We had a really positive experience using a private vehicle. We had an excellent driver who would provide us with cold water and cold towels whenever we got back to the car. It really made a difference in our kids' level of comfort on a whole-day tour.
The private vehicle is more helpful when you are doing the grand circuit, as it is further between temples and you end up spending more time in your vehicle. You can find options as low as $45 for a whole-day tour in a five-seater car.
Manage your expectations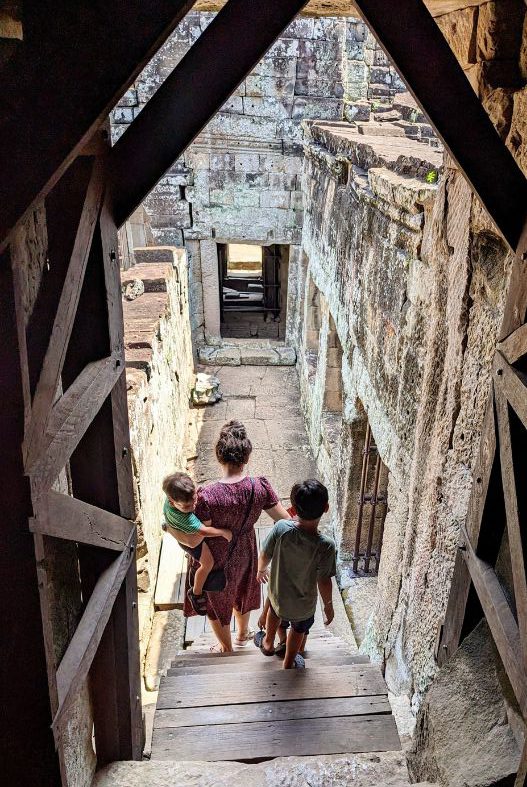 If you're planning a trip to Siem Reap, you're likely hoping to see a lot of the temple complex. Just go into the experience knowing that you're not going to get to everything.
Prioritize the locations that you most want to see and be willing to make compromises and sacrifices based on how your children are handling the experience.
What's most important is creating a fun and memorable experience for the whole family, even if you don't get to everything on your list.
Final Thoughts
If you're considering visiting Siem Reap with kids, go for it!
We were a little hesitant before we went trying to decide if it was a good place to visit with our children. But we're so glad that we added this destination to our itinerary!
There is so much to experience in Siem Reap that makes it a wonderful place to visit as a family. It ended up being one of our all time favorite destinations!
Other posts you might be interested in:
The Ultimate 3 Day Siem Reap Itinerary
A Complete Guide to the Angkor Wat Grand Circuit
A Complete Guide to the Angkor Wat Small Circuit
The BEST Places to Visit in Manila with Kids