This page may contain affiliate links, which means that we may earn from qualifying purchases at no additional cost to you.
When you're traveling with kids, you want to make sure you've prepared some activities to keep them entertained on the trip.
We are always on the search for awesome plane and road trip activities for kids. On our many, many trips with our kids, we've discovered through experience that some travel activities are better than others.
Buuut it's not so fun to discover that you have a dud once you've already left on your trip. We're here to help you out by finding the very best travel activities for kids so you can relax and enjoy your trip!
Whether you're going on a road trip or traveling by plane, these travel activities for kids are approved by both kids and parents!
Travel Activities for Kids
Ages 3-7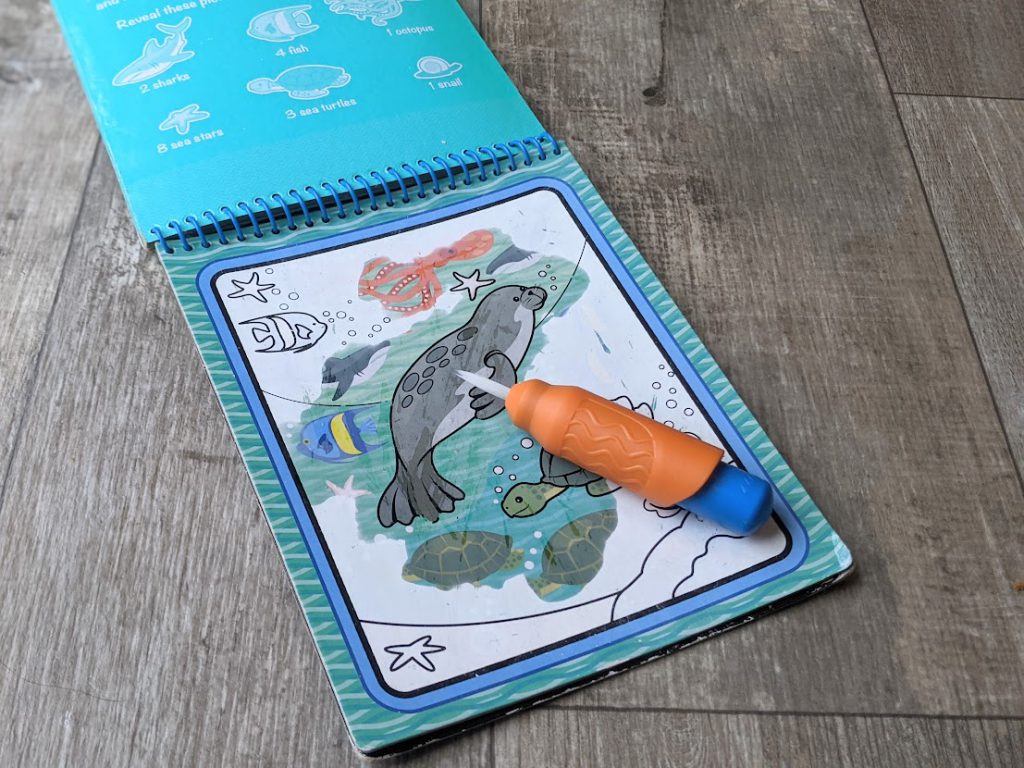 Water Wow Activity Pads are a truly mess-free travel activity for kids. Simply fill the pen with water and watch as colorful pictures appear as the brush goes across the page. The picture dries after about ten or fifteen minutes and can be used again!
There are a few different kinds of pads, ranging from simple pictures to number and alphabet activities to mazes and seek-and-find activities.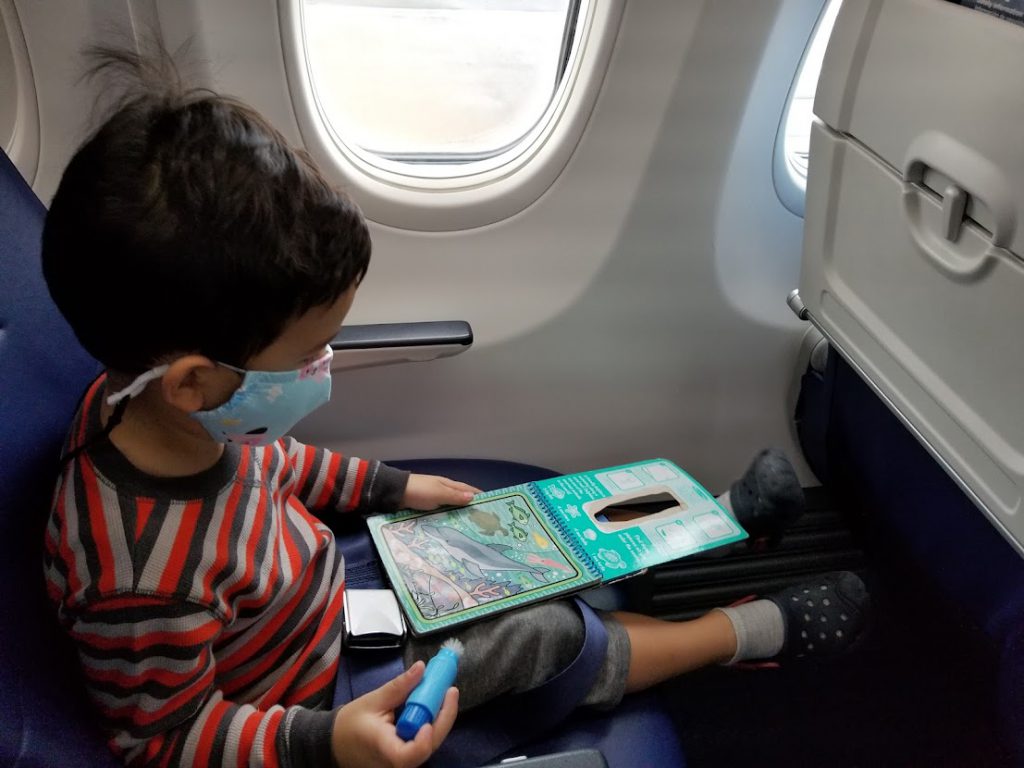 This activity appeals to a broad age range, as kids get a huge kick out of seeing the picture magically appear on the page as they color. We as parents even have fun doodling on the pages when our kids are done!
Ages: 4-8
These paint by sticker books are a great way to entertain kids on a trip. Each picture is completed by placing the little stickers on the correct number in the picture (think paint by numbers, but with stickers). It's a great calming, focused activity for any kind of travel.
And when you're finished, you have a gorgeous and vibrant picture! Our son likes to hang them up in his room when he's done making them.
These books have been a huge hit with my kids while traveling. And I love how focused they keep my kids and that they are mess-free!
Ages 6+ (or junior version for ages 3-6)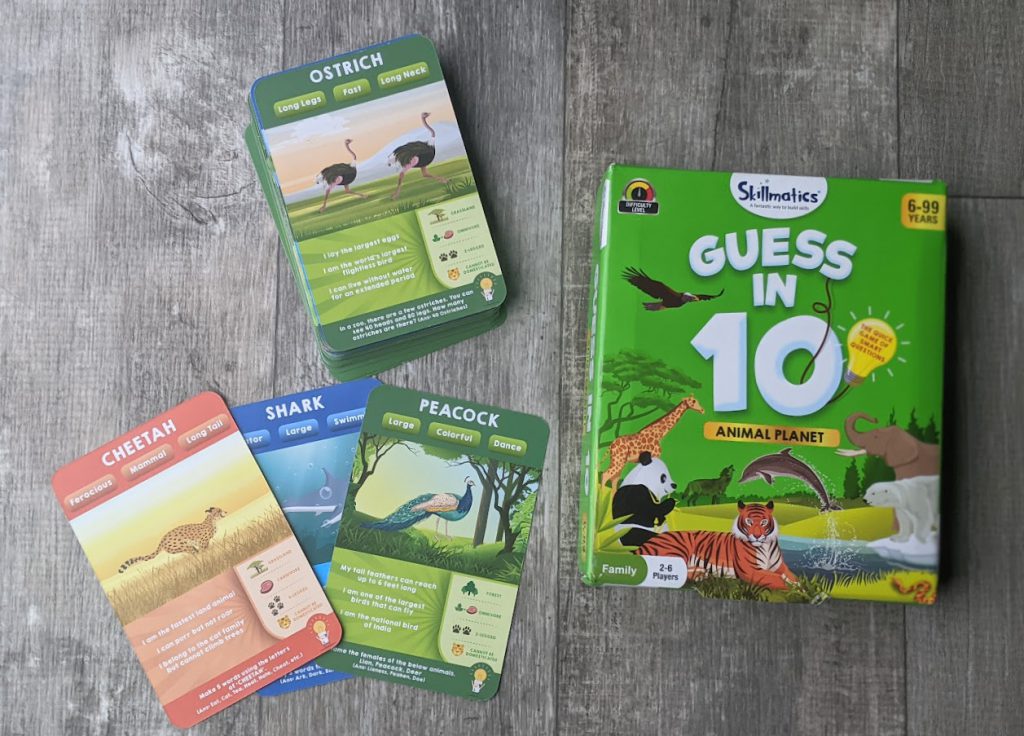 Guess in 10 is a game that requires two people to play (or up to 6), but is sure to keep your child wanting more! Each person can ask up to 10 questions to guess the animal on the other person's card. The first person to collect 7 game cards wins.
One of the best things about this game is how simple it is. No complicated rules or setup, just grab a card and start playing! And it's so fun to learn new interesting facts about the animals on the cards.
In addition to Guess in 10 Animal Planet, there are lots of other versions of the game depending on your child's interests, such as Guess in 10 Junior (for kids ages 3-6), Countries of the World, Deadly Dinosaurs, Things that Go, and World of Sports.
Tip: When playing with younger children, it can be helpful to choose a small group of 10-15 cards and then review them before playing. This narrows the scope of guessing to a more reasonable level for young children, especially if they aren't familiar with a wide range of obscure animals.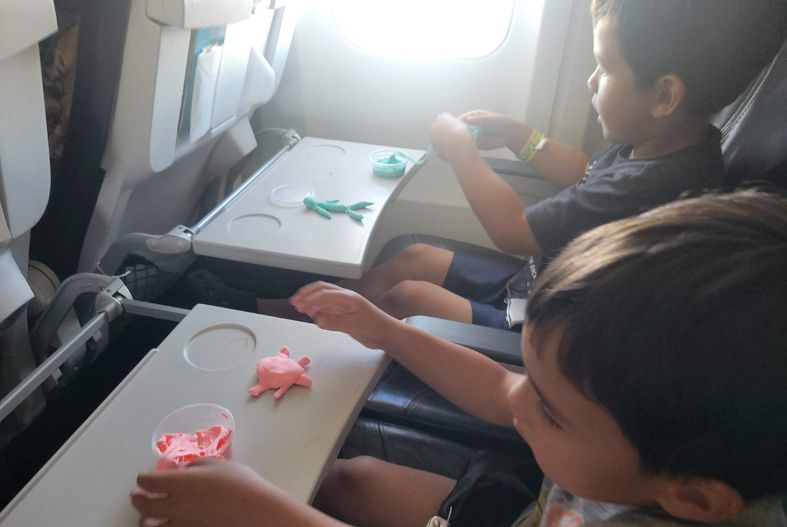 Magic clay, also called air dry clay or model magic, is a creative outlet for kids of all ages while traveling. Unlike playdough (which I wouldn't bring on a plane or into my car in a million years), this light clay does not make a huge mess when used. Its foamlike texture holds together and doesn't crumble apart or squish into carpets, seats, etc.
My kids have the best time with this activity when we travel and it's always fun seeing the creative ideas they come up with.
We actually bought this big set of magic clay, which contains a 36 resealable little tubs of the clay, so it's easy to just grab a couple of containers whenever we have a trip. And my kids can also make fun creations at home. If you want a smaller quantity, you can also buy a pack like this.
Ages 5+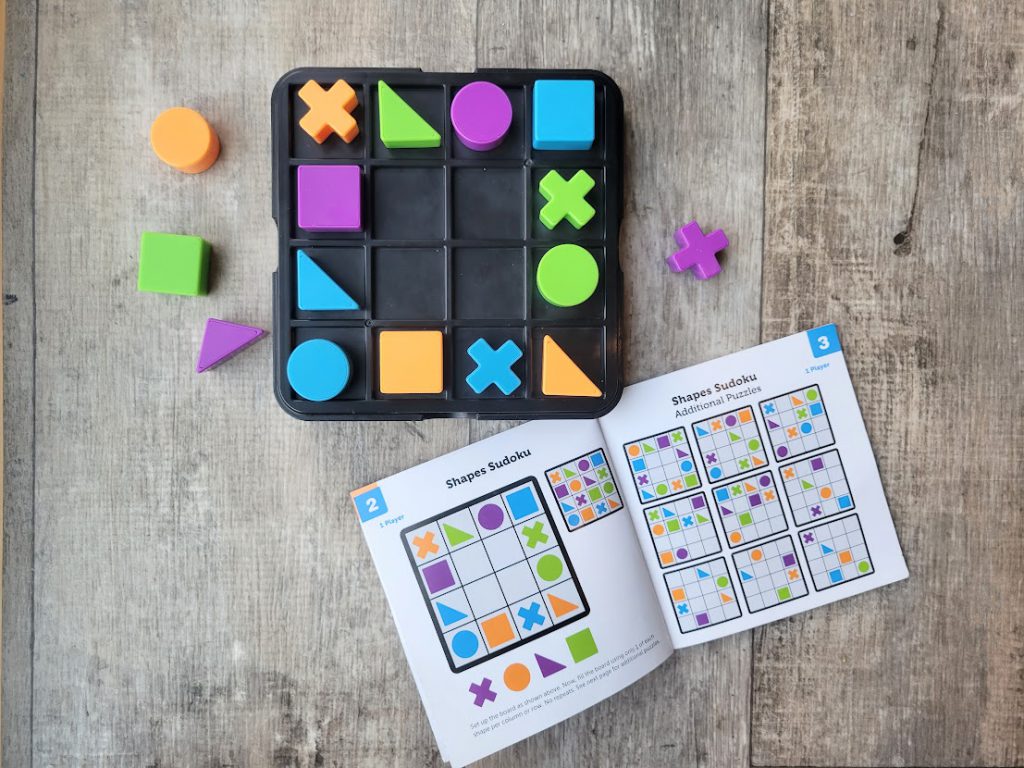 Mental Blox Go! is a set of over 30 games and puzzles in a compact travel case. This portable puzzle set includes ten different puzzle types with various levels of difficulty. Some games can be played individually, while others require multiple players.
Some of the games include memory match, shapes sudoku, and 4×4 chess, to name a few. The pieces are sturdy and chunky, making them difficult to lose.
I love that this game is small enough to be quite compact, without being so small that you lose the pieces, and my kids love the variety of games that you can play with just the one set!
Ages 5+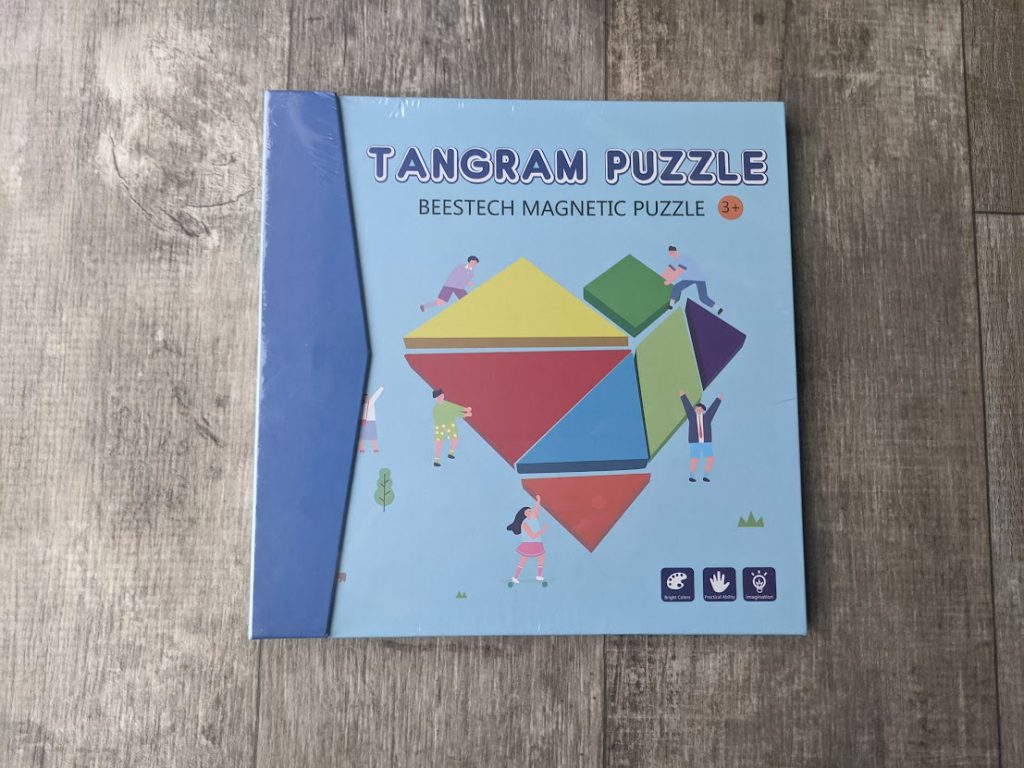 This Trangram Puzzle Book has a variety of different puzzles children can make with the shapes at increasing levels of difficulty. And because the wooden shape pieces are magnetic, they stay in place when kids are playing with them on the go!
Although it is marketed for children ages three and up, this one will probably work better for older children as most of the puzzles are quite challenging.
Ages 3-6 yrs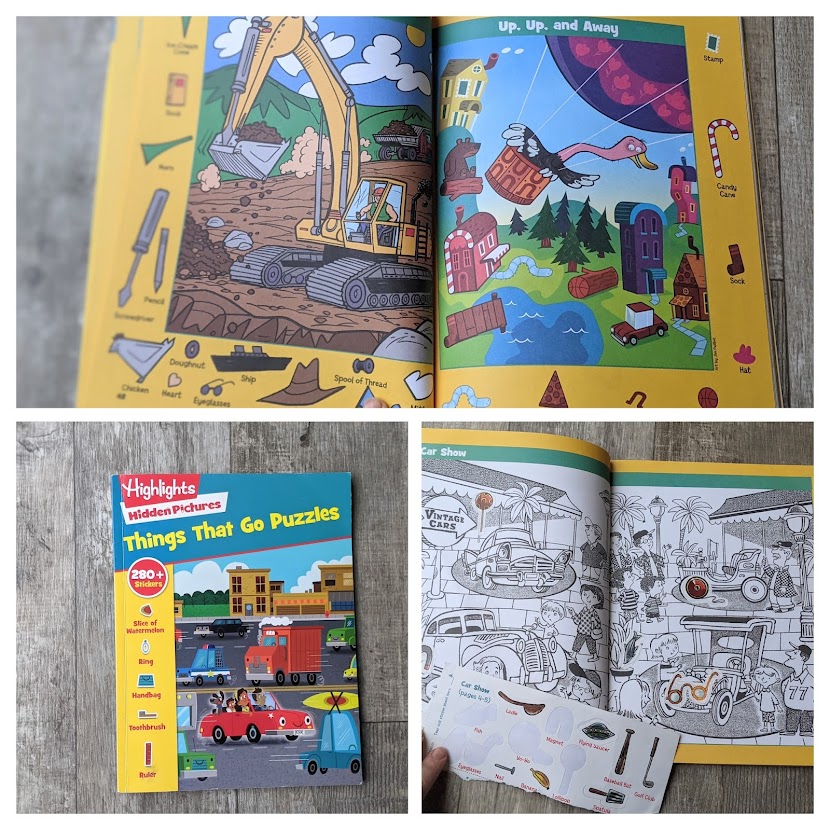 Hidden picture books will keep your child engaged as they search for the images concealed in plain sight in each picture.
This Things that Go Hidden Pictures Book has 96 pages with a variety of transportation-related scenes. On some of the images, there are matching stickers to put on the hidden picture once you find it, while on others you're meant to circle the hidden picture.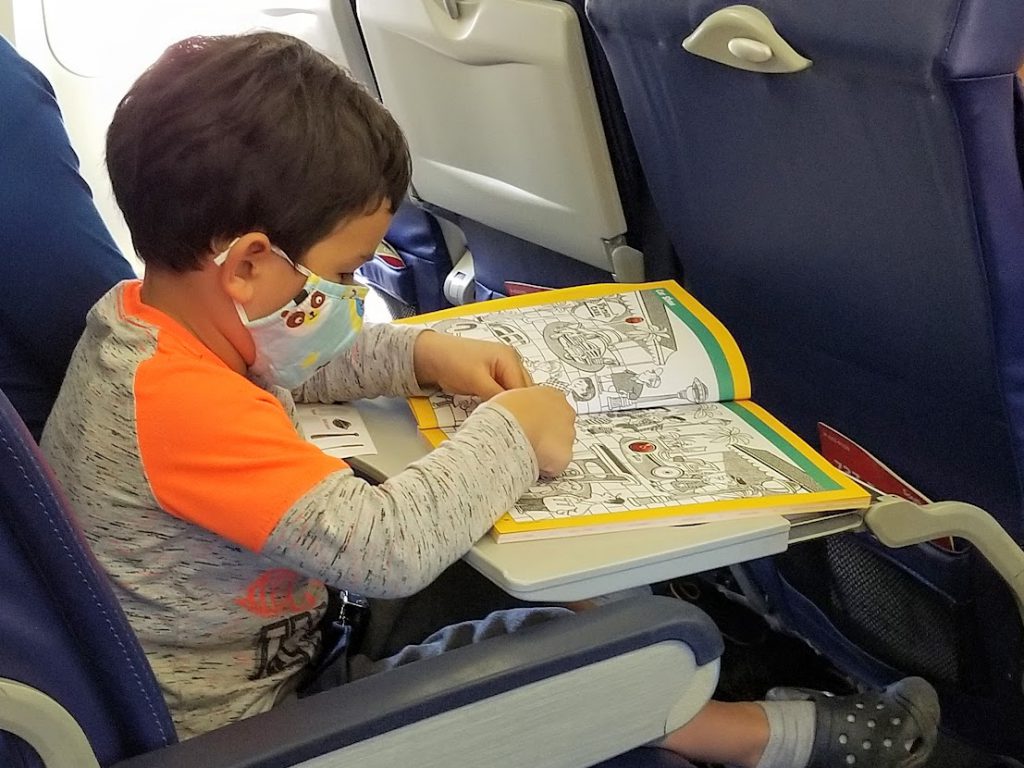 Our preschooler loved the things that go theme and especially enjoyed the pages with stickers to put on the pictures. There are also other themes you can choose from, including Pet Hidden Puzzles, Adventure Sticker Puzzles, etc.
All ages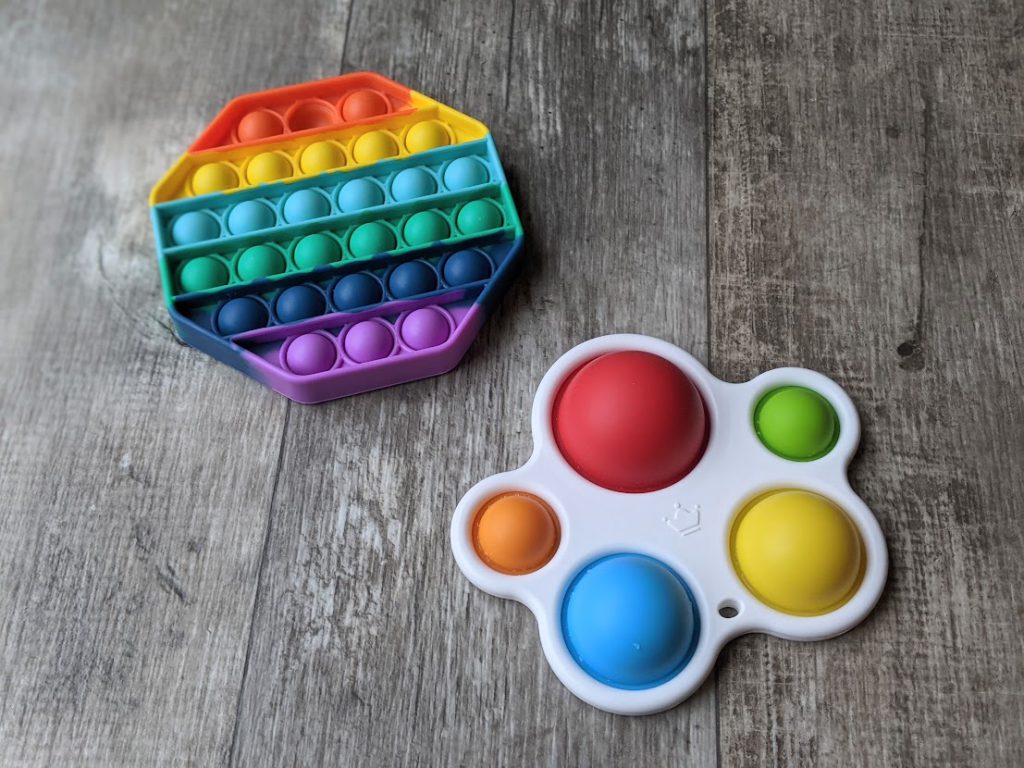 For some simple and compact travel activities for kids, fidget poppers are a great choice. They give your child something to do with their hands while on the go.
It's surprising how entertaining popping those little buttons in and out can be, for kids and adults. They are also a great sensory activity if a child is feeling agitated or anxious.
If you're traveling with a young jokester, consider bringing a joke book to keep them laughing. They will love learning new jokes to share and you might get a few laughs too.
The Silly Kids Joke Book has over 500 jokes in large, easy-to-read font, perfect for young comedians on the go. The jokes are divided up into different categories, such as food jokes, knock-knock jokes, animal jokes, etc. so that your child can find the perfect joke for any occasion!
Ages 3+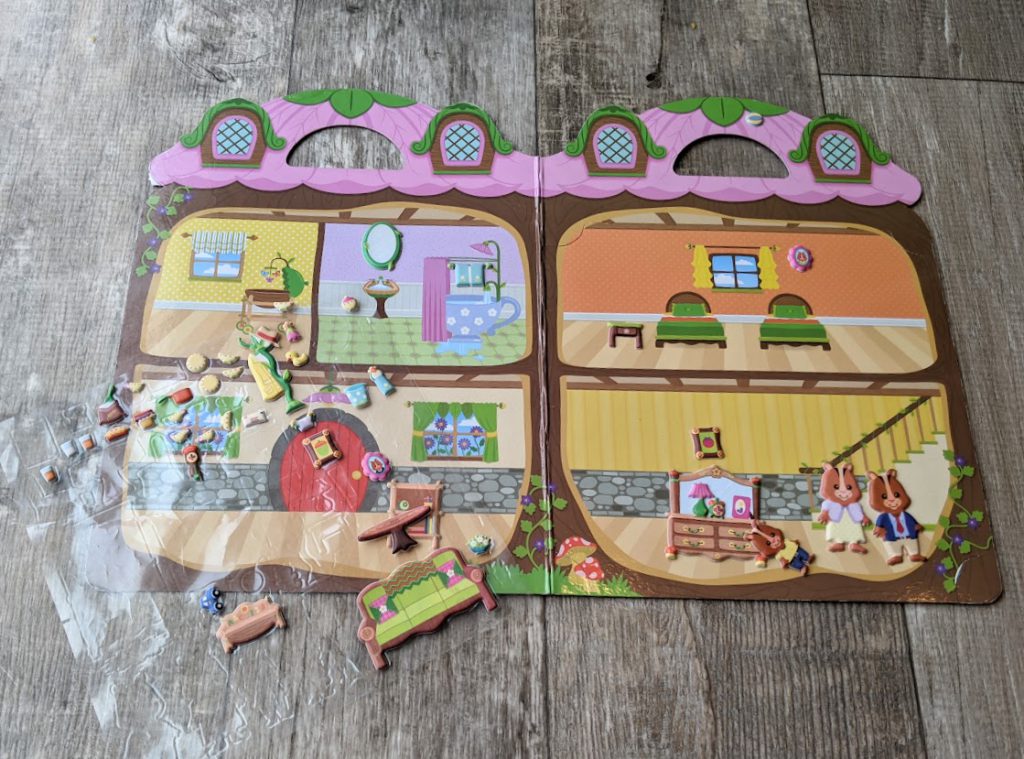 One of my favorite travel activities for kids, the Melissa and Doug Puffy Sticker Activity Books can keep a child busy for a long time on a trip. The sets come with background scenes and dozens of little stickers to decorate each picture to their own liking.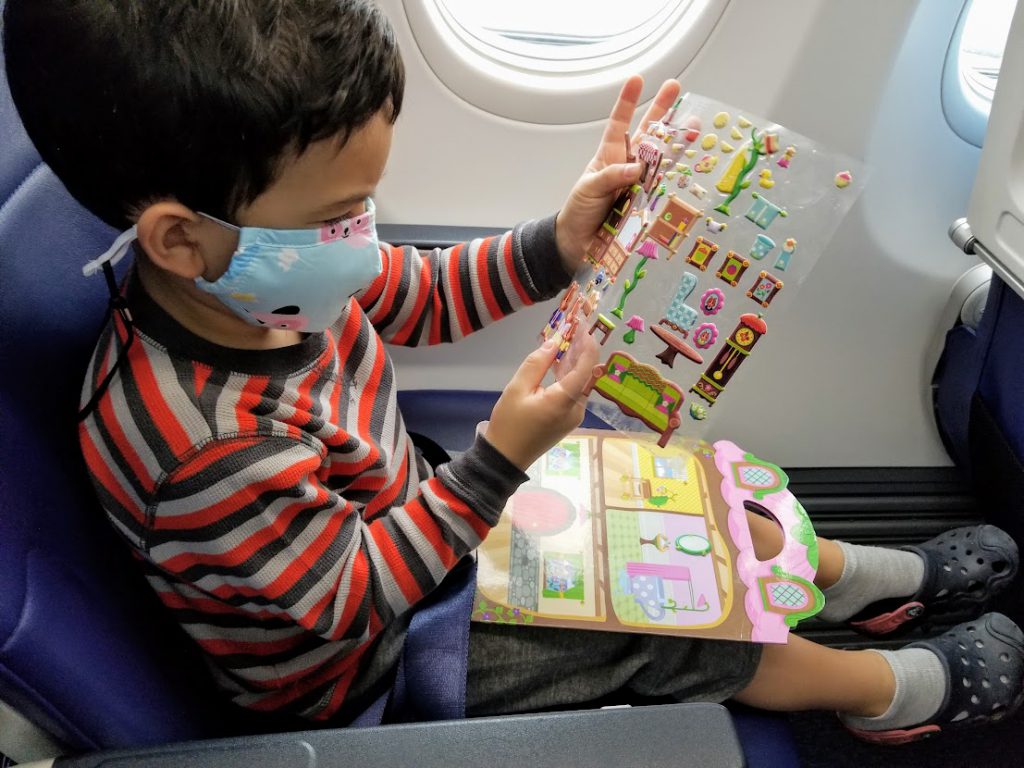 And the best part is that they're reusable! And they actually are, unlike some sets that say they are but have stickers that are hard to get off or lose their stick. The set we have has lasted us several years and countless trips. My son always checks to make sure I'm bringing his puffy sticker set when were packing for a trip.
There are many different puffy sticker set options, depending on your child's interests. We have the farm, chipmunk house (by far our kids' favorite), and safari set, but you can also find princess, dress-up, and mermaid, dinosaur, ocean, safari, etc.
Ages 3+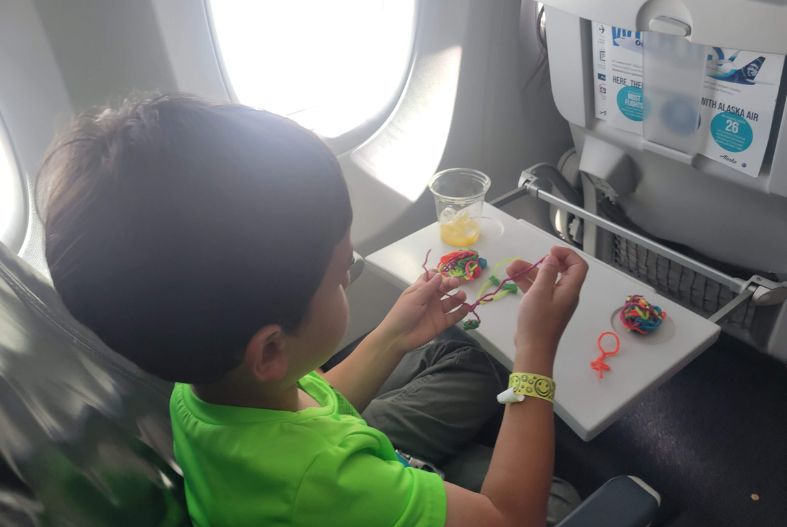 Wikki Stixs are a fun, mess-free activity that can grow with your child. Younger kids will enjoy squishing and twisting the bendable wax sticks, while older children can make more elaborate creations, such as shapes, words, people, animals, etc. The sky is the limit with this travel activity!
I love seeing the creative ideas my kids come up with when deciding what to make with their Wikki Stix. And since they are reusable, you can just unbend them when you're done to make new projects!
Ages 7+
Let your kid become a detective with these Secret Decoder Activity Books by Melissa and Doug. This set comes with three activity books and spy tools to help them reveal clues. In each book they will find a mystery to uncover using different spy techniques such as code breaking, unscrambling messages, and completing mazes.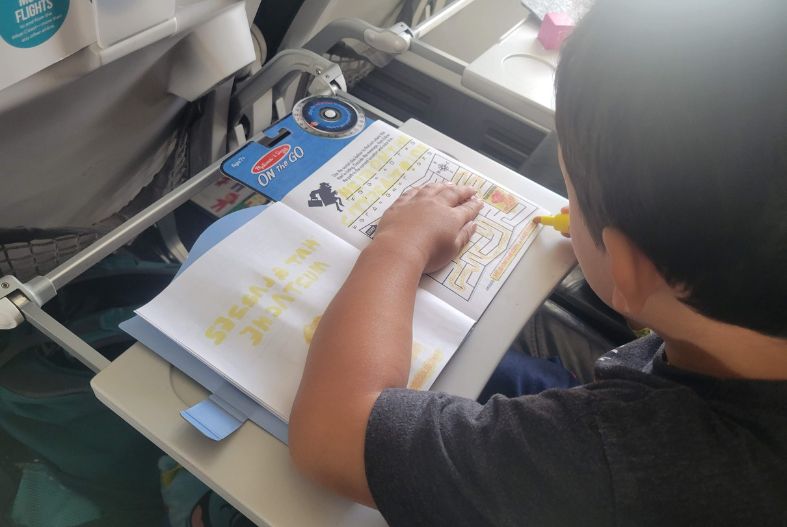 This is such a fun and engaging way for kids to pass the time while traveling! They will love solving mysteries as they build skills such as attention to detail, problem solving, and following directions.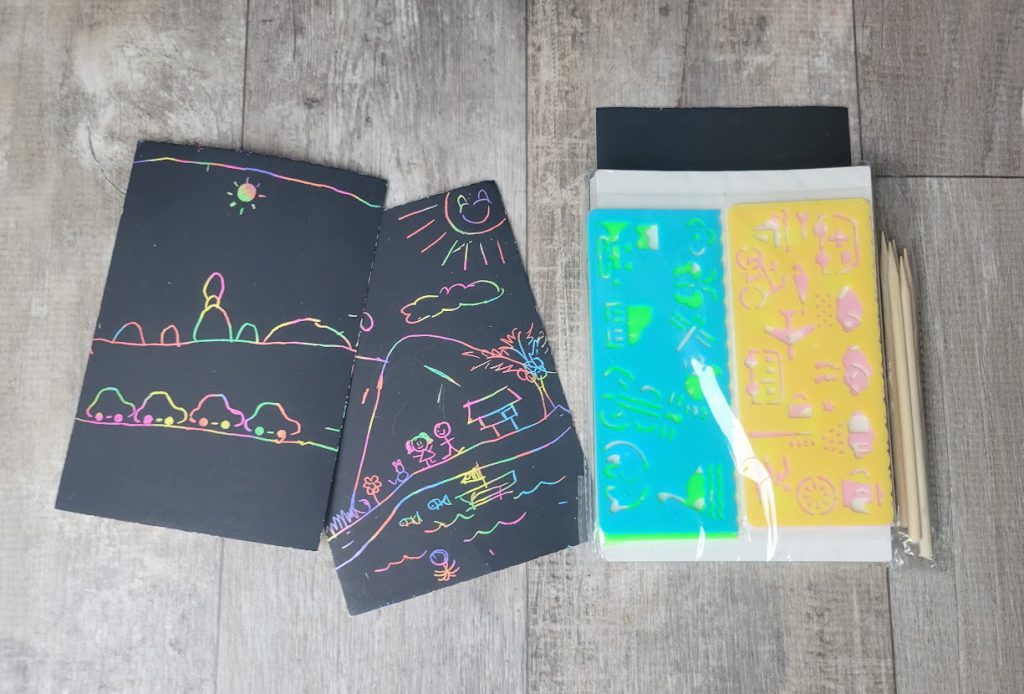 Scratch art is a fun, creative activity that's easy to do on the go. Kids will love creating their own colorful pictures simply by scratching off the top black coat with the wooden sticks provided. And this set comes with several stencils for kids who want a little help knowing what to draw.
Honestly, I got this on a whim before a trip, not knowing how incredibly entertaining my 5-year-old would find it. This kept him entertained for hours at the hotel, in the car, on the plane…. He had so much fun drawing pictures of all the places we were visiting for everyone he knows.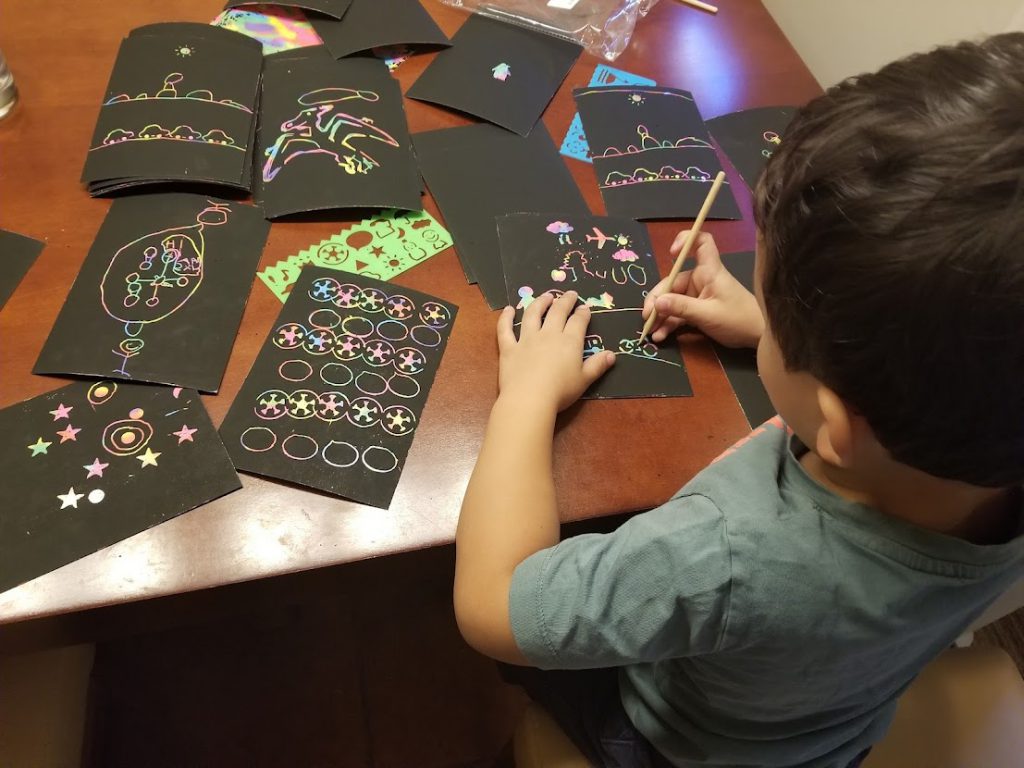 It does create a little bit of black residue from scratching off the topcoat, but not enough to be too annoying. And the entertainment value far outweighs that minor inconvenience.
A tablet can be a lifesaver when you're traveling. I'm all about bringing lots of hands-on activities for my kids to do while traveling, but sometimes screentime is the best way to keep a child occupied or distract them from a meltdown.
The Kindle Fire comes with a tough, child-proof case and a two-year warranty. You can choose to stream content through wifi or download it onto the device.
Tip: Be sure to download some favorite movies, shows, or apps before getting on the plane.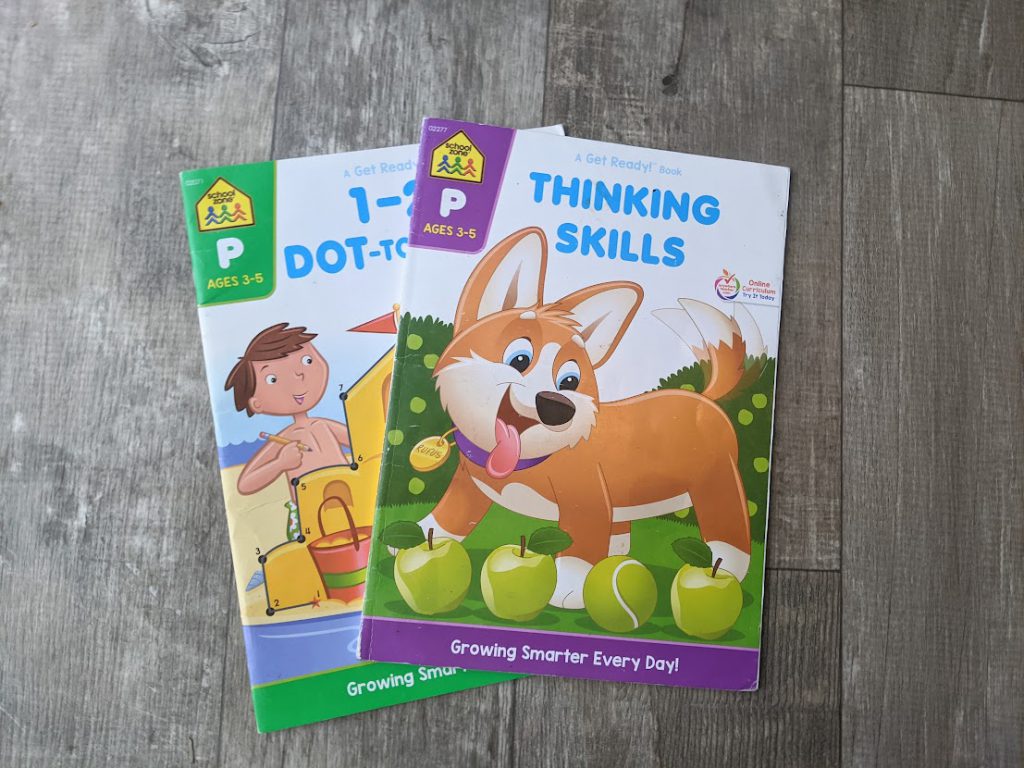 Learning workbooks are a nice way to combine academic learning with entertaining travel activity. And although these workbooks do have educational value, they are also a lot of fun for kids to work on while traveling.
You can find all sorts of interesting workbooks with a variety of interesting activities based on your child's age. For kids ages 3-6, the Little Get Ready! series has some really engaging activity books. Another favorite is Highlights, which also has a wide rage of learning workbooks for all different grade levels and topics.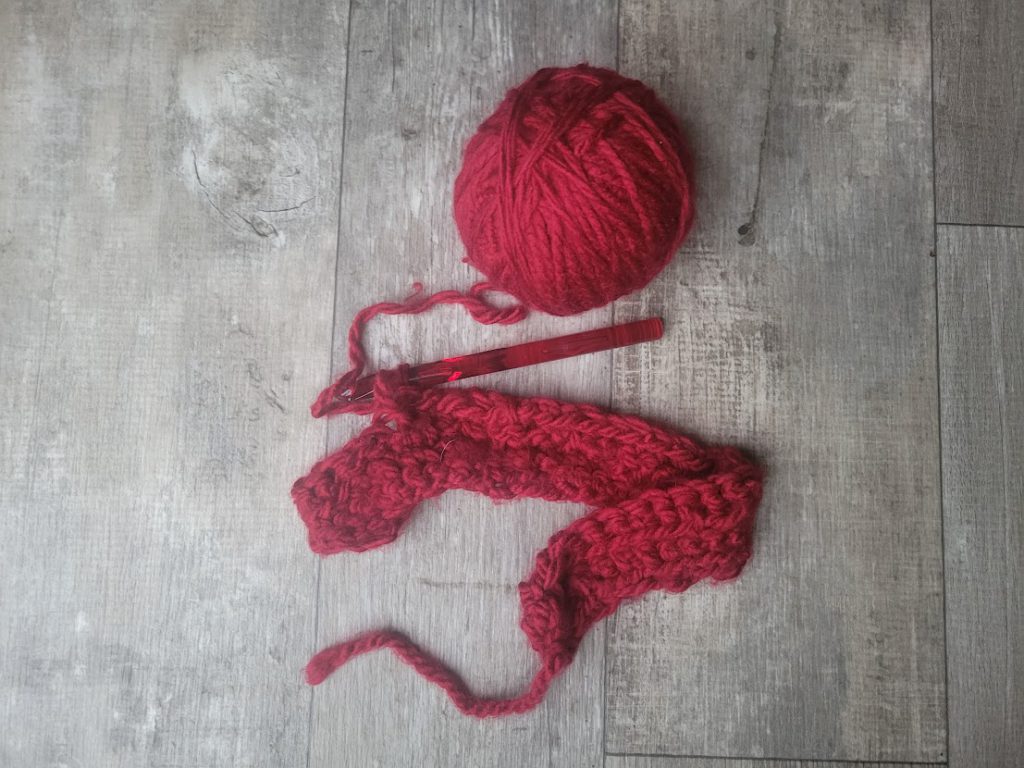 Help your child learn a craft to keep them entertained while traveling. Our 5-year-old recently expressed a desire to learn to crochet, and that can keep him engaged for hours!
A craft like crocheting, knitting, weaving, or needlework is perfect for keeping a child occupied on trips, whether you're traveling by car or plane. (And yes, you can bring knitting and sewing needles on a plane!)
This is usually one that you want to prep a bit beforehand though so that they can learn the basics and you can see if it's really something that will keep their attention. You can get your child started with this beginner crochet set or a loom kit for making hats and infinity scarves.
And of course, there are a lot of other interesting crafts out there. See what appeals to your child and help them to develop that talent as they travel!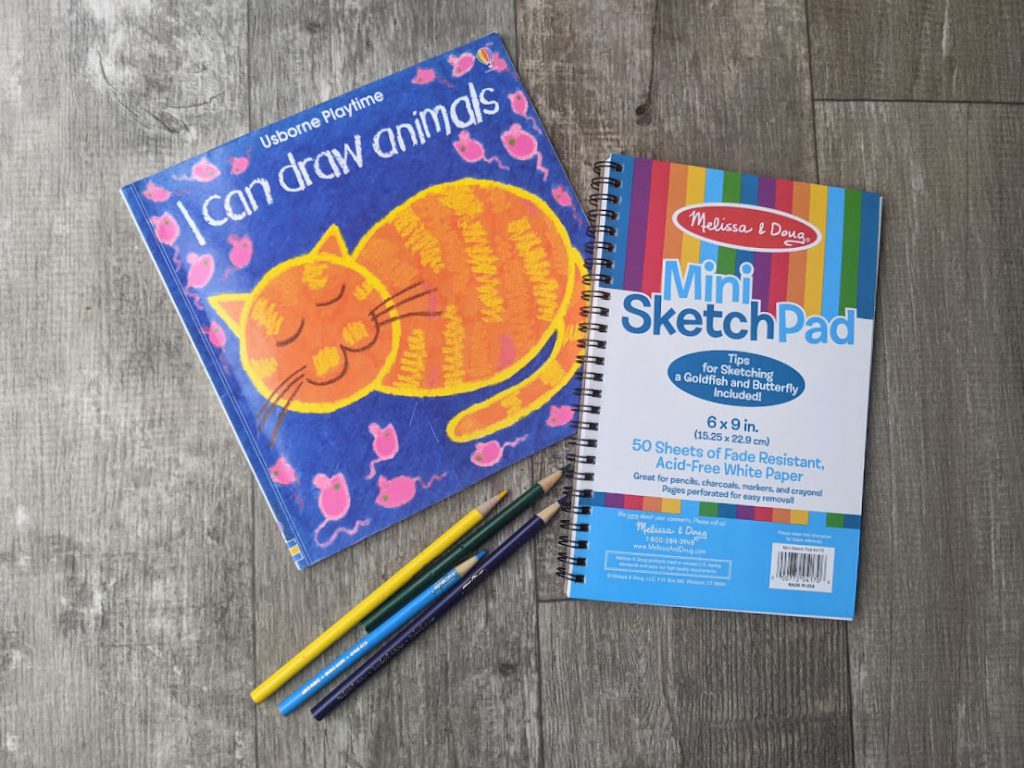 For your little budding artist, bring a book that teaches them to draw pictures. This is a another way for them to learn some new skills while they pass the time.
For younger children, consider a book like How to Draw Animals for learning to draw basic pictures. For older children up for a bit more of a challenge, How to Draw All the Things for Kids has detailed tutorials for 42 different projects.
Pair it with a small sketch pad and a couple of colored pencils or mechanical pencils (so that you don't have to worry about the tip breaking) and your child will be all set to draw to their heart's content!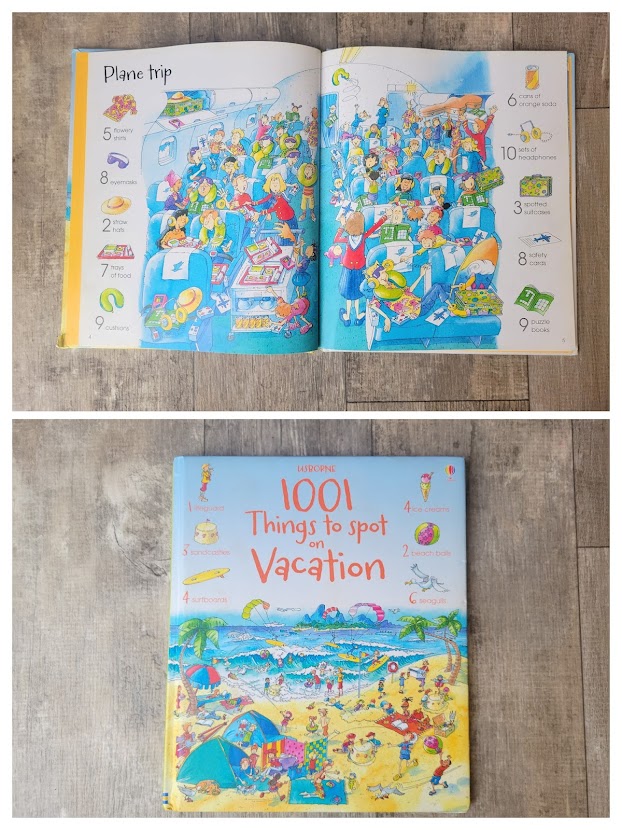 Look-and-find books are a fun way to keep children entertained while traveling. They will love exploring the detailed pictures as they search for various items on each page.
We love the 1001 Things to Spot books by Usborne. The pages are so interesting and our kids have a great time looking for all the different objects in the pictures. Usborne has a lot of books in the 1001 Things to Spot series, including Animals, Bugs, Monsters, and so on.
A magnetic tin playset is a self-contained activity that provides lots of creative fun for kids. The inside of the tin contains a background onto which your child can stick the magnets to create a fun scene. Each set comes with dozens of small magnets that match the theme of the set you chose.
These are a great entertainment option for traveling by car or plane, or for using as entertainment when you arrive at your destination. My kids love arranging and rearranging the magnets to create new scenes and stories!
Tip: Bring a small plastic bag to use for storing the magnets you aren't currently using, otherwise the scene ends up getting a bit too crowded.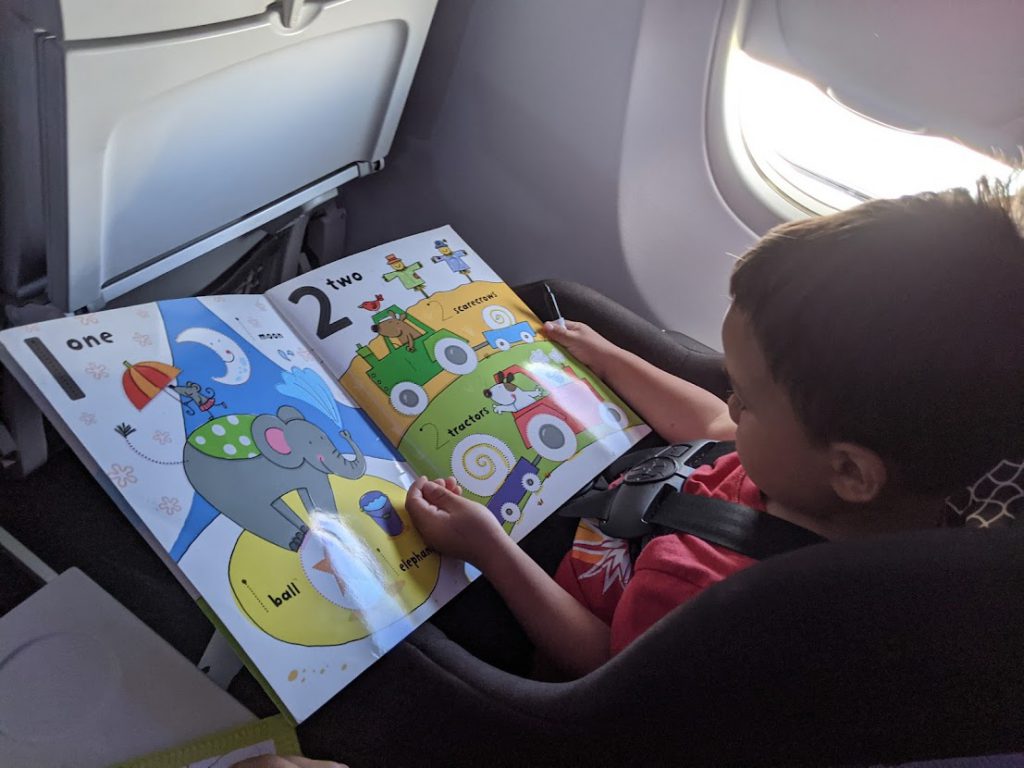 These Wipe Clean books by Usbourne Books and More have been one of my go-to travel activities for kids for years. There are a lot of different options depending on what your child is ready for or interested in, including Wipe Clean Travel Activities, Wipe-Clean Space Activities, Wipe Clean First Math, Wipe Clean Travel Puzzles, and the list goes on and on.
One of the nice things about these books is that they incorporate all sorts of learning activities without making it feel like a workbook. I also love the fun and engaging pictures and that it's endlessly reusable. Just wipe it off and start again!
Tip: Don't forget to bring some extra dry erase pens for when your child inevitably misplaces theirs!
Ages 5+
For kids who love a good laugh, this Would You Rather Book for Kids is sure to keep them enteretained as they think through various "would you rather" scenarios.
This book contains 200 would you rather questions to get your child thinking and laughing. It's a fun way to get conversation going and bond as a family as you talk through different outlandish situations.
The book is compact and easy to pack, but contains hours of entertainment for your trip!
Ages 5+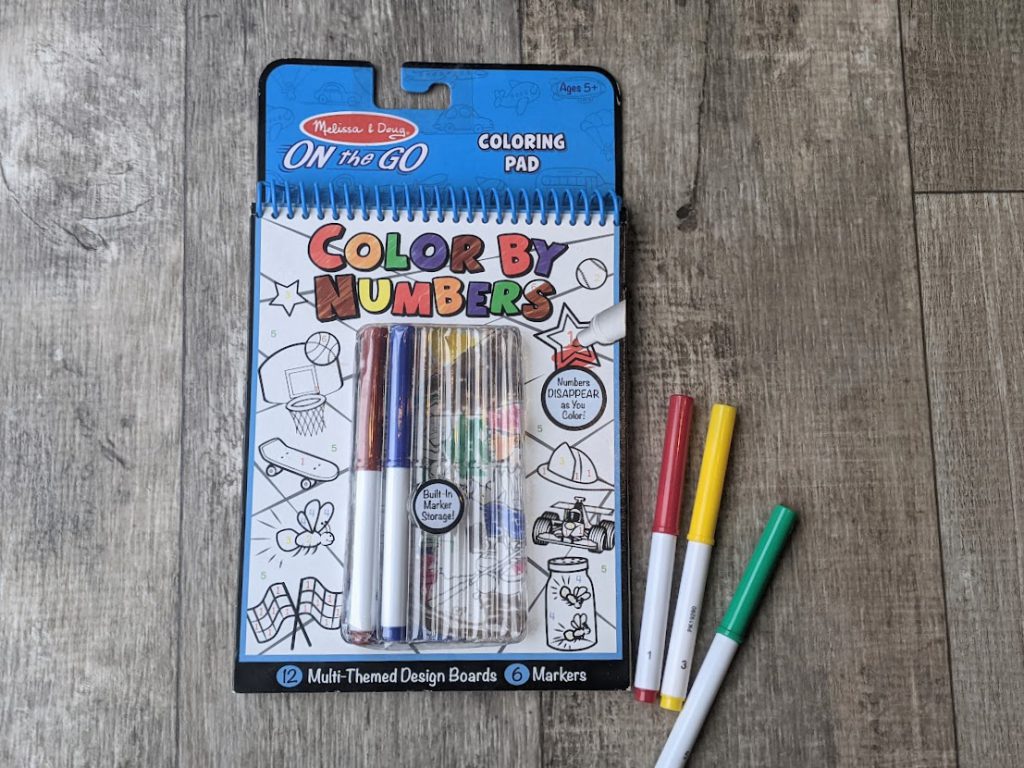 Color by Numbers books are a fun way for kids to entertain themselves while traveling.
This set comes with numbered pens that correlate to the numbers on the pictures so kids know which color to use for each section of the picture. The numbers disappear after you color over them, leaving just the art behind!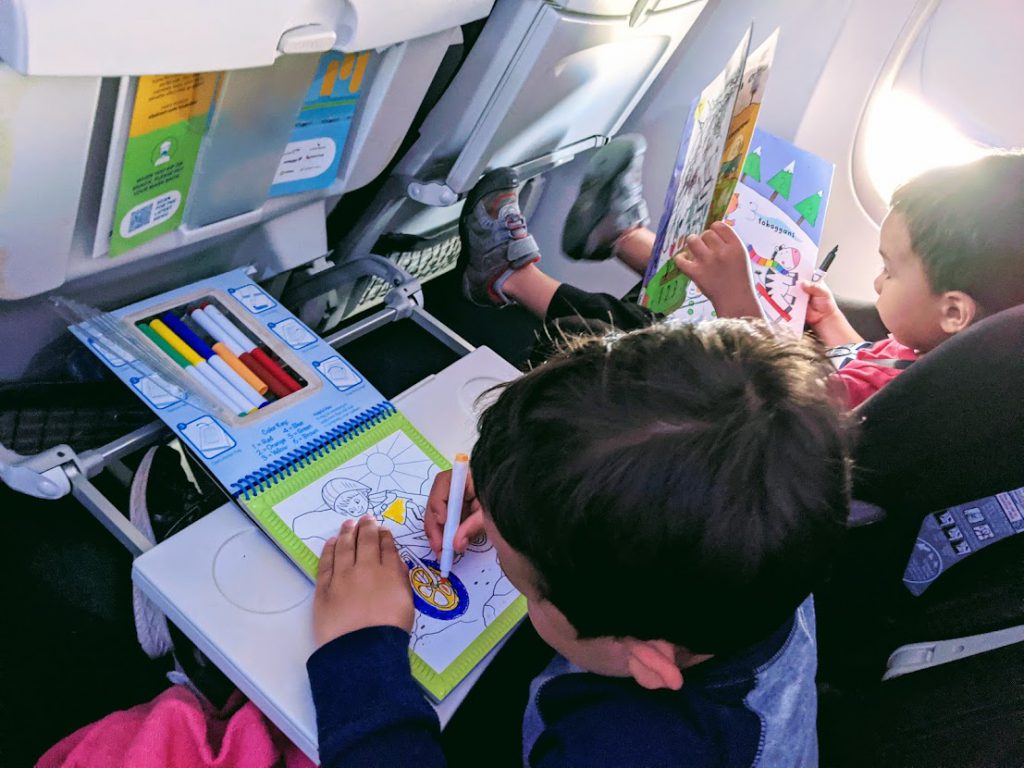 Our son loved seeing the colorful picture appear as he used the numbered markers.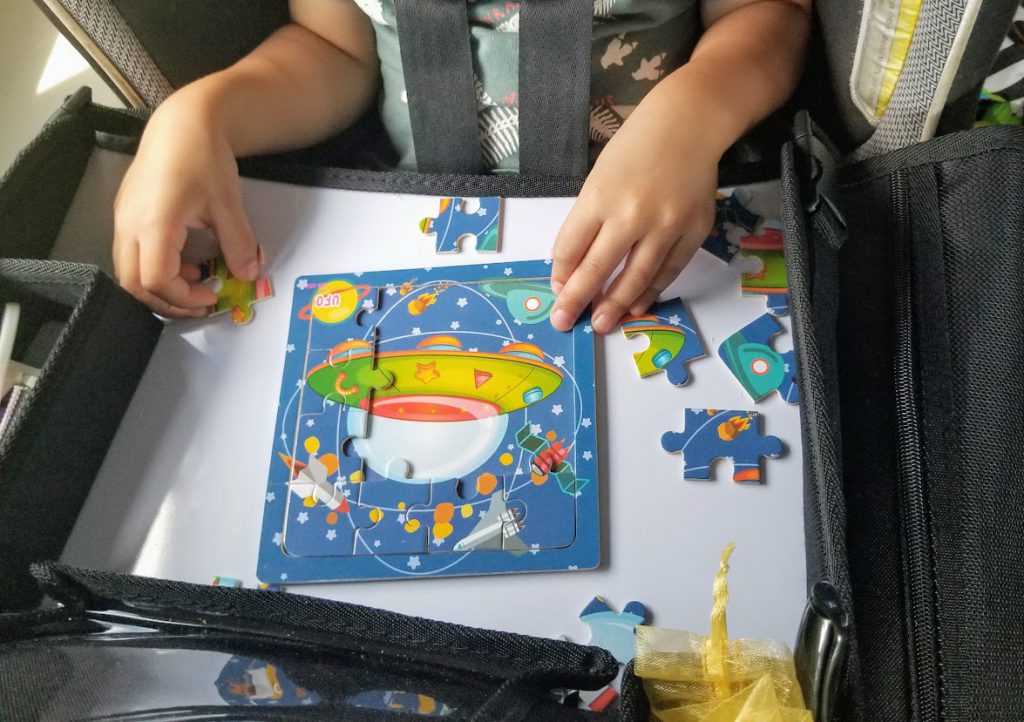 If you have a kid who enjoys puzzles, consider bringing a small puzzle or two to help them pass the time.
These small 20-piece puzzles are a great travel activity for younger kids. They have a frame and travel bag, so it's easier to keep all the pieces contained and to pack up when it's time to go.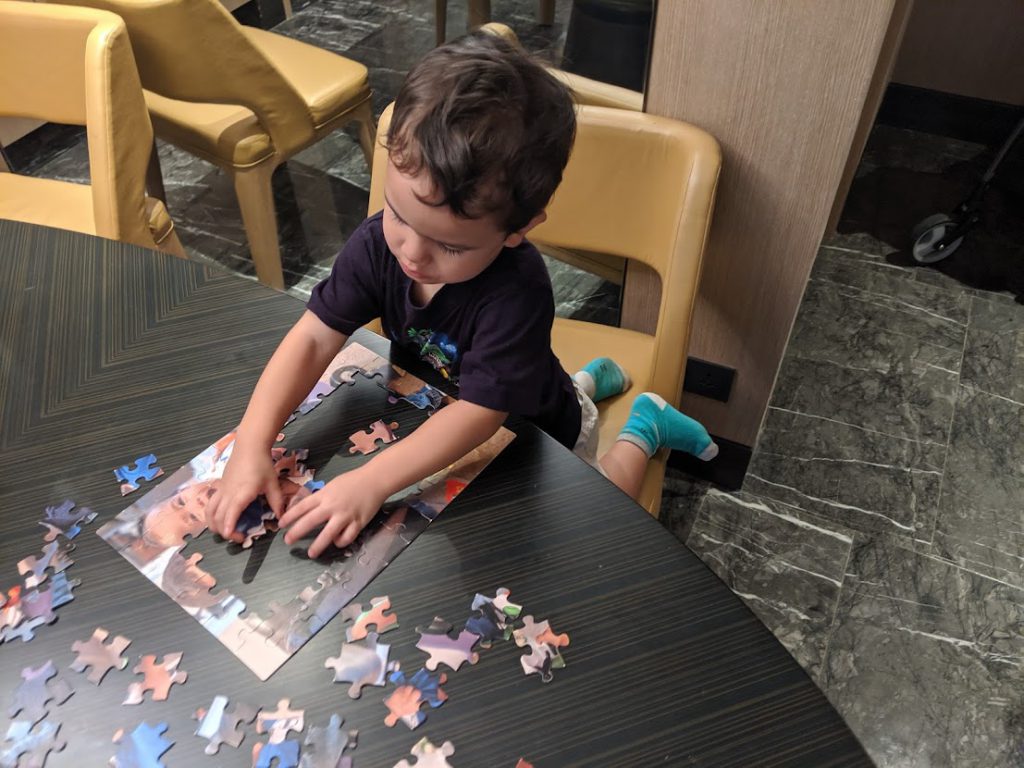 For older kids, consider a larger puzzle as a hotel activity to keep them occupied if you have some downtime in your room.
Podcasts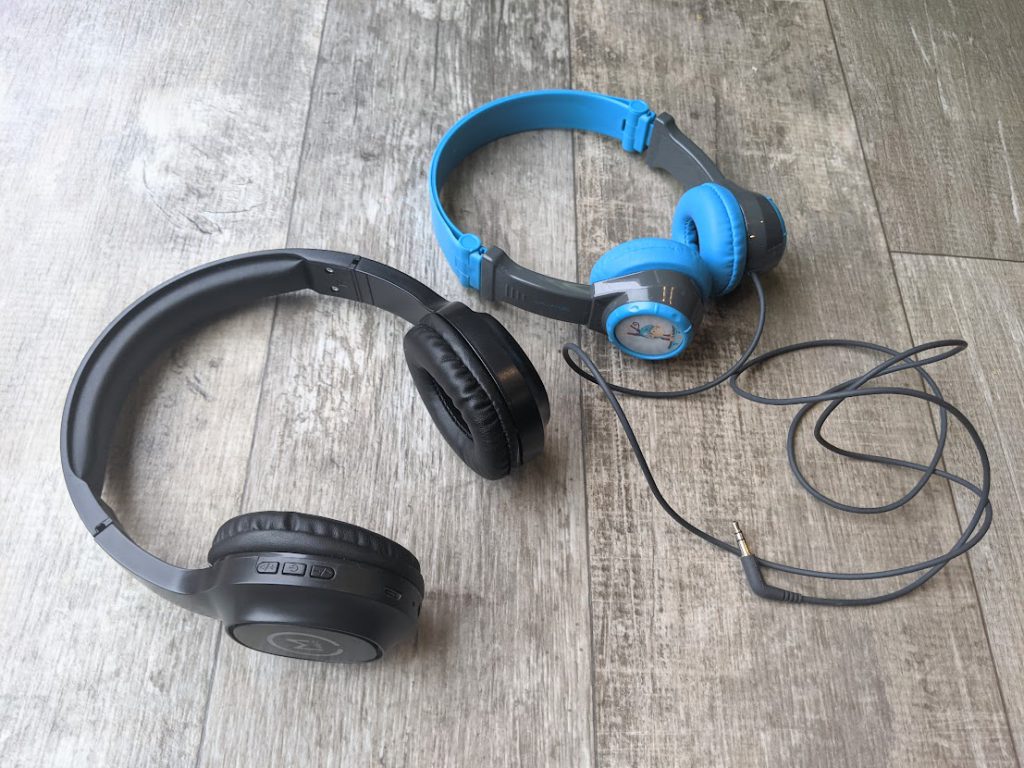 One great way to pass the time while traveling is listening to podcasts. There are some really fun and entertaining podcasts for children out there that are sure to keep kids entertained on a trip. Our son could listen to his favorite podcast (Little Bedtime Stories) for hours!
Just make sure to bring a good pair of headphones for an ideal listening experience. For our younger kids, we typically use toddler headphones, but when they get older we prefer a pair of wireless headphones.
Tip: Preview the podcasts before your trip so that you know that it's something that your child will find entertaining and also something that is appropriate for your child. Also, be sure to download the podcasts in advance so that you have access to them when you don't have internet access.
Get the gears turning by bringing along some riddles for your child. The 100 PICS Riddles Travel Game is a pocket-sized deck of 100 riddles, perfect for travel!
At the bottom of each card is the scrambled answer to the riddle, so you have an extra clue if you need help. Once you've guessed what it is, slide open the shutter to reveal the correct answer.
The small size and portable case make this a perfect travel activity for kids!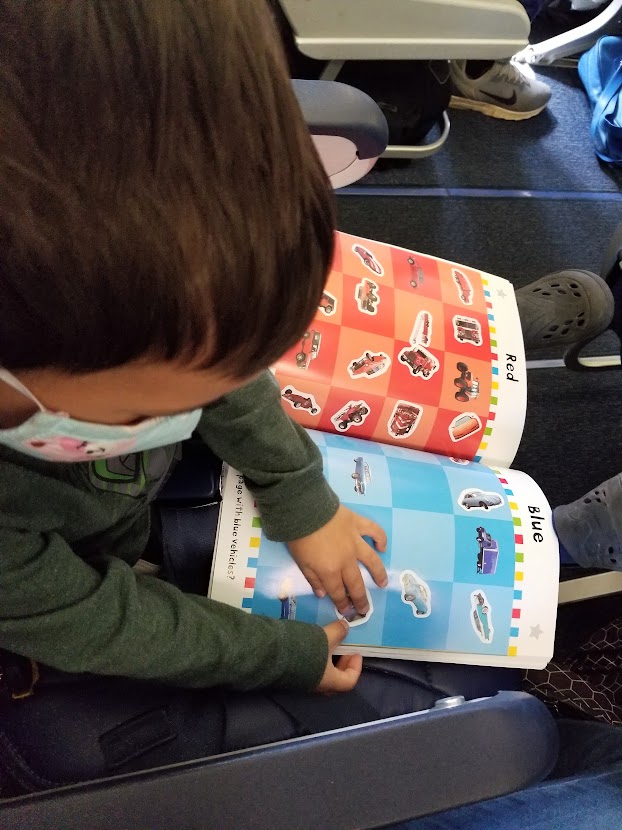 You can't go wrong with sticker books for travel. And these days, there are so many different options that kids of all ages will love!
Our 3 and 5-year-old sons both loved the First 100 Trucks and Things That Go Sticker Book. It's full of fun sticker activities, from color matching to creating your own construction site. This was one sticker book that our kids kept coming back to again and again throughout our trip!
Ages 6+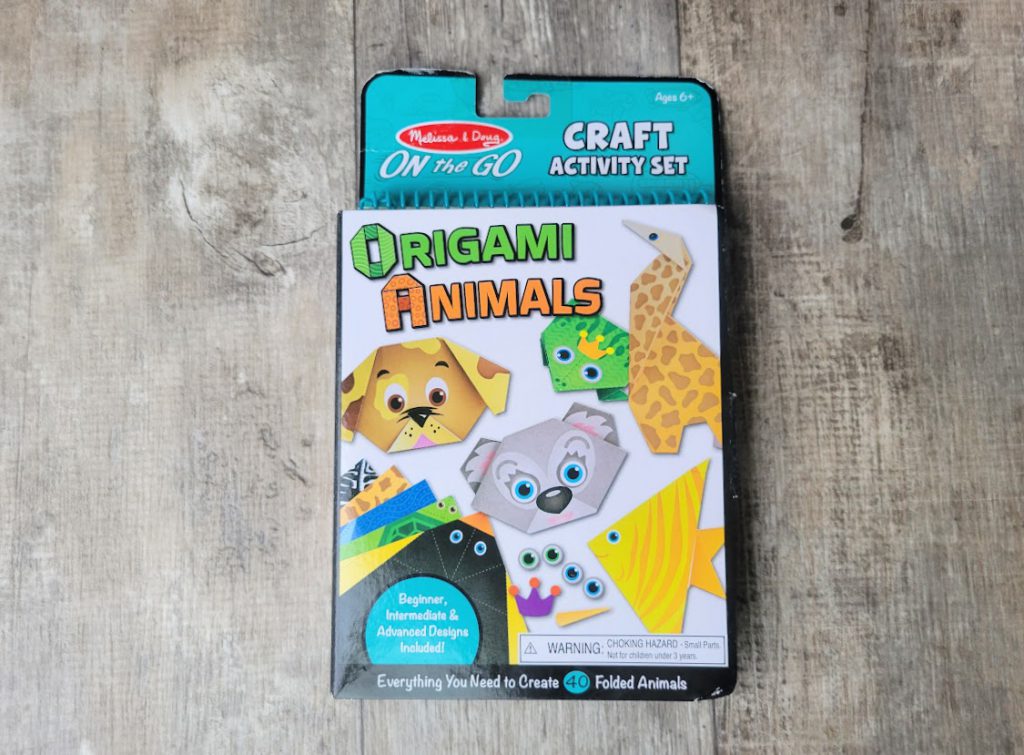 For kids who love crafts, origami is a fun way to engage their creativity while traveling.
This On the Go Origami Kit from Melissa and Doug comes with all the materials you need to make 40 paper animals, along with detailed instructions. The papers have marks on them to show where to where to fold and include stickers to add eyes and embellishments to the completed animals.
There are beginner, intermediate, and advanced projects, so your child can challenge themselves with more difficult creations when ready.
Kids will love recording their travel memories and experiences in a travel journal!
The Ultimate Travel Journal for Kids provides a creative forum for little travelers to think about and write about their travel experiences. This book includes guided travel writing prompts as well as games and activities for keeping kids entertained on the go. And there's space to write about four trips, so your child can look forward to using it on their next trip too!
This is one of those perfect travel activities for kids that gets them really thinking and engaging in their trip. Plus it's a great way for them to record memories to look back on for years to come!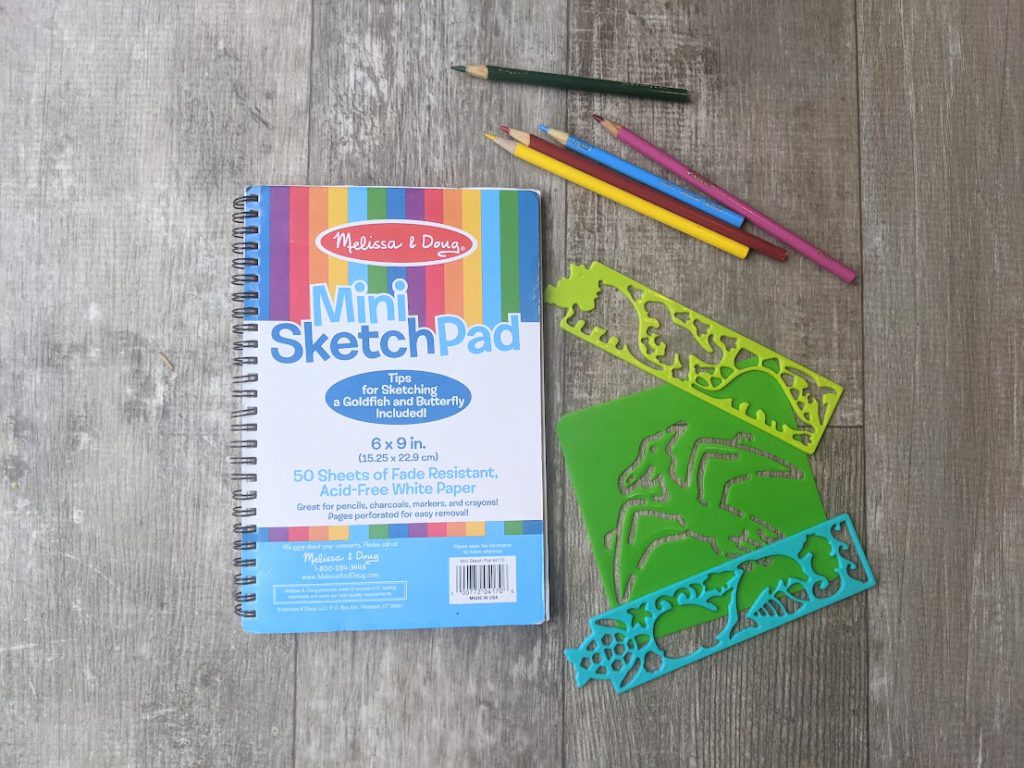 I don't know what it is about stencils, by my kids find them so fun to play with! Maybe it's that they can get really fun and detailed pictures that would be challenging for them to draw on their own.
And there are some really fun stencil sets out there. This set comes with 16 stencil sheets with a wide variety of subjects (planes, dinosaurs, letters and numbers, animals, princesses, flowers… the list goes on and on). It also has pencils, a sharpener, and a sturdy little carrying case for everything.
But if you're looking for something more basic, just get a small set to give your child something to work with. The key is just to find a set that appeals to your child and set them loose to see what they create!
This Travel Scavenger Hunt is a great way to pass the time on a long road trip! The cards are easy to read with big pictures, making it easy for kids of all ages to play.
And in addition to the typical cards of objects to look for, there are also special cards for things to hear (like a siren), feel (like the car going over a big bump), and smell (like a skunk or something stinky).
The one downside for this game is that it doesn't work as well in more remote areas, as it's a lot harder to find the items on the cards. But save it for when you're driving through more urban areas and you'll have a fun game that everyone will enjoy!
Books
All ages (find age-appropriate books)
Reading is one of the best ways to pass the time while traveling, for children and adults! Find a topic or author that appeals to your child and bring along a book or two for them to read on the trip.
You can choose informative, non-fiction books or gripping fiction, depending on your child's preference.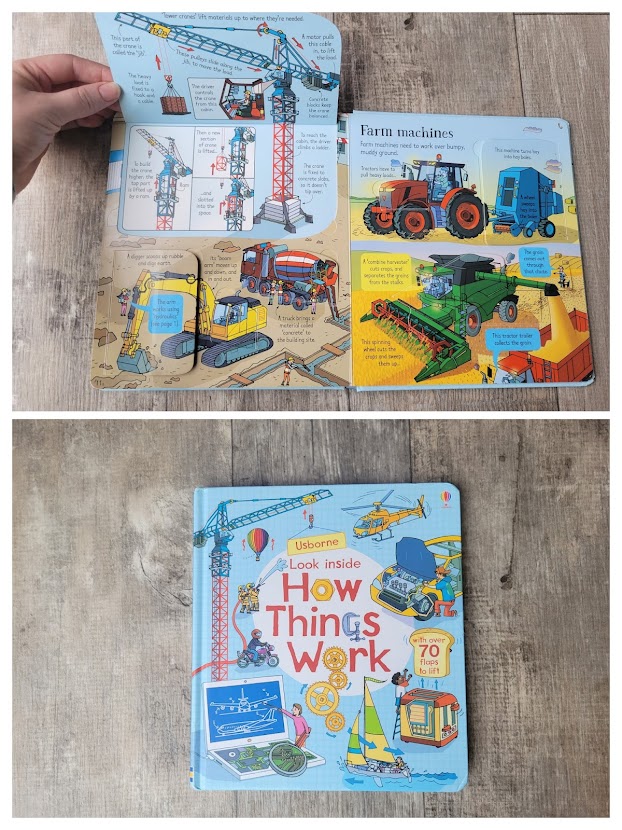 We love the Usborne Lift-the-Flap books on all different topics, such Look Inside Space, which has over 70 flaps with interesting facts about space, and Look Inside How Things Work, which teaches all about the inner workings of machines, vehicles, household items, and more. I love these books for travel because one book contains so much information to hold a child's interest throughout the trip.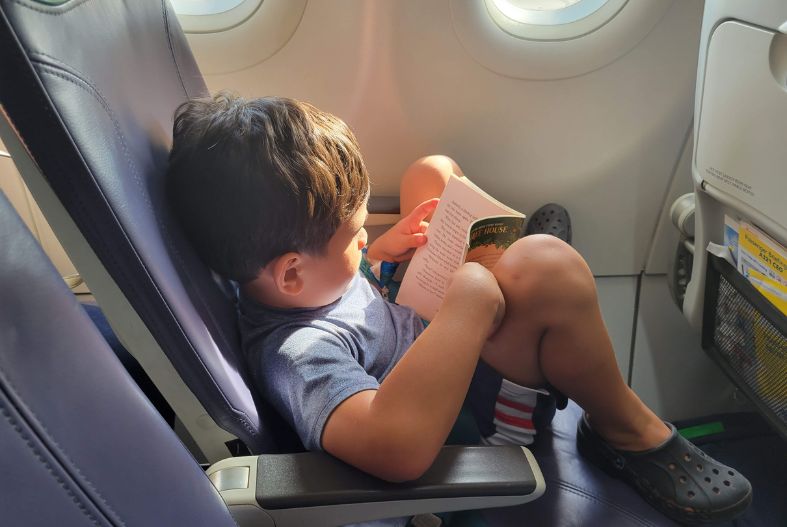 Or you can choose a fun fiction book like the Magic Treehouse series (our 6 year old's favorite), the hilarious and wacky Wayside School series, or an adventure story like Fablehaven.
Whatever your child's age or interests, you can find fun and interesting books that they will love for your trip! This is probably one of our favorite travel activities for kids because of how engaging a good story can be.
Final Thoughts
When taking a trip with kids, it's important to bring some fun activities to keep your child entertained. Bringing a few fun items to engage your child during travel will help make for a smoother trip for them and you.
And if you're looking for some great options, you can't go wrong with any of these travel activities for kids.
Other posts you might be interested in:
21 Airplane Toys and Activities Your Toddler Will LOVE!
50+ Road Trip Food Ideas- Easy Meals On the Go!
Road Trip Activities for Toddlers (That They Will Really Love!)