This page may contain affiliate links, which means that we may earn from qualifying purchases at no additional cost to you.
It can be stressful enough to pack for yourself for a trip, but it's so much more effort trying to make sure you have everything you need for a trip with a baby. Not to worry, we have all the baby travel essentials you need for a successful trip with your little one!
As a travel-loving family with three young kids, we've been on a LOT of trips with babies, both domestically and internationally. Over the years we have developed a comprehensive list of baby travel essentials.
I love knowing that if I check everything off on my list, I will have everything I need for my baby on my trip. It definitely reduces my mental load, especially when I'm packing for multiple kids.
In this post we'll be sharing with you our must-have items for traveling with a baby.
To prepare for a first flight with your baby, see this post!
Baby Travel Essentials
There are some items that you just can't do without when traveling with a baby. Here are some baby travel essentials that will make your travel a breeze!
Essential Travel Gear
When traveling with a baby, there is some essential gear that you'll want to have along to transport your baby from place to place.
Baby carrier
Topping our list of baby travel essentials is a baby carrier. I never leave on a trip without my baby carrier. Sometimes I will do a trip without a stroller, but never without a good carrier.
Baby carriers are a convenient, hands-free way to transport your child while traveling. They are also extremely useful for nursing and sleeping on the go.
Nursing in a carrier is such a time saver and I often find it more convenient and efficient than finding somewhere to sit and nurse. For some tips on nursing in a baby carrier, see this post.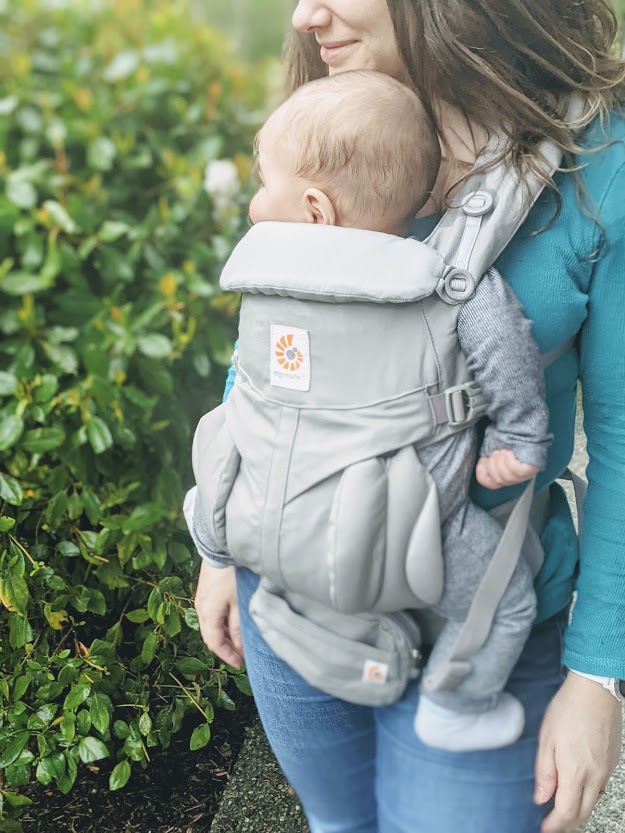 Depending on where you're traveling, there might be a lot of places that are not stroller accessible and then you will be very glad that you brought a carrier!
There are a lot of great carriers out there, but two of my favorite are the Ergobaby and the Baby Bjorn. You can see a comparison of the features of these two carriers here.
Car Seat
For most trips with a baby, you'll want to bring a car seat. Even if you're traveling with a lap infant, you still have the matter of getting around with your baby at your destination. While it is true that some destinations do not require infants to be in a car seat when driving, having your baby secured in a car seat is always the safest way to transport your baby.
Some people will also recommend renting a car seat at your destination. The problem with this is that you can't guarantee the condition that the car seat will be in or even if it will be the right size for your baby.
The good news is that infant car seats are lightweight and relatively convenient to transport. They are also easy to install into cars without the base. The cover and rocking feature make it a nice place for baby to sleep on the go as well.
When traveling with a baby, we usually find it easiest to use our baby's regular infant car seat (we have the Graco Snugride) as opposed to getting a separate travel car seat like we do when they become a toddler.
And since babies sleep so frequently, it's convenient to be able to remove the whole seat from the car or stroller if your baby is asleep so you don't wake them up in the transfer.
Travel stroller
A stroller is another baby item that you'll likely want to bring on your trip. Strollers are especially convenient for the airport and for destinations where you will be doing a lot of walking.
However, it is true that there are some places that are not very stroller friendly, so you'll have to decide if it's worth it to bring a stroller in that situation or if you'd prefer to just bring a baby carrier. Often I'll bring both and just decide which to use depending on the plan for the day.
If you're traveling with an infant car seat, one of the best options for strollers is a car seat frame. This is a lightweight, compact frame that the car seat can click into to form the seat.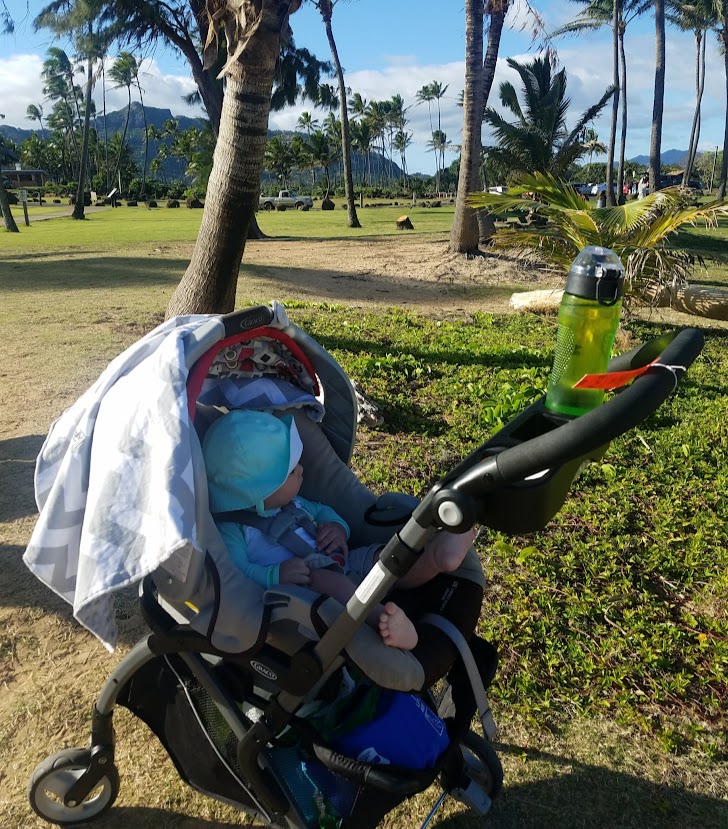 I love the way it reduces the number of items to keep track of because the car seat and stroller combine into one.
And like I mentioned above, if your baby falls asleep in the car seat, you can easily move them from the stroller to the car or vice versa without waking up your baby by removing the whole seat.
You can also look into a travel system, where the car seat clicks into a stroller.
And if you're looking for a compact stroller option, the gb Pockit is a great choice. We love using it when we're traveling with a toddler and you should see the looks we get when people see how tiny it folds up! Be sure to check out our detailed gb Pockit stroller review!
Diaper Backpack
When traveling with a baby, you'll want a hands-free option for carrying all of your baby travel essentials. A diaper bag backpack is a must-have when traveling with an infant.
I've used several different backpack options, but here is a list of some of the best diaper bags for travel.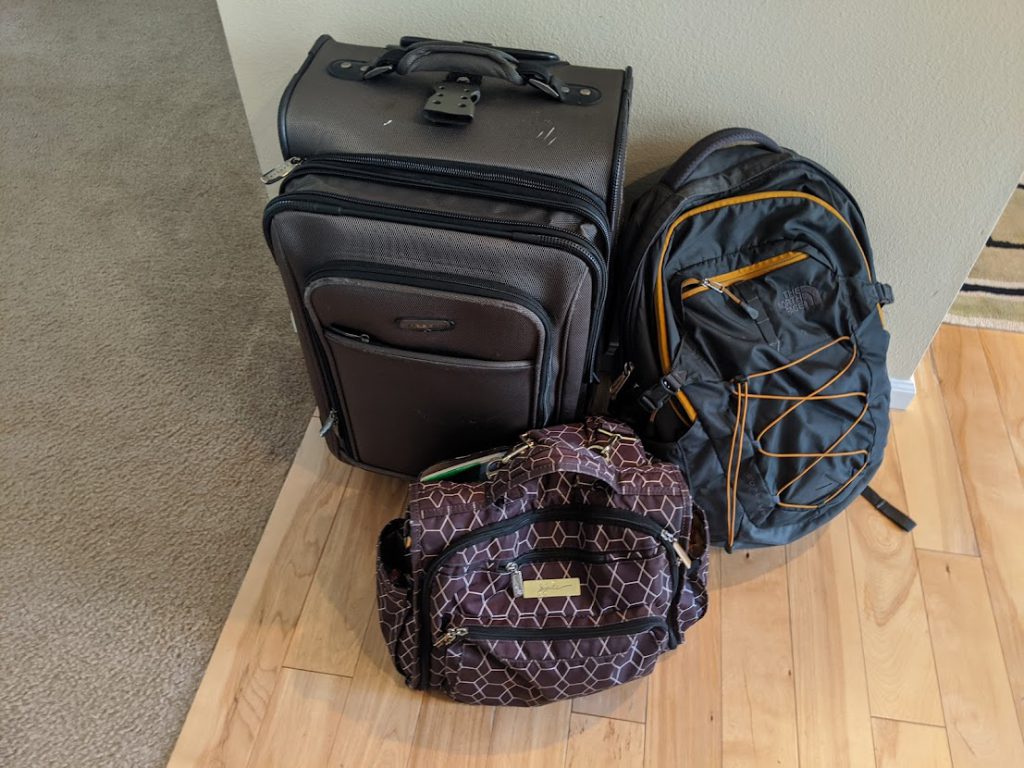 Daily Use Essentials
Nursing covers have so many uses when traveling. The most obvious one is as a way to cover yourself while nursing and prevent your child from getting distracted while eating.
They are also extremely useful as a sleep cover, whether that's over your baby carrier or over the car seat.
I find that my children sleep much longer and more soundly when they are covered. This can be a lifesaver when traveling, especially if you are doing a lot of naps on the go like we usually end up doing.
Diapers/wipes/wipes case
Diapers and wipes are definite baby travel essentials. You can choose to bring all of your diapers with you or pack enough for the first few days and then buy more at your destination, depending on where you're going.
I prefer to bring all the diapers I need for my trip so that I don't have to worry about interrupting the trip to track down baby supplies. And as a bonus, you gain space in your luggage as the trip goes on.
I also like to bring a reusable travel case so that I can bring only as many wipes as I need. Plus, I like not having the loud, crinkly wipes cases when I'm traveling.
Toys
You'll want to be sure to bring a few simple toys to keep your baby entertained while traveling. A teether is a great toy to bring along to give your child something to hold and chew on. We love the Sophie the Giraffe Teether.
Another good option is this baby ball, which is easy for babies to hold and manipulate, but is flexible enough to be easy to pack.
For more toy ideas, see our post on the best baby toys for airplane travel.
A pacifier clip is something that I always bring, even if my baby doesn't take a pacifier. I love using the clip to secure items like teethers, toys, etc. to prevent them from being thrown or dropped.
Simply hook the pacifier clip through the toy and then attach it to your baby's clothes, car seat, or stroller. And just like that, you know that you won't lose it when your baby inevitably drops it.
A wet bag is a helpful item to have in your diaper bag when you're traveling (and even when you're not). It's a convenient place to store dirty clothes if baby has a blowout or dirty diapers if you don't have access to a trash can right away.
Change of clothes for baby
When you're traveling, always make sure you have a change of clothes for your baby in your diaper bag. This is especially true on flights, but also important for the day-to-day while traveling as well. You never know when your child might have a blowout or need a new set of clothes for whatever reason.
I like to fold a whole outfit into one bundle and stick it in a pocket of my diaper bag so that I always have it available. You won't always need it, but when you do you will be sooo glad you were prepared.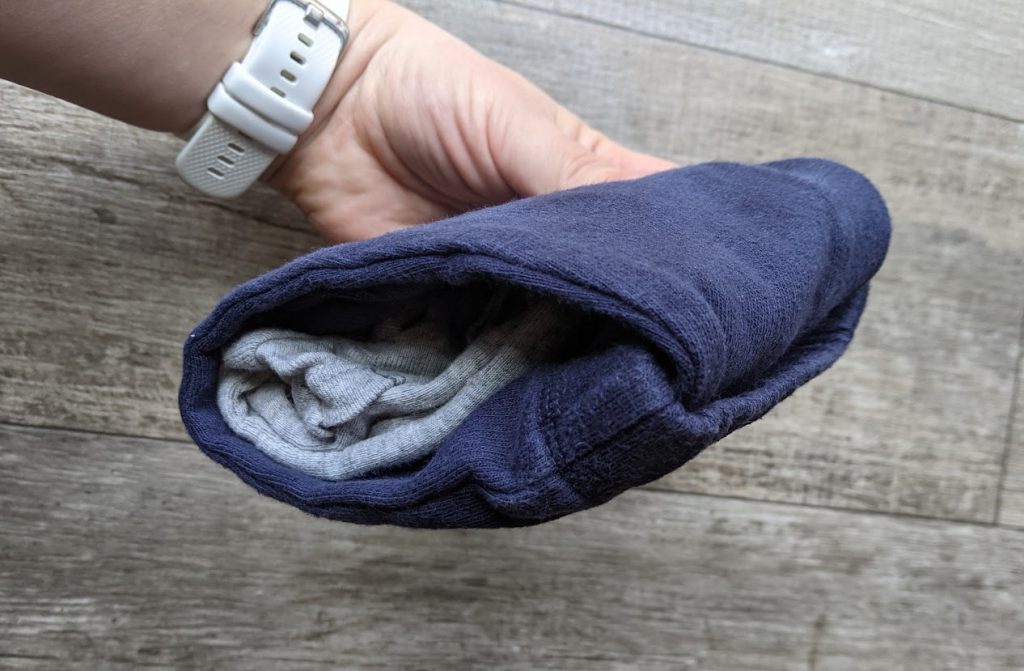 Eating Essentials
Depending on where you're traveling, it can be helpful to bring a travel high chair so that you always have a seat for your baby.
Even if your baby isn't eating solid foods yet, there will be plenty of meals throughout your trip. Sometimes you just need somewhere to put baby down so that the adults can have their hands free to eat their food.
And since you can't guarantee that there will be high chairs at every restaurant, you might want to bring a compact high chair to ensure a seat for your baby.
This portable high chair is incredibly compact and easily fits into a purse or diaper bag. It fits most chairs and secures your child to the seat with a 5-point safety harness. Baby gets a personal seat and mom and dad get a little break to eat!
Bibs
Bibs are a helpful addition to keep your baby a little cleaner, especially if you're trying to pack light and haven't brought that many outfits. I like to bring a couple of easy-clean bibs for eating (because we all know that babies aren't the neatest eaters).
.
And if my baby is teething I also bring a few cotton bibs so that he doesn't soak through his clothes with drool.
Formula and bottles
Obviously if you're formula-feeding, you'll want to make sure to bring formula and bottles for feeding your baby.
But even if you're nursing, you might still want to bring a couple of packets of formula and a bottle just in case.
On a trip to Mexico a few years ago I got a stomach bug and my supply dropped to nothing overnight. Luckily it was at the end of the trip and we were able to get home to my milk stash in the freezer until my supply picked back up. But ever since then, I've brought some formula and a bottle in case it's necessary for whatever reason.
Essential Sleep Items
One of the most challenging parts of traveling with young kids is often helping them adjust to sleep in a new location. But planning ahead to make a great sleep environment can help you get off to the right start on your trip.
Be sure to check out our other articles on tips for getting your baby to sleep while traveling and tips for dealing with jet lag!
A portable white noise machine can be hugely helpful when trying to get your child to sleep in new environments, especially if there are any unfamiliar ambient sounds.
It's also extremely useful if you are sleeping in the same room as your baby so that you don't have to remain as quiet while your child is sleeping.
This white noise machine has three different sounds to choose from and a night light option. It has a clip that you can use to attach it to a stroller or crib. It's also very compact and has a USB charger.
A baby monitor may or may not be an essential travel item depending on your travel arrangements.
If you're sleeping in the same room, you probably won't need a monitor because you'll be able to hear your baby if they stir. However, if you have a suite or you're staying at an Airbnb, apartment, or house, a baby monitor can be a helpful way to keep an eye on your baby while you're in another room.
See this post for the best portable baby monitors for travel.
The SlumberPod is an extremely convenient and innovative way to help your child get the privacy and darkness that they need when sharing a room.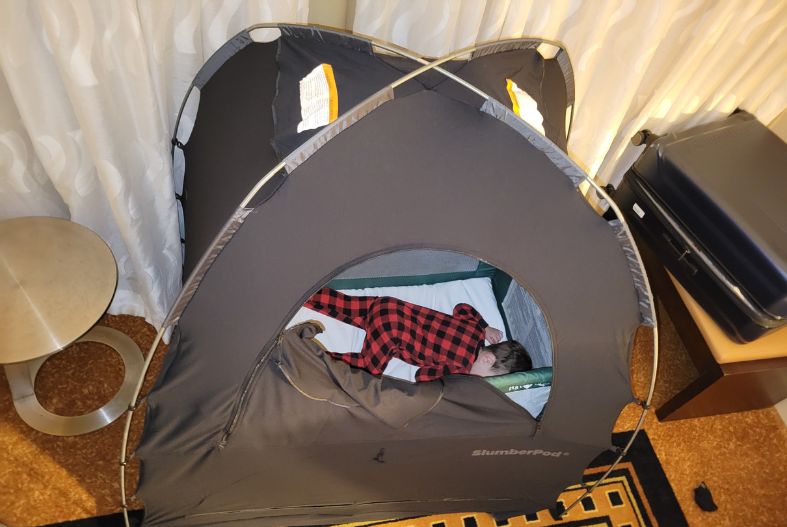 It's basically a blackout tent that you put over a Pack 'n Play or a cot. This allows baby to have their own space where they can't see anyone else, making it easier to fall asleep. It also creates a dark environment to help them fall asleep and stay asleep. Be sure to check out our full SlumberPod review for everything you need to know about this awesome sleep aid (trust me, it's a game changer!).
The one downside is that the SlumberPod is a bit pricey, but there are also some great SlumberPod alternatives that aren't nearly as expensive.
Another great option to provide a dark sleep environment is travel blackout curtains.
These curtains use suction cups to stick to the window of the room, instantly blocking out light to make an environment conducive to sleep. They also come with their own travel bag.
Essential Health Items
I've had several instances where I've had a baby get sick while traveling. Since then, I've learned to always bring a few items with me just in case we need them. Have we had trips where we haven't needed them? Sure. But when we do, we're always so glad we included them.
If your child gets sick it's always useful to know if they're running a fever and how high it is so that you know when to take additional measures or seek medical help.
The Kinsa thermometer syncs to an app on your phone so that you can store all of their health information. You can also input their symptoms and it will give suggestions as to what measures need to be taken. This thermometer is compact and easy to pack for travel.
The nasal aspirator (affectionately referred to as the "snot sucker") is one of the coolest and grossest baby inventions. It allows you to suck snot and mucus out of your baby's nose to clear their nasal passageway. (Don't worry, there's a filter so it can't actually get in your mouth.)
When you have a congested baby, this handy tool is so useful for helping baby to sleep and nurse better.
The first time I had a stuffy baby on a trip I vowed I would never leave my nasal aspirator at home again! Since then I've used it many times while traveling.
Whether it's teething pain or a sickness, it can be comforting to know that you have brought a form of pain relief for your child should you need it. Pack some Tylenol just in case you end up with a sick or teething baby when you're traveling.
Once again, this in another item that you don't need until you do…and then you're very glad you brought it.
There's nothing sadder than a baby with a raw bum and no access to relief.
I like to bring a travel-sized tube of Aquaphor Baby Healing Ointment for just such an occurrence. I also love Aquaphor because it can be used as a lotion for dry skin and rashes as well.
Sanitizing wipes are great to have on hand for cleaning surfaces to prevent your child from getting sick.
Whether you're facing an airplane tray table, a high chair at a restaurant, or a shopping cart handle, you can rest easy knowing you have the means to kill any bacteria that could be dangerous for your child.
Clorox Disinfecting Wipes kill 99.9% of bacteria and viruses (including COVID-19) and come in a portable pack with an easy-to-use flip top.
Essential Travel Documents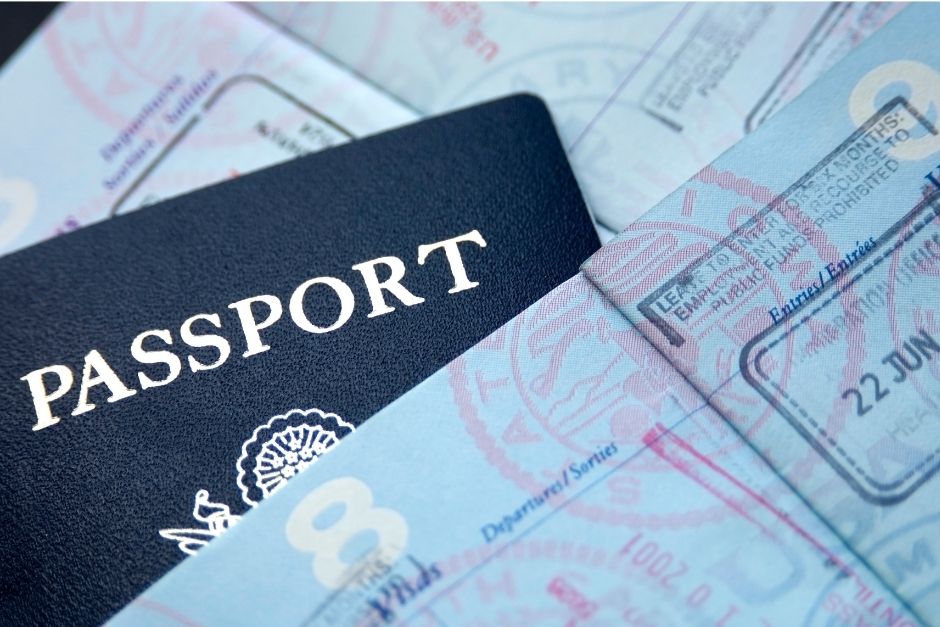 When traveling by plane, it's important to have all the documents you need so that you don't have any unpleasant surprises when you arrive at the airport.
If you're traveling internationally, you will need a passport for your child even if they are flying as a lap infant. Plan ahead for your trip, as it can take up to 8 weeks to apply for and receive a passport in the US (you can pay extra to expedite it to get it sooner). Your baby will also need a visa if you are traveling to a destination where a visa is required for entry.
For domestic travel in the US, you can use a passport or birth certificate. Some airlines will also let you use an immunization record, just check with the airline to see their requirements. They won't always ask for these documents if you have a lap infant, but it's always a good idea to bring them just in case.
Diaper bag essentials for the plane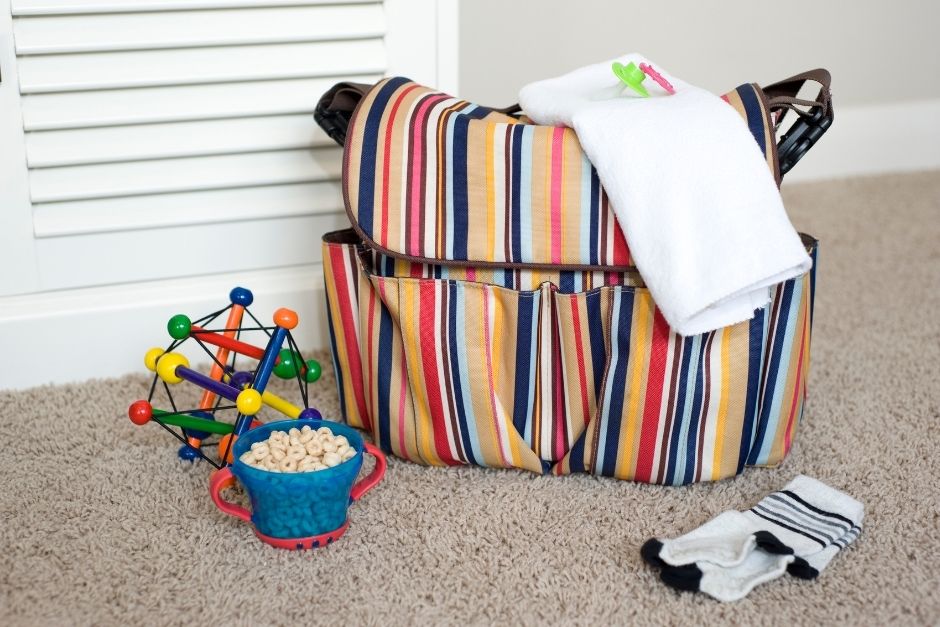 While all of these items are useful when traveling with a baby, not all of them need to be in your diaper bag for the plane (if it's a trip where you're flying).
Sometimes it's hard to know what things you really need when you're flying with a baby. You want to make sure you have everything you need, but you don't want to pack a bunch of useless items either.
On our many flights with babies, I've narrowed down my packing list to the truly essential items to have in my diaper bag for a flight.
This is an easy checklist of the essentials that you need to make sure you have when taking a flight with a baby.
Diapers/wipes– Make sure to bring several diapers to account for any typical diaper change and also to account for unexpected blowouts. I usually bring three or four diapers, depending on the length of the flight. Also, change the diaper right before you board to reduce the number of times you need to change their diaper on the plane
Changing pad– You'll want to have something to cover the changing table in the bathroom at the airport or in the plane.
Change of clothes- You never know when there might be a blowout, always make sure to have something to change your baby into. It's not a baby idea to have a change of clothes for mom in there too, just in case.
Snacks- Depending on how old your baby is, bring age-appropriate snacks for the flight
Nursing cover- For nursing during the flight or covering your baby's car seat while they sleep
Toys/teethers- Make sure to bring a few items to entertain your baby during the flight
ID for baby- Although they don't always ask for it if your baby is traveling as a lap infant, it's a good idea to have a copy of your baby's birth certificate or passport
And that's it! Don't overpack by bringing a lot of items that you don't need.
Common questions about flying with a baby
What can you bring on a plane for a baby?
If your child is traveling as a lap infant, they do not have a baggage allowance, so anything you bring for them will count towards your baggage allowance. If your baby has a standard ticketed seat, they get the standard baggage allowance.
You can also bring a car seat and a stroller without any fees and check them with your luggage or at the gate. Even if you haven't paid for a seat for your child, airlines will often let you use your car seat on the plane if there is an empty seat.
Formula, breastmilk, and baby food are allowed in carry-on luggage in quantities greater than the typical liquid limit, just pull it out so it can be screened separately.
For more ideas on flying with a baby, see this post.
How do I protect my baby's ears when flying?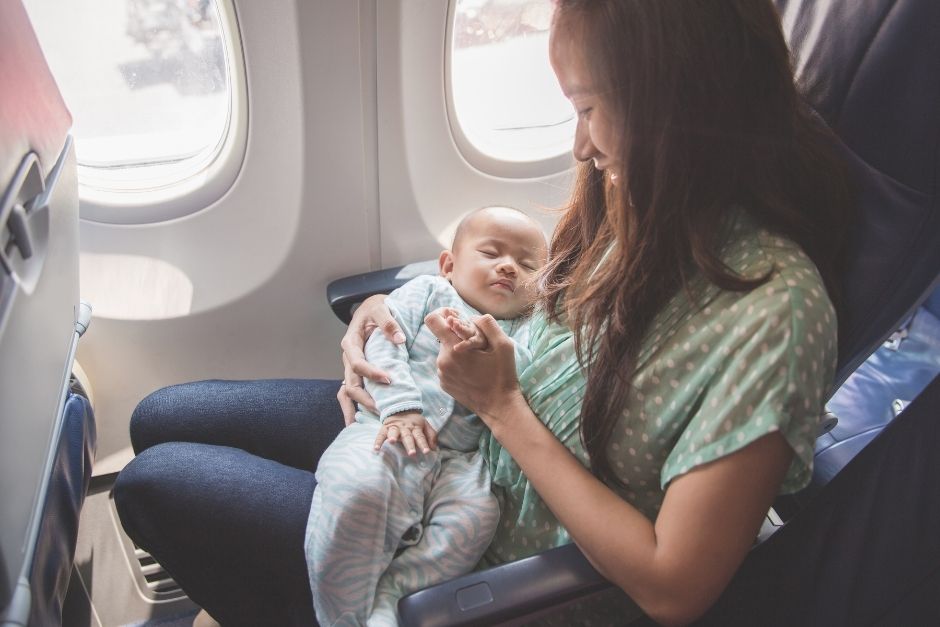 As airplanes are taking off and landing, the pressure changes in the cabin can cause pressure changes in the ear, which can be especially uncomfortable for babies.
To help equalize the pressure, give your child something to suck on. Offer your baby the breast, a bottle, or a pacifier during takeoff and landing to help prevent ear discomfort.
Final Thoughts
Contrary to what a lot of people think, the baby stage can actually be a great time to travel.
Your child is not yet mobile and is easy to transport to whatever activities you have planned. They sleep a lot and (as long as you don't have a colicky baby) are typically easy to keep content.
The key is to make sure you've prepared by bringing all the necessary baby travel essentials. But with the right planning, you can have an awesome trip with your baby!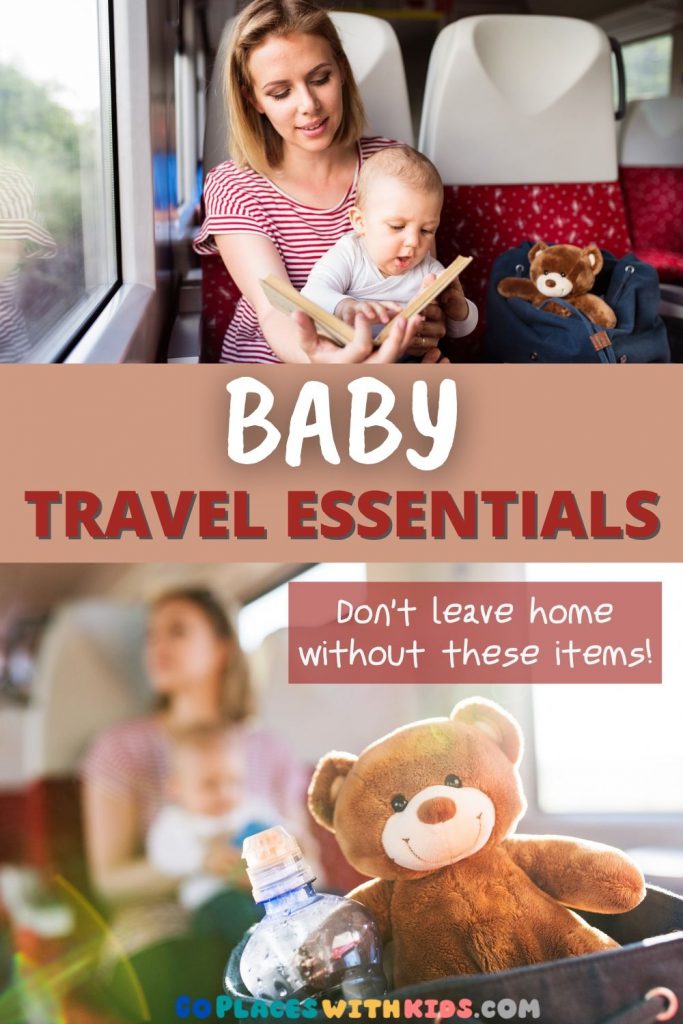 Other articles you might be interested in:
Flying with a Baby- Activities, Snacks, and Tips for Success!
16 Beach Essentials for Toddlers and Babies
Italy with a Baby- Best Tips for an Awesome Trip!