This page may contain affiliate links, which means that we may earn from qualifying purchases at no additional cost to you.
When you're flying with a baby, it's a good idea to bring some great baby toys for keeping your baby entertained on the plane. In this post we'll share some of the best baby toys for airplane travel!
The idea of flying with a baby can seem intimidating, but a little preparation can help things to go a lot more smoothly.
In our many flights with our babies, we've had mostly positive experiences (with a few exceptions here and there) and we've found that one of the best things we can do for an uneventful flight is to bring some engaging airplane activities for our baby. 
Travel activities help keep your baby entertained during the flight, making it more enjoyable for everyone. They also provide some peace of mind for parents going into the trip knowing that you have some items you can pull out if your baby is having a hard time.
Read on for some of the best baby toys for airplane travel!
For more helpful travel gear, see our list of baby travel essentials! 
The best baby toys for airplane travel
In this list we've included airplane toys for babies of various ages and stages. Obviously the term "baby" covers an age range where children can have very different interests and abilities, from infants who mostly sleep and eat to older babies who are more mobile and active.
If you have a very young baby, you likely won't need many toys and activities because your baby just won't be interested in them. But the older your baby gets, the more toys and activities are going to help you in your travels. Keep in mind the age and interests of your baby as you peruse this list of baby toys for airplane travel, as some of these activities that are perfect for older babies will be too advanced for young babies.
LAMAZE Plush Activity Toy
We love plush activity toys, and this little moose from LAMAZE is simply adorable! The great thing about these toys is that there are so many things they can do with just this one toy. Not only is it a soft, snuggly stuffed animal, this moose also has teether antlers, knotty legs, tail rings, and crinkle hooves to engage your baby's senses.
The toy comes with a clip that can be used to attach it to a stroller or car seat so that it doesn't get lost or dropped. There are also other animal options if you'd prefer something different from the moose, including an octopus, firefly, and jellyfish.
Our sweet little activity toy has been loved by each of our three babies and makes a nice travel toy!
Window Clings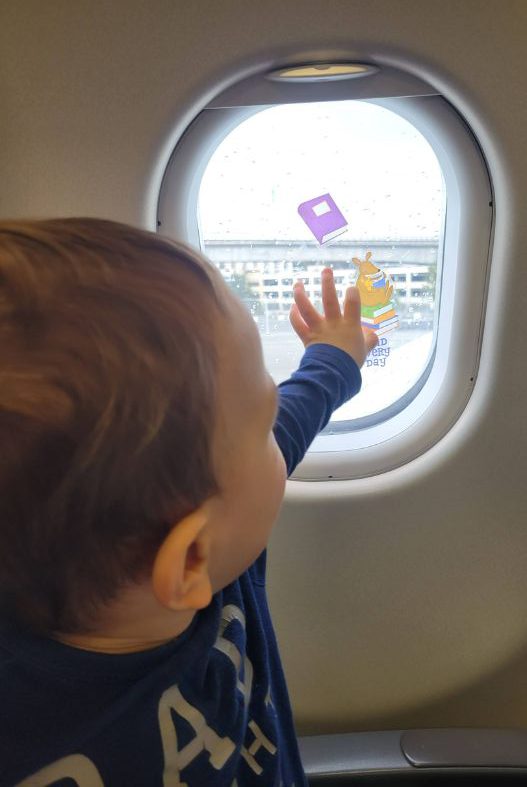 Older babies will have a grand time sticking window clings to the window and tray table on the airplane! This is a nice way to buy a few minutes of peace on the plane. And the clings are reusable, so you can pull this activity out time and time again!
This was one activity that my babies have always enjoyed when we fly. In fact it was a lifesaver when I was flying alone with my baby and ended up stuck on the runway for over an hour before takeoff!
Fidget Popper
My babies have always loved pushing buttons (in more ways than one…), so fidget poppers have always been a big hit!
This silicone fidget popper has five large buttons of different sizes and colors, perfect for little fingers. Small and lightweight, this toy is easy to pack for travel.
Your child is sure to be entertained by popping the buttons on this fidget toy! It can also be very calming for when young children are feeling anxious or overwhelmed. (And it's fun and soothing for adults too!)
Melissa and Doug Soft-Sided Shape Sorter
For older babies, a shape sorter can be an engaging activity that will keep their attention.
This soft-sided shape sorter by Melissa and Doug collapses down for easy storage during travel. It comes with nine textured, colored blocks in various shapes to fit into the holes in the case. Babies will love handling the blocks and putting them in the open container, even if they still need a little help matching the correct shapes.
In addition to the shape sorting you can also find another activity on the back. Nine crinkly flaps show common objects and underneath you can find the correlating shape.
The case zips open and has a handle to carry it easily.
Nuby Interactive Suction Toy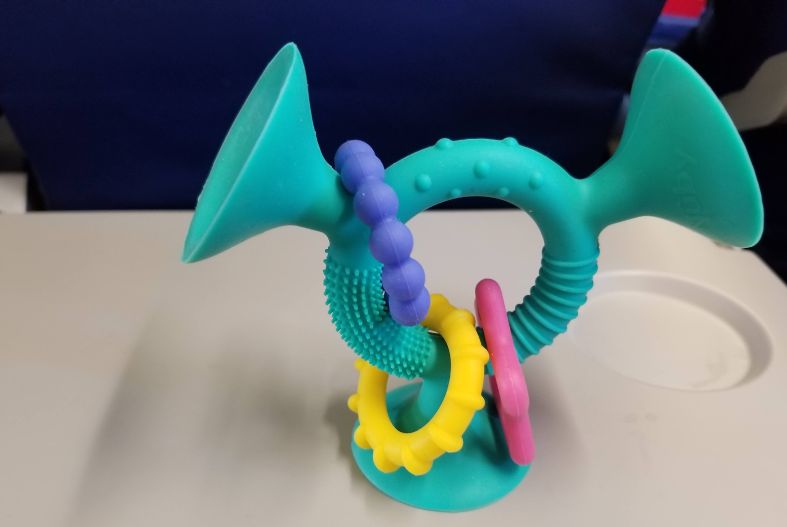 The Nuby Interactive Suction toy can conveniently be suctioned onto the tray table or window to keep it secure while your baby plays with it.
The toy is made of a soft silicone and has various textures on the surface, perfect for teething babies. There are also rings of various shapes that can be moved, pulled, and shaken to hold your baby's interest.
This toy is also dishwasher safe (top rack only) for easy cleaning!
ELEFUN Teething Ring Toy
Teethers are a perfect way to keep a baby entertained while traveling. It provides them with something to hold and chew on, which typically is a baby's favorite activity!
This ELEFUN teething ring toy is easy for small children to hold and has lots of different textures for babies to explore. Made of food grade silicone, it can easily be cleaned by placing it in the dishwasher, microwaving, or boiling it.
If you have a child who is teething, you can also place the teether in the fridge or freezer to provide soothing coolness on their gums. I also love that it's easy to attach to a pacifier clip so that it doesn't get dropped or lost.
Pull String Activity Toy
For a fun, multipurpose toy, consider this pull string activity toy! The main draw of this toy is the various textured cords that can be pulled from one side to another, creating vibrations and soft sounds as you do so.
On the center of the toy, you can find pop buttons on one side and holes and a moving slider button on the other.
There is so much here to keep a baby entertained and we love that there are several activities included in one toy!
Usborne Touchy-Feely Play Book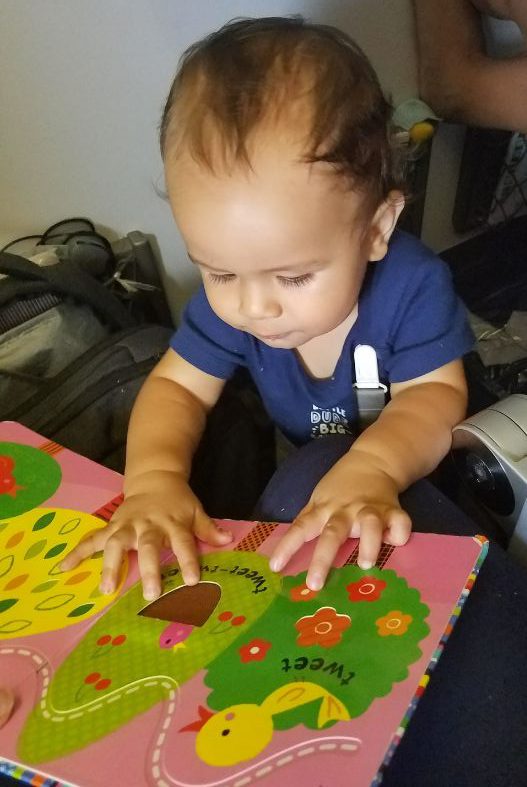 Our babies loooove touchy feely books, especially the Usborne Touchy Feely Playbooks.
These books have so many different textures, patterns, and colors set in bright, fun illustrations. There are also finger trails, flaps, and peep holes for curious fingers to explore.
This has been an engaging activity for our babies on many flights and it's one that they keep coming back to again and again!
Oball Classic Ball
The Oball Classic Ball has always been a favorite with our babies. They love sticking their fingers through the holes, chewing on it, and shaking it. I also love that it can squish down, making it easy to store in our luggage when we're not using it, and that it's easy to attach to a pacifier clip so that the baby can't drop or throw it too far.
This is a toy that we'll often attach to our baby's stroller or car seat to keep them entertained when we're out and about.
Bright Starts Link Rings
These bright and colorful link rings by Bright Starts are perfect for attaching toys to a stroller or car seat or playing with on their own! Babies can shake them, chew on them, or pull them apart. 
The rings come in a pack of 24, but you can link as many or as few together as you would like, making it easy to pack just a few when you're traveling.
Note that older babies will get to the point where they can start pulling them apart, so if you want to be sure your toys don't fall, I would suggest using pacifier clips and keeping these for play.
My First Baby Tissue Box
If you have a baby who loves to pull all the tissues out of the box, this tissue box toy is for you! This toy comes with 3 reusable crinkle tissues and 12 colorful scarves in a soft (packable!) tissue box.
To make it easy, you can just stuff all the tissues into the container and let your baby pull them out at will. Or, you can fill it so that when one comes out another pops up into place, like a store bought tissue box. It's not very challenging to do and you can look up videos of how to do this, which is much easier than trying to type it out (which I figured out when I tried to type it…).
All in all, this is a toy that is great at capturing and keeping a baby's attention.
DIY stick jar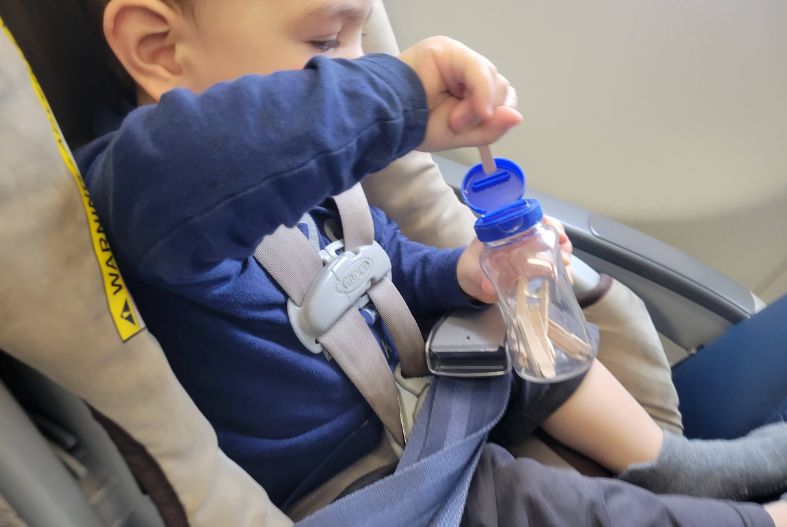 If you're up for a little DIY (and I mean VERY little), one of our favorite airplane activities for babies and toddlers has always been a stick jar!
For this one you just need to find a condiments jar with a slit on the top (think squeeze bottle of horseradish or mayo) and get some popsicle sticks.
Then you just hand your baby the sticks to put in the jar one by one. Simple but EXTREMELY effective. For babies, usually I'll just take the whole lid off, but as they get older and more coordinated they can start putting the sticks in the slot.
This activity can keep my babies and toddlers occupied for a very long time!
Tip: If you can find it, a mini jar with mini sticks is awesome because it is so small to pack, but a regular sized jar with regular popsicle sticks will work too (we have both!). Also, be sure to not hand your baby a bunch of sticks at the same time or they are likely to end up all over the floor. If you hand them one at a time, you can control the sticks and avoid having to pick all the sticks up when they get dropped.
Tablet/headphones
Although I don't make a point of doing much screen time with my babies and toddlers, this is one situation where I feel it can be a very useful tool to have a tablet ready with some fun shows or movies (especially if you have a long flight).
At this age, our kids have always loved Little Baby Bum songs, but go with whatever works for your child.
Be sure to download what you want to watch in advance so you can access it in flight.
Manhattan Toy Winkel Rattle and Sensory Teether Toy
The Manhattan Toy Winkel Sensory Teether is a fun teething with lots of soft teething tubes, which are fun for babies to hold and chew. The toy can also be refrigerated for additional comfort for teething babies. The maze of tubes and quiet rattle beads in the center block make this a fun toy for babies to shake and grip.
My First Activity Book
The My First Activity Book has many activities to keep an older baby engaged on the plane. This book has fun activities like peek-a-boo, buttoning, matching, buckling, touchy feely elements, puppets, and more!
Although some of the activities might work better for toddlers, it's amazing how much entertainment babies can get from these activity books as well!
Stickers/tape/post-its
Give your baby something sticky and let them go crazy! Stickers, colorful tape (my kids love this colorful painters tape, and it doesn't leave a sticky residue!), or post-its are fun for little kids to place on pieces of paper, on their arms, on you, or on the tray table. Just be sure to clean them up before you get off the plane!
Snack catcher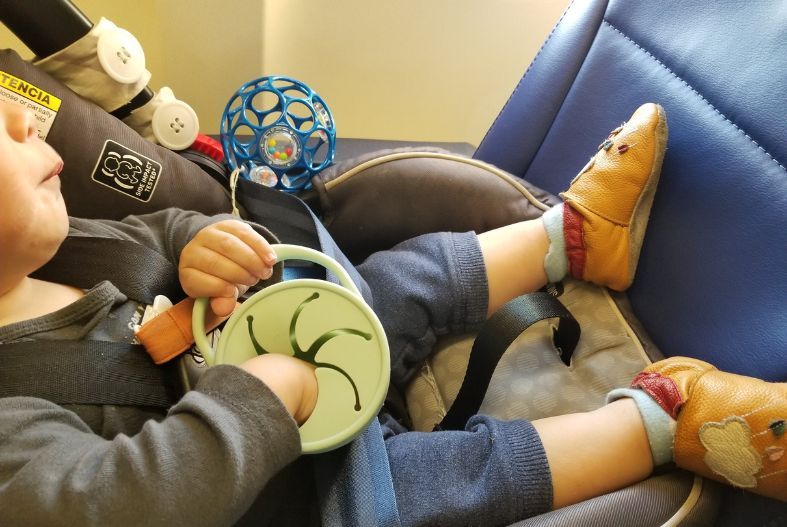 One of the best activities for older babies is snacks! And a snack catcher is a great way to turn snack time into a fun activity as well. Babies will love fishing snacks out of their snack catcher, and you'll love having a break from entertaining them!
We love this BraveJusticeKidsCo snack catcher for travel because it's collapsible and can be stored compactly when not in use. The one thing I would say about these snack catchers is that they do tend to gather lint and dust if you stick them straight in your bag, so I try to put them in their own little baggie first.
How to pick good baby airplane toys
Select toys that are lightweight and compact. Try to avoid baby airplane toys that take up too much space to make packing easier. And of course, lightweight toys are easier for baby to hold and easier to transport.
Avoid toys with noise. Trust me, the other passengers will thank you. Toys with faint rattles or crinkle sounds might be okay, but avoid any toys that actively make noise.
Use novelty to your advantage. Have a new toy or two in reserve that you can pull out at a time when your child is having an exceptionally hard time. The novelty of a new toy can often distract a baby on the verge of a meltdown. Also, babies don't have a very long attention span, so bring several different toys that you can trade out when they start to get bored of their current toy.
Choose multipurpose toys. Toys that have various features to capture your baby's attention are a great use of luggage space because they have more uses and more potential ways to entertain your baby. You also want toys that can be used over and over again to make the most of the toys that you bring.
Baby Airplane Toy Tips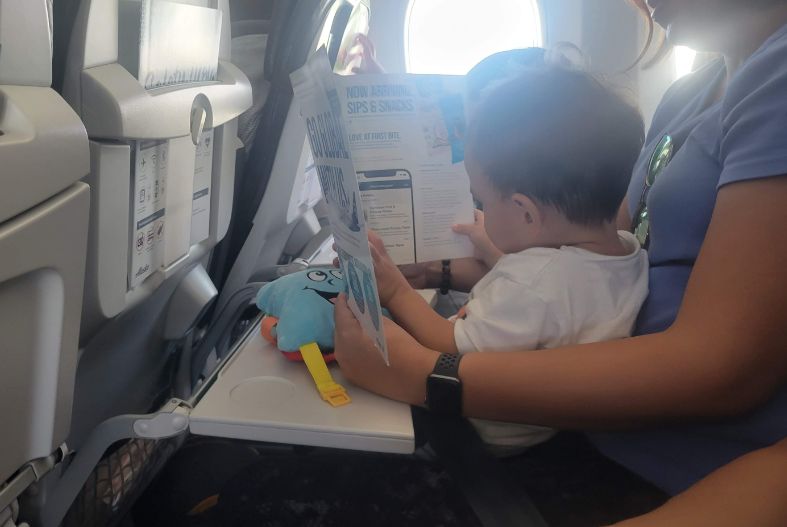 Keep toys and snacks organized in separate bags so you can easily find things and not end up with too many things out at one time.
Bring a pacifier clip to secure baby airplane toys. We all know that babies are constantly dropping their toys, which can get old in a hurry on a plane. When possible, secure your baby's toys with a pacifier clip to prevent them from falling on the floor when they are inevitably dropped or thrown.
Make do with what's available. The great thing about the baby stage is that babies are easily entertained by everyday objects. Plan on bringing a couple of good toys, but then be sure to use whatever is available to you as a form of entertainment for your child. Our babies have loved the flight information cards from the seatback pocket, empty cups from the beverage service (great for stacking), and holding the crinkly snack packages. 
Final thoughts
Whether it's your first time flying with a baby or your twentieth, baby toys can make a huge difference. They can help keep your baby occupied, prevent meltdowns, and provide a bit of a break for parents.
This list of baby toys for airplane travel will help you find the best activities to keep your baby entertained so that you can relax and enjoy your flight!
Other posts you might be interested in:
The Best Diaper Bags for Travel
How to Fight Jet Lag in Babies and Toddlers