This page may contain affiliate links, which means that we may earn from qualifying purchases at no additional cost to you.
Preparing for a road trip is challenging enough…the idea of road tripping with a baby might seem next to impossible!
You might be wondering…can you really do a road trip with a baby?
The answer is yes, you can definitely can! We've been on lots of road trips with our babies over the years and have always had a great experience (with some bumps along the way here and there).
That being said, it's important to go into a road trip with a baby aware that there will be some additional factors to take into consideration.
The main thing to realize is that it will be much different from a trip without a baby. There will be more stops, more effort required, and maybe some periods of crying (for the baby, hopefully not you…).
You have to be flexible and willing to sacrifice speed and perhaps some of your schedule depending on the needs of your baby. But if you're willing to do those things, it can be a wonderful, memorable family trip.
To help you out, we've compiled a list of essential tips that will make road tripping with a baby a breeze!
For tips on road tripping with a toddler, see this post.
Essential Tips for Road Tripping with a Baby
Prepare before you leave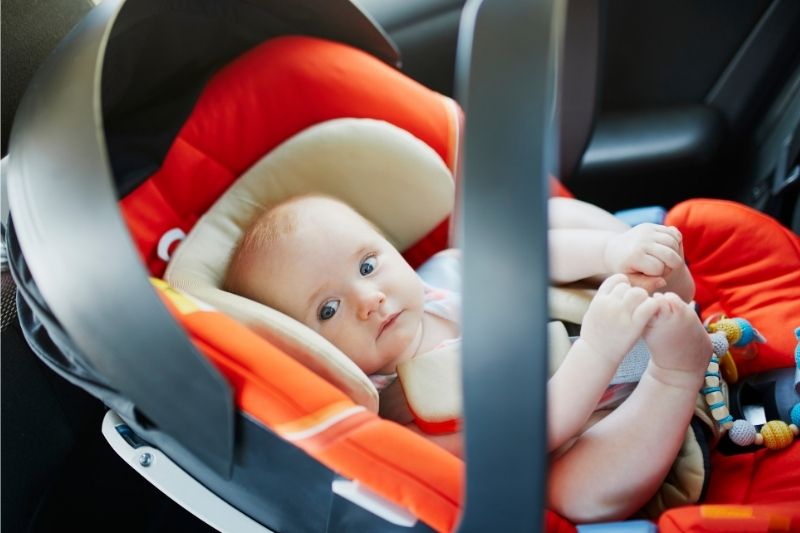 There are a few important things to do in advance when road tripping with a baby.
Before you leave for your road trip, do a few practice drives with your baby so that you both know what to expect. This helps your baby to get used to being in the car for smaller stretches of time before you head off on the big trip. It also lets you know how your baby does in the car seat so you can get a sense of how often you might have to stop and what kinds of activities to bring.
Also, make sure that your baby's car seat is properly installed in your car before you head off on your trip. Especially make sure that your car seat is tilted properly so that the seat is not too upright as this can cause breathing difficulties, especially in young babies. Meet up with a local car seat technician if you need help or want to verify your car seat is installed correctly.
And of course, before any road trip be sure to get your car checked out to make sure it's road trip ready!
Decide when to drive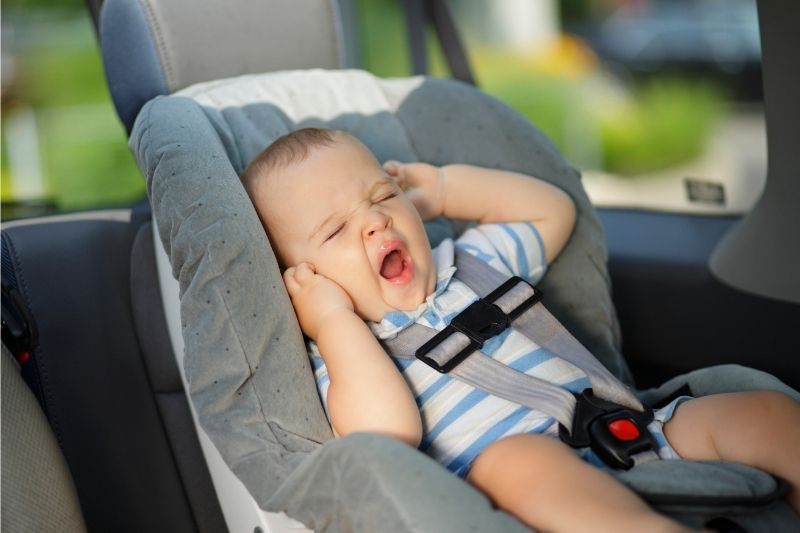 One of the factors to consider when planning a road trip is what time of day to drive.
Some people like to drive through the night because it increases the amount of driving time when the baby is asleep. The problem here comes if your baby doesn't sleep well in the car and then you have a crying, tired baby and grumpy, tired parents. Plus you'll likely still have to stop to feed the baby during that time anyway. If you do decide to drive at night, make sure that you are well rested before you leave and take measures to keep yourself awake while driving.
Our preferred method for road tripping with babies (and kids in general), is to leave very early in the morning. That way your baby will likely still sleep for a few hours after they are transferred to the car (be sure to feed them right before you leave), but you're not as exhausted while you're driving and after you get to your destination.
Plan in breaks every couple of hours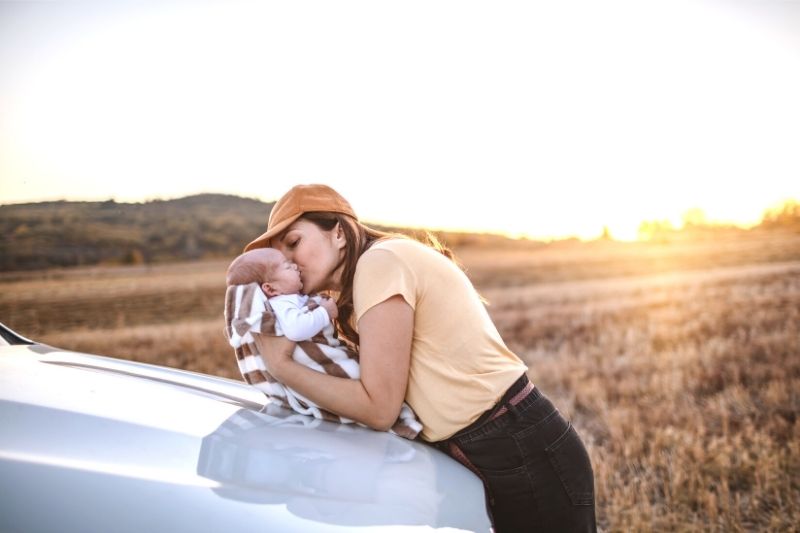 When you're planning a trip with your baby, you might be wondering, "How long can a baby be in a car seat on a road trip?"
The official guidance from car seat manufacturers and health and safety experts is that babies should not be in a car seat for longer than two hours at a time. At that point, you need to get them out and give them a few minutes out of the seat before you return them to the seat to keep driving.
Sitting for long periods of time in a car seat can cause breathing problems for an infant and strain their developing spine.
So plan to stop every couple of hours during your trip so everyone can get a little break. This is a great time to spend a few minutes playing with your baby or even do a little baby massage to loosen up their muscles after they've been sitting still for so long.
You might also want to plan a longer stop midway through the trip to let your baby move around a bit. Stop at a park or rest stop and put a mat or blanket down to let your baby crawl or roll around.
Be organized
On long road trips, It seems inevitable that your car becomes a huge mess by the time you get to your destination. But when you're traveling with a baby, you want to be able to quickly and easily find whatever your child might need, whether it's a diaper, pacifier, or their favorite stuffy.
Plan an organization system ahead of time so that you know where everything is and can easily reach it when you need it.
We like to utilize both the seat back organizers and floor/trunk organizers to provide a spot for all of the essentials on a road trip.
Bring snacks
If you have a baby who is already eating solids, great snacks are a necessity!
Not only are they essential in avoiding a hangry baby, they also count as an activity to keep your baby occupied for a little while. Handing your baby Cheerios one by one can keep them entertained for a shockingly long time, trust me.
Also, if you're breastfeeding and baby is starting to get hungry, snacks are a helpful way to tide them over for a few minutes until you can pull over to nurse.
When your baby is eating, make sure that someone is keeping an eye on them so that they don't choke while no one is watching.
For road trip food ideas, see this post.
Prepare for breastfeeding on the go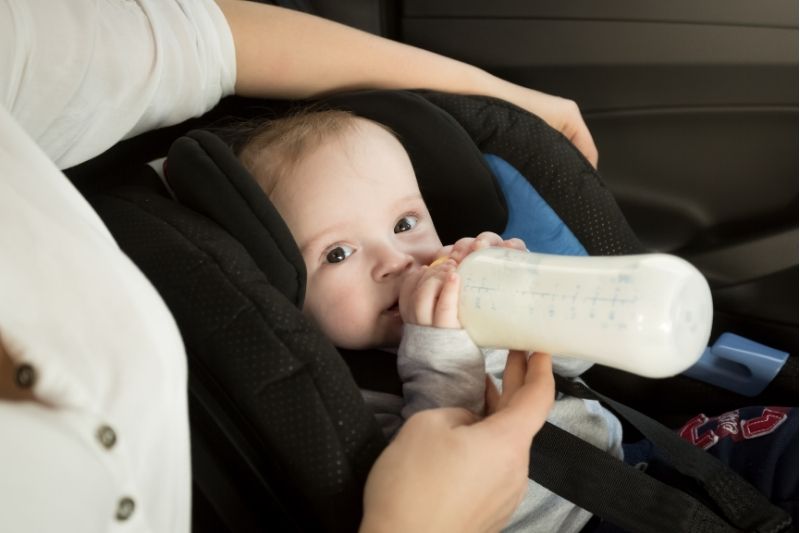 Since you're going to be stopping every couple of hours anyway, this is a great time to nurse your baby if you are breastfeeding. Make sure to account for this time when you're planning your trip so that you aren't surprised when the extra time adds up.
To reduce the need to stop for long feedings, you can also plan on pumping during the drive. Pumping and bottle feeding while you're driving can help move the trip along faster, especially if you have a baby who is still nursing for long stretches.
Of course, this also depends on your baby. For one of my babies, this strategy worked perfectly, but my third baby refused to take a bottle so we just had to bite the bullet and stop whenever he needed to nurse.
Don't try to push past when you need to nurse, for the baby's sake and yours. This is no time to get a clogged duct or mastitis. Also, make sure to stay hydrated yourself so that your supply doesn't drop while you're traveling.
The Spectra S1 pump is perfect for travel because it is rechargeable, meaning you don't have to plug it in while pumping. It does take up a bit of room, but that's typical of most breast pumps.
I would also highly recommend bringing a pumping bra so that you can be hands-free while pumping. And did you know they have quick clean pump wipes you can use to clean your pump on the go? You don't need water or a microwave for the steam bags, you can just wipe down your pump after every use to clean it! Total game changer.
Bring awesome toys and activities to keep baby entertained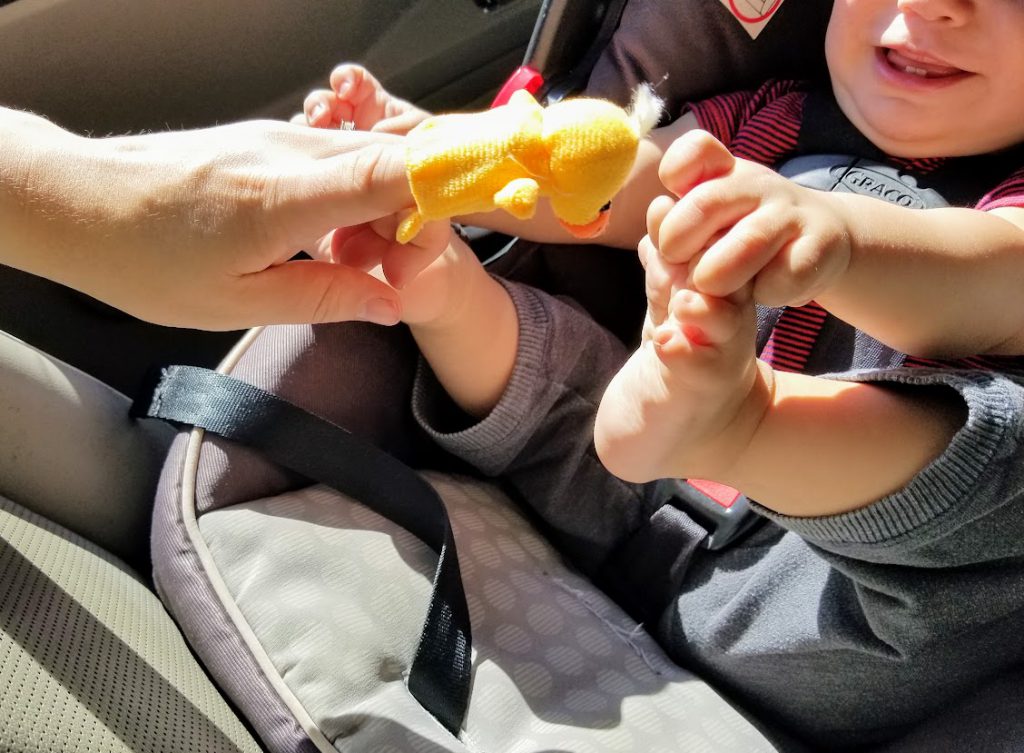 Although babies spend more time sleeping than older kids, they are often harder to keep entertained when they are awake. If they decide they don't want to be in the car seat anymore, it's hard to convince them otherwise.
So when you're road tripping with a baby, you need to plan ahead to have a few toys or activities you can pull out to keep baby entertained on the long drive.
It's true that there will likely be a lot of naps or times where the baby is content to just look out the window, but you want to be prepared for those instances when your baby is bored or fussy and needs something engaging to do.
See the list below for some tried-and-tested road trip activities for babies!
Tip: One of the best ways to entertain a baby is to have someone sit in the back to interact with them. Since babies tend to have very short attention spans, most activities will only last a limited time before your baby loses interest. But if there's a person engaging them in that activity, you can keep their attention a lot longer.
Best baby road trip activities
Sing songs– Singing songs with your baby, especially interactive songs with hand motions or tickles, is an easy way to engage or distract them. And if you're getting tired of singing, bring a CD of kids songs (we love Raffi!) and just do the motions with your baby.
Some of our babies' favorite songs have included:
The Itsy Bitsy Spider
The Wheels on the Bus
Humpty Dumpty
Old MacDonald Had a Farm
Roly Poly
Five Little Ducks
Teethers– Giving a baby something to chew on is a sure way to keep them busy for a while. Our babies have loved the Sophie the Giraffe Teether.
Ball– These cute little balls are made of a flexible material with big holes perfect for little fingers to grab. Our babies love holding, shaking, and chewing on them. I usually attach them to the car seat with a pacifier clip to prevent them from getting thrown or dropped somewhere it's difficult to reach in the car.
Plush activity toy– Activity toys have a lot of different elements included on them to entertain a baby. This cute moose has teether antlers, crinkle hooves, rings to hold, and a clip to attach it to the car seat. These toys are nice to hand to your baby for a few minutes of independent play in the car.
Finger puppets– Finger puppets are a sweet way to interact with your baby. You can tell stories, sing songs, or just use the puppets to tickle them or play peek-a-boo.
Finger puppet books– If finger puppets are a hit, these cute finger puppet books are another great option when road tripping with a baby. They combine story with cute puppet for a perfect baby activity. My babies have always been fascinated by these books! (We have a lot of these books, but for all three of my boys their favorite as a baby was This Little Piggy)
Touchy-feely books– Babies love new textures and patterns, so touchy feely books are an ideal choice for a baby road trip activity. We love touchy feely books and I'm always amazed at how long they can keep a baby's attention.
Essentials for road tripping with a baby
There are some things you just can't do without when road tripping with a baby. Make sure you're not forgetting any of these baby road trip essentials.
Diapers/wipes/changing pad- Definitely don't forget to bring plenty of diapers and wipes on your trip. It's helpful to have a changing kit so that you can easily grab everything you need all at once.
Pacifier– If your baby takes a pacifier bring a pacifier and a few extras in case you lose one. And also bring a pacifier clip so that you can attach the pacifier to your baby to prevent it from getting lost in the car.
Teethers/toys- Bring some great toys to keep your baby entertained. See the list above for ideas.
Sound machine– A sound machine can be a helpful way to get your baby to fall asleep and stay asleep in the car, especially if other people are talking when baby needs to be napping.
Bibs– Bibs help to save your baby's clothes and keep the baby a little cleaner from drool or food.
Burp cloths– Burp clothes are nice for cleaning up messes and, of course, burping your baby.
Stuffy– If your baby has a favorite stuffy or lovey, be sure to bring it with you. A well-loved stuffed animal can calm an upset baby or help them sleep in an unfamiliar environment.
Window shade– Window shades are a helpful way to provide a darker environment for your baby to sleep. They are also a convenient for preventing the sun from glaring in your baby's eyes.
Formula/bottles- If you're formula feeding your baby, bring more formula than you think you'll need, just in case any unexpected situations come up.
Pumping gear
Pump– My recommended pump for road trips is the Spectra S1 because it is portable and has a rechargeable battery
Bottles– Bring a couple of bottles for pumping and feeding
Pumping bra– Hands-free pumping, need I say more?
Cooler– Bring a cooler for storing pumped milk
Quick clean pump and accessory wipes– These quick clean wipes make it so easy to clean your pump after each use
Health kit- It's always a good idea to bring some health items with you, just in case. Hopefully you won't need them, but better safe than sorry.
Thermometer– If you end up with a sick baby, it's nice to have a thermometer to keep tabs on their fever.
Infant Tylenol– It's a good idea to have baby Tylenol on hand in case your baby is sick or teething during your trip. It helps baby to feel better and makes for a much smoother trip for everyone.
Nasal aspirator– Stuffy noses make it hard for babies to breathe and eat. Pack a nasal aspirator so that you can clear out your baby's nose if needed. I always bring a nasal aspirator when I'm traveling with a baby and it's actually surprising how many times I've needed to use it.
Change of clothes– Always have a change of clothes for your baby easily accessible. You never know when you'll have a blow-out or a vomit situation or just a messy eating experience. You might also want a change of clothes for you as well, just in case…
Final Thoughts
Road tripping with a baby can seem stressful, but it can actually be a great experience for the whole family. Our experiences road tripping with our babies have always been positive, even with the inevitable hiccups that happen when traveling with young kids.
Plan ahead, bring the essentials, and you're on your way to an awesome family trip!
Other posts you might be interested in:
Baby Travel Essentials (Everything You Need to Bring)
50+ Road Trip Food Ideas- Easy Meals On the Go!
Road Trip Activities for Toddlers (That They Will Really Love!)