This page may contain affiliate links, which means that we may earn from qualifying purchases at no additional cost to you.
When traveling with young kids, one of the biggest challenges to face is figuring out the best options for sleep.
Tired toddlers do not make for an enjoyable trip, so it's in everyone's best interest to have a good sleep arrangement for your toddler. Enter portable toddler beds!
Travel beds for toddlers can make a world of difference for your trips. They provide a comfortable place for your toddler to sleep and get the rest that they need so everyone can have a good travel experience.
We've been on a lot of trips with our young children and know just how important it is to find the best sleep option for your child and yourself. To that end, we've reviewed the best toddler beds out there so that you can relax and enjoy your trip!
Read on for a breakdown of the best portable toddler beds on the market!
For more helpful travel items, see our ultimate list of toddler travel essentials!
Best inflatable toddler bed: Hiccapop
Best portable toddler cot: Joovy Foocot
Best toddler tent: KidCo Peapod
Best travel crib: Guava Lotus
Best budget option: Intex Kids Travel Bed
Best lightweight option: KidCo Peapod
The Best Portable Toddler Beds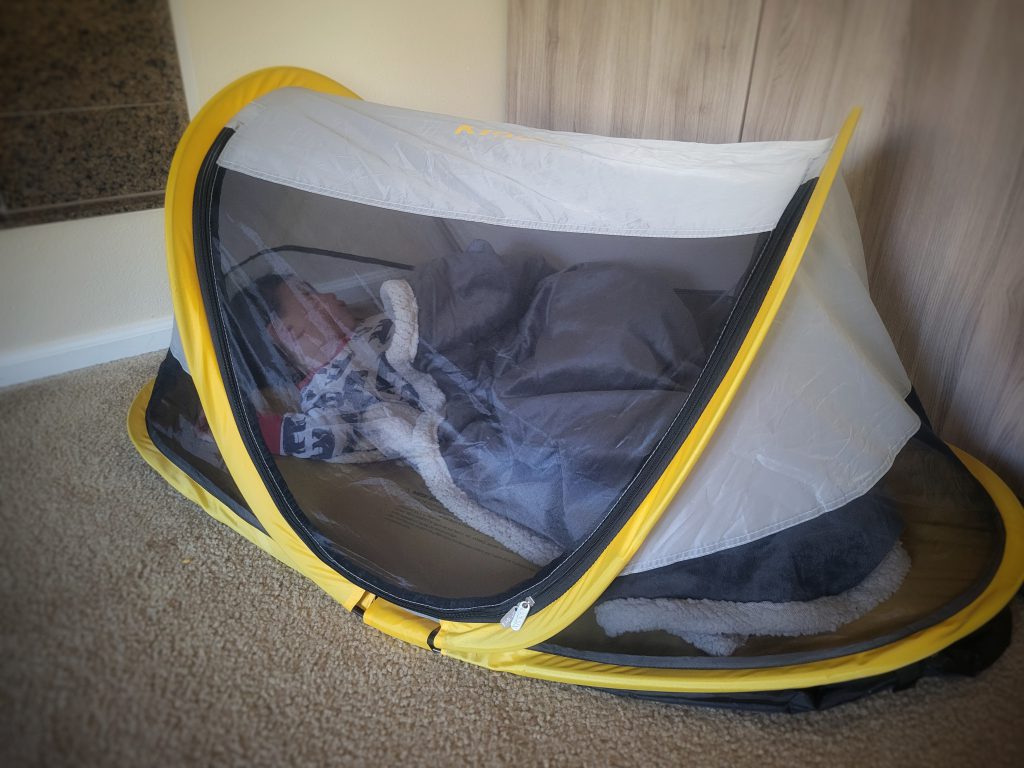 Different kinds of toddler beds
If you're planning a trip with a toddler, you might be wondering, "what do toddlers sleep in when traveling?" The reality is that there are a few different kinds of portable toddler beds to choose from.
The main kinds of toddler beds are inflatable beds, travel cots, toddler tents, and portable cribs.
In this article, we'll cover the most popular types of portable toddler beds and the best options in each category.
Portable Toddler Beds at a Glance
Type
Weight/Size Limit
Size Assembled
Size folded
Product Weight
Best Features
Hiccapop
Inflatable bed
300 lbs
62″ x 39″ x 12″
10″ x 14″ x 6″
8 lbs
Compact, electric pump, lifetime warranty, bumpers on all sides
Shrunks
Inflatable bed
150 lbs
60″ x 37″ x 9″
16″ x 7″ x 7″
6.6 lbs
Compact, electric pump
Intex
Inflatable bed
Up to 48 inches
42″ x 66″ x 10″
12.8″ x 14.6″ x 5.1″
9.1 lbs
Compact, bumpers on all sides, inexpensive
Regalo My Cot
Travel Cot
75 lbs
48"L x 24"W x 9"
9"L x 8"W x 24"H
6.25 lbs
Fitted sheet included
Joovy Foocot
Travel Cot
75 lbs
48″ x 25″ x 9.5″
24.5″ x 8″ x 6″
6.5 lbs
Storage pockets, travel bag
KidCo Peapod
Toddler tent
1-3 yrs
(Peapod Plus: 1-5 yrs)
46″L x 18″H x 28″D
16.5″ x 3″ x 16.5″
2.45 lbs
Enclosed, very lightweight
Joovy Gloo
Toddler tent
6 months- 3 yrs
(Large: 6 months-5 yrs)
44" x 25" x 18"
14" x 5" x 14"
3.9 lbs
Enclosed
Guava Lotus
Portable crib
0-3 yrs

42"L x 32"W x 25"H
24"L x 7"W x 11"H
13 lbs
Backpack carry, side panel can open
Baby Bjorn Travel Crib
Portable crib
0-3yrs
32″ x 44″ x 24″
19″ x 23.5″ x 5.5″
13 lbs
Comes with crib sheet
Inflatable Beds
Inflatable toddler beds are a great space-saver when traveling. They pack down compactly and are easy to blow up into a nice, comfortable bed once you've arrived at your destination.
Downsides to inflatable toddler beds
One of the biggest downsides to inflatable toddler beds is that if you get a leak, your child will end up sleeping on the floor. Also, some people find them to be noisy when their child moves.
The other minor inconvenience is having to deflate and reinflate the bed if you're changing hotels frequently.
The Hiccapop is one of the most popular inflatable toddler beds on the market. Weighing in at just eight pounds, it is quite lightweight and compact, easily fitting into a checked suitcase. It fits standard crib sheets and has a travel bag for easy transportation.
The bed has an interior mattress and a separate outer frame with bumpers on each side to prevent any tumbles onto the floor during the night.
It also comes with a high-speed pump that can inflate the bed in under 30 seconds!
One of the best features is the lifetime warranty in case you end up with a leak.
Pros
Lifetime warranty
High-speed pump included
High weight limit
Bumpers on four sides
The Shrunks Toddler Bed was one of the first toddler travel beds on the market. The middle mattress is separate from the outer frame, meaning you can easily tuck in sheets and blankets to make a secure, cozy bed for your toddler.
This bed includes a compact pump, which can inflate the bed in under 30 seconds, as well as a deflate feature to quickly store the bed when you're done with it. It also comes with a carrying bag and a repair kit.
It has guard rails on both sides to contain wiggly toddlers (although it does not have one on top and bottom like the Hiccapop). And it fits standard crib sheets.
Pros
High-speed pump included
Comes with a repair kit
Has a deflate feature for quick storage
Cons
The Intex Travel Bed is a cost-effective inflatable kids mattress. This mattress is a good alternative to the other options, but it does come with a hand pump instead of an electric pump, so it takes a bit more effort to inflate.
It also fits a standard-sized crib sheet. The bed comes in two pieces, the interior mattress and an outer wall to prevent a toddler from falling out. The most frequent complaints about this mattress had to do with leaks. But the low price tag might make it worth the risk.
Pros
Bumpers on all four sides
Budget-friendly
Cons
Comes with a hand pump, not an electric pump
Portable Toddler Cots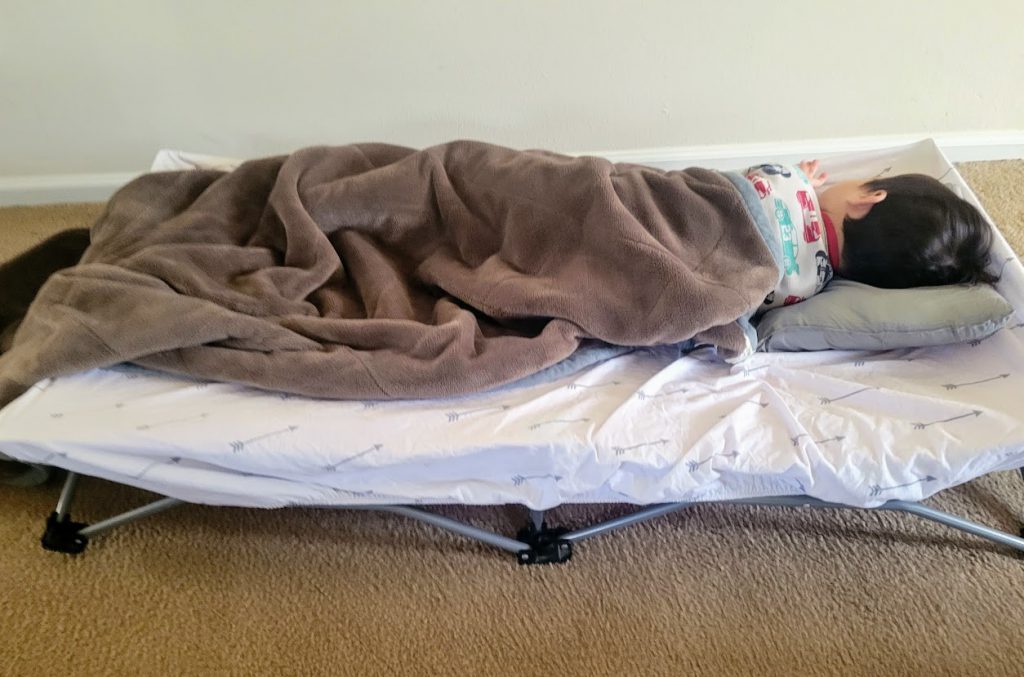 Another portable sleep option is a travel cot. One of the best parts about toddler cots is that they are quick and easy to set up. They also tend to be less expensive than the inflatable beds.
When they're folded out into a bed, they take up less space than inflatable beds because they don't have the extra outer inflatable rail.
Downsides to toddler cots
The biggest downside to toddler cots is the size when folded. They fold up quite compactly, but they still take up more space than inflatable beds. And although they are close to the ground, they don't have enclosed sides, so if you have a toddler who moves around a lot you might want to put pillows down next to them on the ground.
Some toddlers also find them less comfortable because they don't have extra padding and the bar in the middle can sometimes be felt through the cot.
Our pick for best toddler travel cot is the Joovy Foocot. Some additional features on this cot (including the safety lock) give it a slight edge over the competition, but it is a bit more expensive than the Regalo, described below.
Quick and easy to set up, this cot can be turned into a comfy bed for your toddler in seconds!
This sturdy but lightweight cot weighs in at 6.5 pounds with a maximum weight limit of 75 pounds.
It has two storage pockets on the side and comes with a travel bag with a shoulder strap. This cot also has a safety lock so that it won't fold up when your child is sleeping on it.
Pros
Storage pockets
Comes with storage bag
Safety lock
Cons
Fitted sheet not included (standard crib sheets work)
Higher cost
This sturdy, compact cot is a great option for toddler sleep while traveling. It's quick and easy to set up and folds down small enough to fit into a large checked bag.
The cot sits low to the ground to provide a comfy, elevated place for your child to sleep.
The light-weight steel frame can hold up to 75 pounds and weighs 6.25 pounds. A fitted sheet is included.
The most common negative review is that the bar in the middle of the cot caused the cot to raise in the middle, making it uncomfortable to sleep on. This cot also doesn't have a safety lock to prevent it from folding when it's open.
Pros
Fitted sheet included
Low cost
Cons
No storage bag
No safely lock
Portable Toddler Tents
Another option for toddler sleep during travel is a portable toddler tent. One of the best features of a toddler tent is that unlike the other options they are enclosed and can keep a toddler more contained.
Because they are covered, they also provide a more secluded sleep space for your toddler. This can help a toddler fall asleep and stay asleep easier, especially if there are other people in the same room.
Toddler tents are versatile and can be used indoors, for camping, or even at the beach or park.
They are also compact and lightweight, making them perfect for travel!
Downsides to toddler tents
Toddler tents tend to be more expensive than some of the other options, but the extra benefit might be worth it, especially if you travel a lot.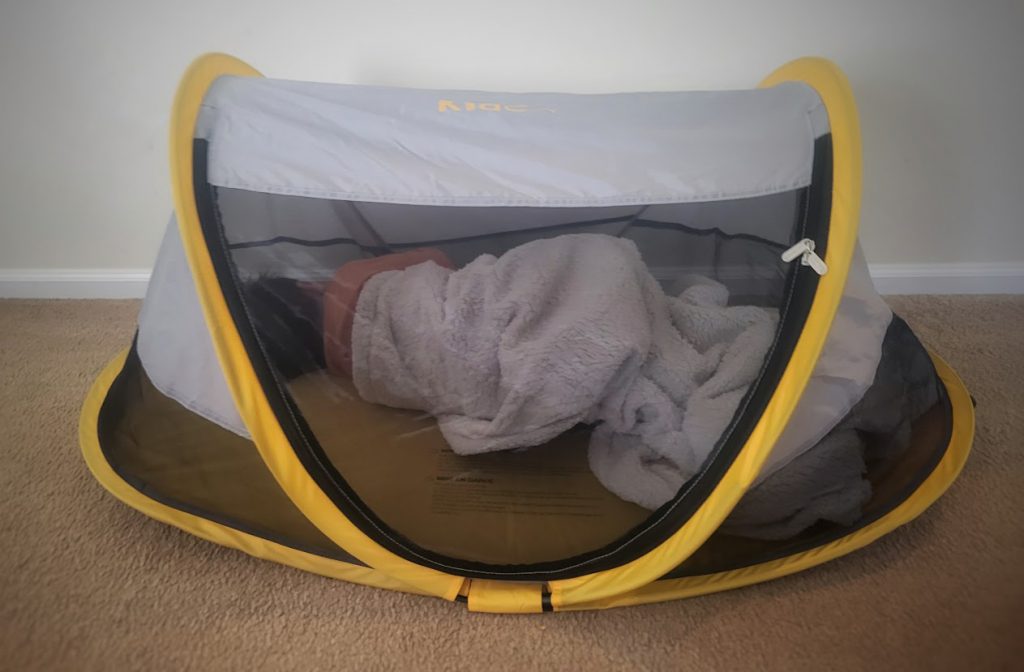 Our top choice of toddler tent is the KidCo Peapod. The lower price point for a similar experience is the main reason that this tent beat out the competition (although if you want to use it for a baby between 6-12 months, you'll want to go with the Gloo).
The KidCo Peapod is one of the most popular portable toddler tents available. This pop-up tent can be unpacked and assembled into a cozy bed within seconds.
Weighing in at just 2.45 pounds, this lightweight mesh tent is the lightest of all the options reviewed in this article. It folds up compactly into its storage bag and can easily fit into a carry-on luggage.
The mesh provides airflow for your toddler and can also act as a mosquito net. Anchor straps allow you to securely attach the tent to the ground for outdoor use. It also has UV protection to keep your child safe from the sun.
The light sleeping pad snaps onto the bottom and is easily detachable for cleaning and storage.
The Peapod is meant for children between 1 and 3 years old.
For a slightly higher price, you can also get the Peapod Plus, which is bigger and can be used for children between 1 and 5 years old.
Pros
Extremely lightweight
Has anchor straps
Cons
An alternative to the Peapod is the Joovy Gloo. Also a pop-up tent, this little bed couldn't be easier to assemble. Because there are no poles, the tent packs up very compactly and is extremely lightweight at just 3.9 pounds.
The breathable mesh keeps bugs out and allows the air to circulate.
As opposed to the snap-on pad of the Peapod, this model has a self-inflating pad with a washable cover.
An additional convenient feature of the Joovy Gloo is that the tent cover is removable and machine washable, which is a great feature if you're using it outdoors at all.
The Joovy Gloo also has a lower age limit than the Peapod, meaning you can use this tent with babies as young as 6 months old.
There is also a large version of the Joovy Gloo, which extends the age limit to five years instead of three years.
Pros
Lower age limit
Removable, washable tent cover
Cons
Portable Cribs
For young toddlers, you can always opt for a portable crib while traveling. Often hotels (and some Airbnbs) will have cribs available, just call ahead to be sure. Or you can also choose to bring your own crib so that you know that you are covered for sleep, no matter where you go.
One of the best things about cribs is their ability to keep small children contained. That in and of itself can be a deal-breaker. They also might feel most similar to what your toddler sleeps on at home, and that familiarity can help toddlers to feel more secure and comfortable.
If your child sleeps in a crib at home, you might want to consider having them sleep in a crib while traveling. On a trip is a tricky time to introduce a toddler to a bed where they are no longer contained.
Downsides to portable cribs
The main drawback to portable cribs is the size and the weight. Of all the options reviewed here, these are the largest and heaviest. They are also significantly more expensive than the other options.
This compact, lightweight travel crib is our top choice of travel crib for toddlers. This is a perfect option for getting the benefits of a crib without the inconvenient size and weight of a standard pack n' play.
The Guava Lotus has a 3D folding frame that can be opened quickly for easy setup. The sturdy aluminum frame is strong enough to hold up to both the rigors of travel and use by toddlers.
The storage case for the crib is a compact backpack with padded straps, perfect for carrying through an airport or transporting wherever you need to go.
On this crib, the mattress actually rests right on the ground, which not only takes up less space but also allows you to lay next to your child as they fall asleep if necessary. To facilitate this, there's a side panel that can be unzipped to provide easy access to your child for cuddling or nursing.
The waterproof mattress is made of a soft, thick foam to ensure a comfortable night's sleep for your toddler and the machine-washable crib cover can easily be zipped off for cleaning.
Full height mesh on all sides ensures good airflow for your baby or toddler.
Pros
Backpack carrying case
Side zipper
Folds up into a compact rectangle
Cons
The Baby Bjorn Travel Crib is another portable, lightweight crib option. This crib weighs 13 pounds and comes with a carrying bag for storage. It can be set up in seconds in one quick motion.
This crib also rests right on the floor, which means there is no upper weight limit. It is recommended that you stop using it when your child can climb out.
The mesh fabric on all sides provides constant airflow for your toddler and the fabric can be removed and machine washed.
The design of the Baby Bjorn travel crib means that it is a bit quicker to set up and take down than the Lotus, but it doesn't fold up quite as compactly.
Pros
Sheet included
Extremely quick setup and takedown
Cons
More expensive
Less compact when folded
Useful Travel Accessories
In addition to portable toddler beds, there are some other accessories that can be extremely helpful when trying to get a toddler to sleep while traveling.
Slumberpod– The Slumber Pod is a blackout tent that you can set up and put over your toddler's travel bed to provide privacy and a dark sleeping environment. It works with the inflatable toddler beds and the toddler cots listed above and can also be used over a pack n' play. (Don't forget to check out our full SlumberPod review!)
Nap Mat– A nap mat can be a great option to use in conjunction with an inflatable bed or cot. It's a pillow and blanket all in one compact bundle. And it provides a little extra padding for your toddler's comfort.
Travel blanket– This travel blanket is large and warm, but packs up incredibly compactly, which makes it a great option for a travel blanket for your toddler.
Travel pillow– This memory foam pillow is soft and nearly 4 inches thick, but compresses down into a compact pouch for travel. And it only weighs 9 ounces!
White noise machine– White noise is a must when traveling with a toddler. It blocks out ambient sound to help them fall asleep and stay asleep.
What to look for in a portable toddler bed
There are a few important factors to think about when choosing between portable toddler beds. Here are some of the most important things to consider.
Comfort- First and foremost, you need a sleep option that is comfortable for your child. You want to help your child get the best sleep possible, so make sure you choose something that they will actually enjoy sleeping on. It's often a good idea to try out the bed before you leave for your trip so that you can have an idea of how they will like it and aren't stuck somewhere without any other options.
Size and weight- Depending on what kind of trip you're taking, size and weight can be a huge factor. For example, if you're flying internationally, you probably want a very compact, lightweight option. If you're driving, you might have room for something a bit larger and/or heavier.
Price- There is a wide range of prices for toddler beds; you have to find the best option that makes sense in your budget. But be sure to factor in how much you will be using the item and your child's preferences. Sometimes it's worth it to pay a little more for something if it will give your toddler a great sleep experience, especially if you'll be traveling frequently.
What are other options for toddler sleep while traveling?
You might be wondering, do you really need a toddler bed?
Well, portable toddler beds are a great option for toddler sleep while traveling, but they aren't the only option. You have to find the sleep experience that is best for your child, so here are a few alternatives.
Portable bed rails
If you have an extra bed for your toddler, you can just put them in a full-sized bed and use a bed rail to make sure they don't fall out while they are sleeping.
There are a lot of options for compact, portable bed rails which are perfect for travel. The rails slip under the sheets and are secured by extension flaps or grip strips to prevent them from moving out of place.
This is one of the easiest options when you're traveling because you don't have to bring a lot of extra gear. However, if you don't have an extra bed available then this obviously isn't an option. And some toddlers sleep better in a smaller, cozier bed that is more their size than a huge queen or king-sized bed.
Cosleeping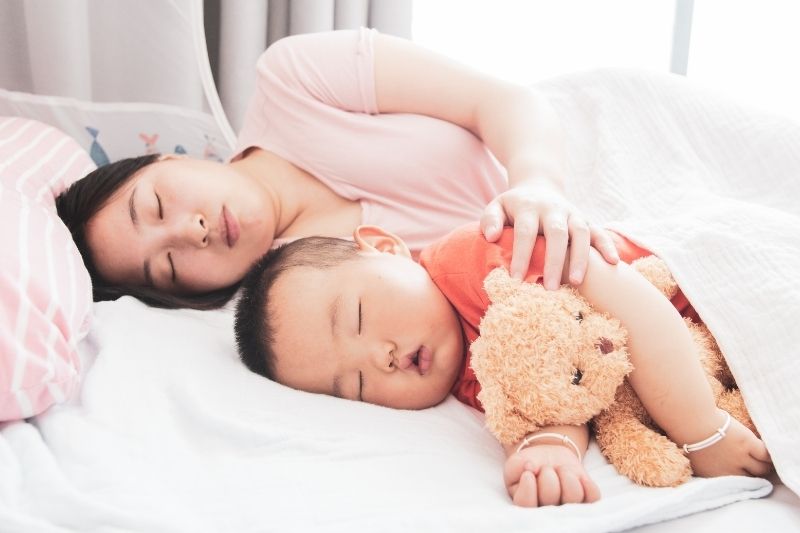 Another convenient option that doesn't require any extra gear is just sharing a bed with your toddler.
The big downside here is that everyone tends to get less sleep with a toddler rolling all around. Whenever I've done this I always end it by saying I'll never share a bed with my toddler again. My kids move sooooo much during the night and I never end up sleeping very well.
But it can work in a pinch, especially if you have a toddler that sleeps more sedately than mine do…
Rent a toddler bed
You could also consider the option of renting sleep gear for your baby when traveling. Services such as Babyquip allow you to rent all sorts of baby and toddler items in many locations. Cribs and air mattresses are items that are commonly available for rent.
The benefit here is that you don't have to bring bulky items with you on the plane, they will be waiting for you at your destination when you arrive.
However, if you're going to be traveling a lot, it ends up being more cost-effective to just buy your own gear instead of paying to rent it every time you travel.
Final Thoughts
When you're traveling with a toddler, you want to do everything you can to make sure they are getting the best sleep possible- for everyone's sake! Nothing ruins a trip faster than a grumpy, sleep-deprived toddler.
Portable toddler beds are a perfect solution for helping toddlers get the sleep they need while you're traveling. Bring their compact bed and quickly set up a cozy sleep spot for them no matter where you go.
Other posts you might be interested in:
An Honest SlumberPod Review: The Travel Sleep Aid You Didn't Know You Needed!
The Best Baby Monitors for Travel
21 Airplane Toys and Activities Your Toddler Will LOVE!
Best Travel Potty for Toddlers