This page may contain affiliate links, which means that we may earn from qualifying purchases at no additional cost to you.
If you're looking for a game-changing travel sleep solution for your baby or toddler…the SlumberPod just might be it! This SlumberPod review breaks down everything you need to know about this travel sleep aid.
One of the trickiest parts of traveling with young kids is figuring out how to help them get quality, restful sleep in a new environment. This is especially true if you're sharing a room with your child!
We've spent many a night sitting in the dark at our hotel or hanging out in the bathroom waiting for our baby to fall asleep and then creeping around the room with the lights off trying not to wake them up.
With the SlumberPod, you can avoid this scenario!
A SlumberPod is a portable sleep pod that can be used to create a dark sleep space for your baby. It's basically like bringing your child their own little room that you can set up wherever you go.
You might be wondering if the SlumberPod is worth the cost. In this review we'll give you all the information you need to decide if the SlumberPod is right for you!
This review is not sponsored in any way and is my own personal opinion after trying the SlumberPod.
What is a SlumberPod?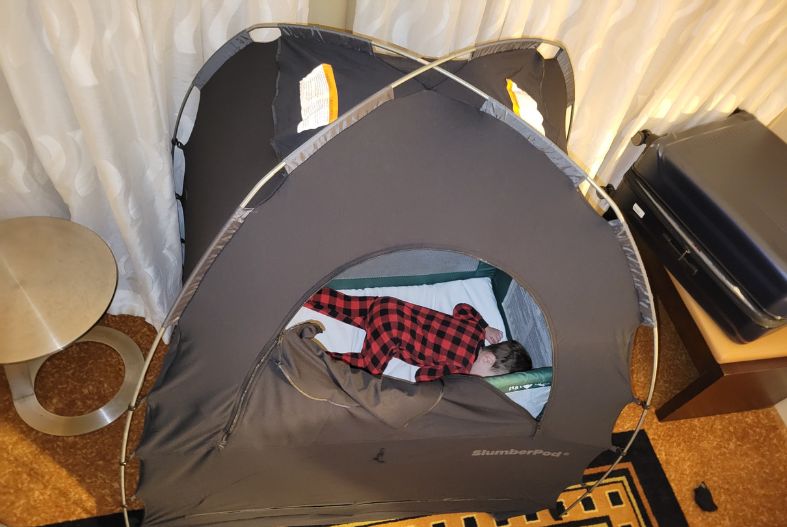 The SlumberPod is a blackout privacy pod to help young children sleep at night. It provides a separate space for your baby to sleep even if you're sharing a room with your child.
The pod is made out of breathable material that provides airflow while still blocking out 100 percent of light. There are also vents on the side for increased air circulation.
On the top you'll find a mesh pocket for a fan and a clear-bottomed pocket for a baby monitor.
The pod is bottomless so that it can easily be placed over the top of a crib, pack 'n play, toddler cot, or inflatable toddler bed. Unlike most alternatives, it has a high top that will allow toddlers to stand within the tent.
The SlumberPod comes with a carrying case, making it easy to pack and transport it.
In every element of its design, the SlumberPod is has been created to make sleep with your little one easier. It allows you to create a dark and cozy sleep environment for your baby or toddler no matter where you are.
In this SlumberPod review, we'll break down all of the features for you so you know exactly what a SlumberPod has to offer.
Product description
Weight: 5 lbs
Size assembled: 50" L x 36" W x 56" T
Size folded: 17" x 5" x 6"
Pros
100% blackout
Comes with carrying case
Private sleep space
Can be used with cribs, cots, inflatable beds
Height provides room for toddlers to stand
Has a pocket for a fan
Has a pocket for monitor
Possible drawbacks
Takes up space/weight in luggage
High price tag
Can be difficult to set up in small room
Why use a SlumberPod?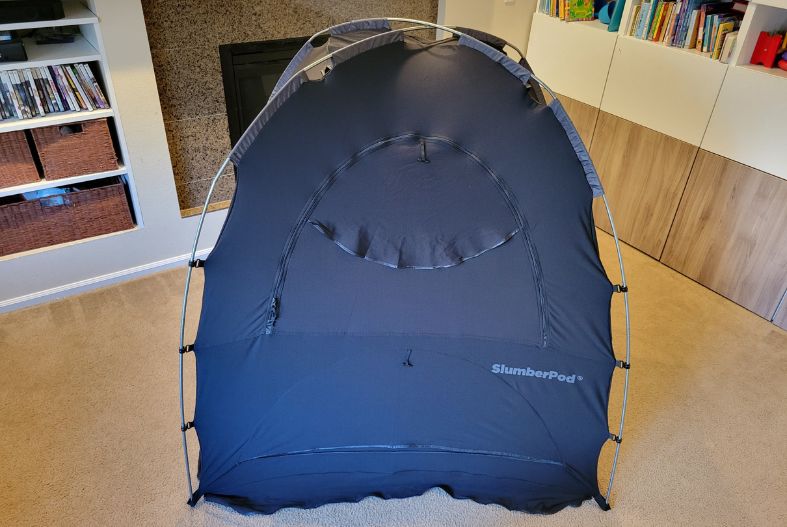 The SlumberPod is a product with a lot of potential uses.
The most obvious one for us is travel! The SlumberPod makes traveling with a young child so much easier because you always have a private, dark sleep environment for your child, no matter where you're staying.
This is ideal if you are sharing a hotel room or staying somewhere without blackout curtains. You can keep lights on without fear of disturbing your child and you don't have to worry about your child being woken earlier than you'd like by outside light cues.
The SlumberPod is also useful if you're visiting family or if you need your child to nap away from home. Or if you have guests at your own house that need a room, you can relocate your child to your room or a public space and have a dark place for them to stay.
Some people also use the SlumberPod for children that share a room to prevent one child from disturbing the other.
There are many different uses for the SlumberPod, but when it comes down to it the main reason to use one is to help your child get the best sleep possible!
Our review of SlumberPod features
In this section we'll review our experience with the the SlumberPod so you can get a better sense of how this product would work for you. This is our own opinion after our personal experience using the SlumberPod.
Size and weight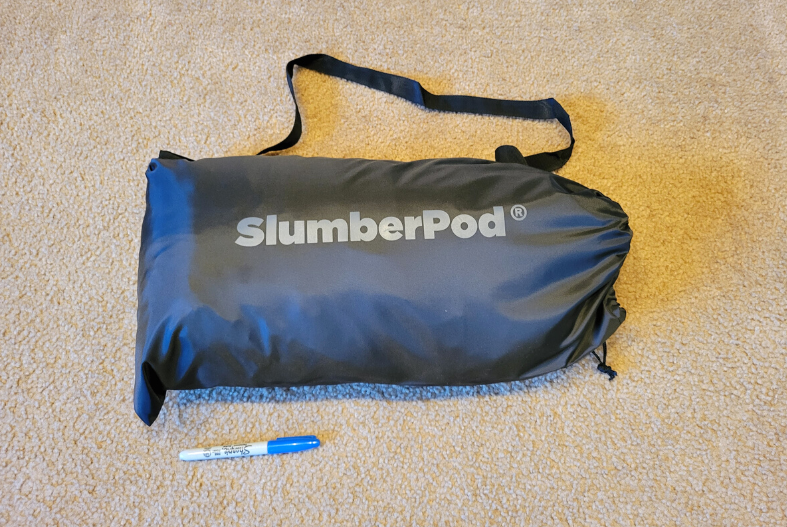 The SlumberPod weighs in at around 5 pounds. Given that it's a full privacy pod with tent poles, it really is quite light for what it is. 
However, we like to pack very lightly, so for us it was quite a bit of baggage weight to give up.
It does pack down very compactly (you can see the dimensions above under product information) and is easy to fit in a suitcase. I was actually surprised by how little space it took up in our luggage.
To me probably the biggest downside of the SlumberPod is the size and weight, given that we have three kids to pack for and try to minimize the amount of gear we have to bring.
On the other hand, my kids' sleep is a top priority for me when traveling because it makes everything else about the trip go so much more smoothly.
While I do wish that it was more compact, I understand why it has to be the size and weight it is and still would recommend it for those traveling a lot with a baby or toddler.
Blackout feature
The feature that I found most compelling in the SlumberPod was the claims of complete blackout. So I was understandably eager to see if it truly lived up to the hype.
And to my surprise, it actually did! I went inside the tent myself to check it out and found that even with the lights in the room on, the inside of the pod remained completely dark.
Using the SlumberPod during travel, we are able to leave the lights on and move about without it disturbing our child at all. Honestly it was kind of a crazy experience knowing that our baby was asleep in the same room while we went about our business as usual. Such a liberating experience! And it really made evenings much more enjoyable after our son had gone to sleep.
Before getting the SlumberPod, we had a SlumberPod alternative that provided about 70% darkness. While this was helpful at providing some privacy and darkness for our baby, it wasn't dark enough that we were able to leave the lights of our room on without waking our baby. The SlumberPod was a different story!
On this feature we give the SlumberPod full marks!
Assembly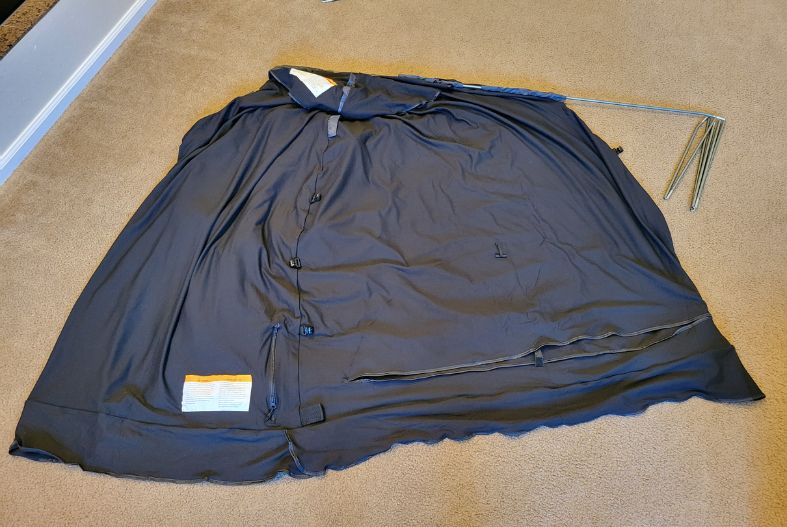 The assembly of the SlumberPod is relatively easy (see further down in the post for a detailed description). However, it does take several minutes to get it completely set up.
I recommend setting it up at least once before your trip so you're not stuck trying to figure it out with a tired child who is ready for bed (not that I would know this from personal experience or anything…).
The biggest problem that we had with assembly was the awkwardness of trying to maneuver the long poles without smacking them into walls, lights, etc.
We found that it worked much better if you only assemble the poles halfway, start to push them through the sleeves, and then continue to attach poles one by one as you push it through (see the picture above).
All in all, assembly isn't too bad once you've done it a couple of times. That being said, it does take a few minutes and it's easier if you have someone helping you.
And if you're changing hotel rooms frequently it is kind of a pain to take it down and set it up again every time.
Ease of use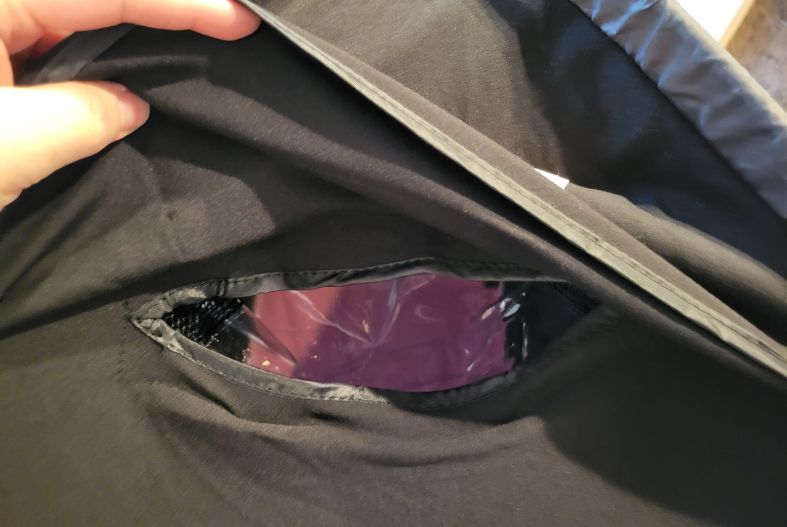 Once it's assembled, the SlumberPod is simple to use. 
The front has a wide zippered opening which is large enough to make it easy to place a sleeping baby or toddler inside.
The fan and monitor pockets are easy to use. They can be accessed from the outside so you can adjust the monitor and/or fan without having to open the tent.
The monitor pocket has a clear plastic bottom so that you can see your child sleeping in the tent. It works for both standing and hanging monitors because you can just lay them down on the bottom of the pocket without needing to attach them to anything.
Safety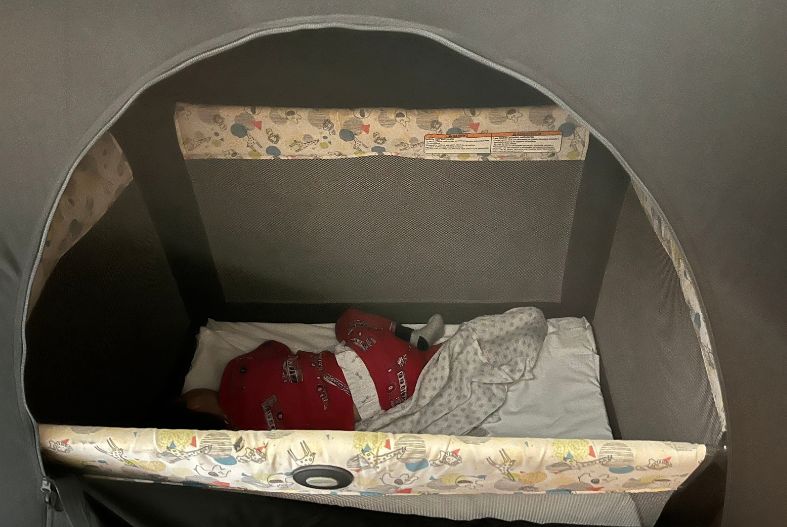 Obviously I'm not a doctor or certified sleep technician, but I felt perfectly safe using the SlumberPod with my child. 
The pod has passed product safety testing in the US, Canada, and Europe. It is made of a breathable material and also contains several ventilation flaps to provide even more airflow for your child.
I'm always a little paranoid about my kids' breathing during sleep, so I actually got up several times during the night to check and make sure it wasn't too hot or stuffy when I first started using the SlumberPod.
From my experience, I found that the SlumberPod maintained about the same temperature as our room during the night and did not get overly stuffy as the night progressed.
We didn't use a fan with the SlumberPod, but I can see how that would provide some extra peace of mind, especially if you were in a warm environment. I love that there is a mesh fan pocket so that you have that option.
And with the baby monitor pocket, you can keep an eye on your baby throughout the night without having to open that SlumberPod and risk waking them.
Price
My biggest qualm about getting the SlumberPod was the high price tag. I waffled for a long time on whether or not it would be worth it. 
We finally bit the bullet and after giving the SlumberPod a try, I would say that it is definitely worth the cost…if you will be using it frequently.
If you're a family that likes to travel or you have a need at home, such as children sharing a room or frequent trips to grandma's house, then this sleep product can be a total lifesaver.
However, if you don't travel much or are only considering it for one trip, it might not be worth the investment. In that case, you can consider a SlumberPod alternative for a lesser price or travel blackout curtains for your room.
Because the SlumberPod can be used with cots and inflatable toddler beds in addition to cribs and pack 'n plays, it will last your child a long time. If you get it when your child is young you can count on many years of use.
It also holds its value really well so when you're done using it you can expect to get a good price for it if you want to resell it.
When it comes down to it, after trying the SlumberPod and seeing all of its features, I really do think it is worth the cost.
Whether you want to pay that cost will depend on the frequency of your travel and your personal travel needs.
How to set up a SlumberPod
In this section of the review we'll break down how to set up the SlumberPod. Setting up the SlumberPod is an easy process.
First, you assemble the poles. Each length of pole is magnetic on the ends and snaps easily into the poles on either side.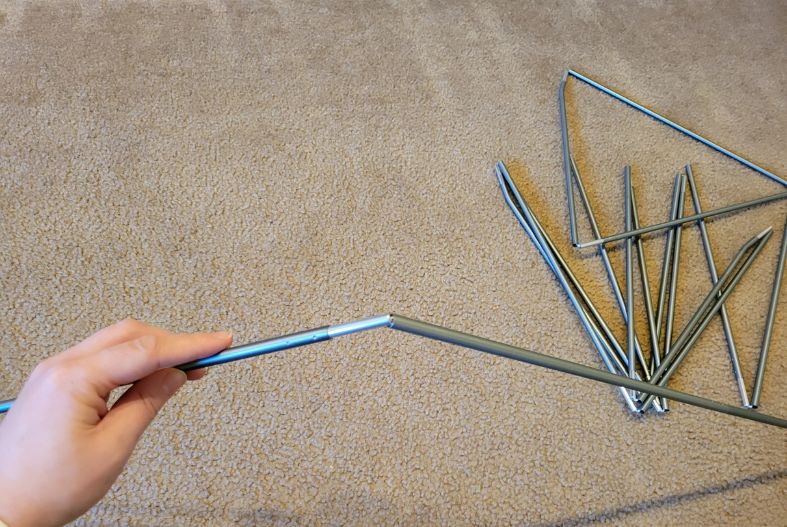 Insert the first pole into the pockets on one side, placing the end in the sleeve at the bottom.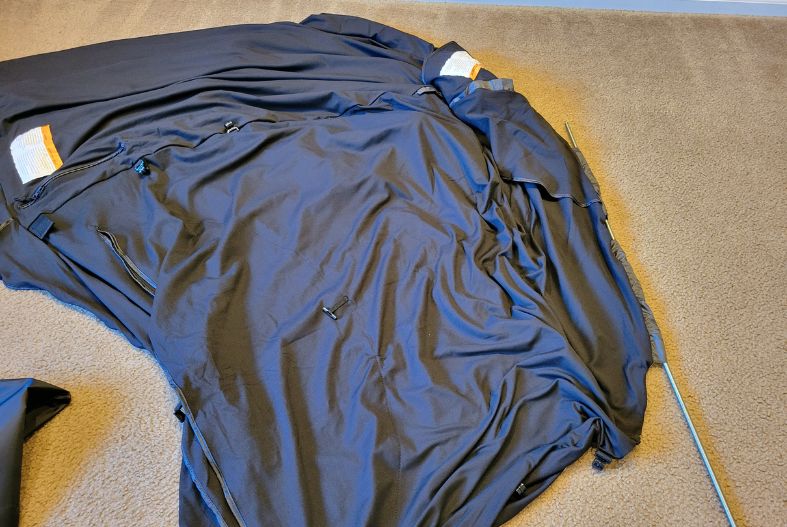 Carefully continue pushing the pole through the pockets, bending it as you go until it will fit in the bottom sleeve on the other side. Attach the plastic clips.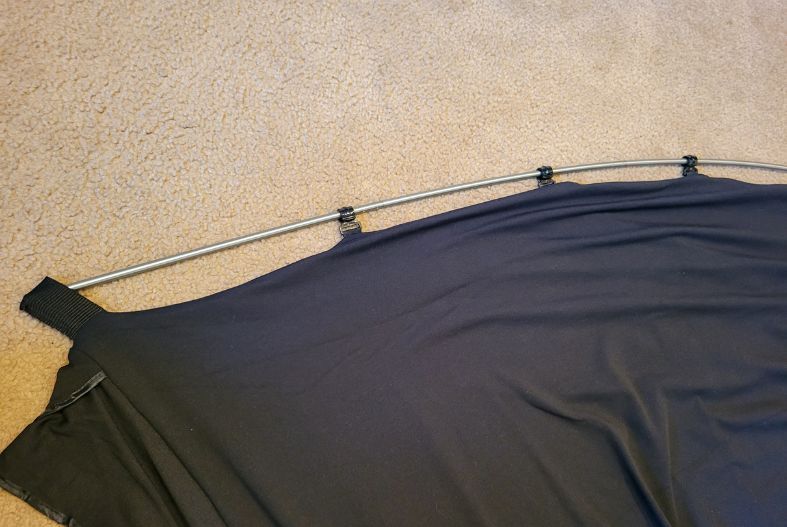 Feed the other pole through the remaining pockets, crisscrossing the poles at the top. Secure it in the bottom sleeves and attach the clips.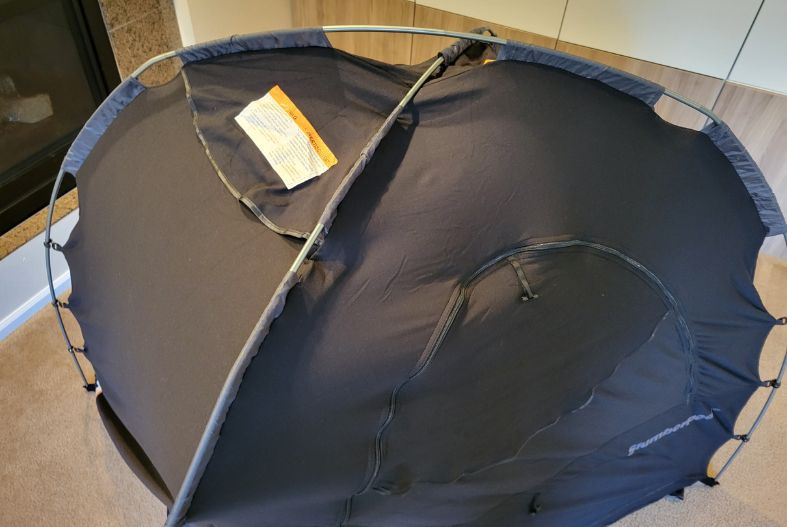 Place your SlumberPod over your child's crib, cot, or mattress and you're ready for sleep!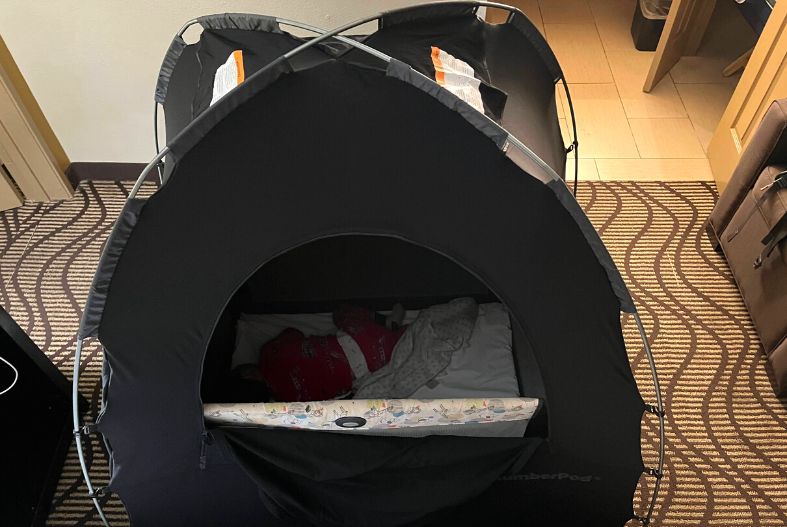 It's a good idea to set up your SlumberPod at home first so that you have a sense of how to do it before it's bedtime and your baby needs their bed ready right that minute. It is quite intuitive, especially if you've assembled a tent with poles before, but you'll feel more confident knowing that you've done it once already.
The only challenge we had was trying to set it up in the limited space in our hotel room. We learned that the trick is to only assemble the poles half-way before placing them through the pockets. Then, add each new length of pole as you bend it downwards to place it in the holding strap on the bottom. This prevents you from bumping into the walls and knocking things over as you try to assemble it.
Common questions about the SlumberPod
What cribs and beds work with the SlumberPod?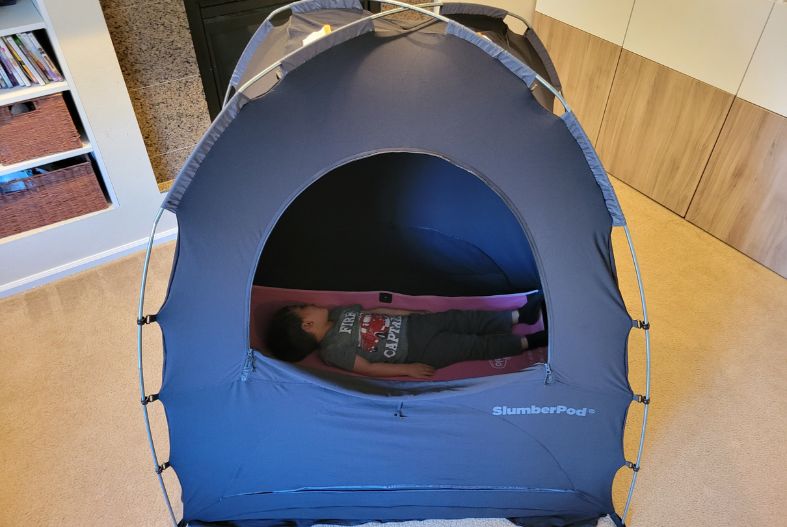 The SlumberPod is compatible with most pack 'n plays and mini-cribs. It can cover cribs with dimensions up to 44 inches long, 30 inches wide, and 38 inches tall. See the SlumberPod website for a list of compatible cribs and pack 'n plays. 
The bed also works with cots and inflatable beds less than the above dimensions. We used it with our Regalo My Cot and there was plenty of space within the toddler pod.
Are SlumberPods safe?
The SlumberPod passes product safety tests in the US, Canada, and Europe. 
The company also submitted the product for additional, non-required testing of the breathability of the pod by a third-party lab, where it was determined that it posed low risk for CO2 rebreathing.
Can babies breathe in the Slumberpod?
Yes, babies can breathe in the SlumberPod! 
The product is made of an air-permeable material that allows for air circulation while blocking light. There are also ventilation windows on the sides of the SlumberPod to increase airflow.
Does it get hot in the SlumberPod?
In our experience using the SlumberPod, it did not get hot in the tent and actually maintained the same temperature as our hotel room. I checked frequently, just to make sure! And that was using the SlumberPod without a fan.
If you're staying somewhere hot without air conditioning I can imagine it might get a bit warm in the tent (although I personally have no experience using the tent in a hot room). That would likely be a situation where you would want to use a fan in the fan pocket to keep your child cool.
Do you need a fan for the SlumberPod?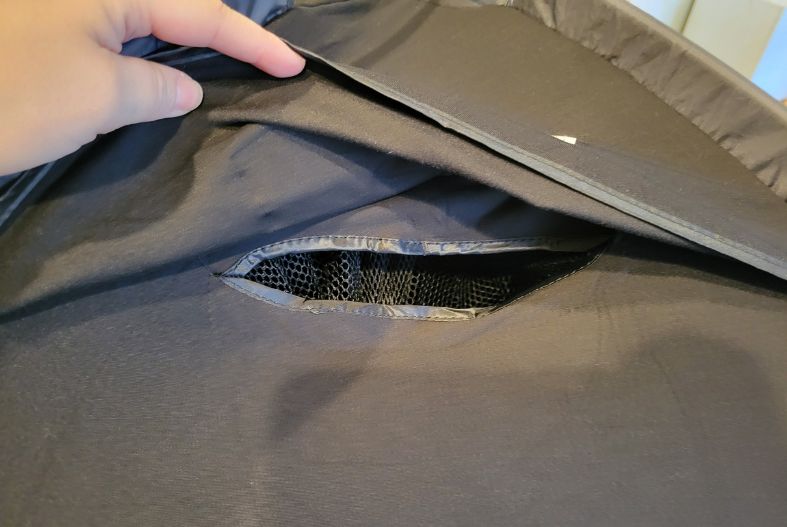 You do not need a fan to use the SlumberPod as the product was tested for airflow and breathability without a fan. 
However, a fan does prevent it from getting stuffy within the tent, especially if you're staying somewhere that is not climate controlled.
On the SlumberPod website you can purchase a fan to go with your SlumberPod, or you can purchase a travel fan from Amazon.
What age is the SlumberPod good for?
The SlumberPod is recommended for children ages 4 months up to 4 years old. 
One of the great features of the SlumberPod is that because it can be used with cots and inflatable mattresses as well as cribs, you can buy it for your child as an infant but it can grow with them as they get older.
How do I introduce SlumberPod to my baby?
To ensure the best sleep experience for your child, consider introducing the SlumberPod to your baby or toddler before you leave on your trip. Set up the tent and let them go inside of it. For toddlers, explain that this is their special sleep tent that they will be using on your trip. 
You might even want to try using the SlumberPod for sleep a few times at home so that your child gets used to it in a familiar environment and you get a sense of how it will work for your child.
When you use the SlumberPod during travel, try to keep your child's routine as similar to their home routine as possible. For example, your routine might be reading a book, singing a song, and rocking for a few minutes before bed. Keeping these elements consistent will help your child feel comfortable in a new space. If your child has a lovey or special blanket, be sure to bring that as well.
How dark is the SlumberPod?
The SlumberPod is 100 percent black out. And when they say that, they really mean it! 
I was a bit skeptical of this claim when I first heard it, but after using the SlumberPod I can attest that it actually is completely dark inside the pod, even in a fully lit room.
Final Thoughts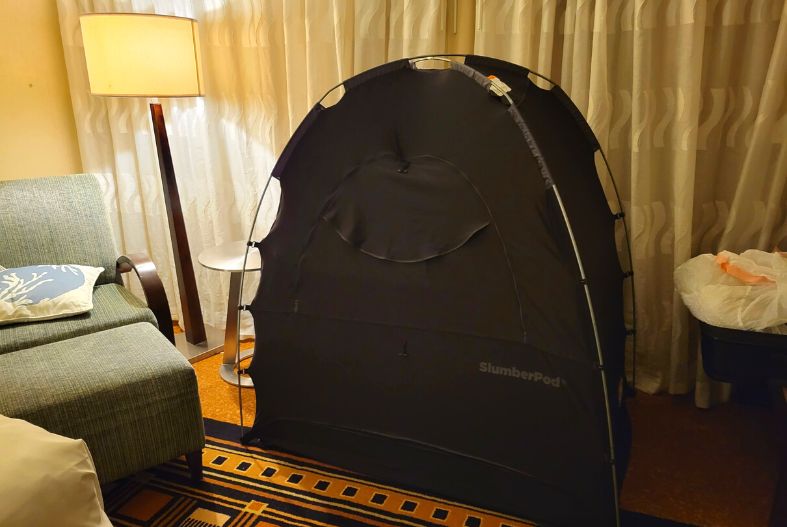 The SlumberPod is a unique sleep product that can really make a world of difference when traveling with young children. You can rest easy knowing that you have a private, blackout sleep pod for your baby or toddler, no matter what your accommodations are. 
And the benefits aren't limited to travel alone. The SlumberPod makes a great sleep solution when you're away from home during naptime, if you have kids sharing a room, or you have guests visiting and need to relocate your child to your room or a shared space for a few days.
I was hesitant to spend the money on the SlumberPod, but after using it for travel I can say that it really is a gamechanger and makes sleep time with a baby or toddler so much easier! Hopefully this SlumberPod review has helped you to decide if it's the right option for you!
Other posts you might be interested in:
The Best SlumberPod Alternatives That Won't Break the Bank
The Best Portable Toddler Beds for Travel!
11 Helpful Tips for Getting Baby to Sleep During Travel
The Ultimate List of Toddler Travel Essentials (+Toddler Packing List!)