This page may contain affiliate links, which means that we may earn from qualifying purchases at no additional cost to you.
Nestled in the Cascade Mountains of central Washington is the charming Bavarian-style town of Leavenworth. While Leavenworth is a special place to visit anytime of the year (and in fact, summer is the most popular season), winter in this Alpine-esque town is absolutely magical.
During the winter months, the town is lit with over 500,000 twinkling Christmas lights, set to the backdrop of the snow-capped Cascade mountains.
Although the town itself is tiny, there are winter activities to appeal to visitors of all ages. Visiting with our young children, we found that we always had something to keep us entertained!
If you're considering a trip to Leavenworth during the winter we would highly recommend it!
In this guide, we'll break down the best activities to do as well and answer some commonly asked questions.
Best things to do in Leavenworth in the winter
Enjoy the ambiance at Front Street Park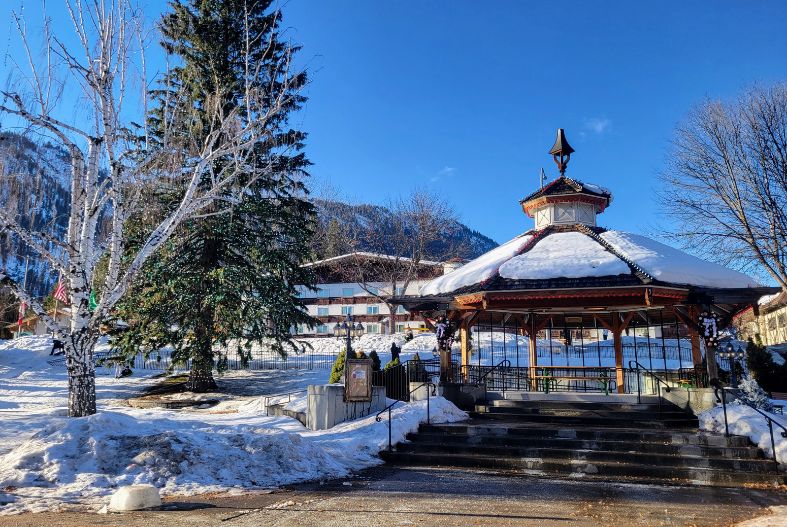 One of the best places to really get a feel for the charm of the Alpine-style village is at Front Street Park.
At the center of the park is a picturesque gazebo, which is often the location of festivals and events for the town. On the opposite side of the street is a series of quaint shops and eateries.
Next to the gazebo is a small hill that is perfect for sledding.
We loved spending time in the park, both during the day and in the evening. One of my favorite memories from our recent trip to Leavenworth is enjoying the Christmas lights in the square while our kids had a blast sledding in the park.
Visiting Front Street Park is an absolute must on a trip to Leavenworth.
Ride in a horse drawn carriage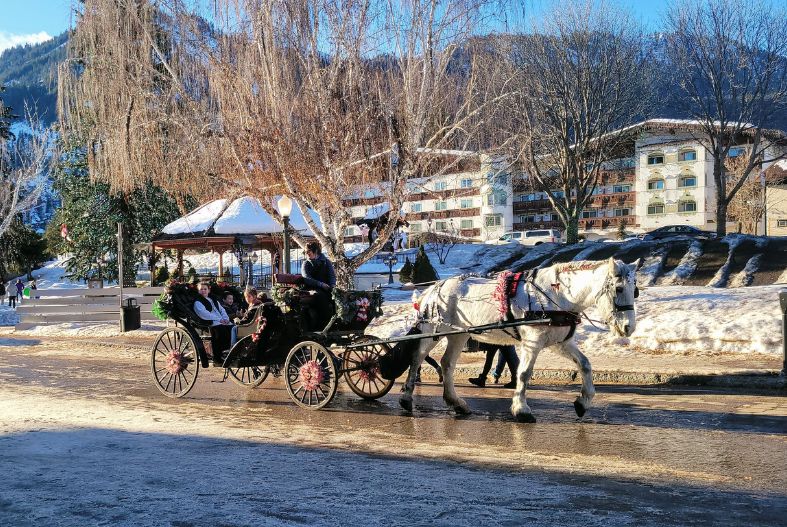 Experience Leavenworth in a unique way with a horse drawn carriage ride through town. This is a great way to take in the sights and learn more about the city.
The carriage rides start at the Mai Pole along Front Street and are on a first come, first serve basis. The rides are $40 for two people, and $5 for each additional person, cash only.
This is a special way to see the city that you won't soon forget!
Christmas activities and special events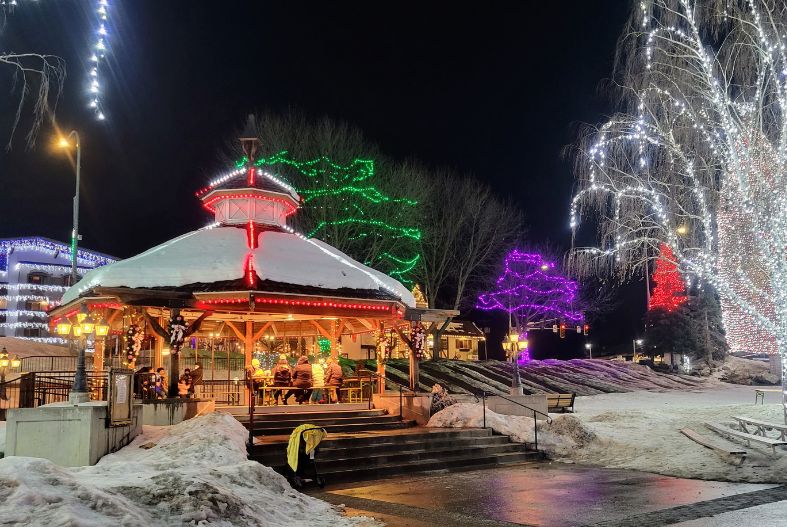 Depending on when you're planning to be in Leavenworth, there are often special events and activities to look forward to.
Throughout the month of December, the theme is Christmastown. You can expect to find Christmas caroling, live entertainment, photos with Santa, crafts for kids, gingerbread house displays, appearances by holiday characters, and so much more!
In January, the theme switches to Winter Karneval, celebrating the German tradition of Fasching. During this month, you can experience ice carvings, fireworks shows, and other entertainment.
Be sure to check the calendar for the time of your visit to see what activities are planned while you're there.
Skiing or snowboarding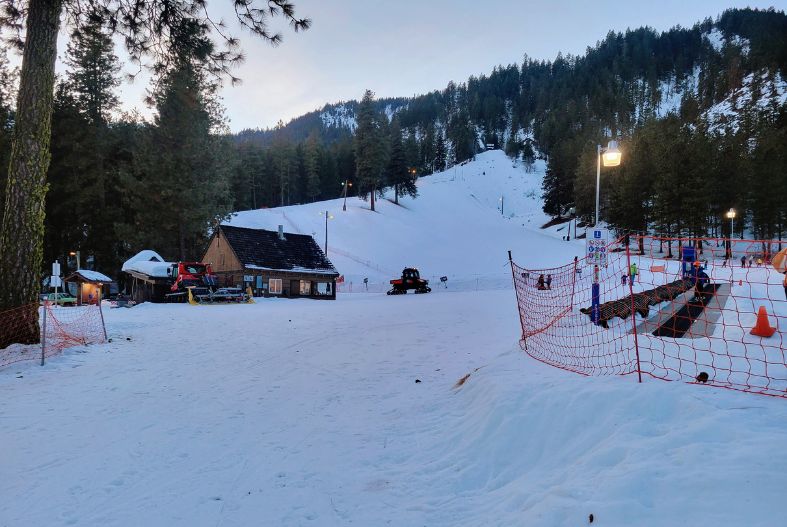 If you want to do some skiing or snowboarding, you can head over to the Leavenworth Ski Hill. At the family-friendly facility you can find groomed ski hills with two rope tows and a magic carpet perfect for beginners.
While you're there, you can also get ski or snowboarding lessons from the knowledgeable and enthusiastic staff. Rentals are not available on site, but there are rental companies in town.
Our four and six year olds went skiing for the first time on this ski hill and had a great experience! The staff was friendly, the hill was mild, and it wasn't too crowded.
If you're up for a bit more of a challenge, you can drive the 35 miles either direction to Stevens Pass or Mission Ridge.
For nordic skiing, you can find several stunning trails to explore in the area. Some of the most popular are the Icicle River Trail, the Golf Course Trail, and the night skiing at the Leavenworth Ski Hill.
Tubing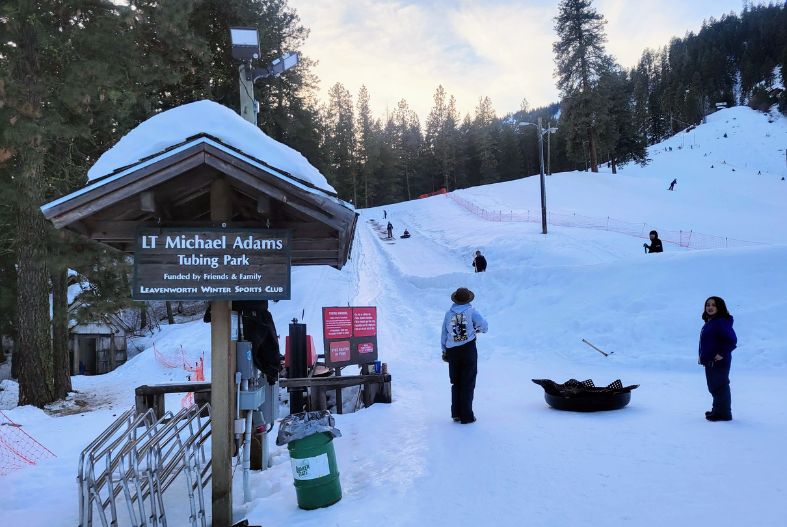 Located at the Leavenworth Ski Hill you can also find a tubing hill for the adventurous. The hill is 100 feet long and has a rope tow to take you back up to the top again.
This hill is not for very little kids, as each tuber has to be on their own tube and be old enough to hold on and follow directions.
When we were there, the route was extremely fast and slick. In fact, it was so fast that people were flying off of the route at the bottom and they ended up closing the tubing hill for the rest of the day.
But if you're up for a thrilling ride, this might be just the experience for you! For $30 you get six runs down the hill and the use of the rope tow. Check the schedule before you visit because hours may vary.
Sledding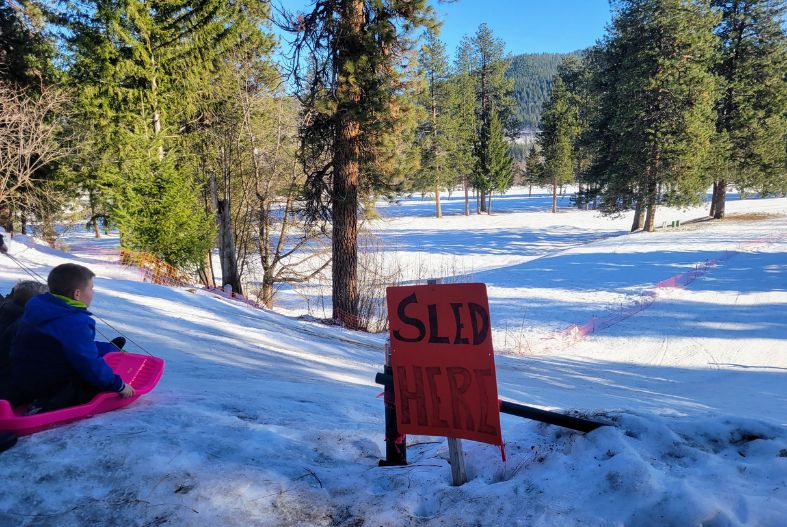 In a town covered in snow, there are a lot of places to go sledding! However, one of the best places is the Golf Course, where there is a designated sledding hill.
The hill is the perfect height and size for sledders of all ages. Our family spent hours sledding at the golf course hill and our kids never got tired of it!
To sled at the golf course, it costs $10 per person or $35 for a family pass (two adults and their dependents). You can bring your own sleds or rent them on site.
For a smaller sledding hill, the hill next to the gazebo in Front Street Park is another nice place for sledding, especially for small children.
Snowshoeing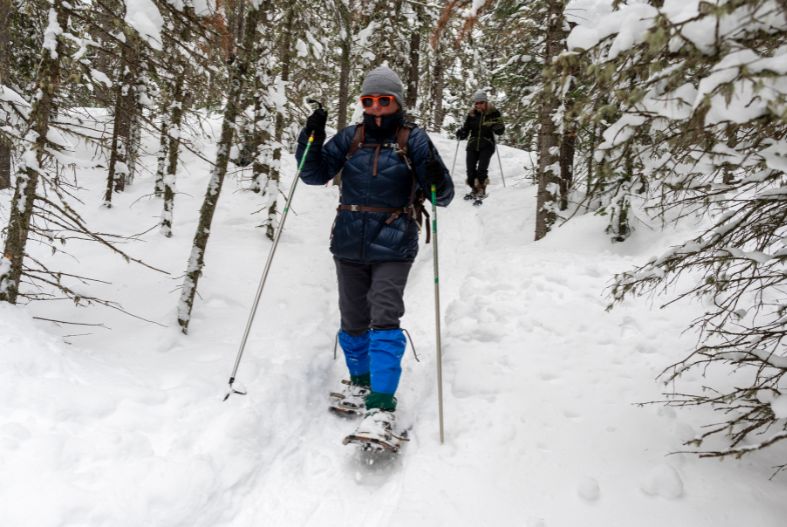 For a chance to experience the beautiful snowy scenery at a leisurely pace, try out one of the groomed snowshoeing trails in the area. Some of the best places to go snowshoeing (and easiest to get to) include the Golf Course snowshoeing trail, the Leavenworth Ski Hill Trail, and the Icicle Creek Trail.
Snowshoeing is an activity that is easy to learn and doesn't require previous experience to enjoy. People of all ages can participate in this activity, making it a fun experience for the whole family.
There are snowshoes available for rent at the Icicle River Trail location as well as several places in town.
Visit the reindeer farm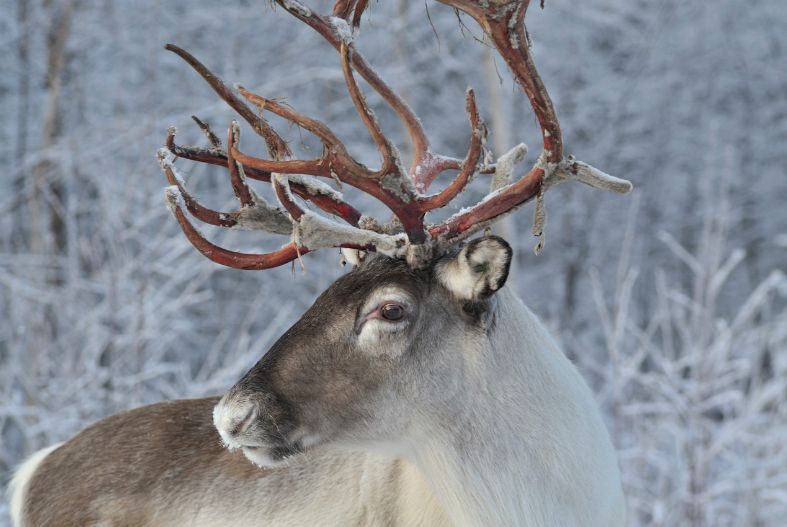 On a trip to Leavenworth Reindeer Farm, you can get up close and personal with Santa's best helpers. You'll have the opportunity to go in the enclosure with the herd, feed and pet the reindeer, and of course get lots of pictures!
Depending on the time of your visit, there might be special experiences like a chance to meet Santa or Elsa and Anna.
People of all ages will enjoy this unique opportunity to learn about and have close contact with a whole herd of reindeer.
Eat delicious food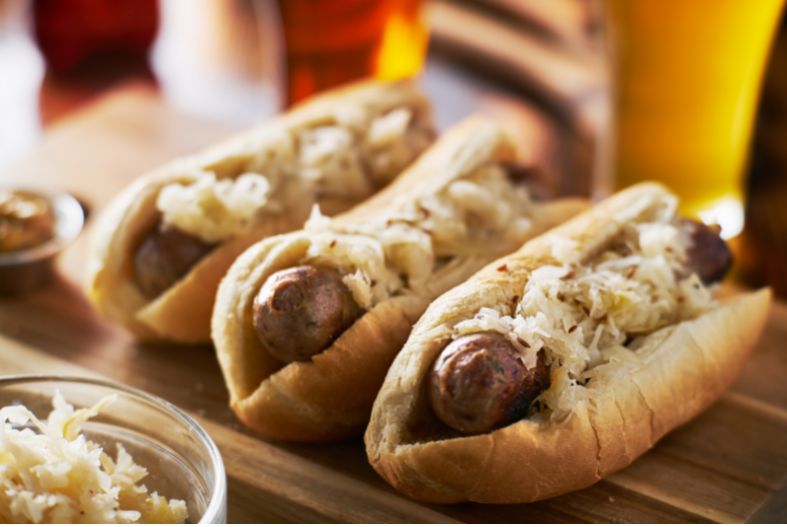 In this Bavarian-inspired town, it only makes sense that there is some delicious German food to be had! The town is particularly known for its bratwurst, schnitzel, and pretzels.
One of the best places to go for German fare is München Haus. Enjoy an authentic charbroiled sausage or pretzel with cheese while soaking in the ambiance of their Bavarian decor and outdoor patio. The sausages come in a variety of flavors with over 20 condiments and mustards to try.
Another option for German classics is Andreas Keller, serving delicious Bavarian cuisine accompanied by live music. The restaurant can get very busy but does not accept reservations, so plan on getting there early to add yourself to the waitlist while you stroll around the town.
Go on a sleigh ride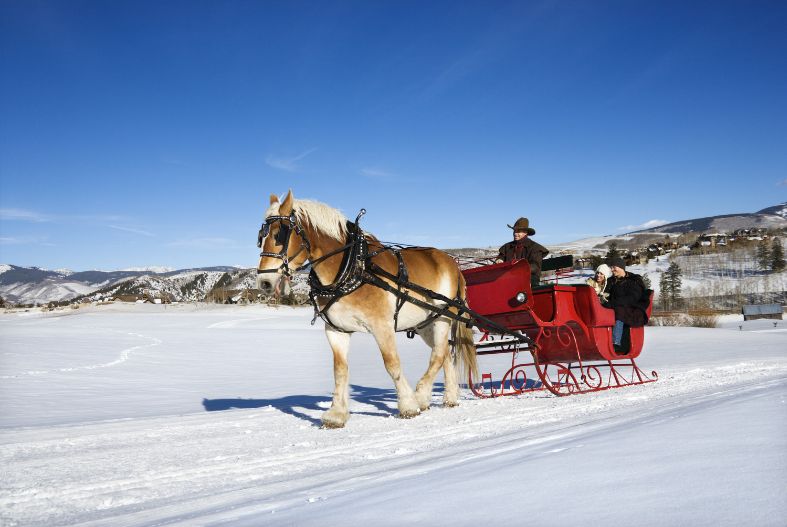 Enjoy a magical sleigh ride through the snowy forests and meadows of Leavenworth.
When you book with Leavenworth Sleigh Rides, there are a few different sleigh options, including a one horse sleigh that can be rented privately or two horse sleighs that can be rented by the row.
Your guide will tell you more about the history of the area as you take in the stunning view. Along the way you'll stop for a cup of hot cider by an open fire.
This is such a fun experience while in Leavenworth, especially if you're visiting with kids!
Visit the nutcracker museum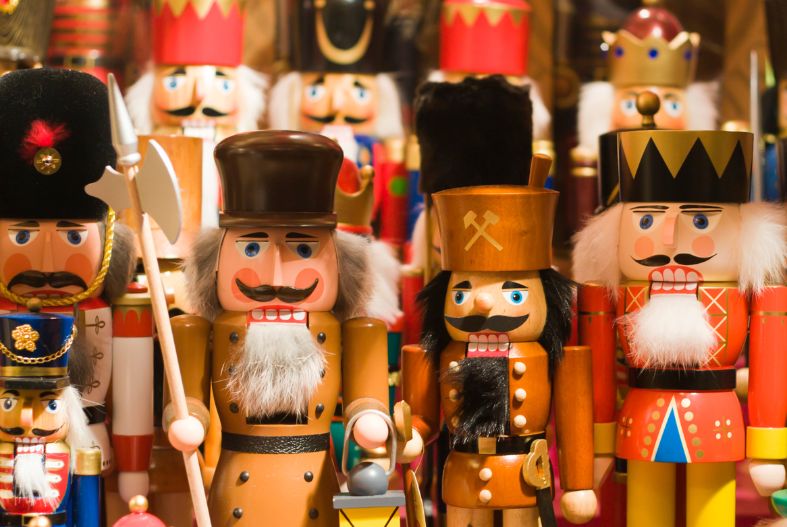 For a unique holiday experience, be sure to stop by the Nutcracker Museum. This museum is home to an impressive 9,000 nutcrackers from over 50 countries. For a small fee of $5 (children are free), you can see and learn about nutcrackers from all different time periods.
The museum also provides scavenger hunts, with different lists depending on the age of the hunter. Kids and adults alike will enjoy searching through the many nutcrackers to discover the items on their list.
What to bring to Leavenworth in winter
Leavenworth in the winter can be quite chilly, with temperatures dropping down into the 20's during the coldest months. Plan accordingly by bringing warm winter clothes with you.
If you're planning on doing snow activities, you'll want waterproof gloves, snow pants, snow boots and a warm winter coat.
And if you have room, you might want to bring some of your own sporting gear to avoid rental fees. However, you can rent most of what you'll need in the area, such as ski and snowboarding gear, sleds, snowshoes, etc.
Where to stay in Leavenworth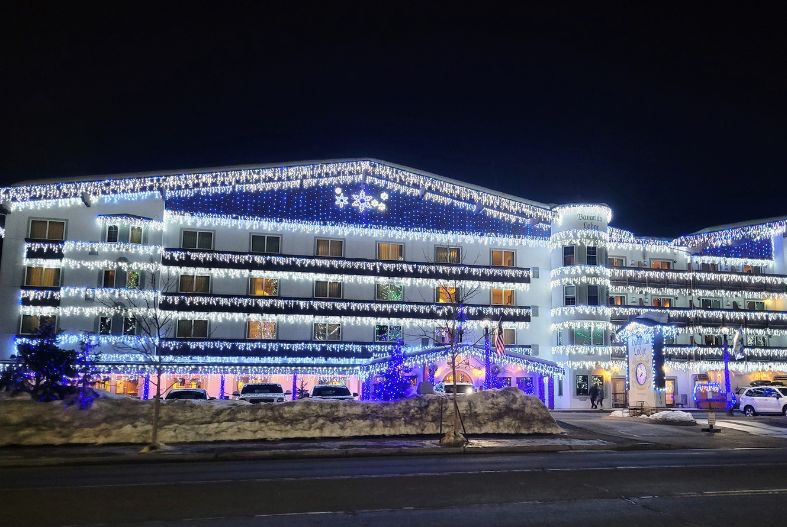 There are a lot of options for lodging in Leavenworth. If you're planning a trip during the Christmas season, be sure to book well in advance as rooms do tend to fill quickly.
On our recent trip to Leavenworth we stayed at the Hampton Inn, which is conveniently located near the center of Leavenworth. It's only a few minutes drive to all of the major attractions, including Front Street Park, Leavenworth Ski Hill, sledding, and the reindeer farm.
For something a little more in line with the local style, there are also cozy bed and breakfasts or rustic lodges to choose from, such as Haus Hanika or Cashmere Mountain Bed and Breakfast.
One of the best options location-wise is the Bavarian Lodge, which is located directly across from the town center. From here, you can easily walk to Front Street Park and the shops and eateries in the heart of the city.
You could also stay in one of the resorts in the area, such as Icicle Village Resort or Sleeping Lady Mountain Resort.
Common questions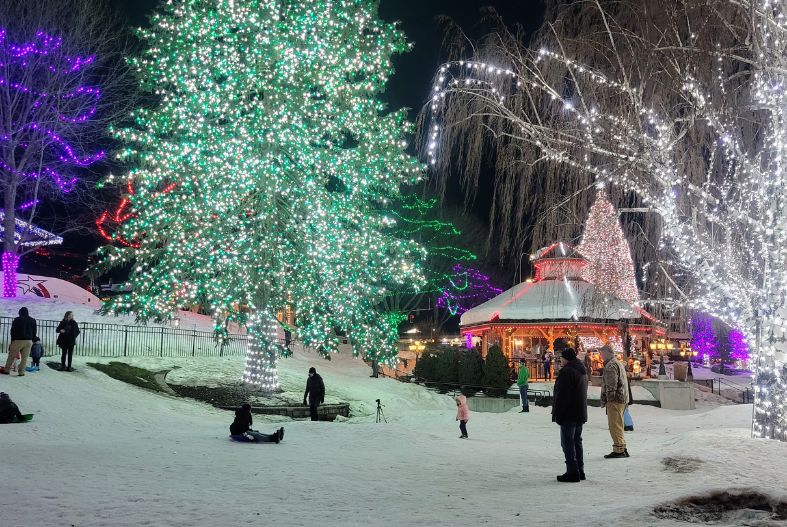 When should I go to Leavenworth?
To get the full impact of the Christmas spirit in Leavenworth, plan to visit sometime after the lights go up on Thanksgiving weekend and before Christmas day. During this time, you'll find all sorts of Christmas activities and festive holiday cheer.
However, this is also an extremely busy time to visit and you may find yourself fighting the crowds and traffic.
If you don't mind missing some of the Christmas ambiance, you can have a much less crowded experience by visiting after Christmas. The Christmas lights typically stay up through February, so you'll still be able to see the quaint, charming town glittering with thousands of lights…but without the hoards of people.
We've found January to be a very pleasant time to visit for a laid back holiday full of fun winter activities.
How many days should you spend in Leavenworth in winter?
While you can do a day trip to Leavenworth to get a general feel for the area, if you want to actually have time for some snow activities in the area you'll want to stay a little longer.
We would recommend staying in Leavenworth at least two to three days to be able to experience the best that this little town has to offer. That way you'll have time to explore the town, eat some delicious food, and enjoy the winter activities as well.
Is it safe to drive to Leavenworth in winter?
Leavenworth is typically blanketed in snow from October to March, so come prepared for driving in snowy winter conditions. You'll also need to go over a mountain pass to get to Leavenworth, which can be hazardous at times. It's best to drive a car that has 4 wheel drive or bring snow chains.
While the roads are kept clear and well-maintained, always check weather conditions and road reports before driving.
Final Thoughts
A visit to Leavenworth in the winter is something everyone should experience. In this snow-covered town you'll find twinkling lights, delicious food, and holiday cheer. Not to mention all of the snow activities, festivals, and celebrations.
We love visiting Leavenworth with our family and are counting down the days until we can head back again!
Other posts you might be interested in:
Essential Toddler Hiking Gear You Won't Want to Forget!
The Ultimate List of Toddler Travel Essentials (+Toddler Packing List!)
Road Trip Activities for Toddlers (That They Will Really Love!)