This page may contain affiliate links, which means that we may earn from qualifying purchases at no additional cost to you.
New York City is one of the top tourist destinations in the United States and it's easy to see why. There is so much to see and do and so many iconic places to visit. And New York City is actually a great place to visit with a baby! It's easy to get around, people tend to be very accommodating of babies, and there's lots to keep everyone entertained.
Actually, the baby stage can be a perfect time to visit the Big Apple. At this stage, they are still taking quite a few naps and it's easy for them to nap on the go. It's also typically a little simpler to keep them content before they really start moving around. So this is a nice age to get out and enjoy the city with minimal inconvenience.
When we visited New York City with our young baby, we found that it was relatively easy to get around and see the sights, even with an infant along.
Having such a young baby was actually great for this trip because he was content to nap and hang out in his baby carrier while we headed off to explore the city.
Read further to find out tips to make your trip to New York city with your baby a success!
How to get around New York City with a baby
Getting around in New York City is easy and straightforward, even with a baby along!
This is probably not a place where you want to rent a car given that it's expensive, hard to find parking, and tricky to get around if you don't know where you're going. Luckily, the city has a very efficient public transportation system.
Subway
One of the best ways to get around in New York City is by using the subway. It's easy to use, can get you close to most of the popular destinations you'd want to see, and it is often a nicer option than sitting in traffic. And it's the most cost-effective option.
The subway system can be tricky to manage with a stroller because there are usually lots of stairs to navigate. If you're going to be using the subway a lot, a baby carrier is a convenient way to transport your baby.
Taxi/Uber
Alternatively, you can also use a taxi or Uber to get around the city.
Uber conveniently allows you to use an app to hail a ride and pay with your phone. And unlike a taxi, you can know the rate for your route before booking the trip.
Another useful Uber feature is the ability to request a car seat for an additional charge, meaning that you don't have to lug your own seat around.
If you're taking a taxi, you can hail a ride from the street or have the doorman at your hotel hail one for you. Make sure the meter is running and that you are only charged the metered rate (plus a tip if you had a good experience). The exception is going to and from the airport, which is a fixed rate.
Do you Need a Car Seat in a Taxi in NYC?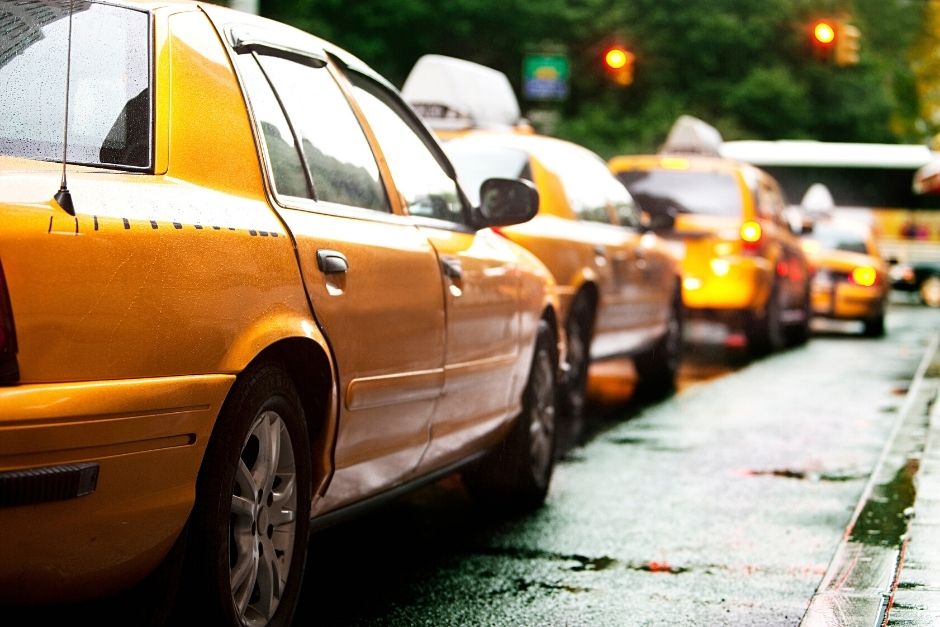 Legally children under 7 are permitted to sit on an adult's lap in a certified taxi. However, for the safety of your child, it is recommended that they are secured in a car seat whenever they are in a motor vehicle.
When traveling by taxi in New York City, you are allowed to bring and use your child's car seat or booster. Make sure that you know how to install it properly so that aren't caught unprepared trying to secure it in a rush.
There are also a number of car services that can provide car seats or boosters upon request.
Walking
And once you get into the city, a lot of the sights are within walking distance of each other, which means there's a lot you can see on foot.
This was one of our favorite ways to get around because we were able to really take in the sights and get a feel for the city. It's also an easy way to get around with a baby in a stroller or in a baby carrier.
Make sure to wear some comfortable shoes and map out where you want to go so you know the best walking route to get there.
Tips for visiting New York City with a baby
Bring a stroller or baby carrier
You'll definitely want to bring a method of transporting your baby when visiting New York City. The city is actually quite baby-friendly and most places will be stroller accessible.
If you are bringing a stroller, you'll want to bring one that is lightweight and folds up easily, as you'll likely be getting in and out of transportation frequently. We love the gb Pockit for travel. It's one of the most compact, travel-friendly strollers on the market.
Another great option is a baby carrier. Bringing a baby carrier means one less thing to carry and keep track of. And it can be easier than trying to navigate a stroller through crowds or having to find elevators everywhere you go.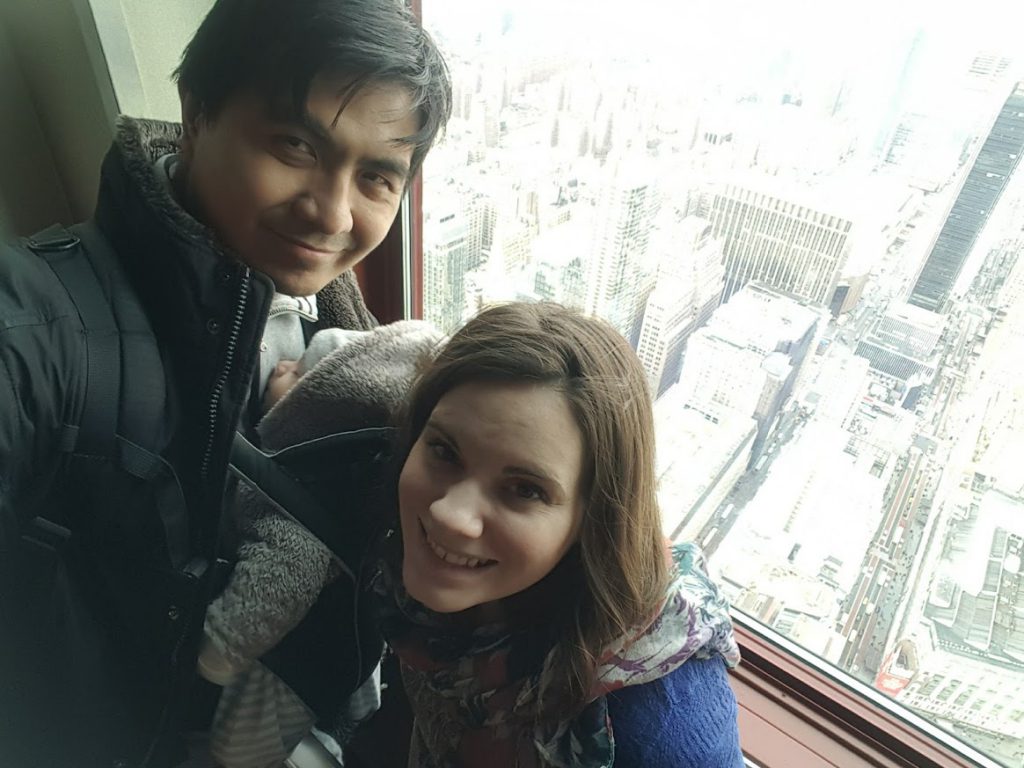 On this trip we chose to leave the stroller at home and just bring a baby carrier. (My favorite baby carrier for travel is the Ergobaby. It's comfortable, easy to get on and off, and simple to nurse in.) In the end we were really happy with that decision. We found it very easy to get around and have one less thing to worry about and keep track of.
Check your Hotel for a Crib
Most hotels will have a crib available for your baby, so you don't need to bring a pack n' play with you on your trip. Just call ahead and double-check with the hotel before your trip.
Consider Getting a City Pass
There are so many sights to see in New York, consider getting a city pass to get great deals on popular attractions.
The Explorer Pass is a great option, allowing you entry into multiple destinations for a discounted price. You can pick how many attractions you want included in your pass depending on how much time you have. The pass can be downloaded onto your phone or printed from home.
When you're traveling with a baby it's nice to have one less thing to worry about. A city pass has you covered.
What to pack for New York City with a baby
Baby carrier– My most recommended item for traveling to New York City with a baby is a baby carrier. Baby carriers make life so much easier when traveling with young children. Not only is a baby carrier a perfect way to transport your baby with minimal inconvenience, it's also great for napping and nursing on the go. I would never travel with my baby without bringing a baby carrier along as well.
Nursing cover– Nursing covers are helpful when you're nursing in public to minimize distractions for your baby. I also use them to cover my baby when they are napping so that they have a dark, cozy environment, which helps them to sleep for longer.
Stroller- If you're bringing a baby carrier you don't have to bring a stroller, but it can be helpful to have if you don't want to carry your baby everywhere. Plan on bringing a stroller that is easy to fold and preferable compact. We love the gb Pockit for travel.
Car seat- A car seat might not be necessary for your trip if you're planning on sticking to public transportation, but you might want to have the option to use it in a car or Uber (or on the plane). If you do bring a car seat, bring along a car seat travel bag so that you can easily transport it when not in use.
What can you do in New York City with a baby?
What can you do in New York City with a baby? Well, most of the things you would do without a baby!
One of the convenient things about traveling with an infant is that they are fairly easy to bring along, meaning you won't need to change your itinerary around much, just be sure to take your baby's needs into account.
While visiting New York City, there is so much to see and do, whether it's visiting national monuments or exploring museums or tracking down that perfect pastrami sandwich.
Whatever your interests, you can bet that you can find something that will appeal to you in this busy and varied city.
Here are some must-see activities in New York City and tips for visiting them with a baby!
See the city on a Bus Tour
Like most big cities in the US, New York has several bus tour options. We chose to do a hop-on-hop-off bus tour, which allowed us to jump off at the sights that we wanted to see and then catch another bus when we were ready to move on.
And the drivers also narrated what we were seeing and gave us interesting facts on the background of the city. It was a nice way to see a lot of the city and hear about its history at the same time.
This is a perfect example of a place where it's very convenient to use a baby carrier so you don't have to keep folding up your stroller and hauling it on and off the bus. If you do bring a stroller, try to bring one that is simple to fold up quickly.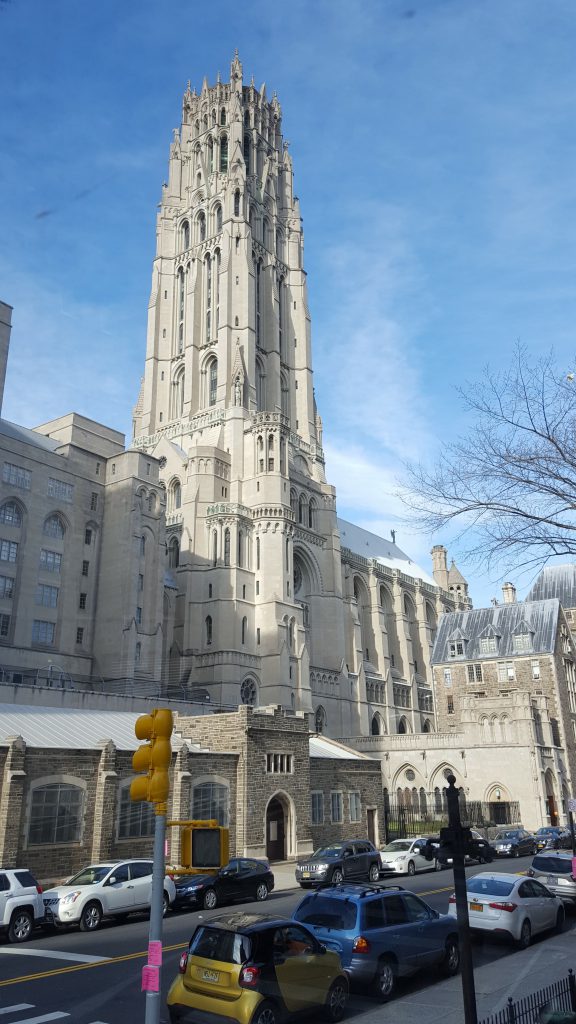 Take the ferry to the Statue of Liberty
How can you visit New York City without dropping in on Lady Liberty? And she was as beautiful and imposing as I had imagined!
Plan ahead by purchasing a half-day tour which will give you access to both Libery and Ellis Islands, the Statue of Liberty pedestal and museum, and allow you to skip the lines at the ferry.
Liberty and Ellis Islands are only accessible by ferry from Battery Park in New York City or Liberty State Park in New Jersey. One ferry ticket includes admission to both islands.
At the base of the monument, you can view the original torch and a museum detailing the construction and history of the statue. Entrance to the museum is included with a ticket to the pedestal.
From there, you can work your way up to the pedestal for some nice views of the city across the harbor.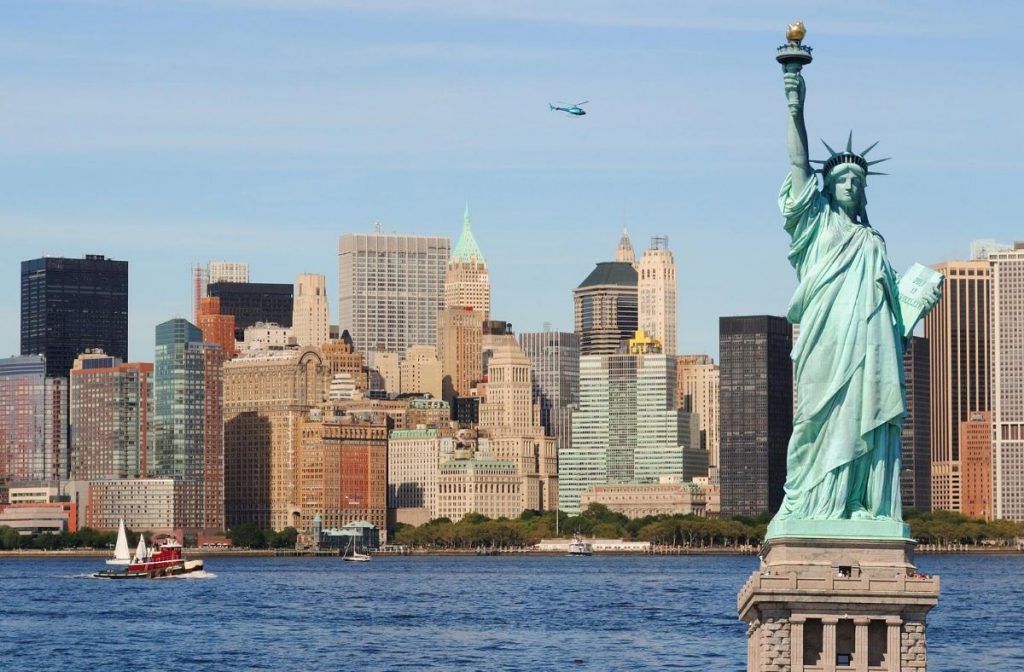 There are lots of stairs and it does get a little cramped at times. If you want to climb to the crown, you must book your ticket months in advance. Anyone climbing up to the crown must be at least four feet tall and able to climb up and down the steps on their own, so this isn't something you can do with a baby unless you take turns going up separately while someone stays below with the baby.
Strollers are not permitted in the statue, but there is free stroller check where you can leave your stroller at the entrance. I would recommend just using a carrier to save yourself the hassle.
Backpacks and bags are also not allowed inside, but there are lockers where you can store them at the base.
If you're going during the busy summer months, plan to go as early as possible in the day to beat the crowds. We were there in the winter and the lines were very short.
Visit Times Square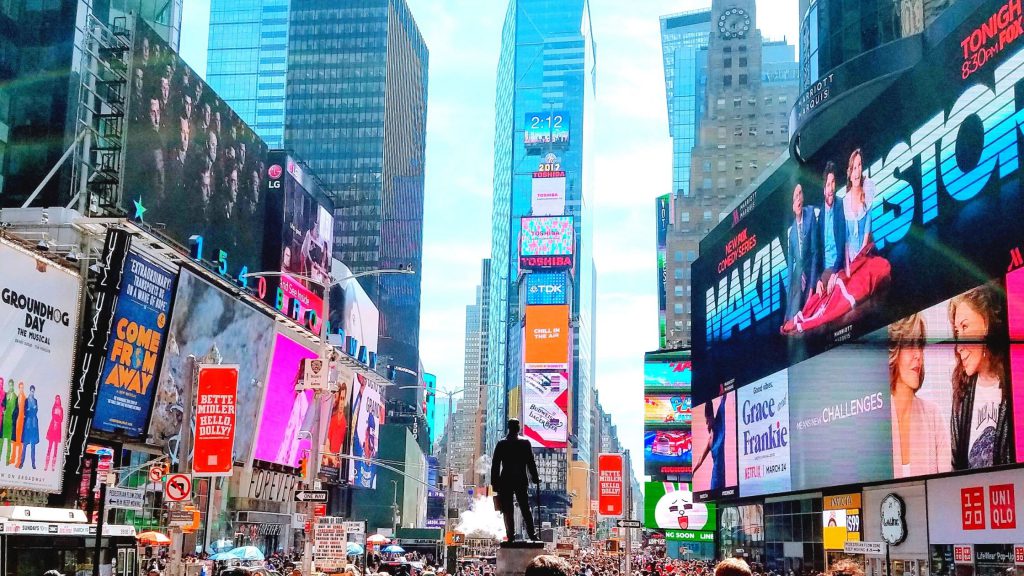 While in New York City, you should make time to stop by Times Square. Take some pictures in this iconic commercial intersection with it's massive billboards and flashing lights. You can also explore some of the popular stores and attractions nearby, including M&M's World, the Disney store, and the LEGO store.
One of the most popular things to do in Times Square is to see a Broadway show. However, if you're traveling with a baby this isn't going to be an option unless you have someone to watch your child as small children are not allowed in the theaters.
Times Square at nighttime is also quite the experience. Flashing lights, glowing screens, hoards of people. It can be crowded and busy, but it's a cool and unique experience.
The area is stroller accessible, but with the crowds it can often be easier to use a carrier instead.
Head to the top of the Empire State Building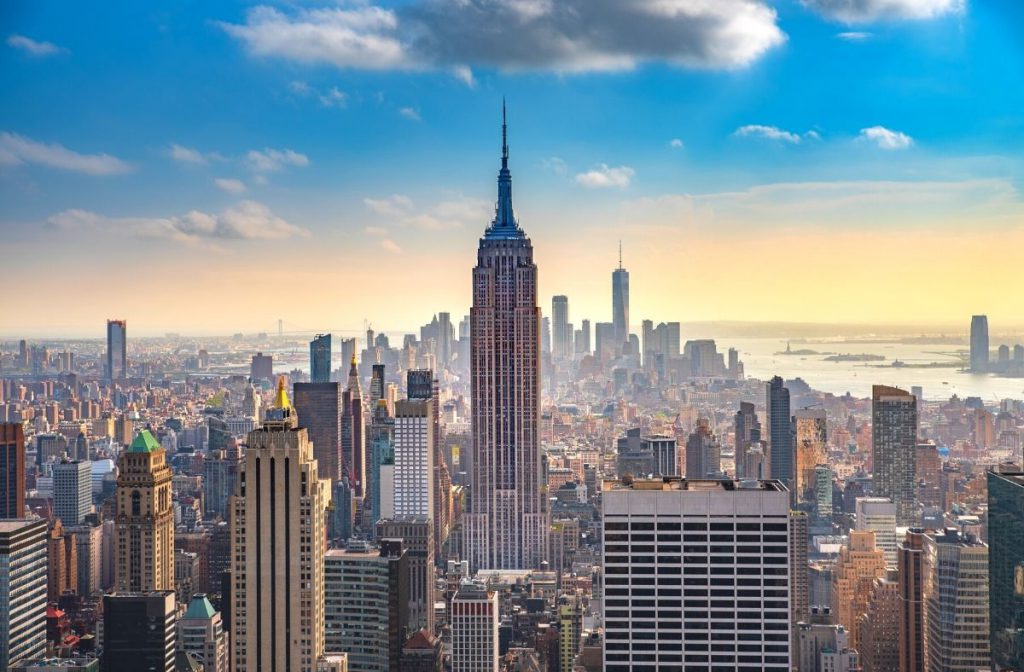 Going to the Empire State Building feels kind of like a rite of passage when visiting New York.
The 86th Floor Observatory is an open-air deck with breathtaking 360-degree views of the city. You can also pay an additional charge to go up to the observatory on the 102 floor.
If you want to avoid long lines, try to visit early in the day. Children five and under are free with the purchase of an adult ticket. Small bags are permitted, so you shouldn't have a problem bringing your diaper bag.
I recommend bringing a baby carrier when visiting the Empire State Building. Although you can take a stroller, it will need to be folded on the observation decks.
Relax in Central Park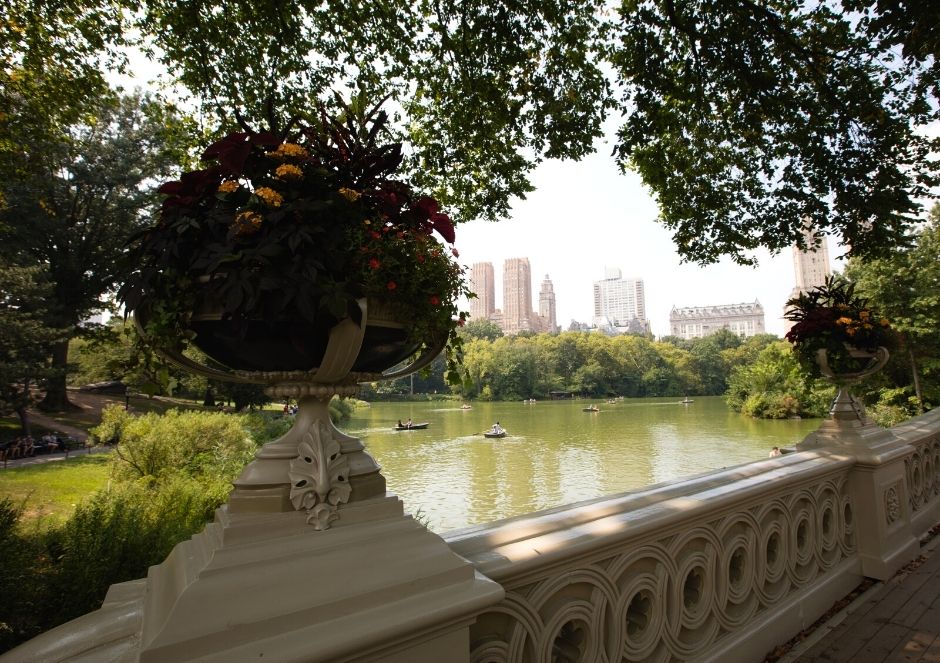 Central Park is a spot that families shouldn't miss when in New York City. The park spans 843 acres, so be sure to bring a stroller or carrier for your baby.
The sprawling park is a nice place to slow down a little and have a break from the fast-paced city. Enjoy a picnic, let your baby take a nap, or just enjoy strolling past the lovely gardens, bridges, and ponds.
Take in the views from the Top of the Rock Observatory

The top of Rockefeller Center has one of the best views in the city, offering stunning 360-degree views of the skyline. There are actually three observation decks, on the 67th, 69th, and 70th floors.
If you purchase a ticket in advance you can reserve a specific time slot or purchase a flexible date admission ticket which will allow you to go whenever is most convenient. Children under 6 are free. Strollers are permitted, but they must be collapsible. There are restrooms at the top.
Although you can also get amazing views from the Empire State Building, the nice thing about this observatory is that you get the Empire State Building in the view for that classic shot of the New York skyline. Given the choice between the two, I would recommend Top of the Rock.
Experience the 9/11 Memorial and Museum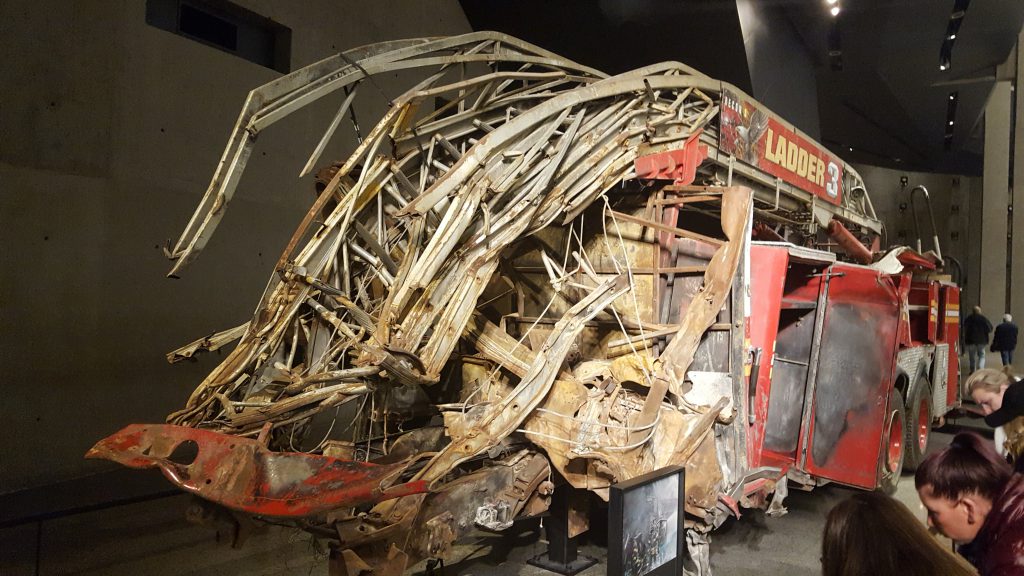 It was very sobering to be standing at the site of Ground Zero. The memorial is a moving tribute to those affected by the events of that day. There is a lot to see and experience at the 9/11 Museum, which provides an in-depth look at what happened on that date in 2001 and the implications of those events then and now.
If you're going to the museum with older children, I can imagine there would be some challenging discussions to be had. There are brochures available about how to talk to your children about what they learn in the museum.
Visiting with a baby made that simpler, the baby slept while we were able to experience the museum for ourselves.
Strollers are permitted in the museum, although we chose to wear our baby in a carrier.
Be ready for some strangeness at Ripley's Believe It or Not!
This zany museum full of strange facts and bizarre artifacts will keep you guessing as to what's real and what's not. The Ripley's Believe It or Not! at Times Square is the largest Ripley's in the world with over 500 artifacts to see.
While maybe not a necessity when visiting New York City, Ripley's is a fun place to spend an hour or two perusing the interesting exhibits at the museum. The museum is stroller-friendly and easy to navigate with a baby.
Final Thoughts
New York is an iconic city that everyone needs to experience. And making the trip with a baby is totally doable, with a little preparation.
It can be a great trip with a young baby because you can explore while the baby naps or sees the sights from a baby carrier or stroller.
We had the best time visiting New York City with our baby along and would recommend it to anyone considering a visit with a baby. It ended up being a fun and memorable trip for the whole family!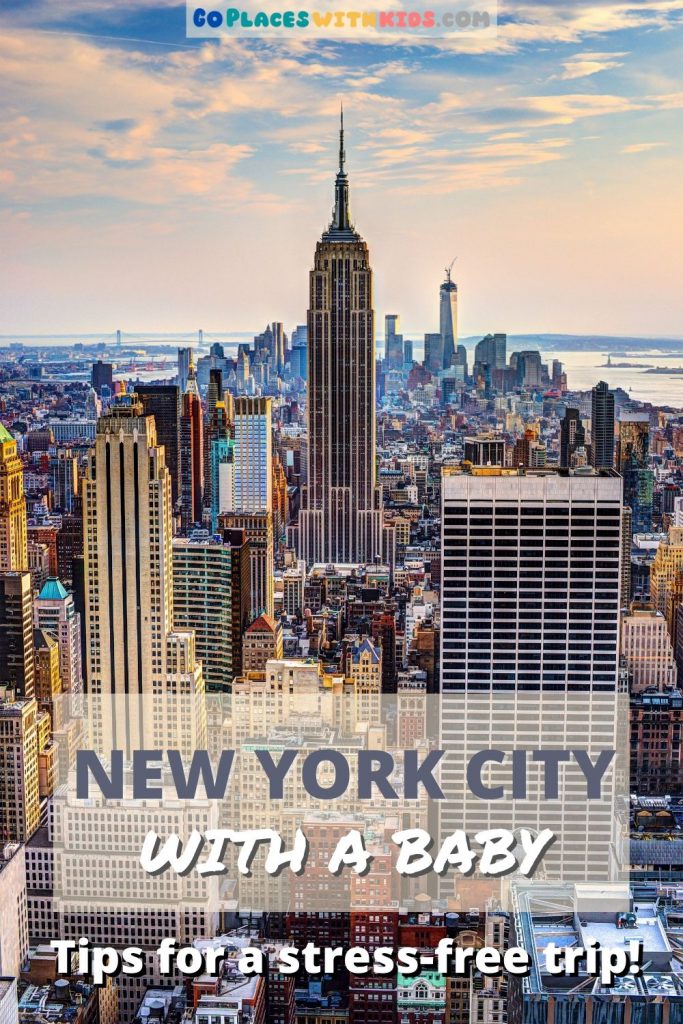 Other posts you might be interested in:
Rome with a Baby- What to see and tips for success