This page may contain affiliate links, which means that we may earn from qualifying purchases at no additional cost to you.
If you're looking for a fun family vacation, you can't go wrong with a visit to Yellowstone National Park. A trip to Yellowstone is something that should be on everyone's bucket list. And it's a perfect place to visit with kids!
Established in 1872 as the world's first national park, Yellowstone covers more than 2.2 million acres. That's larger than Delaware and Rhode Island combined!
It's a diverse landscape with fascinating hydrothermal features and a diverse array of natural wildlife.
At Yellowstone, you can see shooting geysers, vibrant hot springs, stunning landscapes, and animals like bears, bison, and wolves in their natural habitat. It really is an unforgettable experience that everyone in the family will enjoy.
And if you are planning on visiting Yellowstone with kids, we have everything you need for a great trip! Read on for tips for visiting Yellowstone with kids, the best things to do in Yellowstone with kids, and essential items for a successful trip.
For a perfect 3 day Yellowstone itinerary, see this post.
Tips for Visiting Yellowstone with Kids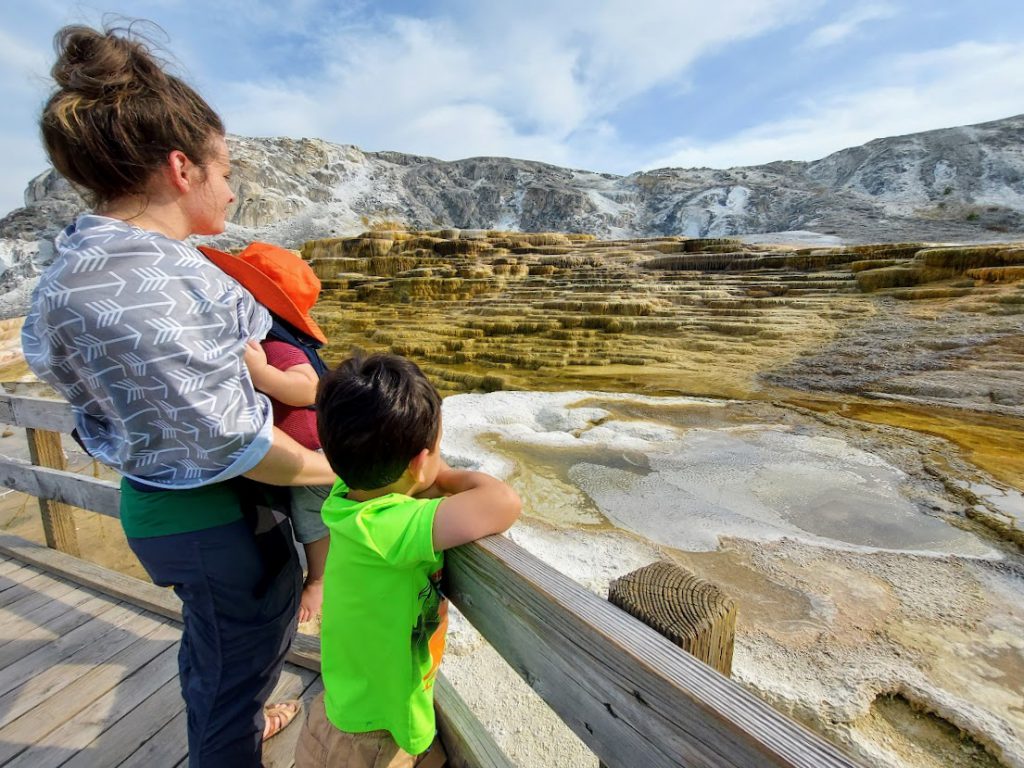 Best time to visit Yellowstone with kids
The most popular time to visit Yellowstone is during the summer, with the peak months being July and August.
If you want nice weather with fewer crowds, it's ideal to visit Yellowstone in April or May, or September or October.
We went at the beginning of September and found it to be an ideal time to visit. The temperature was quite pleasant and we didn't find the park to be too crowded.
Safety
Yellowstone is a rugged land with many potentially dangerous elements, whether it's the animals that live there or the geographical features.
Make sure your child understands the importance of following all park rules, especially in terms of wildlife and staying on the boardwalk in designated areas.
If you're traveling with a toddler, I highly recommend bringing a toddler carrier. I felt so much peace of mind having our toddler secured in his toddler carrier instead of trying to hold his hand or keep track of him in areas with dangerous geothermal features and no guard rail.
Respect the wildlife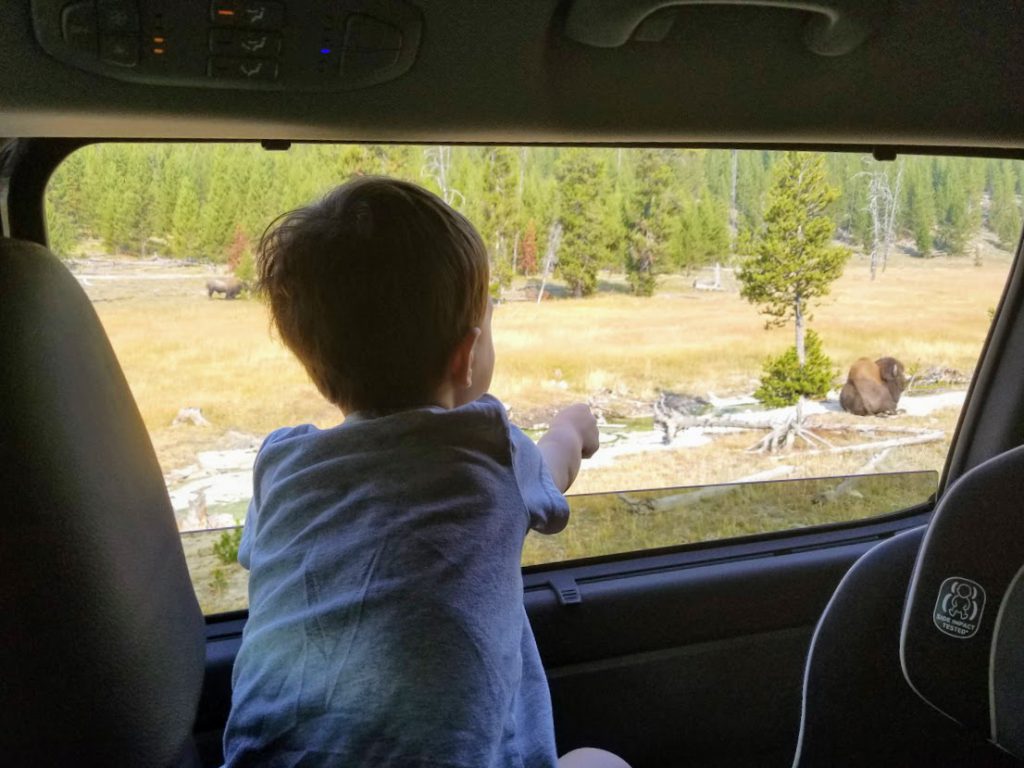 This goes along with safety, but while there respect the animals that call the park their home. Yellowstone boasts a wide array of wildlife of all different kinds and none of it is tame. And it shouldn't be.
Never approach or feed animals in the park. At all times, stay 100 yards away from bears and wolves and 25 yards away from other animals such as bison and elk.
Bear safety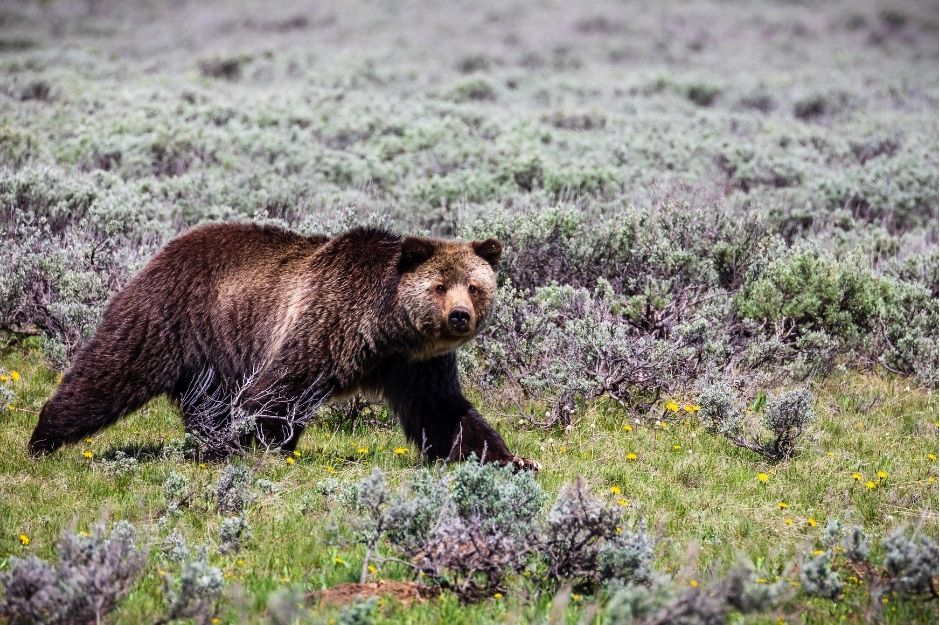 Yellowstone is bear territory, so there are some inherent risks. That being said, if you're just visiting popular attractions, you typically have nothing to worry about. But you should always be prepared for a bear encounter (especially if you're planning on hiking) by being aware of bear safety practices.
Hike in groups of three or more people and make noise in areas with limited visibility so that you don't end up taking a bear by surprise. If you do come across a bear, don't run, just back away slowly.
You can also buy bear spray at stores in and around Yellowstone or even rent it at the north end of the park.
If you do buy bear spray, store it carefully and know how to use it. While we were at Yellowstone, we had an unfortunate incident where someone dropped a canister of bear spray near where our family was standing, causing the canister to start spraying everywhere. Although we ran as fast as we could in the opposite direction, we still got a good waft of bear spray in our faces and had watering eyes and coughing fits for several minutes.
So just be careful when you're handling bear spray, it's potent stuff and you don't want to set it off by mistake.
Bring food and water
Food is only available in select areas in the park, so plan ahead to either be near one of those places for meals or pack your own food.
If you want to buy food within the park, you can find dining near the park lodges. See here for more information on park dining facilities.
And of course, when you're exploring with kids you always want to make sure to have snacks on hand to prevent them from getting hangry.
One of the most important things to remember to bring is water. It gets hot when you're exploring and you don't want anyone to get dehydrated. There are certain areas you can refill your water bottles, like the visitor's centers and certain trailheads. We also like to bring electrolyte add-ins to make sure everyone is staying hydrated.
Give yourself extra time to get around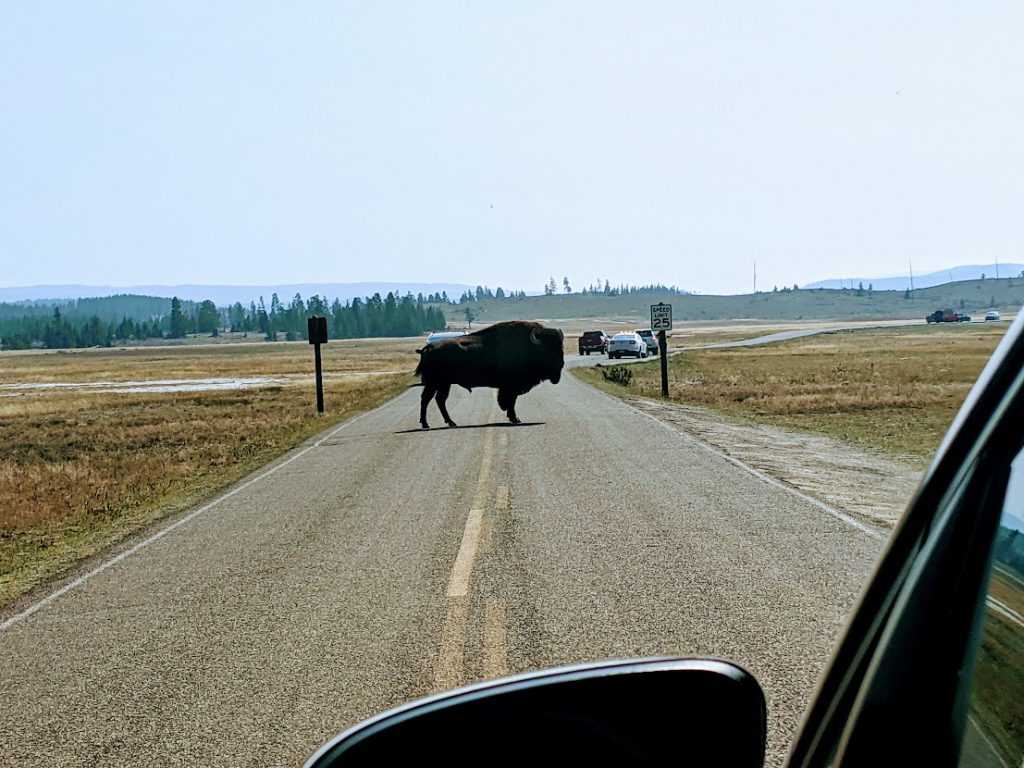 Getting around Yellowstone Park can take longer than you might expect, especially if you're visiting during peak season.
The maximum speed limit in the park is 45 miles per hour, and in some places, it's even lower. And the majority of the time you will be on two-lane roads which can get bogged down easily. Oftentimes this is due to the wildlife, whether it's an animal stopping in the road or just cars stopping or driving really slowly when an animal is spotted near the road.
During crowded times you'll also often have to wait a bit to find parking at the more popular sites. Luckily there are always people leaving, so we never felt like we had to wait too long.
Also realize that in the evening everyone will be leaving the park at the same time, which can cause a long lineup of cars heading towards the exits.
So give yourself a bit longer than you might expect to visit all the sites so that you don't end up frustrated by inevitable delays.
Plan your day before you get to the park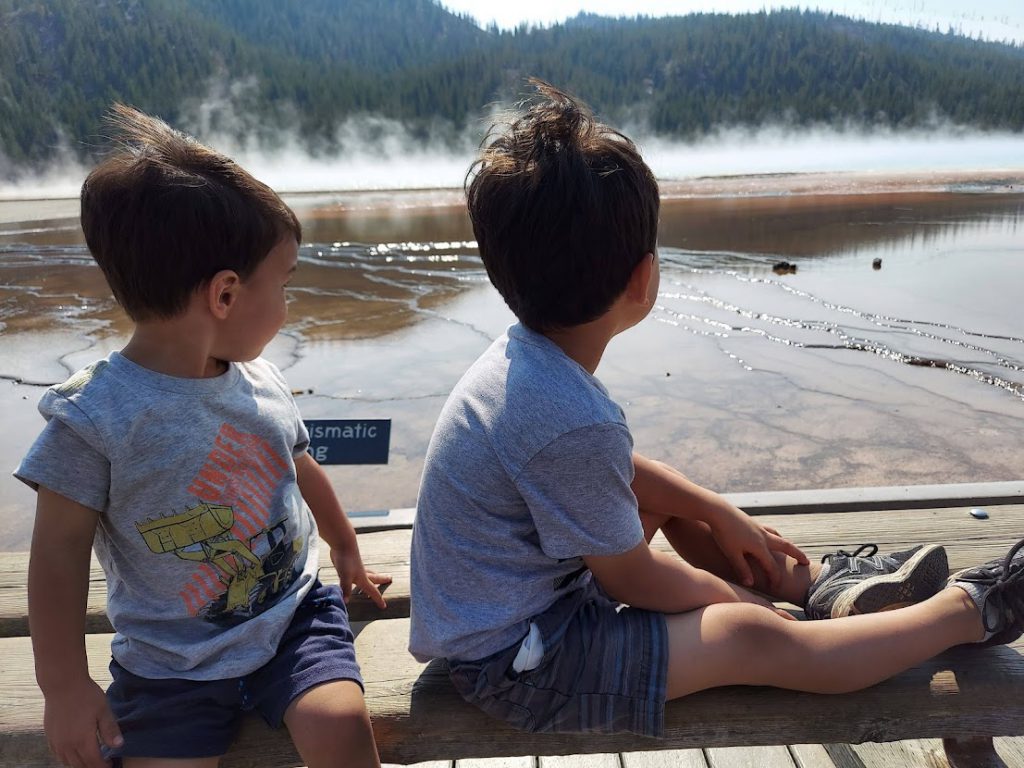 There is no internet in the park, so you can't look up any additional info once you're there. The park rangers are helpful, but you won't always be able to find one in the huge park. Make sure you do any necessary research before you enter the park.
An incredibly helpful resources to have while you're at Yellowstone is the NPS Yellowstone App. This app has lots of resources that can be used offline, like a map of the park and where to find food and restrooms. There are also self-guided audio tours to educate you about many of the sites in the park and useful information such as road closure notices and geyser predictions.
But you need to remember to download the app before you enter the park so that you have access to the information you need when you inevitably lose signal.
Best things to do in Yellowstone with kids
There are so many things to see and do in Yellowstone that kids will love. Depending on your child's interest, you can pick activities that they are most likely to be excited about. Here are some of the top things to do in Yellowstone with kids.
See the wildlife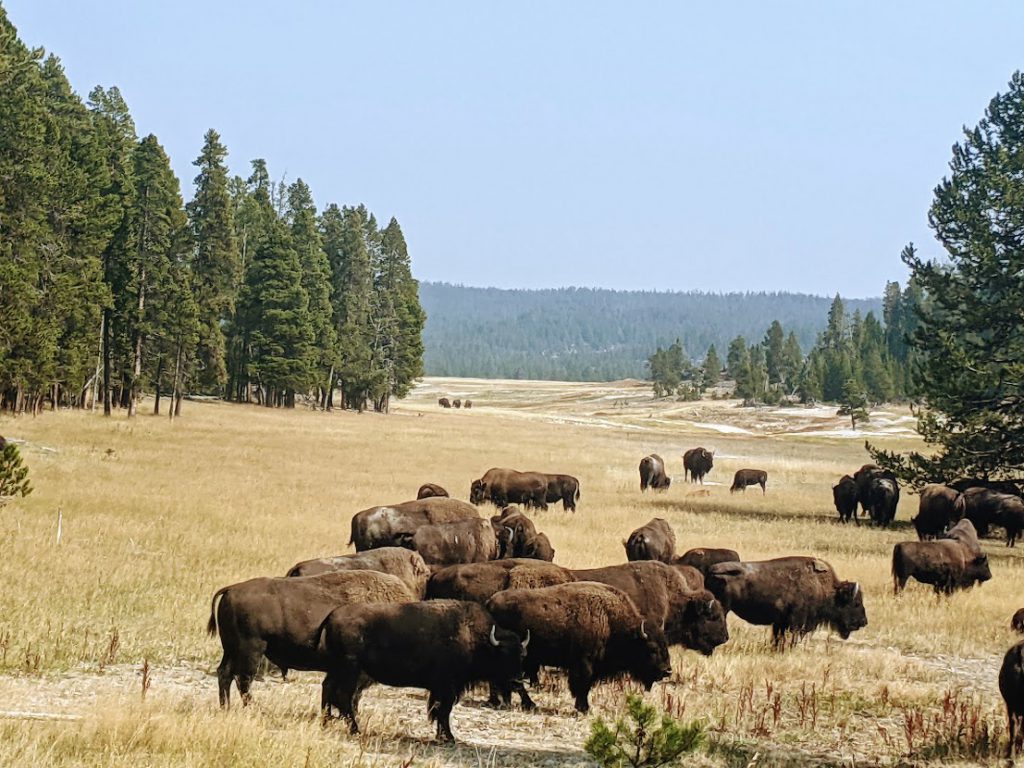 One of the best parts of Yellowstone for kids is all of the animals that they get to see! My kids were so excited about all of our animal viewings when we were visiting the park.
Commonly referred to as the "Big Five", the most sought-after animals for wildlife viewings in Yellowstone are bears, wolves, elk, bison, and moose. It's pretty hard to take a trip to Yellowstone and not see bison and elk at some point (and often you'll see herds of them), but the other three might take a little more work to spot.
If you want to seek out the wildlife, two of the best places to do so are Lamar Valley in the Northeast and Hayden Valley in the center of the park.
Often referred to as the Serengeti of Yellowstone, Lamar Valley is a common place to see bison, elk, pronghorn, grizzly and black bears, and wolves. It's a bit out of the way from the other sites, but it's worth it if the wildlife is one of the main focuses of your trip.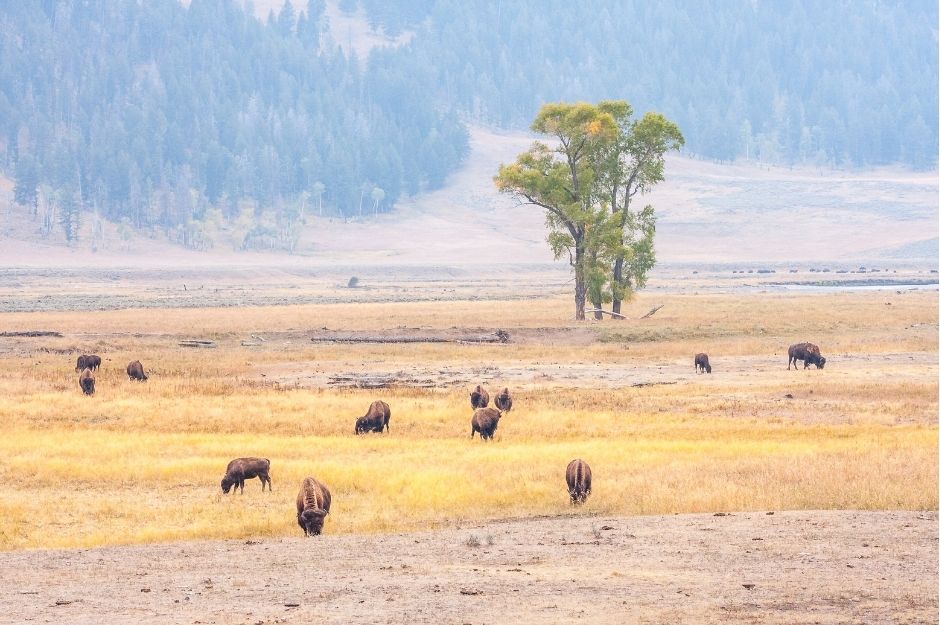 The other popular place to see animals is in Hayden Valley. Because it is more centrally located, it is much more crowded than Lamar Valley but more likely to be on the way to other sites you want to see. This is another area where you have a decent chance of seeing the Big Five in Yellowstone.
The best time to see animals in these locations (and in the park in general) is in the early morning or in the evening, so plan your visit accordingly.
But a lot of times, the way you'll end up seeing the wildlife is just by going about the other activities in the park.
As you're driving, you'll see herds of bison grazing alongside the road (our kids got a huge kick out of seeing an enormous bull cross the road directly in front of our car).
And if you're not paying attention, you might even find them when you least expect it, like the time a mother elk and her calf came wandering around the corner of a building we were standing next to within feet of us! We quickly backed away to give them the proper space, but it was definitely a memorable experience.
Tip: Don't forget your binoculars! You will have much more success spotting elusive animals if you can expand your range of vision. And it's really cool to feel like you're up close with the animals you see from a distance.
Experience the geysers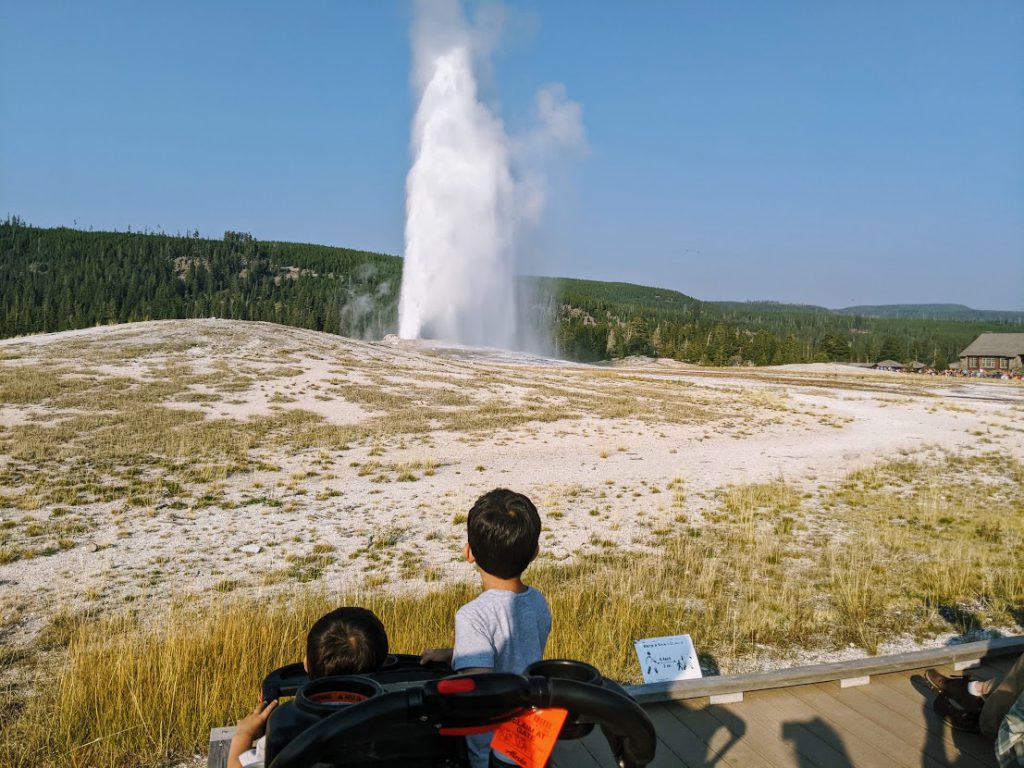 A definite highlight for any kid (or adult) visiting Yellowstone is seeing a geyser erupt. And there are 500 geysers in Yellowstone, so you have a lot of options to choose from.
Probably the best place to see geysers is the Upper Geyser Basin. This area (where Old Faithful is located) has the highest concentration of active geysers in the world.
And the nice thing about geysers in this area is that many of the eruptions can be predicted, which is helpful if you're on a schedule. At the visitor's center next to Old Faithful, you can find a list of the nearby geysers and when they are predicted to erupt next (plus or minus a certain number of minutes).
Our kids were completely fascinated by the many geysers they saw in the park and it's probably the feature they talked about most after our trip.
Admire the geothermal features
Geysers might be the most exciting geothermal feature in Yellowstone (at least according to my kids), but they aren't the only one. The other geothermal features of the park include mud pots, fumaroles, and hot springs.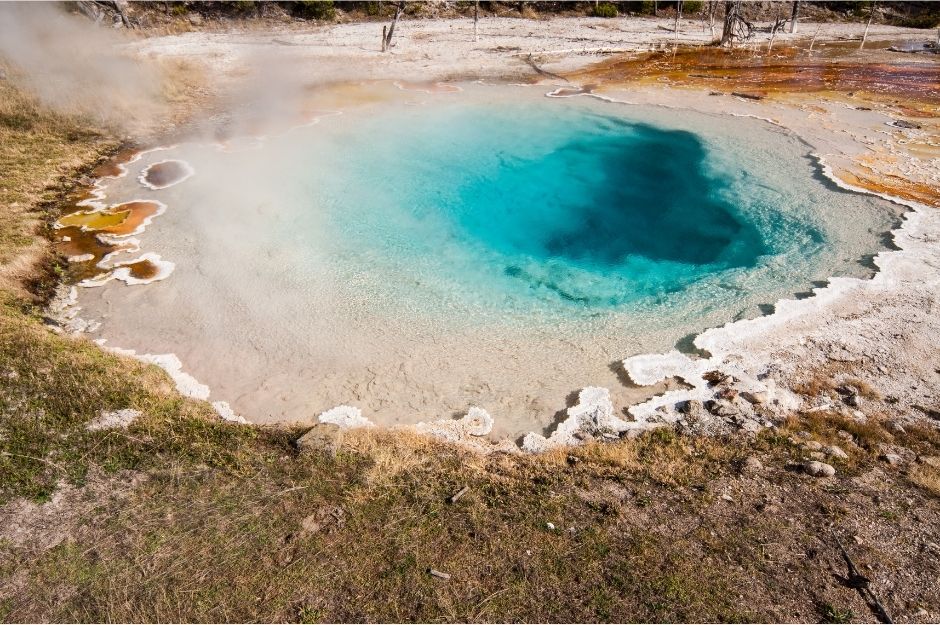 You'll find these features all over the park, but here are a few specific places where you can seek them out:
Fountain Paint Pots- On this short half-mile walk you can see all four geothermal features!
Artist Paint Pots- A one-mile trail leads you past bubbling paint pots and steaming hot springs.
Grand Prismatic Spring- The largest hot spring in the park (and also one of the park's most popular attractions), Grand Prismatic is a stunning sight to behold. A .8-mile boardwalk takes you around the multi-colored spring.
Go on kid-friendly hikes
With over 1,000 miles of trails, Yellowstone has a wide variety of hiking options. And there are many hikes in Yellowstone that are perfect for the whole family- easy enough for kids but still rewarding for adults as well.
Some of the best options for hikes with kids:
Grand Prismatic Overlook Trail– This trail is where you can get the best view of Grand Prismatic Spring. Yes, you can go down and see it up close (which you should still do), but looking at it from above is where you can really see the stunning contrasting colors of the spring. This hike is .6 miles and climbs 105 feet, leaving from the Fairy Falls Trailhead parking lot.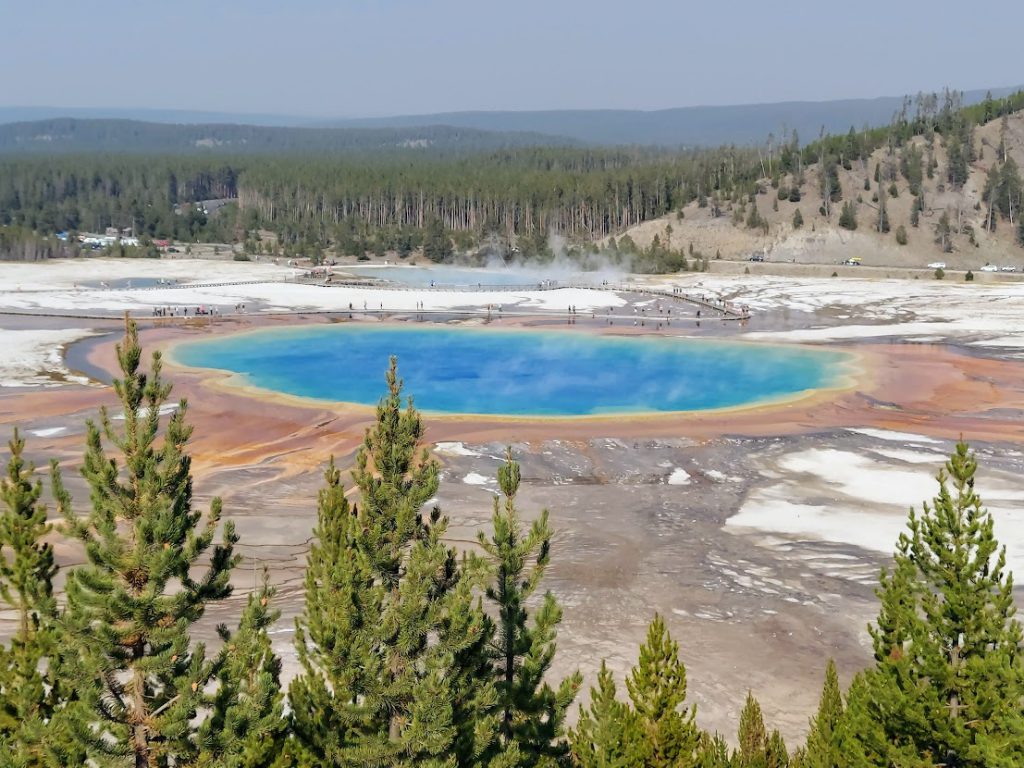 Mammoth Hot Springs- This is an easy hike on a boardwalk past unique travertine terraces formed by hot flowing waters. You can easily spend an hour or two here, but there are shorter loops if you want an abbreviated visit.
Norris Geyser Basin- Of all the geyser basins in Yellowstone, Norris is the hottest and most dynamic. This easy 2.9-mile loop is definitely worth a visit when in Yellowstone. This hike consists of two parts- Back Basin and Porcelain Basin (if you're short on time just do the 1-mile Porcelain Basin Loop).
Morning Glory Trail- Located just past Old Faithful, this easy 1-mile trail (2 miles roundtrip) takes you past several large geysers and ends with a colorful thermal pool.
West Thumb Geyser Basin Trail- This .6-mile trail curves along Yellowstone Lake, providing scenic views of the lake as well as the geothermal features in the basin.
Wraith Falls Trail- A short trail with a big payout at the end, Wraith Falls Trail is a perfect hike for even young kids. At the end of the trail you are greeted by the 79-foot Wraith Falls. There and back, the hike is just under a mile.
Trout Lake Trail- This 1.2 mile hike starts out with a bit of a climb, but it quickly levels off and you are rewarded with stunning views of the lake.
Beaver Pond Trail– If you have older children, consider taking the 6-mile beaver pond trail for a peaceful nature walk and a chance to see lots of wildlife (bear, elk, and moose sightings are very common on this trail!)
Visit the scenic overlooks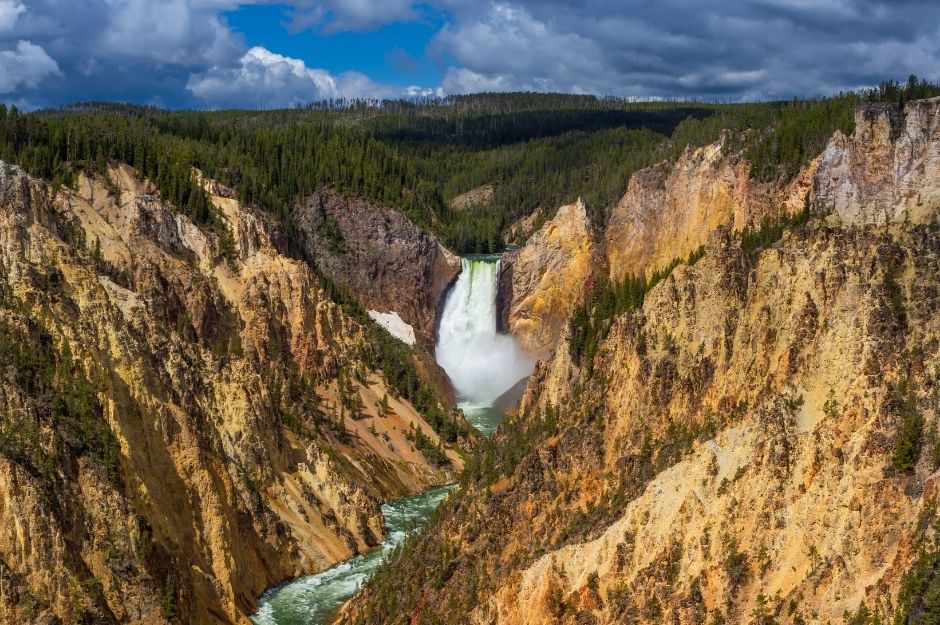 There are many majestic sights in Yellowstone that you can see from overlooks near the road, which is a great option if your kids aren't excited about doing a lot of hiking. Make sure to make time to stop for some of these breathtaking views!
Undine Falls- Located near Mammoth Falls in the north of the park, this roadside overlook provides a view of Undine Falls. The waterfall descends 60 feet over three tiers.
Artist Point- For a stunning view of the Grand Canyon of Yellowstone and the 308-foot Lower Falls, make a stop at this popular viewpoint along the South Rim.
Lookout Point- Lookout Point provides a different perspective of the Grand Canyon of Yellowstone from the North Rim. From this view, you can see the Lower Falls from a somewhat closer position than at Artist Point.
Tower Fall- Located in the northeast of the park, a short walk from the parking lot to the Tower Fall Overlook provides a spectacular view of this 132-foot tall waterfall.
Bridge Bay Marina Pull-outs– If you want a scenic view of Yellowstone Lake, you can find various pull-outs along the road near Bridge Bay that will give you a charming view of the lake. This is especially picturesque at sunrise.
Become a junior ranger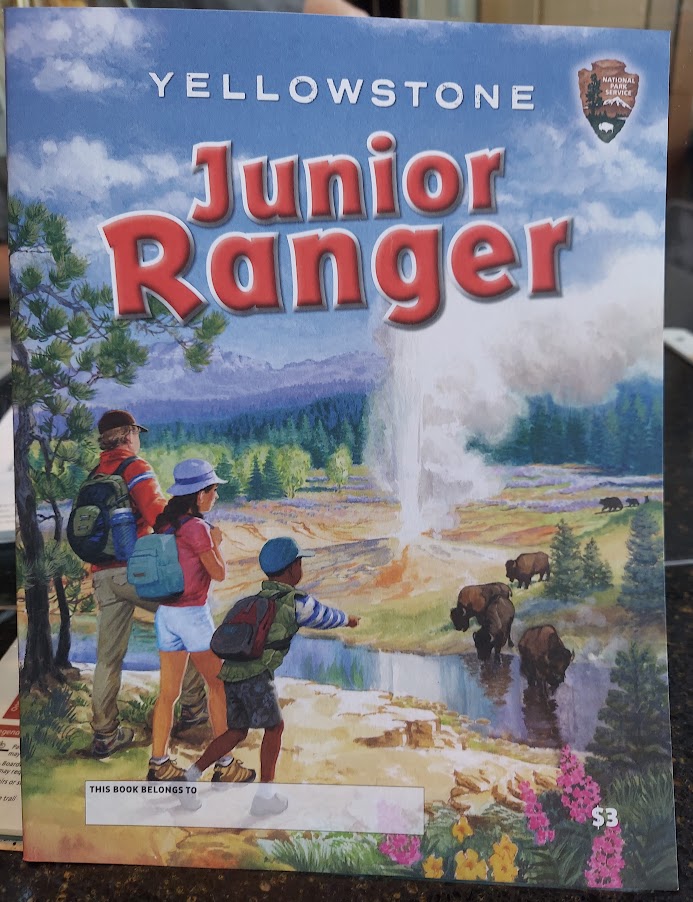 The Junior Ranger program is available in all National Parks, and it is definitely worth it if you're visiting the park with kids. Seek out a park ranger at one of the Visitor's Centers when you first arrive and get the Junior Ranger book with activities for your child to complete during your visit to Yellowstone.
Once your child completes a certain number of activities in the book (which vary by age), they can get their junior ranger badge!
There are a few things that make the Junior Ranger program at Yellowstone different from other national parks. At other national parks, the program is typically free. However, due to the high number of participants at Yellowstone, when we were there you had to pay a $3 fee per participating child.
And because the park is so big, they usually just give the badge to the parents when you get the book. Then when your child completes the required activities, you can do the Junior Ranger pledge with them and give them their badge instead of having to seek out another park ranger to get the badge.
We've found the Junior Ranger program to be a great way to help our children stay engaged when we're visiting national parks. And it helps them learn all about the park they are visiting in a fun way!
Visit the Grizzly and Wolf Discovery Center
The Grizzly and Wolf Discovery Center is actually located just outside of the West Entrance of Yellowstone, but it's worth a visit if you want to see some of the animals up close. Along with bears and wolves, you can see birds of prey, otters, and ground squirrels.
At the Discovery Center, you can also see presentations, listen to Park Ranger Talks, watch educational movies, and participate in a variety of children's programs.
All of the animals at the Discovery Center are ones that are unable to survive in the wild.
Where to stay in Yellowstone with kids
If possible, plan far ahead for your accommodations while in Yellowstone. Much of the lodging in and near the park will fill up months in advance, especially during peak season. When deciding where to stay, three popular options are camping, staying at one of the accommodations in the park, or staying in one of the towns just outside the park entrances.
Camping
A fun and cost-effective way to stay at Yellowstone is camping. For some of the campgrounds you can reserve a campsite ahead of time, which is highly recommended as they do fill up. There are several different campgrounds located throughout the park, depending on where you want to be based.
For more information about camping at Yellowstone, see this site.
Lodging in Yellowstone Park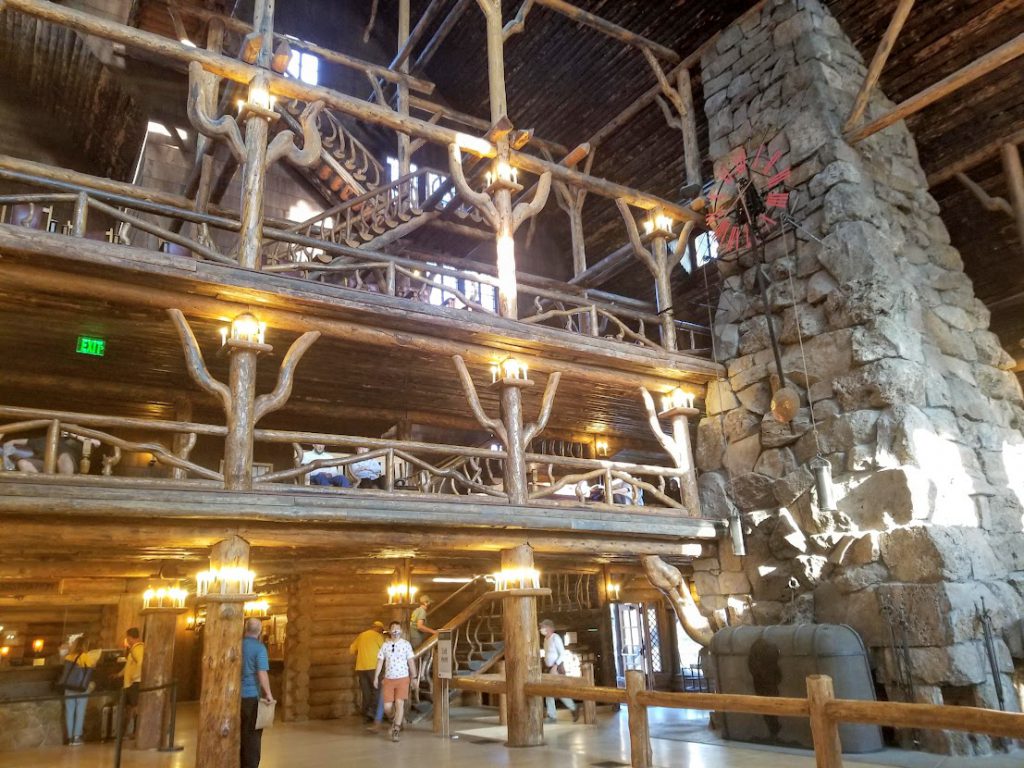 In order to make the most out of your time in Yellowstone, you might want to consider staying at one of the lodges or cabins located within the park.
This convenient location saves you the time of driving to and from the park every day, a perk that is especially valuable when traveling with kids. I hate waking my young kids up any earlier than I have to, but one of the best times to explore Yellowstone is in the morning when the wildlife is out and the crowds are at a minimum. Staying in the park allows you to get an early start without waking your kids up at a crazy hour of the morning.
There are several options for lodging and cabins located within the park. Once again, book early as these places fill up quickly! You can book accommodations up to a year in advance, so don't wait to reserve your spot. For more information on in-park lodging, see this site.
*Note that air conditioning and television are not available in accommodations in the park.
Here is a brief description of the in-park lodging (listed from north to south):
Mammoth Hot Springs Hotel and Cabins– Located just inside the North Entrance of the park, this hotel is a great place to stay for a visit to Mammoth Hot Springs (located only minutes away) or as a jumping off place to visit Lamar Valley or Tower Falls to the east.
Roosevelt Lodge and Cabins- Situated in the northeast of the park near Tower Falls, this Lodge is located near a campground used by Theodore Roosevelt when he visited Yellowstone. This is a nice location from which to visit Lamar Valley as well.
Canyon Lodge and Cabins– This lodge is centrally located in Yellowstone, a half-mile from the Grand Canyon of Yellowstone. It's also a good location for seeing Hayden Valley and Norris Geyser Basin. You can select hotel-style rooms or cabins.
Old Faithful Inn- If you want to stay at this iconic inn, plan ahead. As the most popular accommodation in the park, Old Faithful Inn books up well in advance. This lodge, considered the largest log building in the world, was built out of local wood and rocks in 1903 and is a national historic landmark. Located directly next to Old Faithful, a stay here will provide ample opportunity to see erupting geysers and explore the Upper Geyser Basin.
Old Faithful Lodge Cabins- Another option for staying near Old Faithful is the Old Faithful Lodge Cabins. There is a historic main lodge and some rustic cabins to choose from. You can select cabins with or without a bath- if you choose without there is a communal toilet and shower located nearby.
Old Faithful Snow Lodge and Cabins- Located near Old Faithful, this award-winning lodge is open both during the winter and summer. Both cabin and hotel-style rooms are available.
Lake Lodge Cabins- Situated right next to Lake Yellowstone, Lake Lodge cabins are a nice option if you would like to stay in the southern end of Yellowstone.
Lake Yellowstone Hotel and Cottages- The oldest standing hotel in Yellowstone, Lake Yellowstone Hotel is a charming and picturesque option located near Lake Yellowstone.
Grant Village- Grant Village is located to the south of Yellowstone. It provides easy access to Yellowstone Lake, West Thumb Geyser Basin, and the South Entrance of the park.
Staying outside the park
West Entrance- West Yellowstone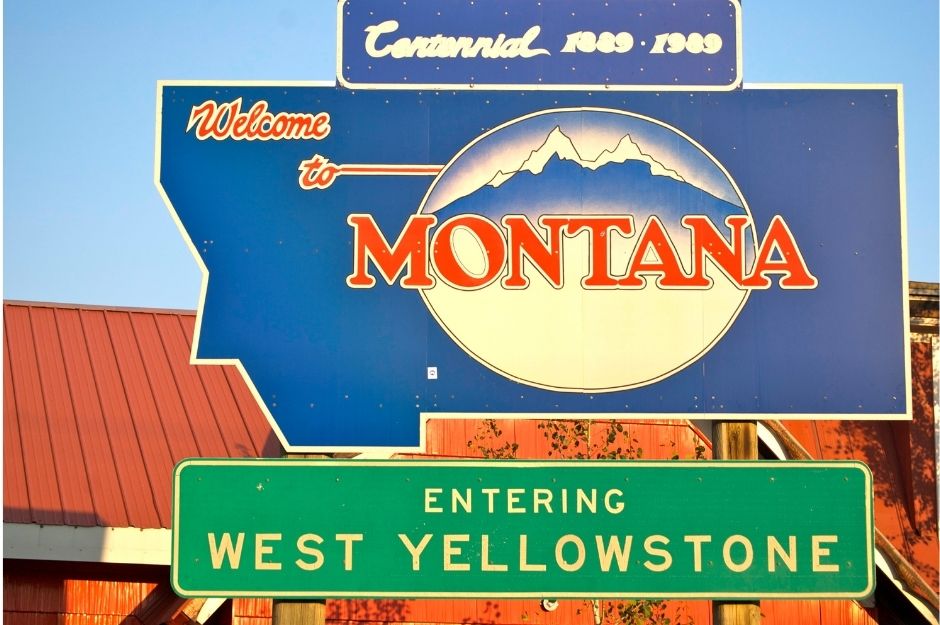 If you choose to stay outside of the park, one of the best options is West Yellowstone, located just minutes from the West Entrance.
West Yellowstone has lots of options for lodging and food. Here you can find hotels, cabins, and AirBnBs for very reasonable rates.
It's also the location of the Grizzly and Wolf Discovery Center, which is well worth a visit if you're staying in the area.
West Yellowstone is about 50 minutes from both Old Faithful to the South and Norris Geyser Basin to the north.
North Entrance- Gardinier
If you're coming from the north, Gardinier is located a short distance from the North Entrance of Yellowstone. This is the only year-round entrance to Yellowstone and it's a great jumping-off point for exploring the northern part of the park.
From Gardinier, it's only a 15-minute drive to Mammoth Hot Springs. Staying at the north side of the park would also provide the best access to Lamar Valley. However, note that it is quite a drive to the other parts of the park.
Other Entrances- Northeast, East, South
These entrances are really not a great option for lodging while visiting Yellowstone unless it's just for a stop on your way in or out. There aren't many places to stay and it's too far of a distance for driving to and from the sights of Yellowstone everyday.
What to bring when visiting Yellowstone with kids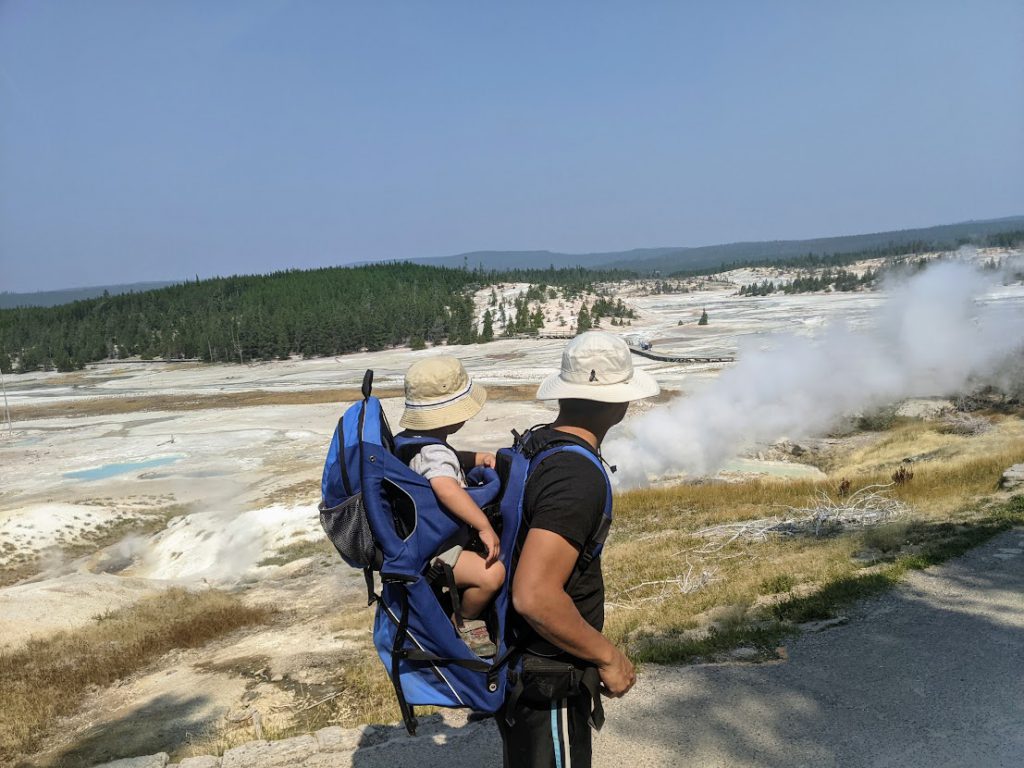 Hydration backpack– Hydration backpacks are a great solution to make sure that everyone stays hydrated while you're out seeing the sights.
Sun hats– There are areas with very little shade, make sure your child's face is protected by bringing along a hat for them to wear.
Sunscreen– During your time at the park, you'll likely be out in the sun for hours each day, so don't forget to bring your sunscreen.
Comfortable hiking shoes– Make sure that everyone has comfortable shoes for hiking around the park (and be sure to break them in before you come).
Snacks- No trip with kids is complete without snacks! Be sure to bring food and snacks with you because it isn't always easy to find in the park.
Toddler/baby carrier– If you're bringing young kids, be sure you have a good way to transport them to see the sights. And it's so helpful to have a way to contain your toddler in some of the more risky areas.
Binoculars- Don't forget to bring binoculars! There are lots of opportunities to see wildlife as you drive and the experience is so much better if you can zoom in to see the details.
Bear spray- Prepare for a potential bear encounter by buying bear spray (just make sure you know how to store it and use it). Bear spray can be purchased at the park or in nearby towns. It is not permitted on airplanes.
Final Thoughts
A trip to Yellowstone is an unforgettable experience, especially if you're visiting with kids. There is so much to see and do, make sure to plan ahead so that you can get the most out of your visit.
Our kids had such a good time that they are already talking about going back to visit Yellowstone again!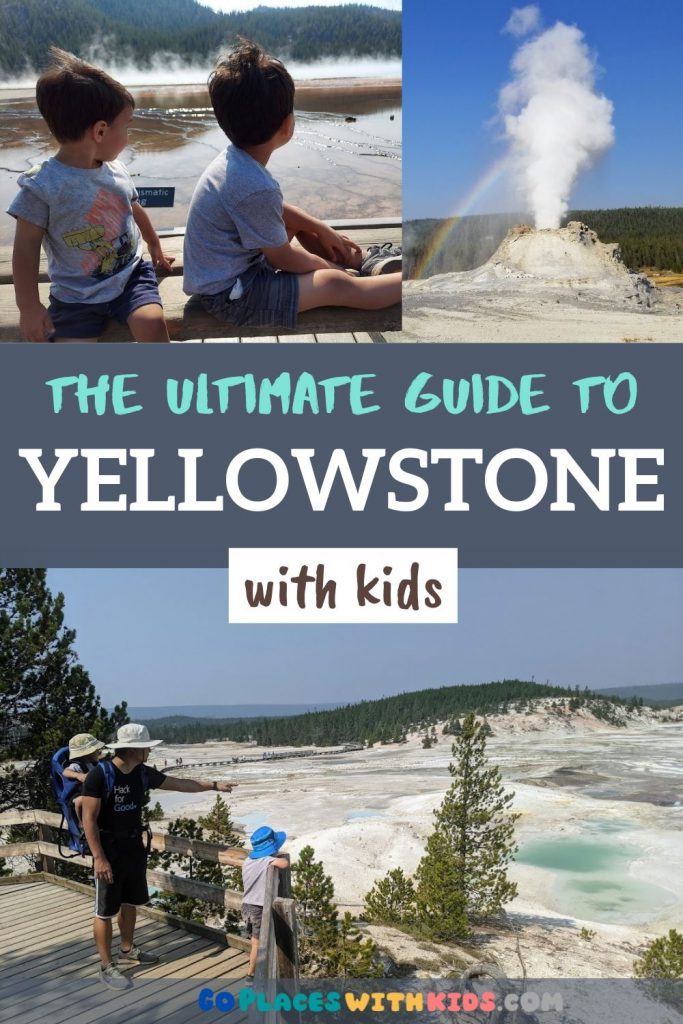 Other posts you might be interested in:
Complete 3 Day Yellowstone Itinerary- The Best Sights and Experiences!
11 Helpful Tips for Hiking with a Toddler
Road Trip Activities for Toddlers (That They Will Really Love!)