This page may contain affiliate links, which means that we may earn from qualifying purchases at no additional cost to you.
When traveling with a toddler, bringing a great carrier can be a real trip saver. But there are a lot of options out there and it can be hard to know which one to pick. This post has all the information you need on the best toddler carriers for travel!
Toddlers are at that tricky stage where they want to do everything independently…but often need a little extra help.
Bringing a carrier when you travel means you can allow your toddler freedom to explore, but still have a light-weight, convenient option for carrying them when they get tired.
There are a lot of factors that go into choosing the best carrier for travel; all toddler carriers are not equal.
Luckily for you, we've done the research for you by choosing six of the best toddler carriers out there and breaking down all the details you need to get the right fit for you and your child!
Picking the Best Toddler Carrier For Travel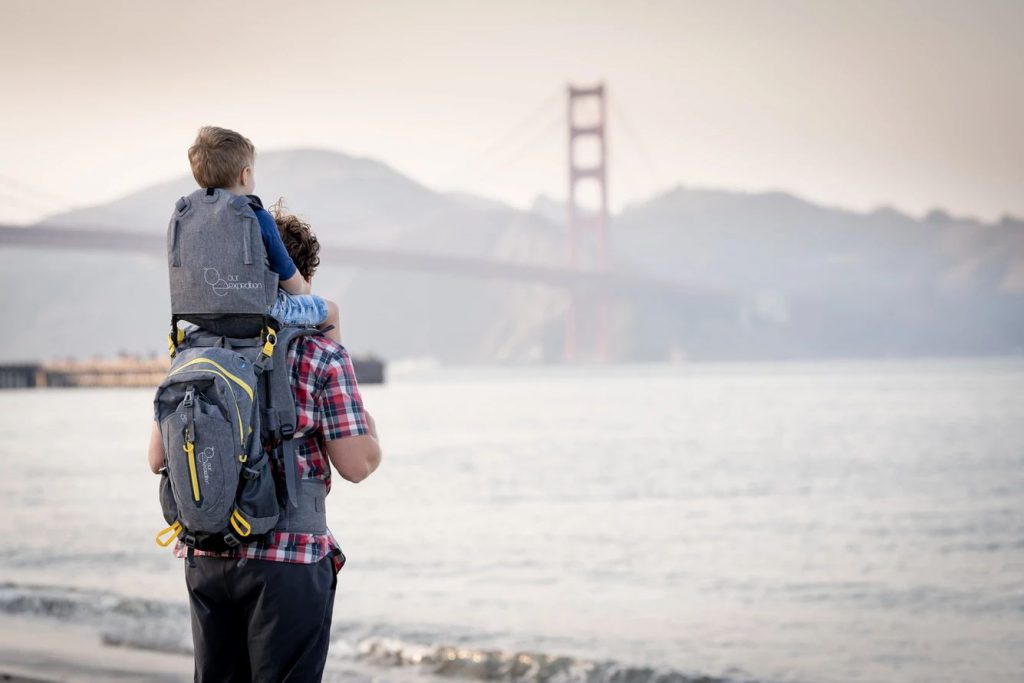 Carrier vs stroller
One of the things you have to decide when traveling with a toddler is how to transport them.
Strollers can be a great option for places such as airports, museums, and accessible cities. However, when you're traveling there will often be locations that aren't stroller friendly.
Whether it's cobblestone streets, old bell towers, ruins, outdoor hikes, etc, you might find yourself in a situation where a stroller just isn't an option. Or you might just prefer carriers in general!
Either way, it's often a good idea to bring a good quality carrier with you when traveling with a toddler, even if you're bringing a stroller.
When we're going on a trip with our young kids, the carrier is something I make sure to never leave behind!
Features to look for in a good toddler carrier
Comfortable– Obviously comfort is a top priority, both for the wearer and the child. Look for a carrier with thick, padded straps and a design that distributes your child's weight in a way that doesn't hurt your back.
Ergonomic- The best carriers are designed with a seat and fit that encourages a child's natural posture and protects their hips. All the carriers we've recommended place the child's legs and hips in the M shape recommended by pediatricians.
Easy to adjust– It can be very helpful to have a carrier that is easy to adjust for different wearers. That way you can easily share the load of toddler carrying with your travel partner.
Has options for different carrying positions– Make sure to pick a carrier that supports the carrying preference of both you and your child. Would your child prefer to be facing your or to have a view from your shoulders? Would you rather have a secure fit to keep your hands free or the easy on-off quality of a hip carrier?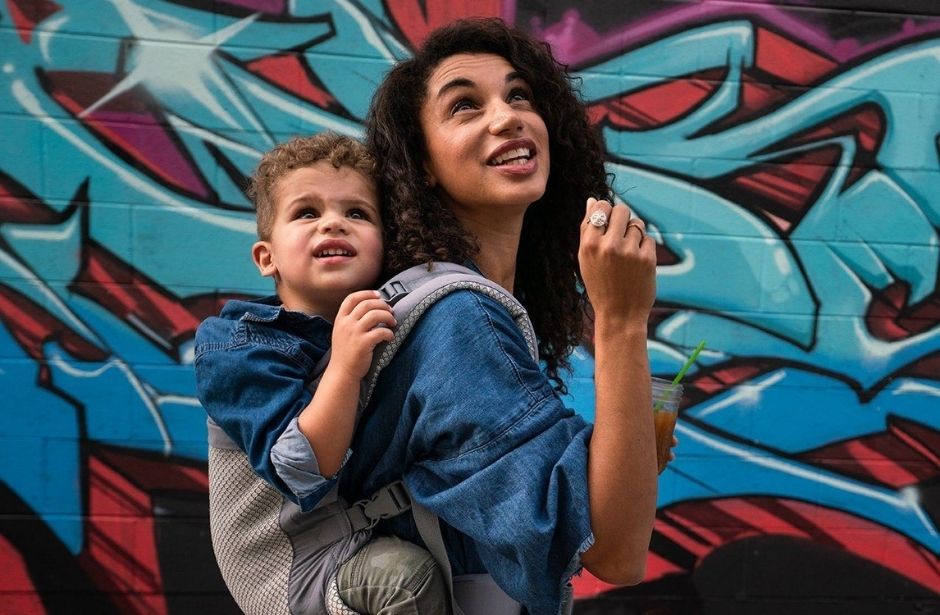 The Best Toddler Carriers for Travel
Carriers at a Glance
| | | | | | |
| --- | --- | --- | --- | --- | --- |
| | Carrier Type | Weight Limit | Weight of Carrier | Carry Positions | Best Features |
| Ergobaby Omni 360 | All-In-One Soft Structured | 7-45 lbs | 1.7 lbs | Front, forward facing, back, hip | Sleep hood, removable storage pouch |
| Tula Toddler | Toddler Soft Structured | 25-60 lbs | 1.5 lbs | Front, back | Ergonomic seat |
| Beco Toddler Carrier | Toddler Soft Structured | 20-60 lbs | 1.1 lbs | Front, back | Removable sleep hood, zippered bag |
| LÍLLÉbaby CarryOn | Toddler Soft Structured | 20-60 lbs | 2.1 lbs | Front, hip, back | Adjustable side panels |
| OE Carrier | Shoulder Carrier | Head control- 45lbs | 3.4 lbs (4.4 with backpack) | Shoulder | Backpack included, sunshade |
| Tushbaby | Hip Carrier | 8-45 lbs | <1 lb | Side carry, front facing, face to face | Large storage pockets, memory foam seat |
How these carriers were selected
After a lot of research, these carriers were chosen as the best toddler carriers for travel due to their high quality, useful features, and overwhelmingly positive feedback from parents.
Any one of these carriers would be an excellent option for traveling with a young child. The final decision is mostly a matter of personal preference. And in this list of the best toddler carriers for travel, we have all the details you need to make the right choice for you and your child!
So without further delay, let's get to the task at hand: the best toddler carriers for travel!
All-In One Carrier
The Ergobaby Carrier is one of the most popular baby carriers on the market, and for good reason.
This all-in-one carrier can be used with children from newborn to toddler, with a weight range from 7-45 pounds.
The Ergobaby puts comfort first with lumbar support in the waist belt and padded shoulder straps as well as the option to wear the straps in a backpack-style or crossed.
The carrier has four carrying positions, including forward-facing and back- useful positions when wearing an older toddler. Also included is a sleep hood (a helpful feature for naps or nursing) and a storage pouch to hold small items.
The one drawback is that it doesn't have as high of a weight limit as some of the other options, meaning your child will outgrow it sooner. But unlike the toddler-specific carriers, the Ergo can also be used for younger children.
Toddler Carriers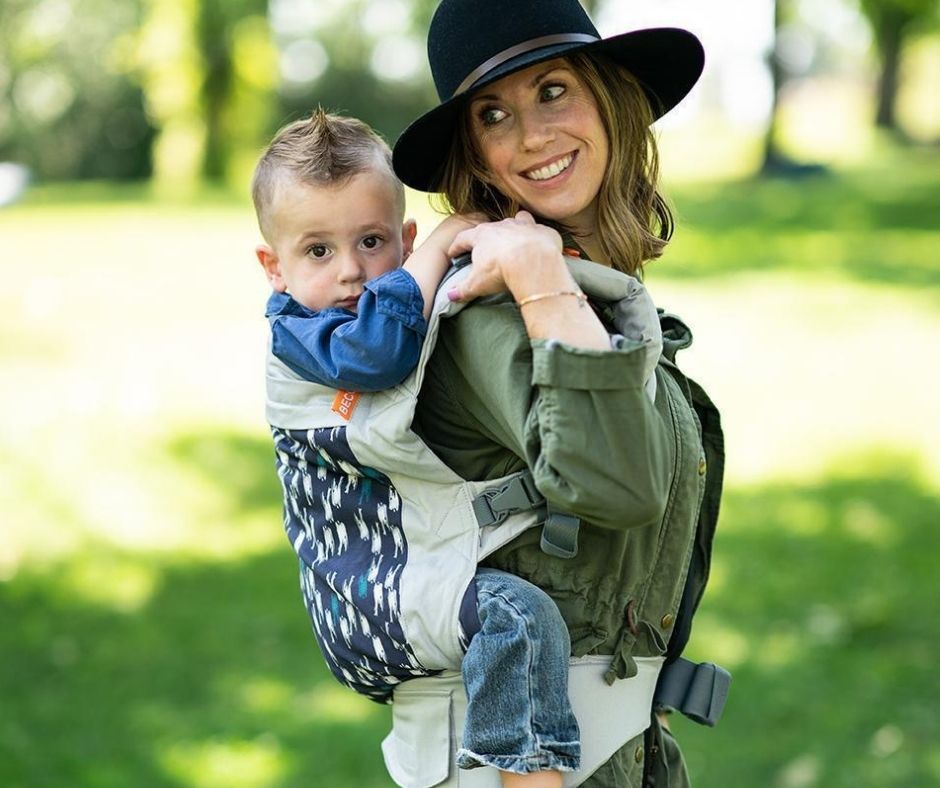 The Beco Toddler Carrier is designed specifically with toddlers in mind. It can be used for children over 18 months or between 20 and 60 lbs.
With a comfortable, ergonomic seat and options for front and back carry, you can find the best sitting position for your toddler.
This carrier has padded straps that can be worn crossed or in a backpack style, depending on your preference. A high back panel provides support for your toddler's back.
Unlike most of the other toddler-specific carrier options, it comes with a detachable sleep hood, a useful feature if you plan on having your toddler nap in the carrier.
Also included is a detachable zippered bag to hold your belongings.
If you're looking for a comfortable, stylish option for your toddler carrier, the Tula Toddler Carrier is another great pick.
Suitable for children between 2 and 6 years old, this carrier has a weight limit of 25 to 60 pounds.
Multiple ergonomic carry options, including front carry and back carry, allow you to pick the position that is best for your child.
The carrier sees to the comfort of both parent and toddler with padded shoulder straps for the wearer and an ergonomic seat for the child. Easy to adjust straps make it simple to trade wearers.
The LÍLLÉbaby CarryOn is another carrier that comes highly recommended for toddlers. It has three different ways to carry your toddler, including front carry, hip carry, and back.
This carrier can be used for children from 20 to 60 pounds. The high weight limit means that you can comfortably use this carrier for large toddlers.
It has a wide and tall torso, perfect for growing toddlers. You can also adjust the side panels to be narrower or wider in order to find the best fit for your child.
Toddler Shoulder Carrier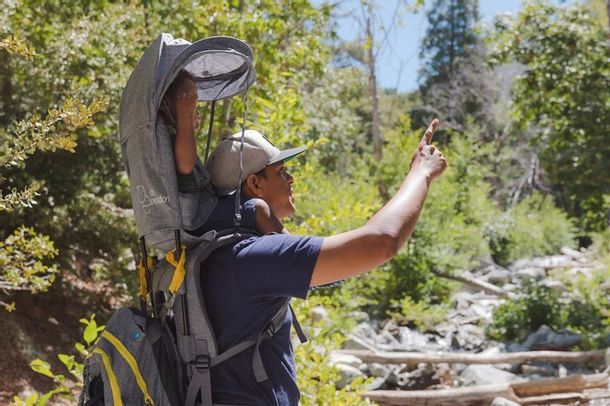 The OE Hiking Carrier is a great hands-free option for transporting your toddler. It is designed for children from 1 to 5 years old, the maximum weight being 45 pounds. There's no minimum weight, but the child should have good head control.
Unlike the other options, with this carrier your child has a seat on your shoulders where they are safely secured with shoulder, hip, and feet straps.
There are many ways to adjust this carrier to find the right fit for people of different heights (including extensions for the back rods) or for a different weight distribution.
From their perch on your shoulders your child can enjoy an unobstructed view of their surroundings.
It conveniently comes with a detachable backpack for carrying anything you need to bring along and an adjustable sunshade. And as a bonus, it also comes with two hats and three cloth bags for organizing your belongings in the backpack.
Hip Carrier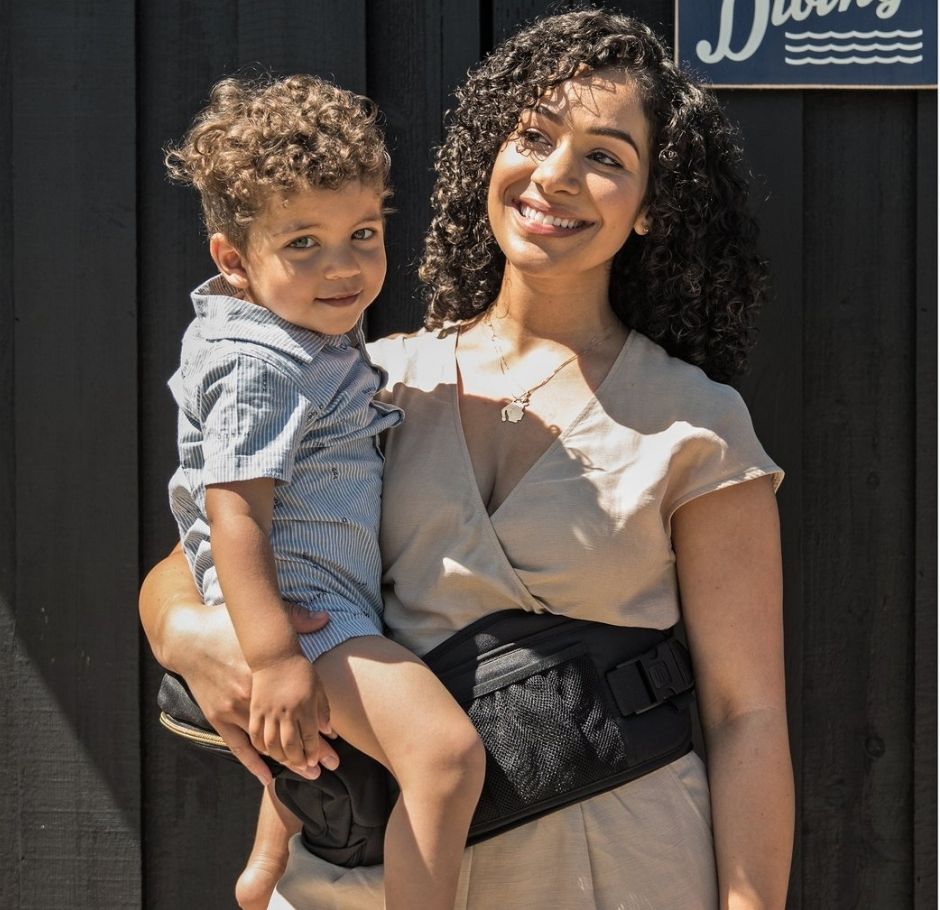 Another unconventional option is the Tushbaby hip carrier. Instead of strapping your toddler to you, they sit on a padded seat that rests on your hip.
Unlike the other carriers, this is not a hands-free option as you will still have to hold your child to prevent them from falling.
However, it does provide a quick and easy way to give your child a rest when you're out and about without having to take the time to strap them into the carrier. It's easy to transition quickly between your child walking and being carried and vice versa.
This carrier can be used for children from 8 to 45 pounds. A memory foam, anti-slip cushion provides a comfortable seat for your child and the padded waist strap evenly distributes their weight to protect the wearer's back.
It also has large pockets for all of your storage needs and a bottle holder.
Final Thoughts
Traveling with a toddler can be so much easier if you have a great carrier.
Carriers provide an easy method for transporting your child no matter the terrain. This allows them to take a break whenever they need a rest.
Taking a trip with a toddler is hard enough, make sure you have the best toddler carrier for travel to make your trip easier!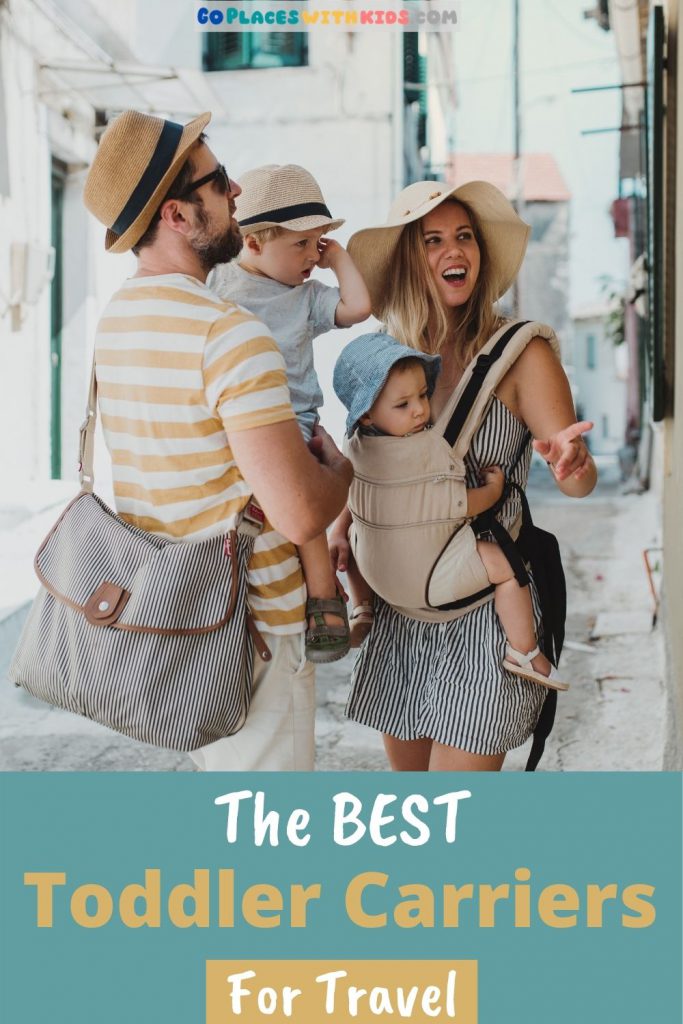 Other posts you might be interested in
6 Easy Steps to Nursing in a Baby Carrier
Airplane Activities Your Toddler Will Love!