This page may contain affiliate links, which means that we may earn from qualifying purchases at no additional cost to you.
Wondering how to entertain a toddler on a plane? These toddler airplane toys and activities are sure to keep your child entertained!
Let's be honest, flying with a toddler can be stressful. It's a fairly unpredictable age and you never know exactly how things are going to go.
The good news is, we have been on many flights with our toddlers and have lots of helpful, engaging ideas that are sure to keep your child entertained!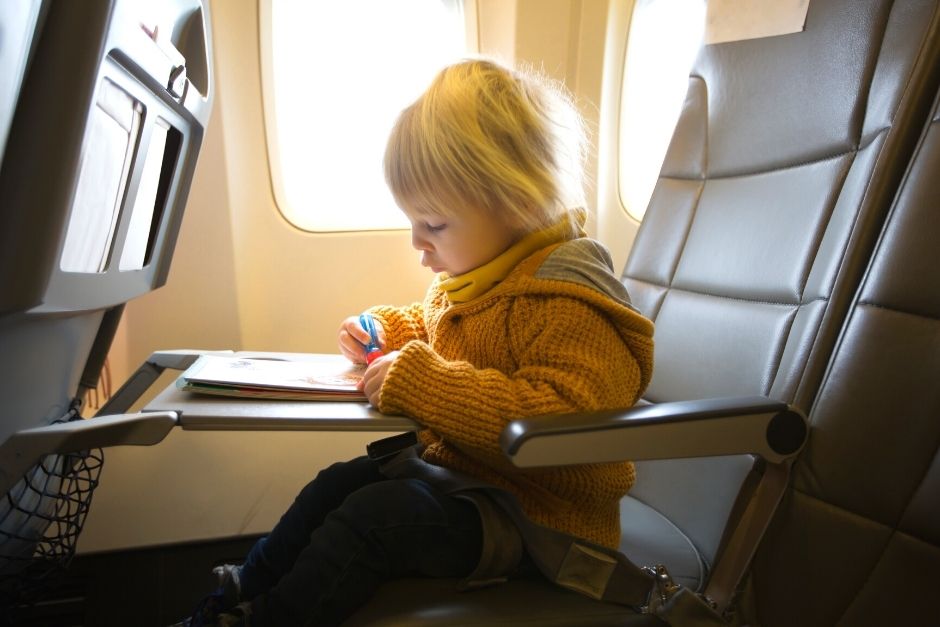 Read on for tips on how to entertain a toddler on a plane and our top choices of toddler airplane activities!
For more helpful travel items, see our ultimate list of toddler travel essentials!
How do you entertain a toddler on the plane?
If you're flying with a toddler, there might be one question looming large on your mind: how do I keep my toddler entertained on the flight??
From our many experiences flying with young children, we've come to realize that variety and novelty are two of the most important factors in planning good toddler airplane activities.
Pulling out an activity that is new or that your toddler hasn't played with very much is a great way to engage them when they are starting to get bored or tired.
You also want a variety of activities so you can switch it up if your child starts to lose interest.
We're constantly trying out new plane activities and we've included in this list some of our very top choices!
Toddler Airplane Activities
If you're planning on traveling with a toddler, you need some awesome activities so you can go into your flight with confidence. All of the activities listed below have been a huge hit when traveling with our toddlers.
Cheap DIY Toddler Airplane Activities
Stick jar
This is an easy DIY toddler airplane activity that is simple to make and will entertain your toddler for long stretches of time. We have used this activity on many flights and it's always a hit!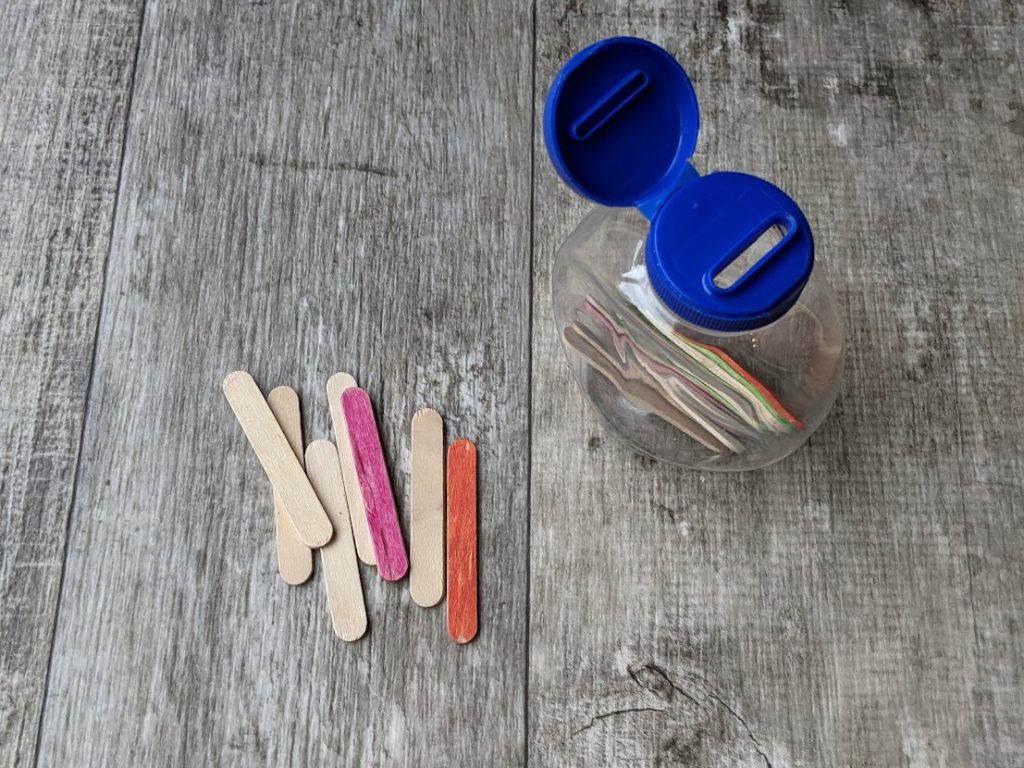 Materials needed:
A clean condiment bottle with a slot lid (this can often be found in mayo or horseradish bottles)
To do this activity, simply have your child insert the popsicle sticks through the slot in the lid! For young toddlers, you can also take off the lid and have them stick the popsicle sticks through the main opening if they are having trouble getting them in the slot.
The stick jar is a great fine motor activity for young kids and can keep them entertained for a surprisingly long time! This activity is useful in so many different circumstances and is one that I always have on hand for places like the doctor's office or church.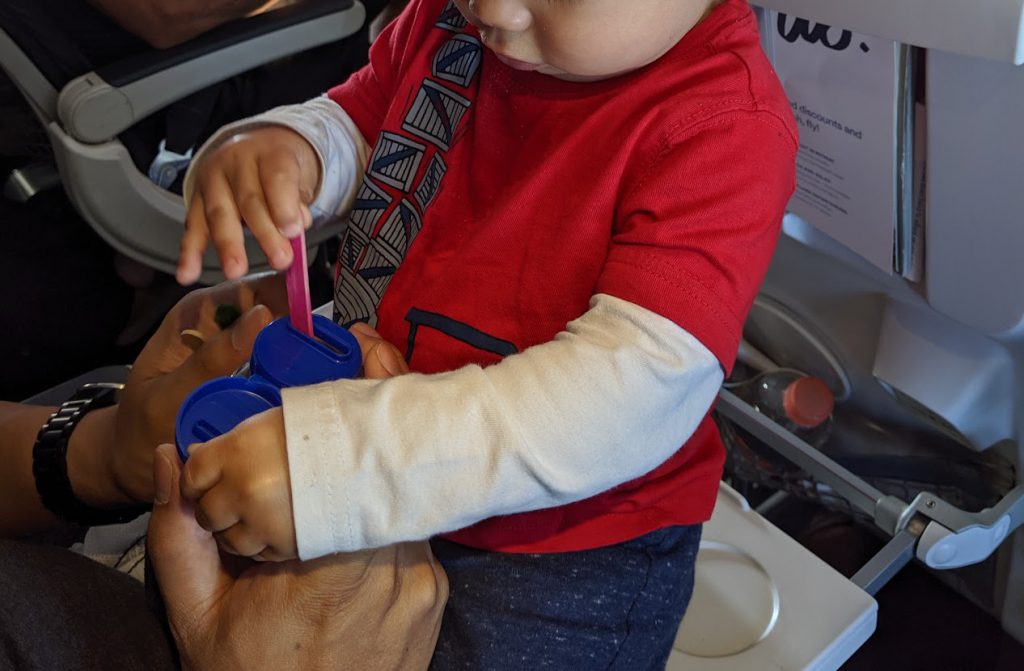 A few tips:
I prefer the smaller bottles with the mini popsicle sticks because it takes up less space, but you can use the larger bottles and sticks as well.
For younger kids, be sure to hand them the sticks one at a time so they don't end up dropping them all on the ground.
Cereal Bracelets
This is a classic toddler activity that is highly effective at keeping young kids entertained!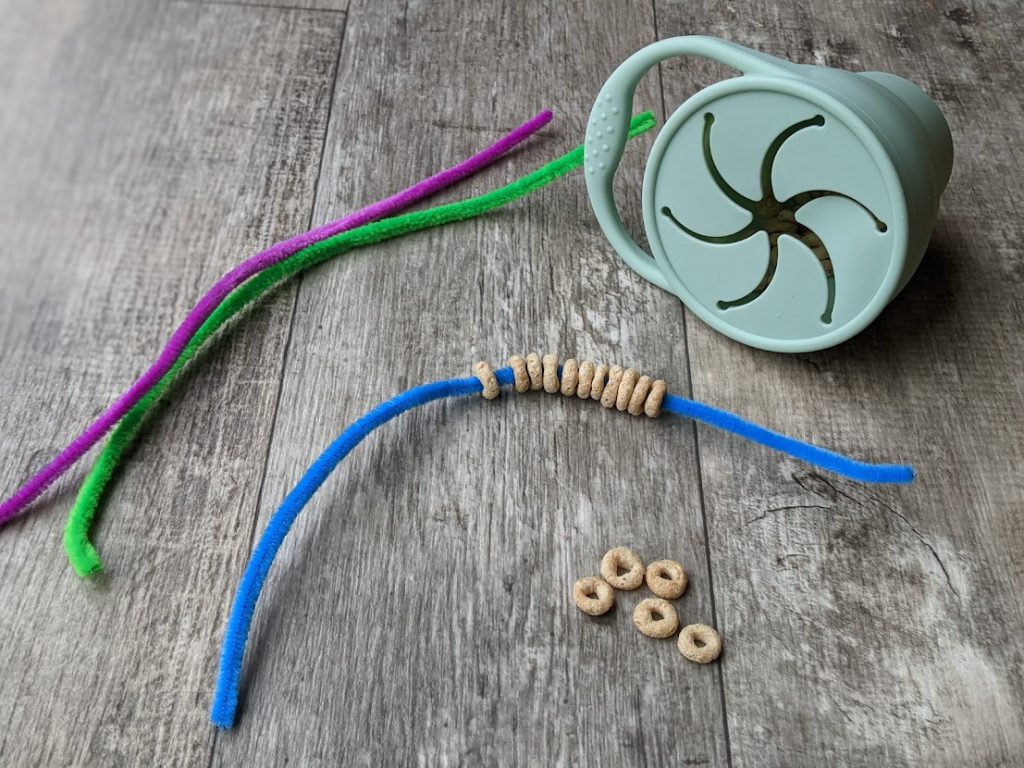 Materials needed:
This activity is pretty straightforward: have your child place cereal onto a pipe cleaner to make a necklace or bracelet. The pipe cleaner tends to be easier for young kids to manipulate than a string.
I highly recommend putting the cereal in a snack catcher to prevent your child from accidentally dumping the cereal all over the floor. This one is collapsible, making it a great travel option!
Portable construction site
I don't know what it is about trucks and construction sites, but they always seem to be a huge hit with toddlers! If you have a truck-loving toddler, they will go nuts over this simple construction site activity.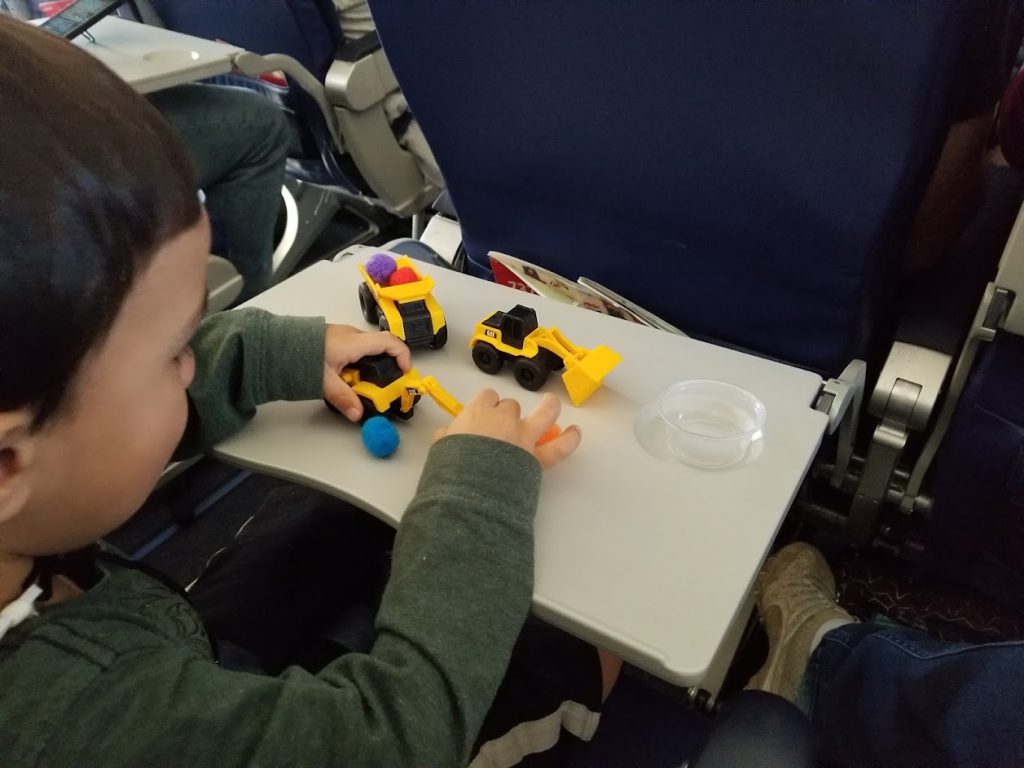 Materials:
For this activity, place some pom poms (or puff balls, as my kids call them) into a condiment cup or two and set your child loose moving the pom poms from one cup to another with their mini trucks.
Although simple, this activity has kept my toddler entertained for soooo long while we're traveling. I like to trade out my activities, but this is one that I always bring because he loves it so much!
This set of trucks is the perfect size for travel. They are small enough to pack easily but are still functional and the ideal size to use with pom poms!
Toddler Airplane Toys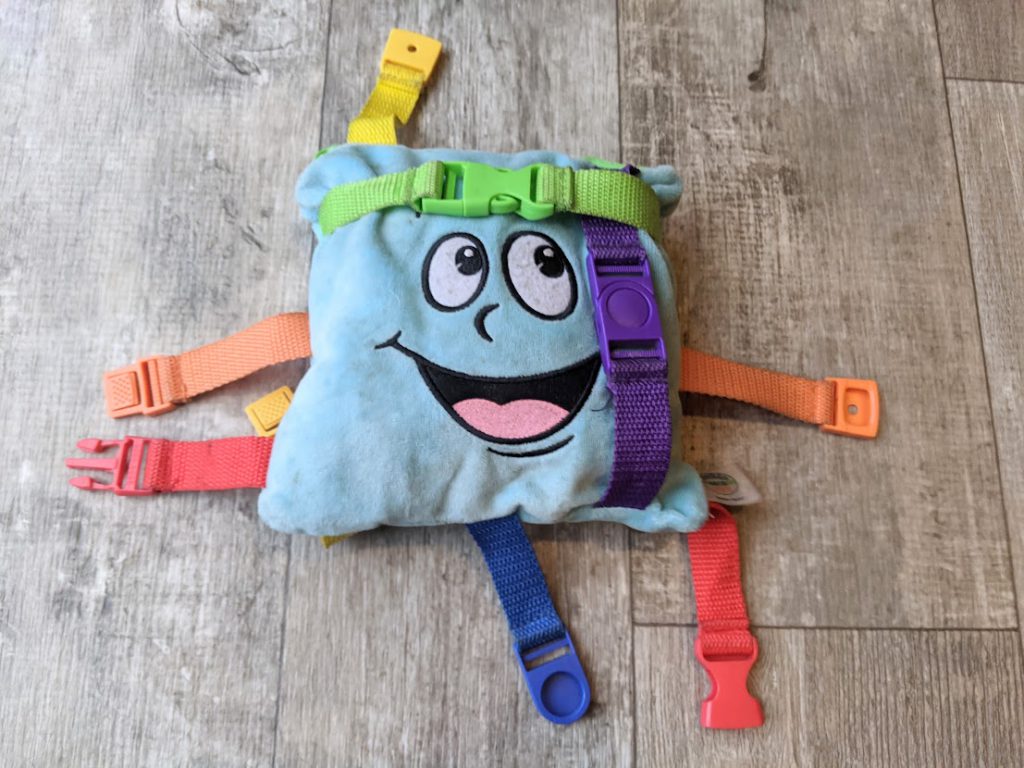 If your kid loves fastening and unfastening buckles, this is the toy for you!
This buckle toy has several different kinds of buckles in various colors for your child to fiddle with. There's also a zippered pocket at the top for storing little treasures.
This toy was a hit on our long Southeast Asia trip. I was worried that my kids might get bored of it quickly, but that was definitely not the case.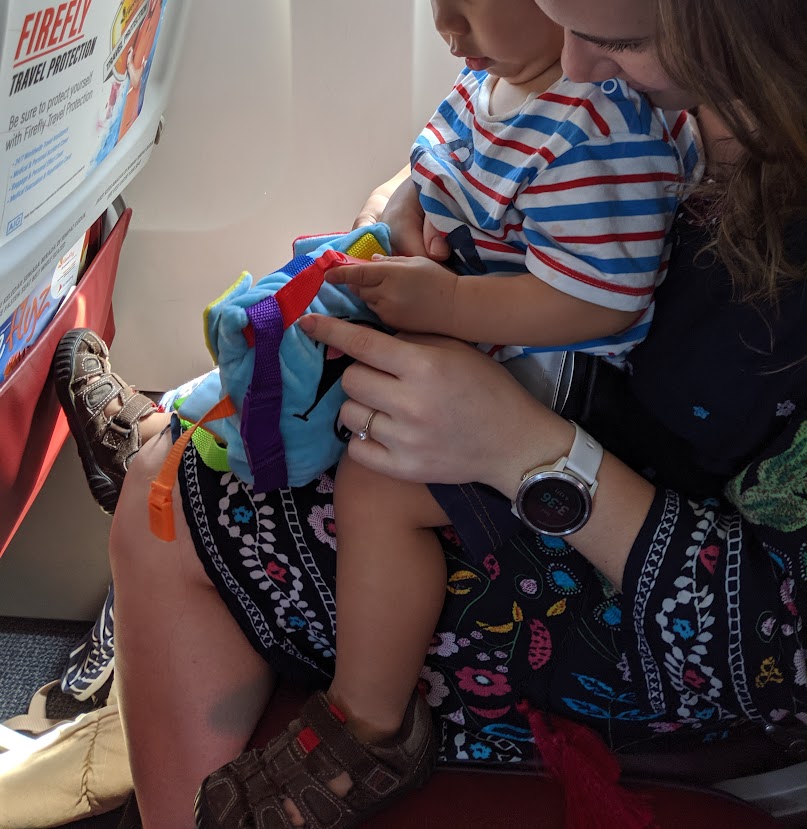 My boys loved clipping all of the buckles together or rearranging them so that the colors were mismatched. And it was equally well-loved by both my 18-month-old and 3-year-old.
I just buckled it to the strap of my diaper bag so that it wasn't taking up any extra space and it was super accessible whenever we wanted it!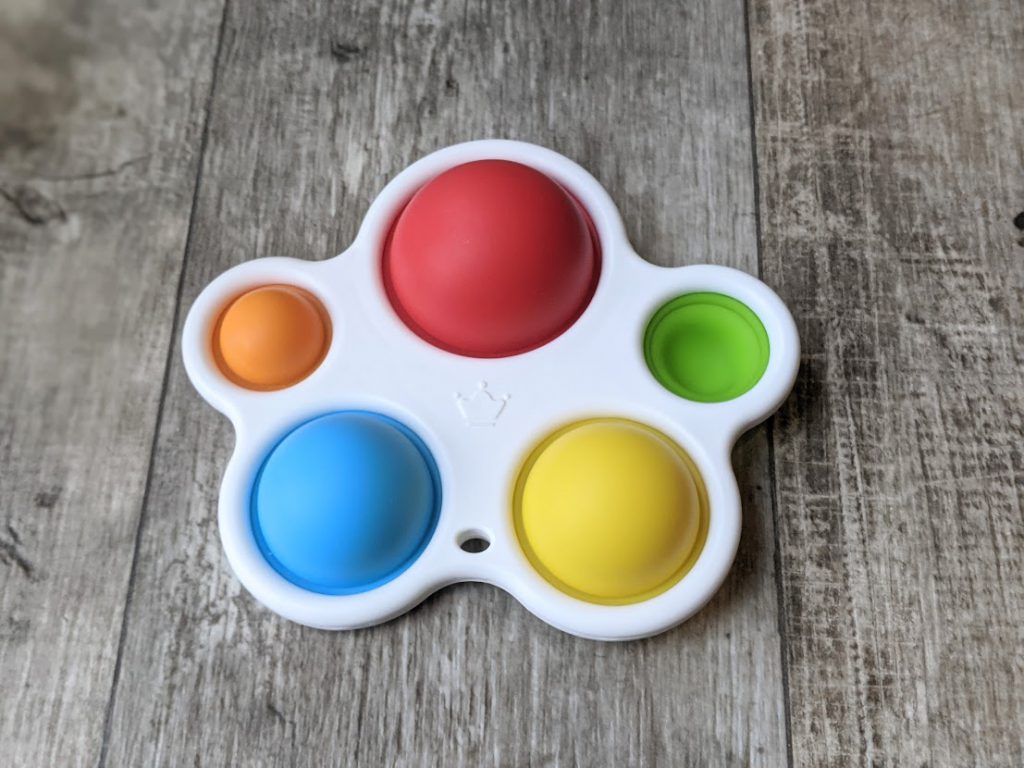 This fidget popper is a fun sensory toy for toddlers (and older kids seem to love it too!) to use on the plane. Pushing the buttons in and out is a sure way to grab your kids attention and it actually has a soothing, anxiety-reducing effect.
My kids were totally fascinated by this toy and it was one that they pulled out again and again during travel.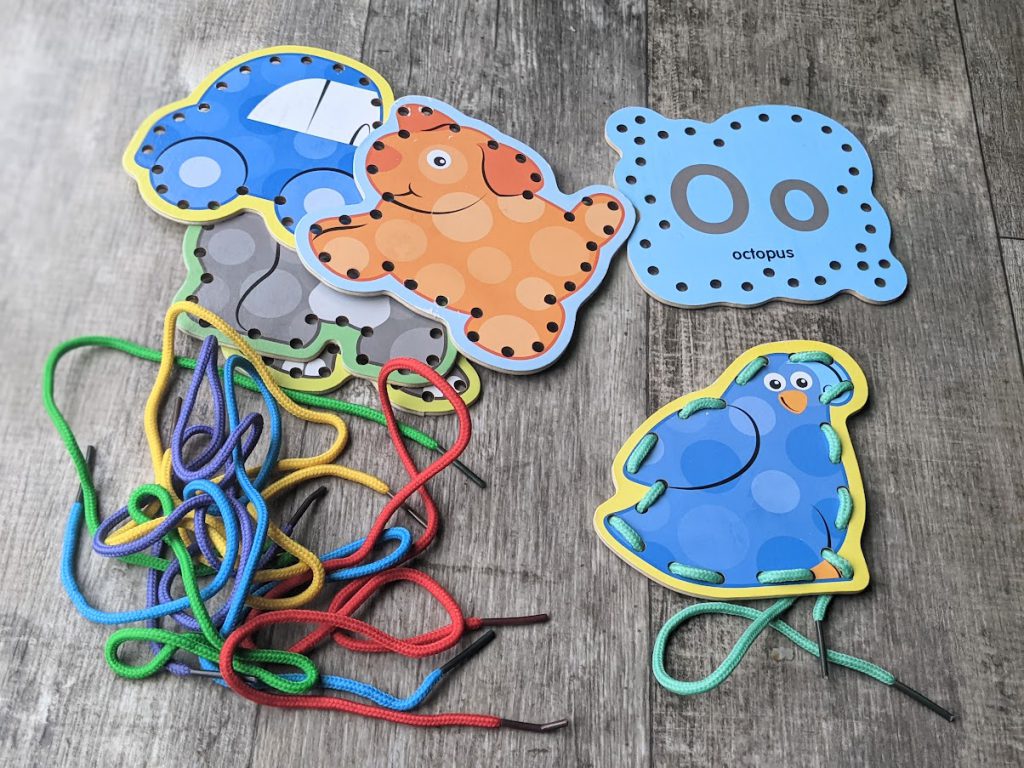 Lacing cards are great for keeping little hands busy. It's a fun, focused activity that also helps develop fine motor skills.
This set by Melissa and Doug has the added bonus of helping them to recognize letters and letter sounds.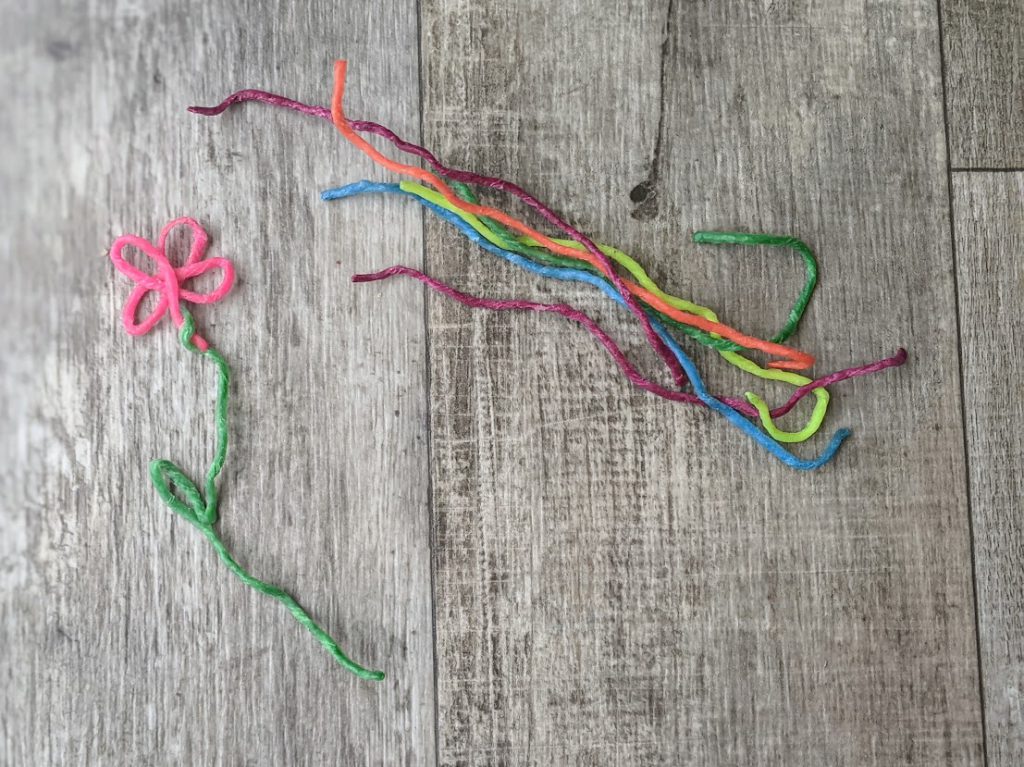 These bendable wax sticks are great for creative, open-ended play. Wiki Stix can be formed into shapes or letters, stuck to other objects, or molded together to make small creations or scenes. And once you're done you can unbend and reuse them!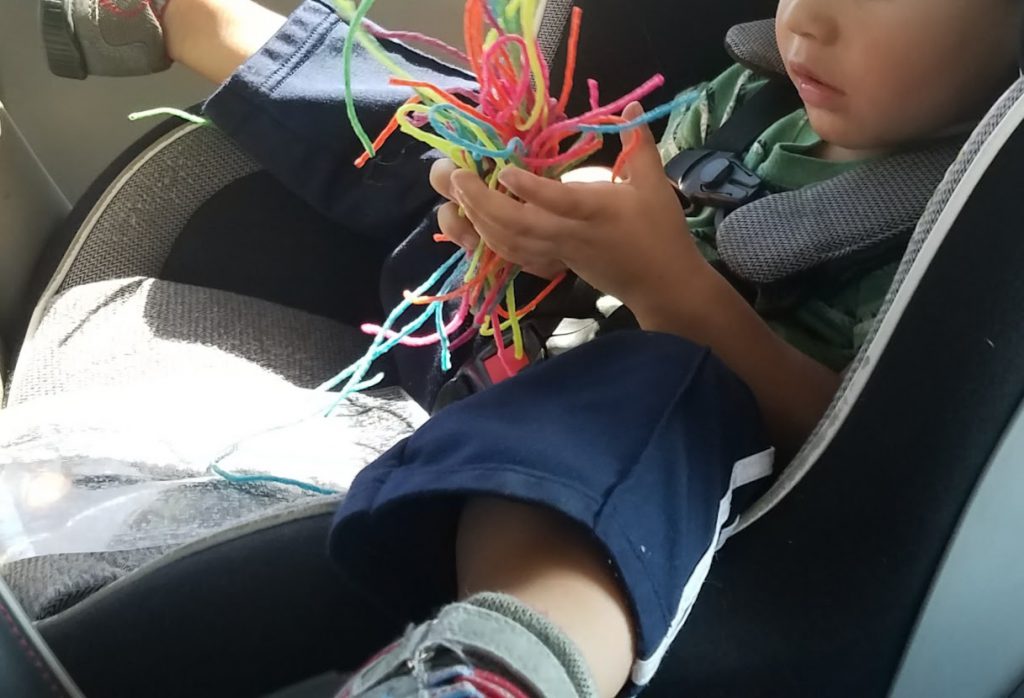 We found that if they were really squished together or if one stick was bent and straightened over and over they did tend to change texture and be less ideal for making shapes. But if you aren't too rough on them, you can get many uses out of a set of Wiki Stix. My son thought they were delightful!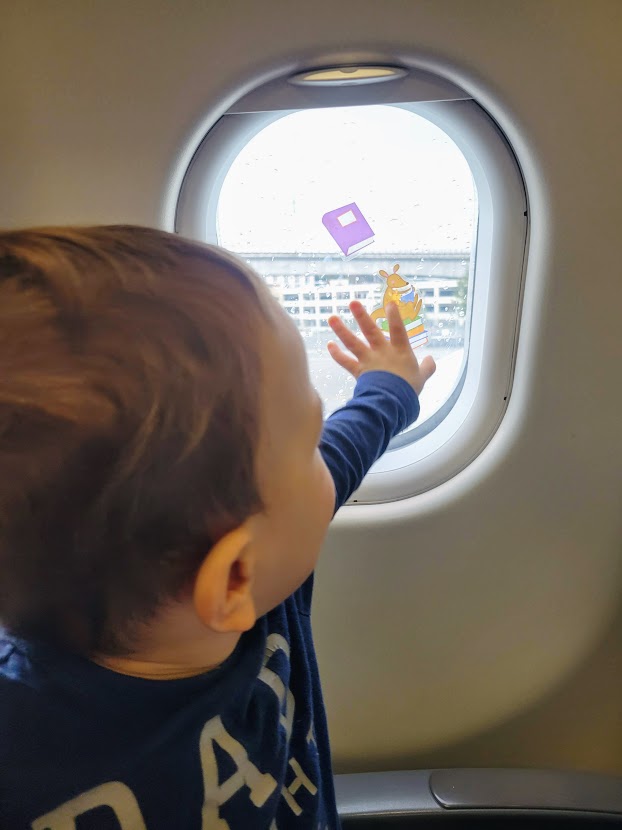 Window clings are a great way to keep a toddler occupied on a plane. Your child can stick the clings to the airplane window to their heart's content while you take a breather.
And once they're finished, you can easily feel them off and store them away for another trip (without leaving a sticky residue behind).
This was a lifesaver for me when I was flying alone with my toddler and we were stuck on the runway for over an hour before takeoff. He was so engrossed in making his window scenes that he didn't even get fussy about how long it was taking to get into the air!
Crayola Model Magic is a great activity for a crafty kid on a plane. Unlike play dough, this clay does not fall apart and make a huge mess when played with.
The texture is a little denser than playdough, more like a foam, so it's not quite as good at making precise shapes. But let's be honest, at this age they aren't usually making detailed masterpieces yet.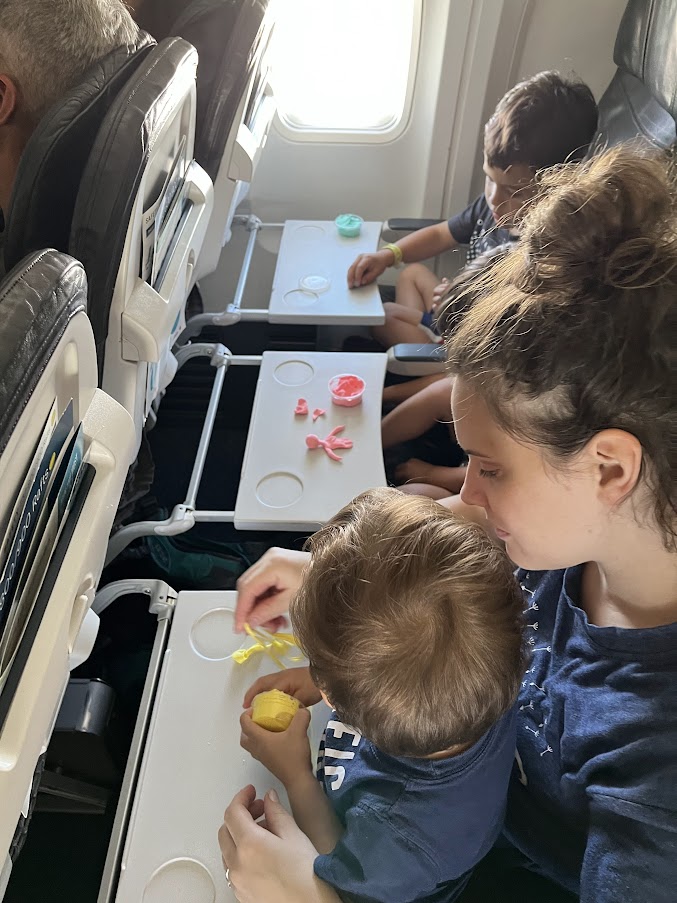 And the trade-off is totally worth it for a mess-free experience. My son loved squishing it, twisting it, and making all sorts of fun creations.
When you're done making something, you can either let it air dry, which will make their creation permanent, or put it in a sealed bag to be used again!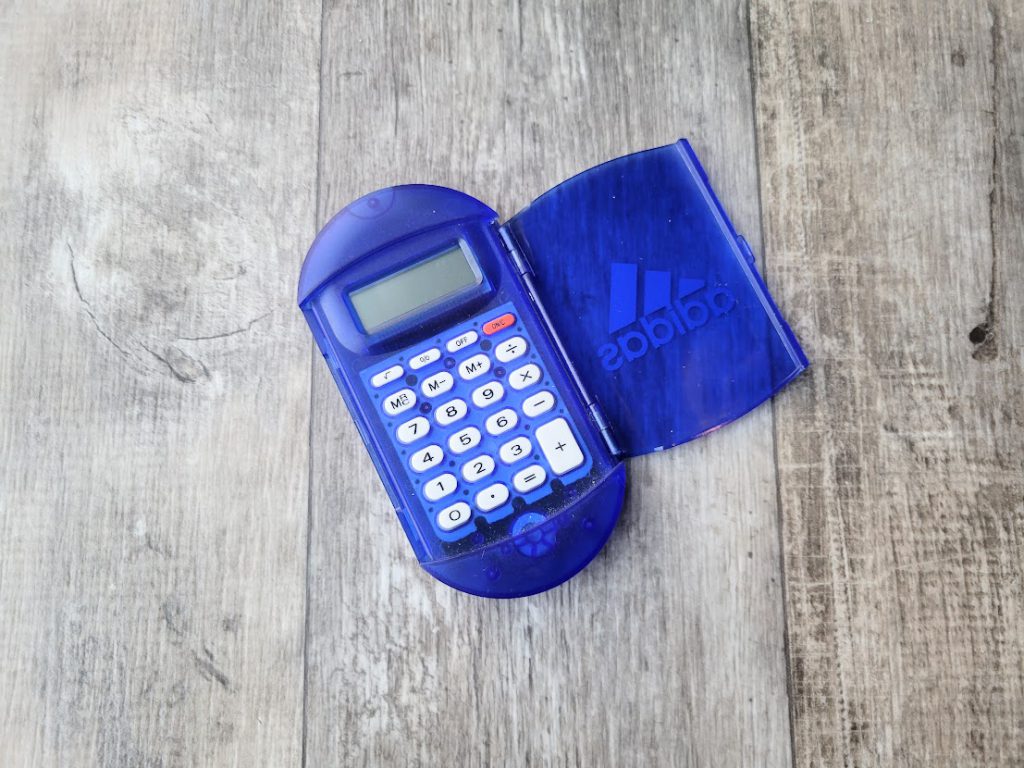 This is a cheap activity that can lead to hours of entertainment. Give your child a calculator and set them loose pushing numbers and experimenting with what the buttons do. Or give them sequences to type in to help them practice their numbers.
I was surprised at how long this kept my son occupied. And of course, at some point, it transitioned into a phone and he was kept busy "calling" all of his relatives to tell them about our trip.
The only problem came when we misplaced the calculator later in our trip and had a very sad toddler on our hands.
A boogie board is a great mess-free option for your creative kid. The LCD screen allows them to doodle away and then erase it with the click of a button to doodle some more. And best of all, there's no chance of getting pen on the seat or the wall or mom!
These magnetic tins are a great medium for creative play. They come with several sheets of magnets and a scene built into the tin to put them on.
And I love that everything is contained within the tin for convenient packing! Arranging the scene just the way they want it can keep my kids entertained for quite a while.
I would recommend bringing a small baggie for the magnets you aren't using. This allows your child to pick the magnets they want and prevents the scene from getting overcrowded.
These do have some small pieces, so keep a close eye on your child if they like to put things in their mouth or just remove the really little pieces.
Coloring is sure to be a hit at this age, and these triangular crayons are perfect for flights! You can put them on the tray table with confidence, knowing they won't fall off and go rolling down the aisle.
If I'm limited on space, oftentimes I'll just rip a few pages out of a coloring book, fold them up, and put them in a baggie with a few crayons. That way I have something compact to pull out if my toddler starts getting squirmy.
Activity Books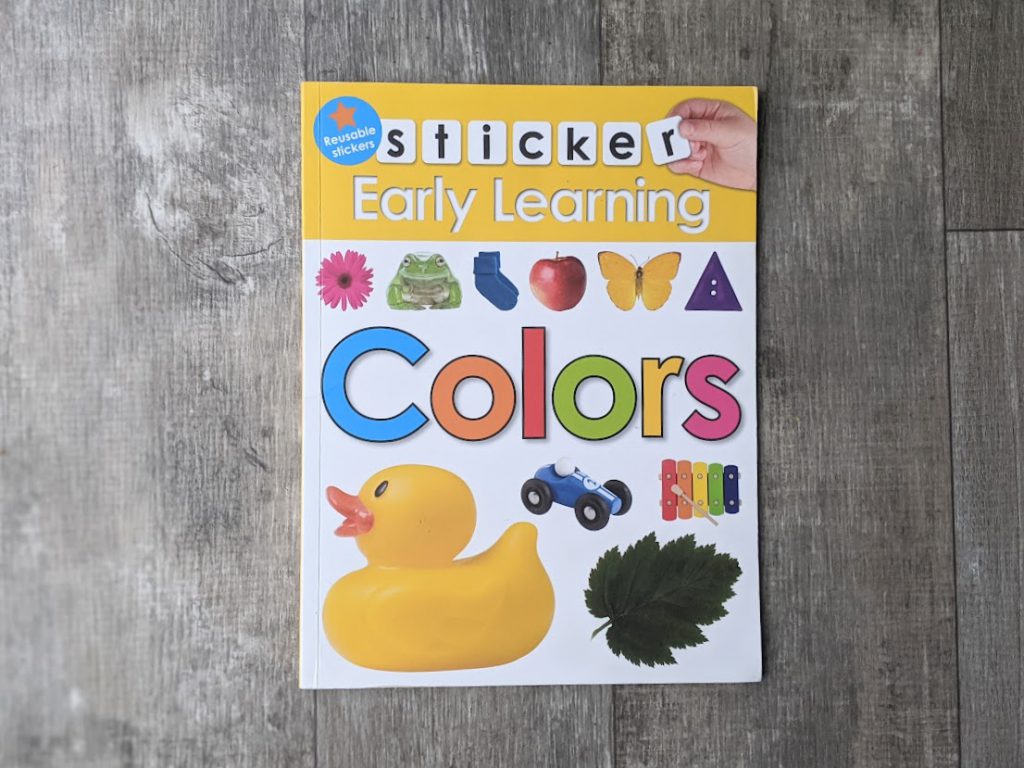 You can't go wrong with stickers at this age!
And this sticker book has the added benefit of helping your child to identify and match colors. Our toddler enjoyed seeing the variety of different stickers and placing them in the correct place by color.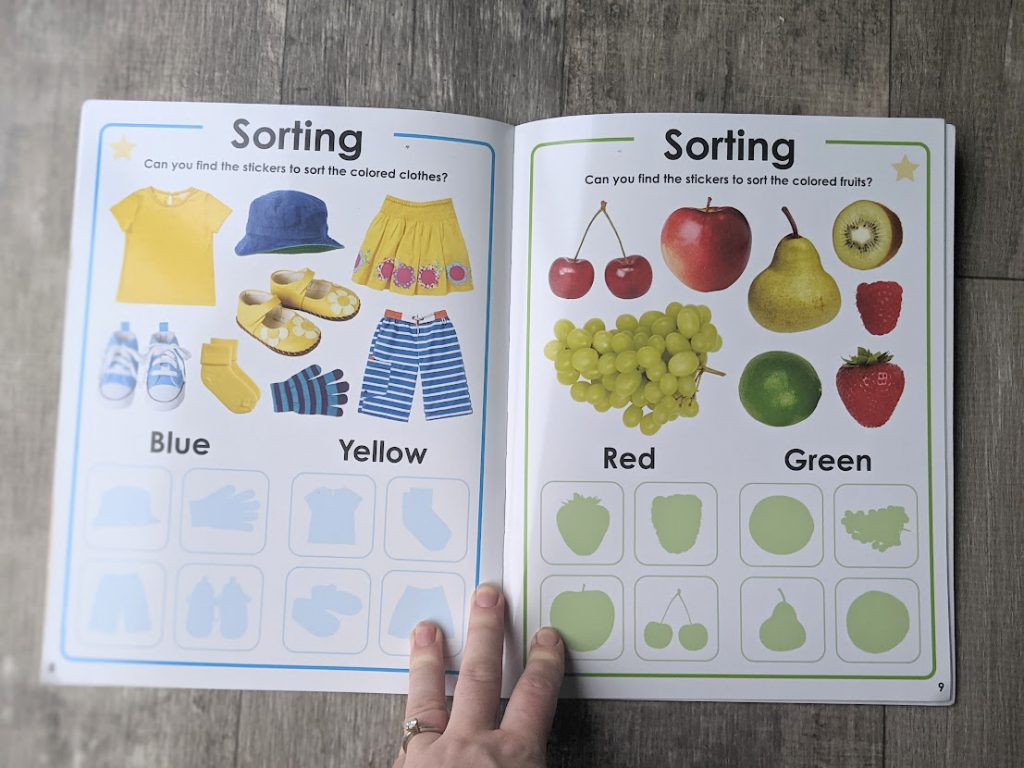 It's perfect for developing sorting and fine motor skills and the bright pictures are sure to capture your child's attention!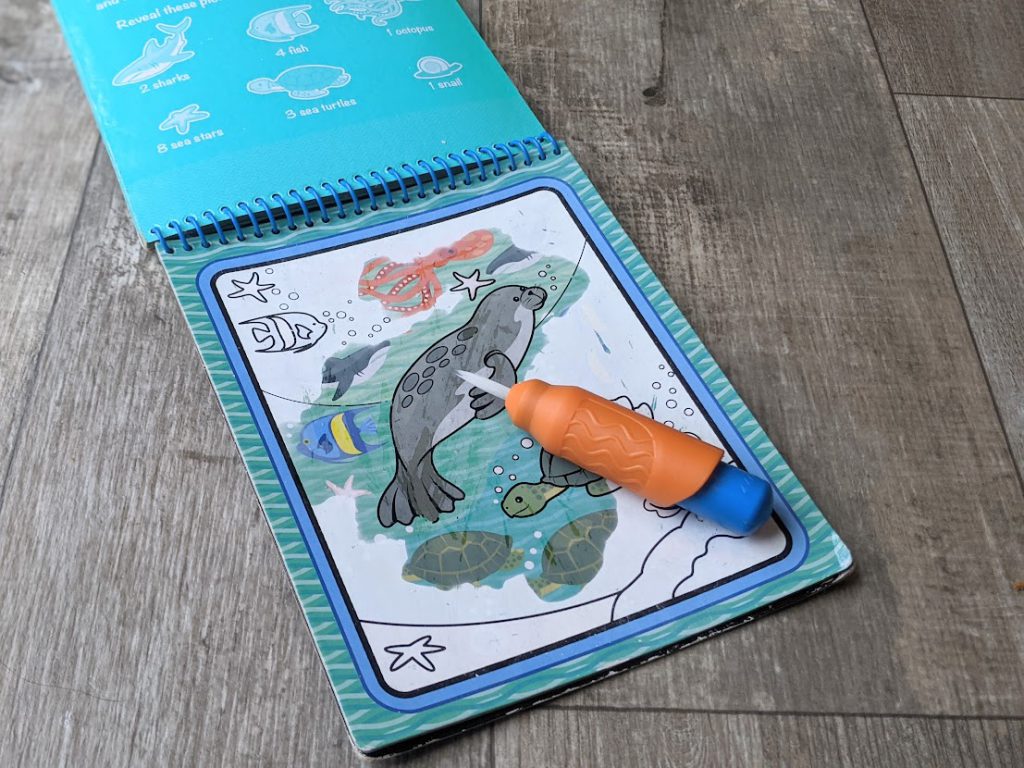 Mess-free art is possible with these Water Wow! books from Melissa and Doug. Paint over the pages with a water brush and watch as a picture magically appears before your eyes. And once it dries, it's ready to be used again!
Our kids have loved these from a very young age. There's something magical about seeing that vibrant picture appear before your eyes as you run the brush over the page. Each page also has items to look for as they unveil the picture, making it a look-and-find activity as well!
These are compact and reusable, making them a perfect option for flights!
I swear by these puffy sticker sets. Finding just the right place to put the multitude of tiny stickers can keep a toddler engaged for a very long time.
Each set has a glossy folder containing several background scenes for the puffy stickers. And the stickers are reusable, so your child can move them around and rearrange them to their heart's content.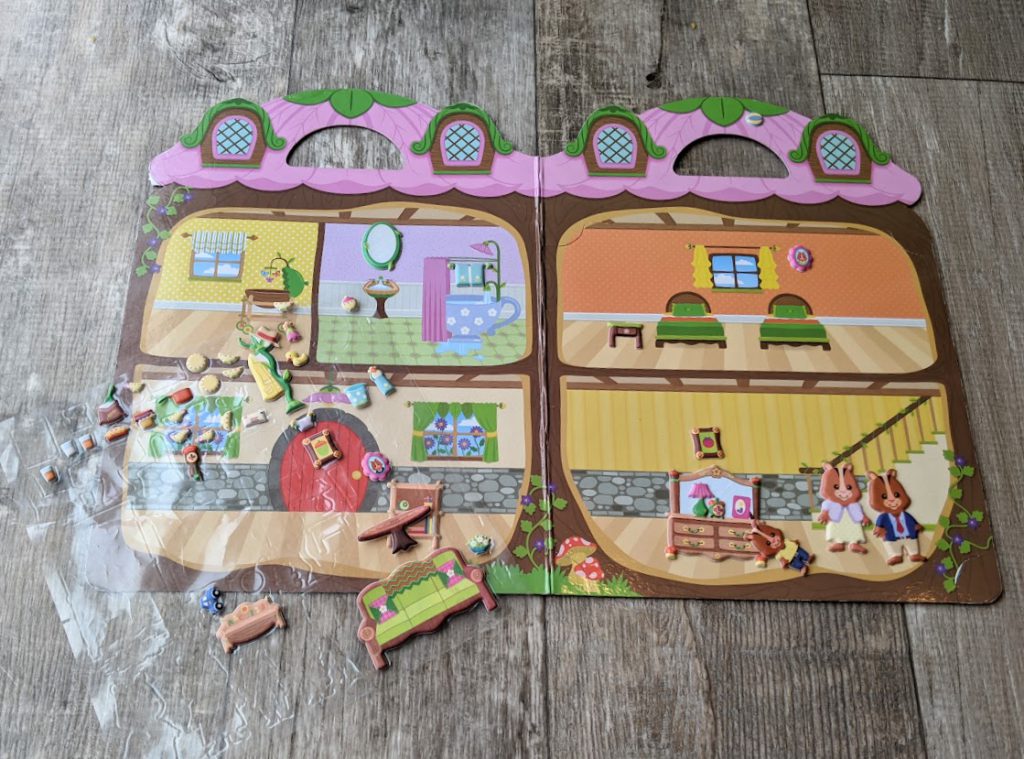 This was one of my son's favorite activities that we brought on our trip to Southeast Asia. The one that kept him the most engaged was the chipmunk set. He loved putting all the small fixtures of the house in their proper places. And I loved how long he could sit quietly working on it!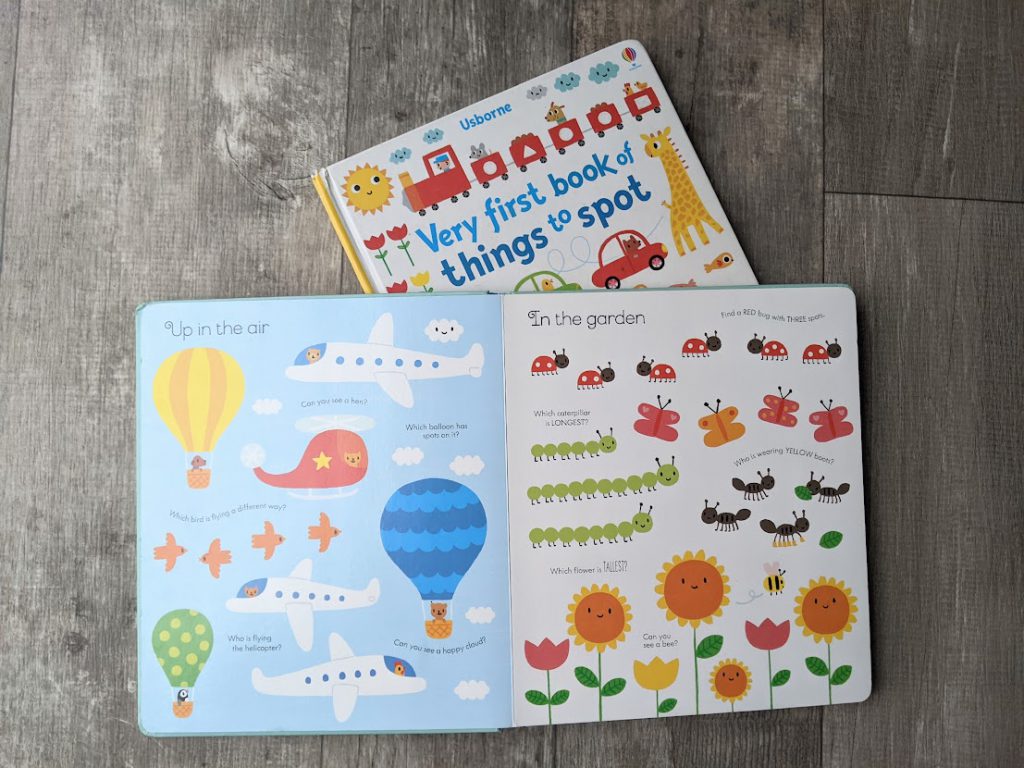 Usborne's Very First Book of Things to Spot (and it's sequels, like our favorite, Very First Book of Things to Spot Out and About) is the perfect look and find book for young kids. The pictures are fun and engaging without being too busy. Each page has question prompts (eg. "Find all the houses with blue doors", or "which flower is the tallest?") or you can make up your own questions.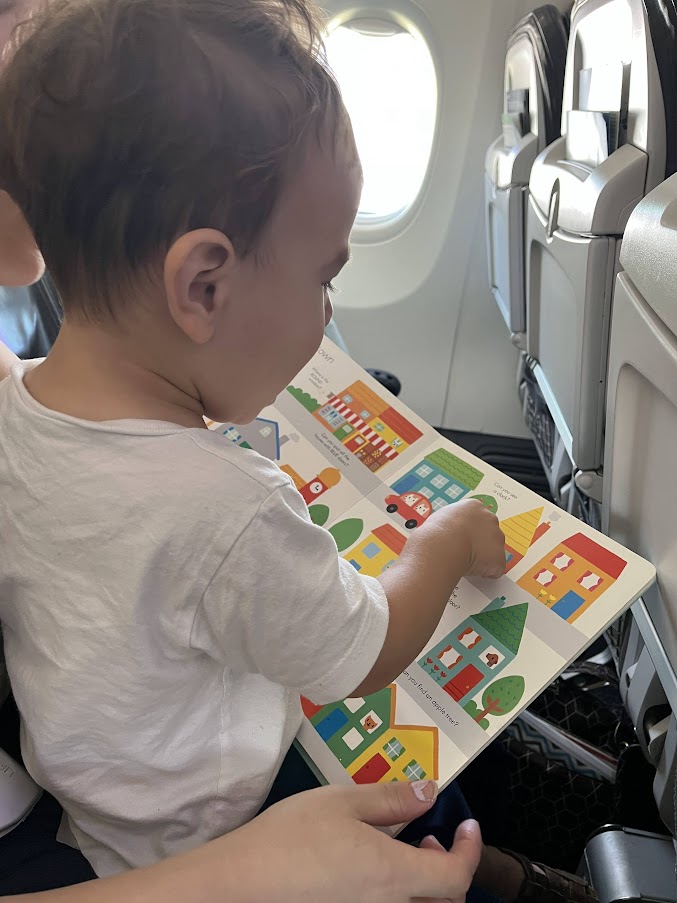 These books are one of my favorite toddler airplane activities! There is always something new to spot and find, which keeps it feeling fresh no matter how many times you've read it. This is one of our toddler airplane activities that we will typically always bring on a trip!
If you have a young artist, be sure to bring along some coloring pages to help them pass the time.
My First Big Book of Coloring is a great option for this age. It has nearly 200 pages with varied images to hold your toddler's attention, including animals, vehicles, instruments, children, etc. The book has thick, dark lines and simple but engaging pictures.
It makes for a perfect addition to your toddler airplane activities!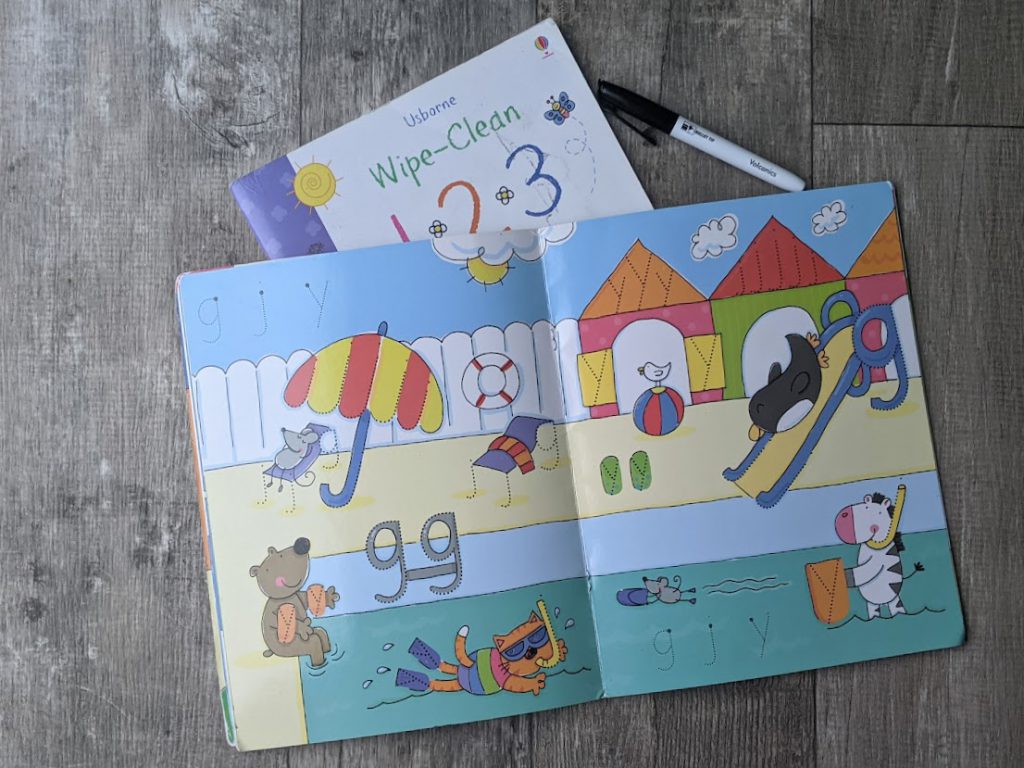 These wipe-clean books are educational, engaging, and endlessly reusable. We have several different varieties and they have been a favorite of my boys for a while now.
Usually, I keep one in my diaper bag to whip out if we're at a restaurant or a friend's house and my kiddo needs something to keep him occupied.
And they worked great as a plane activity! Just make sure to bring an extra dry erase pen or two in case you misplace yours.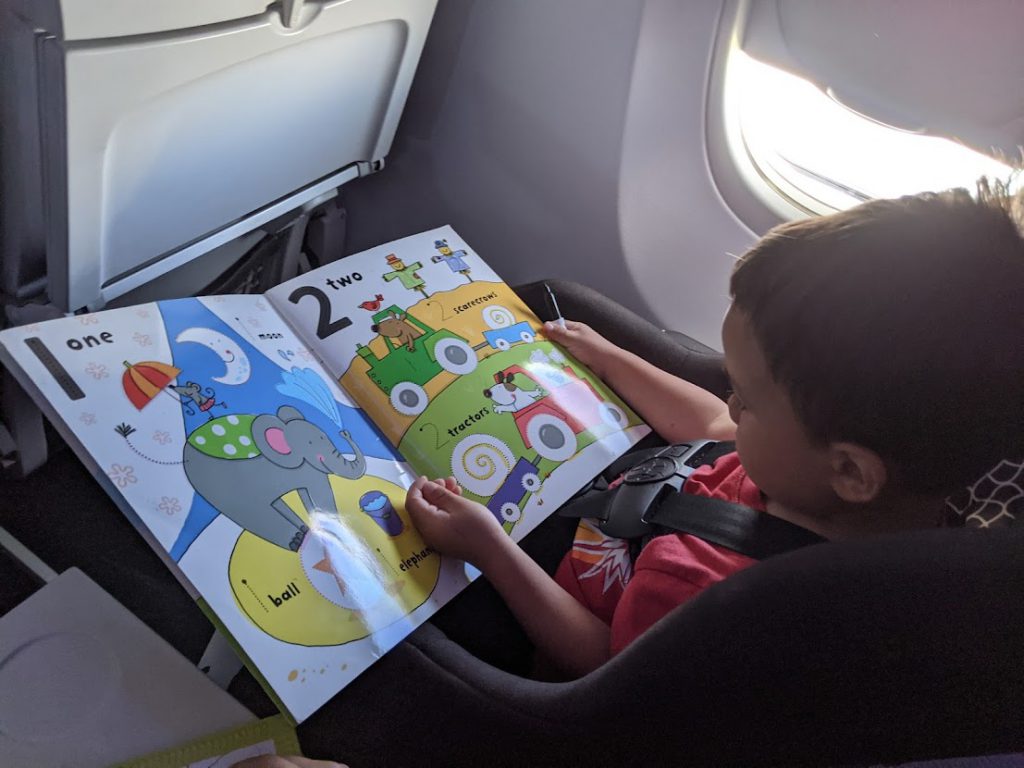 There are lots of different versions of the wipe-clean book, including first letters, 1 2 3 book, first pen control, and first drawing (among many others).
Technology Airplane Activities for Toddlers
We try to avoid giving our kids too much screen time, but on a plane sometimes you just have to do what it takes to keep your toddler entertained!
The Kindle Fire Kids Tablet allows you to stream content through Wi-Fi or download content onto the device. Make sure to complete your downloads before you get on the plane! It also comes with a sturdy case and a 2-year warranty.
We've also used our phones for our children to watch shows on the plane.
However, this can be annoying at the toddler stage because the picture is smaller so they want to hold it, but then end up touching the screen and changing their place in the show or exiting out of it completely. Needless to say, that is extremely annoying and can lead to big meltdowns (trust me, I know from personal experience), so sometimes a tablet is the easier option for toddlers.
Headphones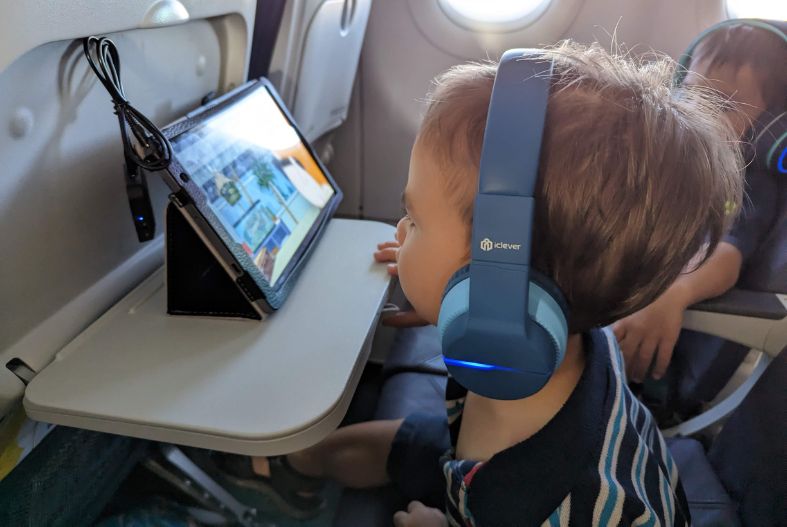 If you're planning on using a tablet, you'll obviously need to bring headphones for your child (be sure to check out our post on the best headphones toddler headphones for plane travel). Another good used for headphones is for your child to listen to music! My kids have looooved Raffi at this age, so before our flight, we would make sure we had some songs downloaded to our phone.
Listening to music can be a great calm-down activity for a grumpy toddler. And it also can be a nice segway into a nap, especially if you can't get your child to hold still long enough to fall asleep. Just put on some tunes and let your kiddo drift off while they listen.
When choosing toddler headphones, there are a few features to look for.
Many toddler headphones have a feature that prevents them from getting too loud so as not to damage a young child's hearing. I have heard some people complain that this makes it hard for a child to hear over the noise of the plane's engine, but we haven't had this problem with our volume-limiting headphones.
You'll also want a pair that are well padded for comfort and adjustable to be able to fit your child as their head grows.
We've loved this pair of headphones for our toddlers because it can has the option to use a cord or bluetooth settings.
Other Tips for Entertaining a Toddler on a Plane
We've been on lots of long flights with our children, so we understand that knowing how to entertain a toddler on a plane is not always an easy feat. But it can be done! A lot of it is in the preparation before you go.
Here are some tips for a better flying experience with a 1-year-old, 2-year-old, or 3-year-old.
Bring awesome activities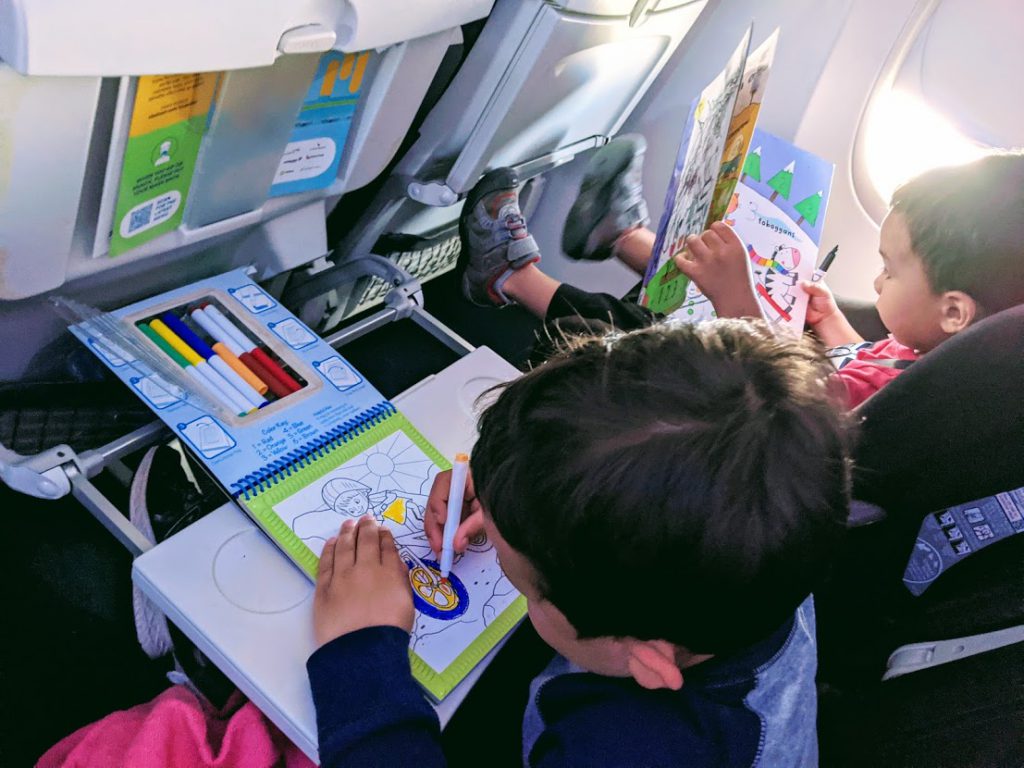 Good airplane activities are essential when traveling with a toddler. You need something to grab and hold their interest, especially if they are starting to have a difficult time.
Picking activities for airplane travel is something of an art form. How do you balance the desire to bring lots of great diversions to keep your child entertained, but also pack as light as possible?
And finding the right activities really matters. Having a variety of good options allows you to pull out new, interesting activities to engage your child or distract them if they're starting to meltdown.
Have good snacks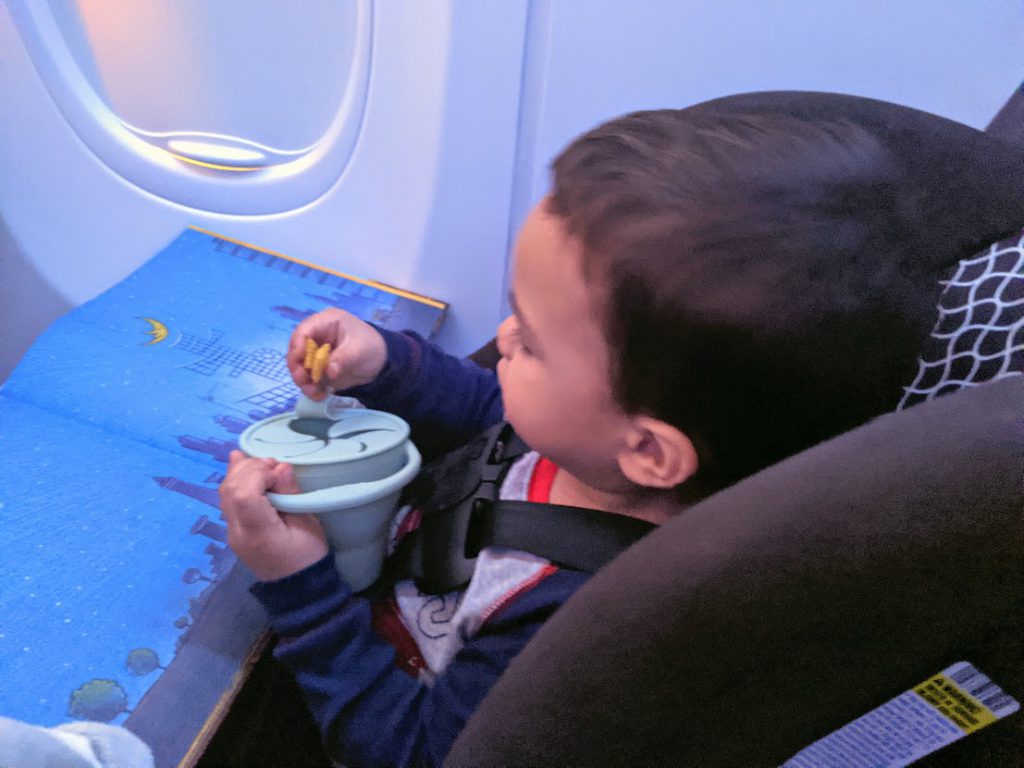 One of my best tips for how to entertain a toddler on a plane: snacks, snacks, and more snacks. Nothing stops my kids mid-meltdown like a good snack.
Have a variety of different options so that they don't get bored and bring some items that they aren't used to to add novelty to the experience. For some great toddler snack ideas, see this post.
I love this snack catcher because it allows your toddler to manage their snacks on their own without spilling. and it's collapsible, making it perfect for travel!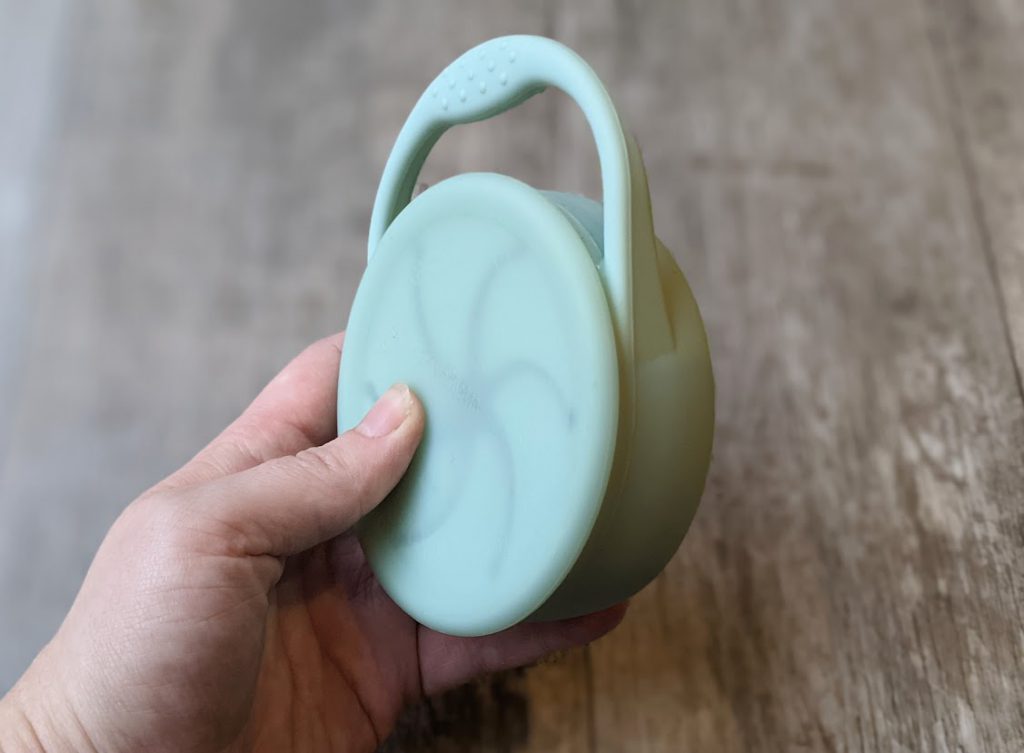 Get up and move around
If we're on a long-haul flight, I make sure to get my child up to walk up and down the aisle every couple of hours (or on the hour if they are having a hard time).
This acts as a bit of a reset, by helping to get the blood flowing and allowing your child a change of scenery.
It also helps to break up the experience for both of us. It often makes the time feel more manageable knowing that I only have to keep them entertained for x number of minutes until we both get a break. If you have someone with you, trade off doing this so that you both get a break.
Maintain perspective
If you're following all the tips on how to entertain a toddler on a plane and things still aren't going according to plan…just know that no matter how your child acts, eventually the flight will end. And you'll probably never see the other people on the plane again anyway.
Chalk it up to experience and try not to let it get you too frazzled.
Final Thoughts
It can be hard knowing how to entertain a toddler on a plane. Make it easier on yourself by planning ahead and picking great activities for your flight.
With the right combination of snacks, breaks, and activities, your toddler can have a fun and engaging experience and you'll be able to relax a bit. What more could you want when traveling with a young child?
Whether you're on a long-haul international flight or just flying for a couple of hours, make sure to plan for some good toddler airplane activities. Your child- and everyone else on the plane- will thank you.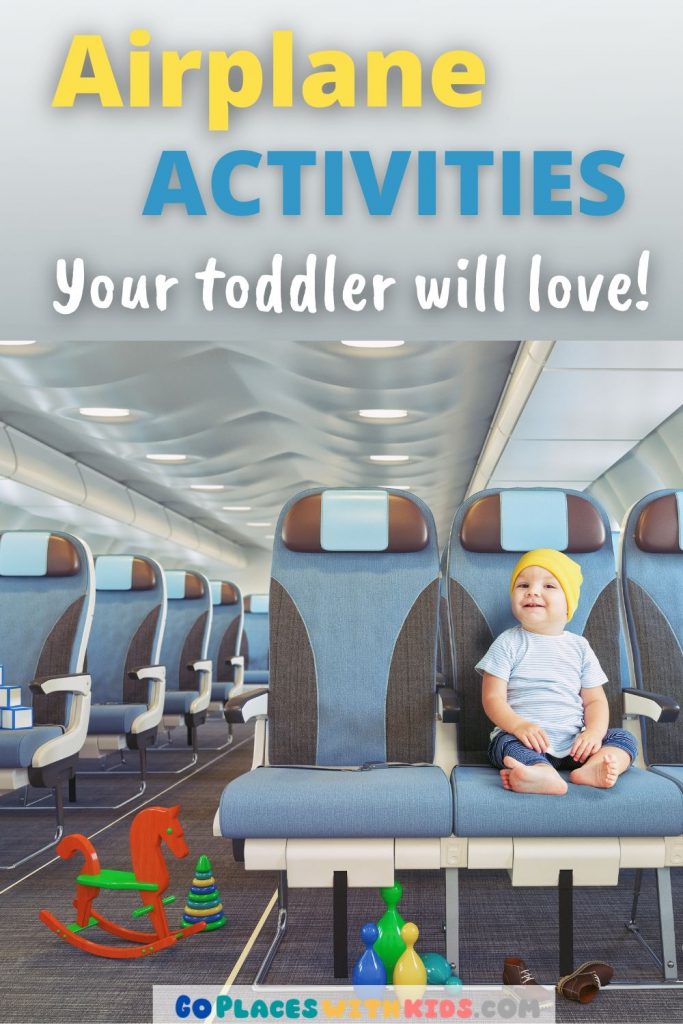 Other posts you might be interested in:
27 Best Travel Gifts for Kids (That They Will Actually Like!)
The BEST Toddler Carriers for Travel
How to Fight Jet Lag in Babies and Toddlers