This page may contain affiliate links, which means that we may earn from qualifying purchases at no additional cost to you.
Be sure not to miss these top 10 Filipino foods on your next trip to the Philippines!
One of the best parts about visiting the Philippines: all the Filipino food you can eat!
And there are so many delicious foods to try. You might leave a few pounds heavier (especially if you're eating with locals who will enthusiastically feed you until you're ready to drop), but with no regrets.
My husband is from the Philippines, so Filipino food has a special place in our household. We often have Filipino food in our home and our children have grown up eating it (and loving it!).
So for us, it's nice traveling as a family in the Philippines because we always have a local with us! Whenever we're in the Philippines, my husband shares his culture and heritage with us. And steers us in the direction of the most delicious local food. Yum!
In that spirit of sharing, I decided to share some of our favorite Filipino foods with you. I'd hate for you to miss out on the joy of Filipino cuisine!
Here are some foods you cannot miss if you are visiting the Philippines.
Top 10 Filipino Foods You Need to Try:
Barbecue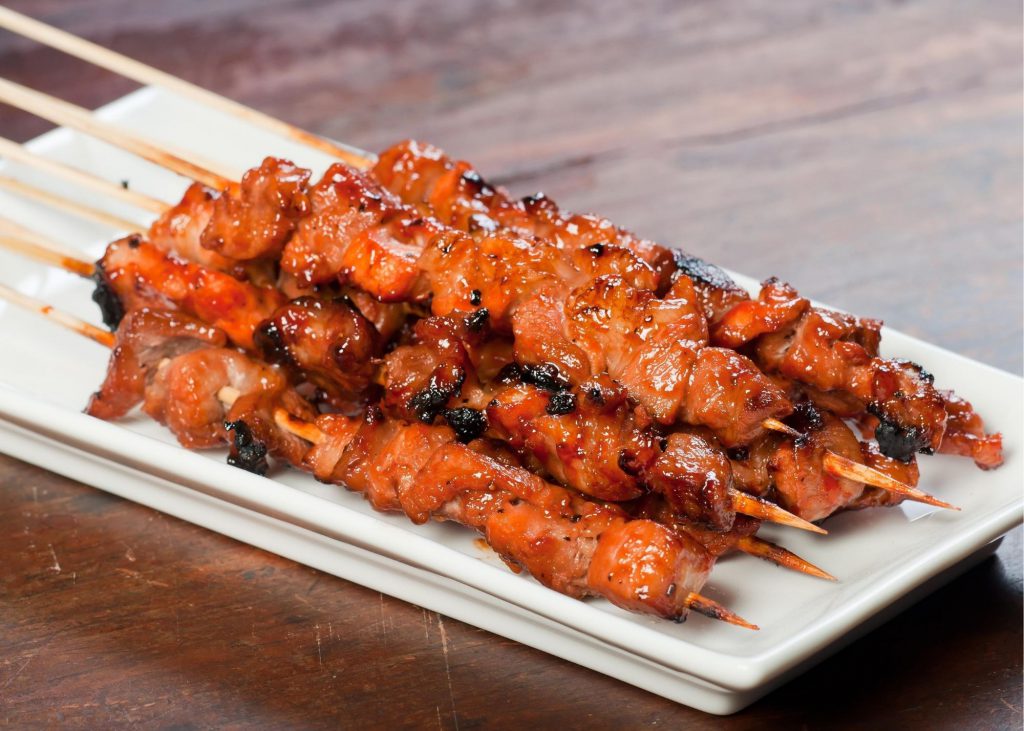 First up in our list of top 10 Filipino foods: Filipino barbecue. How many ways can I sing its praises?
In the US, if you say "barbecue", you're typically speaking of the general concept of cooking on the grill outside. However, in the Philippines, barbecue is referring to a specific food.
Filipino barbecue is made with marinated pork or chicken grilled on bamboo skewers. It's usually served with a soy-vinegar dipping sauce and rice.
And it is heavenly. I think if I could only pick one food to eat for the rest of my life, it might be Filipino barbecue…
Lumpia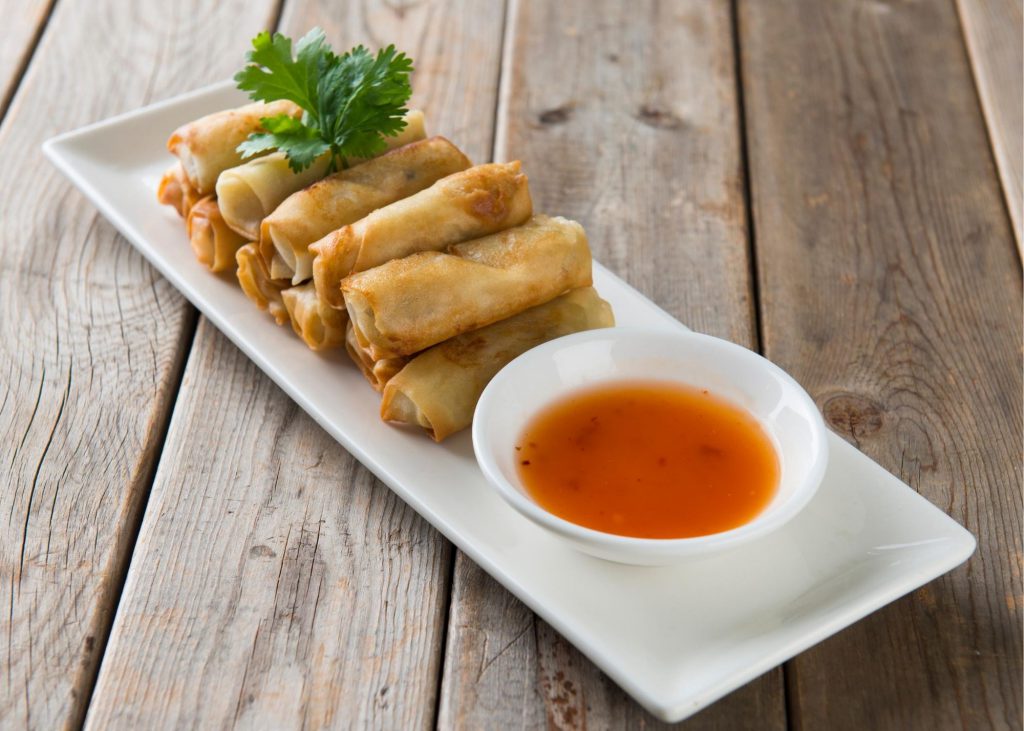 Lumpia is the spring roll of the Philippines. Made with a thin pastry wrapper, lumpia are typically filled with ground pork or chicken and vegetables. They are usually deep-fried and dipped in a sweet chili sauce.
Often served as appetizers or snacks, these deliciously crispy rolls are the perfect addition to any gathering or meal.
Adobo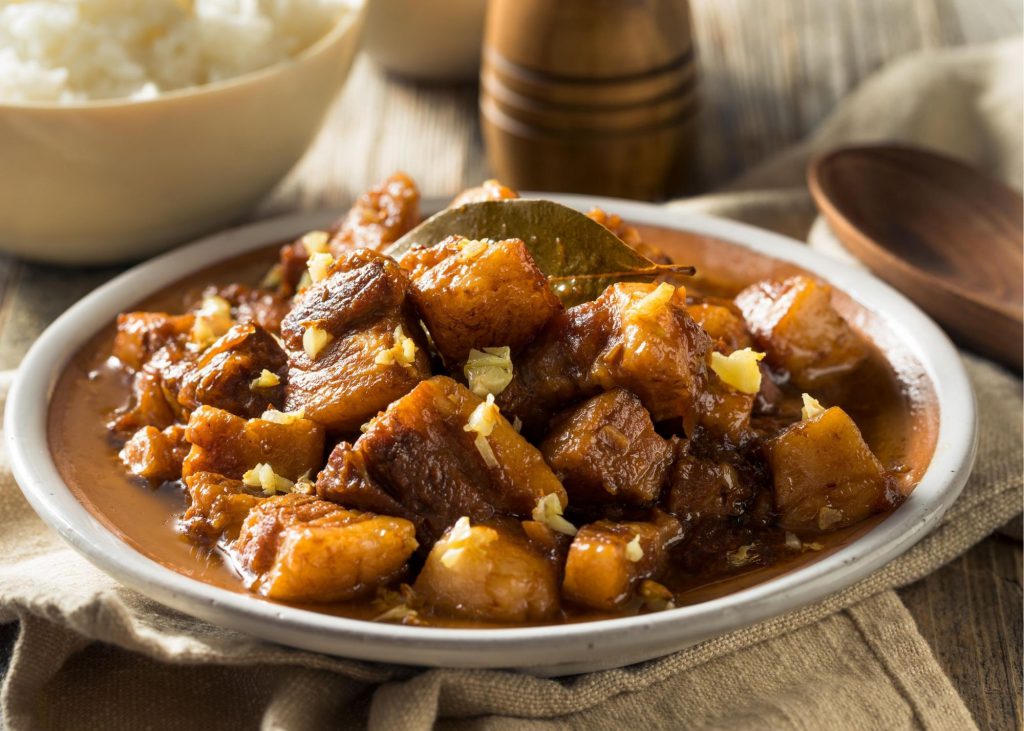 Considered by many to be the unofficial national dish of the Philippines, adobo is definitely a food you need to experience on your trip.
'Adobo' comes from the Spanish word 'adobar', or marinade, and actually refers to both the dish and the cooking process.
This dish is made with pork or chicken braised in a sauce of vinegar, oil, soy sauce, garlic, bay leaves, and peppercorns. And of course, served with rice.
The tender meat combined with the tangy sauce is simply to die for.
Puto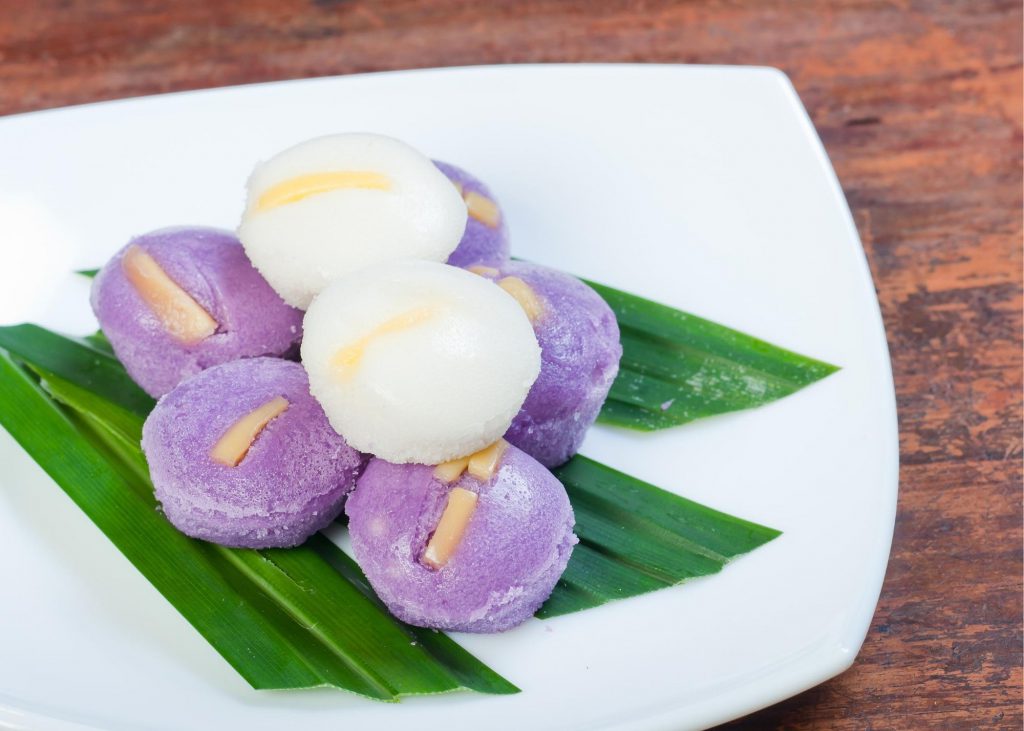 These steamed rice cakes are one of my kids' favorite Filipino treats (and mine too!). They come in a variety of flavors, including cheese, ube, and pandan.
Puto has a spongy texture and mild, sweet flavor. It is often served with savory dishes or can stand alone as a snack or dessert.
We get them whenever we go to the Filipino market near us and they never last long in our house!
Halo-halo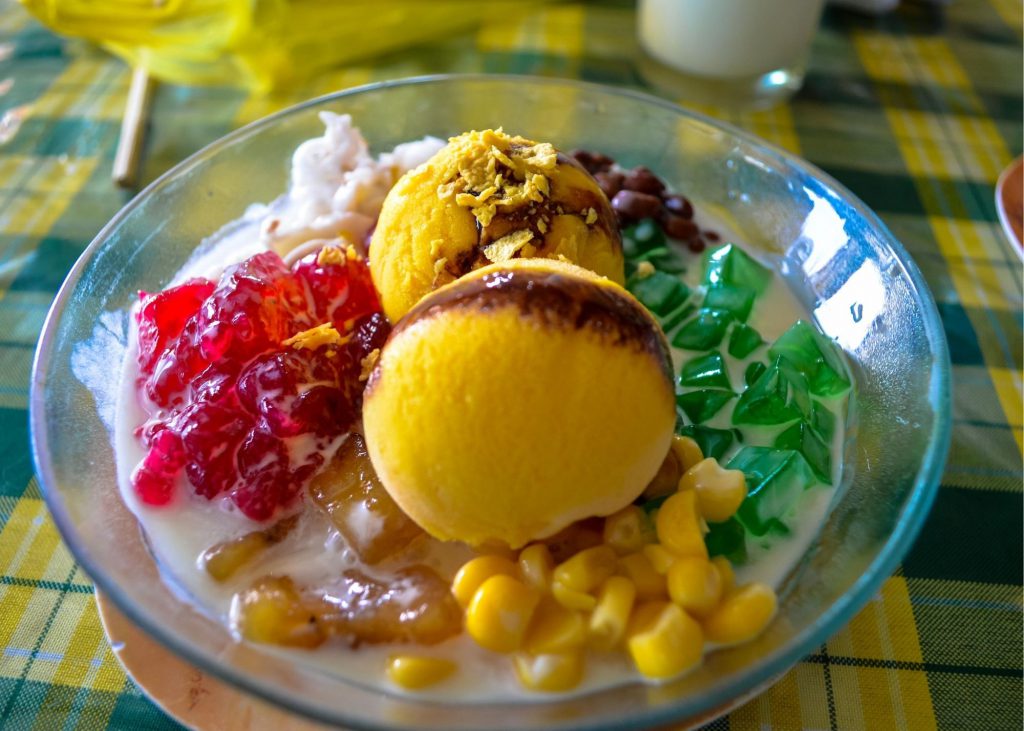 When visiting the Philippines, you have to experience this unique and very popular dessert.
The base is made of crushed iced and evaporated milk with a variety of toppings. Typical toppings include slices of fruit, gelatin, strings of coconut, ice cream, and (odd though it might seem to first-timers) sweetened beans and corn.
Halo-halo literally means "mix-mix", which is the idea behind this cold treat. When you mix it all together, you're left with a sweet combination of delicious flavors.
Pancit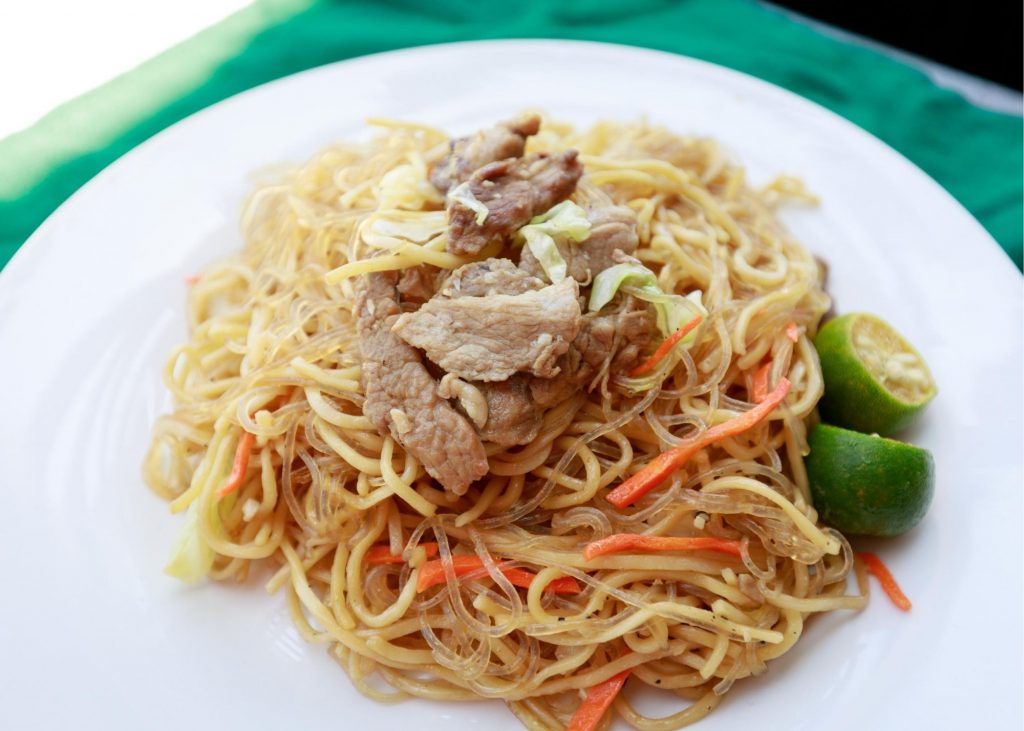 No list of the top 10 Filipino foods would be complete without this entry. If you know anything about Filipino food, you've probably heard of pancit.
Pancit is the classic Filipino noodle dish. It seems that any gathering in the Philippines is not complete without a big tray of pancit. And for good reason. It's filling, flavorful, and incredibly tasty.
This dish is made up of noodles cooked with meat and chopped vegetables (cabbage, carrots, etc). There are a few different kinds of pancit, two popular varieties being pancit bihon and pancit canton.
Pancit bihon is made with thin rice noodles, whereas pancit canton is made with thicker egg noodles (almost the thickness of spaghetti noodles). Both are delicious in their own right, though I personally am partial to pancit bihon.
If you're traveling with kids, this noodle dish has a mild flavor that is often a big hit with the younger crowd.
Inasal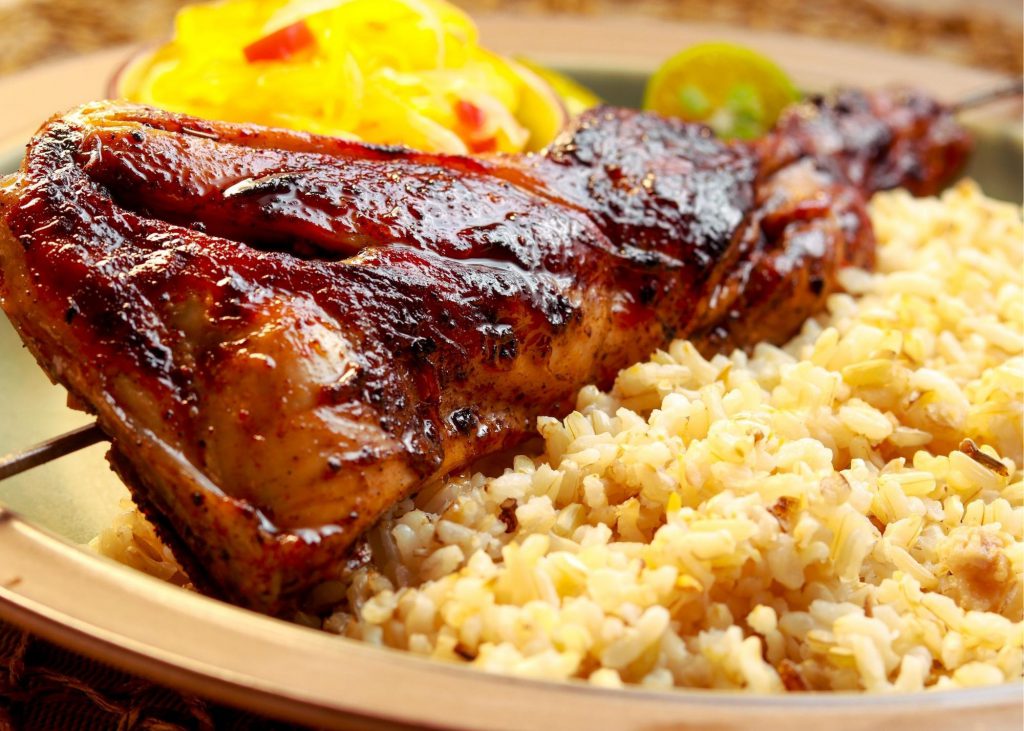 This scrumptious grilled chicken will leave you licking your fingers and wanting more!
Originating from the Visayas region, chicken inasal is a beloved dish in the Philippines. There's actually a Filipino barbecue restaurant chain called Mang Inasal which is famous for its inasal chicken.
For this dish, the chicken is marinated in vinegar, calamansi, pepper, and annatto. When grilled perfectly, the chicken has tender meat and crispy, flavorful skin. It is served with rice and various dipping sauces, including vinegar, soy sauce, and calamansi.
And once you've tried it, it's hard to stop at just one piece!
-Silog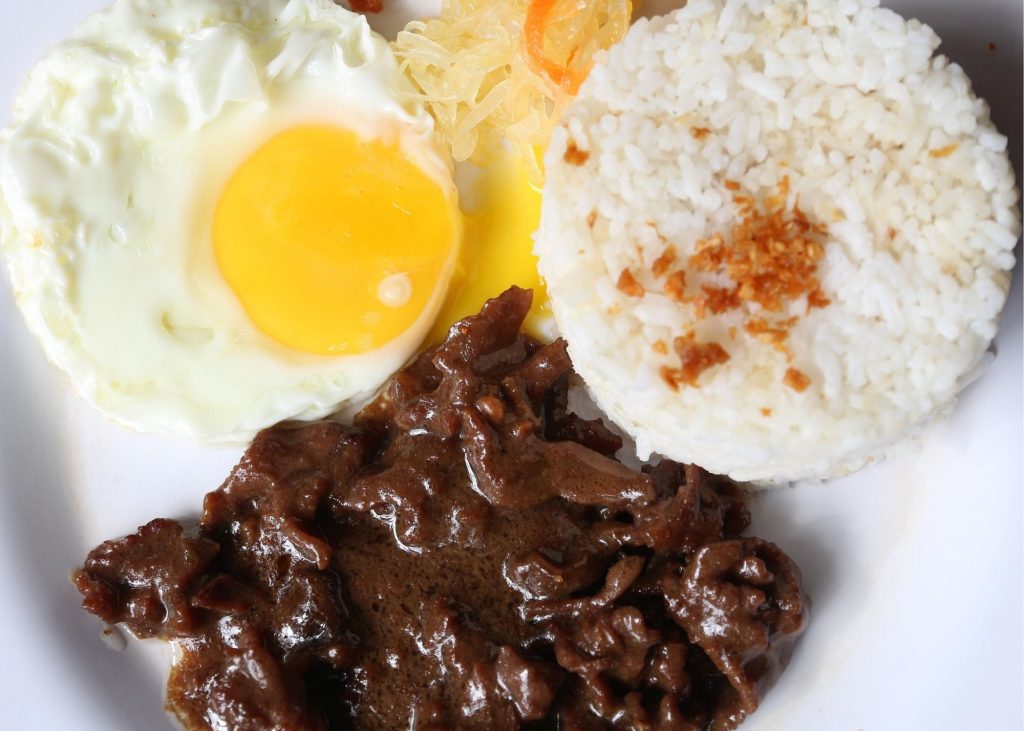 Craving a classic Flipino breakfast (which can be eaten at any time of the day)? Well, look no further than [pick your favorite meat]-silog! The name is a combination of the three elements of the meal: the type of meat used, SInangag (fried rice), and itLOG (egg).
There are endless combinations of meat that can go along with this meal and the name is adjusted to include the first syllable of the meat used. For example, tapsilog is made with TAPa (marinated beef), bangsilog with BANGus (milk fish), spamsilog with SPAM….you get the idea. My personal favorite is longsilog, which is rice, eggs, and LONGganisa (Filipino sausage).
Honestly, this is one of my favorite breakfasts ever. Although simple, the combination of meat, rice, and a nice runny egg could not be more perfect.
Taho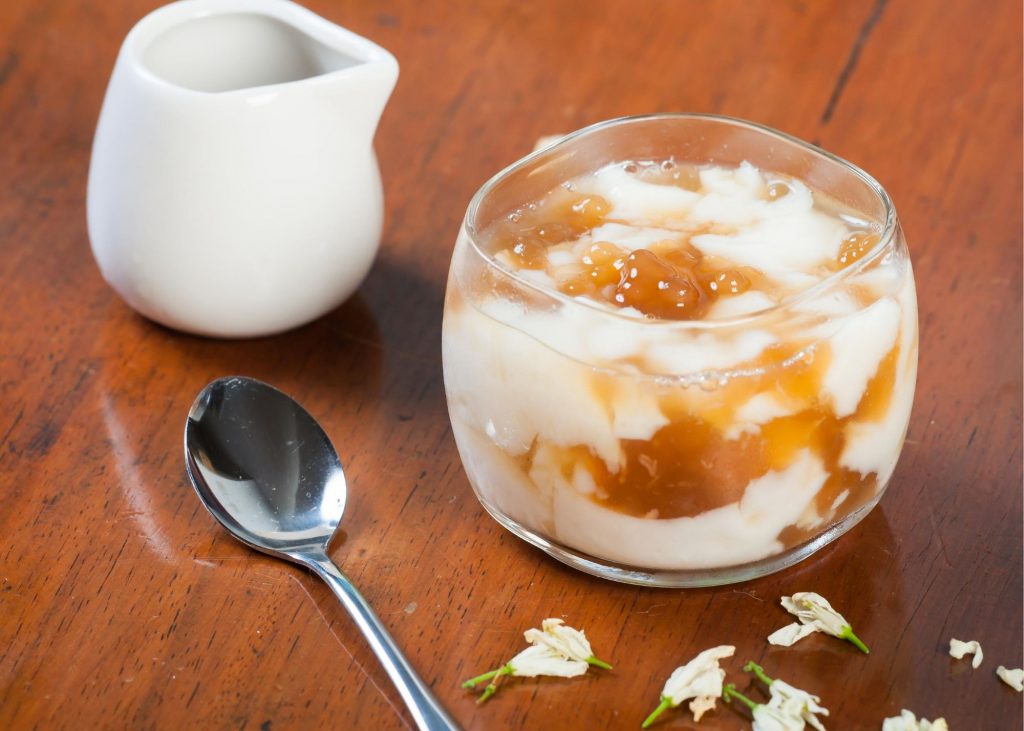 Taho is a popular sweet snack in the Philippines. It is made with silken tofu combined with arnibal syrup and sago or tapioca pearls.
This classic dish is traditionally sold by street peddlers carrying large buckets on the end of a pole draped across their shoulders. You'll often know when a taho seller is nearby when their call of "taaahooooo!" comes drifting down the street.
Sinigang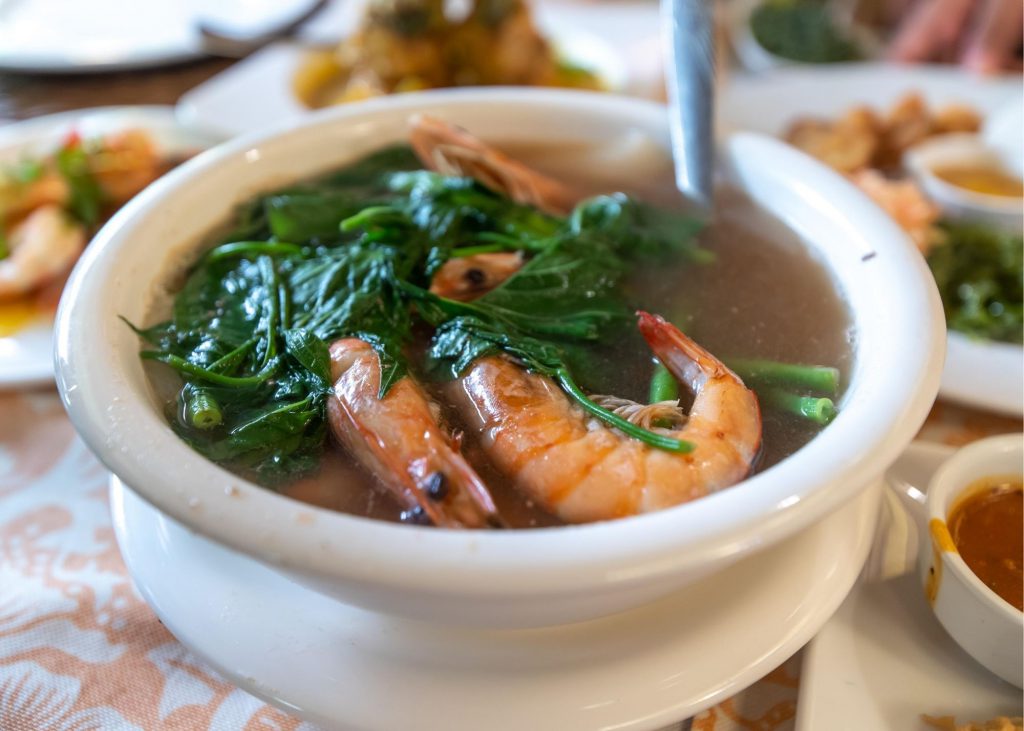 Sinigang, the famous sour soup in the Philippines! The sour flavor usually comes from tamarind, although other sour fruits can be used. It also consists of vegetables and meat. Pork is commonly used, but the protein can vary.
A cup of this steaming, savory soup is the perfect comfort food for a sick day or a drizzly afternoon.
The tartness might make your lips pucker when you first try it, but the sour and savory flavor combination will leave you wanting more!
Final Thoughts on the Top 10 Filipino Foods
So there you have it, a list the delicious top 10 Filipino foods to infuse your trip to the Philippines with flavor!
It was hard to narrow it down to just 10 dishes, as there are many other foods that I could have included. But these classic dishes are some of our absolute favorites.
So make sure you take some time to seek out some truly amazing food while you're exploring this unique and varied country. You won't be disappointed!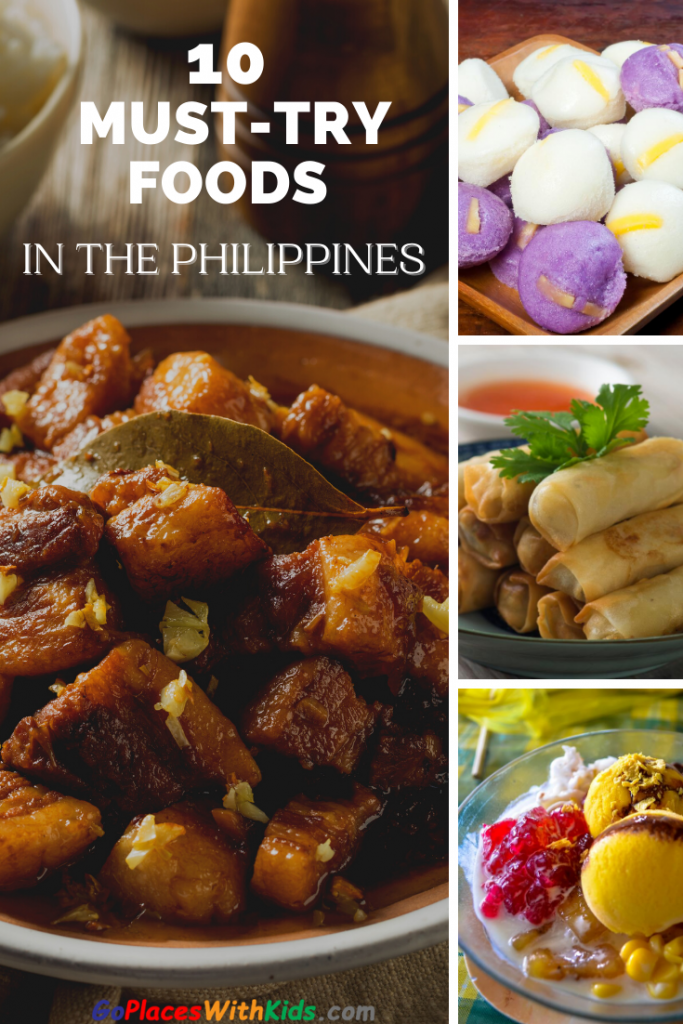 Other posts you might be interested in:
The Philippines with Kids- Everything You Need to Know!
How to Get Around Manila (And Tips for Doing it With Kids!)