This page may contain affiliate links, which means that we may earn from qualifying purchases at no additional cost to you.
Flying with a baby can seem intimidating.
It's always stressful wondering if your baby is going to be "that baby" who screams the entire flight. And while there's always a chance your baby will have a rough flight, a little preparation goes a long way towards making a positive flight experience for everyone.
We've had many flights with babies- domestic and international, short and waaay too long. So over the years we've learned a few tricks that have really helped us out when traveling with a baby.
Of course "baby" is a broad term. For those first few months, newborns tend to be pretty low maintenance. Mostly they just eat and sleep, so actually it's a pretty convenient time to travel.
The main problem at the newborn stage usually comes if they have trouble with the pressure during take-off and landing (see tip 4 for suggestions on how to handle this problem).
As babies get more mobile and start having more preferences, things tend to get a little trickier. It's at this age where you really want to make sure that you have some good strategies prepared to keep them entertained and settle them if they get fussy or frustrated.
So, on that note, here are some of our favorite activities, snacks, and tips to make flying with a baby a breeze!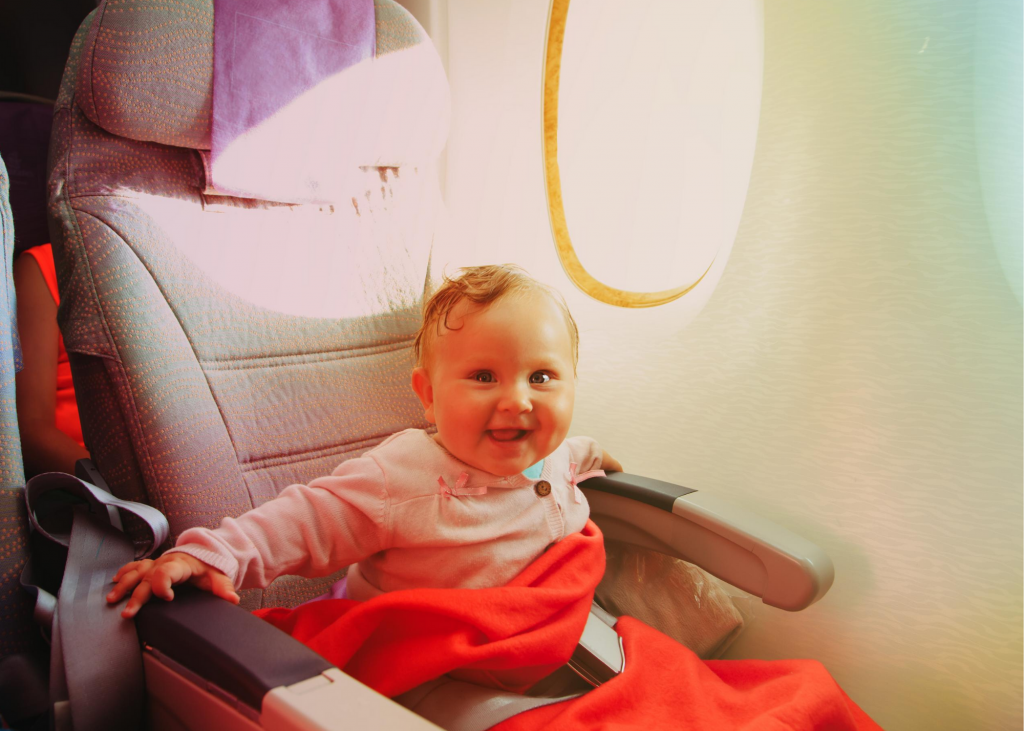 Tips for Flying with a Baby
1. Have some simple activities prepared
Be sure to bring a couple of activities to hold your baby's attention. It's good to have a few different ideas because at this age things don't usually keep them entertained for long. Here are some of our favorite plane activities for babies:
Babies love to have something to chew on, especially if they're teething. My kids have loved the Sophie the Giraffe teether. When we're traveling we bring this Sophie teether and use a pacifier clip to attach it to the car seat or carrier so that the baby always has something to hold and chew on.
These cute little finger puppets can be fun for some interactive play with your baby during the flight. I use these for peek-a-boo, singing songs, tickle games, or just to give them something to hold.
Usborne Books' touchy-feely playbooks are perfect for curious little fingers. There are bright, colorful pictures and lots of different textures for them to feel on every page. I have been impressed at how long these books have kept my kids' attention at a young age.
These little plush activity animal from Bright Starts are not only adorable, but they have lots of elements that a baby will love. This little elephant comes equipped with rings to hold and chew, tags, crinkle sounds, a mirror, and a rattle ball.
Although the rattle ball and crinkle ear do make sounds, they are quiet enough that I don't think they would be obnoxious to other passengers over the sounds of the plane engine (you can also detach the rattle ball and sew it back on when you get back if you're worried about it). This cute little guy has lots of features that will keep your baby entertained!
Songs and nursery rhymes
My babies have loved songs and nursery rhymes, so I've often used that as a way to engage them and calm them down on flights. Just sing quietly so as not to disturb the passengers around you. Songs with actions are usually a big hit.
Some of our favorites:
The Itsy Bitsy Spider
The Wheels on the Bus
Old MacDonald Had a Farm
Meal service cups
After all of the activities I carefully plan and prepare for my babies, one of their favorite things is always the empty water cups from our beverage service. Go figure. Stacking the cups is always a big hit.
2. Don't forget the snacks
If your baby is old enough to eat solid food, bring some good snacks. Whipping out a snack at an ideal time has saved us from many a tantrum on the plane. And it can be nice to bring a few different options so that you can change it up if they start getting bored.
Here are some of our favorites for babies: (for snack ideas for older babies and toddlers, see this post)
Fruit and veggie pouches
Cheerios
Raisins
Rice cakes
And if you're bringing small snacks, a snack catcher is a great way to feed them to your baby. This one is a perfect option for travel because it's collapsible, which makes it easy to store when you aren't using it.
The flaps on the lid prevent your baby from dumping the snack all over the place and the lid means you can store snacks in it for later.
And trying to get the snacks out of a snack catcher can be very entertaining to a baby, so it's an activity as well!
3. Walk around with your baby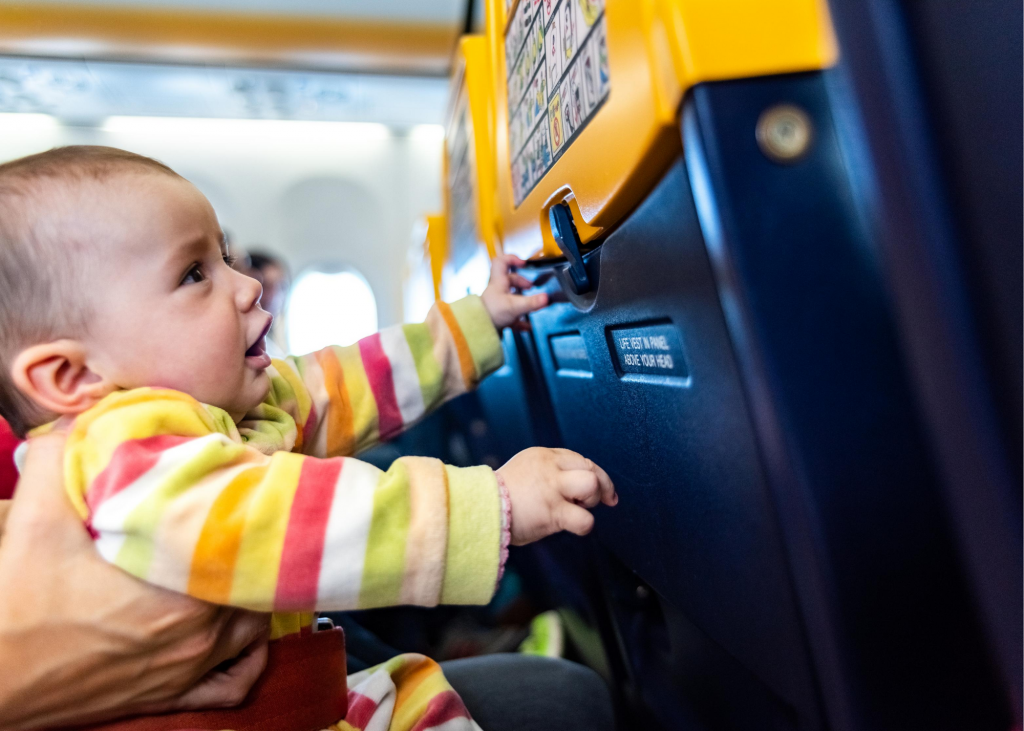 If baby starts to get fussy it can help to get up and walk around the plane with them. Sometimes all they need is a change of scenery to calm down.
My husband and I trade off taking the baby for a little walk a couple of times an hour if the baby isn't sleeping. We've found that having our baby move around a bit helps them to maintain their composure longer. And it keeps us sane because we know that we each get a break every so often.
4. Prepare for pressure change during takeoff and landing
Take-off and landing can be difficult for babies because the pressure change can cause pain in their ears. A good way to combat this is to have something for them to suck on during take-off and landing. Sucking and swallowing help to equalize the pressure and relieve discomfort.
You can do this by nursing or having a bottle for your baby to suck on. Be sure to wait until you're actually taking off. If you start too soon, baby will be done eating before you finish taxiing to the runway. The same goes for the descent, wait until the plane is actively descending before you start feeding them.
5. Try to have baby nap during the flight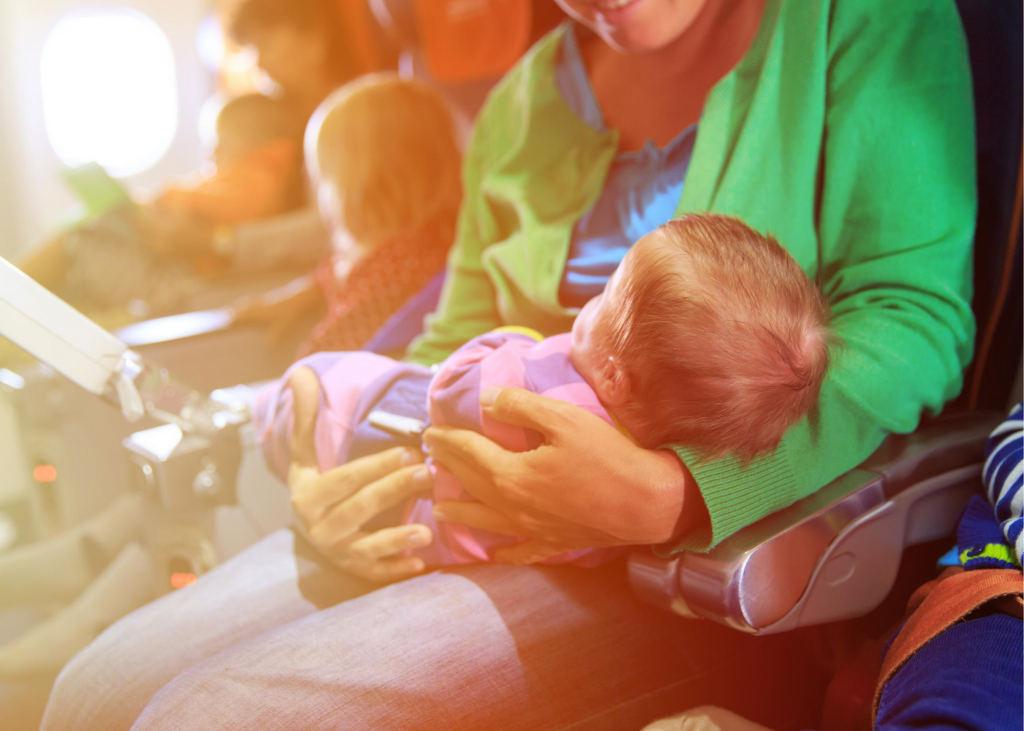 For long flights, I try and flex my baby's schedule so that they are napping during the flight if possible. Sometimes that means keeping them awake a little longer before the flight.
Every baby is different, so you have do decide what will work best for your baby. But I find flights much more relaxing if my baby can sleep for at least part of it.
6. Bring a baby carrier for sleep
Even if you're bringing your car seat on the plane, I would still suggest bringing a baby carrier. I'm a big advocate of baby carriers for travel, and a flight is another place I love to use one (see this post for more reasons to bring a carrier when traveling). A carrier is a great tool for helping baby to sleep or calm down if they get overstimulated.
Getting your baby to sleep in their car seat is ideal because then you don't have to hold them. However, we've had times when either we don't bring a car seat on the plane or the baby refuses to fall asleep in the car seat (there's only so long you can leave a baby fussing in a car seat until everyone else starts getting annoyed). In that instance, the carrier can be really helpful.
I don't know how many times we've used our Ergobaby carrier to soothe a fussy baby on a long flight. If baby is getting tired and won't settle down, one of us will put the baby in the baby carrier and walk (or bounce) up and down the aisles until the baby settles or falls asleep. Works like a charm.
7. Manage expectations
Flying with a baby is never going to be as relaxing as flying on your own. It just isn't. I feel like knowing that mentally can help take some of the pressure off. That being said, it doesn't have to be miserable. By preparing the right activities, snacks, and strategies you can mitigate a lot of the problems that can arise.
And remember that even if your baby does have a hard time, within a few hours the flight will end and you'll probably never see any of the other passengers ever again. In my experience, people are usually pretty understanding of parents flying with a baby. But even if you encounter some grouches, all you can do is try to forget about them and focus on doing everything you can for your baby.
Final Thoughts
So there you have it, you're ready for your big flight! Don't let concerns about flying with a baby keep you from traveling. You can have some great trips with a baby along. And the flight is just one small hurdle to get there. Prepare as best you can and soon you'll be soaring towards an awesome family trip!