This page may contain affiliate links, which means that we may earn from qualifying purchases at no additional cost to you.
Flying with a baby for the first time can seem intimidating.
It's always stressful not knowing what to expect and wondering if your baby is going to be "that baby" who screams the entire flight.
And while there's always a chance your baby will have a rough flight, a little preparation goes a long way towards making a positive flight experience for everyone.
We've had many flights with babies- domestic and international, short and waaay too long. So over the years we've learned a few tricks that have really helped us out when traveling with a baby.
So, on that note, here are some of our best tips and tricks for an awesome first flight with your baby!
First Flight with Baby- Common Questions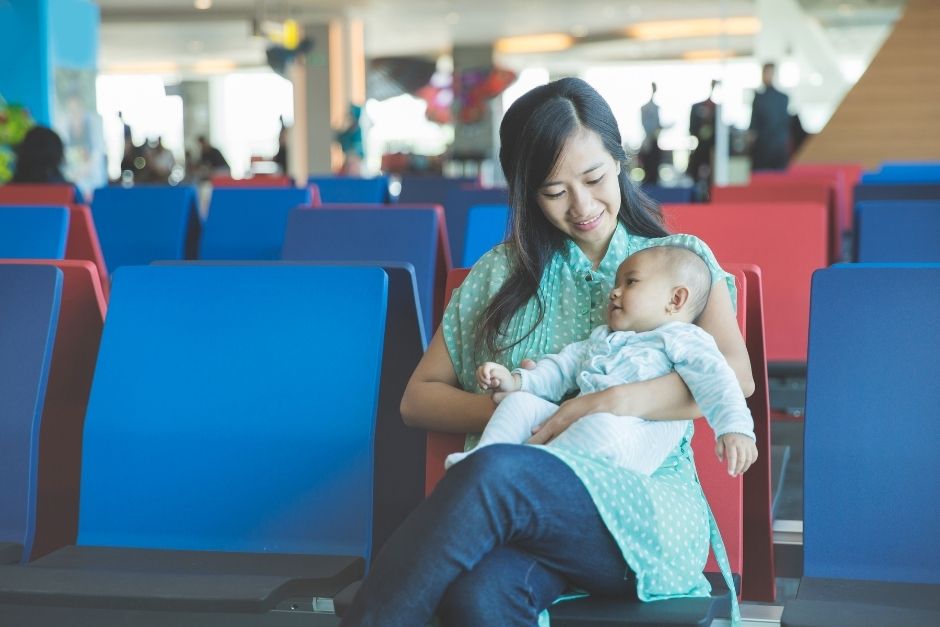 When you're preparing for a flight with your baby, plan ahead how you want to transport your baby through the airport.
I'm partial to babywearing through the airport, as it keeps your baby close and is easy for nursing and napping.
And a big bonus is that they typically won't make you take your baby out of the carrier to go through security! I've only been asked to remove my baby from the carrier once and that was in Southeast Asia.
This is especially amazing if your baby falls asleep in the carrier going through the airport.
There's nothing worse than being forced to wake up a sleeping baby who just fell asleep in their car seat or stroller to go through security. With a baby carrier, you usually won't face that problem.
Of course you can always opt to bring a stroller to transport your little one. You can even use your stroller for transporting your bags while you wear your baby in the carrier. If you're bringing a stroller, it's typically best to gate check your stroller so that you can use it throughout the airport both in your departure and arrival destinations.
Should I buy my baby their own seat?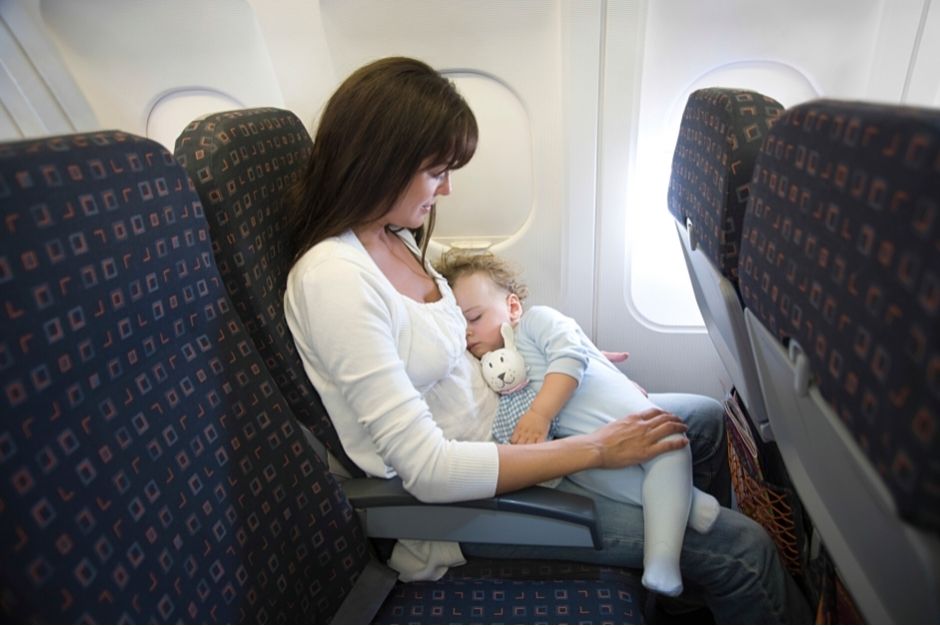 With a child under 2 you can choose whether to buy them a seat or have them sit on your lap as a lap infant.
The safest way to fly with a baby is to buy them their own seat and secure them in their car seat (especially for take off and landing).
That being said, many choose to fly with their baby on their lap if they are under 2. You have to weigh the risks and costs in deciding which option is best for your family.
Downsides to having a lap infant:
It's less safe for baby
You will have a wiggly baby on your lap for the entire duration of the flight
Some babies sleep better in their car seat than in someone's arms
You have to check their car seat, which can cause damage to the seat
Of course the big pro of having a lap infant is that you don't have to pay for a ticket for your baby, which can be a large savings.
Pro tip: If you are choosing to fly with a lap infant, bring their car seat to the gate and see if there are any empty seats on the flight. If a flight has empty seats, often the gate agent will let you bring your car seat on the plane and use it for your baby during the flight (we've had this happen many times while traveling).
How much does it cost for a baby to fly?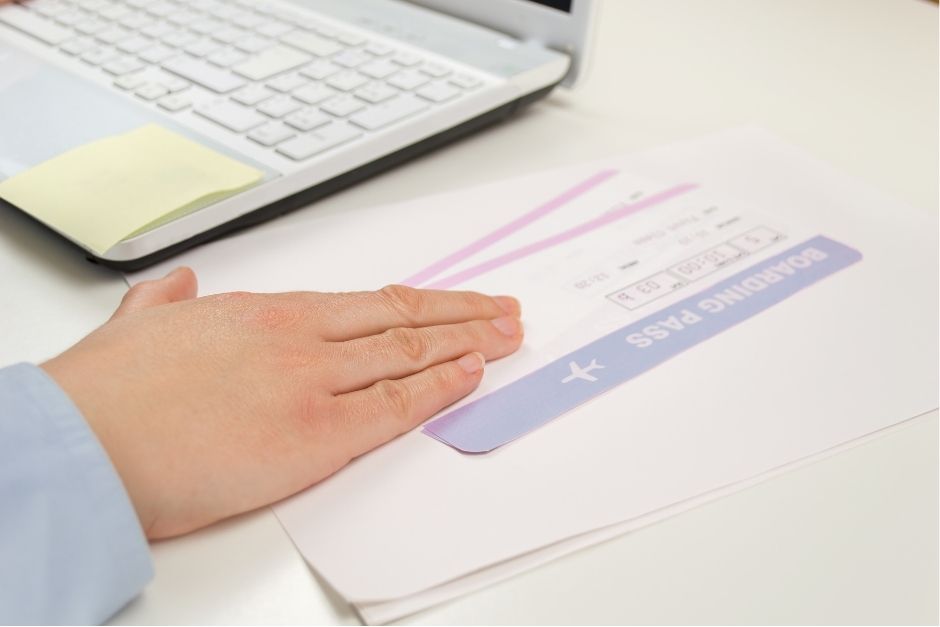 If you choose to buy a seat for your child, it will be a regular full-priced fare. There is no discount for a baby.
Flying domestically, a baby can fly as a lap child for free. If you're flying internationally, a ticket for a lap child typically costs 10% of the regular fare plus taxes and surcharges.
When can babies take their first flight?
As long as they are healthy, babies can fly soon after birth.
However, young babies have developing immune systems which make them more susceptible to illness (which can be very dangerous at this young age).
Many doctors recommend waiting at least until a baby has received a first round of vaccines before flying, which typically happens at 2 months old.
Another factor to consider is when you will be traveling, as some illnesses are more prevalent during certain times of the year.
But babies tend to be easier to fly with the younger they are.
When they're under 6 months or so, babies are usually pretty low maintenance. Mostly they just eat and sleep, so actually it's a pretty convenient time to travel.
The main problem flying with young babies usually comes if they have trouble with the pressure during take-off and landing (see tip 4 for suggestions on how to handle this problem).
As babies get more mobile and start having more preferences, things tend to get a little trickier. The closer they get to a year, the more challenging your flight is likley to be.
It's at this age where you really want to make sure that you have some good strategies prepared to keep them entertained and settle them if they get fussy or frustrated.
What should I pack in my diaper bag for baby's first flight?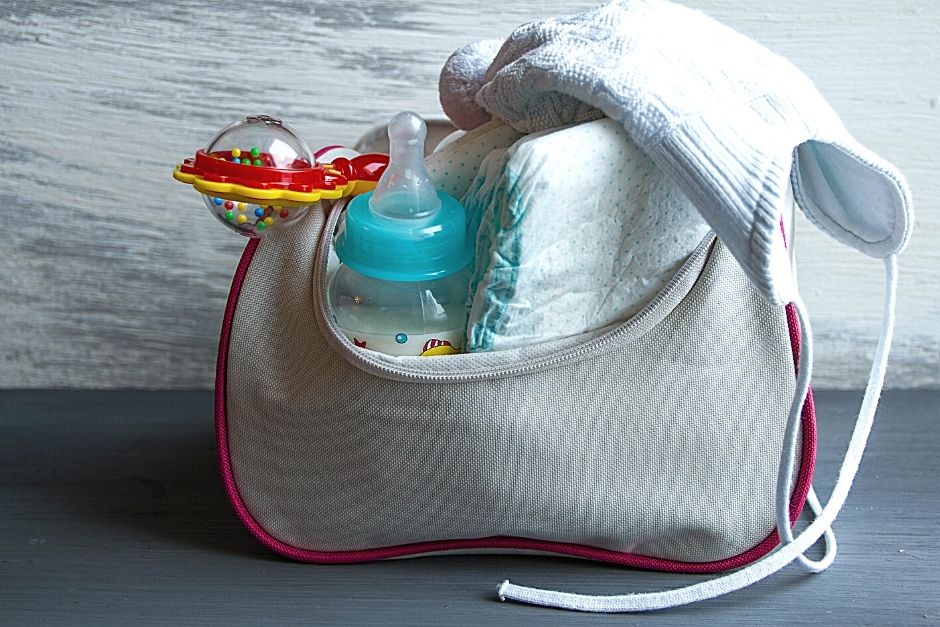 Try not to overpack your diaper bag for your flight. Just bring the essentials, but make sure you don't forget the most important items. This diaper bag packing list has everything you need for a first flight with baby.
Diapers/wipes- Bring more diapers than you think you need. This is one area where you definitely don't want to be caught unprepared. (Side note- if you're ever in a pinch without diapers, look for another mom or dad with young kids and see if they have any to spare. I had a mom totally save me during an ill-planned flight once. Now I always pack way more diapers than I think I'll need.)
Changing pad- You'll want something to cover up the nursing tables at the airport or in the plane when you're changing your baby's diapers.
Nursing cover- Nursing covers are great for nursing of course, but also as a cover for baby when they are sleeping.
Change of clothes for baby (and maybe mom too)- Always bring a change of clothes for your baby when you're flying. You never know when you might have a blow-out and you definitely don't want to be caught unprepared.
Formula/bottle- If your baby is formula-fed, bring plenty of formula for the flight and some extra to account for any delays.
Teether/toys- Bring a couple of toys to keep baby engaged during the flight. See below for some of our favorite baby plane toys.
Snacks- If your baby is eating solid foods, be sure to bring some snacks. This is a great way to entertain a baby during the flight.
Pacifier/pacifier clip- For babies that take pacifiers, make sure to bring at least one or two of their favorite kind for the flight.
Baby's ID- If you're traveling internationally, don't forget your baby's passport. For domestic flights, you can use a passport or birth certificate (or sometimes an immunization record).
See this post for a comprehensive list of baby travel essentials.
Tips for Flying a Baby for the First Time
1. Have some simple activities prepared
For your first flight with your baby, you'll want to bring some awesome activities that will hold your baby's attention. It's good to have a few different ideas because at this age things don't usually keep them entertained for long.
Here are some of our favorite plane activities for babies:
Babies love to have something to chew on, especially if they're teething.
My kids have loved the Sophie the Giraffe teether. When we're traveling we bring this Sophie teether and use a pacifier clip to attach it to the car seat or carrier so that the baby always has something to hold and chew on.
This suction toy has movable rings and vibrant colors to keep your baby's attention. And the best part is that you can suction it to the tray table or window so that it isn't constantly dropping on the ground!
These cute little finger puppets can be fun for some interactive play with your baby during the flight. I use these for peek-a-boo, singing songs, tickle games, or just to give them something to hold.
Usborne Books' touchy-feely playbooks are perfect for curious little fingers. There are bright, colorful pictures and lots of different textures for them to feel on every page. I have been impressed at how long these books have kept my kids' attention at a young age.
This little plush activity animal is not only adorable, but it has lots of elements that a baby will love. The little stuffy comes equipped with rings to hold and chew, tags, and crinkle hooves as well as teething antlers. It also has a clip to attach it to a stroller or car seat.
This cute little guy has lots of features that will keep your baby entertained!
Songs and nursery rhymes
My babies have loved songs and nursery rhymes, so I've often used that as a way to engage them and calm them down on flights. Just sing quietly so as not to disturb the passengers around you. Songs with actions are usually a big hit.
Some of our favorites:
The Itsy Bitsy Spider
The Wheels on the Bus
Old MacDonald Had a Farm
Meal service cups
After all of the activities I carefully plan and prepare for my babies, one of their favorite things is always the empty water cups from our beverage service. Go figure. Stacking the cups is always a big hit.
For other ideas, see our post on airplane toys for babies.
2. Don't forget the snacks
If your baby is old enough to eat solid food, bring some good snacks. Whipping out a snack at an ideal time has saved us from many a tantrum on the plane. And it can be nice to bring a few different options so that you can change it up if they start getting bored.
Here are some of our favorites for babies: (for snack ideas for older babies and toddlers, see this post)
Fruit and veggie pouches
Cheerios
Grapes (cut into small pieces)
Puffs
And if you're bringing small snacks, a snack catcher is a great way to feed them to your baby. This one is a perfect option for travel because it's collapsible, which makes it easy to store when you aren't using it.
The flaps on the lid prevent your baby from dumping the snack all over the place and the lid means you can store snacks in it for later.
And trying to get the snacks out of a snack catcher can be very entertaining to a baby, so it's an activity as well!
3. Walk around with your baby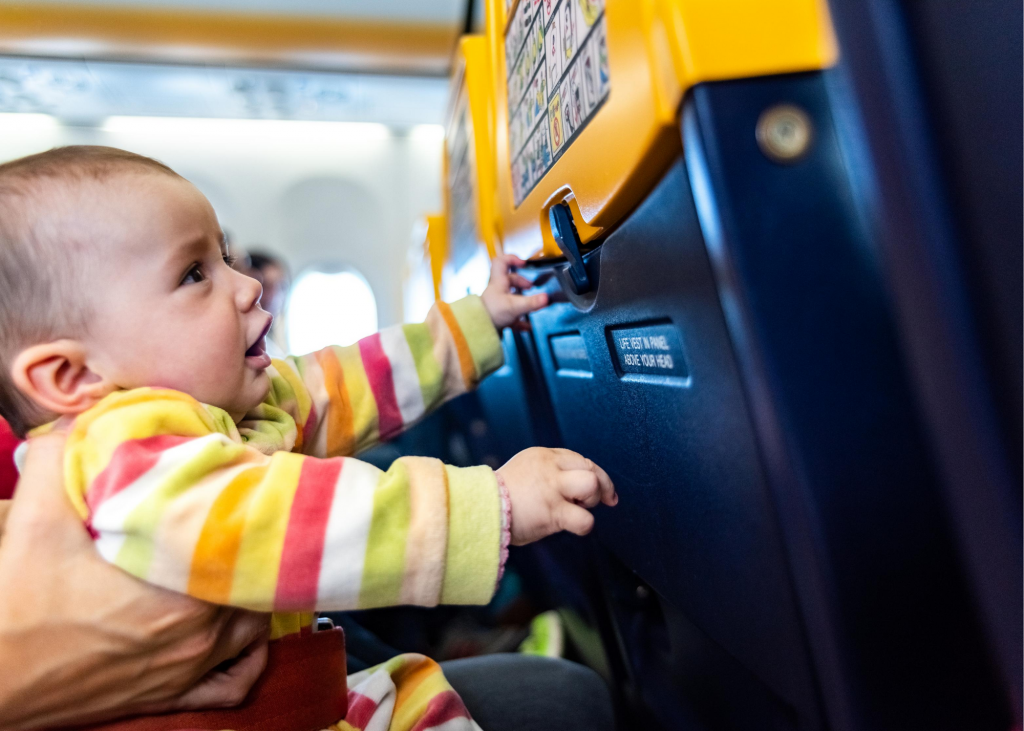 If baby starts to get fussy it can help to get up and walk around the plane with them. Sometimes all they need is a change of scenery to calm down.
My husband and I trade off taking the baby for a little walk a couple of times an hour if the baby isn't sleeping. We've found that having our baby move around a bit helps them to maintain their composure longer.
And it keeps us sane because we know that we each get a break every so often.
4. Prepare for pressure change during takeoff and landing
Take-off and landing can be difficult for babies because the pressure change can cause pain in their ears.
A good way to combat this is to have something for them to suck on during take-off and landing. Sucking and swallowing help to equalize the pressure and relieve discomfort.
You can do this by nursing or having a bottle or pacifier for your baby to suck on. Be sure to wait until you're actually taking off. If you start too soon, baby will be done eating before you finish taxiing to the runway. The same goes for the descent, wait until the plane is actively descending before you start feeding them.
5. Try to have baby nap during the flight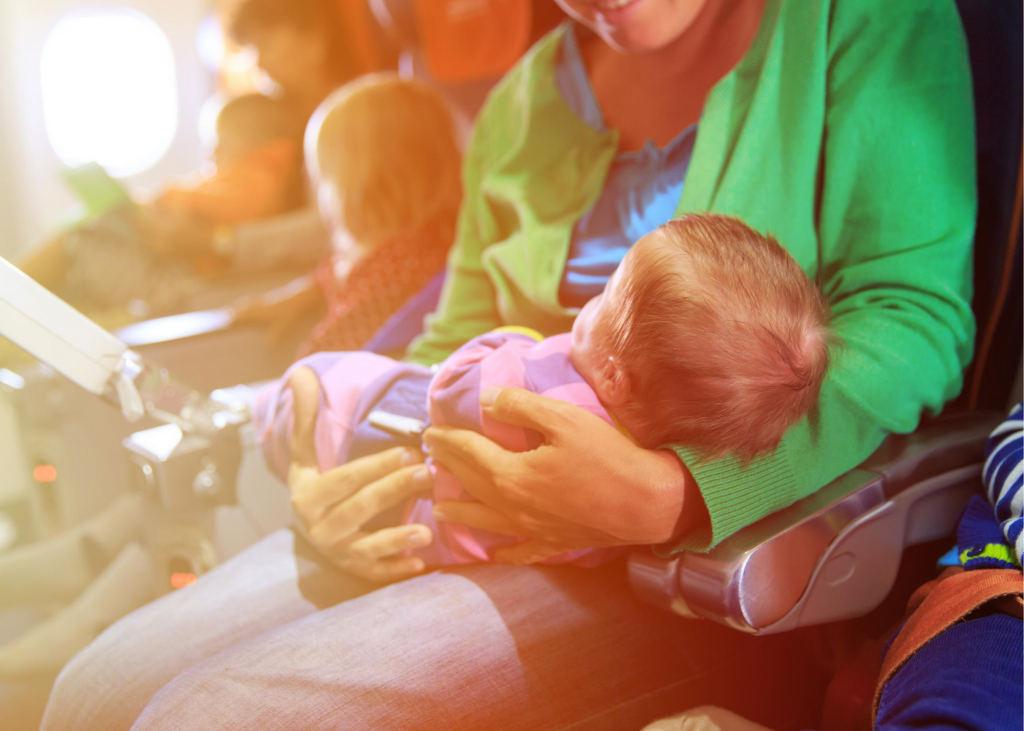 For long flights, I try and flex my baby's schedule so that they are napping during the flight if possible. Sometimes that means keeping them awake a little longer before the flight.
Every baby is different, so you have do decide what will work best for your baby. But I find flights much more relaxing if my baby can sleep for at least part of it.
6. Bring a baby carrier for sleep
Even if you're bringing your car seat on the plane, I would still suggest bringing a baby carrier. I'm a big advocate of baby carriers for travel, and a flight is another place I love to use one (see this post for more reasons to bring a carrier when traveling).
A carrier is a great tool for helping baby to sleep or calm down if they get overstimulated.
Getting your baby to fall asleep in their car seat is ideal because then you don't have to hold them while they are sleeping. However, we've had times when either we don't bring a car seat on the plane or the baby refuses to fall asleep in the car seat (there's only so long you can leave a baby fussing in a car seat until everyone else starts getting annoyed). In that situation, the carrier can be really helpful.
I don't know how many times we've used our Ergobaby carrier to soothe a fussy baby on a long flight. If baby is getting tired and won't settle down, one of us will put the baby in the baby carrier and walk (or bounce) up and down the aisles until the baby settles or falls asleep. Works like a charm.
7. Manage expectations
Flying with a baby is never going to be as relaxing as flying on your own. It just isn't. I feel like knowing that mentally can help take some of the pressure off. That being said, it doesn't have to be miserable. By preparing the right activities, snacks, and strategies you can mitigate a lot of the problems that can arise.
And remember that even if your baby does have a hard time, within a few hours the flight will end and you'll probably never see any of the other passengers ever again.
In my experience, people are usually pretty understanding of parents flying with a baby. But even if you encounter some grouches, all you can do is try to forget about them and focus on doing everything you can for your baby.
Final Thoughts
So there you have it, you're ready for your first flight with your baby!
Don't let concerns about flying with a baby keep you from traveling. You can have some great trips with a baby along. And the flight is just one small hurdle to get there. Prepare as best you can and soon you'll be soaring towards an awesome family trip!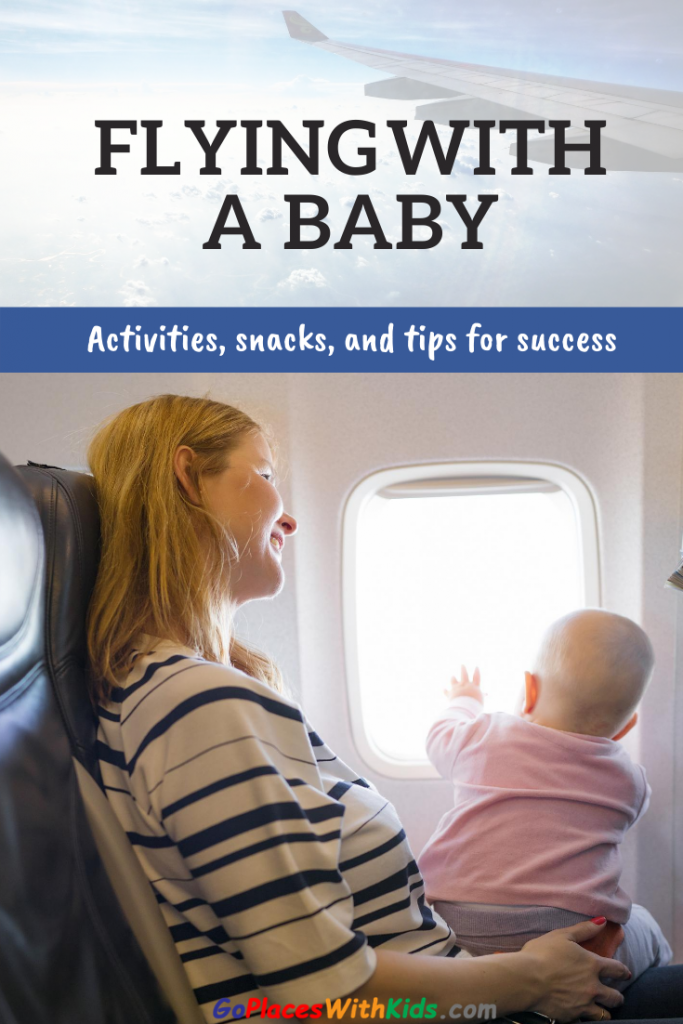 Other posts you might be interested in:
How to Fight Jet Lag in Babies and Toddlers
16 Beach Essentials for Toddlers and Babies