This page may contain affiliate links, which means that we may earn from qualifying purchases at no additional cost to you.
One of the largest and most stunning Buddhist temples in Southeast Asia, Kek Lok Si Temple is truly a spectacular site to visit. Perched on a hill overlooking Georgetown, the temple is a national icon of Malaysia and a pilgrimage site for Buddhists from all over the region.
Inside the sprawling temple complex you can find a seven-level pagoda, an imposing statue of the Chinese Goddess of Mercy, countless Buddha statues and shrines, and stunning art and architecture. During the Chinese New Year (which is when we were there), thousands of twinkling lights illuminate the temple.
At first glance, Kek Lok Si might not seem like the most baby-friendly place to visit. It isn't stroller-accessible and involves lots of walking. BUT it is definitely doable with young kids. Our visit to Kek Lok Si with our three-year-old and one-year-old was one of the highlights of our trip to Southeast Asia.
Quick Summary
Hours: 8:30 a.m. to 5:30 p.m. (open until 11 p.m. during Chinese New Year)
Entrance fee: None for the main temple complex, but 2 RM per person to climb the pagoda
Stroller friendly: NO! Lots of steps and barriers
Baby carrier recommended: Yes!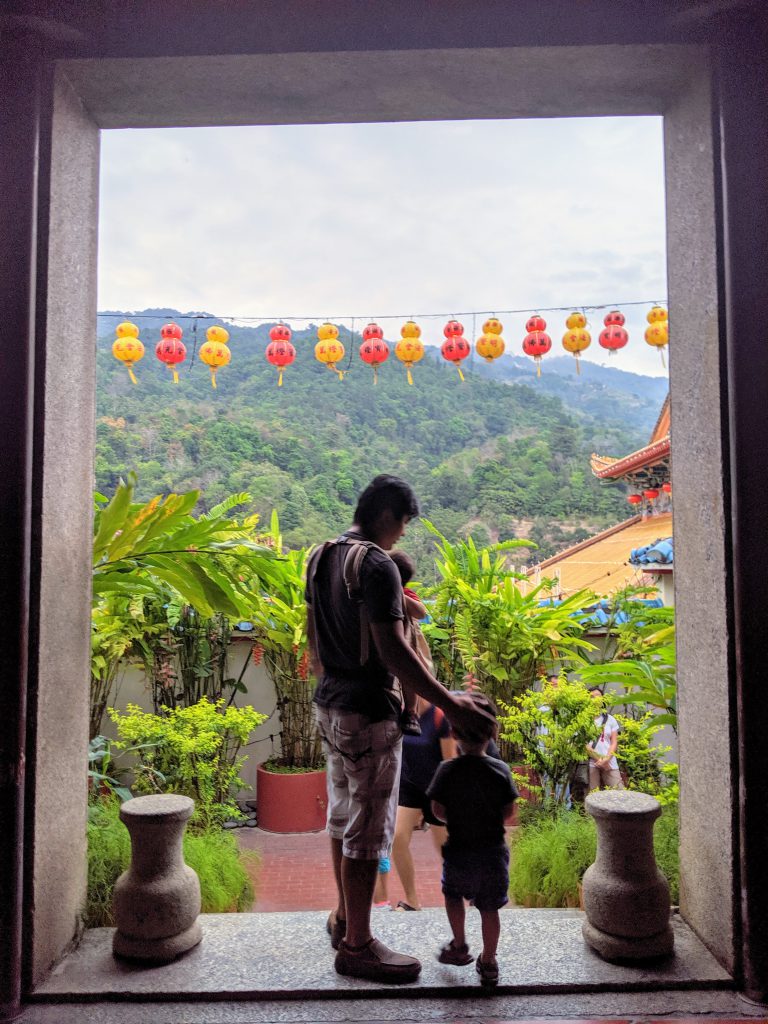 Exploring the temple
Near the parking lot at the base of the temple is a serene pond filled with tortoises and fish. You can buy food from the nearby vendors to feed the tortoises.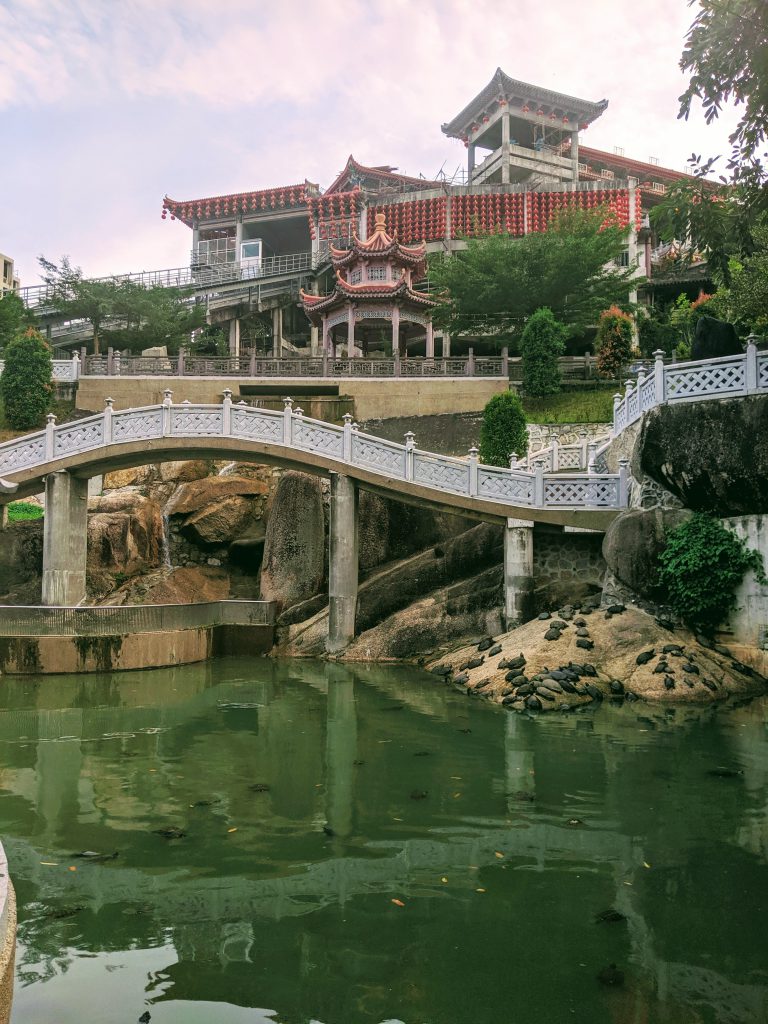 From there, a path leads up to the temple pagoda.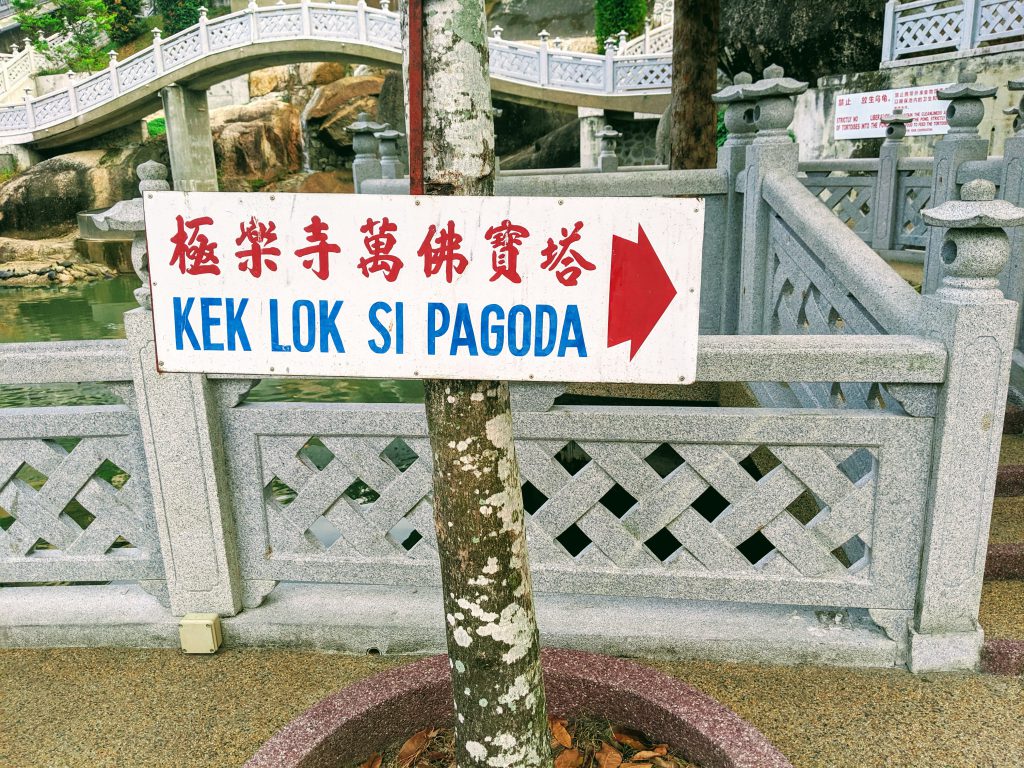 Once we got up to the temple itself, I found that each new view surpassed the previous.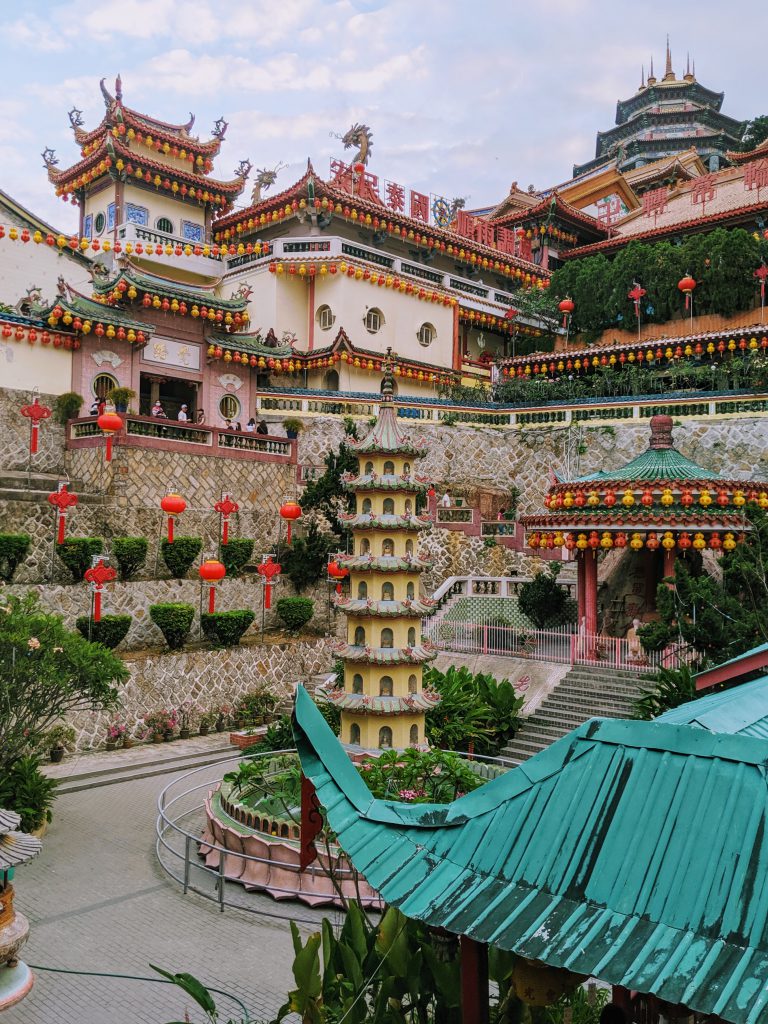 The higher we went the more spectacular it was. There were beautiful courtyards, elaborate shrines, and towering pagodas.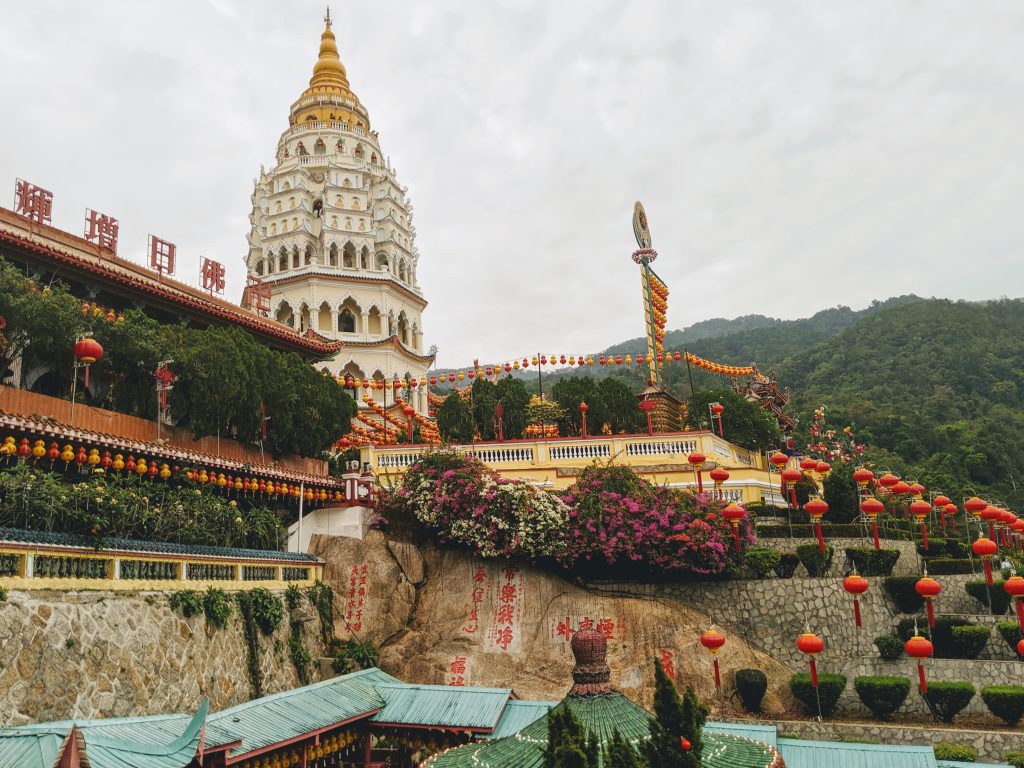 At parts it was a little confusing knowing which way would lead you up further and which would take you to a dead end. We did get turned around at one point and had to backtrack.
The one downside was that there were LOTS of stairs and lots of walking involved, which can be tiring for young kiddos. Our one-year-old got a free ride from dad in the baby carrier, but our three-year-old had to walk the whole way.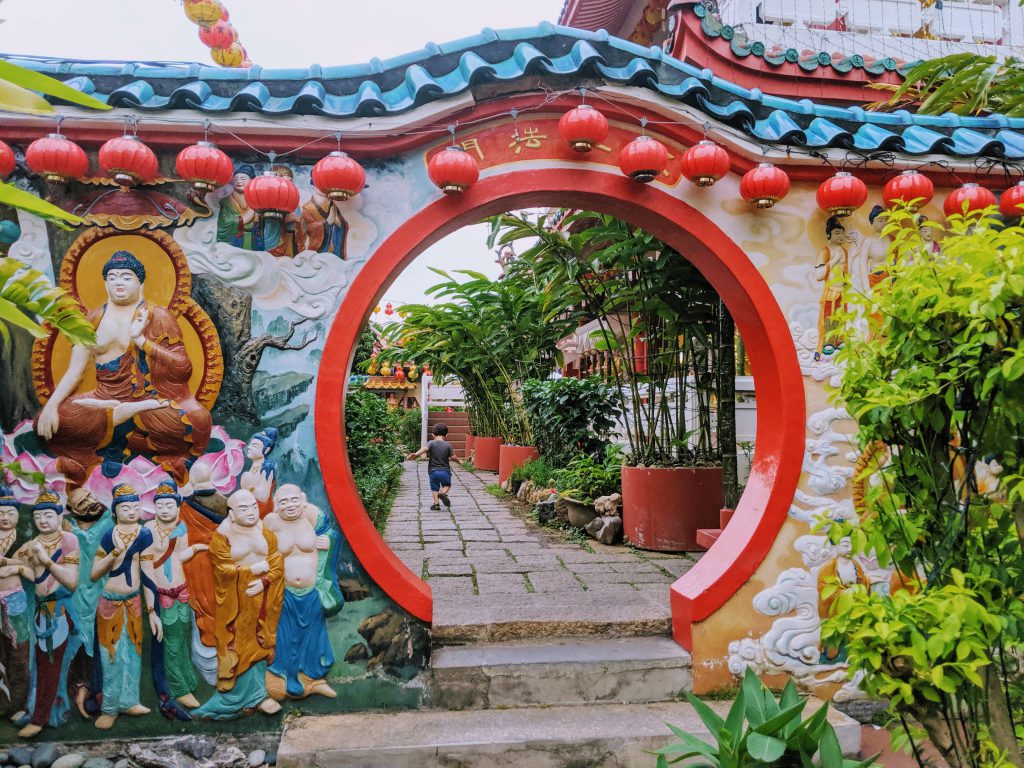 Luckily for us, he was in a stage where he absolutely loved stairs, so he was in heaven as he saw staircase after staircase ascending ahead of us. I was exhausted from all of the walking, but he was a total trooper. He insisted on handling all of the stairs on his own and not being carried or holding anyone's hand.
When I asked him if he was getting tired, he said, "I still have energy! I have 100 energy!" He really didn't complain at all until he started getting hungry at the very end, and by that point we had already been there for several hours.
Kek Lok Si During Chinese New Year
It was a very lucky coincidence that we happened to be visiting the temple during Chinese New Year. At that time of year, the temple is elaborately strung with colorful lights and lanterns which switch on once darkness falls.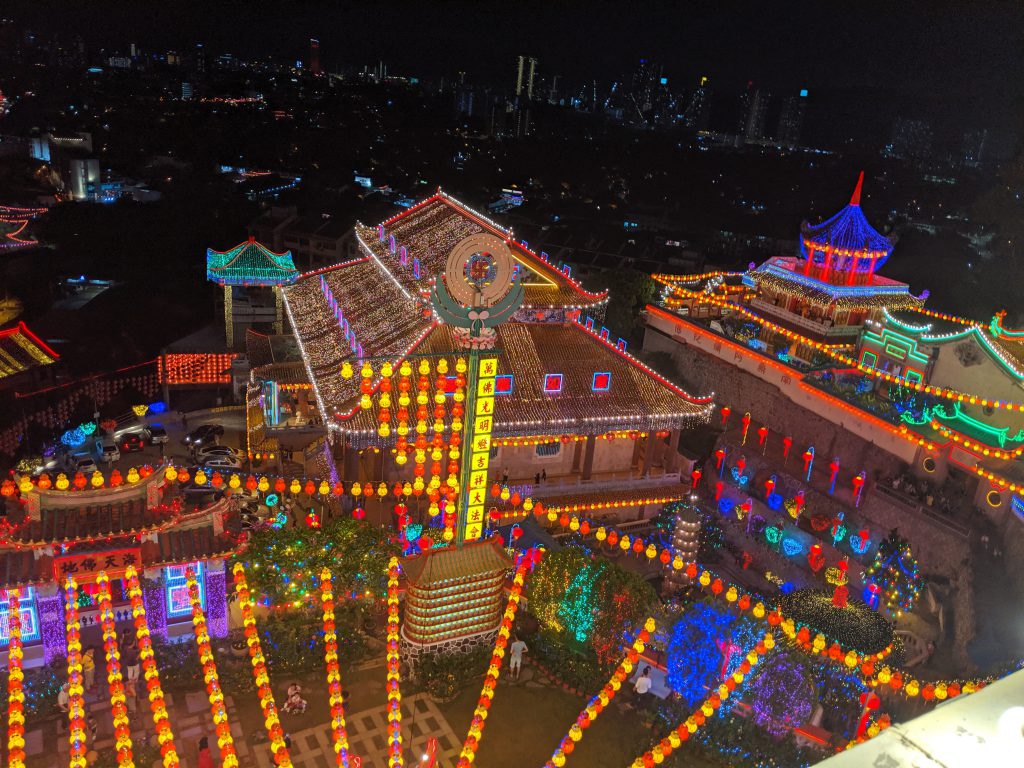 And we also just happened to be at the temple right during the time that the lights turned on. You can imagine our surprise when everything started lighting up around us as we wandered through the temple complex. It was magical.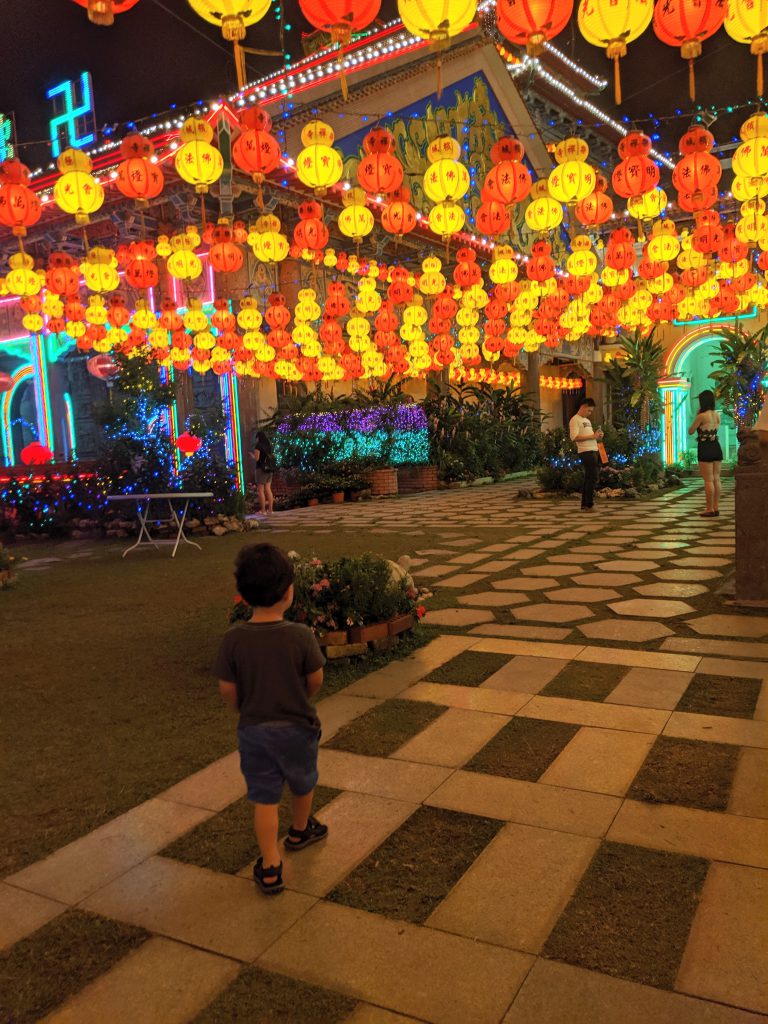 We seemed to have timed our visit perfectly, because while we were there it was not very crowded and felt quite peaceful. However, as we were leaving, we saw traffic lined up for miles to get in.
Most likely people were waiting until after dark to come and see the lit temple. By coming a little earlier, we were able to see it with and without lights (both of which were an incredible sight) and we missed the rush!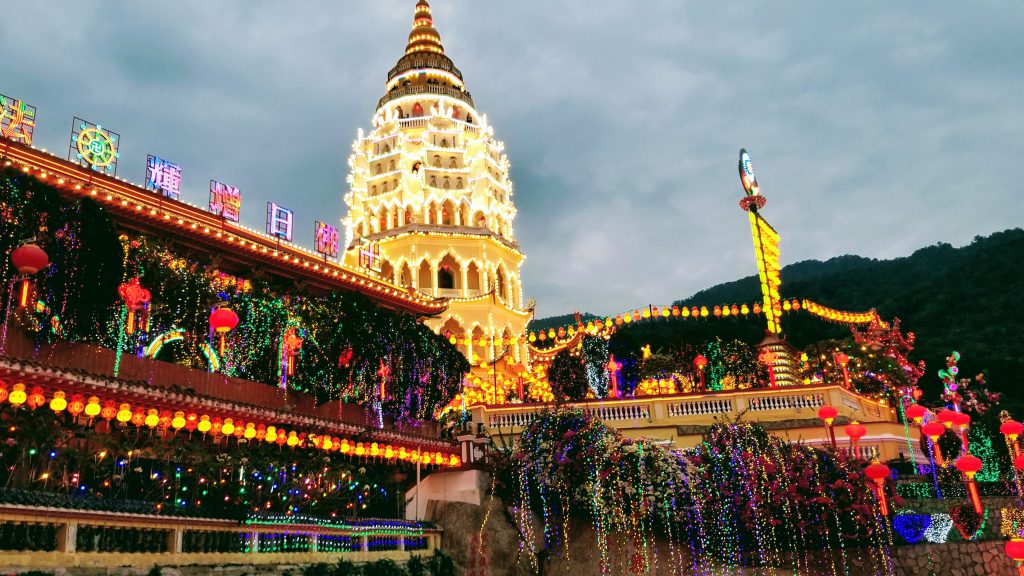 We also chose to pay 2 ringgit extra to go all the way to the top of the big pagoda. This meant even more stairs, but the view from the top was worth it.
Tips for a successful visit
1. Don't bring a stroller
Don't bring a stroller. Just don't. This place is NOT accessible for strollers or wheelchairs. There are a million stairs and barriers that make it impossible to navigate.
When we went, we happened to have our stroller with us from earlier in the day and it was a pain.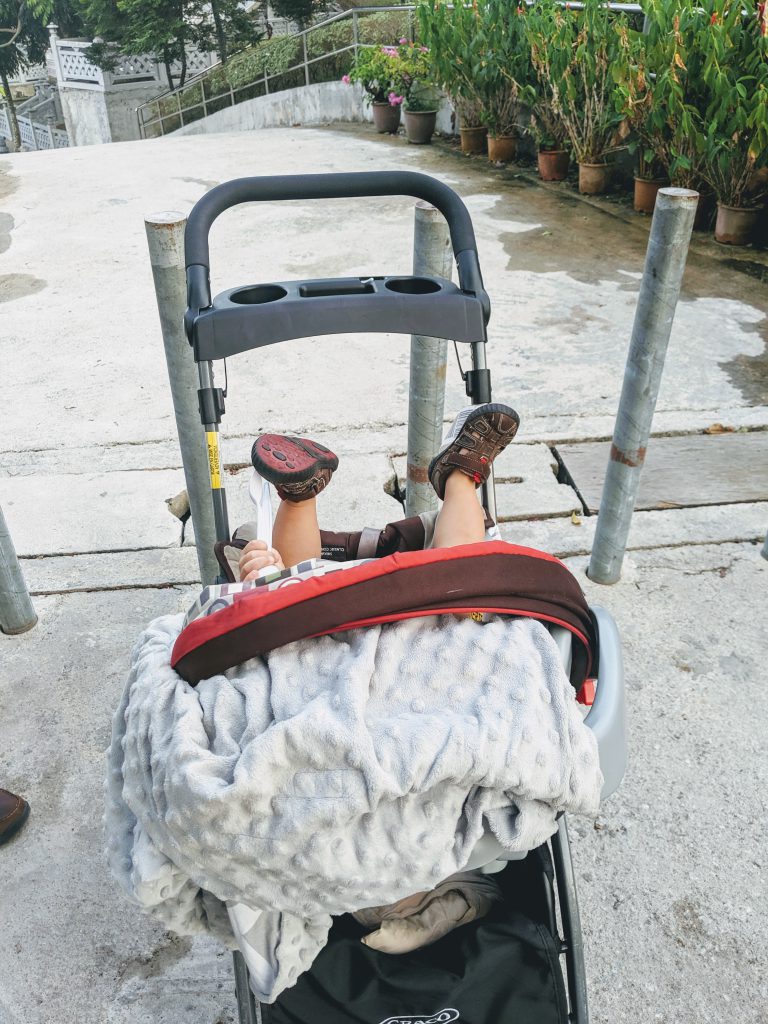 We ended up abandoning it in a secluded spot at the bottom and hoping that it would still be there when we got back. It was! Hooray!
2. DO bring a baby carrier
Since a stroller is out of the question, a baby carrier is hugely helpful if you have a baby or young toddler with you. Luckily we had our trusty Ergobaby carrier with us and were able to use that once we ditched the stroller. I swear by using a baby carrier when travelling, it's a great way to contain the baby and save your back!
3. Bring snacks, take breaks
If you have young kids, navigating this temple complex can be a pretty exhausting experience for them. Be prepared to take a lot of breaks and have some snacks to keep them going if their energy starts to flag.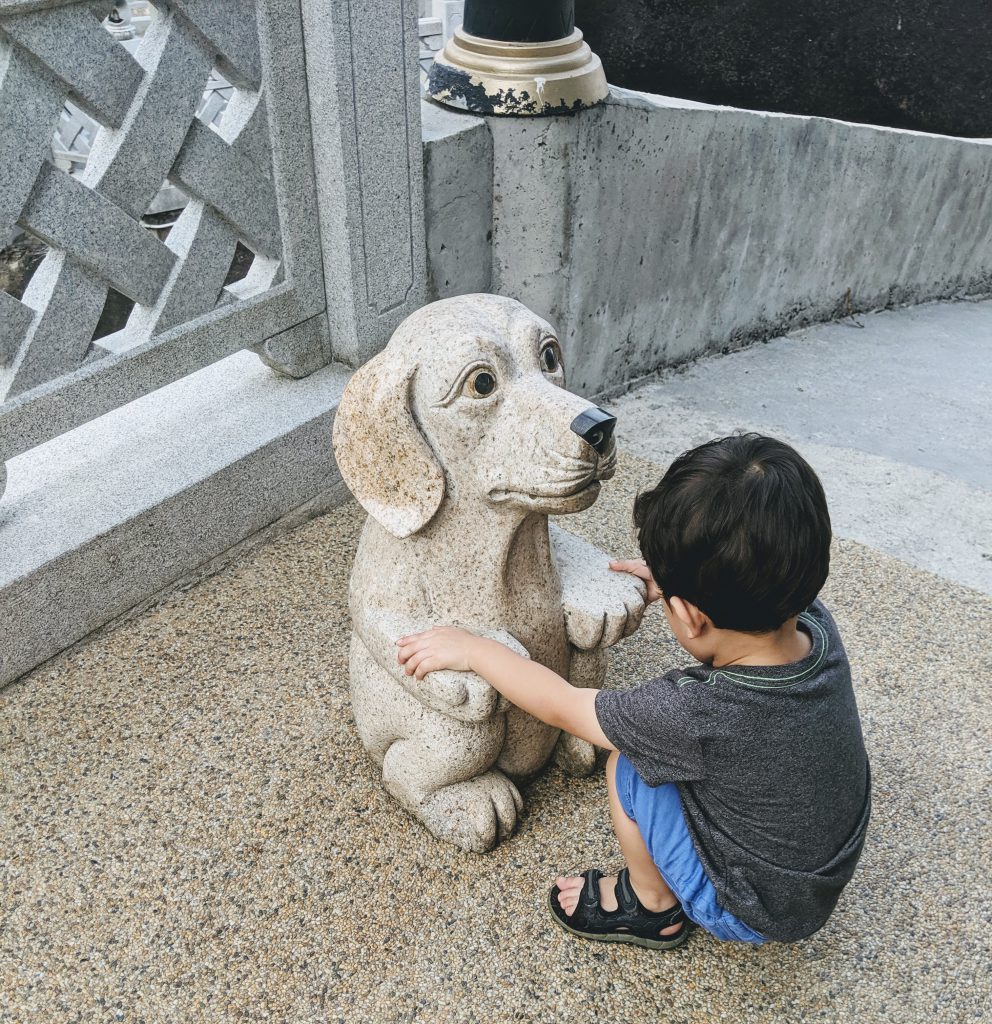 4. Remove your shoes in the temples
If you want to go inside the temples, it is respectful to remove your shoes at the entrance. It can be nice to have shoes that are easy to get on and off quickly for you and your kids.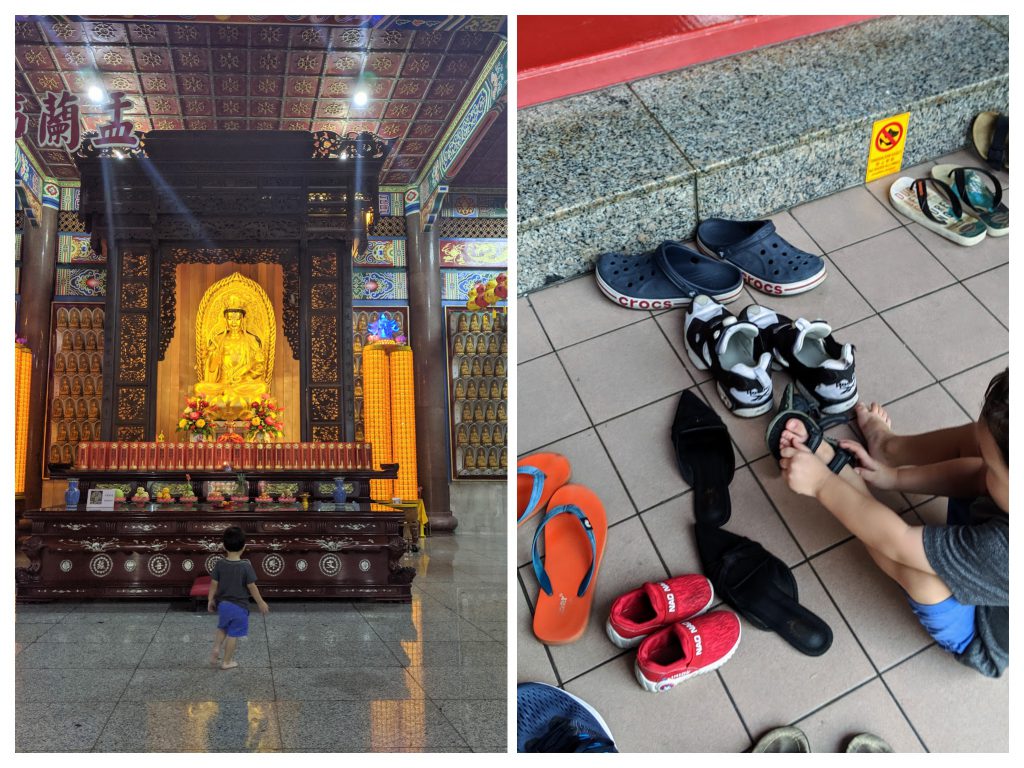 Final Thoughts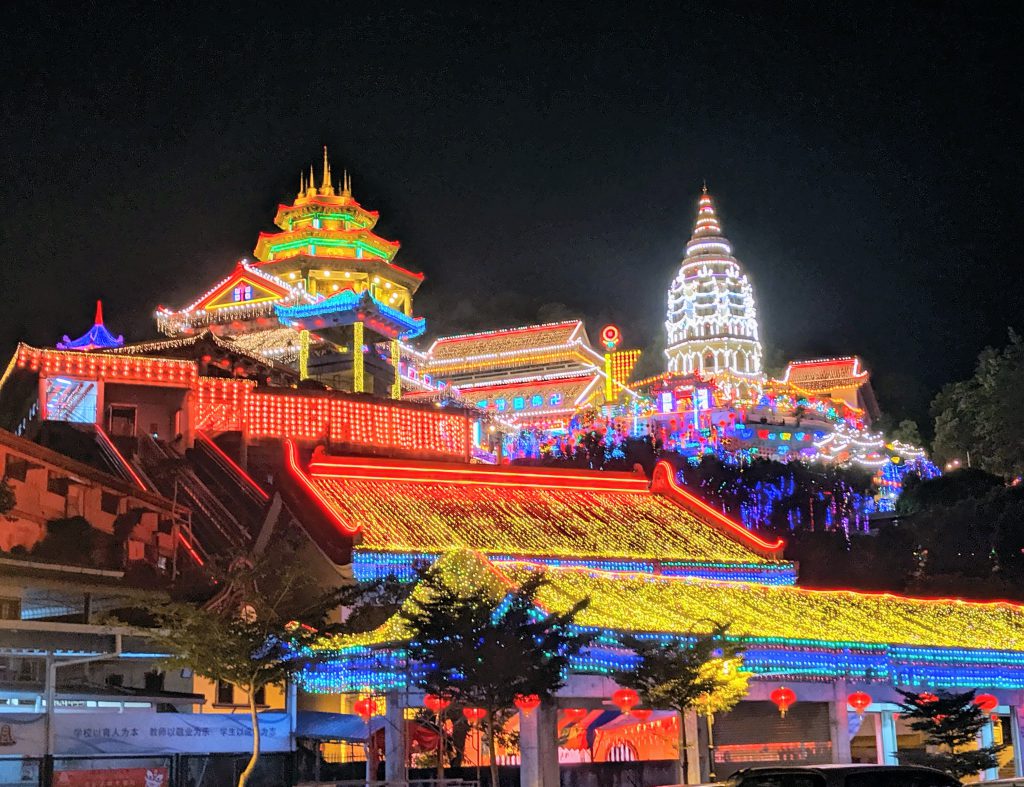 If you're visiting Penang, be sure to make time to see Kek Lok Si Temple. Even if you're traveling with young kids. With a little preparation, it can be a truly memorable experience for the whole family!