This page may contain affiliate links, which means that we may earn from qualifying purchases at no additional cost to you.
Batu Caves is a location you have to visit if you're in West Malaysia, and you can easily bring kids! Located about half an hour outside of Kuala Lumpur in Selangor, Batu Caves combines sacred religious sites with stunning geological landforms. This site is made up of limestone caves set into a hill housing Hindu temples and shrines.
Quick Summary
Hours: 6 a.m. to 9 p.m., Monday through Sunday
Entrance fee: None
Stroller friendly: No, main attraction has too many steps
Carrier recommended: Yes!

How to get to Batu Caves
We chose to take a Grab (the Uber of Asia) from our hotel. With our one-year-old and three-year-old that was an easy and stress-free option for us. However, you can also take the train from Kuala Lumpur Sentral. This option is also convenient and very cost-effective. It drops you off right outside the caves.
What to expect
Upon arrival, you're greeting by a towering statue of the Hindu deity Lord Murugan. At 140 feet high, this is the tallest statue in Malaysia. Next to the statue are 272 brightly-colored steps leading up to the main caves.
The main cave has no admission fee. While researching I found information about the Dark Cave, another series of caves with a guided tour. However, we found that the Dark Cave is now closed and tours are no longer being offered.
Although Batu Caves might seem like a challenging place to go with young kids, this is exactly the kind of site that I love to visit with my children. It's outside, they can explore and get their energy out, and they are exposed to a different culture and religion.
And even all of the steps didn't prove too much of a challenge. Our 18-month-old got a free ride up in our Ergobaby carrier and our 3-year-old scampered right up the stairs with no problem.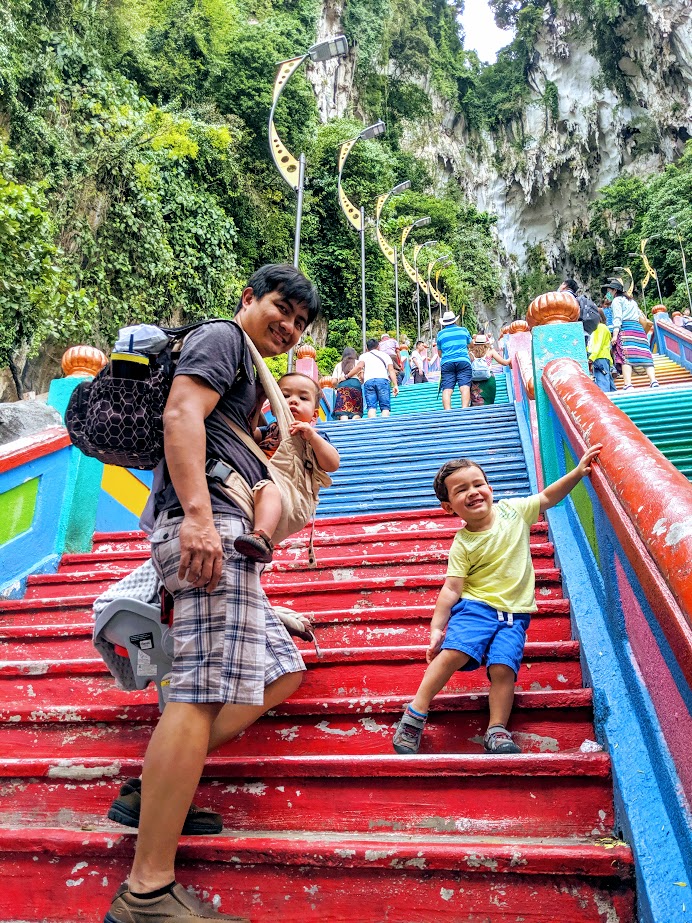 Honestly, all of the stairs were his favorite part of our visit to this site. When I told him that he would have to climb a lot of steps he said, "Mommy I can climb ALL the steps! I'm not even going to get tired. I can climb ONE HUNDRED steps!" When I told him it was actually going to be over 200 steps, his eyes got round. But far from being concerned, he was even more excited.
And true to his word, he exuberantly climbed every step and didn't even get tired. I wished I had some of his energy as I plodded my way up the steps in the sweltering heat.
Inside Batu Caves
At the top of the stairs is a series of caves with colorful Hindu temples located inside. The first cave has a large open area where our sons enjoyed roaming around and exploring. To one side of the cave there is an ornate temple, and on the other is a couple of small shrines.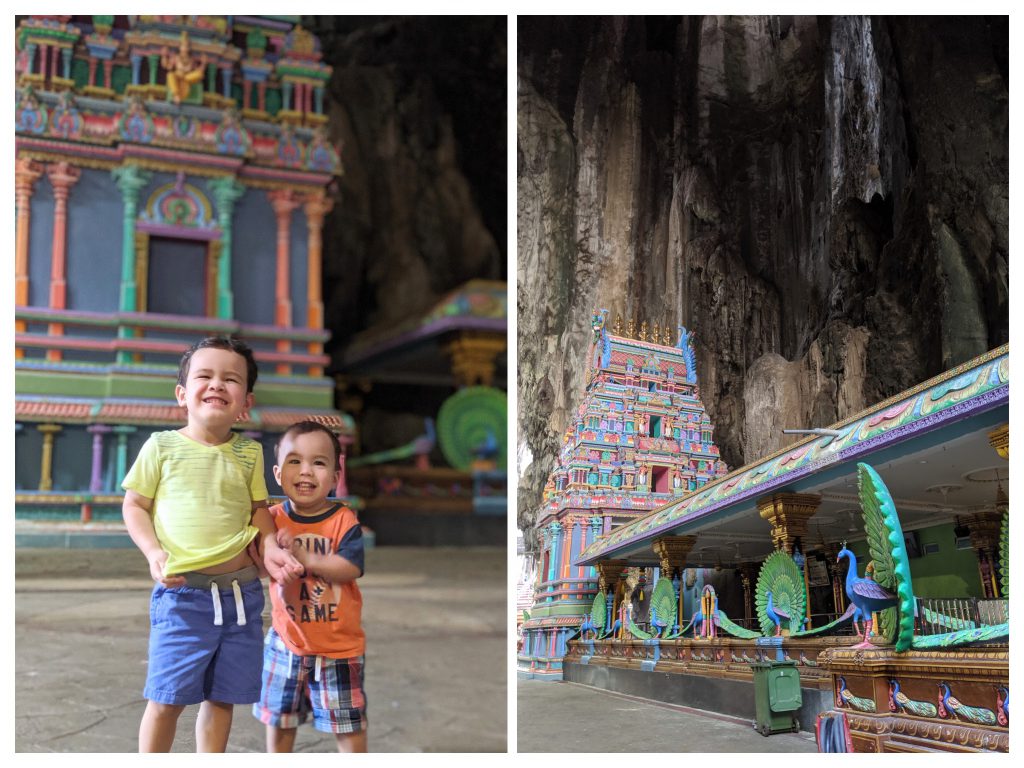 On the far side of the cave there is a set of stairs that leads up to another temple.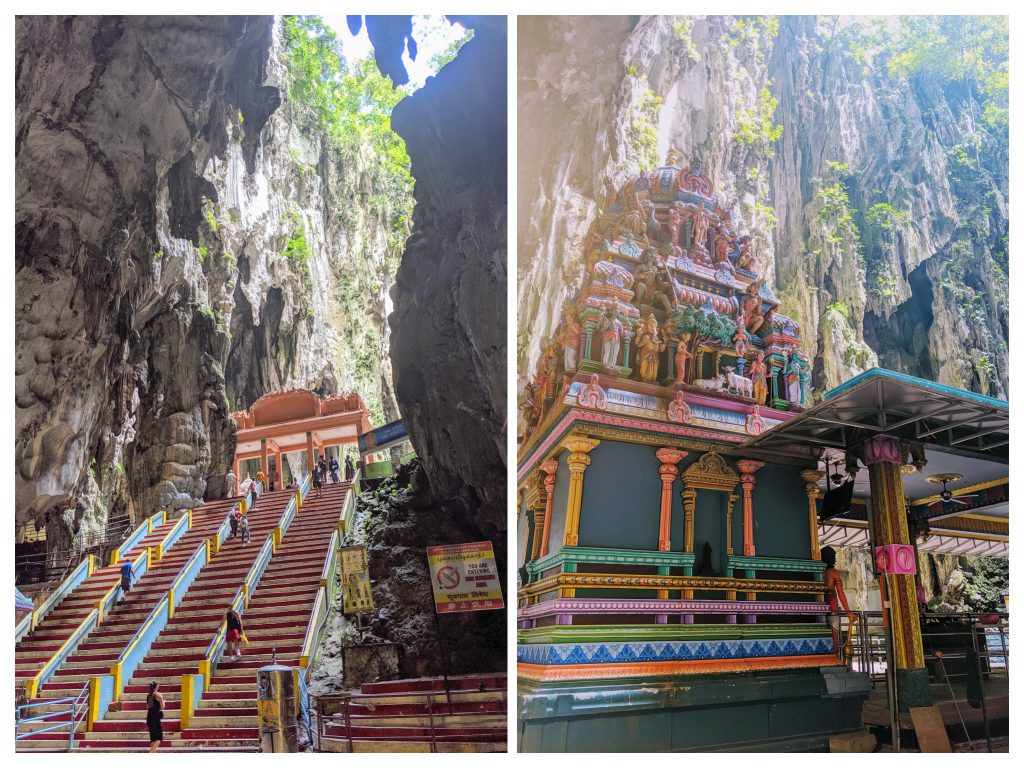 This one was much smaller than the first, but still beautiful. And the caves here open up to the sky so there is sunlight filtering down providing nice natural lighting.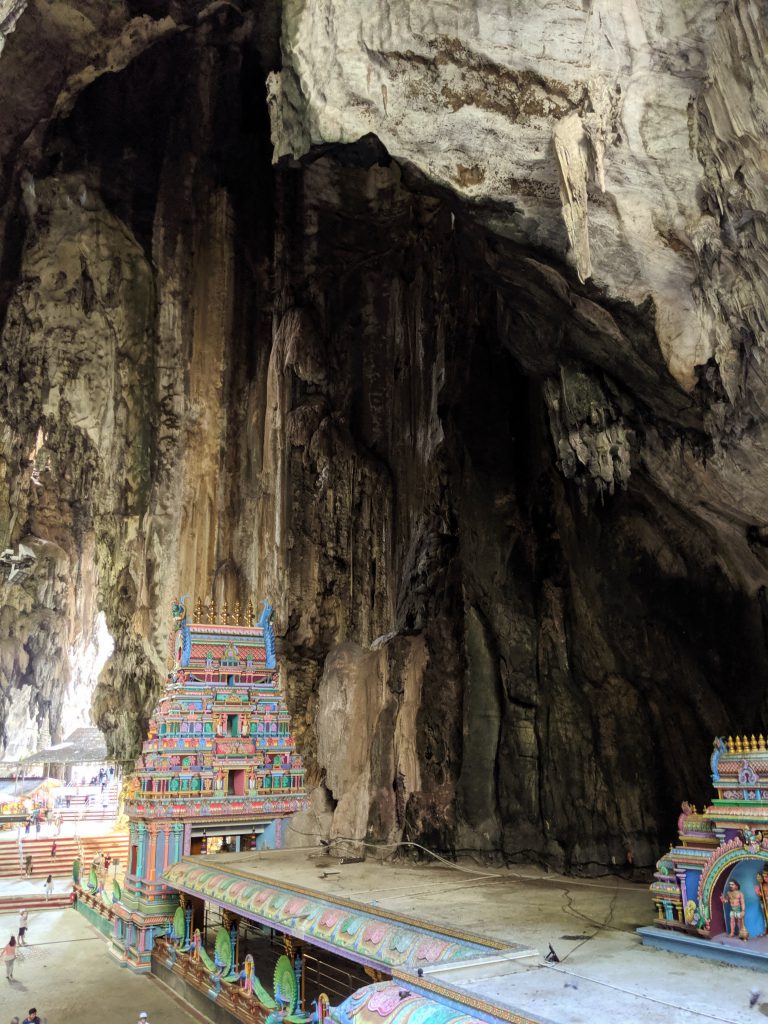 I found the caves to be surprisingly quiet and peaceful. It seemed like there were a lot of people heading up when we were at the bottom, but somehow when we arrived at the top there were not many people there. It did not feel the least bit crowded.
8 Tips for a successful trip to Batu Caves with young kids:
1. Prepare for the heat
You have to climb a couple of hundred exposed steps to reach the caves, so be sure to bring sunscreen and water. On the day we went, it was very hot and we were all pretty parched when we reached the top. But once you get to the top, the cool caves are a nice respite from the heat.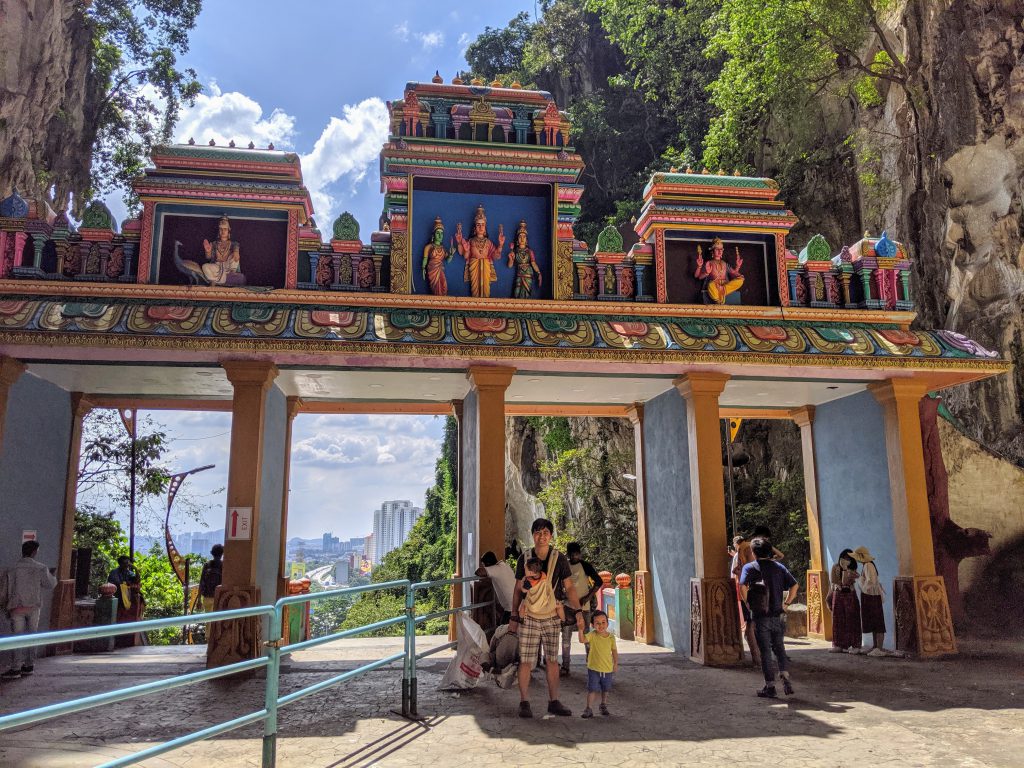 2. Cover your legs
In order to enter the site, you cannot be wearing short skirts or short shorts. There are scarves available for rent if needed to wrap around your legs. They cost 5 ringgit, with a 2 ringgit refund when returned.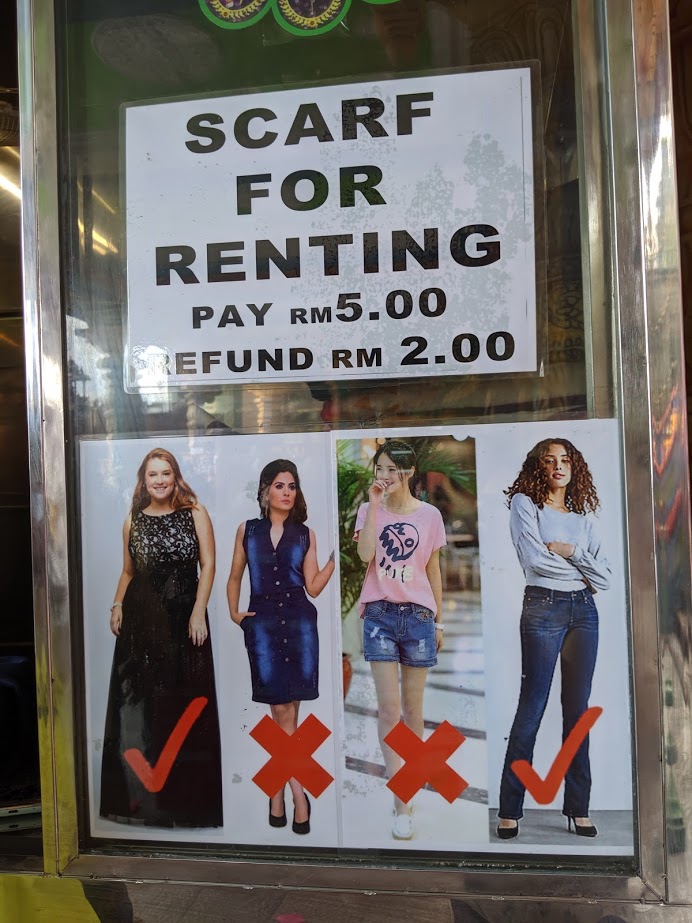 3. Take a bathroom break before you start your climb
There are toilets at the bottom, but none at the top. Make sure your kiddos go to the bathroom before you head up so you don't have to make a mad dash down those steep steps.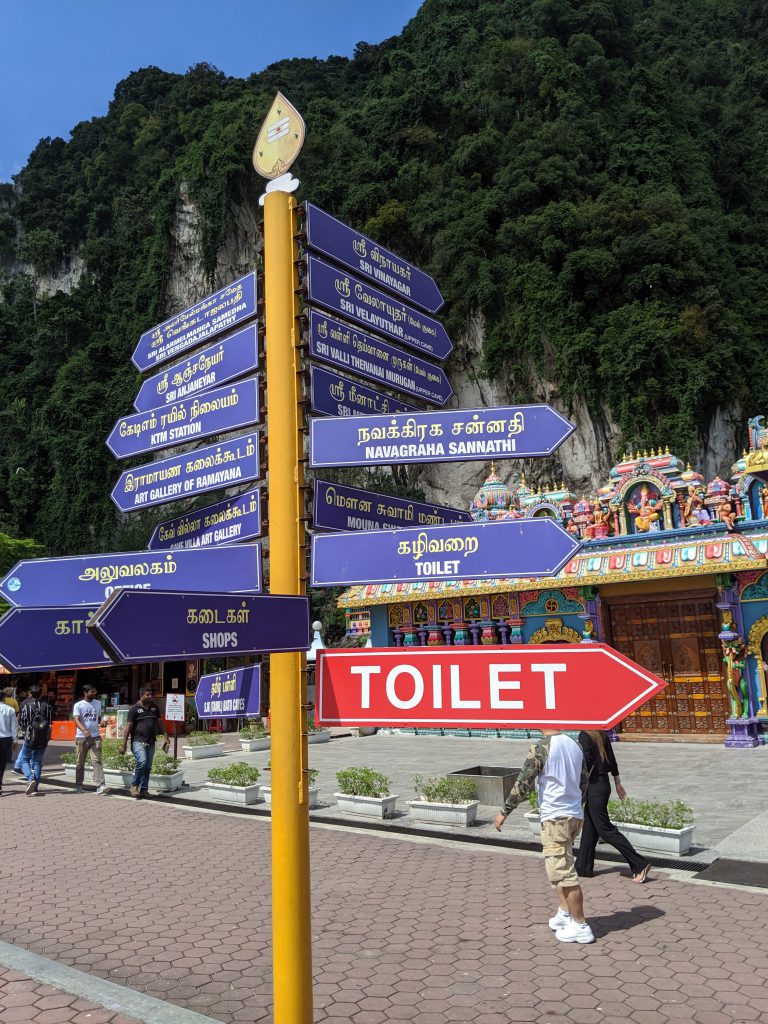 4. Be careful on the narrow steps
The stairs are quite narrow, so watch your step (ha, see what I did there?). They were actually the perfect size for our three-year-old if a little small for us. My foot fit exactly on the step if I pushed it all the way in, whereas my husband's foot couldn't fit without hanging off the step.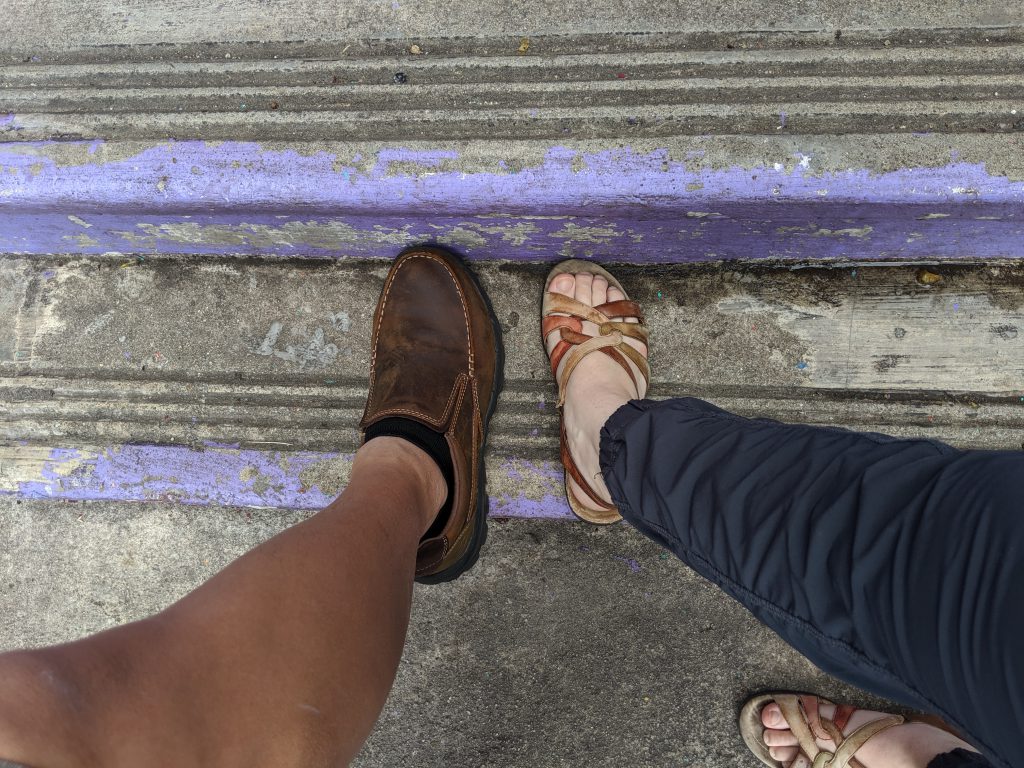 5. Watch out for the monkeys
There are troupes of monkeys scurrying everywhere you look. Often they will try to snatch food or unattended items, so keep an eye on them. There were several mommy monkeys with babies clinging to their underbellies. Super cute.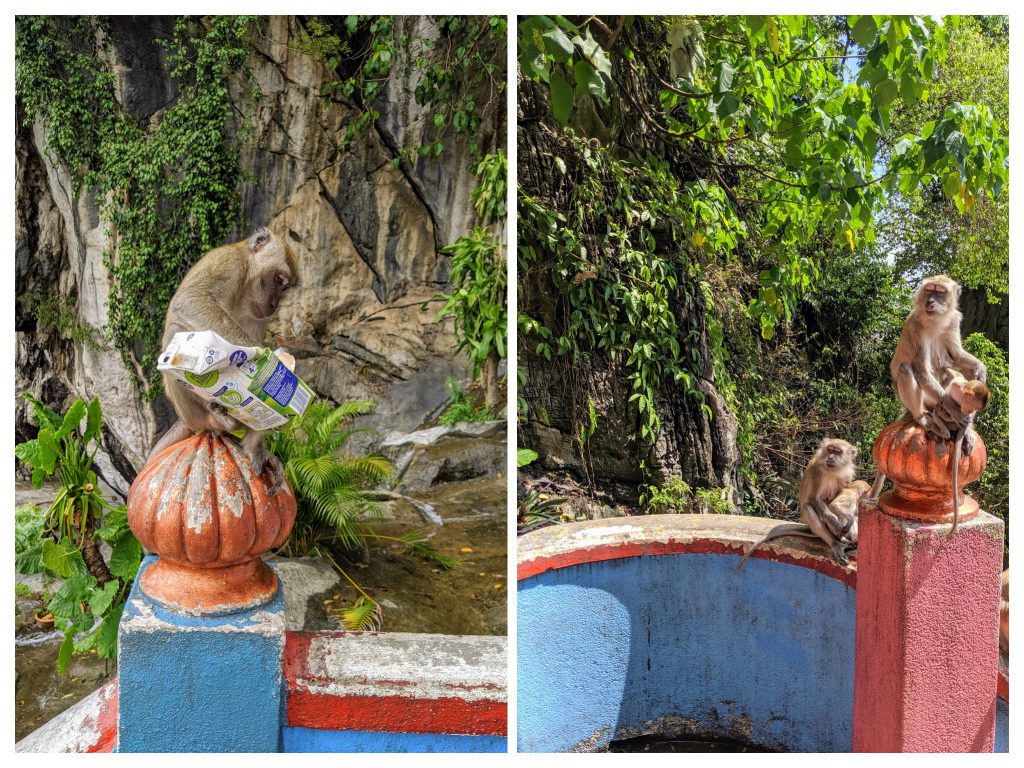 6. Be prepared to remove your shoes
If you want to enter any of the actual temples you will need to remove your shoes before doing so. They were closed when we were there visiting, but there are signs to remove your shoes before entering.
7. Make sure your kids aren't hungry- you can buy food there
Plan to eat well beforehand and bring some snacks. You don't want to get all the way to the top and then realize your kids are ravenous.
If you want to get something nearby, there are lots of places to buy food and drink at the base of the stairs and just across the street. Whether you want a full meal or just fresh fruit or ice cream, you can find something there. Most of the places take cash only, but we did find a couple who took credit cards.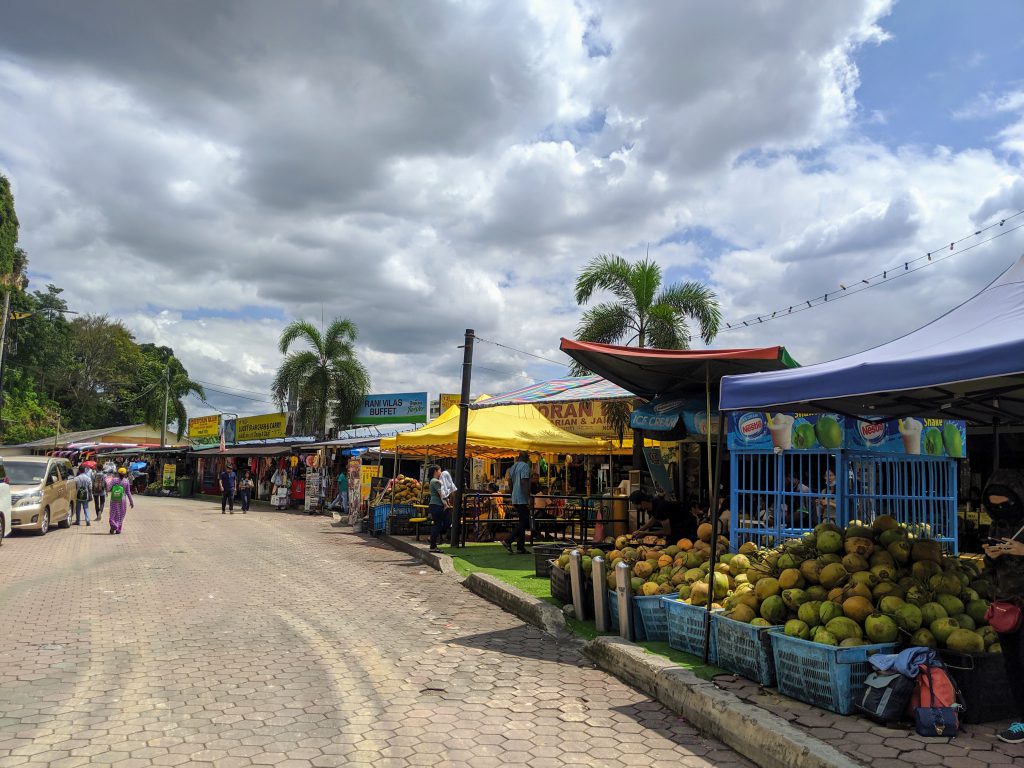 8. Consider bringing insect repellent
The damp, humid caves are a place that pesky mosquitos like to congregate. Consider bringing a child-safe insect repellent or some light layers to cover up and prevent bug bites.
Final Thoughts
I definitely recommend visiting Batu Caves if you're going to be in the area, even if you're traveling with young kids. We enjoyed it and so did our children! In fact, I'd have to say that it was the highlight of our trip to Kuala Lumpur.