This page may contain affiliate links, which means that we may earn from qualifying purchases at no additional cost to you.
Arches National Park is an incredibly unique and stunning destination. And it's a perfect place to visit with kids! There are so many kid-friendly sights to see and children (and adults) will be awed by the formidable scenery.
With over 2,000 arches, Arches National Park has the highest concentration of arches of anywhere in the world. Along with the spectacular arches, you can also find fascinating rock formations such as balanced rocks, pinnacles, and sandstone fins.
Many of the best features are only a short walk from the parking lot and some you can even see from your car.
We took a family trip to Arches with our 5-year-old, 3-year-old, and 10 month old and had the most amazing time. Our kids were so excited to see all of the arches and rock formations. And they continued to talk about it for months afterwards!
If you're considering visiting Arches National Park with kids, here is our guide to make it easier!
And if you want a perfect 1-day itinerary for Arches, see this post.
Common questions about visiting Arches with kids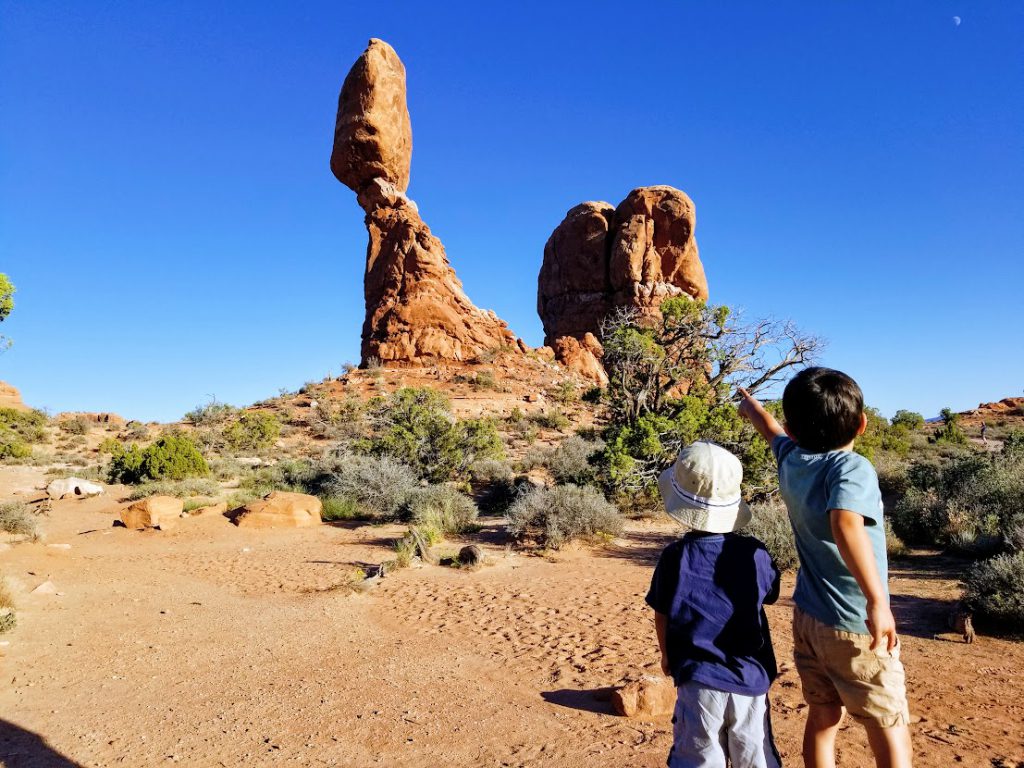 Is Arches National Park safe for kids?
The short answer is yes, Arches is definitely a safe place to visit with kids. There are short hikes, scenic drives, and stunning viewpoints that are easy to accomplish with even the smallest of children.
That being said, there are also hikes with much more difficult or even dangerous terrain. You have to use common sense in selecting the right level of difficulty depending on the ages of your kids.
But most of the best sights are kid-friendly, and we have a list of great kid-friendly activities in Arches below.
The other potentially dangerous feature is the heat, so make sure to take precautions to prevent dehydration or heat exhaustion.
How many days do you need in Arches National Park?
How many days you need really depends on what you want to see and how much you want to pack into a day.
If you want to see the main highlights of the park, you'll want at least two days. That includes all of the scenic overlooks and shorter hikes to the arches. And if you're visiting Arches National Park with kids, you might want some extra time planned in so that you don't have to pack so much into one day.
However, if you want to go at a slower pace or leave the park during the heat of the afternoon, you might want a few extra days.
For our visit, we had two days and felt that we were able to see pretty much everything we wanted to see.
Is one day enough in Arches National Park?
To see everything in the park, you'll definitely need more than one day (especially if you're visiting with kids).
But one day is enough to get a good feel for the park and see some pretty stunning sights. The park is not huge and many of the magnificent arches are located close to the road. It's surprising how much you can actually fit into a day at Arches.
So if you only have one day for your visit, it's definitely still worth it!
What is the best time of year to go to Arches National Park with kids?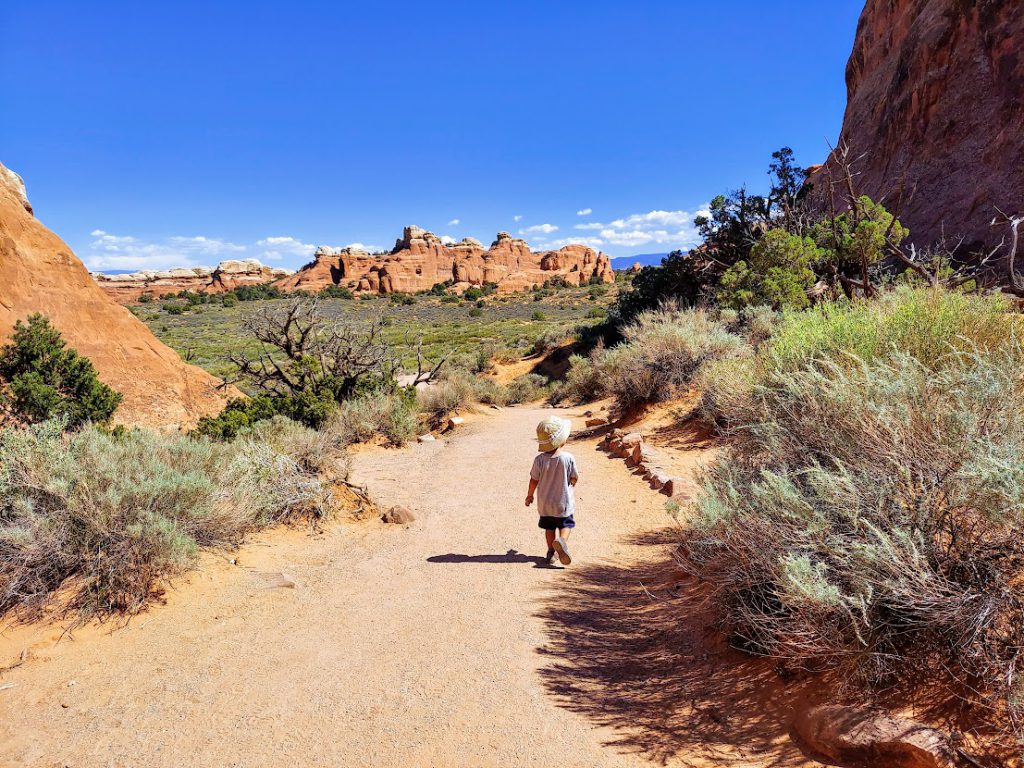 The best time to visit Arches is in the spring or fall. The weather is more temperate, with highs typically in the 70's and 80's. At these temperatures, you can enjoy the beautiful hikes without feeling like you're melting in the heat.
In the middle of the summer, temperatures can reach above a sweltering 100 degrees, making it difficult to enjoy being outdoors.
In the winter, snow isn't unheard of and temperatures can get below freezing.
Also try to avoid holidays if at all possible, as the park can get extremely crowded.
We visited Arches in mid-September and found that the crowds weren't too bad and the heat was bearable. The temperatures were in the high 80's to low 90's when we were there and we definitely wouldn't have wanted to visit if it was any hotter!
Tips for Visiting Arches with Kids
Arrive early (or late)
One very important thing to know about Arches is that when the parking lots get full, the park is temporarily closed the park for several hours. If you want to be sure to get in, plan on arriving at the park by 8 am. Once it's closed, it typically doesn't reopen until after noon.
Or you can also choose to come later in the day when people have already left and the park is less full. On our first day, we arrived around 3 pm and were delighted to find the park to be relatively uncrowded with plenty of spots in all the parking lots.
NOTE: From April 3 to October 3, 2022 you will need a timed entry reservation for entrance to the park (this is a new pilot program to address the high number of visitors to the park). You can reserve your ticket up to three weeks in advance at this website (there's a $2.00 reservation fee). The tickets are only valid during the hour that they are reserved for, but once you enter the park you can exit and reenter during that day.
Bring food and water
There is no food available in the park, so anything you want to eat you need to bring with you. Plan ahead to make sure you have good snacks and meals if you'll be there during mealtimes.
Water is especially important given the high temperatures in the park. You can find water at the visitor center and the Devil's Garden trailhead, so be sure to refill your water bottles at those locations.
Be respectful of the park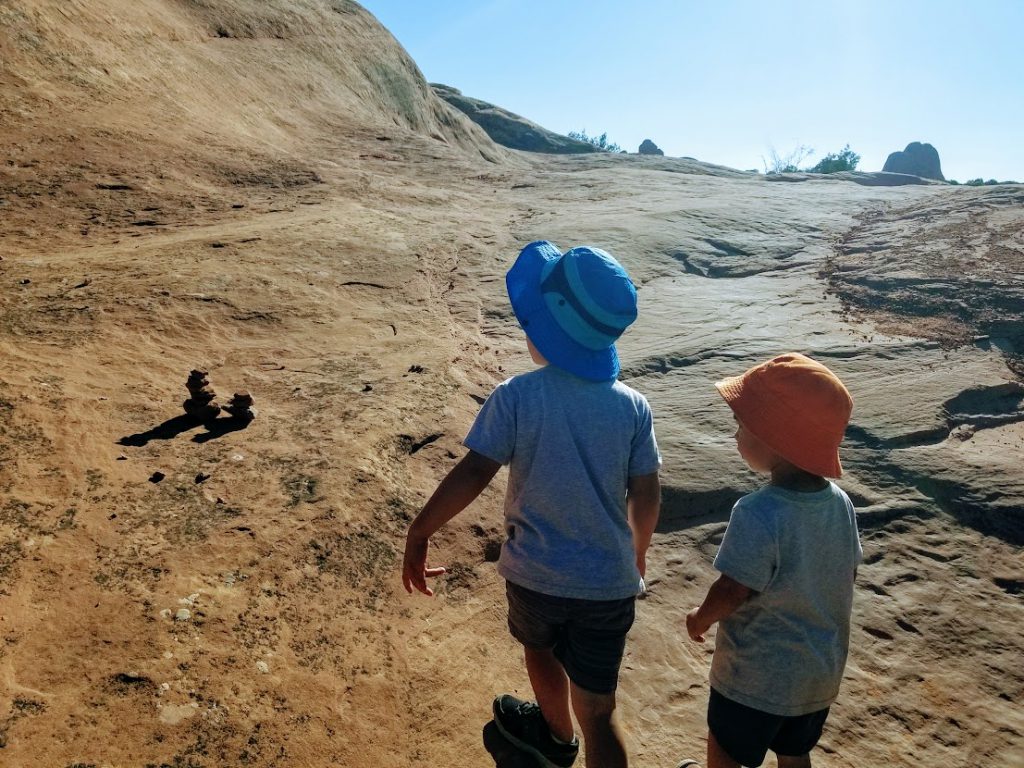 While you're in the park, be aware of the impact that you're leaving behind. Don't climb on any of the arches or prominent features and leave the rocks and plants where you found them.
Also, make sure to leave the cairns (rock piles) where they are, as they act as path markers. Never build your own as this can confuse other hikers.
And always stay on the path or on hard surfaces to protect the biological soil crusts that contain microbial communities necessary to the survival of this desert ecosystem.
Safety
The biggest danger in Arches is the heat. Bring plenty of water and eat salty snacks while you're hiking. Each person should be drinking one gallon of water per day. We also like to bring electrolyte add-ins for our water to make sure everyone is staying hydrated.
Try to avoid hiking in the middle of the day when it is hottest. Wear sunscreen and a hat to protect yourself from the sun.
There is no cell service or gas in the park, so make sure that you have a full tank so you don't end up stranded somewhere.
Best Things to Do in Arches National Park with Kids
There is so much to see in Arches, but we've highlighted the best features to visit with kids while you're at the park!
Take the Arches Scenic Drive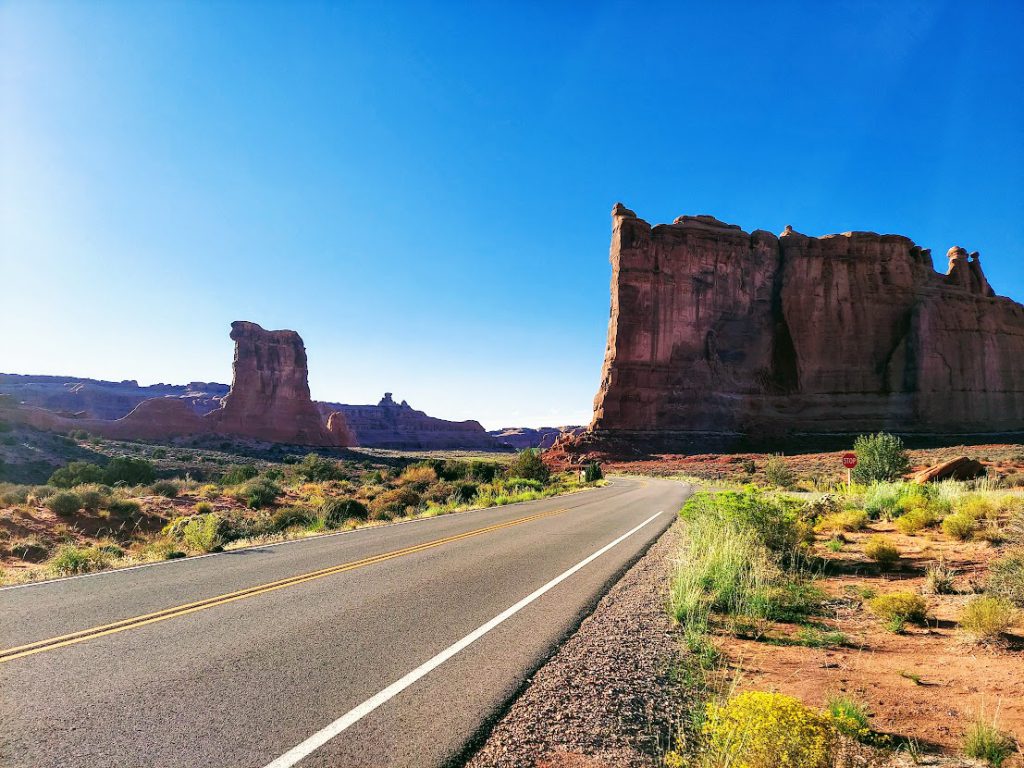 The Arches Scenic Drive is the 22-mile road that winds through Arches National Park. The drive is gorgeous enough that some people go to Arches just for the drive itself.
Along the way, you can find scenic overlooks, trailheads to hikes, and stunning rock features and landscapes. Following the scenic route gives you a sense of the scale and grandeur of the park.
If you're visiting the other features of the park, you will inevitably follow the scenic drive to get there. But it's worth it to take the road to all the areas of the park, even if there aren't features you are particularly interested in seeing there.
And it's a great way to see the park when the weather is too hot to want to do much exploring outdoors.
Marvel at the arches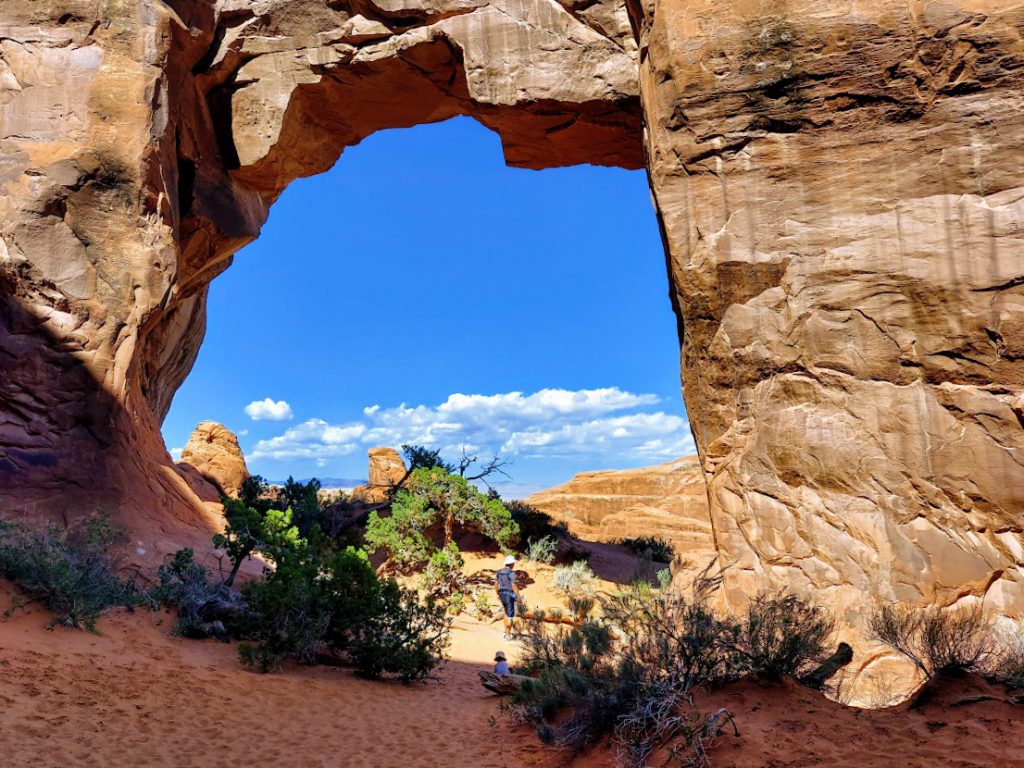 There are over 2000 arches in the park, so you'll have lots of opportunities to see these fascinating structures while you're there.
The arches form from the erosion of the sandstone fins. Throughout the park you can see examples of arches in all phases or their development, from a hollow just forming in a fin, to a full-blown arch, to arches that have already crumbled.
If you're short on time (or have kids who aren't crazy about hiking too far), here is a list of some of the most accessible arches in the park! (We'll talk about these in more detail below)
Most accessible arches in Arches National Park:
Sand Dune Arch– .4 miles roundtrip
Skyline Arch– .4 miles roundtrip
Double Arch– .5 miles roundtrip
Windows Arches– One mile roundtrip
Turret Arch– One mile roundtrip (same loop as Windows Arches)
Delicate Arch (from the viewpoint)- short walk from the parking lot for Lower Viewpoint, .5 miles for the Upper Viewpoint
Take in the view from the scenic overlooks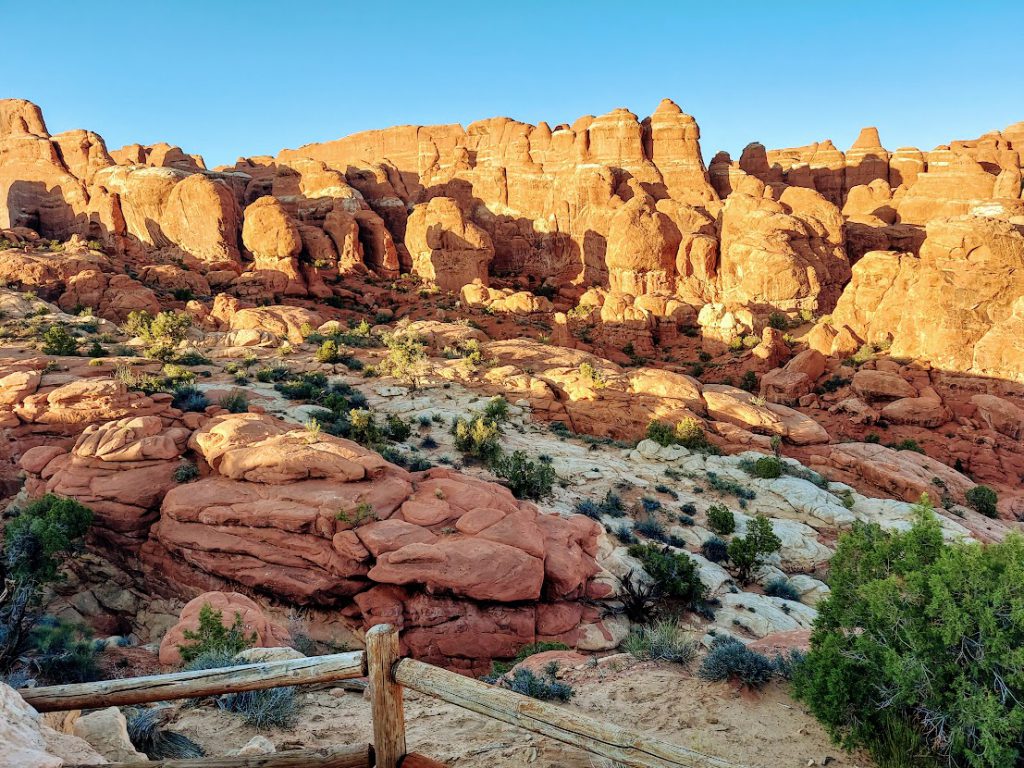 On the drive through Arches, there are some truly spectacular views that you don't want to miss. Many of the views you can see from the road, but the scenic overlooks are quick stops that provide incredible views and great picture opportunities.
I would suggest stopping at all the viewpoints, but if you're short on time, here's some of the best views the park has to offer!
Best scenic viewpoints in Arches
Park Avenue Viewpoint
Courthouse Towers Viewpoint
Fiery Furnace Viewpoint
Delicate Arch Viewpoint
Go on a kid-friendly hike
Best short hikes for kids in Arches
There are a lot of short, easy hikes in Arches that are perfect for families with young kids. Honestly, some of these trails are more strolls along well-worn paths than hikes. If you're wanting more of an actual hiking experience, scroll down for some of the longer hikes.
Balanced Rock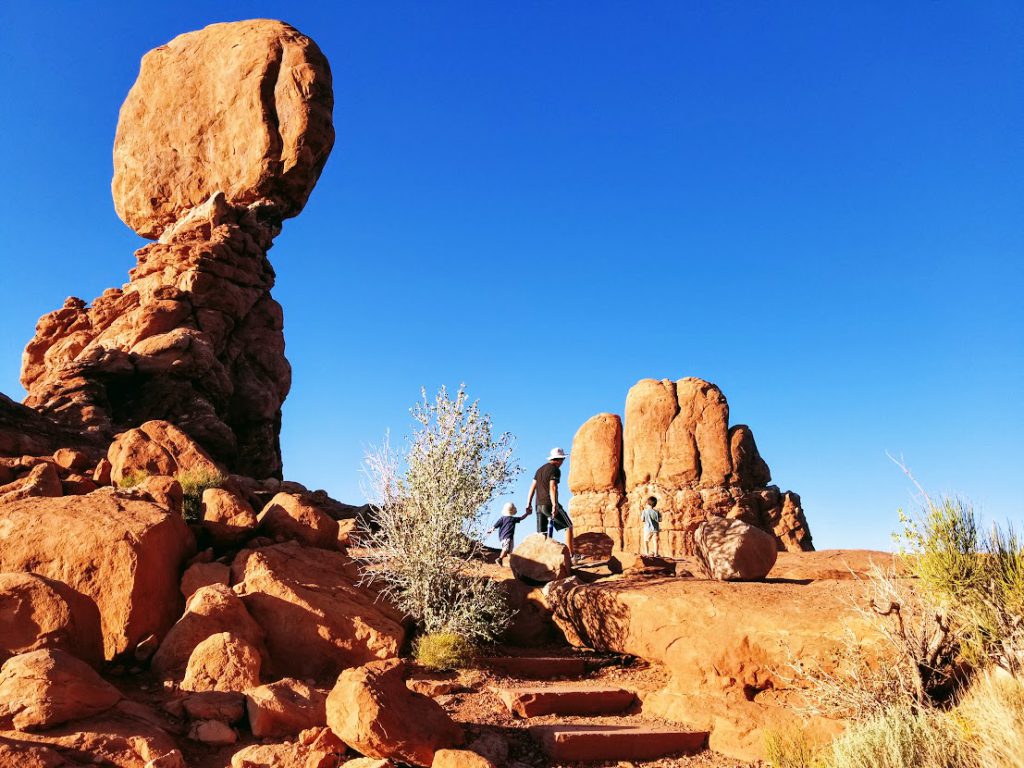 Balanced Rock is visible from the road, but it's definitely worth a stop for a closer look. The trail takes you on an easy .3 mile loop around the base of the rock.
As the name suggests, this formation is a massive rock that looks like it is balanced on the narrow rock pedestal beneath it. It made quite the impression on our children and it was the first thing they would mention whenever anyone would ask them about our trip to Arches.
Windows Trail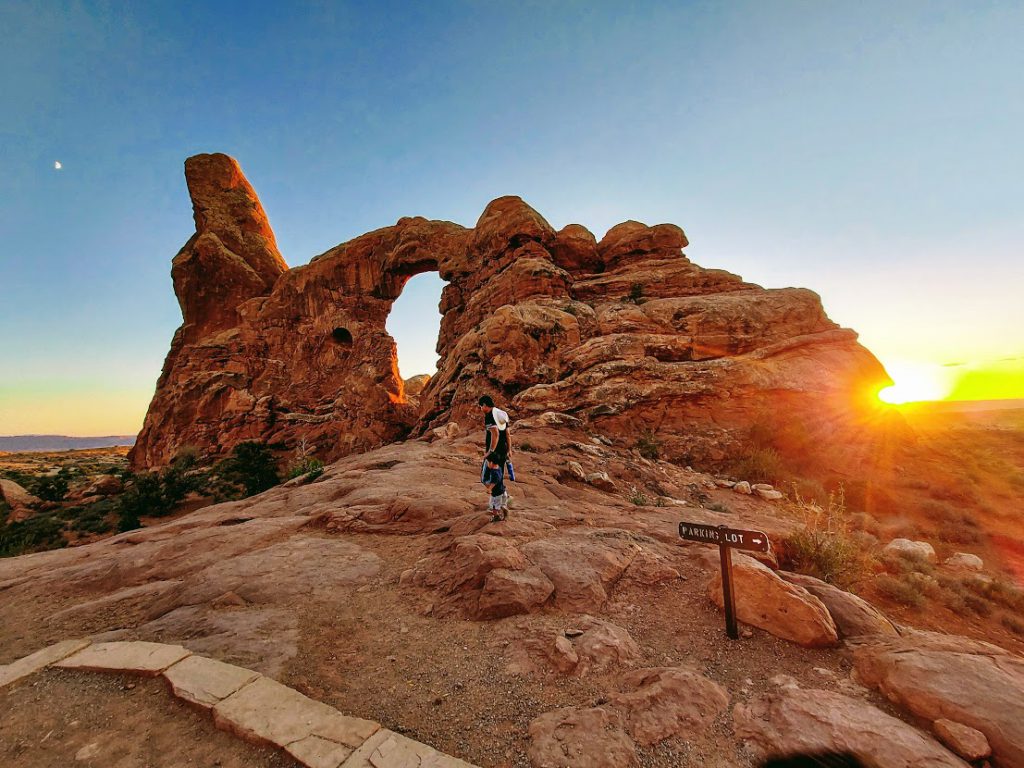 This one mile-path (roundtrip) will take you past three arches: North Window, South Window, and Turret Arch. All are large, impressive arches surrounded by incredibly scenic views. Be sure to have your camera ready for some great pictures.
Double Arch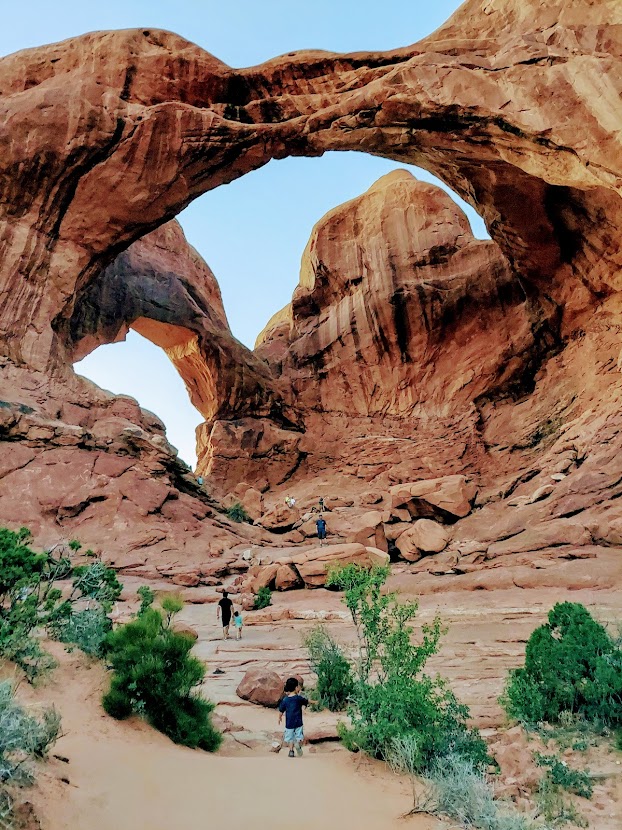 From the parking lot located just across from the Windows arches parking area, it's only a flat .5-mile walk to get to Double Arch, the tallest arch in the park.
This double arch, comprised of two arches connected at one end, is truly a spectacular sight. I personally found this to be the most impressive arch in the park.
Skyline Arch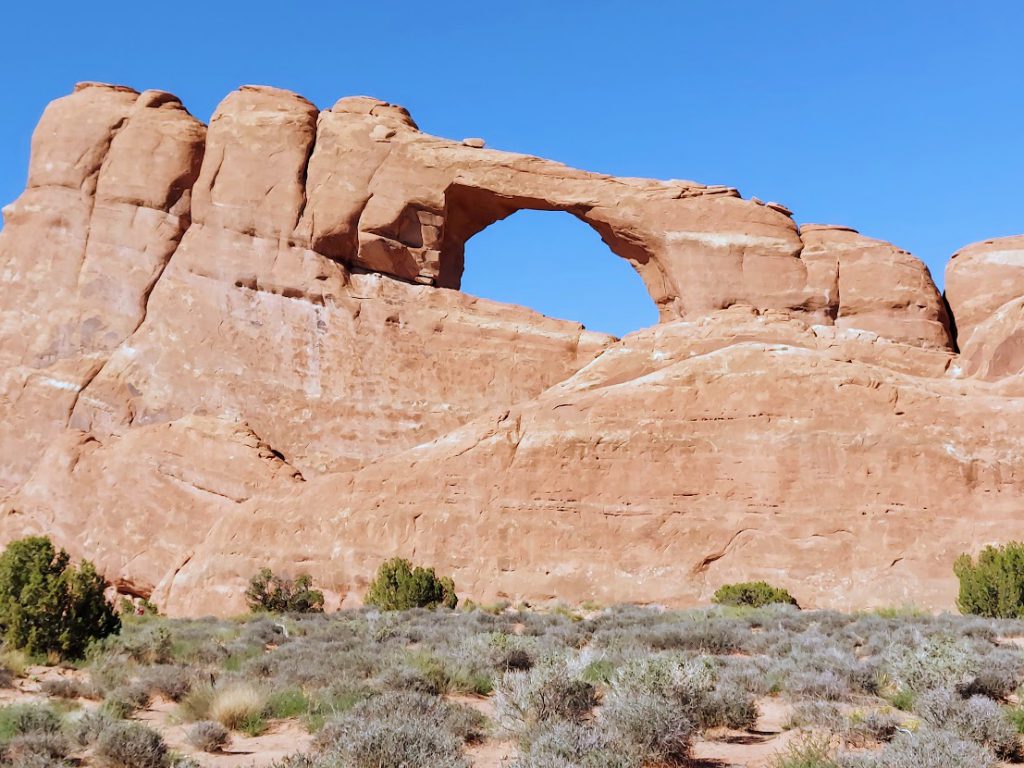 It's only a .4 mile roundtrip walk from the road to see Skyline Arch. This window arch is set up high in a rock wall (hence the name), making for some great pictures.
The path to view the arch is easy, but does require some scrambling over rocks to get there.
Sand Dune Arch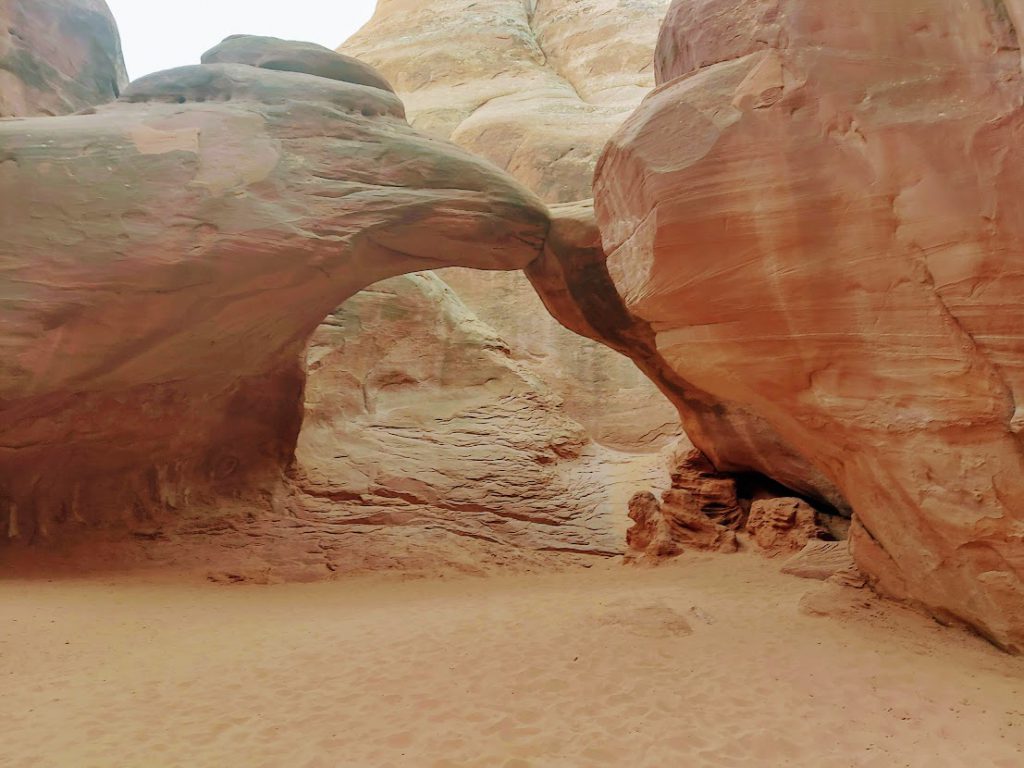 Sand Dune Arch was one of our favorite arches we visited while in the park. It's a must if you're visiting Arches National Park with kids. The arch is tucked away in a massive rock formation just a short walk from the road (.4 miles roundtrip).
A lot of people don't take the time to stop and see it, but it is definitely worth a visit. It feels secluded between the sandstone fins and the towering rocks provided shade from the sun.
It's called Sand Dune Arch for a reason- the whole area is covered in fine, soft sand.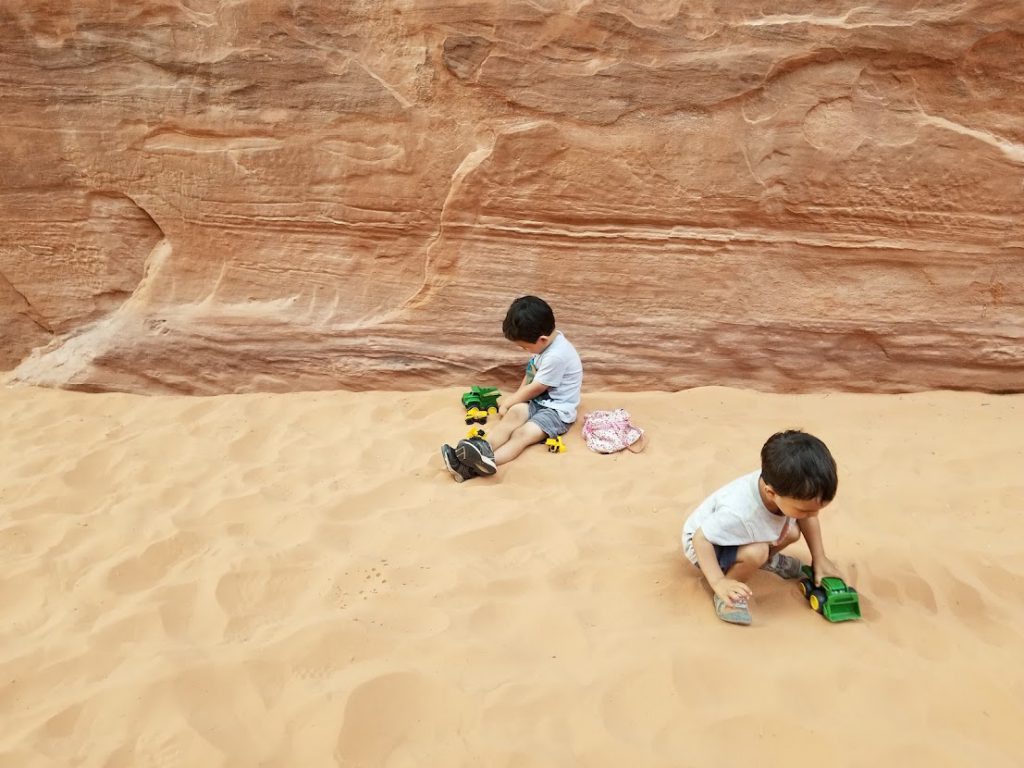 We brought some trucks for our kids and they were content to hang out moving sand around their "construction site" the entire time we were there. Honestly, they would have stayed there for hours if we let them. We wished we had come to this arch earlier so that we had more time to spend there.
Delicate arch viewpoint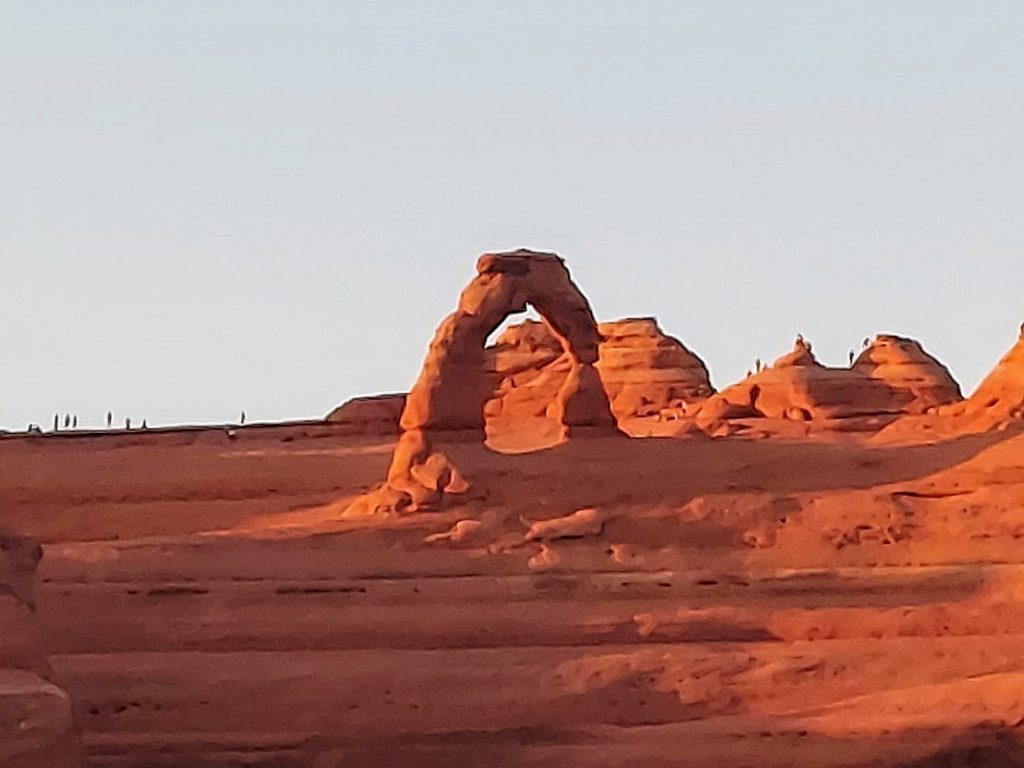 If you're not up for the 3-mile hike to see Delicate Arch up close, you can still see this iconic arch from two viewpoints. The Lower Delicate Arch Viewpoint is only a short walk from the parking lot.
To see a slightly closer view of the arch across the canyon, you can also climb a steep .5 mile trail to the Upper Delicate Arch Viewpoint.
Park Avenue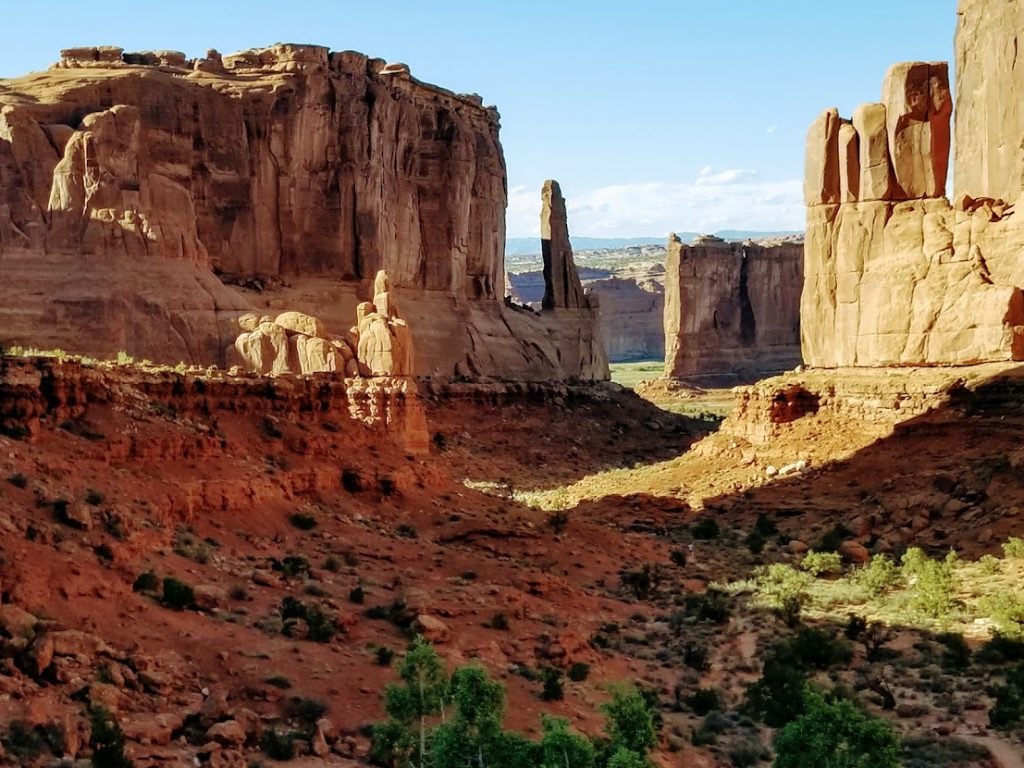 This one-mile hike takes you through a canyon past some gorgeous scenery and massive rock formations.
It connects with the road on both ends, so if you can have someone pick you up at the other end to make it a one-way trip. Start at Park Avenue trailhead for a downhill hike.
Best longer hikes for kids in Arches
While the options I've mentioned so far have been quick stops or short hikes, here are a couple longer hikes that are still kid-friendly.
Delicate arch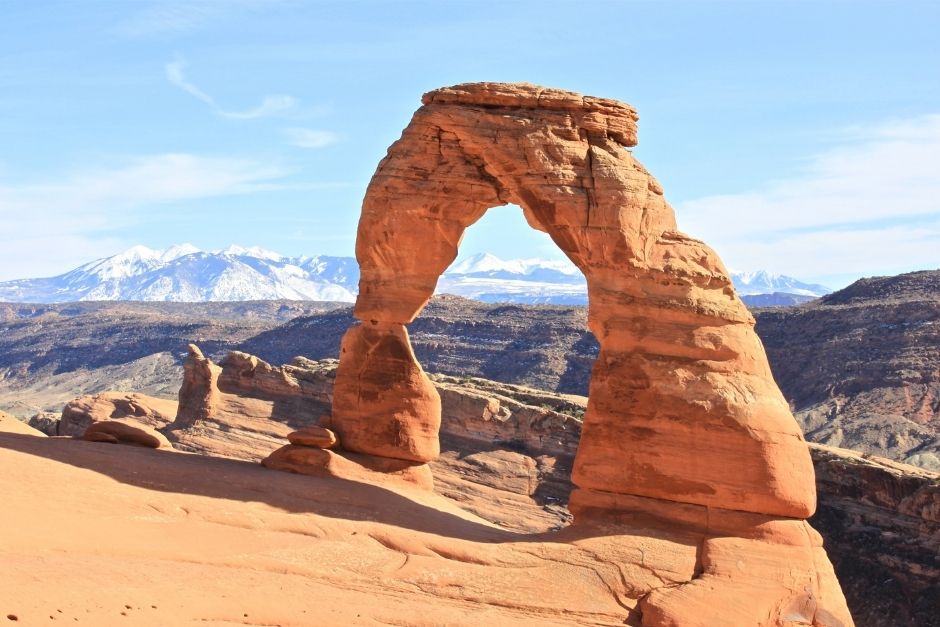 Easily the most iconic feature of the park (I mean, it's on Utah's license plate!), Delicate Arch is considered by many to be the hike to do while in Arches.
The hike is 3 miles roundtrip with an elevation gain of 480 feet. It's a moderately difficult hike that involves some scrambling as you make your way over the rocky surface.
There is also an exposed stretch (about 200 yards) with a drop-off on one side near the top. The path is still wide enough for two-way traffic along the ledge, but keep a close eye on your kids and consider putting toddlers in a carrier for that part.
Most of this hike is on bare rock with no shade, so bring plenty of sunscreen and water. Follow the cairns to be sure to stay on the path.
Landscape Arch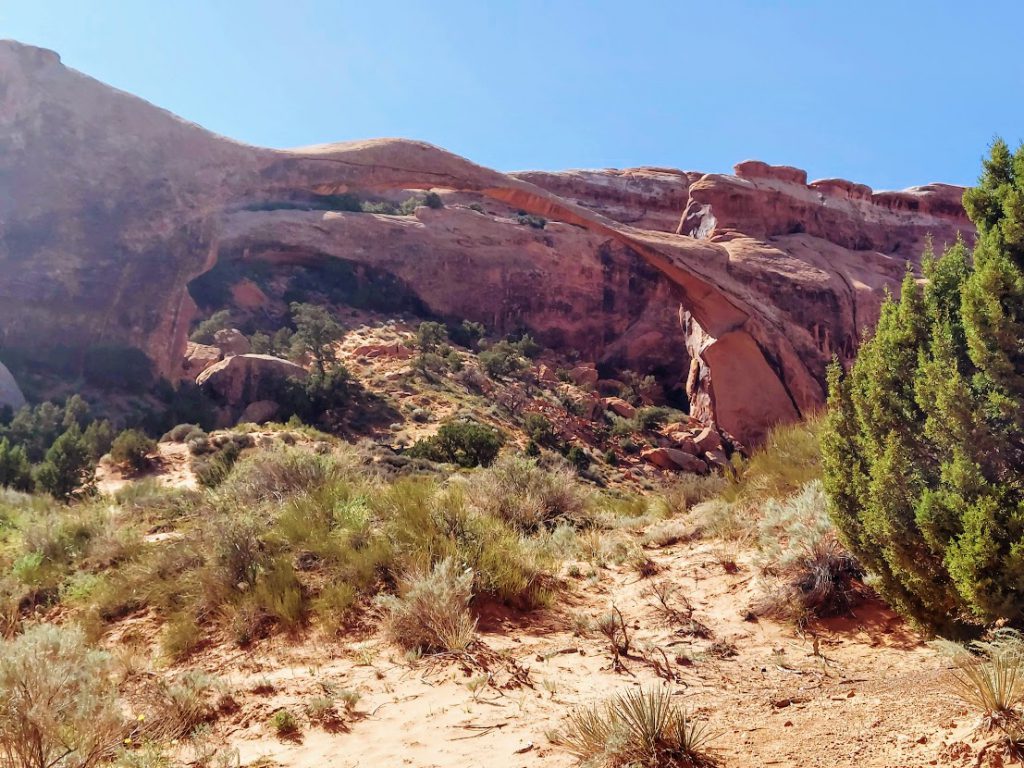 Landscape Arch is the longest arch in the park and one of the longest arches in the world. It stretches an impressive 306 feet and it's only 11 feet thick in the center. How it even stays up is a marvel.
The trail is 1.9 miles roundtrip over relatively flat and even ground. Along the way you'll also pass Pine Tree Arch and Tunnel Arch. Pine Tree Arch is a scenic, underrated arch that was actually one of my favorites in the park.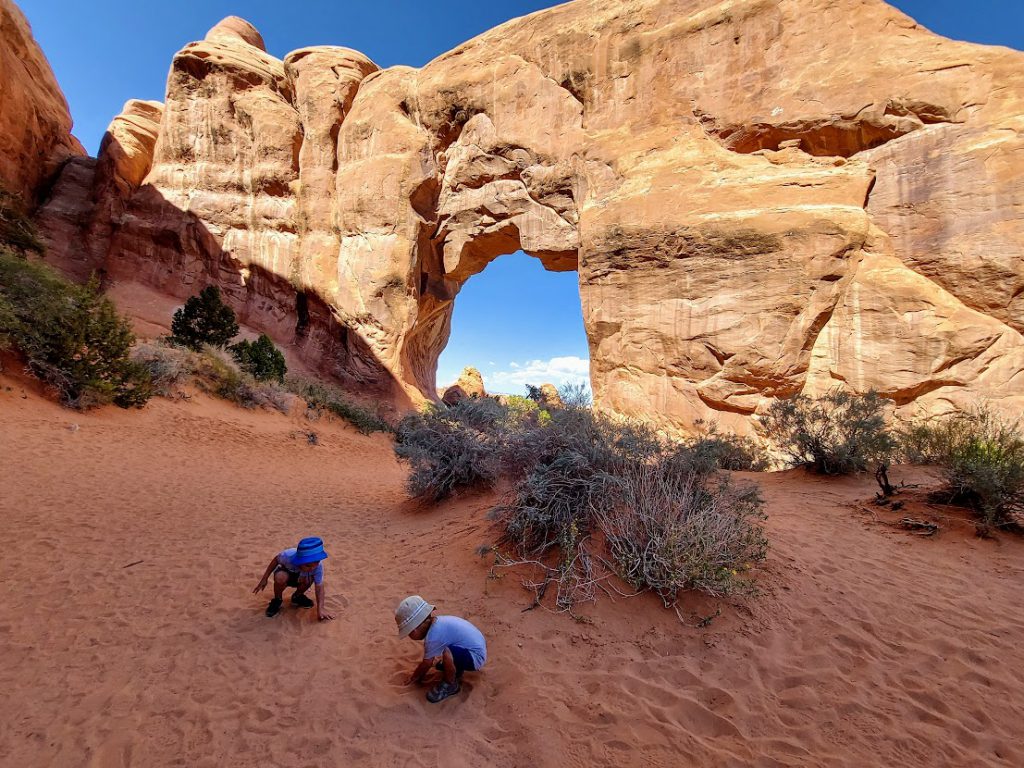 One of the best parts about this hike is that it is a chance to finally get away from the crowds in the park. While everyone stops at the more accessible arches, not as many people venture out on the hikes. Although we passed quite a few people as we were hiking, we had each of the arches to ourselves and the whole experience felt quite private.
Broken Arch Loop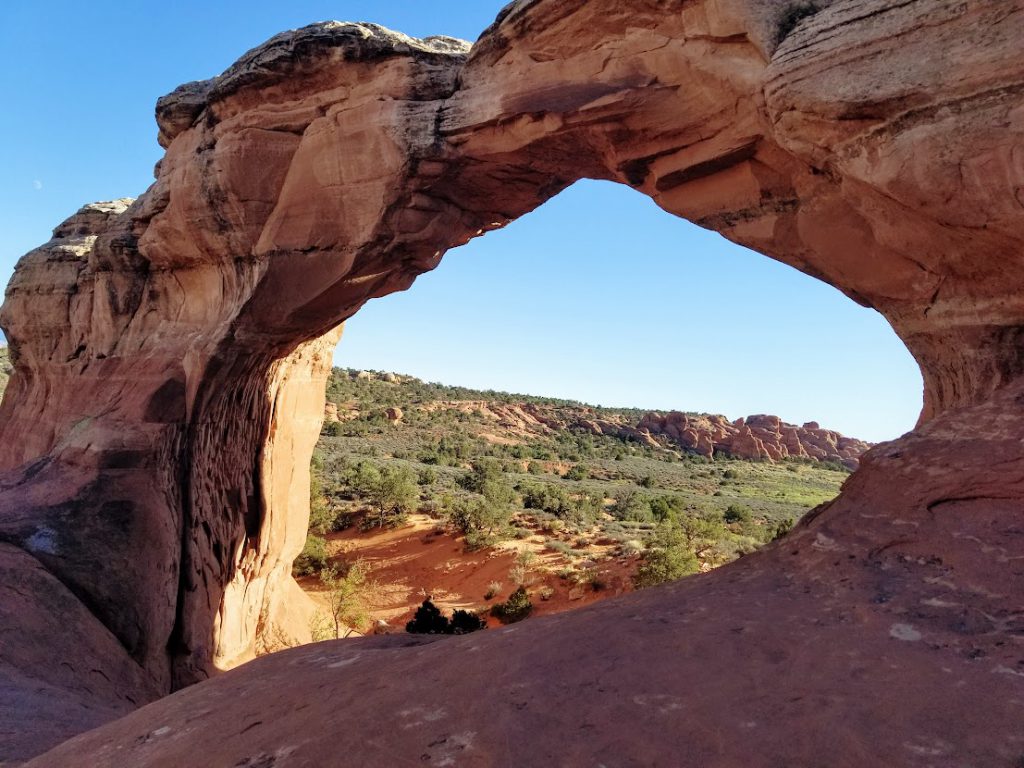 The Broken Arch Loop goes from Sand Dune Arch to the campground, passing directly underneath the towering Broken Arch (which actually isn't broken at all). The trail is 2 miles long and quite easy. There are parts with a little bit of scrambling over rocks, but nothing our young kids couldn't handle.
Be sure to follow the cairns and pay close attention to the path or it can be easy to lose the trail during the middle section (we got off course for a little bit, but luckily were able to follow the large rock formations to find our way back to the trail).
As you approach the campground you can also see Tapestry Arch, which is actually made up of three blind arches.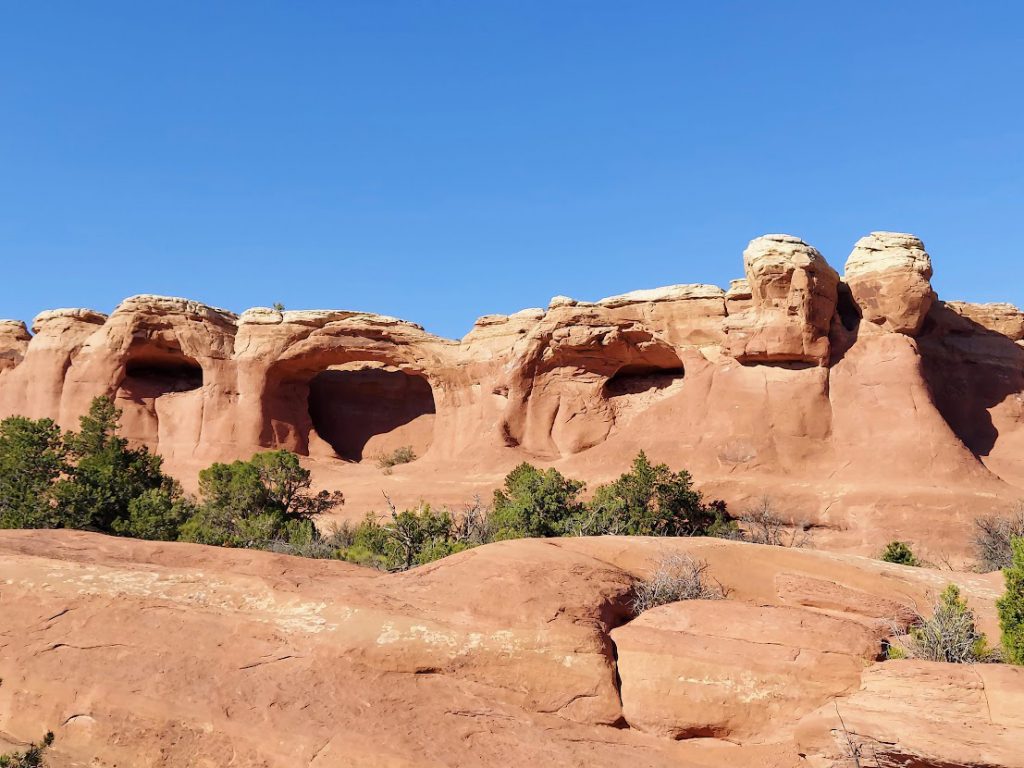 We would highly recommend this hike. The terrain is gorgeous and varied, the arches are spectacular, and you typically have the whole place to yourself! I think we only saw two other hikers during our entire hike.
Become a Junior Park Ranger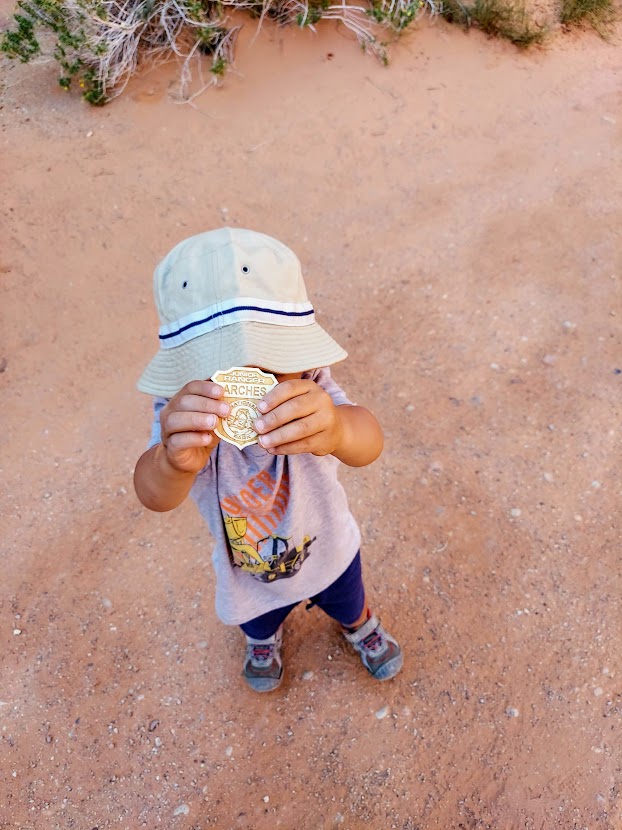 The Junior Ranger program is something that you don't want to miss if you're visiting Arches with kids.
Available at every national park, the junior ranger program allows your child to complete activities and adventures to ultimately earn their junior ranger badge.
When you arrive, stop at the Visitor Center to get your Junior Ranger booklet from a park ranger.
After your child completes a certain number of pages and activities from the book, they can return it to the park ranger at the Visitor Center to say their pledge and receive their Junior Ranger badge.
There's really no reason not to do the junior ranger program, it's free and a great way to teach kids about the park and engage them in your visit.
Our kids absolutely loved the program and were incredibly motivated to complete items in their book. They were so delighted to receive their badges and proudly showed them off to everyone they met after the trip.
Where to Stay when Visiting Arches National Park with kids
Where to stay in the park
If you want to stay within the park, you can camp at the Devil's Garden campground, located towards the end of the scenic drive.
You can reserve a campsite between March and October, at other times it's on a first-come, first-served basis. It does fill up, so be sure to book ahead of time. You can reserve a campsite up to 12 months in advance.
For more details on camping in Arches, see this site.
Where to stay in Moab
There is no lodging within the park, so if you don't want to camp your best option is to stay in nearby Moab, a 10-minute drive from the park. There are a lot of hotel and Airbnb options in Moab to accommodate you while you're there.
Essentials for visiting Arches National Park with kids
Water bottle/hydration pack– Hydration is one area where you absolutely don't want to be caught unprepared. Make sure to bring plenty of water and offer it to your child often. I would recommend a hydration backpack so that they can have easy access to water whenever they want.
Sun hat– Most of the hikes have no shade or cover, so bring a hat for your child to keep the sun out of their eyes and protect their face from burns.
Sunscreen– You'll probably be out in the sun for long periods, be sure to bring some sunscreen to protect your child's skin.
Hiking boots– Good shoes are essential when you're planning on spending the day hiking. Bring comfortable shoes and remember to break them in before your trip.
Carrier– If you're traveling with young kids, a baby or toddler carrier can be hugely helpful, especially if you're planning on doing some of the longer hikes. And if you're doing a hike like Delicate Arch, which has a drop-off during one stretch, you'll be glad to have a way to keep your child safely contained.
Other attractions near Arches National Park
If you have some extra time while you're in Moab (or if you need to kill a few hours while waiting for the park to reopen to visitors…), here are some great options located near Arches National Park.
Potash Road Petroglyphs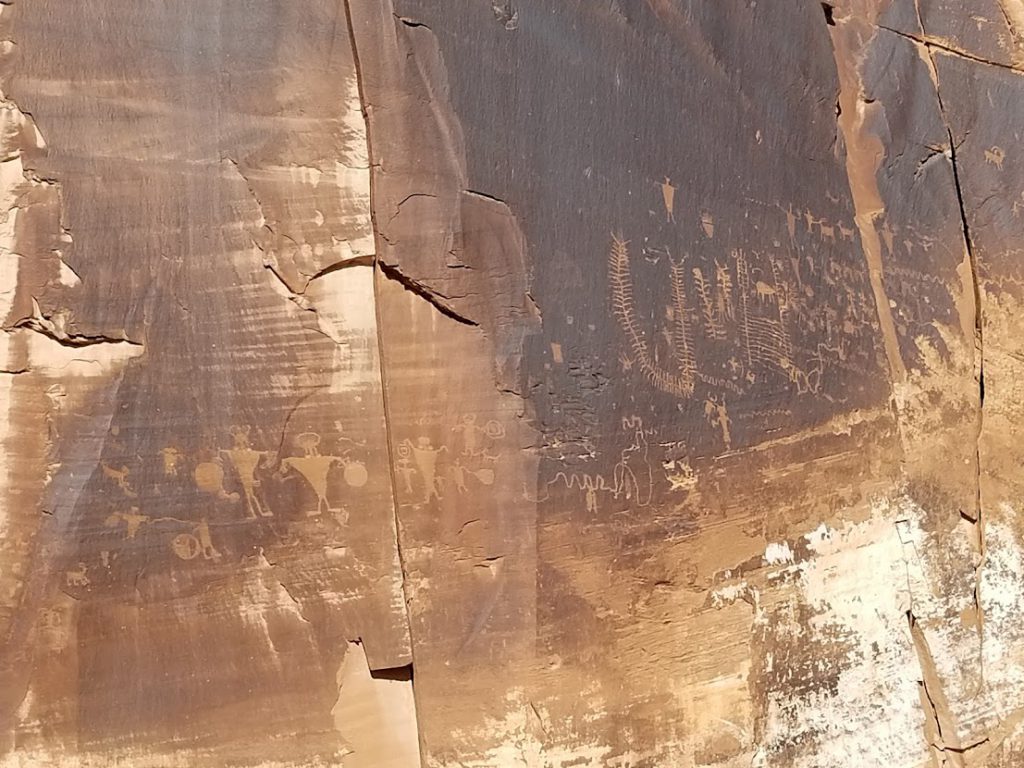 Located a quick 15-minute drive from the entrance to Arches is the Potash Road Petroglyphs. The petroglyphs can be found on the large slabs of rock along highway 279.
Watch for the sign saying "Indian Writing" and pull over on the side of the road. There you can find a massive stone wall covered in ancient petroglyphs. We found the detailed petroglyphs to be fascinating and well worth the quick drive.
Potash Dinosaur Tracks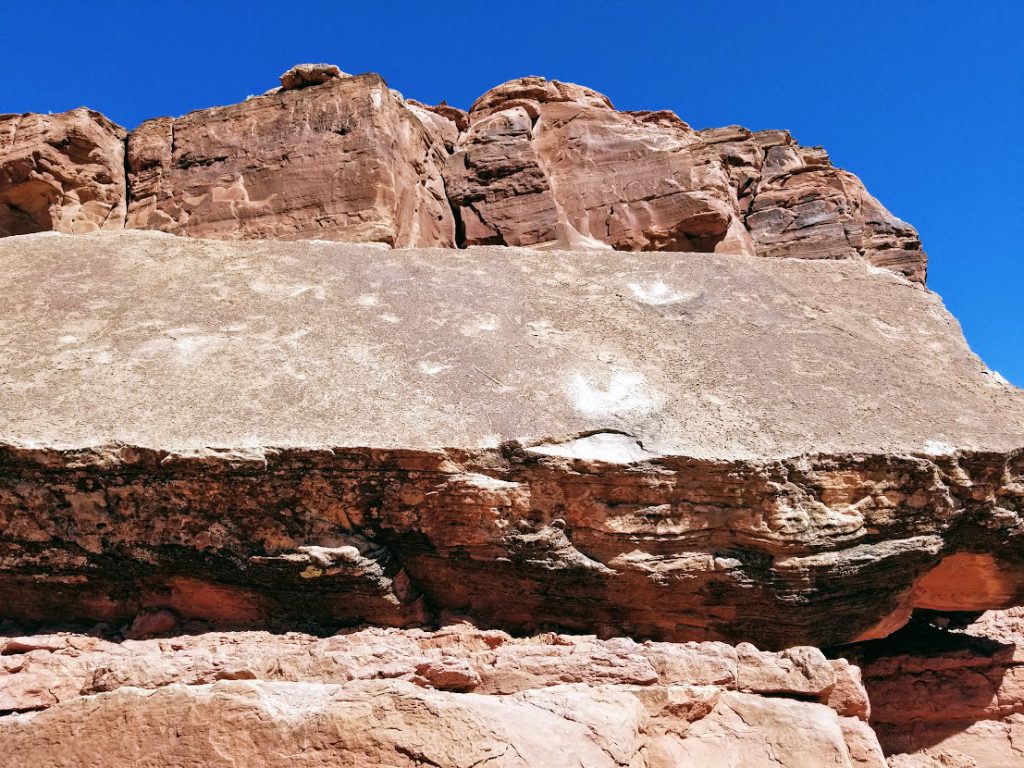 A few minutes down the road from the petroglyphs is the Potash Dinosaur Track. The dinosaur prints were cool to see, but the hike was a bit of a scramble. Very young kids would probably find it challenging.
The dinosaur prints are about a five-minute hike from the parking lot and there are also petroglyphs if you continue on the hike past the prints.
If you don't want to do the longer hike, I would recommend just stopping by to see the dinosaur tracks and seeing the petroglyphs along highway 279, which are much more accessible.
Moab Giants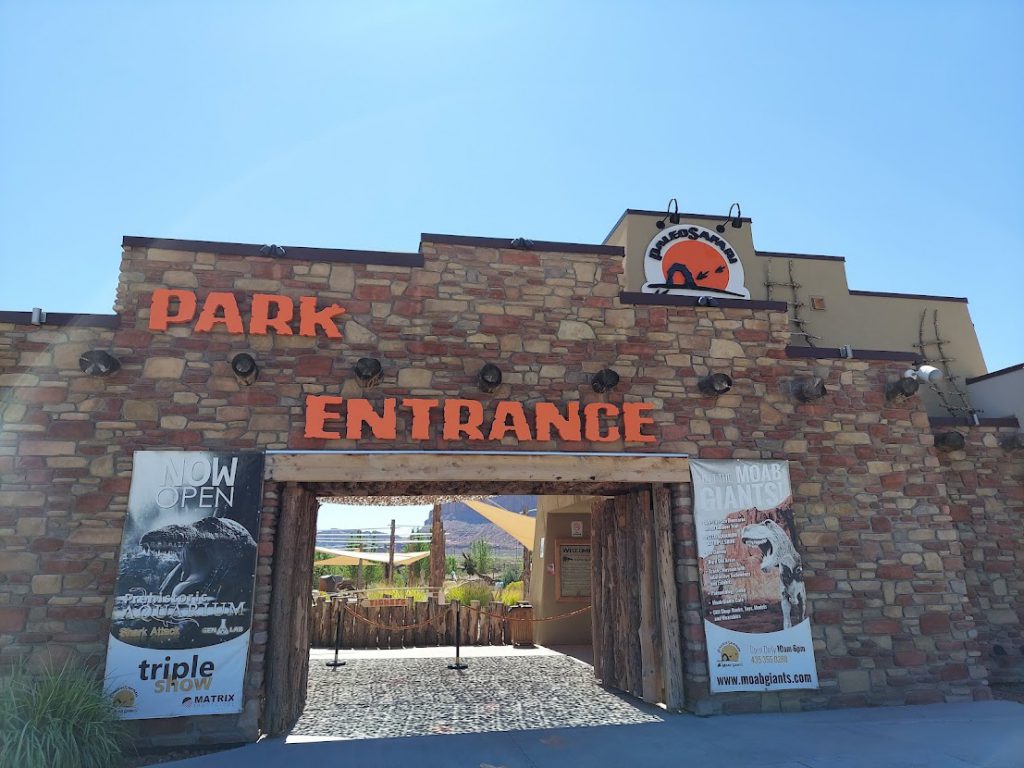 Moab Giants is a small park with life-sized models of various dinosaurs. It is located less than 10 minutes from Moab.
We didn't go through the park, so I can't speak to the actual experience. But we have heard people say that their kids really enjoyed walking among all of the enormous dinosaurs.
Canyonlands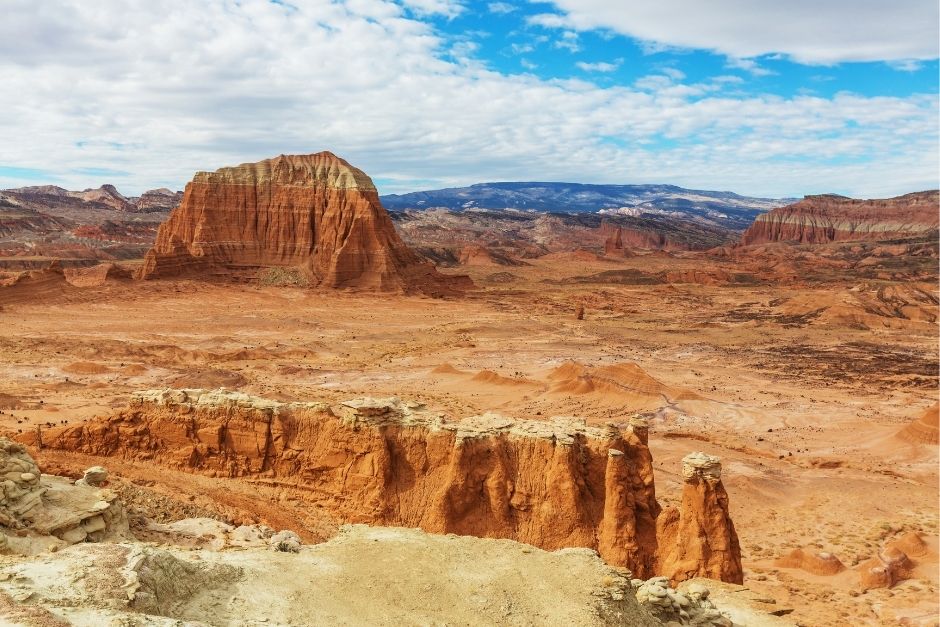 If you want to see even more rock formations, it's only a 30-minute drive from Arches to Canyonlands National Park. Canyonlands is much bigger than Arches, but with fewer visitors and overall more challenging hikes.
At Canyonlands National Park, you can find stunning red rock canyons, arches, mesas, and buttes. Although the hikes can be quite challenging, there are also overlooks and easier hikes good for families with children.
Final Thoughts
If you're looking for an incredible place to visit with kids, Arches National Park is the place for you!
The spectacular rock formations, gorgeous scenery, and easy access to the best sights make it the perfect place for a family trip.
We were blown away by our trip to Arches with our kids. And this was one trip where the kids were just as impressed by the park features as we were!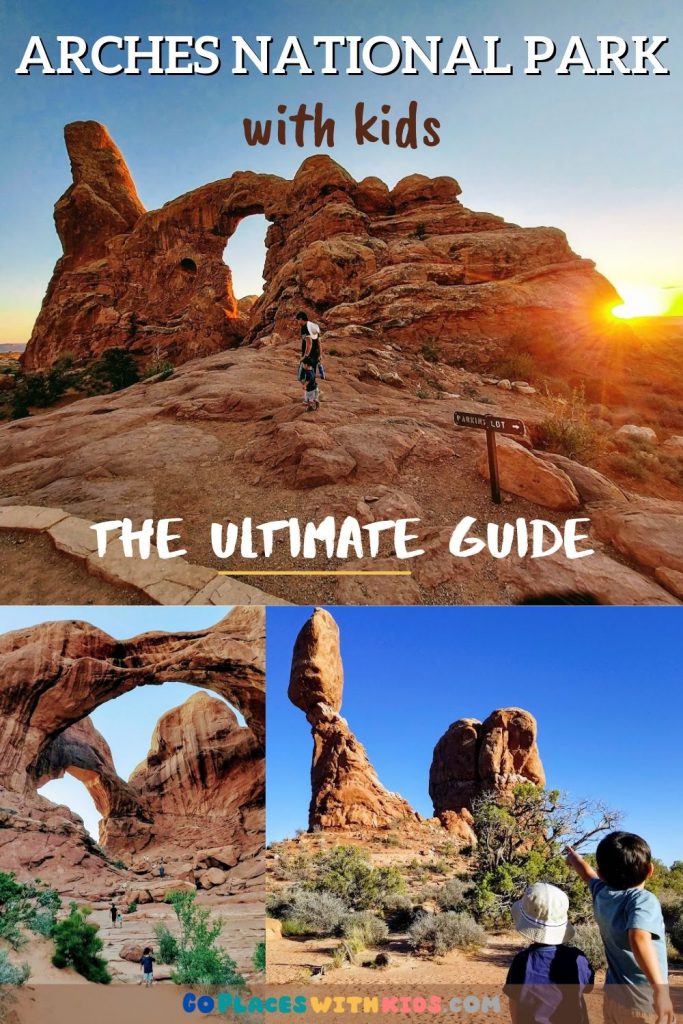 Other posts you might be interested in:
One Day in Arches National Park- Best Itinerary for a Quick Trip!
30 of the Very Best Travel Activities for Kids!
Essential Toddler Hiking Gear You Won't Want to Forget!
The Ultimate Guide to Yellowstone with Kids
Road Trip Activities for Toddlers (That They Will Really Love!)