This page may contain affiliate links, which means that we may earn from qualifying purchases at no additional cost to you.
Going on a road trip with a toddler can seem stressful. But it really can be an enjoyable experience if you're prepared. And one of the best ways you can prepare is by bringing awesome toddler road trip activities!
On all the road trips we've been on with our toddlers (and there have been a lot), we've found that if our toddler has interesting activities to hold their attention, everyone has a better time.
And oftentimes, toddlers really aren't as hard to entertain in the car as we think. I've found that road trips with my toddlers usually go much better than I think they will.
The trick is plan ahead and bring a variety of different activities that you can use to hold their attention. Toddlers don't always have the longest attention spans, so you'll be glad to have multiple activities you can switch between when they start losing interest in whatever they're working on.
If you have a variety of ways to keep your toddler entertained during the drive, the whole trip will go much more smoothly. Trust me.
So read on for some awesome car activities that are sure to keep your toddler entertained on a road trip!
For more helpful travel items, see our ultimate list of toddler travel essentials!
Road Trip Activities for Toddlers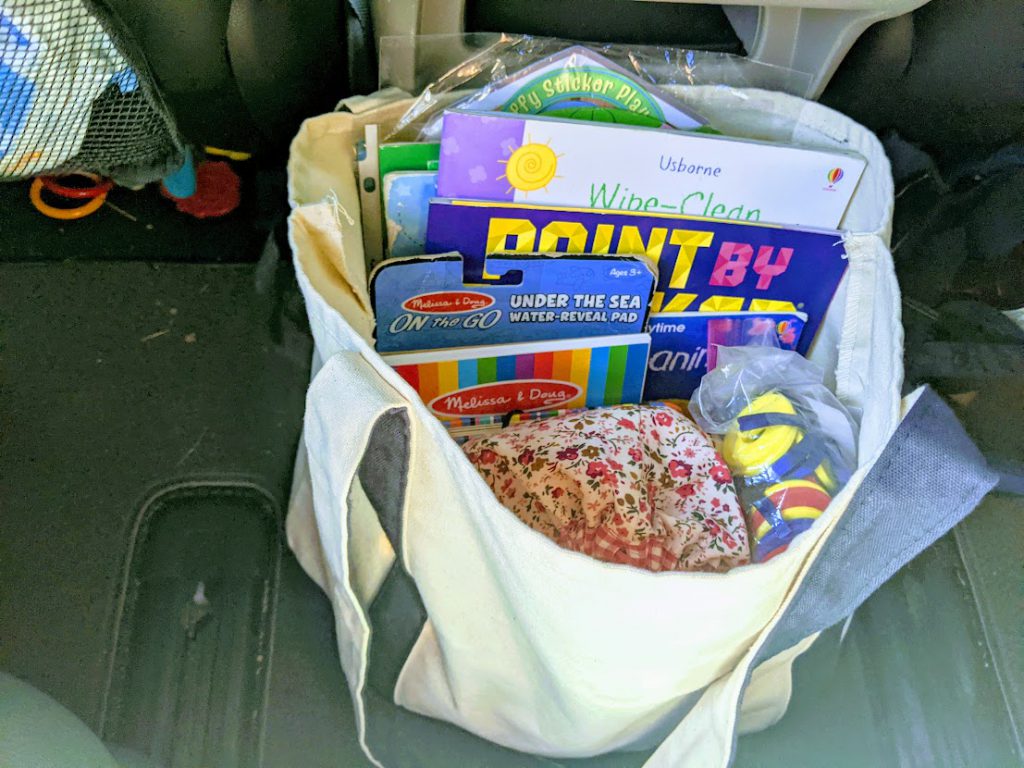 You'll want to have plenty of great activities to keep your toddler entertained during your road trip. This is one area where I tend to overpack, but I'd much rather have too many activities than not have enough. And when you're road tripping, usually you have the space for a few extra small activities (unlike flying).
Tip: It really helps to have a table of some sort for your child to work on their activities. We like this car seat travel tray. In a pinch, we've also used shallow, wide boxes for them to work on their activities and to keep everything contained.
Some of these road trip activities for toddlers do have small parts, so if your child is still in the stick-everything-in-the-mouth stage, skip those or do them with supervision.
Portable construction site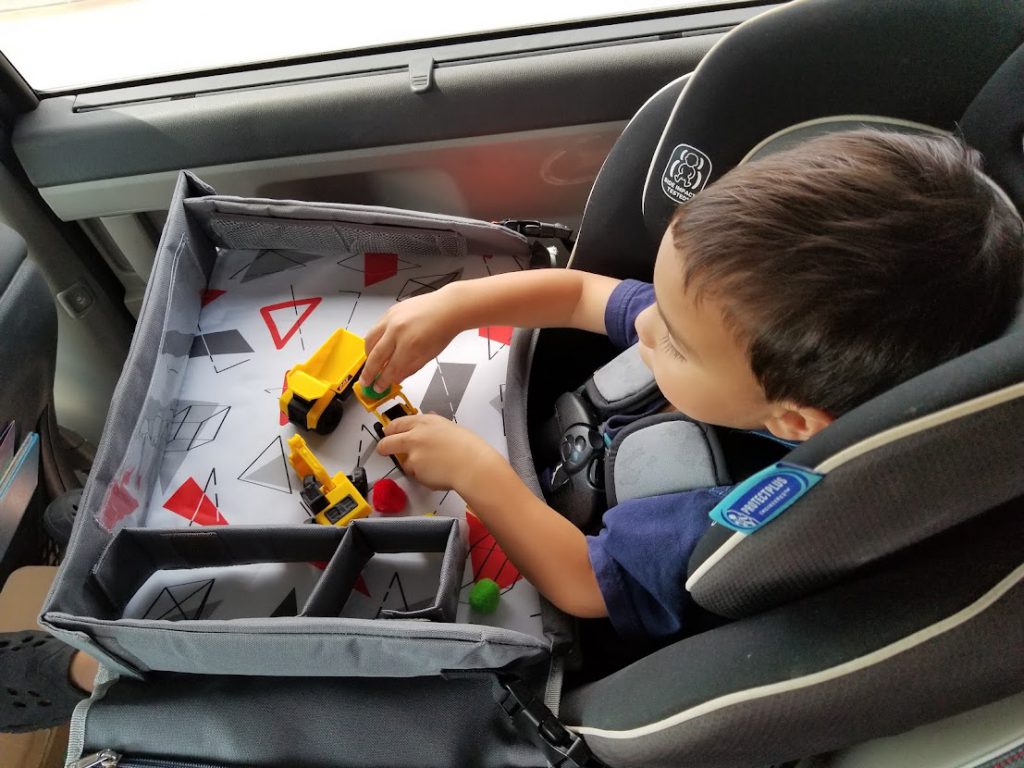 If you have a truck-loving toddler, consider making them a little construction site! Use mini trucks to move "rocks" (pom poms) from one place to another. This can entertain a toddler for a ridiculously long period of time, trust me…
These little working trucks are the perfect size to use with pom poms.
Pom pom fine motor activity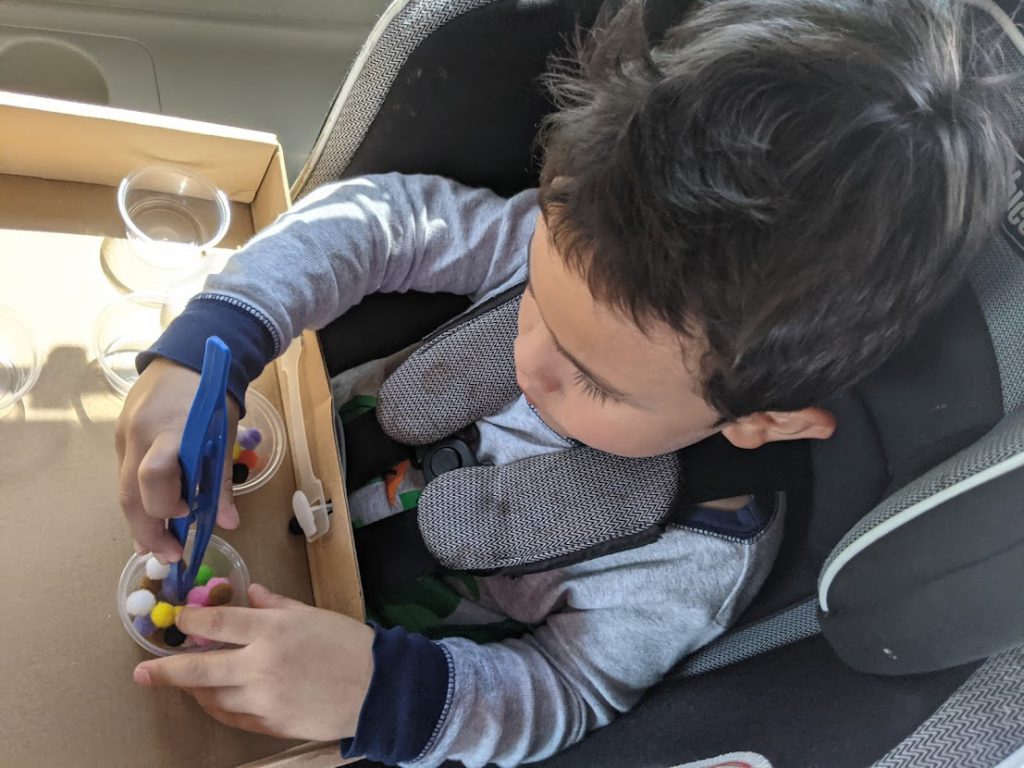 A great fine motor road trip activity is using tweezers to move pom poms from one container to another. For this activity, you can use the regular sized pom poms or the mini pom poms for a bit more of a challenge.
When we were planning our most recent road trip, this activity was specifically requested, so obviously it was a hit with our kids!
DIY Car Track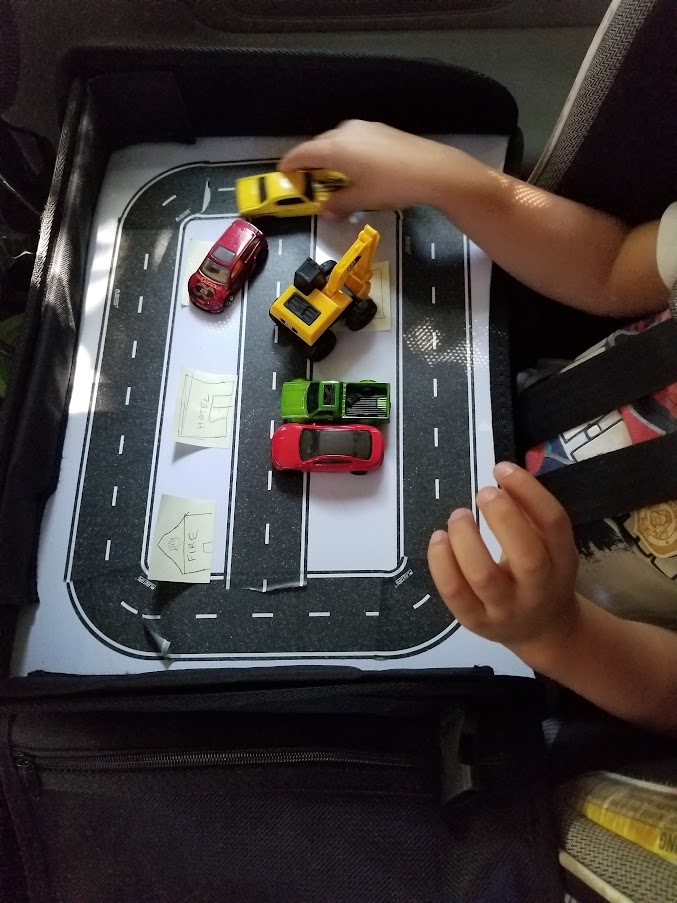 For a creative DIY road trip activity, make your own car track! Bring along some of this road tape to create a little road on your child's travel tray. Pack some small cars and let your child pretend to drive on a racecar or around a make-believe town.
You can also used mini sticky notes to draw houses, a fire station, a hotel, etc. Our son had a great time driving his cars all over his little "town".
Music
One of our favorite road trip activities for toddlers is listening to music. It's is a nice way to pass the time while you're driving and it's also a good method for diffusing tension if emotions are rising.
Our kids love singing along to their favorite songs for long stretches of time. Some of the classics are Raffi songs and songs from their favorite movies (mostly Frozen and Moana over and over).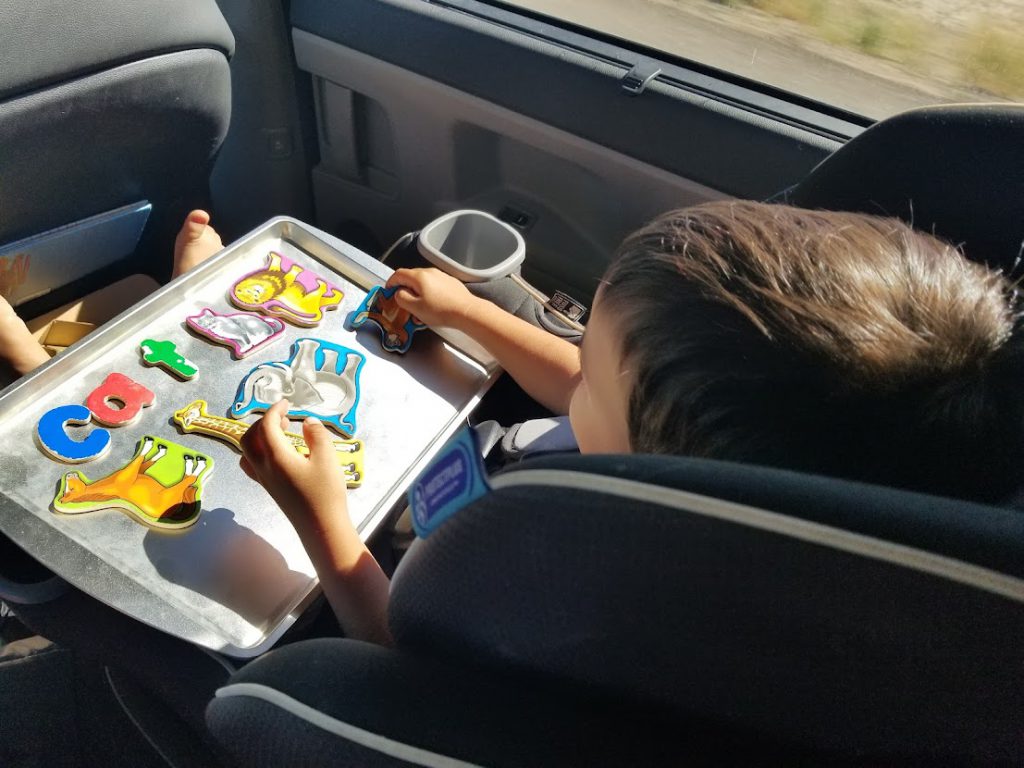 Bring a cookie sheet and some magnets and set your child loose! (The cheap dollar store cookie sheets are perfect for this activity.)
Alphabet and number magnets are great for kids learning their letters and numbers. Or you can cater it to your child's interests with something like animal magnets or dinosaur magnets for some creative play.
Podcasts/audio books
Podcasts and audiobooks can be fun to listen to for the whole family, or you can give your child some headphones and let them listen independently.
My son loves the Little Bedtime Stories podcast. The stories are fun and good for young kids, plus it's ad free!
Cheerio bracelets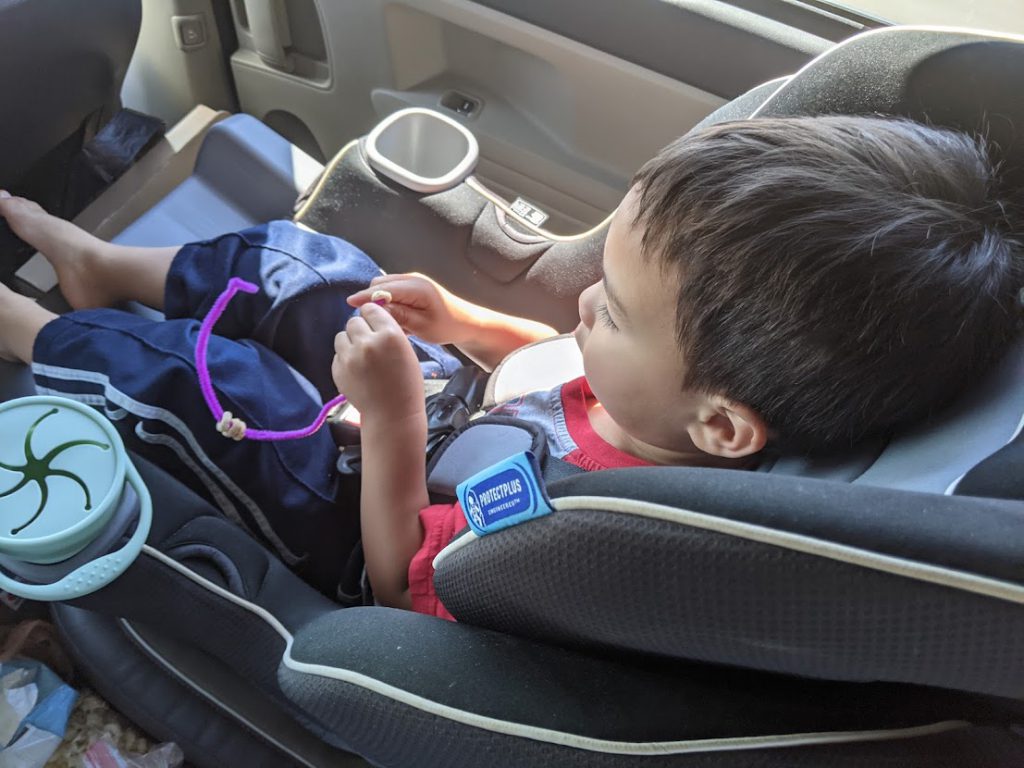 Combine food and activity by making Cheerio bracelets!
Give your child some Cheerios and have them string them onto a pipe cleaner. We love this activity activity because it's great at keeping a toddler's attention and it doubles as a snack!
Books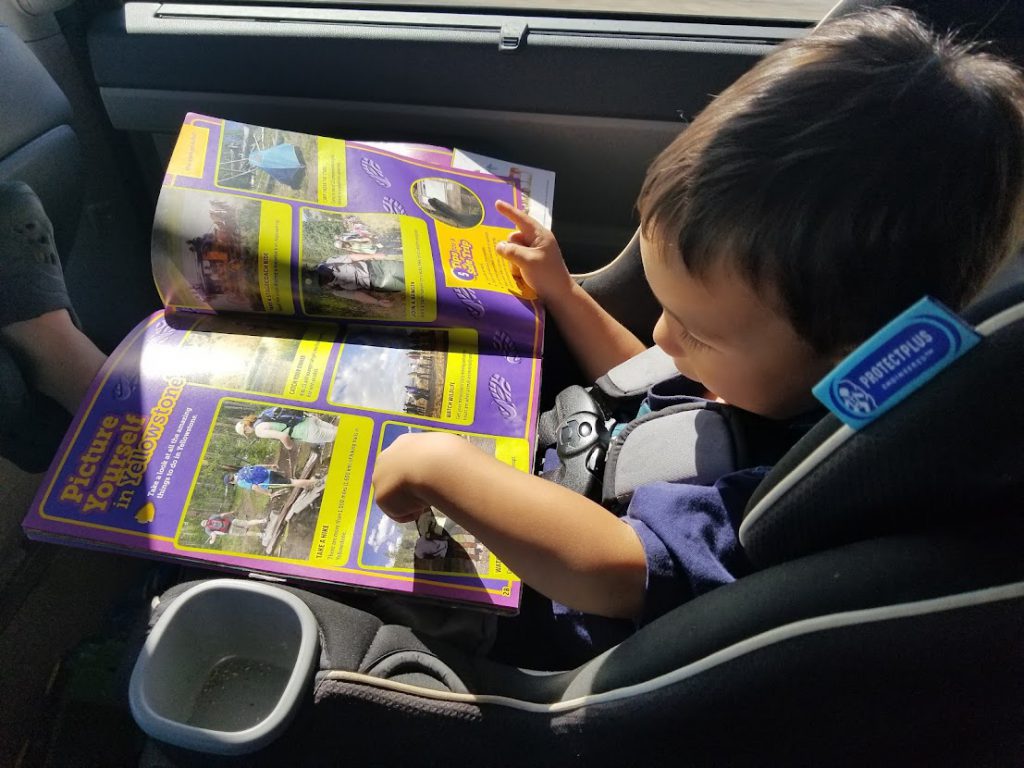 Bring along some books or magazines and read to your toddler or let them look through the pictures. They might like looking through a book with pictures of where you're going on your trip (or where you've been if you're on your way home).
If your child is like mine, you can bring some of their favorites (mine are obsessed with the Goodnight, Goodnight Construction Site books) and they will know every word without your even having to read it to them!
Screen time
Screen time is probably one of the most popular road trip activities for toddlers. When you're on a road trip, screen time can be a convenient way for your toddler to pass some time and it's a nice break for the adults.
Everyone has different ideas of how much screen time is right for road trips and you'll have to find your own balance for what is best for your toddler.
A road trip tradition that we love is having a family movie night while we're driving.
I make popcorn before we leave and then when we're driving, we pass out the popcorn and treats and settle in to watch a movie. It's a fun activity that we can all do together (even though the driver can't see, the kids usually pick movies we've seen a million times anyway so they know what's going on just by the sound). We usually plan it for later in the day when everyone is starting to get bored and tired of their car activities.
Drawing
If you have a budding artist, they might enjoy drawing for part of the car ride.
There are lots of options for drawing activities, depending on what your child prefers. You can go the traditional route by getting a toddler coloring book with crayons or colored pencils. Or you can choose to bring a boogie board or whiteboard for them to use to express their creativity.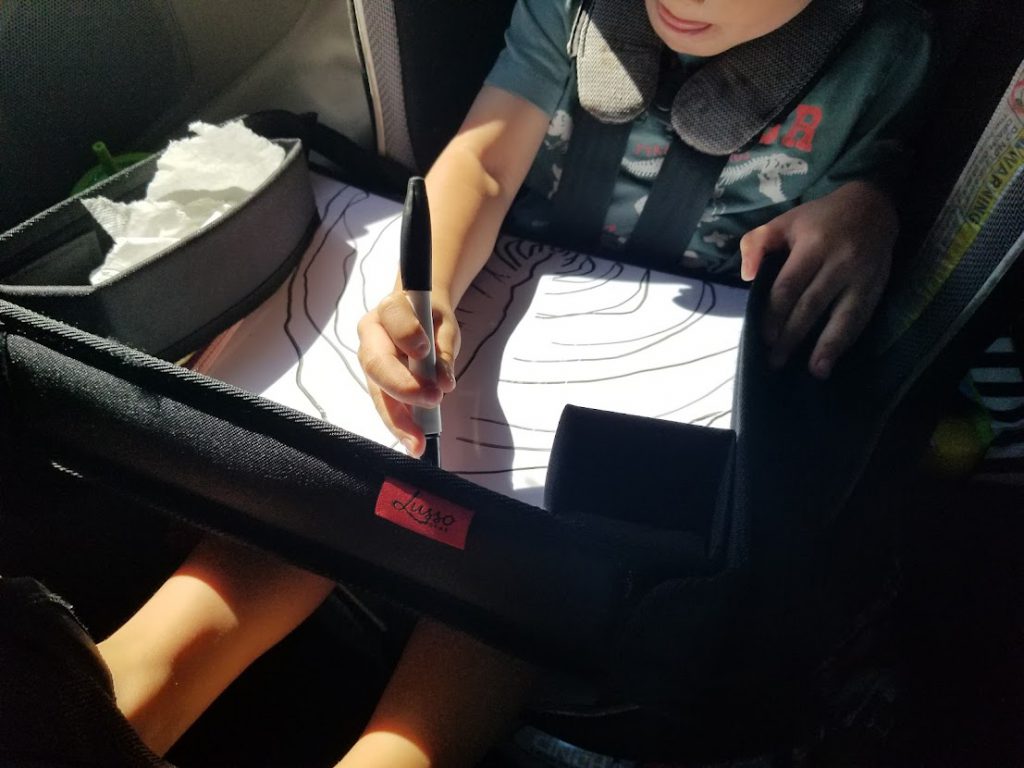 This car seat tray has a built-in whiteboard, which makes it easy for your child to create art whenever their heart desires!
One of our favorite road trip activities for toddlers are these cute puffy sticker sets by Melissa and Doug.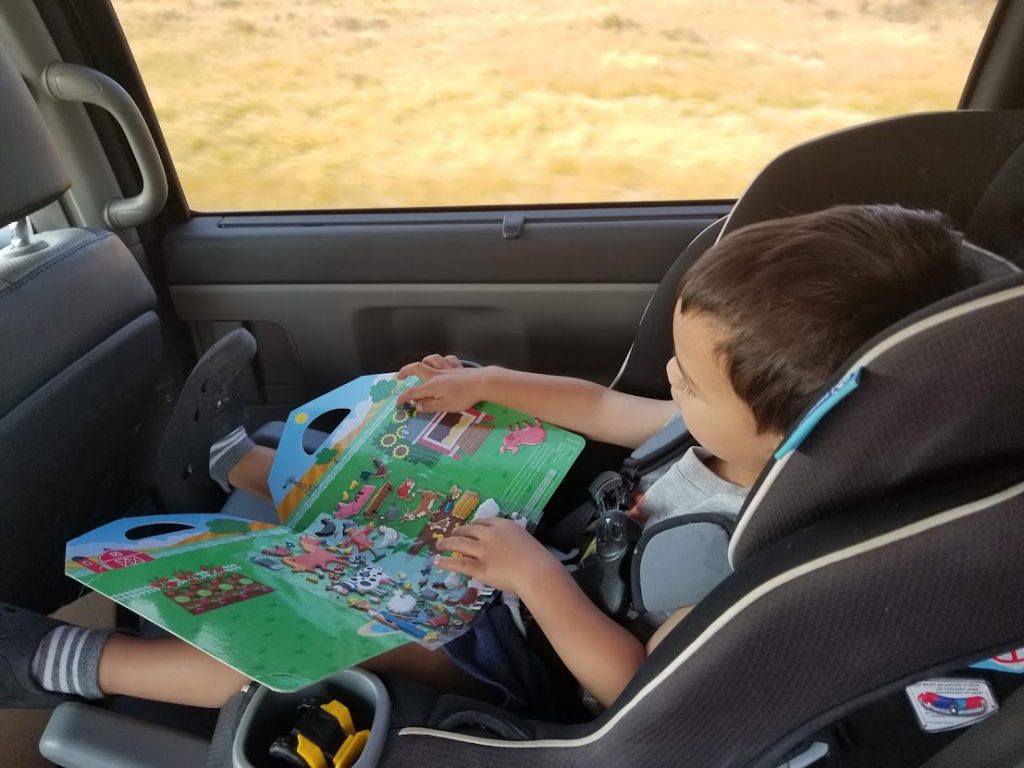 Your child can use the detailed stickers to create a scene on the background provided. And they are reusable, so you can get multiple play experiences out of them. We've used our sets many times and the stickers are still sticky!
These puffy stickers are something that has really kept our toddlers' focused attention while traveling. On a recent road trip I forgot to bring them and my son was so disappointed (luckily I didn't make that mistake the next time!).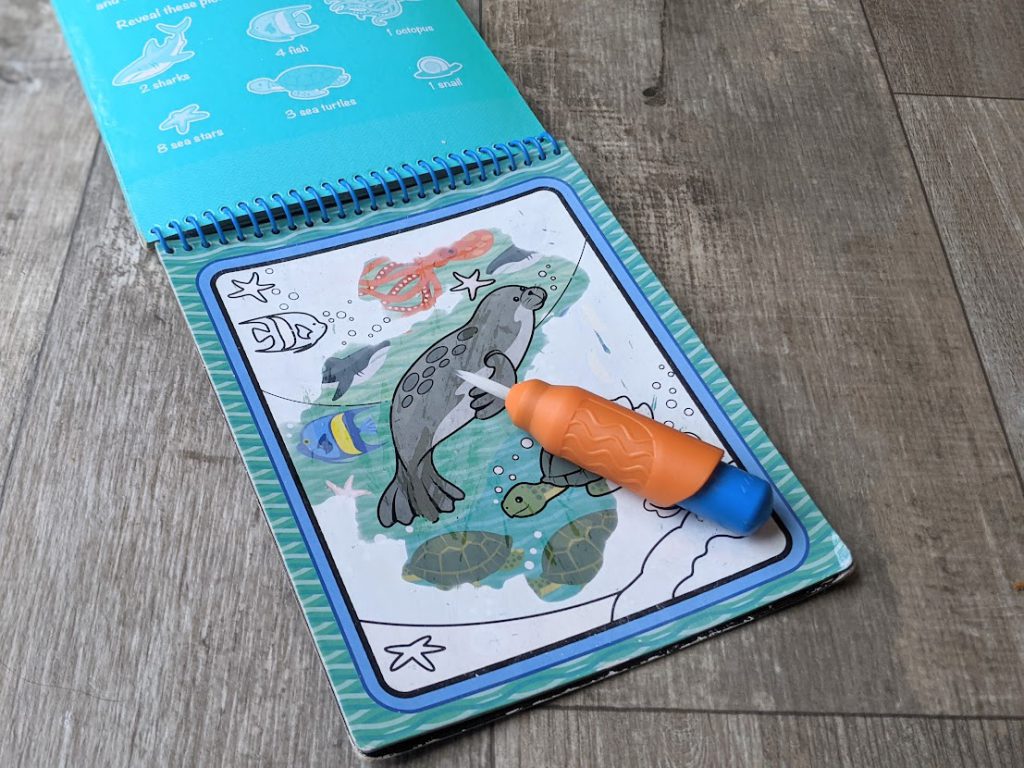 Water Wow! books are a great, mess-free road trip activity for toddlers. As you color over each page with the water pen, a picture appears. As it dries, the picture disappears and it can be reused again and again.
This is one of our favorite toddler activities for travel by car, flights, or just as a quiet activity for appointments or church when we're at home!
Photo Book
Create a book of photos for your child with pictures of noteworthy events, important people, and special memories from their life. Toddlers love looking at books where they are the star, with places and people they recognize.
For our toddlers, this is a sure way to capture and keep their attention!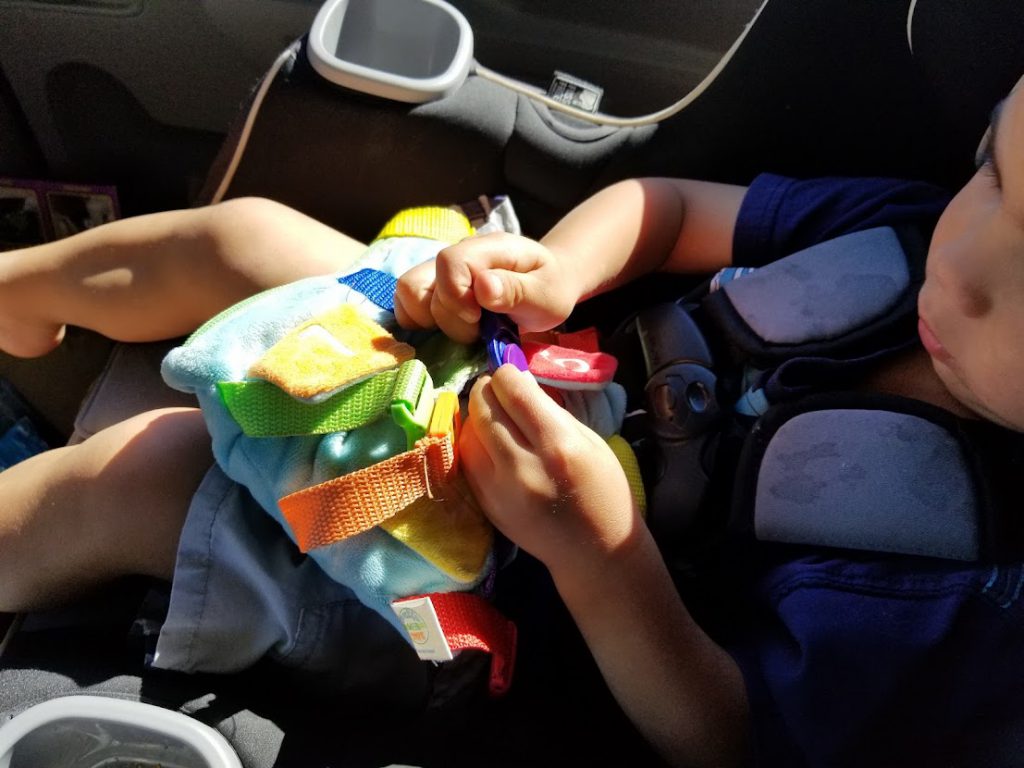 This buckle toy is perfect for a kid who loves clipping and unclipping buckles. It has various colors and different kinds of buckles to keep their attention. There's also a little pocket at the top where they can store some of their treasures.
When I bought this toy, I wondered how much use we would really get out of it, but my toddlers have been obsessed with their buckle toy during trips, both driving and flying.
Look and Find Books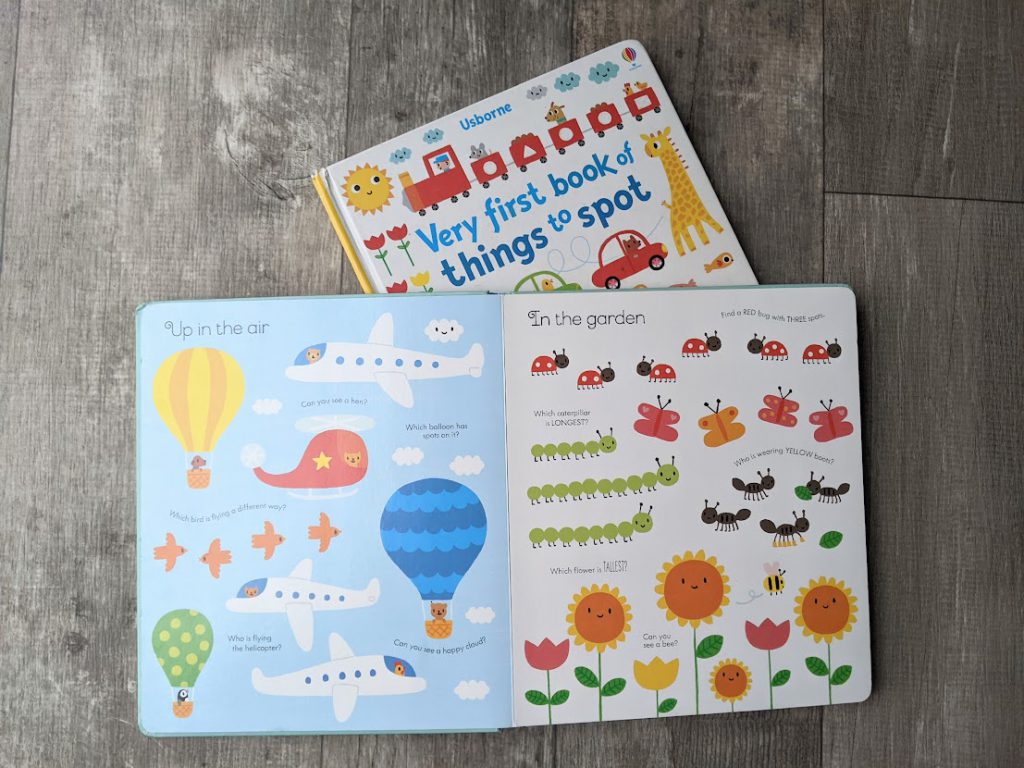 Look and find books are a great way to keep a toddler busy. I'm always amazed at how long my toddlers can stay focused when they're searching for items in a book.
Some of our favorite look and find books are the Very First Book of Things to Spot and 1001 Things to Spot on Vacation. The Very First Book of Things to Spot has cute and simple pictures (better for younger toddlers), while the 1001 Things to Spot book has much busier, more complex scenes.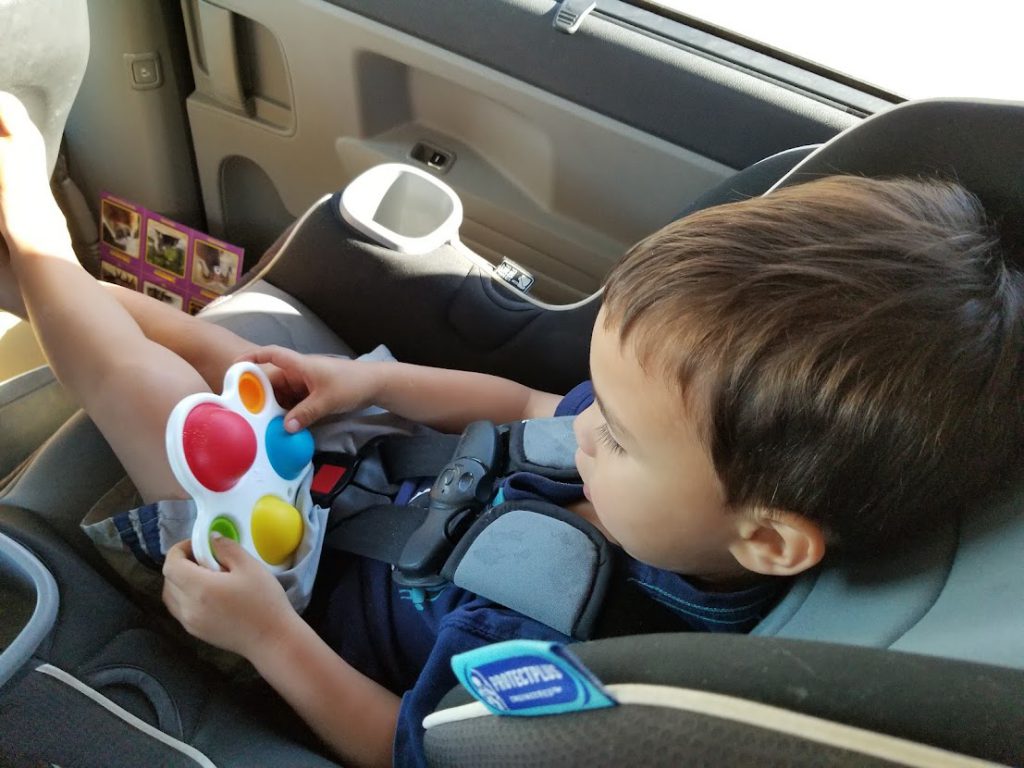 Dimple fidget poppers are a fun way to keep your child engaged while you're driving.
Our kids loved pushing the buttons in and out and I was surprised how long this activity kept them entertained. And it's a great calming sensory activity for when children (or adults) are feeling agitated.
Play I Spy
Some road trip activities for toddlers don't have to involve any special gear. Another option for keeping a toddler entertained on a drive is to talk about what they see out the window (my kids get so excited whenever they see trucks while we're driving) or play a game like I Spy.
Your toddler will love guessing the object you are thinking of, just make sure it's not something you pass before they can guess what it is.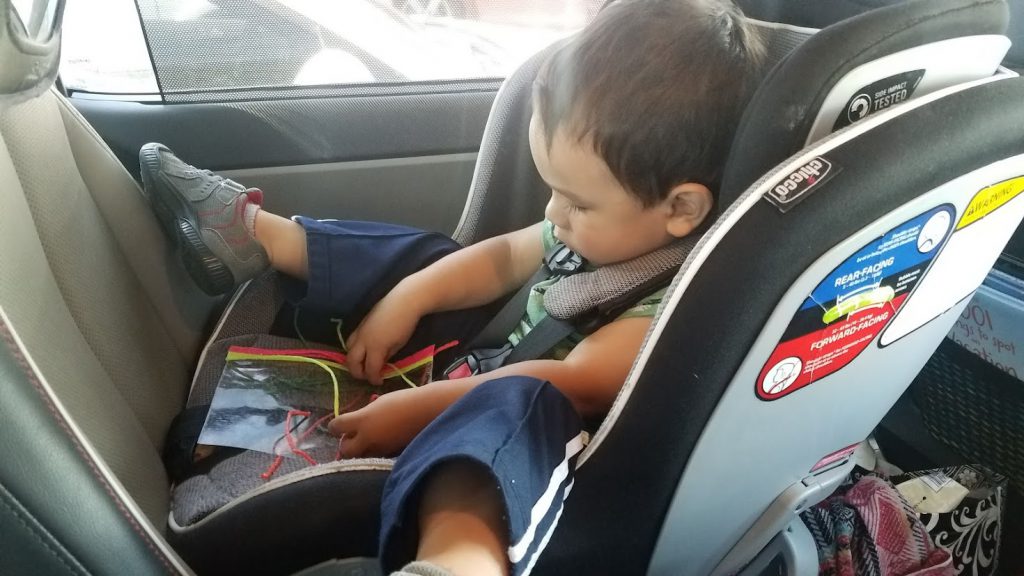 Wiki Stix are a non-messy way for toddlers to practice fine motor skills and express some creativity. The wax sticks can be bent and formed into various shapes, letters, and designs.
To make anything very elaborate a toddler will need a little help, but our toddlers have enjoyed just manipulating the sticks or squishing them into colorful balls. And they love it when we help them to make words or small objects (crude animals, flowers, etc).
Tell Stories
A fun way to pass the time while driving is to tell stories to your toddler. You can recap what you did on your trip or what you are going to do. Or you can make up stories about whatever interests your toddler.
One of our boys' favorite things is when dad tells "truck stories", which are just stories he makes up about trucks at a construction site.
On our most recent road trip, this was one of our toddler's favorite ways to pass the time. He would say, "Tell truck stories, daddy!" and then listen with rapt attention to whatever story his dad made up.
Snacks
For toddlers, snacks definitely count as a road trip activity. If they are starting to get whiny or are heading towards a meltdown, pull out a snack! I am constantly in awe of the power of a good snack to reset a toddler when they are starting to lose it.
And it's just a nice way to keep your child occupied for a little while during the drive. Be sure to bring a snack catcher so that your toddler can feed themselves without accidentally dumping their snack all over the car.
For ideas of awesome road trip food and snacks, see this post.
Looking out the window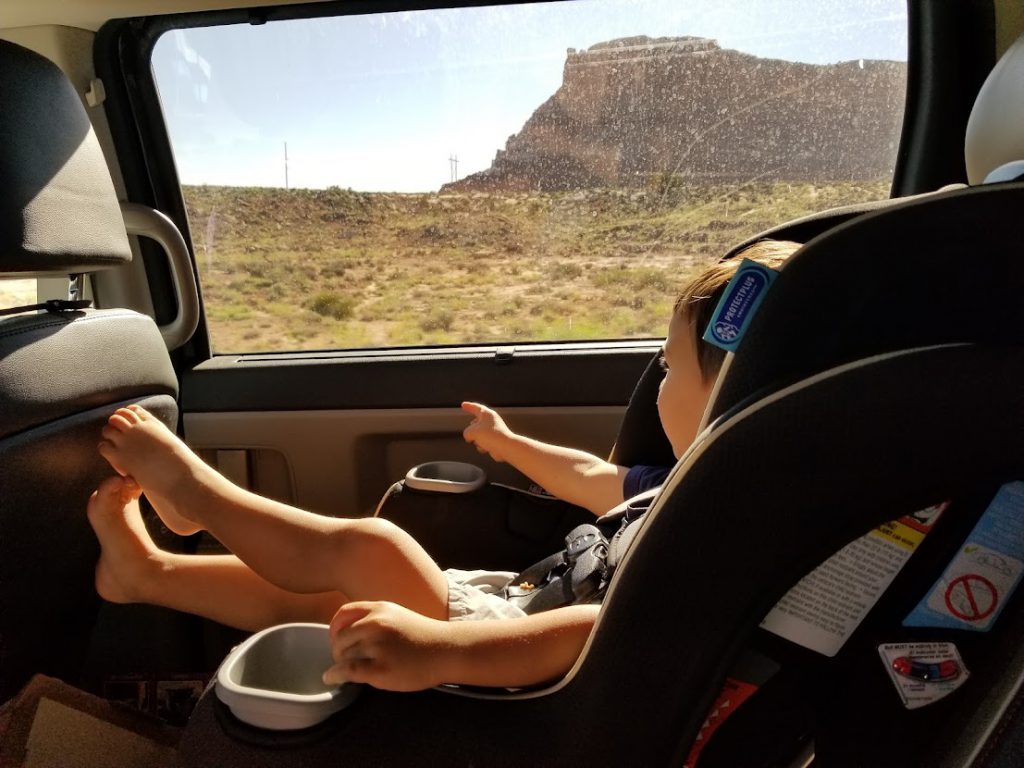 If your child is content sitting and looking out the window, let them!
Often we're so focused on keeping toddlers entertained that we don't follow their cues and allow them downtime when they want it.
My children can be entertained for hours just sitting and looking out the window when we're driving. As long as they are content, I just leave them be. I don't bring out activities for them until they ask for something to do.
Final Thoughts
You really can have a great family road trip with a toddler along. We've made so many fun family memories on road trips with our young children.
But if you're planning a long drive with a toddler, make sure you have some great road trip activities to keep them entertained. You'll be glad you were prepared!
Other posts you might be interested:
How to Have a Successful Road Trip with a Toddler
50+ Road Trip Food Ideas- Easy Meals On the Go!
7 Essential Tips for Road Tripping with a Baby