This page may contain affiliate links, which means that we may earn from qualifying purchases at no additional cost to you.
Planning a trip to Yellowstone National Park? This 3 day Yellowstone itinerary has everything you need for a perfect visit to this spectacular park!
In this itinerary, you'll hit all of the most famous sights in Yellowstone, with some time factored in for lesser-known gems and wildlife spotting.
We've been to Yellowstone several times over the years, most recently with our children (for more on visiting Yellowstone with kids, see this post), and every time we're left in awe of this majestic park.
There is so much to see in Yellowstone National Park it can be hard to know where to begin. And you don't want to miss any of the best sights in the park!
We have you covered with our Yellowstone 3 day itinerary based on our own personal experience visiting the park. We'll walk you through the places you need to visit with helpful tips to make your experience go as smoothly as possible.
Read on for a perfect 3 day Yellowstone itinerary!
**The road between Tower-Roosevelt and Canyon is currently closed and is expected to open again in the spring of 2022. This itinerary takes that closure into consideration.
3 Day Yellowstone Itinerary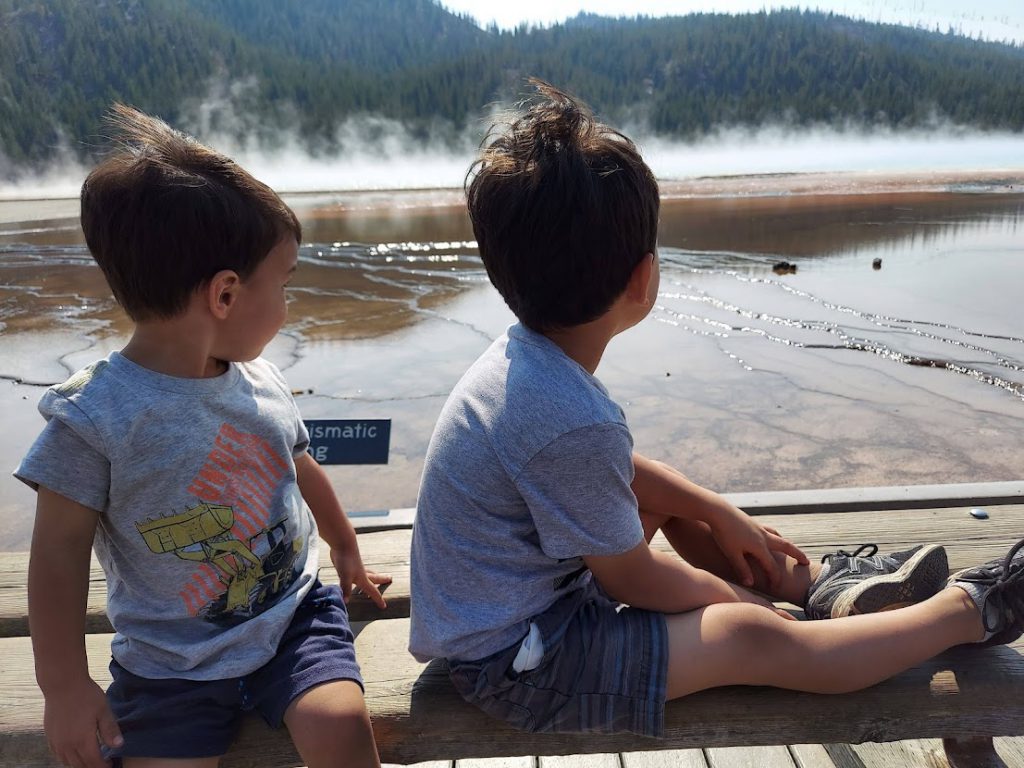 3 Day Yellowstone Itinerary Overview
Here is an overview of the 3 day Yellowstone itinerary.
Obviously this is a general outline and you can adjust the schedule based on where you are entering and leaving the park and where you are staying during your visit. But these sights are placed into groupings that are convenient to visit in a day.
Day 1 Overview
Mammoth Hot Springs
Undine Falls and Wraith Falls
Norris Geyser Basin

Porcelain Basin
Back Basin

Artist Paint Pots
Day 2 Overview
Upper geyser basin

Old Faithful
Old Faithful Inn
Morning Glory Pool

Midway Geyser basin

Grand Prismatic Spring
Grand Prismatic Spring Overlook

Lower Geyser Basin
Day 3 Overview
Grand Canyon of Yellowstone
Hayden Valley
West Thumb Geyser Basin and Yellowstone Lake
Day 1
This first day will be focused on the north end of the park, starting off at Mammoth Hot Springs and then working down to the stunning Norris Geyser Basin.
Mammoth Hot Springs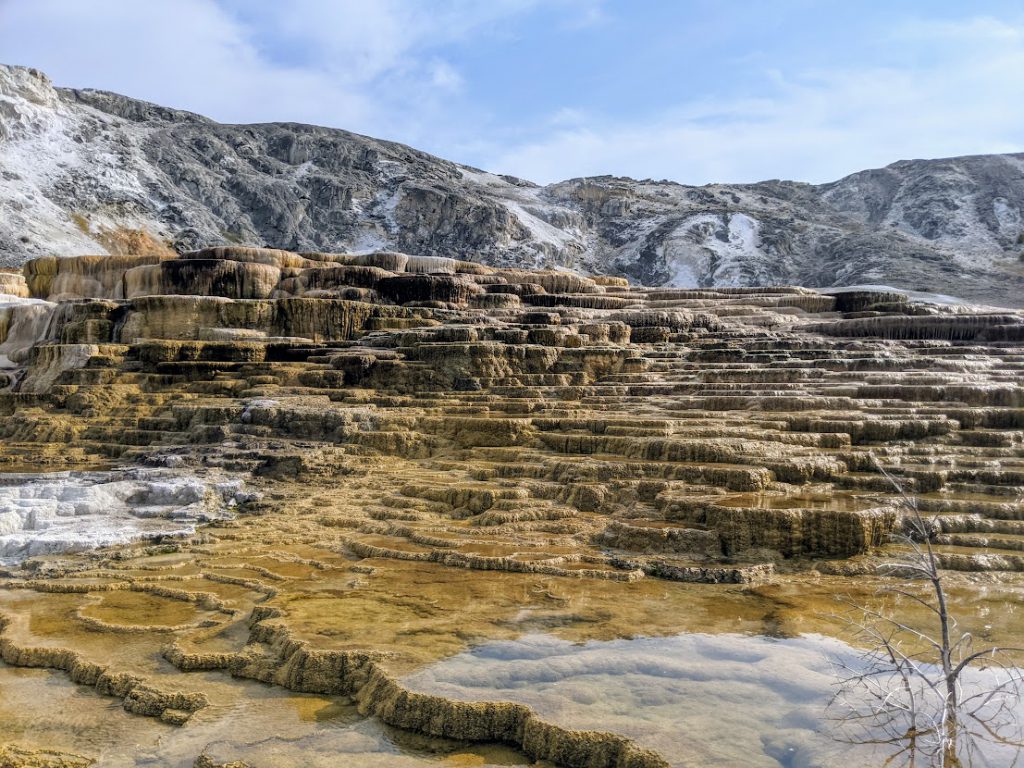 Mammoth Hot Springs is a series of travertine terraces formed by the steaming, flowing water that continues to shape and change the area.
This area has a very different feel from some of the other features you'll see in Yellowstone. I've heard some people say that they weren't impressed with terraces, but we found it to be unique and fascinating. And definitely worth a visit.
The path consists mostly of boardwalks on a gradual incline with several sets of stairs to reach the top. Parts of the path are wheelchair and stroller accessible, just check the map at the entrance to see the correct route to take to avoid the stairs.
This is an exposed hike with no shade, so plan to bring hats and sunscreen. It also tends to be windy, so make sure all of your items are secure (we saw quite a few hats in the springs).
Plan in 1 to 2 hours to visit the whole area, including both the Upper and Lower Terraces.
There is also parking near the Upper Terraces, so you can view the top from there if you'd prefer not to hike up.
Waterfalls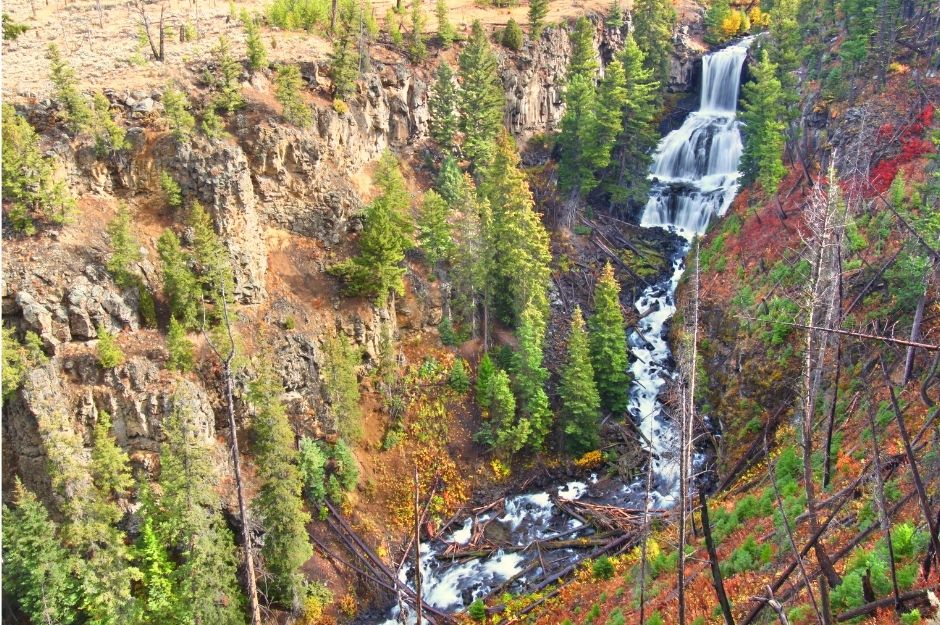 Located just to the east of Mammoth Hot Springs you can find two easily accessible waterfalls. If you're running behind on your schedule, you can easily skip a visit to these falls (you want to make sure you have time for Norris Geyser Basin), but it's worth a stop if you can fit it in.
Undine Falls is easily visible from a roadside pull-out. Pull over for a few minutes to take in the sight of the lovely three-tiered waterfall, standing at 60 feet tall.
Two minutes further down the road is the trailhead to get to Wraith Falls, a 79-foot waterfall tumbling down a rock slope. Wraith Falls is an easy 1-mile hike about 6 miles east of Mammoth Falls.
Norris Geyser Basin
Next up is Norris Geyser Basin. This basin is the most dynamic, acidic, and hottest of all of Yellowstone's geyser basins. It's a gorgeous area and a must-see when you're visiting Yellowstone.
Norris Geyser Basin is made up of two parts- Porcelain Basin and Back Basin. Plan on at least two hours to hike through both basins. At the entrance, there is also a small museum where you can learn more about the hydrothermal features of the area.
Porcelain Basin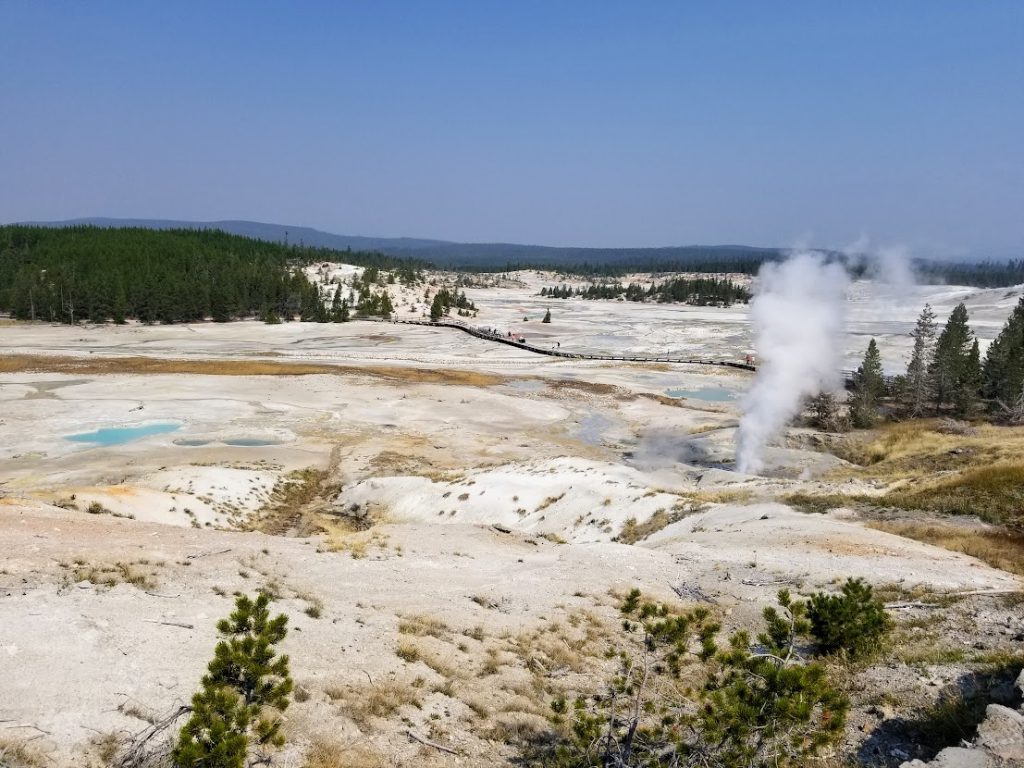 Porcelain Basin consists of an easy, 1-mile loop through hot springs and geysers.
Of the two basins, this is the most visually stunning and provides more bang for your buck with hundreds of geothermal features packed into a small area.
It is an open area with no shade, so make sure to bring water and sun protection.
Back Basin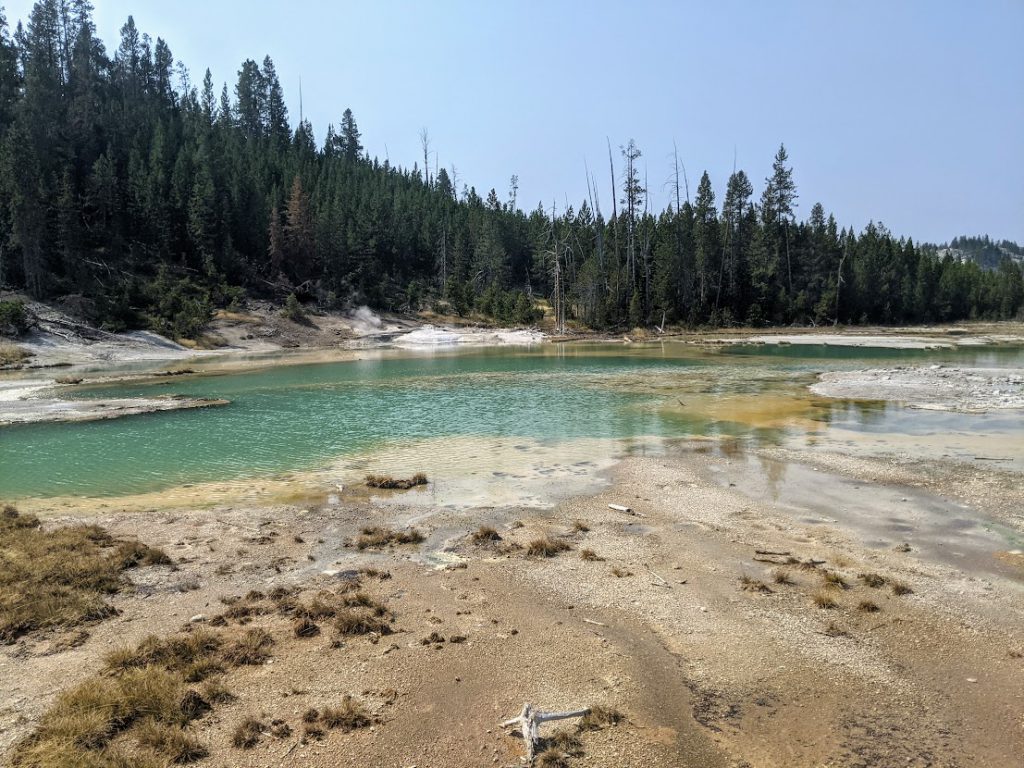 After finishing with the Porcelain Basin Loop, you can make your way over to the Back Basin Loop, which has a very different feel from Porcelain Basin.
Over the 1.75 mile hike through Back Basin you can see geysers, hot springs, mud pots, and steam vents. Unlike Porcelain Basin, this is a forested path with more spread-out features.
The biggest draw in Back Basin is Steamboat Geyser, the tallest active geyser in the world. Of course, its eruptions are not predictable, so you can't guarantee you'll see it in action. When we were there, we were able to see a minor eruption, but the 300-feet major eruptions are much more infrequent.
Artist Paint Pots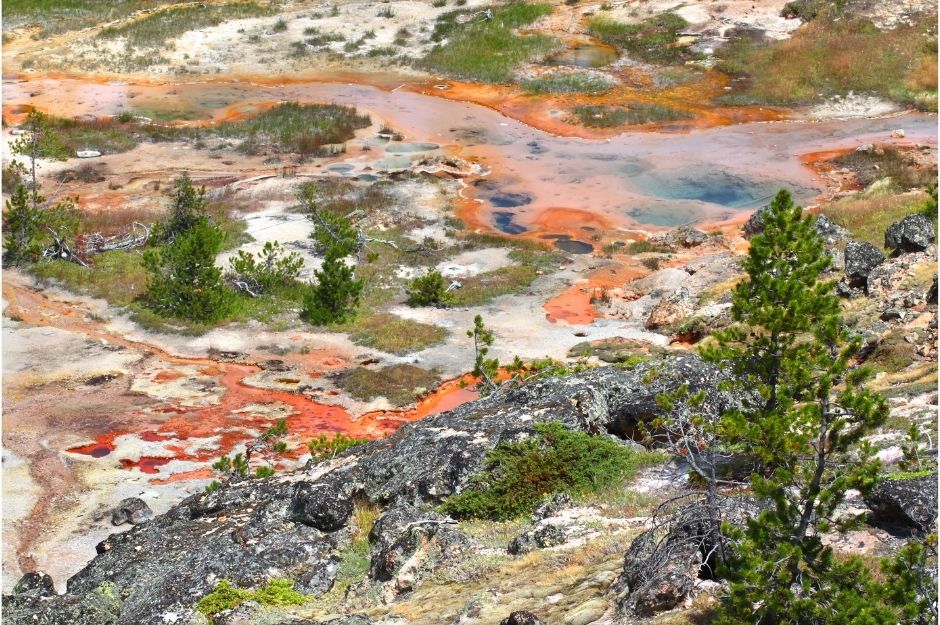 If you have time left at the end of the day, make a stop at Artist Paint Pots, located just a few miles south of Norris Geyser Basin. The path is an easy 1-mile loop past bubbling mud pots and hot springs.
Day 2
Today is all about the geysers! You'll cover the Lower, Midway, and Upper Geyser Basins and all of the wonders found within them. This grouping includes some of the most famous sights in Yellowstone, including Old Faithful and Grand Prismatic Spring.
There is a lot to see here, but it's all located close together so you can reasonably cover everything in one day.
Upper geyser basin
If you want to see geysers, this is the best place in the park to do so. Upper Geyser Basin has the highest concentration of active geysers of any area in the world.
And in this area, park rangers forecast the eruption times for five geysers (including Old Faithful), which makes it easier to schedule your visit to the geysers at a time when they will be erupting.
Old Faithful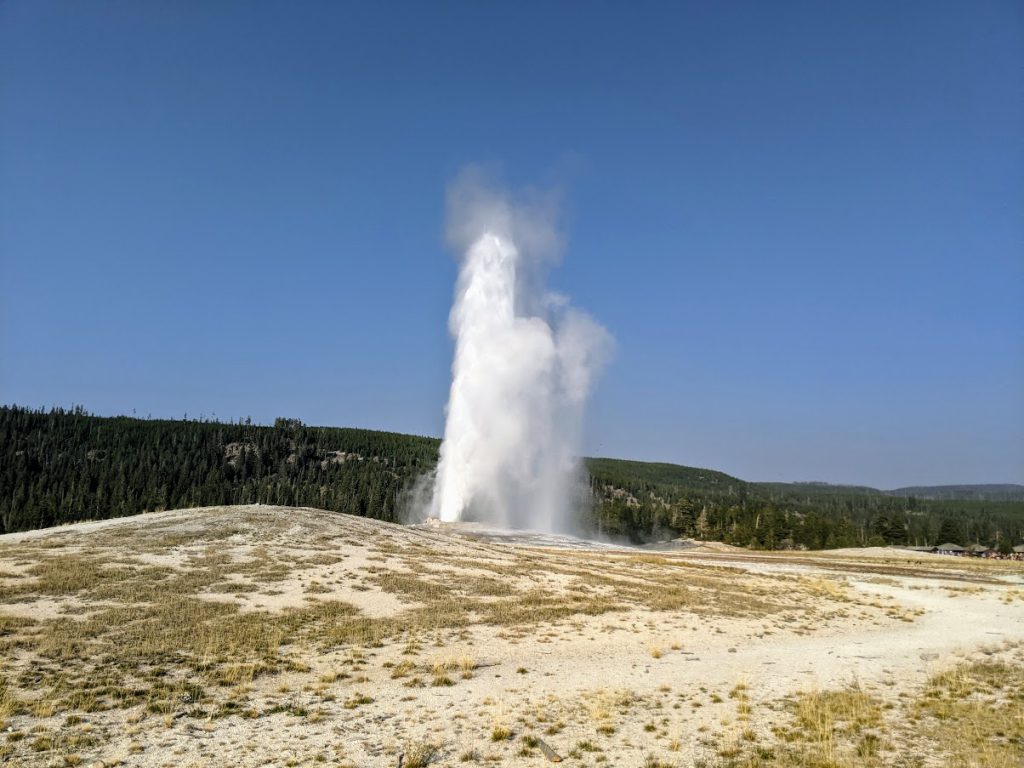 The biggest draw in the Upper Geyser Basin (and probably the most popular spot in the whole park) is Old Faithful.
Contrary to popular belief, Old Faithful is not the most predictable geyser in the park, nor is it the biggest. However, it does have the most frequent eruptions out of the big geysers in the park, which is what draws huge crowds to witness the eruptions (usually spaced about 90 minutes apart).
When Old Faithful erupts, it is a sight to behold the steaming water shooting up to 180 feet in the air.
The eruption time is predicted plus or minus 10 minutes, so get there a bit early and expect that you could be waiting for up to twenty minutes before the geyser erupts.
Old Faithful Inn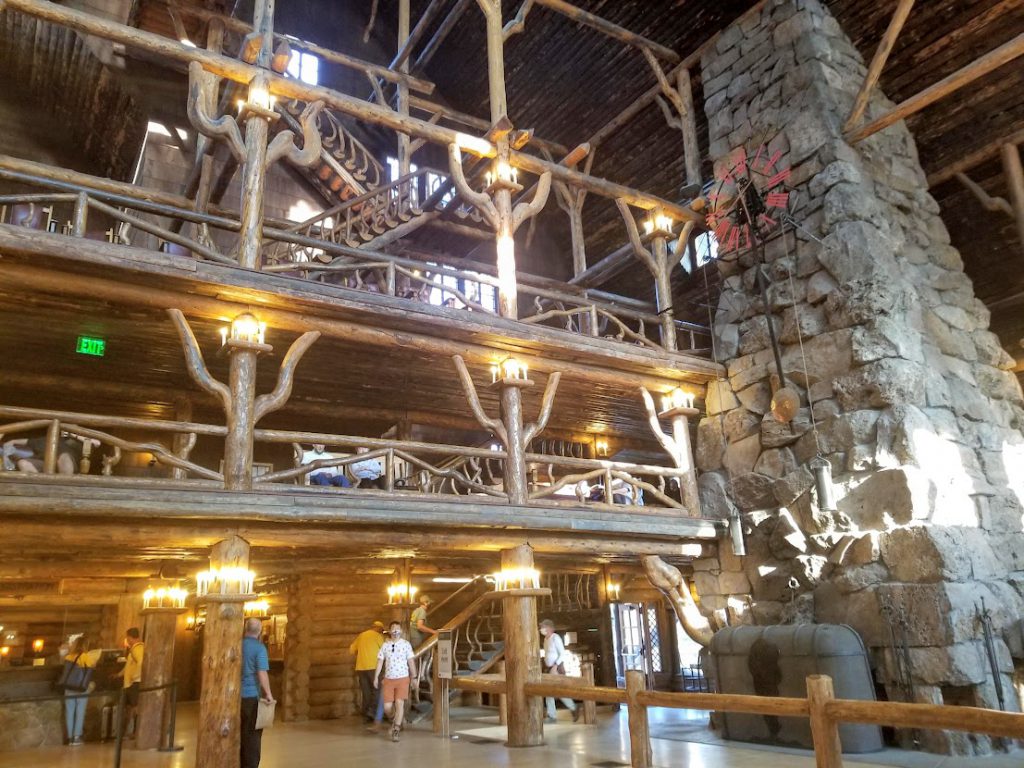 Just a couple minutes walk from Old Faithful is Old Faithful Inn, the oldest log building in the world and a national historic monument.
It is quite an imposing sight and well worth a visit when you're in the area. The Inn also has a very reasonably priced buffet if you happen to be there during a meal time (but make a reservation in advance to avoid a long wait).
Morning Glory Pool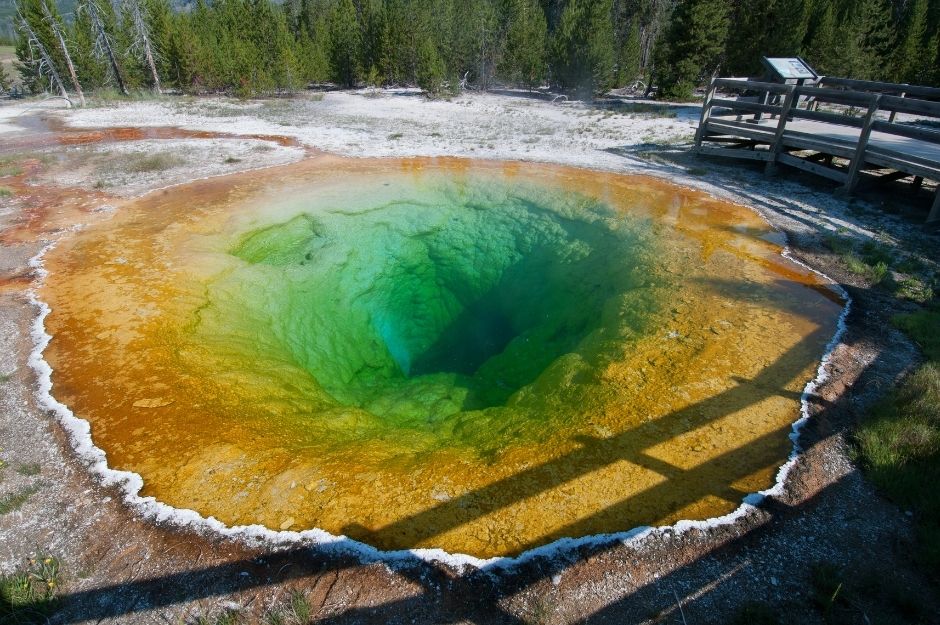 While you're in the Upper Geyser Basin, be sure to take the 1-mile hike to Morning Glory Pool.
The path to the pool is really more of a stroll than a hike. It follows flat, paved paths and boardwalks and it is wheelchair and stroller accessible.
Along the way, you'll see Castle Geyser and Daisy Geyser, which erupt less frequently than Old Faithful, but are still very impressive if you can catch them while they are active.
Our kids were delighted to walk up to find Castle Geyser erupting and framed by a beautiful rainbow. (It was also here that we were accidentally sprayed with bear spray, but that's a story for another time…)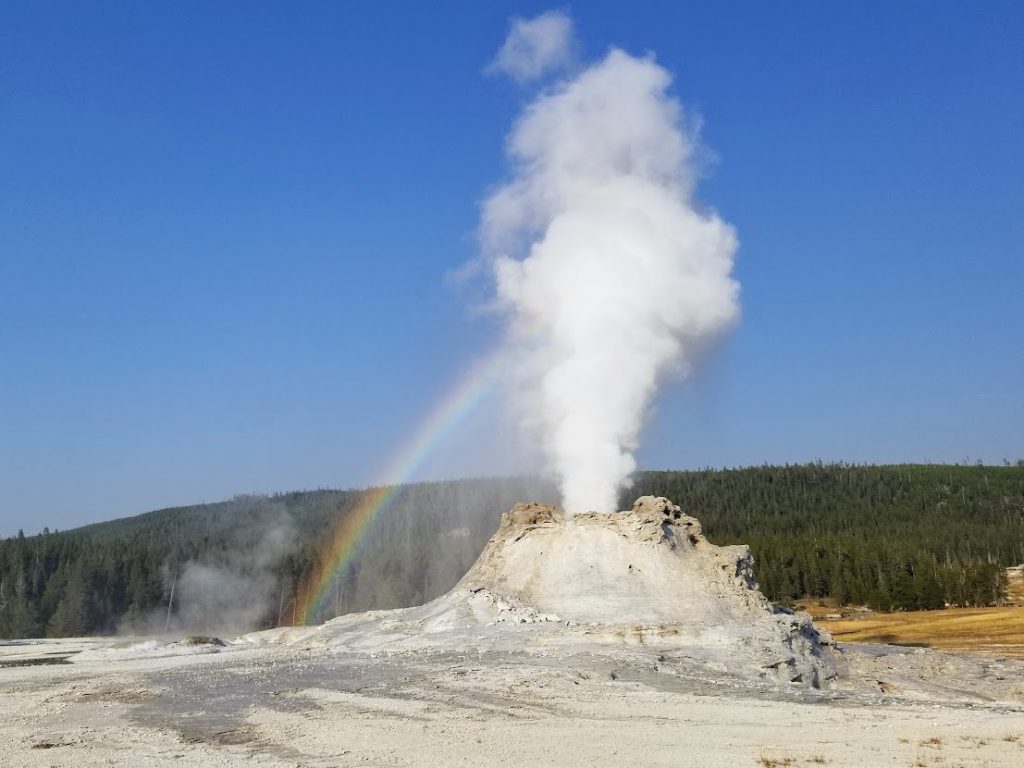 On your return, you can either come back the way you came or complete the Upper Geyser Basin Loop to see many more thermal features (highly recommended). The whole loop is about 3 miles long and can take a couple of hours as there is so much to see along the way.
Tip: As soon as you arrive at the Visitor Center, check to see the forecast for the eruptions of the major geysers and then plan your time in Upper Geyser Basin accordingly.
Midway Geyser Basin
Grand Prismatic Spring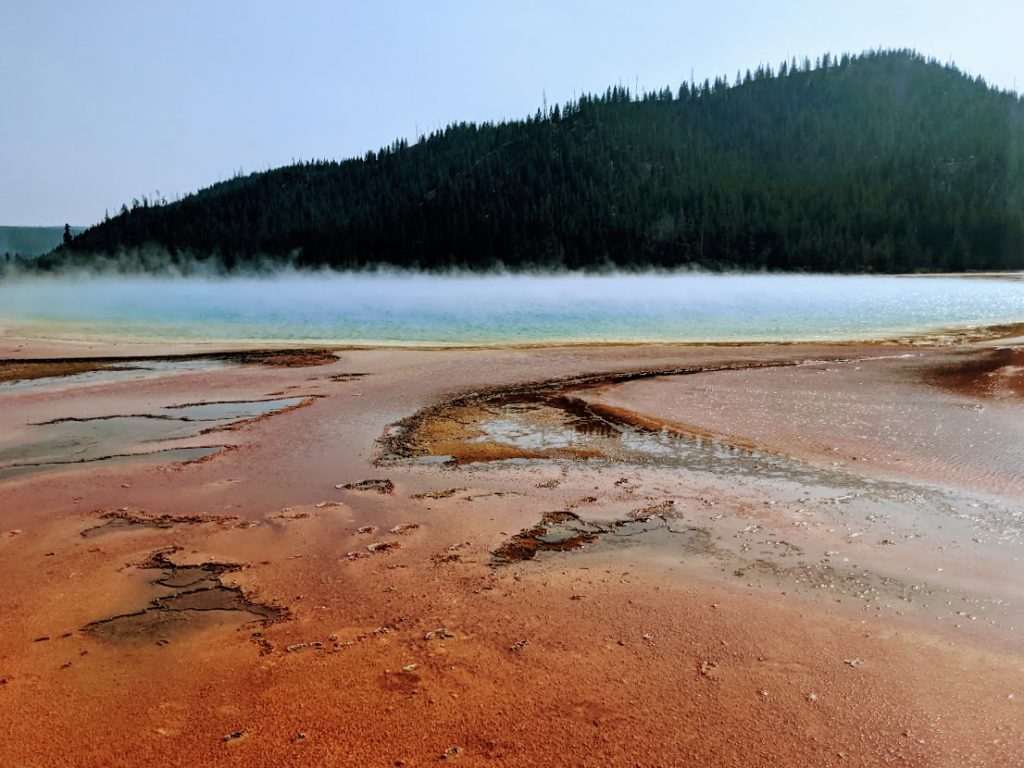 After finishing the Upper Geyser Basin, drive about 15 minutes down the road for a visit to Midway Geyser Basin and the famous Prismatic Spring.
The largest hot spring in the United States, this stunning thermal pool is the most photographed spot in Yellowstone. It is famous for its striking rainbow hues created by the heat-loving microorganisms that live in the waters.
The spring is just a short walk from the parking lot, but you may have to wait a few minutes to find parking as this is one of the most popular locations in the park. The boardwalk that loops around the springs is wheelchair and stroller accessible.
Also located along the boardwalk are Excelsior Geyser (which used to have eruptions up to 300 feet tall, but is now just a hot spring), Opal Pool, and Turquoise Pool.
Grand Prismatic Spring Overlook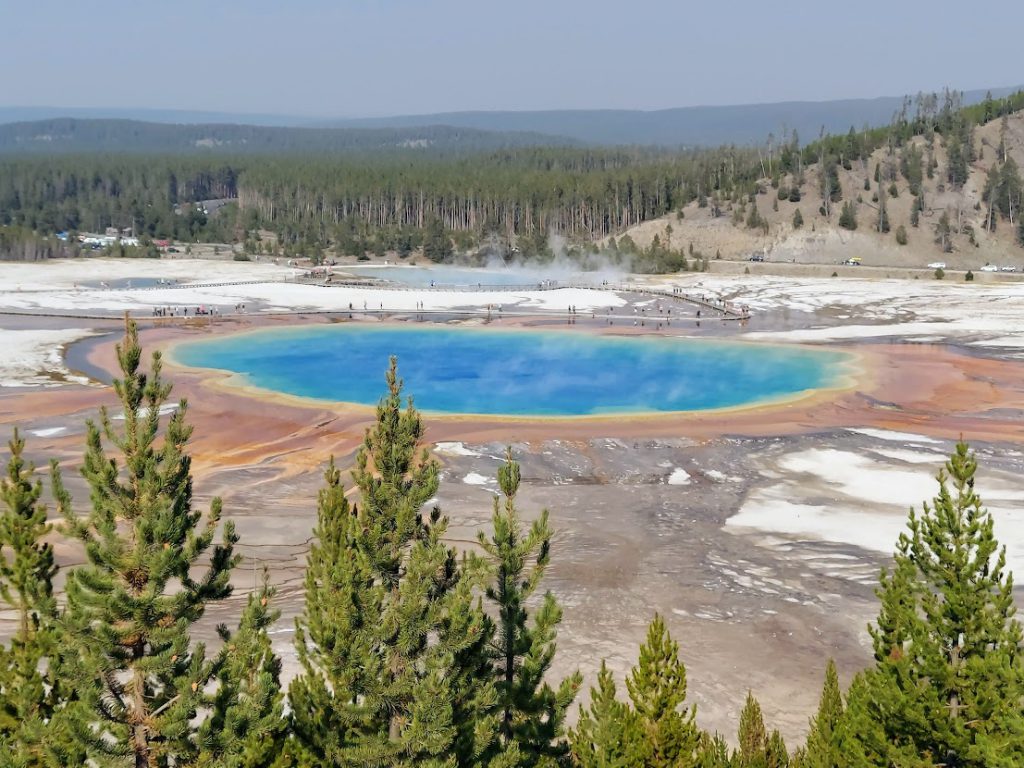 Although Grand Prismatic Spring is well worth a visit, the best way to get the full effect of the hot springs is from the Grand Prismatic Springs overlook. The overhead view allows you to really see the vibrant colors of the spring in a way that is difficult to do from ground level.
To get to the overlook, take the quick .6 mile hike starting from the Fairy Falls Trailhead parking lot. It's a 105 foot gain for a stunning view of the spring.
Lower Geyser Basin
Fountain Paint Pots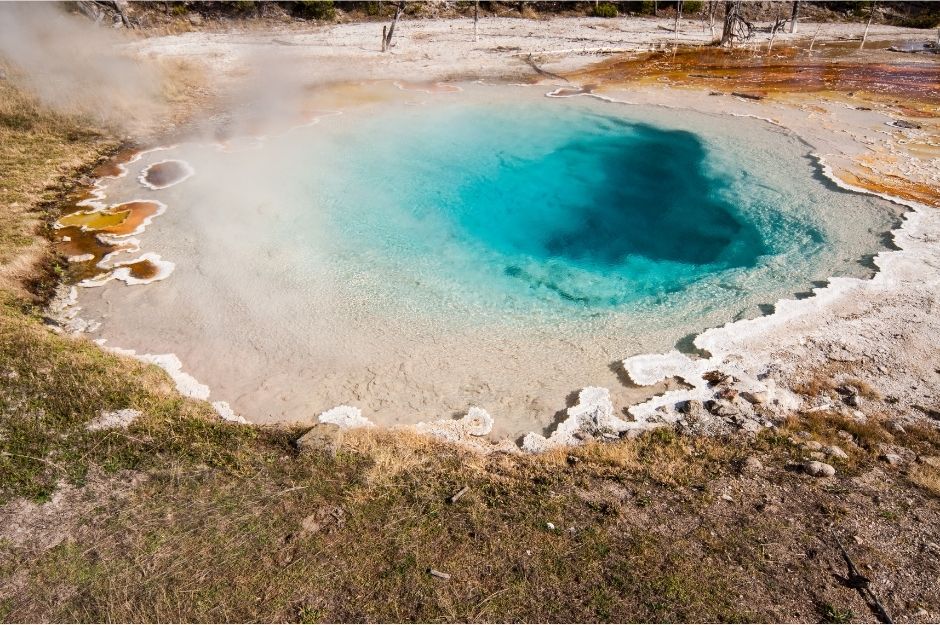 As the last stop of the day, drive a couple of minutes down the road to stop at the Fountain Paint Pots.
The Fountain Paint Pot area contains all four of the most common geothermal features in Yellowstone: geysers, mud pots, fumaroles, and hot springs. It's a quick half-mile walk along a boardwalk to view the area.
If you're short on time, this is one area you can skip, but it's worth it if you can fit it in.
Day 3
Today you'll be focused on the eastern side of Yellowstone, with a focus on the majestic Grand Canyon of Yellowstone and an opportunity to spot some of the wildlife in Yellowstone.
Grand Canyon of Yellowstone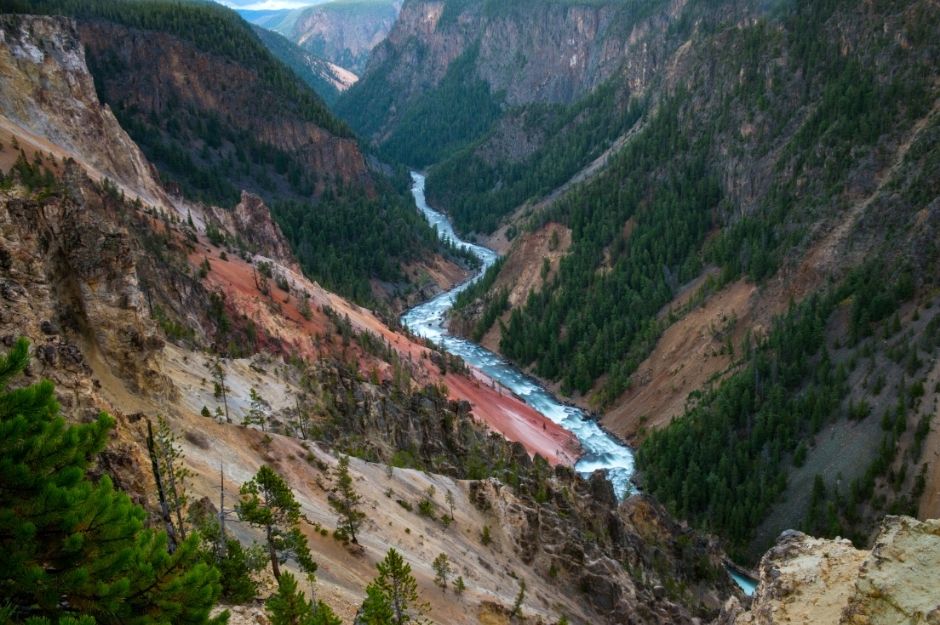 Located near the center of the park, the Grand Canyon of Yellowstone is a place you don't want to miss while visiting Yellowstone.
The canyon, formed over time by Yellowstone River eroding lava flows, boast dramatic colors and a towering waterfall. It's over 20 miles long and in some places can get as deep as 1200 feet.
You have several options for viewing the canyon, from short hikes to roadside lookouts. For our three-day Yellowstone itinerary, we've planned stops at the best viewpoints along both rims.
Plan a couple of hours here to really be able to appreciate all that the canyon has to offer.
North Rim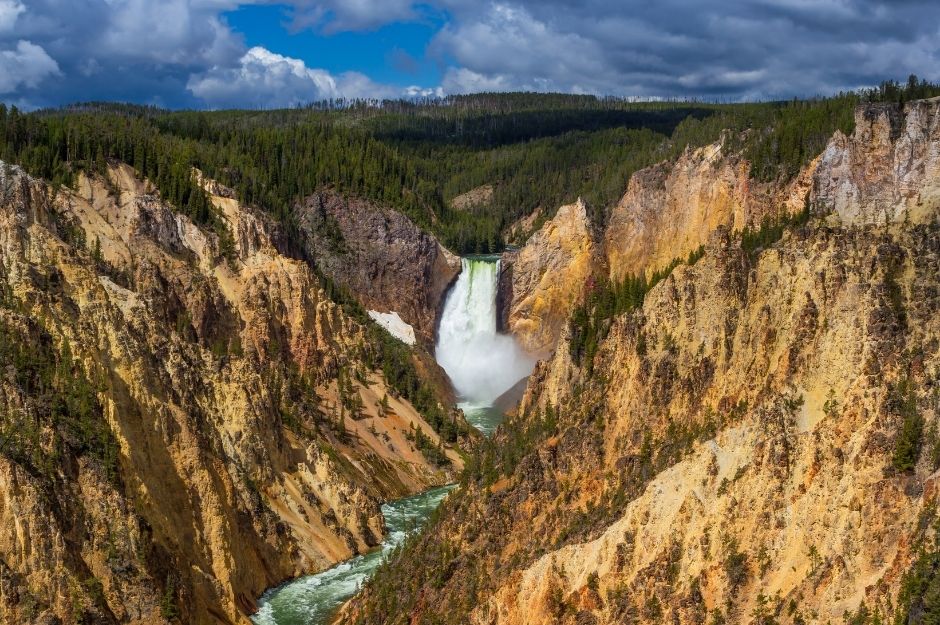 One of the most popular places for viewing the canyon and the impressive lower falls is from Artist Point, a roadside overlook along the South Rim.
From the Artist Point parking lot, you can take Uncle Tom's Trail for a closer view of the falls (this trail was closed while we were there, but does come highly recommended). The .7-mile trail follows a paved path and ends in a 328-step descent to the overlook.
Also located nearby is Upper Falls View, which is the best spot for viewing the smaller Upper Falls.
South Rim
From the north side, take the one-way North Rim Drive for a different perspective on the canyon. On this route, stop at Lookout Point, Grand View, and Inspiration Point for panoramic views of the canyon from the north side.
Hayden Valley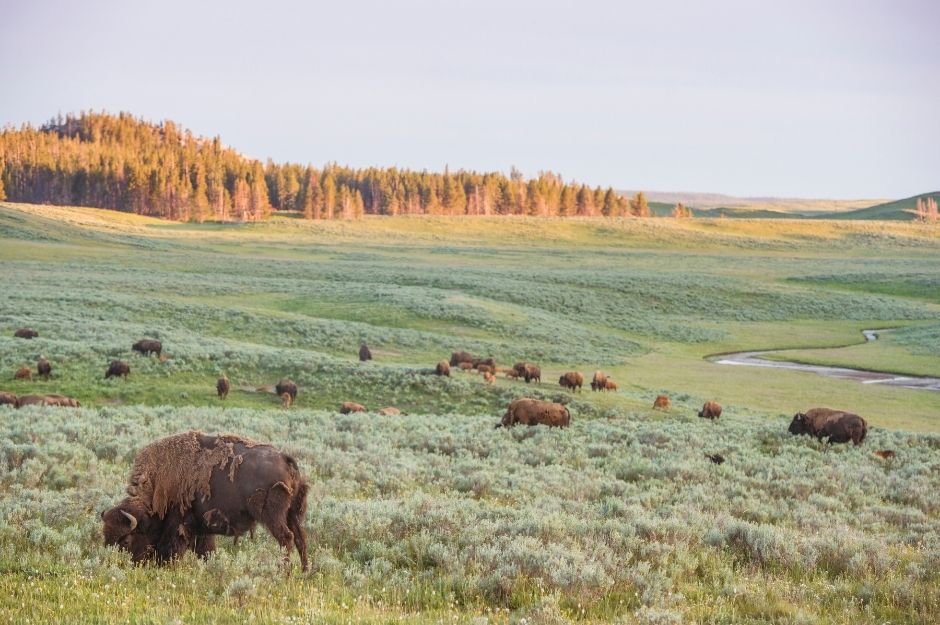 Next, head south for the chance to see some of the animals that call Yellowstone home!
Hayden Valley is one of the best places in Yellowstone to see wildlife (along with the more remote Lamar Valley in the northeast).
In a drive through Hayden Valley, you're likely to see herds of bison and elk and perhaps even some bears, wolves, or moose if you're lucky. Besides the animals, it's a lovely drive that will give you a chance to enjoy the beauty of the park.
The best times to see animals are in the early morning and the evening, so try to plan your visit around those times. (If you're staying in Canyon Lodge, plan to spend more time here on your way back from West Thumb Geyser, as that will put you in the valley in the evening when you're more likely to see animals). And be sure to bring your binoculars for the best animal viewing experience!
There are often backups along this road as people slow down or stop to view the animals, so take that in to account when planning your visit.
West Thumb Geyser Basin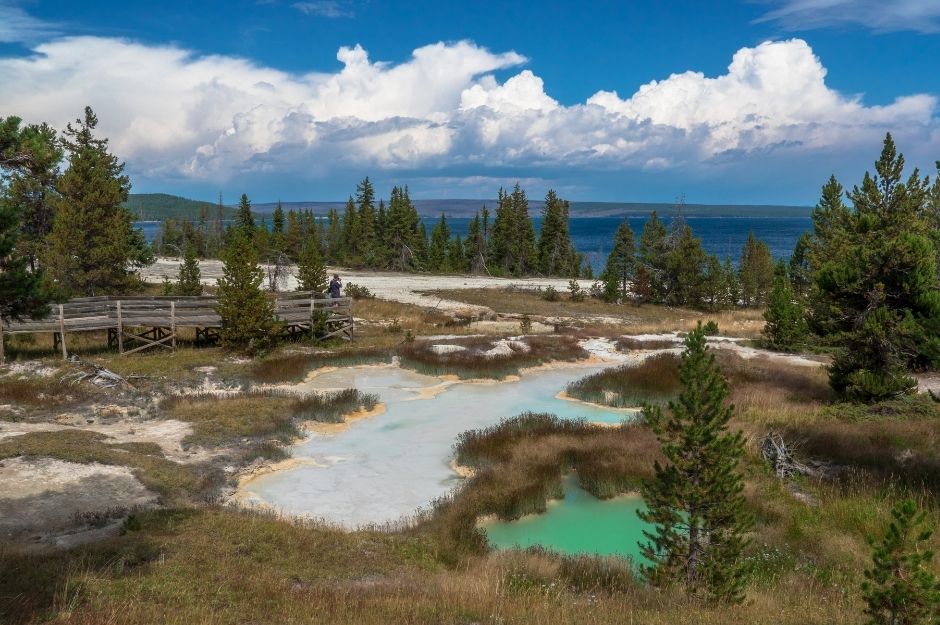 After making your way through Hayden Valley, continue on south until you read West Thumb Geyser Basin.
The drive takes you around the west side of Yellowstone Lake, which is considered the largest high elevation lake in North America. Near Bridge Bay, there are some pullouts that provide nice views of the lake, so take the opportunity to stop and take some pictures or just marvel at the vast body of water.
Located along the shore of Yellowstone Lake, West Thumb Geyser Basin provides another opportunity to see the thermal features of Yellowstone as well as beautiful views of the enormous lake.
The hike is only about .6 miles long along a dirt and boardwalk path, so it can be completed relatively quickly.
The best features here are the thermal pools and the overlook of Yellowstone Lake.
3 Day Yellowstone Itinerary Extras
These are a couple of places that didn't make it into the 3 day Yellowstone itinerary just based on time constraints but are definitely worth a visit, depending on what you want to see most.
Lamar Valley
Although it is a little out of the way from some of the other main sights in the park, Lamar Valley is well worth a visit if one of your main goals in Yellowstone is to see the wildlife. Called the Serengeti of Yellowstone, Lamar Valley is one of the best places to see the "Big Five"- bears, wolves, moose, elk, and bison.
This stop would fit best in Day 1 of the 3 day Yellowstone itinerary, as it is in the northeast of the park.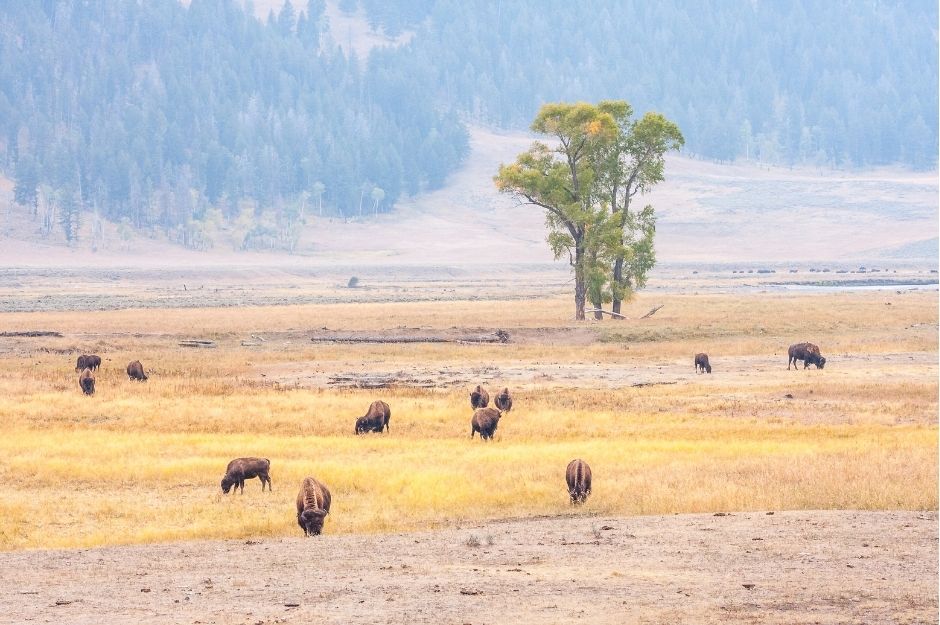 Grizzly and Wolf Discovery Center
Located just outside the park in West Yellowstone, the Grizzly and Wolf Discovery Center allows you to see grizzly bears and wolves up close (it's especially popular with kids).
The animals at the Discovery Center would not have been able to survive in the wild and now act as ambassadors for their counterparts in the wild.
Additional Helpful Information for Visiting Yellowstone
Where to stay for your 3 day Yellowstone itinerary
There are many different options for lodging inside and outside of the park. Note that accommodations typically fill up well in advance, so book early!
For this itinerary, we recommend that you either stay in a centrally located lodge in the park or in West Yellowstone, which is just outside the West Entrance. For the first night, you could also stay at the northern end of the park.
For more information on lodging within the park, see this site.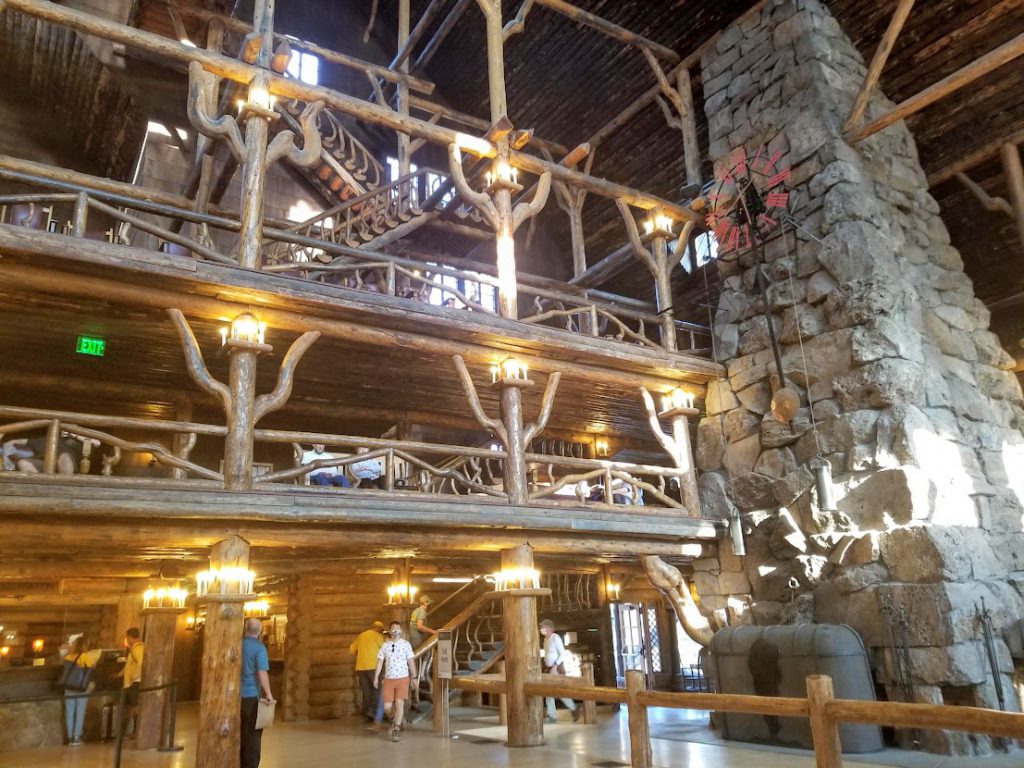 Our top picks within the park:
Best place to stay in the north of the park: Mammoth Hot Springs Hotel and Cabins
Best centrally located place to stay in the park: Canyon Lodge and Cabins
Most popular/famous place to stay in the park: Old Faithful Inn
Is 3 days enough for Yellowstone?
Although you could spend weeks in Yellowstone and still not see everything the massive park has to offer, three days is a perfect amount of time to make sure you hit all the most popular features of the park.
Three days will let you see the most significant sights in Yellowstone without feeling like you're too rushed to pull over and watch that herd of bison grazing by the road.
If you want a slower or more comprehensive experience, you might want to consider adding a day or two to your trip.
However, you really want at least two and a half to three days to do the park justice. While any amount of time in Yellowstone is going to be incredible, on a trip shorter than three days you'll have to make some significant sacrifices in what you're able to see.
The park is so big that it takes a while to get around, so even if you pack a lot into one day you'll still be limited in what you'll be able to see in one or two days.
Best time to visit Yellowstone National Park
The best time to visit Yellowstone is in the summer months. July and August are the most popular months for visiting the park, meaning they are the most crowded.
If you want to avoid the crowds, plan to visit Yellowstone in May or early June, or in September or October. These shoulder months allow you to skip the crowds but still have the best chance of avoiding road closures and experiencing nice weather.
Entrance Cost
A 7-day pass to Yellowstone cost $35 at the time this article was written.
If you plan on visiting any other parks in the next year, you might want to consider getting an America the Beautiful pass, which provides you access to all US National Parks for $80 a year.
Wildlife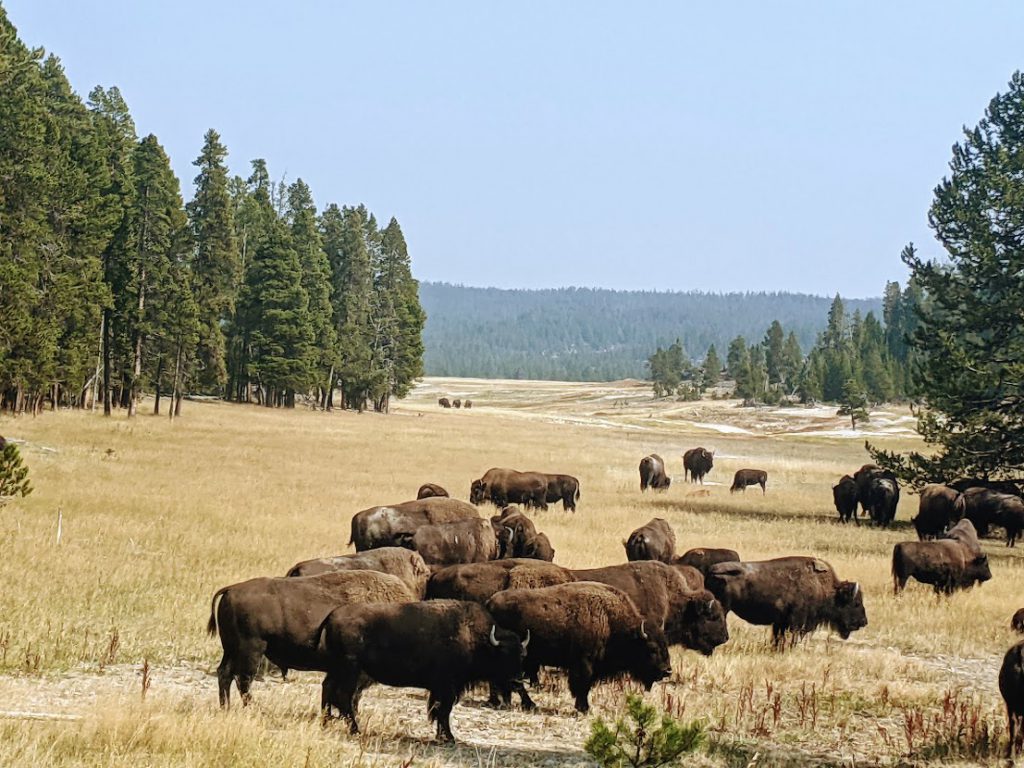 While at the park, be sure to be respectful of the animals that call Yellowstone home. These are wild animals that should not be approached or fed for any reason.
At all times, stay 100 yards away from bears and wolves and 25 yards from other wildlife, including elk and bison.
If you're planning on hiking, it is recommended that you carry bear spray (which can be purchased in and around Yellowstone), but make sure you handle it carefully and know how to use it.
Getting around the park
The park covers 2.2 million acres, so make sure to plan in plenty of time for getting around.
On top of that, the maximum speed limit in the park is 45 miles per hour and you will often face traffic jams due to animal crossings or slowdowns from animal sightings.
So plan in a little extra time to make your way through the park so you can relax and enjoy the scenery on your drive.
Final Thoughts
Three days in Yellowstone is the perfect amount of time to get a great feel for the wonders of this world-renowned National Park. And this 3 day Yellowstone itinerary will make sure you experience as much as possible in a short time.
From spewing geysers to herds of bison to vivid hot springs, Yellowstone contains many wonders that are sure to delight visitors of all ages.
And perhaps like us, you might even leave looking forward to the time when you can come back to visit again!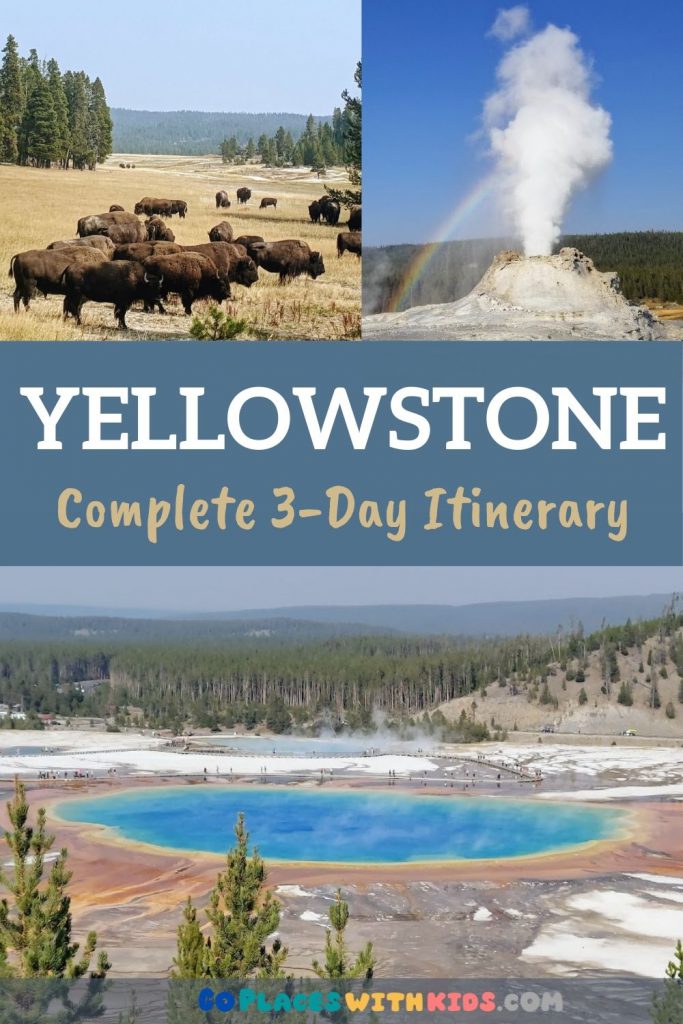 Other posts you might be interested in:
The Ultimate Guide to Yellowstone with Kids
50+ Road Trip Food Ideas- Easy Meals On the Go!