This page may contain affiliate links, which means that we may earn from qualifying purchases at no additional cost to you.
Being trapped in a car with a toddler for an extended period of time might sound like some cruel form of torture. But let me assure you, you really can have a successful road trip with a toddler.
We've been on many road trips with our toddlers over the years, sometimes more successfully than others.
But through those experiences we've come up with some sanity-saving hacks to make the whole proccess go a lot more smoothly for everyone.
In this post we have tips for an awesome road trip with a toddler and a toddler road trip checklist to make sure you aren't forgetting anything important.
If you're planning a road trip with your toddler, you've got this! Read on for ideas to help!
For tips for road tripping with a baby, see this post and for more helpful travel items, see our ultimate list of toddler travel essentials!
Tips for a Successful Road Trip with a Toddler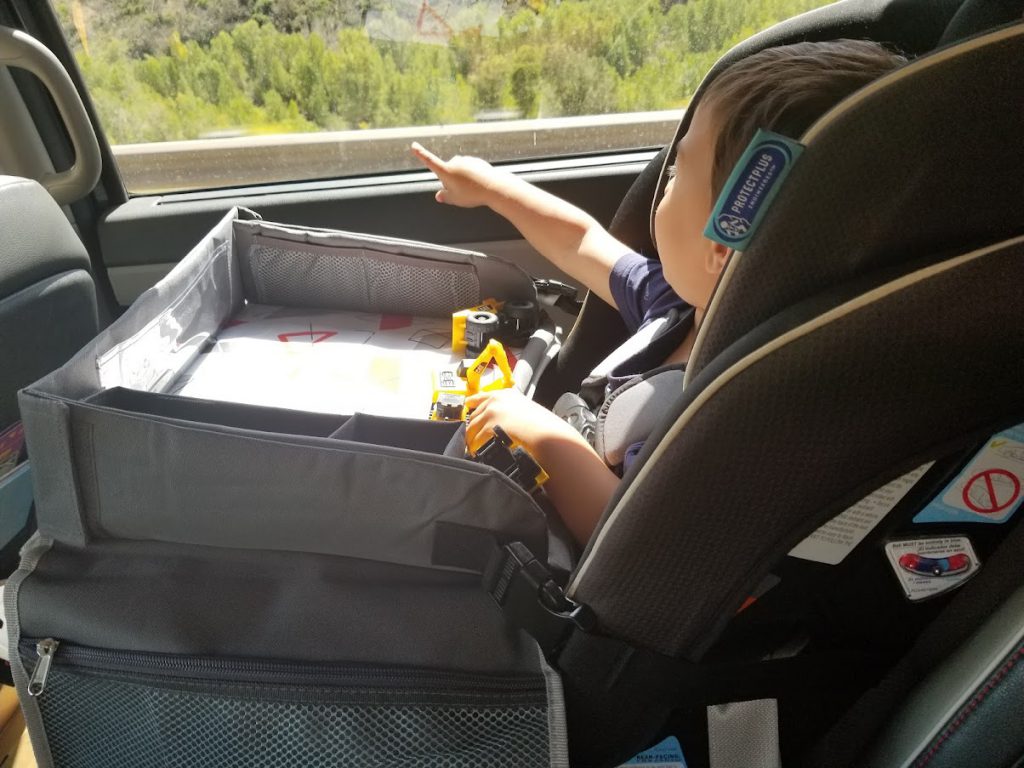 Prepare before you leave
There is a lot to think about when you're planning a road trip, especially one with little kids. Here are a few preparation tips to make sure that you are prepared and ready for your drive.
First of all, make sure your car is in good condition for a road trip before you leave. It's a good idea to get it checked out at the mechanic before going on a long trip so they can warn you of any potential problems. You don't want to find out about needed repairs halfway into your drive. Also make sure you're not due for an oil change.
Second, check to see that your child's car seat is properly installed before you head out as well. A properly installed car seat is essential for your child's safety, especially when you're going to be in the car for a long time.
If you need assistance, there are car seat technicians who can check it out for you, just do a quick search for a technician in your area. Sometimes fire stations can also check car seats.
Also plan your food strategy ahead of time. Are you going to mostly eat out or bring your meals? How are you going to store your food? Do you need a cooler and ice? What foods do you need to purchase before you leave?
For tips on planning road trip food and a list of great road trip meal and snack ideas, see this post.
Be organized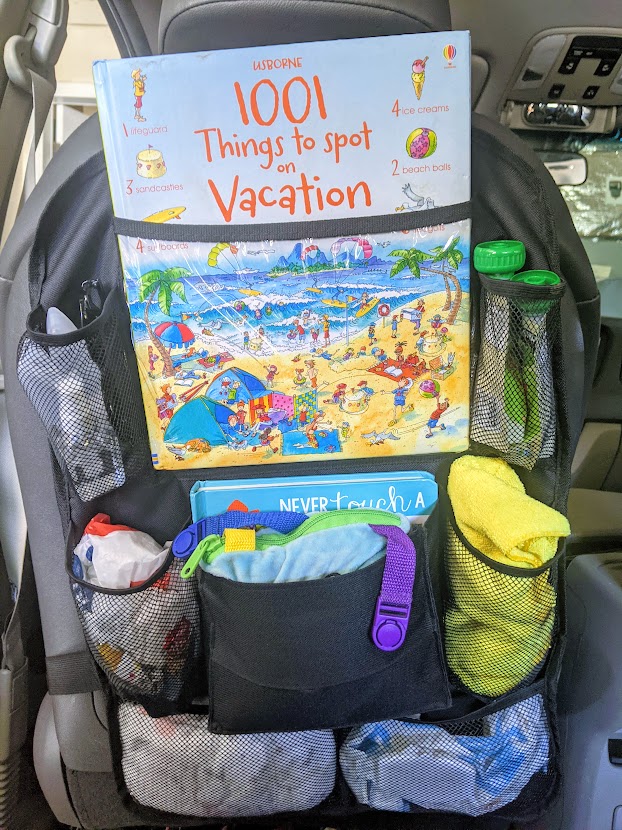 It's easy for your car to quickly become a mess on a road trip. Have a system for how you want to organize your toys, food, etc to keep them accessible.
We love using both seat back organizers and a floor car organizer when we're road tripping to have a structured place to keep road trip food.
These car seat trays are great for toddlers on a road trip because you can use the pockets to have activities accessible whenever they want them.
Tip: Have an accessible place to put everyone's shoes while driving. Our kids will usually take off their shoes when we're on a long road trip and then it's so annoying trying to find that missing shoe when you stop for a bathroom break. We usually keep them under the driver's seat so we know right where to find them when we need them.
Have some awesome toddler road trip activities prepared
If you're going to be in the car for a long time with your toddler, make sure to bring great activities to keep them entertained. You can bring some activities that they love from home, but it also helps to have some new toys or activities they've never seen before.
And the great thing about road trips as opposed to flying is that you often have room for a few extra toys, just to be safe…
Be sure to check out this list of tried and tested toddler road trip activities!
Set your toddler up to sleep on the road
Try to help your child keep to their regular sleep schedule to prevent a toddler meltdown on the road. Often being in the car will lull kids to sleep, but there are also some steps you can take to help them out.
Where possible, maintain elements of their normal sleep routine. If you're driving into their bedtime you can put them in their pajamas and read them a bedtime story or put on some soothing music.
Another helpful tool is a sunshade placed on your toddler's window. This will block out some of the sunlight so that your child will (hopefully) fall asleep and stay asleep easier for naps.
Probably the most important thing you can do for your toddler's sleep is to plan ahead to keep naps uninterrupted. Take a potty break and get gas before nap time so that you don't have to stop when your toddler is sleeping. In my experience, kids tend to wake up as soon as the car turns off and often won't fall back asleep again.
Let your toddler stretch their legs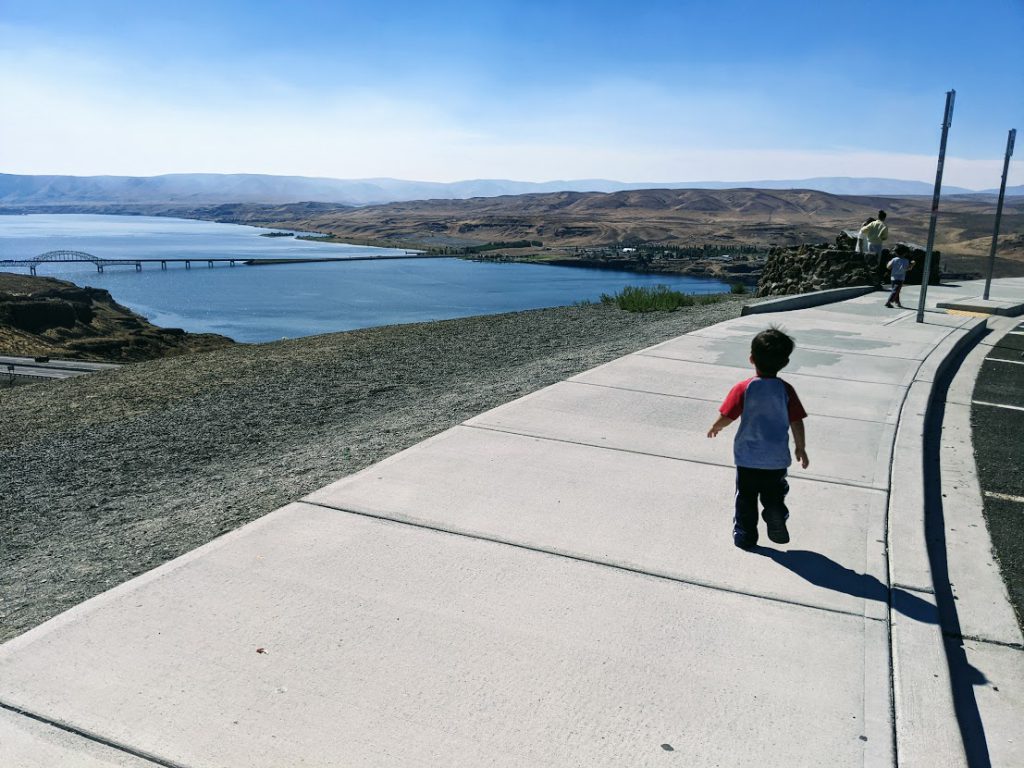 When you're road tripping with a toddler, plan in breaks every couple of hours. First of all, you'll want frequent breaks for your child to go to the bathroom.
Breaks are also necessary for your child to have a chance to run around and get some energy out. Toddlers are constantly on the go, so it can be challenging for them to sit still for long periods of time.
Frequent breaks are a great way to preempt meltdowns and whininess.
Plan some activities when you stop to expend some of your child's energy. While you're stopped, do some sort of game that gets the kids moving, like seeing how fast they can run to a nearby tree or moving like animals (hop like a bunny, fly like a bird, pounce like a lion).
Account for these breaks in your total drive time so that you don't get frustrated by the time added to your trip.
If we have time for it, we also like to plan a trip with fun stops along the way. If we stay the night at a hotel, we'll get there early to use the pool. Or we try to see if there are fun activities our kids will enjoy along our route, such as a children's museum or park.
Bring great food for the drive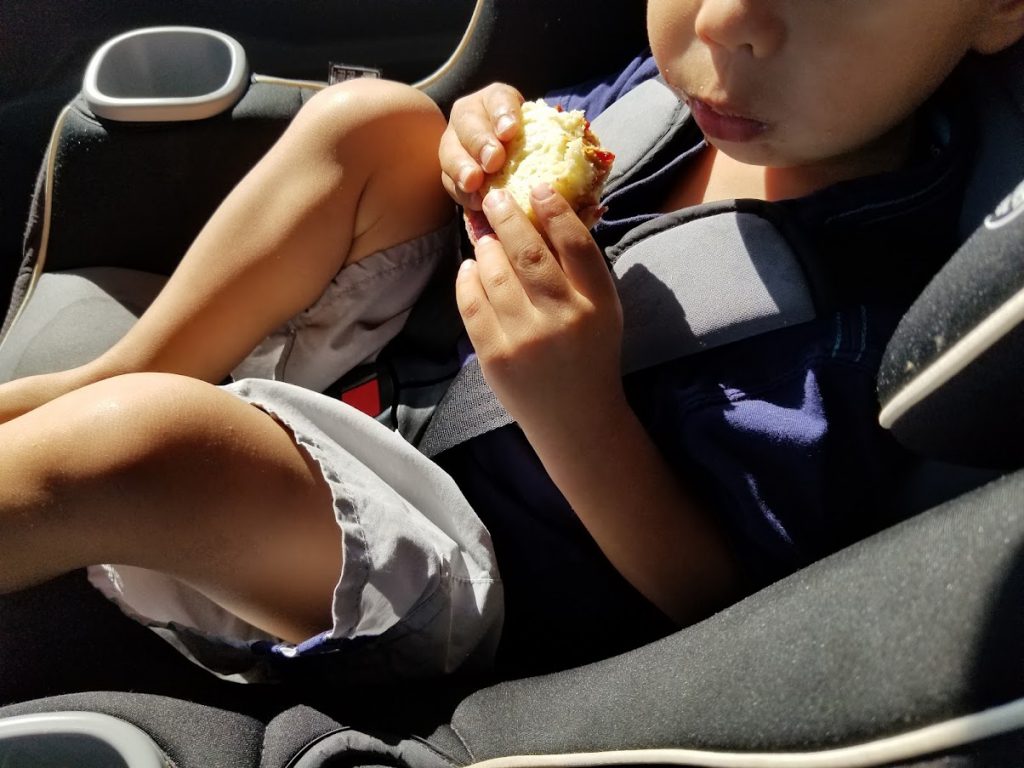 One of the big keys to successful travel with a toddler is snacks. First and foremost, you definitely do not want a hungry toddler on your hands. That's just a recipe for disaster.
But snacks also act as an activity and change of pace to help break up a road trip.
Plan ahead to bring some awesome road trip food, both some favorites that you know your toddler loves and some new snacks to add novelty.
I would also recommend bringing a snack catcher so that your toddler can feed themselves snacks without accidentally dumping snacks everywhere. This can be a total lifesaver on a road trip to prevent food from ending up all over your car. I always recommend these snack catchers because they are collapsible, making them perfect for travel.
Also make sure your child is staying hydrated by bringing them their own spill-proof bottle and offering them drinks frequently.
Consider the best time of day to drive
If your kids sleep well in the car, you might want to plan for part of the drive to be while they are asleep.
One of our favorite ways to road trip with toddlers is to leave early in the morning and transfer them to the car while they are sleeping.
They'll continue to sleep for a while, allowing us to get in several hours of peaceful driving in before everyone is up.
When they do wake up, they are usually content to sit and look out the window for a while while they eat the breakfast we packed for them. It's a great way to get several hours into your trip without too much fuss.
Another option is to drive through the night, which some people prefer because the kids will be sleeping the whole time. There are a couple of downsides though…
Cons to driving through the night
First of all, you're exhausted by the time you arrive at your destination, which isn't necessarily the best way to start off a trip.
You have to make sure you are very well rested before you start so that you don't risk falling asleep while driving.
Some kids actually don't sleep very well in the car and there's nothing worse than a tired toddler screaming while a tired parent is driving.
If you do decide to drive at night, make sure you are well rested before you start, have something interesting to listen to to keep you awake, and if possible take turns trading off with another driver.
In the end, you have to decide what makes the most sense for your family and your trip.
Make the drive as comfortable as possible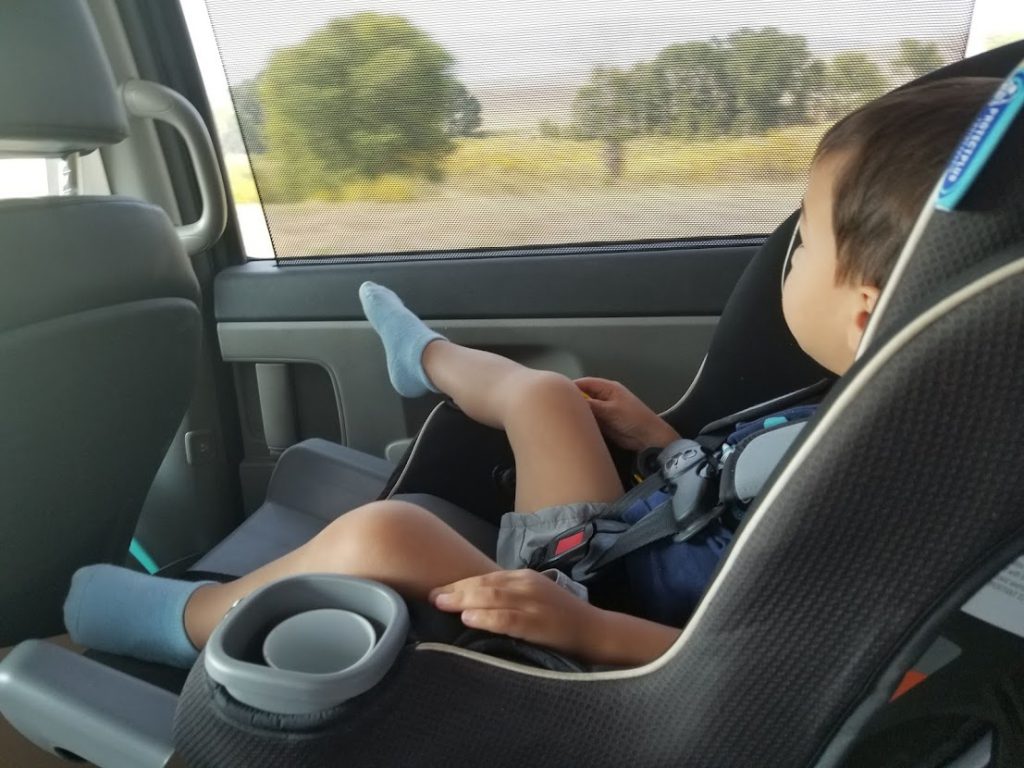 Try to make the drive as comfortable as possible for your toddler to set them up for success. Dress them in light, comfortable clothes and take off their shoes while driving.
Set them up with a cozy little spot in their car seat with a blanket in case they get cold. This travel blanket is awesome because it is super compact and takes up hardly any room in it's travel case, but it's large and warm when open.
Tip: If you're traveling with multiple children, try not to have them sitting right next to each other. This will make them less likely to bug each other or wake each other up while one is sleeping (whether on accident or on purpose…)
How to handle potty situations on the road
Most toddlers are somewhat newly potty trained and can't wait quite as long when they decide that they really need to go. This can be problematic when you're on a road trip, especially if you're in an area where there aren't facilities for long stretches.
You'll definitely want to make sure to take frequent bathroom breaks along your drive. And make sure your toddler goes potty every time you stop, even if they don't think they need to. Five minutes later they'll probably realize that they do, in fact, have to go to the bathroom.
It can be tempting to reduce the amount of liquids your toddler is drinking to prevent frequent potty breaks, but this is not a good idea and can lead to dehydration.
That being said, don't flood your toddler with all sorts of fun drinks or they will be drinking a lot even when they aren't really thirsty. Have a water bottle for your toddler and let them decide when they need a drink.
You can also cover their seat with a car seat liner just to be safe. Then if they do have an accident, it won't get the seat wet and it's a much easier clean up. I like to bring a small spray bottle of stain and odor remover just in case there is a potty or vomit incident. That way you aren't stuck with the smell in your car for the rest of the trip.
You might also want to consider bring a portable potty with you so that if you're caught in a situation where your toddler needs to go NOW, you can pull over and take care of it. See this post for a breakdown of the best travel potties for toddlers.
Toddler Road Trip Packing List
Make sure you have everything you need for your road trip with your toddler. This comprehensive checklist will help you make sure you don't forget anything important!
Hand sanitizer– Bring some travel-sized hand sanitizer for cleaning little hands before eating.
Wet wipes- Extremely useful for wiping hands and faces after eating
Paper towels- Wipe up messes from food or any other accident that might happen…
Road trip food– Pack some awesome snacks and meals to keep your kiddo full and entertained
Snack catcher– Perfect for keeping snacks contained on the road.
Water bottle– Bring a spill-proof water bottle for your child to be sure that they are staying hydrated.
Change of clothes- Make sure to bring a change of clothes for your toddler. You never know if they might have an accident, get covered in food, fall in a mud puddle at a rest stop, etc.
Stain and Odor Remover- I always like to plan for the worst and hope for the best. In that spirit, I like to bring a bottle of stain and odor removing spray for any accidents or vomit that could (but hopefully won't) happen.
Sick bag– If you happen to have a carsick toddler, you'll be grateful you thought to bring some of these compact sick bags. Once again, be prepared and hope you won't need it.
First aid kit– You never know what scrapes or bumps your little one might end up with, it's always best to be ready for anything.
Car window shade– This can be very helpful in getting your child to nap (and stay napping) while in the car.
Car seat liner- If you have a newly potty trained toddler, a car seat liner can be a total trip saver. It's a waterproof mat that goes between the child and the car seat. That way if there is an accident, it's much easier clean up.
Travel potty– Bring a portable potty along in case your toddler has an urgent bathroom situation where there are no facilities.
Travel blanket– A blanket is a great item to bring to help your toddler get cozy for sleep in the car or to warm them up if it's chilly. This travel blanket is super compact and comes with it's own travel case. Even though it packs down small it is plenty big (and warm) when you open it up!
Road trip toys and activities- And of course, don't forget to bring your activities to keep your toddler entertained! See this post for ideas.
Final Thoughts
With a little preparation, a road trip with a toddler can be a great experience for the whole family. Honestly I think it's harder to do a road trip with a baby than with a toddler, but that could just be me.
If you follow these tips and bring some great toddler road trip activities, hopefully your drive with your toddler will be smooth sailing!
Other posts you might be interested in:
Road Trip Activities for Toddlers (That They Will Really Love!)
50+ Road Trip Food Ideas- Easy Meals On the Go!
7 Essential Tips for Road Tripping with a Baby