This page may contain affiliate links, which means that we may earn from qualifying purchases at no additional cost to you.
Planning a trip to Mexico but not sure what to pack? We have you covered with this comprehensive Mexico packing list!
We've been to Mexico several times and have learned through trial and error which items are essential and which ones you can do without. We'll break it all down for you in this article.
Obviously Mexico is a large country, and your packing list will vary depending on whether you're spending your time at a resort, off touring ancient ruins, or exploring some of the more rural villages. In this list we've included a general packing list that will cover a variety of travel scenarios in Mexico, which you can adapt to fit your trip. We've also included a section on what to pack for Mexico with kids, as we've had some great trips to Mexico with our young kids as well.
In this article we'll break down everything you need for an amazing trip to Mexico so you can stop worrying about what to pack and get back to planning all the adventures you have ahead of you!
Packing List for Mexico
In this section, we'll break down the items you should include on your Mexico packing list by category. If you'd rather see a simplified version, you can find the packing list overview at the end of the post. This list will cover the items you need to pack to make sure you're not forgetting anything important for your trip!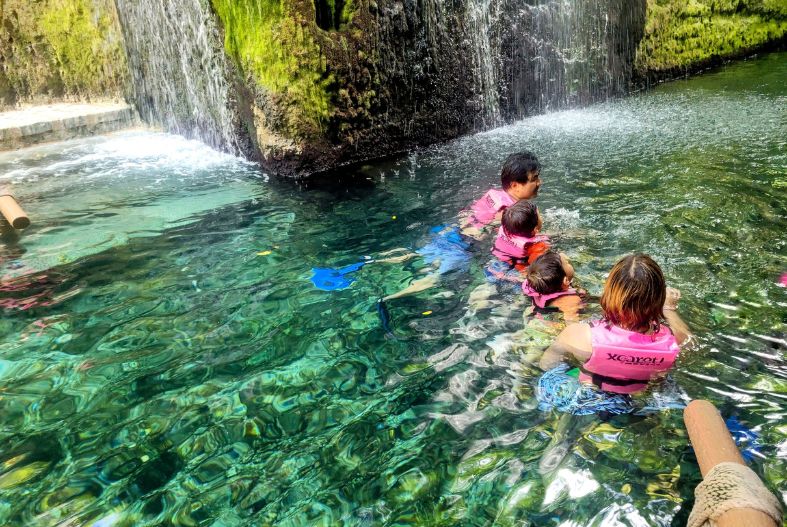 Packing Essentials
Luggage. The type of luggage that you bring will depend a lot on the type of trip that you're planning. If you plan on spending most of your time at a resort, a rolling suitcase is convenient and easy to manage going through the airport and to and from the resort. However, if you're planning on changing locations frequently or visiting more rural locations, you might want to consider a travel backpack. We've loved our Osprey travel backpacks (I have the Fairview 40 and my husband has the Porter) for trips where we're packing light.
Packing cubes. Packing cubes make organizing your clothes soooo much easier, especially when you're traveling with kids. You can easily find and repack everyone's clothes without having to dig through the entire suitcase.
Compression bags. If you're tight on space, compression bags free up a lot of room in your luggage. We find them especially helpful for fitting more into a travel backpack.
Clothes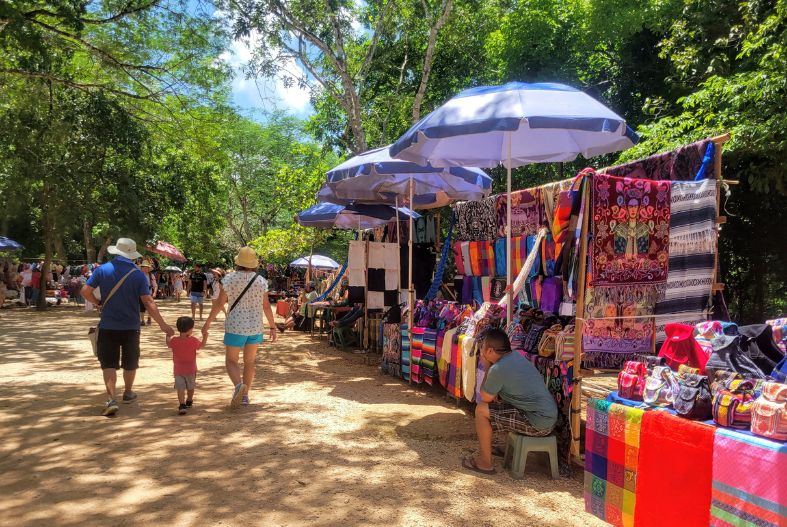 Shorts/pants. Plan on bringing several pairs of shorts to keep you cool in the Mexico heat. If you're planning on being in the city or less touristy areas it's also a good idea to bring some light pants too, as it's typical for locals to dress more conservatively.
Shirts. Plan on packing shirts that are lightweight and not prone to wrinkles.
Dresses. Dresses and skirts are the perfect clothes for keeping cool in hot weather while still looking fashionable.
Underwear/socks. Enough said. Don't forget your underwear.
Light sweater. While the days can be quite hot, the evenings can get cool and breezy. Bring a light sweater or jacket so that you don't get chilly when you're out in the evening or at night.
Rain coat. If your visit is during the rainy season, plan for the weather. A light rain jacket is convenient to have on hand, especially if you're caught out and about when a rainstorm hits. Then you don't have to miss a beat but can keep exploring despite the rain. Make sure the rain coat isn't too heavy as the temperature will likely still be quite warm. 
Pajamas. Bring one or two pairs of lightweight pajamas or loungewear.
Shoes. Make sure you have a pair of comfortable shoes to wear, as many of the best experiences in Mexico require a bit of walking. Whether you're exploring the Mayan ruins or spending a day at one of the eco parks, you don't want to be slowed down by uncomfortable shoes and sore feet. Plan on bring a pair of shoes that are comfortable for hiking as well as a stylish pair of sandals for resort wear and fancier outings. And if you plan on spending a lot of time at the pool or beach, flip flops are convenient to have on hand. They're easy to get on and off, waterproof, and don't collect sand like some other shoes. 
Semi-formal attire. Especially if you're staying at a resort, make sure you bring a fancier outfit or two for a nice evening meal. Most of the restaurants at resorts have an evening dress code, which means that you can't show up in your swimwear from the pool. You'll find that most guests bring more formal attire for dinner, and it's a fun experience to be able to dress up a bit at night.
Toiletries/personal care items
Toiletry bag. A hanging toiletry bag is a convenient way to store your toiletries for easy access, especially if you don't have a lot of counter space. I have this toiletry bag and it easily fits all of my toiletries and makeup in one easy-to-access case.
Toiletries. Bring whatever toiletries you feel necessary for your trip, taking into account that if you're staying at a resort they will have many of the basics like shampoo and conditioner, lotion, etc. Some items you might want to include: toothbrush/paste (if you want to be extra cautious, be sure to rinse your mouth with filtered water when brushing your teeth), face wash/lotion, makeup, a razor, feminine hygiene products, and hair products and accessories (leave-in conditioner is great for protecting your hair from drying out from the salty water and sun).
Contacts/Solutions/Glasses. You'll want to make sure you can see the amazing sights in Mexico, so don't forget to bring contacts and glasses if you wear them! If you wear contacts, plan on bringing an extra pair or two just in case you lose or damage yours.
Medicine/vitamins. If you have medications, make sure to pack some in your carryon back in case your luggage is lost or delayed. Keep prescription medication in the original bottle.
First aid kit. Pack some basic first aid items, like band aids and Advil so that you won't have to miss a beat if you get minor scrapes or a headache.
Electronics
Kindle. A Kindle loaded up with good books is a must for me when traveling. Not only is it a great way to pass the time on the plane, reading a good book is also a perfect activity for relaxing on the beach or by the pool.
Computer/tablet and chargers. Remember to bring whatever computers, tablets, etc that you want along with chargers.
Power bank. A portable fast charging power bank can be hugely helpful in keeping your phone charged when you're out and about and using it all day long. I found that the battery on my phone would die before the end of the day because I was using it so much to take pictures and videos, navigate, and look up information about activities and attractions. We rented a car while we were in Mexico and let me tell you, when you're navigating in the middle of nowhere is not the time you want your phone to die on you! Bring a power bank to make sure that your phone stays charged and usable all day.
Headphones. Don't forget your headphones for watching/listening during downtime on the plane or by the pool. Noise cancelling headphones are also helpful for blocking out ambient sounds on the plane.
Items for outings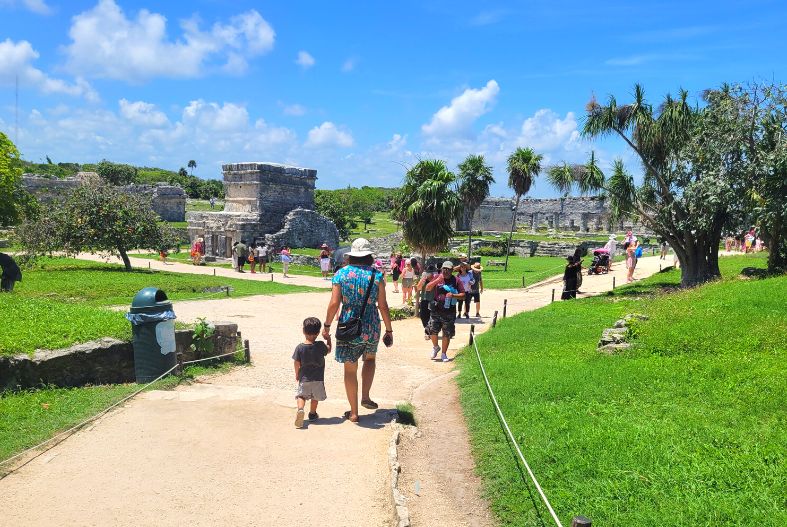 Backpack for day trip. Bring a lightweight backpack for day trips and hikes. You'll want to have a way to carry the essentials (snack, sunscreen, bug spray, jacket, umbrella, etc.) with you while leaving your luggage at your accommodations. The Osprey Ultralight Stuff Pack is a nice option, as it is sturdy and lightweight but packs down into a tiny carrying case.
Insect repellant. If you're spending all your time at a resort, you likely won't need insect repellent. However, if you'll be spending time in forested areas (like the areas where the ruins are located), you're bound to come across some mosquitoes. Bug repellent wipes are convenient for travel because they save you space and weight in your luggage and are easy to have on hand when you need them.  
Water bottle. You'll definitely want to bring a water bottle so that you can always have water on hand during your trip. The water in Mexico is not safe to drink, so a filtered water bottle is a great way to make sure you're always drinking filtered water while reducing waste from disposable plastic bottles.
Electrolyte packets. Depending on when you're visiting, it can get EXTREMELY hot in Mexico. If you're out and about all day it can be very helpful to have some additional electrolytes to make sure everyone stays hydrated. We always bring Liquid IV when we travel and love the variety of flavors (our favorite is the passionfruit) in addition to the electrolyte boost. Apparently it's also a great hangover cure, but we don't drink so I can't provide firsthand knowledge of that claim. Of course this is not a replacement for drinking lots of water, but it does help to provide some additional hydration.
Cooling towels. We were in Mexico during the hot season and were so glad that we had brought some cooling wraps for when we were exploring the ruins. In the heat of the day it was almost unbearably hot, but wrapping these wet towels around our necks made a huge difference in our body temperature and comfort level.
Cell phone holder. You'll definitely want to be able to take lots of pictures of your adventures and a cell phone holder can be a helpful way to get the best shot. This flexible cell phone stand can be used as a tripod or wrapped around a bar, tree, etc. to hold it in place to get that perfect picture. It's also compact and weighs in at only 8 ounces, making it ideal for travel.
Umbrella. Like I mentioned above, rainstorms are quite common and can sometimes catch you unawares. An umbrella can be useful to have on hand to prevent you from getting drenched and allow you to continue with your planned activities despite the rain. The good news is that rain storms tend to pass quickly, so hopefully if you are caught in rain it doesn't last too long. If you're visiting in the dry season you probably don't have to worry about bringing an umbrella.
Masks. In most places in Mexico, masks are no longer required. However, there are some places that still do require them, like the airport and the entrance to Chichen Itza. Be sure to bring a couple of masks so that you're not caught in a situation where you need one but don't have one.
Pack of tissues. Bring a pack of tissues for those inevitable occasions where you come across bathrooms that don't have toilet paper.
Travel Documents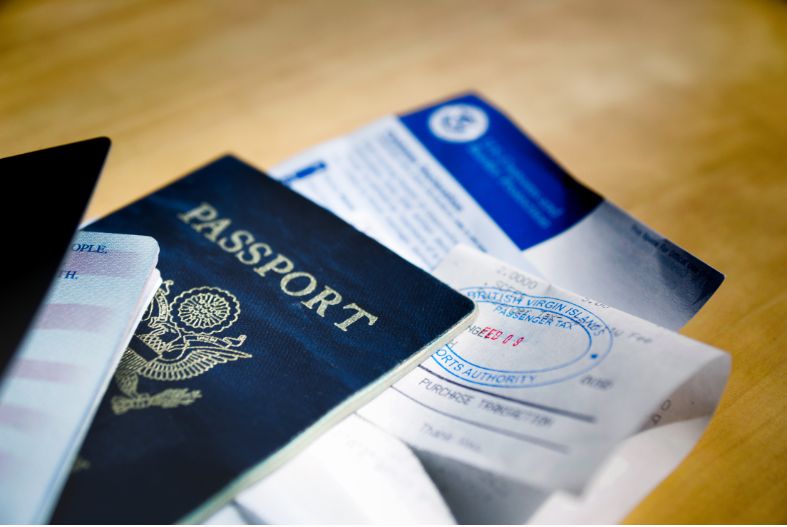 Passport. Obviously the most important items to bring with you on any trip are your travel documents. Be sure to check that your passport is still valid if you haven't checked in a while. We had an unfortunate incident with an expired passport that makes me forever terrified of forgetting to update our passports. Mexico does not have a six-month rule for passports, so your passport only needs to be valid for the length of your stay.
Driver's license. If you're renting a car in Mexico, don't forget your driver's license. As long as you have a driver's license from your own country and a valid passport you can drive in Mexico.
Flight/travel information. Bring a copy of your flight details and information about your accommodations in case you're in a situation where your phone dies or you can't access that information.
Vaccination card. Most places don't require proof of vaccination, but it's still useful to have available in case it's asked for.
Money/credit cards. Many places in Mexico do take credit cards, which is a convenient way to do transactions. You'll also want to have pesos on hand because many places do not take credit cards. Bring some pesos with you or US dollars that you can exchange into pesos (some places will actually take US dollars as well). We found that the exchange rate was actually better in Mexico than it was in the US.
Swimming/Beach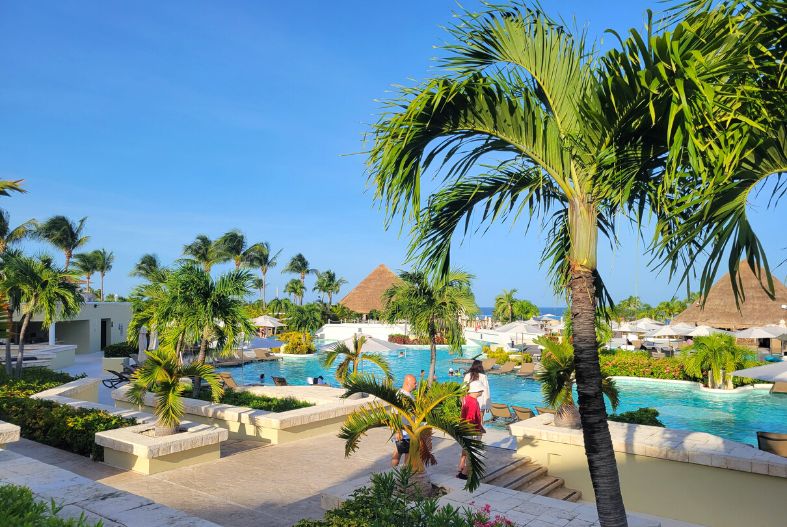 Biodegradable sunscreen. Sunscreen is a must when traveling to Mexico, regardless of the activities you have planned. When purchasing your sunscreen, make sure to get the reef safe variety. Not only is it important for protecting the ecosystems in the coral reefs, cenotes, and underground rivers, but there are actually federal regulations prohibiting the use of nonbiodegradable sunscreen in many of the marine parks in Mexico. The biodegradable sunscreen breaks down naturally in the environment, reducing the damage to the fragile coral reefs. While you can purchase sunscreen there, it is typically more expensive.
Quick dry towel. Quick dry towels are a helpful addition to any beach vacation. Because they dry quickly, they are ready for your next use and don't weigh down your luggage like wet towels do. This probably won't be as necessary if you're staying solely at a resort, as they typically have towels for you to use there.
Beach bag. Make sure to bring a bag for the pool or beach, as you'll likely be spending a lot of time in the water while in Mexico. We love this beach bag due to it's size, sturdiness, and mesh material which doesn't trap sand. We can fit everything we need for five people in there and it's served us well for countless vacations.
Swimsuit/cover up. You'll definitely want to include a swimsuit on your Mexico packing list, as there are so many amazing places to swim! Whether it's in a resort pool, a crystal-clear cenote, or a white sand beach, you'll find plenty of opportunities to spend time in the water during your trip. If you'll be doing a lot of swimming, you might want to consider bringing an extra swimsuit so that you can have a dry one to wear if the other is still wet from the previous day. There's nothing worse than putting on a wet swimsuit!
Sun hat and sunglasses. Whether you're relaxing by the pool or exploring Mayan ruins, you'll need protection from the sun. Pack your sunglasses and sun hat to keep you safe from those UV rays. This sunhat is my absolute favorite for travel because it can be folded up and packed in a suitcase, but it bounces right back into shape once you take it out. I've taken it on countless trips and it still looks like it did when I bought it despite having been stuffed in a suitcase over and over. It also comes in different sizes, actually stays on my head even when it's windy, and has a removable chin strap. Best hat ever.
Mexico Packing List for Kids
If you're traveling to Mexico with kids, there are obviously going to be some additional items that you need to bring along. We've been to Mexico several times with our kids, and I've included below a list of the essential items you don't want to leave off of your packing list!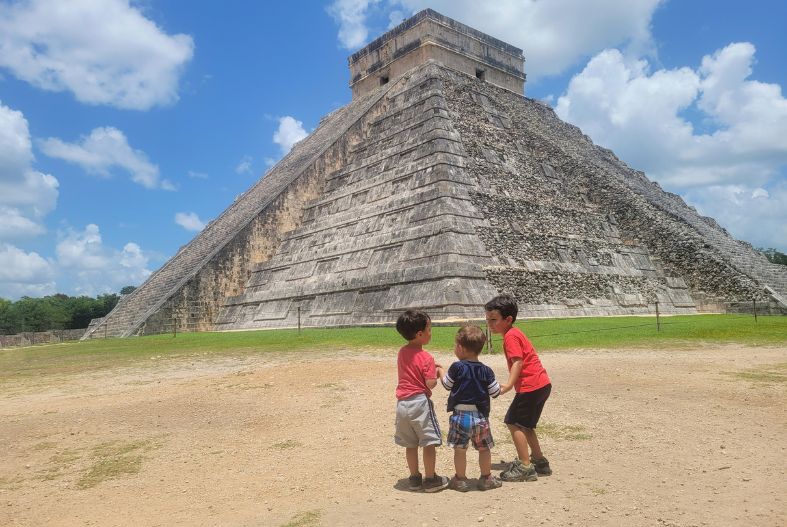 Clothes
Shirts. Pack several lightweight shirts that aren't prone to wrinkling.
Shorts/pants. Bring several pairs of shorts to combat the heat as well as one or two pairs of pants for cooler evenings or nicer occasions.
Dresses. Lightweight dresses are a great option for girls. A dress can be used as a swimsuit cover, a cool and comfortable outfit for hot days, or a more dressy outfit for a nice dinner.
Underwear/socks. Bring enough underwear for your stay, plus a few extra.
Pajamas. We typically bring a couple of pairs of kids pajamas in case of a nighttime accident.
Jacket. The weather can get chilly in the evenings or on stormy days, so bring a jacket in case it's needed. It can also come in handy if your child is cold after swimming.
Comfy walking shoes. Comfortable shoes for your kids are a must when visiting Mexico. This is especially true if you're visiting the ruins or someplace where you have to walk a lot. When we visited Xcaret Park we realized that we weren't prepared for a lot of walking and one of our kids ended up with a blister on his foot from wearing his crocs all day. Set your kids up for success by making sure they have a pair of shoes that are comfortable to wear all day long. 
Flip flops/crocs. Bring a pair of shoes that can get wet at the pool or beach, such as flip flops or, our kids' favorite, crocs.
Set of nicer clothes. If you're staying at a resort, bring a set of nicer clothes for evening meals.
Toiletries
Diapers/wipes. While you can purchase diapers and wipes after you arrive, I typically find it easier to just bring all I will need with me if it's a shorter trip. It just saves you some time so you don't have to stop at the store.
Toothbrush/toothpaste. Remember to use filtered water when brushing teeth, as the water in Mexico is not safe for consumption.
Medicine. It's always a good idea to travel with some Children's Tylenol, just in case your child ends up getting sick. I also like to bring along a thermometer and nasal aspirator when I'm traveling with a baby or toddler as well, just for piece of mind. And I've actually had to use them more times then you'd think!
Hand sanitizer/wipes. Have some hand sanitizer on hand so that your kids can sanitize their hands before eating and at other regular intervals. Sanitizing wipes are also great for sterilizing airplane trays, doorknobs, handles, armrests, etc.
Beach/Pool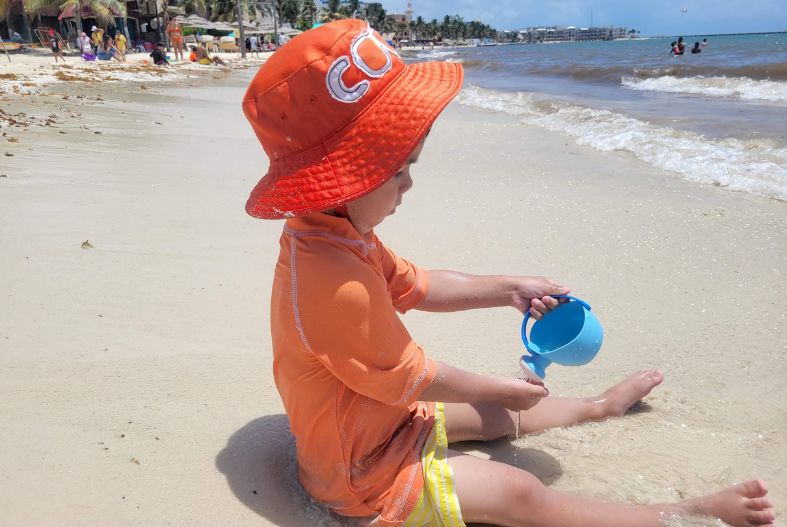 Swimsuit. Consider bringing an extra swimsuit or two if you plan on doing a lot of swimming so that you don't have to change your child into a wet swim suit each day. We prefer the rash guard swim suits so that we don't have to put on as much sunscreen.
Sand toys. If you plan on visiting the beach with young kids, a bag of sand toys is one travel item that is definitely worth the luggage space. Our kids can spend hours playing with sand toys on the beach and it makes for a much more relaxing beach experience for us when we don't have to be entertaining them constantly. We love this set because it has a variety of sand items and includes a collapsible bucket. It has served us well for many beach trips all over the world!
Snorkel set. If you want to snorkel with your kids in Mexico, plan on bringing a snorkel set or your child. Even places that have snorkel sets for use or rent might not have the right size for your child. It's easiest to bring a set that you know fits and that your child is comfortable with. The sets with separate goggles and snorkel tubes tend to be safer and more reliable the full-face sets.
Beach blanket. For visits to the beach with young kids, and especially a baby, I highly recommend bringing a sand-proof beach blanket. This was a game-changer for me when our youngest was little. Finally I had a place to set my baby where he could roll around without getting covered in sand! Plus this one is lightweight and huge! It's big enough to easily fit the whole family but packs down incredibly compactly. And it doesn't attract sand, so you can just shake it off and stow it when you're done without taking half the beach with you.
Swim diapers. For children that aren't yet potty trained, swim diapers are a must. You can always use the disposable kind, but reusable swim diapers take up less space in your luggage (because you don't have to bring as many) plus they're better for the environment!
Baby carrier. If you're traveling with a baby or toddler, you'll definitely want to bring a baby carrier so you can easily transport your child while exploring ruins, marine parks, and other destination in Mexico. If you plan on sticking to the resort you could probably get by with a stroller, but a stroller isn't practical in a lot of places where roads are bumpy or you're exploring off the beaten path. Our Ergobaby Omni 360 has served us so well for both our babies and toddlers when traveling, I would never go on a trip without it!
Water shoes. Water shoes can come in very handy for kids in Mexico, especially if you're planning on visiting any of the cenotes. 
Wet/dry bag. Wet/dry bags are convenient for storing dry clothes while you're swimming and swimsuits when they're wet. They also are great for diapers or dirty clothes.
Floatie. Keep young children safe by bringing a life jacket or floatie if they aren't confident swimmers yet. It will provide you with piece of mind and help keep you child safe so everyone can have more fun.
Sun hat. Sun hats are ideal for protecting the skin from UV rays and helping kids to stay a little cooler. This kids' sun hat is breathable and quick drying, with a chin strap to help it stay on.
Sunscreen. You'll definitely want some sunscreen to protect your kiddo's skin. Our favorite brand is Blue Lizard because it provides great coverage and protection but is free from many of the harmful chemicals that you'll find in a lot of sunscreens.
What not to bring to Mexico
Expensive jewelry. When visiting Mexico, plan on leaving expensive and flashy items of jewelry at home (unless you're only staying on a resort, and then it probably doesn't matter as much). These items make you a target when you're traveling and it's not worth the risk of them getting lost or stolen.
Large sums of cash. Just like with the jewelry, carrying large amounts of cash on your person can set you up as a target and make you vulnerable to theft. You'll want to carry cash with you, as not everywhere accepts credit cards, but be sure it's not a crazy amount of cash that could be lost or stolen.
Travel adaptor. A travel adaptor is not something you need to include on your Mexico packing list if you're coming from the US. The standard voltage in Mexico is 127V, which is compatible with the US 120V electronics and appliances.
Overview of Mexico packing list
Clothes
Shorts/pants
Shirts
Dresses/skirts
Underwear/socks
Light sweater
Rain coat
Pajamas
Semi formal outfit
Shoes
Sandals
Walking shoes
Flip flops
Toiletries/Personal care items
Toiletry bag
Toiletries

Toothbrush/paste
Face wash/lotion
Feminine hygiene products
Hair products/accessories
Makeup
Razor

Contacts/Solution/Glasses
Medicine/vitamins
First aid kit
Travel documents
Passport
Driver's license
Money
Electronics
Kindle
Computer/tablet/chargers
Power bank
Headphones
Items for outings
Backpack for day trip
Insect repellent
Filtered water bottle
Electrolyte packets
Cooling towels
Umbrella
Cell phone holder
Masks
Pack of tissues
Swimming/Beach
Biodegradable sunscreen
Quick dry towel
Beach bag
Swim suit(s)
Swim suit cover up
Sun hat
Sunglasses
Overview of Mexico packing list for kids
Clothes
Shirts
Shorts/pants
Underwear/socks
Pajamas
Jacket
Comfy walking shoes
Flip flops/crocs
Set of nicer clothes
Toiletries
Diapers/wipes
Toothbrush/paste
Medicine
Hand sanitizer/wipes
BEACH/POOL
Swim suit
Sand toys
Snorkel set
Beach blanket
Swim diapers
Baby carrier
Water shoes
Wet/dry bag
Floatie
Sun hat
Sunscreen
Final Thoughts
Planning a trip is always full of stressors, but worry about forgetting an important item doesn't have to be one of them! With this Mexico packing list, you can be confident that you have all the essentials for an incredible trip to Mexico.
Other posts you might be interested in:
Playa del Carmen with Kids- Best Things to Do and Tips for a Great Trip!
What to Know Before Visiting Chichen Itza with Kids