This page may contain affiliate links, which means that we may earn from qualifying purchases at no additional cost to you.
In this Xcaret park review we share all the best things to do at Xcaret and tips for a great visit!
To get a taste of all the best features of the Yucatan Peninsula, pay a visit to Xcaret in Playa del Carmen! Xcaret is a nature park with over 50 attractions for visitors to see and participate in.
At Xcaret, you can visit an aviary and butterfly house, see a wide variety of animals and sea creatures, play on the beach at the private lagoon, float along an underground river, visit Mayan ruins, swim in a cenote, watch a cultural show, and so much more!
There are so many different things to do at the park that you're sure to find something for everyone in your group! It's also a perfect place to visit with kids, which we found out when we went to Xcaret with our three little boys. They had the BEST time and still talk about going back to visit again!
There's too much to do at Xcaret to complete everything in one day, but in this Xcaret park review we'll break down the different attractions so that you know exactly where you want to prioritize your time. Plus we have some useful tips to help you make the most of your trip!
How to get to Xcaret
Xcaret is located about a 15 minute drive from downtown Playa del Carmen, 45 minutes from Tulum, and about and hour from Cancun.
One of the most convenient ways to get there is to add round-trip transportation to your ticket when you order it from Xcaret. With this option, one of the Xcaret shuttles will pick you up from either your hotel (if it is on the list of hotels Xcaret works with) or a predetermined meeting place which likely will not be too far from where you're staying. This is convenient and typically well worth the additional cost.
You can also opt to take a taxi, which is typically about $15 from Playa del Carmen, or arrange for a private shuttle.
We rented a car while we were in Mexico, so we drove ourselves to the park. This was convenient because it meant we could be there early without having any wait time and we could leave whenever we wanted. There is free parking at the park.
Park information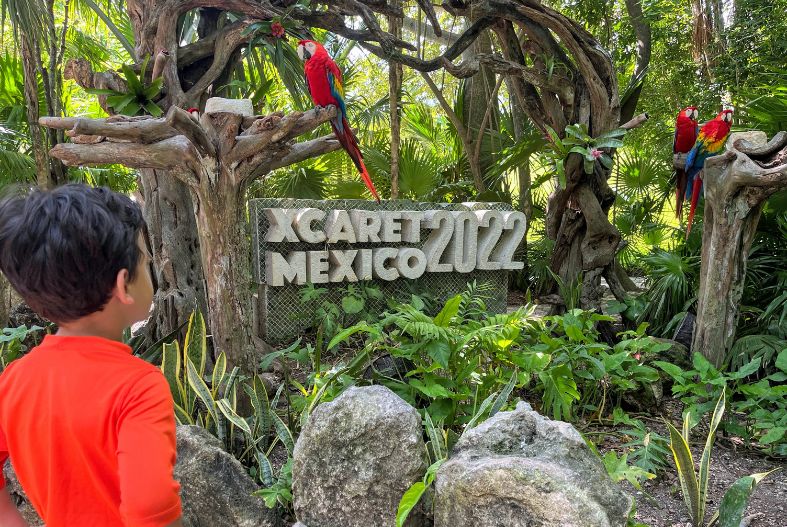 Xcaret is open Monday to Sunday from 8:30 am to 10:30 pm.
Children under 4 are free and children between ages 5 to 11 get half off the price of adult admission.
There's a discount for booking online at least one day in advance.
There are several different admission options available depending on your preferences:
Xcaret Basic Admission Ticket– Provides entrance to the park and access to over 50 attractions within it.
Xcaret Plus- Basic admission AND a buffet meal and access to the Xcaret Plus facilities- including dressing rooms and free lockers, as well as a free rental of scuba gear, fins, and towels.
Xcaret Total– Xcaret Plus AND one additional activity- either Sea Trek or Adrenalina.
Xcaret at Night– Entrance to the park from 4:00 pm to 10:30 pm.
We would recommend paying a bit more to get Xcaret Plus. That's the option we chose and we found it to be well worth the extra cost.
You can read more about the different options and find the prices here.
Getting around in Xcaret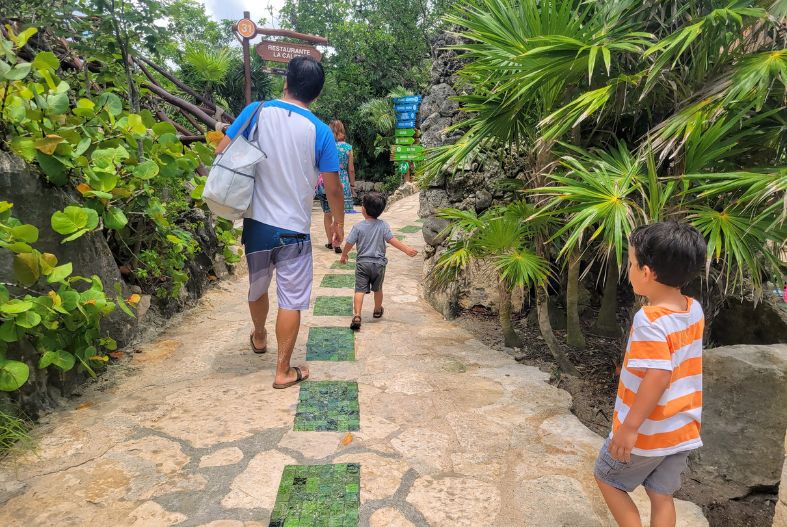 The first thing you'll probably notice when you arrive is that the park is huge!
But don't let that intimidate you. It's easy to find your way around Xcaret because there are colored paths leading through the various zones of the park. For example, the Blue Line takes you by the aquarium and sea animals, whereas the white line takes you to the aviary, butterfly pavilion, and Mayan village. The place is so big that having the well marked paths is extremely helpful for getting around and not getting lost.
And there are maps located at regular intervals throughout the park so you can know where you are and plan out your route.
It's also worth it to download the Xcaret app so that you can have a map on you and better plan out your day.
Things to do in Xcaret
There are so many things to do at Xcaret, so in this Xcaret park review we've described some of the very best attractions that you don't want to miss!
Mayan Village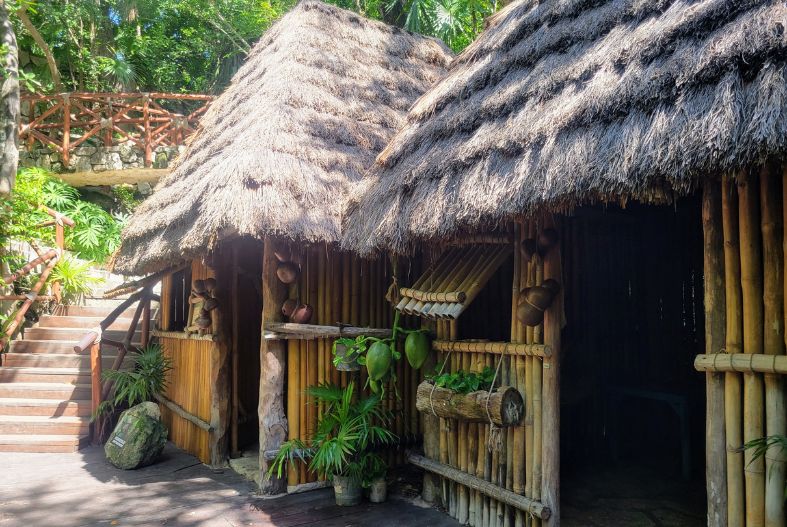 After passing through a maze of tunnels, you arrive at a small replica of a traditional Mayan village.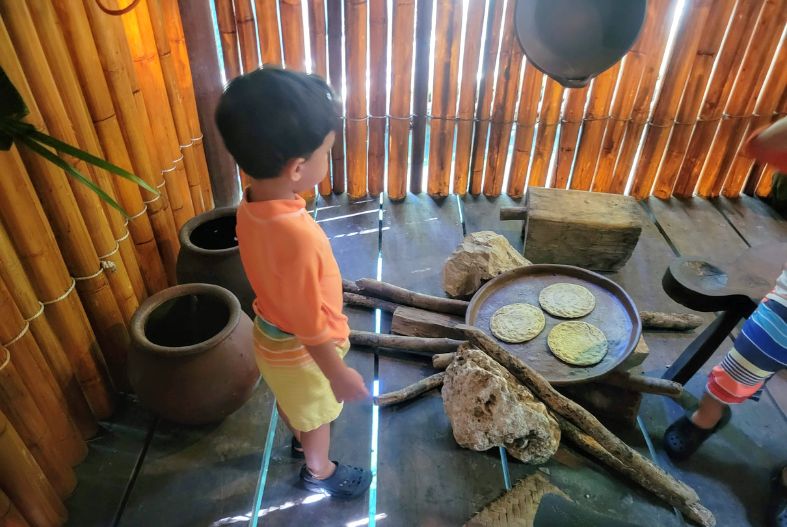 Here you can learn a bit about how the Mayans lived and get a feel for what life would have been like in their villages.
Aviary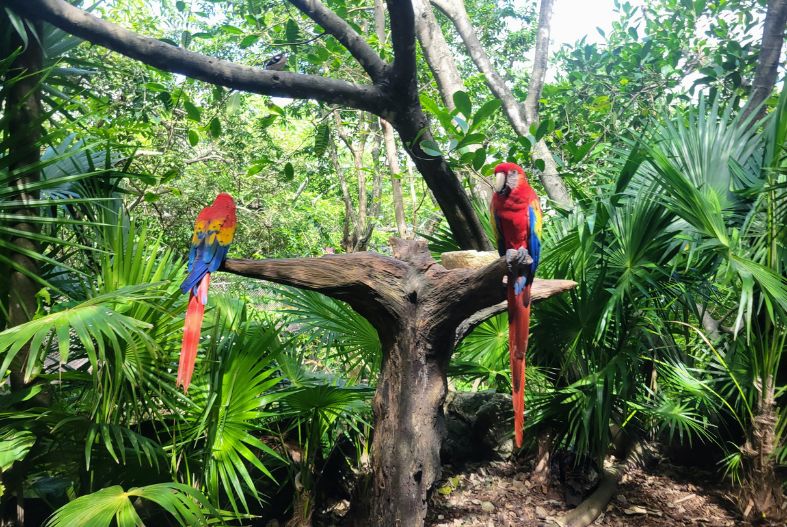 Containing over 1500 birds, the Aviary at Xcaret is an amazing place for kids and adults alike to visit. At the sanctuary, you can see macaws, toucans, and many other birds as you make your way through the jungle setting.
The path through the aviary winds downwards from the treetops to the jungle floor, crossing bridges and passing towering waterfalls. The scenery really is spectacular in and of itself, but when you add in the tropical birds it makes it an extremely memorable experience.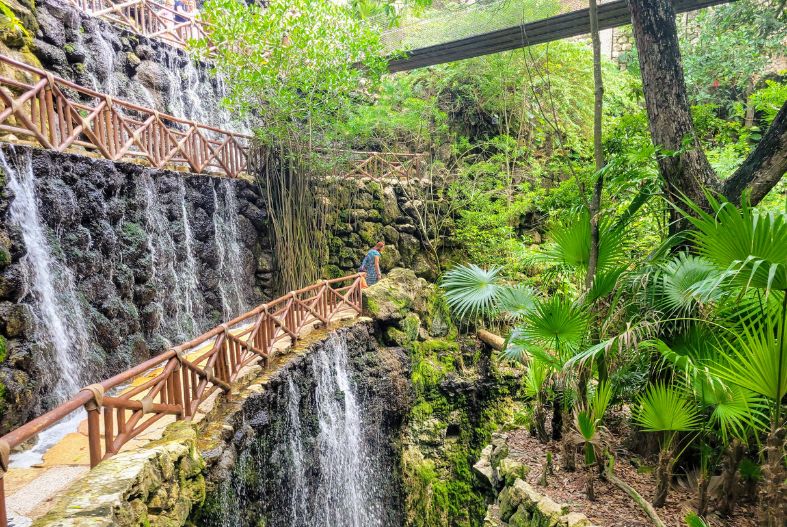 Many of the birds in the aviary are in danger of extinction, and are part of a conservation and reproduction effort to protect these species.
Definitely make sure to include the aviary in your list of attractions to see at Xcaret!
Butterfly Pavilion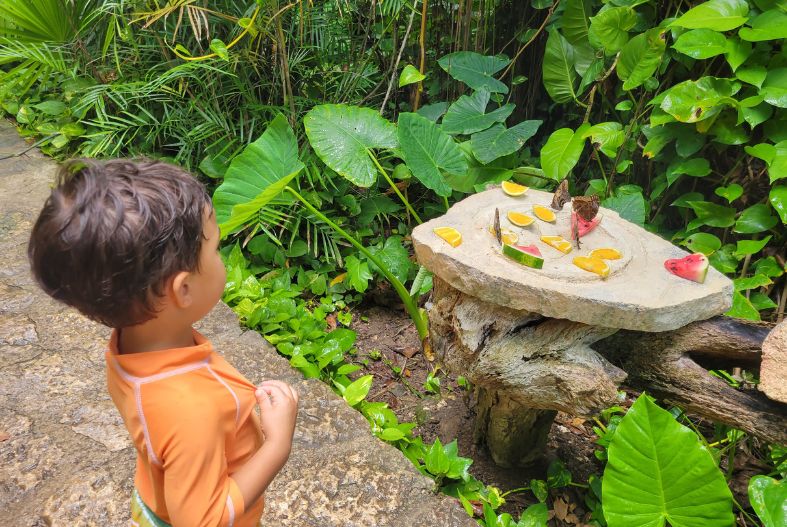 Unlike the butterfly houses that you'll find at most zoos and parks where you can quickly walk through in a matter of minutes, the butterfly pavilion at Xcaret is huge!
One of the largest butterfly pavilions in the world, the Xcaret enclosure is nearly 50 feet tall and contains over 20 species of butterflies.
The ground floor is more of a dense jungle area, dedicated to butterflies that prefer shady environments, whereas the upper walk is more exposed for butterflies who prefer sunlight.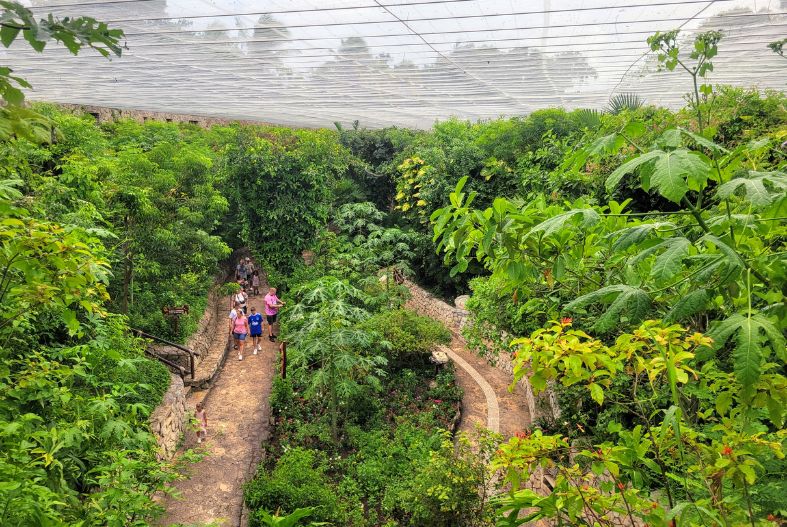 The best time of day to visit the butterfly pavilion is in the morning when the butterflies are the most active.
Near the entrance there's an exhibit detailing the lifecycle of a butterfly and you can see butterflies in the different stages of their transformation.
Aquarium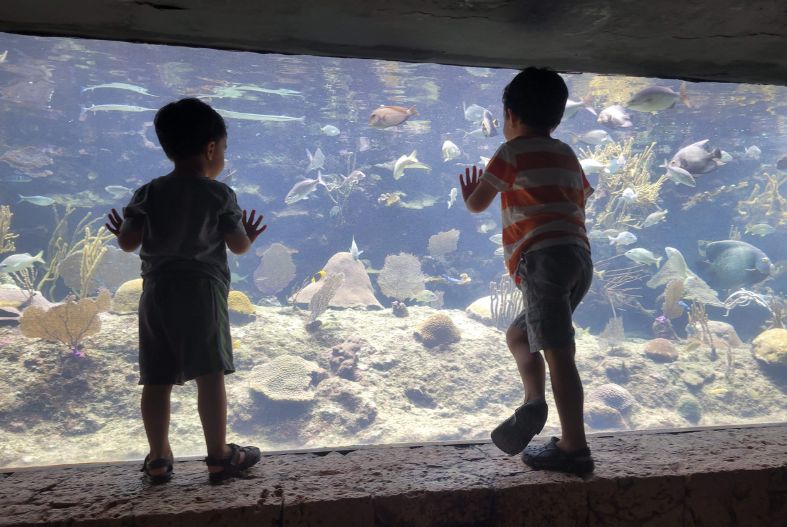 Xcaret also contains a small aquarium, where you can get up close and personal with the sea creatures that live within the coral reef. This includes starfish, rays, and hypnotic glowing displays of jellyfish.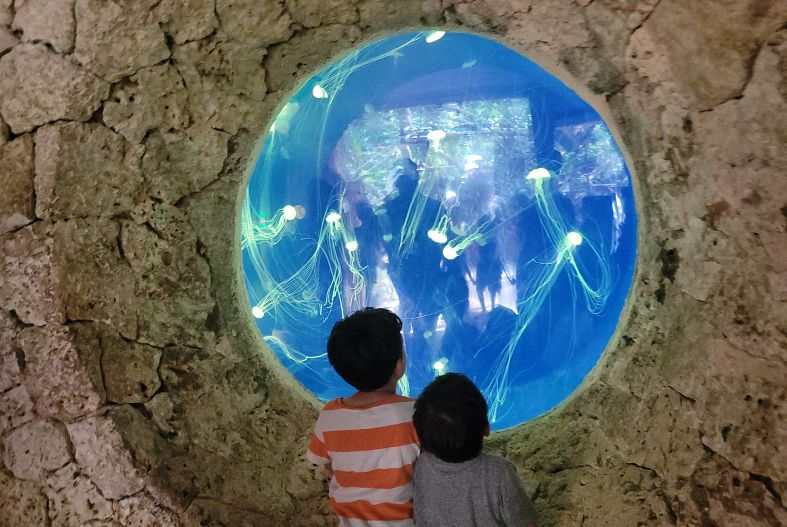 There's even a sandy room completely dedicated to the life cycle of sea turtles that is really fun for kids.
Animals and Sea Creatures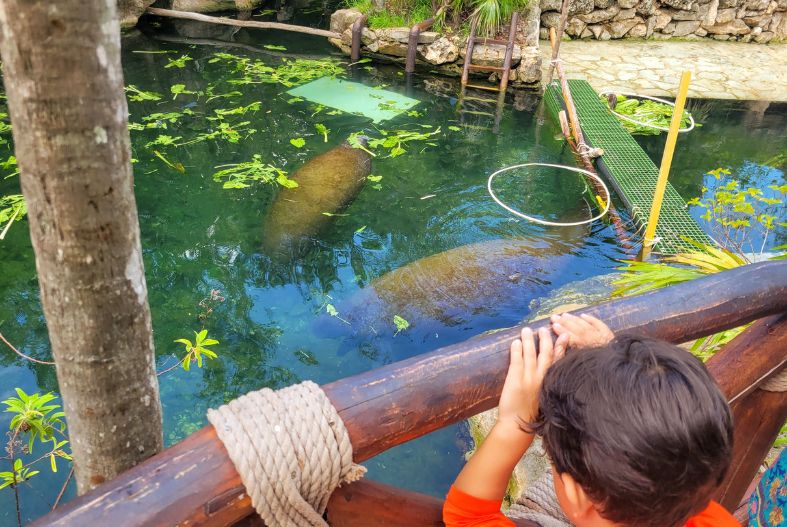 Scattered throughout the park, you'll find enclosures with all sorts of animals and sea creatures. These include jaguars and pumas, sharks, manatees, sea turtles, flamingos, monkeys, deer, and more.
It was always so fun to have these enclosures pop up and see what kind of animals they featured.
Underground river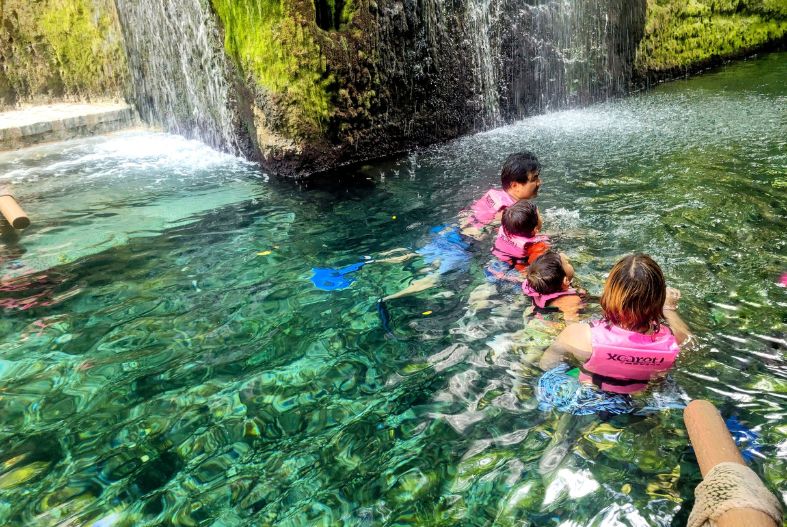 One of the most exciting and unique features of Xcaret is the underground rivers. The park has three underground rivers where you can float in the crystal clear water. The rivers wind their way through an underground cave system opening up to the sky at various points.
The rivers are located about 15 feet below the ground and are on average about 5 feet deep. You can choose to follow the river all the way to the end of the route (which can take up to an hour and a half) or there are exits at regular intervals as well.
When we were there only two of the rivers were open, the Mayan and the Blue. If you're visiting with young kids, the Blue River will likely be recommended because it has exits at closer intervals, which is convenient if your child decides they are done and wants to get out. 
Lifejackets are required and are provided by the park. Fins are available for rent or provided free with Xcaret Plus. We would highly recommend getting the fins, as they make navigating through the caves much easier and quicker.
At the start of the river, you can get a waterproof bag to put some of your belongs in and staff will have it waiting for you at the end of the river. They don't recommend you put phones or other valuables in the bag, but you can send some shoes, a towel, a coverup, etc. so that you don't have to traipse through the park barefoot as you make your way back to your locker. This is only helpful if you think you will actually make it to the end (with kids, count on getting out before that point), otherwise it's easier to just keep your items in the lockers. We sent some items to the end but ended up getting out early, so then we had to go track down our stuff at the end and then head back and get the rest of our belongings from the beginning of the river. So in our situation it wasn't exactly helpful.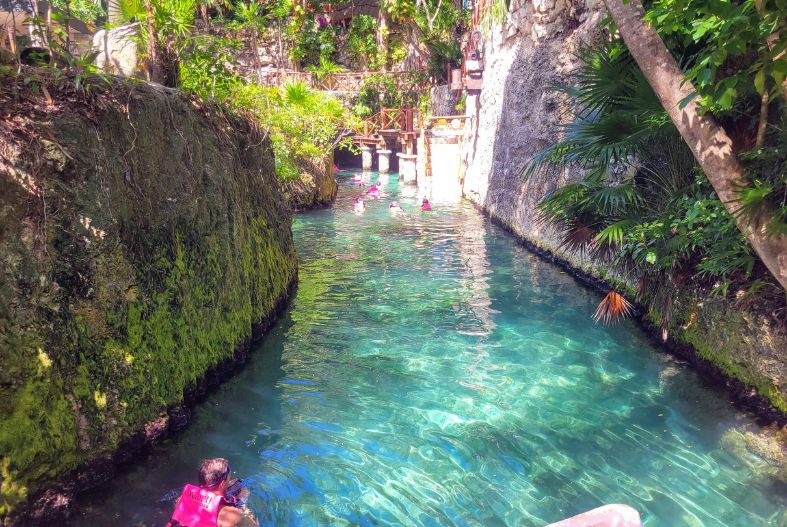 There isn't really an age limit, but it is recommended that children be above 2 years old because of the chilly water temperature.
Because we had our 18 month old with us, we went in stages to take on the underground river. First our two older kids went with my husband and his sister while I put the toddler down for a nap in his carrier. Then I went on my own while they took the kids to Children's World. Floating the river was an amazing, peaceful experience that you absolutely should not miss while you're visiting Xcaret, even if you have to take it in shifts to make it happen!
Archeological ruins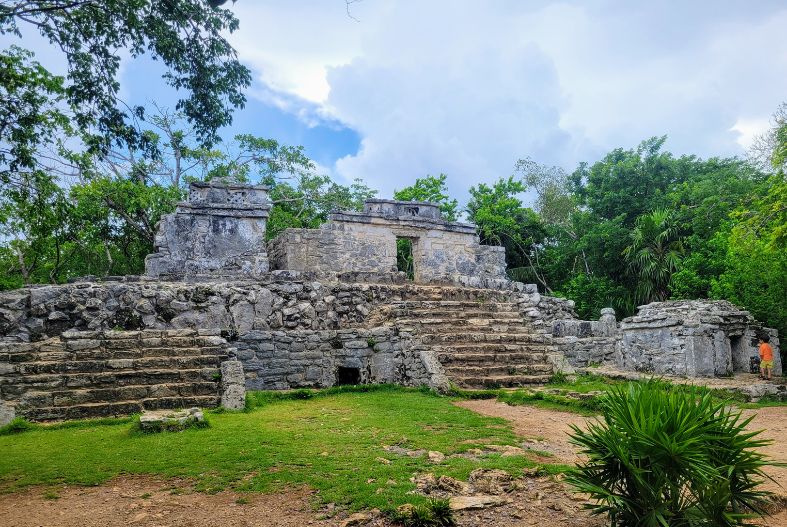 Xcaret used to be the site of an ancient Mayan village, and you can still see the ruins of the community today. Towards the back of the park you'll find the remnants of Mayan structures and buildings.
Unlike many of the bigger archeological sites, you can actually climb on these structures, which makes for some great picture opportunities.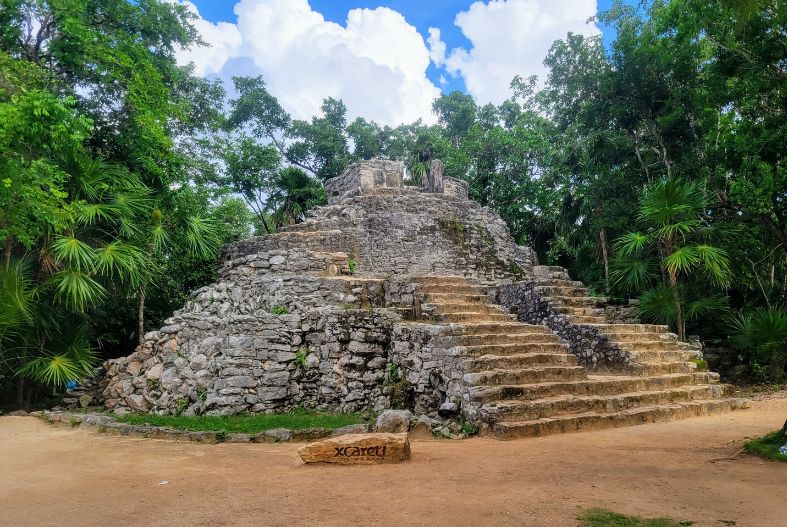 We didn't know about the ruins when we went to the park and were delighted to just stumble across them. It's another example of how this is really a very well-rounded experience and gives you so many of the best features of the area.
Snorkeling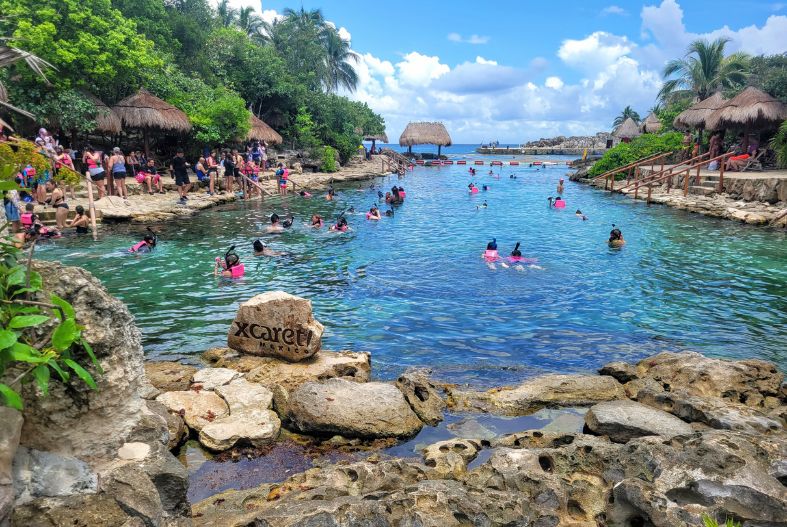 Xcaret has a designated snorkeling area where you can see and swim with all sorts of tropical fish, rays, and more!
You can either bring your own snorkel gear or rent from the park. If you get Xcaret Plus, snorkel gear is included.
We honestly weren't too impressed with the snorkeling at the park, so we chose to maximize our time doing the other activities instead. However, it is a nice way to get in some snorkeling in an easy-to-access location.
Beach and Lagoon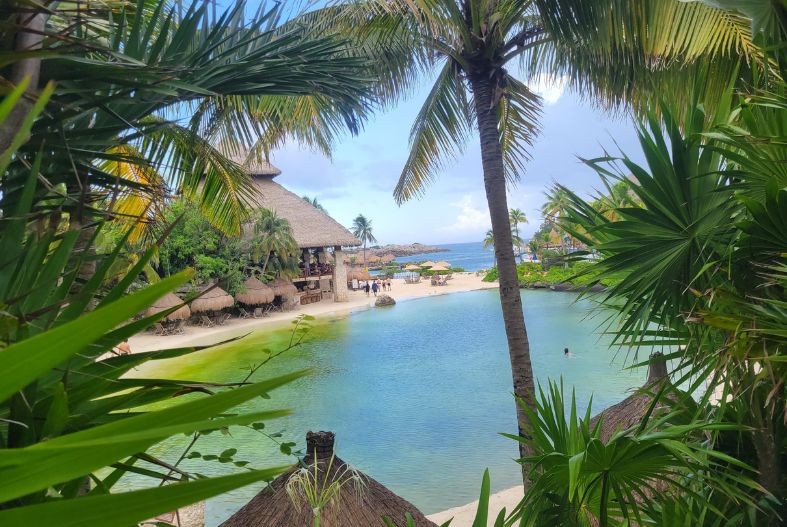 At Xcaret you can also get in some time at the beach! The park has its own private lagoon with a soft, sandy beach.
It's the perfect place for swimming with little kids as it has a shallow entry and water that gently laps the shore. And of course, the sand, which is always a hit with kids!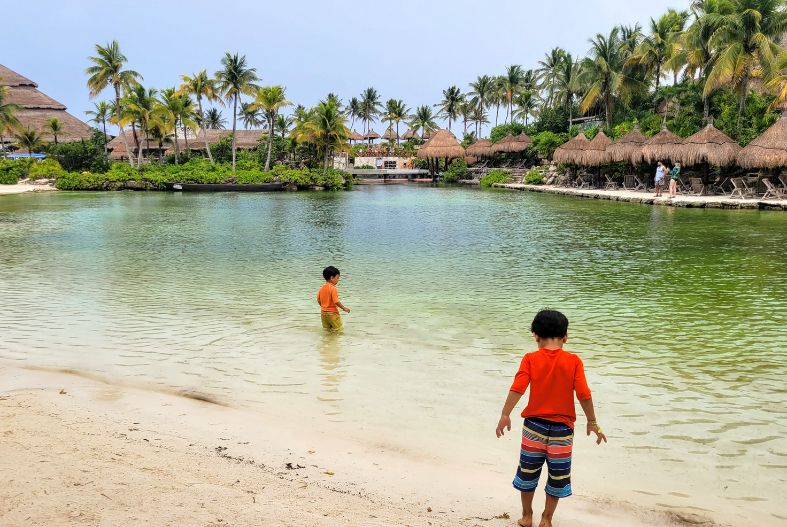 Along the shore there are also small cabanas where you can relax in the shade by the peaceful lagoon.
We found this to be a great place for some downtime to break up the day from some of the walking activities that were tiring our kids out. 
Buffet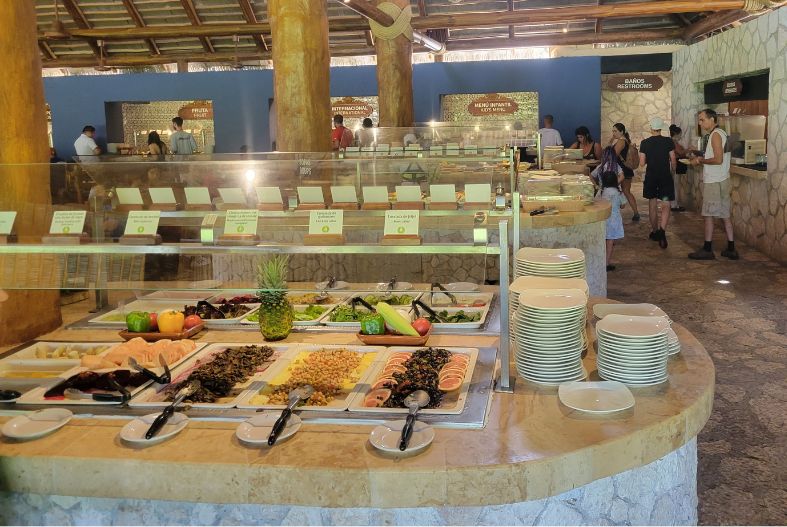 If you get Xcaret Plus, you'll have access to the buffet restaurants at the park. There are several different restaurants, but they all serve similar foods, with some variations. All of them have selections of international, seafood, and Mexican food, with a kids food area.
We found the food to be quite good and it was a nice way to break up the day for our kids as well. They loved having a selection of foods to choose from and especially enjoyed the desserts!
Shows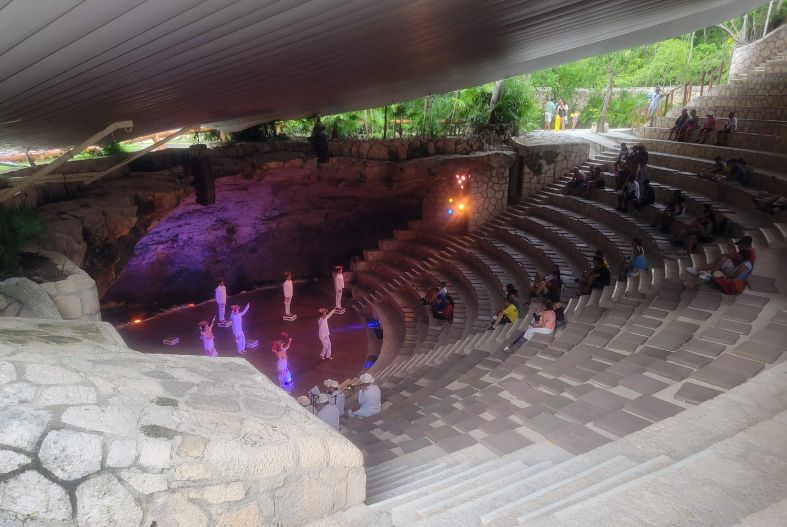 Along with the spectacular evening show (see below for more details), there are other shows throughout the park during the day.
In the early evening there is a horse exhibition and in the Mayan village you can find some prehistoric dance performances.
Throughout the day there are also typically several performances by the Papantla Flyers, although those weren't running while we were there.
Children's World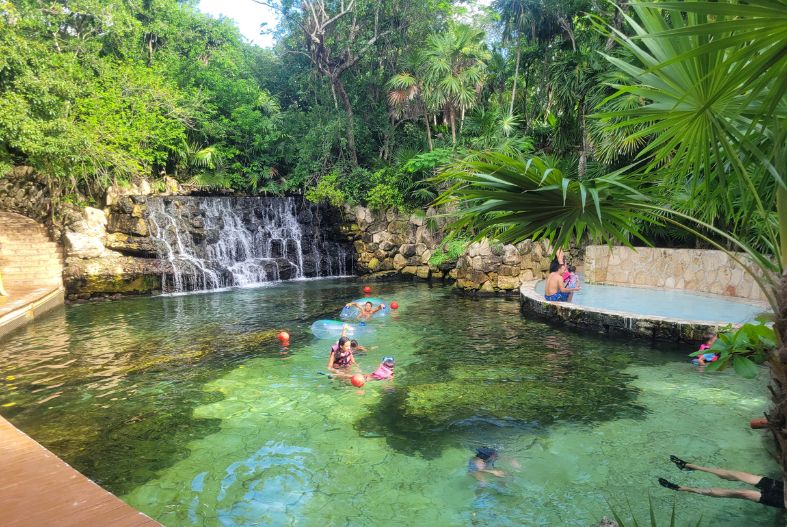 If you're visiting Xcaret with kids you'll definitely want to pay a visit to Children's World, which is an area dedicated entirely to kids!
Some of the best features of the area are the water slides and an adventure course for kids with climbing nets, tunnels, and other obstacles. The kids area also has a cenote to swim in and a splash pad, sandbox, and wading pool for younger kids.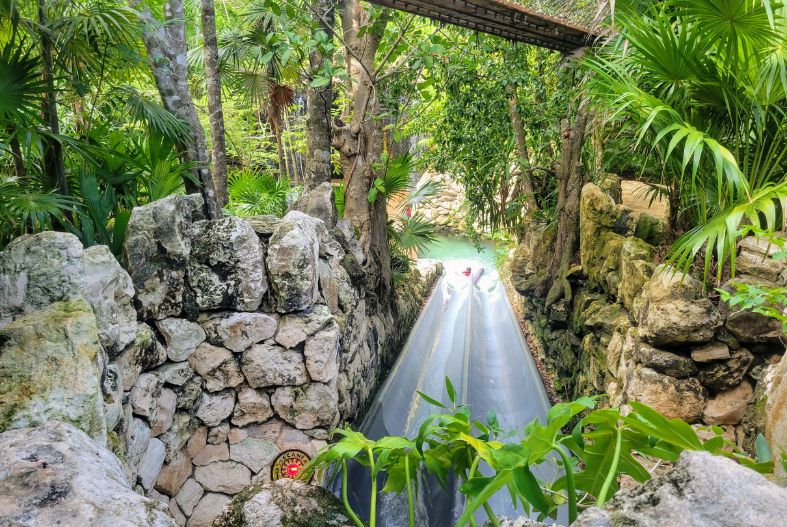 All the pools have lifeguards and lifejackets are required in this area (and are provided for free). There's also some really nice changing rooms, showers, and family bathrooms available in Children's World
We were a little disappointed when we got there and realized that the ropes courses and slides, which our kids had been most excited for, were only for ages 6 to 12. They could still use the other features of the area, but we were disappointed that an effort wasn't made to even have a small climbing area for younger kids. The one exception was the path between the main swimming area and the cenote, which had a rope walkway that younger kids could use (see picture below). My kids really enjoyed this but would have loved to have more opportunities like that.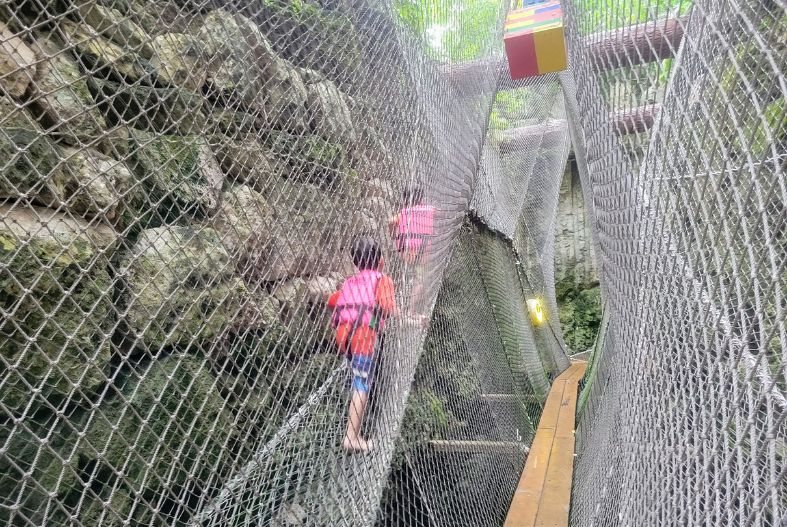 Our kids did enjoy their time swimming and playing in Children's World, but we didn't spend nearly as long there as we would have if there had been slides and play structures for those five and under.
Luckily there were plenty of other things to keep them busy at Xcaret!
Cultural Show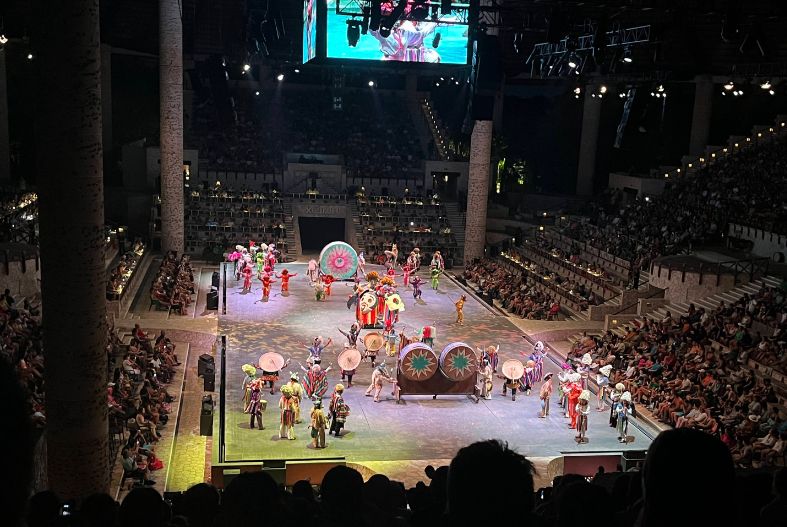 Every evening at 7:00, the Xcaret México Espectacular begins. The show takes you through 500 years of Mexican history, beginning with the Mayans and ending in our day. Involving over 300 performers and spanning two hours, the show is engaging and entertaining.
Some of the highlights include the mayan games they played at the beginning. The first being the ball game that were played in the ball courts in places like Chichen Itza, where they use their hips to shoot a ball through a small ring set high up in the wall. I honestly couldn't picture how that game could really be played when we were at the ruins, so it was fun to see it played in person. The second game involved trying to shoot a fireball into a burning cauldron (think hockey, but with a ball of fire…).
And then we also loved the fire dancing and Voladores de Papantla, where dancers are suspended from a giant pole and slowly make their way to the ground.
We were worried that our young kids would get bored, but they were completely fascinated by the show and didn't want to go when it was time for us to leave.
We felt that the cultural show was a highlight of the day and definitely worth seeing while at Xcaret.
Additional Cost Experiences
While all of the experiences in our Xcaret park review so far are included in your entry fee (except for the buffet if you don't get Xcaret Plus), there are some add-on experiences that you can participate in for an additional cost. Some of these experiences include parasailing, Sea Trek (those helmets you can wear to walk underwater), Snuba (combo of scuba and snorkeling where the tank floats on the surface), a snorkeling tour just off the coast near Xcaret, a speed boat ride, a massage, a foot spa (where fish nibble the dead skin of your feet), etc.
Xcaret is also home to a pod of dolphins and offers opportunities to swim with and interact with the dolphins. This is one form of tourism we don't recommend and would suggest that you do some research before participating in programs involving dolphins in captivity, especially ones with direct contact with the dolphins.
Common Questions
Where should I stay when visiting Xcaret?
When visiting Xcaret, we would highly recommend staying in Playa del Carmen, especially if you're visiting Xcaret with kids. This makes it a lot easier to get to the park early and then you don't have a long drive after the evening cultural show and a long day spent in the park.
One option is to stay at Hotel Xcaret, which is not only located nearby but also includes free transportation and admission to the parks by Grupt Xcaret (Xcaret, Xel-Ha, Xplor, etc).
We stayed at the Residence Inn in Playa del Carmen.
How long should you plan on spending at Xcaret?
All day! There is so much to see and do at Xcaret that you should plan on spending as long as you can at the park!
To make the most of your entrance cost, plan on getting there shortly after it opens (which is a great way to have some time without the crowds as well) and staying through the cultural show in the evening. You'll definitely be able to fill all of that time with engaging activities at the park!
What does Xcaret Plus include?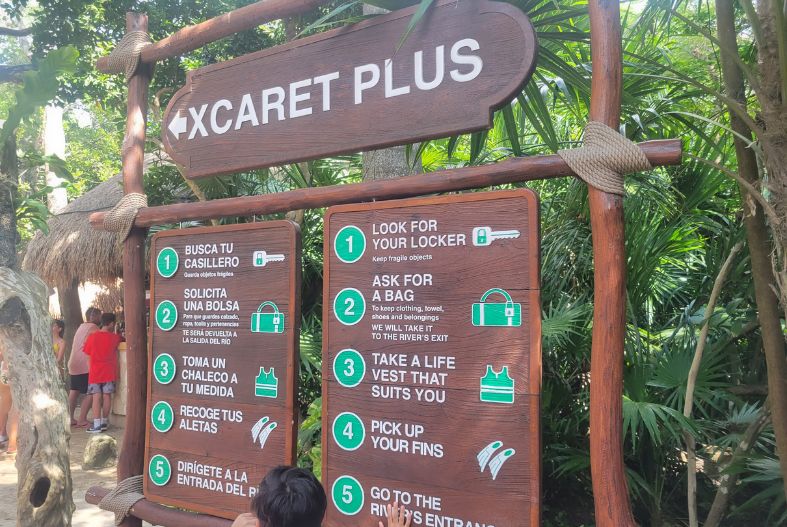 For a more all-inclusive experience at Xcaret, you can pay a bit more for Xcaret Plus. Xcaret Plus includes all of the features of a basic entry ticket, plus a buffet meal at one of the on-site restaurants, free rental of snorkel gear and fins, and access to the Xcaret Plus area, which has free lockers, towels, and private dressing rooms.
We chose to get Xcaret Plus and found it to be worth it for us, especially since we were visiting with kids. It was nice to have access to the buffet and knowing we didn't have to worry about lunch for our kids. It was also convenient to have access to the lockers for when we were floating down the river and fins to navigate.
What is the Xcaret Photo Pass?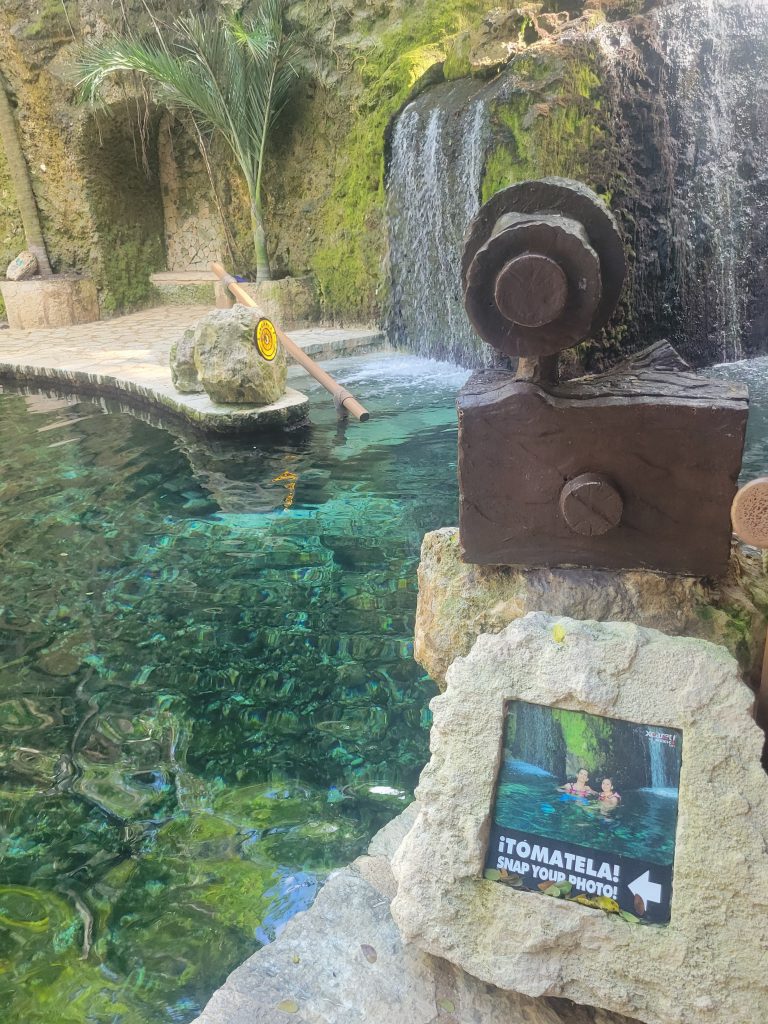 If you want to ditch the camera and immerse yourself in the experience, Xcaret has a clever photo setup that allows you to get some awesome photos taken from all over the park. Located at frequent intervals throughout the park are cameras set up to give you that perfect, Instagram-worthy picture. Just scan your wrist band, get into position, and the machine will take a picture for you. At the end of the day you can view all of your pictures and decide if you want to purchase them.
You cannot buy individual pictures, so don't hold back on taking as many pictures as you want! All of the pictures you take will be included in the photo package, which will be sent to you electronically. The price depends on how many people you have in your photos (kids under 4 are free) and you can have up to ten people in your group.
One of the most useful things about the photo pass is that you can get pictures taken in places that are challenging to bring a camera, like when you're floating the underground river. You can relax and focus on soaking in the experience without having to try and keep your phone or camera dry, but you'll still end up with some great photos.
Is Xcaret worth it?
From our experience, a visit to Xcaret is definitely worth it!
I'll admit it, when we first saw the prices for Xcaret, we felt they were a bit high and wondered if the experience would really be worth the cost. 
But we were completely blown away by how much there was to do and see while we were at Xcaret. There's so much rolled into this one park that you'll be able to find things to keep you occupied all day long.
And there's such a wide array of activities that you can find something interesting for everyone in your group, children and adults alike.
Tips for visiting Xcaret
Prepare for a long day
In order to maximize your time at the park it's best to be there when the park opens and stay for the evening cultural performance. That makes for a very long day, especially when you're visiting with young kids!
Make sure you're planning your day in a way that includes down time for relaxing and caters to your children's interests.
If you have a baby or toddler, also think ahead to how you want to handle nap time. I was able to put my toddler down for a nap in the carrier while the bigger kids floated the underground river, which helped him to last through the cultural show that evening. 
Consider coming back for a second day
There is so much to do at Xcaret that you won't be able to finish everything in one day. Consider coming back for another day to revisit some of your favorite experiences and finish things you didn't have a chance to get to.
There is no multi-day package or discount for buying multiple days in advance. However, if you buy a ticket for one day it is possible to get a discount for the next day if you do it in person. Before you leave at the end of the day, go to the ticket sales desk and purchase a ticket for the next day in order to receive a discount.
Buy online for a discounted price
If you buy your ticket online, you can get a discounted price. However, this discount does not apply if you buy the tickets online the day that you are going (we learned this the hard way). If you're trying to buy tickets the day of, you can often get that discounted price if you buy from third party vendors online.
Bring reef safe sunscreen
In order to protect the delicate ecosystems of the underground rivers and cenotes of the area, it's important to avoid introducing destructive chemicals like those found in many sunscreens.
If possible, avoid using any sunscreen at all for your float in the underground river. You really don't need it, as most of the river is either shaded or passing through caves.
If you do need to use sunscreen (perhaps your river swim is later in the day and you want sunscreen for the other activities in the sun), be sure to use a kind that is biodegradable.
Watch for these ingredients on the label to know that your sunscreen is not biodegradable: Octocrylene, Benzophenone, Butyl methoxydibenzoylmethane, Hexyldecanol, methylparaben, cetyl dimethicone, Propylparaben, polyethylene, or Butylcarbamate.
If you didn't bring the right kind of sunscreen, you can purchase some at the park. Or, at the entrance to the park, you can swap out your non-biodegradable sunscreen for a sample of biodegradable sunscreen to use during your visit (you can get your sunscreen back when you leave).
What to bring to Xcaret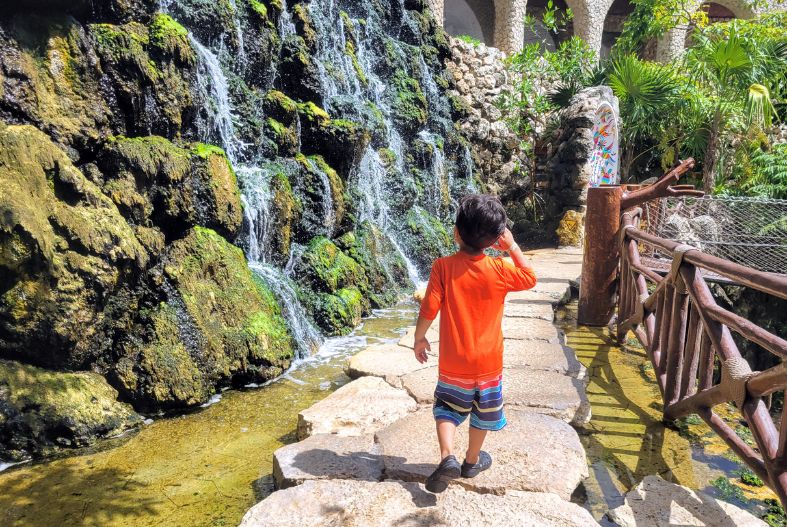 Swimsuits- There are lots of great swimming and water activities at Xcaret, so be sure to bring your swimsuits. We just wore ours there so we were ready to go!
Walking shoes– We didn't realize quite how much walking we would be doing before our trip and just wore flip flops and crocs, which was not as comfortable as it could have been. Bring shoes that you will be comfortable wearing and walking in all day long. There's a lot of ground to cover!
Water bottles– Bring reusable water bottles to help everyone stay hydrated. There are filtered water stations, so you can refill water bottles within the park.
Snacks– Even if you have the buffet lunch, you'll probably still want to bring some snacks to keep your kids (or you!) from getting hangry throughout the day.
A change or clothes- After your swim activities, you'll want something dry to change into, especially for the night show!
Biodegradable sunscreen- Don't forget to make sure your sunscreen is biodegradable!
Final Thoughts
A day at Xcaret will allow you to experience so much of what the Yucatan Peninsula has to offer, all in one location! You'll have a day packed with all the fun you can handle, and then some.
As you can probably tell by our Xcaret park review, we had an amazing experience at Xcaret and would be quick to come back again on a future trip. In fact, our kids are already planning the next time we visit Xcaret and have decided all the things they want to experience again!
Other posts you might be interested in:
Playa del Carmen with Kids- Best Things to Do and Tips for a Great Trip!
Driving in the Yucatan: What to Know (+ Tips for Renting a Car in Mexico)