This page may contain affiliate links, which means that we may earn from qualifying purchases at no additional cost to you.
For a while now we've wanted to visit Playa del Carmen with our kids. Now that we've actually made it there we can say that it was well worth the wait!
Playa del Carmen is an amazing place to visit with kids because there are so many family-friendly things to see and do. In Playa del Carmen you can find pristine beaches, ancient Mayan ruins, crystal-clear cenotes, and interactive parks perfect for the whole family.
Like us, you'll probably end your trip wishing you had more time to spend in Playa del Carmen. Our kids had the best time on our trip and are already talking about when we can go back to visit again!
To save you some time in planning your trip, we've compiled a list of the best things to do in Playa del Carmen with kids, as well as answers to common questions you might have when visiting with kids.
Best things to do in Playa del Carmen with kids
Spend some time on the beach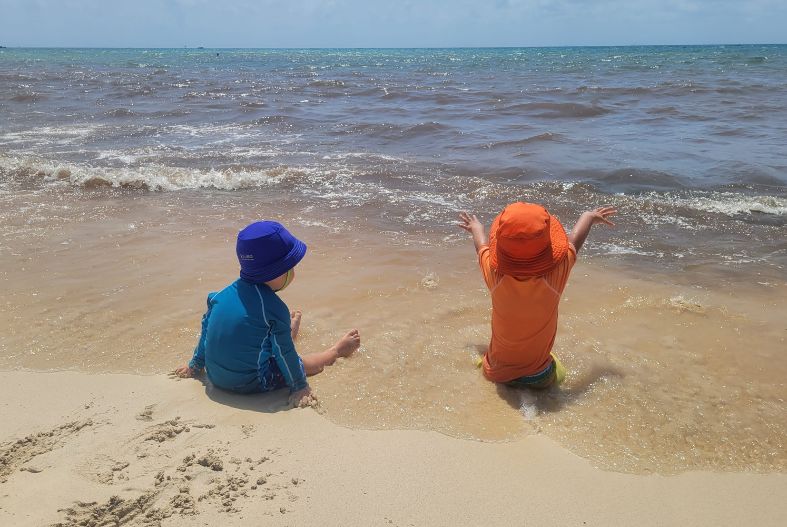 No visit to Playa del Carmen with kids is complete without some time at the beach! Playa del Carmen has gorgeous white-sand beaches that are perfect for relaxing and swimming.
The area is also known for its sargassum seaweed, which can overtake the beaches at certain times of the year. But if you choose a beach near a resort, they will typically clear the beaches of seaweed in front of their hotels.
If you have younger kids, a couple of amazing amazing beaches to check out in Playa del Carmen are Punta Esmerelda and Playacar Beach. These beaches have soft sand just begging to be made into sand castles and shallow areas perfect for toddlers and young children.
Our kids had so much fun playing with sand toys and splashing in the waves. They could have stayed there all day if we let them!
The water was also the perfect temperature, warm enough that it didn't take any time to adjust but cool enough to still provide relief from the heat.
Take a stroll down 5th Avenue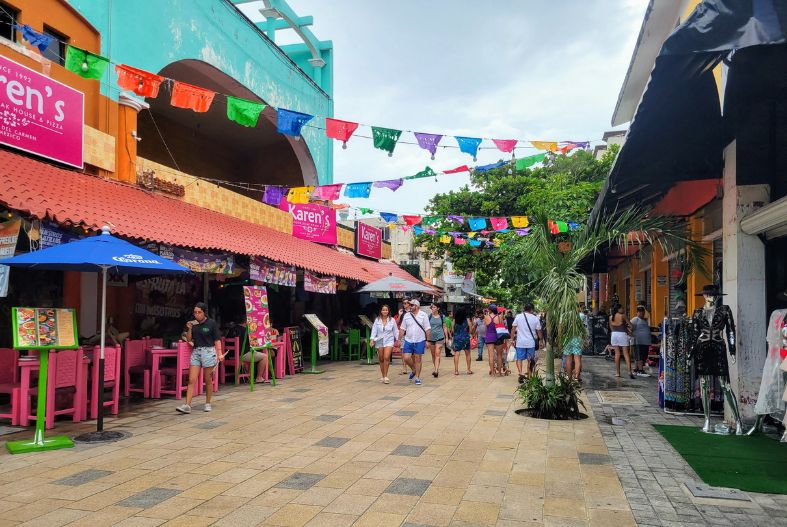 While in Playa del Carmen, you're sure to come across 5th Avenue, which is basically the main street of the city.
The street stretches an impressive five miles, and along the way you'll find souvenir shops, restaurants, bars, boutiques, and cafes.
It's only open to pedestrian traffic, so you can enjoy a leisurely stroll along the colorful street as you check out all it has to offer.
Spend a day at Xcaret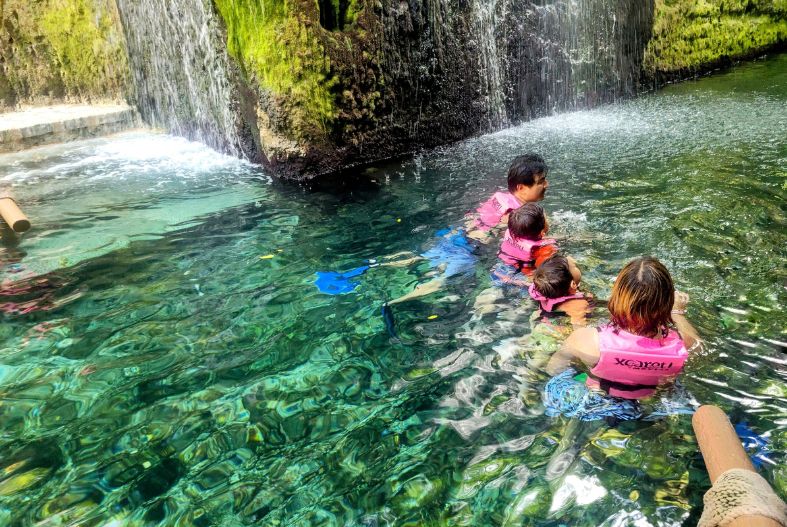 Located a 15 minute drive from downtown Playa del Carmen is Xcaret, one of the most inclusive nature parks you'll ever experience. At Xcaret you can find all the major attractions in the area rolled into one park.
At the ark you can find cenotes, archeological ruins, an aviary, a butterfly house, all sorts of animals and sea creatures (sharks, dolphins, manatees, sea turtles, etc.), a beautiful beach, snorkeling, an aquarium, a cultural village, an elaborate children's play area and much more.
But the highlight is probably the underground river, where you can float in crystal clear water through the intricate cave systems. Lifejackets are provided and are mandatory for floating the river.
There is soooo much to do at Xcaret that you should plan on being there as soon as it opens and spending all day there. And even then, you still won't be able to get to everything!
This was definitely a highlight of our trip to the area and something that you shouldn't miss if you're visiting Playa del Carmen with kids. For a detailed review of Xcaret, see this post.
Visit the local ruins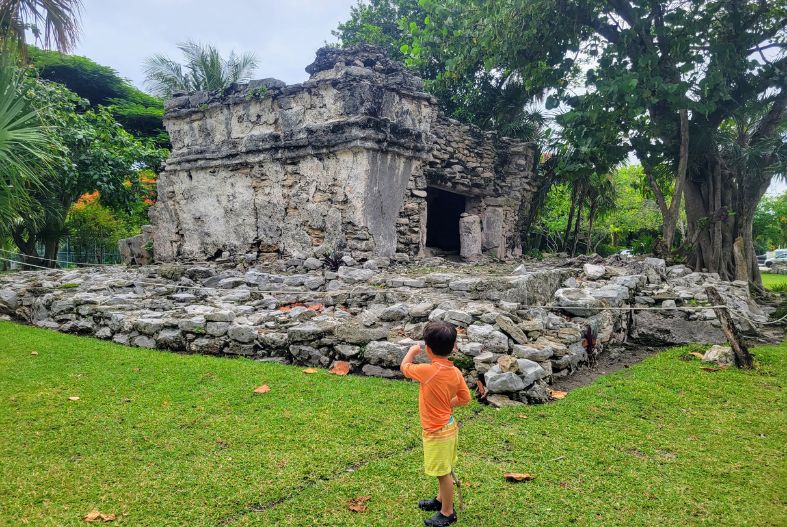 Although the larger ruins like Chichen Itza and Tulum are a bit of a drive away, there are some small mayan ruins in Playa del Carmen itself. The ruins, called Xaman-Ha, are located within the resort area of Playacar and are free and open to the public.
Although not as large or imposing as the larger sites, this small archeological site is a lovely place to explore some ruins away from the crowds. Because this site is not very well-known, you'll likely have it all to yourself during your visit. This obscurity has also helped to preserve the site, as it is not thronged by tourists like some of the other ruins.
This site consists of a few small buildings and the remains of other structures. You'll also likely see some lizards, birds, and other wildlife in the area.
It's a great place to visit in Playa del Carmen with kids because it's shaded, quiet, and perfect for kids to explore.
And the ruins are only a few minutes walk from the beach!
Relax in Park Los Fundadores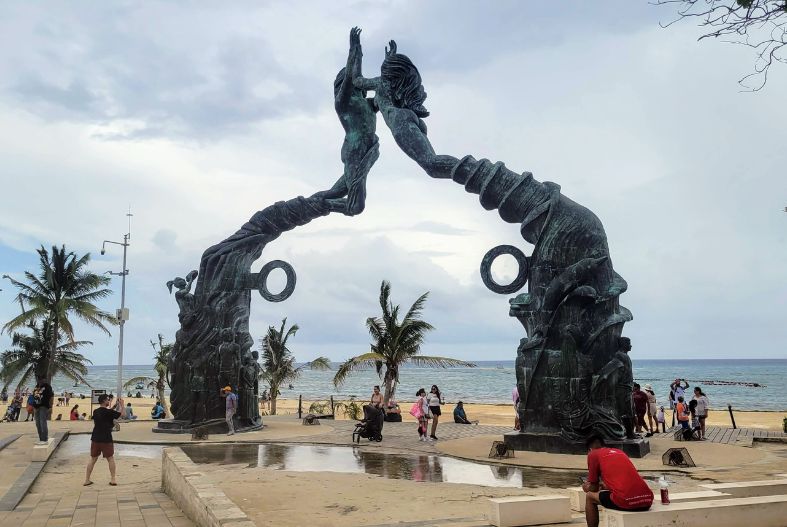 Park Los Fundadores, or Founding Father's Park, is a popular park to hang out and relax. It's most known for the massive Portal Maya Statue, a 50 foot statue of two people with intertwined hands, meant as a tribute to mayan culture.
This is a place where you can eat food, do some people watching, and if you're lucky, catch a performance by Papantla Flyers, dancers who spin from a giant pole as part of a traditional ritual.
Located nearby is also the colorful Playa del Carmen sign, which is a great place to get a family picture.
Visit a local playground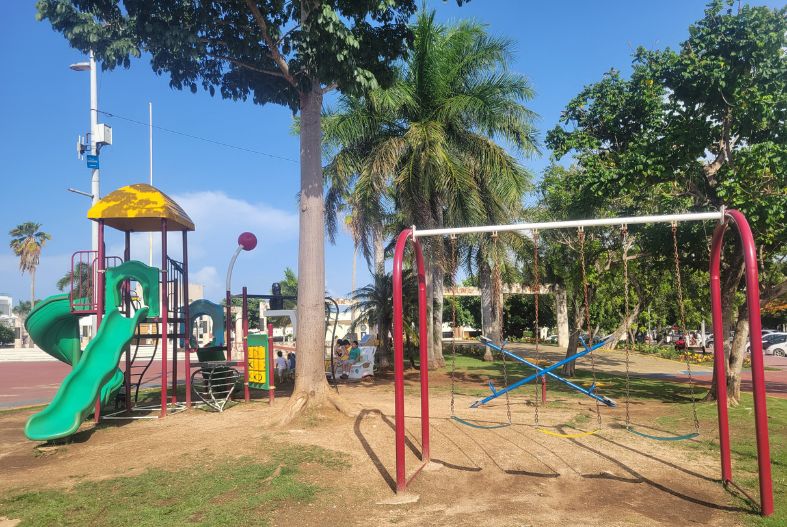 If you're in need of a break from the beach, spend a few minutes at a local playground. Our kids were delighted by the small playground located downtown at Andador Solidaridad Park. Although it's a small park, it was a nice way to break up our day and let the kids get some play time in. There are also food vendors and restaurants nearby.
Parque La Ceiba is another local park with a playground for children. The park is made out of recycled materials and actually has recycling classes for children as well as other activities for the public. This is a nice shady area with some walking trails nearby as well.
Swim in a Cenote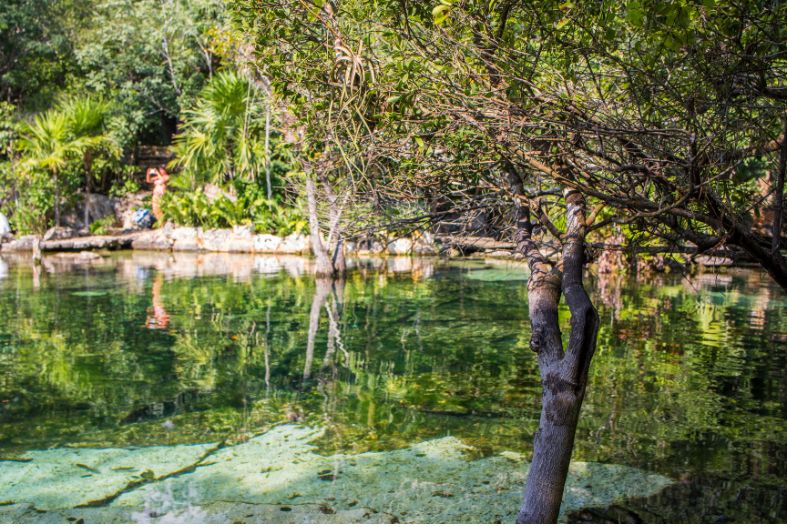 Just outside of Playa del Carmen you can find a variety of cenotes, natural sinkholes filled with freshwater. These wells of water are popular for swimming due to their crystal clear water and natural beauty. A dive into a cenote is a great way to cool off on a hot day!
There are several cenotes near Playa del Carmen to choose from. One of the most popular and family-friendly is Cenote Azul. It's more open than a lot of other cenotes and there are a few shallow areas where young kids can play. There are also some ledges that people like to jump from.
The water is crystal clear so you can easily see all of the fish swimming in the water.
There are restrooms and changing rooms on site and you can rent life jackets there if needed. It can get fairly crowded, so plan on visiting early in the morning or later in the afternoon to beat the crowds.
Visit the 3D museum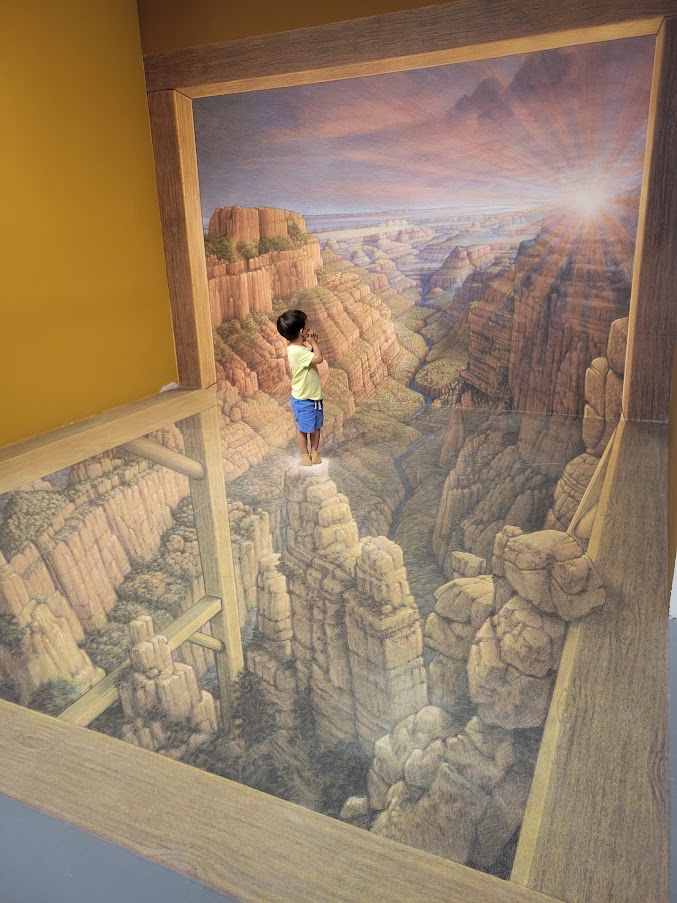 For a unique experience that kids are sure to enjoy, pay a visit to the 3D Museum of Wonders. This museum uses 3D paintings to allow guests to become part of the art! It's really fun to pose with the different pictures and then see how it looks like you're really interacting with them.
This is a great activity to do if the weather is too hot or rainy, as you can stay dry and air conditioned inside.
You can't wear shoes inside, so either bring socks or be prepared to wear the little nylon socks that they provide. The museum is conveniently located in downtown Playa del Carmen only a block from the beach, so if you're staying in the city center it's likely within walking distance from your hotel.
I will say that we did think that it was a bit pricey for the experience that you get. We assumed there would be more pictures than there actually were once we got inside. To be fair, we visited a similar museum in Manila that had LOT more pictures to pose with for a much lower price, so we might be a little biased.
But all in all, it is a fun experience and kids will be so excited to see how their pictures turn out!
See the animals at Crococun Zoo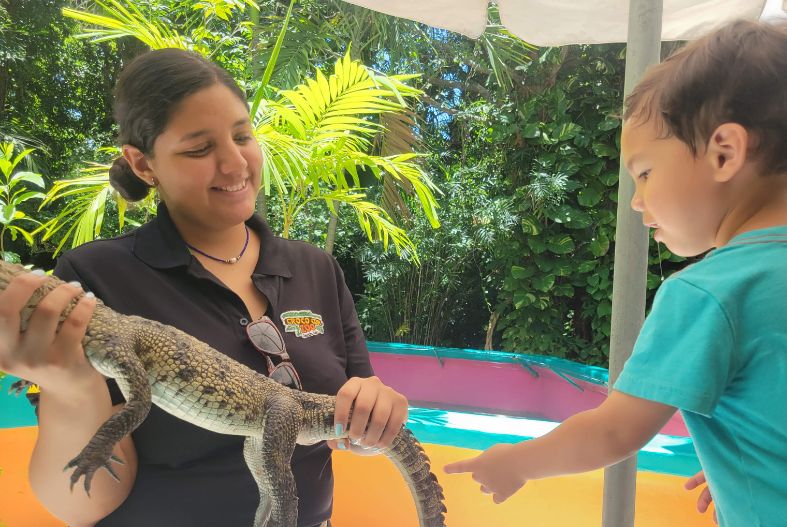 Between Playa del Carmen and Cancun you can find Crococun Zoo, an interactive zoo that's great fun for the whole family.
At the zoo, you can touch and hold various animals, including a baby crocodile, a boa constrictor, and a hairless dog. For $2 extra, you can also get a feed bag to feed many of the animals you encounter during your visit.
Visitors are given a guided tour through the zoo where you can ask questions and learn all about the animals that you see. Sometimes groups are combined if they arrive at the same time, but we had our guide all to ourselves.
The zoo used to be a crocodile farm before it was taken over and turned into a zoo, so there are a lot of crocodiles of various ages. At one point, you can even walk through an enclosure of crocodiles.
The zoo is stroller-friendly and has a playground for kids to play on while waiting for the tour to begin.
We weren't sure what to expect, but it definitely exceeded our modest expectations. Our kids couldn't stop talking about being able to actually touch a crocodile and snake!
Other sites to visit in the area
Although these spots are a little further afield from Playa del Carmen itself, they really are spectacular in their own right and are well worth a visit if you can fit it into your schedule.
Chichen Itza, Tulum Ruins, Cobra Ruins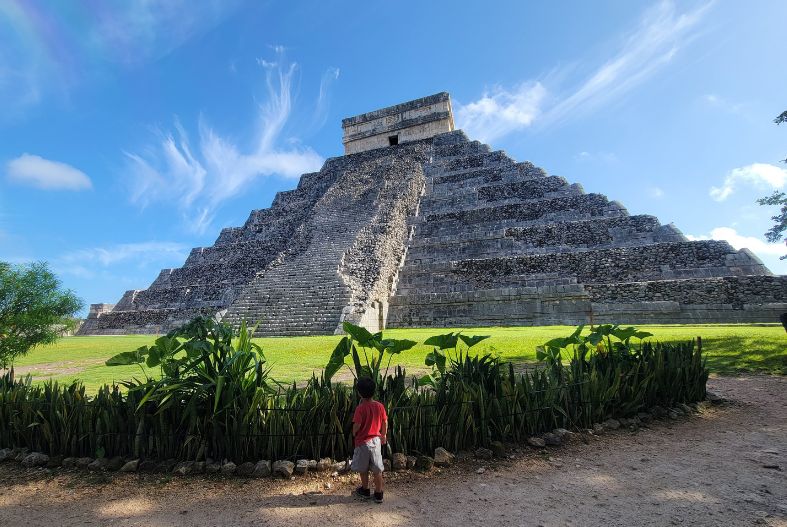 If you have time on your trip, it's definitely worth it to travel a little bit to see some of the bigger archeological sites in the area.
Tulum is only about an hour drive away from Playa del Carmen and is the location of some pretty impressive ruins set right on the coast. The Coba Ruins are another half an hour past Tulum. Chichen Itza is about 2.5 hours from Playa del Carmen.
We visited all three and found them all to be incredible in their own unique way. Chichen Itza is the largest archeological site in the Yucatan and is an impressive sight to behold.
The Coba Ruins were by far our kids' favorite. Mostly because you can rent a bicycle taxi to take you around the ruins, which they thought was amazing. These ruins are also shaded, which makes them much cooler than the other two.
You really can't go wrong with any of these sites and your trip will be that much richer for having visited them.
Cozumel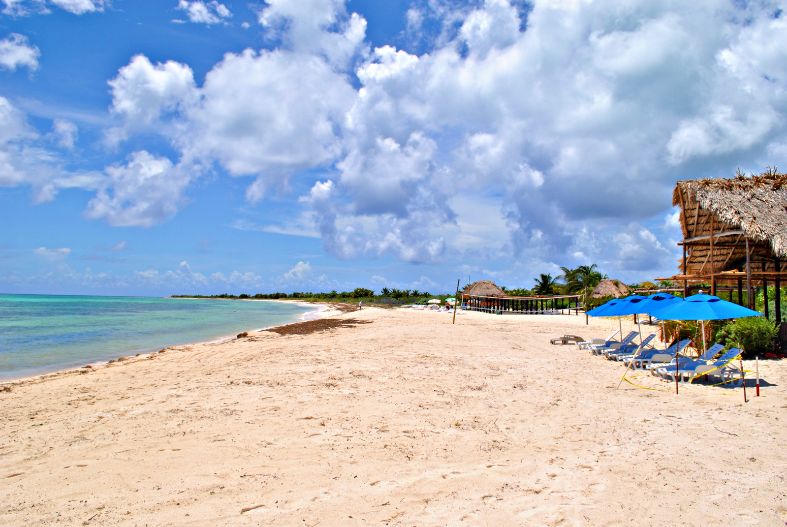 Another option is to take a day trip (or longer!) to Cozumel, a pristine island off the coast of Playa del Carmen. From Playa del Carmen you can take a ferry to the island to experience the laid back beach vibes.
The island is famous for its gorgeous beaches and incredible snorkeling and diving in the crystal clear waters along its extensive coral reef.
How to get to Playa del Carmen (and around once you're there)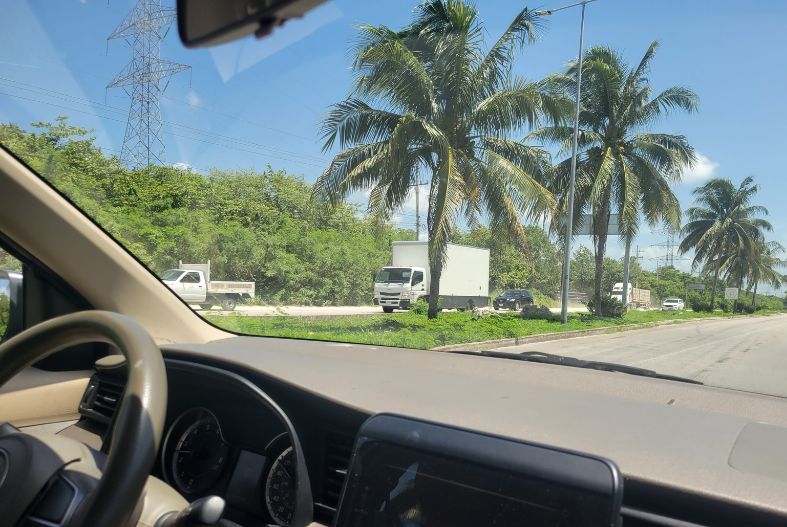 Playa del Carmen is a 45 minute drive from the the Cancun Airport, which is the closest airport to the city. In order to get to Playa del Carmen from Cancun you have a few options.
One of the easiest ways to get to Playa del Carmen is to take a private shuttle from the airport. This is fast, direct, and avoids a lot of hassle when traveling with kids. You can book your transfer in advance so that you have the security of knowing that someone will be there waiting for you.
You can also choose to take the bus, which is more cost effective, but takes longer. Buses for Playa del Carmen leave the airport frequently and are clean and safe.
Another option is to rent a car. This is what we chose to do while we were in Mexico and we found that to be a great option for getting around. We found an awesome local rental company called Yes! Car Rental that was very reasonably priced and so flexile and easy to work with.
And while we were a little worried about driving in Mexico, once we got there we realized it really wasn't too different from driving in the US. Unlike some other countries we have visited, in the Cancun area we found the roads to be in great condition and the drivers to typically adhere to the rules of the road.
It was very convenient to have a car to get to some of the places a little further out from Playa del Carmen, and to be able to take a road trip to visit the major ruins in the area.
Once you get to Playa del Carmen, it's easy to get to most of the places you want to go in the city on foot. If you want to go somewhere a little further away, you can always grab a taxi.
Where to stay in Playa del Carmen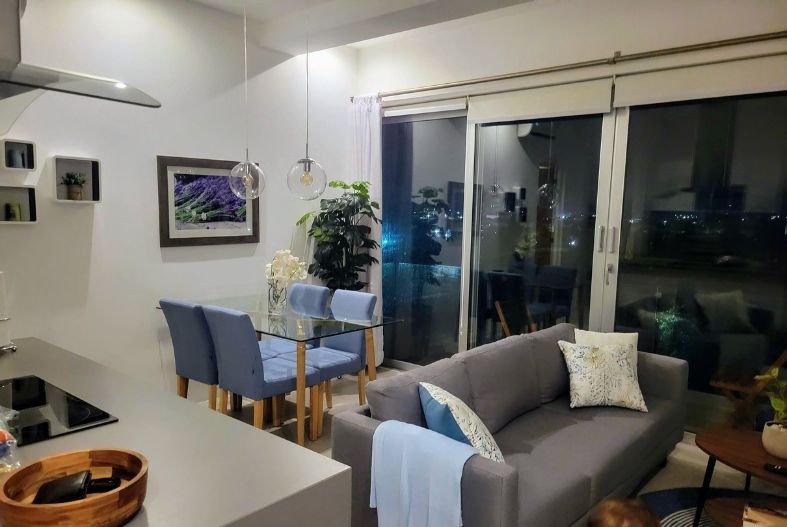 There are a lot of options for places to stay while you're in Playa del Carmen. I would recommend staying in the downtown area so that you're within walking distance of the beach and other main attractions within the city. The Playacar area has lots of resorts and condos right on the beach.
During our visit we stayed at a wonderful Airbnb located a mere 8 minute walk from the beach. For a very reasonable price we were able to get a 2 bedroom apartment with a private jacuzzi and shared rooftop pool. It was also located right across the street from Walmart and close to some great restaurants. We would highly recommend it as a great place to stay with kids while in Playa del Carmen.
Common Questions
What is the best month to visit Playa del Carmen?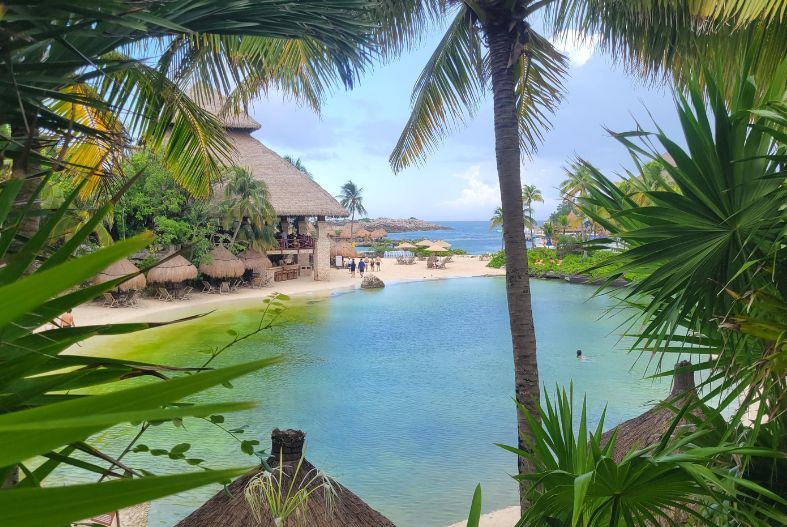 The best time to visit Playa del Carmen is in November and December or April to May. This is considered the shoulder months, or the period just on the edges of peak season (which runs from about November to May).
In these months you get the benefit of decreased rain and more moderate temperatures, but without the crowds that come with the height of peak season.
That being said, due to some delays in our plans, we ended up going in August, which is considered one of the worst times to go because it can get unbearably hot.
But we had a fantastic time even during the hot season. There were a few days that were extremely hot, but if you spend your time at the beach or in the pool you really don't notice the heat. Just to say, you can still have a great time even if you're not visiting during what's seen as an ideal time.
Is Playa del Carmen a good place for families?
Playa del Carmen is a great place to visit for families because there are so many kid-friendly things to do there! This is a destination that is perfect for a family trip because everyone from adults to children are sure to find something that appeals to them.
Is it safe to take kids to Playa del Carmen?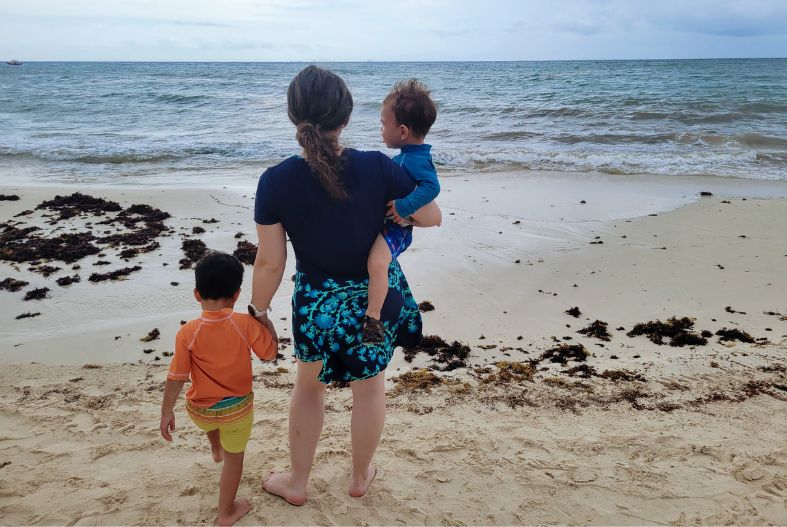 The short answer is that yes, Playa del Carmen is safe for kids.
Like anywhere else you travel, take precautions to guard against pickpockets and theft. We have heard of isolated instances of cops holding up tourists for bribes, etc. However, these situations are not common, especially if you're traveling as a family. We never felt unsafe while we were traveling there with our kids.
Final Thoughts
If you're looking for an amazing vacation destination for a family trip, look no further than Playa del Carmen! You'll be able to find so many amazing things to do that your kids will be talking about it for years to come.
Our kids keep asking us when we'll be going back and our five year old had so much fun that he has informed us that he's moving to Mexico when he grows up. If that's not high praise from a young child, I don't know what is!
Other posts you might be interested in:
Xcaret Park Review- Best Attractions and Helpful Tips for a Amazing Visit!
Driving in the Yucatan: What to Know (+ Tips for Renting a Car in Mexico)
What to Know Before Visiting Chichen Itza with Kids