This page may contain affiliate links, which means that we may earn from qualifying purchases at no additional cost to you.
Make sure you see all the best sights of the city with this Amsterdam 4 day itinerary!
Amsterdam is an incredible travel destination with a little bit of something for everyone.
The city boasts gorgeous scenery, fascinating historic sites, delicious food, lots of child-friendly attractions, and a vibrant party scene. So really, no matter what kind of experience you're looking for, Amsterdam can probably deliver!
There is so much to see and do in Amsterdam, it can be hard to know where to start. We have you covered with this Amsterdam 4 day itinerary, which will allow you to visit the top attractions in Amsterdam and see the best of what the city has to offer.
Read on for a perfect Amsterdam 4 day itinerary!
Amsterdam 4 Day Itinerary Overview
In making this Amsterdam 4 day itinerary, there are various factors that we've considered to make it the most logical arrangement of activities by day. We not only grouped attractions that are located close together, but arranged the days so as to get the most benefit from passes and transportation tickets.
The first three days will be focused on the city center, while the last day takes you further afield to maximize your use of the regional transportation card.
Day 1
Walking Tour of Amsterdam
The National Maritime Museum
Museum of Dutch Resistance
Day 2
Floating Flower market
Vondelpark
Rijksmuseum
Van Gogh Museum
Day 3
Rembrandt House
Royal Palace
Jordaan neighborhood/Canal Tour
Anne Frank House
Day 4
Muiderslot
Zaanse Schans Windmills
A note on Amsterdam City Passes
If you're planning on being in Amsterdam for four days, you'll probably want to get a city pass. These passes provide entrance to many of the top attractions in Amsterdam for a discounted rate and often also provide extra perks, like a free canal cruise and bike rental.
For a breakdown on the most popular Amsterdam passes, check out this post. For an itinerary like the one that we're suggesting in this Amsterdam 4 day itinerary, we would recommend the I amsterdam Card, which includes the most attractions and is overall a great return on investment.
Amsterdam 4 Day Itinerary
Day 1
Walking Tour of Amsterdam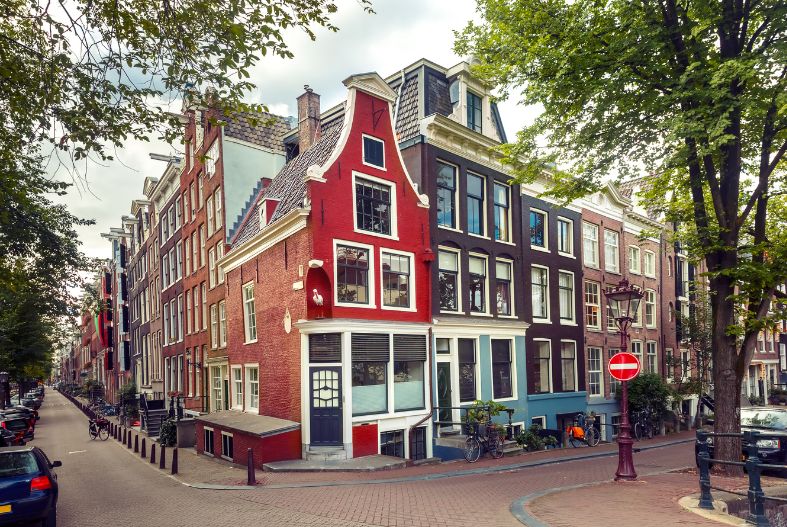 Start off your trip to Amsterdam by exploring the city on a walking tour. These tours are a great way to learn more about the history of the area from knowledgeable guides. It also helps you to know where you want to spend more time on the rest of your trip as you learn about the various attractions around the city.
There are several different options for walking tours, from food tours, to WWII history tours, to Red Light District tours. Whatever your interests are, you can find a tour that caters to what you want to learn.
While some of these tours are paid tours, there are also a lot of free walking tours available as well. These tours have no upfront costs, but in the end you are expected to leave a tip for whatever you felt the tour was worth.
Typically tours are two to three hours, depending on the kind of tour that you choose.
The National Maritime Museum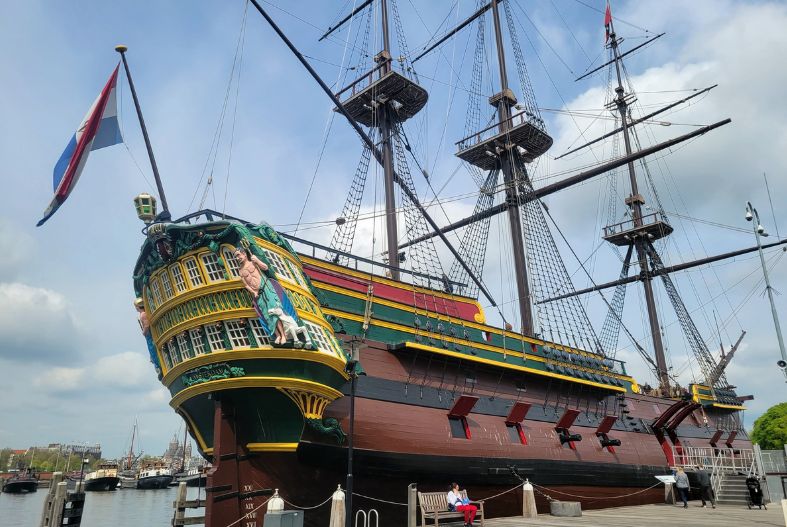 Het Scheepvaartmuseum, or the National Maritime Museum, boasts an impressive collection of maritime artifacts from Dutch trading over the years. Given how important the sea was to the development of the Netherlands, this museum provides important insight into the country's history.
Although all of the exhibits are interesting, arguably the best feature is the scale replica of a Dutch East India Trading Company ship. Wandering the decks gives you a feel for what life would have been like to sail on one of these vessels back in the trading heyday. The ship contains interactive displays and a VR video presentation to provide more insight into the history and function of the trading shops. Kids especially will love exploring the ship and there are fun displays made with children in mind.
Museum of Dutch Resistance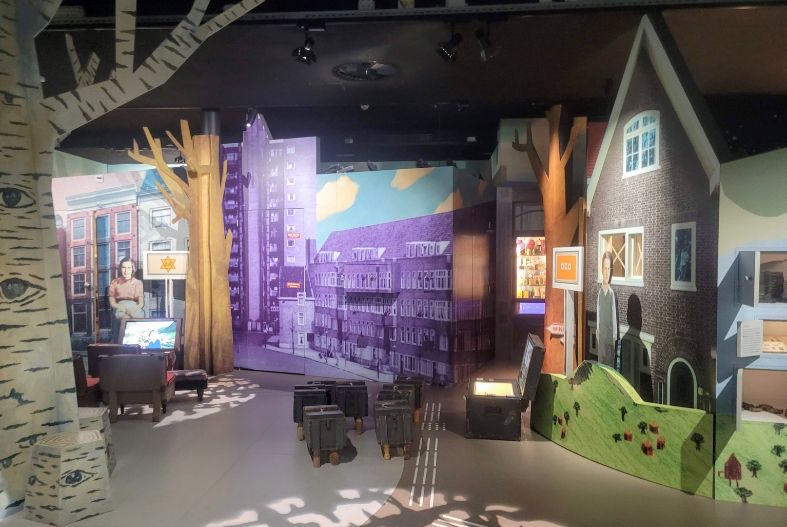 By far our favorite museum in Amsterdam was Verzetsmuseum, or the Museum of Dutch Resistance. This museum details the Dutch experience during WWII, with particular emphasis on the Dutch Jews and their experience.
Through photos, artifacts, and personal stories, you're transported back in time to get a glimpse of the various ways people resisted the Nazi occupation. There is also a free audio guide available to supplement the information provided in the exhibits.
Make sure to spend some time at the absolutely phenomenal children's museum as well, which is fascinating for both children and adults. This section of the museum has interactive displays recounting the real experiences of four children during WWII. The story is told in detailed sets recreating the houses of the four children. The Junior Museum is recommended for children ages 9 and up.
We found this whole museum to be so well presented and engrossing. Although we went in planning on going through the experience quickly to make time for other attractions, we ended up spending most of our afternoon making our way through the exhibits.
If you're interested in history, this is one museum you don't want to miss while in Amsterdam.
Day 2
Floating Flower Market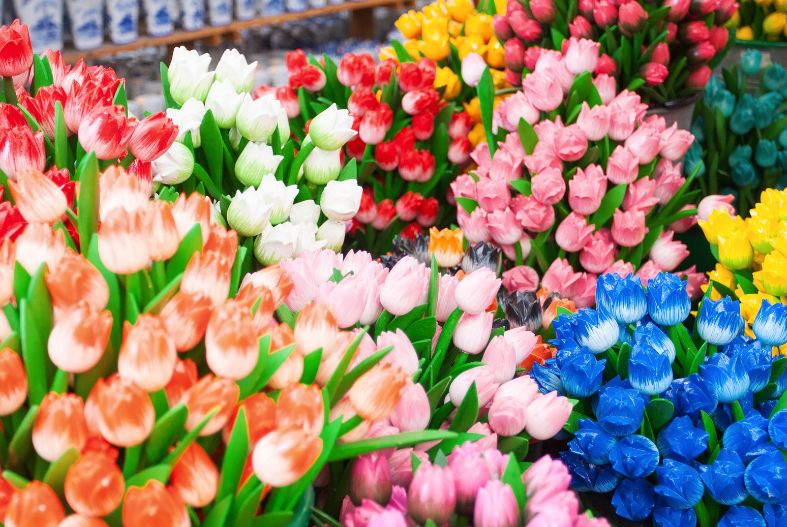 As the only floating flower market in the world, the Amsterdam Flower Market is a unique place to visit while in the city. And for a country famous for its flowers, it only makes sense to see the vibrant blossoms up close.
At the market, you can find a variety of flowers, sold from houseboats floating on the canal, including the iconic Dutch tulips. You can also purchase export-ready bulbs to take back to plant in your garden or give as gifts.
Not only can you buy flowers here, but you can also find a vast array of souvenirs from wooden clogs to wheels of cheese.
You can find the market between Koningsplein and Muntplein on the Singel Canal. Note that the market is only open Monday through Saturday.
Rijksmuseum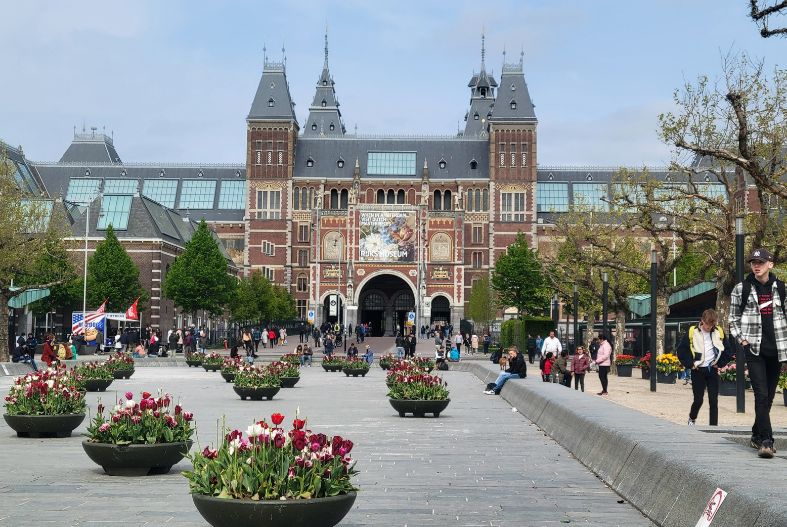 As the national museum of the Netherlands (and the largest museum in the country), Rijksmuseum is the place to go to learn about Dutch art and historical artifacts.
At the museum you can find pieces from Dutch masters such as Van Gogh, Rembrandt, and Vermeer as well as other fascinating exhibits, such as the extensive collection of Delft Blue (porcelain) and the display of model ships.
The museum is also home to the Cuypers Library, a public art history research library (the largest of its kind in the country). If you like books, this is a gorgeous library and well worth a visit.
This is a huge museum and you could easily spend half the day there exploring all the exhibits. However, if you just want to get a good overview of the museum, plan on spending at least a couple of hours. We ended up being there for about three hours and we felt like we moved at a pretty decent pace through the museum.
Entrance to the museum is included in both the I amsterdam Card and Museumkaart. Bags are not permitted in the exhibits, but there are free lockers where you can store bags for the duration of your visit. You do need reservations, so make sure to reserve tickets online in advance of your visit.
Vondelpark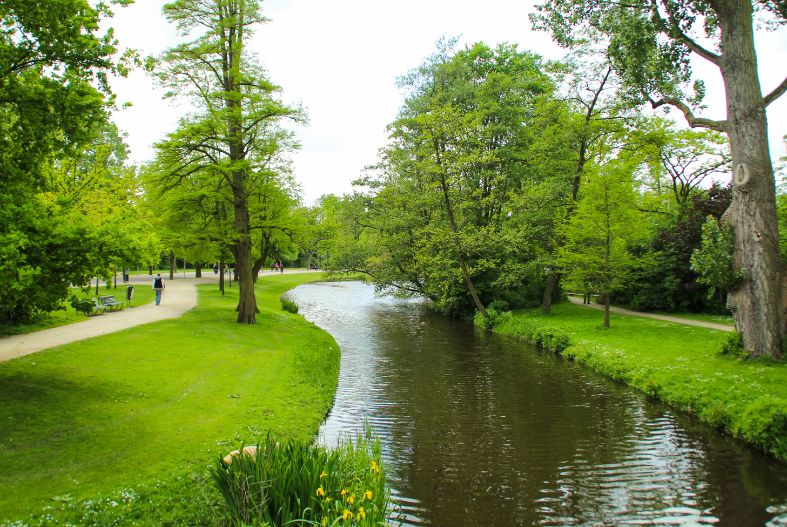 Located just down the street from Rijksmuseum is the largest city park in Amsterdam, Vondelpark. The park is 120 acres of lush vegetation, bicycle paths, and scenic rest spots.
In the summer, you can see free music, dance, and theater performances at the open air theater. The park also has several play areas for children and children's shows at the open air theater in the summer.
This is a relaxing place to unwind between visiting the Rijksmuseum and the Van Gogh Museum. Bring some food and have a picnic in the park to break up your day.
Vondelpark is also a great place to explore by bike.
Van Gogh Museum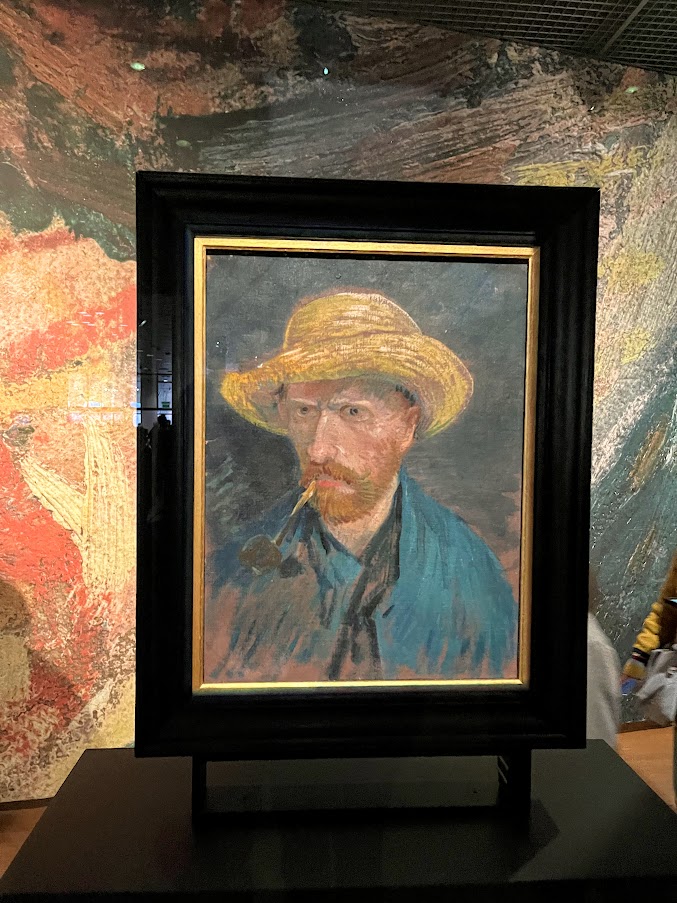 Located just down the street from Rijksmuseum is the Van Gogh Museum. As you might guess by the name, this museum is dedicated to the life and works of Vincent Van Gogh and contains the largest collection of artwork by Van Gogh in the world.
The museum takes you through the life of Vincent Van Gogh as you follow the progression of his art over time.
Although there are many must-see paintings, some of the most famous include Sunflowers, The Potato Eaters, Wheatfield with Crows, and Van Gogh's self-portraits.
Depending on how much of an art-lover you are, plan to spend between one and three hours at the museum. We moved fairly quickly through the museum and were there for just over an hour.
The Van Gogh Museum is included in both the I amsterdam Card and Museumkaart. Reservations for a specific time slot must be made online in advance.
Day 3
Rembrandt House
Located only a couple minutes walk from Grand Central Station is the Rembrandt House. This house is where Rembrandt lived and painted for nearly twenty years, starting in 1639. The interior of the house has been reconstructed in the style of the day, so that you can visualize what it would have looked like when Rembrandt lived there.
At this museum you can learn more about the Dutch painter and see some of his etchings, as well as the work of some of his contemporaries. A self-guided audio tour allows you to explore the rooms at our own pace as you learn more about the famous artist.
Plan on spending an hour to an hour and a half at the museum.
Royal Palace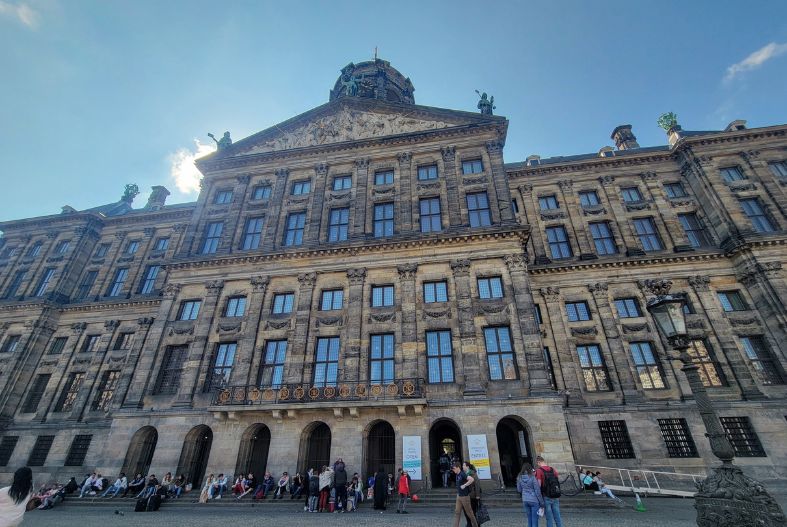 As one of the three palaces still in use by the royal family today, the Royal Palace in Amsterdam is a living piece of history. When being used in an official capacity, the palace mostly serves as a meeting place for state visits, ceremonies, and official functions. The rest of the time it is open to the public for tours.
From its location in Dam Square, the Royal Palace sits in the very heart of the city. Although it was originally built as the town hall of Amsterdam in 1648, for the past 200 years it has been a residence of the royal family.
A tour through the palace with the free audio tour provides insights on the Dutch royal family and the history of the formidable building.
Although you can book in advance online, this is one attraction where it isn't always necessary. On the day we went, there were still lots of tickets available for all the time slots.
Entrance to the Royal Palace is included in Museumkaart, but not I amsterdam. Before planning your trip, check the website to make sure the palace will be open when you intend to visit.
Anne Frank House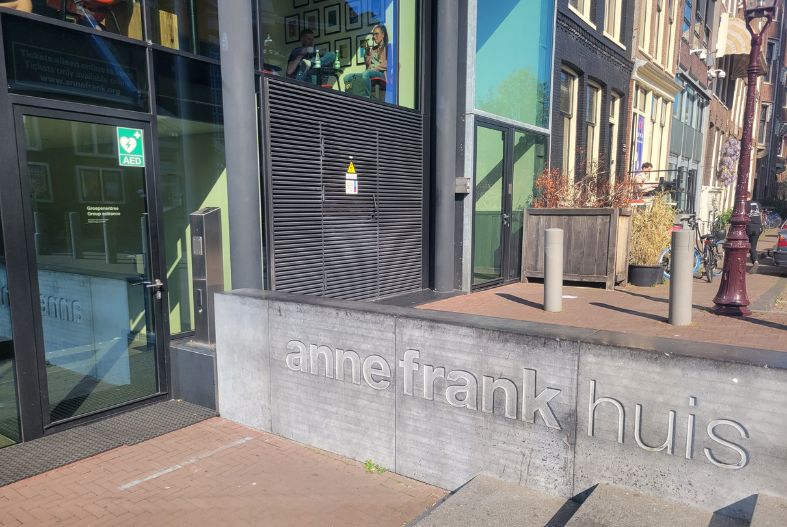 If you're staying in Amsterdam, a visit to the Anne Frank House is an experience that you don't want to miss.
This is the home where Anne hid with her family for nearly two years before they were discovered. It's a moving experience to be able to walk behind the actual bookcase that covered their hiding place and see the annex where they lived during that time.
Through the audio guide and exhibits in the museum, you learn about the experience of the Frank family as well discrimination against and treatment of Jews by the Nazis. Probably one of the most poignant parts for me was seeing Anne's actual diaries she wrote all those years ago.
Tickets are for a specific time slot and are released for each month on the first Tuesday of the previous month. And tickets go quickly, so be ready to buy your tickets as soon as possible after they are released. You can only buy the tickets online and once they're gone, they're gone. You cannot purchase tickets at the museum once you've arrived.
Large bags are not permitted, and as of when we went the cloakroom is closed so you cannot leave bags at the entrance to the museum.
The Anne Frank House is not included in the I amsterdam card, but it is included in the Museumkaart.
Explore the Jordaan Neighborhood and take a Canal Tour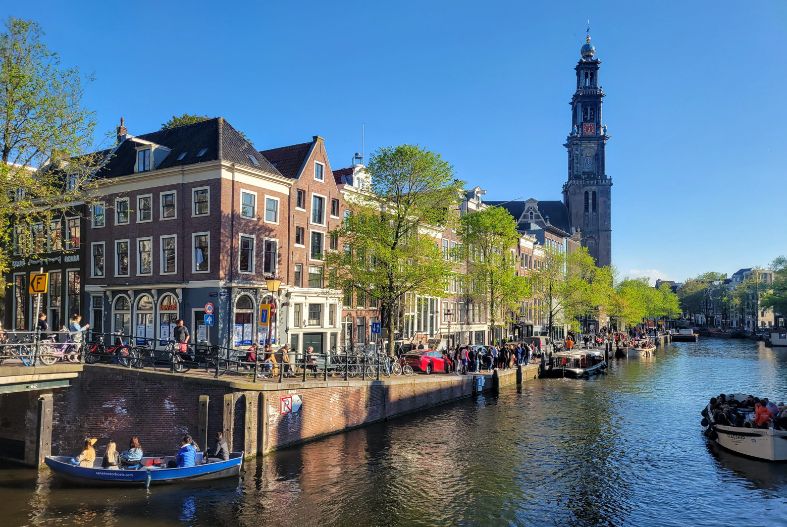 After you finish at the Anne Frank House, take a few minutes to stroll around the Jordaan district, considered by many to be one of the gems of Amsterdam. This neighborhood is famous for its charming canals lined with charming houses, boutique shops, and mouth-watering eateries.
It's also a great jumping off place to explore more of the city by boat on a canal tour. On a boat tour you can experience first-hand Amsterdam's impressive canal ring (a UNESCO World Heritage Site), take in the sights, and learn more about the history of the city.
A 60-minute canal tour is included in the I amsterdam card.
Day 4
On the last day of your Amsterdam 4 day itinerary, you'll be venturing out a little further afield from Amsterdam to visit some nearby attractions.
Although these sites aren't necessarily close to each other, it makes sense to visit them in one day if possible to minimize your transportation costs. To get to these attractions, you need a regional travel ticket, which you can purchase here. You need to pay per day that you will be using the pass. Note that regional travel tickets are valid by day, not 24-hour time period. By visiting both of these locations in one day, you will only need to purchase a one day regional transportation ticket.
Muiderslot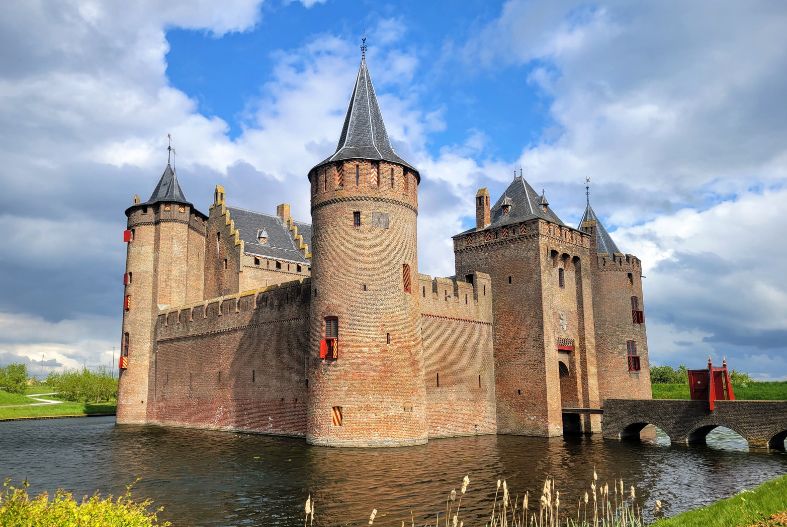 Located about 10 miles from Amsterdam is a picturesque medieval castle surrounded by a moat. Muiderslot was built around 1280, although it was destroyed soon after and rebuilt one hundred years later. Today it is a national museum and open to the public.
On a visit to the castle, you can tour the grounds and explore the interior of the castle. The tour includes an audio guide that provides more insight into the history of the castle and the people that lived there. You can also pay €2 to get a kids' activity book to entertain children during a tour of the castle.
It's best to get to the castle as early as possible to avoid the crowds. When we arrived shortly after the castle opened for the day, there were only a couple of other people there. But by the time we left, it was starting to get much more crowded.
If you're okay with traveling a short ways outside of Amsterdam, this castle is definitely worth a visit! And the small nearby town of Muiden is also adorable and a perfect place for a scenic stroll along the canal (if you take the bus you'll walk through the town to get to the castle).
To get to Muiderslot by public transportation, you'll need to have a regional travel ticket. You can catch the bus from Amsterdam Central Station and it will drop you off a short walk from the castle.
You can also choose to take an Uber directly to the castle, which will of course vary in price depending on where you're coming from.
Zaanse Schans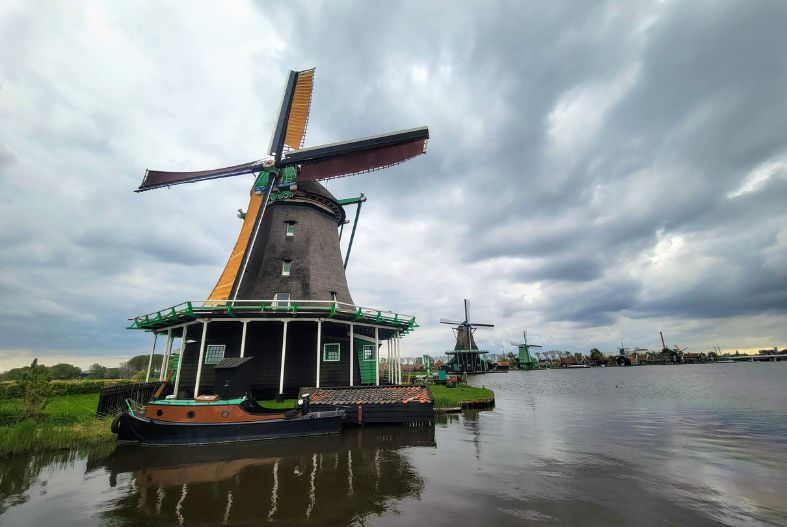 A visit to Zaanse Schans is an opportunity to step back in time to an 18th-century Dutch village. This open-air museum is made up of small shops, mini-museums, and of course the famous windmills.
The main museum is the Zaans Museum, which provides a detailed background of the area and also includes a tour of a 20th century chocolate and biscuit factory.
Scattered throughout the village are other museums, such as the wooden shoe museum, the cheese museum (free samples!), the cooper, and more. Many of these museums are also linked to shops selling goods and souvenirs, which feels like a bit of a tourist trap, but there is still some interesting information.
One of the windmills is open to visitors, providing a chance to experience a tour of a working windmill.
The village gets extremely busy, so it's best to visit first thing in the morning or at the end of the day. We arrived mid-afternoon and stayed until after the museums closed at 6. The crowds diminished as it got closer to closing time, and once the museums and shops were closed, we had the place mostly to ourselves to walk around a bit more and take some lovely, crowd-free pictures.
The outdoor part of Zaanse Schans can be visited for free, but entry to the museums requires payment. The museums at Zaanse Schans are included in the I Amsterdam Card.
You can get to Zaanse Schans by taking the train from Amsterdam Central and walking for about 10 minutes to get there. Or you can take the bus, which drops you off right in front of the village.
Other possible options
Here are a few other popular attractions to consider if you can fit them into your schedule.
Keukenhof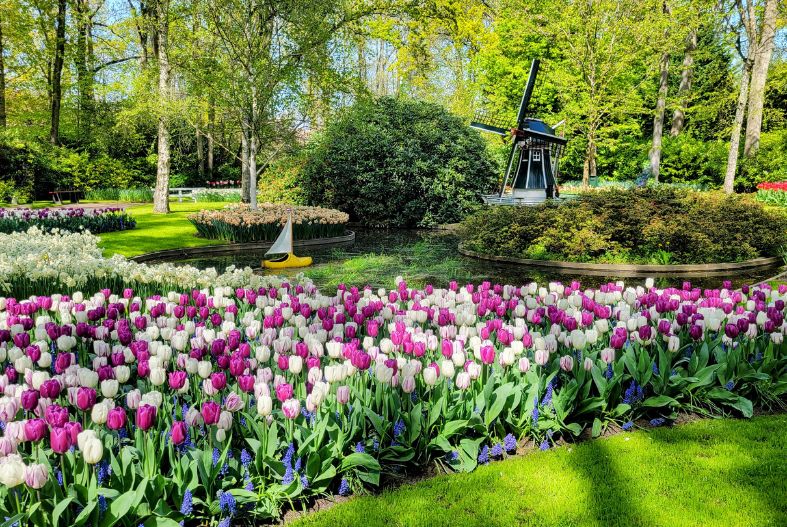 If you're visiting Amsterdam in the spring, you'll want to make time to stop by the Keukenhof Tulip Gardens. Millions of tulips are planted in the fall each year for a truly glorious, vibrant display come spring.
If you're in the area, it's well worth the effort to take some time to see the iconic Dutch tulips.
For tips on visiting Keukenhof and the nearby Lisse tulip fields, see this post.
Day trip to Haarlem or Utrecht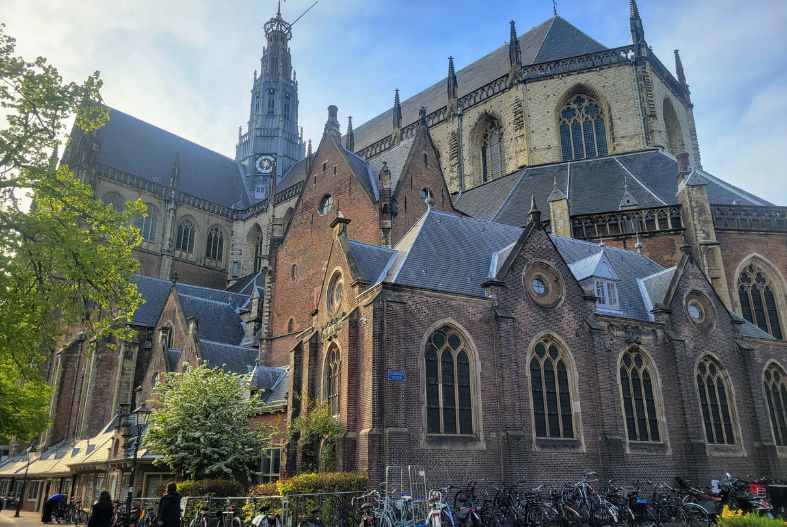 Another option for one of your days in Amsterdam is to take a day trip to one of the smaller nearby cities.
Some great options located only a short distance away include Utrecht and Haarlem, both of which have a lot to offer someone visiting for the day. On a day trip, you'll have a chance to get away from the crowds a bit and as you explore these charming and picturesque towns.
NEMO Science Museum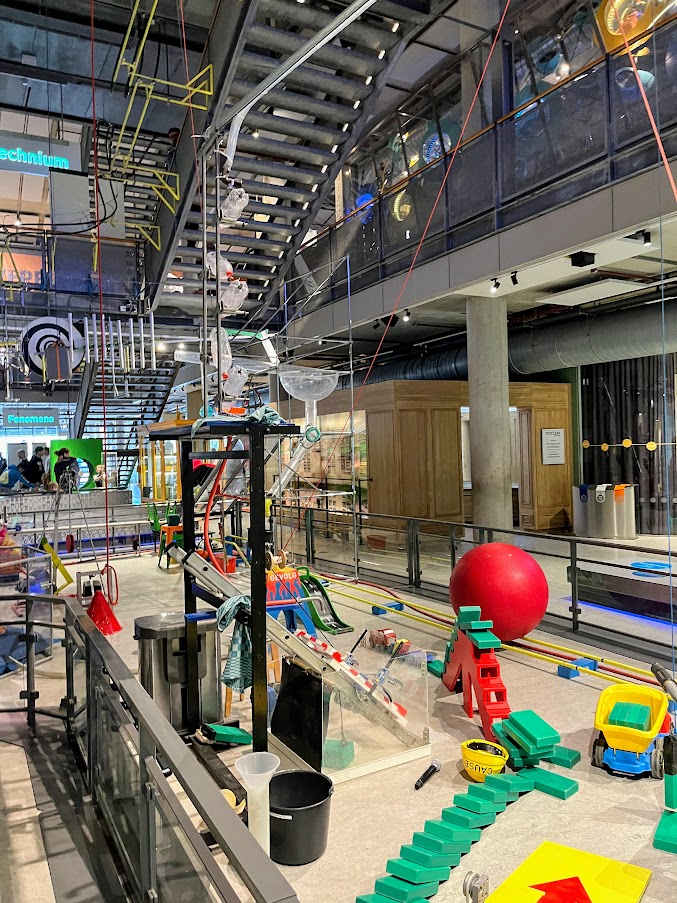 If you're visiting Amsterdam with children (or if you're a science lover), consider a stop to the NEMO Science Museum. Learn about science and technology as you explore five floors of exhibits, workshops, and hands-on activities.
When you're done, head up to the rooftop terrace for some spectacular views of Amsterdam.
Artis Royal Zoo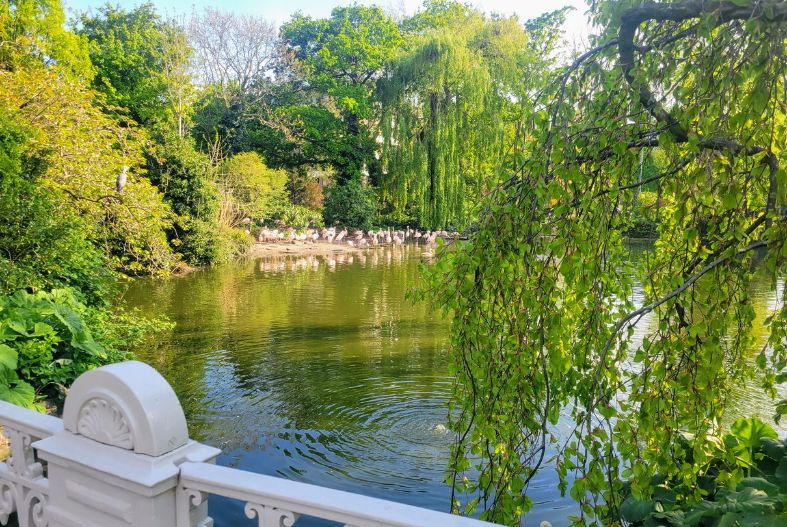 Another great location to visit with children is Artis Royal Zoo. Conveniently located in the center of Amsterdam, Artis is one of the oldest zoos in Europe. Although not overly large, the zoo has a wide variety of animals and a beautiful, park-like setting.
Our favorite part was the elephants as there was a new baby elephant at the time we were there.
The zoo also has children's wagons available for use. The wagons are free, but do require a 2 Euro deposit, which will be returned when you return the cart. Children under three are free.
The zoo is directly across the street from the Museum of Dutch Resistance, making it a perfect stop once you've finished at the museum.
Getting around in Amsterdam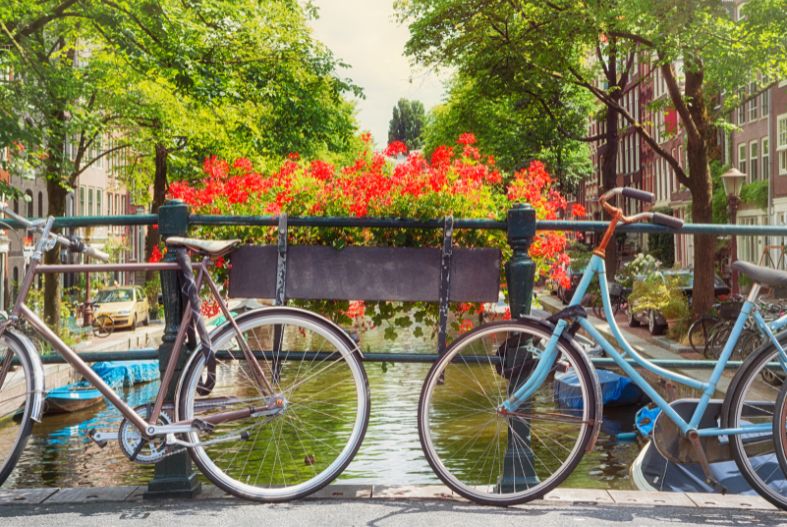 Probably the best way to get around Amsterdam is on foot or by bike. Many of the most popular attractions in Amsterdam are located in the city center, within walking distance of each other.
Amsterdam also has an excellent public transportation system, so it's easy to catch a train or tram to get you where you need to go if you'd rather not walk. Public transportation within Amsterdam is often included in the city cards as well, such as the I amsterdam card.
Where to stay in Amsterdam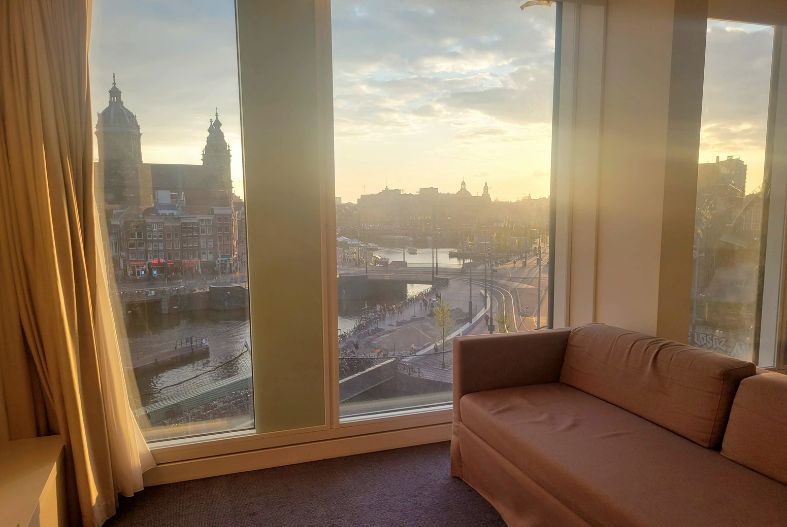 There are a lot of options for lodging while in Amsterdam. In order to make the most of your stay, choose someplace that is close to downtown. This will put you within walking distance of many of the best attractions in Amsterdam.
We stayed at the Doubletree Amsterdam, which is conveniently located in central Amsterdam and has amazing views of the city. It's also a great points redemption if you're using credit card points. Using points from our Hilton credit card, we were able to get two free nights and an upgrade to a suite overlooking the canal.
What to eat in Amsterdam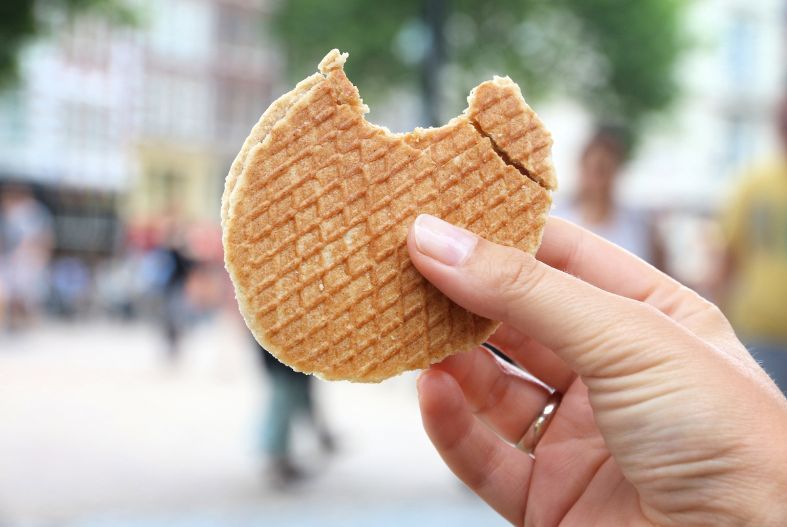 While you're in Amsterdam, there are some delicious local foods that you have to try during your stay. Here are some classics that you won't want to miss:
Stroopwafel- thin waffle filled with a caramel syrup
Broodje haring- hering sandwich
Poffetjes- mini puffy pancakes
Appeltaart- Dutch apple pie
Bitterballen- crispy meatballs
Pannekoeken- Dutch pancakes (large and thin, almost like a crepe)
Cheese- the Netherlands has some of the best cheese in the world, be sure to sample some and maybe buy some to bring home- they make a great souvenir.
Final Thoughts
Amsterdam is an amazing city to visit with so much to offer! Whether you're a history buff, traveling with children, or eager to experience the Amsterdam night life, you'll find something that caters to your interests in this diverse city.
This Amsterdam 4 day itinerary will allow you to see the best of Amsterdam in a short period of time so that you can relax and enjoy your stay in this unique city!
Other posts you might be interested in:
The Ultimate Guide to Amsterdam Passes- Which is Right for You?
Visiting Keukenhof and Lisse Tulip Fields- Everything You Need to Know!