This page may contain affiliate links, which means that we may earn from qualifying purchases at no additional cost to you.
If you're visiting the Netherlands, Rotterdam just might be the perfect addition to your itinerary. And if you're traveling as a family, you'll be pleased to know that there are lots of great things to do in Rotterdam with kids!
I have to admit that when we were planning our trip to the Netherlands, Rotterdam was not on the top of my list of places to visit. Because most of the city was destroyed during World War II, the city doesn't quite have that old-world vibe I was looking for.
However, I was pleasantly surprised about how many fun and interesting things there were to do in the city, especially for kids!
If you're traveling to the Netherlands as a family, I highly suggest spending some time in Rotterdam to see what the city has to offer.
Below we've listed some of the best attractions to visit in Rotterdam with kids.
Best Things to To in Rotterdam with Kids
Miniworld Rotterdam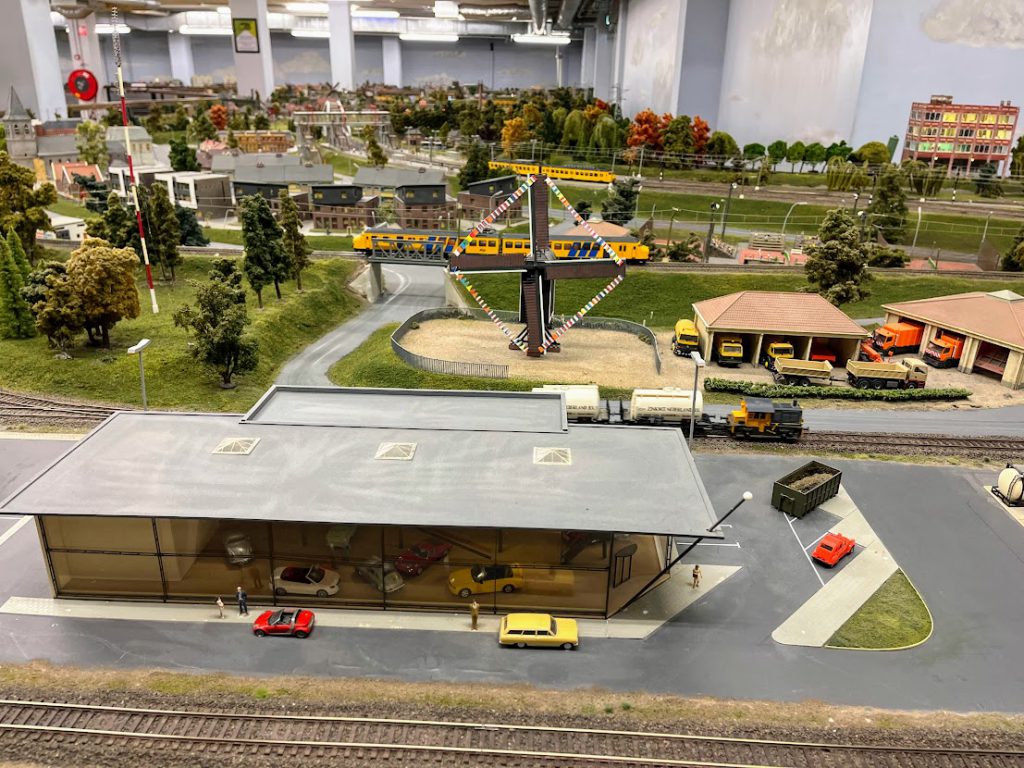 At Miniworld Rotterdam you can see various landscapes from the Netherlands recreated in miniature form. From the docks to the cityscape to rural farmland, the exhibit covers the expanse of Dutch living.
We didn't know what to expect going into Miniworld, but we were blown away by the detail and intricacy of the sets. Everywhere you look you can see miniature people, vehicles, animals, and buildings all created to scale to make a very realistic-looking scene. There are even working trains and trucks winding their way through the sets to add another element of realism.
In some areas, you can find interactive elements where you can push a button to trigger something to happen on the scene, like making an excavator move or a helicopter fly.
In Miniworld, you experience 24 minutes of day before the lights dim and night falls over Miniworld. The scene is transformed as lights flicker on in the buildings, street lamps, and tiny cars.
This is such a fun experience for children, who will be delighted by all of the details in the miniature landscape.
While we were there they were also in the process of creating a new miniature set of Britain in the basement. It was so fun to be able to see a work in progress and get a peek behind the scenes to see how they create these miniature worlds.
This is one experience we would highly recommend for children and adults alike!
Rotterdam Zoo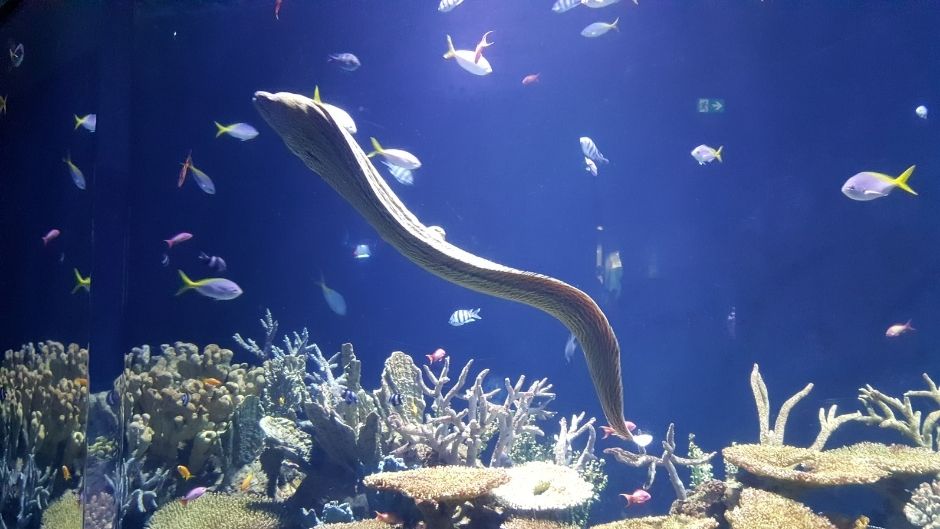 Known locally as Blijdorp, Rotterdam Zoo has the distinction of being one of the most beautiful zoos in Europe.
At the zoo, you can take a journey through the different continents as you visit the various animals. The enclosures are designed to replicate the animals' natural environment as much as possible, minimizing the use of bars and fences where possible.
One of the most popular attractions at the zoo is Oceanium, the underwater world at the zoo. Here you can immerse yourself in the sea as you follow the tunnel through the aquarium while sharks, rays, and fish swim next to and above you.
Other fun features of the zoo include the butterfly house and the indoor play area for kids.
The zoo is very large, so come prepared for a lot of walking as you explore the different animal habitats. Strollers can be rented for the day at the zoo entrance.
Maritime Museum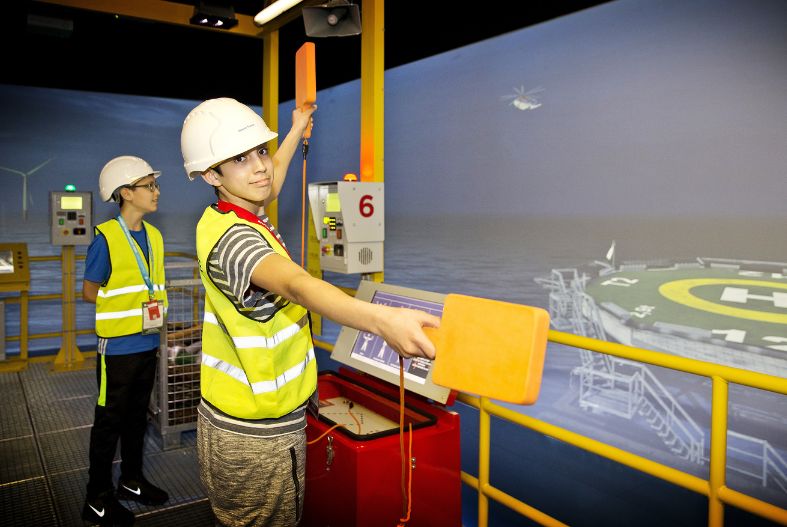 At the Rotterdam Maritime Museum, take some time to learn about the history and impact of shipping in the largest port in Europe.
Although the museum does have sections with the more traditional ship models and paintings, much of this museum is geared towards children, with interactive displays and games to capture their interest.
One of the highlights is the Offshore Experience, an interactive exhibit where guests can learn more about what it's like to have an offshore job such as drilling, driving a crane, or piloting a helicopter out on the open sea. After donning a helmet and safety vest, participants engage in games and simulations to help them understand what these challenging jobs really involve.
The museum also has an outdoor section on the marina where you can see cranes and shipping vessels and actually step onto some of the boats.
And one of the best parts for kids might be the huge playground on the top floor with both an indoor and outdoor section. Plan some extra time for this part, because your children might never want to leave!
Kids Marina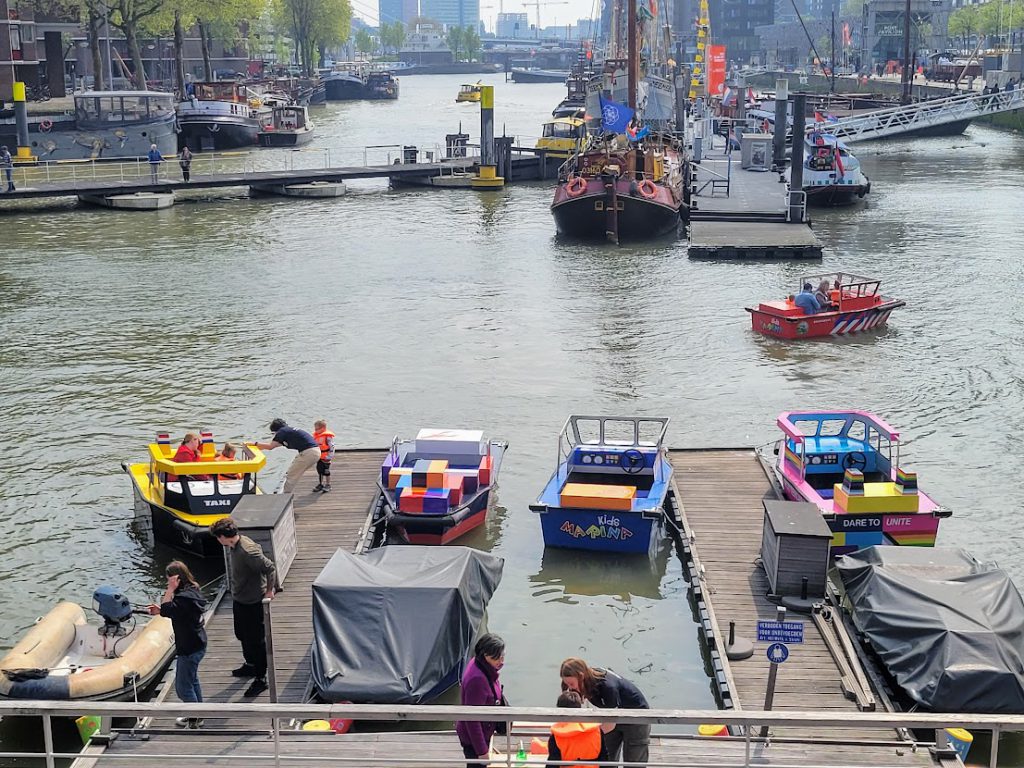 If you're paying a visit to the Maritime Museum, be sure to stop by the Kids Marina on the way out. This is a small area of the marina that is sectioned off for kids to drive the small boats.
Kids will love pretending to be a ship's captain as they steer their boats around a real marina. Parents can also join and help their child navigate the boat around the harbor.
A ticket includes 15 minutes of time on the boat and a visit to the Maritime Musem first grants you a twenty percent discount on your ticket.
Pancake Boat Tour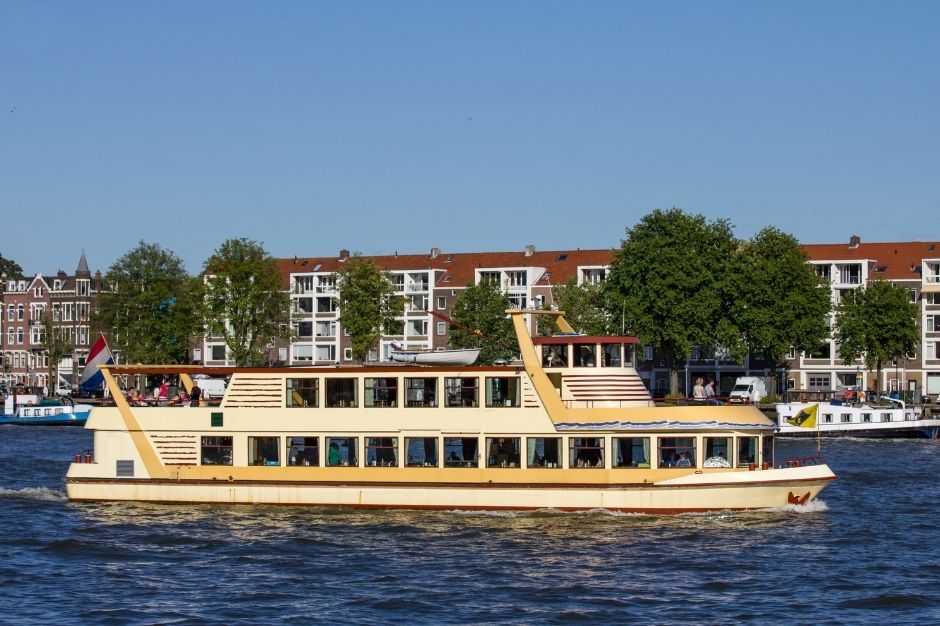 A boat cruise with all-you-can-eat pancakes, what's not to love?
This 75-minute harbor cruise will allow you to take in the sights of Rotterdam's skyline while filling your stomach with delicious Dutch pancakes.
The buffet includes various kinds of pancakes as well as a wide array of savory and sweet toppings. Gluten-free options are also available.
And once the kids are done eating they can play in the ship's ball pit below deck.
This is a memorable experience that the whole family is sure to enjoy!
Speelcentrum Weena Playground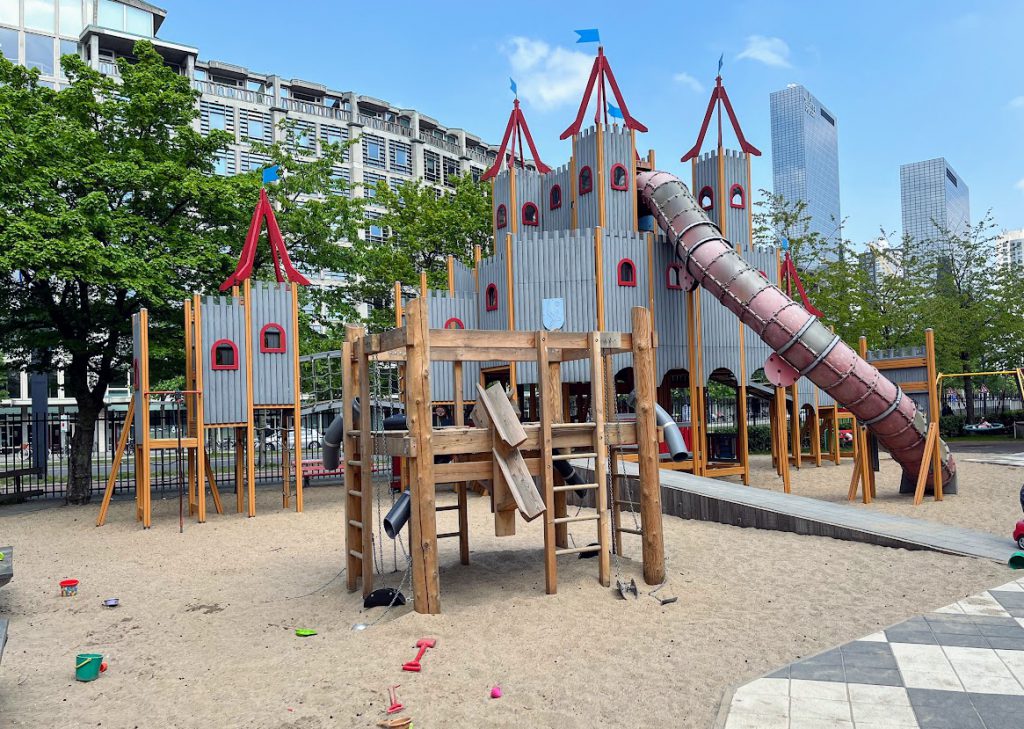 Located near Miniworld Rotterdam, this playground is absolutely phenomenal for kids of all ages. We happened to stumble across it on our way back from Miniworld and we just had to stop and check it out. And then we didn't want to leave!
The main play structure is a castle fortress. Along with some pretty impressive slides for a city park, the castle contains turrets to climb, bridges to cross, and walls to scale.
The is also a tire swing, a sand area with beach toys, ride-on trucks and cars, foosball and air hockey tables, and various kinds of swings. In the summer they also have splash areas and water toys.
And for younger kids, there is also a toddler play area with a small slide and some ride-on toys.
This was such a cool park and our kids could spend hours playing here and still not want to leave.
It's a great way to break up the day and let the kids unwind a little bit. And the best part is, it's free!
Cube Houses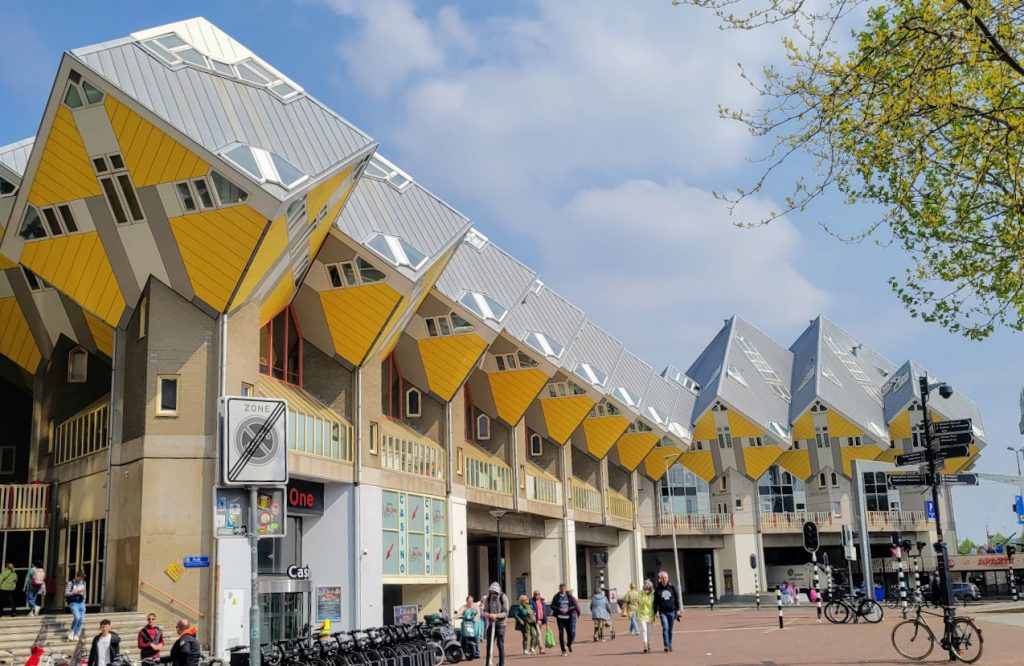 For a look at some unique modern architecture it the city, stop by the Cube Houses of Rotterdam.
These eye-catching structures were designed by architect Piet Blom as a creative way to make buildings over a pedestrian bridge. They were created in a way that is meant to invoke feelings of an urban forest.
The yellow cubes are three levels on the inside and yes, people do actually live inside them!
If you want to take a look inside one of the cubes, the Show-Cube is a fully furnished cube that is open for tours seven days a week for €3 per person. Or, if you're even more ambitious, another of the cubes is actually a hostel where you can stay the night!
Kids (and adults) tend to be quite impressed by these quirky buildings with their odd angles and gravity-defying design.
Grote of Sint-Laurenskerk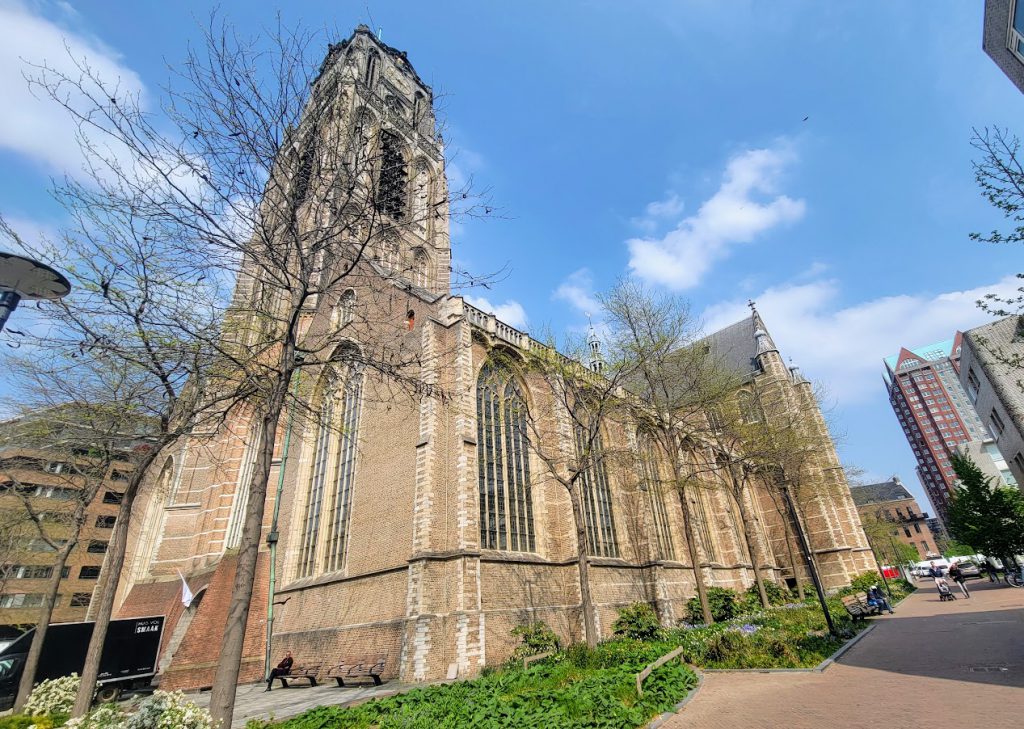 This church has the distinction of being the only medieval building left in Rotterdam. Although it was damaged in the bombings of WWII, it was not completely destroyed and has since been restored to its former splendor.
For €3, you can enter the church to appreciate the towering ceilings and peaceful atmosphere.
Although not the most impressive church you'll visit in Europe, it's still worth visiting for its remarkable history and charming facade. It's also only a short walk away from the cube houses!
Euromast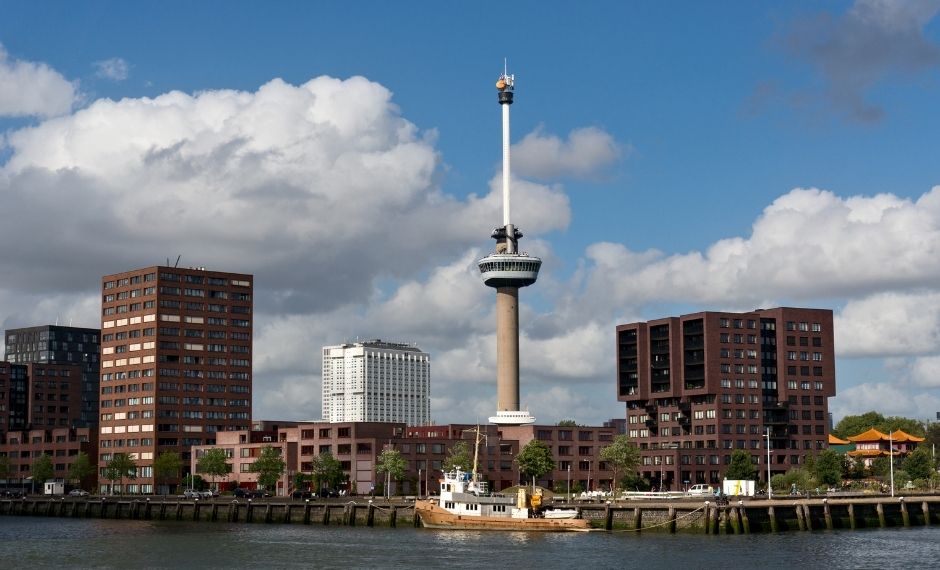 Standing at over 300 feet tall, the Euromast is the most iconic building in Rotterdam (and one of the tallest in the Netherlands).
The Euromast has two levels, the tower story and the observation deck.
The tower story contains the brasserie, where you can enjoy breakfast, lunch, or high tea, as well as a viewing platform.
From the tower story, a rotating glass elevator takes you up to the observation deck where you are treated to breathtaking 360-degree views of the city skyline.
This is the best way to get a birdseye view of the city and the largest port in Europe.
Getting around Rotterdam with kids
There are several options for getting around the city when visiting Rotterdam with kids.
Like other cities in the Netherlands, one of the best ways to get around Rotterdam is by bike. The area is well set up for biking with dedicated bike lanes that span the entire city. There are many options for cheap and convenient bike rentals, including kids' bikes and bikes with child seats or trailers.
Public transportation is also an extremely convenient method for getting around. The tram and subway are easy to access and stop at most of the main attractions in the city. You can buy tickets for the tram online or from a conductor after you board.
You can also explore the city on foot, but make sure to bring good walking shoes. Rotterdam is a bit more spread out than some of the other cities you might be used to exploring in the Netherlands.
Final Thoughts
If you're planning a trip to Rotterdam with kids, you'll be delighted by the many entertaining, family-friendly attractions the city has to offer. These exciting activities are ones the whole family will love and remember for years to come.
Other posts you might be interested in:
Best Amsterdam 4 Day Itinerary (+ Helpful Tips!)
The Ultimate Guide to Amsterdam Passes- Which is Right for You?
Visiting Keukenhof and Lisse Tulip Fields- Everything You Need to Know!