This page may contain affiliate links, which means that we may earn from qualifying purchases at no additional cost to you.
Your guide to visiting Keukenhof Gardens and Lisse tulip fields in the Netherlands!
Spring is an ideal time to visit the Netherlands for many reasons, but probably the best reason is that the tulips are blooming!
Arguably the best place to see tulips in the Netherlands is Keukenhof, known as the Garden of Europe. Over 7 million flower bulbs are planted in the 79 acre park every year, creating a breathtaking explosion of color come spring.
Although best known for its stunning array of multicolored tulips, there are a variety of other flowers at Keukenhof, including hyacinths, daffodils, lilies, and orchids to name a few.
It's important to note that at Keukenhof you will be seeing manicured flower gardens, not tulip fields.
In order to see some really spectacular tulip fields, plan some extra time to visit the tulip fields of Lisse located near Keukenhof Gardens.
We purposefully planned our trip to Amsterdam so that we would be there when the tulips were in bloom, and we were not disappointed. It's an incredible experience to see all the brilliantly colored flowers stretching out before you.
However, as we were preparing for our trip we did find it a little challenging to find all the information we needed to plan our visit.
Now that we've learned from our own experience, we'll share with you all the tips and tricks you need for a perfect visit to Keukenhof Gardens and Lisse tulip fields!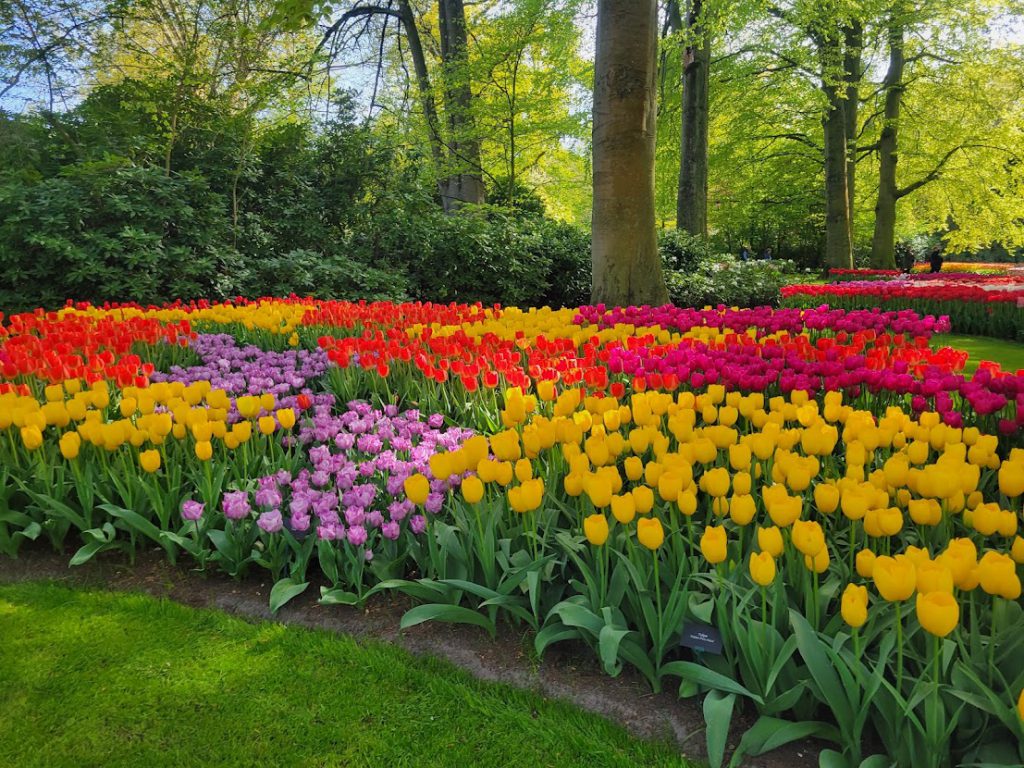 Keukenhof Gardens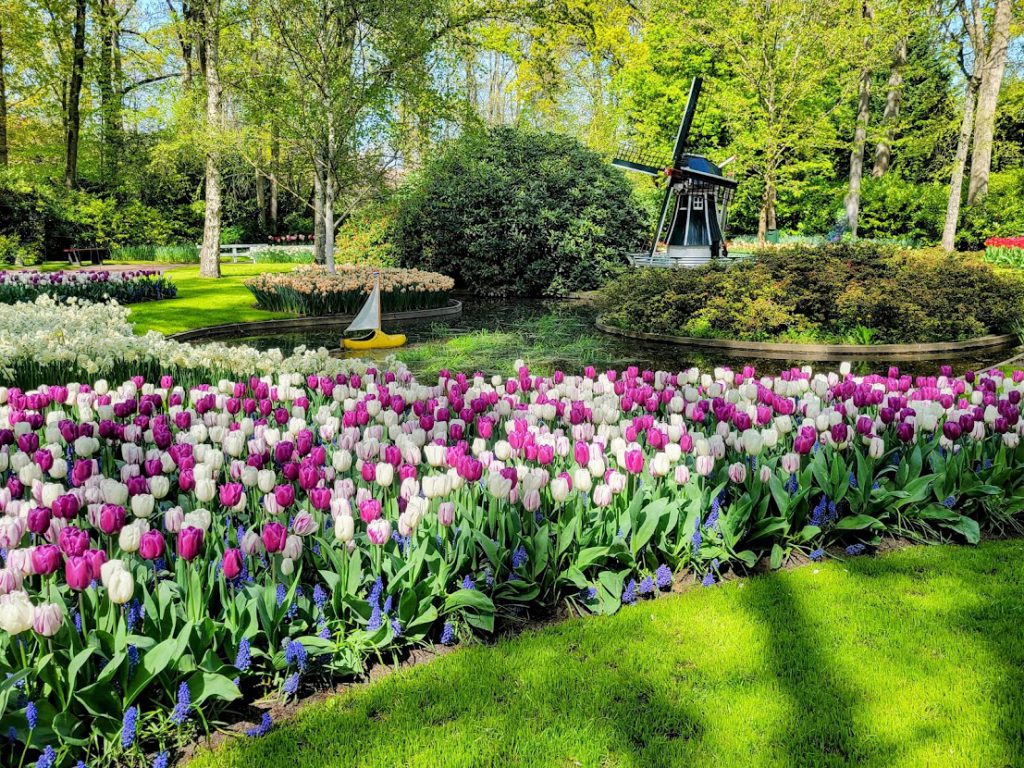 During the short eight weeks that Keukenhof is open to the public each year, the gardens see millions of tourists making the pilgrimage to see the famous Dutch tulips.
Given the sheer magnitude of people that want to see the flowers over such a short period of time, it goes without saying that the gardens can get extremely crowded.
Plan ahead to maximize your time at the gardens and visit when the crowds are at a minimum. Read on for tips on how to make the most of your visit to Keukenhof.
What to do in Keukenhof
Marvel at the flowers
Obviously the main attraction in Keukenhof is the flowers. Everywhere you look tulips, daffodils, and hyacinths are arranged in stunning displays.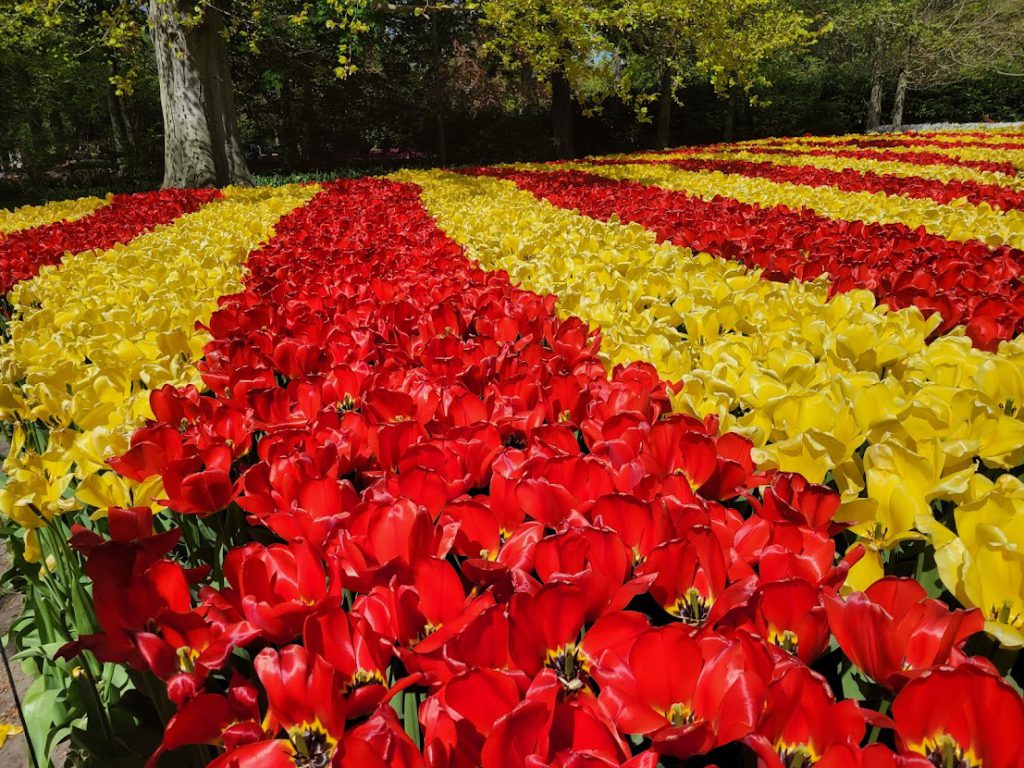 The final result looks effortless, but of course it takes a lot of work to get the gardens visitor-ready. In October and November, 7 million flower bulbs are hand planted by 40 gardeners according to specific patterns laid out by designers.
As we made our way through the gardens, we were amazed at were how many different types of tulips there were in all different hues. At Keukenhof, you can see 800 varieties of tulips. Who even knew there that many kinds of tulips??
Take some amazing photos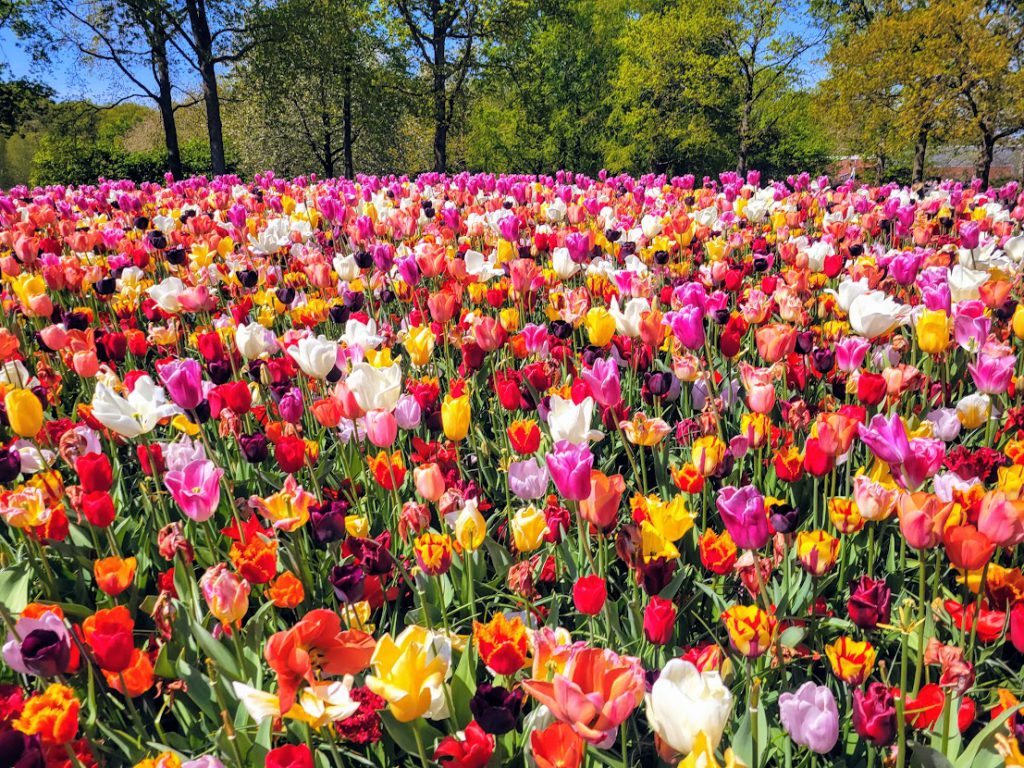 The gardens are positivity brimming with Instagram-worthy photo opportunities, so of course you should take the opportunity to get in some pictures while you're there.
In order to get photos without lots of other people in them, you'll need to be there right as the gardens open or be one of the last to leave.
You also might need to get creative with the angles from which you're taking your pictures. Focus on the details of the flowers as opposed to taking only broad shots in order to get photos without tourists photo bombing your picture.
Visit the windmill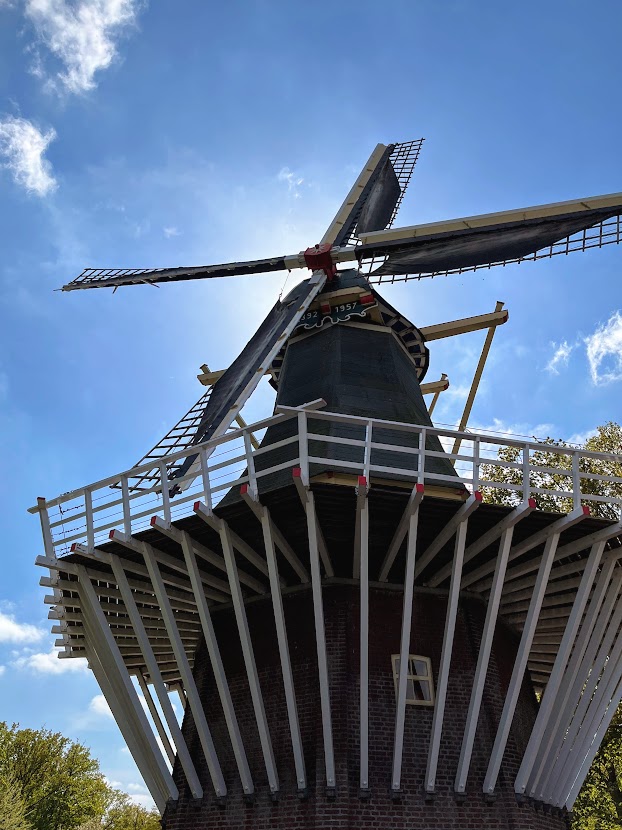 The iconic windmill at Keukenhof was originally built in 1892 at a different location and then moved to Keukenhof nearly a hundred years later.
Today you can climb up into the structure on a visit to Keukenhof for an up close and personal look at a real windmill. From up in the windmill you also have a nice vantage point to get lovely pictures of the rest of the gardens and surrounding tulip fields as well.
The windmill is one of the most popular picture-taking locations in the gardens, so rush right there if you're visiting early in the morning for a chance to get some pictures of the windmill without throngs of tourists.
Relax by the pond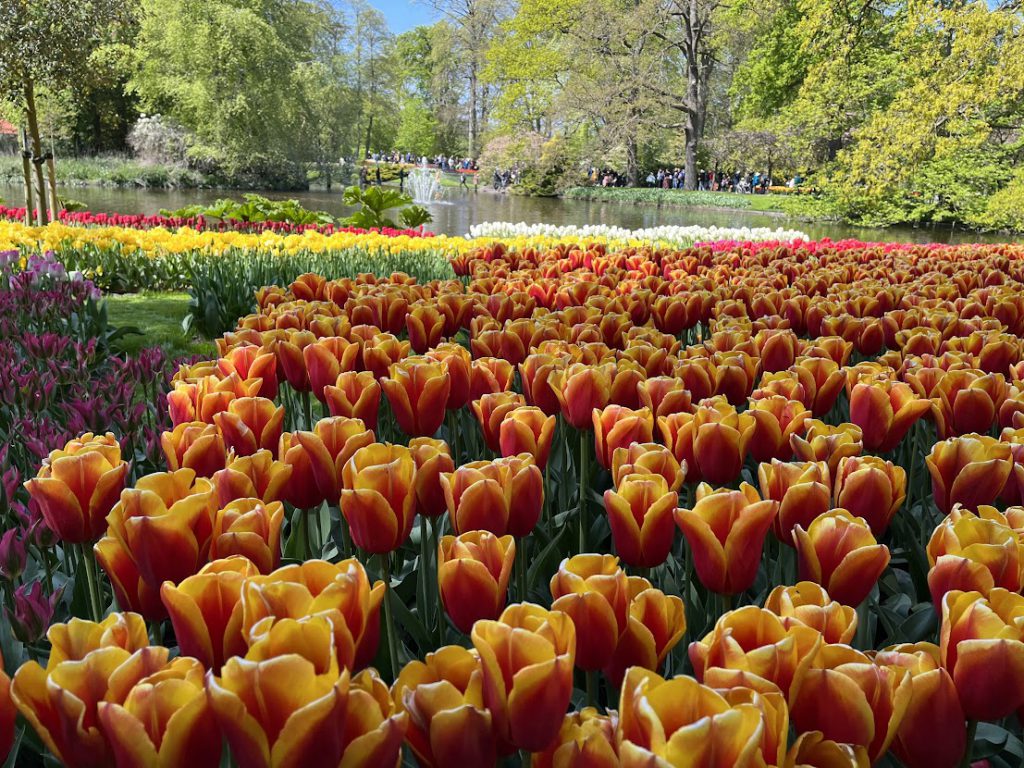 One of the most scenic spots at the gardens is the large pond in the middle of the park. This is a great spot to relax and soak in the stunning views of the gardens surrounding the lake.
There's also a spot with stepping stones where you can walk out into the lake to get some lovely pictures.
Learn about tulips at Tulpomania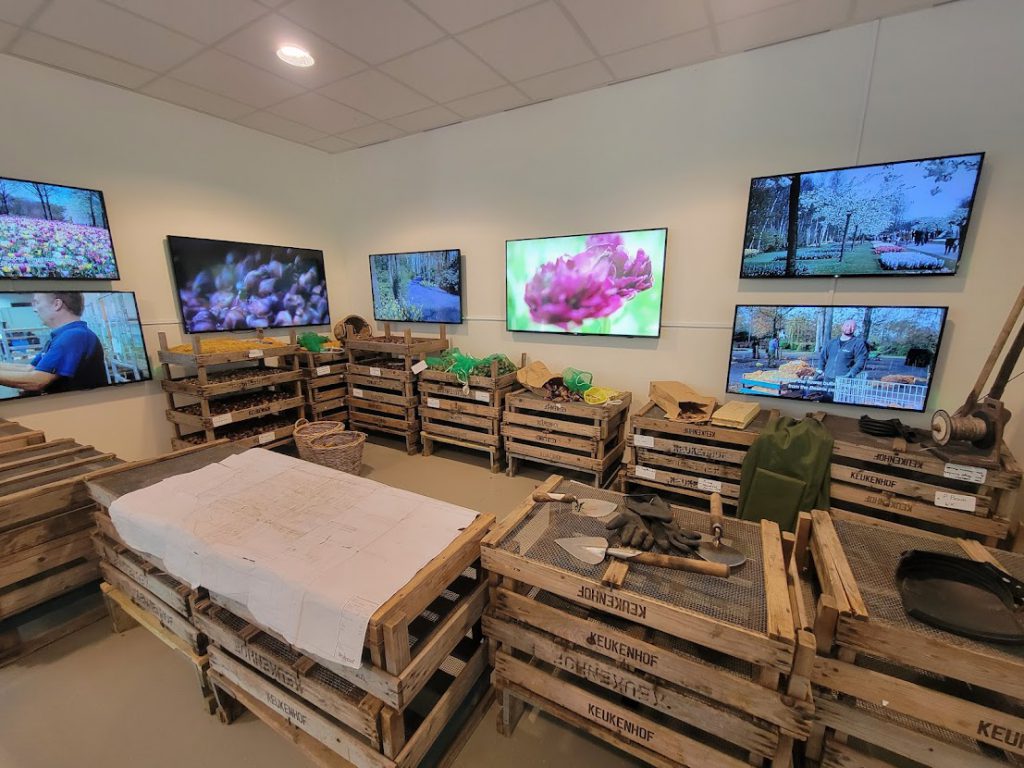 Be sure to stop by Tulpomania, an exhibition which details the history of tulips and how they became such a dominant product of the Netherlands.
It was fascinating to learn about the tulip mania of the 17th century, the market bubble in which a single rare tulip bulb could cost as much as a house.
Visit the flower shows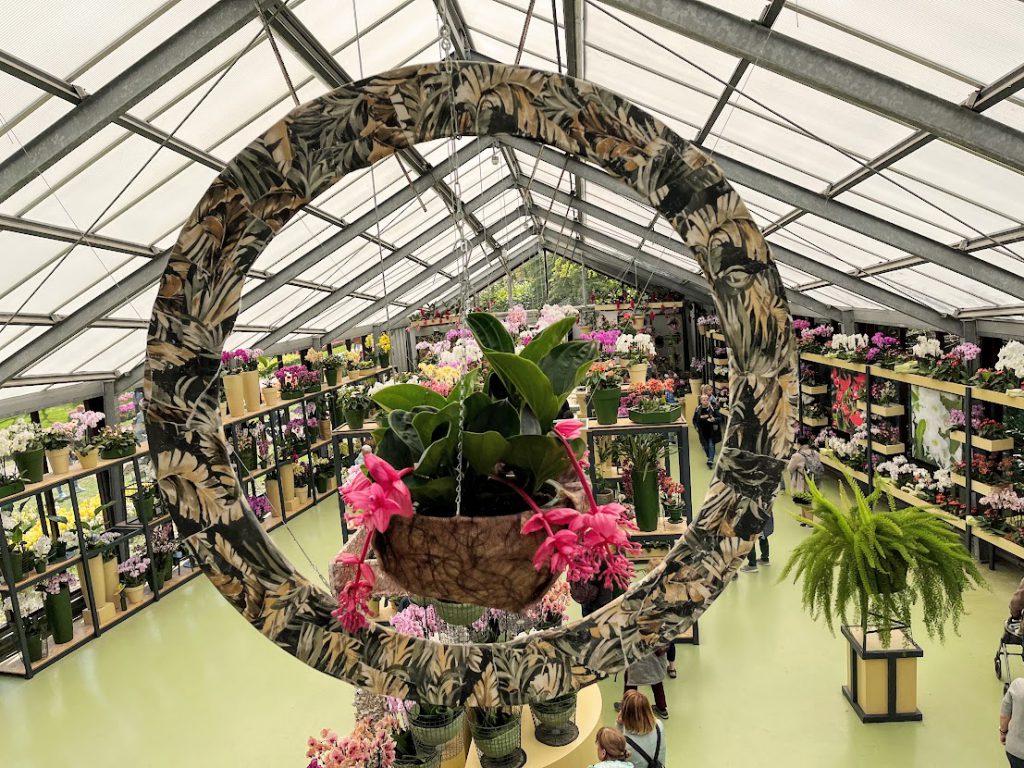 In the covered pavilions in Keukenhof, you can enjoy flower shows where growers bring their most beautiful blossoms to display.
At these shows, you can see colorful displays of tulips, lilies, orchids, and anthuriums in exhibits that vary by week.
Take a boat tour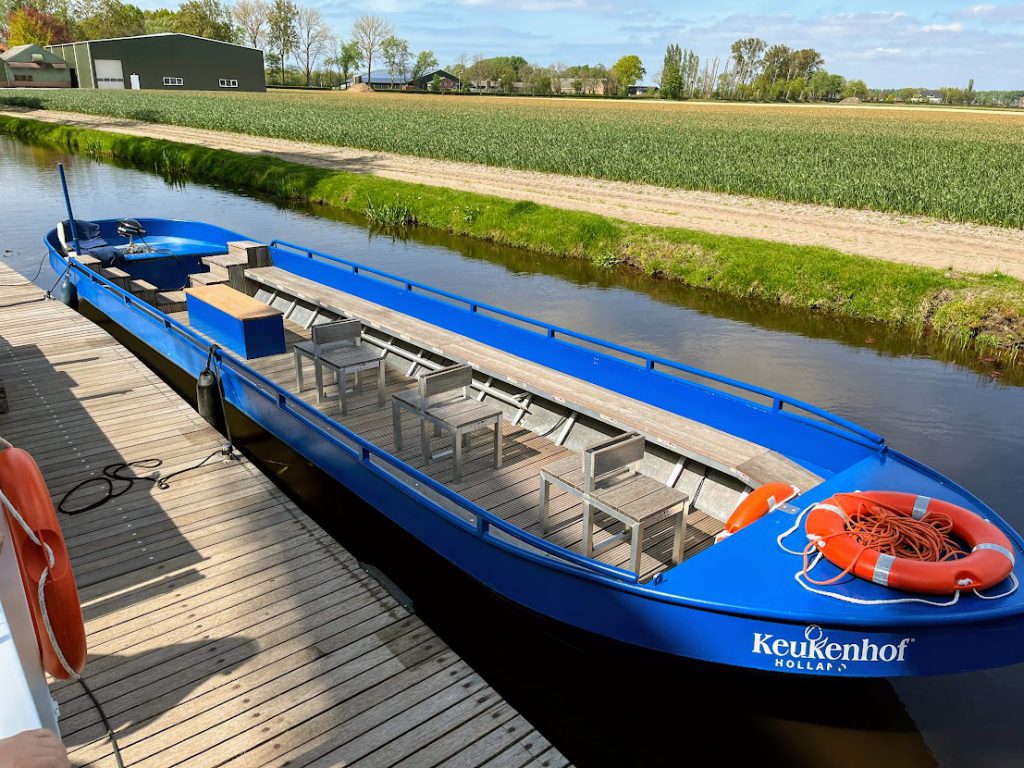 Near the windmill, you can purchase tickets for a whisper boat tour. The ticket is not included in your entrance fee and costs 9 euro for ages 12 and up, 4.50 for children 4-11, and is free for 3 and under.
This 60-minute tour will take you through the canals to view the nearby flower fields.
This is a nice way to relax and enjoy the scenery. However, be aware that it doesn't give you the best angle for viewing the colorful fields as you are actually lower than the fields in the boat.
Visit the children's area (playground, petting zoo, maze)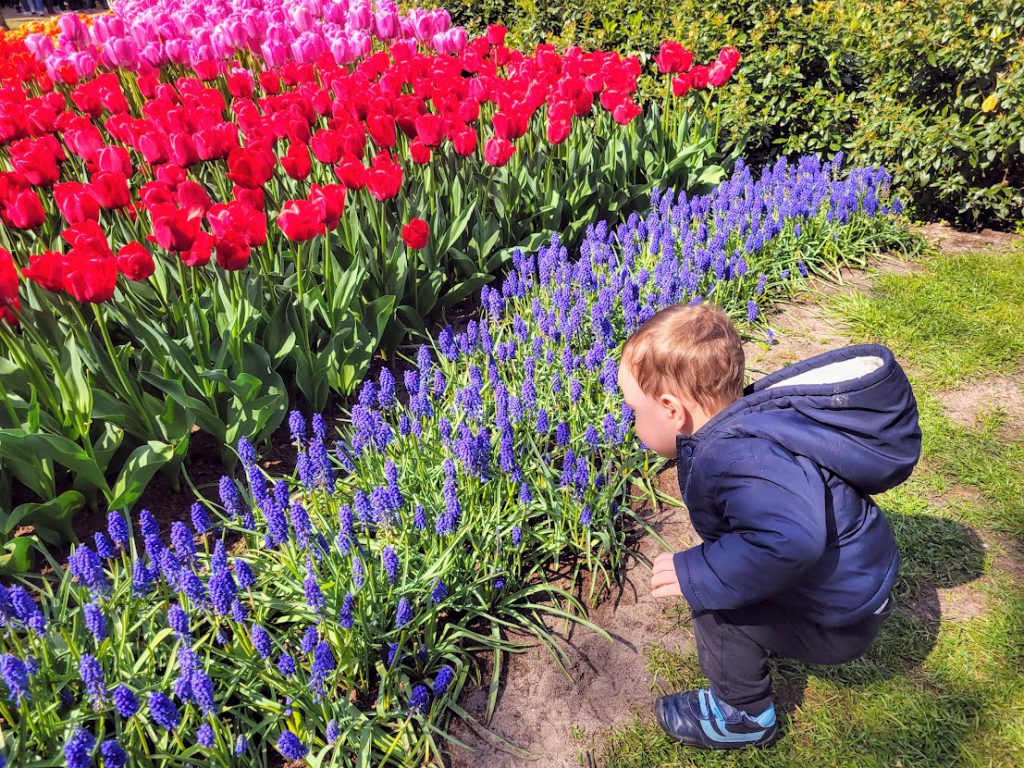 Kids will love exploring the gardens at Keukenhof as they take in the colorful flowers and enjoy the kid-friendly activities. Our son had the best time speeding around the gardens as he rushed from place to place to check out all the new sights!
Towards the back of the gardens you'll find an area created specifically with kids in mind! First you'll see a large playground with lots of opportunities for kids to slide, climb, and explore.
Next to the playground is a petting zoo where children can get up close and personal with goats, pigs, rabbits, and sheep. This is a free experience for visitors at the garden.
Just behind the petting zoo is a small maze made out of hedges. This is a fun experience for kids and adults alike to explore.
And if you ask at the front desk when you arrive, they will provide a scavenger hunt for your child to complete as they make their way through the gardens, which is a great way to keep them entertained while you're there.
It's nice to have so many fun activities to keep kids engaged during your time at Keukenhof.
Buy some bulbs to take home (or better yet, order them to be delivered!)
Within the gardens you can find several shops where you can buy your own flower bulbs to take home some of the famous Keukenhof tulips. This makes a great souvenir or gift for loved ones back home.
However, to get the highest quality bulbs it's really best to order bulbs to be sent to your home in the fall. That way, you're getting this season's bulbs (which are harvested in the summer) as opposed to the old bulbs from last year, which is what you'll be getting if you buy bulbs in the spring.
While you're at Keukenhof, you can browse to see which kinds of flowers you want and then order them to be delivered to you in the fall to make your own mini Keukenhof at home!
Tips for Visiting Keukenhof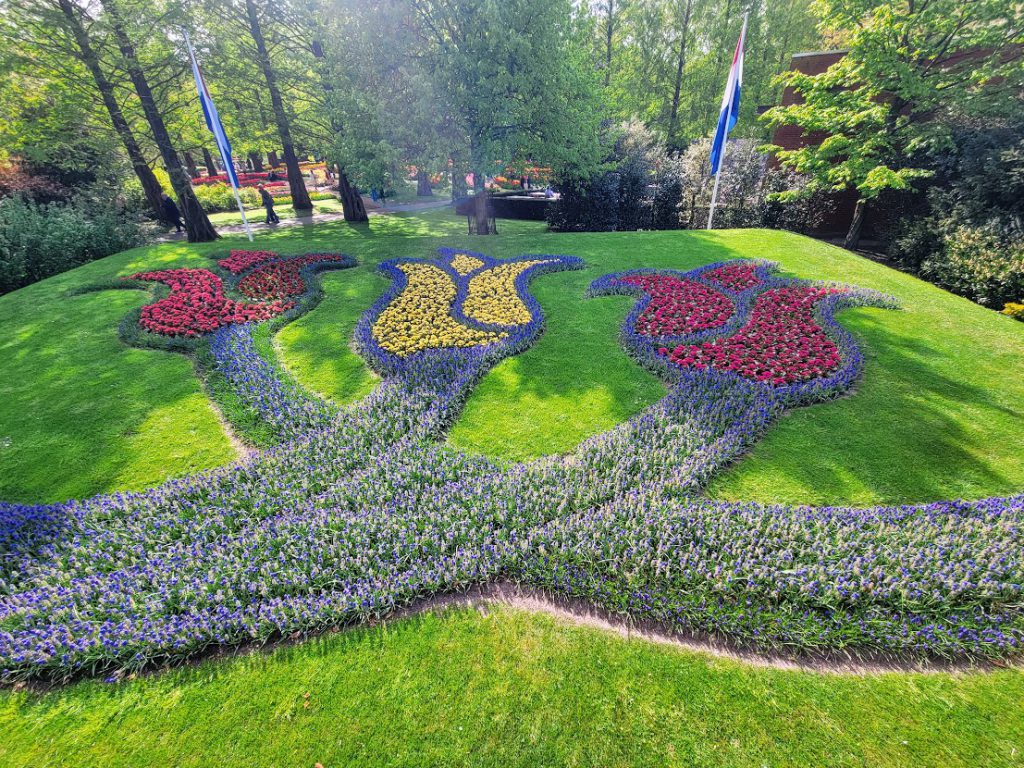 What is the best time to visit Keukenhof Gardens?
The best time to visit Keukenhof is first thing in the morning. Try to arrive as close to opening as possible to beat the crowds and have some rare moments of tranquility within the gardens before the masses descend. Another good option is to arrive later in the day, within a couple of hours of closing time, when the crowds have died down.
Also make sure to visit on a weekday and avoid public holidays or you'll find yourself drowning in a sea of tourists.
Keukenhof's open season depends on when the tulips are blooming that year. Typically, the gardens are open for about eight weeks from late March until early May.
How long does it take to walk around Keukenhof?
Plan on spending a minimum of 2-3 hours to make your way through the Keukenhof Gardens. However, you can obviously spend a lot longer in the gardens if you want to spend more time taking pictures or just relaxing and soaking in the ambiance.
We spent about three hours at Keukenhof and felt like that was about the right amount of time to experience the gardens, but we definitely could have stayed longer.
Admission and logistics for visiting Keukenhof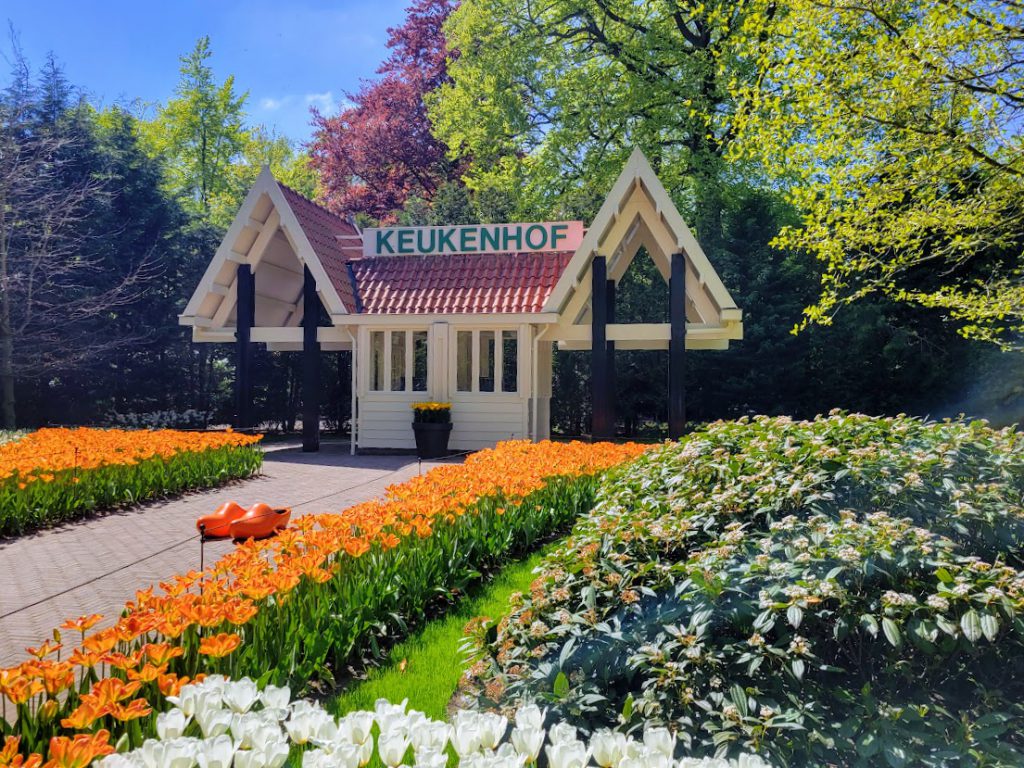 Admission to Keukenhof costs 19 Euros for adults and 9 Euros for ages 4 to 17. Children ages 3 and under are free.
Lockers are available for backpacks and bags as well as a storage room for larger luggage pieces (which can be extremely helpful if you're coming straight from the airport and have your bags with you).
You cannot ride bikes or scooters through the gardens, however the paths are flat and are stroller and wheelchair friendly if you can navigate around the crowds.
Throughout the gardens you can find restaurants selling food and kiosks with treats and snacks. And we found that the prices are surprisingly not as exorbitant as one might think!
Where to stay to visit Keukenhof?
Keukenhof is easily accessible by many nearby cities, including Amsterdam, Haarlem, and Leiden. Due to the Keukenhof Express Shuttle, Keukenhof is only a short bus ride away from any of those locations, making them ideal jumping off places for visiting the gardens.
You can also choose to stay in Lisse, which is where Keukenhof is located, if you want to be even closer for your visit, just note that the hotel options are more limited in Lisse compared to the other nearby cities.
Getting from Amsterdam to Keukenhof
To get from Amsterdam to Keukenhof, the best option is to take one of the Keukenhof Express buses. When you buy your Keukenhof ticket, you can buy one with transportation on a Keukenhof Express bus included.
Express buses depart from Schiphol Airport, Amsterdam city center, Haarlem, and Leiden and drop you off at the entrance to Keukenhof.
You can also opt to take the city bus, but it makes more stops and it will not take you directly to the Keukenhof entrance. You'll instead be dropped off a short distance away and will need to walk about ten minutes to get to the park.
And of course you can always drive if you have access to a private vehicle. There is parking available at the gardens, but expect there to be some traffic close to the gardens, especially during busy times. Parking costs 6 euros.
Lisse Tulip Fields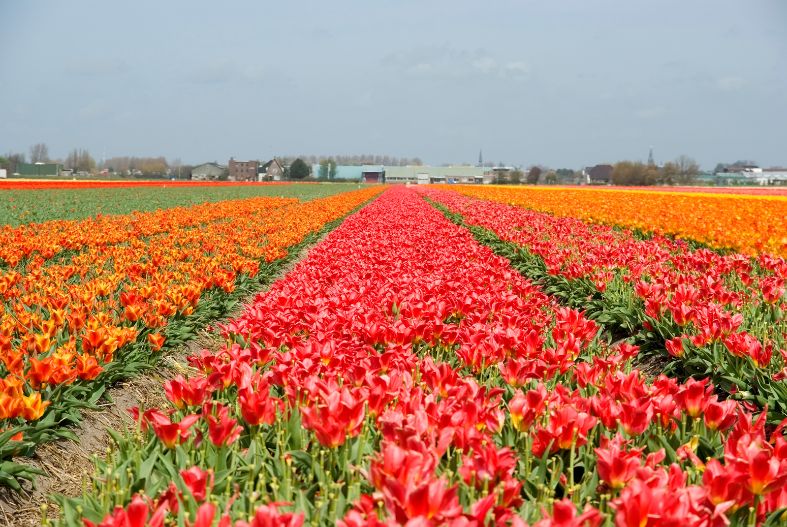 If you're looking for a way to experience the flowers without the crowds, the nearby Lisse tulip fields are a perfect place to spend a couple of hours.
Located within the Bollenstreek, or Flower Bulb Region, in spring this area is awash with colorful flowers.
Pretty much everywhere you look you can see tulip fields stretching off into the distance and you'll have your pick of fields to visit as you explore the area.
The tulips in these fields are grown for the bulbs, which will be sold worldwide, rather than the flowers. This is why these flowers are able to stay in the field for such a long time. At the end of the season, the flowers will be headed to strengthen the bulb before they are dug up and sold.
These are private fields that farmers use as a source of income, so be respectful and do not walk in the tulip fields as this is damaging to the flowers. You can still get some very lovely pictures from outside the tulip fields and you're not costing someone hard earned money.
If it's the classic tulip fields that you're looking for, rather than just the flowers, Lisse is where you want to go. When we were planning our trip to Amsterdam, I was under the impression that at Keukenhof we would be seeing fields of tulips, but I soon learned that this is a common misconception. However, with a little planning you can easily see both the Keukenhof Gardens and the Lisse tulip fields in one day.
How to visit the Lisse tulip fields
By bike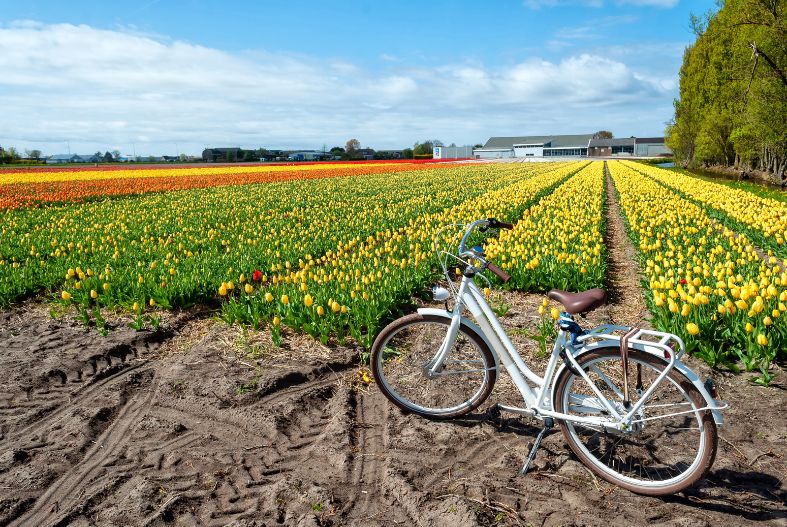 The best way to see the Lisse tulip fields is by bike! You can rent a bike at the entrance to Keukenhof or at any number of bike rental places nearby.
To rent a bike at Keukenhof, look for the stand in the parking lot in front of the entrance. There you can find all sorts of biking options, including bike trailers and bike seats for children.
In the area around Keukenhof there are four different marked biking trails which vary in length from about 45 minutes to around 3 hours. These paths are flat and well maintained, perfect for all ability levels. Simply select the route you want to take and follow the signs with the route number and color on it.
On your bike ride you can go at your own pace as you soak in scenic views of tulip, daffodil, and hyacinth fields along the route.
By electric car tour
Another option for visit the fields is to rent a small electric car to tour the tulip fields. These cars have a set GPS route, so you know exactly where to go on your two hour tour.
An audio guide provides information on the area as you take in the beautiful scenery around you. These tiny cars are suitable for two people and provide a fun alternative option for making your way around the tulip fields.
Final Thoughts
A visit to the flower bulb region of the Netherlands is definitely worth adding to your itinerary when you're visiting the country.
We were absolutely blown away by the incredible colors, variety, and sheer number of flowers in the region.
The big downside of a visit to Keukenhof is the crowds, which can get intense. But if you plan on getting to the gardens early in the day and spending some time at the nearby Lisse tulip fields, you can mitigate that problem.
If you're lucky enough to be in the Netherlands in the spring, be sure to make time to see Keukenhof Gardens and the Lisse tulip fields. It's an experience you won't forget!
Other posts you might be interested in:
The Ultimate Guide to Amsterdam Passes- Which is Right for You?
Best Amsterdam 4 Day Itinerary (+ Helpful Tips!)
9 Amazing Things to Do in Rotterdam with Kids