This page may contain affiliate links, which means that we may earn from qualifying purchases at no additional cost to you.
Long flights with a toddler aren't always the most relaxing experience. We've been on our fair share of long-haul flights with our toddlers, so we know just how tricky it can be!
Sure, you can plan ahead with great travel activities and airplane snacks, but what about sleep? One of the biggest fears people often have for long-haul flights with toddlers is that their child won't be able to sleep and will end up exhausted, frustrated, and loud while the rest of the passengers are trying to get some rest. Not a great way to start a trip.
Well, one helpful tool to have in your arsenal is an airplane bed to make your toddler's experience as comfortable and conducive to sleep as possible.
There are a few different kinds of airplane beds for toddlers, and the best fit for you will really depend on your situation and your child's preference.
Not to worry, we have all the information you need to pick the very best airplane bed for your toddler! And in no time at all, you'll be soaring away to a much more relaxing start to your vacation.
For helpful tips on getting your toddler to sleep on the plane, see this post and for more helpful travel items, see our ultimate list of toddler travel essentials!
The Best Airplane Beds For Toddlers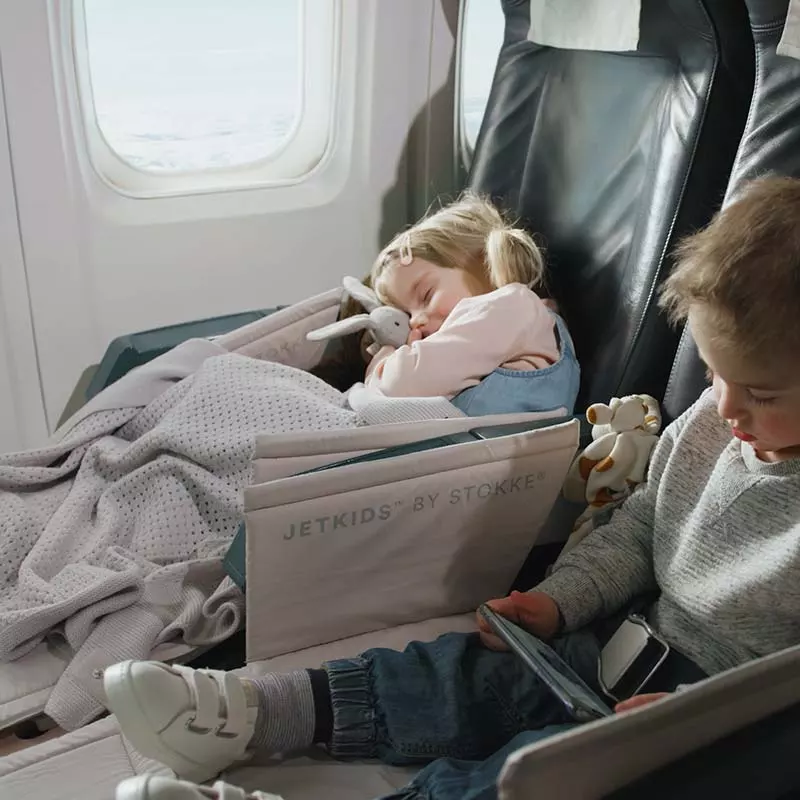 There are three main types of airplane beds on the market right now: inflatable footrests, the JetKids BedBox, and the Flyaway Kids Bed. We've used extensive research, product reviews, and our own personal experience to compare the features of these airplane beds for toddlers.
You can use the comparison chart below to quickly review some of the main features of these airplane beds, while further down you will find a detailed review of each bed.
Comparison Chart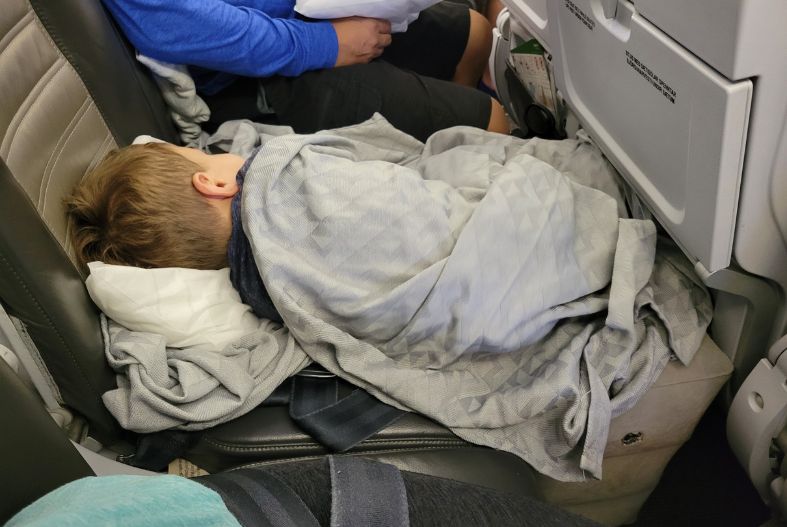 Inflatable footrests are a convenient, budget-friendly way to quickly create a bed for your toddler on the plane. By inflating the footrest and placing it on the floor in between your child's seat and the seat in front, you can extend your child's seat to make a flat spot for them to lie down.
The Maliton footrest is made up of two chambers which can be inflated independently to give you a height of either 7, 13, or 18 inches. The fully inflated footrest is the perfect height to create a level extension of the seat.
It's a relatively quick process to blow up the footrest and get the pillow positioned. Unlike some other inflatable footrests, no pump is needed to inflate the Maliton footrest.
The footrest also comes with a drawstring bag for easy storage and transportation. We were pleased to find that the bag was large enough to easily store the footrest again after it had been used and deflated.
And one of the best features of the inflatable travel footrest pillow is the price! This option for a toddler airplane bed is significantly cheaper than the other choices.
At the same time, they don't have some of the additional features of the other beds. But if you're looking for a basic, affordable airplane bed for your toddler, the Maliton footrest is a great option.
Note that inflatable footrests are not allowed on all airlines (check the guidelines of the specific airline you are flying) and cannot be placed in the aisle seat.
Product Information
Deflated dimensions: 9″x10″
Inflated size: 17″x12″x18″
Product weight: .8 lbs
Best Features
Quick to set up
Lightweight
Inexpensive
Possible Cons
Blocks access to under-seat storage when inflated
Tricky to use in bulkhead seating where it isn't wedged between two seats
As the original airplane bed on the market, JetKids BedBox set the standard for other airplane comfort devices to follow.
The Bedbox is a multipurpose product that can make traveling with kids a whole lot easier. Not only does the BedBox become an airplane bed, it also doubles as a suitcase and a convenient way to transport your child through the airport!
The BedBox is equipped with wheels on the bottom so that children can ride on top while the suitcase is being pulled. Swivel wheels in the front provide maneuverability while a thick strap becomes a sturdy handhold for your child. Obviously, this feature would only be safe for older toddlers who are able to balance and securely grip the strap.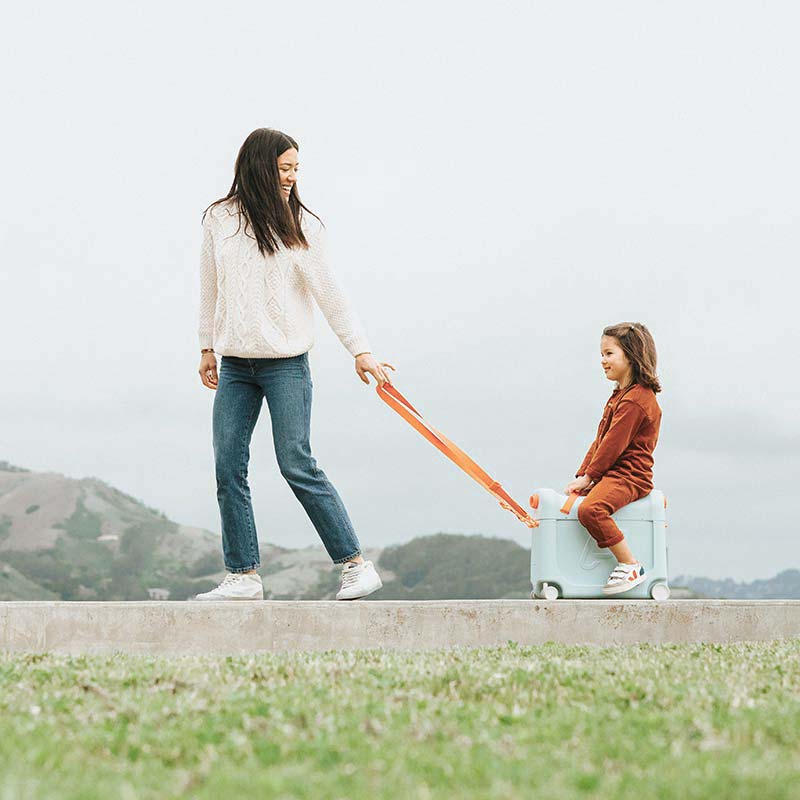 The suitcase portion of the JetKids BedBox is a place to store your child's airplane activities, snacks, and other items. It is sized as a carry-on luggage and can fit under the seat in front or in the overhead storage bin when not in use.
To create a bed for your child, the lid can be extended upwards and a mattress folds out of the top to create a large flat space for your child to lie down or just extend their legs comfortably. It can (and should) be used with the airplane seatbelt.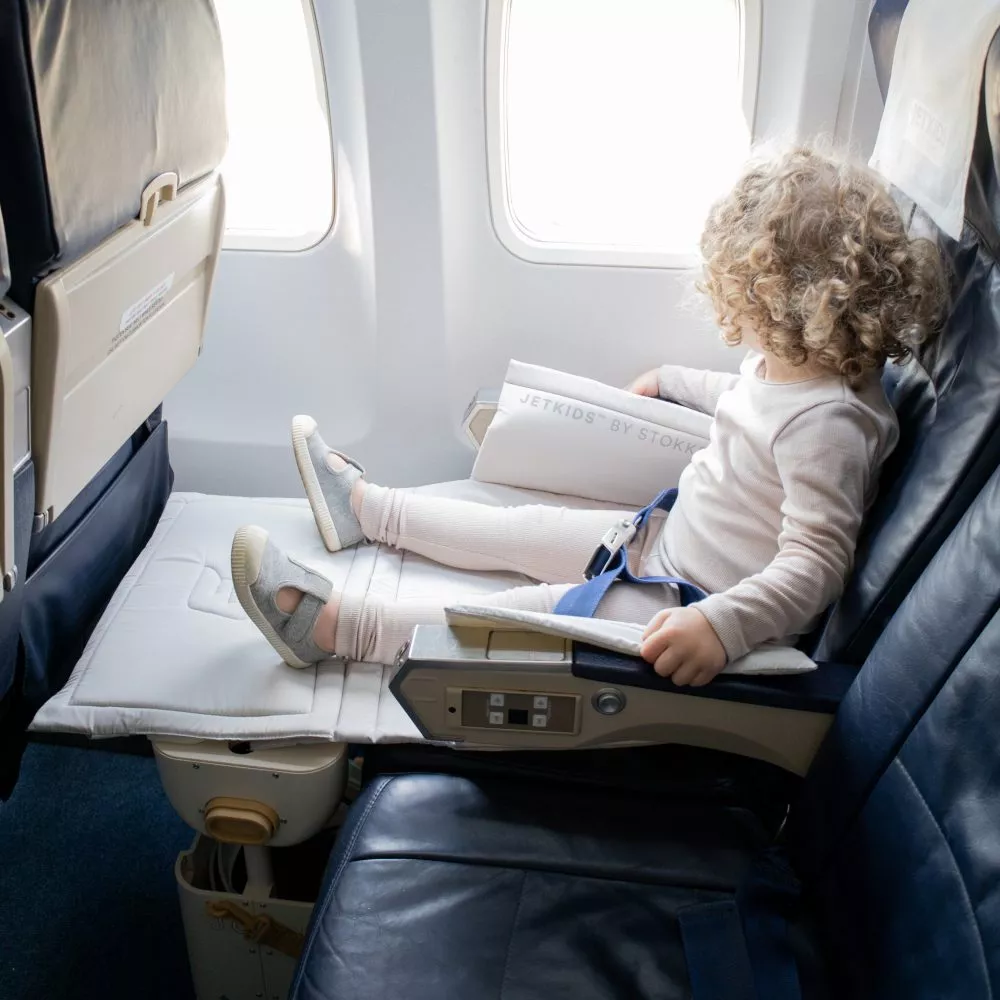 It also come with stickers your child can use to decorate their BedBox!
The JetKids BedBox provides a lot of extra perks, but it is obviously not the most compact option if you are only looking for the bed feature.
It's also the most expensive of all the options reviewed here. But then again, you are getting more features for the price.
JetKids BedBox can be used on most airlines, but you can find a list of approved airlines here.
Product Information
Product size: 18.11″ x 14.17″ x 7.87″
Product weight: 8.33 lbs
Best Features
Multipurpose- seat+suitcase+bed
Has storage compartment for carry-on items
Can be ridden by toddler through airport
Comes with stickers for personalized decoration
Swivel wheels for easy transportation
Possible Cons
Higher price point
Bulky if you don't need the other features
Ride-on feature can only be used by older toddlers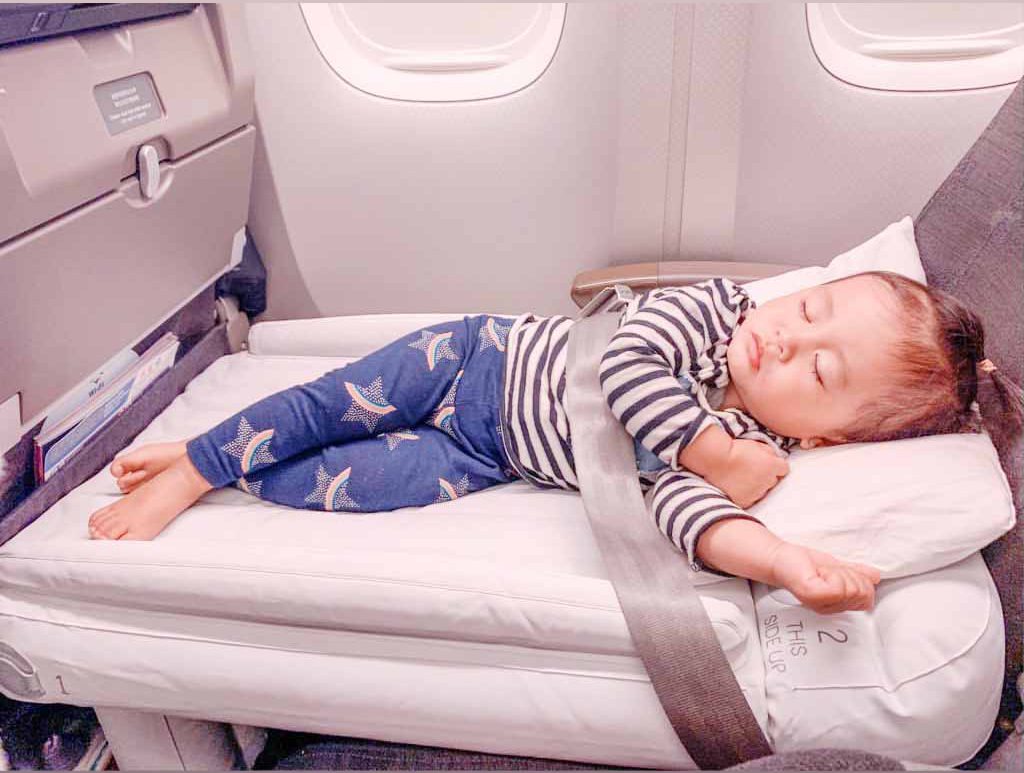 The Flyaway Kids Bed is a creative solution for enabling young children to sleep comfortably on the plane.
Using a small pump, the bed can quickly be inflated into a spacious mattress for your child in just 90 seconds. And it's compact enough to fit into a backpack or diaper bag.
Cleverly designed with separate inflatable compartments, the bed can be adjusted to fit any airplane seat based on how much you inflate the top compartment.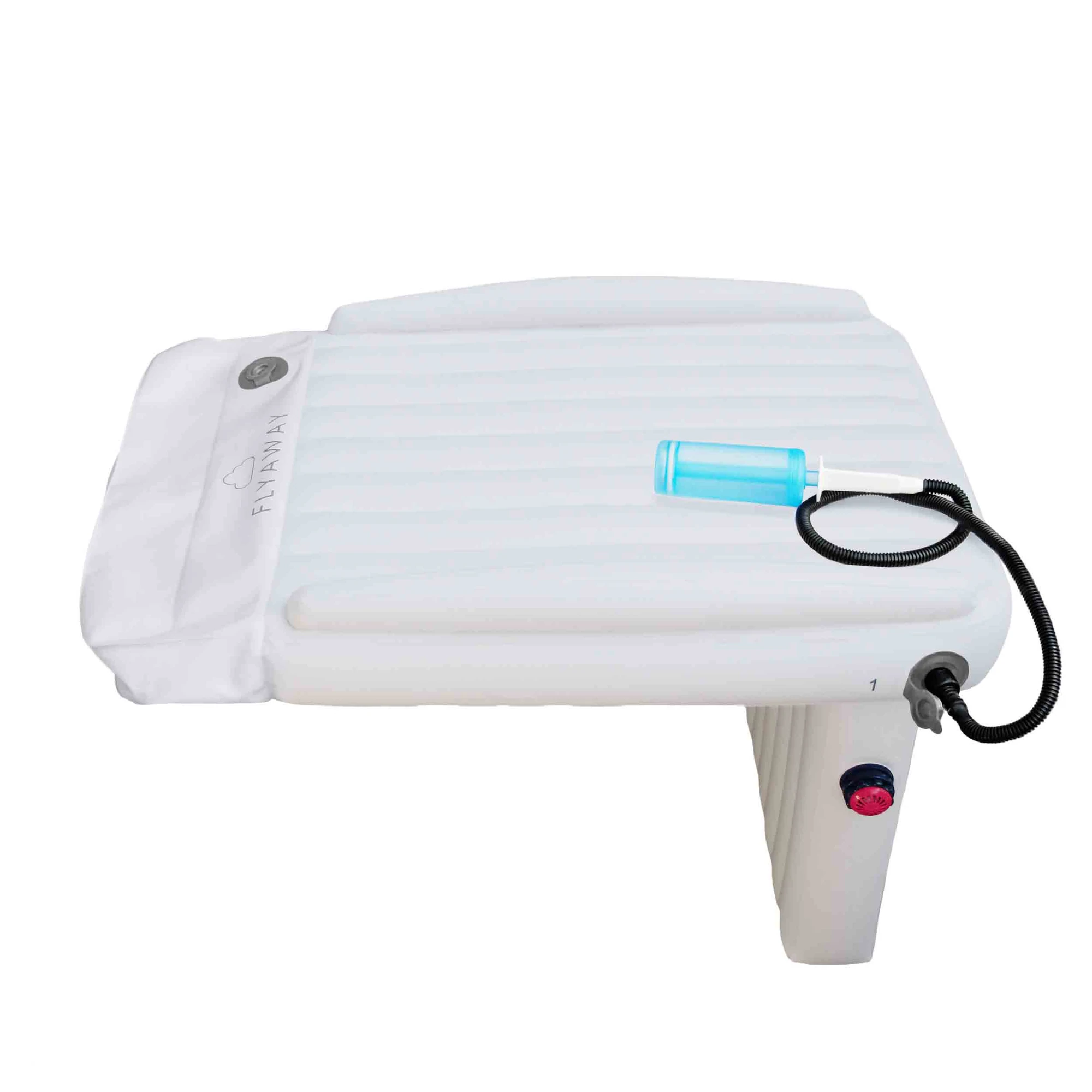 The bed also makes a great surface for kids to play on by providing more room for them to move around and preventing their toys from dropping to the floor.
The side bumpers help secure your child (and any items they might be holding), while the wipe-clean surface makes cleaning up those inevitable in-flight spills a breeze.
The Flyaway Kids Bed is permitted on most airlines. For a complete list of airlines that accept the Flyaway Kids Bed, see this link.
Be sure to check out our Flyaway Kids Bed article for our full personal review!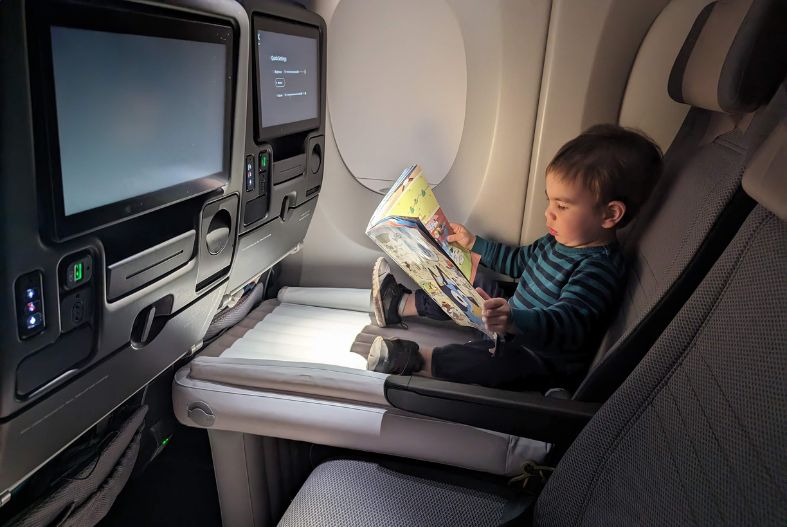 Product Information
Deflated size: 10in x 10in
Inflated size: 31.5in x 19.5in
Product weight: 2.8 lbs
Best Features
Comes with carry bag and pump
Wipe-clean surface
Comfortable inflatable mattress
Side bumpers prevent toys from falling
Possible Cons
Higher price point
Heavier than the inflatable footrest
Common Questions About Airplane Beds for Toddlers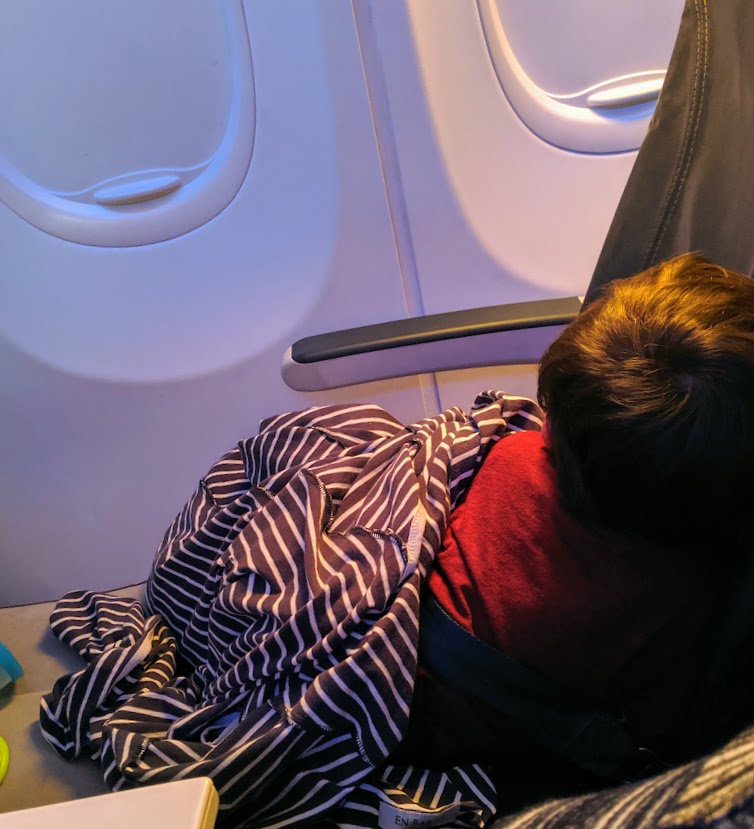 What are toddler airplane beds?
Toddler airplane beds are products that are used to extend the seat on an airplane, making a flat space for a child to lie down. These products are compact and lightweight, making them convenient for plane travel.
There are a few different kinds of airplane beds for toddlers, which you can see in our review of the products above.
Are airplane beds allowed on airplanes?
The answer is that it really depends on the airline. Most airlines will allow you to use airplane beds as long as they comply with safety standards.
However, there are some airlines that do not allow airplane beds. Check your airline's specific policies before your trip.
And in the end, it comes down to the discretion of the flight crew on your plane. We have never been asked to put an airplane bed away when we've used one.
Can my toddler sleep on the airplane floor?
No, toddlers can't sleep on the floor of an airplane. Not only is it dirty and unsanitary, it's just not safe.
Toddlers need to be wearing a seatbelt while seated in case of turbulence, even while sleeping. A child on the floor is not securely fastened and can be thrown into the metal sides of the seats or flung across the floor should turbulence arise.
Do you need an airplane bed for traveling with a toddler?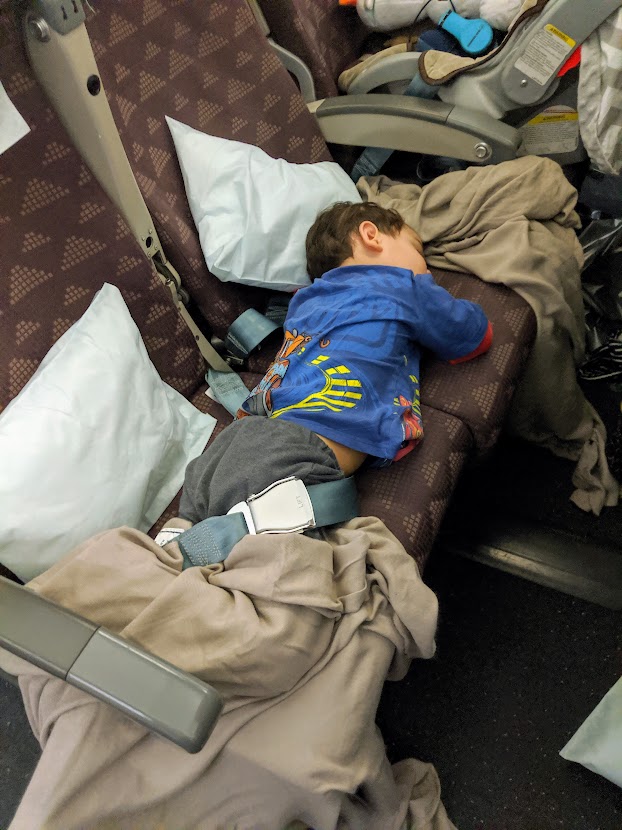 You don't need an airplane bed to travel with a toddler, but it might make your flight a more relaxing experience for everyone.
Some children do really well sleeping in a car seat, and in that case, using a car seat might be the best option for your child. The downside to a car seat for long flights is that they can't move around or spread out. And it's really not all that comfortable for them to be in the same position for so long.
You can also have your child try to sleep on the airplane seat alone, but this isn't usually the most restful sleep and often they will wake up after a short period of time. And I've found in my personal experience that since they can't lie flat they usually end up lying on mom or dad's lap. Which really isn't great when you have to sit still the whole flight so as not to wake them up and can't get up if you need to go to the bathroom.
And while it's true that these beds can be expensive, if you're planning on traveling a lot with your children it's probably worth the price.
It's really up to you and what you think will work best for our child, but airplane beds can definitely be a sanity saver on a long flight with a toddler.
Tips for using toddler airplane beds
Your child has to have their own seat in order to use an airplane bed. For toddlers under 2 you will either need to purchase a seat for them or hope that there is an empty seat available. We've had a lot of success getting an extra seat for our toddlers when we didn't purchase a ticket for them, just ask at the gate before you board to see if that's an option.
Be sure to wait to set up the airplane bed until after the plane has reached cruising altitude. The bed should not be set up during taxi, takeoff, or landing.
Be discrete when you're setting up the bed and you're less likely to have a situation where you're asked not to use it.
If you're asked to take down the bed, be respectful towards the flight crew and recognize that they're just trying to ensure the safety of your child. In the end, it is up to the flight crew to determine if an airplane bed can be used.
Open up your bed at home before your flight to make sure it works and to practice using it with your child. This ensures that you know how to use the device on the plane and gets your child familiar and comfortable with the product before the flight.
Position your child so that they can wear their seat belt, even after they fall asleep. This will help keep them safe in the event of turbulence. Your child's head should be oriented towards their seat and their feet towards the seat in front of them.
Airplane beds cannot be used on aisle seats. You can use two toddler airplane beds next to each other as long as neither of those seats is an aisle seat (for example, a window seat and middle seat in a three-seat configuration or two middle seats in a four-seat configuration).
Do we recommend using an airplane bed when flying with a toddler?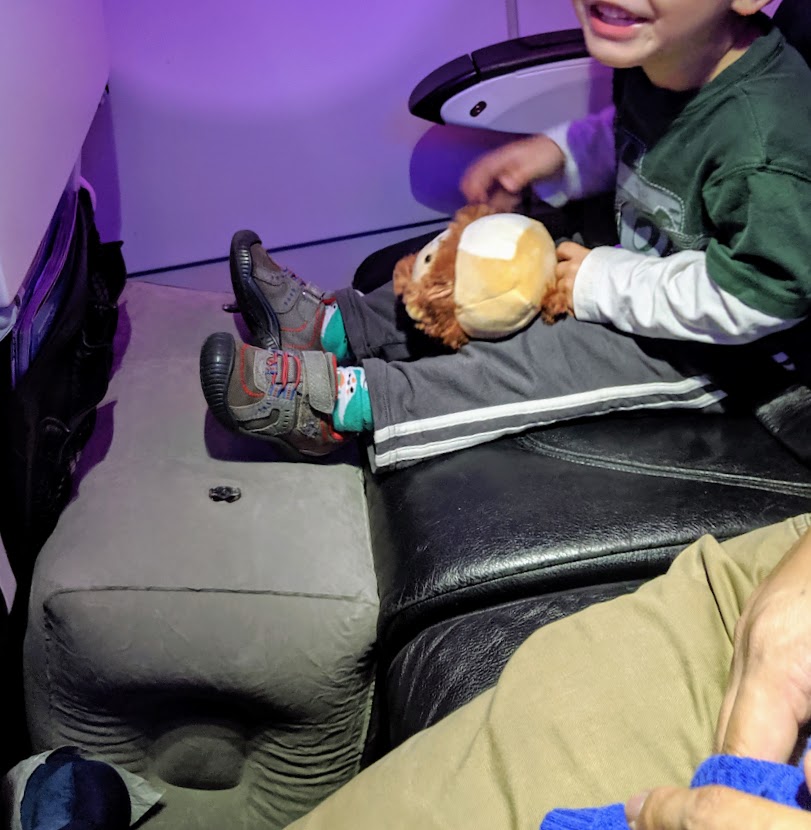 After lots of experiences on long flights with our toddlers, both with and without airplane beds for them to use, we would definitely recommend an airplane bed for anyone traveling with a toddler.
It's true that it is one more thing to bring with you, but for me, the benefits far outweigh any inconvenience. I know the stress of being on a long flight with a grumpy toddler who won't sleep, and I wouldn't wish that on anyone.
I love knowing that my toddler has a nice cozy place to cuddle up and actually get some good sleep. And I'm able to have my hands free and maybe even read a book or get some sleep myself! What a miracle!
Another huge benefit is that if your toddler sleeps better they will arrive at your destination much more rested, which is a great way to start your trip.
All in all, I find toddler airplane beds to be worth the investment for a smoother flight for myself and my toddler. It also helps that we travel a lot, so over time the investment really pays off.
Other helpful sleep products
In addition to airplane beds for toddlers, here are a few other sleep products that can come in handy when flying with a toddler.
Travel blanket– A blanket helps to create a cozy space for your child and keep them warm on an often chilly plane. This travel blanket is warm and comfortable but packs down into a lightweight, compact case perfect for travel.
Lovey- Bring your child's favorite lovey or stuffed animal from home to create a familiar sleep environment.
Nursing cover– A nursing cover is useful if you're still nursing your toddler, but we've also often used ours as a cover to block out the light and create a darker sleep environment.
Portable toddler bed– If you need a bed for when you arrive at your destination, there are a lot of great options. See this post for a review of the best portable toddler beds for travel.
Final Thoughts
When planning a long flight with a toddler, a good sleep solution can make or break your trip. A tired, grumpy toddler is not a pleasant experience for anyone on the plane.
These airplane beds for toddlers can be so helpful in ensuring that your toddler has a cozy spot to snuggle up and get some sleep. And hopefully, that means that you can get some rest too!
Other posts you might be interested in:
How to Get a Toddler to Sleep on the Plane (Tips that work!)
The Best Portable Toddler Beds for Travel!
The Best Car Seat Travel Bags to Simplify Your Travel!
21 Airplane Toys and Activities Your Toddler Will LOVE!