This page may contain affiliate links, which means that we may earn from qualifying purchases at no additional cost to you.
Trying to get a young child to fall asleep and stay asleep on the plane can be a huge stressor when traveling. Enter the Flyaway Kids Bed!
This innovative product provides a comfortable sleep space for your child on the plane so they can get the best sleep possible.
We've been on a lot of long-haul flights with our young kids and know just how important it is to have a good sleep space for your child. Which is why we were so excited to give the Flyaway Kids Bed a try!
After trying it on several different flights with our kids, we were pleased to find that this inflatable airplane bed was comfortable for our kids, easy to use, and actually helped them to fall asleep and stay asleep during the flight.
If you're planning a long flight with a young child, this might be just the sleep aid you need! Read on for our full review of the Flyaway Kids Bed to decide if it's right for you.
We were provided with a Flyaway Kids Bed in exchange for our honest review. All opinions are our own.
What is the Flyaway Kids Bed?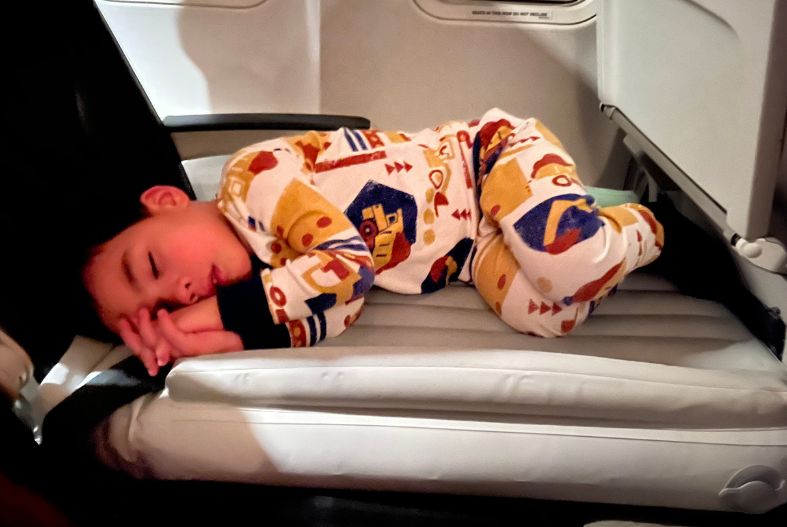 The Flyaway Kids Bed is an inflatable mattress that provides a comfortable space for young children to sleep and play on the airplane.
It is lightweight and packs away compactly in its carrying case for easy transportation. The bed comes with a pump and can be inflated in less than two minutes and deflated in a matter of seconds.
Side bumpers create a secure space for your child to sleep and prevent toys from falling onto the floor.
This bed makes it much easier for young kids to sleep on the plane because they have space to lay down and get comfortable. It also feels more like real bed than the plane seat, which helps them to settle in and fall asleep.
Product description
Weight: 2.8 lbs
Deflated dimensions: 10" x10"
Inflated dimensions: 31.5" x 19.5"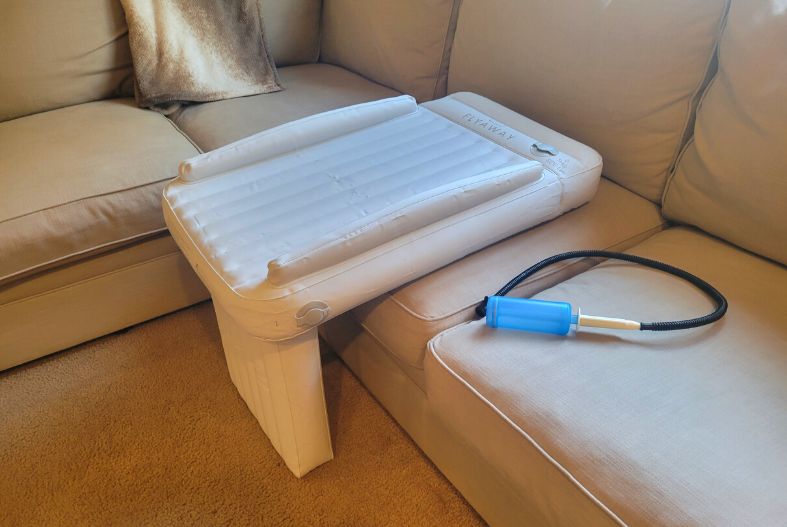 Pros
Comes with carry bag and pump
Side bumpers
Wipe clean surface
Comfortable mattress
Quick to deflate
Easy to store in carry bag
Possible drawbacks
High price tag
Takes up space in carryon
How to use Flyaway Kids Bed
Once you have boarded your plane, you must wait to inflate the bed until the plane has reached cruising altitude (you must also deflate the bed for landing).
First, make sure the seat belt is out of the way and not under the bed (or else you won't be able to access it once it's inflated).
To inflate the bed, first use the pump to inflate the main compartment (through valve 1). Next inflate the top compartment as much as possible (through valve 2). The top section is made to be adjustable so that the bed can fit securely on seats of various sizes.
When your child is lying down, their head should be next to the seat back, not the tray table. The seat belt should also be used over your child's chest.
The Flyaway Kids Bed can be used in seats where it does not block another person's access to the aisle. This means window seats on side rows or middle seats on interior rows. You can also use two beds next to each other if they are the window and middle seat or two middle seats in a row of four.
Our review of Flyaway Kids Bed features
Size and weight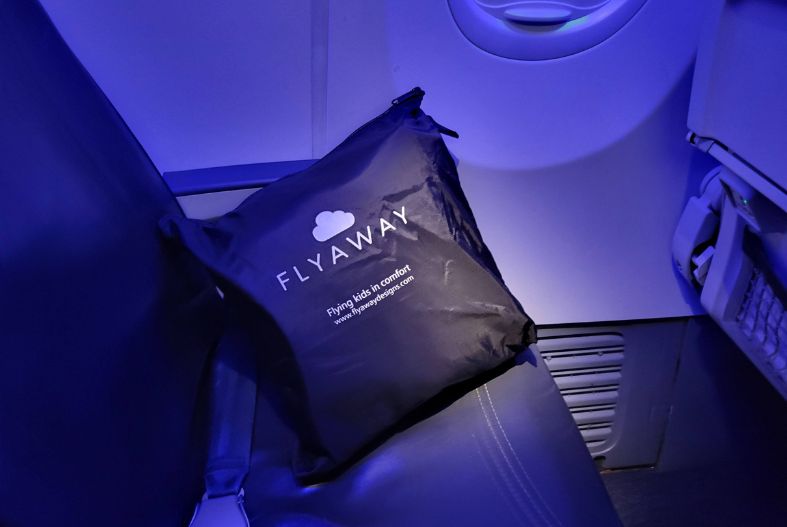 The Flyaway Kids Bed weighs only 2.8 pounds, making it quite light for the size of bed that you get. It also is fairly compact, but does take up a decent amount of space in a carryon bag.
We like to travel very light, so I do wish that it took up less valuable space, especially since you only use it for your flights and then you still have to carry it around for the rest of your trip. This is the biggest downside to this bed for me.
On the other hand, having your young child sleep well on a long flight is worth its weight in gold. (We once had a ten hour night flight from Amsterdam where our 18 month old stayed awake the entire time! Now that was a long flight. If I had had this airplane bed on that flight I'm guessing it would have been a different story.)
If a sleep aid helps your toddler to sleep well on the plane, to me it's worth a little extra space! And the other passengers would probably agree…
Set up and take down
Setting up the Flyaway Kids Bed is simple and quite quick. The bed can be inflated in less than two minutes using the included pump.
Be sure to first inflate the section labeled with a "1", which will inflate the body of the bed, and then move on to the small section labeled "2", which fills in extra space between bed and seat.
The only awkward part is where to put your child while you're pumping it up, as you need them out of their seat for a couple of minutes as you inflate the mattress. I found I could just have my son stand behind me on my own seat or sit with my husband for a minute while I set it up.
The bed can be deflated in seconds due to the large valve openings. Be sure to compress it well to get all of that extra air out. I found that I needed to keep my finger in the hole to hold the internal flap open in order to get all the air out.
I also loved that it was easy to get back in the carry bag, as I always find it frustrating when products don't fit back in the bag well once they've been opened and used. And the pump even fits too!
Ease of use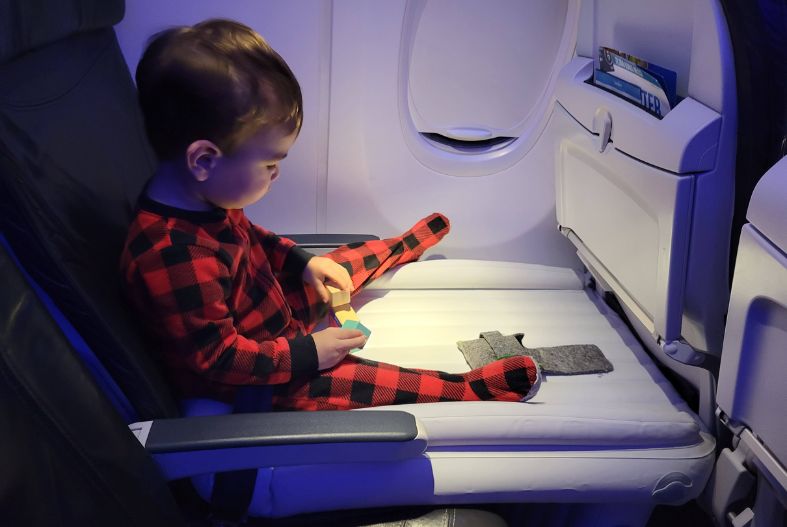 Once you have the bed set up, it's set for the rest of your flight. It won't slide out of place or need to be adjusted.
The bed is equipped with release valves if that pressure gets too great. If the person in front puts their seat back, the bed will adjust automatically by releasing some air.
Even if your child isn't sleeping on the flight, the bed also makes a perfect place for little ones to play. It is a flat, level surface with bumpers on each side to prevent toys from falling to the ground.
Comfort
Obviously the most important factor when assessing this bed was how well my child liked it. I was pleased to see that my kids took to it right away. I've used it with all of my kids (ages 2-5) and they all loved it!
The mattress is very thick and cushy while still being firm, making it a perfect surface for sleep and play. And the fact that the top is an unbroken surface means that it won't shift underneath your child while they are sleeping.
It truly is the most comfortable sleep option I've seen for young kids on a plane.
The first time I used the Flyaway Bed I was amazed to see my son lay right down on the bed and fall asleep within minutes. He slept right up until we landed. He was sleeping so soundly that I actually started deflating the bed and pulled it out from underneath him before landing and he didn't even wake up!
Price
One downside to the Flyaway Kids Bed is that it does come with quite a high price tag. However…if you're going to be flying a lot with young kids I really do think that it is worth the cost, especially if you will be taking a lot of long flights and/or night flights.
A tired, grumpy toddler makes for a miserable flight, not only for you but also for everyone else on the plane. Having a comfortable sleep space for your child is in everyone's best interest.
Plus, if they sleep well on the plane you'll start your trip with a rested child instead of a sleep-deprived one, which can make a huge difference.
Although somewhat expensive, in this case I do think that the value you get is worth the cost.
Tips for using the Flyaway Kids Bed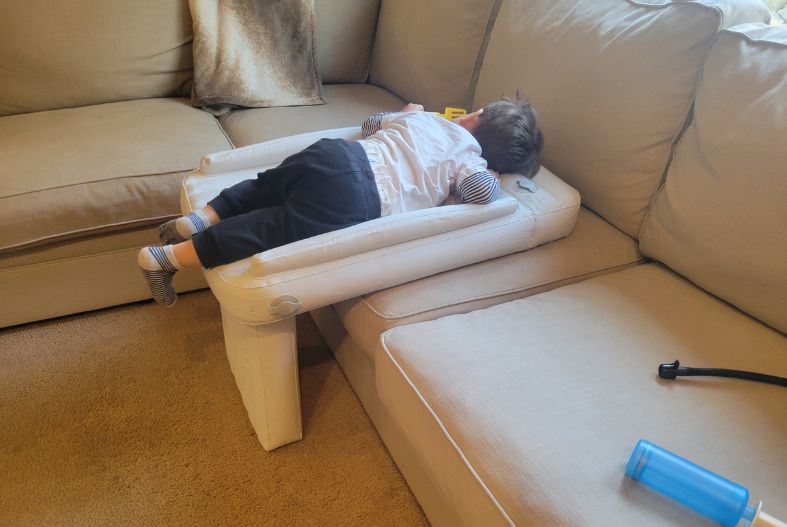 Wait until the plane is up to inflate the bed (and be ready to deflate it for landing)
As I mentioned above, you'll need to wait to inflate the bed until after the flight is already up in the air.
And also be prepared to deflate the airplane bed before landing. This can be kind of a pain if your child is sleeping soundly, but most airlines won't allow you to leave it up for the descent.
As I mentioned above, if my child is sleeping soundly enough, I have had success with deflating the bed while they are still sleeping on it and pulling it out from underneath them without waking them up (transferring them to a sitting position on their seat).
This might not work for all kids, but my kids can sleep pretty soundly and I try to avoid waking my children until absolutely necessary.
Practice at home before your trip
Plan on setting up your Flyaway Kids Bed at home before your flight. Although the setup is quite intuitive, it's nice to have experienced it at least once instead of trying to figure it out on a cramped plane with a tired toddler.
You can enter your flight confident that you can easily inflate the bed and then quickly deflate and store it at the end of the flight.
It's also a good idea to introduce the bed to your child so that they are familiar with it and know what to expect on the plane.
Make sure the valve is closed on the other side when trying to inflate
This is kind of a random tip, but I wasted several minutes figuring this out, so I thought I would try to save you some hassle.
There are two fill valves on the body of the bed (both labeled "1") so that you can fill it from either side depending on which side of the plane you're sitting on.
Make sure that the valve on the opposite side is closed before you start trying to blow it up or else all the air will just escape out the other side and you'll be left wondering why all your pumping isn't doing anything.
Seems obvious, but it's something that had me scratching my head for a few minutes.
Prep your child for sleep on the plane
Anytime you plan for your child to sleep on the plane, it's a good idea to prepare them before your trip. Explain exactly what will happen once you get on the plane.
For example, "We'll get on the plane, read a book while the plane takes off, inflate your bed, and then it will be time for bed! You'll lay down and go to sleep and I'll be right next to you the whole time."
I find my kids do much better when they know what's coming and are prepared. I would also suggest having your child wear their pajamas so that they are all ready for sleep once they get on the plane.
Common questions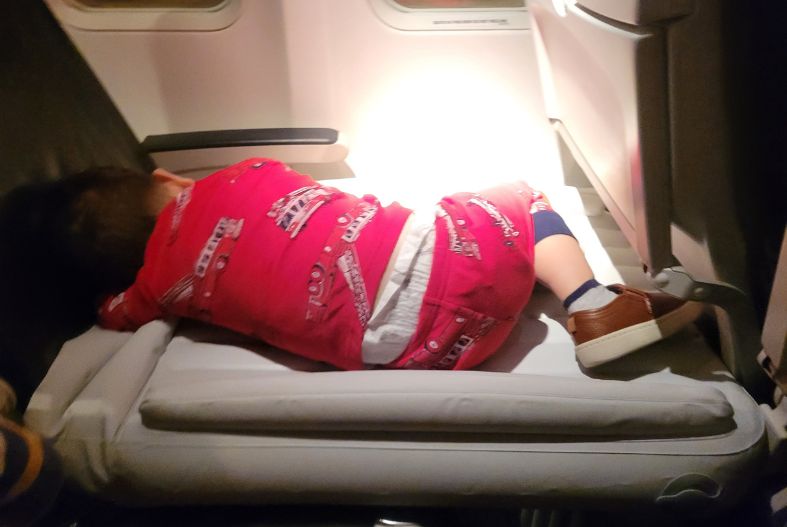 Is Flyaway Kids Bed Safe?
Yes, the Flyaway Kids Bed is safe! It is designed to be used with the plane's seat belt to secure your child during the flight.
It also has a pressure relief valve to prevent the bed from over-inflating.
Which airlines allow the use of the Flyaway Bed?
While many airlines have approved the use of the Flyaway Bed, there are others where it will be up to the discretion of the flight crew.
There are only a very few airlines that don't allow the Flyaway Bed outright.
See the Flyaway Designs website for a complete list of approved airlines.
You can also always call your specific airlines to ask if the bed will be allowed.
What age is Flyaway Kids for?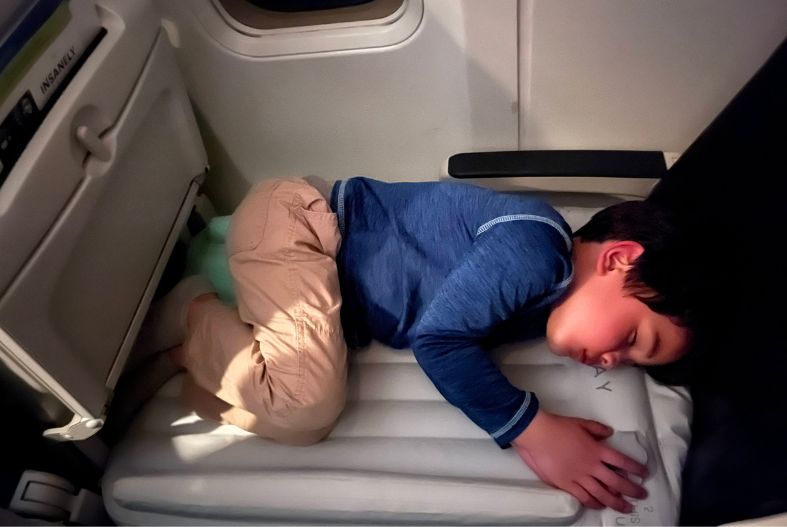 Flyaway Kids Bed is recommended for children ages 2 to 7.
We've used it with all three of our kids, from ages 2 up to 5. Although the five year old was obviously more cramped than the two year old when lying down, it was still a great sleep solution for him when he folded his legs in.
What is the best sleep aid for kids on a plane?
There are a few different options for airplane beds out there. The one that is best for you will depend on your budget and needs.
The Flyaway Kids Bed is a great option because it is one of the most comfortable airplane beds out there. It's also lightweight and easy to use, making it perfect for travel.
Where can I buy the Flyaway Kids Bed?
The Flyaway Kids Bed is available for purchase on the Flyaway Designs website.
Final Thoughts
Flying with young kids can be tricky, but the Flyaway Kids Bed can make it a lot easier!
This inflatable bed provides a comfortable place for your child to sleep and play during your flight.
As someone who has been on a lot of long flights with young kids, I can say that having a cozy spot for your child to sleep can make a world of a difference.
If you're planning on long flights or night flights with your child, I'd say that the Flyaway Kids Bed is worth the investment!
Other posts you might be interested in:
The Best Airplane Beds for Toddlers
How to Get a Toddler to Sleep on the Plane (Tips that work!)
An Honest SlumberPod Review: The Travel Sleep Aid You Didn't Know You Needed!