This page may contain affiliate links, which means that we may earn from qualifying purchases at no additional cost to you.
The gb Pockit is the most compact stroller on the market, making it a great option for travelers who like to pack light. In this gb Pockit stroller review we'll provide you with everything you need to know to decide if this is the right stroller for you!
We've had our gb Pockit for five years now and it's been all over the world with us.
We love packing as light as possible and avoid bringing along extra gear unless absolutely necessary. When we saw the gb Pockit we knew it would be a good fit for our travel philosophy.
Over the years, this stroller has served us well and has definitely fulfilled its role as a super compact travel aid.
It is true that this compactness comes with some sacrifices, but if traveling light is important to you, there's a good chance this stroller might be a great fit.
We know this stroller inside and out, so we'll break it all down for you in detail. Read on for our detailed gb Pockit stroller review!
Main takeaway: You won't find a stroller more compact and lightweight than the gb Pockit (or gb Pockit+). This makes it an ideal travel stroller for those who like to pack light and minimize their load!
What is the gb Pockit?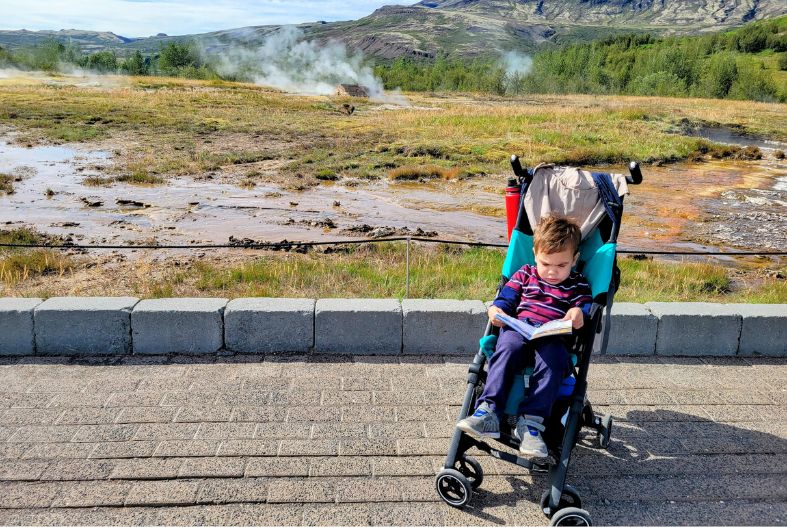 The gb Pockit is a lightweight, foldable stroller. It is the most compact stroller on the market and even folds up small enough to fit into the overhead bin (or under the seat) on an airplane.
These features make it a very useful for travel or just those who need a more compact stroller option!
Gb Pockit vs gb Pockit+
The newer version of the Pockit stroller is the gb Pockit+. The main difference in the new stroller is that it has a larger sunshade and a recline feature.
Although slightly more expensive than the original gb Pockit, these features can make for a much more enjoyable experience if you have a child that you expect to be taking naps in the stroller.
And you don't lose much in terms of weight and compactness (the gb Pockit+ All Terrain is 12.3 pounds as opposed to the 10.5 pounds of the original).
If the gb Pockit+ had been available when we bought our stroller, we most likely would have gone with that option for those additional features.
Product description
Weight: 10.5 lbs
Weight capacity: 55 lbs
Folded dimensions: 11.8" L x 7.1" W x 13.8" H
Assembled dimensions: 28" L x 17.5" W x 39.8" H
Pros
Folds up extremely compactly
Very lightweight
Fits in overhead bin and under seat on airplane
Easy to carry in tote or luggage
Possible drawbacks
Small sunshade
Small basket
Can feel rickety on uneven surfaces
Our review of gb Pockit features
In this gb Pockit stroller review, we'll address all of the main features of the stroller and give our assessment from our own personal experience using the stroller.
Weight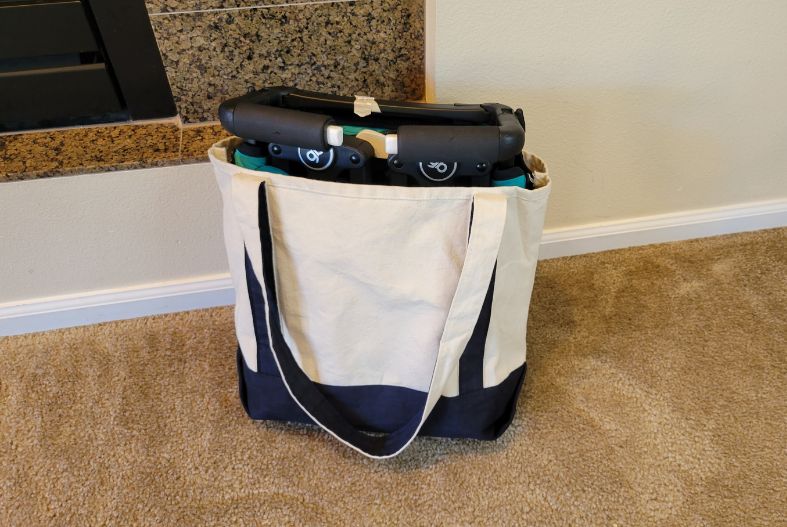 At just 10.5 pounds, the gb Pockit is one of the lightest strollers out there. This makes it easy to bring along without weighing you down or causing extra hassle.
We've found that we can easily place the stroller in the car seat back with our car seat when not in use and we hardly notice the addition. You can also easily carry it in a tote bag or even fit in into your luggage when you're not using it.
The stroller has a weight limit up to 55 lbs, so it will last your child for quite some time. We got our stroller when our son was just under one year old and he'll still ride in it sometimes now at six years old!
Compactness
If you're looking for a very compact stroller, you can't do any better than the gb Pockit. This stroller actually has a place in the Guiness Book of World Records as the world's smallest folding stroller!
And when they say it folds up compactly, they really mean it! When folded, the stroller can easily fit in an overhead bin of an airplane or underneath the seat.
It can also fit through the X-ray machine at the airport as well, which never ceases to amaze the security personnel.
And I can't tell you how many times we've been stopped by people to ask what kind of stroller it is when they see us fold it up. It almost feels like a magic trick when you can quickly fold your stroller up smaller than a briefcase.
The stroller actually has two folding sizes. One is a little quicker, but slightly less compact. The other requires you to take an extra step to fold the back wheels in, but gets the stroller into its smallest form.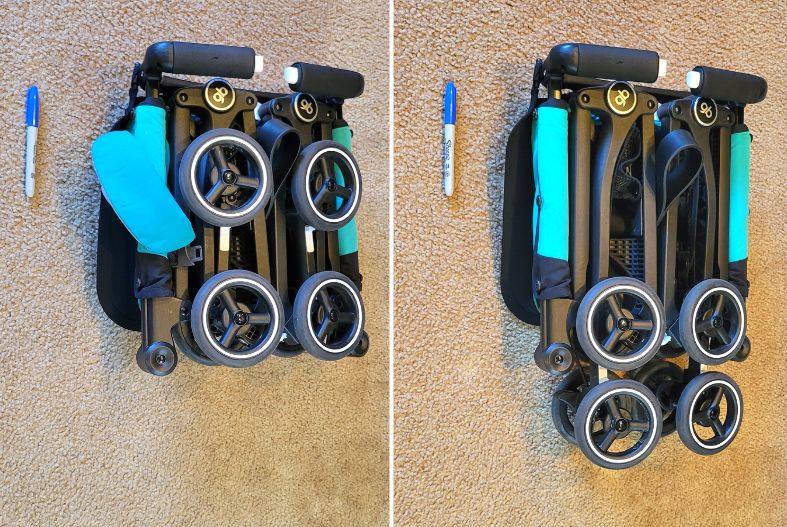 We typically don't fold the wheels all the way in, as it is still extremely small with the wheels out and quite a bit quicker to open and close.
Even in the less compact folding arrangement, the stroller still fits into the overhead bin of an airplane.
The stroller also takes up a small profile when open. It is narrow enough that you can actually roll it down the aisle of the airplane (although apparently you're not supposed to do that, which we found out after we tried it).
On this feature, the gb Pockit definitely delivers!
Ease of use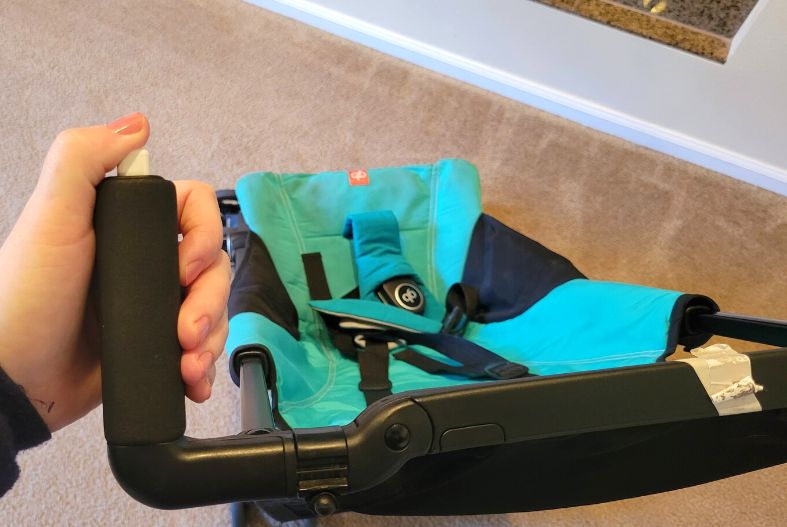 Opening and closing the gb Pockit can take a little practice. I would highly recommend getting used to it before your trip so you're not stuck trying to fold it up while holding up the security line.
In order to fold the gb Pockit, you need to push down on the buttons at the end of the handles (this is not a one-hand fold situation) and then push downward on the stroller until it collapses.
The part that can be a little challenging at first is to make sure that the wheels are aligned and turned the right direction before you fold it.
If you want it to be in the most compact fold, you'll also need to fold in the back wheels.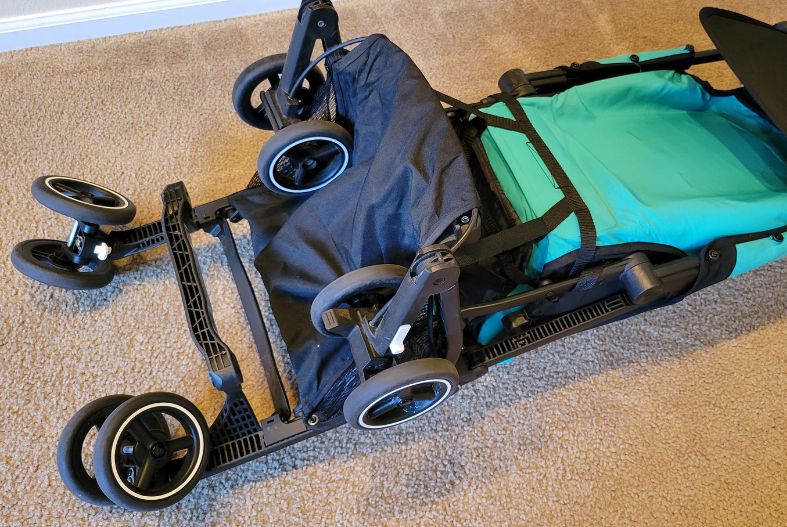 Once the stroller is folded, there is a latch to hold it closed.
To open the stroller, simply unlatch it, hold the handles, and flick your wrists downward to unfold the stroller.
At this point, you need to push the buttons on the handles and and pull upright until it locks into place, otherwise it will collapse on your child when they try to climb it.
It really isn't that challenging to open and close the stroller once you're used to it, but it is a bit of a learning curve at first.
Sturdiness
I will admit that the gb Pockit doesn't necessarily feel like the sturdiest option out there. Sometimes when pushing it the frame feels a bit rickety and it can be tricky to maneuver in situations with rough roads or gravel.
However, I've been pleasantly surprised at how well our stroller has held up over the years we've had it. We are not easy on strollers and ours is still in near perfect condition.
I think that the stroller is actually a lot more durable than it feels like it will be, mostly due to how lightweight the frame is.
Comfort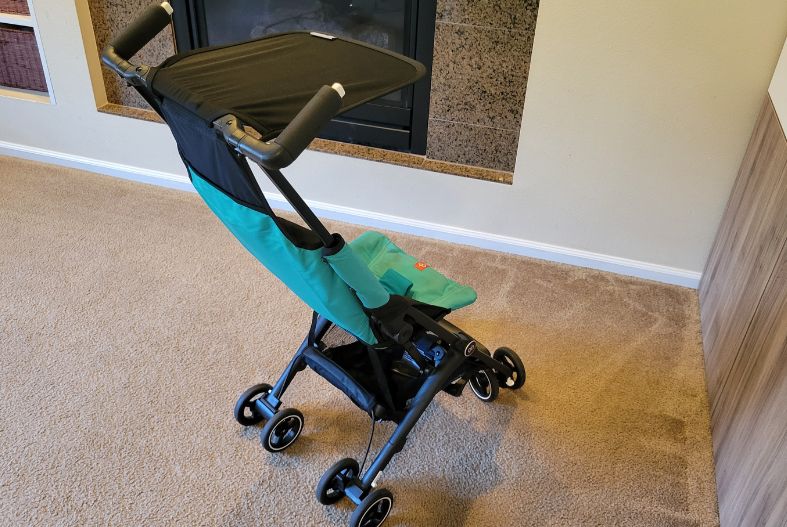 Overall, my kids seem to find the gb Pockit quite comfortable. They have no problem riding in it for extended periods of time.
The seat back is tall, which allows plenty of space for older children to fit as well as babies and toddlers.
The original gb Pockit does not have a recline feature, a downside if you would like your child to have the option of napping in the stroller. Our kids have fallen asleep in this stroller, but obviously it does keep them in an upright position.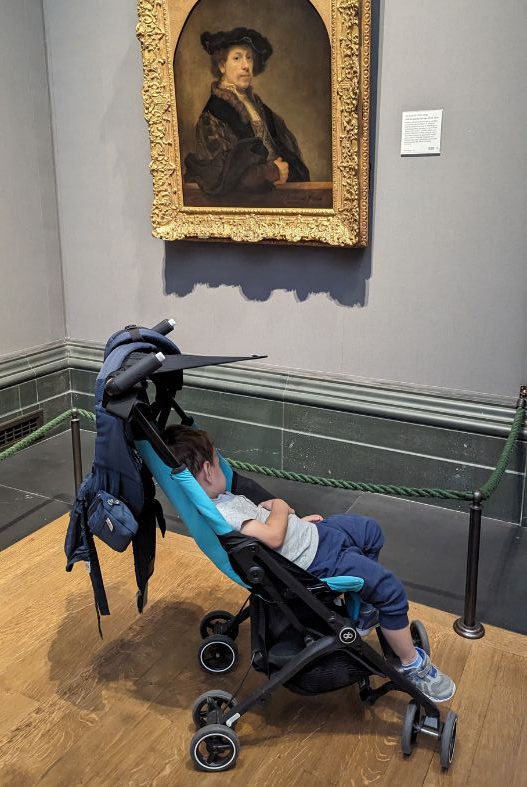 Another downside is the fact that the sunshade is tiny and pretty much useless at keeping the sun off your child unless it is directly above or behind them.
However, remember that the gb Pockit+ does have a recline feature and a much better sunshade than the original gb Pockit.
Extras
The gb Pockit is a pretty barebones stroller, which is how it gets to such a small size and weight.
You won't find features such as a cup holder or belly bar, which honestly we don't find necessary anyway, but may be important to you.
The basket is also quite small and it can be tricky to fit a full-sized diaper bag in it. We usually just hang our diaper bag from the handles of the stroller.
Price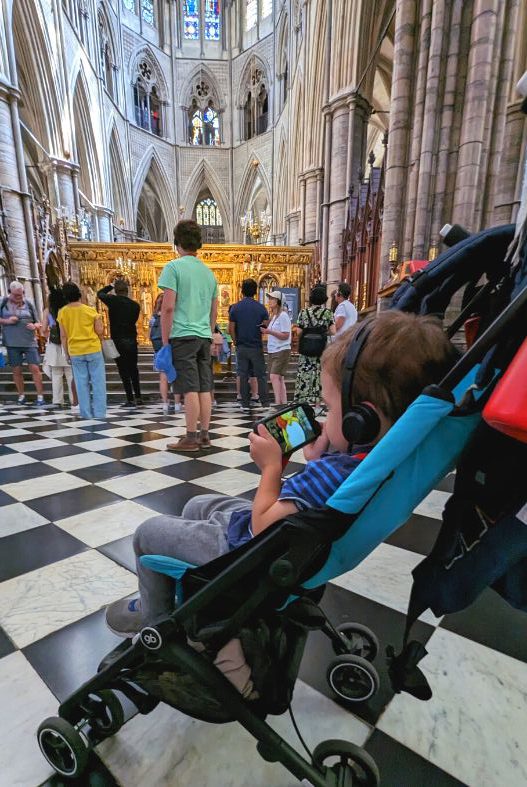 For the features that you get, I would say that the gb Pockit is quite reasonably priced.
It's by no means the most expensive compact stroller out there, and it is a great basic stroller for travel.
For the value that you gain from not having to travel with a heavy, bulky stroller, I'd say that the price is worth it.
Our verdict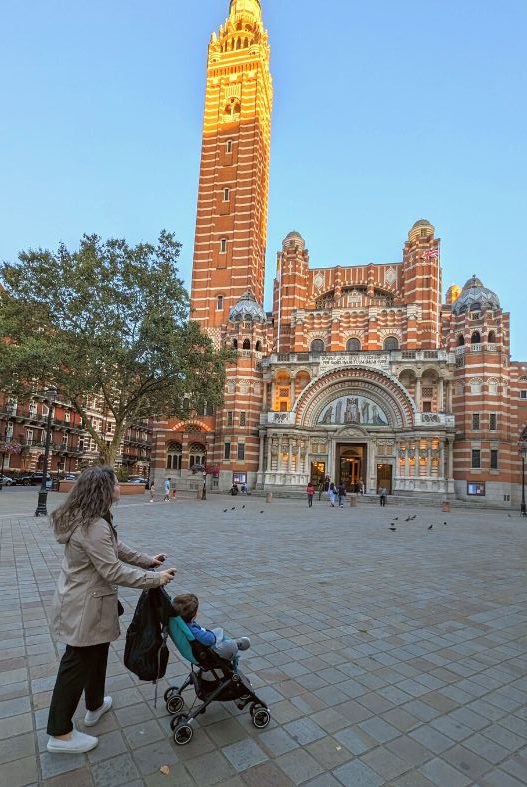 Although there are some sacrifices made in terms of sturdiness and extra features, the gb Pockit is still an amazing stroller for travel due to its uniquely small design.
There just isn't another stroller on the market that can match this stroller in terms of size and weight.
If we were to buy it again, we would probably get the gb Pockit+ over the original gb Pockit due to the larger sunshade and recline feature. However, we've been extremely pleased with our stroller over our years of travel with it.
Whether or not this stroller is right for you depends on which features you find most essential. If you most prioritize a stroller that is extremely compact and lightweight, this is the stroller for you!
However, if you would rather sacrifice a bit of the size and weight for some additional features, you might prefer a compact stroller such as the Mountain Buggy Nano or the Babyzen Yoyo.
Common questions
What age is the gb Pockit good for?
The gb Pockit is recommended for ages 6 months up to 55 pounds.
We've used it with our children starting at just under a year all the way up to six years old without any problems.
Does the gb Pockit stroller recline?
While the original gb Pockit does not recline, the gb Pockit+ does have a recline feature.
Final Thoughts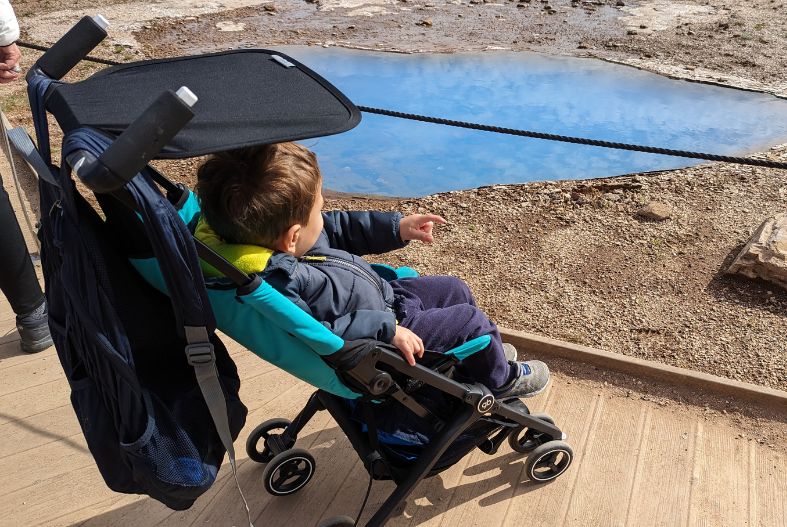 As the most compact stroller out there, the gb Pockit is a great option for travelers who are trying to pack light and reduce the volume of gear they are bringing.
It is so convenient to store and bring with you, small enough to fit into a backpack or your car seat travel bag. And the gb Pockit+ has the same compact, lightweight profile but with a much improved sunshade and a recline feature.
We've used our gb Pockit for years and have found it to be an extremely helpful aid for traveling light with young children.
Hopefully this gb Pocit stroller review has given you all the information you need to decide if this compact stroller is right for you!
Other posts you might be interested in:
How to Gate Check a Stroller at the Airport
An Honest SlumberPod Review: The Travel Sleep Aid You Didn't Know You Needed!
The Ultimate List of Toddler Travel Essentials (+Toddler Packing List!)