This page may contain affiliate links, which means that we may earn from qualifying purchases at no additional cost to you.
If you're flying with young kids, you're likely planning on bringing a stroller for your child. One of the most convenient ways to fly with a stroller is to simply check it at the gate! In this article, we'll break down exactly how to gate check a stroller at the airport.
While you can also check your stroller with your checked luggage, the benefit of waiting to gate check your stroller is that you can use it to transport your child through the airport, both at your point of departure and when you arrive at your destination. Your stroller is also less likely to get damaged when gate checked as opposed to if it were checked with the rest of your luggage.
Gate checking a stroller is actually quite simple, but it can seem intimidating if you've never done it before. We've flown with strollers many times, so we have a lot of experience gate checking strollers on many different airlines.
We've broken down all the steps for you here so that you know exactly what to expect when you arrive at the airport!
How to gate check a stroller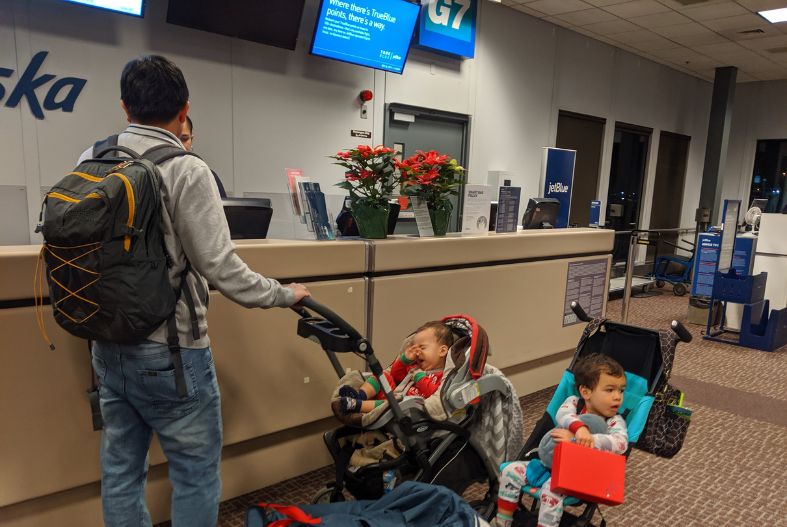 Gate checking a stroller is very easy and intuitive once you've done it before. But if this is your first time gate checking a stroller, here we'll take you through what to do from departure to arrival.
After dropping off any check-in bags upon arriving at the airport, use your stroller to transport your child to security.
When you get to security, you'll need to take your child out of the stroller, fold it up, and send it through the X-ray machine. If it is too large to fit through the X-ray machine, security will inspect it by hand.
When you arrive at your gate, see the gate agent at the desk (often there will be a line) and let them know that you have a stroller to be gate checked. They will provide you with a tag to attach to the stroller (or often they will just attach it for you). If you're using a stroller bag, be sure the tag is attached to the bag, not the stroller itself so that it is visible.
Once it's your turn to board the plane, take the stroller with you to the end of the jet bridge and leave it next to the door that leads to the outside. An airline employee will come to collect it and store it in the plane's cargo hold before the plane takes off.
When the plane arrives at your destination, wait at the aircraft door for your stroller to be brought back up to the jet bridge. You can then place your child back in their car seat to transport them through the airport!
Note: Every once in a while, gate check items will be taken with the other baggage and must be picked up at baggage claim. This has only happened to us a couple of times when traveling internationally (and it's very inconvenient when it does). If this happens, someone will usually let you know when you get off the plane and you'll just have to make your way through the airport without your stroller until you can pick it up at baggage claim.
Common questions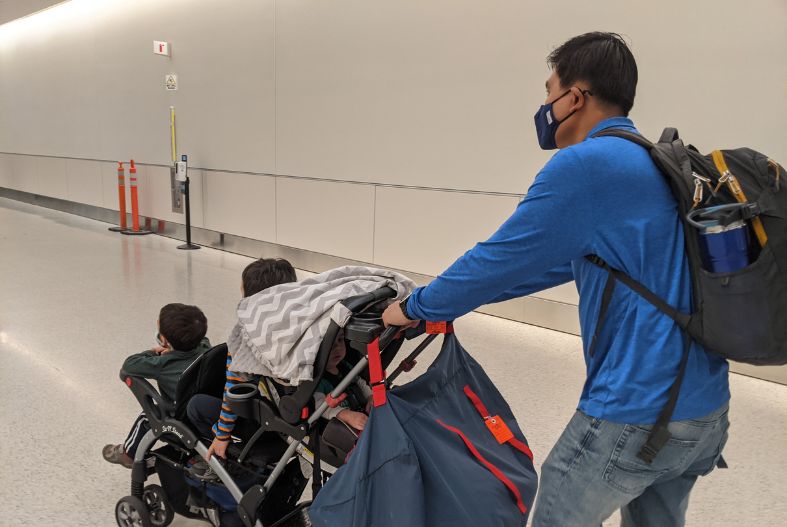 How does checking a stroller at the gate work?
To check a stroller at the gate, simply present your stroller to the gate agent to receive a claim tag. Attach the tag to your stroller and take it to the end of the jet bridge when it's your time to board. Fold up your stroller and leave it by the door where someone will come to take it to the cargo hold.
Can you check any stroller at the gate?
Many airlines have size and/or weight restrictions on gate checked strollers. This will vary by airline, so check the guidelines for your specific airline before flying. A general standard is that your stroller should be able to fold down and should not be overly large or heavy. If your stroller is too large for the gate check requirements, often you can check it with your baggage free of charge if you plan ahead.
Can you gate check a stroller for free?
When you're traveling with a child, you can typically check one stroller for free per child. If you are traveling with two children, you can choose to check a stroller for each child or check a double stroller.
This is true for most major airlines, but if you're flying with a smaller carrier you'll want to double check to make sure you understand their specific regulations regarding strollers.
Do you have to put a stroller in a gate check bag?
You do not have to put a stroller in a gate check bag when you are checking it. You can simply fold it, lock it, and leave it at the end of the jet bridge.
However, you can use a gate check bag for your stroller if you would like to. These can be convenient because they protect your stroller from dirt and some forms of damage. They also prevent you from losing any parts from your stroller, such as cup holders, straps, etc.
How do you gate check a car seat and stroller?
Typically most airlines will allow you to check one car seat and one stroller per child for free.
In order to gate check a car seat along with your stroller, all you need to do is inform the gate agent that you will be checking two items instead of one.
You will receive two tags, one for each item. Once again, you will place both items at the end of the jet bridge and pick them up at the same spot at the conclusion of your flight. If you're gate checking your car seat, I would recommend using a car seat travel bag to provide some extra protection for your car seat and make it easier to transport.
Final Thoughts
Although it might seem tricky if you've never done it before, gate checking a stroller is actually very simple to do.
It also makes it extremely easy to go through the airport with a young child because you're able to use your stroller right up until you get to the gate. And then you have it waiting for you to use on the other end too!
If you're traveling with a stroller, gate checking your stroller is both easy and convenient.
Other posts you might be interested in:
gb Pockit Review: Is the World's Most Compact Stroller Worth It?
The Ultimate List of Toddler Travel Essentials (+Toddler Packing List!)
21 Airplane Toys and Activities Your Toddler Will LOVE!