This page may contain affiliate links, which means that we may earn from qualifying purchases at no additional cost to you.
If you're planning on traveling with a baby, Singapore is an ideal destination. It's safe, clean, and there is a lot to do to keep the whole family entertained.
Singapore is a destination that allows you to visit somewhere exotic and interesting while avoiding some of the challenges that come with traveling in less developed countries.
We've been to Singapore several times, the most recent was when our son was just under a year old. In our experience, Singapore was a great place to visit with a baby, with plenty to keep both him and us happy.
If you're considering visiting Singapore with your baby, we have all the tips you need for a successful trip!
Is Singapore Child Friendly?
Yes! In fact, of all the places we have traveled, Singapore would probably be near the top of my list for child-friendly destinations. Here are a few factors that make Singapore a great destination to visit with kids:
It's safe– Singapore was ranked the safest country in the world by Gallup's 2018 Global Law and Order Report. Very low crime rates, high food standards, clean water, and no "bad" parts of town means you can take your family there with confidence.
It's clean– Singapore is a beautiful and very clean city. It's jokingly called a "fine city"- meaning, there are fines for everything. From littering to not flushing the toilet to chewing gum- all of these things will get you a hefty fine in Singapore. You might do well to look up a list of some of the more uncommon things that are prohibited there before you go. But all the regulations do make for a very clean city!
It's easy to get around– Singapore has a great public transportation system. Between the MRT (mass rapid transit), buses, and taxis you can easily get anywhere you want to go on the island.
It's easy to communicate– English is one of the four official languages of Singapore. Most people there will be able to communicate with you in English.
There's a lot to do there– see our list of activities below
It's a travel hub for Southeast Asia– it's easy and cheap to travel to other places in Southeast Asia from Singapore.
The one downside is that it's not as cheap as other places in Southeast Asia, so you're not going to be able to get as much bang for your buck as in other destinations in Asia.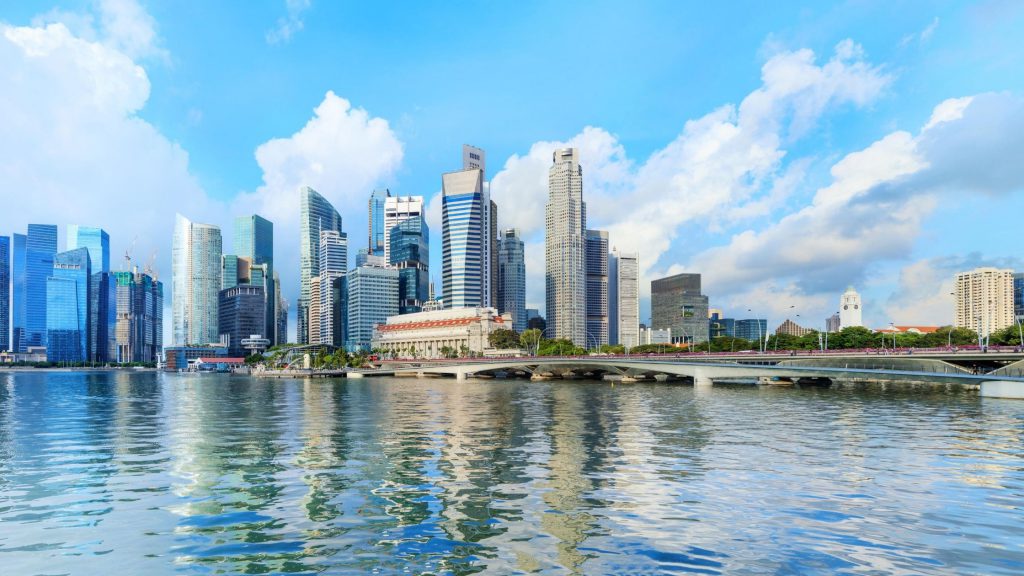 How to Get Around Singapore with a Baby
Singapore has one of the best public transportation systems in the world. It's clean, efficient, and cost-effective.
When you arrive, I would recommend getting an EZ Link Card, which is a reusable smart card that you can use for all forms of public transportation in Singapore. You can get the card at Changi Airport when you first arrive, but note that you can only pay cash to buy one, they won't accept credit cards.
MRT
The most common method of getting around is using the MRT (Mass Rapid Transit) subway system. The MRT will have stops for most of the locations that you would be interested in visiting. Use your preloaded EZ Link Card or purchase a ticket at the station.
Bus
If the MRT doesn't go to a location, you can take the bus. Popular attractions not connected to MRT include the Singapore Zoo and Jurong Bird Park. However, those destinations are easy to reach by bus.
Taxi or Grab
Another option is taking a taxi or Grab (a ridesharing service common in Southeast Asia). This is the most expensive option and you have to account for traffic during rush hour. However, Grab can be very convenient because you can use the app to quickly and easily hail a ride wherever you are.
Tips for Visiting Singapore with a Baby
Bring a baby carrier or stroller
You'll want some method of transporting your baby while you're visiting Singapore because there is so much to see.
Singapore is a very stroller-friendly city. Most places you will go are stroller-accessible and it's very easy to navigate a stroller around the city. If you're looking for a good travel stroller, we love the gb Pockit. It's one of the most lightweight, compact models on the market, making it ideal for travel.
A carrier can also be very helpful to bring instead of or in addition to a stroller, depending on your preference. We brought our Ergobaby carrier and found it to be convenient for easily navigating public transportation.
Plan for the Weather
No matter when you plan on visiting Singapore, you can expect that the weather will be hot and humid. Plan on bringing sunscreen and a hat for your baby and yourself.
However, the good news is that in Singapore it's always easy to find a place with air conditioning. Singapore has a vast system of connecting MRT stations and malls, meaning you can go straight from the mall to the subway and when you get to your stop you'll often find yourself in another air-conditioned mall.
Consider Getting a City Pass
Depending on what you want to see, a city pass might be a great option to help you save time and money.
We chose the Four Park Pass, which gave us access to the Singapore Zoo, Night Safari, River Safari, and Jurong Bird Park at a discounted price.
Another good option is the iVenture Singapore Unlimited Attractions Pass, which allows you to set your own itinerary by choosing from 30 available attractions and getting discounts at even more. It also allows you to skip the line at some attractions.
What Can You Do in Singapore with a Baby?
There's actually a lot that you can do in Singapore with a baby. The baby stage can be a great time to travel because babies nap frequently and are relatively easy to keep happy.
This means that you can strap your baby into a carrier or stroller and go and visit the attractions that interest you without having to worry about your child getting bored. We found it really convenient to bring our son along as we visited the sights of Singapore.
It is true that there are some attractions that you can't do easily with a baby, such as Universal Studios. However, there are so many other attractions to visit, you won't have any problem filling your schedule. We plan on going to back to so some of those other attractions when our kids are a little older.
Keep reading for some of the best things to do in Singapore with a baby along for the ride.
Go to the top of the Marina Bay Sands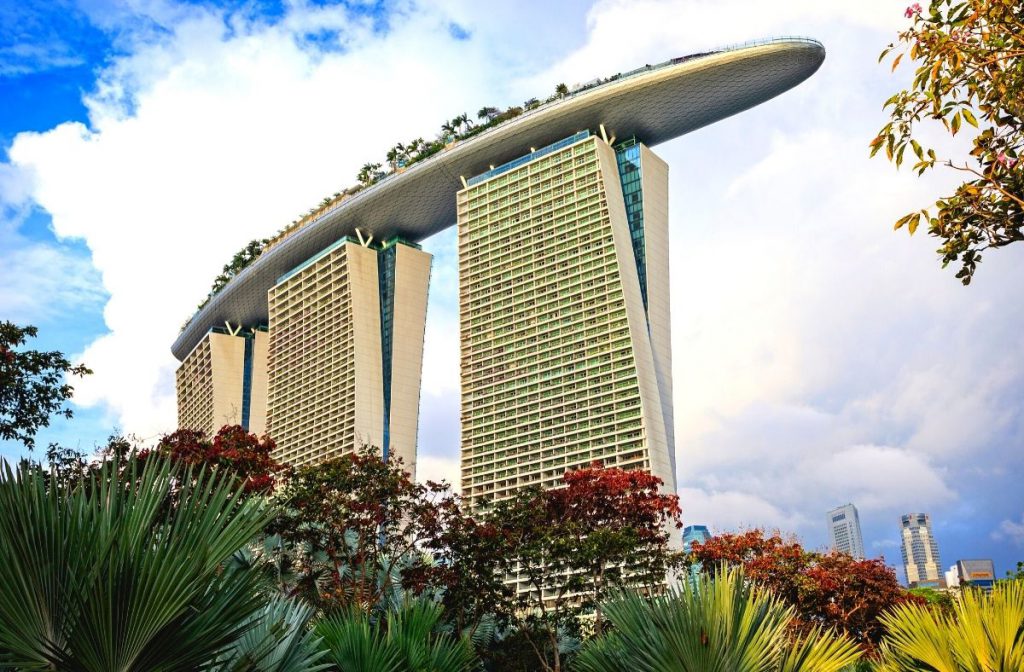 The Marina Bay Sands is a massive hotel that looks like a giant ship resting on three towers. At the top is a skypark and an observation deck.
Also located at the top is the world's highest infinity pool, because who doesn't want to feel like they're swimming at the edge of a 600-foot precipice?
From the observation deck, you have sweeping, unobstructed views of the city. You are able to see some of the famous landmarks of the city, including the Singapore Flyer, the Supertree Grove, and Gardens by the Bay.
Book your tickets for the observation deck in advance for a hassle-free experience (children under 2 are free). Access to the deck is free for hotel guests.
This is an easy attraction to visit with a baby. Strollers are allowed on the observation deck and of course an elevator brings you right to the top.
Pro tip: If you go to the restaurant and buy a minimum amount to eat, you also get the same views. It ends up being the same price and you get food as well!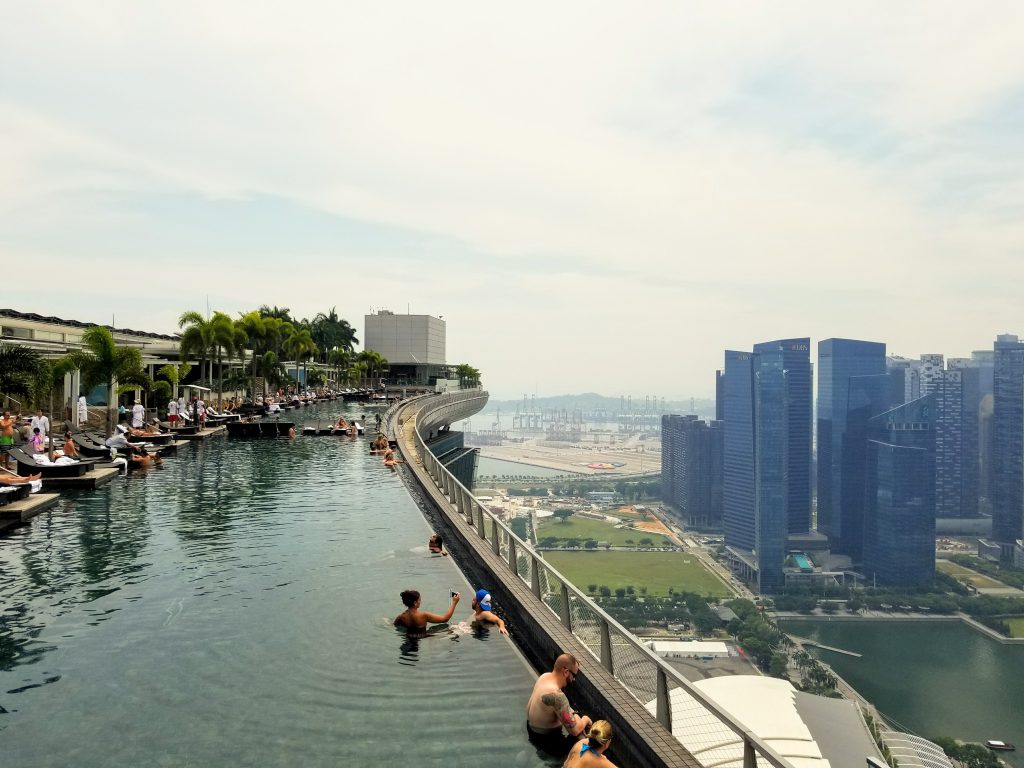 Take in the city from the Singapore Flyer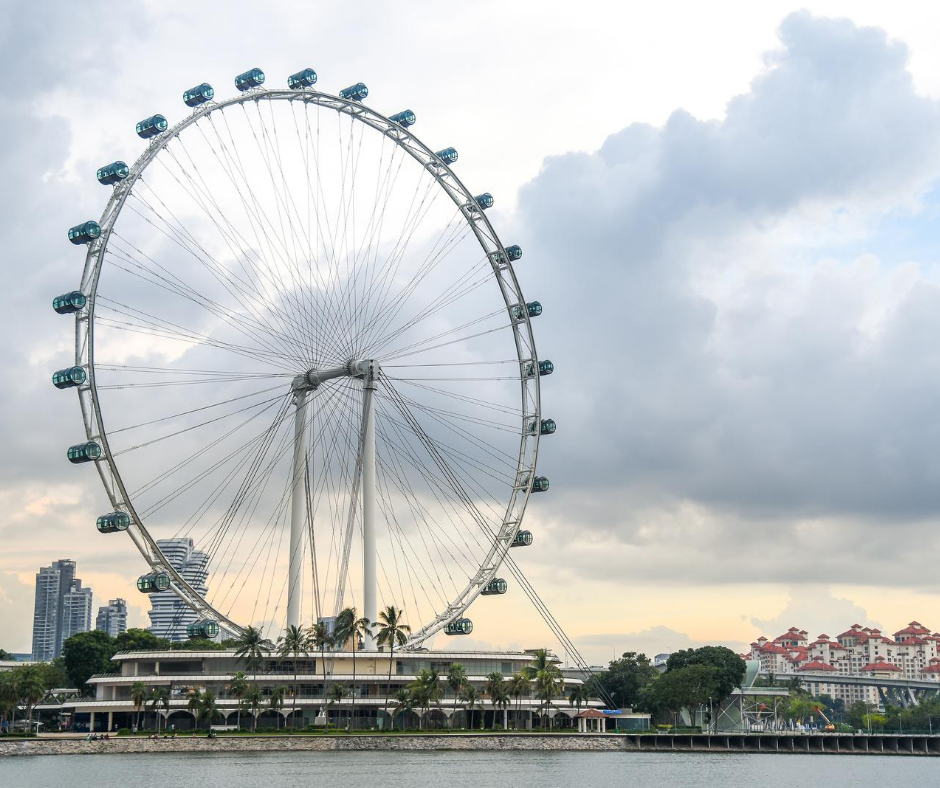 If you're looking for a birds-eye view of the city, another great option is the Singapore Flyer. At 541 feet, the Flyer is the tallest observation wheel in Asia (formerly the highest in the world until the High Roller came along in Las Vegas).
There are gorgeous views of the city and out across the bay as you slowly make your way around this enormous wheel.
The air-conditioned capsules are fully enclosed, so little movers can toddle around without any fear. Strollers are not permitted in the capsules, but there is a place to leave them at the entrance.
This attraction is busiest in the evening, so try to go early in the day to avoid waiting in a long line.
You can buy tickets in advance here.
Pay a visit to the Merlion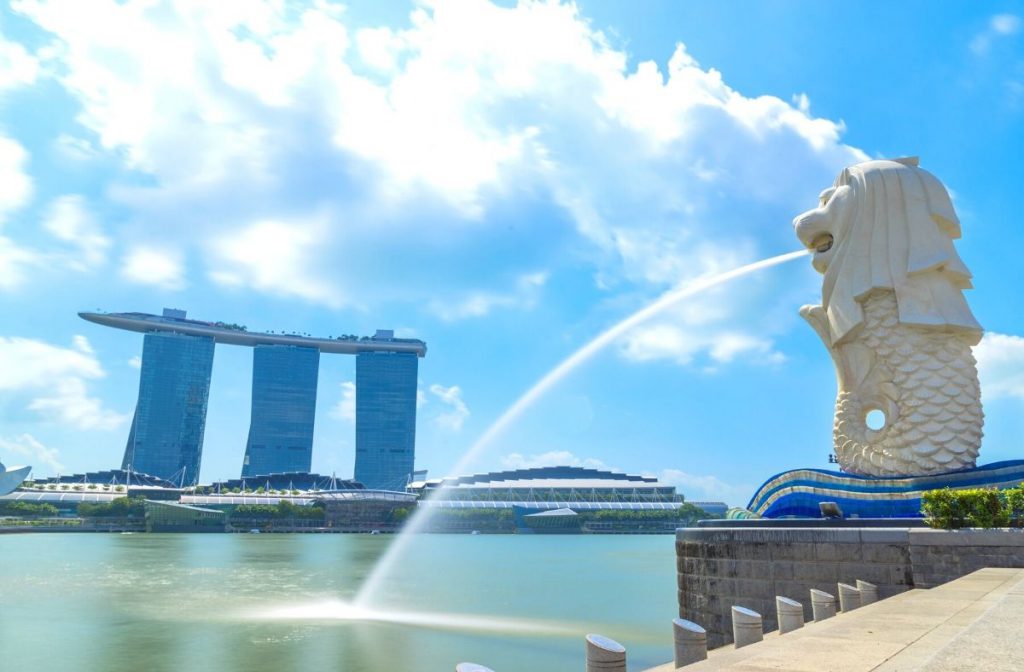 The Merlion, a mythical creature with the body of a fish and the head of a lion, is a classic symbol of Singapore. You can find the statue spouting water from its mouth on the waterfront at Merlion Park.
The area can get a little crowded, but it offers beautiful views of the Marina Bay Sands and Marina Bay. My husband's response upon seeing it for the first time was along the lines of, "Is this it?" And granted, there isn't much to it, but I always love paying a visit to the Merlion. It's just something you have to do at least once when visiting Singapore.
Explore the Gardens by the Bay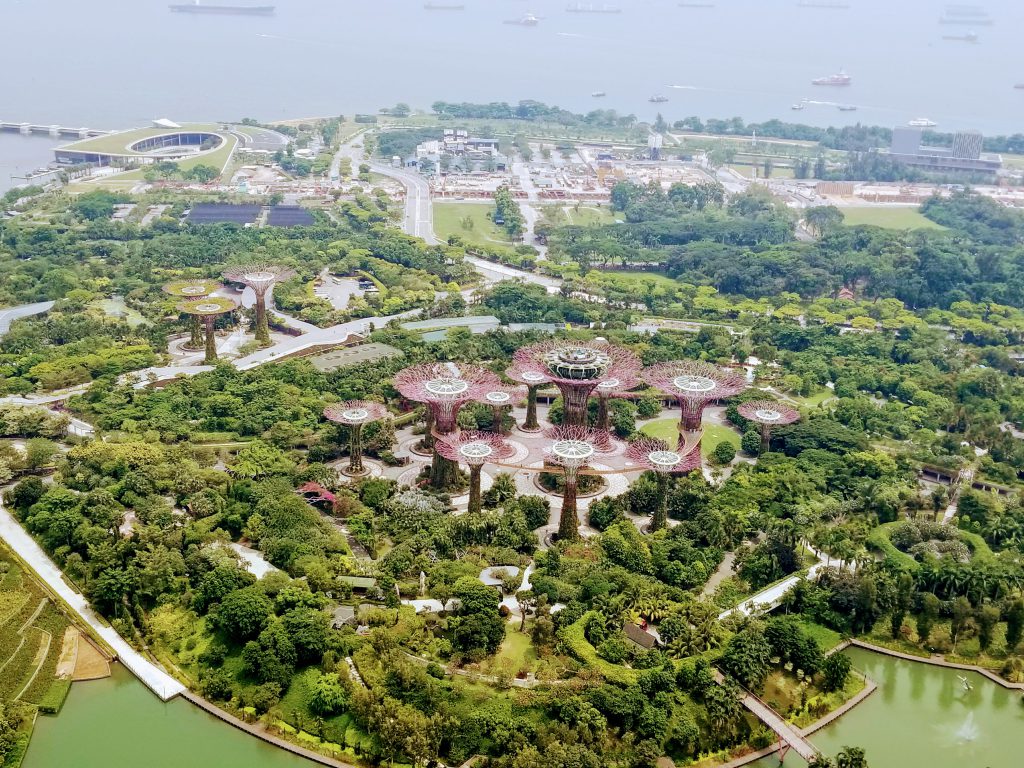 Gardens by the Bay is a 250-acre nature park located by Marina Bay. There are lots of pathways that wind through the vegetation and shady areas where you can take a rest from the heat.
One of the main attractions is the Supertrees, which are futuristic-looking vertical gardens that light up at night. Also located within the Gardens are two cooled conservatories- the Flower Dome and the Cloud Forrest.
The conservatory complex is the world's largest climate-controlled greenhouse. It also contains one of the tallest indoor waterfalls in the world (in case you hadn't noticed, Singapore thrives at being above the rest with lots of "the world's tallest, largest, highest, greatest, etc…").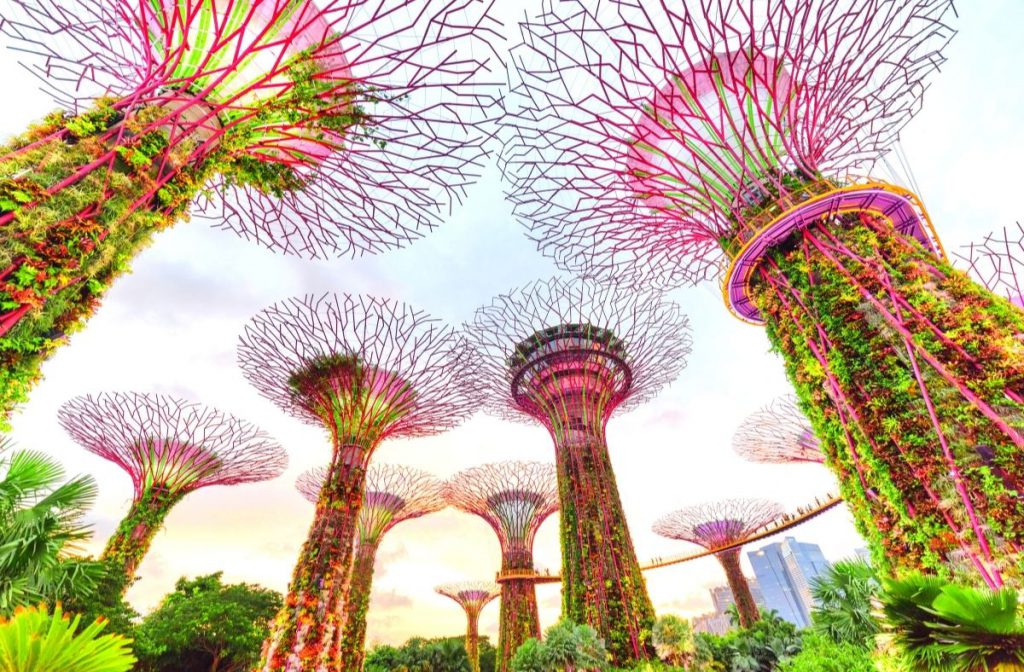 It's free to visit the gardens and the Supertrees, but you have to pay if you would like to enter the conservatories or to go up the walkway that links some of the giant Supertrees. You can purchase tickets to the conservatory here.
There's also a Children's Garden that is an amazing place to take babies and older children. There are playgrounds and fun obstacles as well as a water play area which is perfect for cooling off from the heat. So be sure to bring your swimsuits! There are changing rooms on site. The Children's Garden is free and adults are only permitted if accompanied by a child under 12.
Gardens by the Bay is easy to navigate with a stroller. You can actually rent a stroller for the day for a very reasonable price at the gift shop. There are also nursing rooms available if you would like some privacy to feed your baby. And if you would like to store anything, there are lockers available for rent.
Visit the Wildlife Reserves
Wildlife Reserves Singapore is the organization that manages the Singapore Zoo, the River Safari, the Night Safari, and Jurong Bird Park. Each is very impressive in its own right and I would really recommend all four to someone visiting Singapore.
You can purchase a 4-in-1 Park Hopper Pass for a discounted admission to all four parks. Children under three are free.
The Singapore Zoo, the River Safari, and the Night Safari are all located in the same complex. We visited all three in one day and didn't feel like we were rushing. However, if you want a more immersive experience, you might want to divide them up into different days.
Jurong Bird Park is located about twenty minutes from the other parks.
Singapore Zoo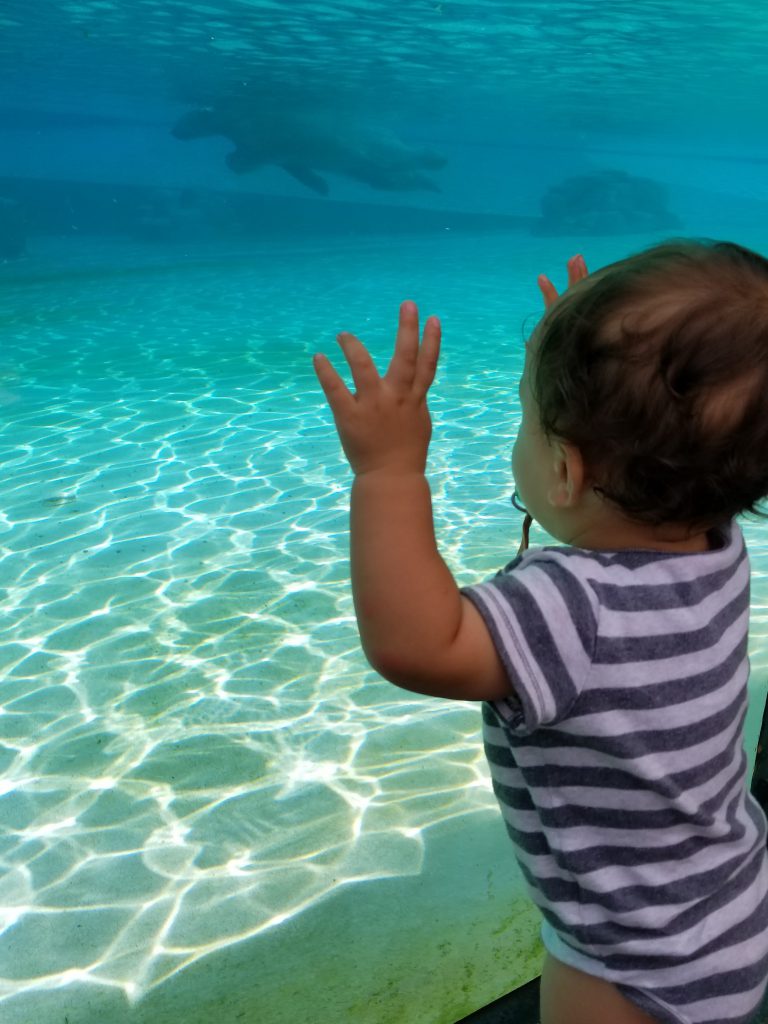 The Singapore Zoo has consistently been rated among the best zoos in the world. We love zoos, and the Singapore Zoo is one of our favorites!
The zoo has lots of varied animal species, large and natural-feeling enclosures, and shaded walking paths with lush vegetation. It also has several fun and engaging shows and a water play area for children.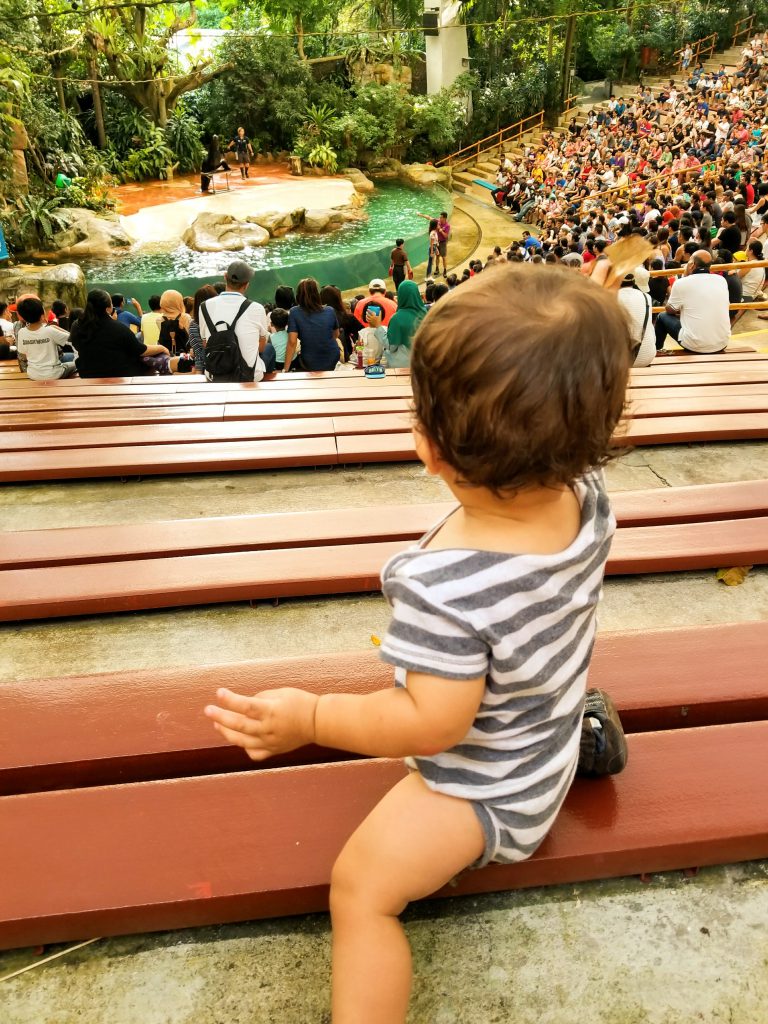 At the entrance to the zoo, you can rent a stroller or wagon for the day. This is a convenient option if you don't want to bring your stroller with you.
There are also storage lockers available for bags or luggage and they will store your car seat for free. Clean bathrooms are located throughout the park as well as several nursing rooms.
You can purchase your ticket for the Singapore Zoo here. Children under three are free.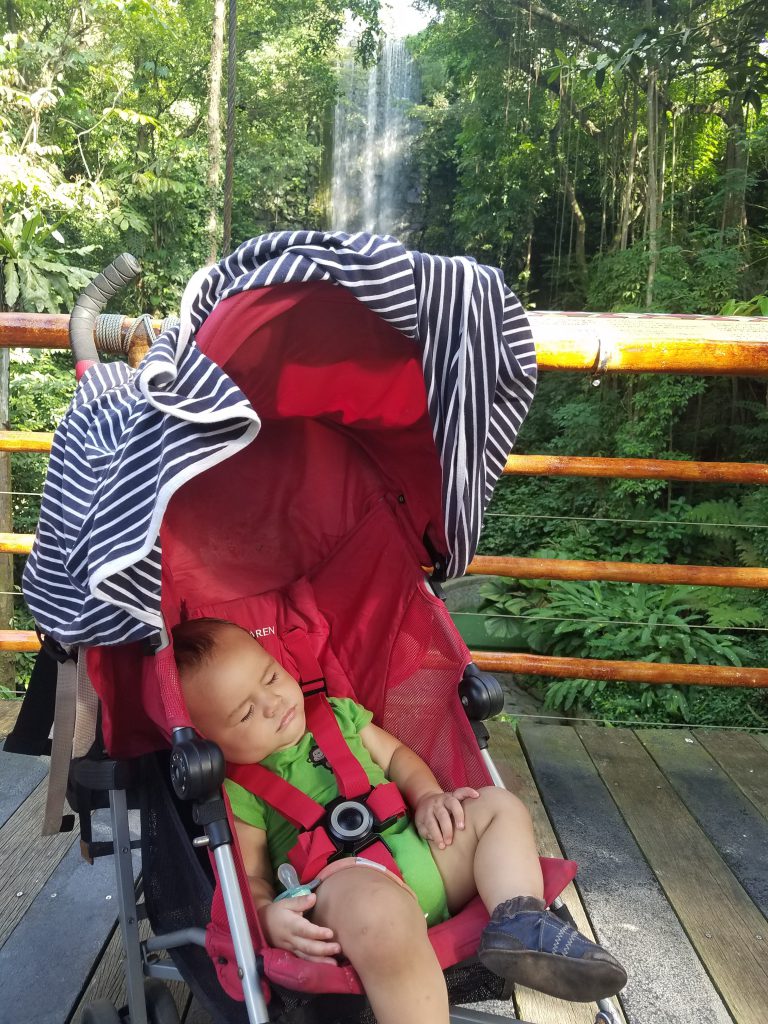 River Safari
The River Safari is a river-themed park located next to the Zoo and the Night Safari. It has exhibits based off of the major rivers of the world.
You can purchase tickets for the River Safari here.
The exhibits in the River Safari are air-conditioned and sheltered, making it a perfect place to escape the afternoon heat. And there are pandas! So cute.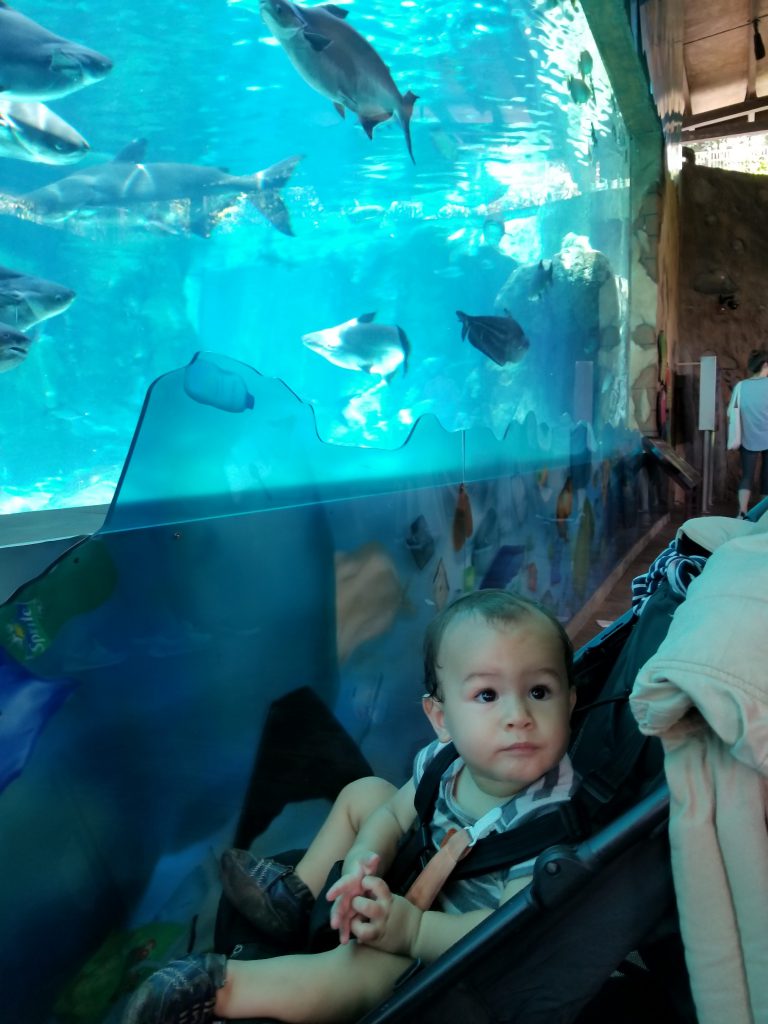 One of the best features is a boat ride where you can catch glimpses of animals in their enclosures at the zoo.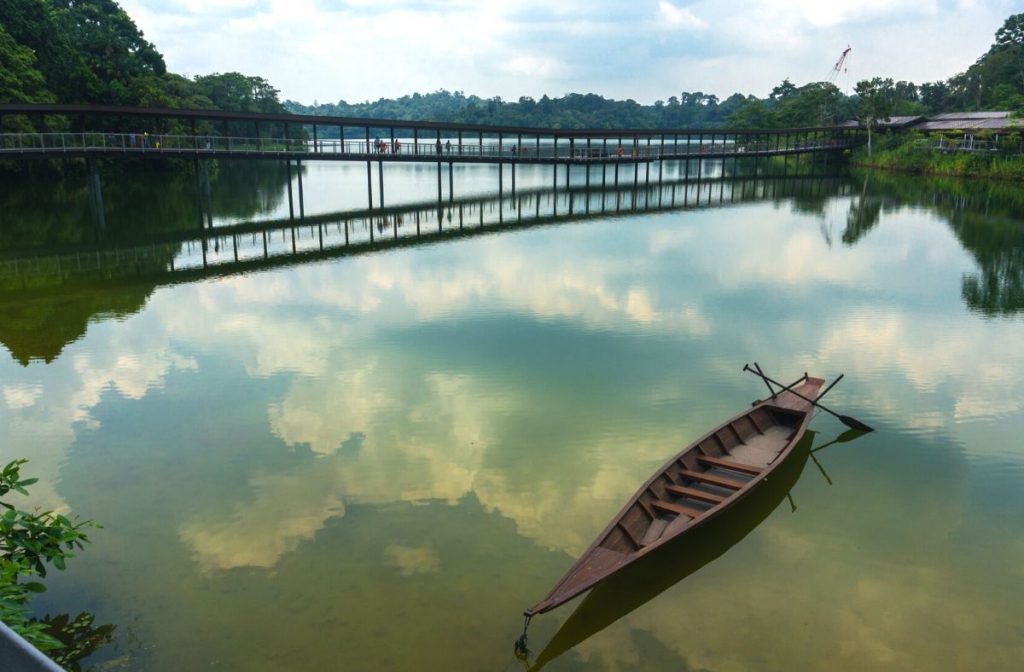 Night Safari
The Night Safari in Singapore is the first nocturnal zoo in the world. This is a fun twist on a traditional zoo experience. By going through at night, you get to see a lot of activity from animals that are usually snoozing during the day.
There's a great narrated tram ride that will take you past some of the exhibits and then once you get off there are also walking paths to see different exhibits on foot.
You can get your ticket for the Night Safari here.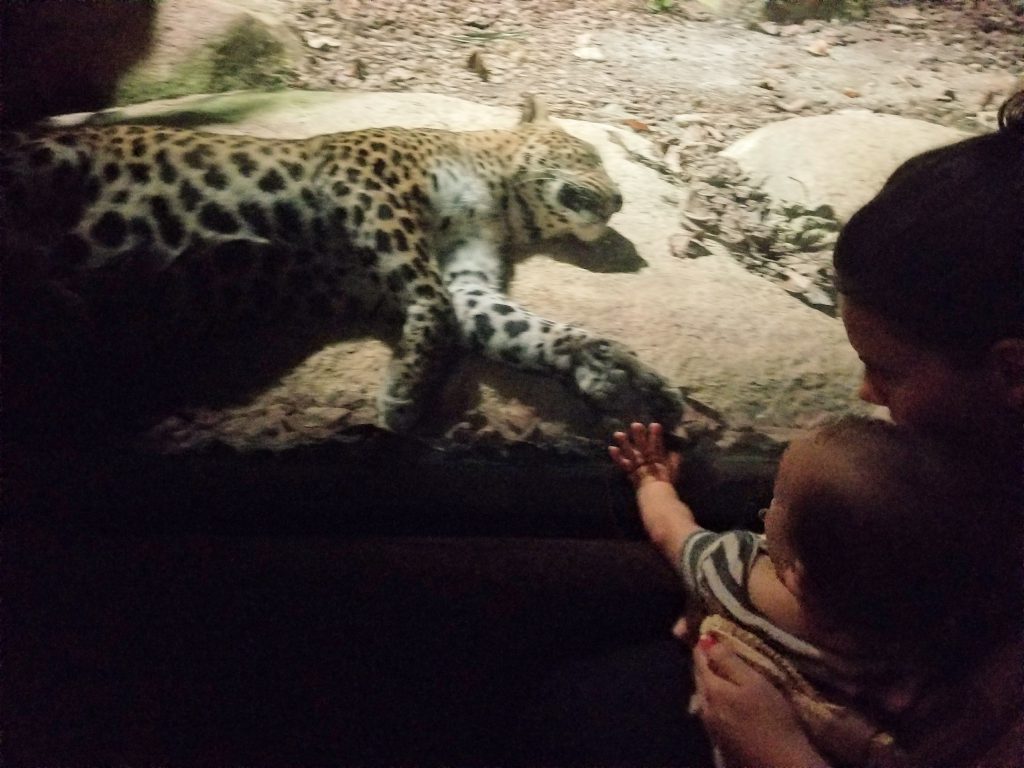 Since it was past his bedtime, I was sure that our son would fall asleep in his carrier and sleep through the whole experience. But, it turns out he had other plans.
Since he refused to sleep, he got to experience the whole night safari with us. It made it a little less relaxing for me, but he did surprisingly well considering how tired he was.
Sometimes when traveling with kids you just have to roll with the punches when things don't go according to plan!
Take a stroll through Little India and Chinatown
Both of these cultural districts are something you have to experience when you're in Singapore.
On a visit to Chinatown, you can visit some beautiful temples, eat amazing food, and peruse the bustling markets. Chinatown is a great place to pick up some amazing souvenirs or gifts for people back home.
Delicious food, interesting cultural sites, great souvenirs. Can't go wrong here! These are some of my favorite places to visit in Singapore.
Both places are stroller friendly, but can be quite crowded. We chose to use a baby carrier to save ourselves the hassle of navigating around the crowds.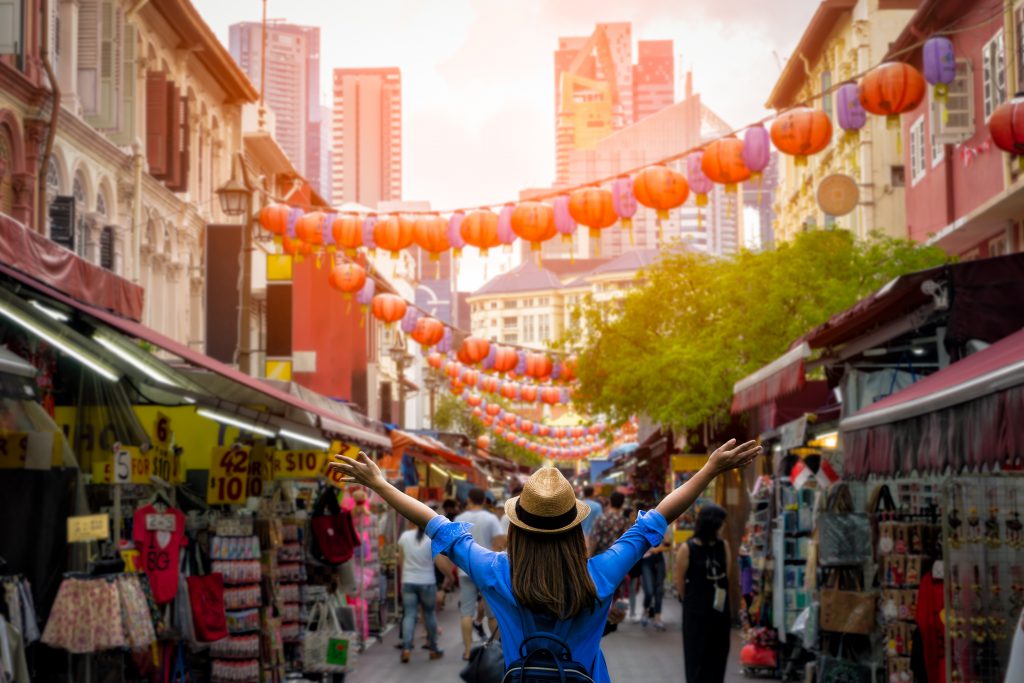 Other things to do
Sentosa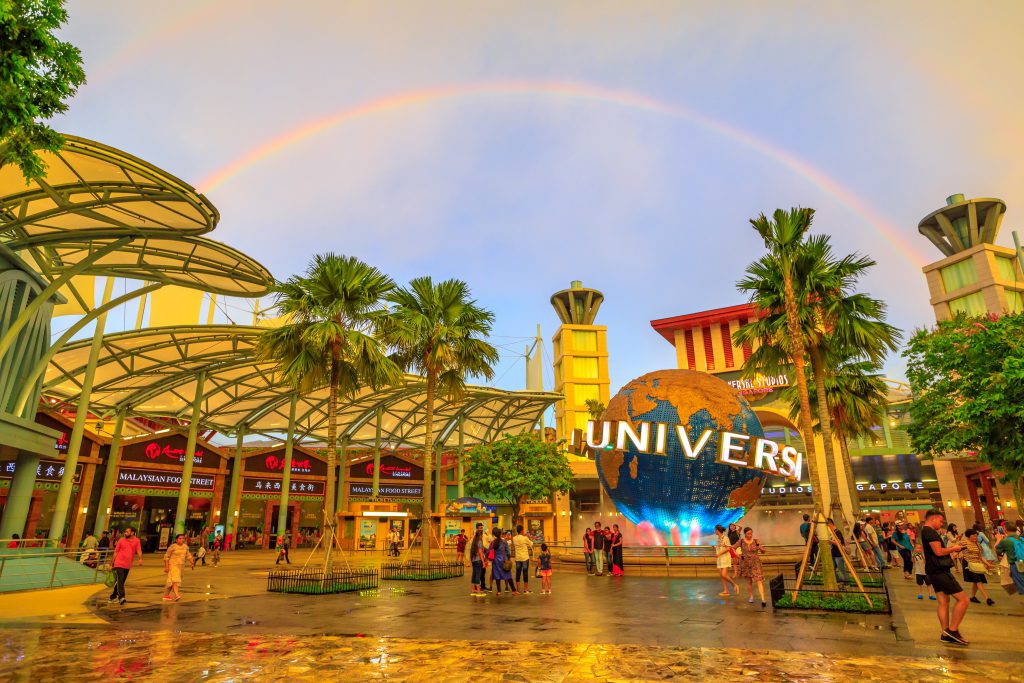 We chose not to visit Sentosa on this trip because our son was too young to enjoy most of the activities there. But if you have older kids, you're probably going to want to spend some time there.
There is so much to do on this resort island that it's almost a trip in and of itself. There are beaches, theme parks (including Universal Studios Singapore), water parks, museums, animal parks, and so many more family-friendly activities.
Check their website, you will be blown away by how much there is to do on one little island.
Final Thoughts
City, country, island…Singapore is all of these things and more! If you're looking for a nice introduction to travel in Southeast Asia, Singapore is a perfect choice.
It is an incredibly unique city that you have to see to believe. And it's a perfect place to travel with a baby!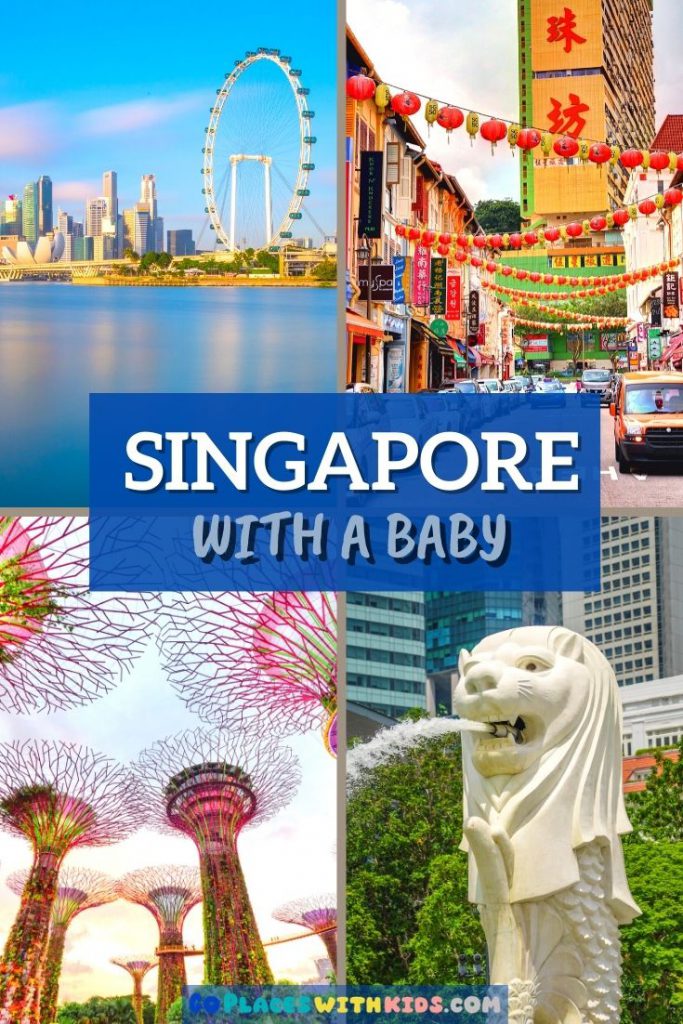 Other posts you might be interested in:
Flying with a Baby- Activities, Snacks, and Tips for Success!
Airplane Activities Your Toddler Will LOVE!