This page may contain affiliate links, which means that we may earn from qualifying purchases at no additional cost to you.
Everyone should visit Rome at least once. There is so much history and culture packed into one city. And you can absolutely have a wonderful trip visiting Rome with a baby.
Actually, in many ways the baby stage is a great time to visit Rome. Your child is still sleeping frequently, it's easy to nap on the go, and it's simpler to keep them entertained.
If you're planning on visiting a lot of museums and historical sites (which you should absolutely do when in Rome) you don't have to worry about your child losing interest or being bored. You just have to keep them happy, rested, and fed. Which can still be challenging, but can be preferable to the toddler/preschool stage.
Rome was the last stop on our two-week tour of Italy with our 11-month-old. Although we were tired and had already seen so many incredible sites on our trip, Rome did not disappoint!
Our trip to Rome with our baby was unforgettable. Although it wasn't without its challenges, we were so glad we were able to visit the sites of Rome.
And we all the tips you need to have an incredible experience visiting Rome with your baby!
Is Rome Baby Friendly?
Is Rome baby-friendly? Yes! With a few caveats.
Italians in general love children and are very accommodating of families and babies. Restaurants often have high chairs available if you ask and hotels are likely to have a crib (be sure to call and check before you go).
You also don't have to worry about food safety issues and transportation is very convenient.
Rome is considered a safe place for tourists to travel as it has a low crime rate, the one exception being petty crime (see our tips for avoiding scammers and pickpockets below).
One thing to consider is that it is not very stroller-friendly. As such, I would recommend bringing a baby carrier. You can read more about that below.
Also, most of the sites you'll be visiting aren't baby-specific, even if they are baby-friendly. This means that you'll have to be prepared with some strategies for keeping the little guy entertained while you soak in the history of the city (keep reading for some tips on that as well).
How to get around in Rome with a baby
Transportation
One of the best ways to get around in Rome is on foot. A lot of the main attractions are within walking distance of each other, which makes walking a logical choice.
However, Rome also has a great public transportation system. All of the public transport is operated by the same company, ATAC. One ticket grants you access to any of the methods of transport (bus, metro, tram). You can purchase a ticket at the ticket machine at the metro station, newsstands, or convenience stores. Children under 10 are free.
A taxi is another option, although they can sometimes be difficult to find. To avoid getting ripped off, only use the official, licensed taxis.
Taxis in Rome are white with a taxi sign on top and a license number on their door. You can call for a taxi or find a taxi stand, but the most convenient way is to download and use the MyTaxi app. Through the app, you can request a taxi and even pay for your fare if you've added payment information.
Is Rome stroller friendly?
Rome is not a very stroller-friendly city. The roads and sidewalks tend to be bumpy, uneven, and crowded with cars. The crowds can make it tricky to navigate. And there are some places that are completely inaccessible to strollers. Which makes sense, because it's a very old city with a ton of sites that weren't built to accommodate strollers or wheelchairs.
We found it easiest just to use our baby carrier and save the hassle. If you do decide to bring a stroller, bring one that has sturdy wheels to handle the uneven ground, and that folds up easily.
Using a baby carrier in Rome
A baby carrier is a very convenient way to transport your baby in Rome. It makes it easy to navigate crowds, climb that inevitable staircase, and put your baby down for a much-needed snooze.
We brought our Ergobaby carrier, which was a perfect way for us to transport our baby. And it allowed us easy access to all of the sites we wanted to see. For more on the benefits of baby carriers while traveling, see this post.
Tips for visiting Rome with a baby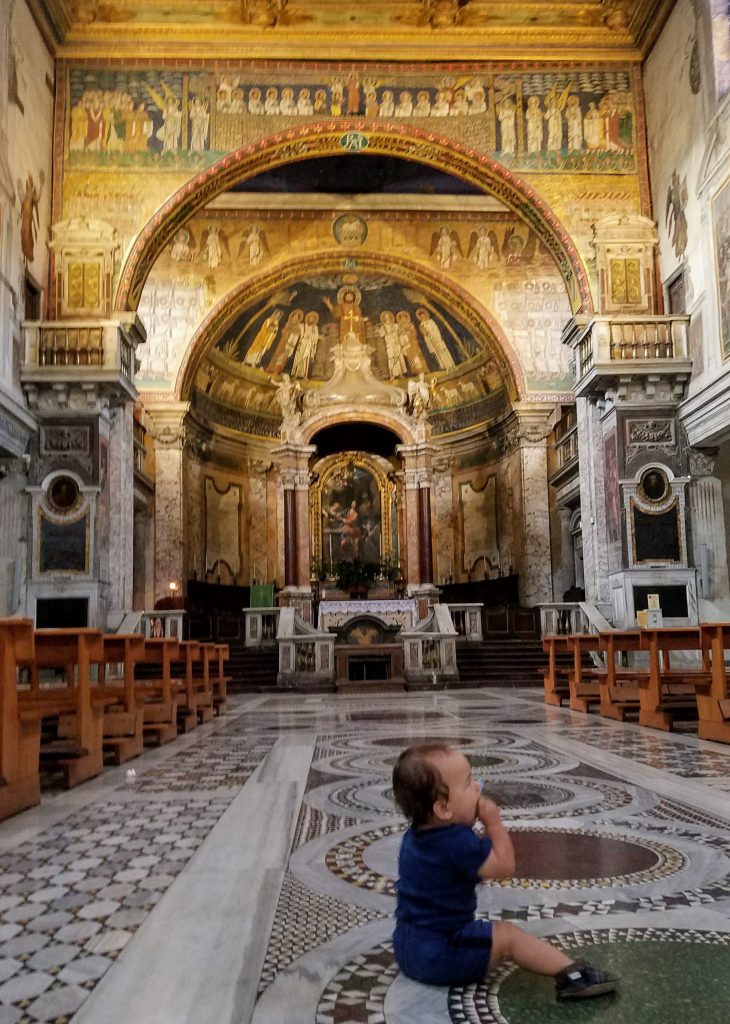 Honestly, visiting Rome with a baby was a little tricky at times. The many slow-moving and reading-intensive sites often made for a very wiggly (and often loud) little guy. And because of the crowds, it was hard to find a spot to set him down to explore. But we faced this a lot in Italy and found some good ways to deal with it. Here are a few tips:
Be prepared to visit museums and churches
When visiting Rome, you have to spend time in the incredible museums and churches there. Buuut sometimes that can be tricky when traveling with a baby that wants to move around and make noise.
A little simple preparation, such as planning out your naps, bringing something for baby to chew on, etc, can go a lot way. Plan ahead by reading this post on how to successfully navigate churches and museums with a baby.
Buy a city pass
If you're planning on being in Rome for several days, you might want to consider purchasing a city pass.
A great option is the Best of Rome Pass, which includes free or discounted entry to many of the main attractions in Rome as well as access to all of the city's public transportation.
And one of my favorite features: skip the line access to some of the most popular attractions. This is a great feature when traveling with young kids. You don't want to use up all of your baby's patience waiting in line to even get into the exhibit!
Use an audio guide
The Rick Steves audio guides are a useful tool for visiting many of the historic sites. We downloaded the free app and enjoyed the informative walking tours.
And unlike an official tour, you can go at your own pace. This can be very useful when visiting Rome with a baby who doesn't necessarily cater to anyone else's schedule…
Be prepared for the crowds
One of the main challenges of visiting Rome is the throngs of tourists. It was by far the most crowded place we visited in our travels around Italy. And given that it was our first time in Rome, we felt that we had to visit the classic (and therefore incredibly busy) historical sites.
We found that our best bet was to try and visit the most popular places early in the day to beat the crowds. Luckily, we were traveling with a baby who was always up at the crack of dawn, so we found it easy to get out early.
But even when we couldn't avoid the crowds, we learned to just slow down and appreciate the experience beyond the swarms of people.
Get a local SIM
You might want to consider getting a local SIM when you first arrive in Italy. Typically, it's cheaper and you get better coverage.
However, if you have T-Mobile, they have great plans for international travel. They have free limited-speed data access, so you don't have to worry about having a big phone bill when you get home.
If you don't have T-Mobile (or Google Fi), be sure you know what your data roaming options are. We found the local SIM to be the best option for us in price, speed, and coverage (we went with TIM, a domestic telco provider). To buy a SIM, make sure your phone is not carrier-locked.
Also, make sure you have a global-ready phone (meaning that the phone supports the frequencies of your destination).
Being connected online is extremely helpful for looking up information about sites, times, tickets, bookings, etc.
What to do in Rome with a Baby
Experience the Colosseum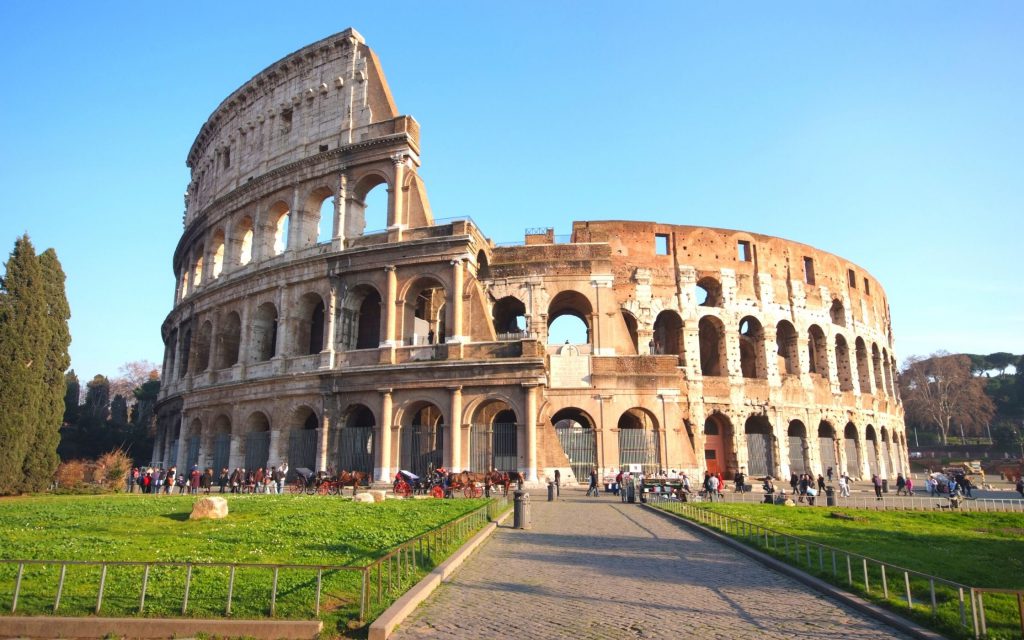 You can't go to Rome without visiting the Colosseum. This enormous amphitheater was built in the center of Rome during the first century AD as a place for public entertainment. This entertainment tended to be a bit more brutal than what we might turn to today, including executions, animal hunting, chariot races, and gladiator games.
We used the Rick Steves audio walking tour to learn the fascinating and bloody history of this famous stadium.
The Colosseum is stroller accessible with ramps and elevators to allow you to reach the upper levels. However, depending on how crowded it is, it might be tricky to navigate through the throngs of people. We had great success using our baby carrier for this visit.
While you can get tickets there, it's worth it to purchase tickets in advance so that you can skip the line. It can be a pain to have to wait in a long line when you're traveling with a baby.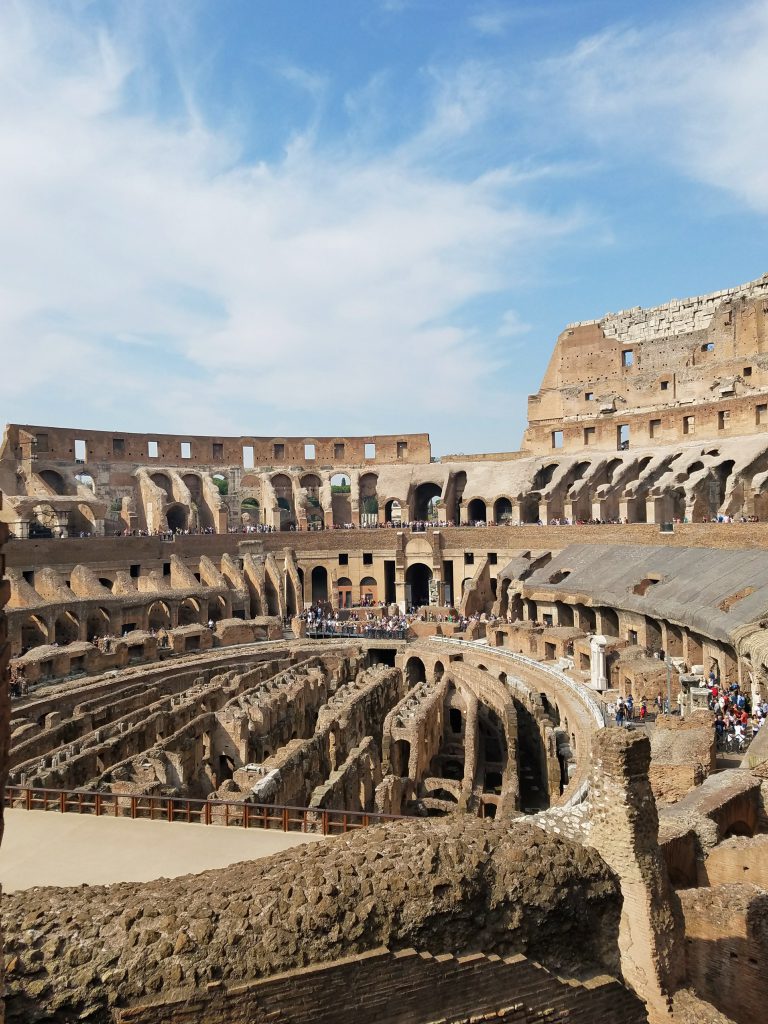 Tour the Vatican
Technically the Vatican is its own city-state, but we'll include it here with Rome. The Vatican is the headquarters of the Roman Catholic Church and home of the Pope.
It's also a veritable treasure trove of renowned artwork, imposing architecture, and ancient relics. I would say that this was by far the most crowded attraction that we visited anywhere in Italy.
Having a baby in the packed crowds was a little challenging. There was nowhere to put our son down to let him crawl or toddle around.
Our baby stayed in his carrier pretty much the whole time and was getting a bit antsy by the end. His teether and a small rattle were our saving graces and helped him to last until we were done with the tour.
This is an attraction where it really makes sense to book your ticket in advance to get fast-track entrance to the Vatican Museums and the Sistine Chapel.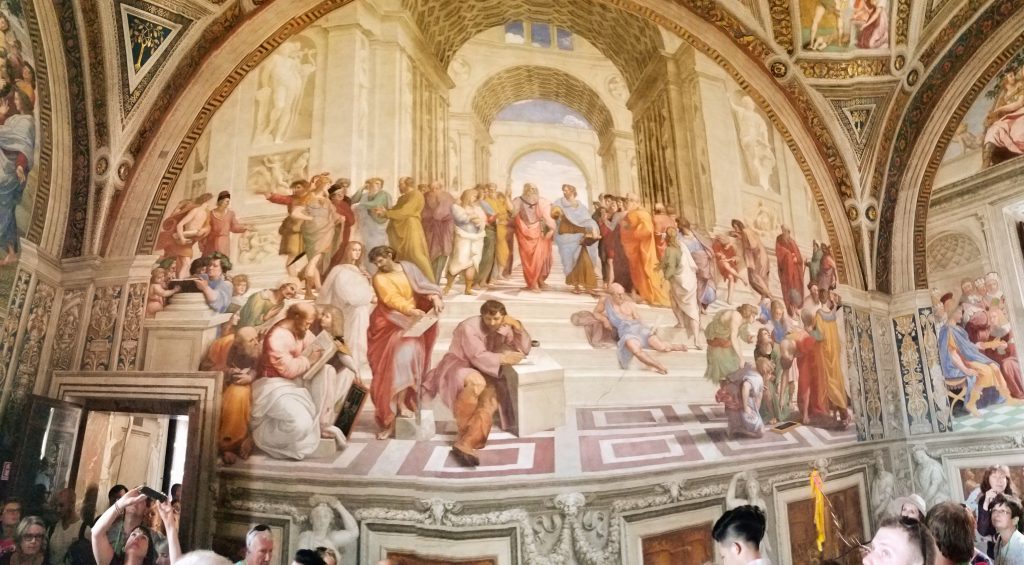 Vatican Museums
The Vatican Museums contain a vast array of art and artifacts amassed by the popes throughout time. There is just so much to see that by the end the awe-inspiring sights all started to blur together a little. But if you are an art lover or history buff this is a must-see attraction.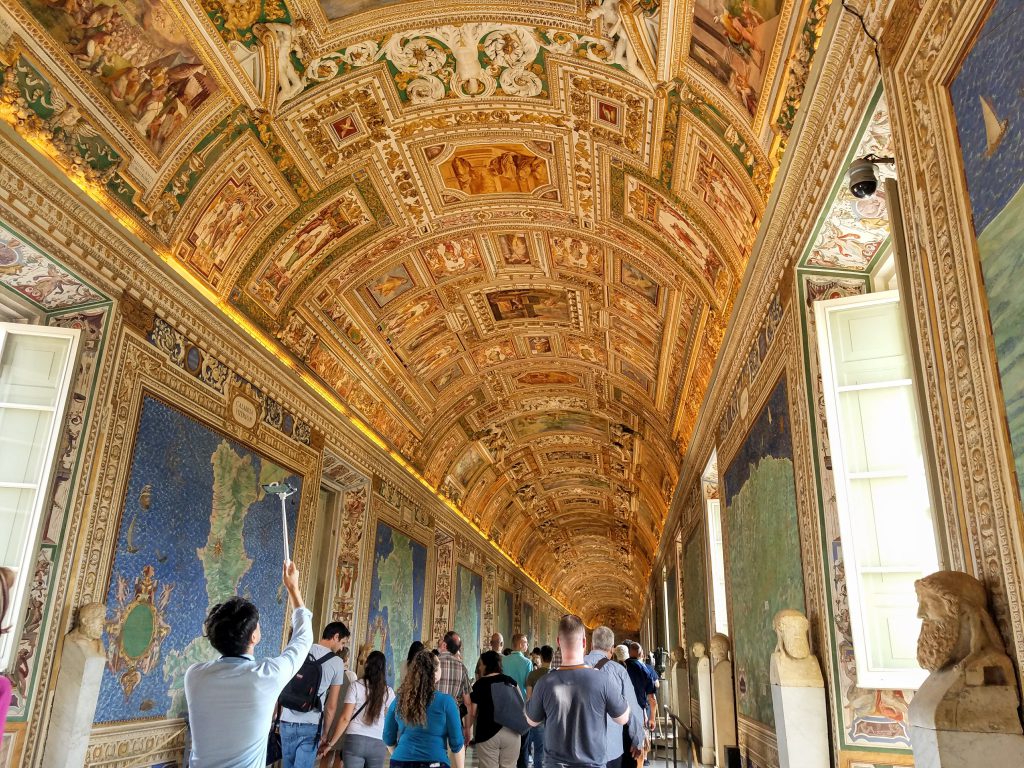 Sistine Chapel
The Sistine Chapel contains one of the most acclaimed works of the Renaissance: Michelangelo's famous ceiling. Unlike the rest of the Vatican, this is one place where photos and video are not permitted.
St. Peter's Basilica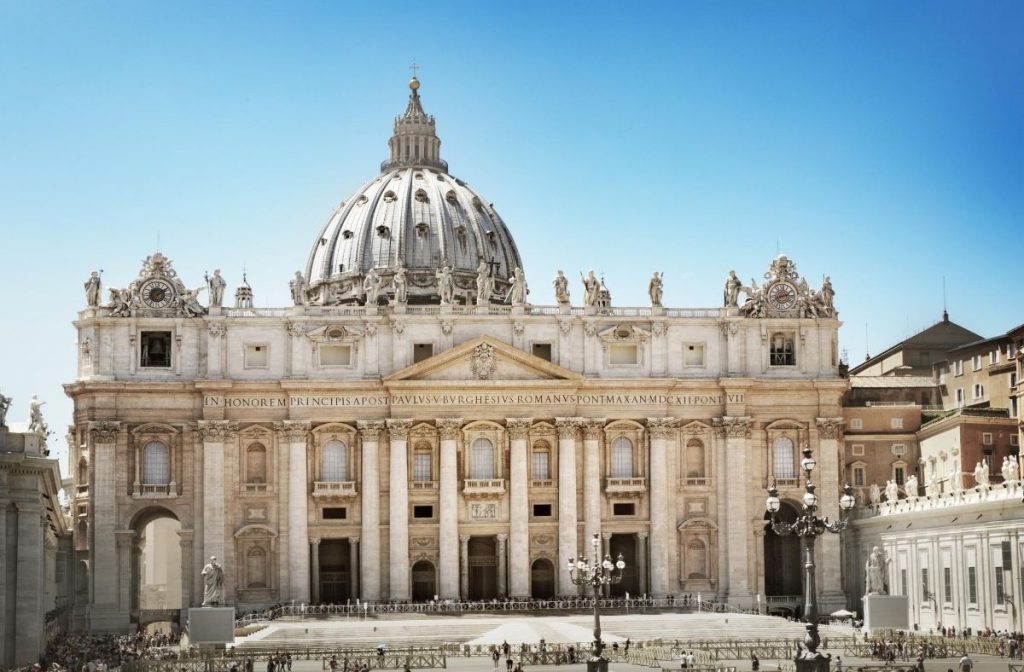 This ornate church is traditionally thought to be the burial place of St. Peter. It is one of only four Major Basilicas in the world (the other three are also in Rome).
Stepping inside, you immediately feel dwarfed by the vastness of the building and the ornateness of the decor. Not to mention the world-class art and architecture. It is truly a sight to behold.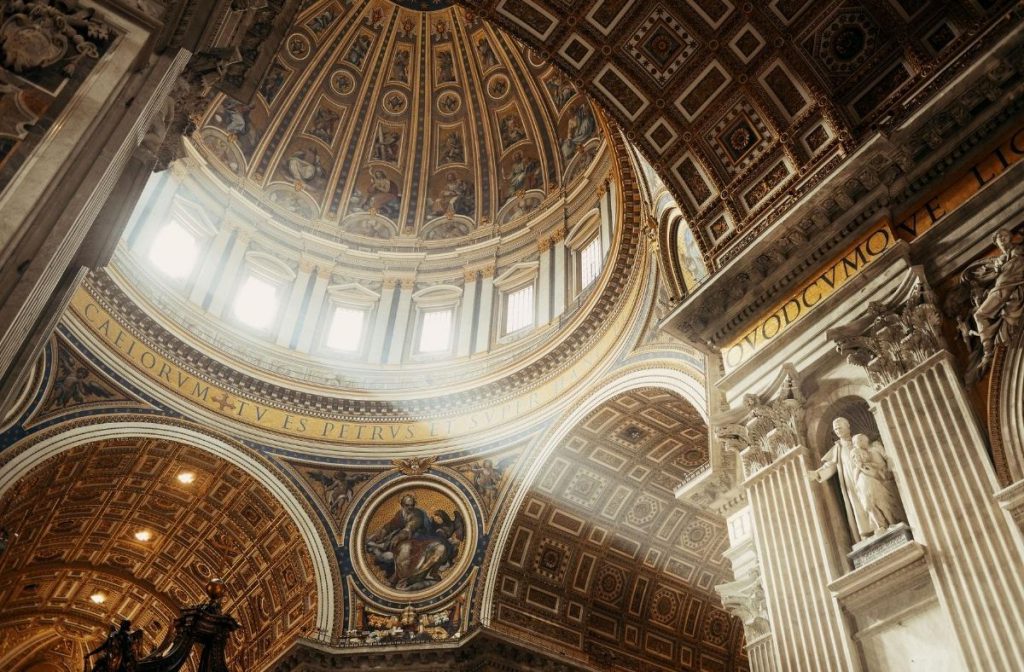 Visit the Castel Sant'Angelo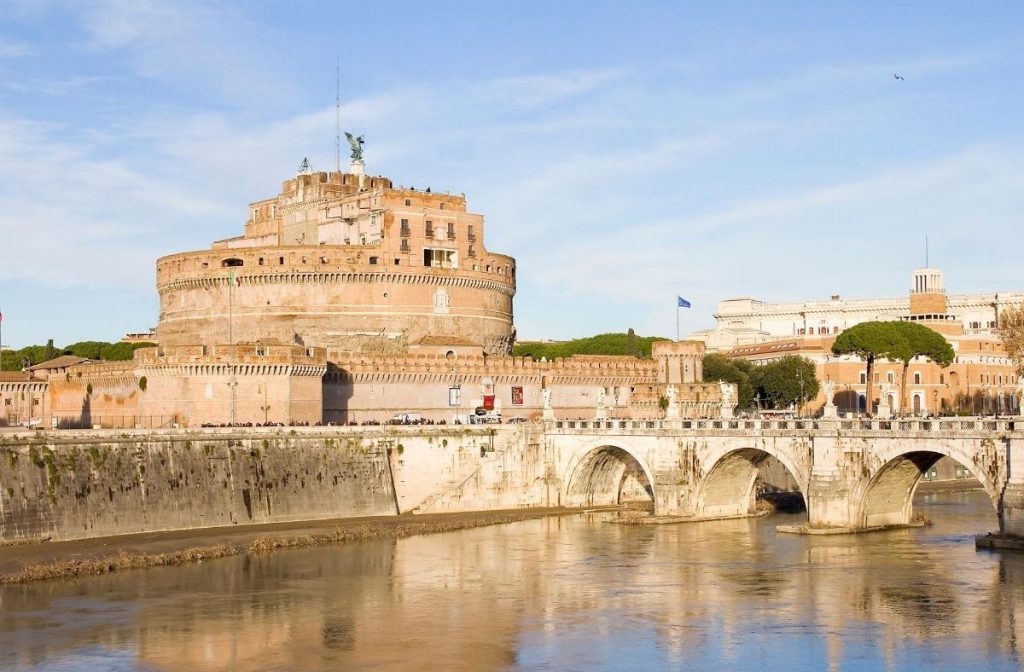 This fortress is located just down the road from the Vatican on the banks of the Tiber River. Originally built as a mausoleum and then later used as a military fortress, it is now a museum and a popular tourist destination.
You have to work a bit to get there, but once you make it to the top you are rewarded with a great view of the Vatican. When we went it wasn't very crowded and it was easy to take breaks and let our baby explore a bit.
Explore the ruins of the Roman Forum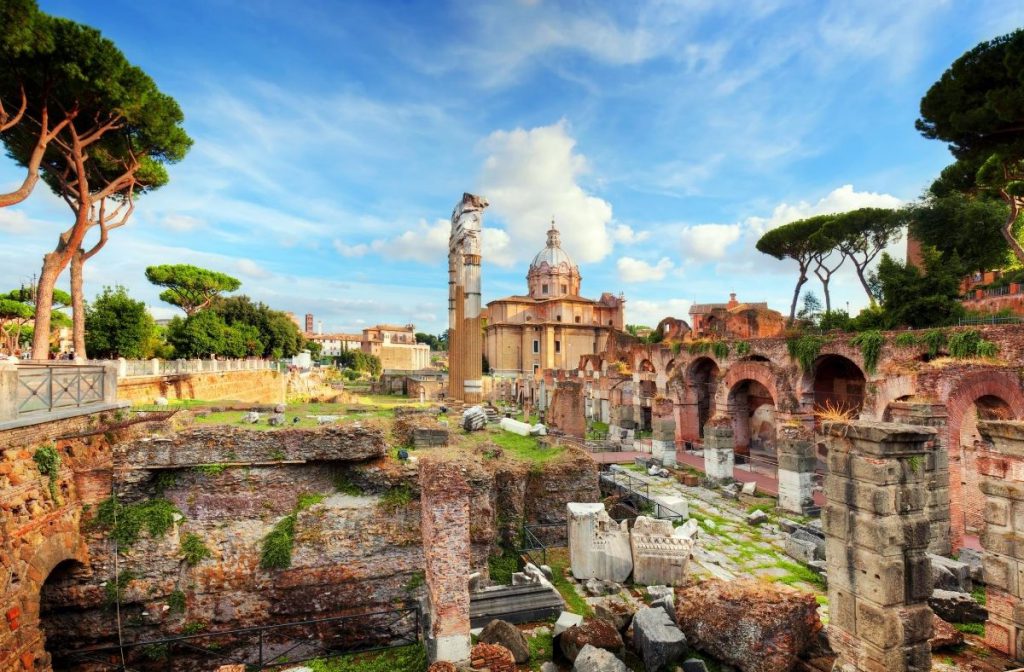 The Roman Forum was magnificent. As the former center of the ancient city of Rome, this area was filled with government buildings, temples, and markets.
The crumbling ruins give you just a taste of how spectacular it must have been. It made me long to see what it actually looked like when it was in its prime!
You'll want some time to explore this impressive archeological site. Remember that it's all outdoors, so be sure to bring some sunscreen and/or a hat and light covering for your baby so they don't get sunburned. You'll also want some water and snacks to keep everyone going.
This is not a place that is stroller friendly. There are lots of steps, uneven ground, and obstacles that would make pushing a stroller tricky.
Take a break from the crowds on Palatine Hill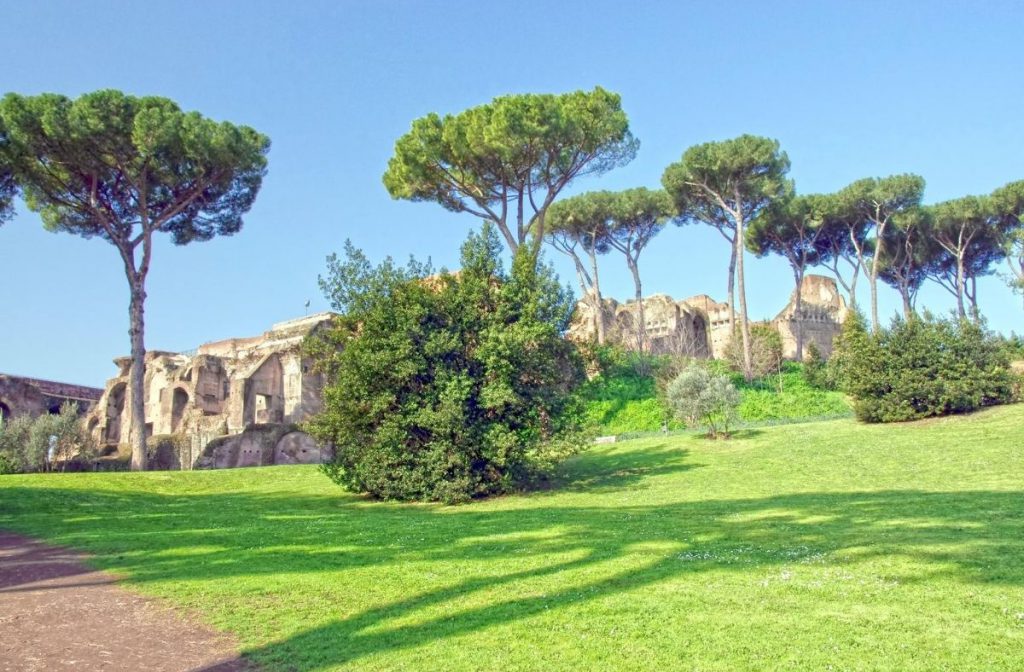 Located just above the Roman Forum, the Palatine Hill is thought to be where the city of Rome was founded. The primary buildings here were the palaces of the rulers and the villas of the wealthy. Today you can see the remnants of some of these ancient structures.
The ruins are less complete than what you will see at the Colosseum or even the Roman Forum, which is perhaps why the Palatine Hill is much less crowded. It's a nice chance to escape the throngs with a stroll through this historic and beautiful area. And there are some stunning views of the city and the Roman Forum.
Palantine Hill is a great place to take a rest, eat a snack, or let baby nap.
Toss a coin into the Trevi Fountain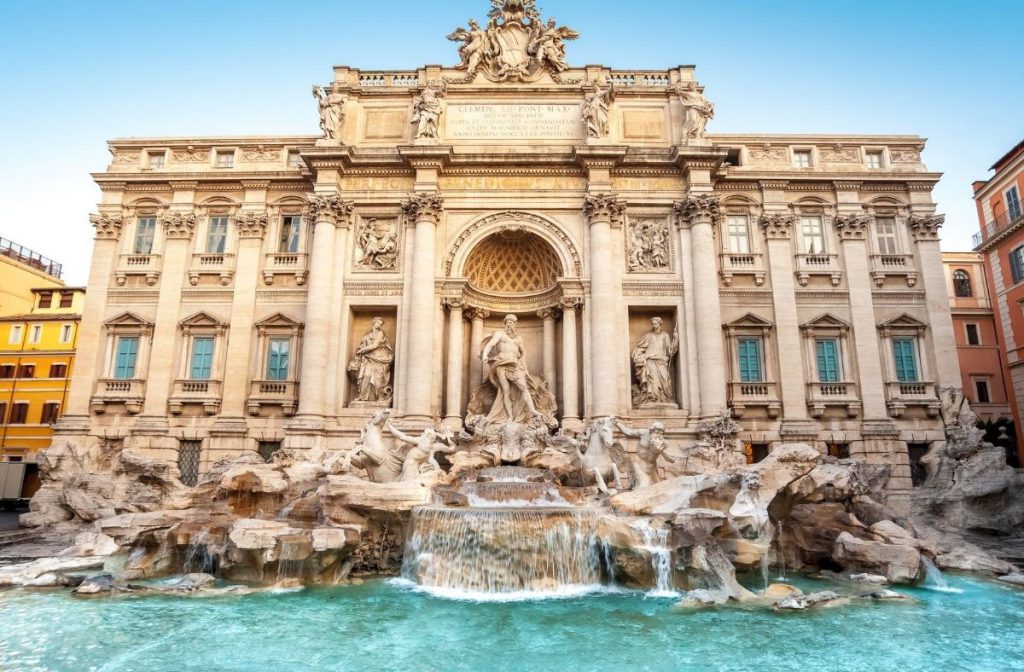 Near the top of my list of things to see in Rome was the Trevi Fountain. And truly it is a magnificent monument and a sight to behold.
The downside is that it was SO crowded. We could barely get close enough to get a picture and it wasn't really the place of quiet reflection that I was imagining (I mean, really, that's how all of the pictures make it look!).
Even given that, I was glad that we stopped by this iconic site and made sure to toss a coin in to guarantee a return to Rome in the future, per the legend.
Take in the splendor of Basilica di Santa Maria Maggiore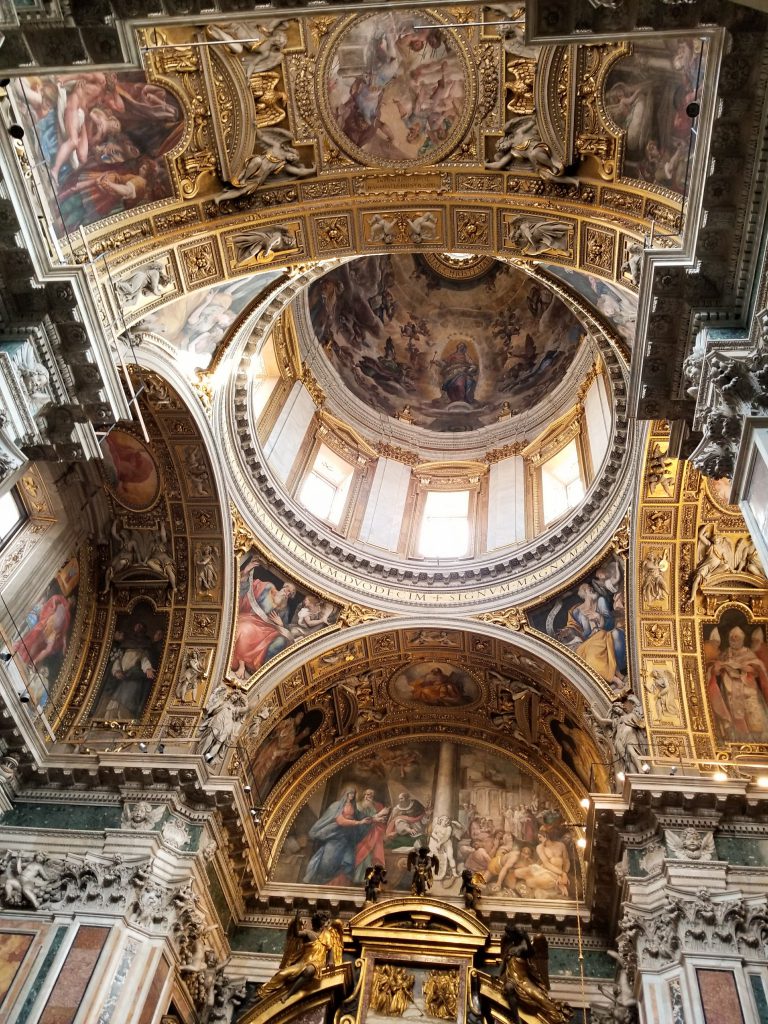 This spectacular church is one of four major basilicas in Rome (and the world). Spectacular works of art and intricately designed architecture make this a worthwhile stop on your tour of Rome.
The basilica is less than a 10-minute walk from the Roma Termini station. Give yourself time to explore all of the elements of this massive church.
It's also a great place to sit quietly and rest after a busy day of sightseeing.
Final Thoughts
While it can have its challenges, visiting Rome with a baby can be an incredible experience if you're prepared.
The rich history of the city means that there are so many points of interest to fill your schedule on a trip to Rome. If you're visiting Rome with a baby, don't let that prevent you from experiencing all that this iconic city has to offer.
With a little bit of planning, your trip to Rome will be an experience the whole family will enjoy, baby and all!