This page may contain affiliate links, which means that we may earn from qualifying purchases at no additional cost to you.
If you're wanting to travel to Italy but aren't sure if you can do it with a baby, let us put your mind at ease. You can travel to Italy with a baby and have an incredible experience.
There are a lot of factors that make Italy a perfect destination to visit with an infant. For starters, it's easy to get around, the people are very friendly towards babies, and most of the sights are easy to visit with a baby.
When our son was 11-months old, we took a fast-paced two-week tour of Italy and had a phenomenal time. We were so glad we didn't miss out on that amazing experience due to concerns about bringing a baby.
So if you're wanting to travel Italy with a baby, do it! Here's our guide to make it simpler.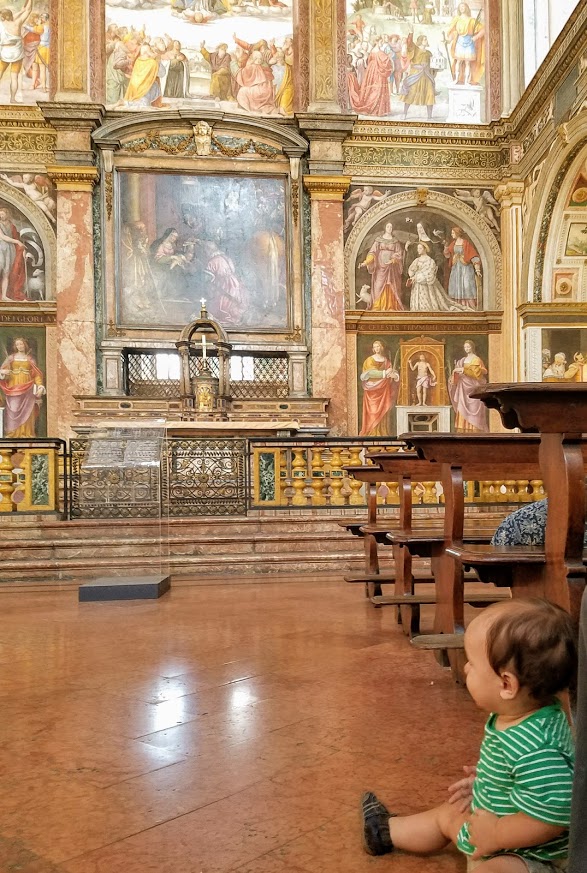 And if you're planning on traveling with your baby, be sure to check out our list of baby travel essentials!
Is Italy Child Friendly?
First off, you might be wondering if Italy is a good place to travel with young kids.
At the risk of overgeneralizing, I would say that if you're traveling with a baby, Italy is a great place to do it. It's relatively easy to get around, the language barrier tends not to be too much of a problem, and you don't have to worry about food-safety issues.
And in our experience, the people were fantastic. Most of the Italians we had contact with were very accommodating and positively fawned over our baby. Our son brought smiles to faces everywhere we went and people were constantly playing with him and trying to engage him.
Logistically, travel in Italy is convenient and easy to manage with a baby. We also found that most hotels had cribs available (call and check before your trip to be sure) and restaurants often had high chairs.
If you can handle the long flight to get there (depending on where you're coming from), it can be a great trip, little guy and all. For tips on a successful flight with a baby, see this post.
Should You Bring a Stroller to Italy?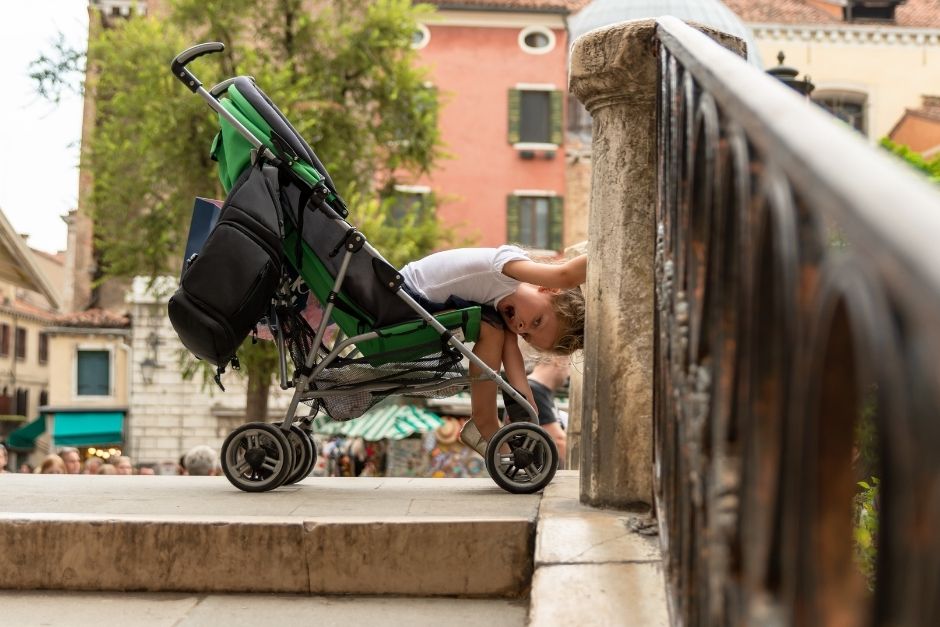 You can bring a stroller to Italy, but that doesn't necessarily mean you should…
We chose not to bring a stroller on this trip because we wanted to pack as light as possible. But there are areas where a stroller could be very useful (think airports and museums).
However in general it can be tricky to navigate the cobblestone streets and uneven paths with a stroller.
And there will be many sites where you really can't bring a stroller. In that situation, you either need to plan ahead and leave your stroller at the hotel or find somewhere to store it when you're at a location that can't accommodate a stroller.
Also, plan on bringing one that's sturdy enough to handle the roads (not a cheap umbrella stroller!) and can fold up quickly for hopping on and off public transportation.
And even if you do bring a stroller, you'll probably want to bring a baby carrier as well (see the point on baby carriers below).
Tips for traveling Italy with a baby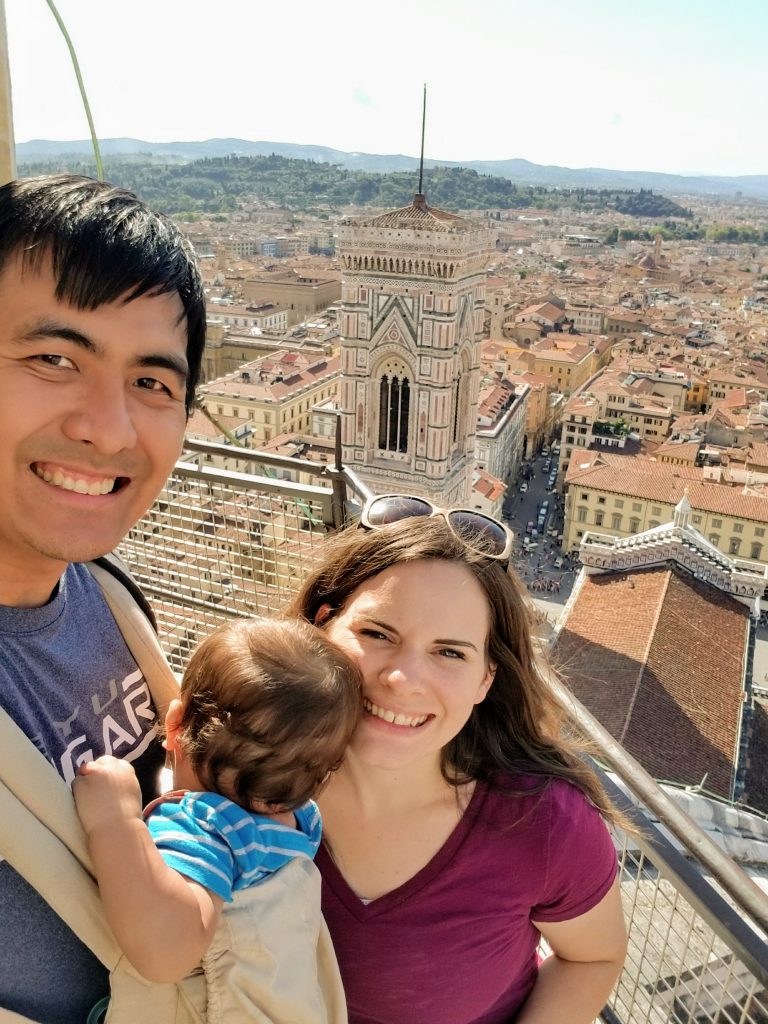 Here are a few tips we found that help to make a trip to Italy with a baby a little easier:
Bring a baby carrier
For this trip, we chose to do without a stroller. But even if you do bring a stroller, I would highly recommend bringing a baby carrier as well if you're visiting Italy with a baby. Very highly. As in, don't go without a baby carrier or you'll probably regret it.
Like I mentioned above, there are so many places that are just plain tricky to navigate with a stroller. Lots of ruins, staircases, towers, etc. A baby carrier will save your back. And your sanity.
On this trip, we brought our trusty Ergobaby carrier. Comfortable, easy to use, great for naps…I can endlessly sing the praises of the Ergobaby. If you want a more detailed explanation of the benefits of babywearing while traveling, take a look at this post.
Have a nap strategy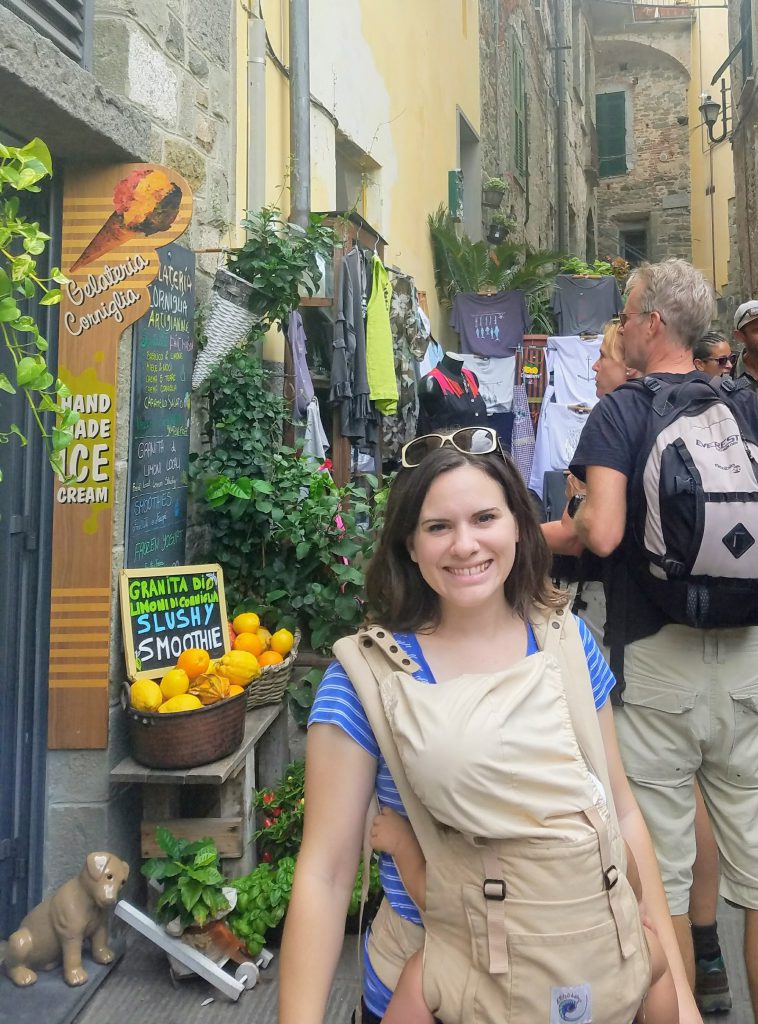 There was absolutely no time allotted for naps on our Italy trip. Which meant that all of our baby's naps were naps on the go.
Luckily, our son slept great in the baby carrier. And the added benefit was that while he was napping, we were able to have a little peace to explore whatever museum or gallery we were visiting that day.
This strategy might not work for everyone. Maybe your baby naps better in a crib or you prefer being able to put your baby down someplace to nap.
In that case, you will need to adjust your schedule to account for naptime. And make sure you have a place for them to nap. On our trip, if we were switching cities, we didn't have a hotel until the evening. So naps at the hotel weren't even an option.
Whatever you end up doing, make sure your baby is getting adequate sleep or your whole trip will suffer.
Eating out in Italy with a baby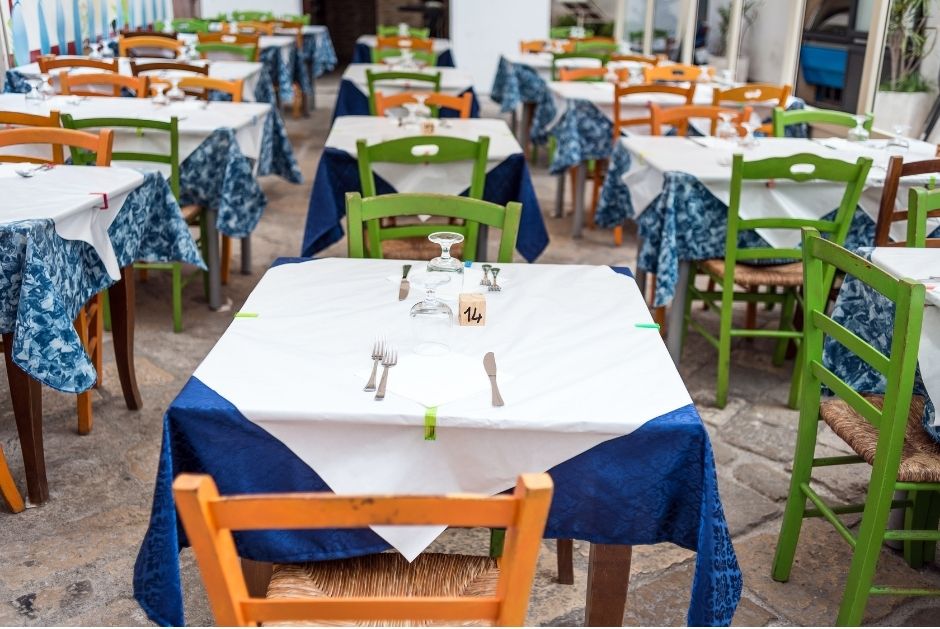 Eating out with a baby can be a bit tricky, especially in Italy where the meals tend to run long. I always tried to make sure I had a few small items to pull out to keep my baby distracted, whether it was his teether, a small rattle, cups to stack, or small snacks to tide him over.
Sometimes either my husband or I would take him for a little walk around while we were waiting for our food so he wouldn't get too bored.
However, the most enjoyable meals for me were the ones where my son was sleeping. If we timed it right, I could put him to sleep in his baby carrier right before the meal and he would sleep through the whole thing.
Also, keep in mind that Italians eat dinner a lot later than you might be accustomed to if you're coming from the US. You usually won't be able to find a place serving dinner before 7 or 7:30 pm.
Plan for all of those museums and churches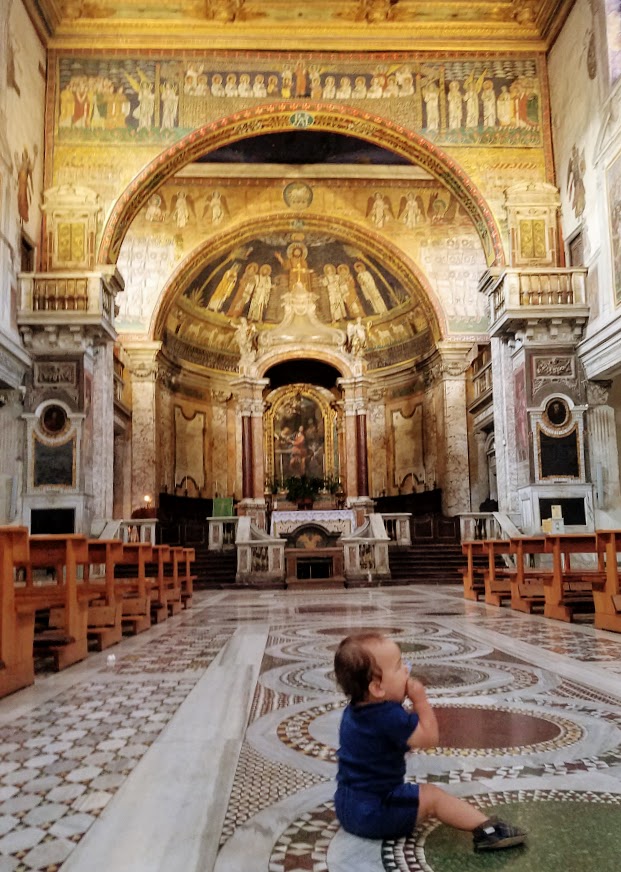 If your goal is to get a good feel for all that Italy has to offer, you're going to be visiting a lot of churches and museums. You can't visit Milan and not go to the Duomo or Rome and not experience the Vatican's Sistine Chapel.
This can be tricky with a baby. One museum, sure. Two, should be fine. But once you start visiting back-to-back museums and basilicas (like we did for our trip), you're going to need some ideas to keep your baby happy and content. Check out this post for some tips for tackling museums with a baby.
Watch out for pickpockets and scammers
The sad fact of the matter is that pickpockets and scammers target tourists. And Americans. And especially American tourists. This is just smart business on their part because often tourists are easy prey and make it worth their while.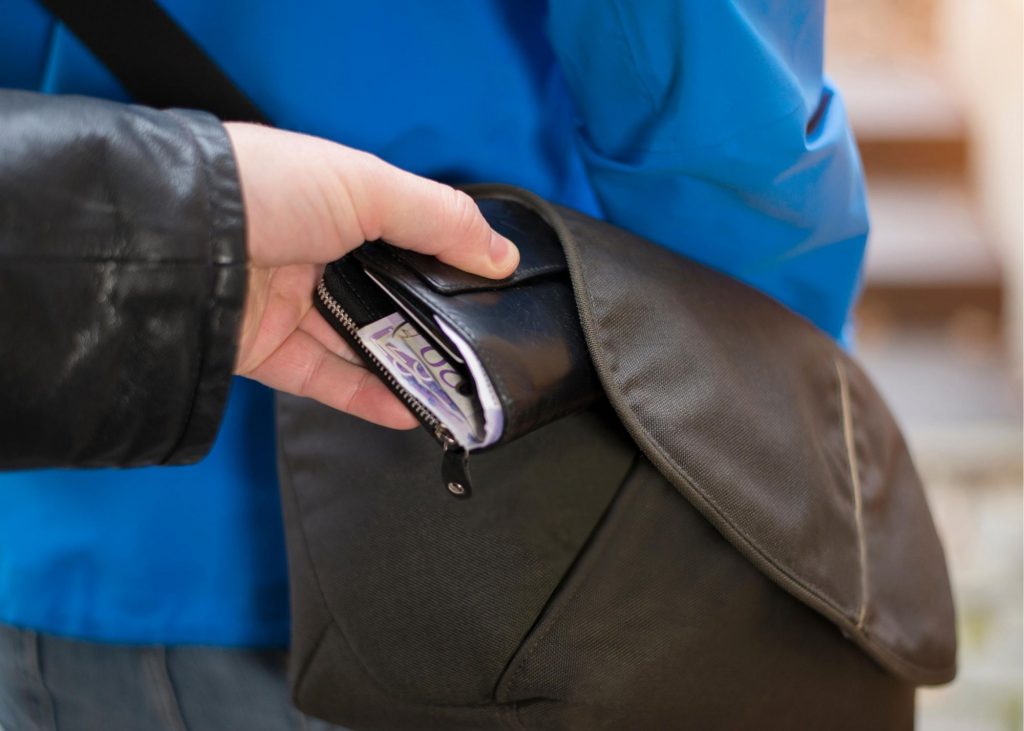 And know that traveling with young kids can make you even more of a target because you are often distracted feeding your child, changing a diaper, etc. So be sure take precautions so that you aren't an easy target.
Tips for avoiding scammers
Wear your valuables in a money belt under your clothes, keeping just a small amount of money in your wallet. And do not access your money belt in public. The whole point of a money belt is so people don't know where your valuables are.
Avoid sitting on the corner of outdoor cafes, an easy place for a pickpocket to snatch a wallet or purse.
Be cautious on buses and public transportation, especially if you're standing near the door. Pickpockets will often snatch something and jump off, immediately disappearing into the crowd.
Wear your backpack in front of you in crowded areas. Put your purse strap over your head, not just over your shoulder.
Be suspicious of someone asking for change for large bills. We actually fell prey to this one in Rome. A very sincere-seeming man came up to us asking for change to use for a train ticket. Normally we would have been suspicious, but we were distracted trying to find the right train and he seemed very genuine. We helped the man out, only to find out later that the larger bill he gave us was a forgery. Although we reported it, at that point there's really nothing to do but take it as a lesson in street smarts. And to be suspicious of anyone asking for help in the future, unfortunately.
Itinerary
Here is an overview of what the trip to Italy with our baby looked like:
Day 1– Fly into Rome, train to Florence
Days 2-3– Florence
Day 4– Train from Florence to Pisa to Riomaggiore
Day 5– Explore Cinque Terre, night train to Milan
Days 6-7– Milan
Day 8– Milan to Venice
Day 9– Venice
Day 10– Day trip to Murano and Burano, evening train to Rome
Days 11-13– Rome
Day 14– Vatican City, late flight out of Rome
As you can see, it was a pretty busy trip. But we wouldn't have had it any other way. We packed a lot into those two weeks and had a great experience in each of the places we visited. And it gave us a perfect overview of the splendors of Italy.
Final Thoughts on Visiting Italy with a Baby
When we told people about our plans for our Italy trip, I'm pretty sure there were a few who thought we were biting off more than we could chew. And to be fair, it was a lot to take on with an 11-month-old.
I remember packing before we left and thinking, "I hope by the end of this trip, we have more to say about it than just, 'Well, we survived…'"
So now that it's over, I can say, "We survived. And it was awesome."
So I guess here's the takeaway: You can travel with a baby. You can travel light with a baby. And you can have a fast-paced, busy trip with a baby.
Not only that, but you can do all of those things and have an incredible, memorable trip!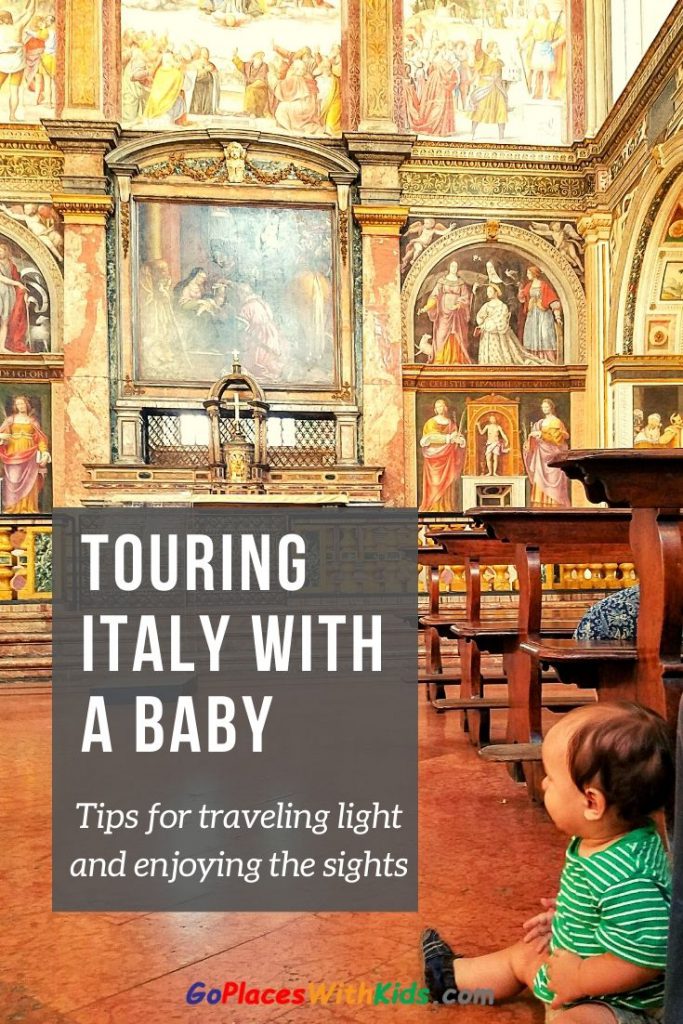 Other posts you might be interested in:
Rome with a Baby- What to Know and Tip for Success
Flying with a Baby- Activities, Snacks, and Tips for Success!