This page may contain affiliate links, which means that we may earn from qualifying purchases at no additional cost to you.
If you're visiting Cabo with kids and looking at the best Cabo resorts for families, a great option is the Hyatt Ziva.
The Hyatt Ziva Los Cabos is an all-inclusive luxury resort located on the Baja Peninsula. Pristine pools, sweeping ocean views, and a vast array of food options make your stay an experience to remember.
The resort is located about a half-hour from the Cancun airport and only a few minutes from San Jose del Cabo. It is also around half an hour from the party scene at Cabo San Lucas, so you might be disappointed if that's the experience you're looking for.
We enjoy the more sedate and calm vibe, especially with young kids, so the location of Hyatt Ziva Los Cabos was perfect for us. Children two and under are free (which is why we went the week before our son turned three, not that they asked…).
At this resort there's something for everyone, from adults to teenagers to toddlers. During our stay with our (almost) three-year-old and one-year-old, we found that we were never lacking for something to do.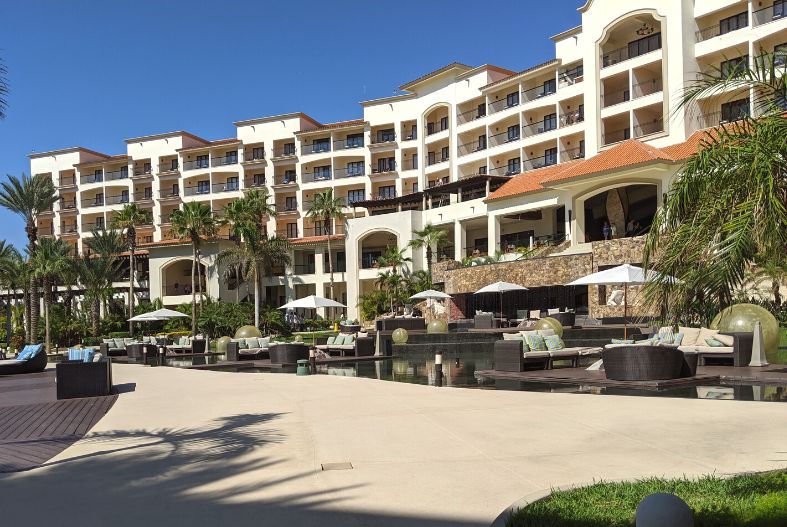 Booking
We planned to use Hyatt points to book our stay, but we found it hard to find availability using points. Plan on booking far in advance and being flexible with your dates if you want good options to use your points.
If you can get it, this is a great redemption for Hyatt because it's only 20,000 points a night. This could easily cost $400-$600 a night for the most basic room, though on some days you can get it as low as $250 per night, which is around what we paid for our stay in October.
The rate we got was a flexible rate. This is convenient because you can reserve a room far in advance without prepaying and then cancel without penalty if necessary. To pay for our room, we used a credit card which gave outright travel credit.
There's also a Hyatt Place within walking distance if you're looking for a less expensive option for days when you don't plan on using the resort facilities.
We stayed there at the beginning when we knew we wouldn't yet be maximizing the benefit of the resort. They had a nice Mexican-style breakfast spread, which we felt had more options than the breakfast offerings at Hyatt Places in the US. (Hyatt Place offers free breakfast to all World of Hyatt Members as long as you book directly.)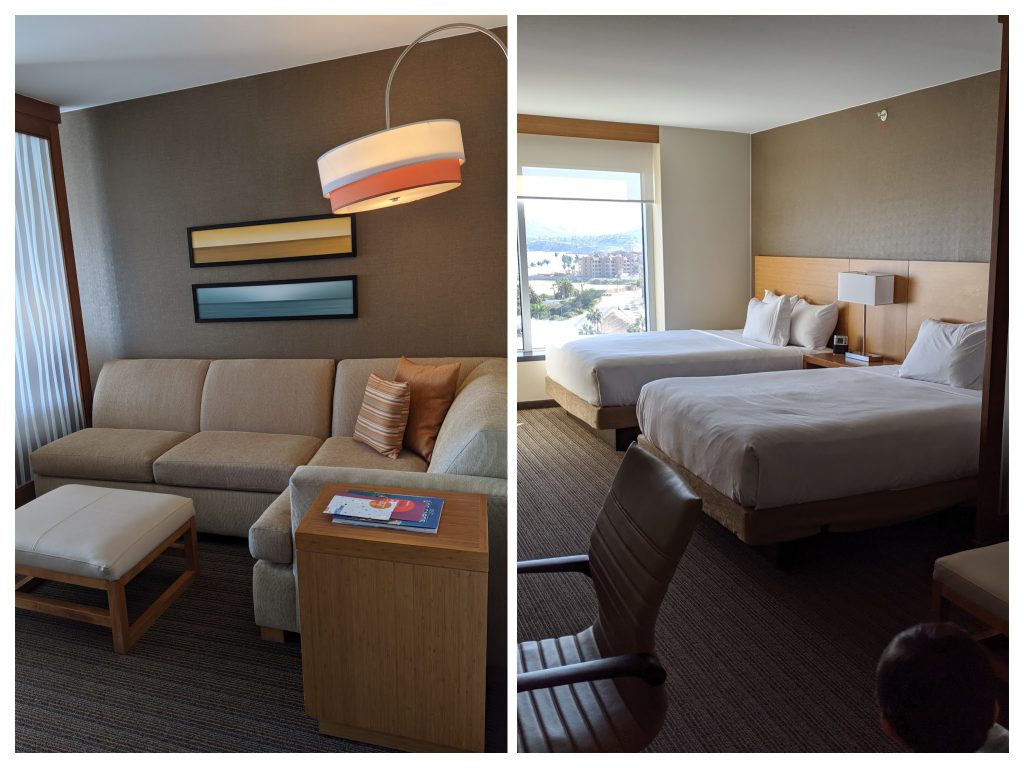 Rooms
If you're staying at Hyatt Ziva with young kids, we recommend booking the Ziva suite (one bedroom with a separate living area). While more spacious and luxurious than a regular room, in our experience suites can sometimes actually be the same price.
And when traveling with kids, whenever you can have an option for a separate room and living space, do it! It's so nice to be able to separate young kids so that they don't wake each other up.
You can put a crib in the living room while a toddler sleeps in the bedroom, or put both kids in the bedroom but still have a spot to hang out after they go to sleep. And the suites are conveniently located near the kids' water area.
Our group was originally booked in two Ziva suites, but (perhaps partly due to status) they allowed us to combine our reservations into a two-bedroom suite.
Our suite had a large living area which, although open concept, was divided into two areas with two TVs.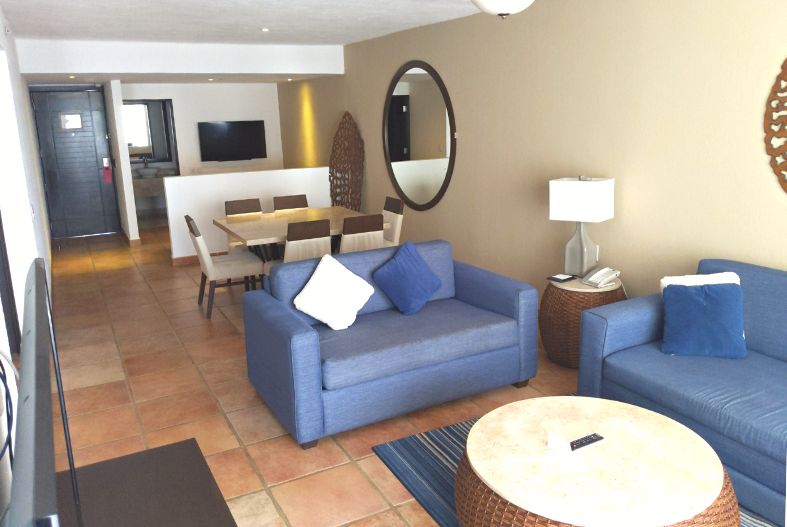 One of the rooms had two queen-sized beds and the other had one king-sized bed. Each room had its own bathroom.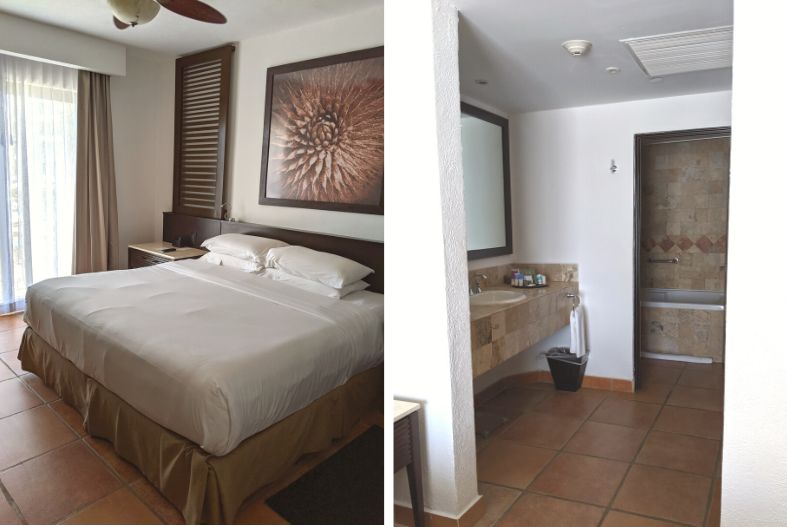 The fridge stocked with snacks and drinks was a nice touch. Our kids thought it was great to have a fridge right there on their level with juice and chips whenever they wanted it.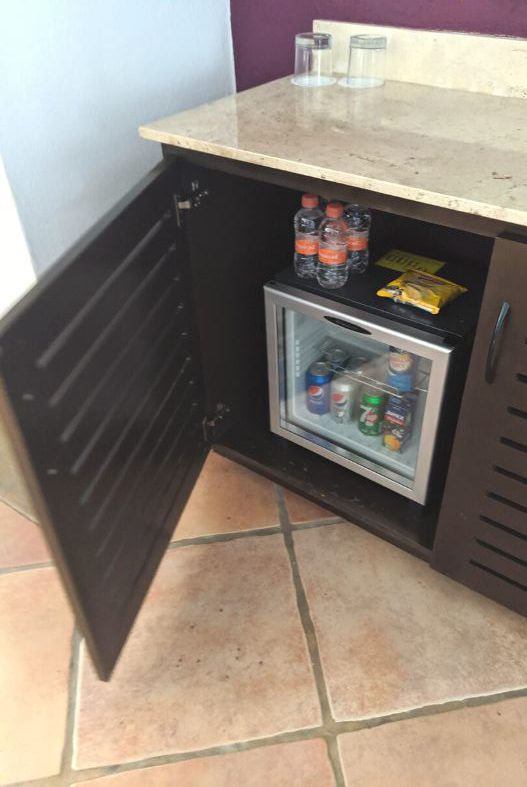 The balcony off the living space had sweeping views of the resort and the ocean. And although it was located right by the pool, we didn't notice there being a lot of ambient noise.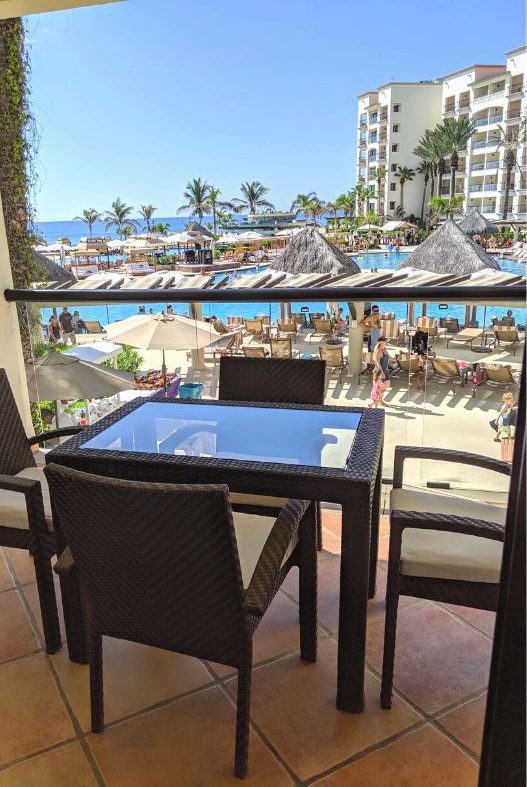 There was also a pack n' play available for our one-year-old to sleep in.
Overall, I can't say enough good things about our accommodations. Our spacious and comfortable suite at Hyatt Ziva made for a great living situation with young kids.
Pools
When looking at the best resorts in Cabo for families, one of the most important considerations for us was the pools. With two young kiddos along, we spent a lot of time swimming in the pools. There are two large swimming pools at the heart of the resort. Our favorite was the one closest to the beach because it has an infinity pool overlooking the ocean. At this pool, there is a swim-up bar for all of your beverage needs.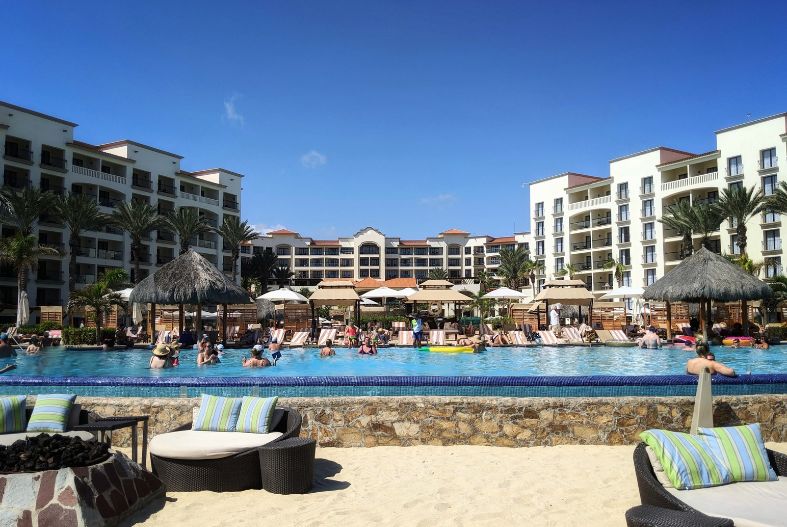 A nice feature of the larger pool is that it has shallow areas along the edge with lounge chairs in the water. There are also cabanas available for rent, but if the seats near them are free you can enjoy the shade without the cost.
Our one-year-old loved splashing around in the shallow water and we were able to sit and relax in the shade.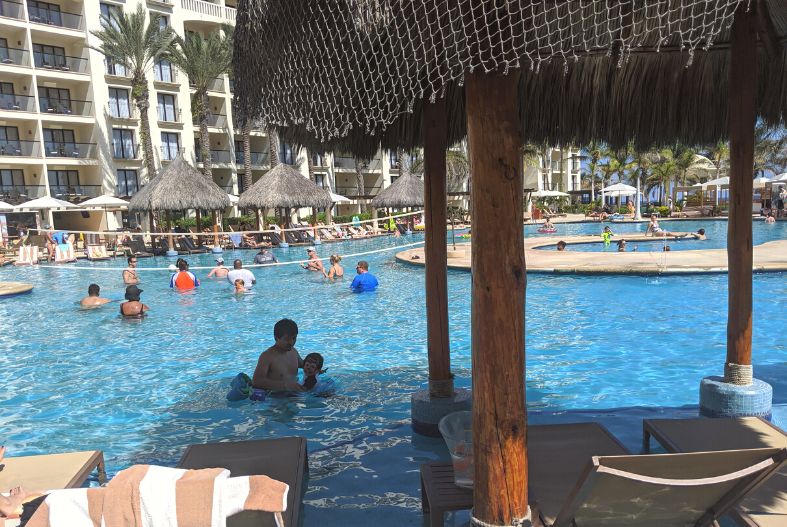 Also at the resort is an adults-only pool and a swim-up pool for some of the fancy-schmansy suites. And in the evening, you can unwind in one of the two hot tubs which overlook the beach.
The pools were a refreshing break from the heat of the day without being too cold (except to some of us who are wimps whenever getting into pools…ahem, ahem…).
And we found that it typically wasn't too hard to find unoccupied lounge chairs for relaxing beside the pool or holding our belongings while we swam.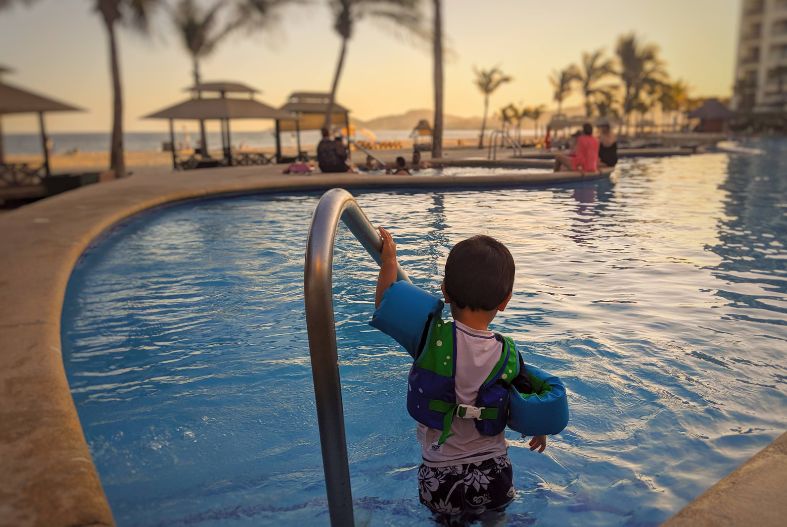 However, we were extremely disappointed to find that the kids' water park area was undergoing maintenance the entire week we were there.
Given that we were traveling with a three-year-old and a one-year-old, this was a huge blow. We had expected the kids' water area to be the highlight of our stay at the resort, but we weren't able to use it a single time.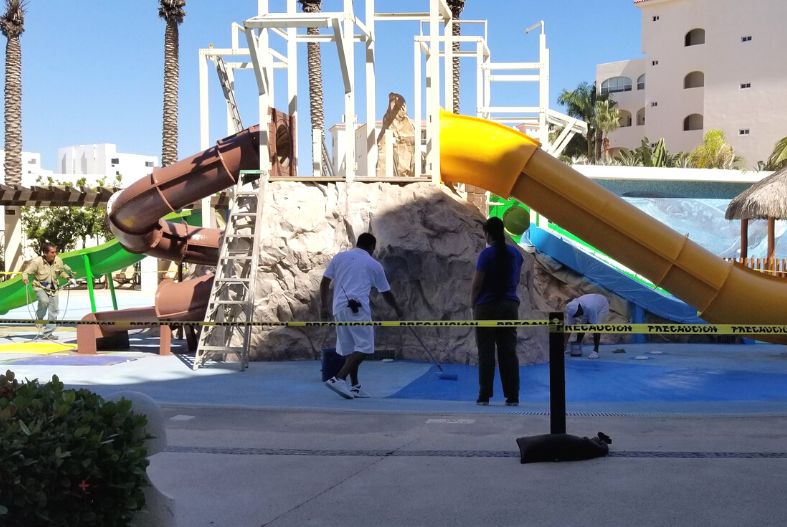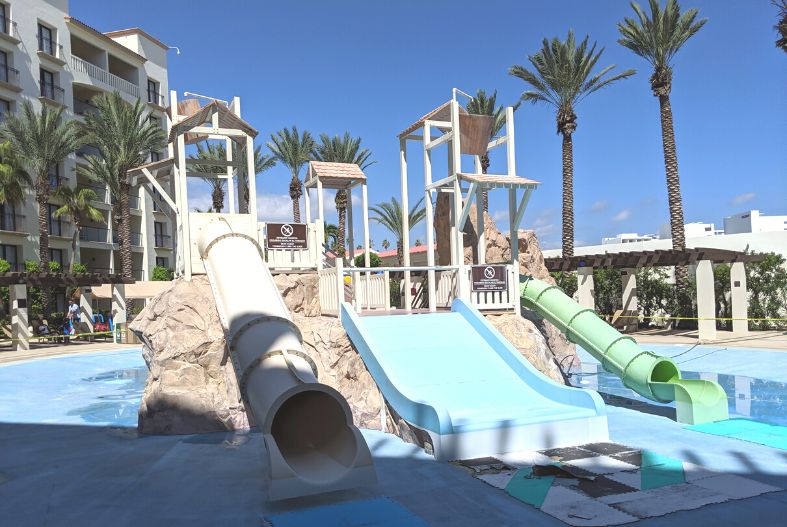 They did try to compensate by having a couple of inflatable bouncy houses, which our kids did enjoy, although the heat made it hard to stay in them very long. We appreciated that they attempted to find a replacement activity for young kids, although it couldn't really replace the experience our kids would have had with the water features.
There is a shallow kids' wading pool that was open, but at that point we decided we would rather just swim in the main resort pools.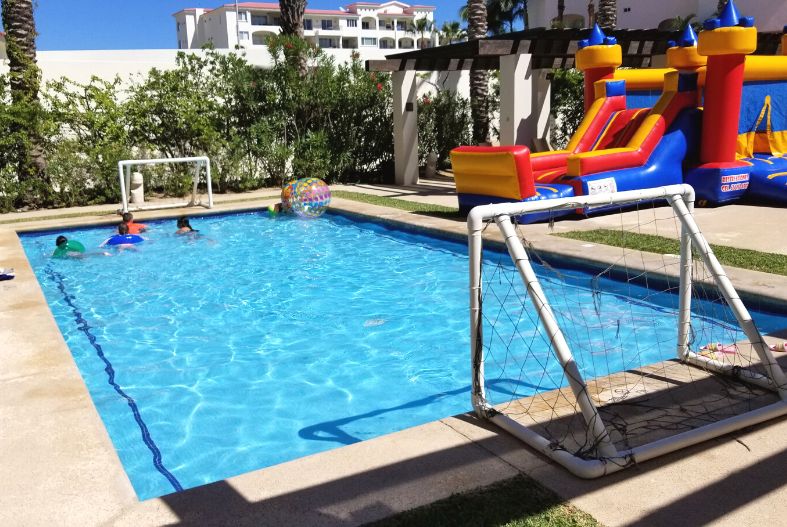 This seems like it was an isolated incident which likely would not affect future guests at the resort, but we were unable to experience and review the kids water features as we would have liked. It does seem like a fun area that young children would really enjoy.
Childcare and Activities for Kids at Hyatt Ziva Los Cabos
Kidz Club
Another factor that makes Hyatt Ziva one of the best Cabo resorts for families is the great kids club program. Kidz Club is for children between 4 and 12 years old and is open between 9 am and 5 pm (with a lunch break from 1-2). And unlike some places we've been, there isn't a time limit to how long your children can stay each day.
They have a nice indoor facility complete with toys, games, a craft area, and a movie room. And the small playground outside provides for indoor and outdoor play options.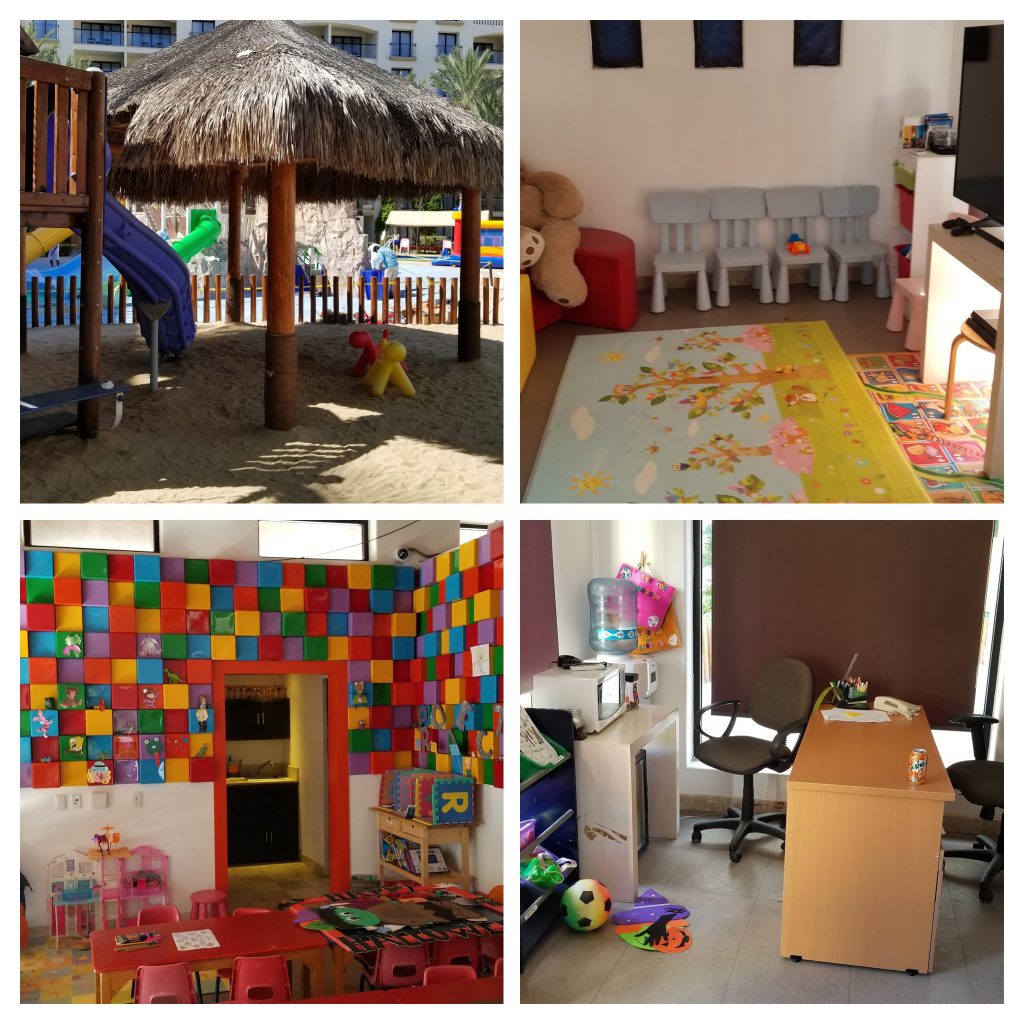 Each day there is a schedule of fun events for kids to participate in.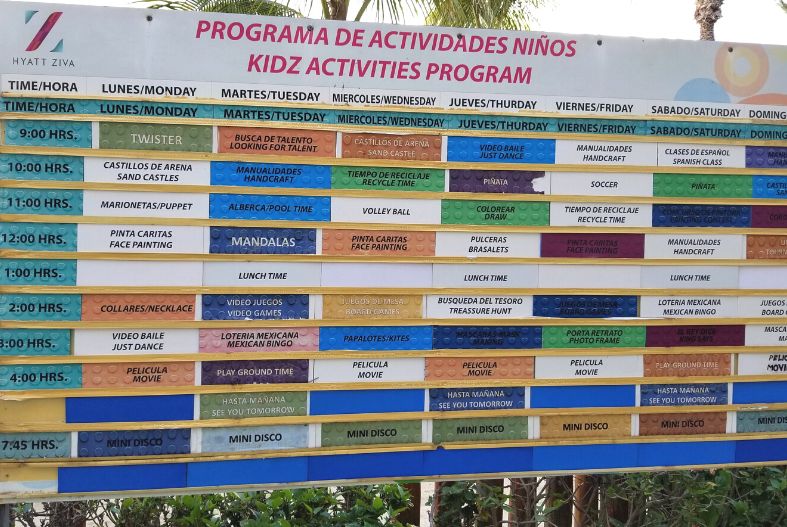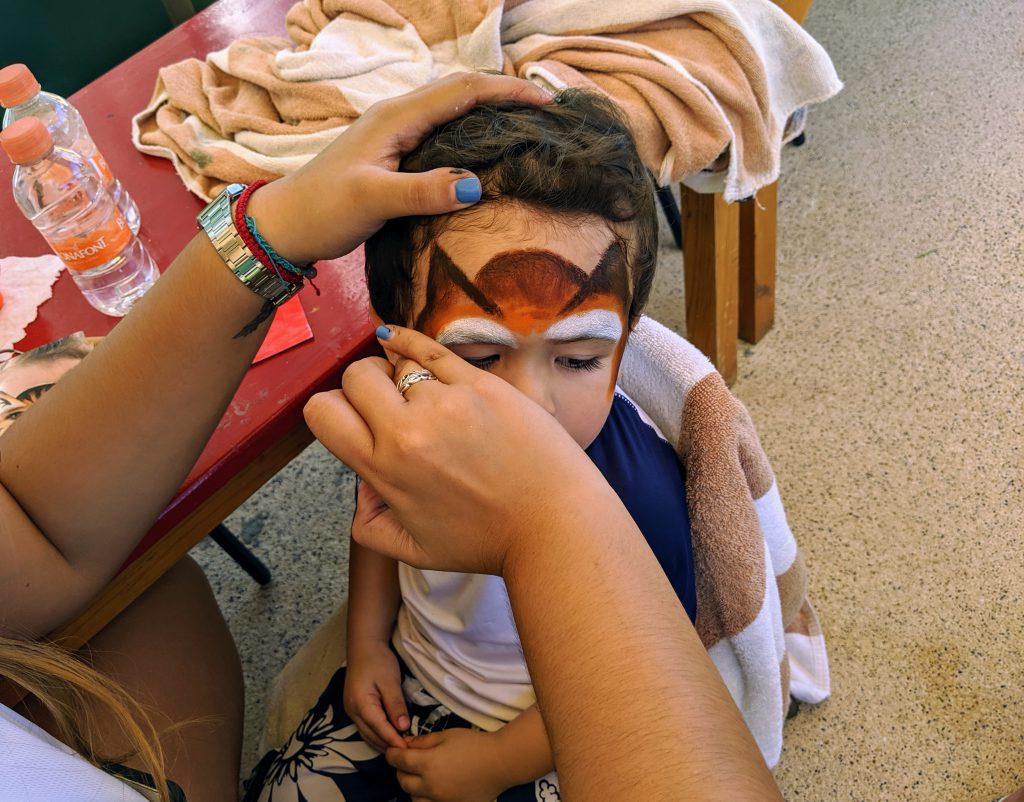 Teenager Room
If you're traveling with teenagers, never fear, there is something for them too! A game room with pool tables, arcade basketball, foosball, ping pong, and arcade games is the perfect place for teenagers to enjoy themselves out of the sun.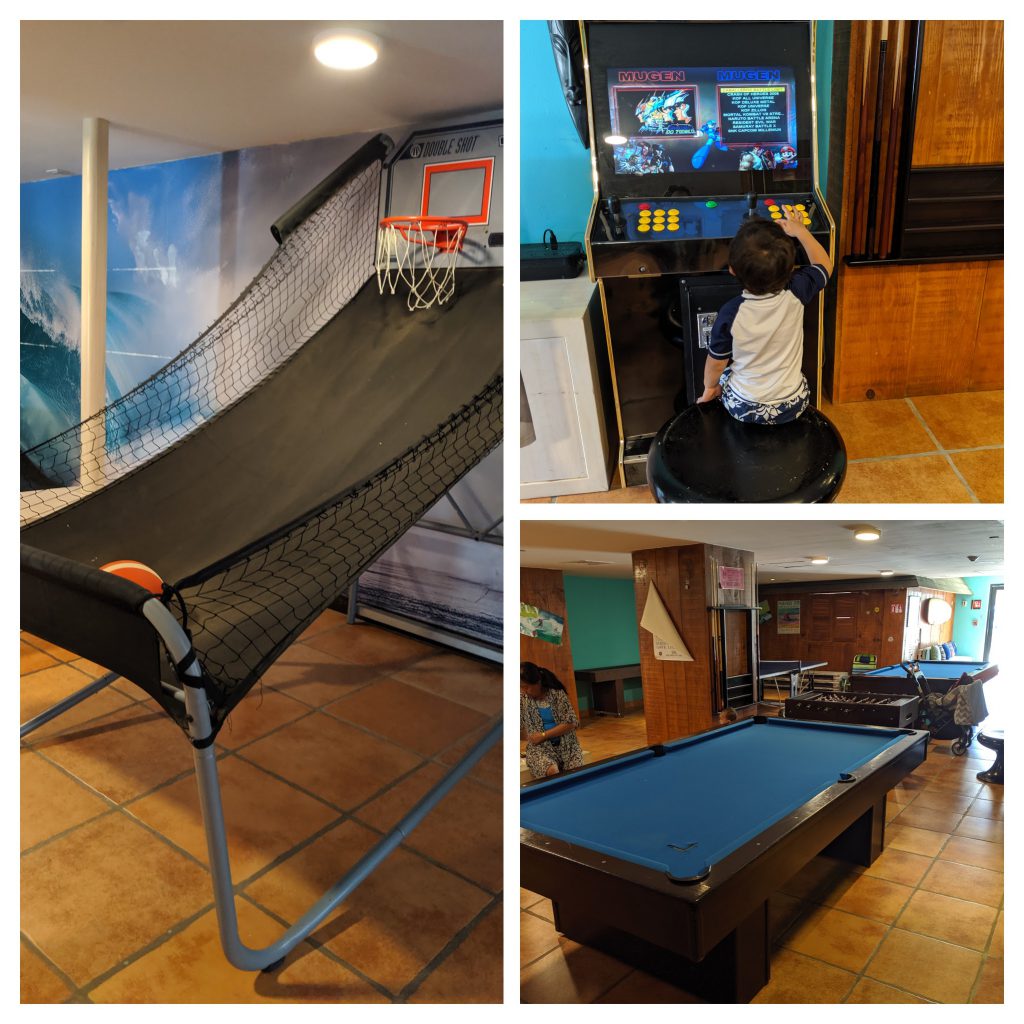 Babysitting
If you are in need of babysitting after Kidz Club is closed, there are options for that as well. The rate is $20 an hour for one child and $30 for two.
However, there are two caveats. First, they won't babysit children under four. Second, the care providers will not watch your kids while they are swimming. So they will either watch them in your room or while they participate in a published resort kids' activity.
Food
There are a lot of different options for food. For breakfast and lunch, you always have access to the all-you-can-eat buffet and its great variety of food. It's a pretty standard international buffet, but we enjoyed having so many different options.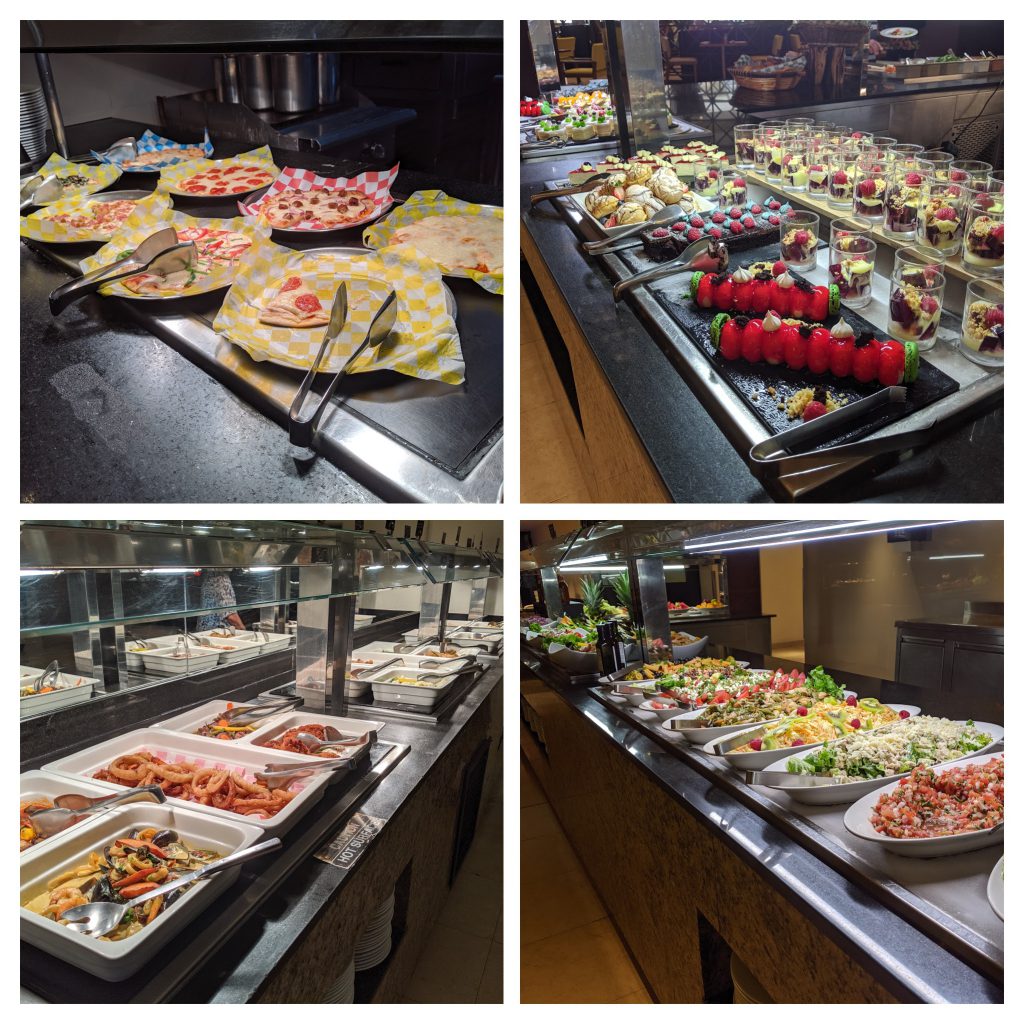 There is also a great kids' section at the buffet, which means you can cater to the food needs of even the pickiest kids.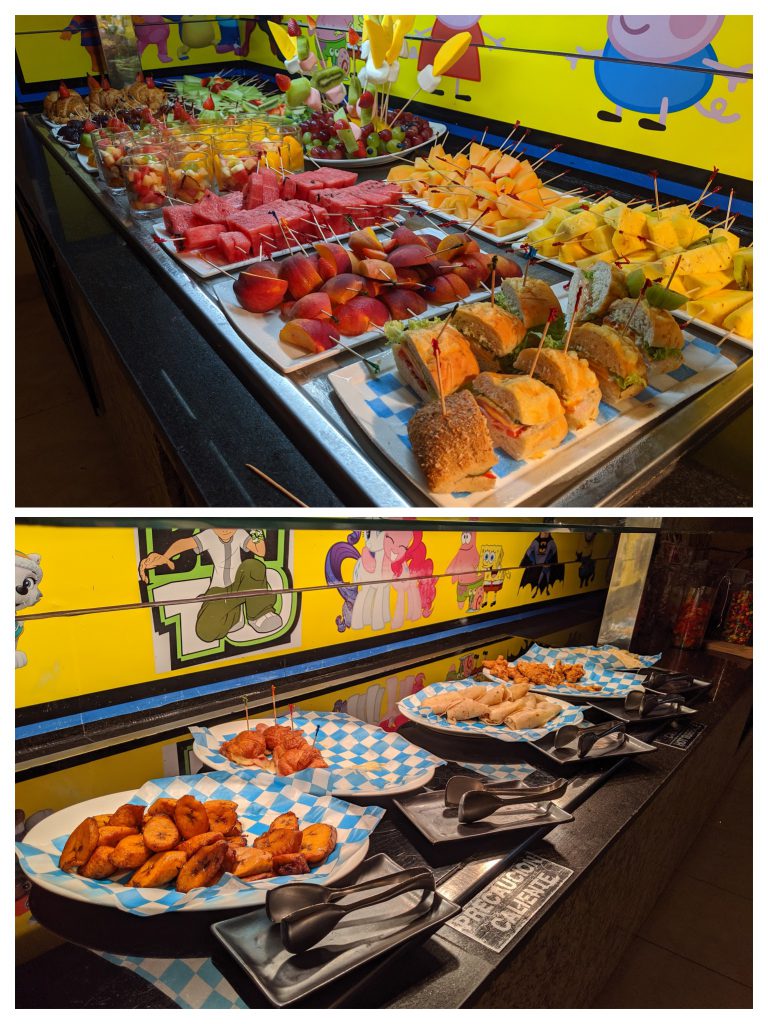 There are also restaurants in the resort which are open for lunch and dinner.
Most of the restaurants have a dress code (no beachwear, flip flops, etc) and some require reservations, but all are included in the price of the resort. There are seven different restaurants specializing in a broad range of cuisine, including from Mexican, French, Italian, and Asian.
My favorite was the Asian restaurant. All-you-can-eat sushi, need I say more?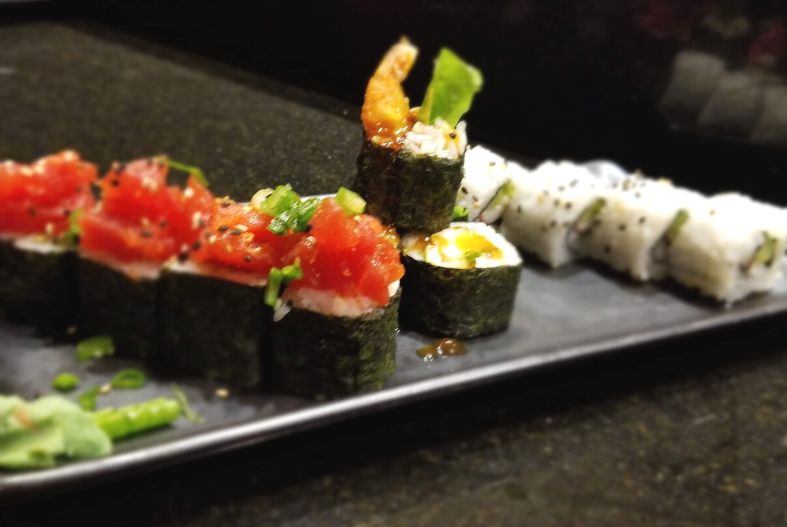 It was also our son's favorite because he was incredibly impressed with the ability of the teppanyaki chef to juggle eggs and light things on fire. The teppanyaki experience is free, but you need reservations. They start accepting reservations at 4:00 p.m for up to the next day.
We weren't able to get a reservation, so we were not able to try out the delicious-looking food. However, we had a table nearby and were able to witness the entertaining show. It made a lasting impression on our three-year-old. After our trip, whenever anyone asked him what he did in Mexico the first thing he would say was, "We saw a teppanyaki chef!"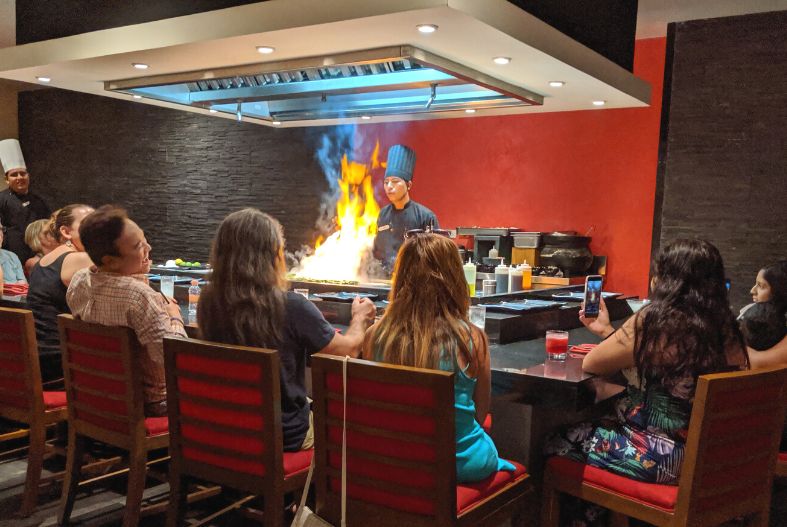 We read some reviews that said the alcohol selection wasn't too impressive, but we don't drink alcohol, so we can't comment on that.
In order to make up for what we didn't drink in alcohol, we drank smoothies at every possible opportunity. Our favorites were the strawberry and pina colada. Although they were from some sort of syrup instead of fresh fruit, they were delicious!
Entertainment
Every night at the resort there is a different musical performance at the theater. The shows were nothing spectacular, but they had some entertainment value. They were mostly dancing and singing with one acrobatic performance.
Probably the person who liked them the most was our three-year-old, who caught the end of a performance after a late dinner. He enjoyed trying to dance along with the performers and loved reenacting it for us later.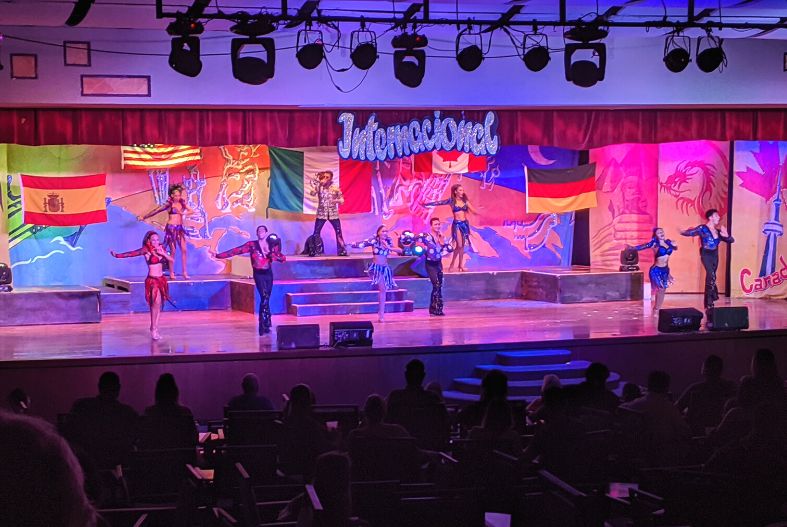 Beach activities
The resort is located on a beautiful beach. Although the beach is not swimmable due to strong rip currents, it has picturesque views and fine, soft sand.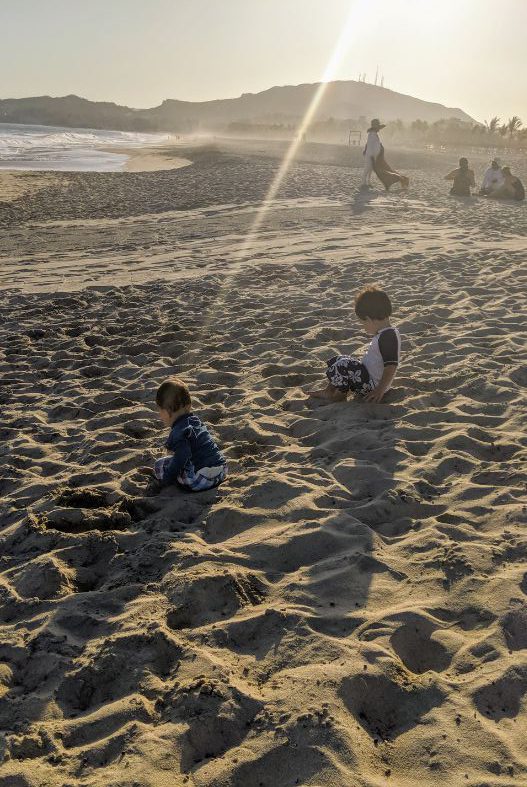 Lounging
On the beach in front of the hotel, there are lounge chairs available for free and cabanas for rent.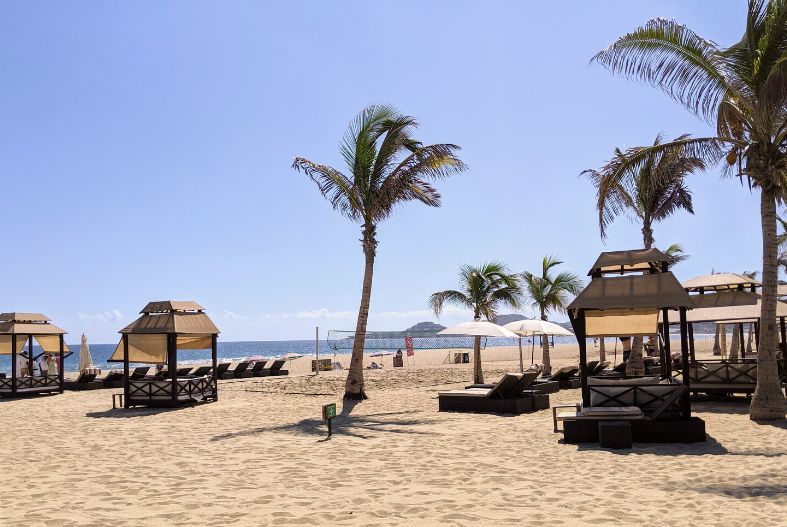 When the water is calmer you can do some wading, just make sure that you hold onto your kids because the current can be strong.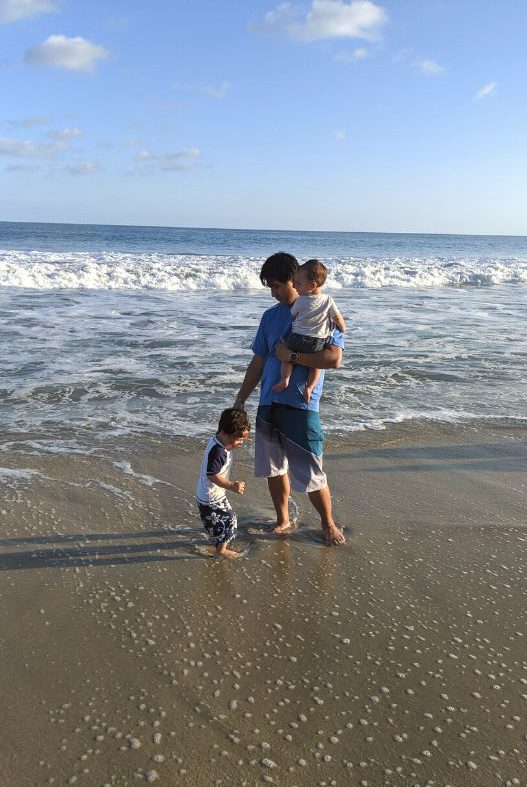 We found the beach to be a perfect place for unwinding in the evenings. Our three-year-old loved sitting and staring out at the ocean after a busy day. We usually had to drag him away so we could go eat dinner.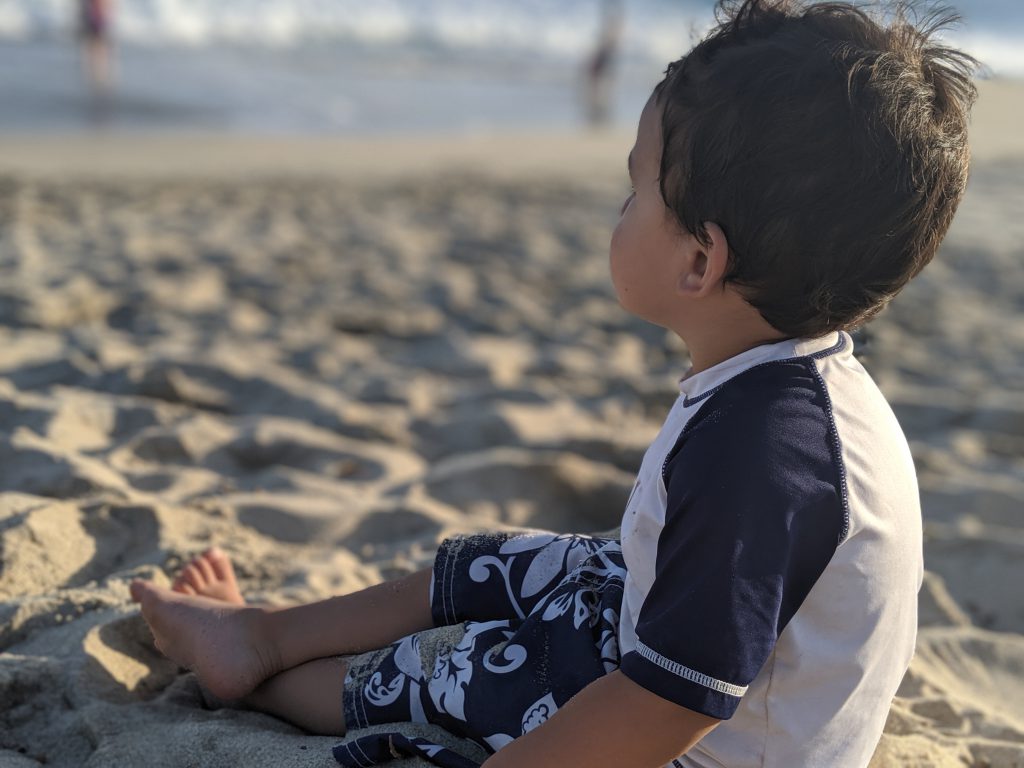 Sunset horseback rides
In the evenings there are always groups offering sunset horseback rides along the beach. We decided to participate on the night before we left and had a nice family ride beside the ocean.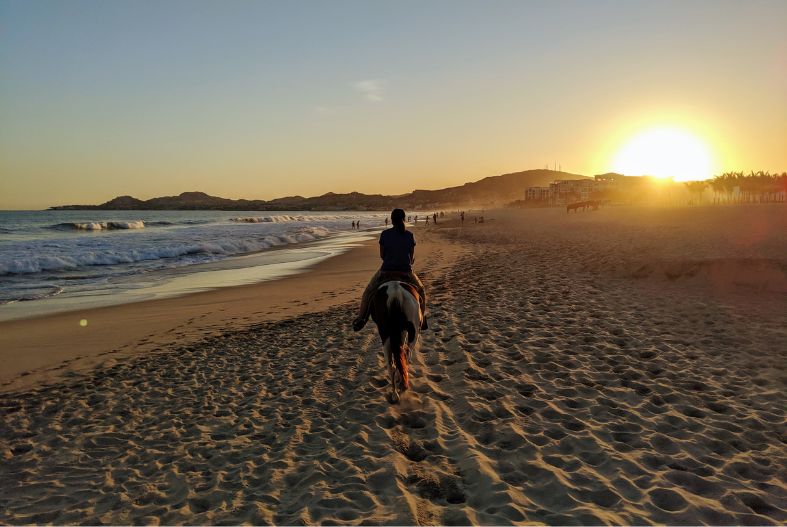 Baby turtle release
And if your visit is during sea turtle hatching season (from about September to December), you will also have the opportunity to witness baby turtles being released into the ocean.
Most evenings while we were there (in October) we were able to see hundreds of little turtles making a mad dash for the sea as we cheered them on. This was SO fun for the kids to watch (and us too). It was definitely a highlight of our trip.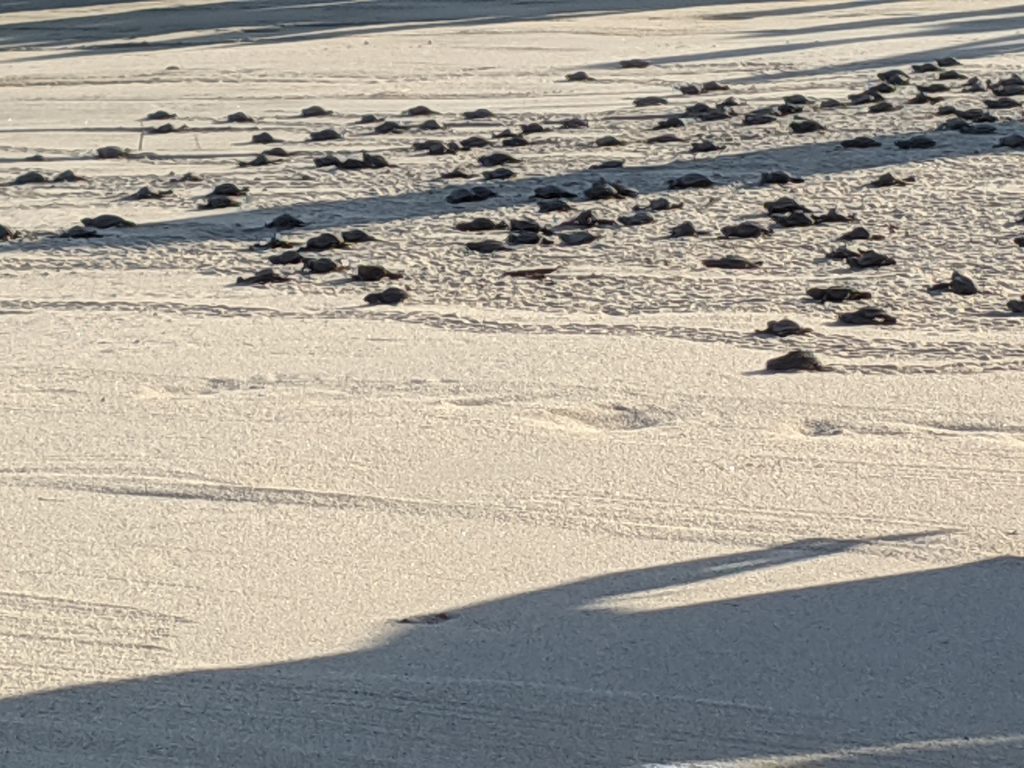 Other facilities
There is also a gym and tennis and basketball courts available if you want to balance out all of those meals at the buffet.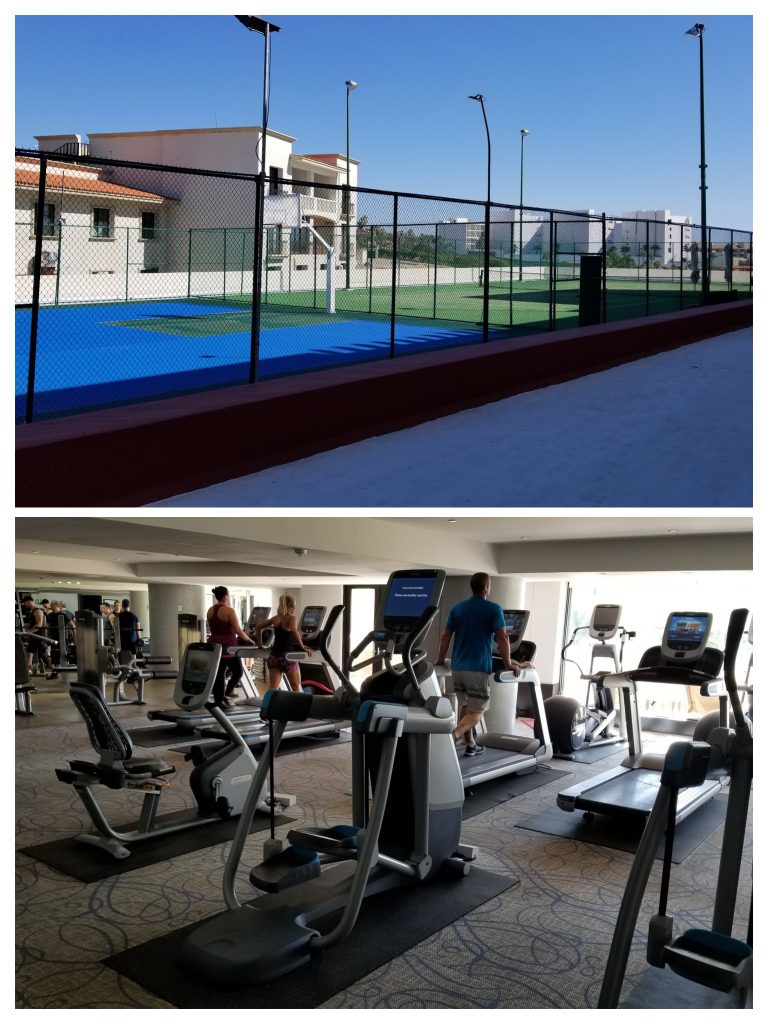 Final Thoughts
All in all, Hyatt Ziva is a great place for a family vacation with young kids. It's one of the best Cabo resorts for families.
That being said, it can be pretty pricey, especially during peak season. We were able to book at a low price, so we felt that the all-inclusive experience was worth it. If we had been paying peak season rates would we have felt that way? …Possibly not.
The resort seems to have a fantastic Kidz Club which would have provided a great opportunity for some kids-free time, except that our kids were too young to qualify (granted, we did know that before we came).
And of course, there was the disappointment of the kids' water area being closed, which definitely put a damper on our stay. However, that's unlikely to be the case for other visitors.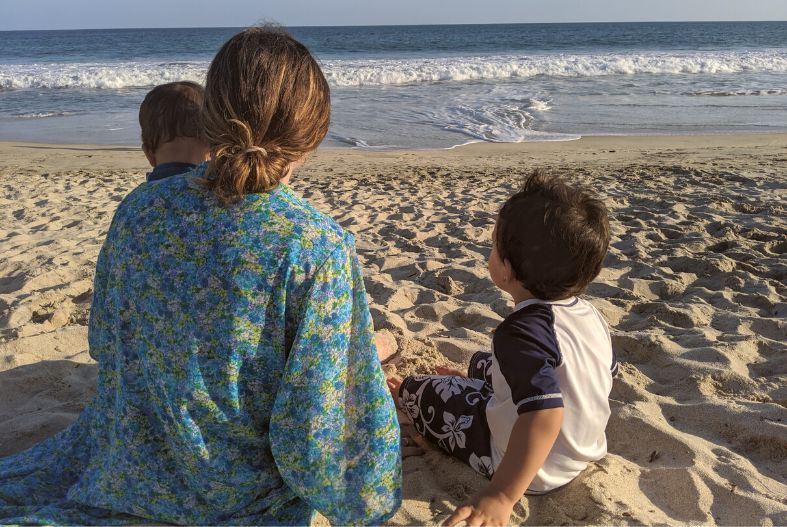 But overall the resort was a positive experience and we had a wonderful family vacation in Cabo. For more ideas of things to do with young kids in Cabo, see this post.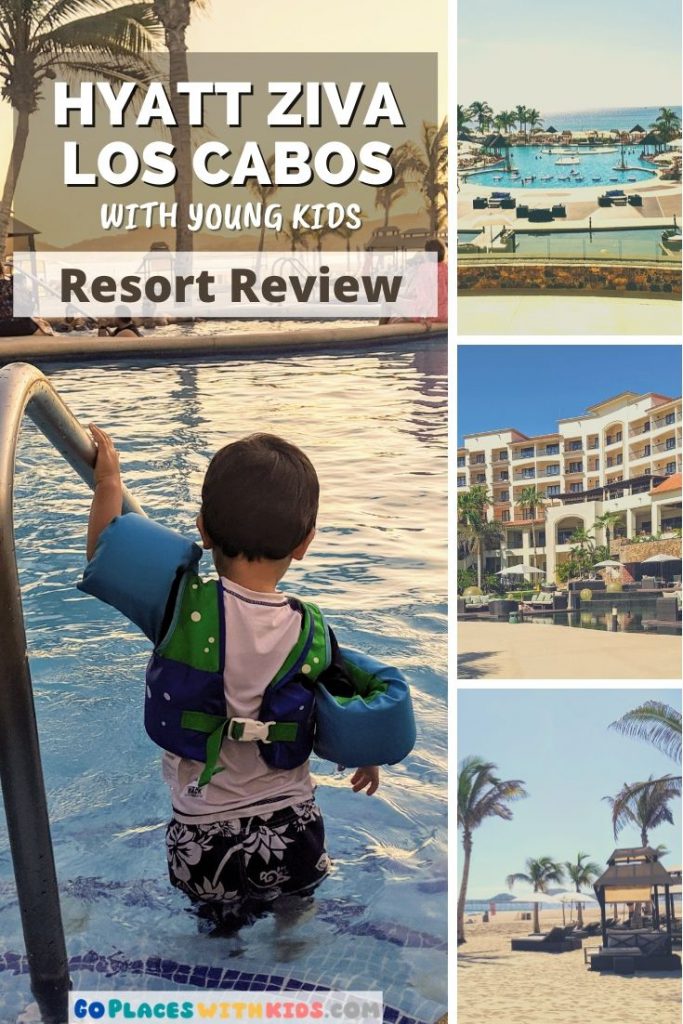 Other posts you might be interested in:
Going to Los Cabos with Young Kids
Baby and Toddler Beach Essentials (And Tips for Making Beach Day a Success!)