This page may contain affiliate links, which means that we may earn from qualifying purchases at no additional cost to you.
Having a hard time deciding between the Baby Bjorn vs Ergobaby baby carriers? We get it. It's a big purchase and you want to make sure you pick the absolute best carrier for you and your child!
The good news is, we've got you covered.
We've pulled from manufacturing data, product testing, parent reviews, and personal experience to bring you all the information you need to pick the right carrier for you.
While both of these companies have many great products, in this guide we're comparing only the two flagship carriers from both companies: the Baby Bjorn One and the Ergobaby Omni 360.
And while the Ergobaby Omni 360 and Baby Bjorn One are both highly rated carriers, there are some important differences in deciding which carrier is right for you.
We've done a lot of traveling with our kids, so we recognize the need for a baby carrier that works for you and your little one. And we've also found carriers useful at home so you can do other things (such as writing a blog post while wearing a baby at the same time…)
The right carrier can be a lifesaver, whether you're on a trip, running errands, or just trying to get things done around the house.
Read on for our breakdown of these carriers!
Overview of the Carriers
Baby Bjorn One vs Ergobaby Omni 360- Features at a Glance
| | | |
| --- | --- | --- |
| | Baby Bjorn One | Ergobaby Omni 360 |
| Age range | 0-36 months (no infant insert needed) | 0-48 months (no infant insert needed) |
| Weight range | 8-33 lbs | 7-45 lbs |
| Product Weight | 2.7 lbs | 1.7 lbs |
| Carry positions | Newborn, facing in, facing out, back carry | Newborn, facing in, facing out, hip, back carry |
| Material | Cotton, machine washable | Cotton, machine washable |
| Storage | None | Detachable storage pouch |
| Sleep/Sun Hood | No | Yes |
| Design | Harness and carrier functions are separate | Harness and carrier functions are the same |
| Price | | |
Baby Bjorn One Baby Carrier
The Baby Bjorn One is designed to grow with your child. It can be used for newborns (with no insert needed) up to around three years old. This carrier has a wide seat and is adjustable to find the best fit for your baby.
This carrier can be used in four carry positions- newborn, inward-facing, forward-facing, and back carry. It is the first Baby Bjorn carrier to offer the back carry option.
One big difference between this carrier and the Ergobaby is that the harness function (how you wear the carrier) is separate from the baby carrying function (what fastens the baby to the carrier).
This means that you fully put on the carrier first and then attach the baby with the front panel (it also means you can remove the baby without removing the shoulder straps).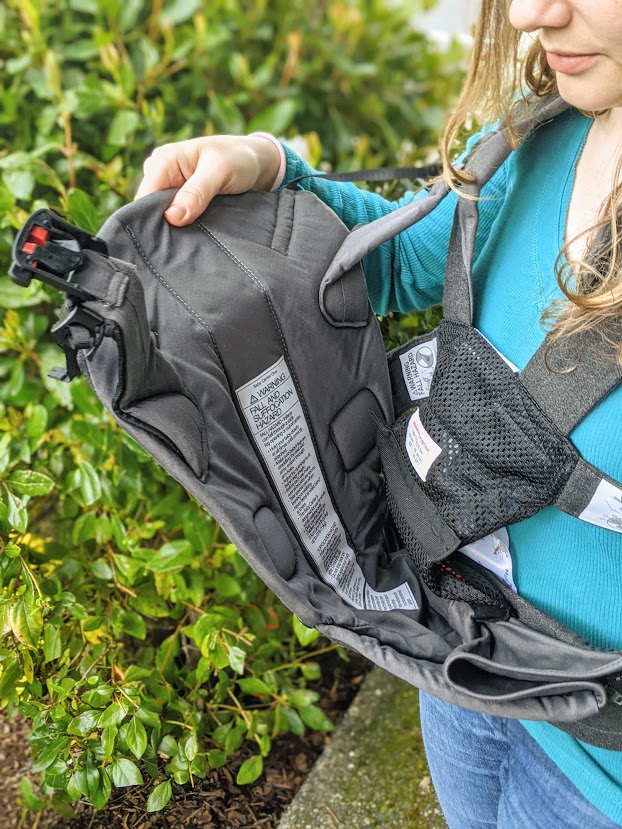 This feature makes it feel more secure as you are putting your baby in, as you don't have to put the shoulder straps on while supporting your baby like with the Ergobaby carrier. And it makes it easy to switch the baby from a front carry to a back carry because the child is secure in the carrier as you readjust the straps for your shoulders. This design also seems to cause the weight of the baby to pull more comfortably downward instead of a slight forward pull on your shoulders.
Baby Bjorn also has a hot climate variation of this carrier, the Baby Bjorn One Air. It has the same feature as the Baby Bjorn One, but the mesh design makes it more lightweight and breathable.
Pros
Forward-facing option
No infant insert needed
Adjustable head support
Independent harness for baby
Easy to get baby in all positions by yourself
Feels very secure for a newborn
Cons
No storage
No baby hood
Can be difficult to breastfeed in
Lower weight limit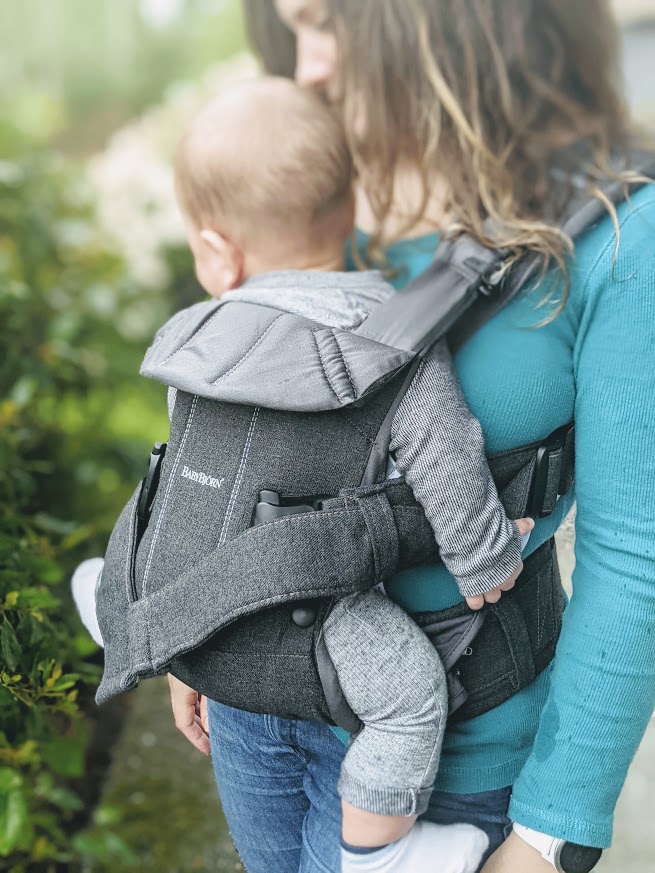 Ergobaby Omni 360 Baby Carrier
The Ergobaby Omni 360 combines all the best features of the previous Ergobaby models.
This carrier gives you the option to wear your baby in all the carry positions, including forward-facing. And unlike the Ergo 360, no infant insert is required when carrying a newborn baby.
Adjustable side panels allow you to customize the fit to your baby depending on their size and the carry position you're using.
The Ergobaby 360 Omni also comes with some valuable additional features, including a baby hood for sun protection, naps, or breastfeeding and a decently-sized detachable storage pouch for diapers, your phone, or other small items.
If you live in or plan on traveling to a hot climate, you might prefer the Ergobaby Omni 360 Cool Air Mesh. It has all the same features as the Omni 360, but is made out of soft mesh for breathability and airflow.
Pros
Forward-facing option
No infant insert needed
Straps can be worn crossed or backpack style
Baby hood (tucks away in pocket when not in use)
Lumbar support for back
Detachable storage pouch
Great for breastfeeding
Can be used up to 4 years old
Cons
Some find the back strap challenging to buckle on their own
Can be tricky to use the back carry position without help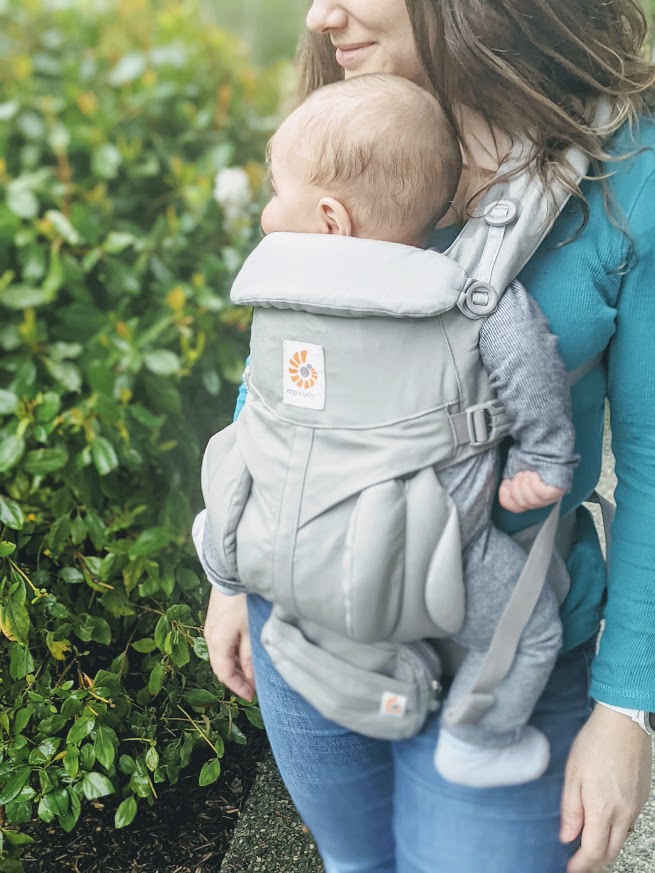 Baby Bjorn vs Ergobaby- Comparison
Baby Bjorn One vs Ergobaby Omni 360- Our Comparison at a Glance
| | | | |
| --- | --- | --- | --- |
| | Baby Bjorn One | | Ergobaby Omni 360 |
| Ease of use | ★★★★★ | | ★★★★☆ |
| Fit | ★★★★★ | | ★★★★☆ |
| Nursing-friendly | ★★★☆☆ | | ★★★★★ |
| Use with a newborn | ★★★★★ | | ★★★★☆ |
| Use with a toddler | ★★★☆☆ | | ★★★★★ |
| Retail Price | $189.99 | | $179 |
Ease of Use
Both of these carriers are fairly simple to get on and off. The Baby Bjorn goes over your head like a shirt and then the waistband is strapped, whereas the Ergobaby is strapped waist first, and then the shoulder straps are secured after you've put the baby in.
Because the baby is independently attached to the carrier, the Baby Bjorn does feel a little more secure when putting the baby in. And all the buckles to put on or remove the baby are in front. Note that the Baby Bjorn buckles are not your common pinch-to-open latches, which can initially seem non-intuitive.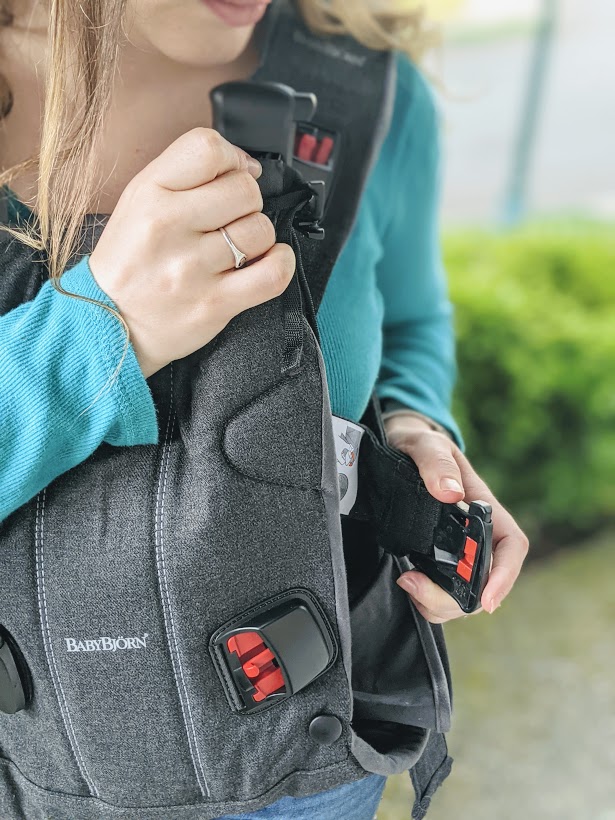 To fasten the Ergobaby carrier after you put the baby in, you have to reach behind your head to snap the buckle on your upper back. Some people find the back strap a bit hard to fasten by themselves because it requires a little more flexibility (the key is to loosen the shoulder straps so you can reach the back strap).
And while the Baby Bjorn is quite simple to switch from forward to back carry (you can swing the whole carrier around to your back from the front position due to the harness supporting your baby), the Ergobaby carrier can be a bit more difficult. I personally didn't feel confident doing so without someone there to help me support the baby.
Fit
Obviously, a lot of the comfort and fit will depend on the person wearing the carrier.
Both carriers are highly adjustable for both baby and wearer, with features such as adjustable waist, chest, and shoulder straps.

The Ergobaby gives you the option to wear the straps either crossed or straight. The crossed straps can make it more comfortable, especially when carrying a heavier child or wearing it for long periods of time. However, it is more challenging to secure your child without help with the straps crossed.
The Ergobaby also has an additional carry position, the hip carry, which the Baby Bjorn doesn't have. (Although I personally have never found that position very useful, but that's just me.)
I personally found the Ergobaby carrier a bit more comfortable while my husband preferred the Baby Bjorn (although he did say that he felt that crossing shoulder straps helped with the comfort of the Ergobaby).
Nursing-friendly
The Ergobaby carrier has long been a favorite of mine because of how easy it is to nurse in. The adjustable shoulder straps make it easy to get your baby in the right position and the sleep hood offers some privacy while nursing.
Some people find the Baby Bjorn carrier difficult to breastfeed in. Due to its design, the inner harness of the Baby Bjorn carrier forms a barrier between the wearer and the baby. Depending on your body type and the size of your baby, this can interfere with finding an ideal nursing position.
That being said, I was able to nurse in the Baby Bjorn One without any difficulty, so I personally didn't find this to be a negative. It also does not have a privacy hood, though I often also use a nursing cover for both privacy and fewer distractions for nursing or napping anyway.
Use with a Newborn
With a few easy adjustments, both carriers are ready to support a newborn with no insert. And each one is certified hip-healthy by the International Hip Dysplasia Institute, meaning the carrier puts the baby into an ergonomic "M" shape to protect developing hip joints.
While both are certified as safe to use with a newborn, the Baby Bjorn fits a bit more snugly and has extra newborn side fasteners to hold your baby securely. On the other hand, the Ergobaby does feel a bit big for a newborn and doesn't have that extra peace of mind that comes from the additional newborn side straps.
Both are newborn safe, but we preferred the cozy fit of the Baby Bjorn for a tiny baby.
Use with a Toddler
Between these two carriers, the Ergobaby has a longer life span, lasting up until a child is four years old. The Baby Bjorn can only be used until your child is around three years old.
Both have the option of using a back carry, which is often a more comfortable position for carrying a toddler. And like I mentioned above, the Baby Bjorn is a bit easier to get on in the back carry position.
While I found both carriers relatively comparable in terms of comfort when carrying a baby, when I carried my two-year-old I felt that the Ergobaby was a bit more comfortable.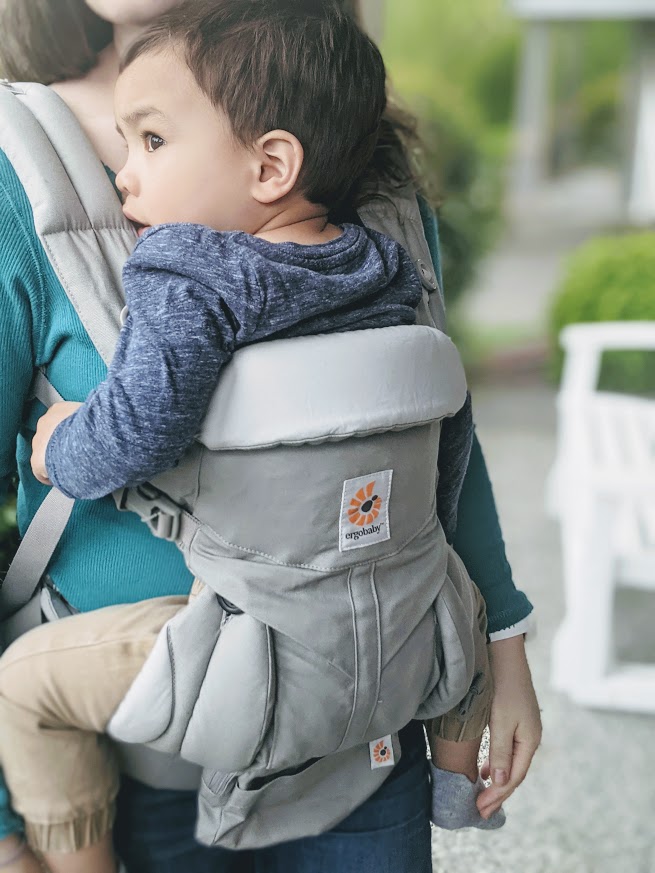 Price
These two carriers start at similar prices, but the retail price for the Baby Bjorn One ($189.99) is slightly higher than the Ergobaby Omni 360 ($179).
So Which One Should You Choose?
It's really hard to pick a favorite in a choice between Baby Bjorn vs Ergobaby, as these are both amazing carriers. There's a reason these are two of the top carriers on the market. What it comes down to is which features are most important to you.
If you're looking for a carrier to use with a newborn or smaller baby, the Baby Bjorn One is a great choice. It's snug and cozy, easy to safely get the baby into the carrier, and has side straps for extra security. It's also easy to put on in any of the carry positions without additional help.
If you're looking for a carrier that will last into the toddler years, the Ergobaby Omni 360 might be a better option. It has one of the highest weight limits of any carrier out there, allowing you to wear your child up to around 4 years old. It also has the option to cross the straps, which can make it more comfortable when carrying a toddler's weight. The carrier has some convenient extras, like the baby hood and the storage pouch.
And remember that if you're looking for a cooler option, you might want to consider the Ergobaby Omni 360 Cool Air Mesh or the Baby Bjorn One Air, which have these same features but in a lightweight mesh material.
From both carriers you can expect high quality and a convenient way to transport your baby or toddler, whether you're off to see the world or taking a walk to the park!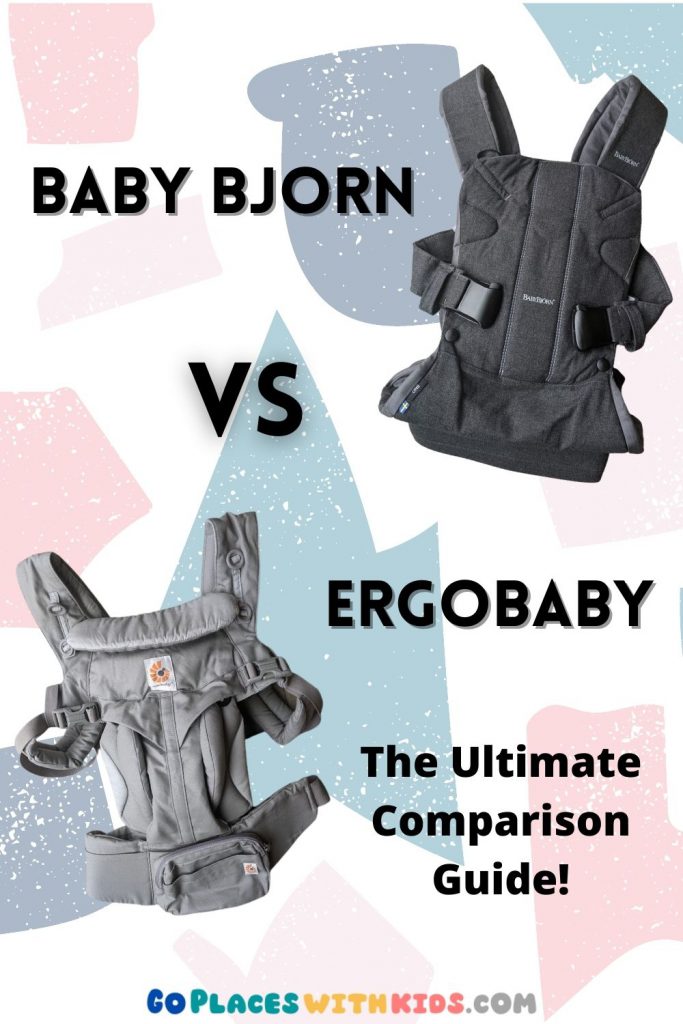 Other posts you might be interested in:
The BEST Toddler Carriers for Travel
Airplane Activities Your Toddler Will LOVE!
50+ Road Trip Food Ideas- Easy Meals On the Go!