This page may contain affiliate links, which means that we may earn from qualifying purchases at no additional cost to you.
This list will help you find the best toddler travel backpack for your child!
Bringing a backpack for your toddler can be a great option when you're traveling.
It allows your child to have some independence and ownership over their belongings and it's a helpful way to keep your toddler's snacks and activities in one easy-to-access location.
When picking a toddler backpack for travel, there are many factors to consider. You want something that's comfortable but cute, roomy but not too heavy, good quality but good value. Well, we're here to help!
This list has all the information you need to choose the perfect travel backpack for your toddler.
What to look for in a good toddler travel backpack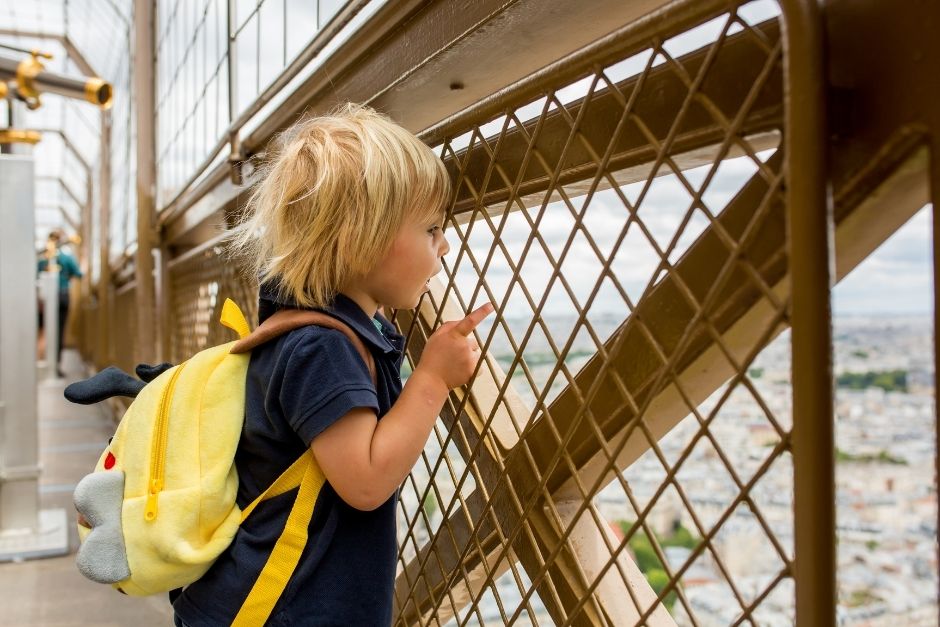 Size
Select a backpack that is big enough to fit some essential items, but small enough that it won't dwarf your child.
If you do end up getting a larger bag to fit taller items, be sure not to over-pack so as not to strain your toddler's back.
Comfort
Choose a backpack that has comfortable straps that you can adjust to fit your child perfectly.
For younger children, a chest clip can be another useful feature. This prevents the straps from it constantly sliding off their shoulders and helps distribute the weight of the backpack.
Design
Pick a design that your child is excited about. If they love the design, they are more likely to be enthusiastic about wearing and keeping track of their backpack.
Our son was delighted when we got him a dinosaur backpack. He was so proud to wear it and never wanted to take it off!
Leash or no leash
I have to admit, I used to be a little judgy of parents who used leashes for their children. But that was before I had children myself and way before I tried traveling alone with my toddler.
In that situation, a leash backpack gave me such peace of mind knowing that my toddler wouldn't wander off and get lost while I was checking in our luggage.
A leash isn't something that is always necessary, but if you need it you need it and there's no shame in that! Sometimes it's nice to have it as an option, just in case you find yourself in a situation where you want to use it.
The Best Toddler Travel Backpacks
Toddler Travel Backpacks at a Glance
Leash Backpacks
This cute little backpack is adorable and practical. It is equipped with a removable leash and an adjustable chest clip so that it can be used as a safety tether for your child.
There is also a mesh side pocket for storing a small bottle or the tether when you aren't using it.
This is not a large backpack, but it is good for storing smaller items and has the added benefit of the leash option.
The Yodo toddler backpack comes in various designs that are sure to delight any child. A detachable leash makes this backpack another excellent option for safety-conscious parents of adventurous toddlers.
An adjustable harness in the front prevents the straps from sliding off your toddler's shoulders.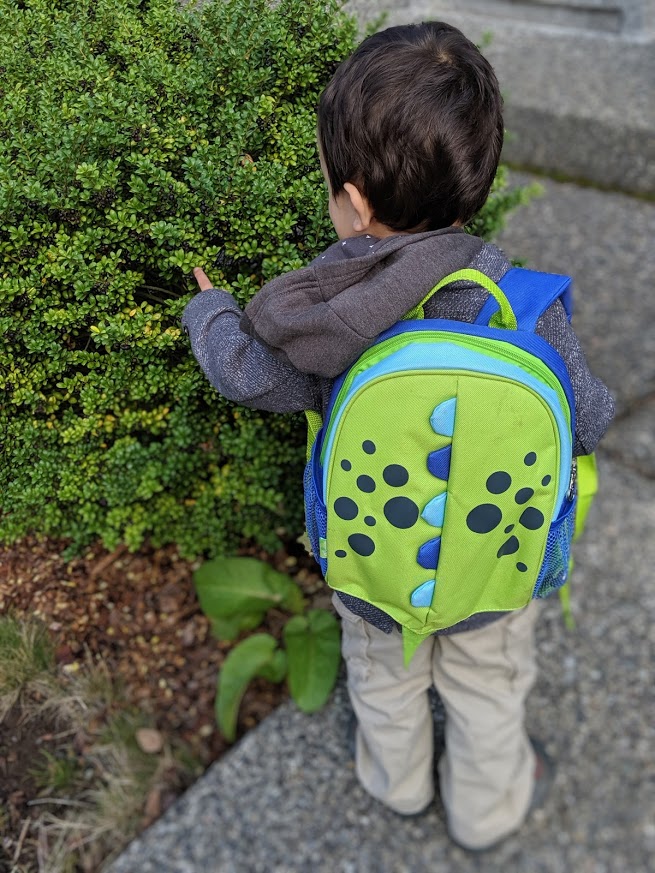 The main pocket is insulated, meaning that this backpack can also double as a lunchbox for the airport or day trips. Two mesh side pockets provide a place for a bottle or small items (or the leash when you aren't using it).
Standard Toddler Backpacks
This toddler backpack by OREZI comes in various dinosaur-themed patterns. It has adjustable, padded shoulder straps and an adjustable chest clip.
A large main pocket provides lots of space for your child's snacks and toys, as well as two mesh bottle holders on the side and a front zipper pocket. This backpack is also easy to clean and machine washable.
This is a larger backpack than the previous options. It is able to fit full-sized papers and books, although it is not big enough for a large binder.
Skip Hop's toddler backpack has a number of different adorable styles. Padded, adjustable shoulder straps make for a comfortable fit for your child.
The backpack has an insulated front pouch for snacks and an adjustable mesh bottle pocket. It is easy to clean and has a name tag inside.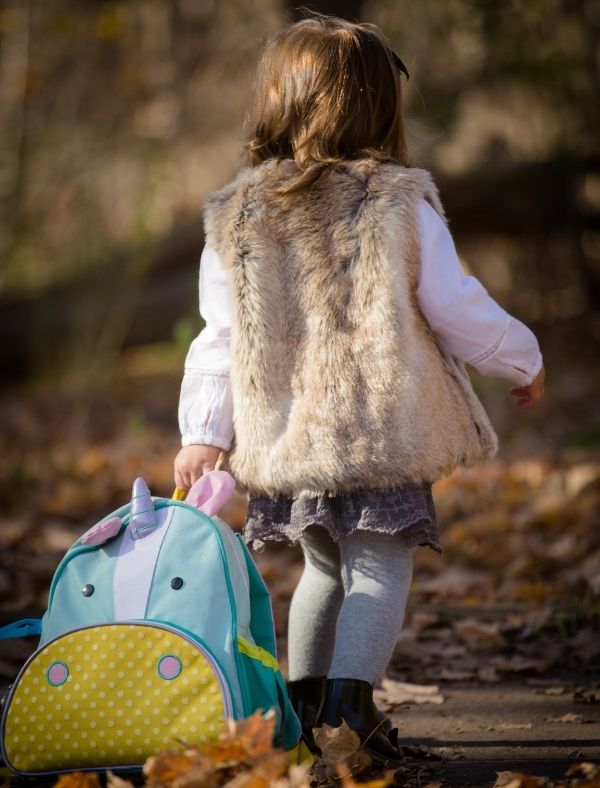 The Mountaintop toddler backpack is another nice option for travel.
Along with comfortable padding, the shoulder straps and back section are made from mesh to allow for air circulation. A chest buckle helps to distribute the weight and keep the shoulder straps in place.
The backpack also two mesh side pockets for bottles, an outside zippered pocket, and a name tag on the inside.
Wheeled Toddler Bag
While technically not a backpack, we included this option for a child who would rather pull their bag than carry it.
This roller bag has a retractable 13-inch handle and wheels, making it a great option for a child travel bag. Because it can be pulled, it is a little roomier than some of the other options and can hold a little more.
Along with the cute zoo design, this bag also has a front zipper pocket and mesh side pocket.
This is the largest of the options we've included, meaning it has lots of room for all your child's travel needs!
Final Thoughts
When you're traveling with a toddler, having the right backpack can make a big difference for your child. All of these backpacks are great options that your toddler will love to carry on your next trip!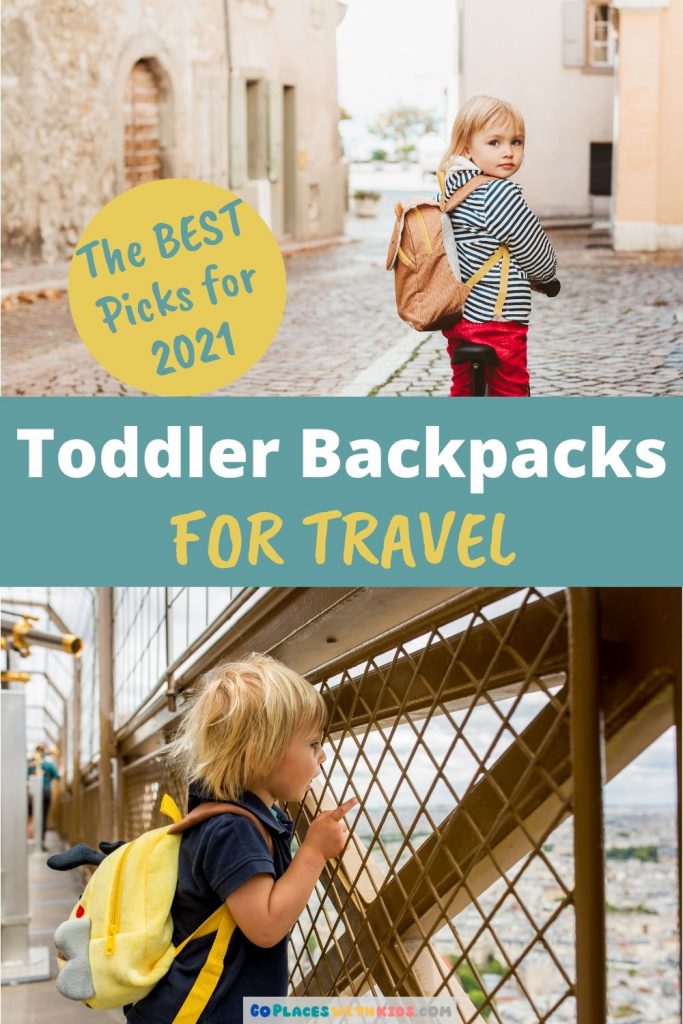 Other posts you might be interested in:
The BEST Toddler Carriers for Travel
6 Easy Steps to Nursing In a Baby Carrier