This page may contain affiliate links, which means that we may earn from qualifying purchases at no additional cost to you.
If you've ever been on a long-haul flight with a toddler you'll understand why good toddler headphones are an essential addition to your plane activity bag.
Toddler headphones provide lots of different plane entertainment options for your child- from music and kids podcasts to shows or movies.
You may wonder – 'Can't any pair of headphones do?' Well, yes…and no. The wrong headphones can cause frustration and discomfort if they don't fit properly, which can result in a very grumpy toddler or even potential harm to a young child's delicate hearing.
Over the course of our travels we've tried many pairs of toddler headphones and we know first hand the challenge of picking a good pair of headphones, and the negative consequences from getting a bad pair!
We've done the hard work for you, combing through and testing the best options available so you don't have to. Stay with us as we explore this must-have gadget for traveling parents—where comfort, safety and sound quality come together high in the sky.
Best overall: iClever Kids Bluetooth headphones
Best Bluetooth headphones: iClever Kids Bluetooth headphones
Best wired option: Snugplay+
Best for comfort/sleep: CozyPhones headphones
Selecting the Right Toddler Headphones for Plane Travel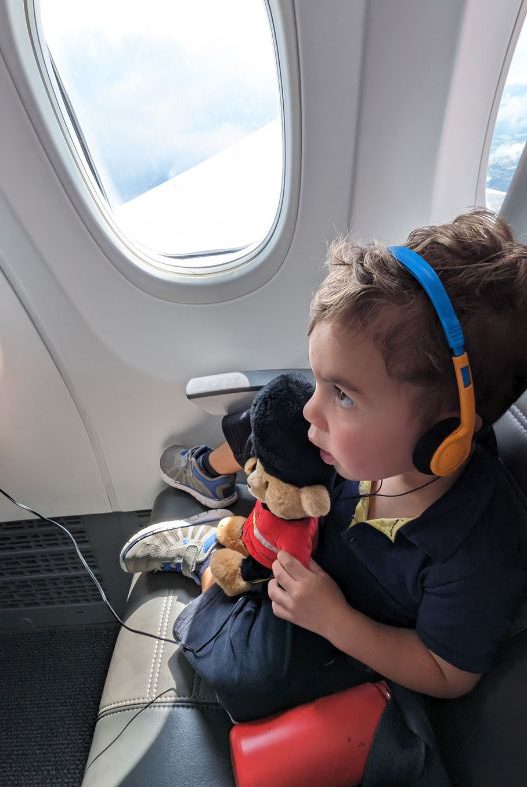 Traveling by plane with toddlers can be quite a challenge. The loud noises and constant motion may overwhelm their young senses. It's during these situations that you realize the importance of investing in a good set of toddler headphones.
While we don't usually have a lot of screen time at home, long flights are one place where we often will embrace the power of the screen. It's a great way to help your toddler stay calm and engaged when they can't run around and participate in active play for an extended period of time.
There are a few factors to consider when picking a pair of headphones for a toddler. Toddlers are more prone to noise-induced hearing loss, which makes it critical to pick out headphones specifically designed for them when preparing for air travel. These devices should not only deliver high-quality sound but also protect your child's sensitive hearing while keeping them engaged throughout long flights.
Kids headphones, particularly those created for toddlers, come equipped with features like volume limiters that ensure safe listening levels regardless of how high the device's volume might be cranked up. This function is invaluable on noisy flights where there could be a temptation to increase the volume excessively.
The Best Toddler Headphones for Air Travel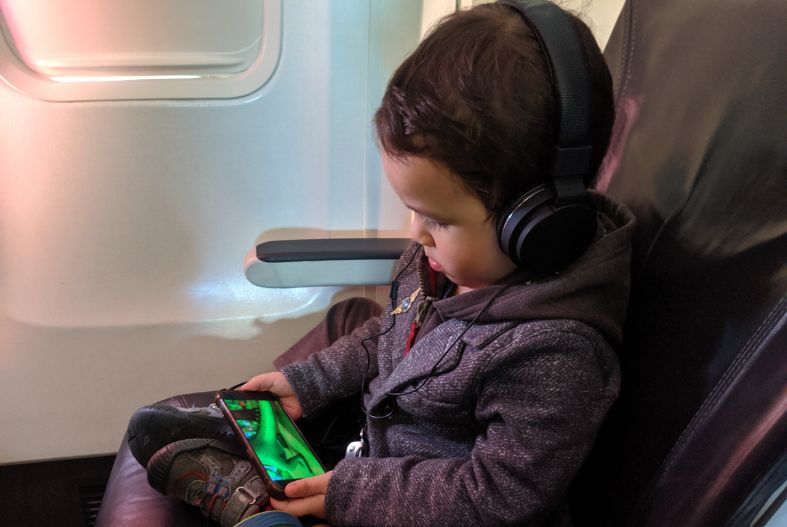 There are many different toddler headphone options for the plane out there, it can be hard to know which is best for your child. We've reviewed the best toddler headphones based on parent reviews and our own personal experience flying with our young children.
Read on for our detailed reviews!
iClever Kids Bluetooth Headphones
One of our favorite sets of kids headphones is the iClever Kids Bluetooth headphones. Durable and long-lasting, these headphones can grow with your child as they get older.
The headphones are fast-charging and the battery lasts for a very long time. We also love that they are Bluetooth enabled, but also come with a cord that can be used to plug the headphones in directly to a viewing device (including most airplane media screens). It's nice to have that option if for some reason the Bluetooth won't connect or if they battery dies.
Another great feature of these headphones is they they have three different volume settings. Sometimes the volume-limiting headphones can be really quite on a loud plane. These have the option of changing the volume limit between 74, 85, or 94 dB.
This allows you to put it on the lowest setting for the youngest of children, but then adjust it louder as needed as your child grows. In order to switch between the setting, you need to use combination keys so there's no risk of your child switching the volume settings on their own.
An adjustable headband allows growing children to achieve an ideal fit without discomfort during extended use. And because it has such a range of adjustments, you can use it for years to come! This is a set of headphones that can be used comfortably by our 2 year old, 4 year old, and 6 year old, making it easy to trade between kids when we travel.
The ears have increased padding for extra comfort and the headphones boast an impressive battery life of up to 55 hours playtime once fully charge.
The main complaint about these headphones is that some users reported occasional connectivity issues. However, we haven't experienced that personally.
Pros
Both wireless and corded option
Long battery life
Adjustable volume-limiting feature (74, 85 or 94dB)
Fast charging
Adjustable headband
Foldable
55 hours playtime
Possible drawbacks
​Can be bulky for small ears
Snugplay+ Kids Headphones
Another popular kids headphone is the Snugplay+. These are wired headphones are lightweight and comfortable, perfect for listening on the go.
A volume limiting feature is built into the headphones to protect little ears, limiting the sound to 93 decibels. The headphones also have soft and cushy earpads to provide a comfortable fit for young children.
And with lots of fun designs to choose from, you'll be able to find a set that's perfect for your child!
The headphones have a built-in audio sharing port so that you can link multiple sets of headphones. Just plug in one side of the headphones to your device and then plug another set of headphones into the other side for a shared listening experience. When you're traveling with multiple young children who want to watch the same thing, this feature can be a game changer!
Pros
Built in audio sharing capabilities
Volume limiting (93 dB)
Many fun designs
Foldable and compact
Possible drawbacks
No Bluetooth option
Small ear piece (this could be a pro if you have a very small child)
FFZ Kids Bluetooth Headphones
Next up are the FFZ Kids Bluetooth headphones. With their colorful design and attractive LED lights, these headphones certainly have a fun factor. But it's not all about looks – they're practical too.
The adjustable headband ensures a comfortable fit while the foldable design makes them travel-friendly.
Because they are quite adjustable, they can be worn by older children as well. Due to their somewhat bigger size, they might not be suited for very small toddlers. However, we've used them for our 2 year old without any difficulty and it's nice to know that they can be used by your child for years to come.
When charged, these headphones can last for 20 hours before needing to be charged again. The headphones have colorful LED lights that can be turned on or off.
There's also a built-in microphone, which can come in handy when your kids get older.
Unlike some of the other options we've reviewed, these headphones do not have a volume-limiting feature, so you'll want to check in to make sure that the volume doesn't get too loud for your child.
Pros
Both wireless and corded option
20 hours of battery
Built-in microphone
Adjustable band
Foldable design
Fast charging
Possible drawbacks
Not volume limiting
Can be big for very small toddlers
Puro BT2200
If you're willing to spend a little more for some extra value, Puro's BT2200s Volume Limited Bluetooth Headphones are a top pick for kid-friendly audio gear. They deliver safe sound levels, excellent quality, and wireless ease – ideal for trips. 
These headphones have a built-in volume-limiting feature. They cap off at 85 decibels, which is recognized by experts as a safe listening level for up to eight hours daily. So if you're planning on long trips or flights with your tots, this feature can help protect those tiny eardrums from harm.
Another area where these headphones shine is the studio-quality sound. Just because they're designed for little ones doesn't mean audio quality has to take a backseat. Even budding music aficionados will appreciate how well sounds are reproduced despite being volume-limited.
Another benefit of these headphones is wireless convenience. The absence of cords means less tangling – always handy when dealing with toddlers who love moving around freely without restrictions imposed by pesky wires during travel adventures.
​When fully charged, the headphones provide 20 hours of listening time or 200 hours of standby power before needing to be recharged.
As an added bonus, these headphones also have a built-in microphone capabilities, which might be useful as your child gets older. They also come with a cable that has an audio splitter so you can listen with two head phones at the same time.
The drawback here is really the price tag. Although these headphones are quite sturdy, some families might not find it worth it to spend so much on a pair of toddler headphones. And like any other set of Bluetooth headphones, there can be some connectivity issues.
Pros
Volume limiting (85 dB)
Great sound quality
Built in microphone
30 foot range
20 hours playtime
Daisy chain sharing
Comes with protective case
Possible drawbacks
Higher price tag
Doesn't fold
CozyPhones Kids Headphones
For an alternative to the bulky over-ear headphones, consider the CozyPhones headphones. These unique over-the-head headphones offer a comfortable and cozy fit for little ones.
The thin headphones are encased in a headband, providing a comfortable option for young toddlers who might resist the traditional headphones. The stretchy headband ensures a snug and comfortable fit for your toddler while also providing longevity as your child grows.
The headphones are volume limiting with a maximum volume of 90 decibels. They are also lightweight and compact, making them easy to pack and perfect for travel.
​After a trip you can easily wash these headphones by removing the speakers and throwing the band into the washing machine.
They also come in many different cute designs, so your child is bound to find a pattern they will love!
These headphones do not have a wireless option, which can be a drawback when traveling with a toddler. However, they do use a standard headphones jack which can be used for most airplane monitors.
Some people also say that they do get a bit warm after extended use because they are fleece.
Pros
Comfortable design
Easy transition to sleep
​Lightweight and compact
Volume limiting (90dB)
Cute designs
Possible drawbacks
No wireless option
Fleece headband can get warm
Nenos Kids Headphones
For a pair of basic wired headphones that get the job done, the Nenos Kids Headphones are a great option.
These cost-effective headphones are sturdy and lightweight. They are also foldable and compact, making them easy to pack for travel.
With a volume-limiting feature that restricts the audio volume, these headphones are built with sensitive toddler ears in mind. They also have cushy ear pads that makes wearing them comfortable for young children.
You can share audio just be plugging anther pair of headphones into these headphones, which can be convenient when traveling with multiple children.
These headphones are on the small side, which is perfect for toddlers, but also means that they won't be able to last as long as your child gets bigger.
Pros
Volume limiting
Foldable and compact
Built in audio sharing
Possible drawbacks
What to Look for in Toddler Headphones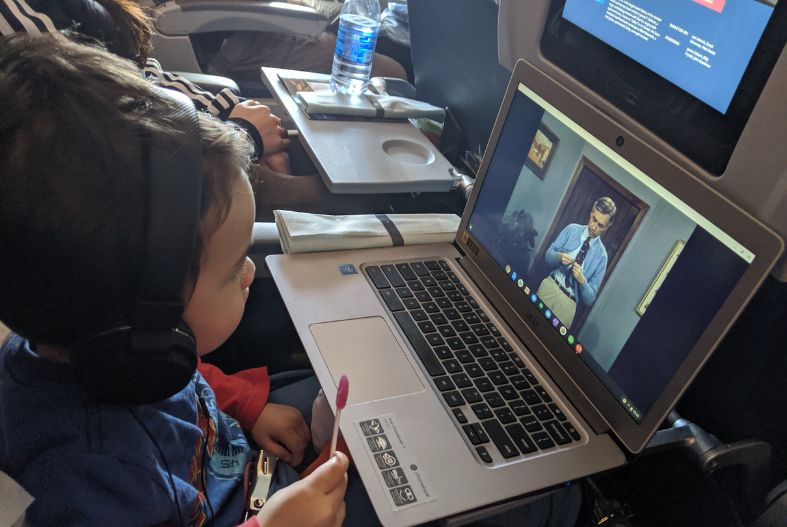 In a world filled with audio stimuli, how do we ensure the safety of our toddlers' ears during airplane travel? It all comes down to understanding the key features to look for when buying toddler headphones. Let's delve into this subject and discuss important aspects such as volume limiting, noise cancellation, comfort and fit, durability, and portability.
Volume Limiting Feature
Kids have more sensitive hearing than adults. Therefore, it is vital that any sound device they use has a built-in volume limit feature. This control mechanism allows you to regulate the maximum volume at which your child's media can play back through the headphones.
This protective measure ensures that there are no unintentional spikes in sound or excessively loud content that could harm young eardrums – especially during long-haul flights where constant supervision might not always be possible.
Noise Cancellation
Apart from regulating volume levels, another significant aspect that enhances overall sound quality is noise cancellation technology.
Noise cancelling reduces ambient interference – think engine hums or cabin chatter during air travel. This allows kids to listen at lower volumes without missing out on content, further safeguarding their delicate hearing.
However, it is important to note that the efficacy of noise-cancelling headphones can vary depending on their ability to reduce both low and high frequency sounds. Some only reduce low-frequency sounds (like engine hums), while others can also cut out higher frequency noises like conversations or crying babies.
Wireless vs Wired Headphones For Toddlers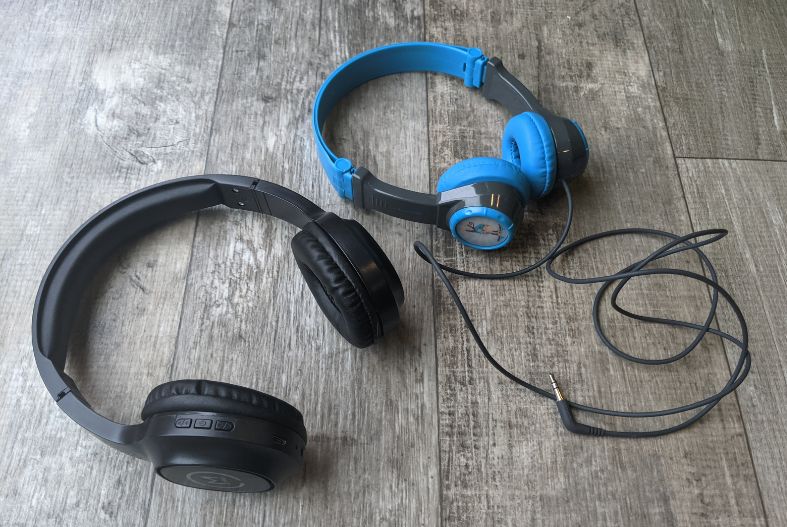 In today's digital age, we have two primary types of headphone connectivity options: wireless and wired. We've used both kinds for our toddlers on the plane, and both come with their own advantages and disadvantages.
Wireless Headphones:
When possible, we prefer to use wireless headphones with our toddlers. These headphones prevent cords from getting tangled around your child and are just easier for younger children to use.
The downside to wireless headphones is that they do rely on battery power, which can run out during lengthy flights if not managed correctly. They can also sometimes experience connectivity issues which can be frustrating for a toddler to understand and accept.
Wired Headphones:
The wired variety of headphones doesn't face any battery constraints making it generally more reliable in terms of connectivity. You don't have to remember to charge your headphones before a flight, they're always ready to be used.
Wired headphones can also typically be used with the screens on most planes, allowing your child to watch in-flight movies and shows provided by the airline.
However, wired headphones come with their own set of challenges such as potential tangling or pulling issues that could lead to discomfort or damage. It can be very be a little obnoxious to have to constantly adjust the cord as your toddler wiggles and moves all over the place, as toddlers often do.
We've reviewed both options so that you can decide which headphones are best for your child. Our favorite headphones are Bluetooth headphones that have a wire option so you can choose to use a cord or the wireless capabilities, depending on the child and the situation you're in. This provides most of the best features of both options.
Comfort and Fit
Obviously one of the most important features in picking a good pair of toddler headphones is comfort. You want a pair of headphones that fit your child well and stay on when their wearing them.
Look for adjustable headbands that grow with your child and cushioned ear cups to protect their sensitive ears. Don't get lost in the tech specs – prioritize comfort first. Also remember to consider sound quality and volume limiters, ensuring a safe yet enjoyable audio experience.
Cushioned ear cups are another crucial component on our quest for maximum comfort. These soft additions enhance sound quality by creating a better seal around your toddler's ears while offering much-needed gentleness during extended use.
This is particularly beneficial during air travel where cabin pressure changes can cause unease among toddlers. With cushioned ear cups, such issues are mitigated, allowing them uninterrupted access to their favorite tunes or show throughout the flight.
We've had the experience of flying with headphones that weren't a good fit, which led to lots of meltdowns from our tired toddler. This is something that you'll want to check before you get on the plane. Have your child try on and use the headphones so you can get a sense of how that pair of headphones are going to work for your child before you're stuck on a flight with no other options.
A comfortable headset ensures happy travels free from any tantrums induced due to discomfort – making everyone's journey peaceful.
Durability
We all know that toddlers aren't exactly easy on their stuff, so durability it a must. You'll want a pair of headphones that are sturdy and can handle being manipulated by little hands.
A flexible and durable band guarantees longevity by resisting common damages caused by twisting or bending – something inevitable when gadgets land in little hands.
There's nothing worse than having a pair of headphones break in the middle of your flight.
Headphone design
When selecting a pair of headphones for your toddler, looks aren't everything, but they don't hurt either. If possible, select a pair of headphones with a color or design your child likes. This is a small thing that can make your child more excited to wear their headphones on the plane. Some headphones even come with stickers or other methods of customizing the headphones to your child.
Beyond aesthetics, there are also a few different structural designs of headphones as well. For example, some children might prefer a headband-style pair of headphones. These headphones have a thin and flexible speaker and are great for kids who don't like bulky headphones.
They are also convenient if you have a child who can fall asleep watching shows or listening to music, because they can lay down comfortably and transition easily into a nap while wearing the comfortable headband.
Tips for Using Toddler Headphones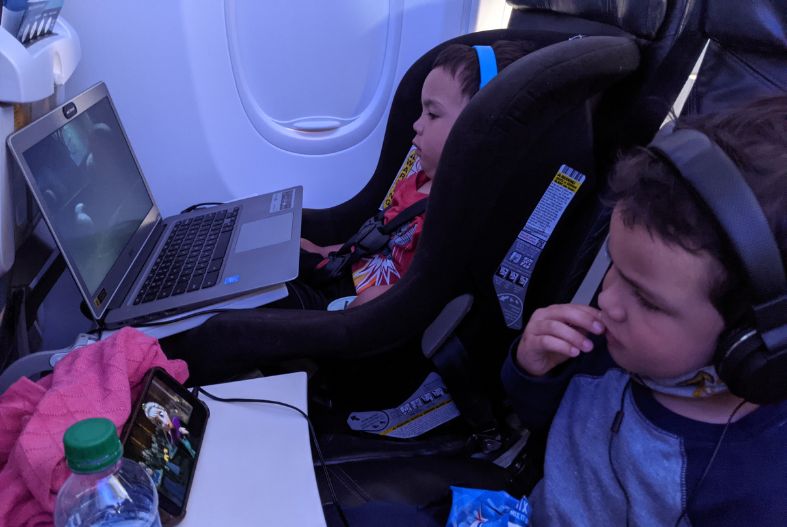 Test the headphones beforehand
Before the flight, be sure to have your toddler practice wearing their headphones at home. This helps you to know if the headphones you've selected will be a good fit for your child and if your child finds them comfortable.
Show your child how to put the headphones on and adjust them for the best fit.
If your child isn't used to wearing headphones, have them watch a favorite show wearing them so that they can get familiar with the experience before they're in the new and often overstimulating environment of the plane.
Prepare in advance (charge wireless headphones, download shows, etc.)
Be sure that you've thought ahead to what you'll need to successfully use your toddler headphones on the plane. This includes charging wireless headphones, bringing any charging or connection cords you might need with you, and downloading shows and movies to your tablet or phone in advance.
This will ensure that you are ready for a smooth experience once you get on the plane.
We've forgotten to download shows in advance and it was not a pleasant experience for any of us!
Take breaks
Encourage your child to take periodic breaks from watching shows and using their headphones. This is good for their eyes and hearing and can prevent them from getting too hyperfocused on screens, which can actually reduce meltdowns.
Take a break to eat an airplane snack, play with some other awesome airplane activities for toddlers, or walk up and down the aisle for a few minutes.
FAQs: Best Toddler Headphones for Plane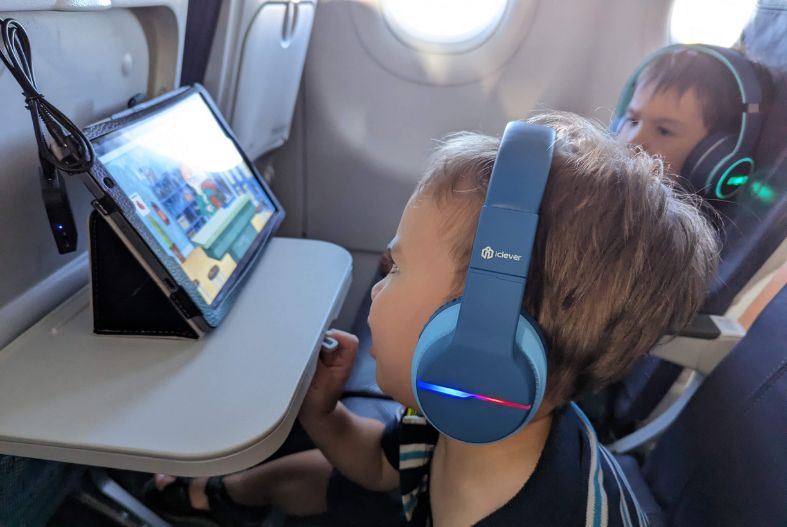 Should toddlers wear headphones on a plane?
It's really up to you if you want to bring headphones on the plane for your child. In our experience headphones can be a great way to keep your child entertained on long flights as it allows them to comfortably watch shows or listen to music. This can really help the time go by more quickly.
Toddler headphones can also help to protect your child's sensitive ears from loud noises and reduce the stimulus from the many noises on the plane.
What are the best noise-cancelling headphones for kids on planes?
Most of the headphones in this article provide some noise cancellation, which is useful for blocking sound on the plane. Probably the best on this list in terms of noise cancellation is the Puro Sound Labs BT2200s Volume Limited Bluetooth Headphones which have passive noise cancellation blocking out 83 percent of ambient sound when worn.
If you're looking for headphones that don't provide audio, but are solely noise cancelling, you might want to consider a pair of headphones like the Snug Kids Ear Protection Headphones.
What are the best headphones for infants on planes?
When selecting head phones for an infant, you'll definitely want to make sure that they are volume limiting to protect their developing ears. You'll also want to focus on a set that is very comfortable so that they don't bother your child and they don't pull them off all the time.
The CozyPhones Kids Headphones are a good option for infants because they offer a snug fit with gentle sound output suitable for infants' delicate hearing.
Can 2 year olds wear headphones?
Two year olds can absolutely wear headphones! You'll just want to ensure that they have the features that make them ideal for toddlers, such as volume limiting to protect young ears and a snug fit so that they don't slide out of place.
Final Thoughts
Taking a flight with an infant can be intimidating for any parent, and the use of toddler headphones specifically designed for plane travel may help alleviate some stress.
The best toddler headphones for plane travel could just be your saving grace. These gadgets not only provide entertainment but also protect your child's hearing while ensuring comfort during long-haul flights.
We've explored why choosing the right pair matters – from volume control and sound quality to fit and durability. Each factor plays a crucial role in keeping those little ears safe and happy miles above ground level.
And remember, it's not about grabbing any headphone off the shelf; it's about finding one that suits your child perfectly without compromising their health or comfort.
Your next flight doesn't have to be filled with dread or anxiety over how you'll keep your little one entertained quietly and safely.
Hey, at Go Places With Kids, we're passionate about making your family trips a breeze and packed with fun memories! Found this guide handy in hunting for the top toddler headphones for plane rides? Awesome! There's heaps more useful stuff waiting for you.
Other posts you might be interested in:
The Ultimate List of Toddler Travel Essentials (+Toddler Packing List!)
21 Airplane Toys and Activities Your Toddler Will LOVE!