This page may contain affiliate links, which means that we may earn from qualifying purchases at no additional cost to you.
When traveling with young kids, great travel activities are essential for keeping your child entertained and engaged during long car rides, flights, or downtime at hotels.
Travel activities can also help families to have a more enjoyable and relaxed trip as it will keep kids entertained and parents can have some time to relax.
And at 3 years old, kids are finally getting to the point where they can sit still and focus on an activity for a little longer!
We've had some really amazing travel experiences with our 3 year olds, especially when we've brought some awesome travel toys to keep them entertained.
In this article we'll share some of our very favorite travel toys for 3 year olds that we know your child will love!
The best travel toys for 3 year olds
When looking for the best travel toys for 3 year olds, it can be hard to know exactly what to get that will keep your child's attention. But you don't want to waste precious packing space with activities that your child isn't going to love.
With this list of travel activities, we've included travel toys that we know 3 year olds will return to over and over again, so you can maximize the benefit from the activities you choose to bring!
Trucks and pom poms/road tape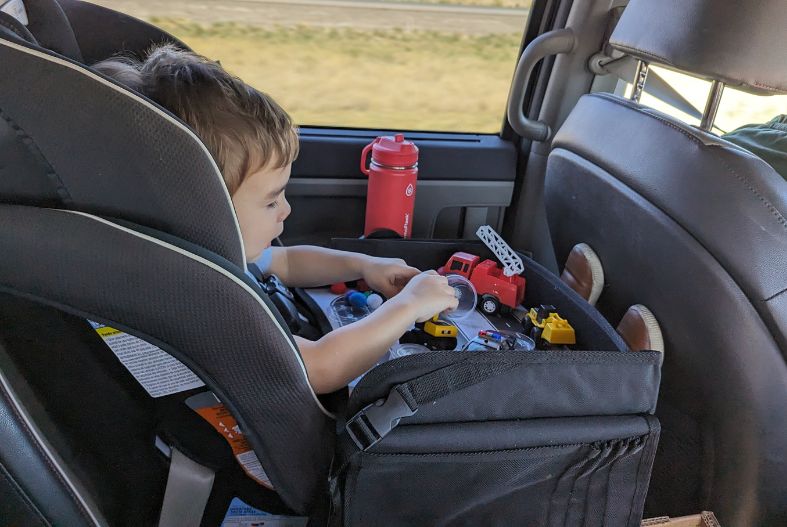 At 3 years old our kids have all loved playing with trucks, so we've found creative ways to turn that into an activity while we're traveling.
We really like the small CAT trucks because they are sturdy (ours have lasted years of rough treatment from our toddlers), but also have working parts so that you can drive them and use the scoopers and dumping features.
When we travel, we'll pack a few trucks in a bag with some pom pom to use as rocks to move around with the trucks.
Another fun addition is road tape, which can be used to make roads and tracks for the trucks to drive on on the tray table or travel tray.
We try to switch up our activities between trips, but this is one that almost always makes that cut because of how well loved it is by our kids!
Lacing cards
Lacing cards are a way to engage kids in using fine motor skills as they thread the string through the holes in the card.
Three is a perfect age to use lacing cards because they have the coordination to complete the lacing and it's still novel enough to keep their attention.
It's also easy to pack a couple of lacing cards when you're traveling because they are so compact and lightweight. And then you're ready with a fun activity whenever your child needs one!
Melissa and Doug pet travel playset
The Melissa and Doug Pet Travel Playset is an interactive toy that kids will want to play with over and over again.
The set comes with a stuffed cat and dog, a carrying case, a leash and harness, a food and water dish, and more! This is such a fun activity for you kids, who will love watching over and taking care of their little pets.
Plus it is lightweight and doesn't take up too much space. It's easy to pack everything up in the carrying case and transport it with you wherever you go.
Drawing tablet
As young children start to get more into drawing, a drawing tablet can be a way for them to express their creativity on the go.
A drawing board provides endless opportunities for writing and drawing because when you're done you can just clear the screen and start over!
Our 3 year old looooves his drawing board and it has been an ideal, lightweight travel activity for him.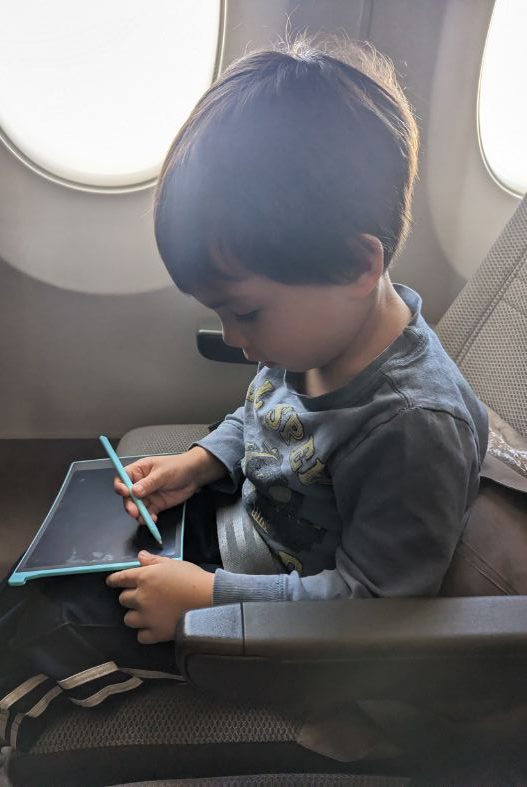 One recommendation I would make is to get a drawing board that has the option to connect the stylus to the board. The original drawing boards we purchased did not have that feature and we were constantly losing the drawing pens, which was very frustrating to our children (and to us!).
Wipe clean book
Combine learning and fun with a wipe clean book for your child! Wipe clean books are an ideal way to introduce your child to writing as they learn how to trace the lines in the book with a dry erase marker.
And once you've completed an activity you can wipe off the marker and start over again!
The Usborne wipe clean books have been a favorite of my children for years, especially because there are a variety of books to choose from, so they are good for a broad range of children.
Wikki stix
One of our go–to travel toys for 3 year olds is Wikki Stix. These wax sticks can be bent and folded into endless shapes and figures.
This is a great open ended toy that allows kids to use their creativity and keep their hands and minds active.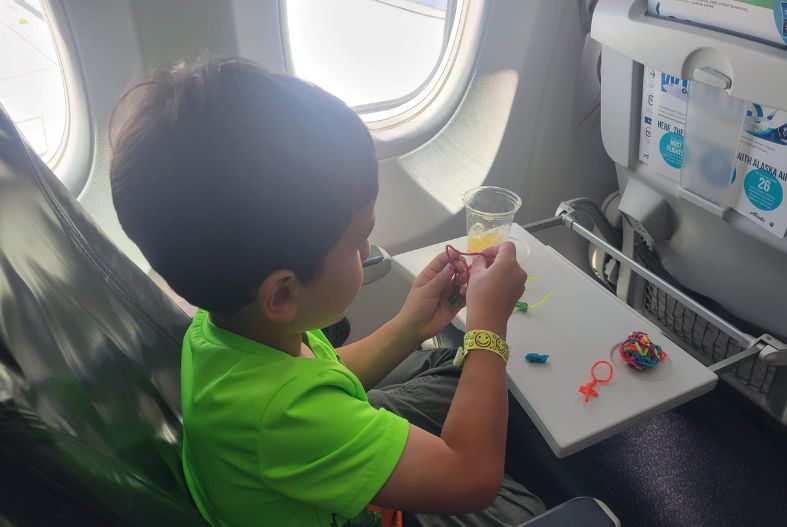 The possibilities are endless here, kids can craft pretty much whatever they can think of. And the sticks don't break or dry out, so you can reuse them over and over again.
We've had our original set for over five years and they're still going strong!
MagMen
These stretchy little MagMen are a fun and silly toy that 3 year olds love!
The little figures are flexible and have magnets on their hands and feet so that you can attach them in all sort of interesting arrangements. If you can find other magnetic items to stick them too you can expand your options even more.
There are all sorts of ways to play with these little magnetic people and your child will undoubtably find their own creative ways to use them. These are fun to play with by kids of all ages (and adults like them too!), so you'll get some longevity out of them as well.
Just be cautious about using with a child that still chews on toys at all, because you don't want them to end up swallowing the magnets.
Coloring book
Many kids at this age are starting to love coloring, so a coloring book can be a great addition to your travel activities.
If possible, try to find a book with pictures that interest your child, whether it's a coloring book based on a favorite show or something that specifically interests them, like construction trucks or jungle animals. This will make your child more excited to use their coloring book on your trip.
Also be sure to pack some triangle crayons for them to use with their coloring book. These crayons are great for travel because they don't go rolling off of whatever surface you set them down on. As you can probably imagine, this is super helpful when traveling- especially with a young child!
WaterWow!
The WaterWow! Activity Pads never fail us as a travel activity.
Using the water pen, children can draw on the page to reveal the colorful picture hidden underneath. And the best part is, once it dries it's ready to be used again!
All you need is a little water to fill the pen and you're ready to draw! And there are sooo many different types of WaterWow! Pads to choose from, so you know you can find something to suit your child.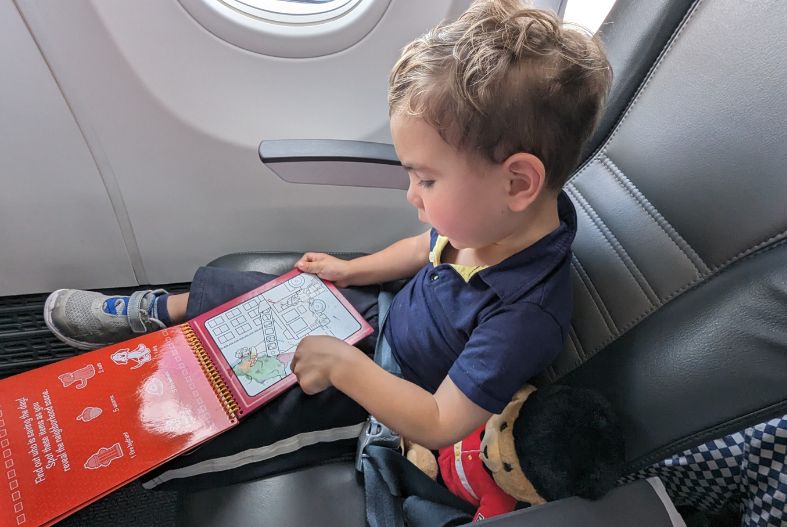 For our most recent trip, this was one of our 3 year olds very favorite activities that we brought. He returned to his WaterWow! Pad again and again throughout our trip. And it was perfect to pull out for him to work on in the stroller while we visited museums and castles. He got to do a fun activity and we had a few minutes to explore in peace.
Sticker book
I don't know what it is about stickers that is so endlessly entertaining to young kids, but it just seems to be a reality. Harness that interest by bringing along a sticker book!
There are a lot of fun sticker books out there that are perfect for 3 year olds and provide engaging stickers and fun activities for them to complete.
One great option for this age is the Usborne Little First Sticker books. The books contain over 250 stickers as well as cute and colorful scenes to place them on. They also come in a variety of themes, such as farm, pets, dinosaurs, diggers and cranes, unicorns, and more.
Alphabet magnetic tracer
Another perfect travel toy for 3 year olds is an alphabet magnetic tracer. The board comes with a stylus that can be used to trace the letters. As you trace, the magnetic beads pop up in a satisfying way that kids really love.
One side of the board has capital letters and the other has lowercase letters so that your child can practice both forms of letters.
The board is lightweight and the perfect size to bring along when traveling. And it's a great way to help your child work on their writing skills while also having fun!
Tegu blocks
Another travel toy that is always a hit with our 3 year old is Tegu blocks. These are chunky magnetic blocks that can be connected to build a variety of small shapes.
I'm always surprised at how much our kids love this activity because it doesn't seem like there is that much to do with just a few blocks, but I can attest that it is definitely a hit with the younger crowd.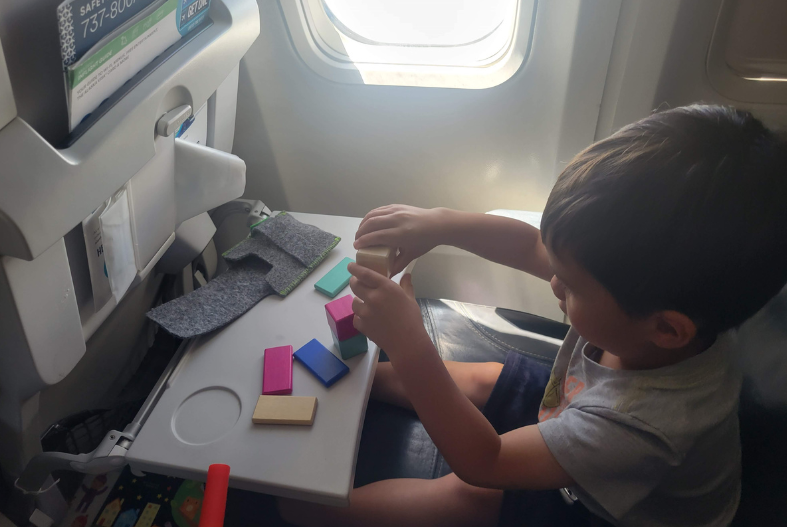 This is a toy that will usually make its way into our travel activity bag. And it packs well because it's small, lightweight, and comes with a convenient travel case.
Melissa and Doug wooden town vehicles or train
A fun travel toy for 3 year olds who love vehicles are the wooden town vehicle set or the wooden train set by Melissa and Doug. Both of these sets have little vehicles that can be used by a creative child to engage in all kinds of interactive play scenarios.
The vehicle set includes common vehicles found around a town, such as a garbage truck, police car, bus, firetruck, etc.
The train set comes with magnetic train cars that can be linked together to form a long train. Both are great options for travel toys because they pack up compactly and don't take up too much space.
Cookie sheet with magnets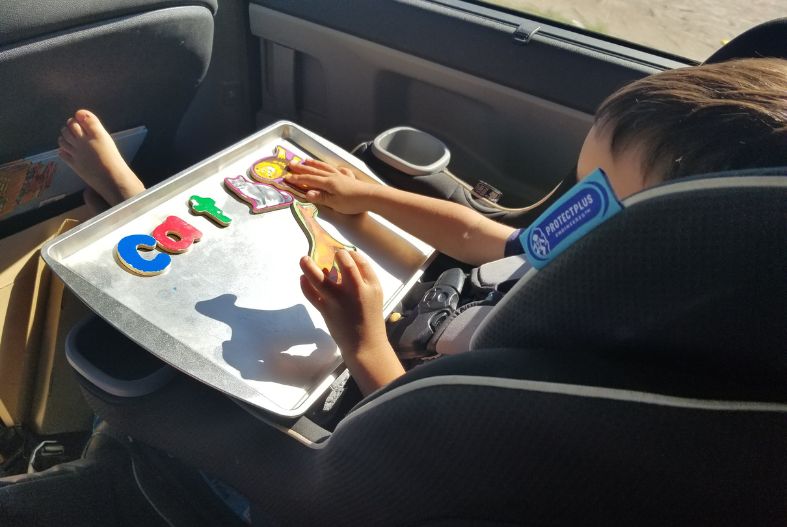 If you're traveling by car, consider bringing along a cookie sheet and some magnets. The magnets stick to the cookie sheet and your child can have a lot of fun sorting, arranging, or practicing spelling with the magnets.
There are a lot of different options for magnets, including letters, animals, trucks, etc., so find ones that appeal to your child and will keep them engaged.
This isn't an activity that we would bring on a plane because it just takes up too much space, but our 3 year old has really enjoyed it for road trips.
Magnetic activity tin
Magnetic activity tins are a great self-contained activity for young children. The set comes with a background scene and a variety of magnets that can be stuck to the tray to interact with the background.
This is a nice compact activity to have on hand for all sorts of travel situations, whether it's flying on the plane, eating at a restaurant, or traveling in the car.
I recommend having a small plastic baggie to put the magnets in while your child isn't using them, otherwise the scene can become too crowded and your child might feel overwhelmed.
Puzzles
If you have a puzzle-lover in your house, bringing along a couple of small puzzles on a trip can be a great activity to keep your child entertained.
Our 3 year old is obsessed with puzzles, so this was always a perfect way to entertain him in the car, on the plane, or at our hotel when we travel.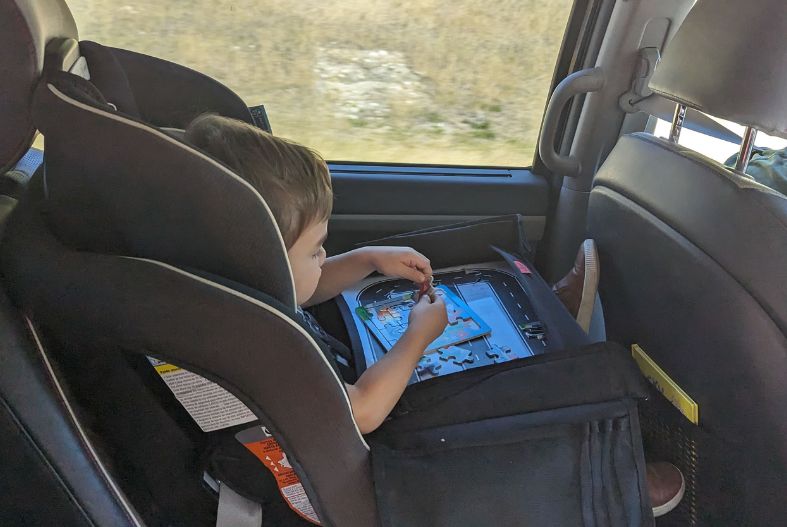 We love these 16-piece puzzles because they are small enough to easily complete on an airplane tray table or a travel tray in a car, but complicated enough to keep our 3 year old interested. They also each come with a little case so that you can keep all of the pieces together.
Usborne Sticker Dolly Dressing Book
Another fun sticker book option are the Usborne Sticker Dolly Dressing Books. These books contain hundreds of stickers that can be used to dress the figures in the books.
Kids will love adding clothes and accessories to the various characters located throughout the sticker book.
There are many different book themes to choose from depending on your child's interests, including princess, sports, unicorn, on vacation, and more!
Fidget popper
A fidget popper is not only a fun activity for young kids, it can also be a calming experience. While popping the buttons is quite satisfying, it has also been shown to reduce anxiety in some adults and children.
As such, it's a great addition to travel activities because travel is definitely a time when we could all use a little stress relief!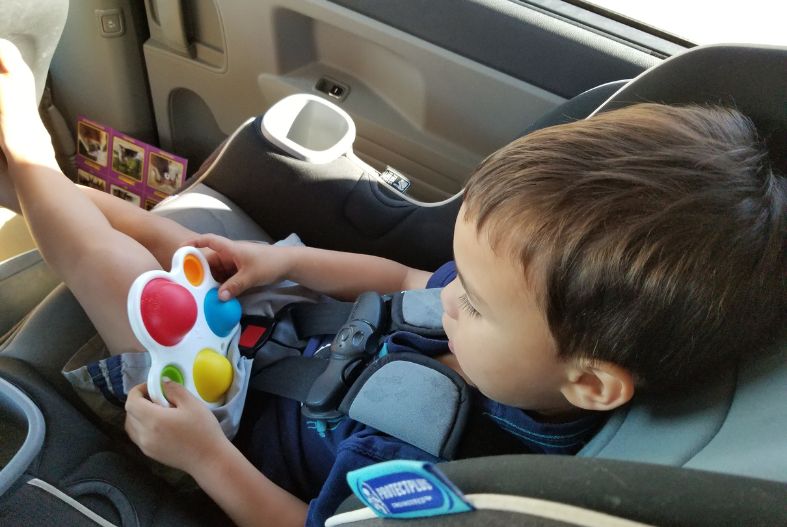 There are a lot of different designs of fidget poppers, so you can look around until you find one that suits your child.
Animal/character figures
For some creative play on the go, bring along a few figures for your child to play with.
That might be small animal figurines or characters from their favorite show. Think about your child's interests and choose something that you know will appeal to them.
It's an added bonus if you choose a figure that actually does something as well. Some of our son's favorite toys are his rescue bots because they transform from robots into trucks, providing endless entertainment.
Books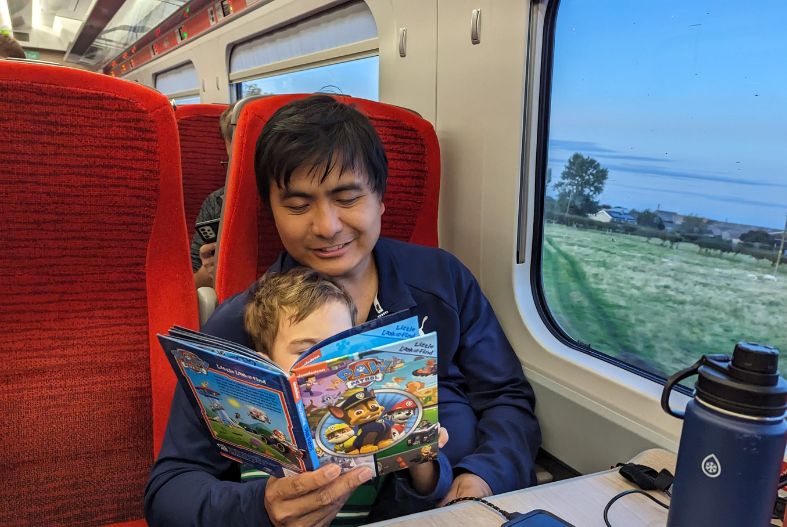 When planning travel toys for your 3 year old, don't forget about books! This has always been a great activity for our boys because they always want to read the same books over and over again.
The key here is to get a few high impact books. Either choose books that your child loves and wants to read a million times or a book that has something new to offer each time you read it. A great example of this is a look and find book, where there are so many things to look for on each page.
Our son is in a Paw Patrol stage, so on our last trip I found a Paw Patrol look and find book for him. Let me tell you, we definitely got our money's worth out of that one! We must have read that book fifty times over the course of our two week trip to Europe.
Another favorite of ours is Richard Scarry's Cars and Trucks and Things that Go because there is so much to look at on every page and our kids never get bored while reading it!
Washi tape
A simple activity that many 3 year olds love is washi tape. This is colorful or patterned tape that can be used to decorate pieces of paper or attach to the plane's tray table or their travel tray in the car.
Most kids will get a kick out of ripping off pieces of the colorful tape and sticking it everywhere. And it comes off easily when it's time to leave so that you don't leave a mess behind.
Scratch art
Scratch art is a fun way for kids to create bright and colorful drawings. The set comes with a wooden stylus that can be used to scratch the back surface coat off and reveal the colorful design underneath.
Drawing feels even more exciting when it reveals a vibrant rainbow underneath your design! These are really fun to do with stencils as well.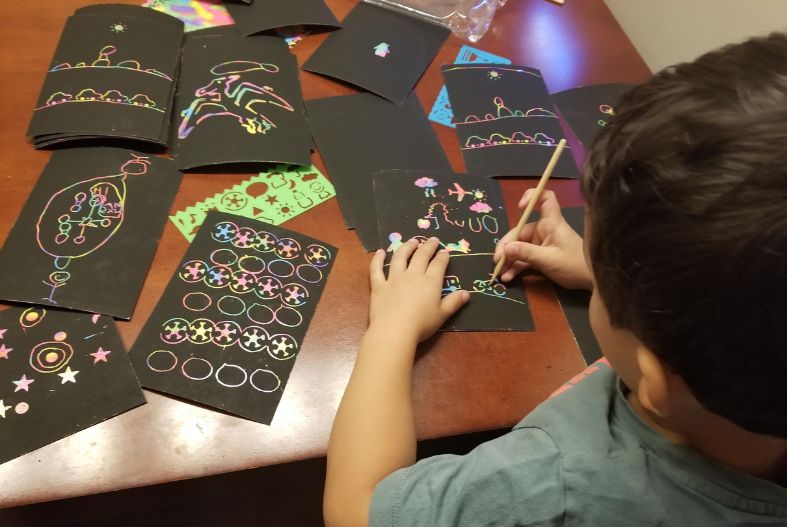 This does create some residue as the black top coat is scratched off, but we never felt like it was enough to create a big mess while it's being used.
Our 3 year old never gets sick of doing scratch art!
Highlights Hidden Picture Sticker Puzzle books
For another fun activity book for young children, consider the Highlights Hidden Picture Sticker Puzzle books.
Each picture has a variety of objects for children to find. When they find it, they can put the corresponding sticker over the hidden object.
And because the pages are black and white, they can color the pictures for an added activity when they're done finding the hidden pictures.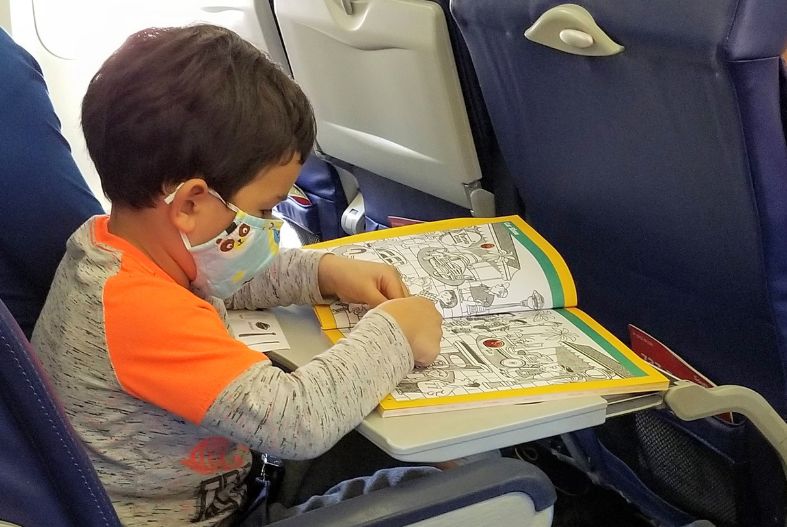 This is a great activity for kids who like search and find books and sticker books. It's something that can keep a 3 year old's attention for a long time!
And the books are lightweight and easy to pack while traveling.
Froogly Suction Toys
Froogly Suction Toys promote creativity as children find unique ways to attach the pieces to build fun shapes and structures.
The set comes with 25 pieces in 6 different shapes, allowing for many different ways to attach them. The suction cups stick to airplane windows and tray tables, walls, and pretty much any smooth surface. This makes them a great activity for keeping kids distracted and entertained during travel.
And because they are so lightweight and compact, it's easy to have them on hand whenever your child needs something fun to do.
They also come with an handy bin for storage, although for travel I would just put them in a bag instead to save on space and make them easier to pack.
Tablet and headphones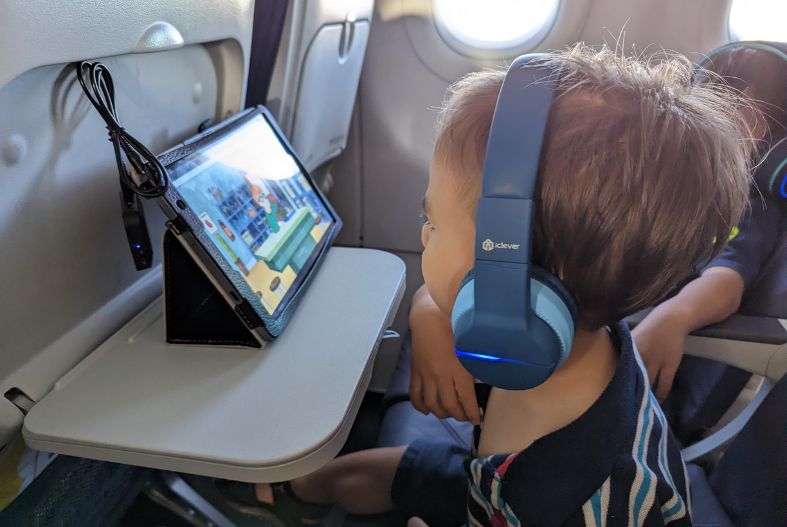 While this isn't exactly a toy, screen time can definitely be a useful tool when traveling with a 3 year old. Sometimes watching a show or movie can be exactly what your child needs to stay calm and avoid a meltdown during travel. So we sure to bring a tablet and pair of headphones if you want to have that option on your trip.
Just remember to download some shows or movies in advance to avoid frustration after you get on the plane or on the road.
Another great use for headphones is to listen to music or podcasts. When our oldest was three, listening to kids' podcasts was one of his favorite travel activities.
Our favorite set of headphones for 3 year olds are the iClever Bluetooth Kids Headphones. They are Bluetooth but have a wired option so you can have the best of both worlds. They are also fast charging and have a very long battery life.
Final thoughts
While traveling with young kids always comes with its own challenges, traveling with a 3 year old can be a lot of fun, especially if you have some awesome travel toys to help out.
Three year olds are at a nice age where they are starting to develop a longer attention span, so the right activities can hold their focus for longer.
Now that they are leaving the toddler years, you can really start embracing the quality over quantity approach and try to pick just a few high impact travel toys to keep your 3 year old entertained during your trip.
The travel toys and activities on this list were carefully selected with 3 year olds in mind, so you have a lot of great options to choose from.
We've traveled with three kids in this age range and we've had a lot of experience finding awesome travel activities to keep our kids engaged during travel.
Pick out some great travel toys and you're well on your way to an awesome trip with your 3 year old!
Other posts you might be interested in:
The Best Travel Toys for 2 Year Olds!