This page may contain affiliate links, which means that we may earn from qualifying purchases at no additional cost to you.
In recent years, the Tegallalang Rice Terraces have become an iconic symbol of Bali.
Located in the Ubud region, the picturesque rice terraces have long been celebrated for their captivating landscapes and cultural significance.
Every year, this UNESCO World Heritage Site draws tourists from all over the world to tour the stunning rice terraces. And to take some pretty spectacular pictures!
The reality is that in recent years the terraces have become increasingly popular and increasingly crowded.
However, in our experience a visit to the rice terraces is still an incredible experience to have while in Bali, especially if you plan ahead to avoid the crowds.
We had a fantastic time visiting the rice terraces with our three kids, especially trekking through the rice fields. We were pleasantly surprised to find that it's possible to have some really peaceful, solitary experiences in the terraces if you know how to look for them.
In this guide we'll share everything you need to know to make the most of a visit to Tegallalang Rice Terraces.
What to expect on a visit to Tegallalang Rice Terraces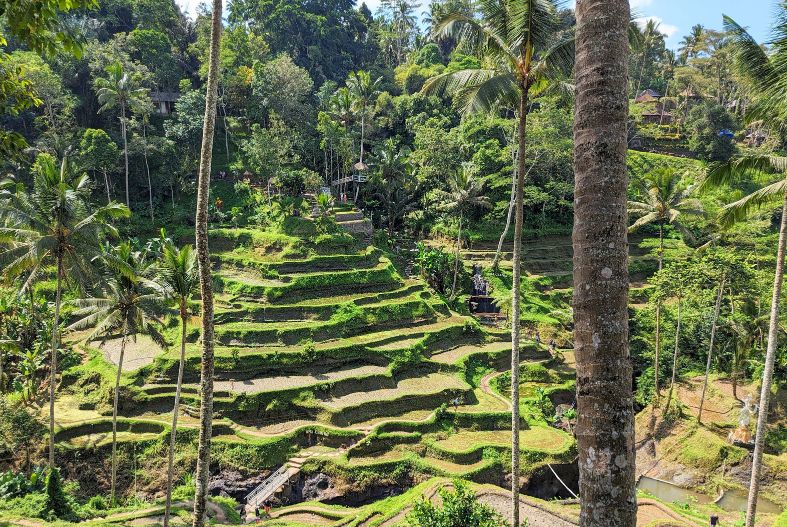 The Tegalalang Rice Terraces offer a breathtaking landscape of tiered rice paddies carved into the lush hillsides.
The fields are known for their use of subak, a traditional irrigation system and cooperative farming method that has been practiced for centuries in Bali, Indonesia. It is a unique water management system developed by the Balinese people to ensure the efficient distribution of water for rice cultivation while fostering a sense of community and maintaining spiritual harmony.
The fields are incredibly photogenic, which is one of the main draws for tourists visiting the area.
Below we'll walk you through exactly what to expect on a visit to the Tegallalang Rice Terraces.
Hours
Technically the Tegalalang Rice Terraces in Bali do not have specific opening or closing hours, as they are outdoor landscapes that are accessible to visitors throughout the day.
However, most of the companies that provide access to the area, along with the swings and photo spots, are open between 7am and 6 pm.
When to visit
The best time to visit the rice terraces is before they are harvested when they are the most lush and green.
Harvesting usually takes place between April and May and October to November each year. As such, you'll usually see the fields at their most green between March and April or September and October.
Entrance to the rice terraces
There is not one single entry to the rice terraces, but instead there are several access points along the rim of the terraces.
Most of these entries are managed by companies that will offer picture packages to use their photo opps and swings. Often there will be a cafe or restaurant on site as well.
The largest of these is called Uma Ceking and that's where your driver will likely take you if you just ask to go to the rice terraces.
At Uma Ceking you can pay 50K IDR in order to trek through the fields, however you can trek for free if you purchase any of their photo packages.
While Uma Ceking is the largest and most developed area with swings and photo opps, it is not the only one. If you walk along the main street you can check out the other areas and see which one has the kinds of photo opps that you're looking for. 
Swings and photo opps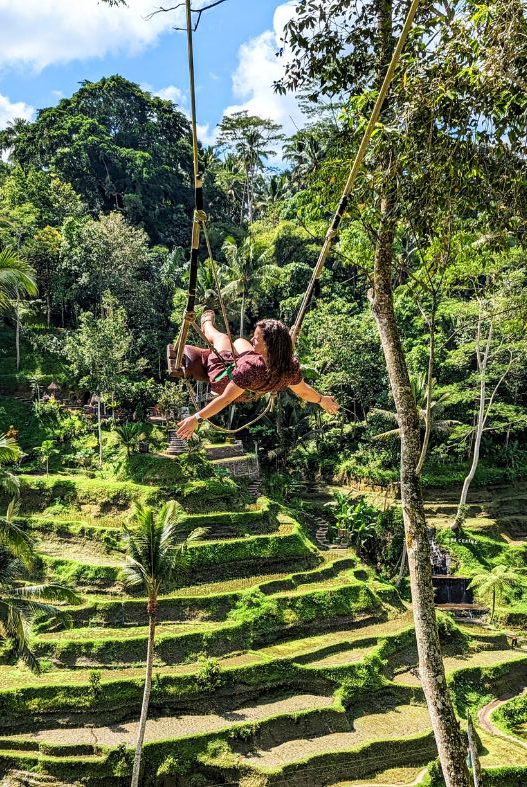 One of the big draws to the rice terraces is a chance to experience the swings and take pictures at the Instagram-able photo spots.
For different prices, you can purchase access to the swings and other photo opps located around the rim of the terraces.
At Uma Ceking the basic swing package, which includes one time on the single swing and access to all of the photo spots and the rice terraces, is 200K IDR (about $13 USD) per person.
They even have clothing rental available if you want that iconic picture swinging over the fields with a vibrant dress trailing behind you.
And there are some other experiences available, like a zipline and a skybike.
The swings and photo opps are definitely touristy, but I have to admit that they were more fun than I thought they would be. Our kids loved the birds nests and we got some great family pictures with the gorgeous terraces behind us.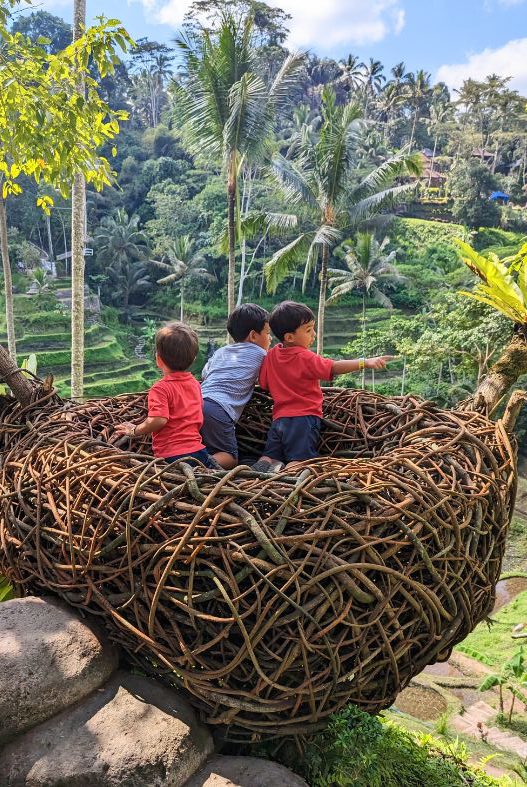 If you purchase a swing experience, you'll be given a number that holds your place in line. You can take pictures at the other photo spots while you wait for your number to be called. I had to wait probably about 20 minutes for my turn on the swing.
The swing itself was actually much more fun and exhilarating than I thought it would be. The people who work the swings really send you flying and know exactly how to get the best pictures of your swing experience. And I have to say, it really does feel pretty magical to be soarding high over the rice terraces.
One thing we didn't realize is that there are actually more swings and similar photo opps on the opposite side of the rice terraces, which you will come across if you trek down into the rice terraces and up the hill on the opposite side.
These swings are run by a different company and were actually less expensive and had absolutely no line. So just know that this is an option if you do decide to do the hike to the other side.
Trekking through the paddies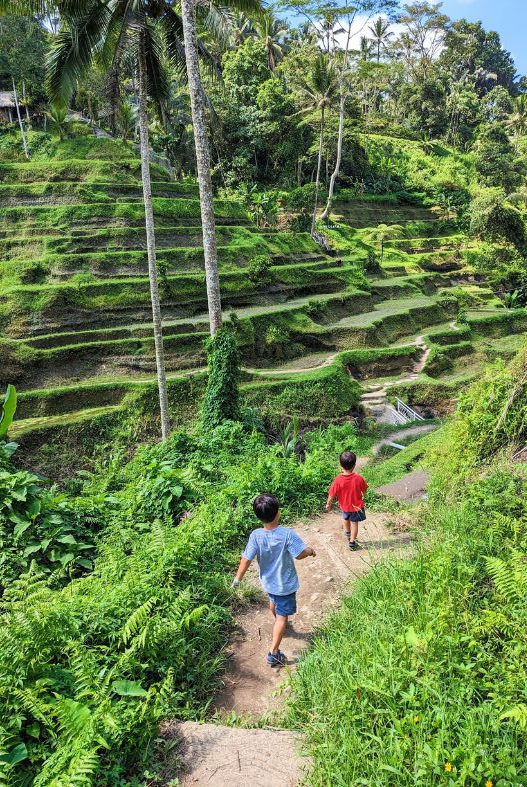 While the photo opps were fun, by far our favorite part was hiking down into the rice fields. It seemed like most people were there to take pictures near the rim, so the further we got into the fields the less people there were.
Finally we were able to have the peaceful nature experience that we had been hoping for. We loved seeing the rice fields up close and had a great experience exploring the area.
There's a rough trail that you can follow through the fields which takes you up to the ridge on the opposite side for some really lovely views. You can spend a couple of hours hiking through the fields, depending on how far you want to go.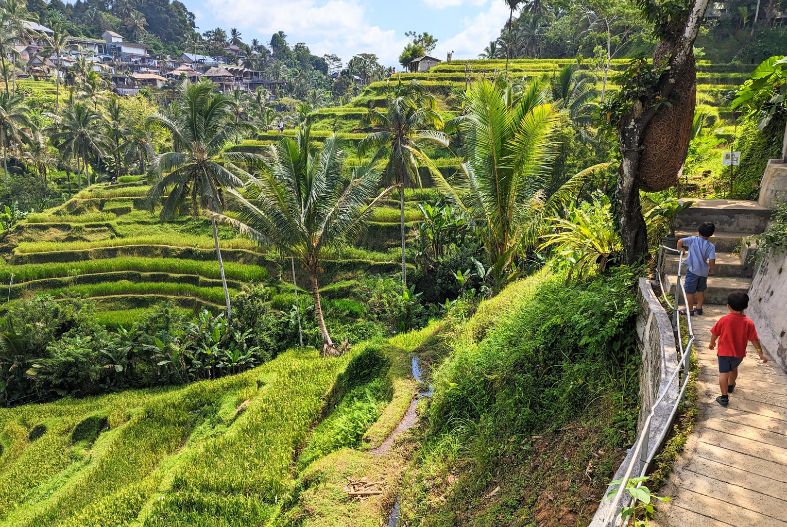 On the opposite rim there are a few small shops where you can stop for a drink if you need a bit of refreshment, along with the swings I mentioned above. But overall, this side is pretty deserted, especially when compared to the entrance.
Be aware that these are working rice terraces, so respect the farmers and avoid making their lives more difficult or stepping into the actual rice paddies. Also note that the ground can get quite muddy, so wear appropriate footwear.
Food
If you want to have a bite to eat while you're there, you can find restaurants and cafes along the side of the road that offer scenic views of the rice terraces. There's nothing quite like having a delicious meal while looking out over the lush green rice fields.
How to get to Tegallalang Rice Terraces
The Tegallalang Rice Terraces are located about a 20 minute drive north of Ubud. There are a few different options for getting to the rice terraces.
Taxi or Grab/Gojek
One of the most common options is to take a taxi or use a ride-hailing app such as Grab or Gojek.
It's often cost-effective to hire a driver for the day, especially if you're combining your visit with a day tour to other nearby destinations.
You can arrange a driver through your accommodations or by speaking with local taxi drivers about their day tour rates (most local taxi drivers will offer day tours). Another option is to book a day tour through Grab or Gojek.
In addition to hired cars, scooters are another common method of transportation in the Ubud area. You can hail a scooter through Grab or Gojek as well.
In this situation, your driver will drop you off and wait for you to complete your visit and then take you to your next location. This is a convenient option as it means you don't have to navigate the roads and deal with the hassle of driving and parking (which can sometimes be a challenge).
Rent a car or scooter
You can also choose to rent your own car or scooter during your stay in Ubud. It is very common for tourists to rent scooters in Ubud. This allows you the freedom to explore at your own pace and take your time at each destination without worrying about the time ticking away on your day tour.
However, this does come with the added stress of navigating the winding roads, finding each destination, and parking.
It all comes down to how you want to experience Bali and what you're comfortable with.
We chose to hire a driver for the day because we were visiting with our children and found that to be an easy, stress free experience.
Where to stay
Tourists visiting Tegallalang Rice Terraces typically stay in nearby Ubud. Ubud has a variety of accomodations catering to different budgets and preferences and is close enough to provide easy access to the rice terraces and other popular destinations nearby.
Nearby attractions
A visit to the Tegallalang Rice Terraces is often done in conjunction with some of the other main attractions in the area. Here are a few destinations that can easily be added to a day tour with Tegallalang Rice Terraces.
Tirta Empul Water Temple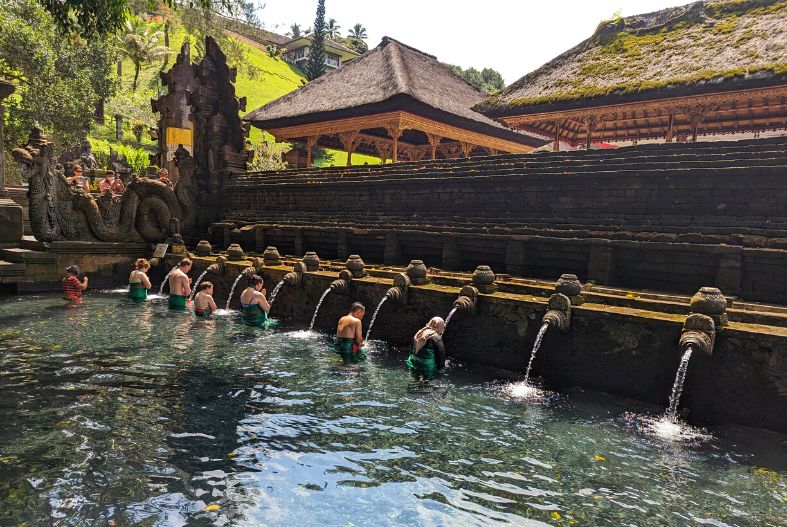 Tirta Empul is a revered spiritual site known for its sacred spring waters, which are believed to possess purifying properties. Visitors can participate in the cleansing temple rituals or just observe as they take in the picturesque surroundings.
This is a location that gets extremely crowded but is still a unique and worthwhile experience.
Pura Gunung Kawi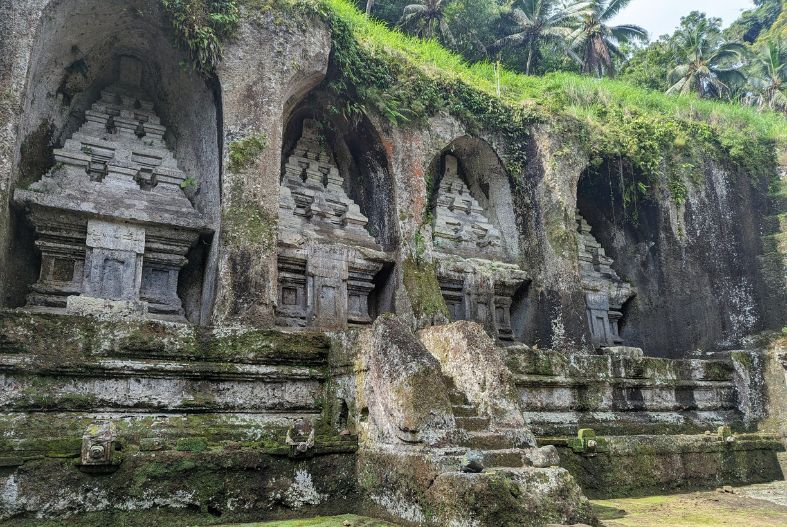 Pura Gunung Kawi is a historical temple complex featuring impressive shrines carved into the cliffs. Surrounded by lush rice terraces, this site offers a glimpse into ancient Balinese royal tombs and showcases intricate stone carvings.
Be warned that to reach this site you have to descend a long staircase down the mountain and then hike back up when you're done.
We found this to be a very peaceful site that was much less crowded than some of the other temples in the area. In fact, we were the only visitors for most of the time that we were there!
Common Questions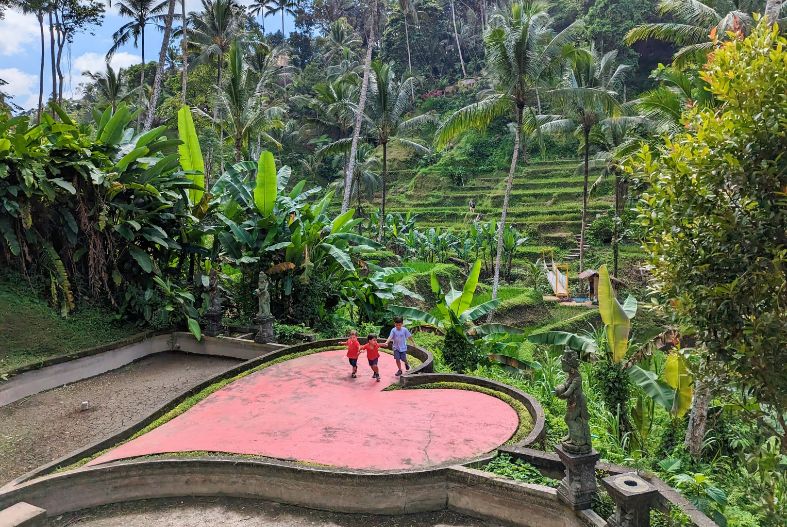 Do you need to book in advance to visit Tegallalang Rice Terraces?
You do not need to book in advance to visit Tegallalang Rice Terraces. In fact, it's often easier to pay for the terraces when you arrive because you can decide which photo packages you want, if any, and where you want to enter the rice terraces.
Are Tegallalang Rice Terraces worth visiting?
Tegallalang Rice Terraces are absolutely worth visiting while you are in Bali. Yes, the fields have become more crowded in recent years, but it is still a unique opportunity to see the stunning terraced rice paddies and take some unforgettable pictures.
And if you take the opportunity to descend into the fields themselves you can have some respite from the crowds.
The terraced landscape is a breathtaking sight and a visit to the fields provides an opportunity to witness traditional agricultural practices firsthand.
Whether you're a nature enthusiast, a cultural explorer, a photography lover, or someone seeking some tranquility, Tegallalang Rice Terraces offers something special for everyone.
Why are Tegallalang Rice Terraces famous?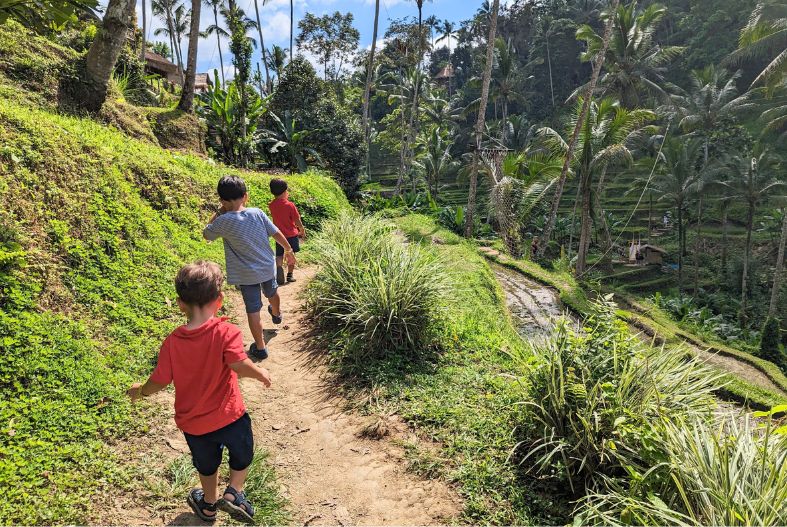 Tegallalang Rice Terraces are famous for their natural beauty and cultural significance.
Easily accessible from the central hub of Ubud, the terraces provide an abundance of photography opportunities which continue to attract visitors from around the globe.
They are also known as an example of subak, which is not just a practical method of irrigation but also carries deep cultural, social, and spiritual significance in Balinese society.
It involves a complex network of canals, tunnels, and weirs that distribute water from sources like rivers or springs to rice fields in a carefully coordinated manner, promoting sustainable agriculture and reflecting the Balinese philosophy of Tri Hita Karana, which emphasizes the balance between humans, nature, and the divine.
How much time should you spend at Tegallalang Rice Terraces?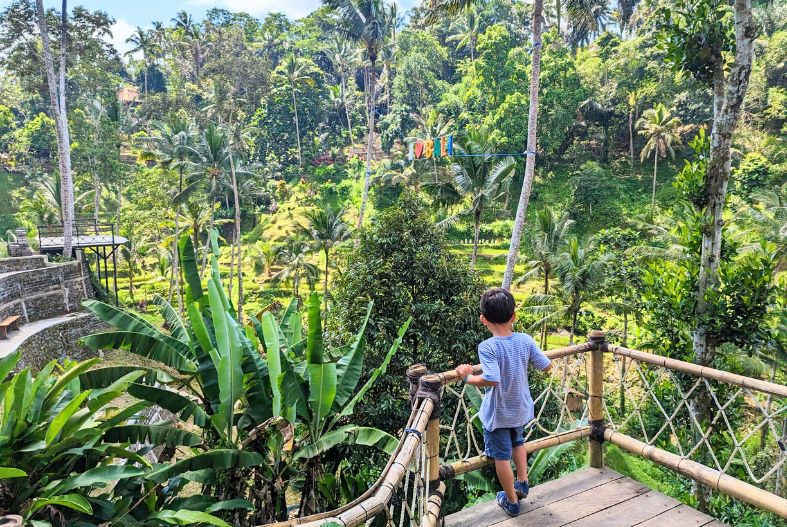 How much time you spend at the rice terraces depends on the objective of your visit. If you just want to experience the swings and take pictures from the upper rim, an hour or two would probably suffice.
However, if you want to trek through the rice terraces you could easily spend several hours up to half a day exploring the area. The hike takes you down through the fields and up the other side where you can enjoy views of the fields without the crowds that you'll find near the entrance.
What is the best time of day to visit Tegallalang Rice Terraces?
The best time of day to visit Tegallalang Rice Terraces is early in the morning or late in the afternoon. During these times, you can experience the terraces in the most favorable lighting conditions and avoid the heat of the midday sun.
In order to beat the crowds, try to arrive at the rice terraces first thing in the morning when you can have a bit of tranquility before the masses descend. This is also a great time to take pictures as you can capture the rice terraces bathed in the golden glow of sunrise.
Final thoughts
While you're in Bali, it's well worth the effort to pay a visit to the Tegallalang Rice Terraces.
As long as you arrive early in the morning, you can beat the crowds and have a memorable experience exploring the intricate and lush green landscapes.
Other posts you might be interested in:
The Ultimate 3 Day Siem Reap Itinerary