This page may contain affiliate links, which means that we may earn from qualifying purchases at no additional cost to you.
Are you caught in the whirlwind of planning a family vacation? Pondering over whether to dive into the magical kingdom of Disneyland, or step into a world built from imagination at LEGOLAND? We know that feeling all too well.
But don't fret, help is here! We've been to both parks multiple times and will provide you with all the information you need to make the best choice for you.
This post will take you through an epic journey across both these Southern California giants, comparing their unique features and attractions side by side. We'll delve into ticket prices, ride experiences, dining options and much more.
Once you've finished exploring here, you'll be ready to make your next exciting journey with confidence! So hold tight – we're diving deep into the Legoland vs Disneyland showdown!
Overview of Legoland vs Disneyland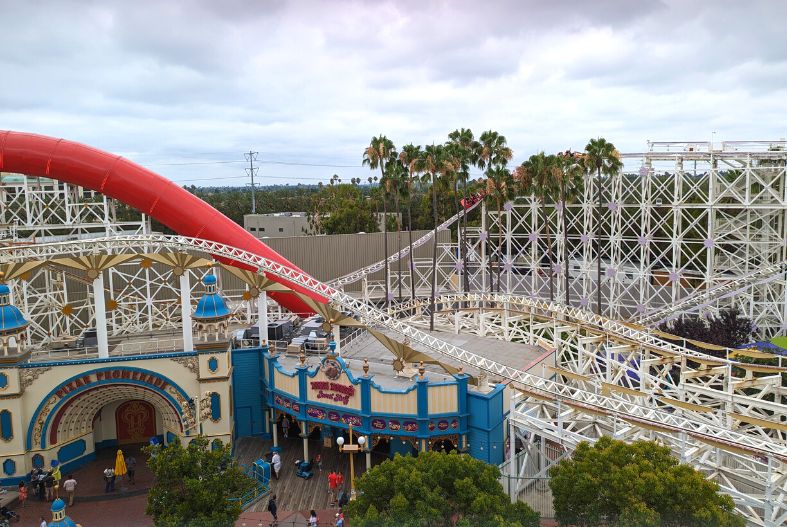 If you're planning a family vacation to Southern California, chances are high that theme parks are on your list. Deciding between the many theme parks available can be a daunting task.
In this article we'll compare two of the most popular choices: Legoland vs Disneyland.
First off, both parks cater to families but they do offer distinct experiences based on their unique themes.
Lego enthusiasts will find themselves immersed in a world of colorful bricks at LEGOLAND, where creativity meets fun.
On the other hand, Disney aficionados will get swept up in the magic at Disneyland, as beloved characters come alive amidst enchanting rides and attractions.
Ticket Prices
Cost is always an important factor when it comes to vacations. At first glance, ticket prices may appear to be similar; however, LEGOLAND tickets start at $89 for those ages 3 or over while Disneyland tickets range from $98-$169 for kids ages 3-9 and between $104-$179 depending on the day of visit for those 10 years old or older. So what does this mean? In essence: pick your park wisely.
You might think that higher priced tickets automatically mean better value but remember every kid (and adult) has different preferences. Some might prefer hands-on activities offered by LEGOLAND over state-of-the-art thrill rides at Disneyland.
Discounts And Offers- LEGOLAND vs Disneyland
To add another layer of complexity into our comparison, both parks offer a variety of promotions and discounts.
LEGOLAND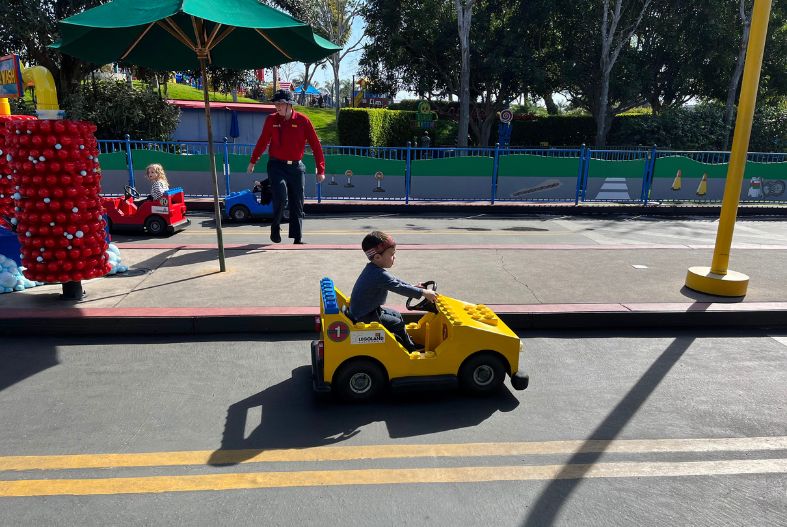 For example, LEGOLAND often offers second-day free tickets or even free kids' tickets with the purchase of an adult ticket.
And if you're planning on visiting LEGOLAND for at least 3 days, you might as well buy an annual pass. Even if you just purchase one pass for you group, you can get the benefit of free parking and a 25 percent dining discount in the park. For an even better deal, look for the pass when it's on sale (such as for Black Friday).
Disneyland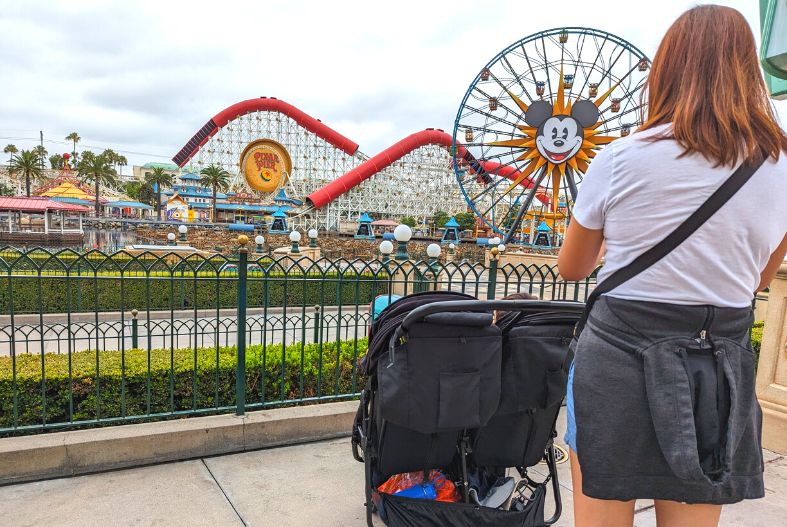 Disneyland's pricing varies depending on peak times but keep an eye out for their occasional special deals too.
The price per day decreases as you add additional days. You can divide these days up between the two Disney parks.
A Day park hopper option at Disneyland allows visitors to explore both parks – Disneyland Park and Disney California Adventure in a single day. In our opinion, park hopper passes aren't usually worth it because it is an additional $65 charge per person.
Instead of paying the extra cost, you might as well get a multi-day pass and visit different parks on different days. You can change the designated park for each day after you've already purchased the tickets, so you aren't locked into a certain park until you actually enter the park.
The exception here is if you're only visiting for one day and just want to experience certain rides in both parks. But in this case you definitely won't be able to see everything that each park has to offer.
Key Takeaway: Thinking of a family getaway in Southern California? Legoland and Disneyland are top picks, each with its own charm. Lego enthusiasts will adore the imaginative realm of Legoland, while Disney aficionados can rub shoulders with beloved characters at Disneyland. But keep an eye on your wallet. Ticket costs differ, but both parks frequently offer deals. Make sure to pick based on what your family loves – not just the base ticket price!
Timing Matters
For both parks, holidays and weekends are going to be much busier and have much higher ticket prices. If possible, avoid major holidays when planning your trip to save on ticket prices and also time waiting in line.
On another note, there's no such thing as bad timing if you decide upon purchasing Discount Disney Gift Cards. It can be used towards any kind of expense within Walt Disney properties including but not limited to buying park hopper tickets.
Bottom Line
While Disneyland's tickets are undoubtedly more expensive, they also provide access to two distinct parks with an expansive list of attractions. Comparatively, Legoland offers one park but adds in a water park and aquarium experience at additional costs.
So, what's the bottom line? Don't just focus on ticket prices. Dig deeper into what each ticket brings to the table – from rides and shows to dining options in the parks. After all, you're aiming for an unforgettable family experience.
Key Takeaway: When planning a family trip, consider not just the ticket prices but also what you get for your money. Disneyland tickets can be pricey, especially with park hopping options. But remember, they give access to two distinct parks full of attractions. Legoland is an affordable alternative offering promotional deals and consistent pricing throughout the week plus additional water park and aquarium experiences at extra cost.
Theme Park Attractions- LEGOLAND vs Disneyland
The allure of theme parks often lies in their unique rides and themed areas. Disneyland and LEGOLAND, both prominent Southern California attractions, offer a myriad of experiences that cater to thrill-seekers, story lovers, and kids at heart.
Disneyland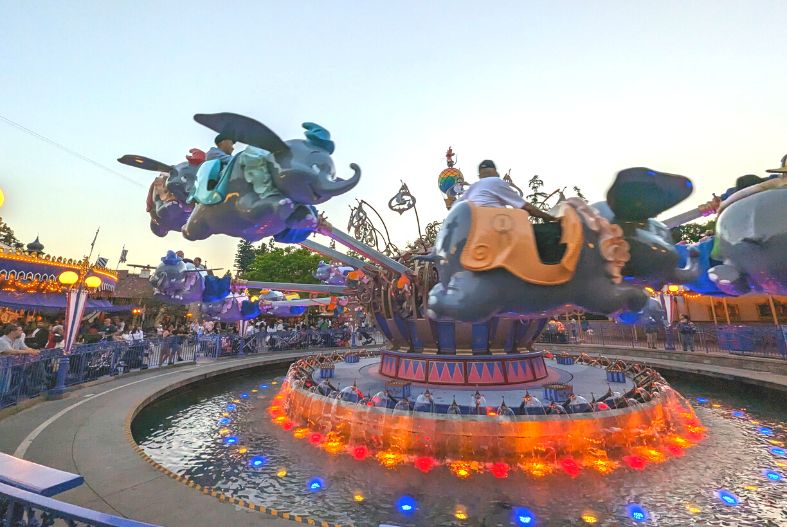 Disneyland is comprised of two enchanting theme parks, Disneyland Park and Disney California Adventure Park.
Disneyland Park, the iconic original park created by Walt Disney himself, whisks visitors away into a world of timeless enchantment and fairy tales, with classic attractions like Sleeping Beauty Castle and Pirates of the Caribbean.
Meanwhile, Disney California Adventure Park offers a more contemporary and diverse experience, with themed lands like Radiator Springs in Cars Land and the thrilling Guardians of the Galaxy – Mission: Breakout! in Avengers Campus where you can team up with your favorite Marvel superheroes.
Together, these two parks provide an unparalleled spectrum of entertainment, from nostalgic Disney charm to cutting-edge adventures, ensuring that guests of all ages can create cherished memories in the heart of the Disneyland Resort.
At Disneyland, the variety of themed areas offers an advantage over LEGOLAND in terms of modern rides and attractions.
But remember that the larger park takes longer to explore fully and has a lot of experiences that aren't suitable for younger children.
LEGOLAND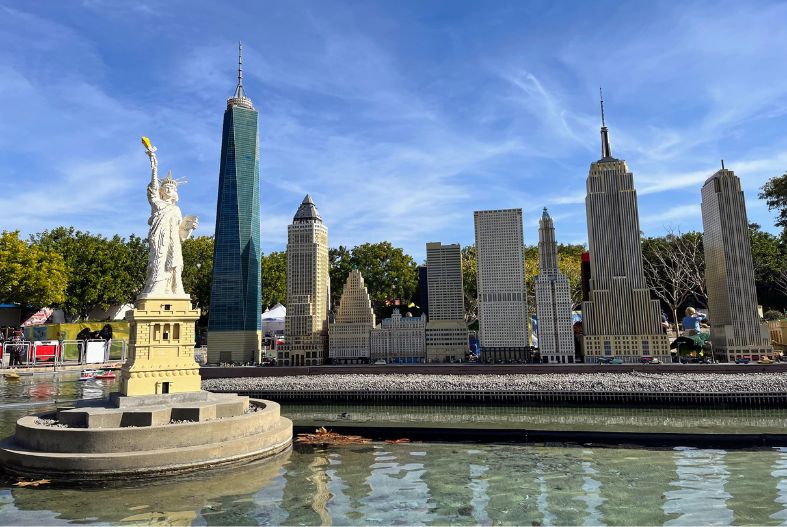 On the flip side, LEGOLAND offers a delightful array of family-friendly rides and attractions that are sure to captivate visitors of all ages.
From the thrilling roller coasters like the Coastersaurus and the LEGO Technic Coaster to the whimsical adventures in LEGO-themed lands like Pirate Shores and Castle Hill, LEGOLAND California offers a diverse range of experiences.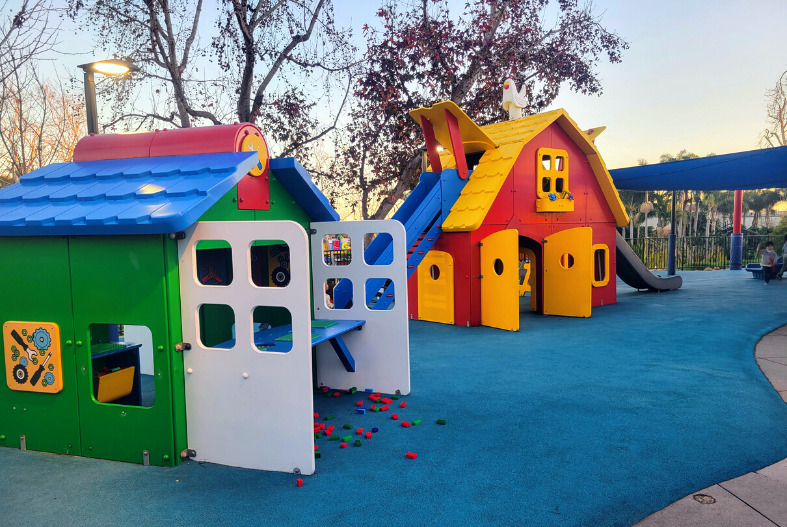 Younger guests can explore DUPLO Playtown and enjoy gentle rides like Fairy Tale Brook, while LEGO enthusiasts will be awed by Miniland USA, showcasing intricate LEGO recreations of iconic American landmarks.
Whether it's embarking on a safari in LEGO Safari Trek or taking to the seas in the Coast Cruise, LEGOLAND California promises a day filled with creativity, imagination, and endless LEGO-inspired fun.
Key Takeaway: Disneyland and LEGOLAND each have their unique charms when it comes to theme park attractions. Disneyland thrills with immersive Star Wars, Indiana Jones experiences, high-speed roller coasters like Matterhorn Bobsleds, and new additions like Avengers Campus. But LEGOLAND offers its own enchantment with exiting rides, LEGO building areas, and more spaces that cater specifically to younger children.
LEGOLAND Water Park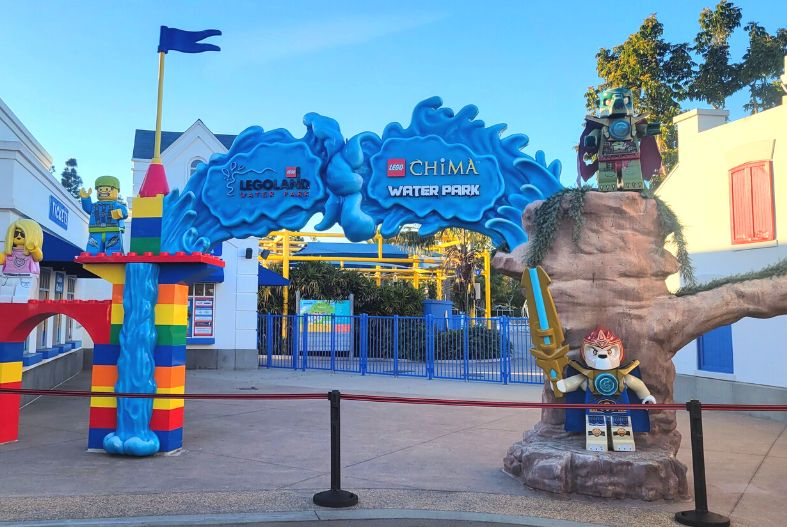 In addition to the rides in the main park, LEGOLAND California also has two additional experiences: Sea Life and the LEGOLAND waterpark.
The crown jewel of LEGOLAND's water-themed adventures is none other than the famous Legoland Water Park. It offers something for everyone in the family – from thrilling slides to relaxing lazy rivers.
Besides just fun, Legoland also emphasizes creativity. The Build-A-Raft River lets kids use soft LEGO bricks to construct their own custom raft. This experience goes beyond simple amusement—it helps children unleash their imagination while keeping cool under the sun.
​If you do plan on visiting the water park, you'll probably want to plan on spending at least two days at LEGOLAND as each park will likely take at least a day to complete.
The Sea Life Aquarium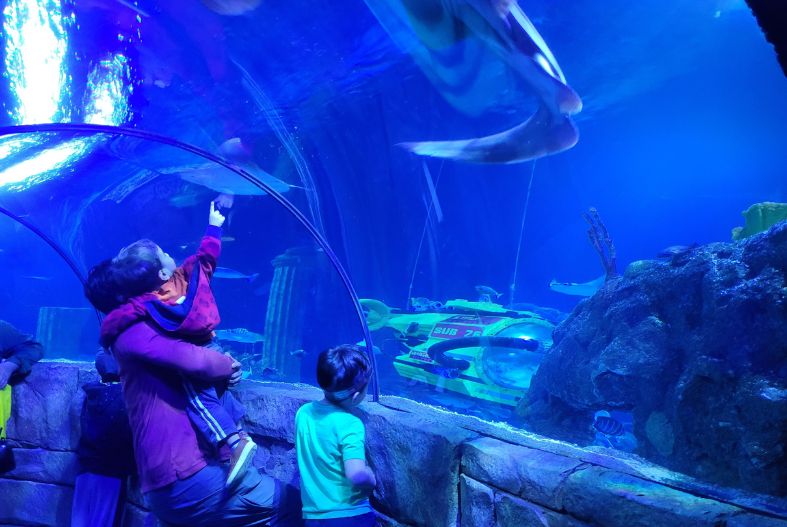 Sea Life Aquarium is bursting with colorful marine life and interactive exhibits designed specifically for young explorers. It's an underwater adventure that leaves kids wide-eyed with wonderment.
You'll probably only need about an hour to an hour and a half to explore the aquarium, but the ticket allows for reentry, so you can come back later in the day if you want more time with the sea creatures.
A few of the top attractions at Sea Life include:
Ocean Tunnel: Get ready to feel like you're walking on seafloor without getting wet as schools of fish swim all around you in this 180-degree tunnel view.
Freshwater Exhibit: Discover creatures living closer home—explore freshwater habitats filled with intriguing animals such as turtles and catfish.
Interactive Rockpool: A hands-on experience where you can touch a starfish or sea cucumber under the guidance of friendly staff.
If your little ones are LEGO fans, they will love how this park combines their favorite building blocks with educational facts about marine life. They'll get to learn and play at the same time – that's what we call fun education.
Key Takeaway: Don't forget to include LEGOLAND California's water park and aquarium on your family trip itinerary. The Legoland Water Park is a thrill-seeker's paradise with exciting slides, leisurely rivers, and even lets kids create their own LEGO rafts. For those who love underwater life, the Sea Life Aquarium is packed with vibrant marine creatures offering an engaging experience.
Entertainment and Character Experiences- LEGOLAND vs Disneyland
If you're looking for a dash of magic in your theme park adventure, character experiences can't be beat. Disneyland has a reputation for offering more characters than LEGOLAND. But don't underestimate the charm of those quirky LEGO figures.
In terms of variety, Disneyland wins hands down. From Mickey Mouse to Elsa from Frozen, Disney's cast is wide-ranging and nostalgic.
But Lego lovers will be delighted with the variety of large Lego characters walking around the park at LEGOLAND. And at LEGOLAND you can also engage in minifigure trading with the Model Citizens at the park if you bring some minifigs from home or buy them at the park.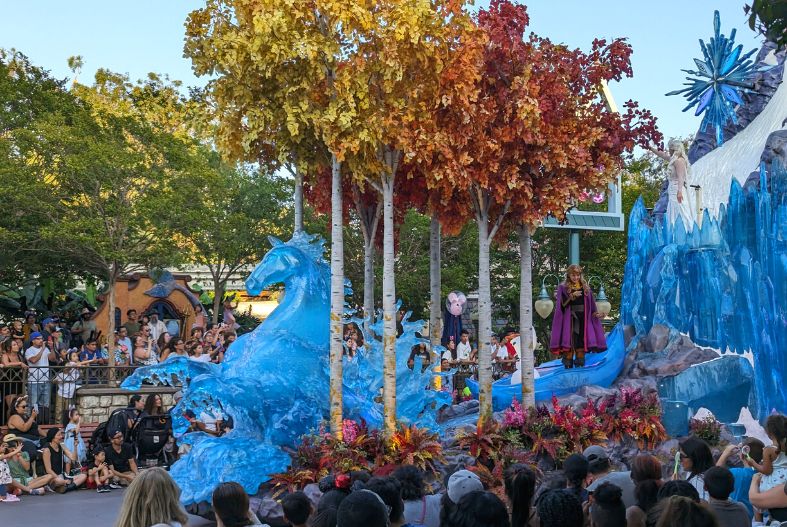 Another special feature of Disneyland is the impressive parades, which bring an enchanting spectacle right before your eyes.
At Disneyland, there's always some form of parade happening on Main Street USA. It could be Pixar Pals with all your favorite animated movie stars or even a magical Christmas celebration during the holiday season.
Show-Stopping Fireworks Displays
One of the highlights of a visit to Disneyland is the evening fireworks show.
The night sky above Sleeping Beauty Castle becomes a canvas painted with colorful fireworks that take storytelling to new heights—literally. This stunning visual treat never fails to end the day on a high note at Disneyland.
LEGOLAND doesn't have anything that quite compares to the spectacle.
Food and Dining Options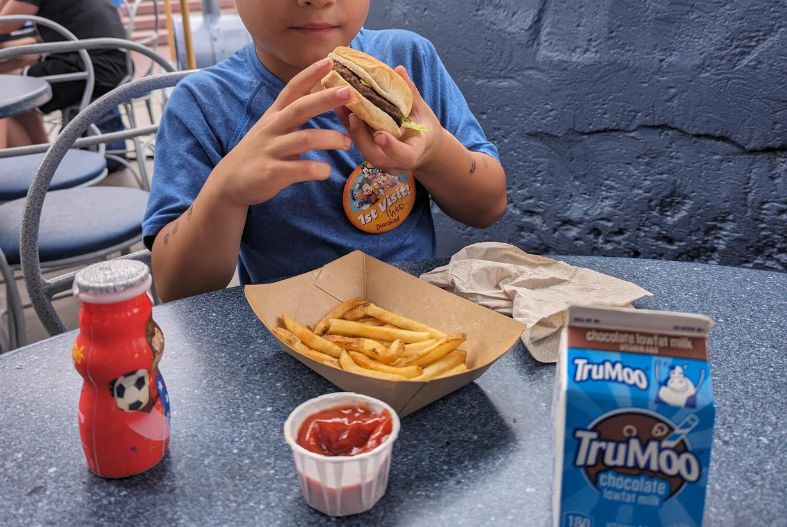 Talking about food options, both Disneyland and LEGOLAND serve up a delightful mix of flavors. But when it comes to variety, Disneyland steals the show.
Disneyland food
You'll find everything from snack stands serving quick bites to full-fledged sit-down restaurants at Disneyland. Each eatery is designed with a unique theme that transports you into different worlds within the park.
The variety here isn't just in terms of type but also cuisine. From classic American burgers at Carnation Cafe, Mexican treats at Rancho del Zocalo Restaurante, to exotic Asian dishes served hot at Lucky Fortune Cookery – there's something for every palate.
Famous Snack Stands
When we say "snack stand," what pops into your mind? Probably not gourmet corn dogs or mouth-watering Dole Whip. That's right; these are some must-try items from the famed Little Red Wagon Corn Dog Cart and Tiki Juice Bar respectively.
No visit to Disneyland is complete without trying Mickey-shaped pretzels or popcorn either. These snacks have become synonymous with Disney magic over time.
Sit-down Restaurants Galore
If fine dining amid all the action sounds like your thing, then make sure you book a table (yes, they take reservations.) at one of their premium sit-down restaurants such as Blue Bayou Restaurant or Carthay Circle Restaurant. Both venues offer sumptuous meals paired with excellent service making them perfect for those special family dinners during vacation.
LEGOLAND food
While still providing some decent eating options, LEGOLAND park doesn't boast the same iconic food scene as Disneyland.
Most of the food is pretty generic, but Granny Apple Fries at LEGOLAND are something that you can't miss. This unique treat, served with a vanilla cream dipping sauce, has won over many hearts (and stomachs).
Though the Granny Apple Fries are a must-try, other food choices at LEGOLAND may be somewhat restricted. You'll mostly find fast-food chains and basic fare like burgers, pizza, and salads.
Key Takeaway:
Disneyland truly dazzles when it comes to food, boasting a smorgasbord of flavors from quick bites to themed restaurants offering diverse cuisines. You can't miss their gourmet corn dogs and Dole Whip. On the other hand, LEGOLAND keeps it straightforward with mostly fast-food joints and simple eats like burgers, pizza, salads – but make sure you try their unique Granny Apple Fries.
Accommodation Options
When planning a family trip to either Disneyland or Legoland, finding the perfect place to rest after an action-packed day is crucial. Let's explore some of the best hotel options for both parks.
Where to stay near Disneyland
If you're leaning towards Disneyland, two hotels stand out as prime choices – Disneyland Hotel and Disney Paradise Pier Hotel. Both promise comfort with a dash of Disney magic. The themed rooms are always a hit with kids.
A stay at the iconic Disneyland Hotel comes packed with benefits such as early park admission during Magic Morning days and close proximity to Downtown Disney District. Plus, you can even get Mickey Mouse himself on your room phone for bedtime stories.
The Paradise Pier Hotel offers its own charm by taking inspiration from California beachfront boardwalks of yesteryears. It also boasts stunning views of the World Of Color water show right from your hotel room.
If budget is more important than pixie dust in choosing accommodation near Disneyland Park, then look no further than Howard Johnson Anaheim Hotel & Water Playground. It provides comfortable lodging within walking distance of the parks plus features like kid-friendly pools make it an excellent choice for families looking for fun without breaking their bank account.
A Convenient Stay Near Legoland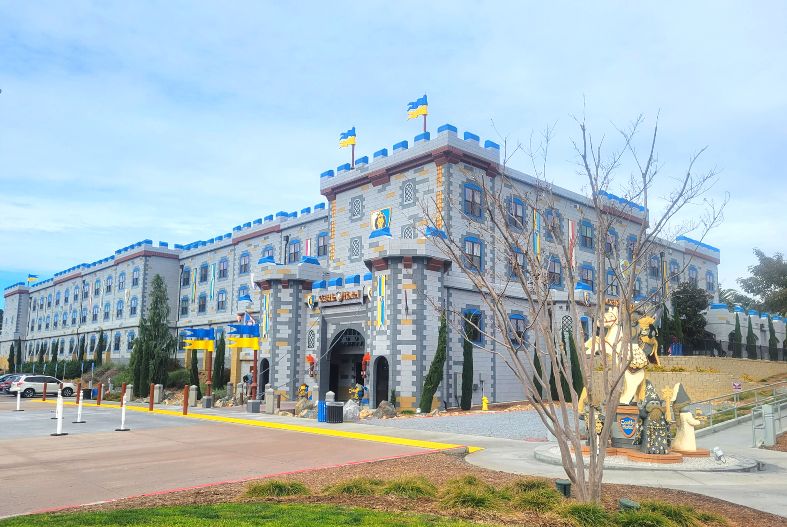 Staying at the Legoland Hotel can be a great way to add extra excitement and convenience to any family trip to Legoland. The hotel is literally steps away from the park entrance and each room celebrates a popular Lego theme.
Interactive features at the hotel, such as treasure hunts in each room and opportunities for kids to turn into "Master Model Builders", keep them engaged.​​​​ Click to Tweet
FAQs: Legoland vs Disneyland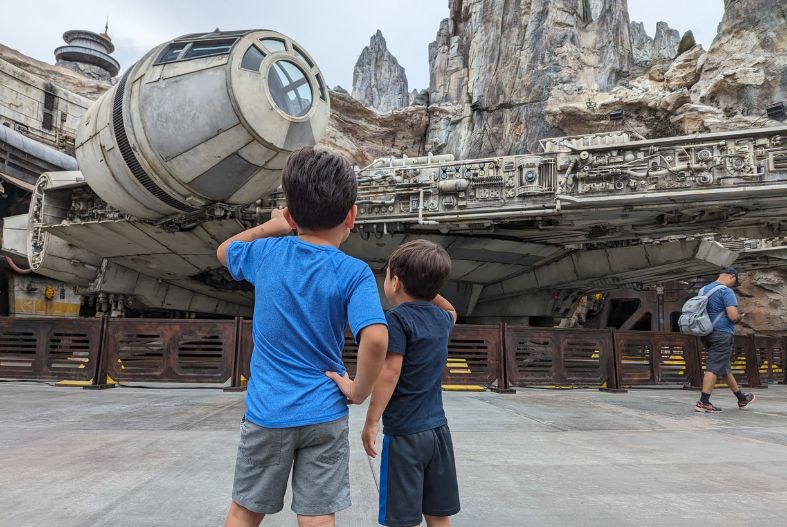 Is LEGOLAND better than Disney?
This depends on your preferences. If you're a LEGO fan or have young kids, you might find LEGOLAND more enjoyable. But if you crave immersive experiences and high-end rides, Disneyland is the clear winner.
We've found that a lot of this depends on the age of our children. LEGOLAND typically has more for younger children to do whereas at Disneyland there are a lot of rides and experiences that young children can't participate in.
That being said, you can find things to do for all ages at both parks, so a big part of the decision on LEGOLAND vs Disneyland comes down to which experience fits best with your family's personal preference.
Is LEGOLAND or Disney better for toddlers?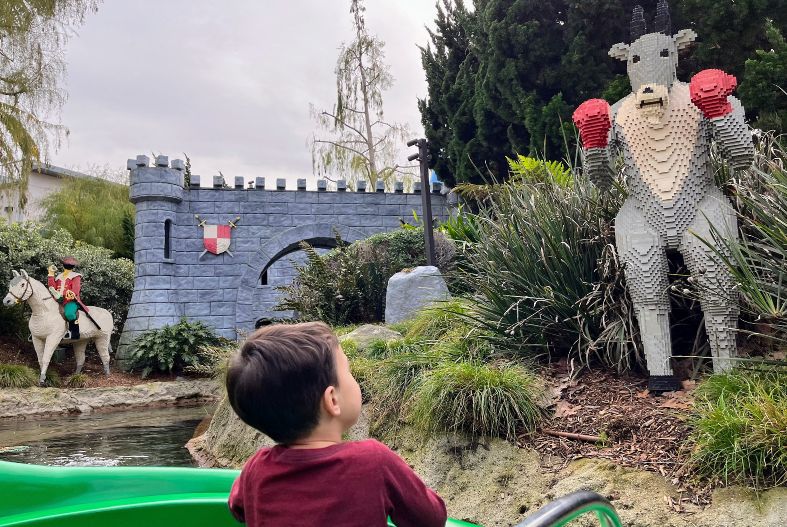 LEGOLAND generally caters to younger children with interactive play areas and less intense rides. It's an ideal spot for toddlers and early school-age kids.
If you're planning on visiting with a toddler, be sure to check out our ultimate guide to visiting LEGOLAND with a toddler.
Is LEGOLAND more expensive than Disneyland?
No, typically not. While prices can fluctuate based on promotions and time of year, overall ticket prices at Disneyland tend to be higher compared to those at LEGOLAND.
Is LEGOLAND or Disneyland bigger?
In terms of sheer size, Disneyland takes the cake with its two parks: Disneyland Park and California Adventure Park—each packed full of attractions that span over 500 acres combined.
Final Thoughts
Well, that was quite the roller coaster ride through Legoland vs Disneyland, wasn't it? We've zoomed past ticketing options, buckled up for thrill rides and savored theme park delicacies. Now let's pause to reflect on our adventure.
It's really hard to make a blanket statement about which park is better because it really depends on your life stage, family makeup, and personal preferences.
At Disneyland California the magic is truly in the air with thrilling rides, parades, fireworks and a plethora of character experiences.
But Legoland has its unique charms too – in addition to the fun rides you can also experience hands-on creativity with LEGO bricks, splash the day away at the water park, and explore creatures under the sea at the aquariums.
In our personal experience, we've found that we prefer LEGOLAND for when our children are under the age of five or six, but Disneyland when they get a little older (and taller!).
The key takeaway here? Both parks have their merits. Your choice hinges on your family's interests, budget considerations or even just a preference between Mickey Mouse ears or Lego brick creations!
Other posts you might be interested in:
San Diego Zoo vs Safari Park: Which One Is Best For Your Trip?