This page may contain affiliate links, which means that we may earn from qualifying purchases at no additional cost to you.
Updated June 2023
When picturing kid-friendly family vacations abroad, Manila might not be the first place that comes to mind. But there are actually lots of kid-friendly places in Manila that your child will love.
We've been to the Philippines several times with our children and it's one of their favorite places. Of course, it's also where my husband is from, so we have a personal connection to the city as well.
But our personal ties to the city have given us even more of an opportunity to seek out the best places to visit in Manila for kids and families. Trust us, these are places you don't want to miss!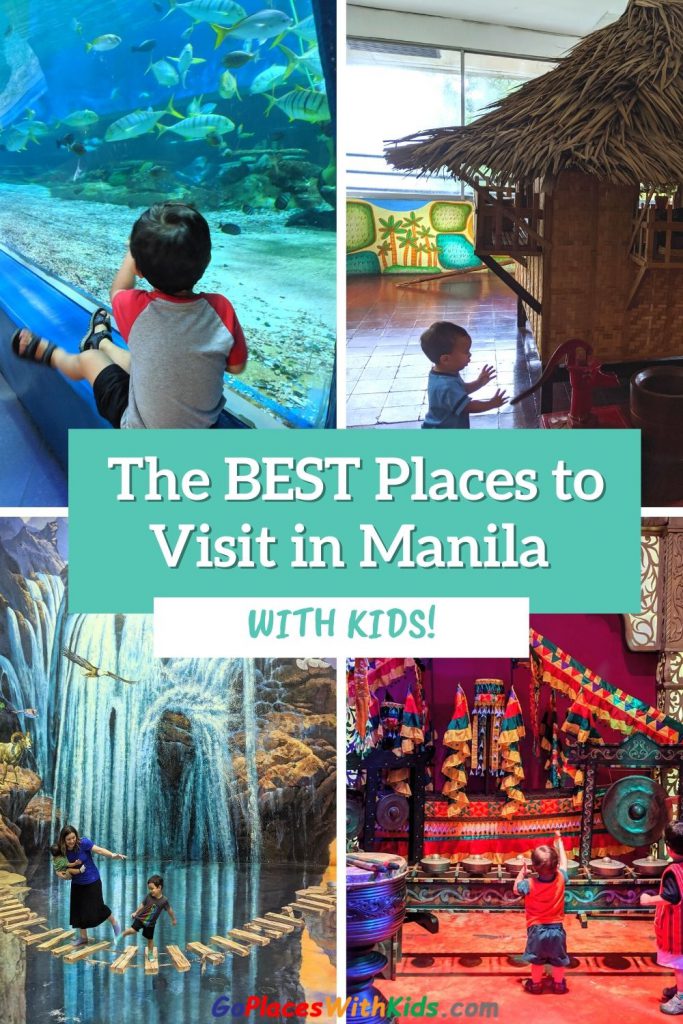 Tips for Visiting Manila with Kids
How to get around Manila with kids
Getting around in Manila can be tricky because traffic is terrible. Really terrible. Something that looks like a short distance on a map can take hours. And that's typically true any time of the day, not just "rush hour".
Honestly, there is no perfect option for getting around. But our preferred method of travel when we're visiting Manila with our kids is using Grab, a ride-sharing service common in Asia. It's convenient because you can use an app to request a ride and to pay, eliminating the need for cash.
Car seats are not commonly used in the Philippines. If you're planning on bringing one, Grab often has options for securing a car seat (more often than not taxis will not have seat belts accessible).
For more details about how to navigate Manila transportation with kids, see this post.
Where to stay in Manila with kids
Because traffic is so terrible in Manila, it's best to stay close to the attractions you want to visit. That way you're not wasting so much time in transit.
Located right next to the airport is Resorts World, which includes a lot of the main hotel chains (Hilton, Marriott, Holiday Inn, etc).
You can literally walk to these hotels from the airport using the sky-bridge from the international terminal (Terminal 3). The hotels will also have airport shuttles if you prefer that route.
Located in resorts world is also a large mall and a casino.
The BEST kid-friendly places in Manila
Although all of these attractions are in the Metro Manila area, they are not necessarily close to each other (especially given Manila traffic…). So make sure to plan ahead to visit attractions near where you are and close to each other.
Pro tip: Bring socks with you wherever you go in Manila. Most of the indoor kids play areas require socks and it saves you having to buy them at each attraction you go to. If possible, make them grippy socks, which are required at some locations.
The Mall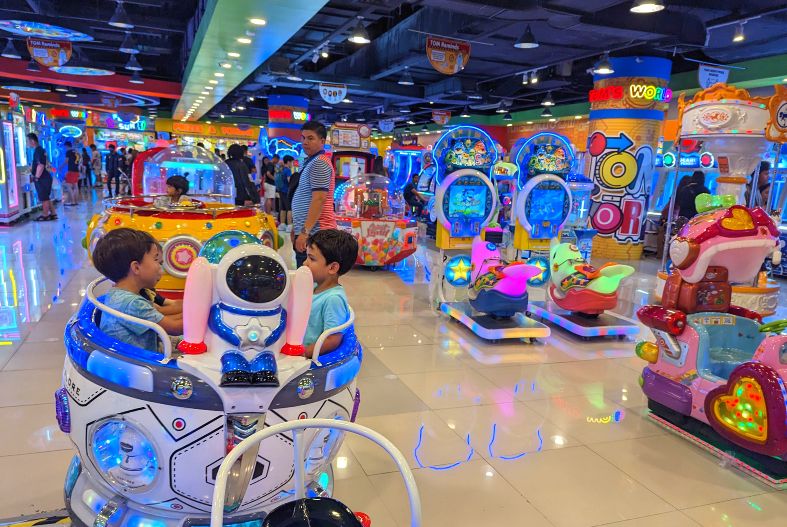 One of the best ways to escape the heat in Manila is to head to the air conditioned malls, which is where you'll find that the locals typically go for entertainment. In the malls you can find great food, activities, and events to keep the kids occupied.
In fact, most of the places we've listed in this article are actually located within malls!
One of the best things to do in the mall with kids is to visit the arcades. Pretty much every mall you visit will have at least one arcade (and often more) full of games that kids will love.
And you can buy a whole bunch of tokens for a very reasonable price, which will cover a lot of games or, if your kids are like ours, chances to play the claw machine.
Our boys always want to play the claw machine in the US, but the price is so steep that we've never let them. While we were in Manila they finally got to play the claw to their heart's content!
At the mall you can often also find experiences such as carnival type rides, mall trains, and ride-on motorcycles, horses, etc.
When in search of something to do in Manila, your best bet is to head to the mall.
DreamPlay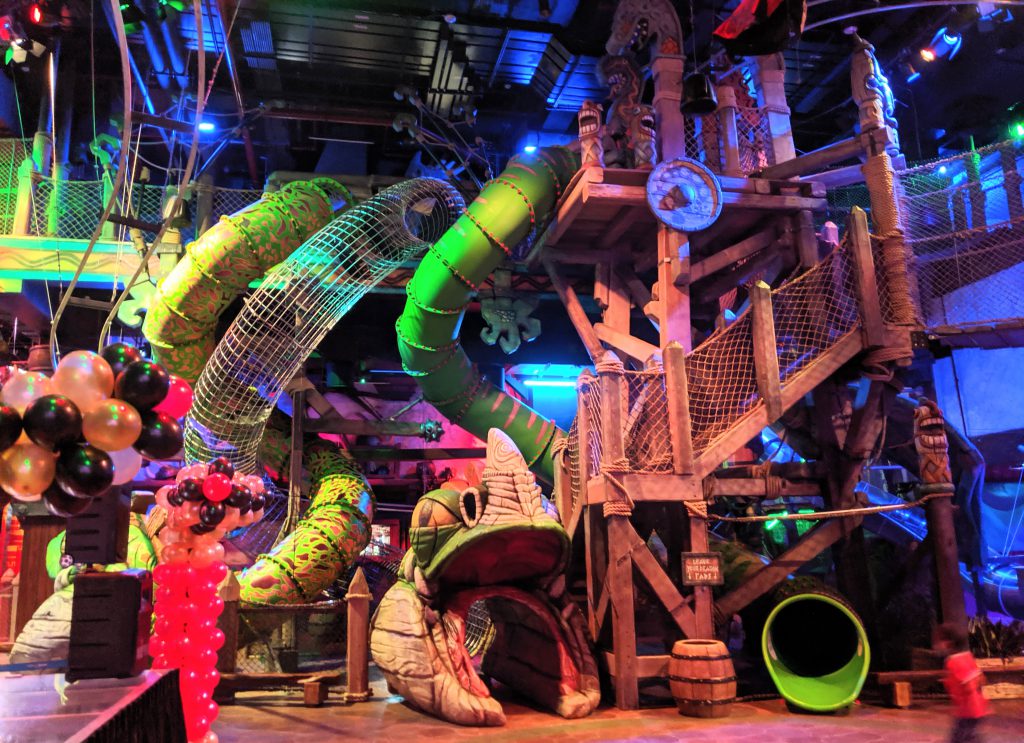 DreamPlay is a DreamWorks themed activity center for kids. It's located in the City of Dreams, which is a casino complex and a mall.
There is so much here that your child will enjoy! There are slides (small and large), 3D and 4D shows, cooking classes, climbing walls, a puppet show, and more. And it's all centered around the DreamWorks characters your children know and love.
You can reenter the same day, which we found convenient since there was so much to do. We were able to leave, take a nap, and come back for more fun later in the day!
Children over 10 can be left on their own as long as their parents drop them off and sign a waiver.
Some of the bigger slides and activities require children to be over 120 cm, but there is still plenty to keep younger children entertained. Our son was three-and-a-half and couldn't stop talking about how much fun he had.
This is by far the most expensive option on our list, but it is also a full day activity that will leave kids begging for more!
Food Wanderer x Lakbay Museo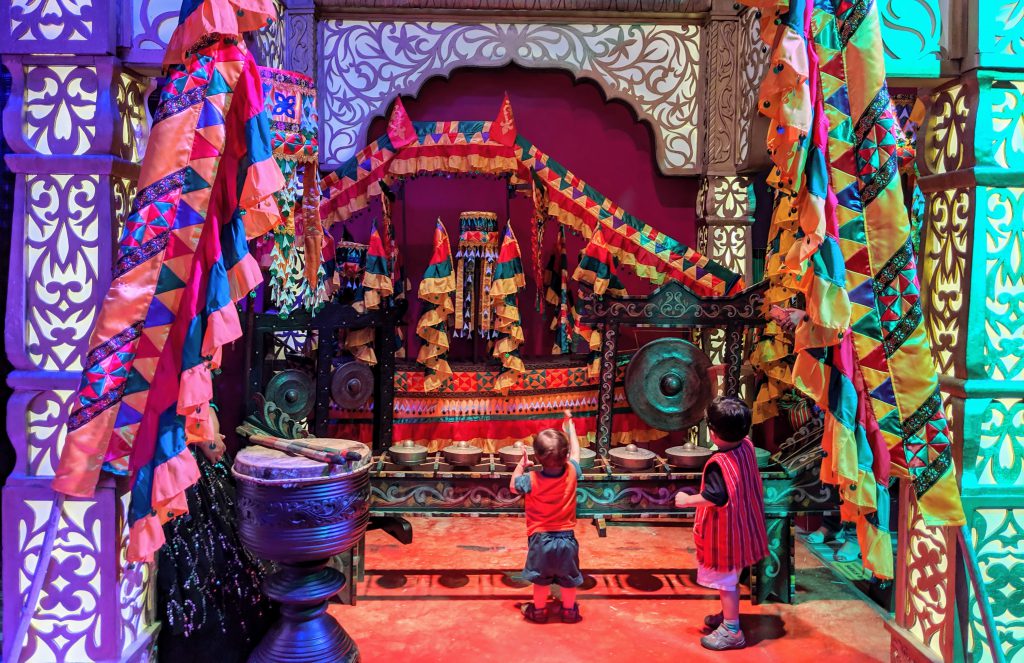 Located in the Mall of Asia, Lakbay Museo takes you on a cultural journey through the Philippines. On their website, they call it an "interactive millennial museum".
Inside, you'll have the opportunity to sample local treats, witness (and participate in, if you choose) traditional dance, play regional instruments, and take LOTS of photos!
The photo opportunities are one of the main attractions of the museum, so this is not a day you want to leave your camera at home!
The best word to describe Lakbay Museo would be FUN! It is such an entertaining, engaging experience. The staff is amazing and go out of their way to make sure you have a great experience.
We loved it, our kids loved, it and we would definitely go again!
Update June 2023: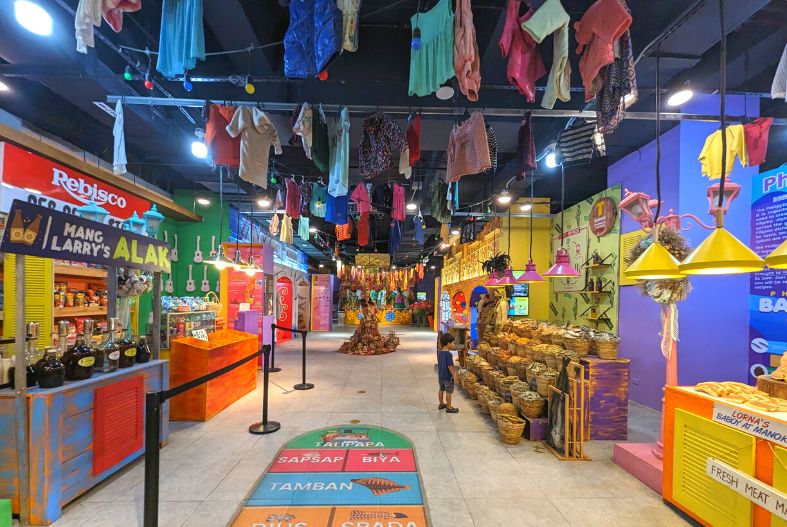 Lakbay Museo recently moved to a new location in Ayala Mall (near Fun City) and it's even larger and more engaging than before!
The museum has kept all of the aspects that made it so fun to start with, but has added new elements, such as an area where you can play traditional Filipino games, an opportunity to learn to cook your own Filipino treats (for an additional charge), an art room, and even more sets for taking awesome pictures! I went there with my 6, 4, and 2 year olds and they had so much fun! I had the hardest time getting them to move on to the next sections because they always wanted to keep doing whatever they were working on.
This really is such a fun way to have a unique, immersive experience as you learn about the geography, food, and culture of the Philippines.
WiiJUMP Trampoline Park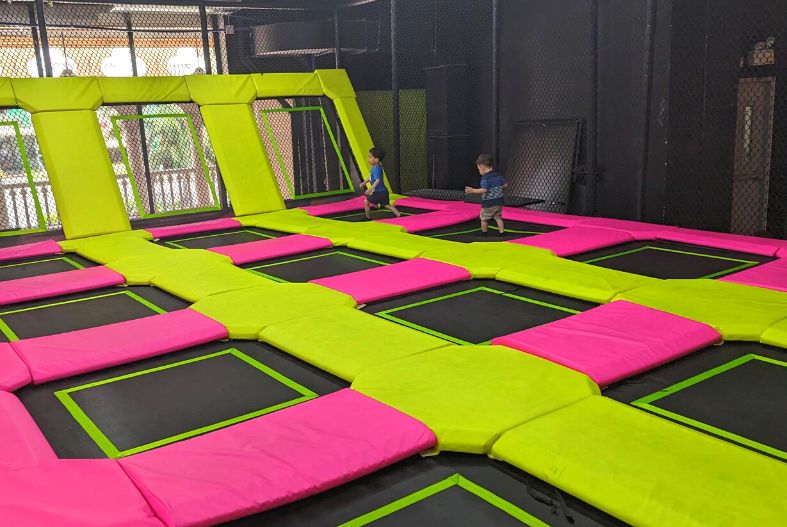 Located within Venice Grand Canal Mall in Manila, WiiJump is a trampoline gym with entertainment for those of all ages! While the main attraction is the many trampolines that span the length of the park, the gym also includes other features such as a foam pit, a climbing wall, a falling net, a sticky wall, a zipline, and a small ninja course.
This was a great way to spend an hour and we definitely could have spent more time here. Our boys' favorite parts were probably the zipline (even our two year old could ride and absolutely LOVED it!) and the falling net, which they did over and over.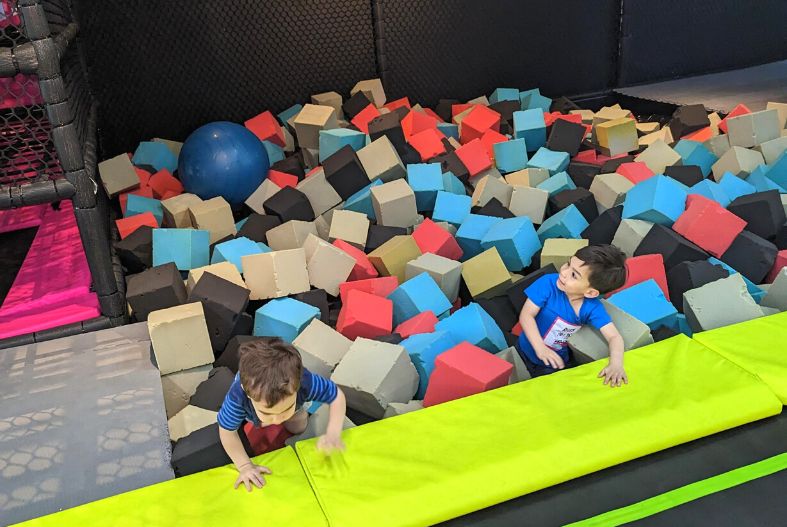 Note that you do need grip socks to use the park, so either bring your own or be prepared to buy some for an additional 99 pesos. You also need to pay in cash as cards are not accepted.
There is also another branch of WiiJump located in Festival Mall, although the Venice Mall location is the newer and larger of the two.
Wetpark Adventure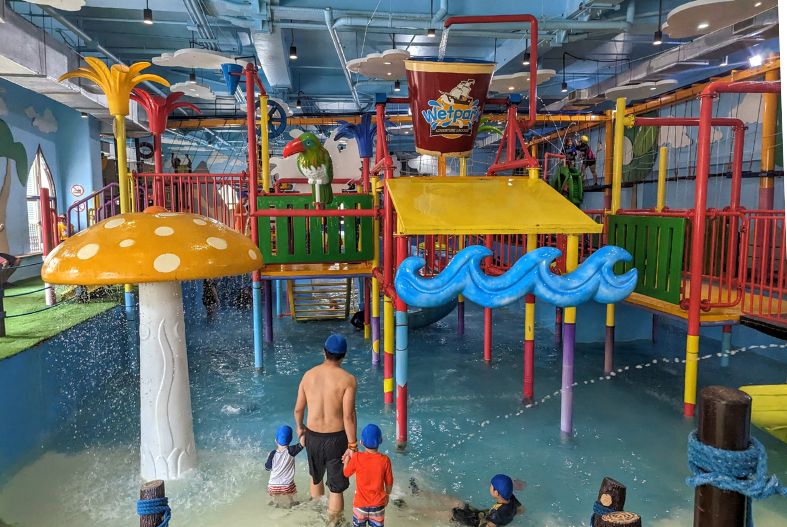 If you're looking for a way to keep cool in Manila, head to Wetpark Adventure, the first indoor water park in the Philippines. At the water park, you can enjoy a variety of slides and water features that will keep young kids running back for more!
Also located at the park is a small climbing wall, a play structure, and our favorite feature: the ropes course! Grab a helmet and harness and strap in for a challenge of balance and focus above the water park. There are two routes, one of which ends in a zip line.
We had so much fun playing at this water park, the three hours just flew by! We were the last ones there and our kids wanted to stay right until the end of our session. It was great to have a place that all of our boys could enjoy, from our six year old down to our two year old.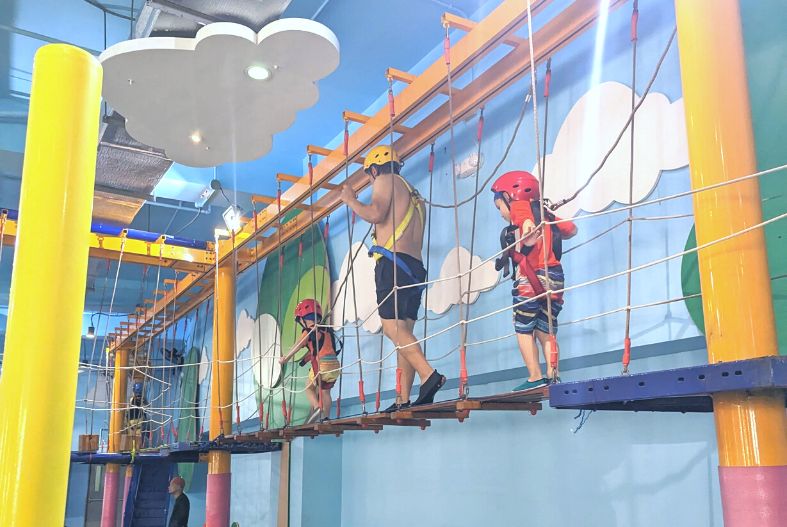 Play sessions at the park are divided into three hour time slots, so check the schedule and plan ahead for the slot that works best for you. It's cheaper to pay online, so be sure to reserve a spot before heading to the park. Each ticket includes entry for one child and one adult.
In order to play at the park, you'll need water shoes and a swim cap, which can be rented at the park for an additional fee.
Wetpark Adventure is also located in Venice Grand Canal Mall and can be combined with WiiJUMP Trampoline Park for an all day experience.
Museo Pambata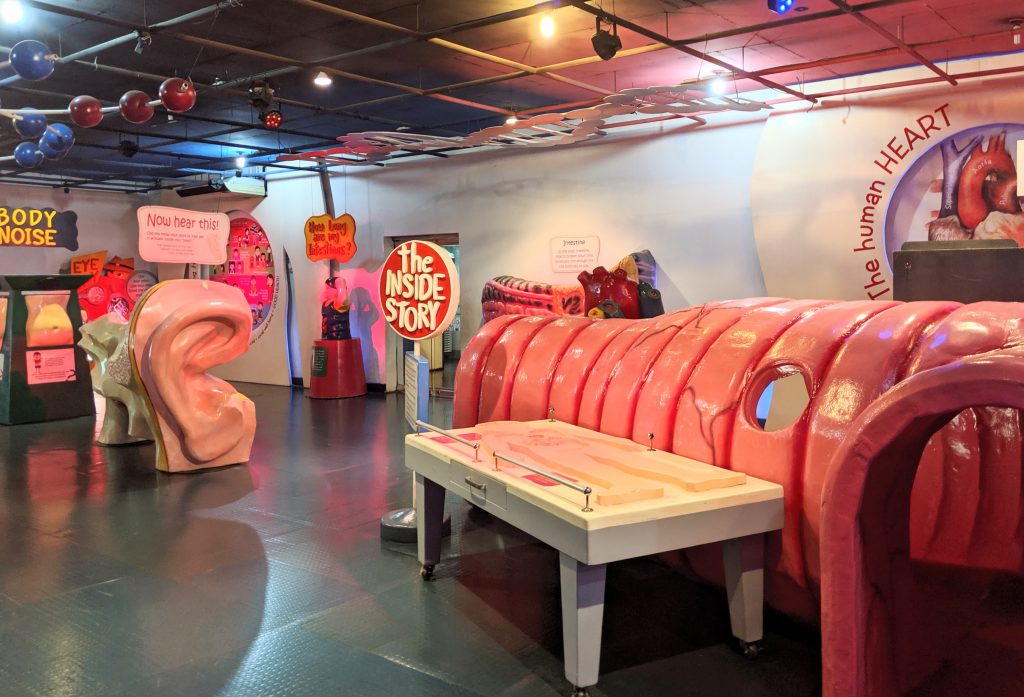 As the first children's interactive museum in the Philippines, Museo Pambata offers an engaging experience for children and families alike!
The museum is made up of various rooms containing themed interactive exhibits. Some of our favorites included the room on the human body and an exhibit where you can pretend to buy and sell in models of traditional Filipino shops.
The museum isn't huge, but give yourself a couple of hours to make it through all of the rooms.
Active Fun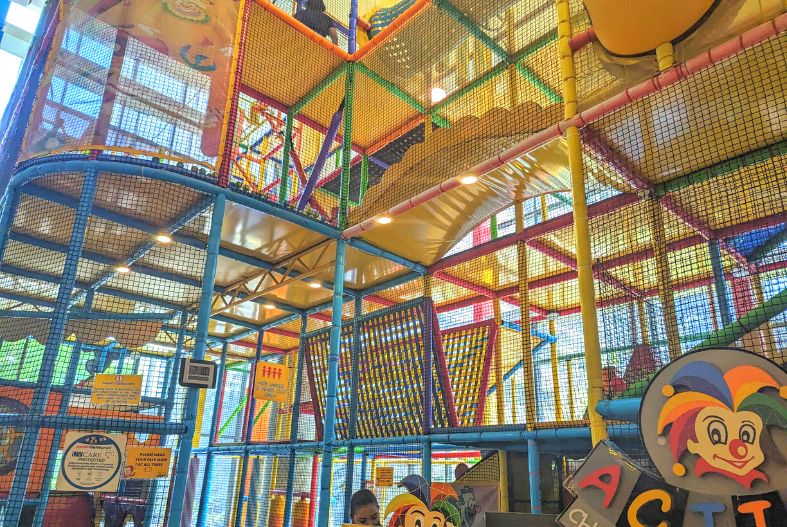 Active Fun is an engaging play space in Taguig City, Metro Manila. The play zone is made up of a large play structure with lots of space for climbing and exploring. The highlight is the large slide that spans the height of the structure, but at Active Fun you can also find a small trampoline, ball pits, and more!
There's also an area specifically for toddlers with a small slide, ball pit, and some soft toys.
You can get a one-hour or three-hour pass to the play space, with a small additional fee for accompanying adults.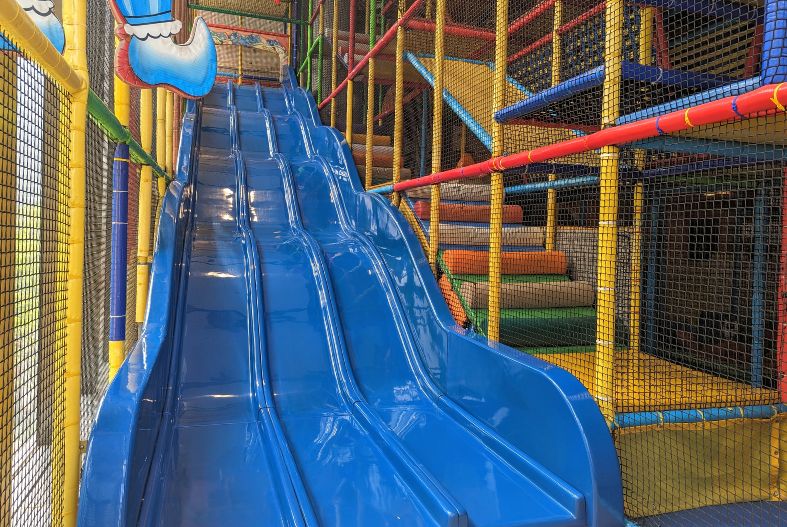 Socks are required, so remember to bring your socks or you'll have to purchase some there (this includes adults).
This is a great place to spend a couple of hours letting your child get their wiggles out! Our kids, ages 6, 4, and 2 all had a great time during their three hours at Active Fun!
Rizal Park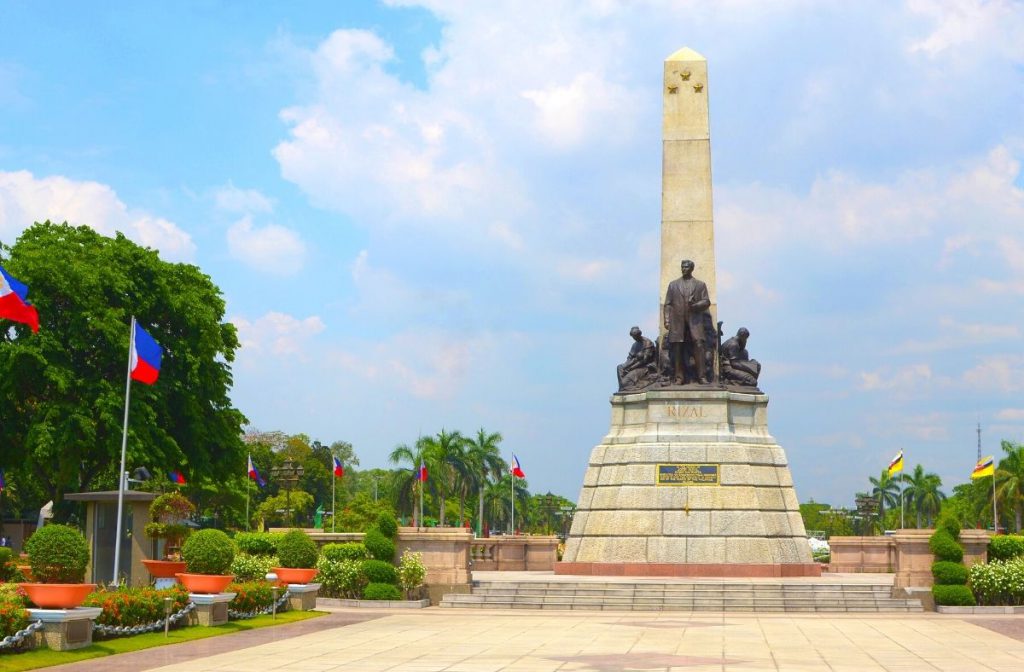 Just across the street from Museo Pembata is Rizal Park. Located in downtown Manila, Rizal Park is one of the largest urban parks in Asia. It is dedicated to the national hero of the Philippines, Jose Rizal.
Rizal Park stretches across almost 150 acres of land. In the park, you can find broad, grassy stretches, a massive water fountain, and beautiful gardens. Parks really don't exist in Manila, so if you're looking for a park experience, this is pretty much it.
It is one of the best places to visit in Manila if you want to take a break and relax as you stroll around the lush vegetation. There is also a small train that you can ride around the walkway of the park for a modest fee. The train was, of course, the highlight of the experience for my children.
Art in Island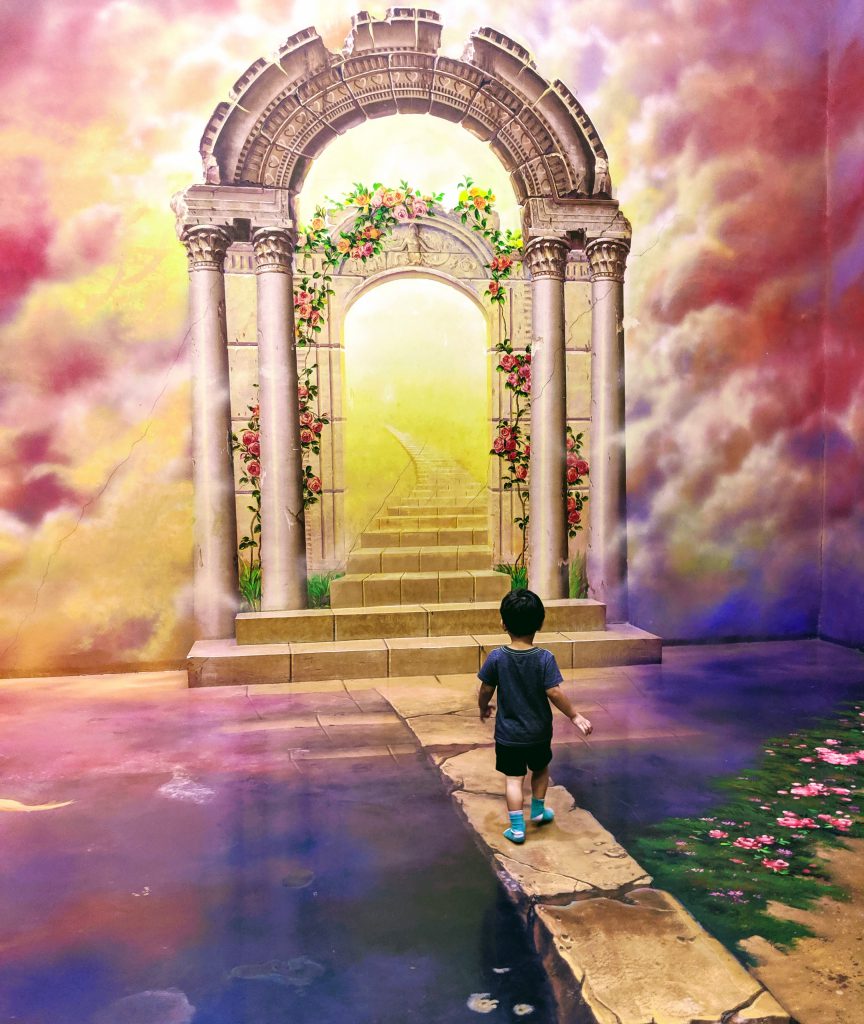 If you're looking for kid friendly places in Manila, you have to take a trip to Art in Island. Art in Island is a trick art museum located in Quezon City. The 3D art is painted in such a way that you are able to appear as part of the picture!
This is one of our favorite places to visit in Manila with our kids!
The murals are beautifully painted and really do trick the eye to look three-dimensional! There are lots of pictures to engage with and each has markings on the ground telling you where to stand to get the best possible shot.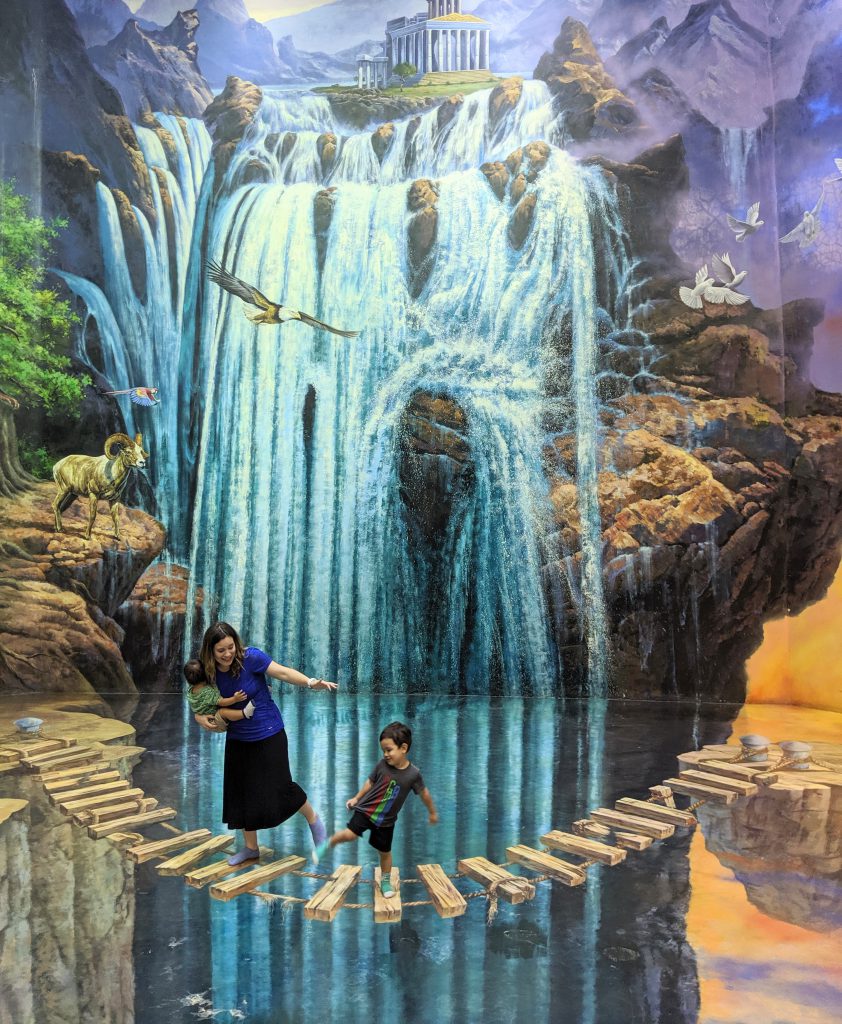 This is another place where you absolutely want to bring your camera. It's so fun posing creatively for pictures and the whole family will be delighted with the pictures you walk away with.
Update June 2023:
We recently went back to and found that the museum is now going in a new direction. Instead of traditional paintings, the main focus of the exhibits is now on using technology and media to create interactive, mixed media displays.
While there are still some of the smaller trick art paintings,we were sad to see that the larger, more immersive art has all been painted over.
The new exhibit is very unique and interesting in its own right, but our kids did prefer the previous version, especially since that was what we were expecting when we went in.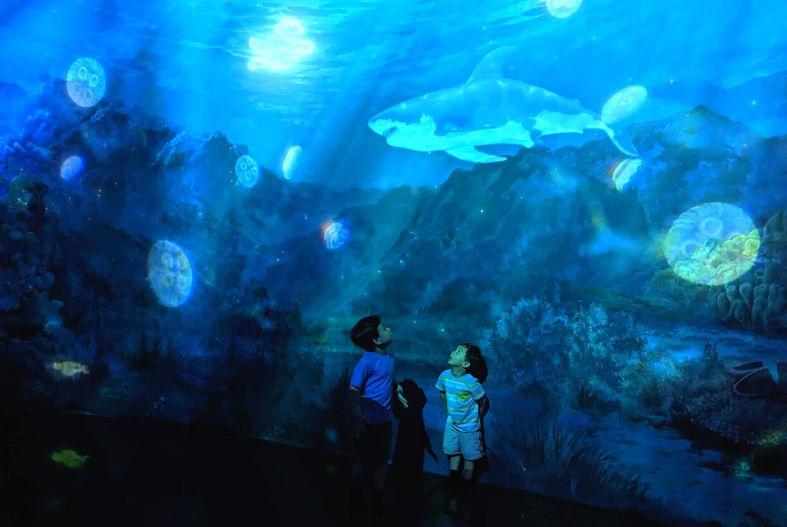 Fun City
Ali Mall Location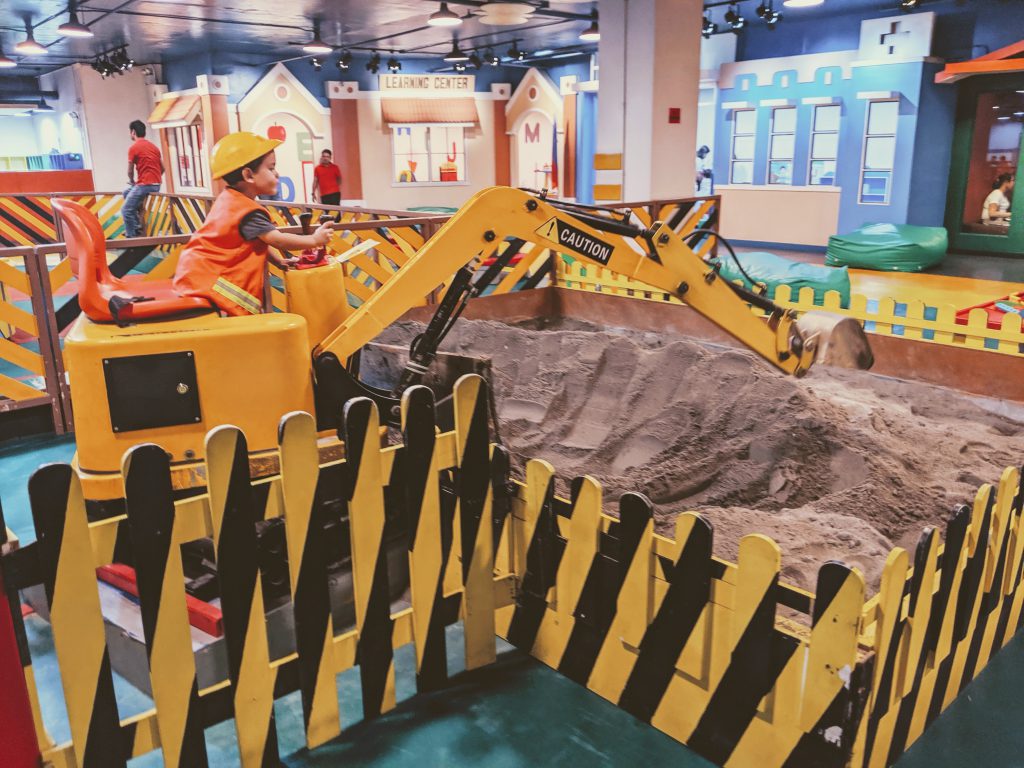 Fun City is a hidden gem in Manila. Tucked away in Ali Mall, Quezon City, this is one of the best indoor playground I've ever been to. And few people know about it! It really is catered to locals, as it would be tricky for tourists to find unless they knew it was there.
There is so much to do at this play center, my kids didn't even know were to begin. And by the time we left I felt like we'd barely scratched the surface of what there was to experience.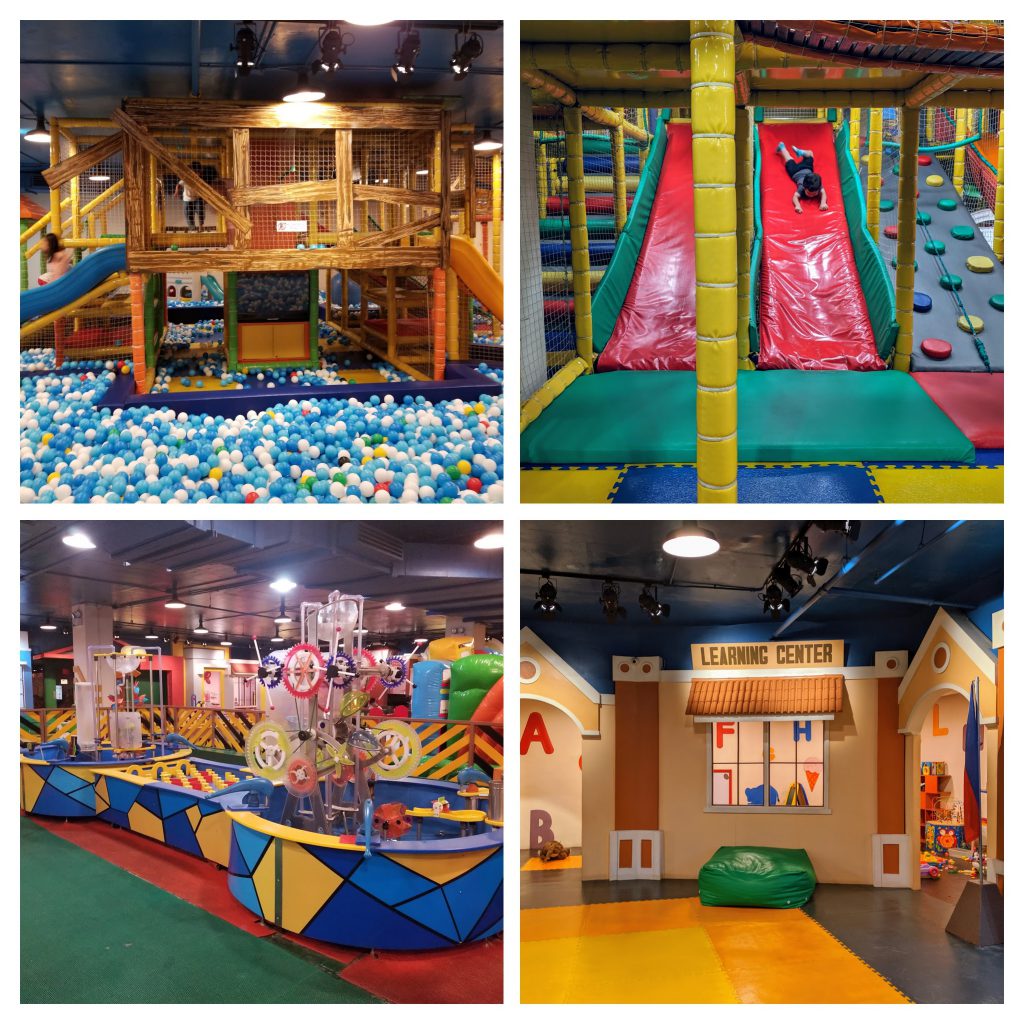 Bouncy houses, a ball pit, dance rooms, slides, dress-up opportunities, a working excavator, ride-on toys, a sand room, water table activities…the list goes on.
Really, there is SO much to do here, you could spend all day. This was one of our favorite kid-friendly places in Manila. If you're visiting Manila with young kids, this is one place you don't want to miss.
Ayala Mall Location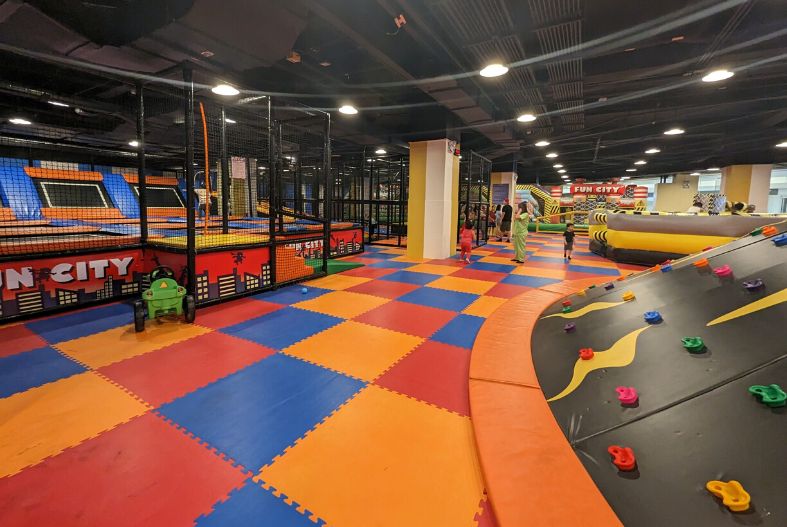 On our most recent trip to the Philippines, we went to the Ali Mall Fun City location and found that many of the features were not working or were no longer there, including the excavator, which was out of order.
However, we were delighted to find that an even bigger and better Fun City location has opened in Ayala Malls Manila Bay! While we loved the first location, we were blown away at the new play space.
While the play space still includes slides, climbing structures, ball pits, and open ended play areas, there are some fun additions as well.
At this indoor playground you can find trampolines, bounce houses, and a small zip line. Plus, not only do they have a working excavator, they also have a working grapple truck arm! Our kids loved this addition because it reminded them of a claw machine at the arcade.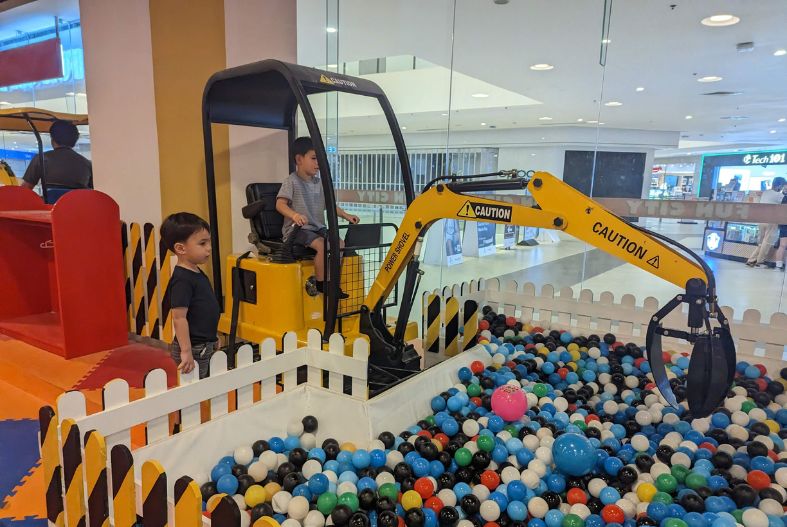 After visiting many play areas in Manila, we can confidently recommend Fun City Ayala Mall as one of the best places to visit in Manila with kids!
Manila Ocean Park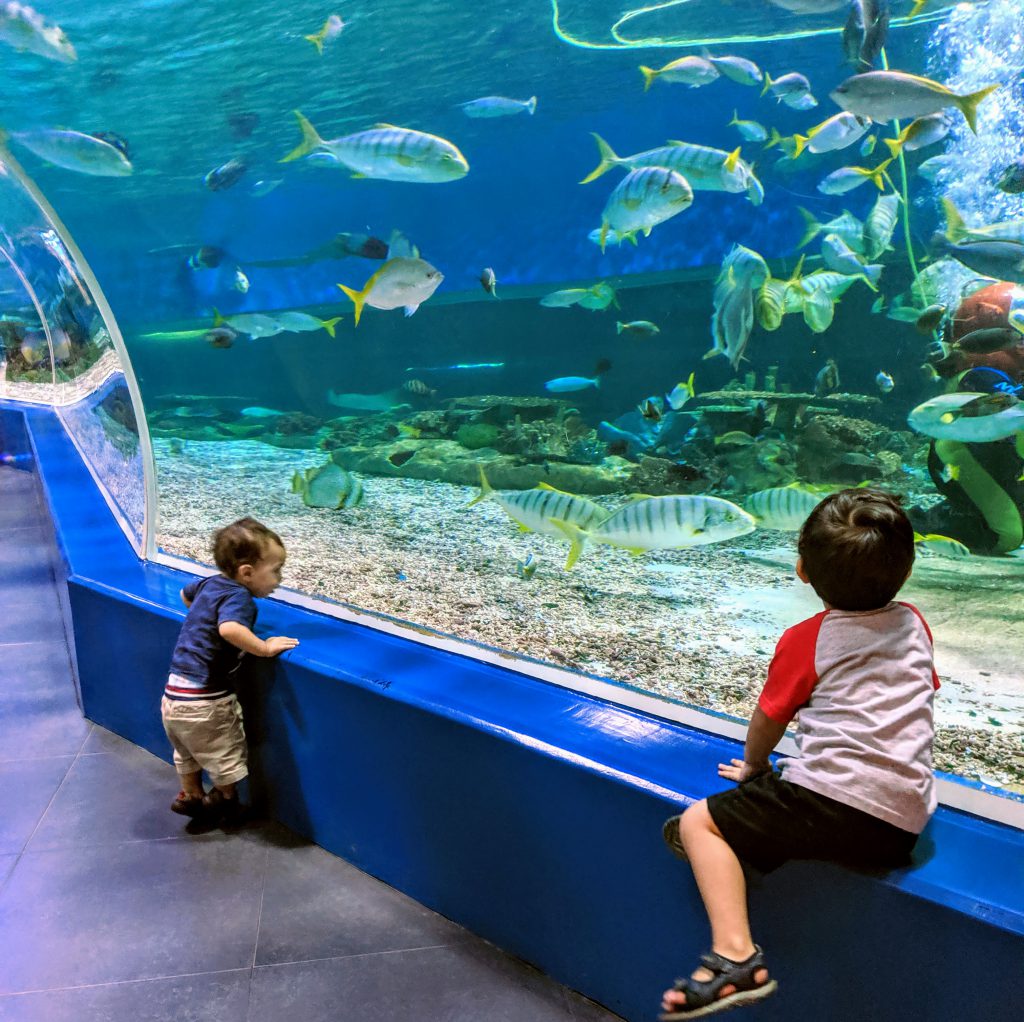 This marine-themed park is located just down the street from Rizal Park.
The main attractions include a tunnel aquarium, a jellyfish exhibit, and an exhibit on creepy crawlies and snakes. There are also several engaging performances, including a bird show and a sea lion show.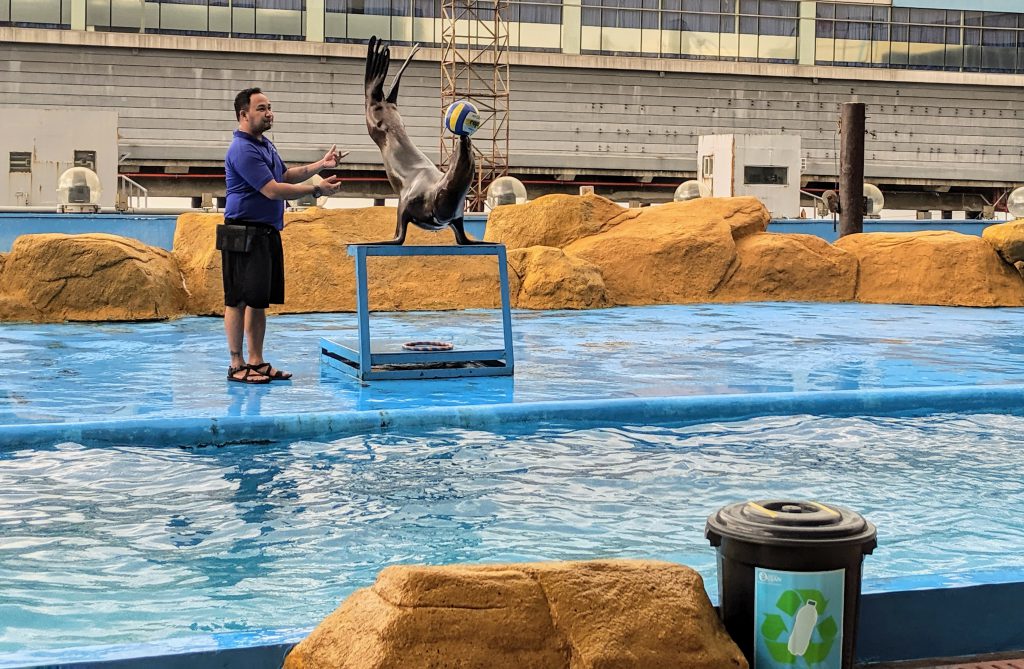 While the main attractions of the oceanarium are definitely worth a visit, we felt that the smaller exhibits didn't have a lot to offer. But if you stick with the big-ticket items, you'll have a fun and memorable experience!
We bought the eight attraction pass and felt like we had plenty to do for the three hours that we were there. There are lots of food options inside, so it's easy to find something for lunch or for a snack.
Note that it's cheaper to book online before you go and children under 2 feet tall are free.
Intramuros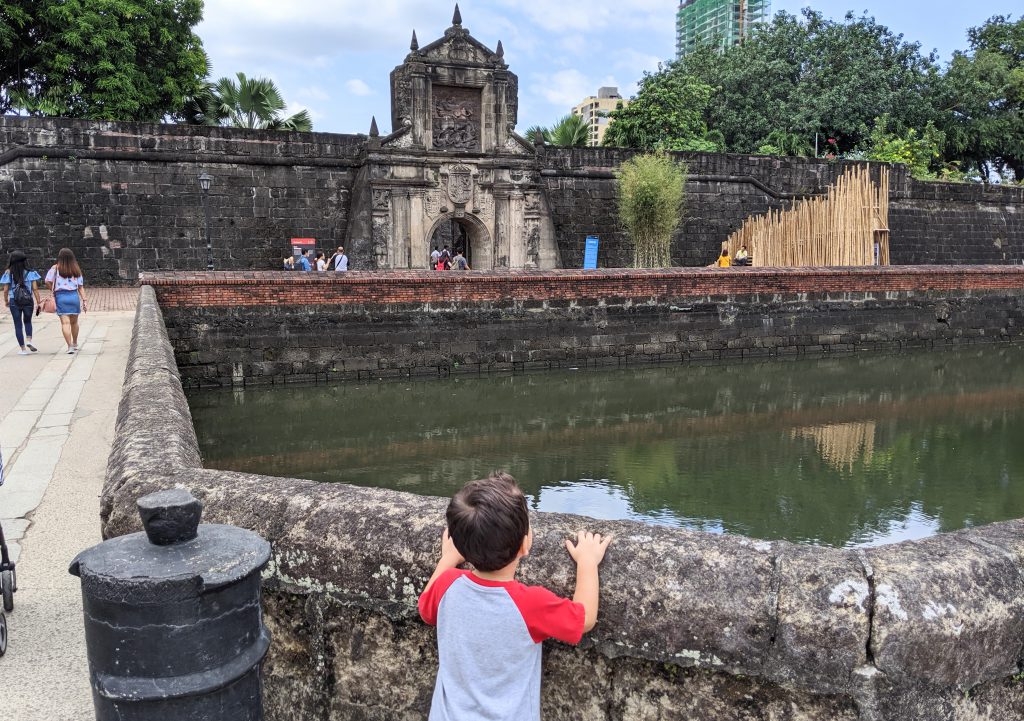 Intramuros is a historic walled city within Manila with sites dating back several centuries to the Spanish occupation of the Philippines.
Within Intramuros, you will find forts, museums, churches, historic sites, and of course, the famous walls that once completely enclosed the city.
A fun way to explore Intramuros is by kalesa (horse-drawn carriage). You can negotiate with one of the many kalesa drivers you'll find along the streets for a tour with stops at the major attractions in Intramuros.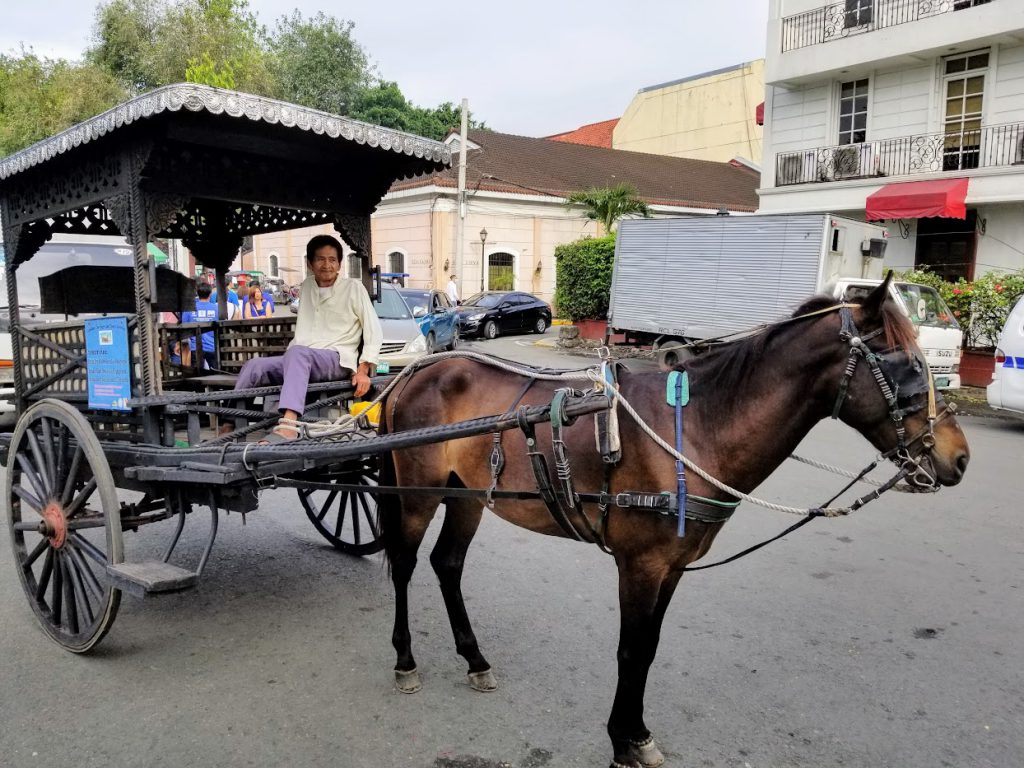 There are lots of sights to see in Intramuros, but some of our favorites were the Manila Cathedral and Fort Santiago.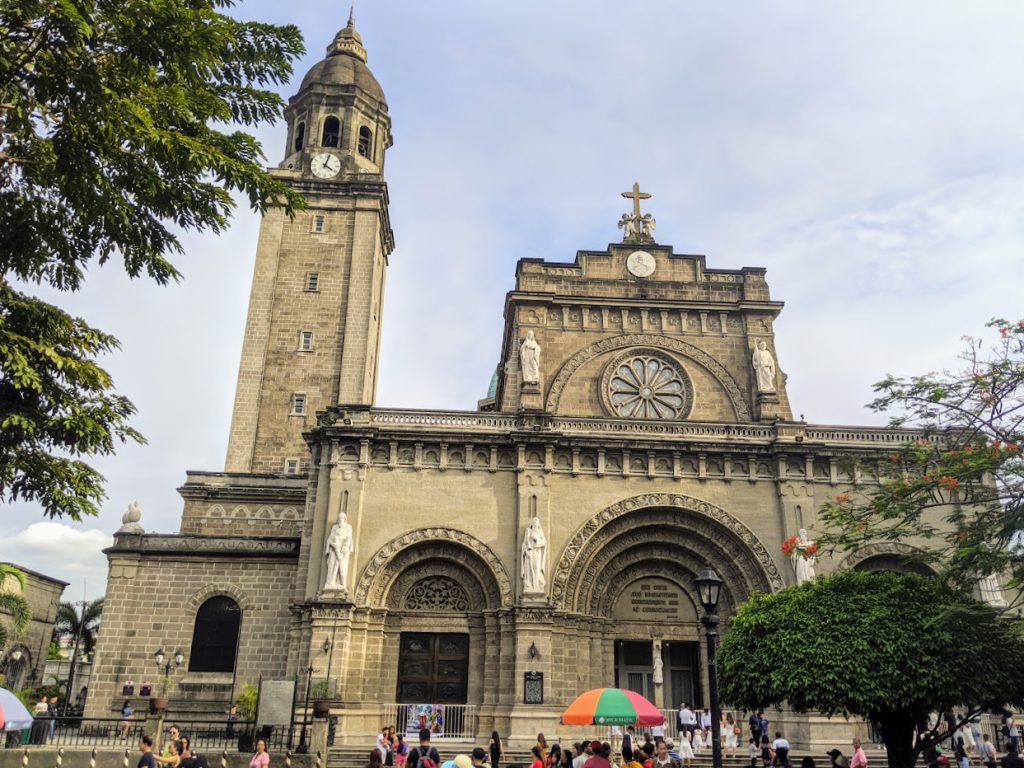 Final Thoughts
There are so many great places to travel in the Philippines that the capital city is often overlooked. But that doesn't mean that there aren't great, kid-friendly places in Manila
If you're planning a trip to the Philippines with kids, consider taking some time to explore what Manila has to offer!
Other posts you might be interested in:
The Philippines with Kids- Everything You Need to Know!
How to Get Around Manila (And Tips for Doing it With Kids)
6 Amazing Things to Do in Bohol (And One to Skip)
Visiting Siem Reap with Kids (What you NEED to Know Before You Go!)