This page may contain affiliate links, which means that we may earn from qualifying purchases at no additional cost to you.
We love visiting the Philippines with our family! And when we're there, we always spend some time in Manila to visit where my husband is from. Which means we've had quite a bit of experience on how to get around Manila, with kids and without.
One of the most difficult parts about visiting Manila is figuring out the best way to get around. But never fear, we have a great summary to help you get started!
Here are the most common methods of transportation in Manila and tips for making it easier to navigate them with kids.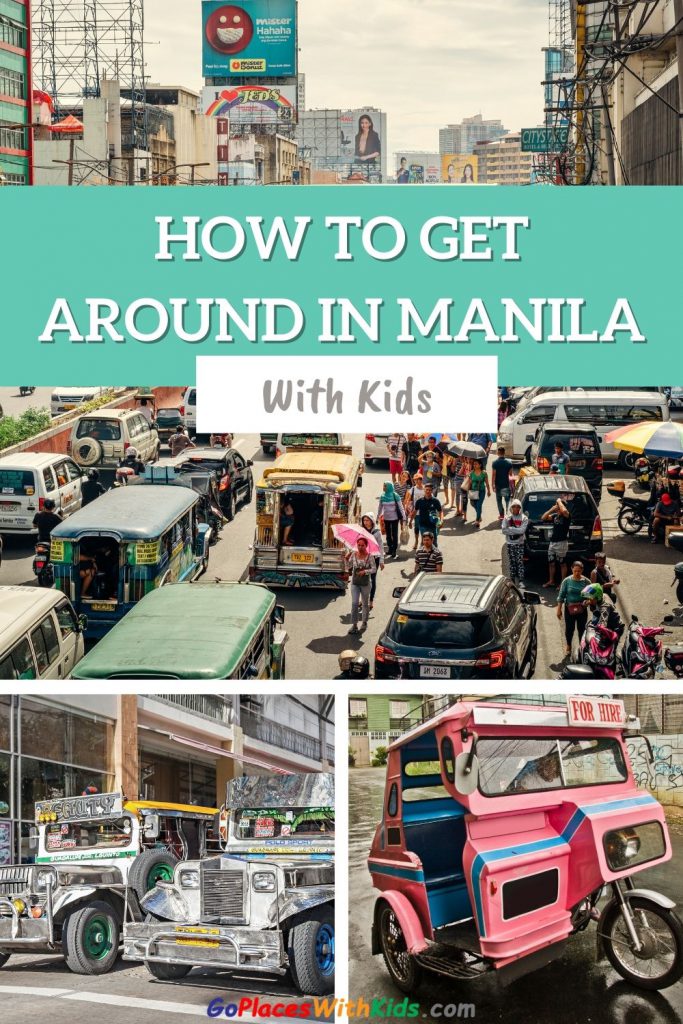 How to Get Around Manila
A note on traffic…
Traffic in Manila is bad. Really bad. I think it's some of the worst congestion I've seen in any city anywhere. And that makes any method of transportation a bit trickier.
And it's not just a "rush hour" problem. Traffic in Manila is terrible all the time.
And if it happens to be raining… you might want to reconsider going anywhere at all until the rain clears up.
So make sure to take traffic into account when planning travel times and where you are staying.
That being said, you have a few options for getting around in Manila.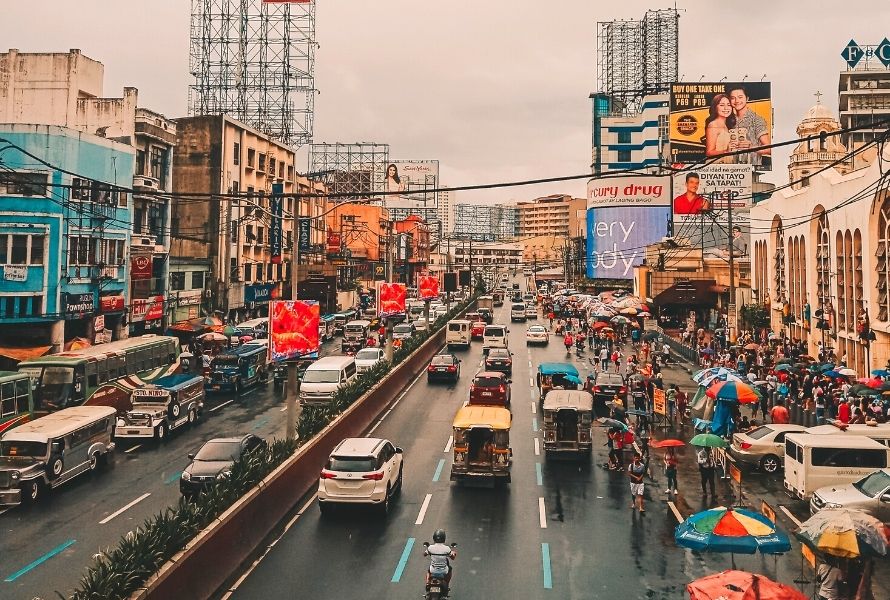 Grab
One of the most convenient transportation options in Manila with kids is using Grab.
Grab is a ride-hailing service (similar to Uber). It's a convenient way to travel because you use an app to hail your ride and to pay. That way you don't have to worry about having cash or the driver trying to overcharge you.
Although it might take a while to get through traffic, taking a Grab is straightforward, direct, comfortable, and airconditioned. Pack some good activities for the kids, then sit back and relax for the ride.
Grab is more likely than taxis to have seatbelts, but it's not a guarantee.
The one downside with Grab is that it can be difficult to find an available driver during peak hours. Taxis tend to be easier to find during this time.
All things considered, this is our preferred method when traveling with kids.
Setting up the Grab app
You can download and set up the Grab app in the US before you leave (make sure to use a credit card that doesn't have a foreign transaction fee).
I would recommend setting up the app before you travel to make sure you can verify your form of payment because Grab can be finicky with credit cards (due to OTP and such).
Every now and then, Grab might send you a text message (for example, when you're logging in to a new phone) so it is advantageous to have a number where you can receive text messages internationally.
*Pro tip- You typically can't see the services available unless you're in Asia. However, if you want to see what Grab offers and how it works, you can mock the location of your device to the Philippines and then you can see the full suite of services available there, cost, and how to navigate the app.
How to pay
The app will tell you the cost of the trip before you even begin the drive. You accept the route and then your card will automatically be charged.
Although you can choose to pay in cash, the benefit comes when you pay using GrabPay (which happens when you have a credit card set up in the app).
Taxi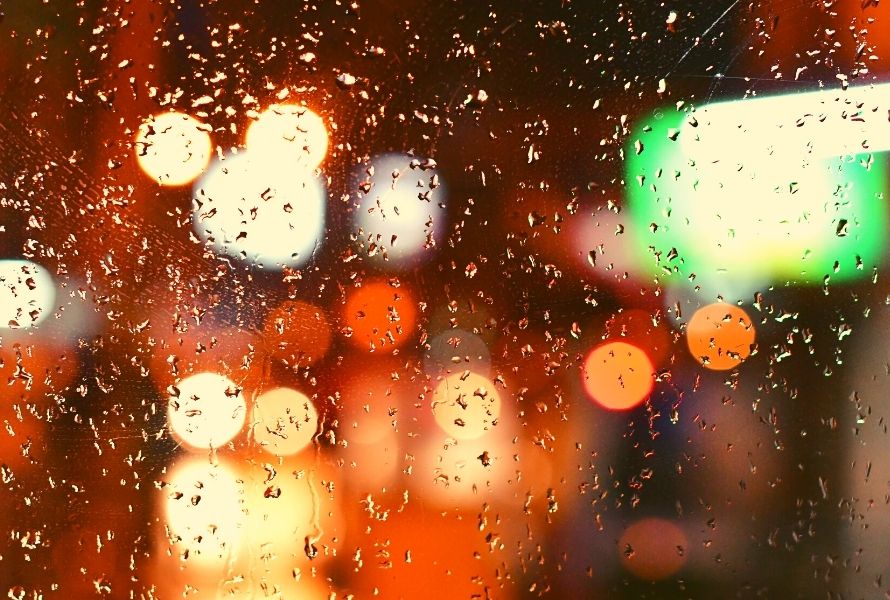 Taxis are another method we use frequently with kids, although they do have a few drawbacks.
Taxis are very common and you can hail one anywhere. To hail any form of public transportation, just extend you arm and make a motion like pressing a button over and over with your pointer finger.
It's common practice to tell a taxi where you're going before you get in. It's illegal for them to decline to serve you, but sometimes they will if it's not a route they want to accept.
Feel free to decline a ride if a taxi arrives and you aren't comfortable with something, whether it's safety features, a strong smokey smell, etc.
To be extra safe, you can take a picture of the taxi's information in case you need to report a problem or you leave an item behind. Reputable taxi lines (eg. from malls or hotels) will often provide you with a slip when you leave or arrive providing this information.
Taxis are less likely to have safety features like seat belts available for use, which means they often don't have a method for securing a car seat.
How to pay
Taxis are slightly cheaper than Grab, but you need small-bill cash to pay. If you look like a foreigner they might try to overcharge you by trying to avoid the meter and charge you a more expensive rate. Make sure the meter is running when you begin your trip.
Contracting (deciding a fixed rate beforehand) is actually illegal, but often they will try it anyway. This is an overcharging tactic, but sometimes they're just doing it to try to compensate for time and gas in a heavy traffic route.
MRT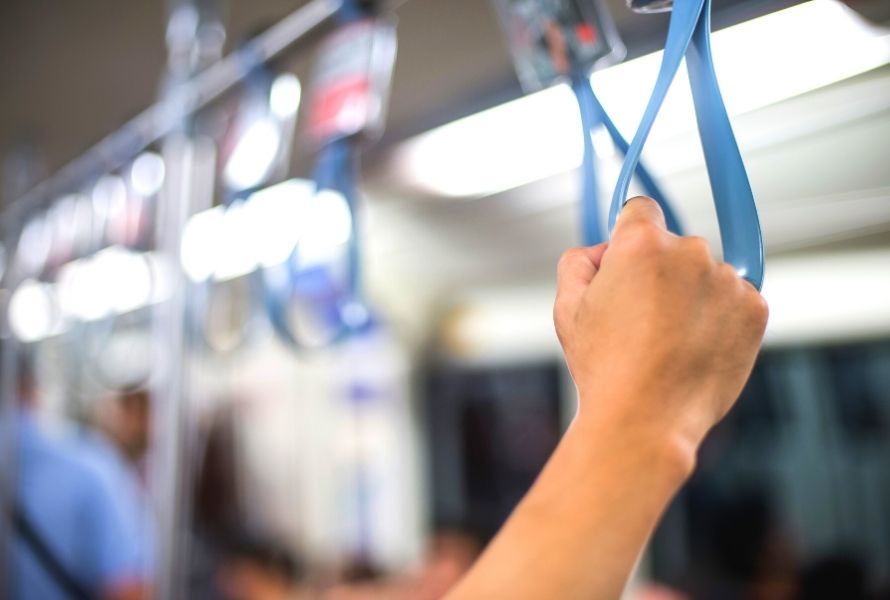 The MRT (train) is another option. However, note that the MRT experience in Manila is vastly different than a place like Singapore where it is extremely efficient, clean, and convenient.
We've actually never used this method when traveling with kids, although my husband uses it frequently when traveling independently.
The positive is that the MRT is considerably faster than car travel if your origin and destination are close to the station. It can be a helpful way to bypass traffic.
However, between the long lines and waiting for trains, it can end up taking a while as well. They are also very crowded and often the airconditioning isn't strong enough to counter the heat. And make sure to watch out for pickpockets who take advantage of the crowded conditions.
The MRT is most useful if your destination is right by the station. If not, you'll need to find another method of transport to get to your final destination after getting off the train.
There are three lines at MRT stations. The first is a security check, the second is to buy your ticket, and the third to get in the MRT. Make sure you're in the right line, as there are often different lines for different destinations, people with disabilities, and exact fare.
If you are a woman traveling alone with your kids, there is usually a women-only car in the front with its own line.
How to pay
Buy your ticket at the station before boarding the MRT. You can either pay for a loadable card or a single journey ticket (you'll probably want the latter).
Bus
You can also choose to take the bus, but they are not necessarily very straightforward for tourists.
Although buses have plaques on their windows telling their routes, you need to understand the stops on the routes to make good use of them. For example, whether they go over or under overpasses, which could mean that it is faster or it may not stop close to your destination.
You can also choose a very cheap option, which is a non-airconditioned bus, but it's probably not worth the trade-off.
Most city buses in Manila are designed to go through major highways.
How to pay
A bus conductor will come to you to collect your bus fare. Tell them where you came from and where you are going and they will tell you how much you owe. They will give you a little piece of paper that you're supposed to keep, although usually they won't check it again.
Once again, make sure you have small bills.
Jeepney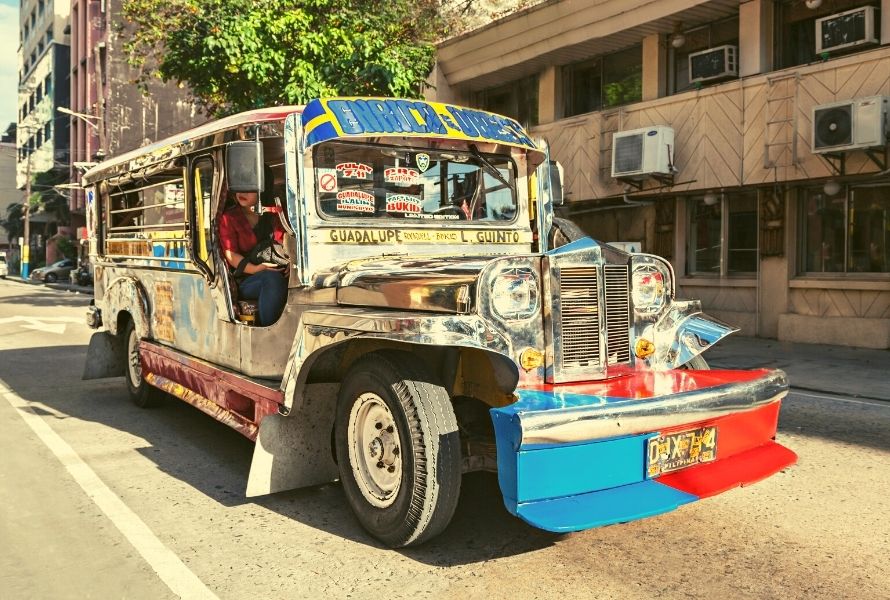 If you're feeling adventurous, try taking a jeepney! Jeepneys are the colorful local buses of the Philippines.
They have extensive routes and can pick up and dropoff anywhere on their route, without having to worry about bus stops. Plus they are a very cost-effective way of getting around.
The downside is that they are often jam-packed and if you don't know the routes, it can be difficult to tell where they are going. It's best if you can have a local to help you know which jeepney you need. Or you can ask the driver if they are going to your destination.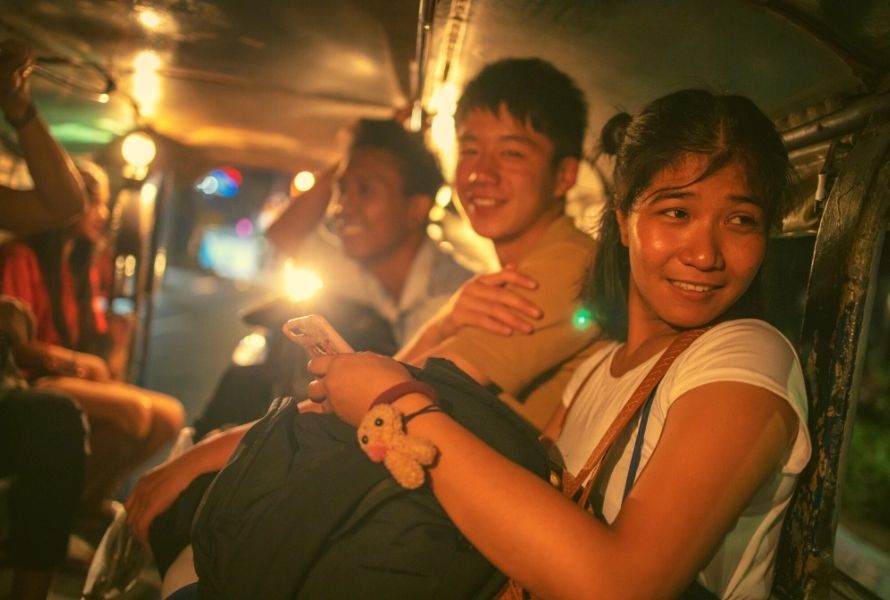 How to pay
At some point after you get on, reach out your payment (preferably in small bills) and it will get passed to the driver. When it reaches the driver, shout out where you're going and they'll pass your change back to you.
Tip: Don't pay when everyone else is paying or you might get confused which change is yours.
Tricycle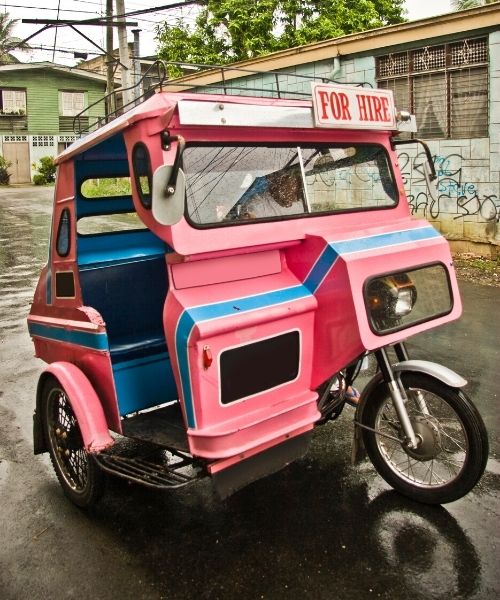 If you're going a short distance within a certain area, a tricycle is a fun and cheap option for getting around. My kids love this method of transportation when we're in Manila!
Tricycles are small carts powered by a man on his bicycle or motorbike. They only take passengers over short distances and have certain zones they work in.
Unless you're wanting the experience of riding a tricycle, you probably won't have reason to use one. They are used as last-mile transportation for locals to get them to a destination, usually after they have taken a jeepney or other transport.
How to pay
Pay your driver in small bills when you arrive at your destination.
Car Seats and Child Safety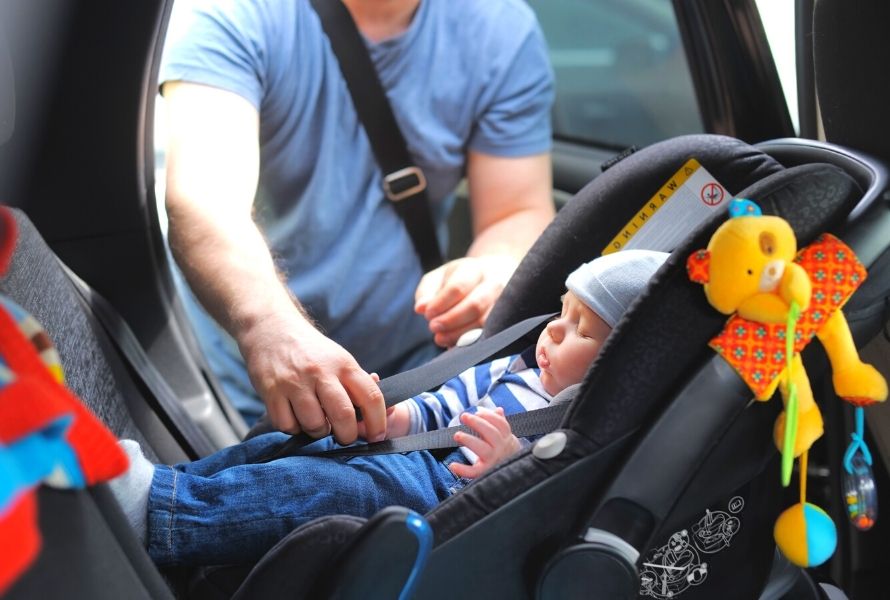 Car seats are not commonly used in the Philippines. Neither are seat belts for that matter. There are seat belt laws, but people tend to ignore them (unless perhaps when they know a cop can see them).
You can always choose to bring your car seat, just be aware that many of the taxis cover or remove their seat belts so they will not be accessible to secure your car seat.
As mentioned above, Grab is probably your best bet in terms of transportation that would support car seats. This is because the cars tend to be newer and Grab requires its drivers to have cars with seat belts.
It's still not guaranteed, but we've had good luck finding Grab rides with seat belts. And you can report it to Grab if there isn't.
If it helps at all, you're rarely traveling full speed on the roads in Manila due to the constant stop-and-go traffic.
Don't get too stressed if your driver or other cars don't appear to follow what we would see as common traffic etiquette. The drivers in Manila are pretty good at avoiding accidents despite a seeming disregard for laws and discipline on the road.
Final Thoughts
Although transportation in Manila can be challenging when traveling with kids, there are a lot of options for getting around.
One of the best things you can do is plan where you want to go and stay in such a way that you can minimize your travel time.
If you know what to expect (and manage your expectations), navigating transportation in Manila can be just a minor hiccup in an awesome trip!
Other posts you might be interested in:
The BEST Places to Visit in Manila with Kids
10 Must-Try Foods When Visiting the Philippines
Philippines Preschool Unit- Crafts, Activities, and Free Printables!