This page may contain affiliate links, which means that we may earn from qualifying purchases at no additional cost to you.
Penang, referred to as "the Pearl of the Orient", lives to the hype. This Malaysian island (and state) has a fascinating, diverse culture, a world-renowned food scene, and stunning landmarks. And there are a lot of great places to visit in Penang for kids!
We were lucky enough to take a family trip to Southeast Asia earlier this year right before the pandemic hit. And Penang was one of our favorite places we visited with our young kids.
At the time of our trip, our boys were 18 months and three years old. Although this can be a difficult age for travel, we find always find family travel to be worth it, and this trip was no different!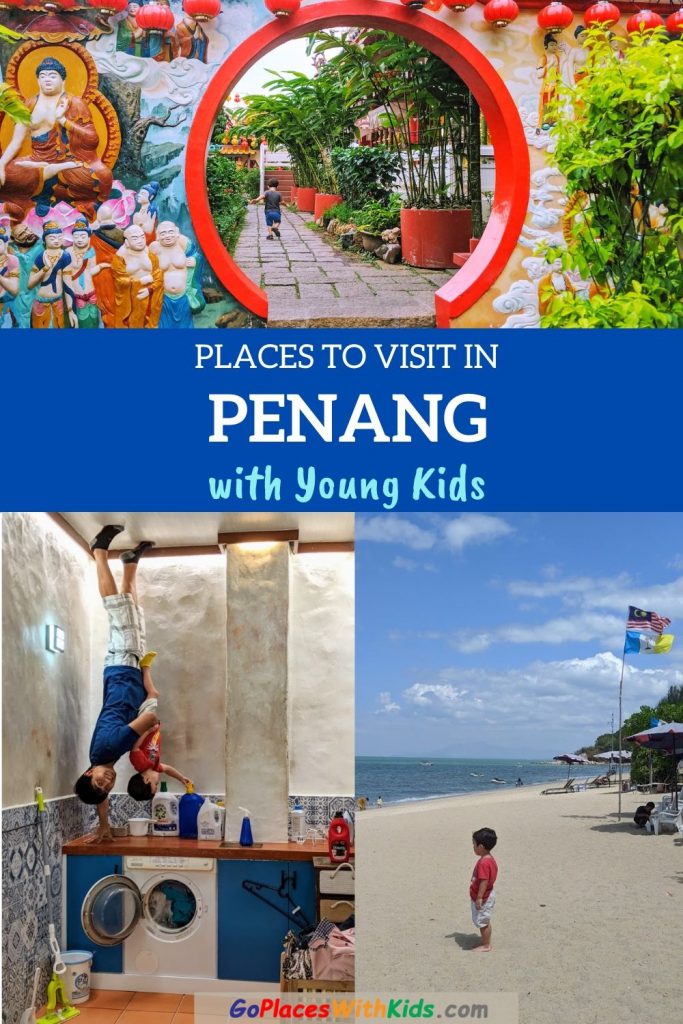 How to get around in Penang with kids
We found the easiest way to get around in Penang was by using Grab. Grab is a common ride-sharing service in Southeast Asia.
Grab is convenient to use because you request a car and pay using an app. This makes it easy to get a ride wherever you are and it means you don't need small bills to pay the driver.
If you're bringing a car seat, Grab also typically has seat belts for you to use to attach your car seat (which isn't always true of taxis.)
Places to visit in Penang for kids
Penang Hill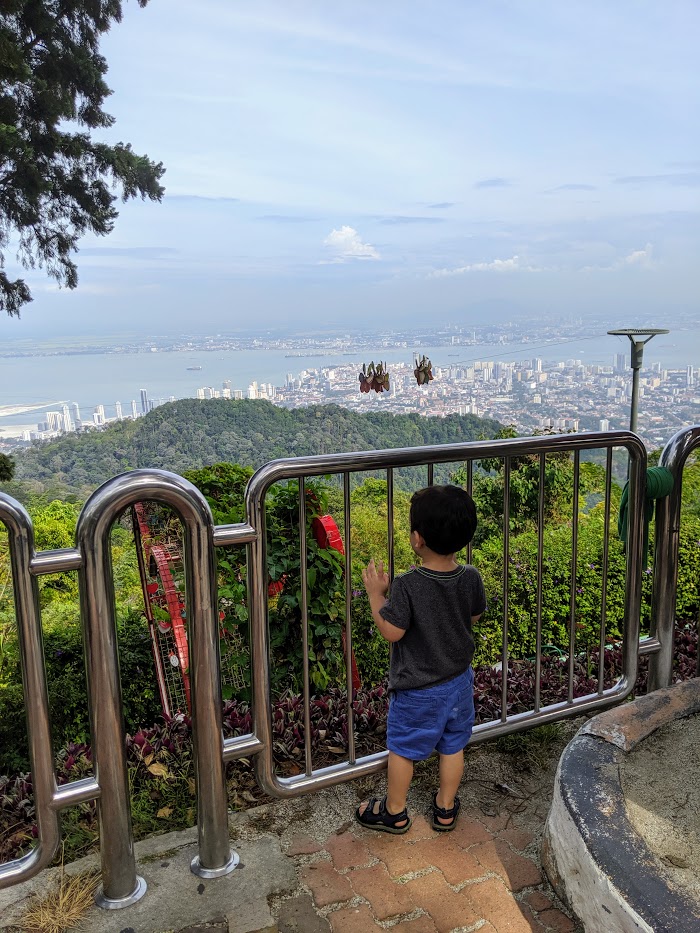 If you're looking for a place to spend a laid-back afternoon, try visiting Penang Hill. The hill has stunning views of Penang and lots to keep a family entertained!
It's a quick tram right up the steep hill to reach the top. My boys love trains and trolleys, so this was a highlight for them!
Once you reach the top, there are a variety of things you can do. There are lots of lookout points, a skywalk, a small Hindu temple and a mosque, a nice playground (this was a highlight for my kids), and a couple of small museums.
There are also vendors selling a variety of services and items such as henna, wax hand molds, caricatures, and of course, souvenirs.
In terms of food, there is a small hawker center with some delicious local food options for a reasonable price.
Kek Lok Si Temple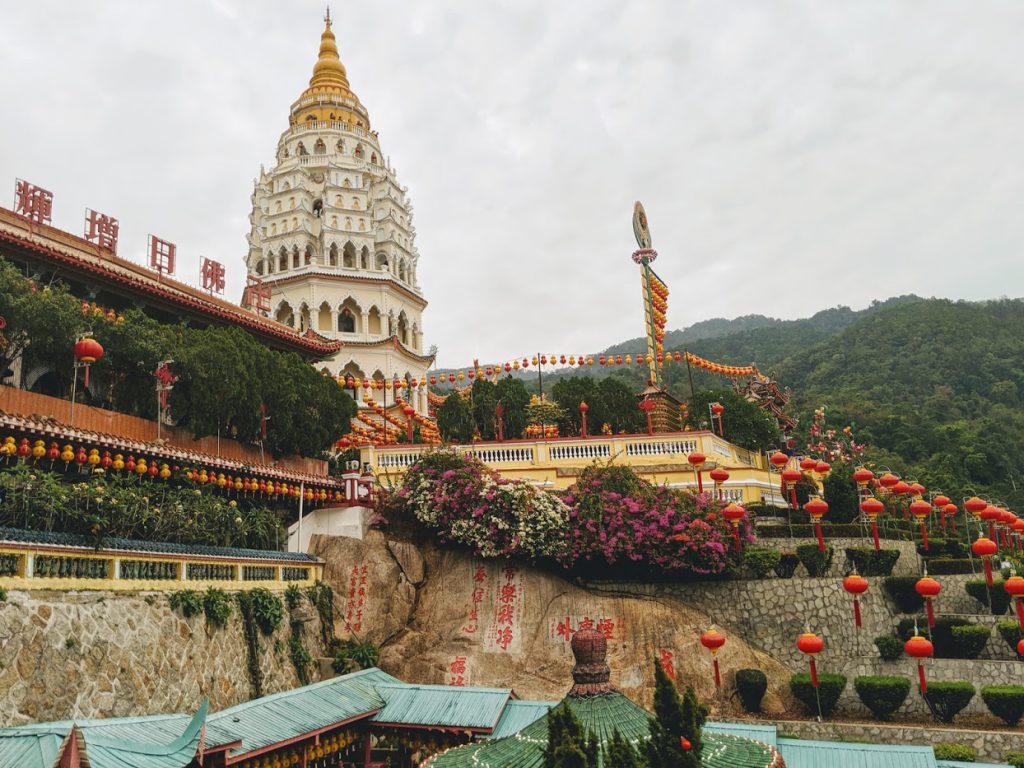 Kek Lok Si Temple is the largest Buddhist temple in Malaysia. It is a truly spectacular temple to visit, with stunning pagodas, beautiful gardens, and ornate statues.
There are a lot of stairs and it is not stroller friendly, so if you're traveling with a baby or young toddler, you'll want to bring a baby carrier.
For more information about visiting this stunning temple with young kids, see this post.
Georgetown
Georgetown is the vibrant capital of the island of Penang. A UNESCO World Heritage Site, it is known for being a fusion of cultures and history.
One of the best things to do in Georgetown is simply walk around and take in the ambiance.
Georgetown is famous for its street art. You can look up maps online that will guide you to these often subtle works of art. It's kind of like a scavenger hunt, and what kid doesn't love a scavenger hunt? My three year old was delighted every time we found a new piece of street art.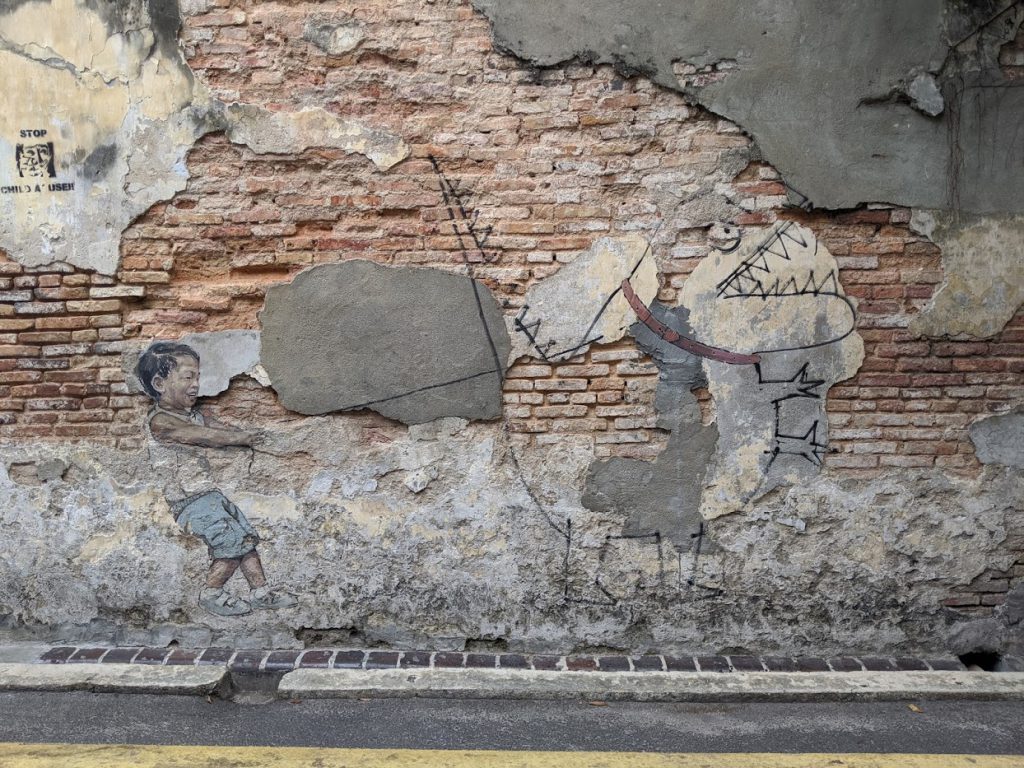 The area is also known for it's delicious food and great shopping.
We enjoyed strolling around the area as a family (although it was a hot day, so we had to take some breaks). We took a stroller for our 18-month-old and found it fairly easy to navigate the streets, although at points we had to go into the main road (when it wasn't crowded) because there wasn't a clear path on the sidewalk.
Our three-year-old walked for most of it, but we let him sit on the handlebars of the stroller when he got tired.
Upside Down Museum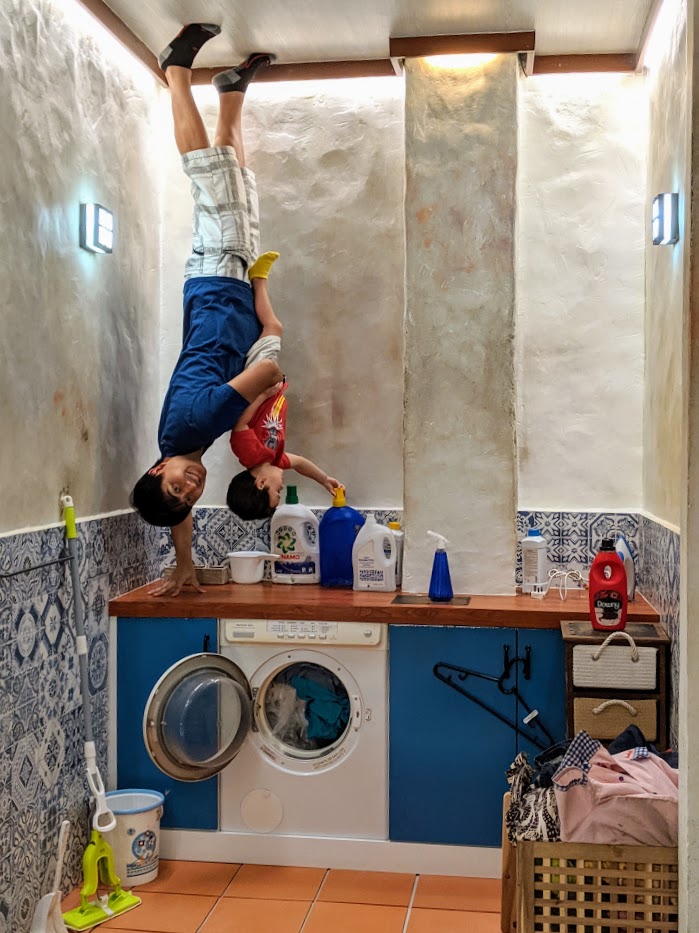 The Upside Down Museum in Penang was one of my boys' favorite things we did the whole trip.
Really the whole experience is a series of photo ops with detailed sets. Each new set has a different upside down scene. The friendly staff help you to pose in a way that makes it look like you're upside down when you rotate the picture.
I thought it sounded strange at first, but it was actually a blast taking all of the pictures and my boys thought it was hilarious to look at them afterwards.
The staff was awesome and were very sweet and patient with my boys, which made it a great experience for the whole family.
Batu Ferringhi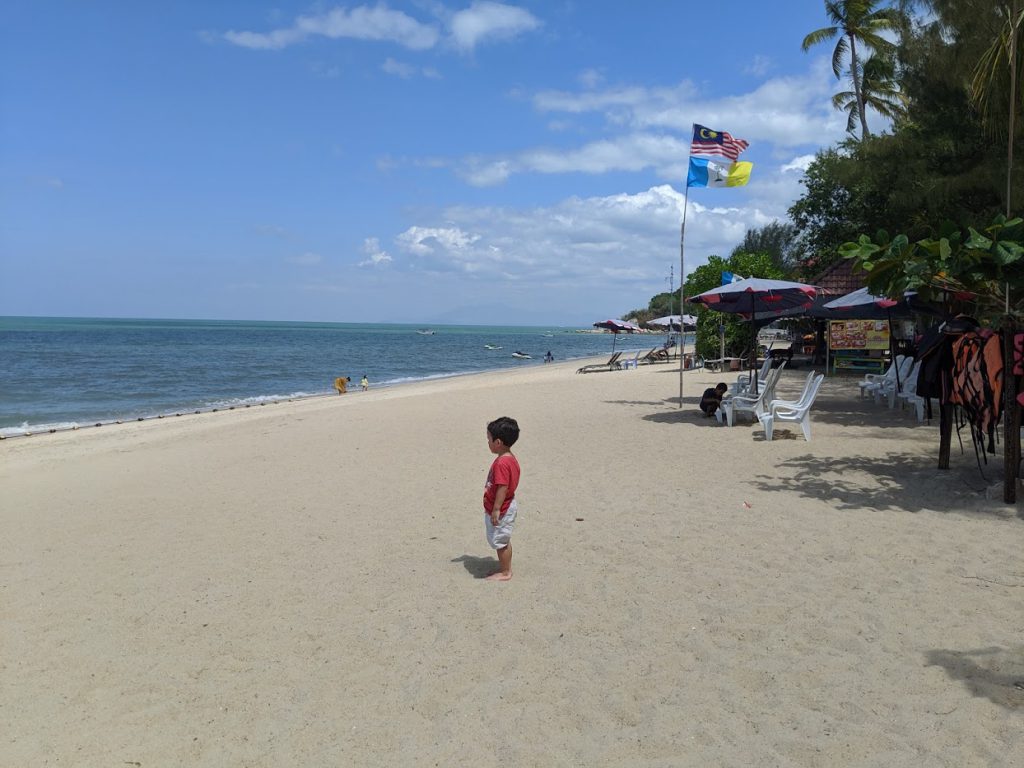 Batu Ferringhi is a popular tourist destination in Penang known for its lovely white sand beach. The beach is a perfect place to relax or participate in water sports- there are lots of people selling these services along the beach.
However, it is not a great place for swimming due to murky water and an abundance of jellyfish (this is true for most of Penang- it's not ideal for beach swimming).
We had a lovely time here relaxing on the beach and playing in the sand. There were very few people and we mostly had the beach to ourselves.
Adventure Zone at Golden Sands Resort
For our kids, the highlight of Batu Ferringhi was Adventure Zone, a children's play area at Golden Sands Resort just off the beach. This is a great place to visit in Penang for kids. There was so much to keep our children entertained.
Our three-year-old loved the big gunny sack slide and the rope bridges, while our 18-month-old was entertained by the slides, ball pit, and climbing structures in the toddler area.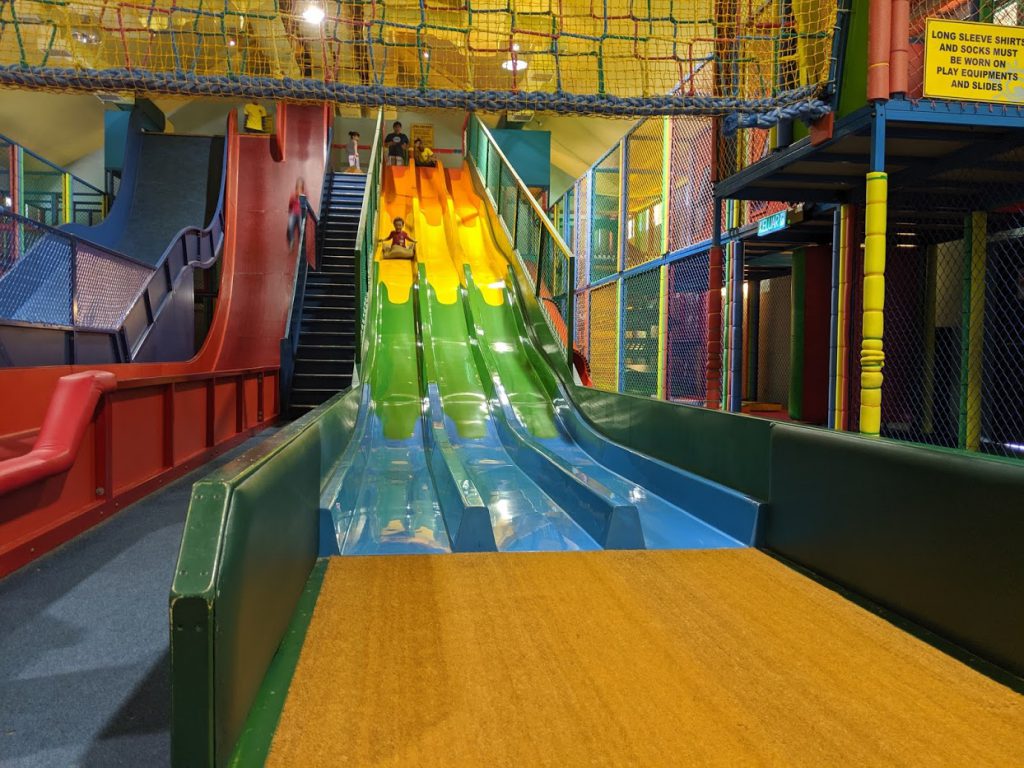 And the bigger slides are great fun for older kids and even adults! Our boys would have stayed at the Adventure Zone all day if we had let them.
There is a discounted price for those staying at the resort, but visitors can get a two hour pass for a reasonable rate (35 ringgit when we were there). Socks and long sleeves are required.
Where to stay in Penang
While we were in Penang we stayed at the Doubletree Resort by Hilton. This is a great family-friendly resort. My kids were immediately impressed by the cookies presented to us upon arrival and the Teddyville Museum.
The highlight for us had to be the pools, which includes a great kids water area. In addition to the pools, there is a nice kid's club with lots of fun activities to keep kiddos entertained.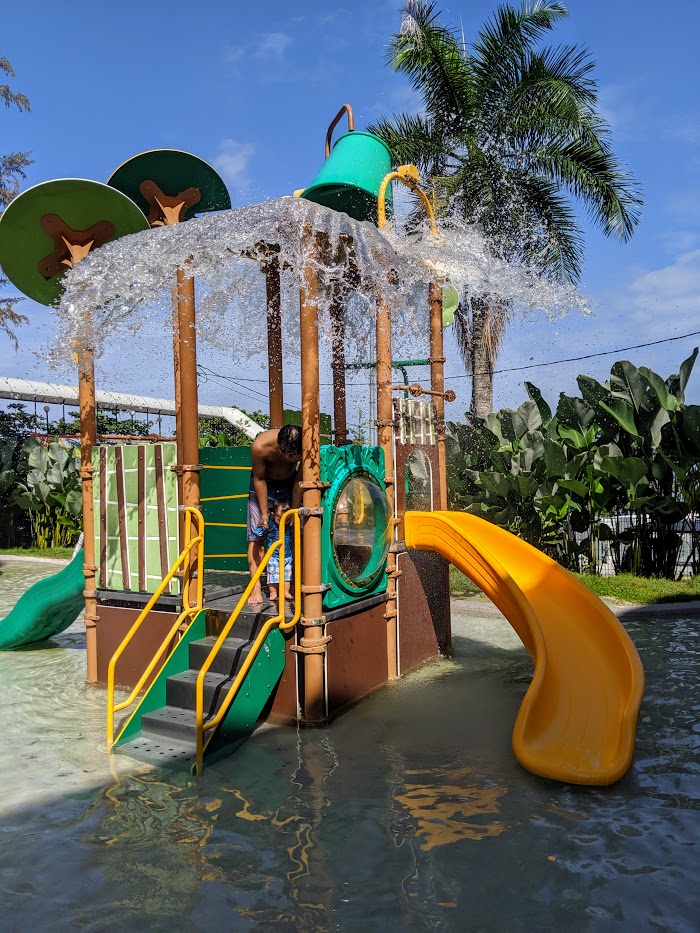 We also really enjoyed the buffet breakfast, which had a variety of food including Chinese, Malaysian, Indian, and American food.
All in all, we were really pleased with our stay at Doubletree while we were in Penang.
Challenges of Visiting Penang with Young Kids
Honestly, the biggest challenge of our trip was getting there and dealing with jet lag. It's a long flight for a three and one-year-old crossing several time zones. And there aren't direct flights to Penang, so you have to make stops elsewhere first.
However, even then our kids did quite well. We made sure we had lots of fun activities to keep our kids entertained on the flight. And once we got there, we maintained a low-key, flexible schedule with an emphasis on getting to bed early and napping when possible.
As for Penang itself, we found it to be a fun, low-stress vacation with young kids. There was plenty to do and it was easy to get around, find good food, and communicate with the locals.
Final Thoughts
If you're looking for a place for family travel, we would definitely recommend Penang for kids and adults alike!
There's so much to do and everyone will find something that they can enjoy, down to the youngest traveler! It was definitely one of the highlights of our Southeast Asia trip!
Other posts you might be interested in:
The BEST Places to Visit in Manila with Kids
The Best Airplane Snacks for Toddlers
Baby and Toddler Beach Essentials (And Tips for Making Beach Day a Success!)
The Ultimate 3 Day Siem Reap Itinerary