This page may contain affiliate links, which means that we may earn from qualifying purchases at no additional cost to you.
If you're planning to visit the Philippines with kids, this is the guide for you! We have all the details you need for a great family trip.
The Philippines is a great destination choice when you're traveling with kids. It's relatively inexpensive to visit but boasts some of the most picturesque locations you'll find anywhere. The people are friendly, the beaches are gorgeous, and English is commonly spoken.
The Philippines is one of our favorite international destinations. Partly because it's just a great place to visit and partly because my husband is from there originally.
We've been there several times with our kids and we've got the inside scoop on what you need to know before you go!
Common Questions About Visiting the Philippines with Kids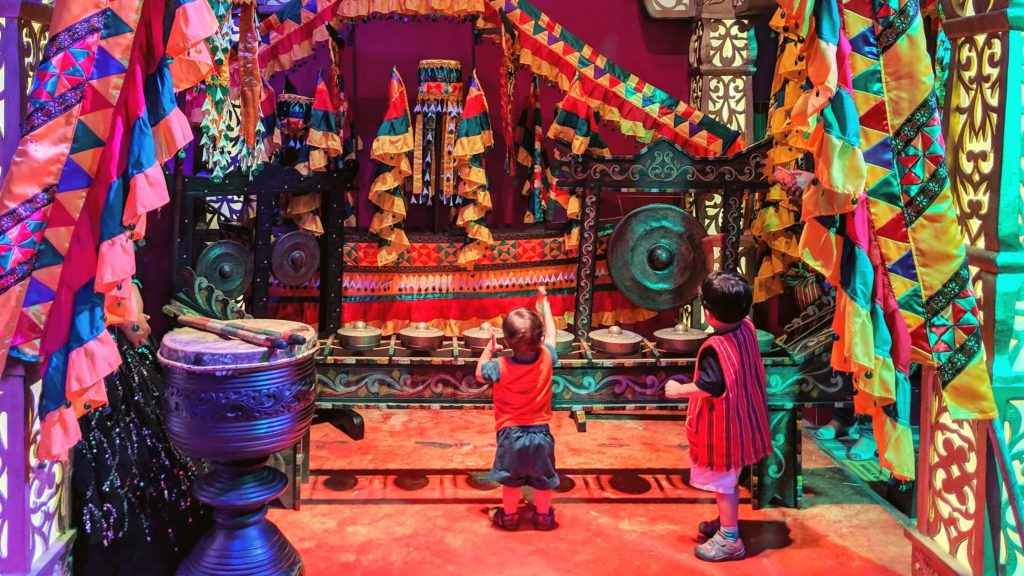 The Philippines is very family-oriented and you'll find that people are understanding and accommodating of children. If you are a family of foreigners, expect your young children to get lots of love and attention from the locals.
Here are the answers to some common questions people have when considering visiting the Philippines with kids.
Is it safe to visit the Philippines with kids?
The short answer: yes! People in the Philippines tend to be kind, warm, and accommodating, especially of children. Most often people will be very willing to help you. I've never felt unsafe in the Philippines.
That being said, like any other place you should take normal precautions. The most likely problem you will face is getting scammed or ripped off because you're a foreigner, whether it's from the taxi drivers, vendors, or pickpockets.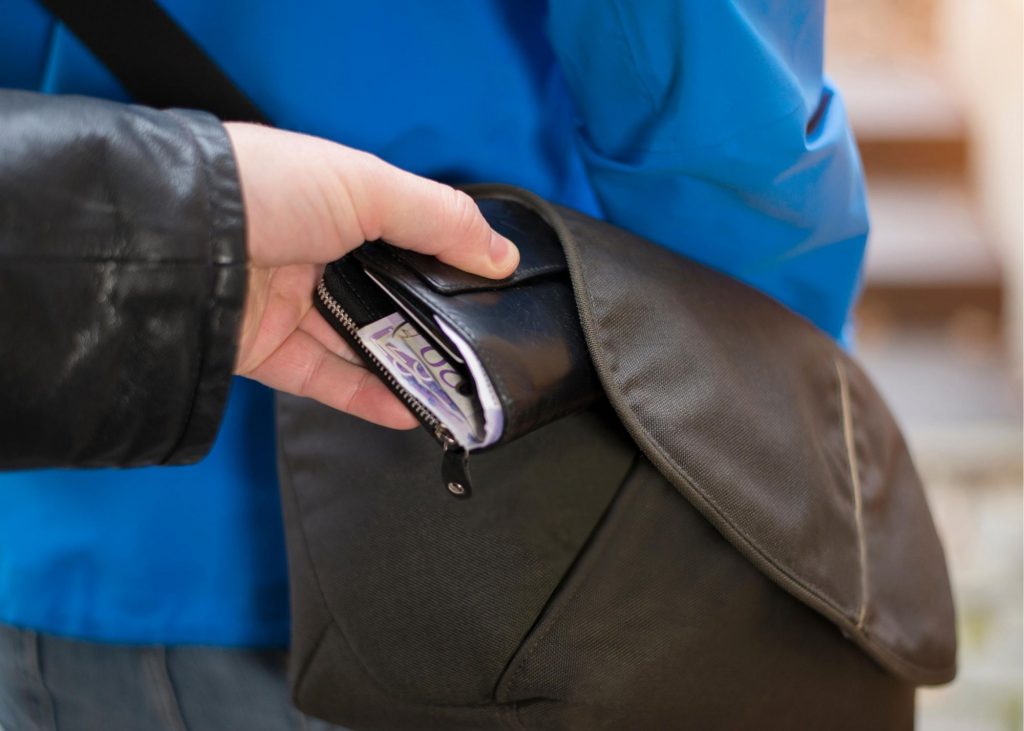 Like most places you'll travel to, being a tourist does make you a target. Being the victim of a crime is unlikely, but it can happen.
So just be smart: Don't carry large amounts of cash or important documents in your wallet. Invest in a money belt to keep your valuables secure and then don't access it unless you're alone. Wear your purse strap across your head, not just on your shoulder. Keep a close eye on your bags.
Enable location tracking on your phone and share with trusted family or friends. That way there are people who know where you are and you can more easily find your phone if it gets lost.
As far as car safety, seat belts are also not commonly used in the Philippines (most taxis will actually remove them). If you would like to have a seatbelt, Grab (a ride-hailing service) is most likely to have them, although that's still not guaranteed.
But as long as you take the necessary precautions, you should be able to have a fun and enjoyable trip to the Philippines with kids.
Can you travel with a baby to the Philippines?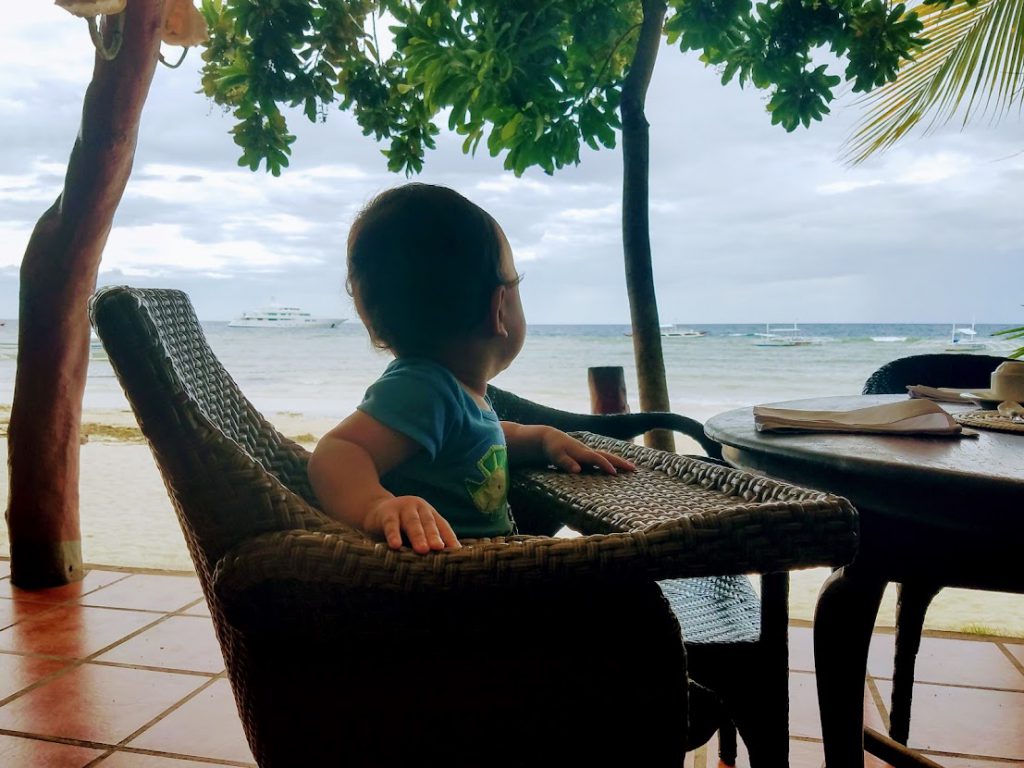 Speaking from personal experience, we can confidently say that yes, you can travel to the Philippines with a baby!
You'll likely have lots of friendly encounters with strangers as people try to engage with your baby.
And the good news is, if you're traveling with a baby or toddler, you can easily find most supplies you might need at the local supermarkets or even sari-sari stores (neighborhood convenience stores). This includes diapers, wipes, baby food, and formula.
Should I bring a stroller to the Philippines?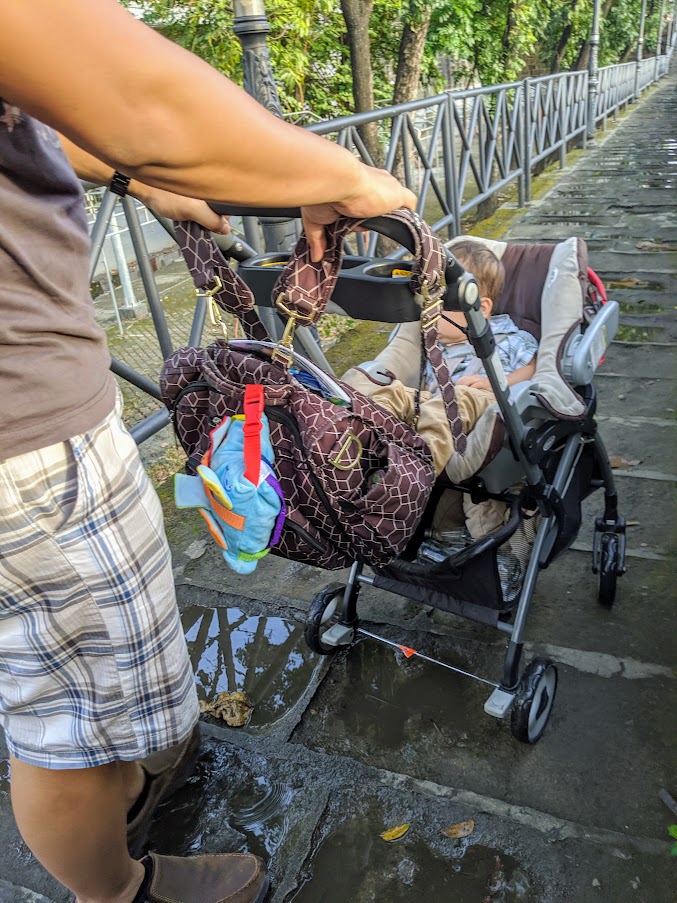 Much of the Philippines is not very stroller friendly, although there are some places where we've found a stroller to come in handy, such as malls or museums.
The roads often don't have sidewalks that are level and smooth enough for a stroller and if you're transferring by boat or plane, strollers can be bulky and inconvenient.
We've done trips with a stroller and without, and while both have pros and cons, we typically prefer leaving the stroller behind.
For younger kids, a baby carrier is often the more convenient option for transporting your child during your stay.
When to visit the Philippines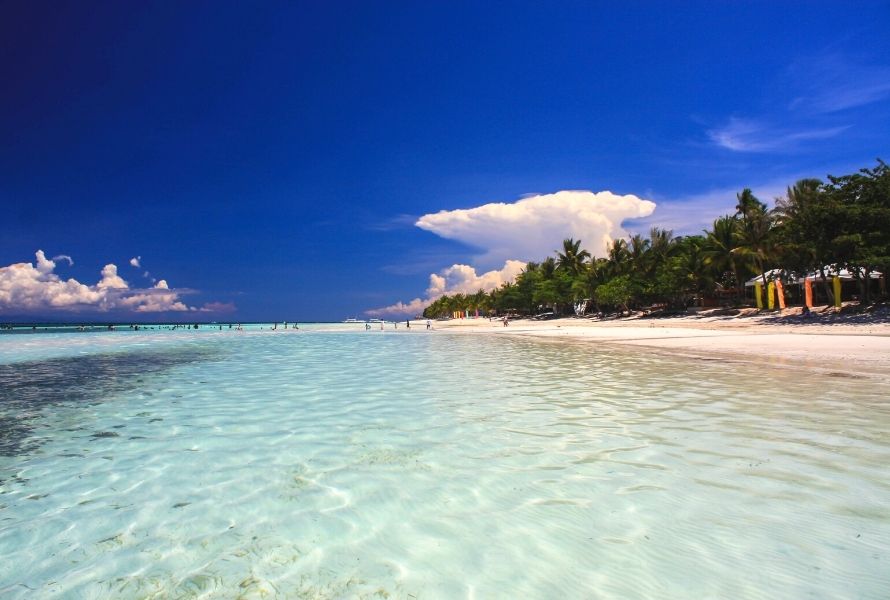 There are really just two seasons in the Philippines: the dry season (October to May) and the rainy season (June to October).
December to February is the most popular time to travel to the Philippines because it is relatively cool but dry. And Christmas is a big deal in the Philippines, so often people come for the holidays.
The shoulder months (the months between peak and low season) can be a great time to visit because it's less crowded, flights are cheaper, and the weather often holds out.
But even during the rainy season, there are usually brief but intense rainstorms followed by sunny stretches. If you wait out the rain, you can still have some great outdoor experiences during the rainy season.
Getting around in the Philippines with Kids
There are a few options for getting around in the Philippines, depending on the area you're in.
Car seats are not commonly used in the Philippines. You can bring one, just be aware that there might not be an option for attaching it to the car.
Below are a few options for getting around. (If you want a more detailed guide to transportation in Manila, see this post.)
Grab/taxi
Our most commonly used method of transportation when visiting the Philippines is Grab, a ride-hailing service common in Southeast Asia.
To request a ride you just use the app on your phone, which is super convenient. And since all transactions are also done using the app, so you don't need to have cash on hand.
Or you can opt for a taxi, which tends to be slightly cheaper than Grab, but require you to have small bills available. You're also more likely to be overcharged by a taxi driver, whereas with Grab you know the cost of your trip before you even book it.
Jeepneys and Tricycles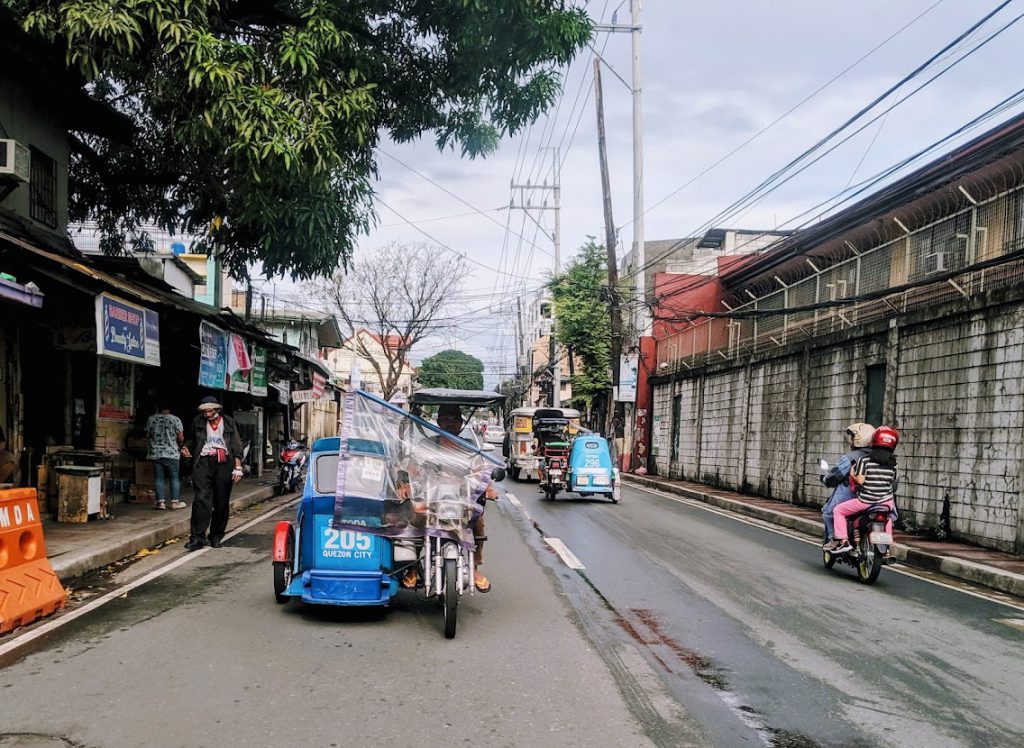 There are also some local methods, like jeepneys (colorful buses) and tricycles (a motorcycle/bike and a sidecar). These methods can be a cultural experience in and of themselves but require a bit more know-how or the help of a local to know the routes.
Plane/Boat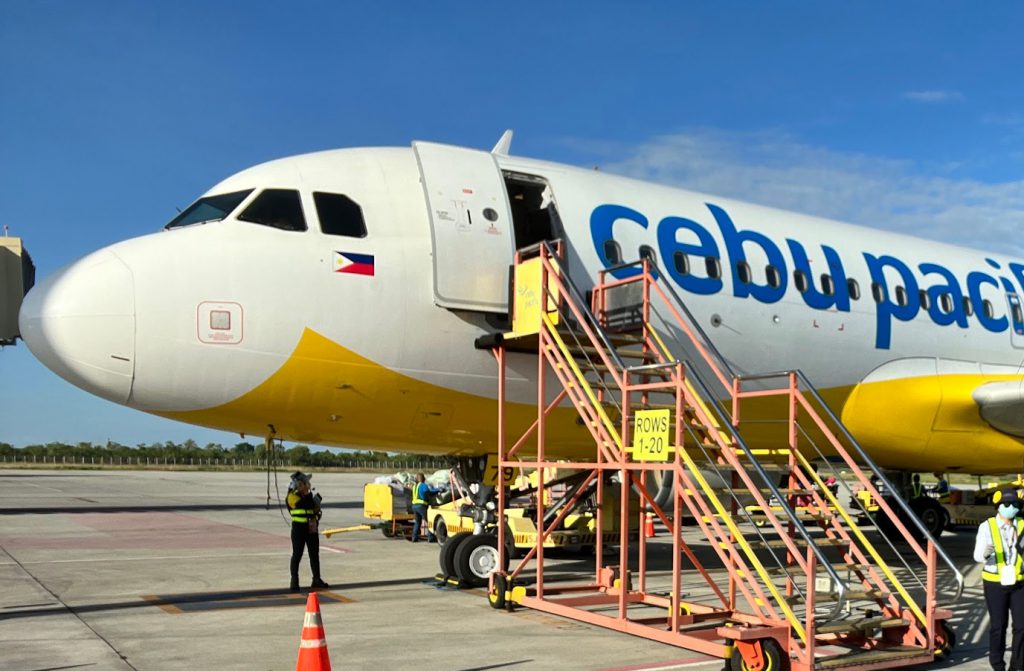 Given that this is a country made up of over 7,000 islands, getting between destinations in the Philippines often requires the use of a boat or plane.
Because the country is so spread out, flying is often the best way to get between destinations within the Philippines.
If you're connecting to a domestic flight in Manila, make sure that you know which terminal you're flying out of. There are several different terminals which are completely seperate buildings and can make for a bit of a complicated transfer.
From the major coastal cities you can also get to the islands by boat or ferry. To get the tickets, you will typically have to go to a physical ticket booth at the dock or in a mall and pay in cash for your fare.
Food in the Philippines
There is so much delicious food to eat in the Philippines. And there are a lot of child-friendly options!
Filipino food is flavorful but typically not spicy. And there tend to be mild choices available, like rice (which you will likely have at every meal) and noodles.
Some of our boys' favorites include puto (steamed rice cakes), barbecue (grilled pork or chicken), and pancit (a Filipino noodle dish).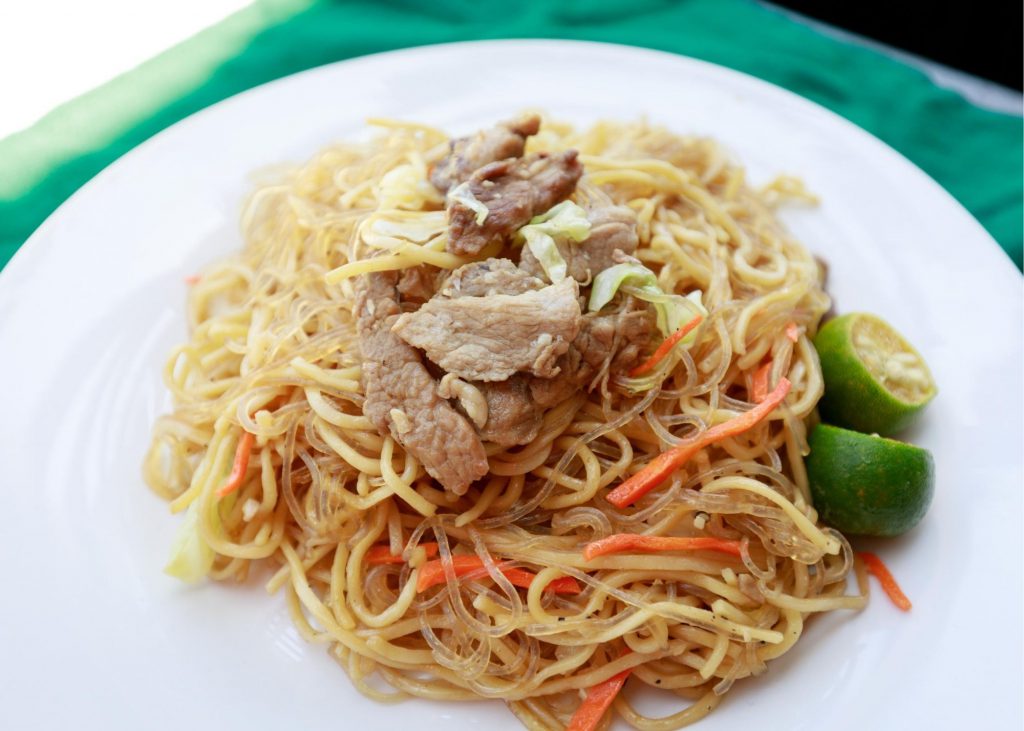 You can see this post for our tops picks of foods you don't want to miss when visiting the Philippines.
Useful things to know about the Philippines
Money
The currency in the Philippines is the Philippine peso.
While prices at supermarkets and retail stores are typically set, at souvenir markets and local shops, haggling is common. In fact, if you're not haggling, you're getting ripped off.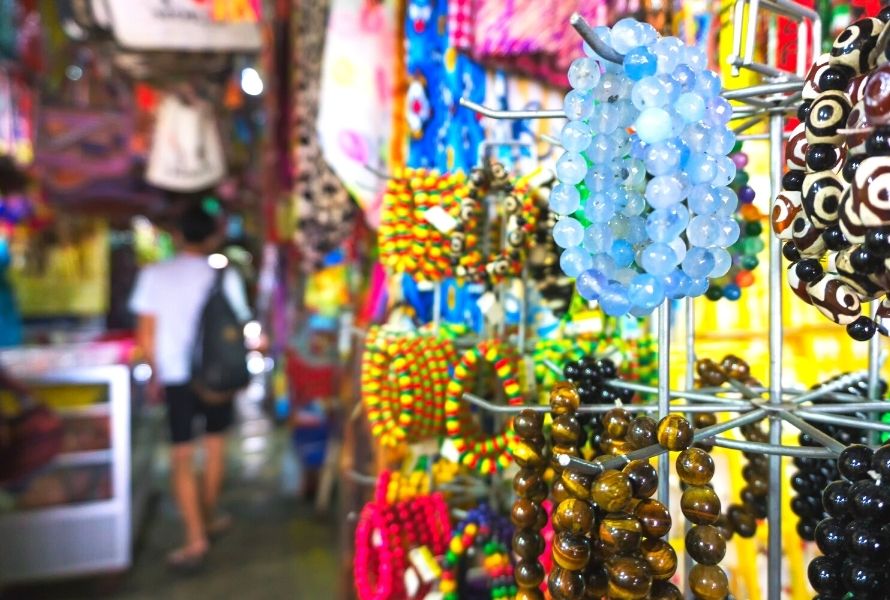 The first price you are quoted is typically an inflated tourist price, so don't take it at face value. If you say that it is expensive, the vendor will likely offer you a lower price. Or you can be very direct and just ask, "what is the last or lowest price?"
Often it helps to browse other stalls and come back later so they know you're willing to walk away.
Language
There are many languages spoken in the Philippines, but the most commonly spoken language is Tagalog.
But tourists visiting the Philippines are in luck, as English is also widely spoken.
In fact, English is one of the two official languages of the Philippines, along with Tagalog. Most people will have at least some proficiency in English, although the accent might be difficult to understand for some.
Phone and internet service
T-mobile is a great provider to be on because you have data access, although it might be throttled based on your plan, like in many international locations.
While T-Mobile is a great backup and will work in most cases, if you want the most reliable option for internet access, get a local SIM.
At malls in the Philippines, you can buy a SIM card from a local provider (like Smart or Globe) for around $1. These usually come with free data allowance, which depending on the length of your stay, may be adequate for your entire trip. If not, you can buy a prepaid card and load it onto your phone.
The easiest way to load a card to your phone is to do an electronic load using something like the Grab app (the same app you can use to get a car or food). Make sure you use a card with no international fees.
What to pack when visiting the Philippines with kids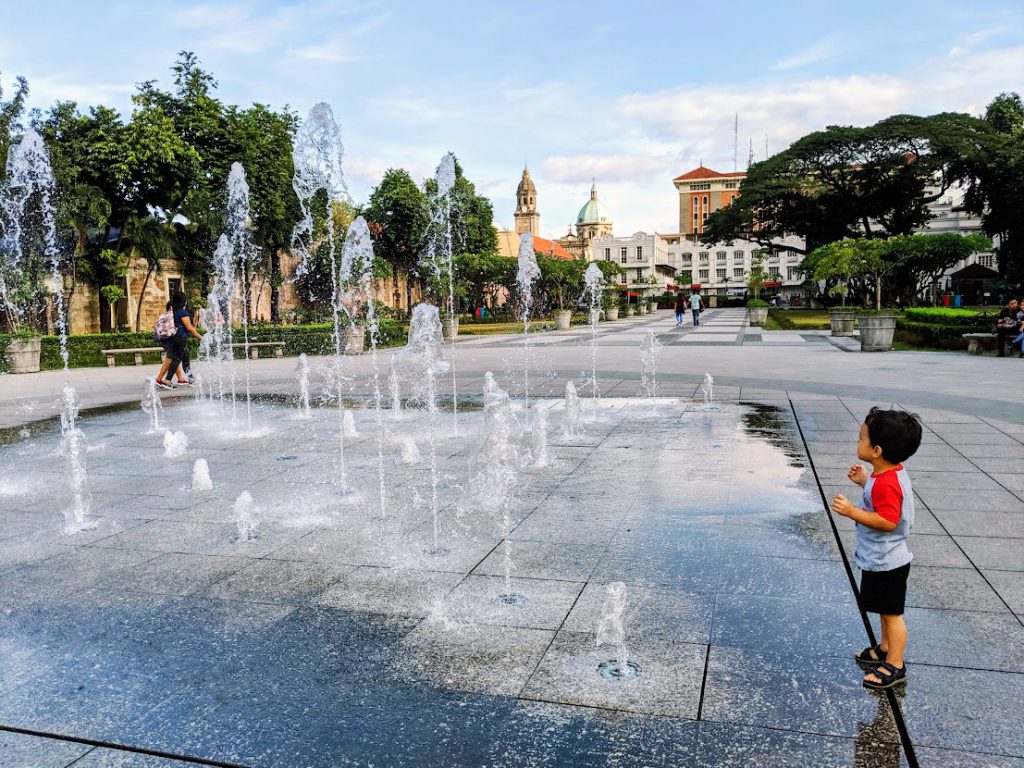 Along with your standard packing items (diapers/wipes, clothes, toiletries, etc.), there are some items that will make your trip to the Philippines with kids easier. Here are some of our top picks.
You'll want to be sure to bring a good kids' sunscreen for your visit to the Philippines with kids.
I love using Blue Lizard Sunscreen for my kids. This sunscreen is mineral-based and doesn't have a lot of the yucky chemicals found in other sunscreens (even ones claiming to be for babies). A little bit goes a long way, so one bottle will last you quite a while.
And Blue Lizard has a reef-safe version, meaning it doesn't contain chemicals known to destroy coral reefs.
When we're in the Philippines, bug spray isn't something we use on a daily basis but it's definitely nice to have available when you need it.
These Avon Skin So Soft Towelettes are very convenient because you can keep some in your bag for whenever you need them. They're compact and you don't have to worry about a bottle spilling. One towelette goes a long way and it has one of the safer formulas for children's bug spray.
If you're traveling with very young children, check with your accommodations before you go to see if they can provide a crib (often they can).
If we're staying in a place with no crib, typically we'll just put our kids in bed with us. However, if you're not comfortable with that arrangement, there are some great lightweight travel crib options.
If you decide to bring a crib, this travel crib gets great reviews. It can fit children up to three years old and folds up into a compact backpack for easy portability. It also only weighs 12 pounds, which is a lot lighter than your traditional pack 'n play.
The Philippines is usually hot and humid, even in the rainy season. Having a hand fan can help to take the edge off.
It's especially nice if you have a baby or toddler trying to take a nap when you're out and about. Pointing that little fan at them can help them sleep and prevent them from overheating.
A baby carrier is a convenient way to transport your baby or toddler and it's also a great for napping on the go. I always bring my Ergobaby carrier when I'm traveling with a baby or young toddler (even if I'm also bringing a stroller) and I have yet to regret it!
The Philippines is not the most stroller-friendly destination. While there are places a stroller can come in handy (the airport, malls, indoor attractions, etc.), there are a lot of places that aren't accessible.
Outlets in the Philippines are usually two-pronged, so if you're coming from the US you'll need an adapter for your three-pronged devices.
This one works great for phones, computers, and laptops (however be aware that you won't get the protection provided by the third grounded prong, which in many cases isn't available anyway in the Philippines).
However, note that if you have an electronic that is in the 100-120V range, you will also need a power converter (like this one) to allow it to be plugged into a 220V socket.
Read the labels of any electronic you plug in to make sure you know what range of voltage it will support. Don't just plug it in assuming it will work (that's how I destroyed our electric toothbrush…).
We rely on our phones for a lot of things while traveling, from navigation to pictures to research. That means they also tend to die before the end of the day, and there's often not a good place to charge them. Enter the portable power bank!
If you have one of these fast charging power banks you can charge your phone wherever you are. And that can make a huge difference in your trip!
Public restrooms in the Philippines usually aren't equipped with toilet paper, so you'll want to make sure you have a pack of tissues with you when you're out and about.
Bathrooms also don't necessarily have soap (or water…), so make sure you have hand sanitizer available as well. And it's a good idea to sanitize your kids' hands regularly when you're traveling anyway to prevent sickness.
A note on packing
As a general rule with international destinations, don't overpack.
It can be easy to pack too much when traveling with kids in an effort to be prepared. But in the end, this can actually make your trip more stressful.
You already have to keep track of one or more children, so try to minimize the amount of luggage on top of that.
And on a related note, try to consolidate your belongings into as few bags as possible. Most destinations in the Philippines will require transfers, which are much easier if you haven't brought your whole house with you.
Make sure you bring the necessities and you should be fine.
Deciding where to go in the Philippines with kids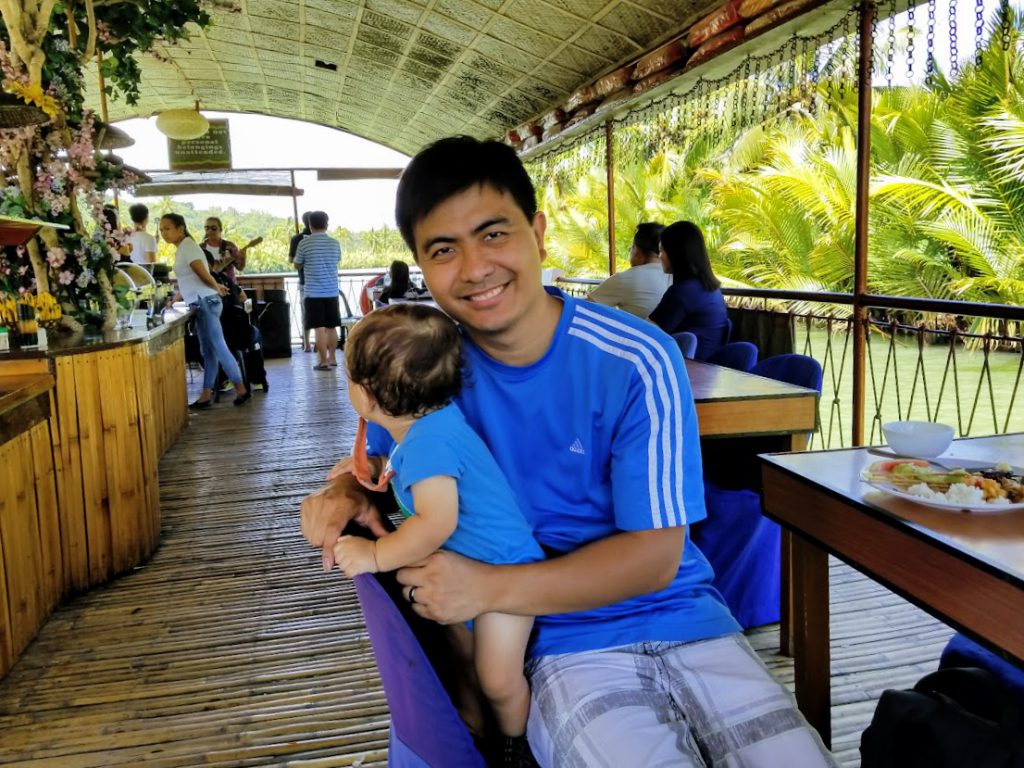 There are many great family-friendly destinations to visit in the Philippines.
However, some of the most popular destinations have multiple steps and/or long routes to get there. For example, some locations involve boat transfers (Boracay) or long bus rides (Palawan) to get to your final destination.
You can have an incredible time visiting these places with kids, you just have to decide if the inconvenience is worth it to you.
Just know what to expect and plan ahead with good activities and snacks to keep the kiddos occupied during the extra travel.
That being said, here are just a few popular choices.
Bohol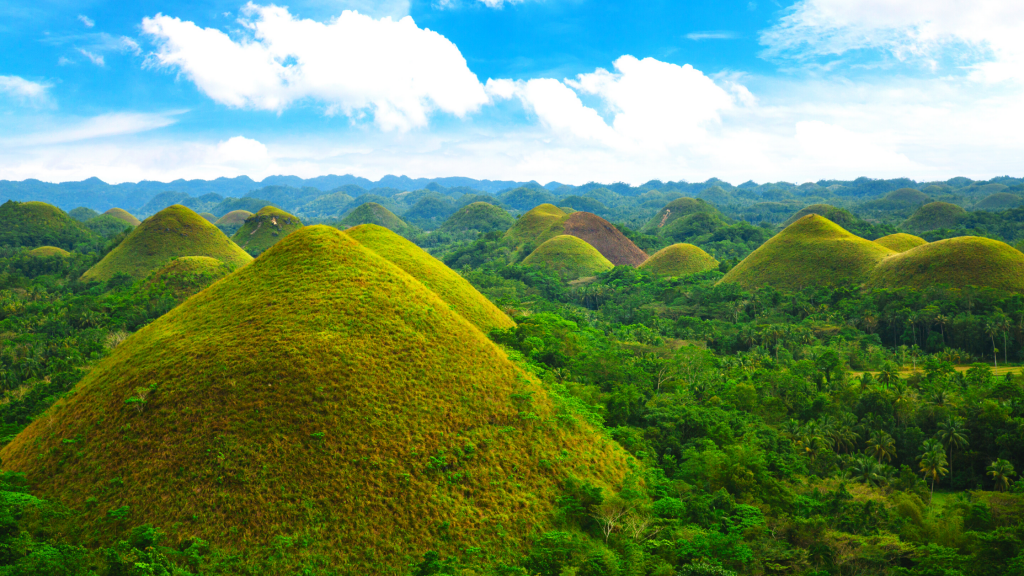 Located in the central Philippines less than an hour flight from Manila, Bohol is the name of both the island and the province.
This region is known for its gorgeous beaches, geological formations (the famous "Chocolate Hills"), and wildlife (the Philippine tarsier is one of the smallest primates in the world).
This is a great place to visit with kids because there is enough variety to keep everyone happy. You can enjoy lots of time at the beach but still take some time to visit the Chocolate Hills, embark on a river cruise, or stop in at one of the oldest churches in the Philippines.
For more ideas on things to do in Bohol, see this post.
Boracay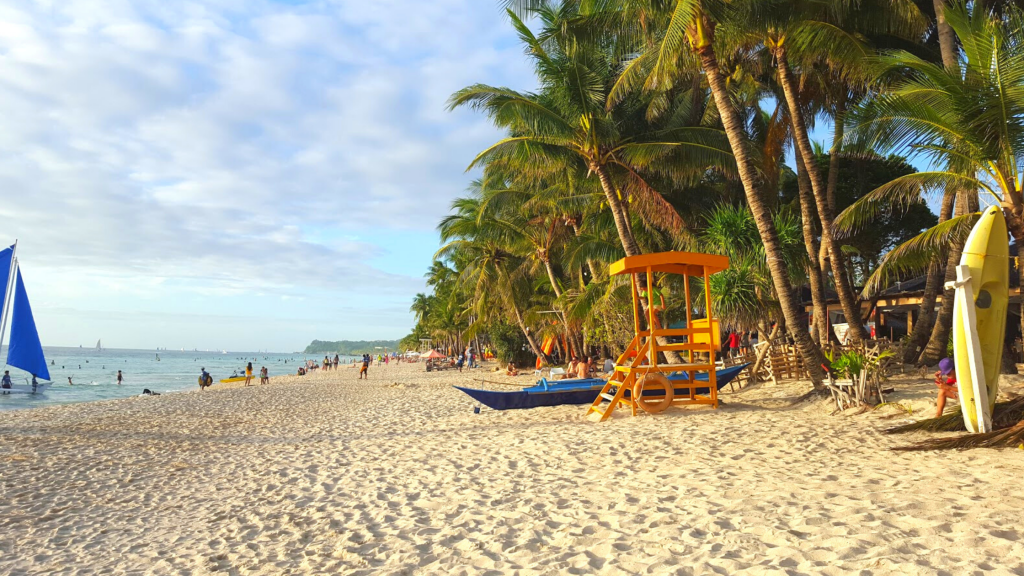 If you're looking for a tropical family getaway, Boracay just might be the perfect place for you! This island in central Philippines is known for its beach resorts and laid-back vibe.
The main attraction here is definitely the pristine beaches. Not only is the area known for its water sports, but there are lots of shallow, child-friendly beaches.
Palawan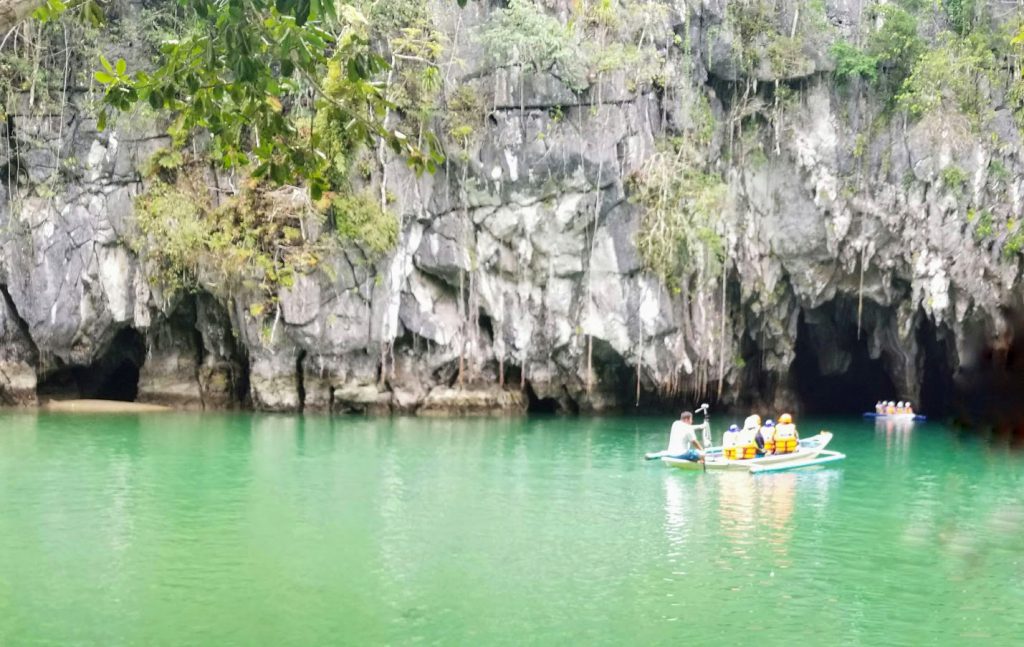 Palawan Island is located in Palawan Province, which is known as the Philippines' "Last Frontier" due to its rich biodiversity and well-preserved flora and fauna. The province is actually made up of over 1,700 islands, many of them largely untouched.
Palawan Island is famous for being home to the longest navigable underground river in the world, Puerto Princesa Underground River (also a UNESCO World Heritage Site).
And of course, you can't forget the gorgeous white-sand beaches, teeming marine life, and world-class resorts.
Manila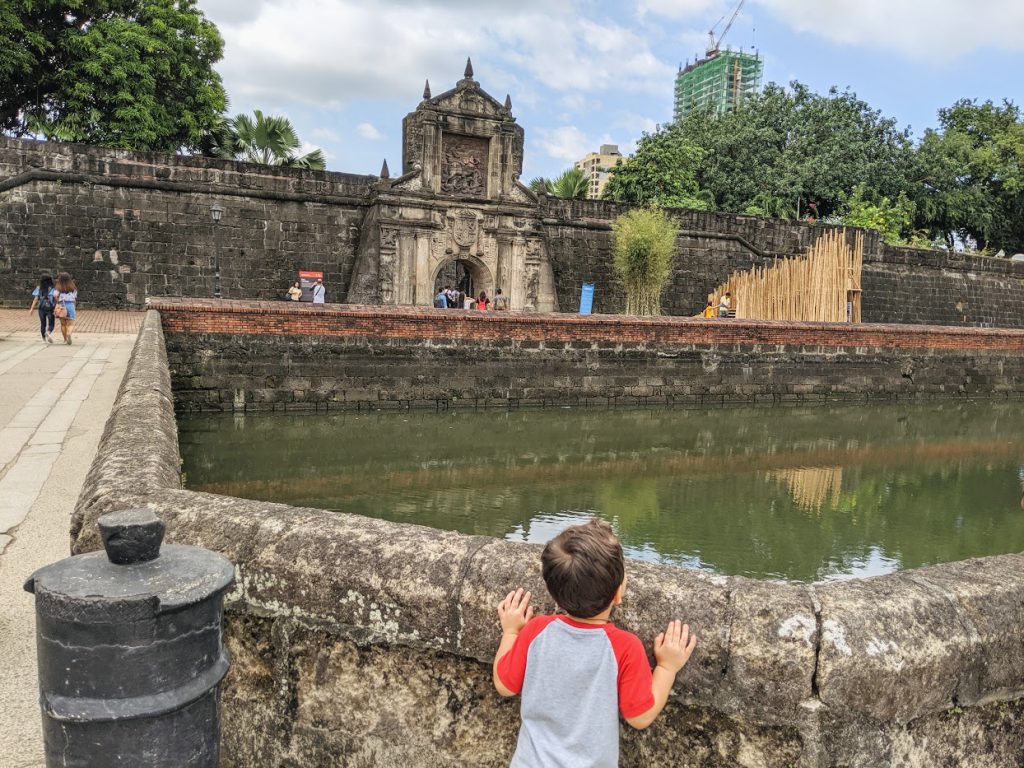 While Manila might not be the most common tourist stop in the Philippines, there are actually a lot of family-friendly attractions right in the capital city.
Whether it's the DreamPlay activity center, a trick art museum, or the historic walled city of Intramuros, there are a lot of fun options kids (and adults) will enjoy!
Check out this article for some of the best places to visit in Manila with kids.
Final Thoughts
If you're looking for a great family-friendly destination, the Philippines is a great choice. There's a diverse range of things to do, the people are friendly, and the sights are gorgeous.
You can't go wrong with a trip to the Philippines with kids!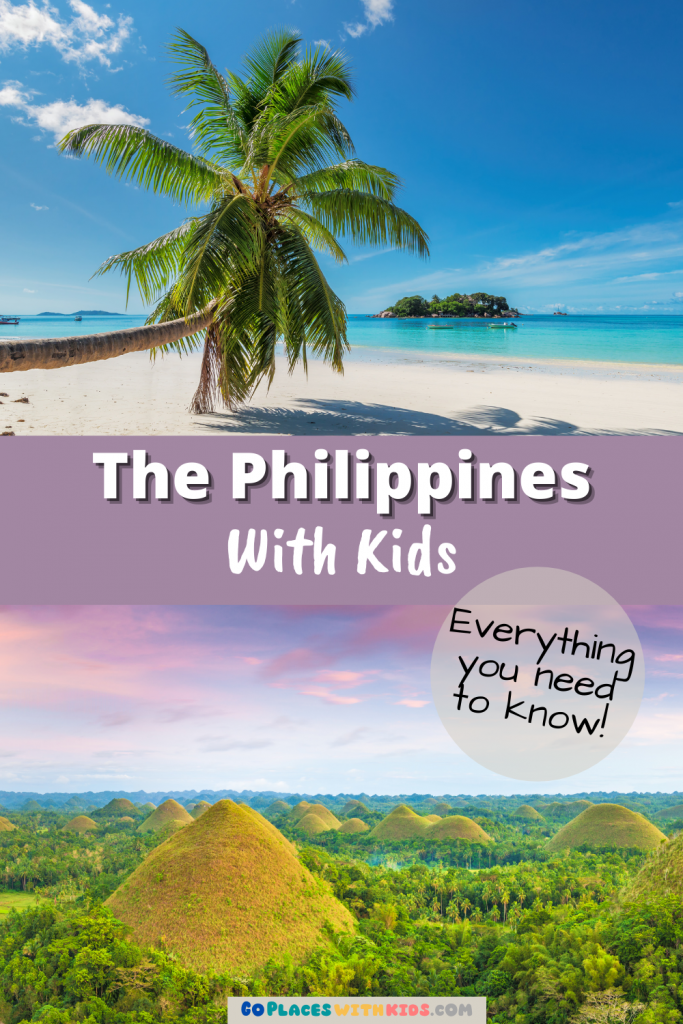 Other posts you might be interested in:
6 Amazing Things to Do in Bohol (and One to Skip)
How to Fight Jet Lag in Babies and Toddlers
Baby and Toddler Beach Essentials (And Tips for Making Beach Day a Success!)