This page may contain affiliate links, which means that we may earn from qualifying purchases at no additional cost to you.
The best travel toys for 1 year olds to make your trip easier!
Traveling with a one year old is not always the easiest of feats. In fact, in our experience the time between one and two is actually the hardest time to travel with a young child. 
One year olds are mobile, opinionated, and hard to contain. It's also difficult to keep them entertained because their attention spans aren't that long yet.
One of the best ways to set yourself up for success is to bring some great travel toys to engage, distract, and pacify your 1 year old during travel.
In this list we've included the best toys our there that are compact and easy to pack for road trips or flights. Read on for some of our favorites!
Best travel toys for 1 year olds
In this list you'll find some of our very favorite travel toys for 1 year olds. We've included options for car rides, plane rides, and toys for in your hotel room or when you're out and about on your trip.
The gap between what a newly-turned one-year-old and an almost-two-year-old enjoy can sometimes be quite large, so consider your child's stage and development level when thinking about what toys will be most suitable.
One toy that toddlers always seem to love is stacking cups. Stacking cups can be used for nesting, making towers, holding objects, or hiding objects underneath them.
The Bright Starts Stacking Cup Set comes with eight brightly colored cups with numbers on the bottom for number recognition and counting.
They can also be used for water play and have holes on the bottom for the water to trickle out.
These cute little suction cup spinners are perfect for all kinds of travel and so entertaining for little ones! They can be suctioned to windows, tray tables, high chairs, and other hard, flat surfaces.
In addition to the spinning feature, each of the ends has a little pop button for babies to press.
Unlike some suction toys, these actually stick well and don't come off easily when your baby spins them.
Indestructibles are the perfect books to withstand the rough combination that is travel and toddlers. When these books say indestructible, they really mean it. These books claim to be waterproof, ripproof, and chewproof…and they live up to the claim!
The bright pages and fun illustrations are good at capturing and keeping a toddler's attention.
Unlike board books, Indestructibles are made of thin, paper like material and take up practically no space, making them perfect for travel!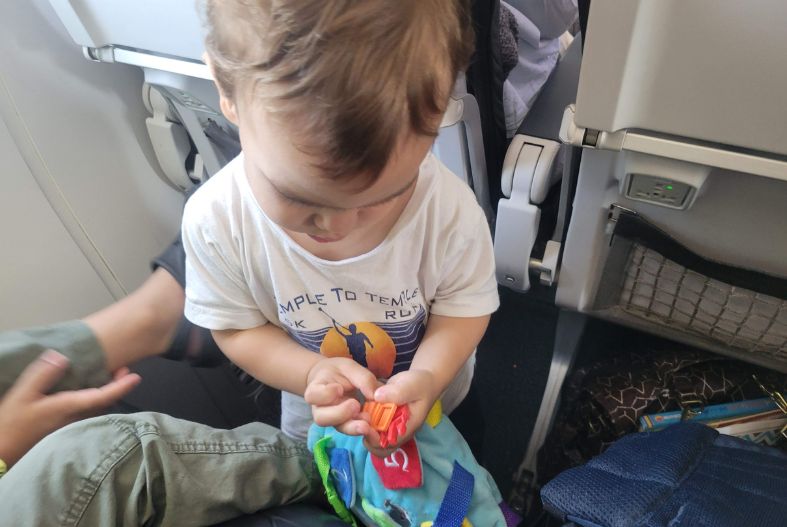 This buckle toy has been one of our go-to travel toys for years! It's perfect for kids who love buckling and unbuckling straps.
On the buckle toy are a variety of different kinds of buckles for children to try. The buckles are fairly easy to fasten and unfasten, although younger toddlers will probably need help with it at first.
Each of the straps is a different color, so your toddler can work on matching the colors.
There's also a zippered pocket on the top where you can store some small toys (we always keep a few finger puppets in there).
On the back are numbered flaps with pictures of sea animals underneath. Each flap is made from a different material with a different texture.
There are so many fun things going on with this toy, it's no wonder all of our kids have loved it! And even our older kids have fun fastening the buckles and mixing and matching the straps.
For some creative and open ended play, some small figures can be a great addition to your travel toys. There are all sorts of ways you can play with these little figures and you'll likely come up with some creative ideas over the course of your travel.
Cater the figures to what your child is interested in so that they will be excited to play with them. For example, you could get a set of animals, dinosaurs, Bluey characters, Mickey Mouse, Daniel Tiger, etc.
This baby sorter cube creates a fun problem for babies to solve. How do they get the shapes between the elastic bands to fit in the cube? And then how do they get them out again?
The toy comes with six textured blocks of various shapes and colors to place into the cube.
Both the cube and the blocks are lightweight and easy for a young child to hold and manipulate.
This is such a fun and engaging travel toy for 1 year olds! Not only does it keep their attention, but it also stimulates their curiosity and helps them develop problem solving skills.
What baby doesn't like pulling all of the tissues out of the tissue paper box or clothes out of drawers? Well this toy recreates that experience in a way that is fun and easy to recreate (unlike with a real box of tissues…).
This sensory tissue box comes with a soft-sided box and 15 reusable tissues. Twelve of the tissues are colorful scarves and three are crinkle tissues.
You can choose to just stuff all of the scarves in the box or accordion fold them so that when you pull one out the next pops up and is ready to be pulled next.
A weighted bottom on the box allows young children to pull out the tissues without the box coming too.
Our boys have loved cars and trucks from a young age, so bringing little vehicles when we travel has always been a big hit.
This little set has six small vehicles, including trucks and emergency vehicles, that toddlers can zoom around on a tray table, in a hotel room, or on a high chair at a restaurant. These are chunky little cars that are perfect for little hands to hold.
At this young age, trucks are always something that will capture our kids' attention, so we try to always have a few on hand when we travel.
Our babies and toddlers have always loved the bigger Poke-a-Dot books, and this smaller version that is perfect for travel!
Each page of the book has a button which makes a satisfying "pop!" when you press it. This is endlessly fascinating for little kids who naturally love to push buttons.
There are a lot of different versions, including first words, first colors, construction vehicles, and animal families.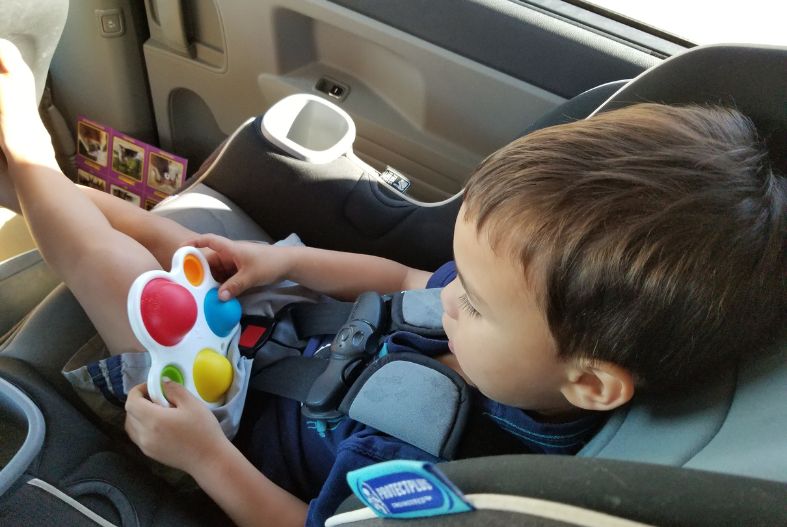 For all the button pushing toddlers out there, this Dimpl Toy is so much fun!
Toddlers will love pressing the five brightly colored buttons and hearing the quiet pop sound it makes. This is a great fine motor, sensory activity that toddlers will love doing over and over again.
We've loved bringing our fidget popper on flights, on long car rides, and out and about while we're traveling. This is also a great calming activity for when toddlers are feeling overwhelmed or frustrated.
My babies have always been drawn to keys but aren't very interested in the fake plastic ones. However, this set of baby and toddler toy keys is so realistic that your child will think they are playing with the real thing!
These keys come with four sound buttons for toddlers to push as well as a little flashlight. And unlike real keys, they don't have any jagged or sharp edges to worry about. There's also a strap that you can use to attach it to a car seat, stroller, or carrier.
This is not a toy that you'll want to take on the plane, due to the sounds. However, it is perfect for road trips, hotel rooms, or just days when you're out and about.
The Sassy Wonder Wheel Activity Center has several different elements that young toddlers will enjoy playing with. The primary feature is the colorful wheel, which has beads around the edges that trickle down as the wheel spins. This wheel is super mesmerizing and fun to play with, even for adults!
Various textures encourage young children to explore the surface of the toy, while clatter rings at the base provide a fun element to hold and rattle.
The toy has a suction cup on the bottom to secure it to a tray table, high chair, or table while your child plays with it.
A cloth book can be a great travel activity for a 1 year ol because it's engaging and hard to destroy. You can easily leave this book with your toddler in their car seat or attach it to their stroller without feeling like you have to supervise when they use it.
This Who Do You See? soft book contains various sea animals whose tails, feet, claws, etc. extend beyond the page. Inside there are fun interactive elements such as crinkle pages, a peek-a-boo flap, a squeaker, and a baby mirror.
It also comes with a teething ring, which can also be used to attach it to a stroller or car seat, and a teething corner on the front page.
This set of Pop Blocs by Melissa and Doug contains five mix-and-match farm animals.
Each animal has two pieces that come apart, so you can separate them and then work on matching them back together. Or you can create your own bizarre animals (head of a horse, behind of a pig, etc.), which little kids usually find pretty funny.
These animals are easy for little kids to hold and even separated are not small enough to be a choking hazard.
One of our favorite travel toys for 1 year olds has always been the Oball. This simple toy is a classic that babies and toddlers always seem to love.
It's brightly colored and the large holes are perfect for little hands. It's also flexible, which makes it fun for babies to squish and easy to pack away when not in use. It's also great for attaching to a car seat or stroller with a pacifier clip.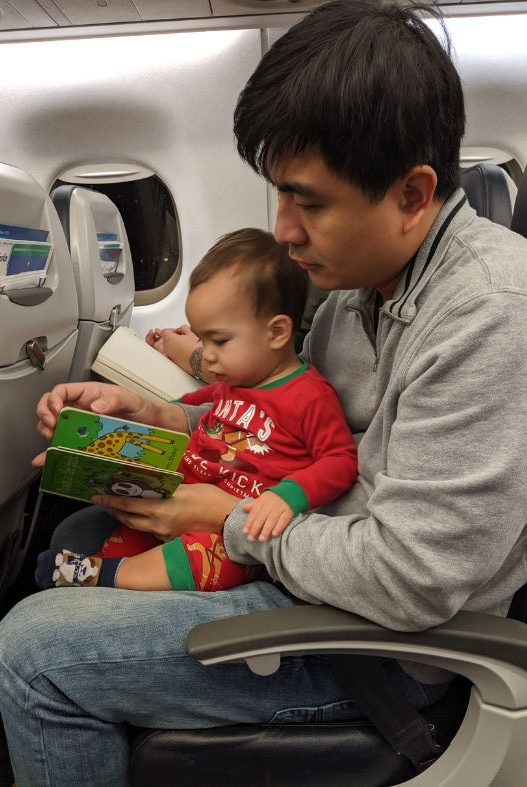 Another way to keep a toddler entertained during travel is to bring along a couple of books to read with them.
Some awesome small books include Peek-a Who? and basically any Sandra Boynton book (Blue Hat, Green Hat and Snuggle Puppy were some others that were well loved at this age).
You can bring new books for novelty or some tried and tested favorites from home. I'm always surprised by how many times my toddlers can read the same books over and over again, so a couple of books can go a long way when traveling.
A teether is a great travel toy for 1 year olds, especially if they actively have new teeth coming in.
This cute little carrot teether by Infantino has sturdy handles for little hands to hold. You can also use them to attach the teether to a car seat, carrier, or stroller with a pacifier clip (this is a must for me when traveling to prevent the teether from being dropped on the dirty floor.)
The teether is made from a soft silicone which is easy to clean and the surface has textures for little ones to explore.
We love touchy feely books! They are so much fun for kids because they contain so many things to capture their attention!
Some of our favorite touchy feely books are Usborne books. For travel, we love the Baby's First Touchy Feely Lift the Flap Books. These books have peep holes, finger trails, textured elements, and flaps on each page.
I'm always amazed at how long my small children can spend looking at these books, especially if we're pointing things out and talking about it with them.
For a fun toy you can use to interact with your child, consider bringing along a few finger puppets! My 1 year olds love it when I use finger puppets to sing nursery rhymes or play tickle games.
This set comes with ten cute animals and the puppets are the perfect size to fit both adult and child fingers.
I love that finger puppets take up virtually no room, making them easy to keep on hand if you need something to distract your child.
To keep your little mover entertained, Spike the fidget friend is up for the task! This hedgehog toy from Learning Resources has six different ways to play with it, including a wheel to spin, a knob to turn, a button to push, a switch to flip, and a plunger to pull.
It's compact size is perfect for little hands to hold and to fit easily into your bag for travel. This is a great activity for kids who love fidget toys and pushing buttons (which, let's be honest, all toddlers do!).
This adorable little cactus is a perfect novelty toy to capture your toddler's attention while traveling. When you pull the ring, the plush cactus vibrates and shakes.
A ring at the top makes it easy to attach this toy to your toddler's car seat, carrier, or stroller so that they have something to keep them entertained on the go. It's also great for airplane travel.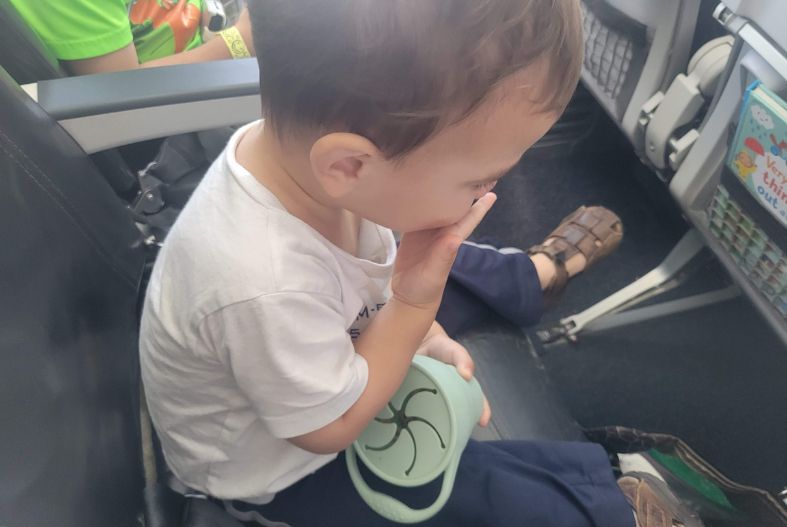 I can never make a list of travel activities for young kids and not include snacks. Snacks are an absolute must when traveling with a 1 year old.
Not only will they prevent your toddler from getting hungry and grumpy, snacks are also a great activity for keeping a young child entertained.
Snack catchers are perfect for holding a toddler's attention because they allow them to feel the independence of feeding themselves while also practicing their fine motor skills. And they prevent snacks from spilling all over the floor!
Tips and tricks
Here are a few helpful tips and ideas for making the most of your travel toys for 1 year olds!
Choose toys that your child will return to over and over again to maximize the use of the few toys you bring.
Go to the dollar store and pick up a few cheap toys that you can pull out at random when your child starts getting bored.
For long flights, wrap a couple of toys and bring a new one out every hour or so. Your child will love unwrapping each toy to see what it is! It also makes the toy feel more special to play with.
Don't bring any toys that make noise if you're flying- the other passengers will thank you.
For road trips, bring a car seat tray for your child to place their snacks and activities on.
For both drives and flights, get your toddler up and walking around at regular intervals. This is good for their circulation and can also help break up the travel time a bit.
Bring out your toys one by one instead of pulling the whole bag out. In my experience, my toddler just ends up grabbing the whole bag and rummaging through it, which takes away some of the novelty of introducing new toys.
Final Thoughts
Prepare yourself for an amazing trip with your child by bringing along a few of these amazing travel toys for 1 year olds. You'll feel so much more confident knowing that you have some great activities you can pull out to keep your child entertained.
I remember the first time we traveled with a 1 year old, I was so nervous about how it would go! But after many trips with young children, I've learned that it's best to focus on what you can control rather than the things that you can't.
Bringing great travel toys is one way you can set yourself up for the best possible outcome when traveling with a young child.
Although travel with a 1 year old isn't always the easiest, it can be an amazing experience if you're prepared. We have very fond memories of our trips with our toddlers over the years!
Other posts you might be interested in:
The Best Travel Toys for 2 Year Olds!
25 Best Travel Toys for 3 Year Olds!
The Ultimate List of Toddler Travel Essentials (+Toddler Packing List!)