This page may contain affiliate links, which means that we may earn from qualifying purchases at no additional cost to you.
Phuket is an amazing place for a family vacation. It's a gorgeous location and there are so many fun things to do in Phuket with kids!
We were lucky enough to enjoy a family trip to Phuket just before the pandemic struck. Although I've been to Phuket before, this past trip was my first time visiting the island with kids. It was so fun to see how many family-friendly experiences there were to be found.
Our kids were absolutely delighted with the trip, from the beaches to the upside-down house (who knew that was a thing?). It was a fun and memorable experience for the whole family!
Read on to hear about some amazing things to do in Phuket with kids and tips for a great family trip!
Tips for Visiting Phuket with Kids
How to get around Phuket with kids
We found the easiest way to get around in Phuket with kids along was to use a taxi or Grab.
Grab is a ride-sharing service that is common in Southeast Asia. The nice thing about Grab is that you can use the app to easily hail a ride wherever you are. And you know before booking it exactly how much your fare will be.
You cannot get Grab at the airport, so a taxi is a good option in that case.
What to eat
There is so much delicious food to eat in Thailand. Some of our favorites are Pad thai, yellow curry, and Pad see ew. Just make sure to get a mild version for your child!
And if you're looking for delicious desserts, there are a few you have to try. First off is roti, which is a pan-fried bread. You can pick various fillings toppings, but it is most commonly stuffed with bananas and drizzled in sweetened condensed milk. To. Die. For.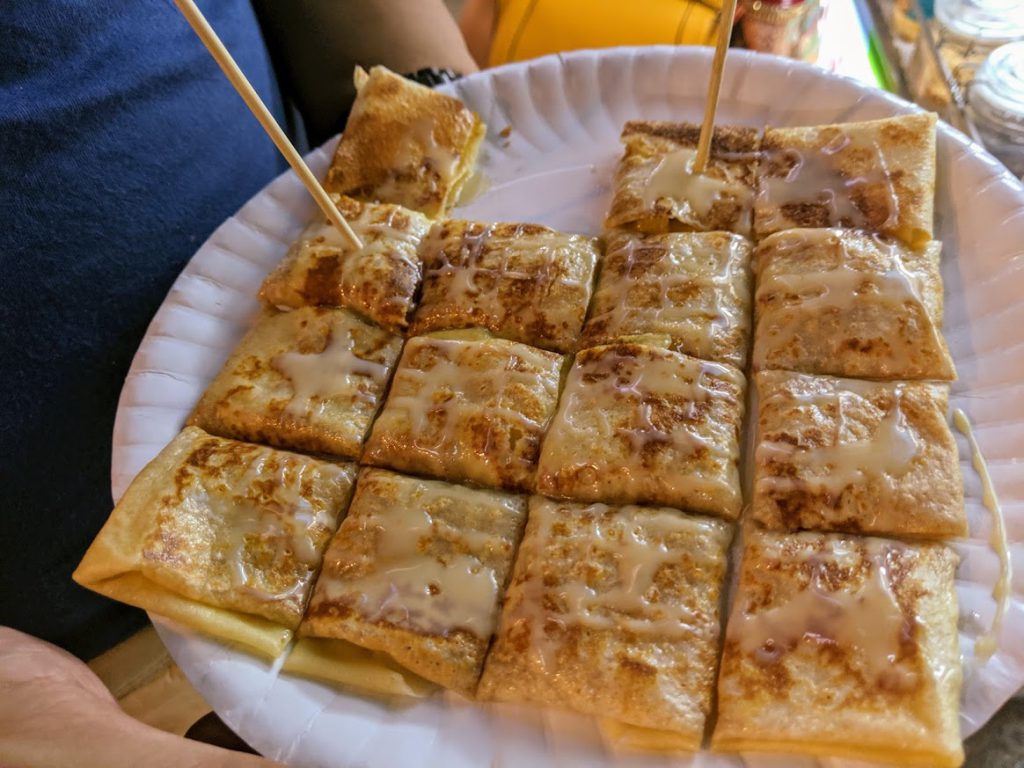 You also have to be sure to try rolled ice cream. Our kids loved to watch how it was made and it is absolutely delicious to eat.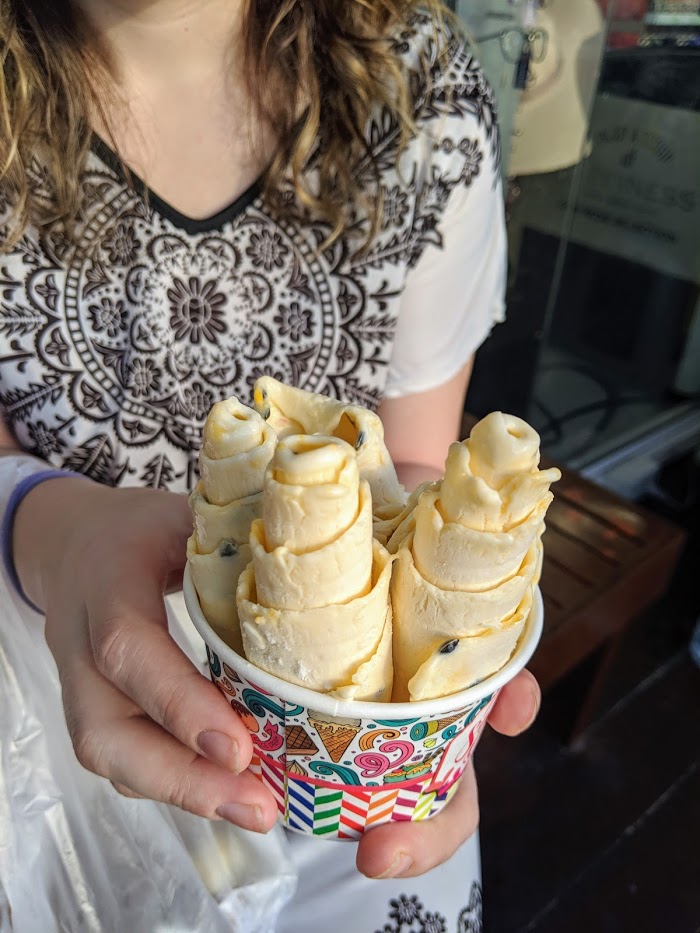 Booking a Day Tour
Booking a day tour while in Phuket can be a great way to get around to see the sights with minimal planning on your part. It's easy to customize your tour to visit the attractions you are most interested in.
And it's so convenient to have the same driver all day, especially if you're traveling with young kids. Take however long you want at each location and your driver will be waiting to take you to the next spot on the tour!
We booked a day tour on our last day in Phuket and were really pleased with the experience. It was nice to just sit back and be ferried to all of the sites. The only thing we had to worry about was the kids!
Things to do in Phuket with Kids
Big Buddha Statue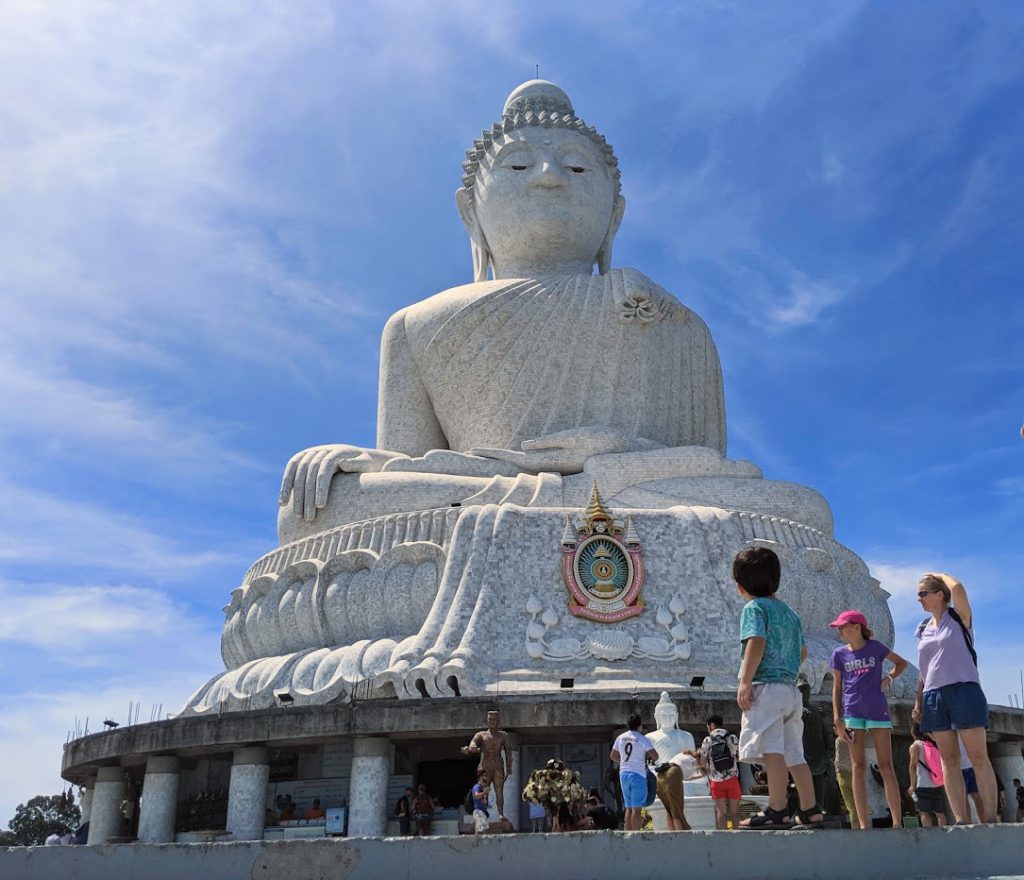 Phuket's Big Buddha is a sight that you will definitely want to see during your stay. This 148-foot white marble Buddha sits atop a hill overlooking Phuket. Not only is the Buddha itself a sight to behold, by there are incredible views of the island from the statue.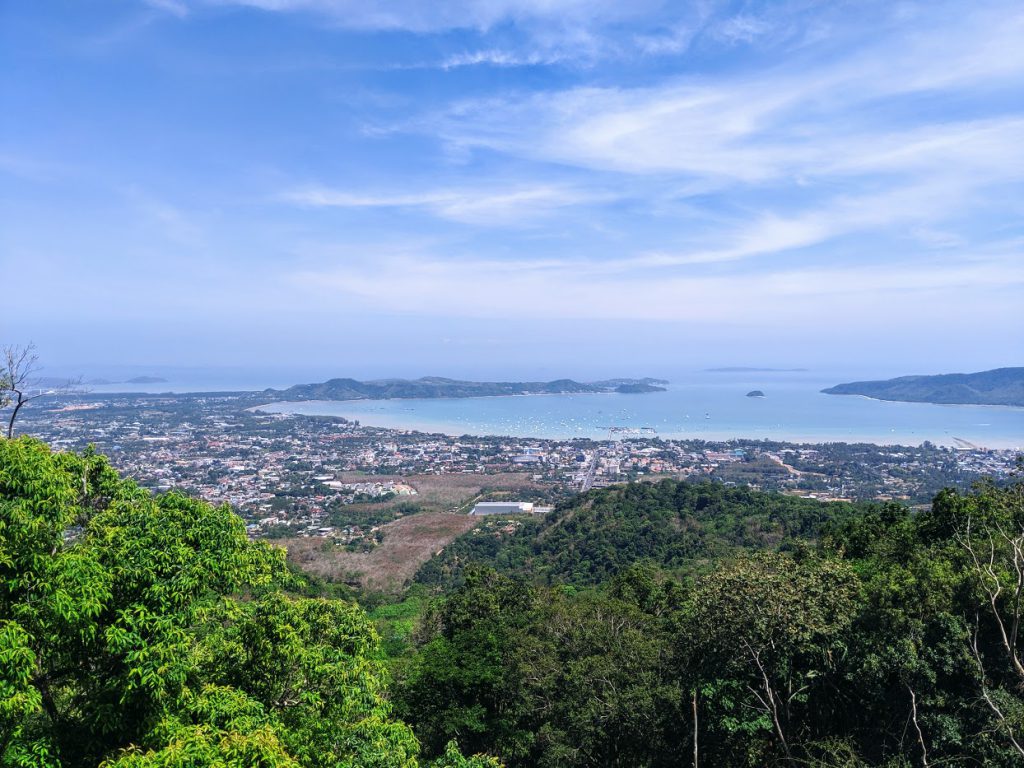 Tips for Visiting the Big Buddha
While admission to the site is free, they do accept donations for the upkeep and maintenance of the Buddha and the grounds. You can also provide donations of food (there are prearranged baskets) or money for the monks
As this is a religious site, you will be asked to adhere to the dress code, which means keeping your shoulders covered and avoiding wearing short skirts or shorts. If you need one, they have sarongs available for you to borrow.
This is not a location that is stroller-friendly, as there is a large flight of stairs to get up to the Buddha (and a separate one for coming down). A baby or toddler carrier is an excellent option for transporting young children at the Big Buddha.
There are bathrooms part way down the hill as you are exiting, just be prepared to squat and bring your own toilet paper as none is provided.
Karon Viewpoint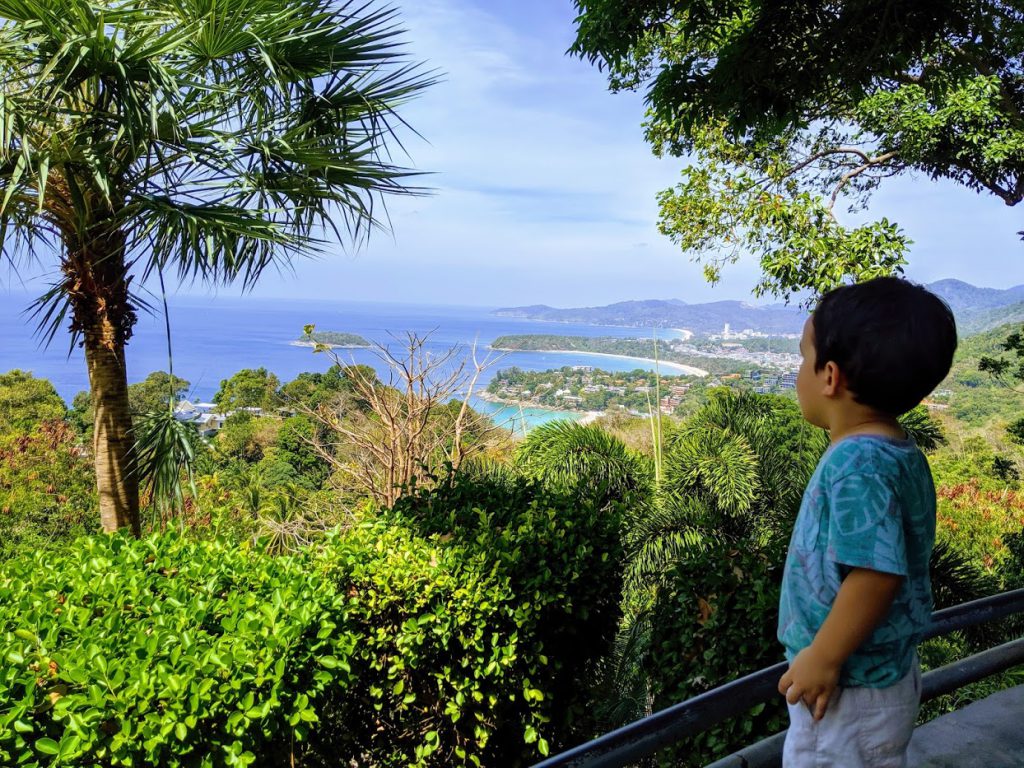 One of the most popular scenic overlooks on Phuket, Karon Viewpoint (formerly known as Kata Viewpoint) is known for its stunning views of the island. From there you can see the three bays of Kata, Kata Noi, and Karon Beaches.
The parking lot is located directly beside the viewpoint, which is convenient when traveling with young kids. No need to hike to get to the viewing area! Phew. There is also a large gazebo which provides a nice place to relax out of the sun.
While you don't need much time at this destination, it is a pleasant place to stop for a few minutes to snap some pictures and take in the view.
Wat Chalong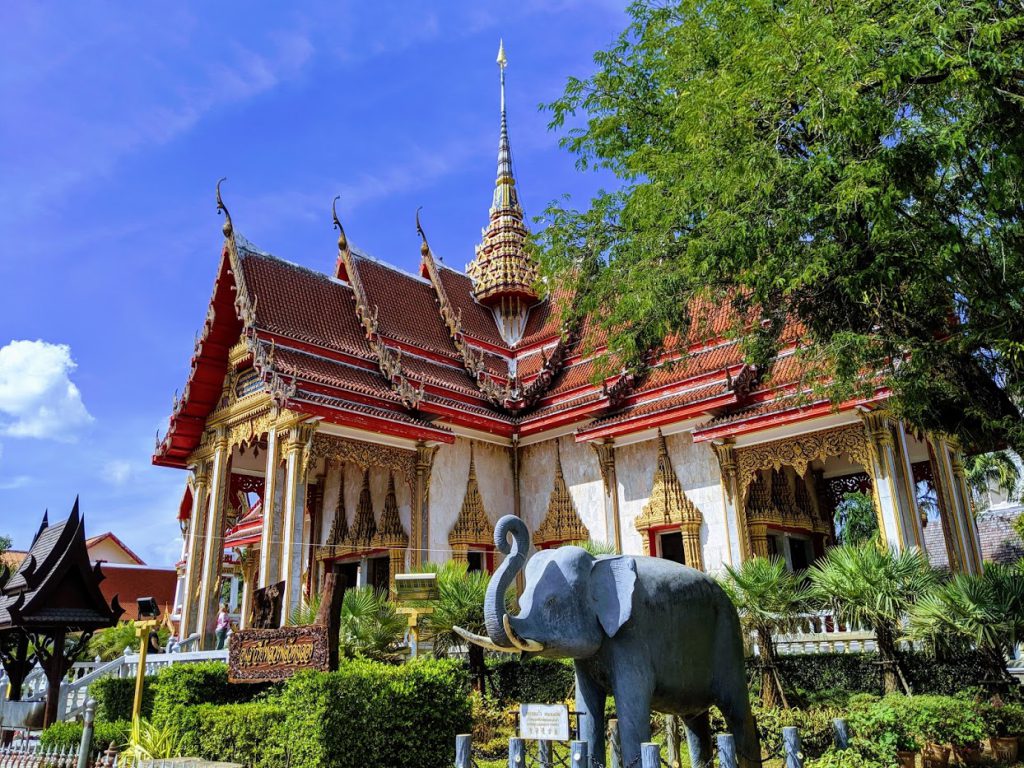 Wat Chalong is the largest and most significant Buddhist temple in Phuket. It's actually a temple complex with beautiful grounds and several lovely buildings to see.
The main attraction is the three-story ornate chedi (a Buddhist stupa) towering at nearly 200 feet tall. Inside the chedi, you'll find golden statues of Buddha, artwork depicting Buddha's life, and even what is said to be a fragment of bone from Buddha himself. And from the top, you have a breathtaking view of the temple grounds.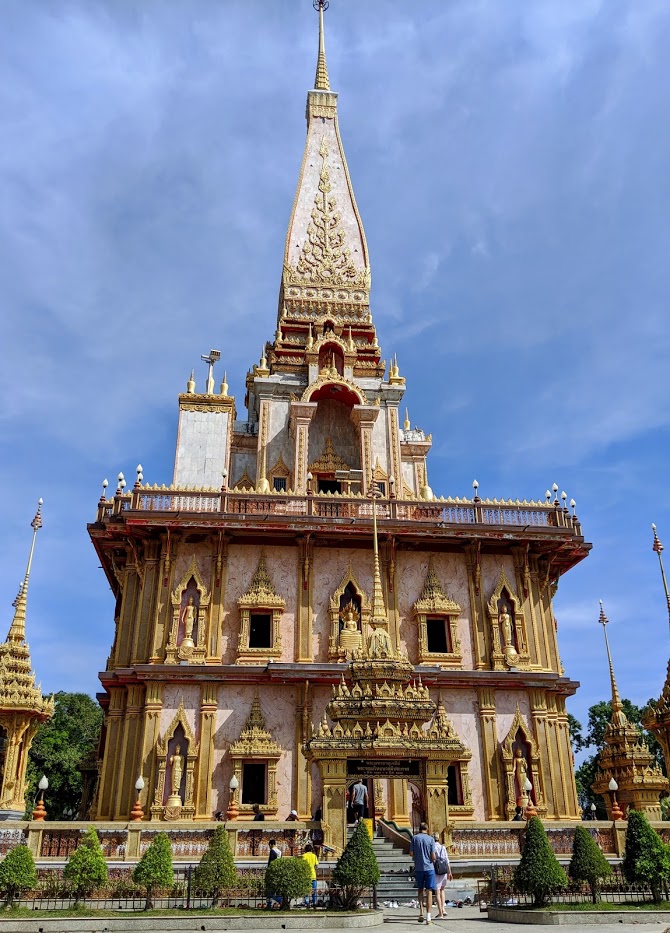 Tips for Visiting Wat Chalong
It's free to enter the temple, but donations are appreciated
There is a dress code- covered shoulders and covered knees
The grounds are stroller-friendly, but if you would like to climb to the top of the chedi you'll have to leave your stroller below
Wat Chalong is located near the Big Buddha, so it is easy to visit both in one day
Be prepared to remove your shoes if you would like to enter the temples (which you really don't want to miss). I would recommend bringing socks as the ground outside the temple can get extremely hot in the sun. We didn't have socks, so we ended up moving quickly between spots of shade and carrying our young boys.
Upsidedown House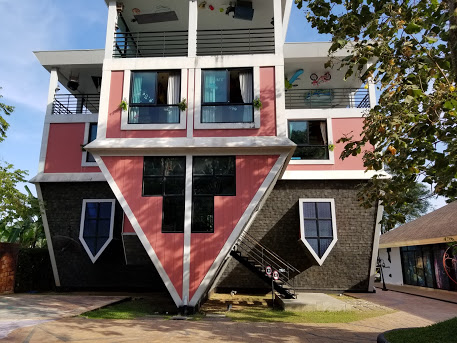 Baan Teelanka, or the Upside Down House, is a unique family-friendly experience in Phuket. It's exactly what it sounds like- a two-story house that is entirely upside down, from the outside structure of the house to the rooms inside.
That means that when you go into the house, you're actually entering through the attic and you work your way up to the bottom of the house. Confused yet?
Out of all of our experiences in Phuket, this was probably our three-year-old's favorite. Ever since we told him we would be visiting an upside-down house, it was all he could talk about.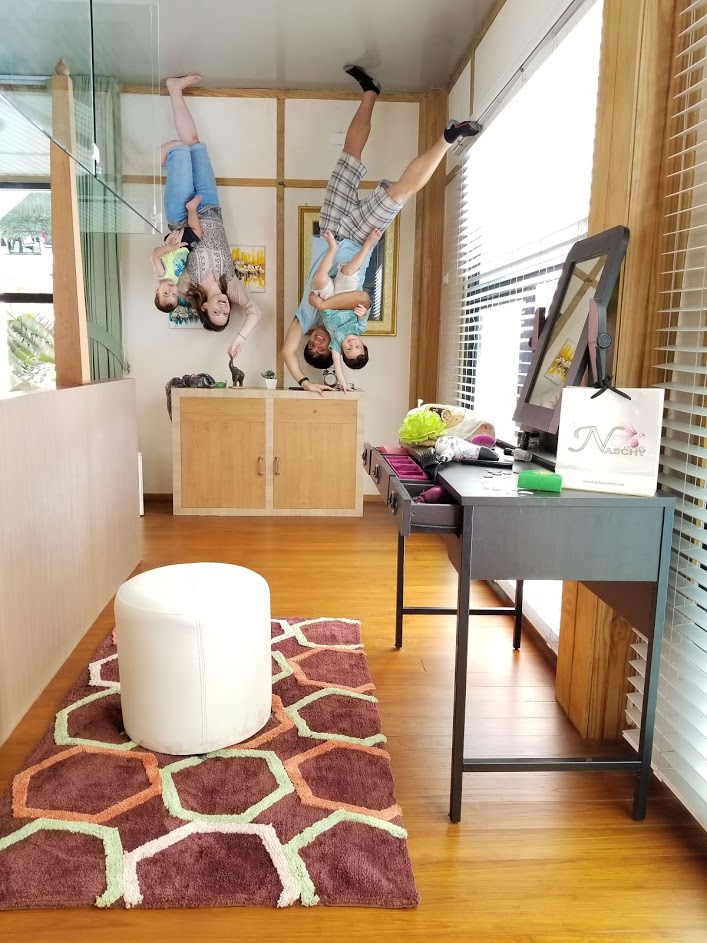 And once we got there, he thought it was hilarious to see all of the furniture hanging above his head (he really got a kick out of the toilet on the ceiling)!
Also on the premises is a hedge maze (our kids loved finding their way out, for adults it's not exactly a challenge) and two escape rooms.
Tips for Visiting the Upside Down House
You have remove your shoes to enter the house- bring socks!
Don't forget to charge your phone/camera. You will want to take lots of pictures!
The house is not stroller friendly
Dino Park Mini Golf
Have you ever dreamed of playing mini-golf surrounded by dinosaurs? If your answer is yes, this is the attraction for you!
This 18-hole mini-golf course has a Jurassic twist. As you move along the course, you're greeted with large replicas of dinosaurs in a jungle setting. Pass by waterfalls and through caves as you work your way through the holes of the small park. At night there is also lighting and sound effects.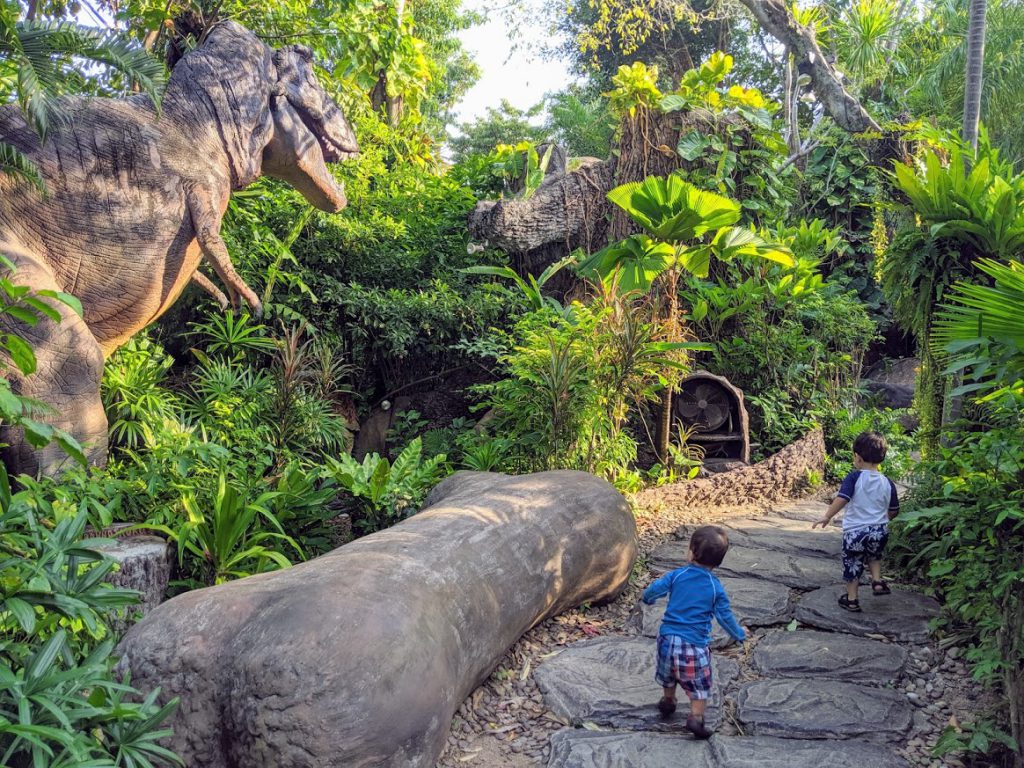 Our boys loved running through the park to find whatever might be lurking around the next corner.
The park also has a jungle-themed restaurant if you're looking for something to eat after all of your adventuring.
Hit the Beach!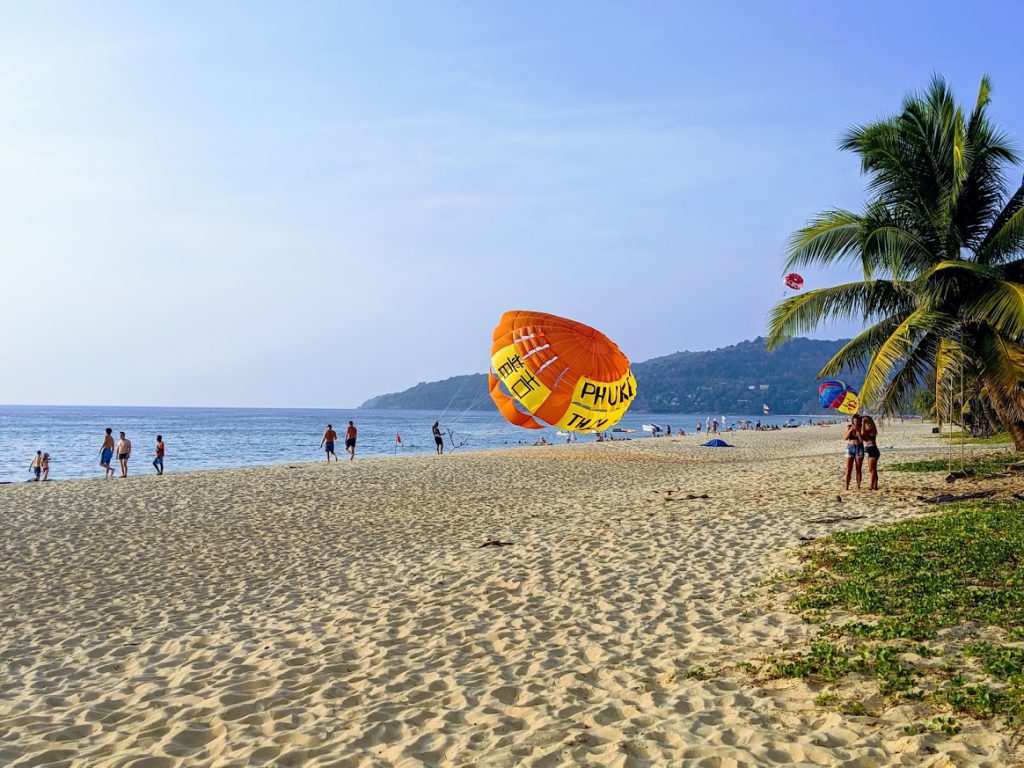 If you're visiting Phuket, you absolutely have to make time to visit the beach! Most of the beaches in Phuket have soft, white sand and calm, shallow water. It's perfect for a beach trip with young kids!
For a list of toddler beach essentials (and tips for visiting the beach with young kids), see this post.
Family friendly beaches in Phuket:
Karon Beach
Patong Beach
Kamala Beach
Kata Beach
Bangtao Beach
Spending time at the beach is definitely one of the best things to do in Phuket with kids. Our time at the beach was one of the highlights of our trip. It was always hard to drag the kids away (and we adults didn't want to leave either!).
Phuket Aquarium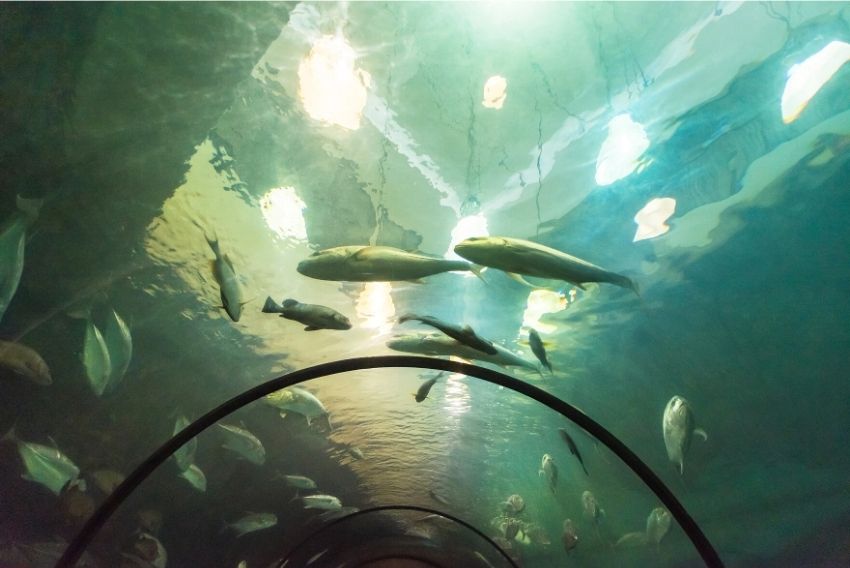 Phuket Aquarium is a fun family attraction in Phuket. Although it is on the smaller side, this aquarium is a great place to spend an hour or two looking at tropical fish and other sea creatures.
One of the main features is the tunnel aquarium, which allows you to feel like you are part of the underwater experience. The site also has a turtle hatchery and rehabilitation center where you might be able to see some baby turtles.
Tips for Visiting the Phuket Aquarium
The aquarium is stroller friendly
The aquarium is air-conditioned, which makes it a great place to cool off for an afternoon
The exhibits are labeling in both English and Thai
Final Thoughts
If you're wanting a fun, relaxing family trip in a great location, Phuket is a perfect choice. There is so much to do, the food is delicious, and the scenery is gorgeous.
It's sure to be an experience your family will remember!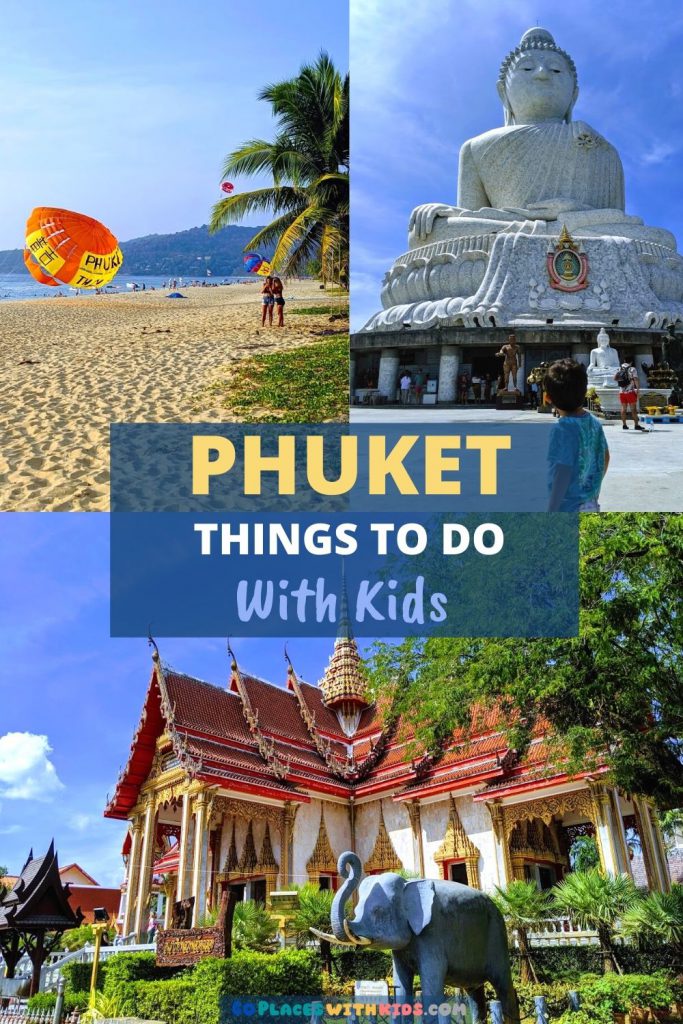 Other posts you might be interested in:
13 Beach Essentials for Toddlers and Babies
Airplane Activities Your Toddler Will Love!